Geylang Laksa Prawn Noodles has opened in Ang Mo Kio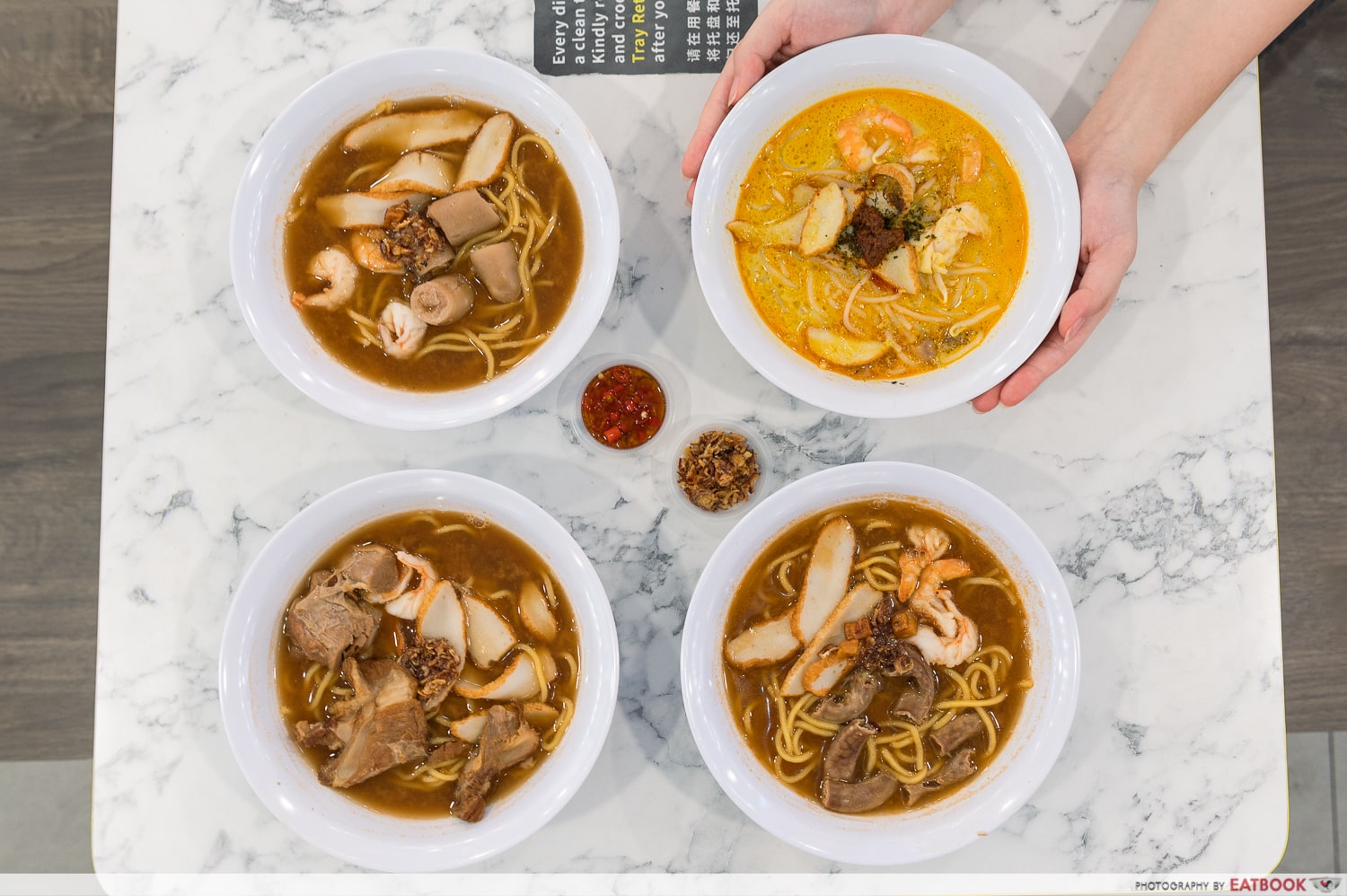 My dad was unusually excited for me to check out Geylang Laksa Prawn Noodles' new outlet in Ang Mo Kio, asking me to specifically dabao the prawn mee back for dinner. This is unprecedented behaviour from the least picky person I know, so I had high expectations when heading down to try the 59-year-old legacy hawker's laksa and prawn noodles.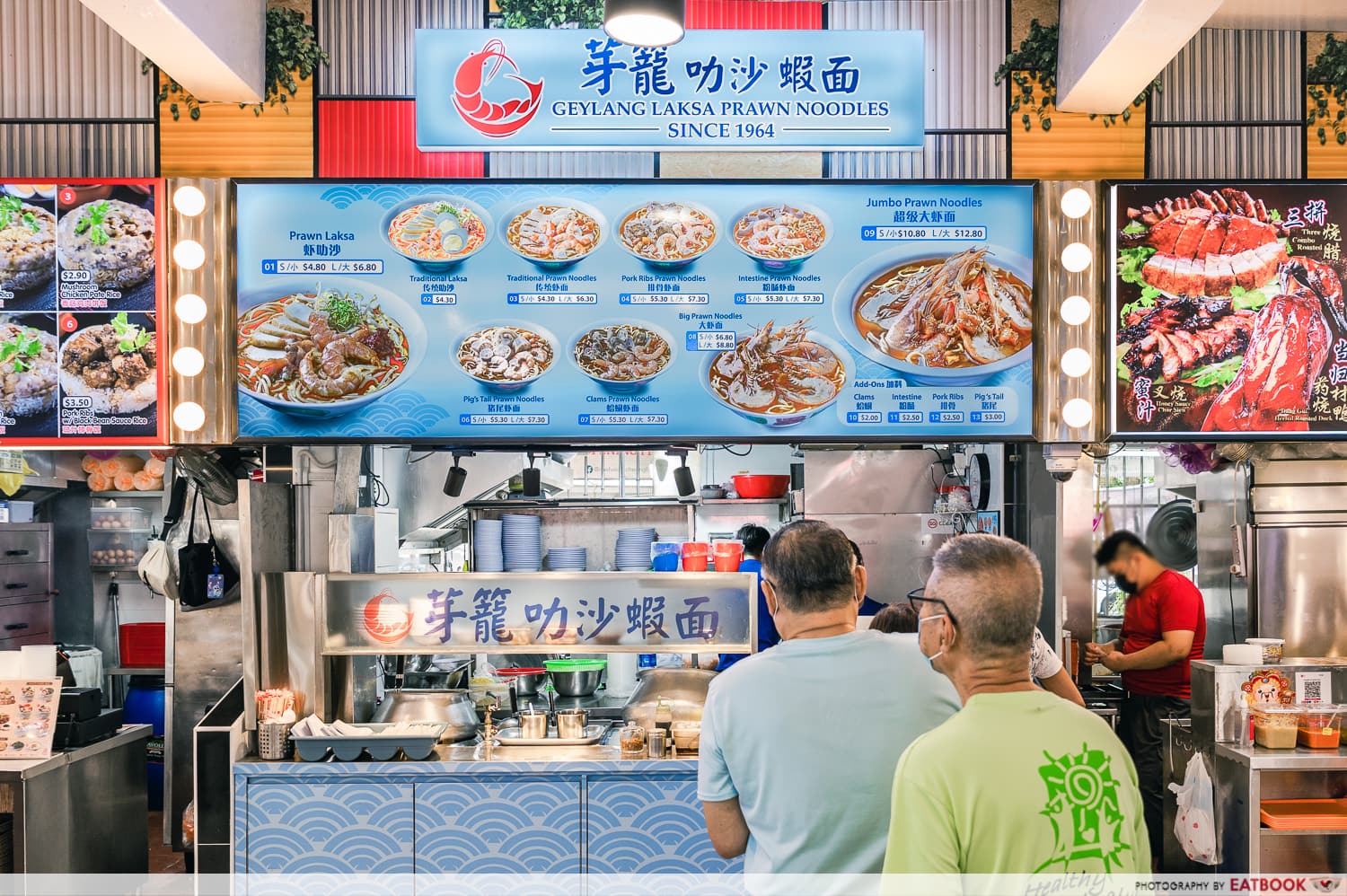 The new branch is helmed by Chef YY, who represents the third generation of Geylang Laksa Prawn Noodles along with his older brother Chef Ah Tu, who continues to run operations at their Sims Drive stall. Both brothers told us that opening their new stall in the more central region of Ang Mo Kio was a mutual decision, and they are hoping to expand the brand further in the future!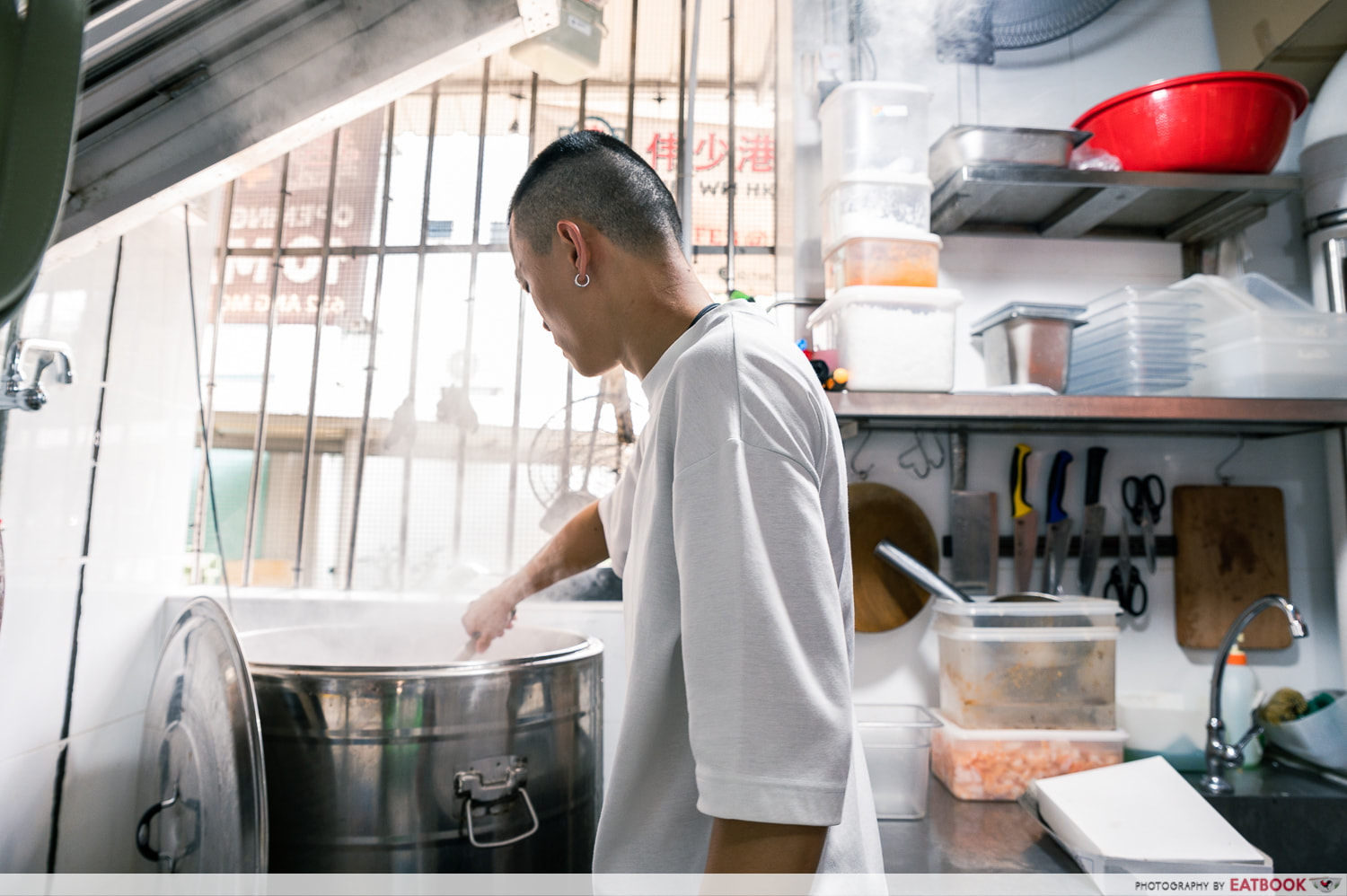 Chef YY is a young culinary grad who used to be in the hotel business, but along with Chef Ah Tu, who worked a decade in IT, the two decided to continue the family legacy despite their father's reservations.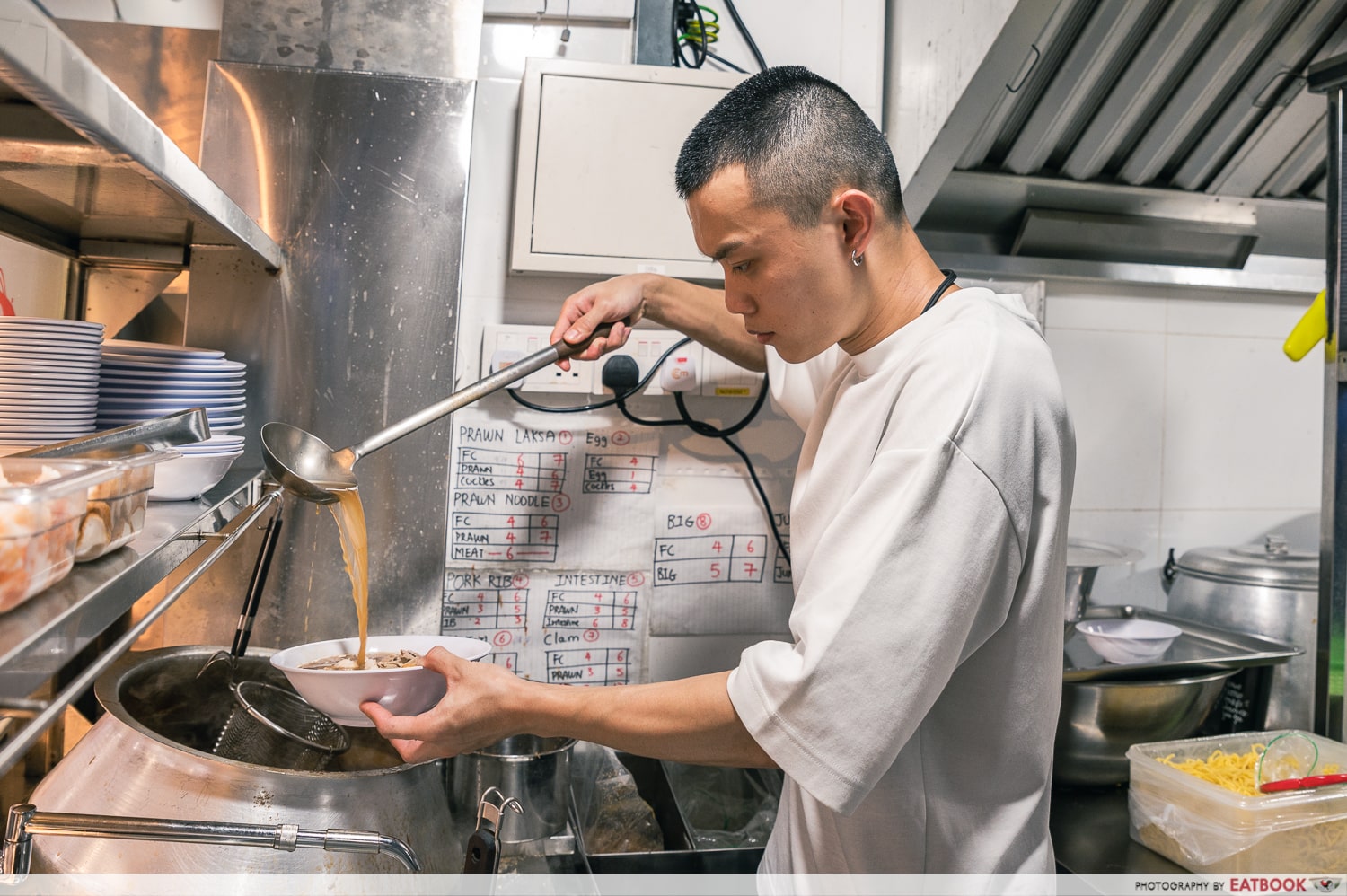 Younger people choosing to 'give up' so-called stable rice bowls in favour of hawking tends to draw judgement, regardless of how important hawkers are to society, but the brothers felt that it was important to help their ageing parents with the hard work and long days. A fulfilling life, as pictured by Chef YY, can be found beyond conventional ideas of a cushy job and high pay. 
One Prawn Noodle Review: Silky Smooth Prawn Noodle Broth By Former Burnt Ends Chef
Food at Geylang Laksa Prawn Noodles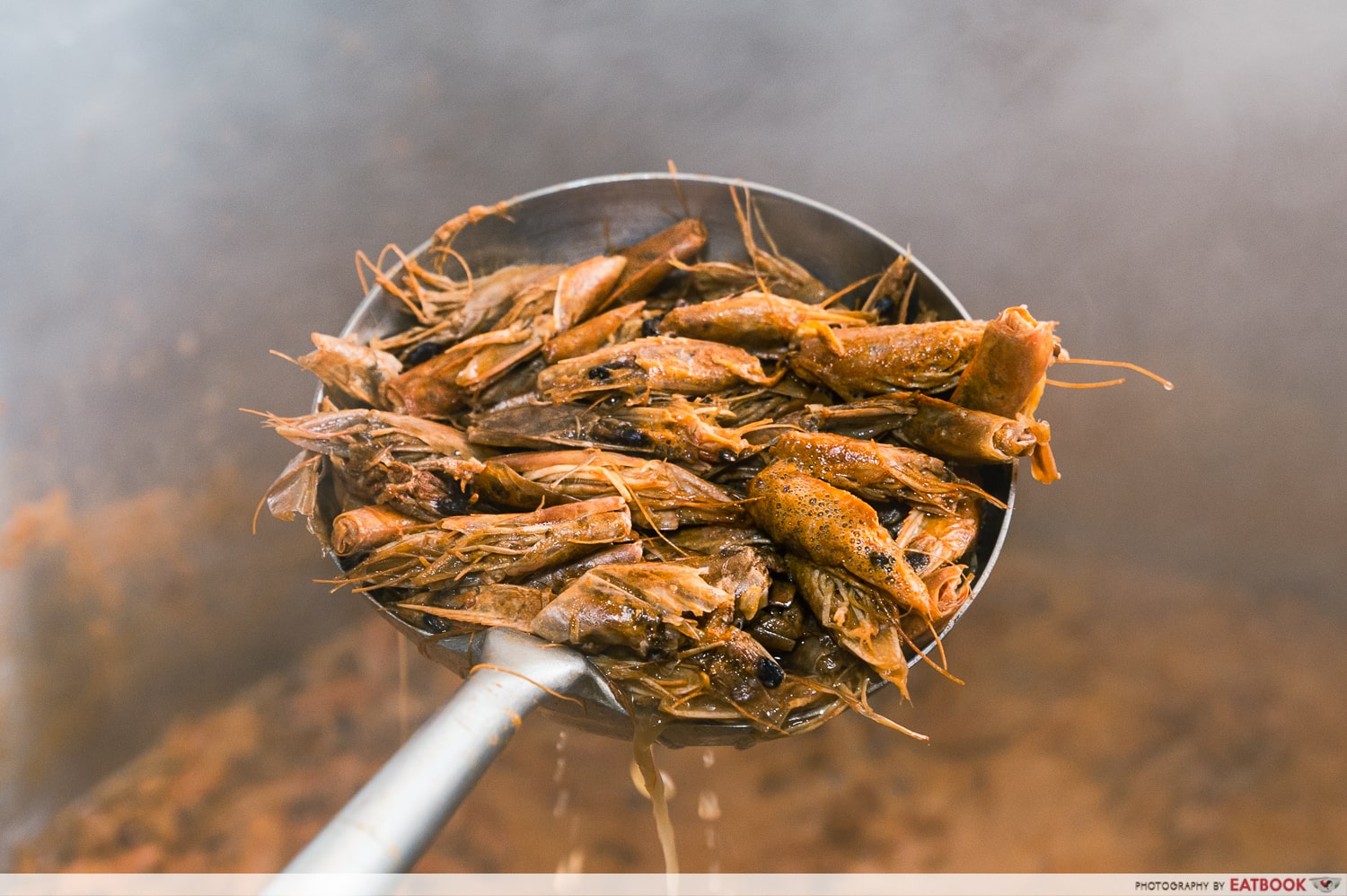 The stall prides itself on using high quality ingredients, such as the dried shrimps whose shells are wok fried and then used to make their fragrant prawn noodle soup. Here, you'll find that the menu mostly consists of your basic prawn mee, with the major difference between dishes being added toppings such as intestines, pig tail, and large red leg prawns.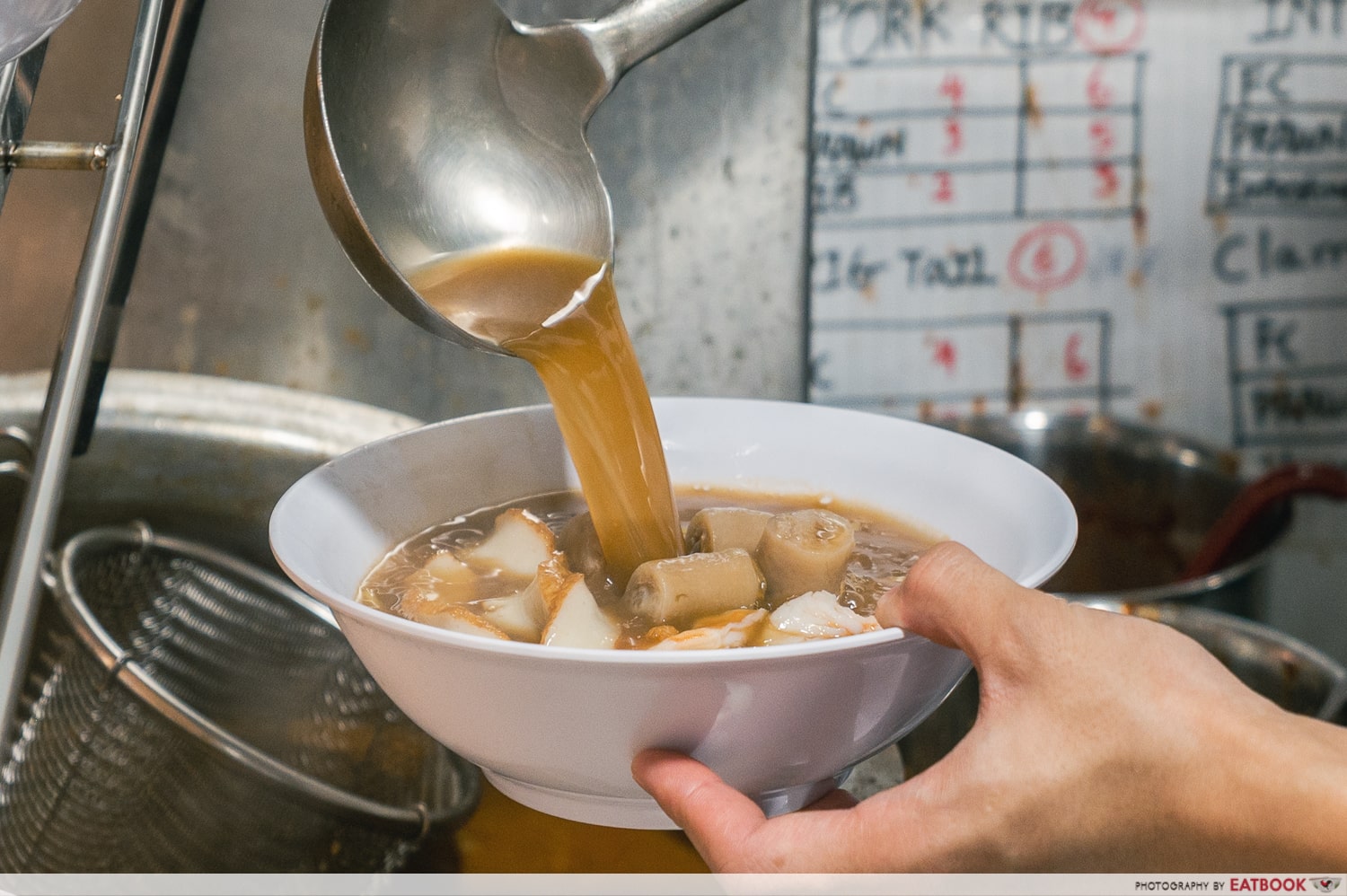 Across the board, you'll find their signature prawn broth in their dishes, made from simmering together prawn shells, prawn stock, pork bone, and other ingredients over many hours. Their prawn broth is sweeter than your average prawn mee soup due to the addition of rock sugar, and is extremely fragrant with strong umami notes. Chef YY kindly gave us a large bowl of just the soup to drink, and my colleague and I can firmly say that the soup here just hits different.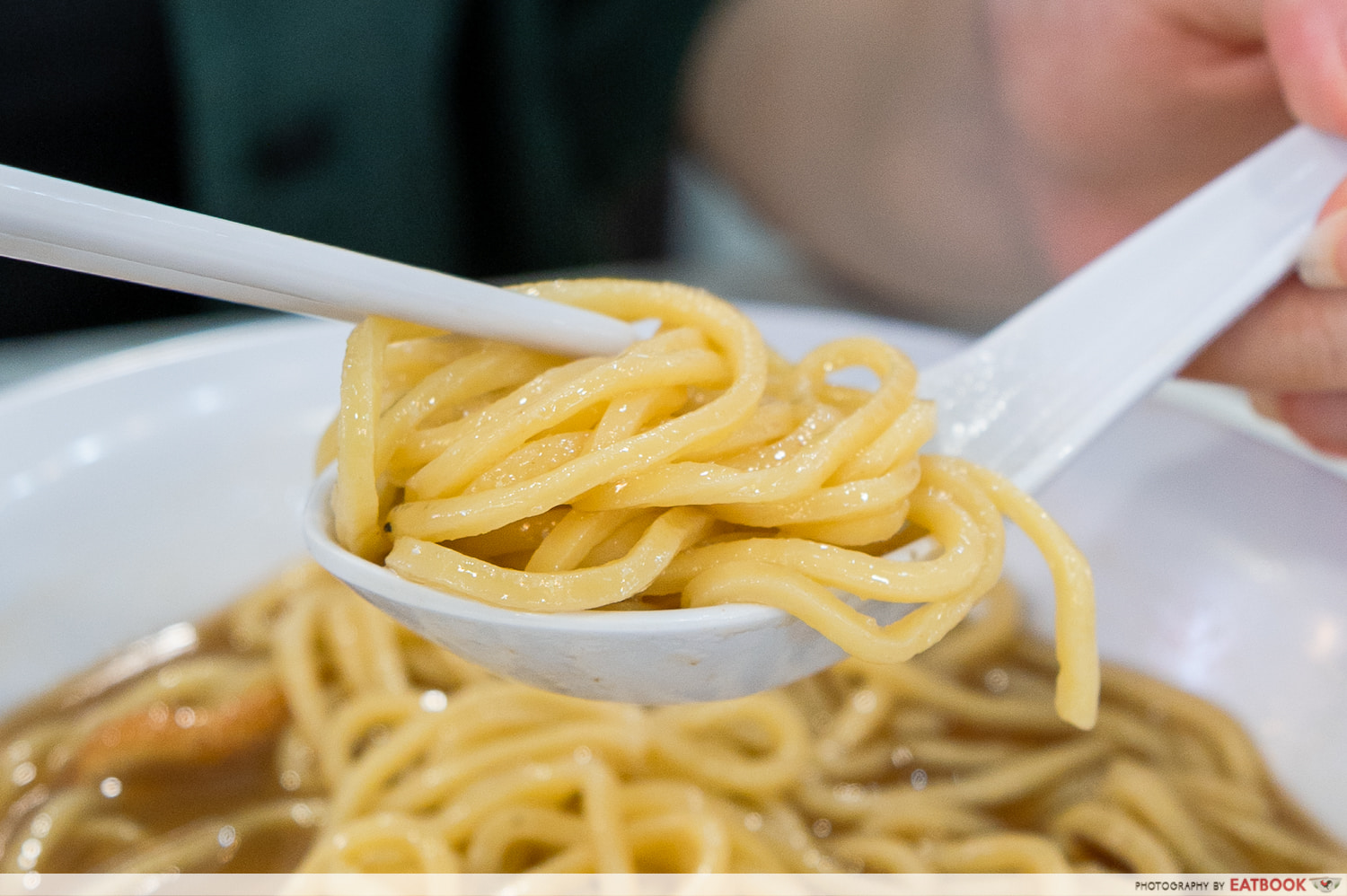 The yellow noodles here are well cooked, though they will bleed an alkali taste into the broth if you're a slow eater.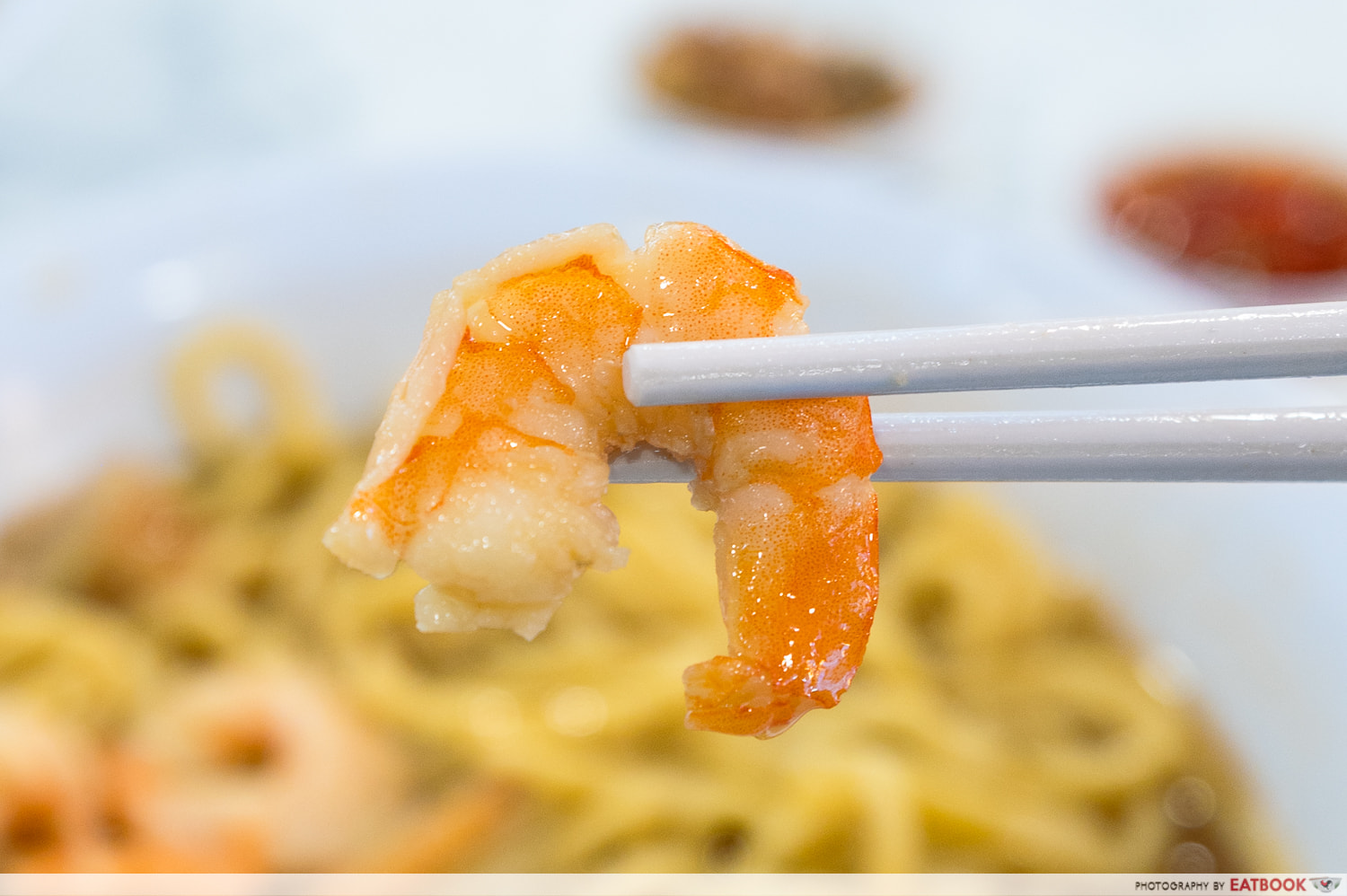 With the Traditional Prawn Noodles ($4.30/ $6.30) and most other prawn mee available here, you get some sweet and freshly-peeled Vietnamese prawns in your bowl, but they're rather small and not much in number.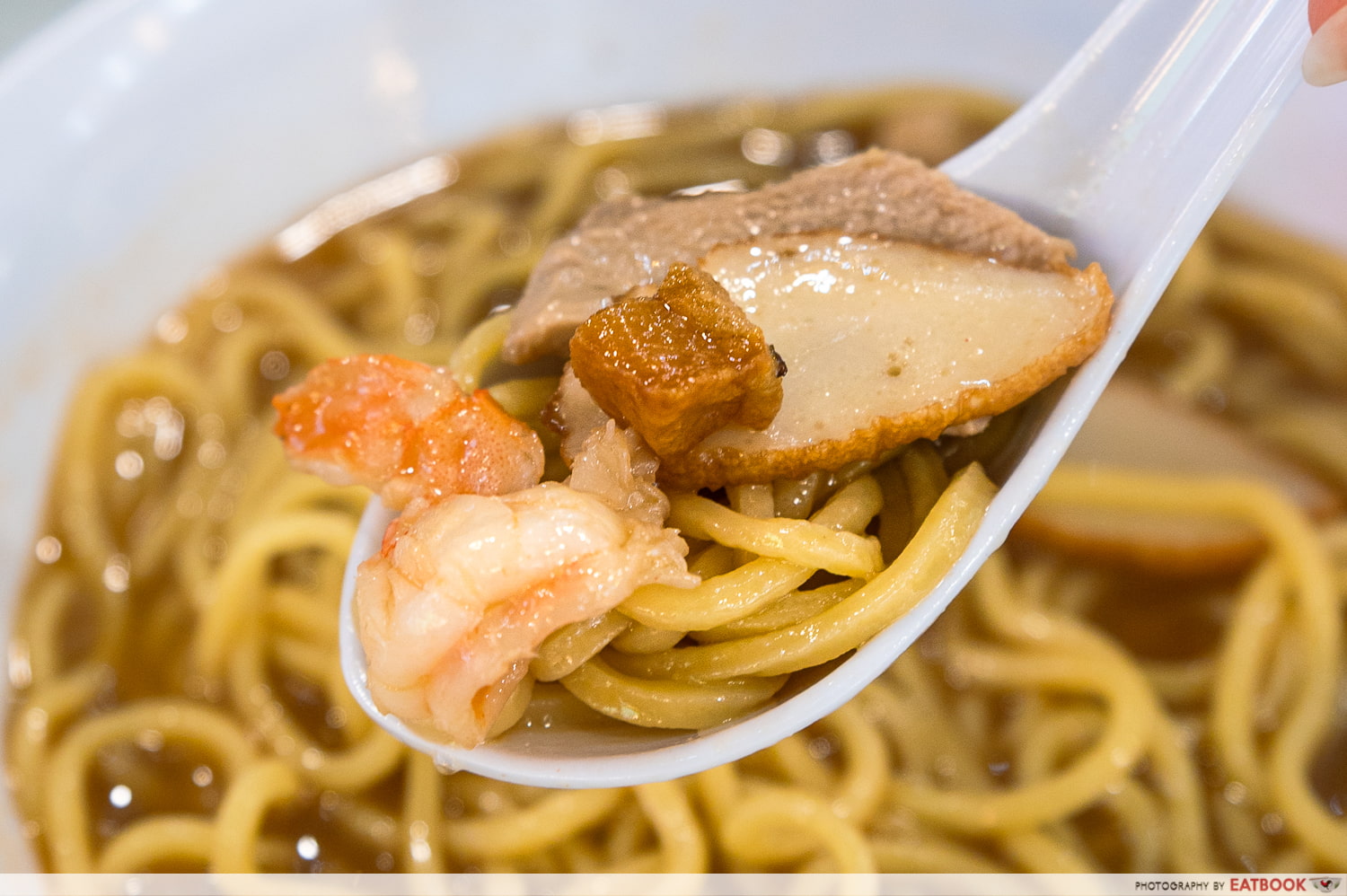 You do get a decent amount of tender pork slices, fish cake, and lard with the basic prawn mee though, so you won't be left wanting for liao with this bowl.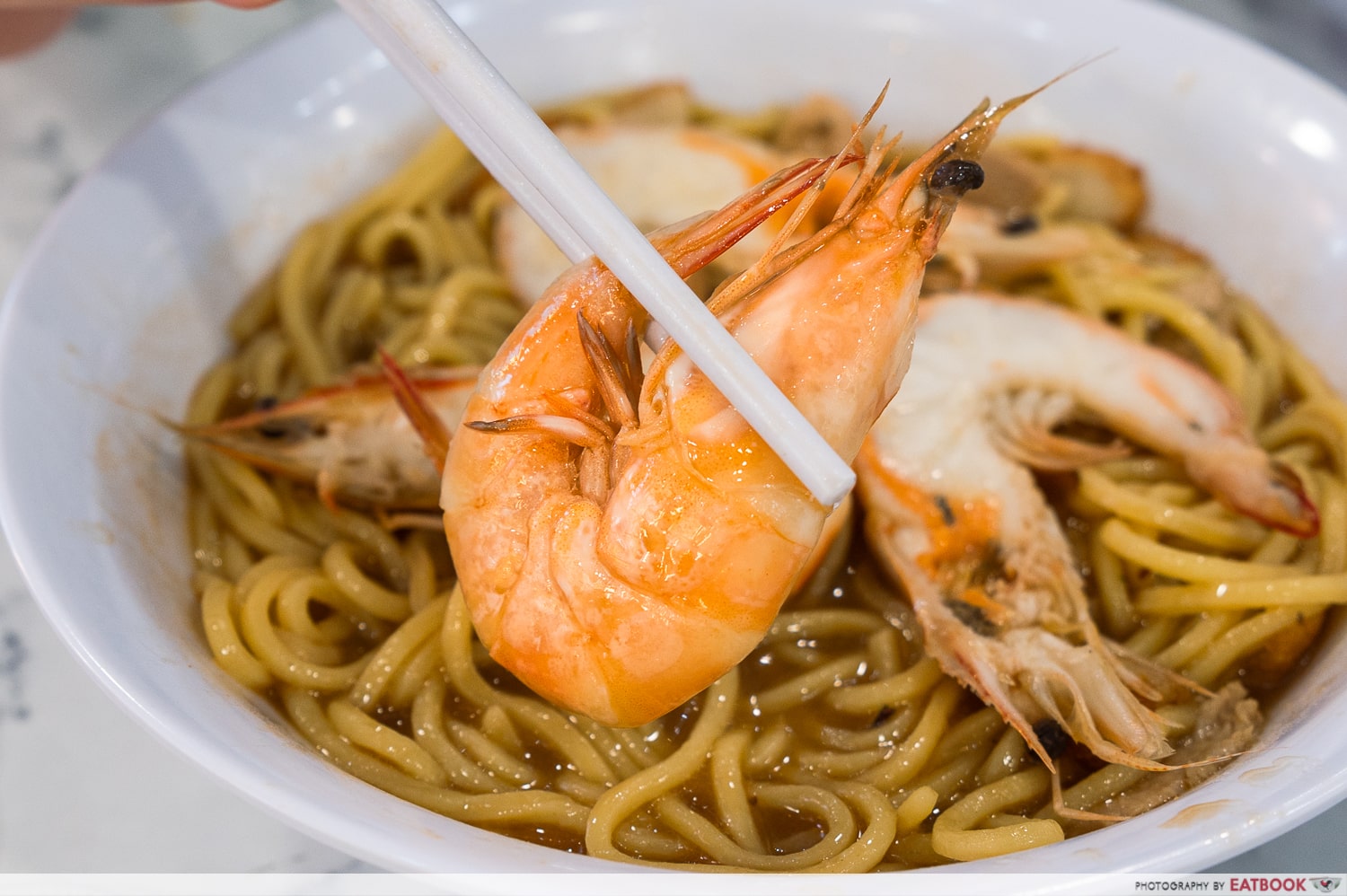 Go for the Big Prawn Noodles ($6.80/ $8.80) or the Jumbo Prawn Noodles ($10.80/ $12.80) to sate any prawn cravings instead, the latter being an Ang Mo Kio exclusive that uses red leg prawns. Cut in half with the shell, these juicy prawns were large, but also much pricier.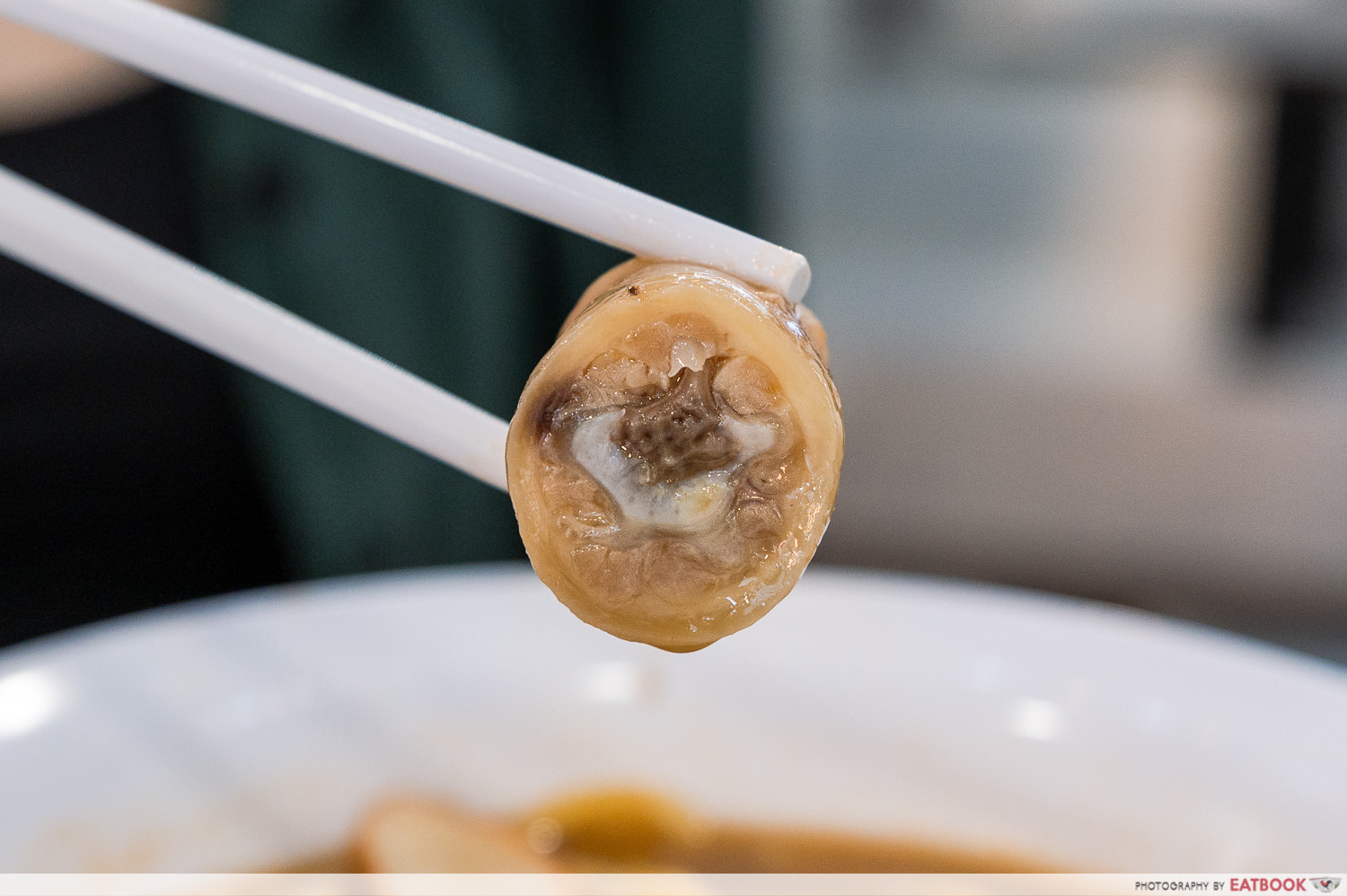 In terms of other liao, the Pig's Tail Prawn Noodles ($5.30/ $7.30) included hearty, large chunks of pig tail, with soft, gelatinous bits and surprisingly chewy skin.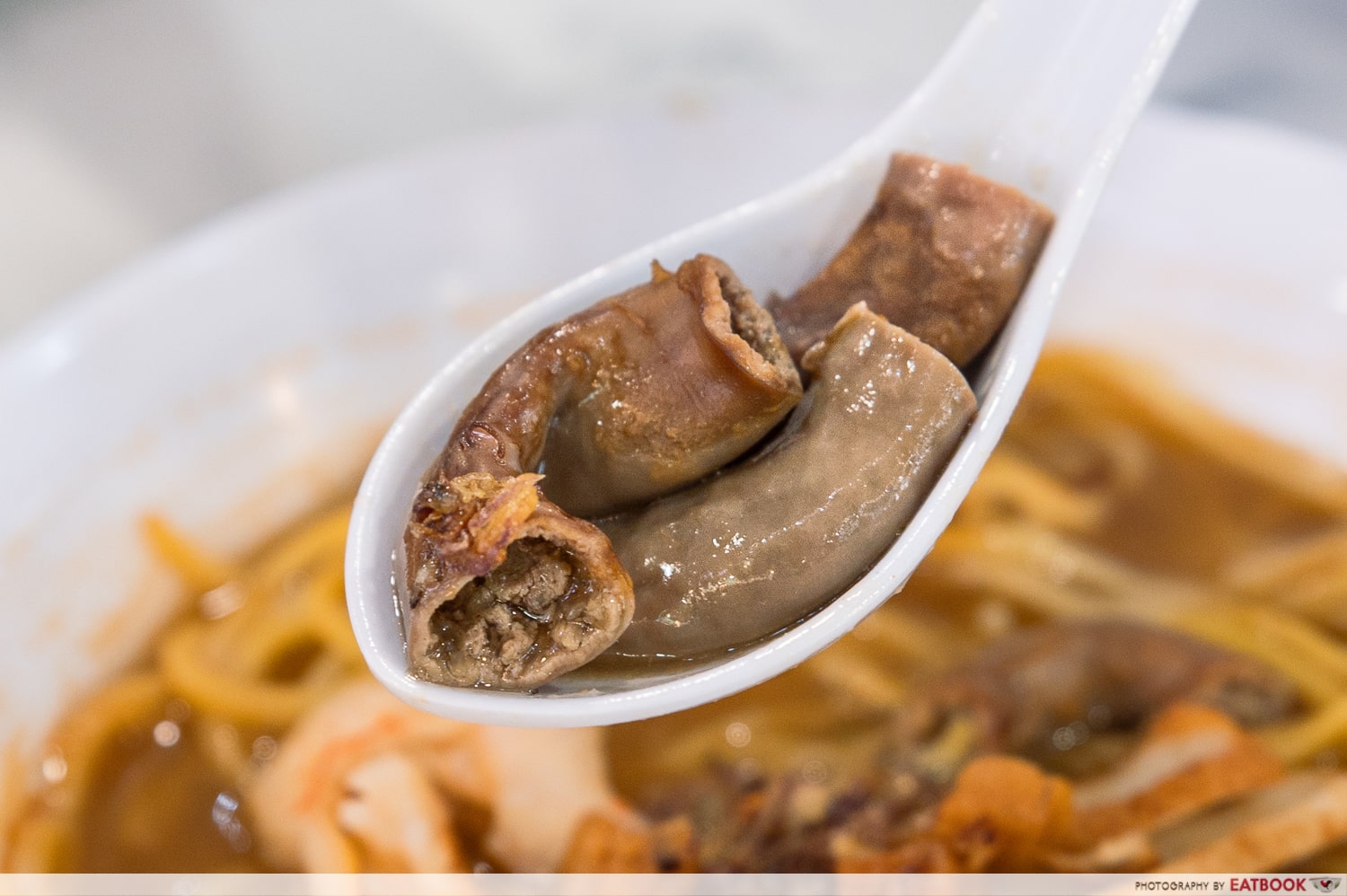 There's also the Intestine Prawn Noodles ($5.30/ $7.30), which my dining companion absolutely loved. To the stall's credit, the intestines were clean and not tough to eat, but as someone who feels ambivalent about pig offals in general, I let my companion polish off the rest of it.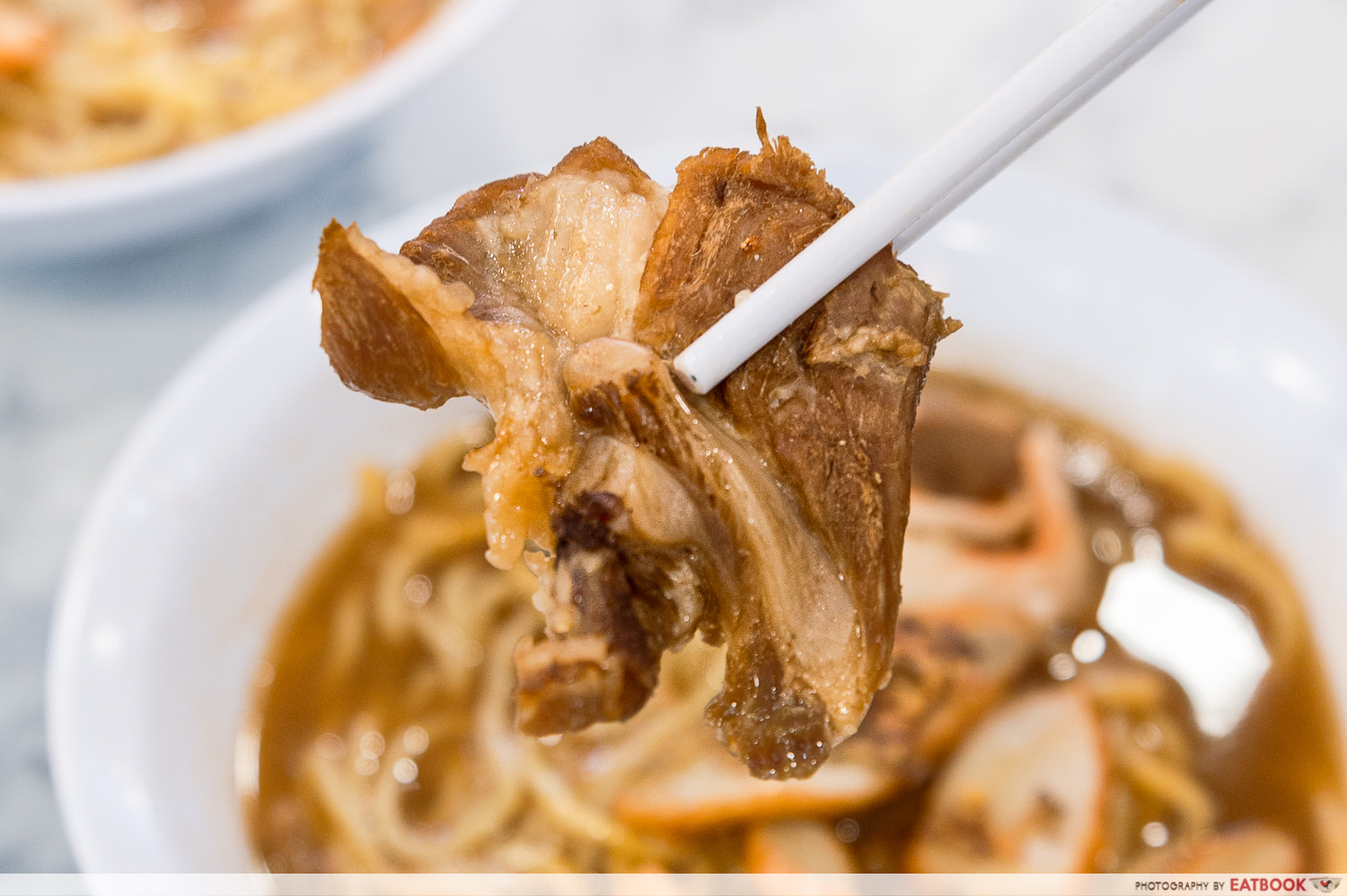 Something far meatier was the classic Pork Ribs Prawn Noodles ($5.30/ $7.30), which had large pieces of fatty pork ribs that melted in your mouth. Jumbo prawn mee aside, this is what I'd probably get from the stall if I wanted something filling. 
The Prawn Laksa ($4.80/ $6.80) was an extremely fragrant, vibrantly orange bowl of comforting laksa, and my attention was immediately drawn to it out of all the dishes on the table. Don't get me wrong—I like prawn mee, but after multiple bowls of prawn mee, this was a welcome relief for my tastebuds.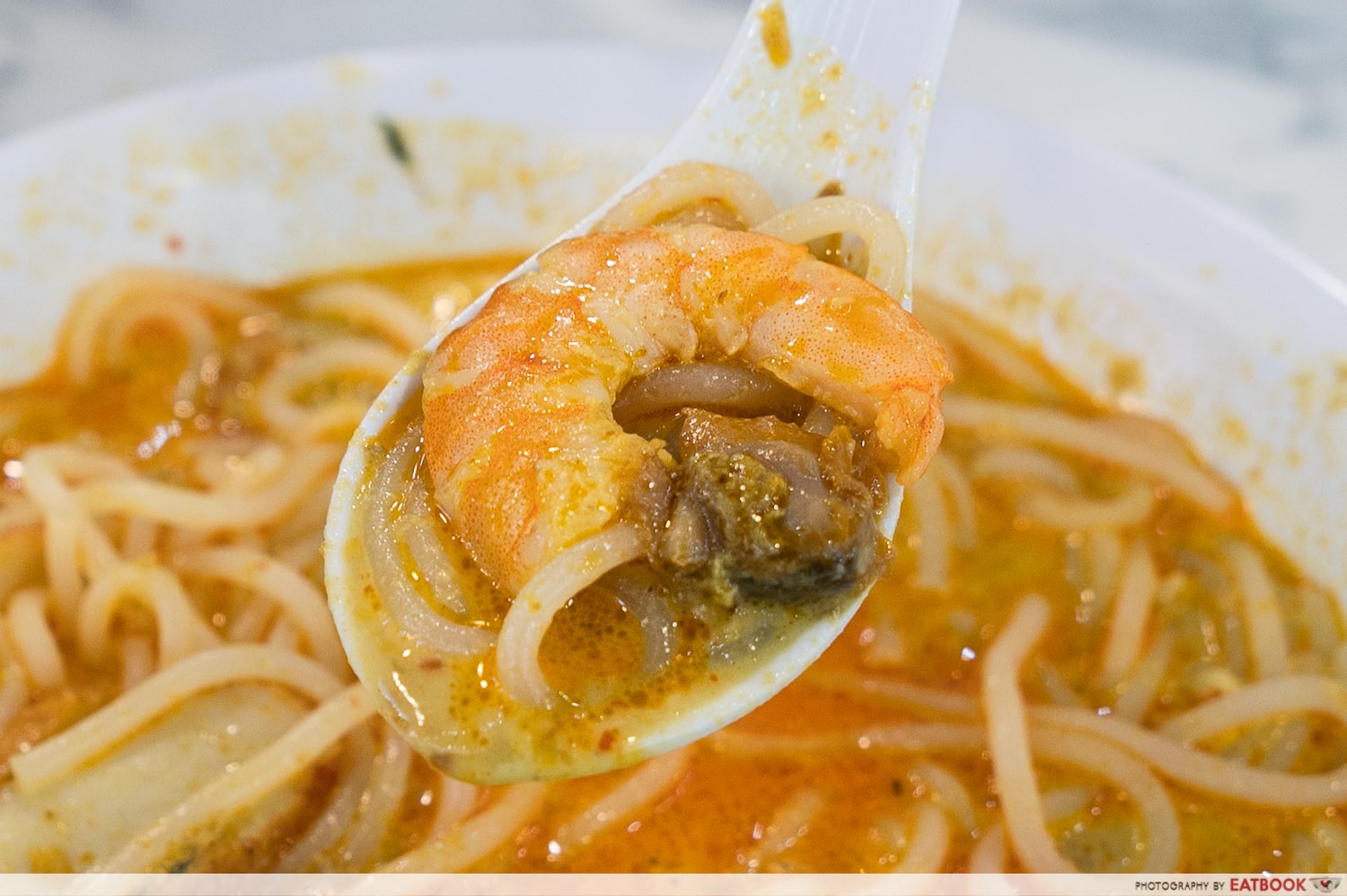 Unlike Traditional Laksa ($4.30), this bowl replaces the hard boiled eggs with even more prawn. Otherwise, you still get everything you know and love in laksa, such as fishcake slices, thick rice noodles, and of course, the hum. I also appreciated the housemade sambal, which gave this dish a savoury, spicy edge on top of the sweet prawn broth used in the gravy.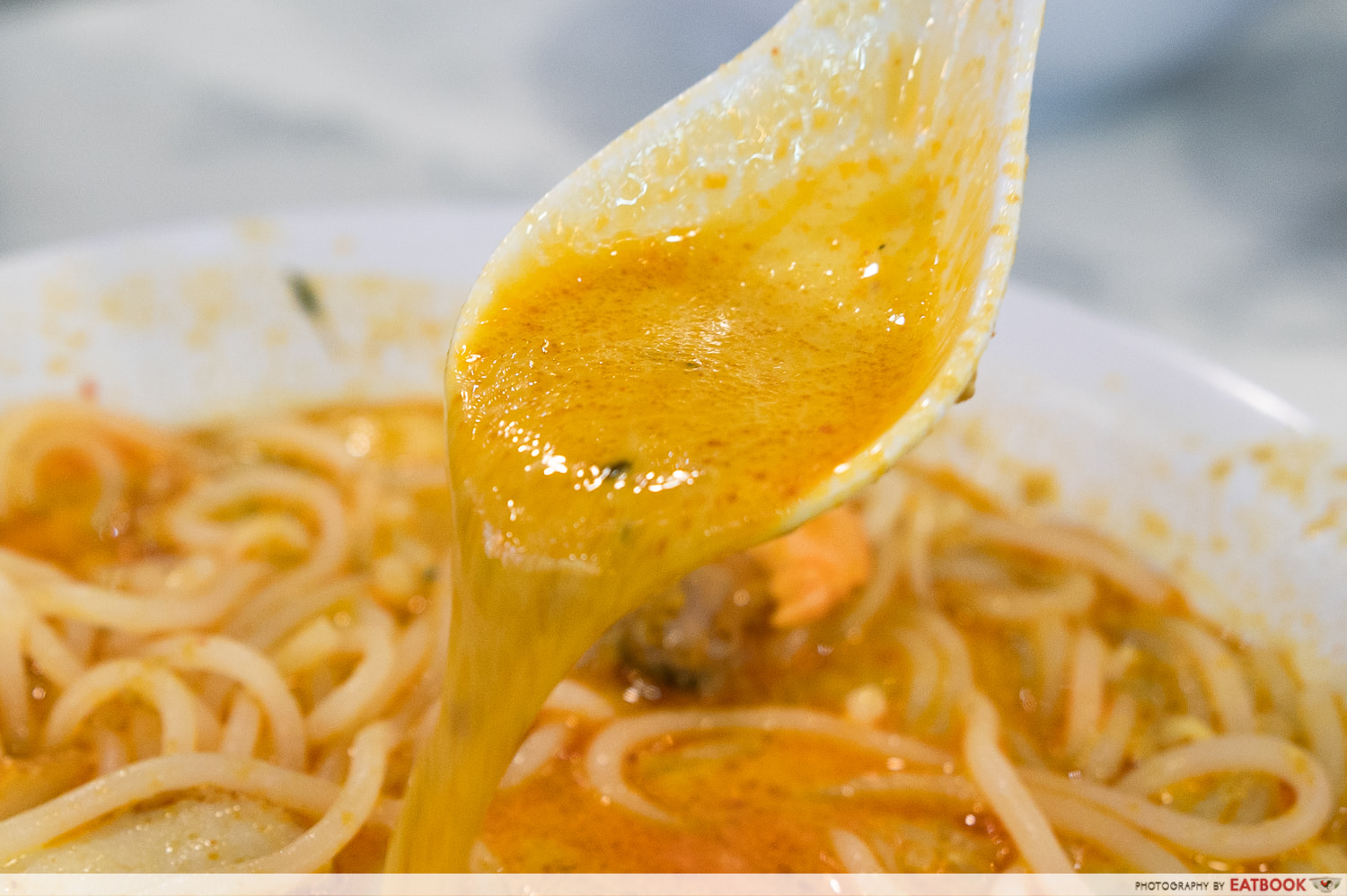 What truly blew me away about this dish was the gravy, cementing my belief that Geylang Laksa Prawn Noodles' strength lies in the broths. It's seriously sedap, with the flavours of the rempah standing out with every sip, and the creaminess of the fresh coconut milk being comforting and not overly cloying or too rich. 
Ambience at Geylang Laksa Prawn Noodles
The new outlet is located in a kopitiam that has bright lighting and powerful fans for ventilation, though the hot weather meant that we were just getting blasted with hot air the whole time we were there. It's roughly nine minutes from Yio Chu Kang MRT Station, but to get there you'll have to cross a main road junction and walk through a HDB estate, so it might be a little difficult to locate. 
The verdict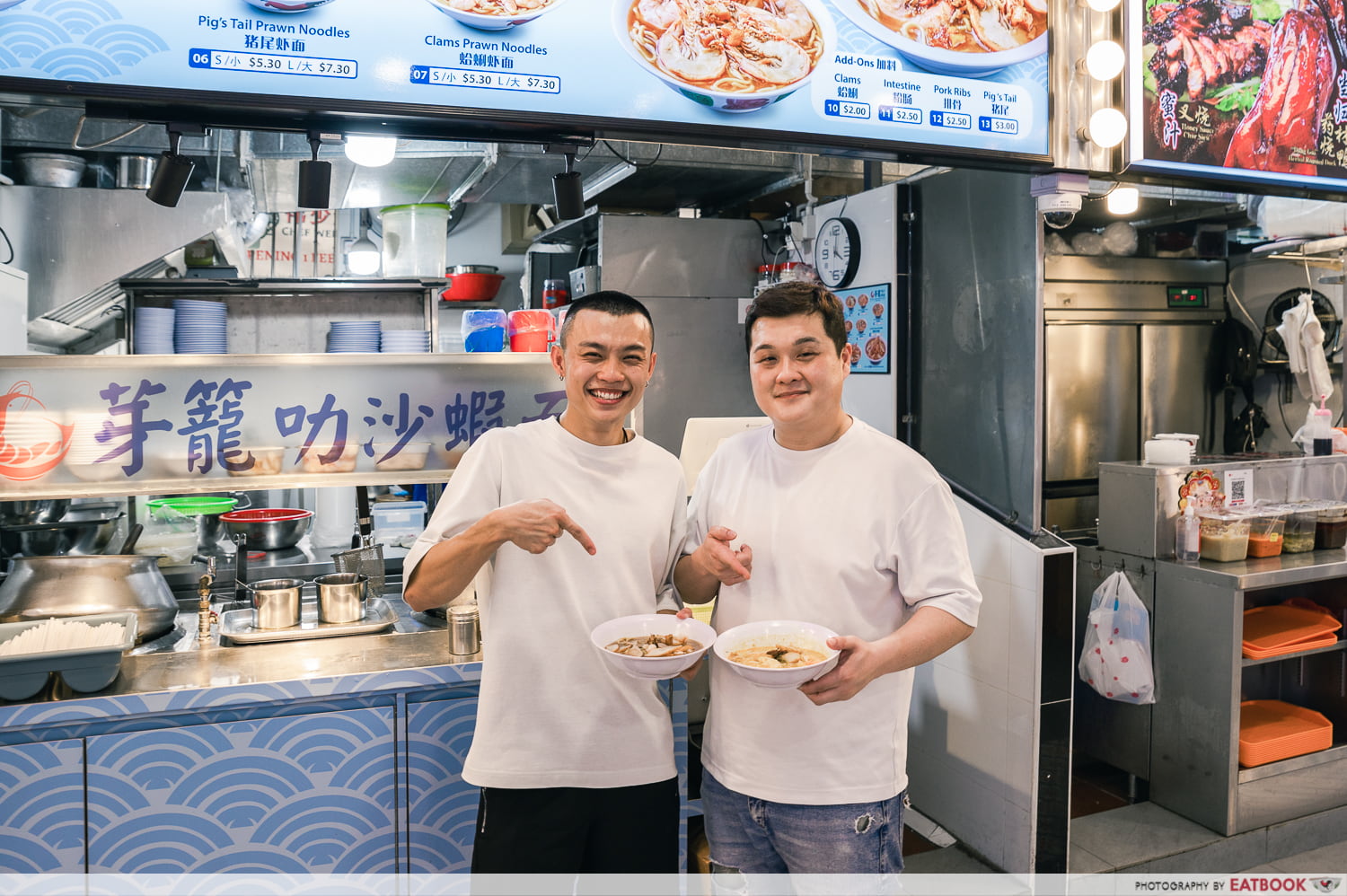 I could understand why my dad was so insistent on me dabao-ing back a portion of their prawn mee for him, particularly after tasting their prawn broth and laksa gravy. The other components of the dishes we tried were good, but I genuinely think the soup here makes Geylang Laksa Prawn Noodles stand out. That, and the dedication of the chefs in the business whose future they're shaping. I'll probably be back, not just to fulfil my dad's cravings, but also because this outlet thankfully opens way longer than the Sims Drive one which tends to sell out by noon.
For more, check out One Prawn And Co for our coworker Michelle's favourite bowl of prawn mee. There's also Omage Foods in Bedok, with a unique dry laksa you seldom find in hawker centres. 
Ang Mo Kio Outlet
Address: 632 Ang Mo Kio Avenue 4, Singapore 560632
Opening hours: Daily 8am to 8.30pm 
Sims Drive Outlet
Address: Block 45 Sims Drive Avenue, #01-180, Singapore 380045
Opening hours: Wed-Mon 5.30am to 2pm
Tel: 9856 8152
Website
Geylang Laksa Prawn Noodles is not a halal-certified eatery. 
Get Dry Laksa, Fried Mee Tai Mak And More At This Bedok Hawker Stall
Photos taken by Ke-ian J Leong
This was a media tasting at Geylang Laksa Prawn Noodles. 
Geylang Laksa Prawn Noodles Review: Famous Prawn Mee Stall Opens New Outlet In Ang Mo Kio
Geylang Laksa Prawn Noodles Review: Famous Prawn Mee Stall Opens New Outlet In Ang Mo Kio -

8/10
Summary
Pros
– Good broth
– Fresh prawns
Cons
– Prawn portion can be a little small
Recommended dishes: Traditional Laksa ($4.30), Jumbo Prawn Noodles ($10.80/$12.80)
Opening hours: Mon-Fri 11am to 8pm, Sat 10am to 3pm
Address: 632 Ang Mo Kio Avenue 4, Singapore 560632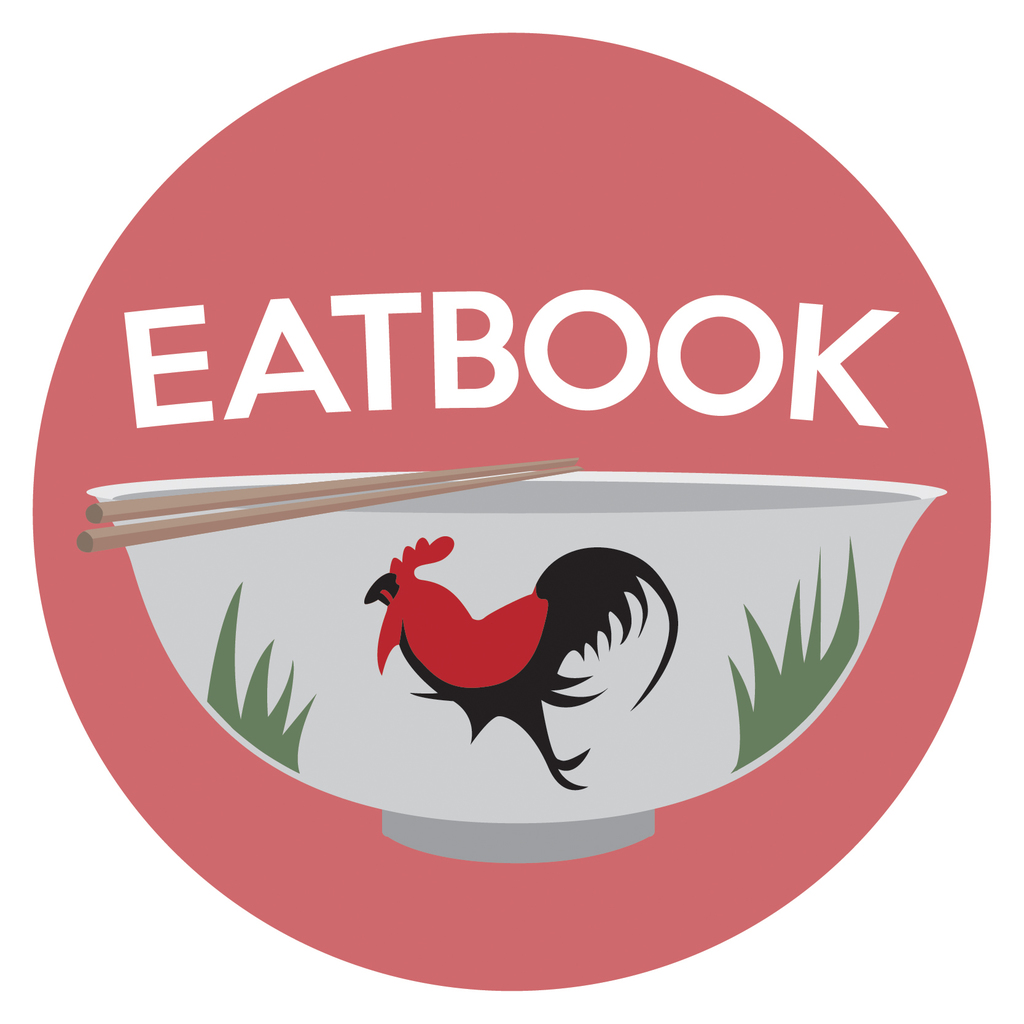 Drop us your email so you won't miss the latest news.