Silky smooth prawn broth at One Prawn Noodle
Update: One Prawn Noodle is now known as One Prawn and Co, which has relocated to 458 MacPherson Road, Singapore 368176.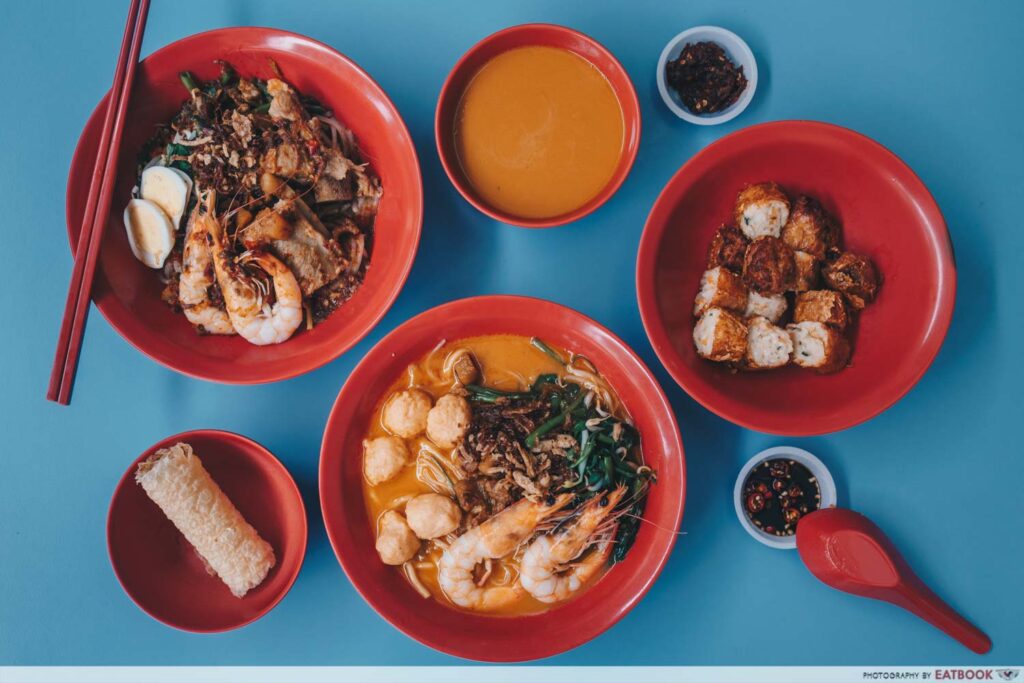 Prawn noodles have been getting a resurgence of sorts by hawkers lately. Compared to other local dishes such as char kway teow and chicken rice, these addictive noodles seem to be popular among aspiring hawkers. Prawnaholic is a well-kept secret among Easties for their unique dry prawn noodles, while Prawn & Mee exceeded expectations by applying restaurant techniques to prawn mee.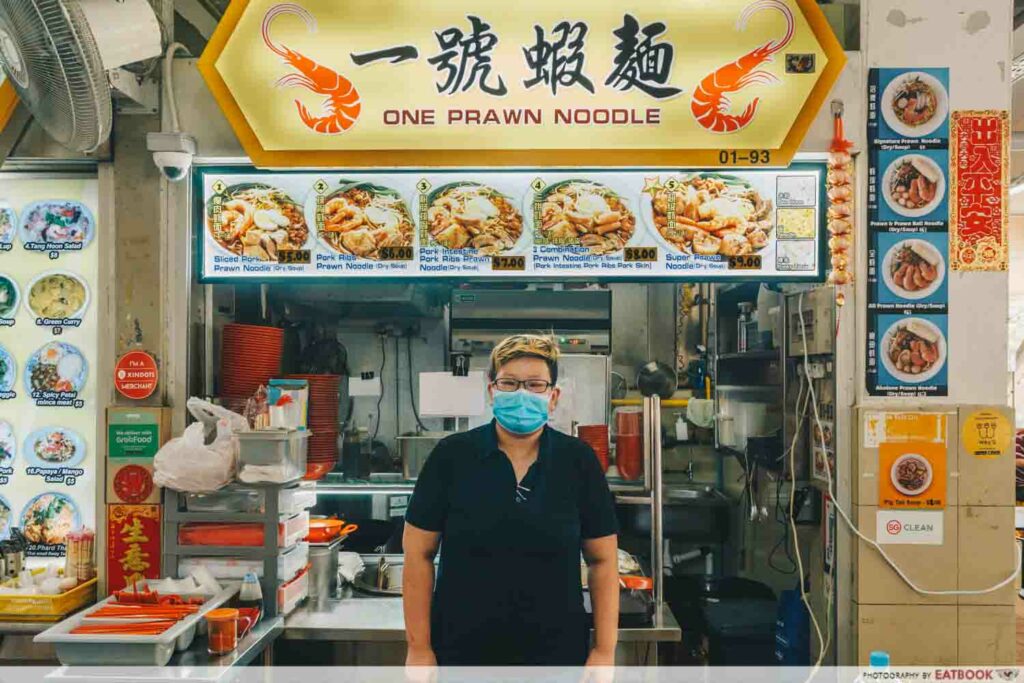 Opened in May last year, One Prawn Noodle is another spot that joined the fray. The stall is helmed by the spunky and jovial Gwyneth Ang, who received a solid culinary education at Temasek Polytechnic and The Culinary Institute of America, before cutting her teeth at Michelin-starred restaurants such as Forlino and Burnt Ends.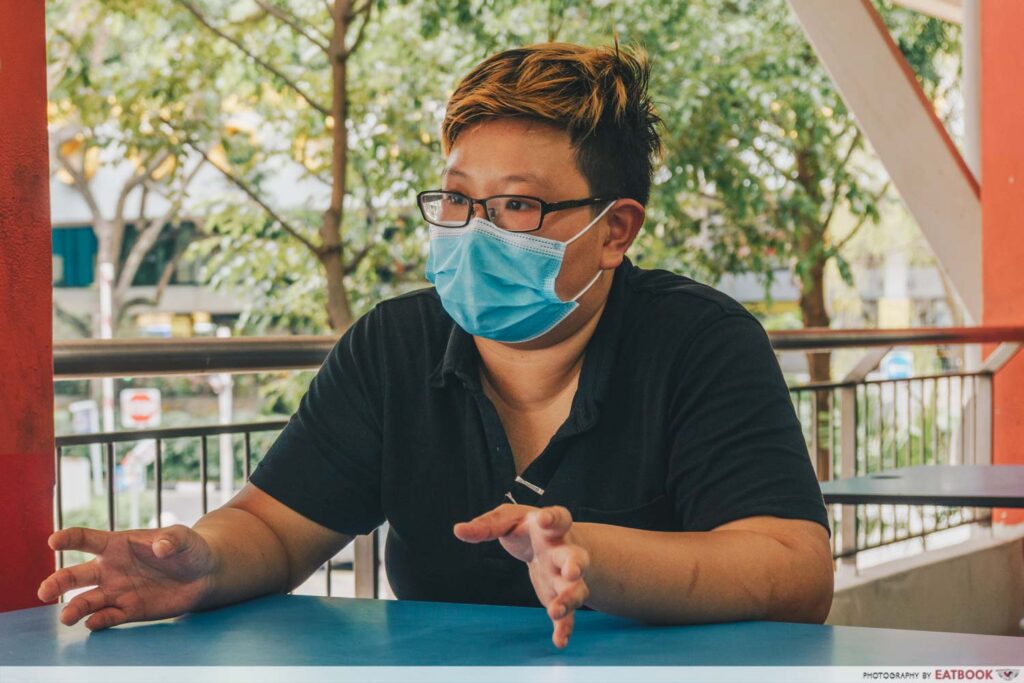 Born to a Penang mother, the 27-year-old grew up eating her fill of Penang-style prawn noodles, which is slightly different from its Singaporean counterpart thanks to its spicy prawn broth and the addition of kang kong. After setting up the food menu at Level Up bar, she decided to open her own Penang-style prawn noodle hawker stall in the pursuit of serving up the best of such noodles in Singapore. 
Food at One Prawn Noodle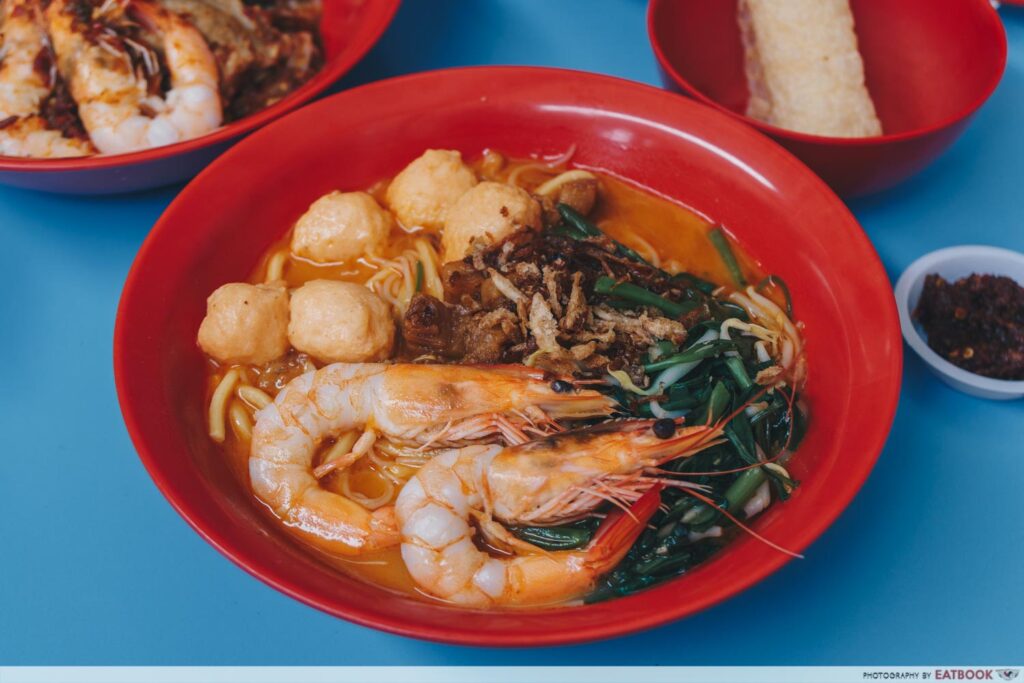 The menu is slightly different from regular prawn noodle stalls. Taking a leaf out of steamboat restaurants, it lets you add on dishes such as abalone and beancurd rolls to the noodles. But aside from that, it's pretty much stock standard with the regular prawns, pork ribs, pig's skin, pig's tail, and pig's intestine being the protein options. 
We started with an order of the Soup Prawn & Prawn Balls ($7). What struck me first was its large serving size. The bowl was filled with noodles, and topped with a generous serving of kangkong, beansprouts, fried shallots, prawns, prawn balls, and a single beancurd roll. Diners can choose from a selection of thin bee hoon, kway teo, yellow noodles or thick bee hoon. I went for the tired-and-tested combination of thin bee hoon and yellow noodles.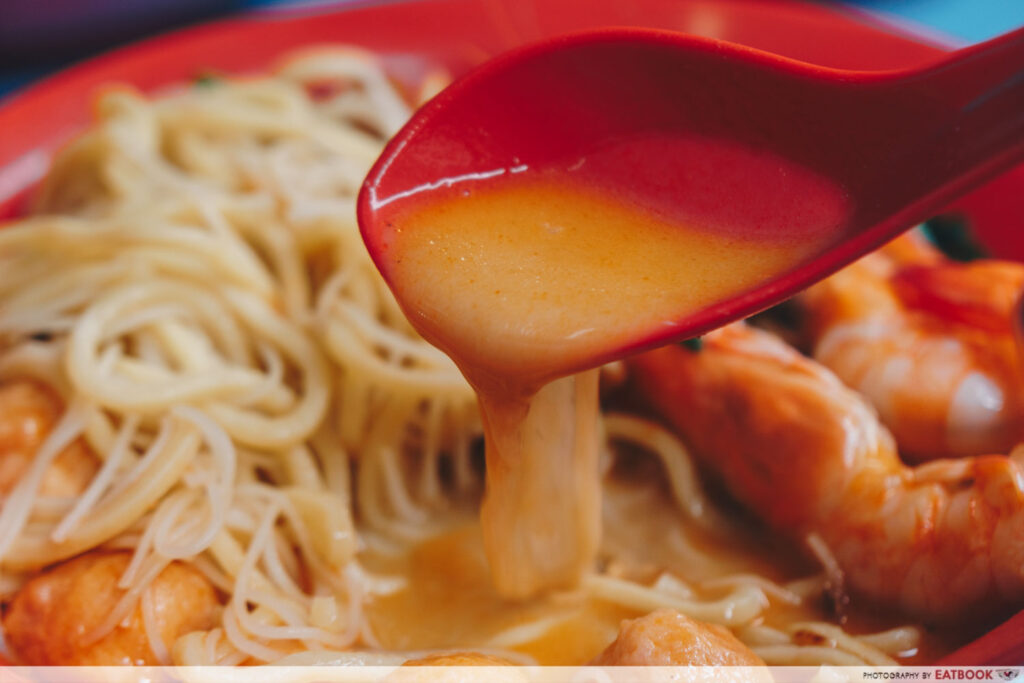 Besides the stellar portions, I was also impressed by the soup. It came in a deep-orange hue, and had a thick cloudiness that reminded me of creamy tonkotsu broth.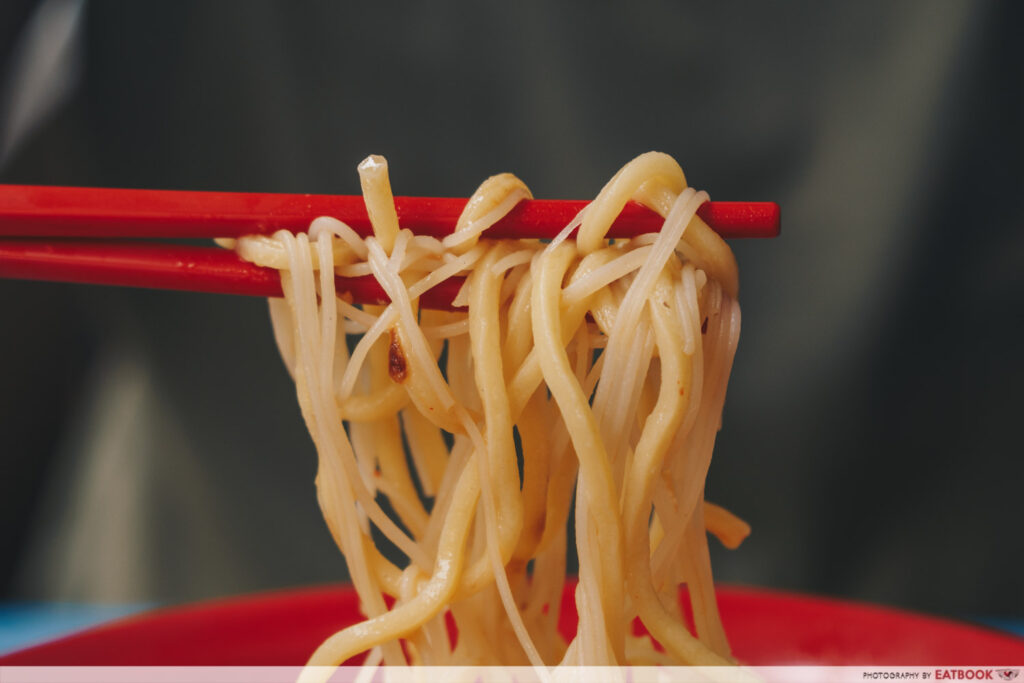 There are plenty of good players in Singapore that do prawn noodle soup well, with River South Prawn Noodle being my favourite, but One Prawn Noodle's soup joins this list. It took just a sip for me to be won over by its natural prawn sweetness. There's a velvety bisque-like mouthfeel to it, and also a nice rounded body to the soup that balances everything out beautifully. 
Gwyneth tells us that she borrows inspiration from tonkotsu, where pork bones are meticulously boiled for hours, and also from prawn bisque, where loads of flavours are extracted by coaxing out the natural sweetness from cooked prawn shells.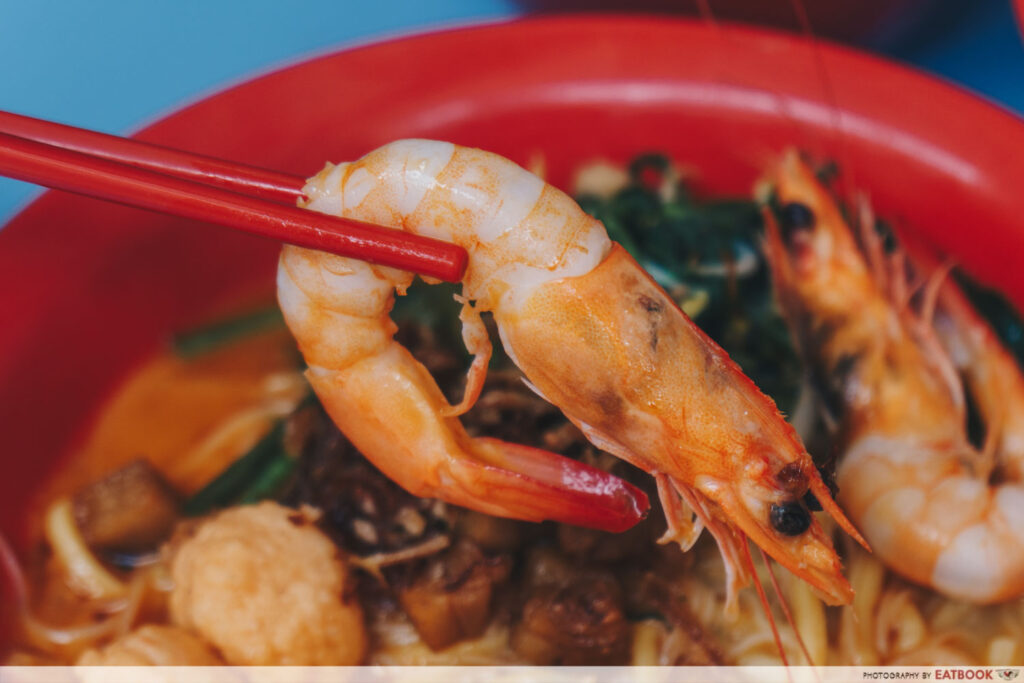 Two medium-sized prawns can be found inside, and I appreciated how they already come pre-peeled. Not only is that convenient for diners, but it also gives Gwyneth extra ammunition for flavouring her tasty pork broth as she adds a ton of prawn shells in them. 
Those who enjoy sucking on prawn heads will not be left disappointed though; the head is kept intact for those who like to munch on the rich and gooey juices. The prawns are cooked to the right consistency, and have a nice pleasant freshness to them.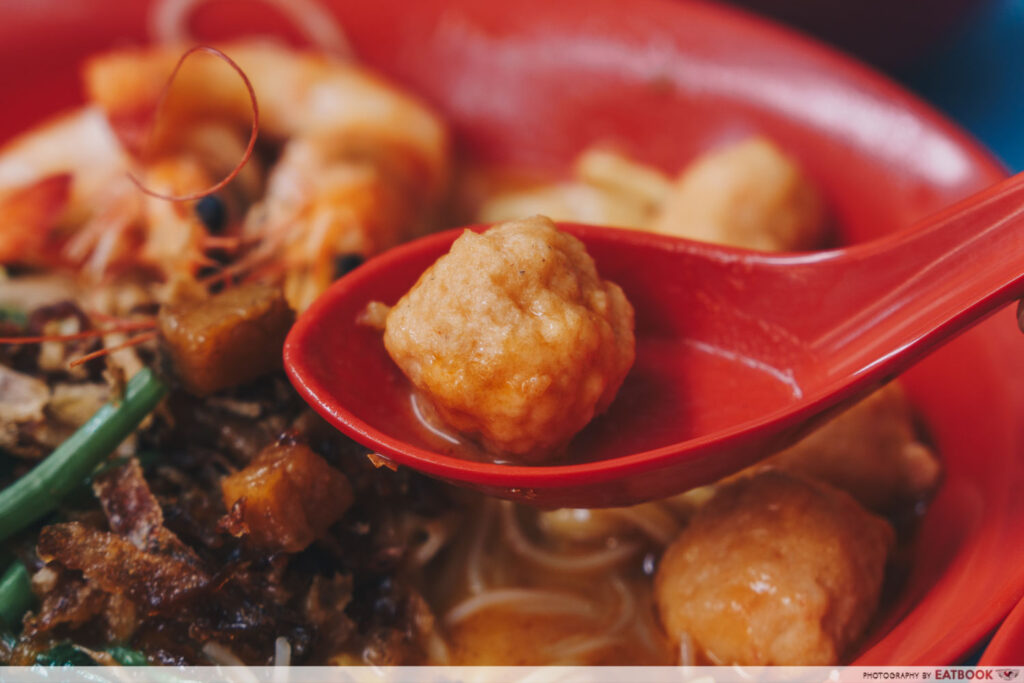 Five hand-made prawn balls can be found inside, and they comprise prawn flesh that is mixed with minced dory fish. There was a nice punch of prawn flavours and also a bouncy texture that reminded me of fish balls.
Gwyneth initially struggled with making the prawn balls, but after speaking with a veteran fish ball maker, she was able to make these addictive bouncy spheres that were a real treat.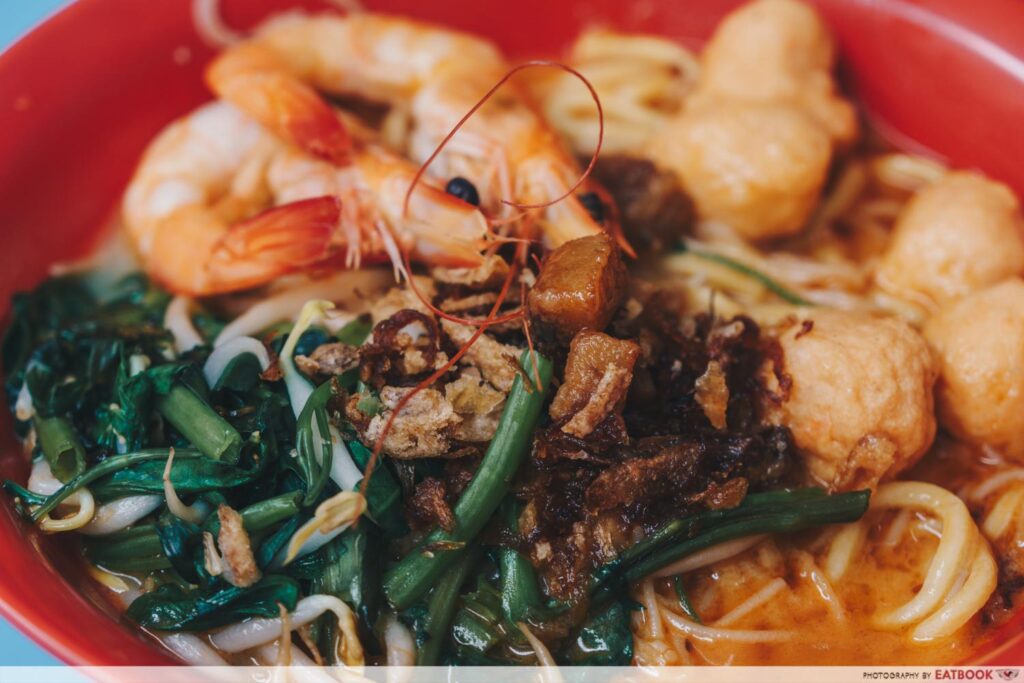 The broth was a standout winner for me, but it was the deep-fried lard bits that made it an extra enjoyable prawn noodle soup experience. They weren't soggy, they weren't porky and most importantly, they weren't overly greasy. Cut into larger-than-normal chunks, the pork lard bits were a cut above any that I've tasted. They added a certain element of luxury to the dish, giving the soup a rich and aromatic flavour.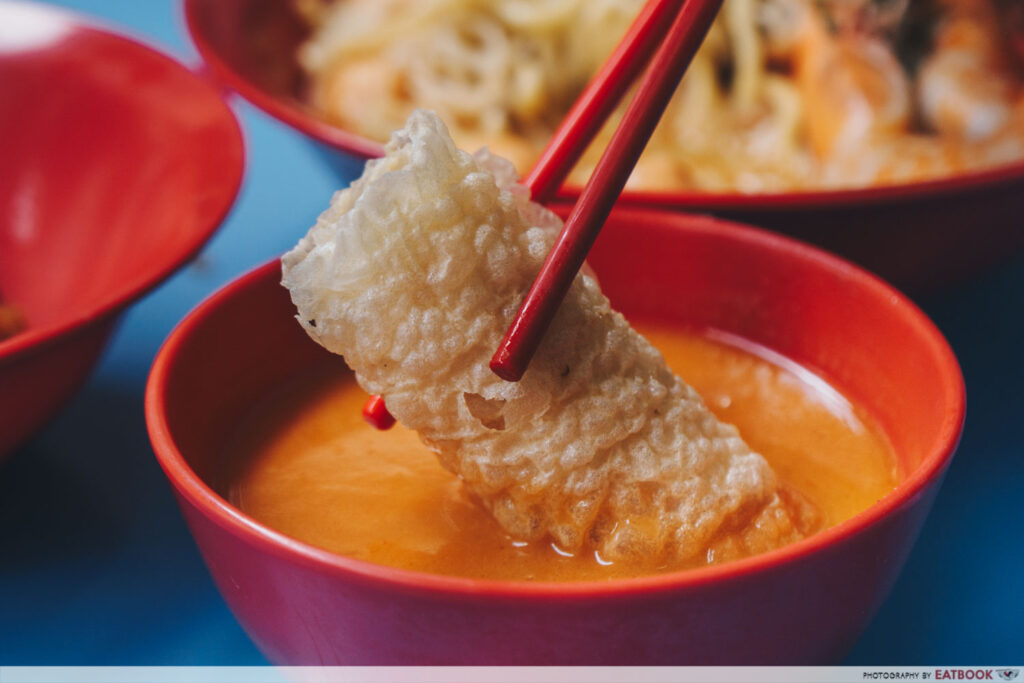 The dish also comes with a single piece of beancurd roll, a popular favourite in steamboat parties. Its ability to soak up every last drop of the flavourful soup is a nice touch, and those who want more can get them for $0.50 apiece as well.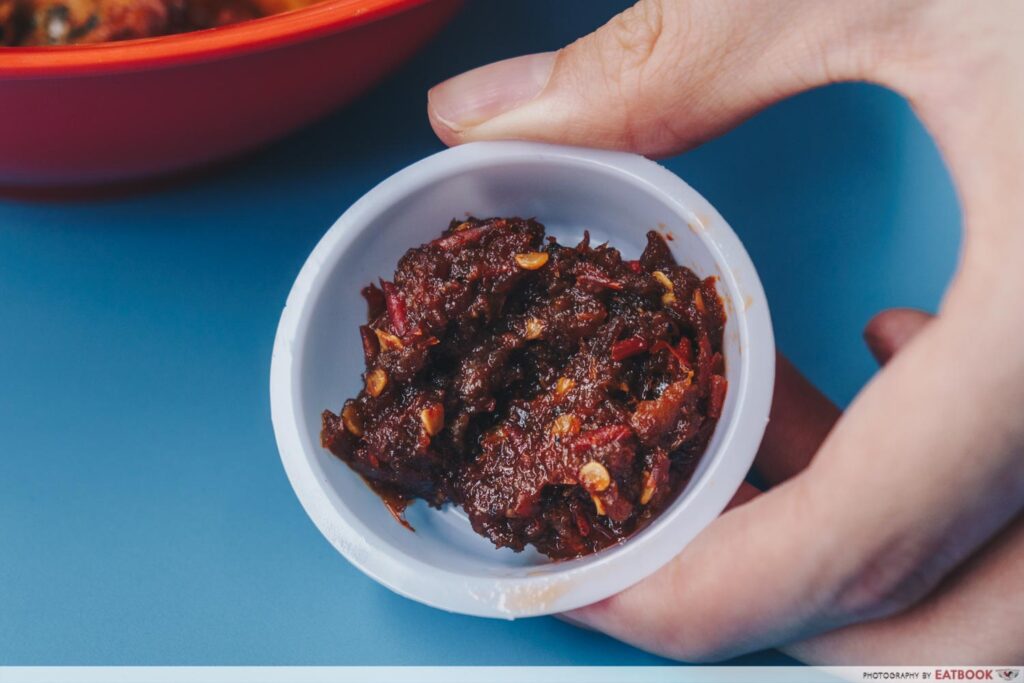 Prawn noodle chilli usually leans towards either spicy hot or robust dried shrimp flavours. The one at One Prawn Noodle was towards the dried shrimp side, packing an intense shrimpy taste that reminded me of dried prawn rolls that I like to devour during Chinese New Year. On top of that, it was also nice and thick, which is great when emulsified together with the silky-smooth prawn soup.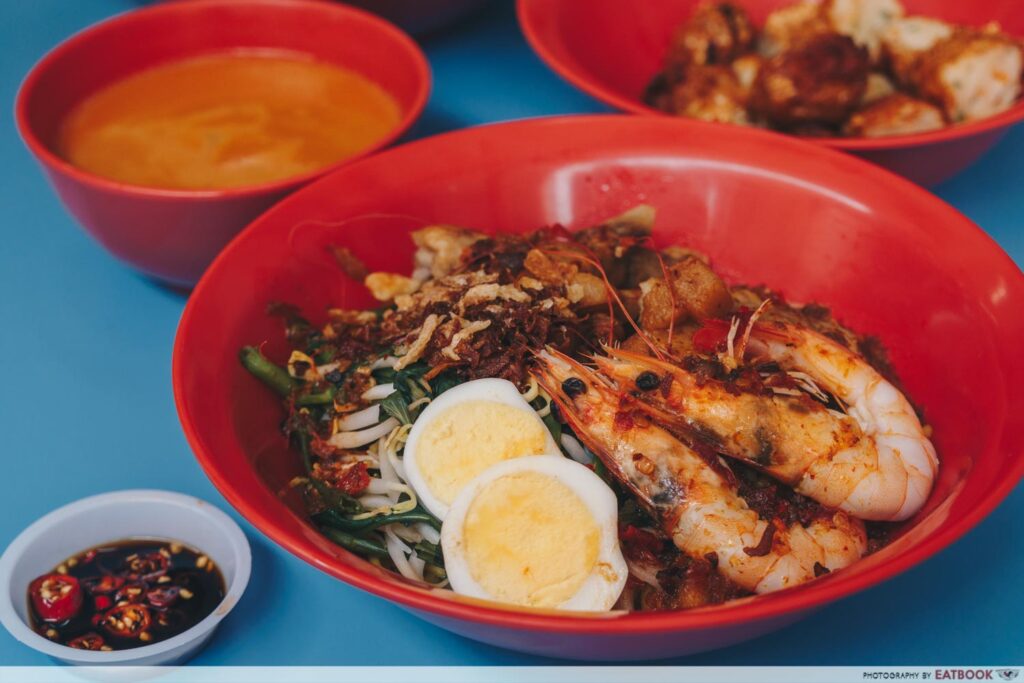 While I enjoyed the prawn noodle soup immensely, I found it difficult to say the same for its dry cousin.  Besides the addition of pork ribs and hard-boiled egg, the Dry Pork Ribs Prawn Noodle ($6) features the same toppings as its soup version.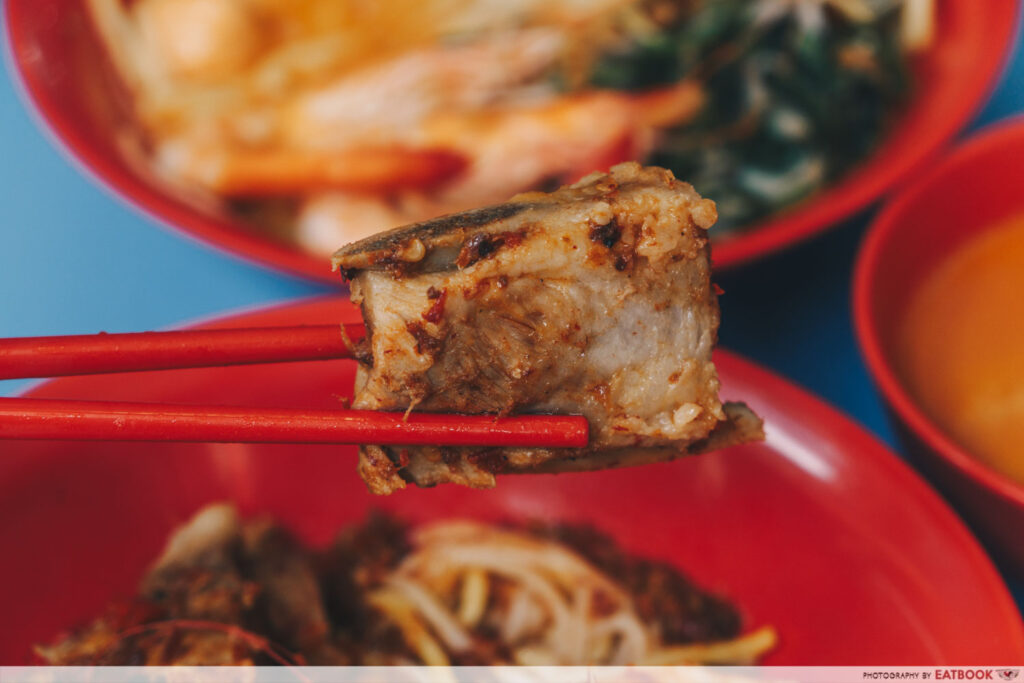 The pork ribs were cut into large chunks and were a joy to bite into. They also came with generous streaks of fat that were cooked to a gelatinous texture. They weren't too overly dried out, and were great when dipped together with the chilli paste.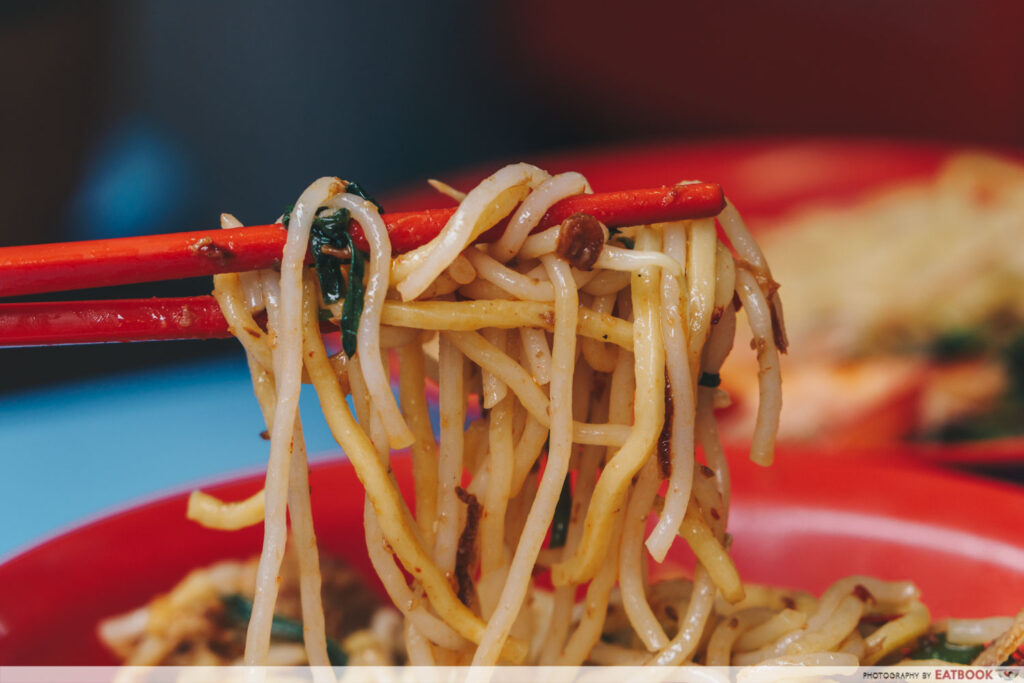 I was slightly disappointed with the dry noodles. A generous drizzle of pork lard, chilli, and sesame oil was tossed with the noodles, and while they were expertly cooked, I felt that the flavours did not meld well enough together. The sesame oil was also too overpowering, fighting against the powerful chilli that, otherwise, had a whole load of dried shrimp flavour.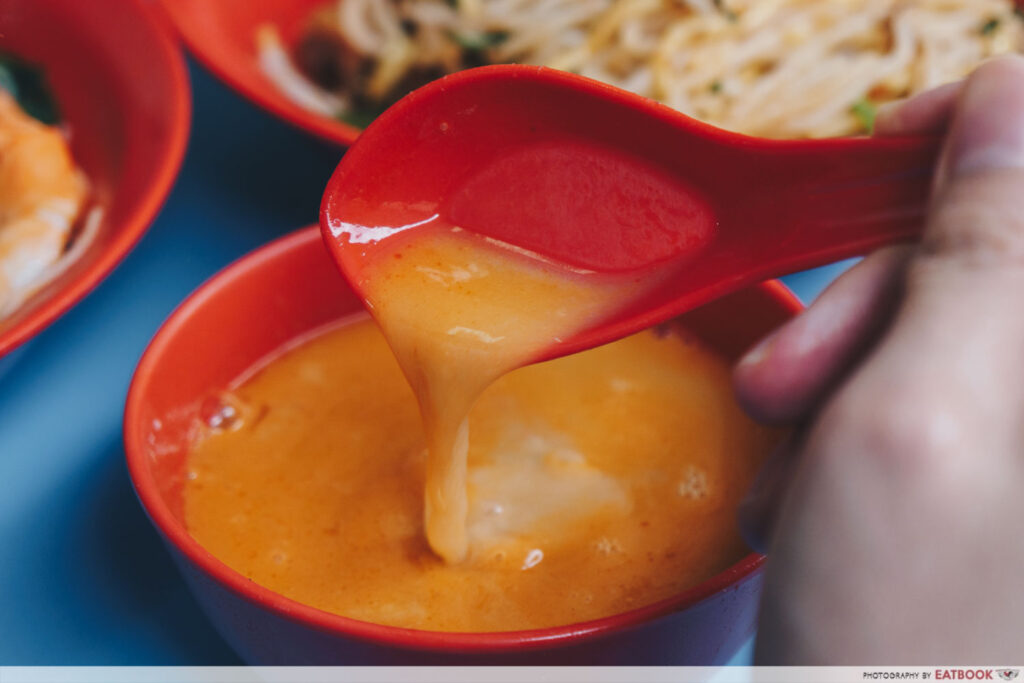 A side of prawn soup, the same that's found in the prawn noodle soup, is also given on the side.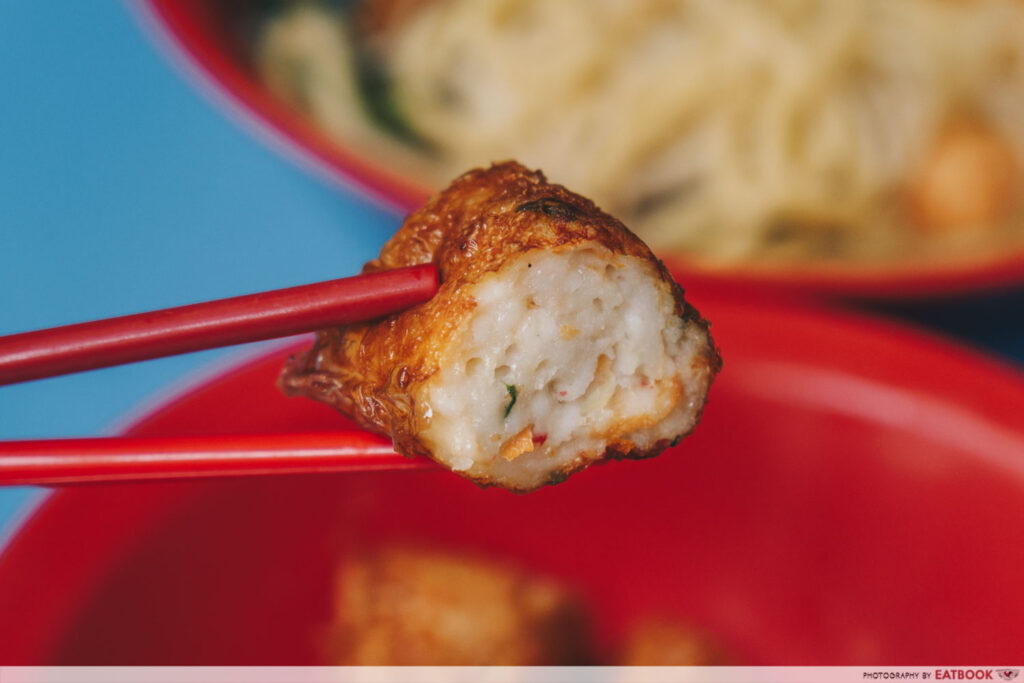 We also got a side of Ngoh Hiang ($3.50) to share and it was not too bad. It was crispy and juicy, but it seemed to be missing out on water chestnuts that would otherwise give it a more interesting texture. I would suggest ordering more beancurd rolls if you're looking to upgrade your dish.  
Ambience at One Prawn Noodle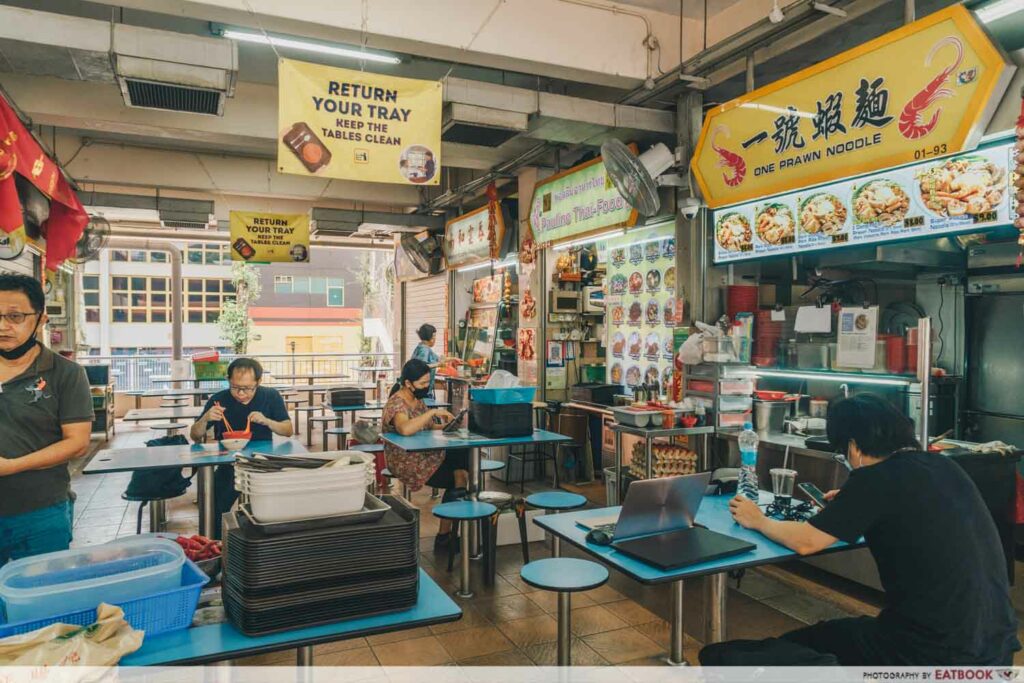 One Prawn Noodle is located at Golden Mile Food Centre, which is home to plenty of tasty concepts that are both new and old. The place is clean and well ventilated, and you ought to find seats quite easily. 
Gwyneth and her business partner manage the stall daily, and they push out bowls and bowls of prawn noodles quite quickly. Feel free to say hi to the young hawkers whenever you're around the area. 
The verdict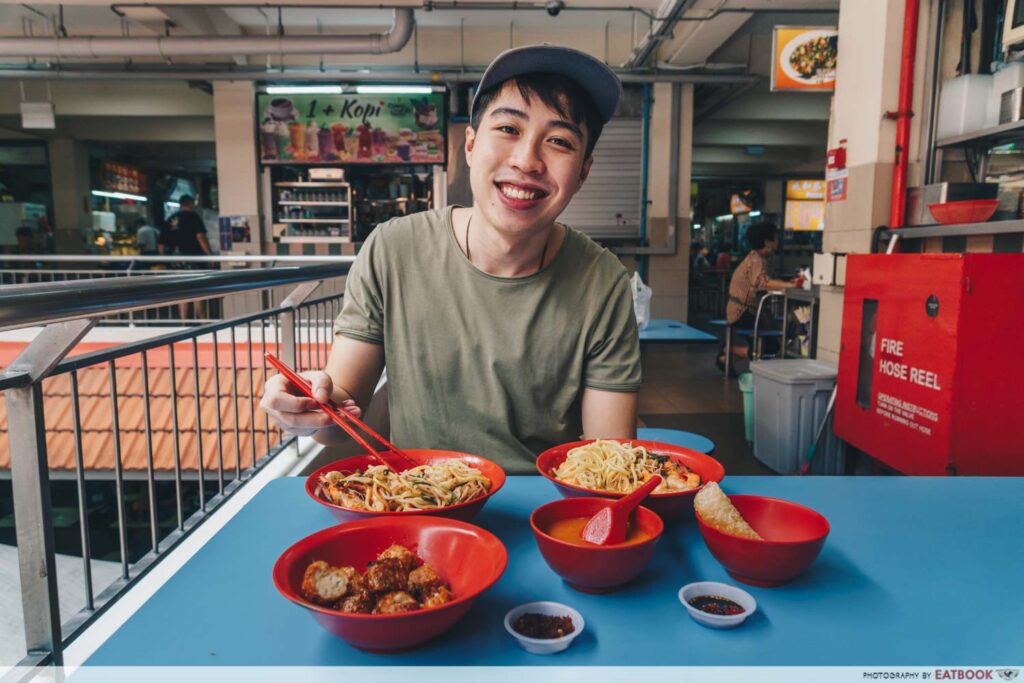 My visit to One Prawn Noodle was an eye-opening experience that left me craving for their prawn noodle soup as I'm writing this article. The addictive soup, amazing pork lard bits, and fragrant chilli had found a place in my list of quality prawn noodles. While I find it difficult to say the same for their dry noodles, I would more than recommend a visit to this exciting young establishment. 
For more prawn noodles to slurp up, check out our reviews of Da Shi Jia and East Treasure Speciality Prawn Noodle!
East Treasure Speciality Prawn Noodle Review: Huge Prawn Noodles From $5 By Astons
Address: 505 Beach Road, #01-93, Golden Mile Food Centre, Singapore 199583
Opening hours: Daily 11am to 8pm
Tel: 9639 8668
Website
One Prawn Noodle is not a halal-certified eatery.
Photos taken by Hay Thi.
This was a media tasting at One Prawn Noodle.
Da Shi Jia Review: Big Prawn White Bee Hoon And Prawn Mee At Orchard
One Prawn Noodle Review: Silky Smooth Prawn Noodle Broth By Former Burnt Ends Chef
Summary
Pros
– Excellent soup
– Amazing pork lard bits
– Convenient location 
Cons
– Dry noodles can be improved
– Give ngoh hiang a miss
Recommended dishes: Soup Prawn & Prawn Balls ($7)
Opening hours: Daily 11am to 8pm
Address: 505 Beach Road, #01-93, Golden Mile Food Centre, Singapore 199583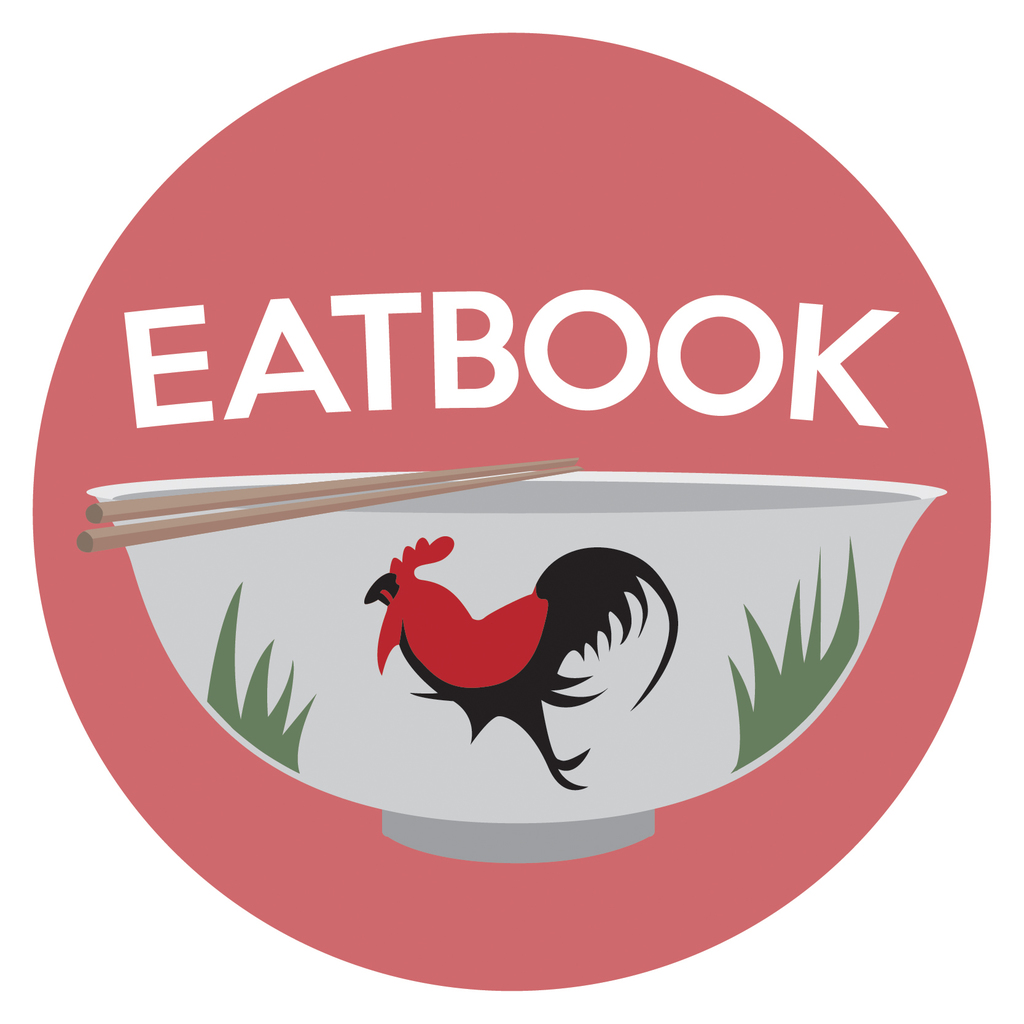 Drop us your email so you won't miss the latest news.