---
Golden Mile Food Centre has it all
---
Situated opposite Golden Mile Complex, which many people flock to for cheap Thai food, Golden Mile Food Centre often gets neglected by foodies. A shame really, considering how much yummy grub there is here. The food centre has been closed for renovations since last year, but they are finally reopening come 28 February 2021, so here are some stalls to check out.
---
1. Kheng Fatt Hainanese Beef Noodles
---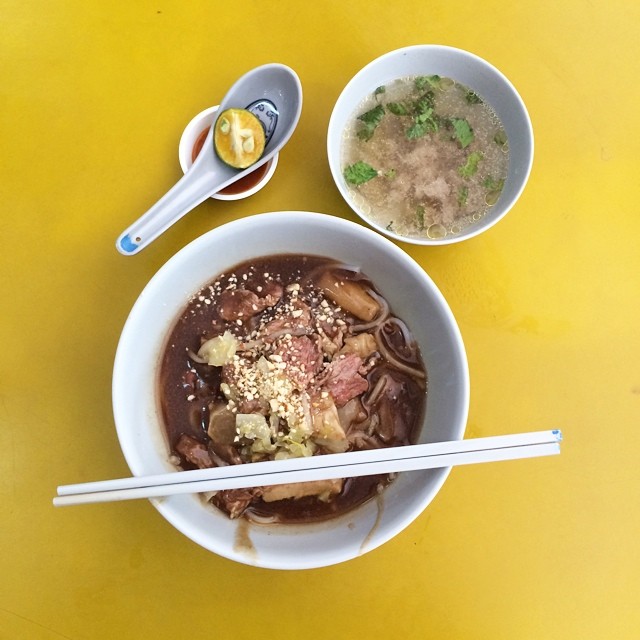 Image credit: @mapazzion
Nothing screams comfort food more than a bowl of dry beef noodles from Kheng Fatt Hainanese Beef Noodles. Drenched in a thick gooey gravy, their Dry Sliced Beef Noodles ($4) comes with a handful of springy rice noodles and a generous amount of pinkish beef slices. They have the soup version as well, if you prefer something lighter on the palate.
Unit number: #01-89
Opening hours: Thurs-Tue 11:30am to 7pm
---
2. Chung Cheng Chilli Prawn Noodles
---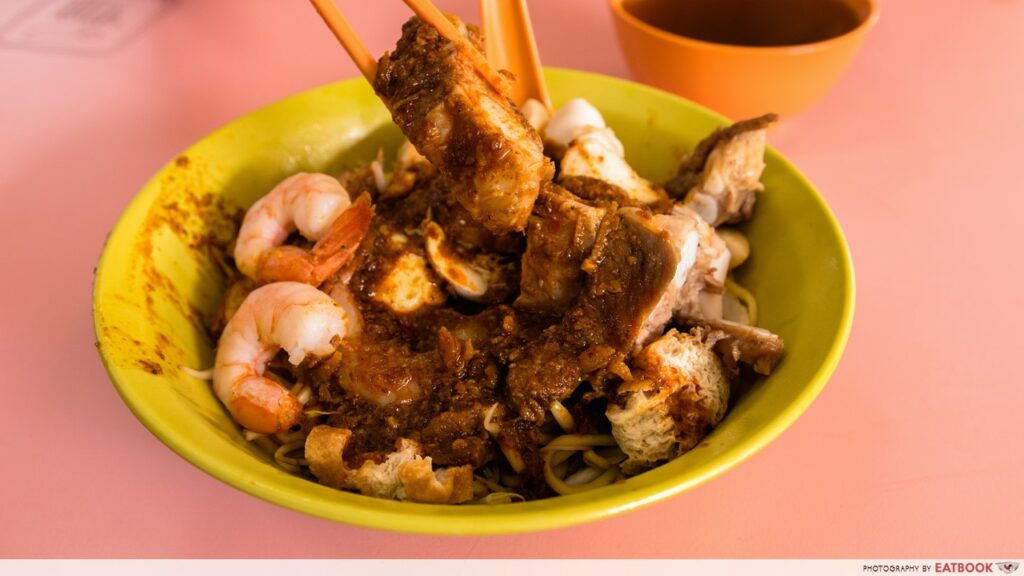 I've heard many good things about Chung Cheng Chilli Prawn Noodles and it is not surprising why. Known for their house-made signature chilli sauce, the uncle preparing their Chilli Mee ($3/$4/$5) shows no mercy as he adds spoonful after spoonful of the devilish sauce into the noodles.
Each bowl comes with pieces of pork ribs, prawns, taupok, fishcake as well as a hard-boiled egg. Remember to mix it all up so that you don't eat the chilli by itself!
Unit number: #01-59
Opening hours: Wed-Mon 9:30am to 8:30pm
Chung Cheng Review: $3 Chilli Mee You Cannot Find Anywhere Else In Singapore
---
3. YouFu Hokkien Mee
---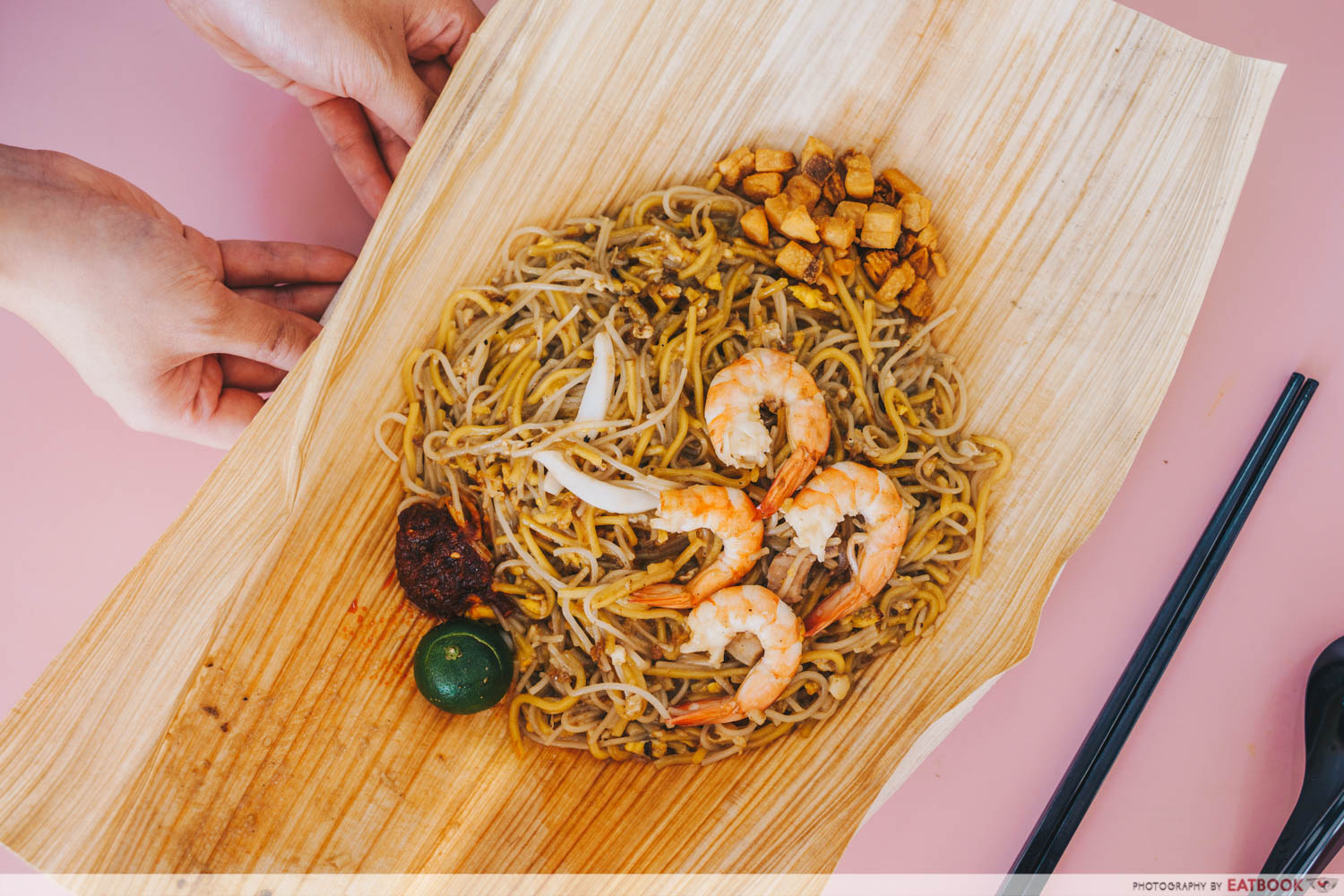 Run by a 21-year-old, YouFu Hokkien Mee makes quite the case for the chops that our next-gen hawkers possess. The noodles are cooked in a broth that is boiled for at least eight hours, and stir-fried to infuse it with a rich wok hei. Prices start at a steep $6, though portions are generous.
Unit number: #01-57
Opening hours: Tues-Sun 10am to 8:30pm
---
4. Charlie's Peranakan Food
---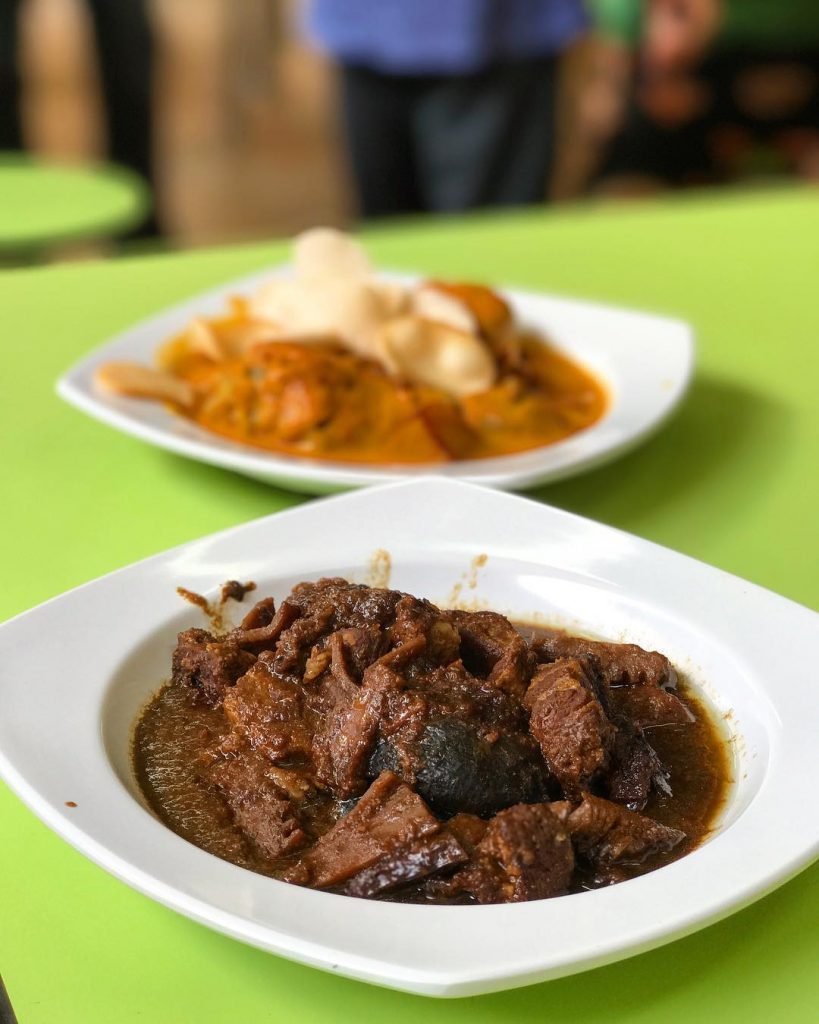 Image credit: @makanwarrior
Calling all Peranakan food lovers, Charlie's Peranakan Food is where to go to for simple and classic dishes. Satisfy your Peranakan food cravings and enjoy dishes such as Ayam Buah Keluak ($7), Ayam Rendang ($5),and Babi Hong ($5), as well as seasonal items. Some seasonal items they've served before include Acar Fish ($7), Udang Nanas ($12), and Ayam Pongteh ($7).
Unit number: #B1-30
Opening hours: Daily 11:30am to 7:30pm
Tel: 9789 6304
6 Cheap Peranakan Food In Hawker Centres For Cheap And Good Nyonya Cuisine
---
5. Ashes Burnnit
---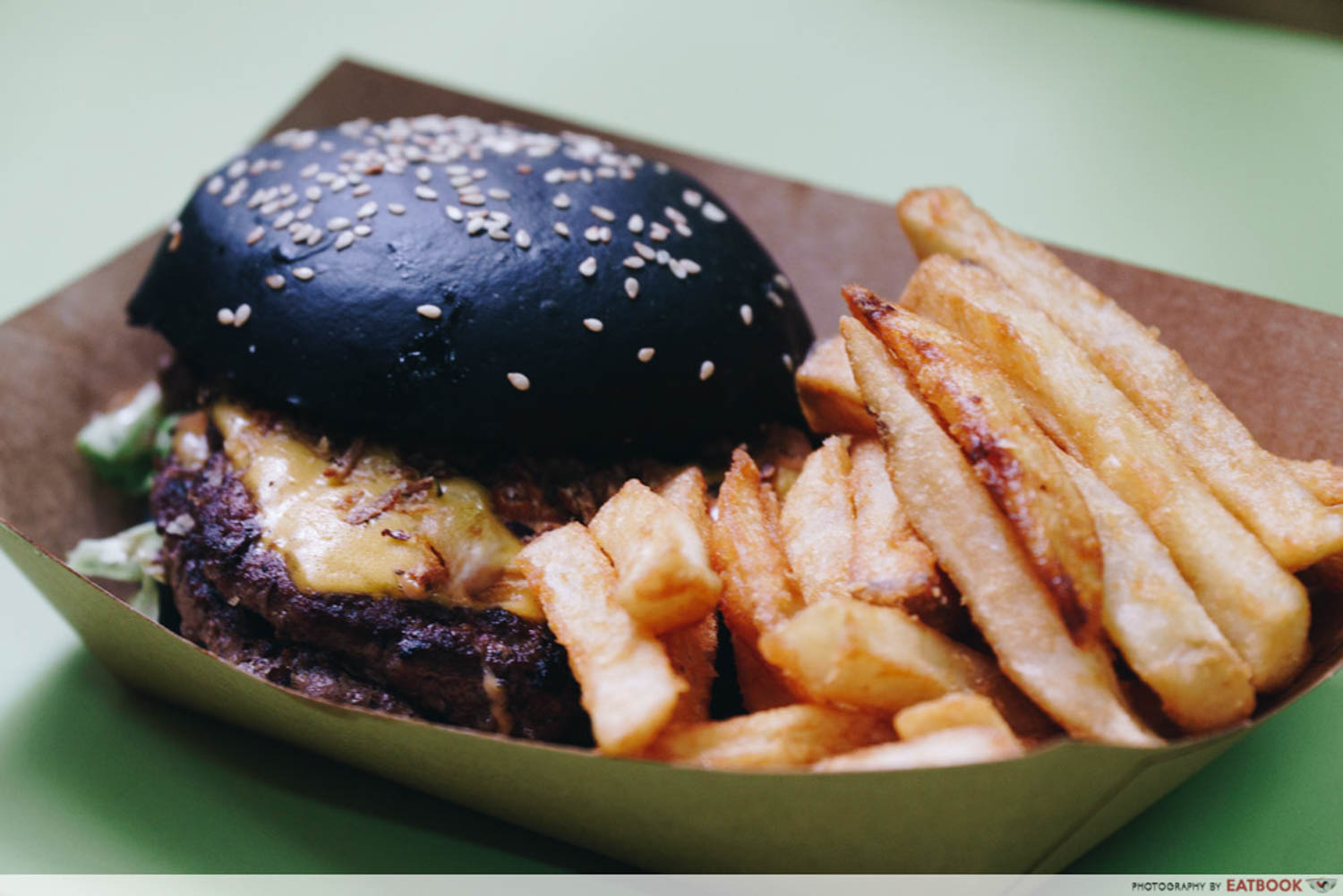 Image credit: @projectwarung
Run by the ex-founders of popular Western food joint, Burgs by Project Warung, Ashes Burnnit sells affordable burgers in Golden Mile Food Centre. Their burgers start from $5.90, with the Ashes Smash Cheese Burger being a classic to try. Served with a striking charcoal bun, the burger patties are smashed on the grill for an extra charred crust. Each order comes served with thick-cut fries too.
Unit number: #B1-24
Opening hours: Daily, 11:30am to 8:30pm
Ashes Burnnit Review: Ex-Founder Of Burgs Opens New Hawker Stall Selling Burgers & Ice-Cream Croissants
---
6. Hainan Fried Hokkien Prawn Mee
---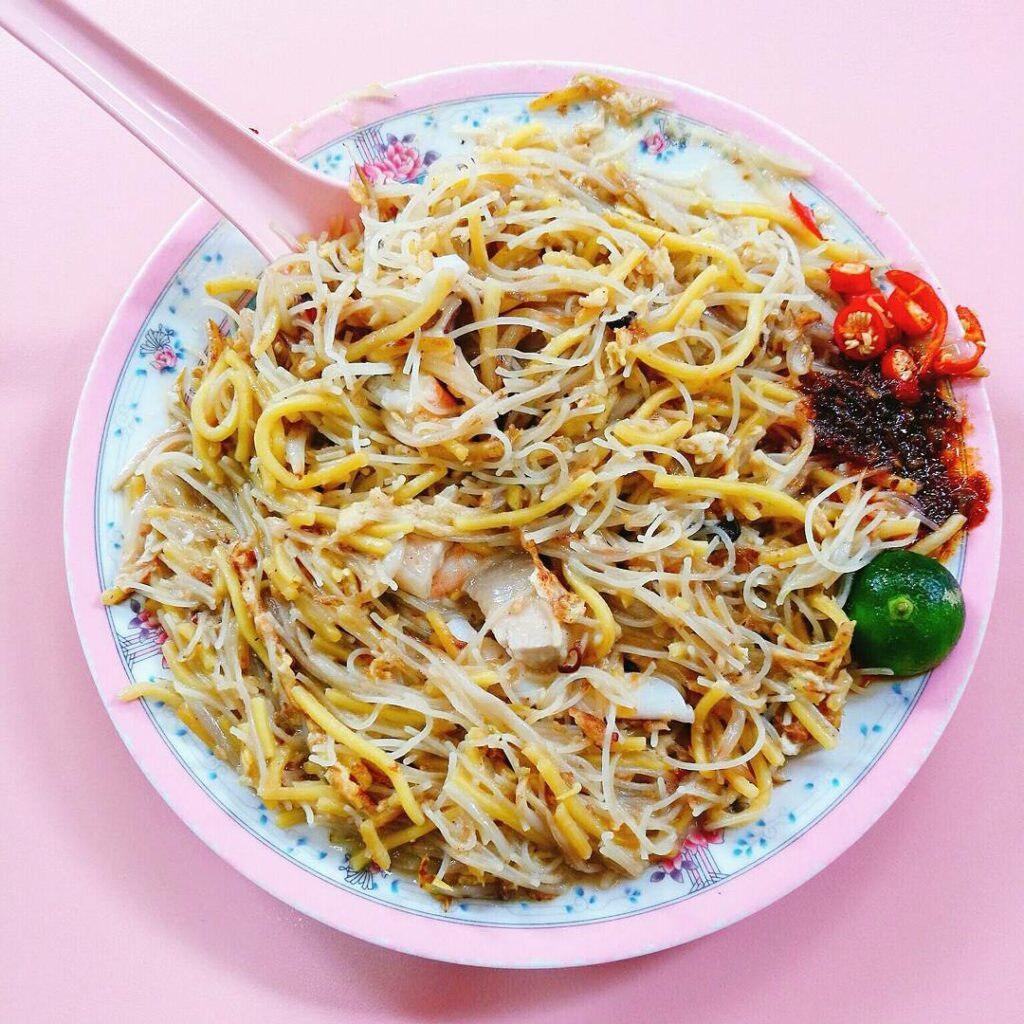 Image credit: @milobaby83
Hainan Fried Hokkien Prawn Mee is helmed by an old couple, where the uncle will fry each batch of Hokkien Mee ($4) with care. The classic mix of wok hei-filled yellow noodles and bee hoon is left to simmer in a seafood stock, leaving a natural sweetness on the dish. Don't miss out on their sambal chilli!
Unit number: #B1-34
Opening hours: Mon 10am to 3pm, Tue, Wed-Sun 10am to 5pm
Tel: 6294 6798
Website
---
7. Mr Baguette
---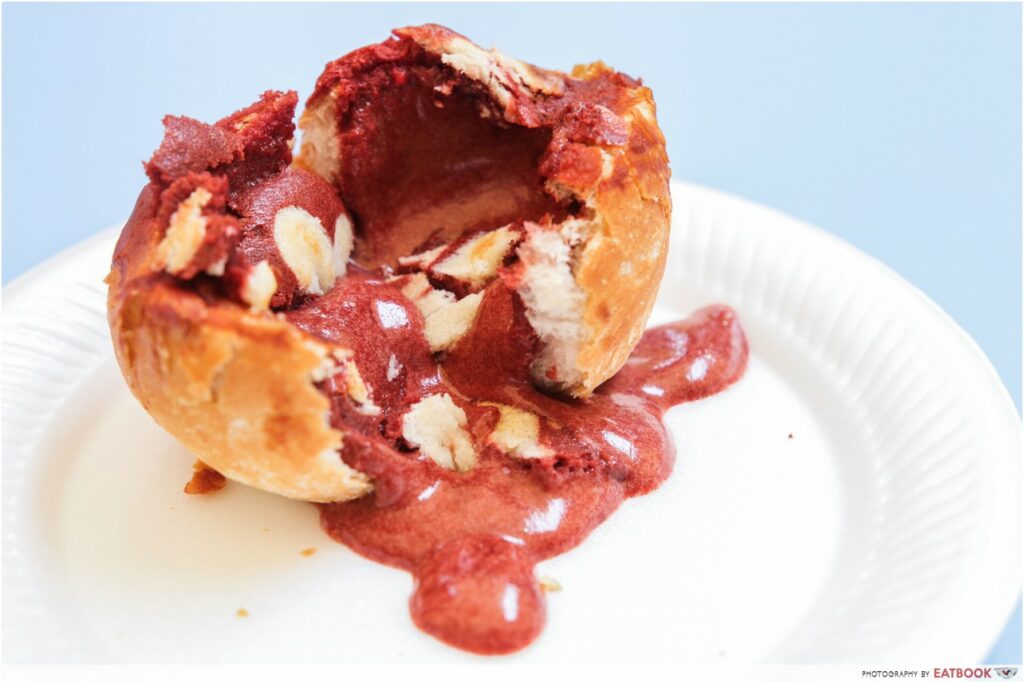 Mr Baguette is the only place in Singapore that sells lava baguettes. Despite the molten fillings, the baguette still had a good crisp on the outside. One of the must-tries would be their Hazelnut Lava. Packed with a rich hazelnut chocolate filling, this is one for all with a sweet tooth! My personal favourite would be their savoury baguette, Carbonara Bowl. It is packed with macaroni, ham, and cheese. Prices start at $4 for a box of two.
Unit number: #B1-51
Opening hours: Daily 12pm to 8pm
Mr Baguette Review: Lava Baguette Bombs In Tiramisu, Azuki Matcha And More Flavours
---
8. 75 Ah Balling Peanut Soup
---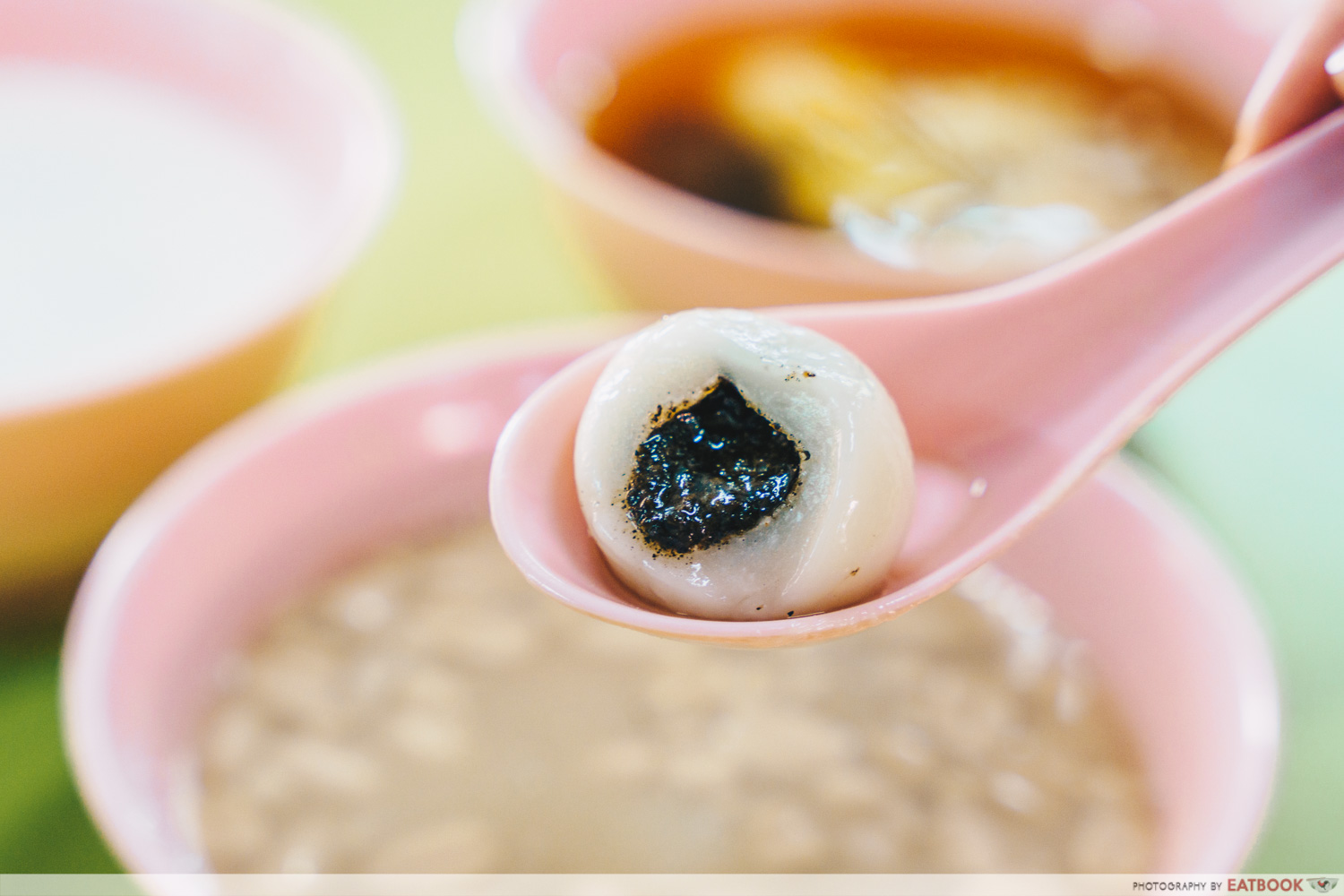 To tang yuan lovers, 75 Ah Balling Peanut Soup is definitely not a new name. Since they started business in 1947, they have been famous for old-school tang yuan that come with explosive fillings. While their Peanut Soup ($2) is their best-seller, do try their Longan Soup ($2), Ginger Soup ($2), and Almond Soup ($2) as well. Each bowl of their dessert comes with four pieces of glutinous rice balls, with fillings such as peanut, sesame, and red bean to choose from.
Here's our review of 75 Ah Balling!
Unit number: #01-75
Opening hours: Daily 10am to 8:30pm
Tel: 6293 8702
Website
75 Ah Balling Peanut Soup Review: Third-Generation Hawkers Keeping Tang Yuan Tradition Alive
---
9. Zhao An Granny Grass Jelly
---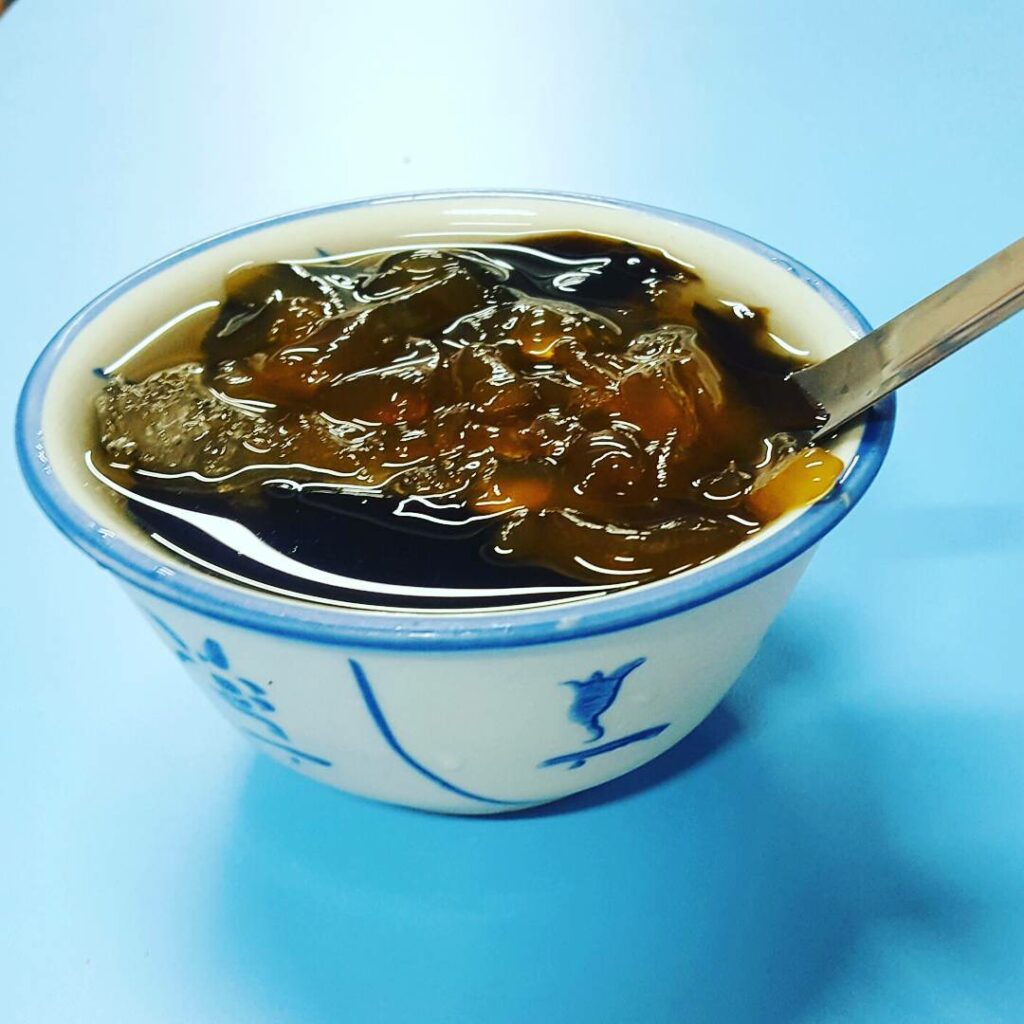 Image credit: @dairyfree.sg
To end off the meal at Golden Mile Food Centre, head on down to Zhao An Granny Grass Jelly for a bowl of ice cold Grass Jelly & Sea Coconut ($2)! Served in a traditional porcelain bowl and with a metal spoon, their house-made chin chow is made to be smoother and silkier than other grass jelly dishes out there. They serve their grass jelly with Nata De Coco ($1.50) and Longan ($2).
Unit number: #01-58
Opening hours: Daily 11:30am to 6:30pm
Tel: 9146 7313
Website
---
10. Yew Chuan Claypot Rice
---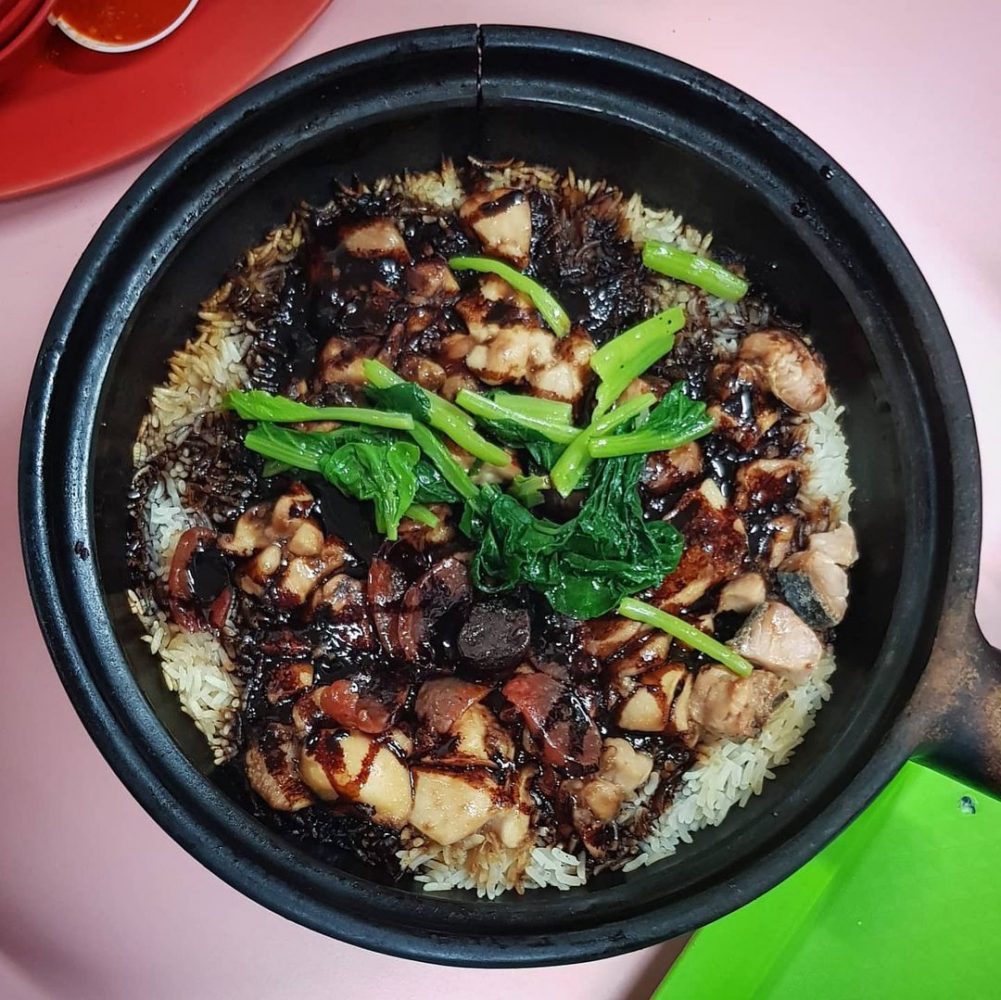 Image credit: @foooodieholic
Yew Chuan Claypot Rice is a stall that constantly draws long queues, thanks to their moreish claypot rice. The signature Claypot Chicken Rice starts from $6, and comes with tender chicken chunks, Chinese sausage, salted fish, and vegetables. Portion sizes can go up to $30 if you prefer to share with your family.
Unit number: #01-73
Opening hours: Mon-Wed, Fri 12pm to 10pm, Sat-Sun 4pm to 10pm
---
11. Fudo
---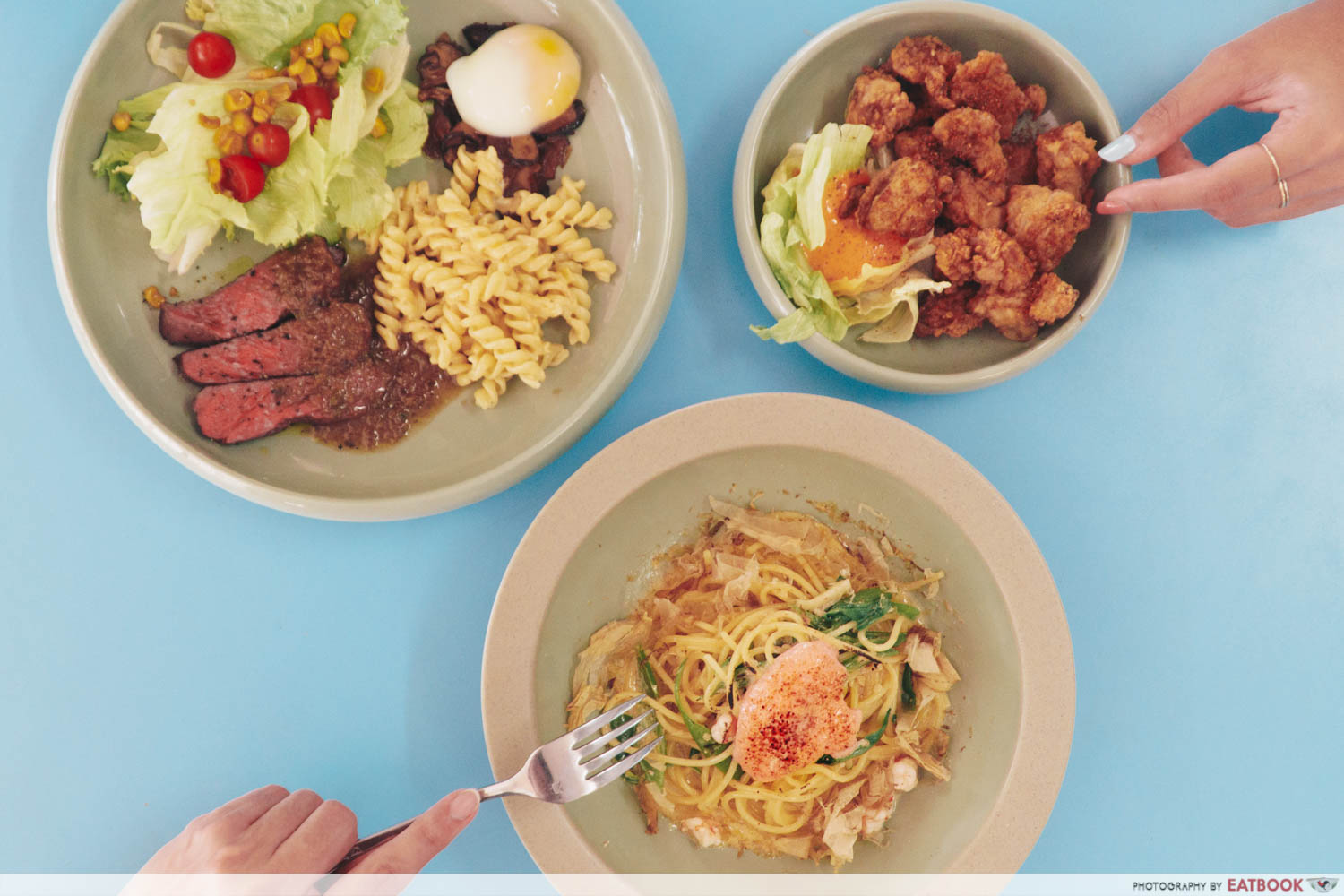 Get Wafu, or Japanese-Western, food at Fudo. The Spicy Mentaiko Spaghetti ($7) is packed full of the savoury, slightly spicy cod roe─cooked into the sauce, dolloped on top, and finished with a blowtorch that added an extra dimension of flavour. The karaage here is also zhnged with mala, presented as Mala Fried Chicken Karaage ($4) that had a piquant sauce.
Check out our Fudo review.
Unit number: #01-111
Opening hours: Daily 11am to 8pm
Website
---
12. Chef Choo Signature
---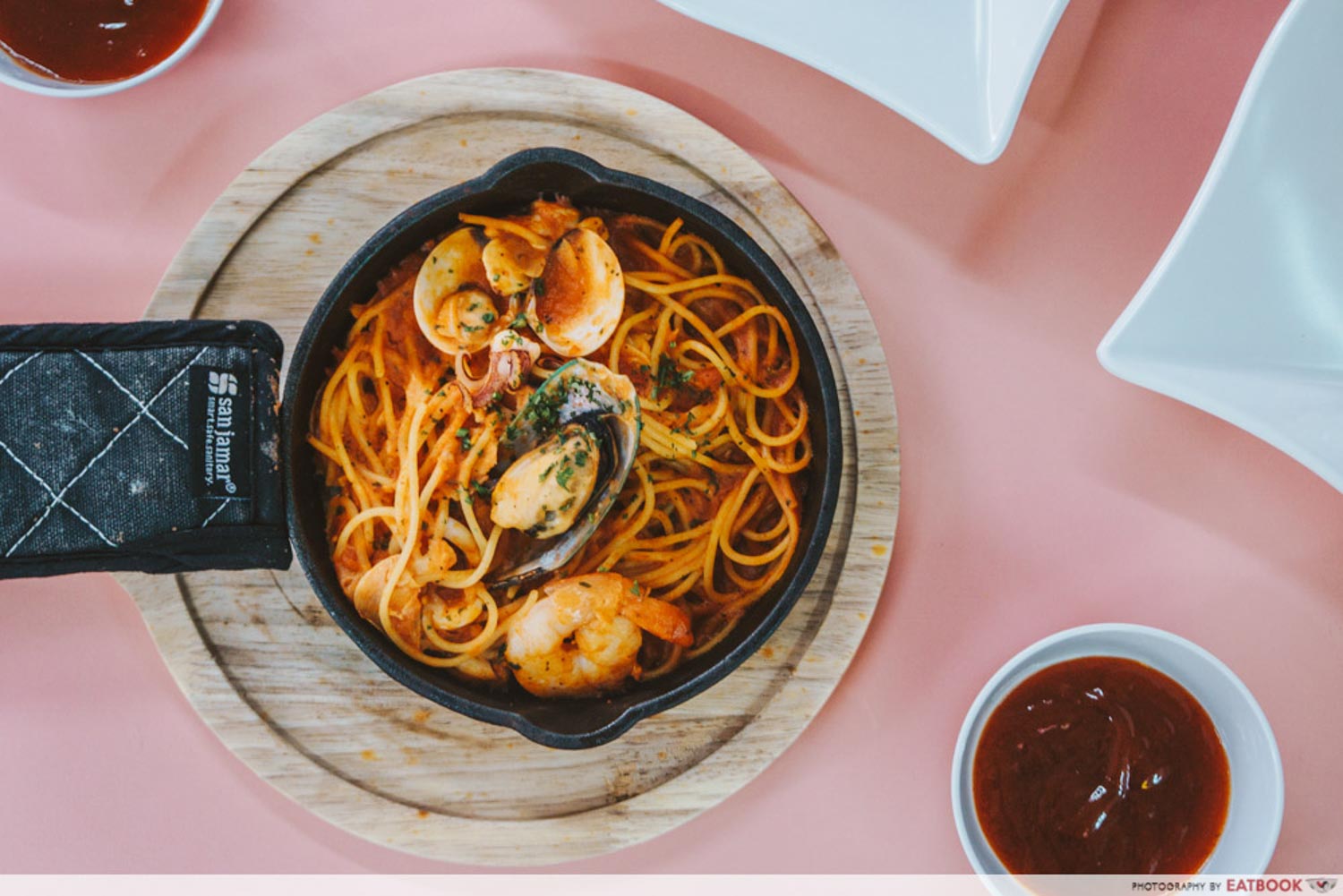 Chef Choo Signature is run by a chef who used to cook at the Grand Hyatt! The Sizzling Seafood Spaghetti ($6.90/$12.90), a twist on the regular marinara, was our favourite, although we wished that it was just a slight bit more tangy. Prices are kept affordable here, with Spaghetti Carbonara ($5.50) and Pork Chop ($5.90) all ringing in the till at under $10.
Here's our Chef Choo Signature review!
Unit number: #B1-45
Opening hours: Tue-Sun 12pm to 8pm
Website
---
13. Adimann
---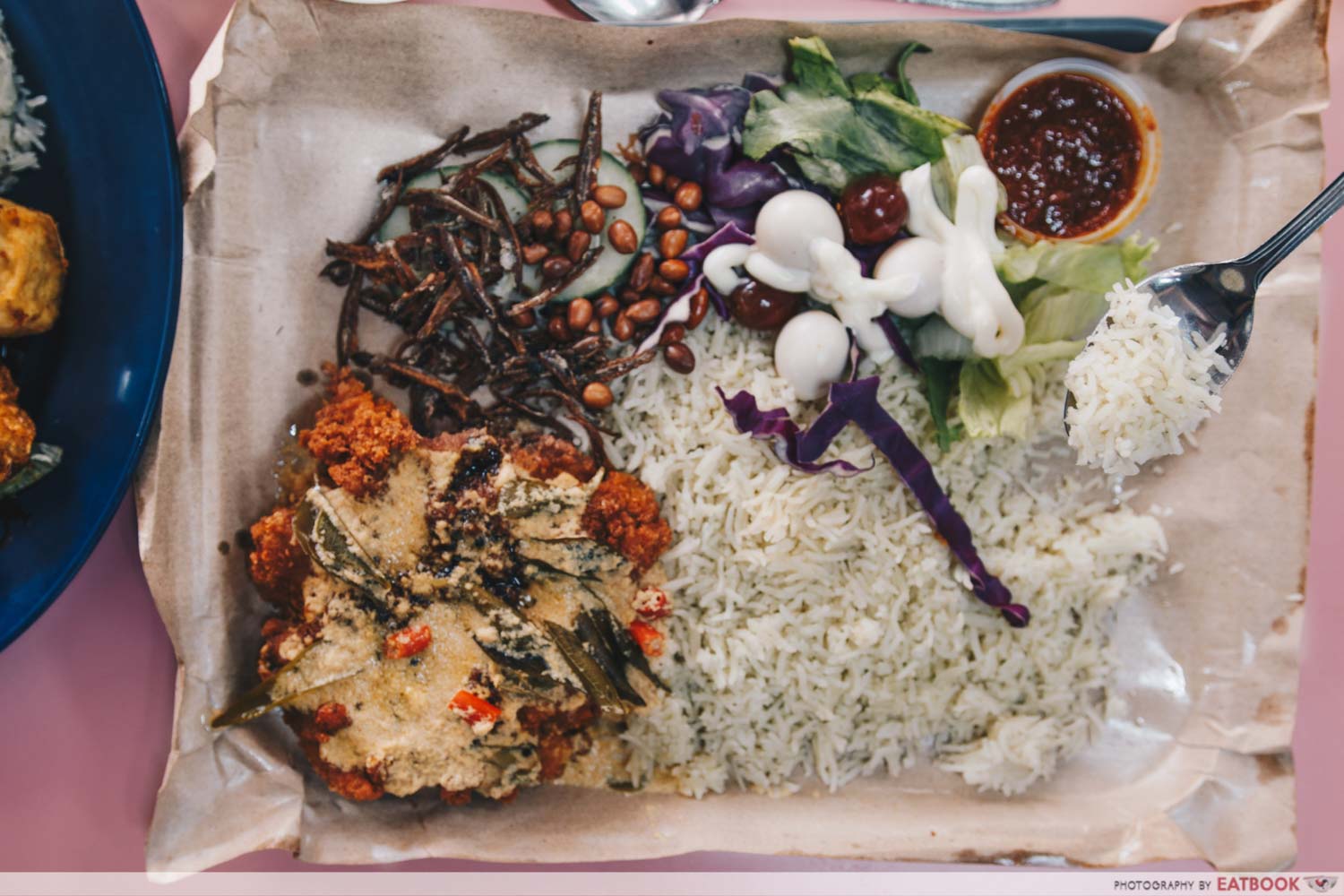 The nasi lemak at Adimann comes in generous portions, with fluffy basmati rice, and with unique takes such as the Nasi Lemak Chicken Cutlet with Salted Egg Yolk Sauce ($7.50). We love the fragrant salted egg topping, but the sambal is a real gem.
Read our Adimann review!
Unit number: #B1-12
Opening hours: Daily 10am to 9:30pm
Website
---
Explore Golden Mile Food Centre now
---
Now that you are aware of these gems, the next time you want to go to Golden Mile Complex, cross the road and try these affordable dishes instead! If the Thai food cravings hit though, check out Y Cube Mookata Buffet in Golden Mile Complex or these cheap Thai food places.
10 Cheap Thai Food Places In Singapore To Eat At When You're Missing BKK
Address: 505 Beach Road, Golden Mile Food Centre, Singapore 199583
Nearest MRT Station: Nicoll Highway (CC5)
This post was originally published on 12 June 2018.