Bugis Long House Lim Kee Beef Noodle at Bugis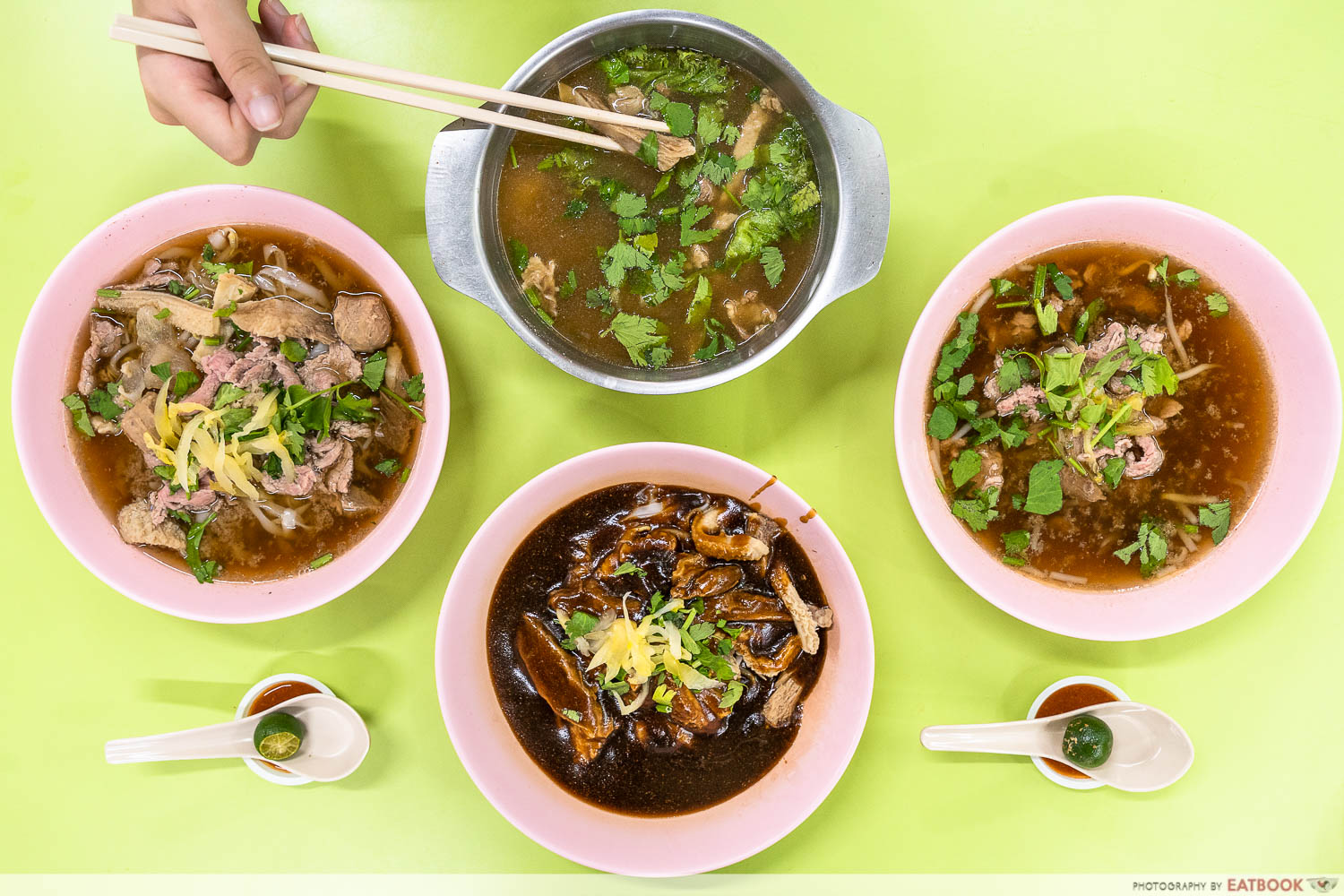 Golden Mile Food Centre is home to many popular hawker stalls, but quietly situated on its basement level is Bugis Long House Lim Kee Beef Noodle, which has been serving traditional beef noodles since 1945. 
13 Golden Mile Food Centre Stalls For Chilli Prawn Mee, Lava Baguettes And More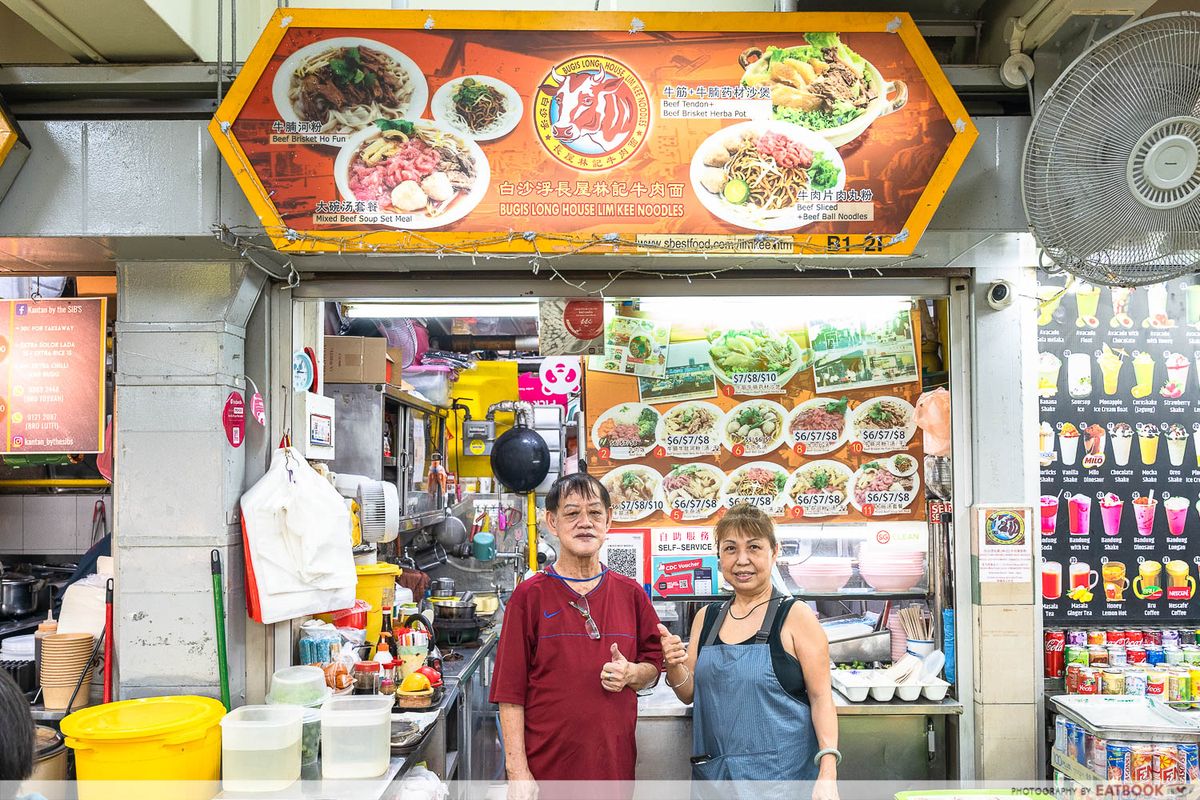 The stall is manned by Auntie who takes your order, and Uncle who does most of the cooking. It was actually Uncle's father who first opened the stall in 1945 at what is now currently Bugis Junction, before the stall moved to another location near Geylang Bahru Stadium. 
Food at Bugis Long House Lim Kee Beef Noodle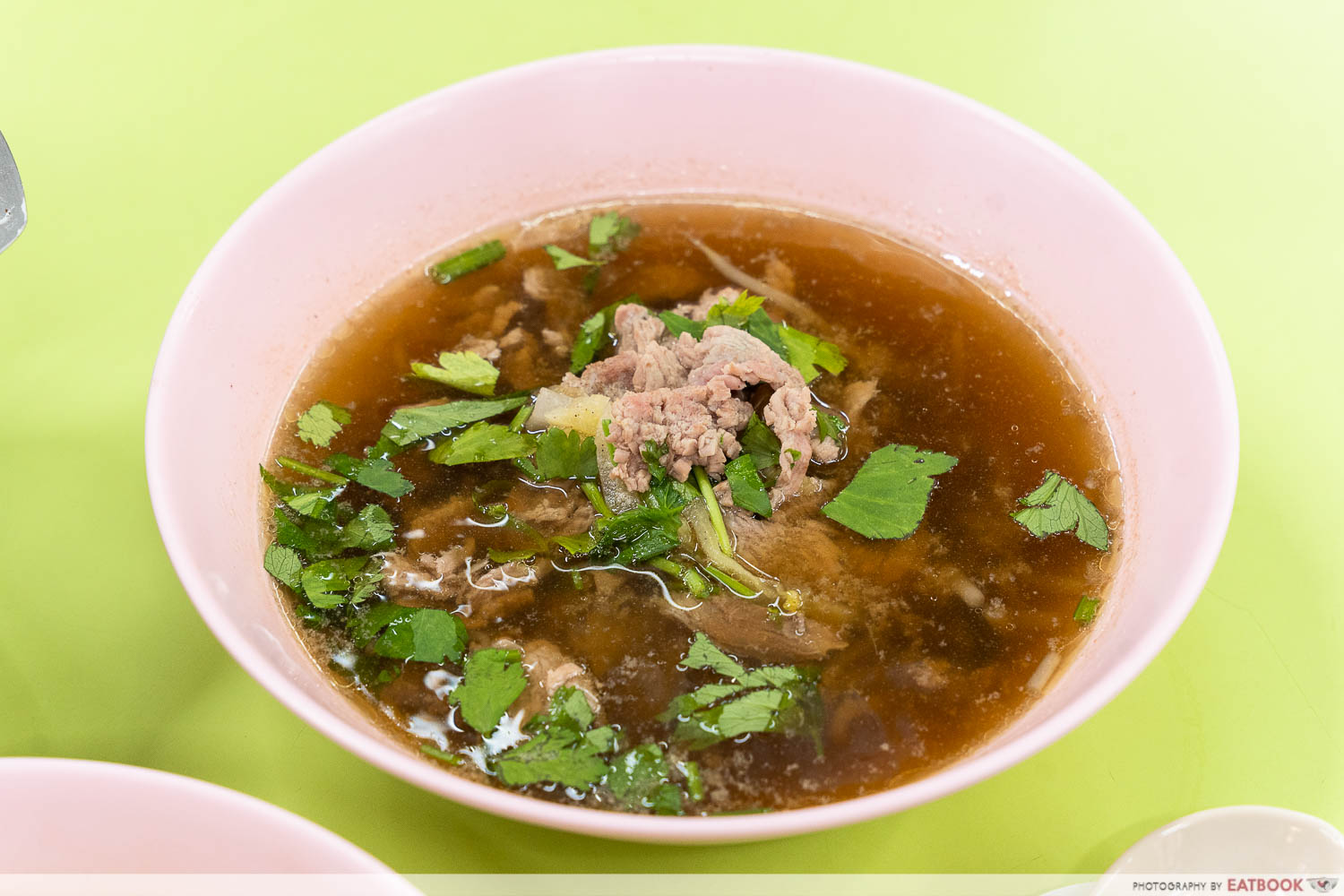 My colleague and I decided to start off with the Beef Sliced Soup ($6/$7/$8), arguably what Bugis Long House is most known for.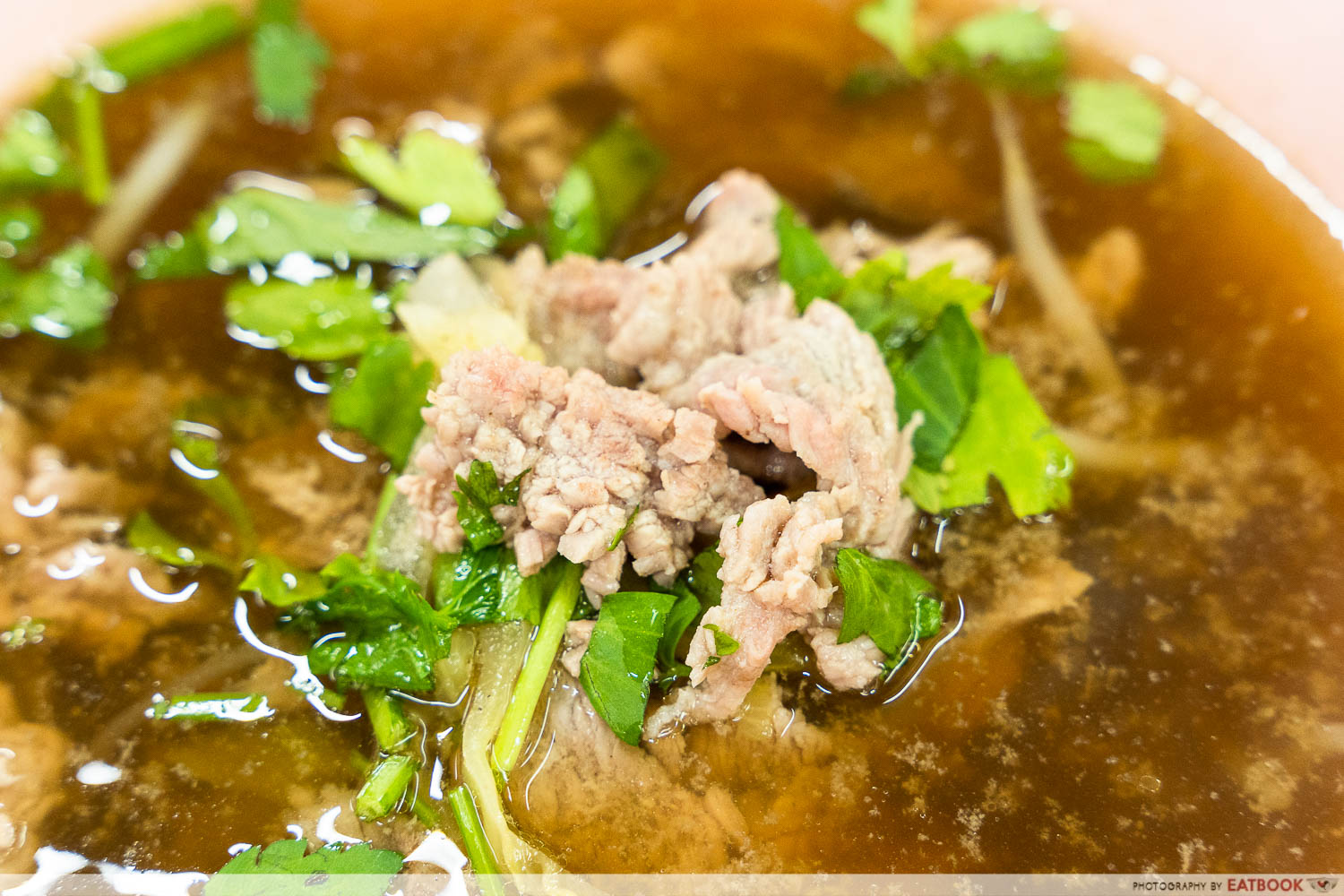 Piping hot soup is poured over the raw beef slices, so they're not entirely a raw pink when served. I do think that if they were sliced thinner, they could've been slightly juicier and more flavourful. But all in all, it was still a decent bowl of beef soup.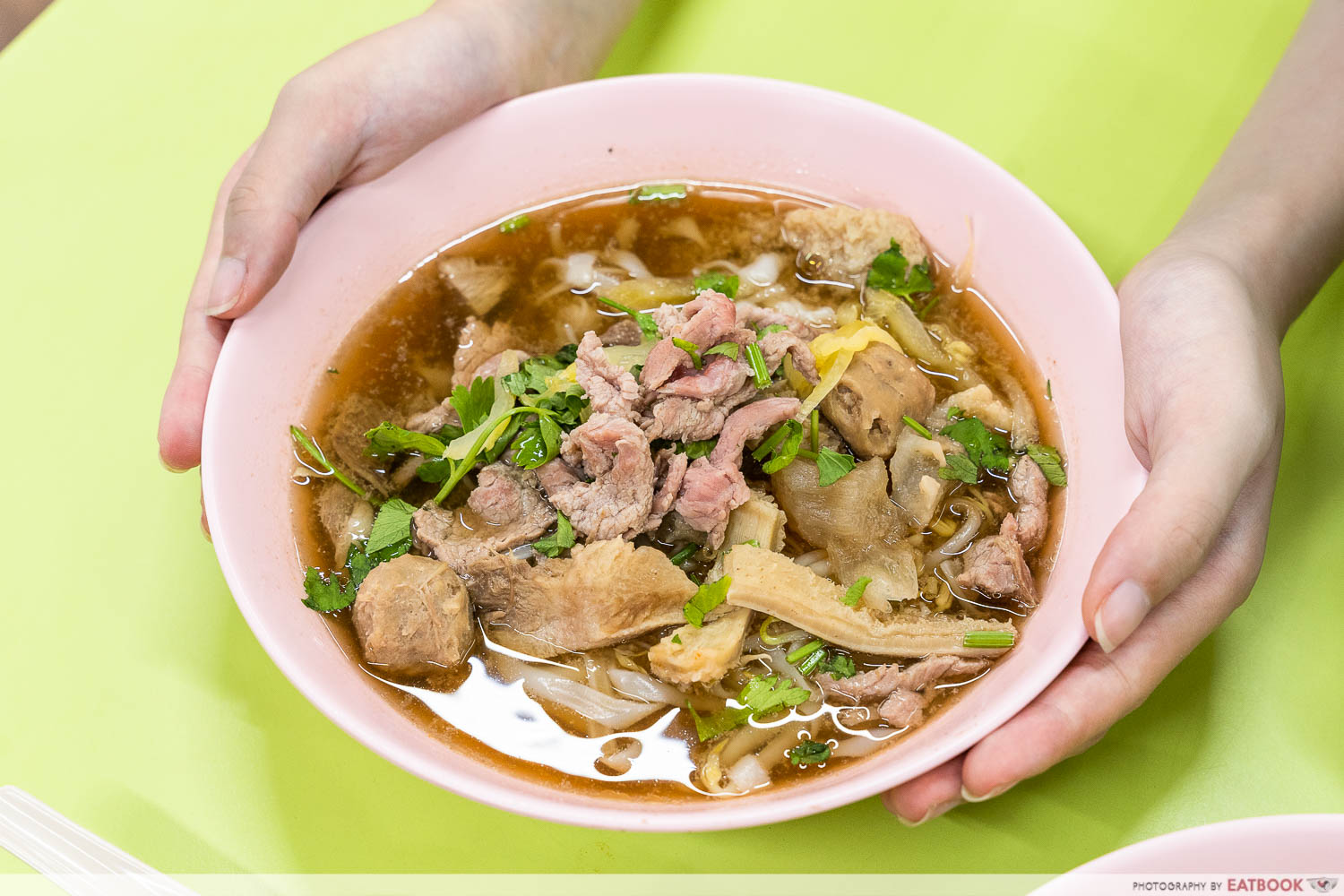 You can also get the Mixed Beef Hor Fun (Soup) ($6/$7/$8) for a more filling meal.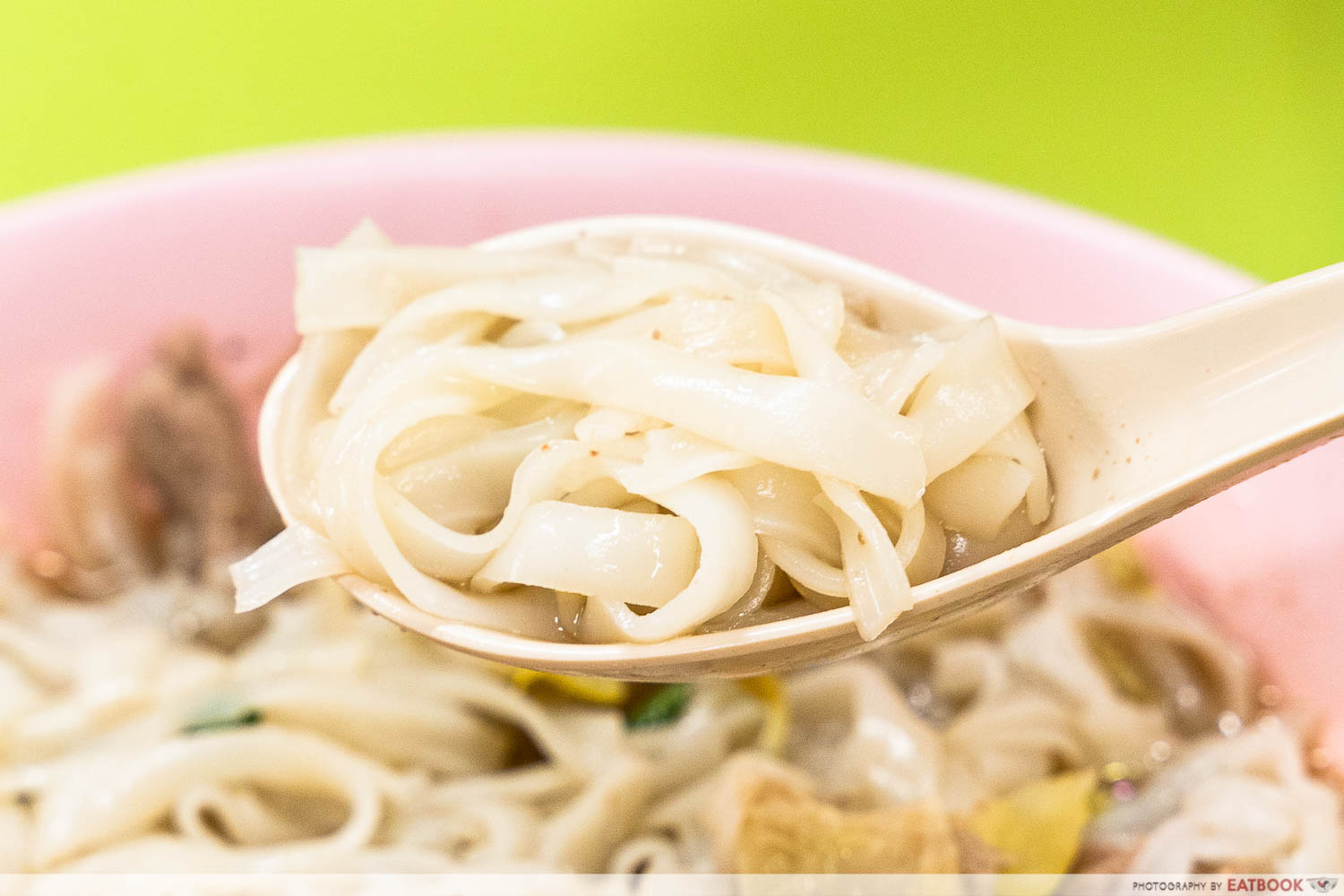 I'll admit that I'm slightly biased towards hor fun, so I have no complaints about these rice noodles, which were plesantly smooth and slippery.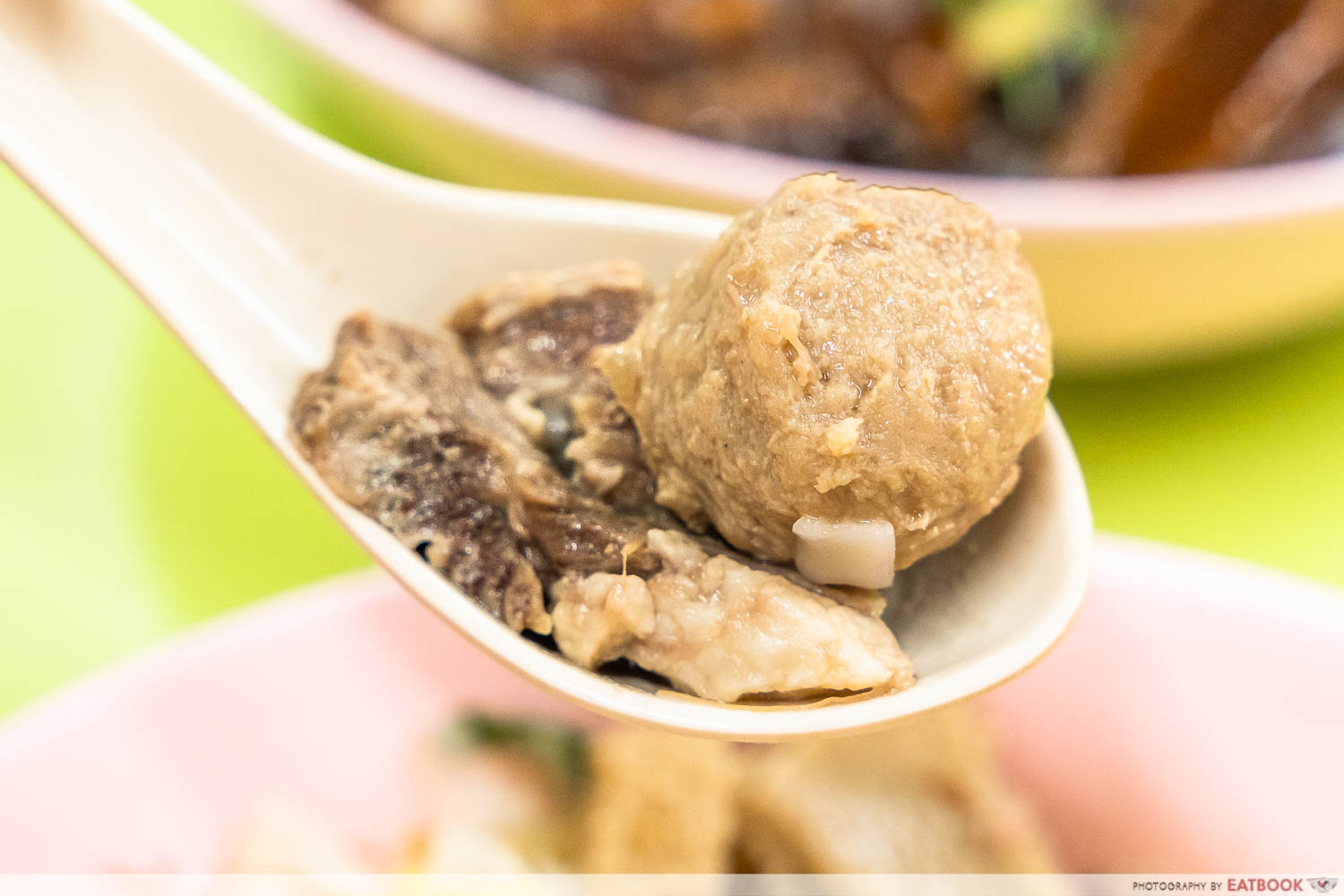 Besides beef slices, this bowl also comes with beef meatballs, beef brisket, beef stomach, and beef tendons.  
Unfortunately, I found the brisket a tad too tough for my liking—I would've preferred it to be more tender. Luckily, the beef stomach and tendons impressed me enough for this dish to score a point in my books.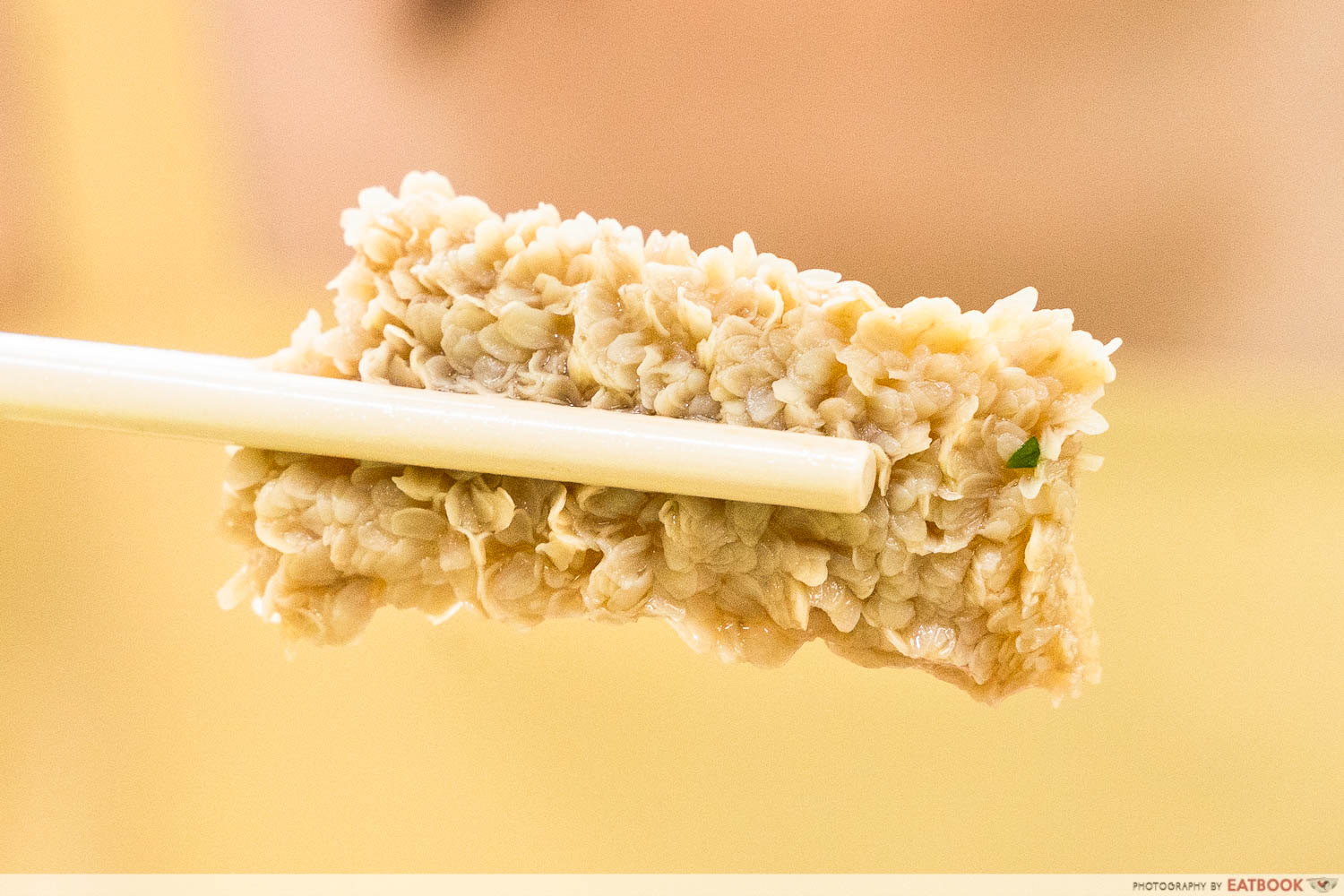 I've always been one to shy away from innards, but the beef stomach and tendons at Bugis Long House were actually pleasant to eat. The beef stomach pieces were chewy, without that funky taste I usually associate with innards.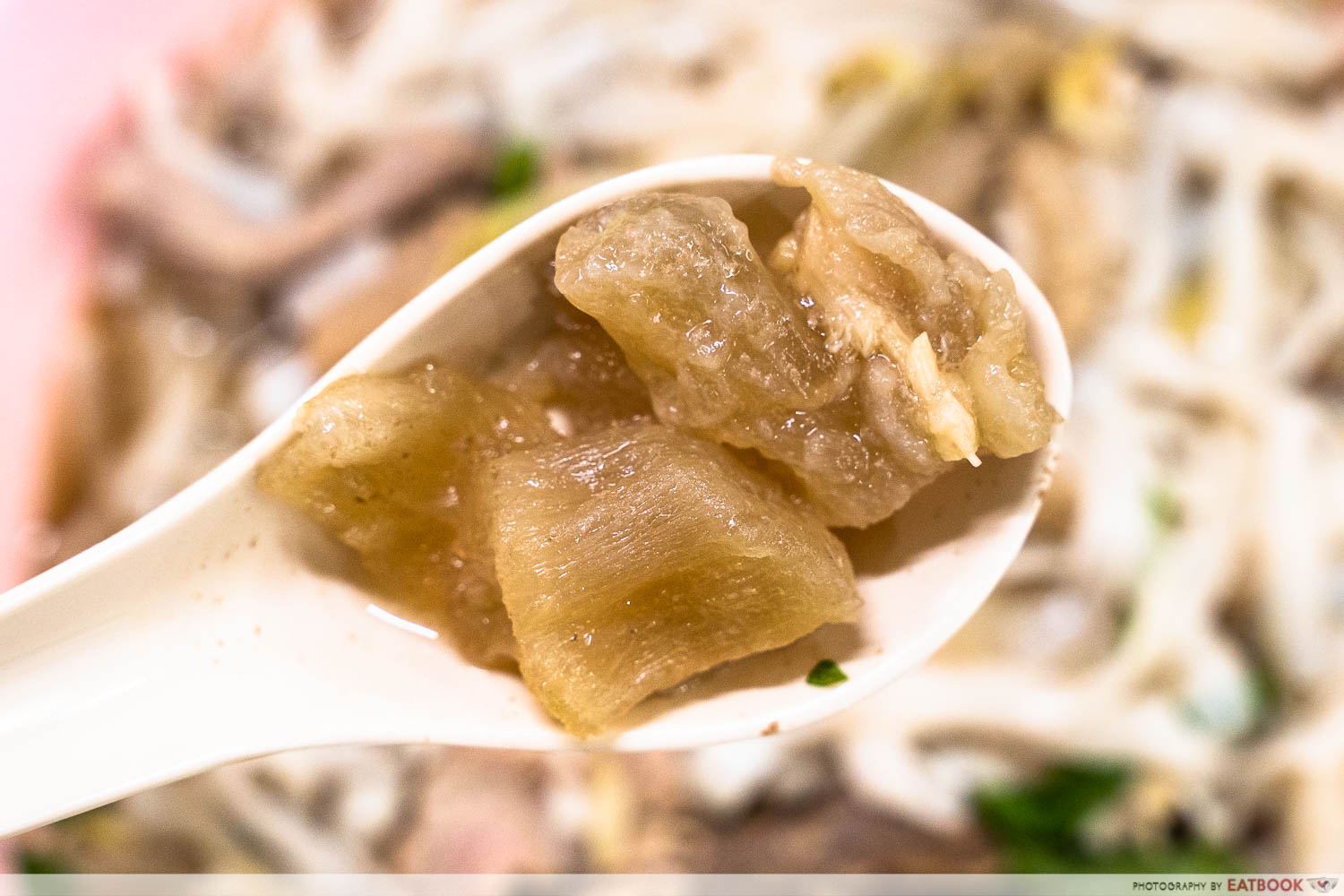 The beef tendons were also much softer than I expected, and thus I had no trouble finishing them.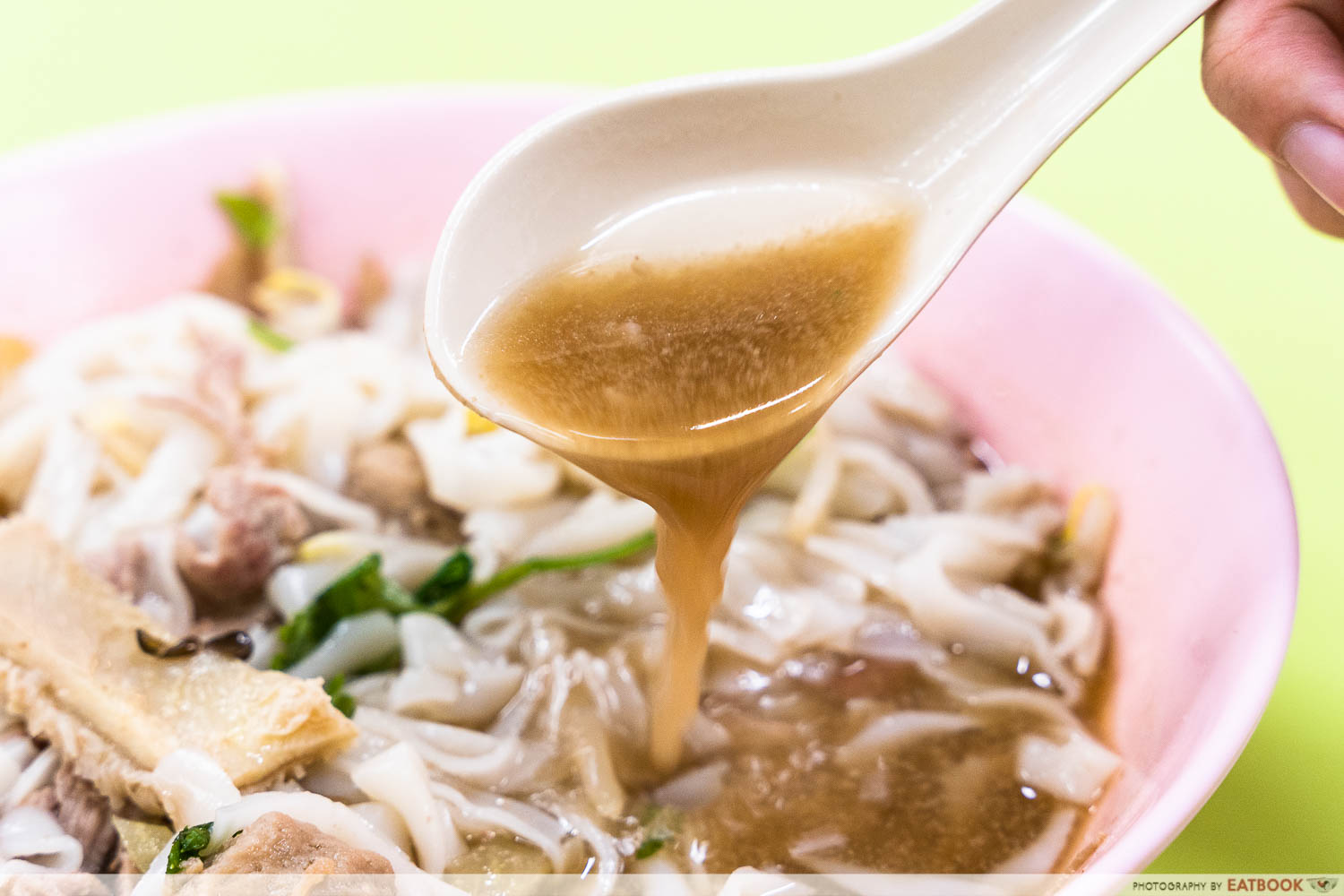 To pack the most flavour, the broth is simmered for at least six hours with beef bones, before it is served as part of this hor fun dish, as well as the Beef Sliced Soup. This means that Uncle and Auntie come in at 5am to start preparing for the day!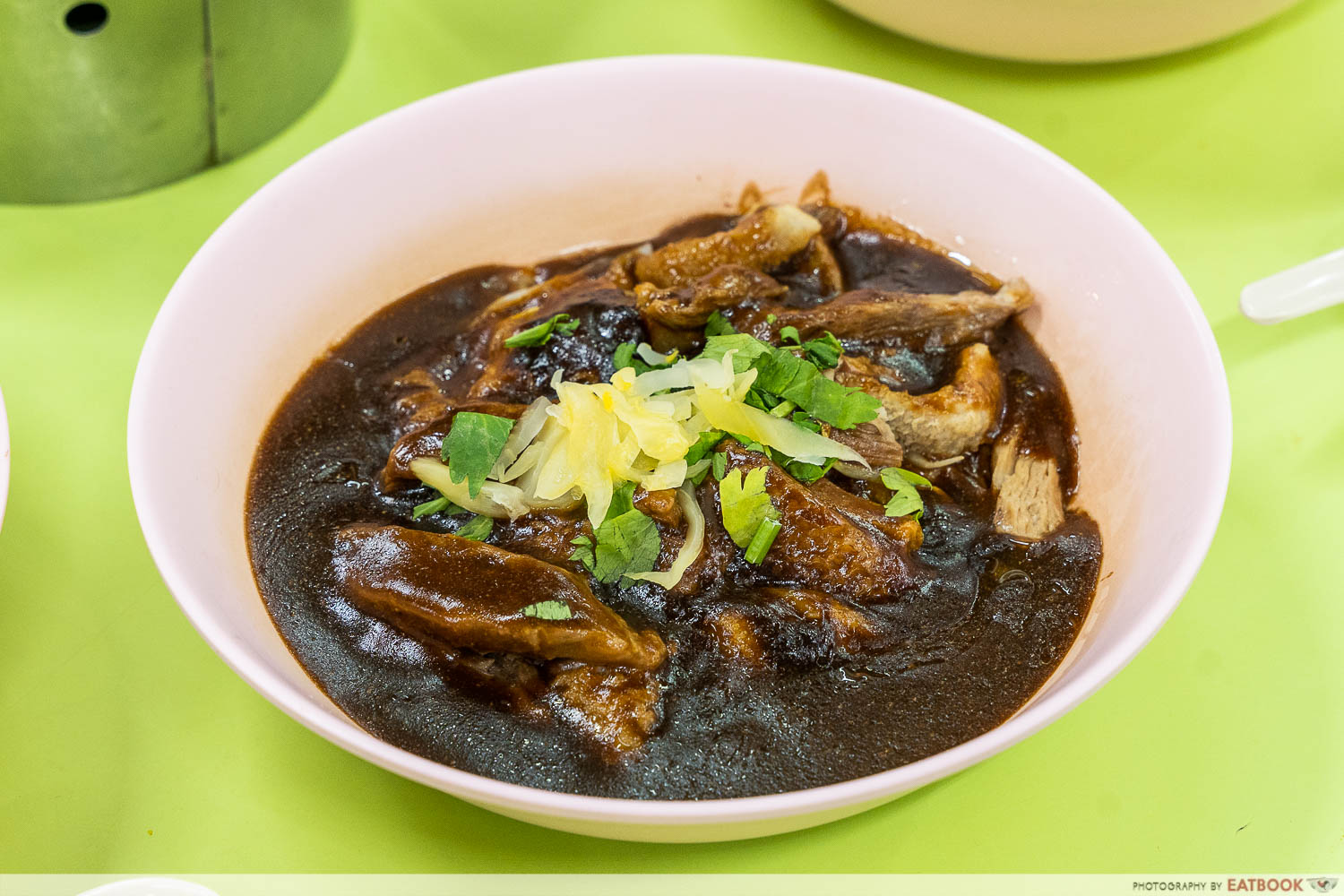 The hor fun is also available with gravy instead of soup, in the form of the Mixed Beef Hor Fun (Dry) ($6/$7/$8).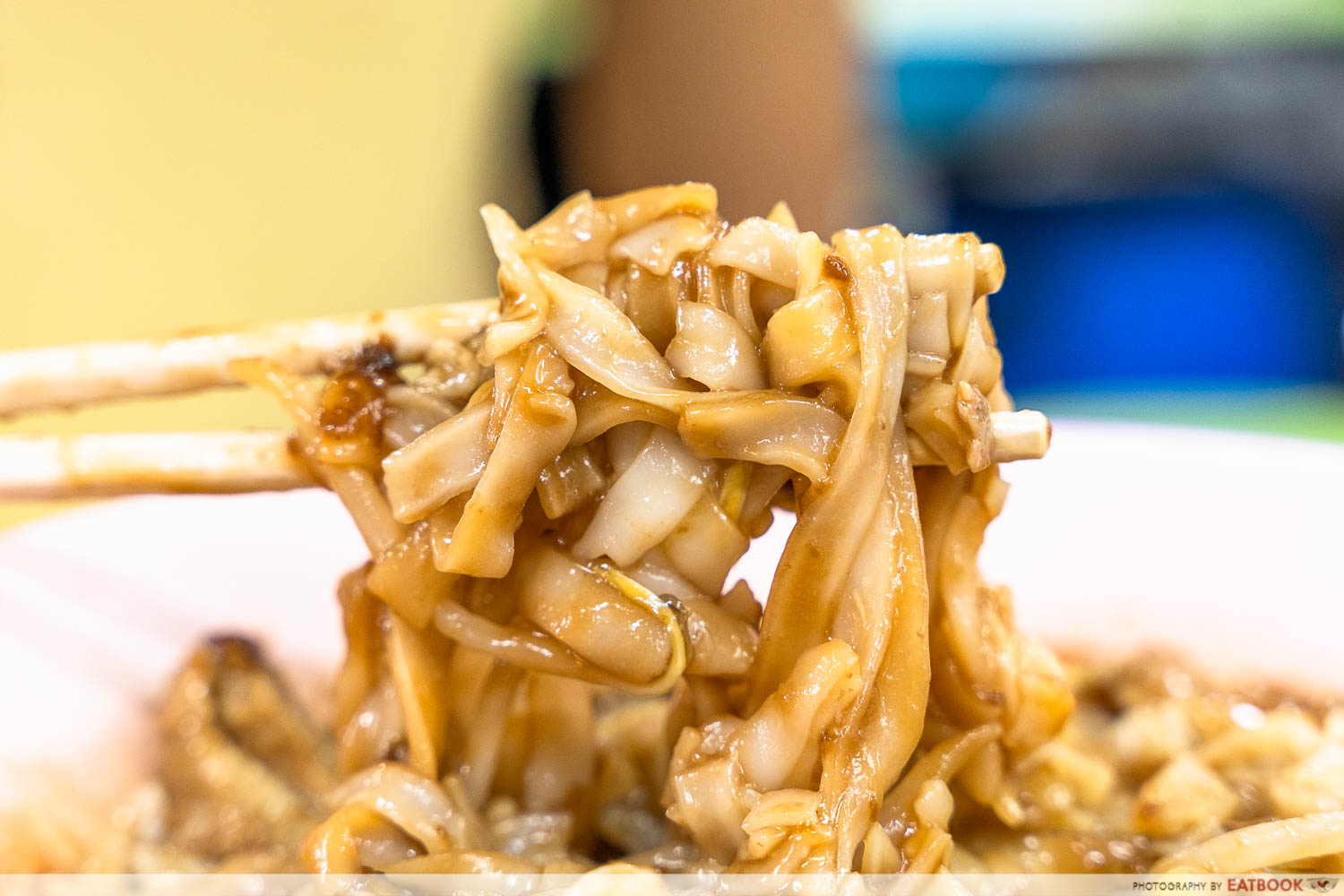 I definitely enjoyed the combination of the hor fun with the gravy more than with the soup, simply because of how moreish the gravy is. The sauce is made with the same beef bone broth and thickened with flour, which explains why it's so flavourful and addictive. 
Mix in the giam cai AKA salted vegetable that is garnished on top to elevate the savoury taste of the gravy.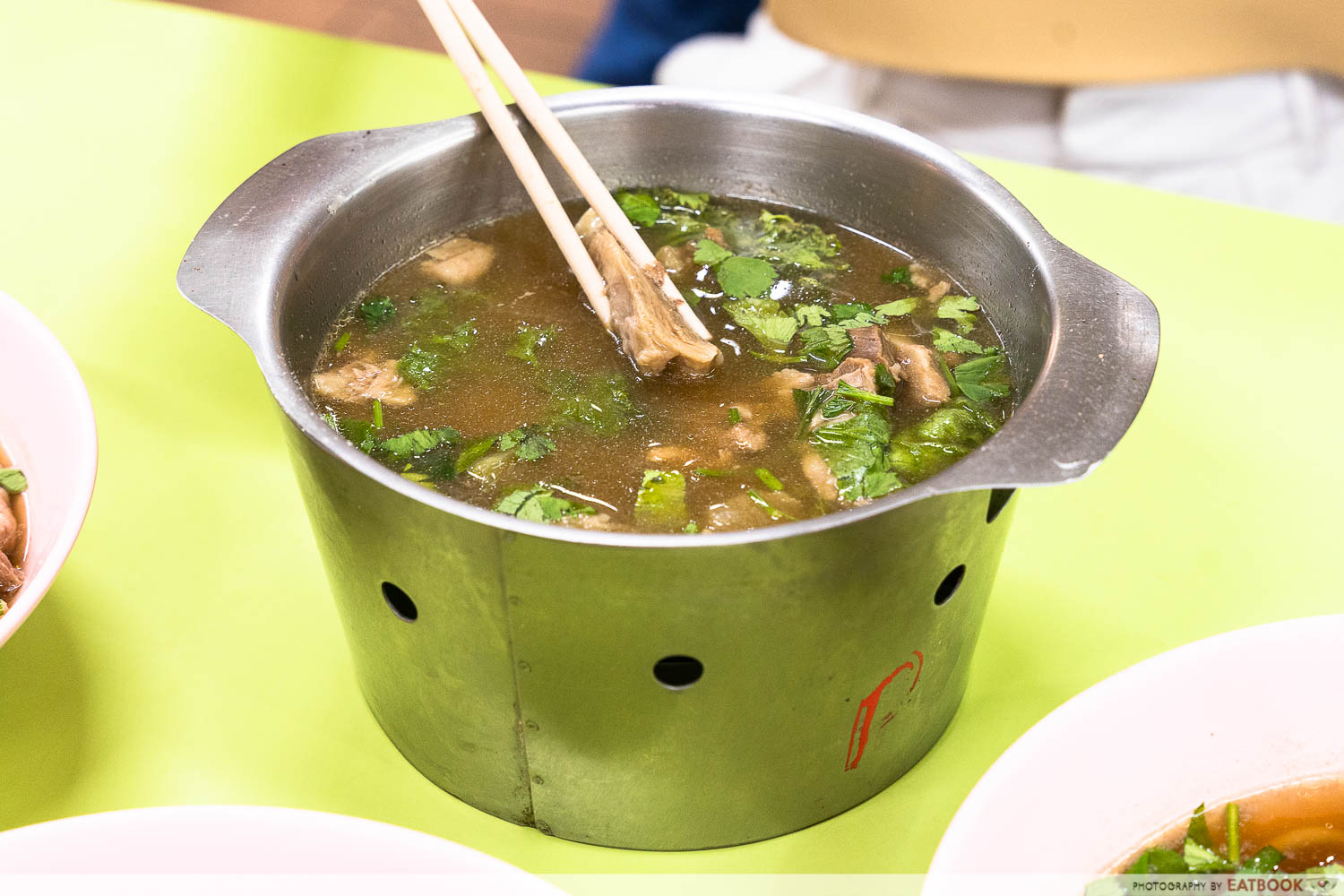 For something more special, Bugis Long House Lim Kee Beef Noodle also serves a Beef Tendon and Beef Brisket Herbal Pot ($7/$8/$10), which features a different soup base.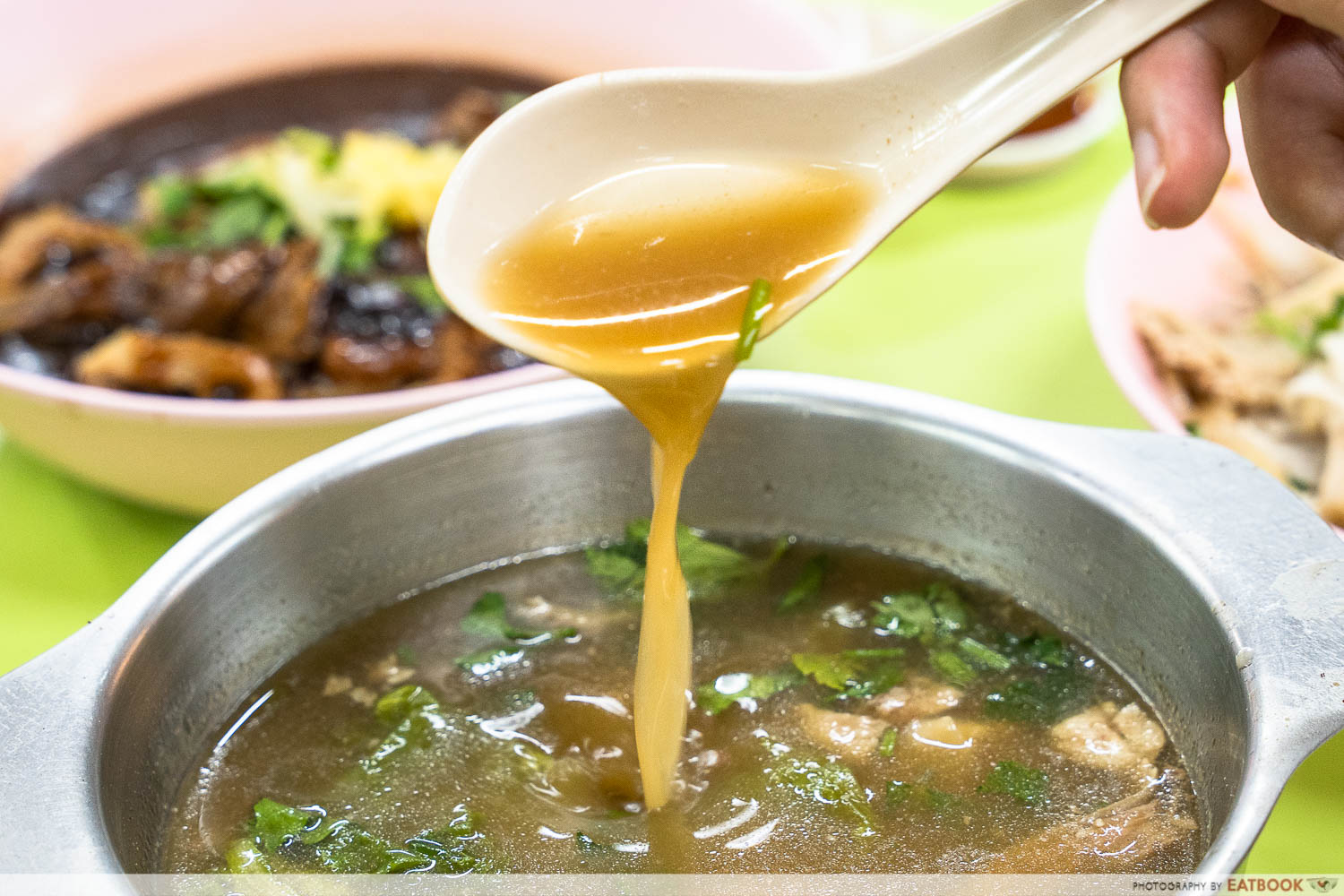 If you're one to prefer Chinese traditional soups, this will definitely be up your alley. This soup was more herbal tasting, and reminded me of the comforting homemade ones Mum used to make. 
Ambience at Bugis Long House Lim Kee Beef Noodle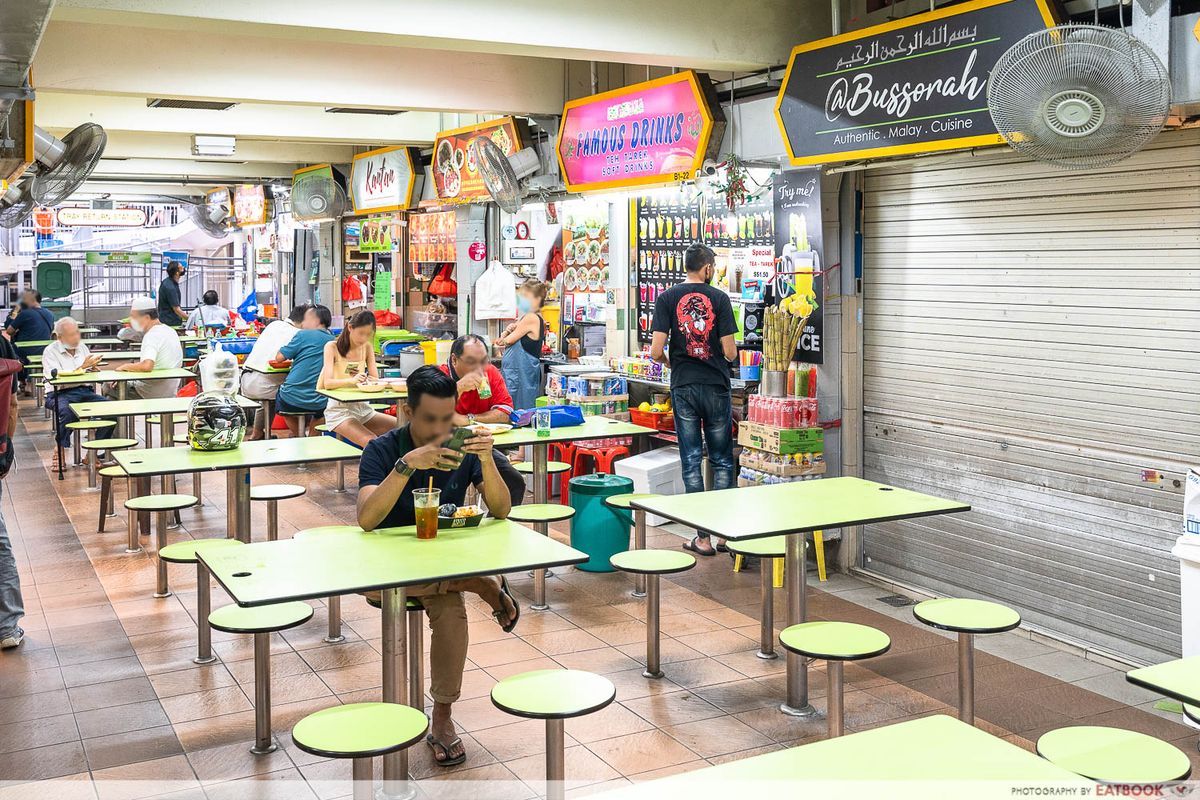 As mentioned earlier, Bugis Long House Lim Kee Beef Noodle sits on the basement level of Golden Mile Food Centre, which is also home to popular names such as Ashes Burnnit and Mr Baguette. This hawker centre is a 15-minute walk from Bugis MRT Station, but I would recommend taking a bus to one of the nearby bus stops instead to shorten the journey.
We didn't have to jostle with any crowd for seats when we visited around 1pm on a weekday, as the spacious food centre has plenty of tables available. 
The verdict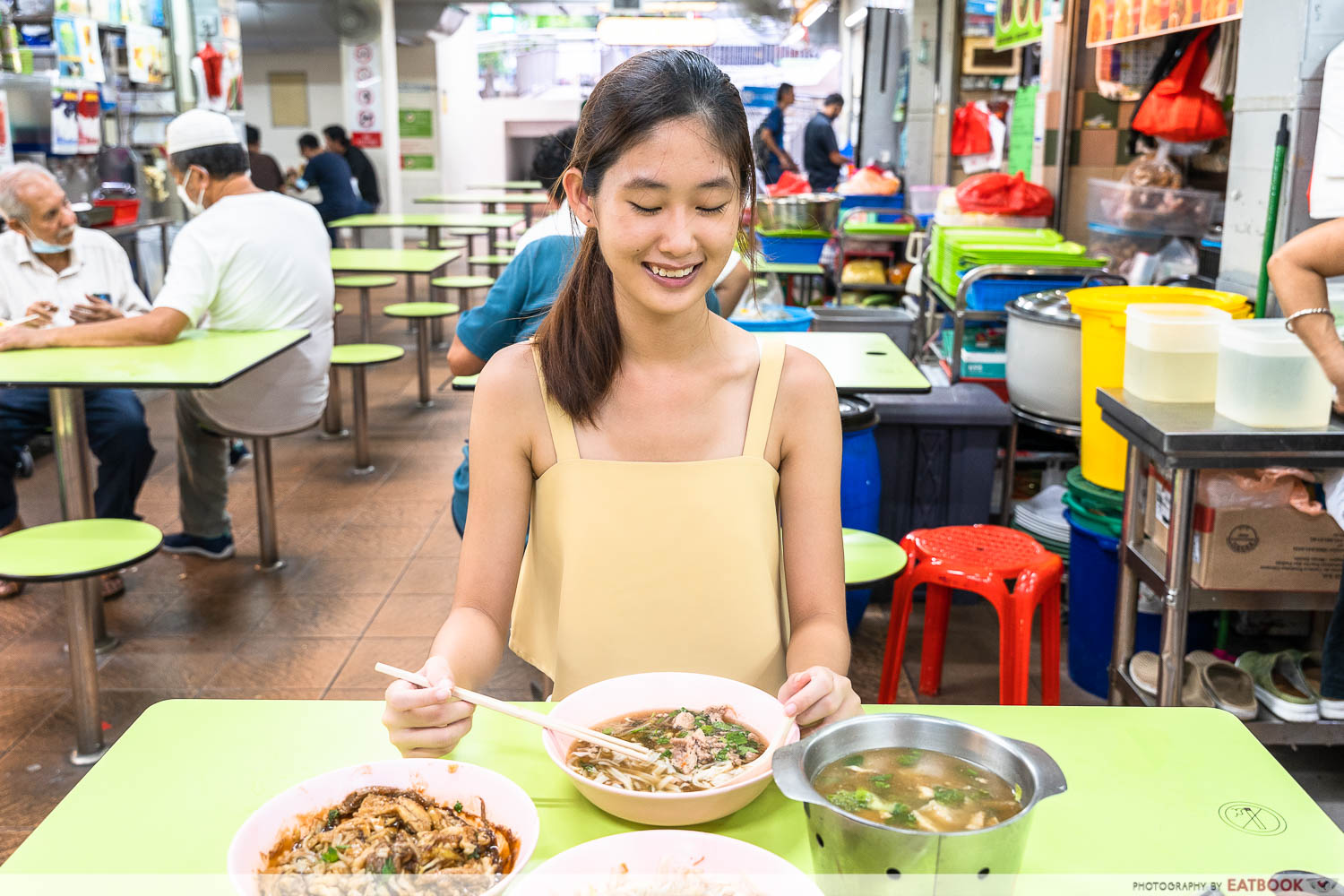 I left Bugis Long House Lim Kee Noodle feeling satisfied enough. Though there were some misses, I thoroughly enjoyed the bowls of hor fun I had here. The prices are slightly steeper than most hawker fare, but after all, it's beef you're paying for.
I think this stall is worth a visit once in a while, especially when a craving for traditional beef noodles hits. 
If you're looking for more stalls to visit in Golden Mile, check out our Wen Li Taiwanese Food review for $3.50 braised pork rice, or our Wen Kang Ji review for XXL wonton mee. 
Address: 505 Beach Road, #B1-21, Golden Mile Food Centre, Singapore 199583
Opening hours: Sun-Fri 11am to 9pm, Sat 11am to 5:30pm
Tel: 9391 8919
Website
Bugis Long House Lim Kee Beef Noodle is not a halal-certified eatery.
Wen Li Taiwanese Food Review: $3.50 Braised Pork Rice And Pig Intestine Mee Sua By Young Hawkers
Photos taken by Zadelin Wong.
This is an independent review by Eatbook.sg.
Bugis Long House Lim Kee Beef Noodle Review: Traditional Beef Noodles With Six-Hour Broth At Golden Mile
Bugis Long House Lim Kee Beef Noodle Review: Traditional Beef Noodles With Six-Hour Broth At Golden Mile -

7/10
Summary
Pros
– Beef stomach and tendons were tasty
– Hor fun gravy was moreish 
Cons
– Beef slices could've been juicier
– Beef brisket was too tough 
Recommended dishes: Mixed Beef Hor Fun (Soup) ($6/$7/$8), Mixed Beef Hor Fun (Dry) ($6/$7/$8)
Opening hours: Sun-Fri 11am to 9pm, Sat 11am to 5:30pm
Address: 505 Beach Road, #B1-21, Golden Mile Food Centre, Singapore 199583