Smashed burgers and froissants at Ashes Burnnit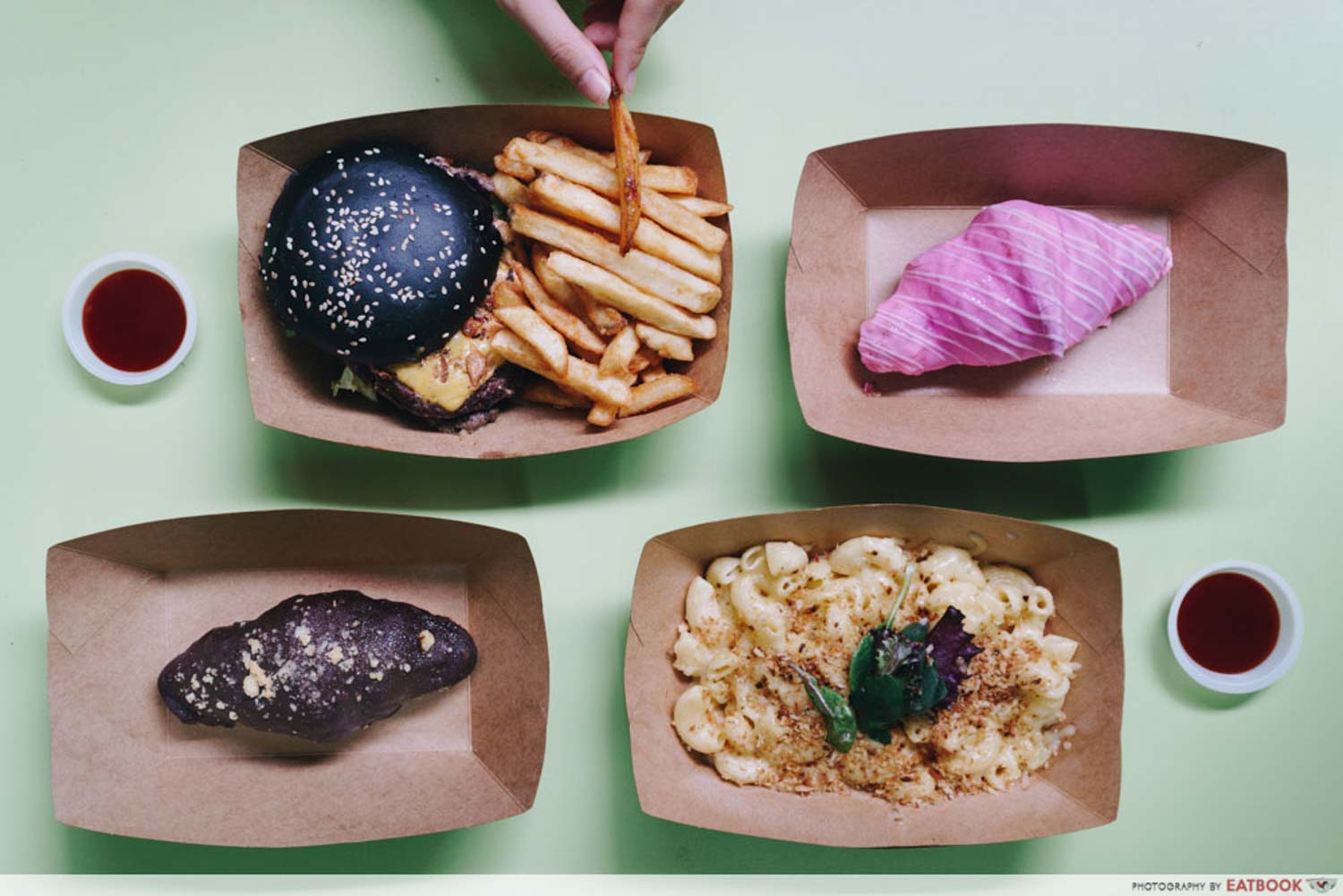 You used to have to pay a hefty price tag for some good ol' burgers in the past. That was before young hawkerpreneurs changed the game by opening up hawker stalls selling satisfying burgers at wallet-friendly prices.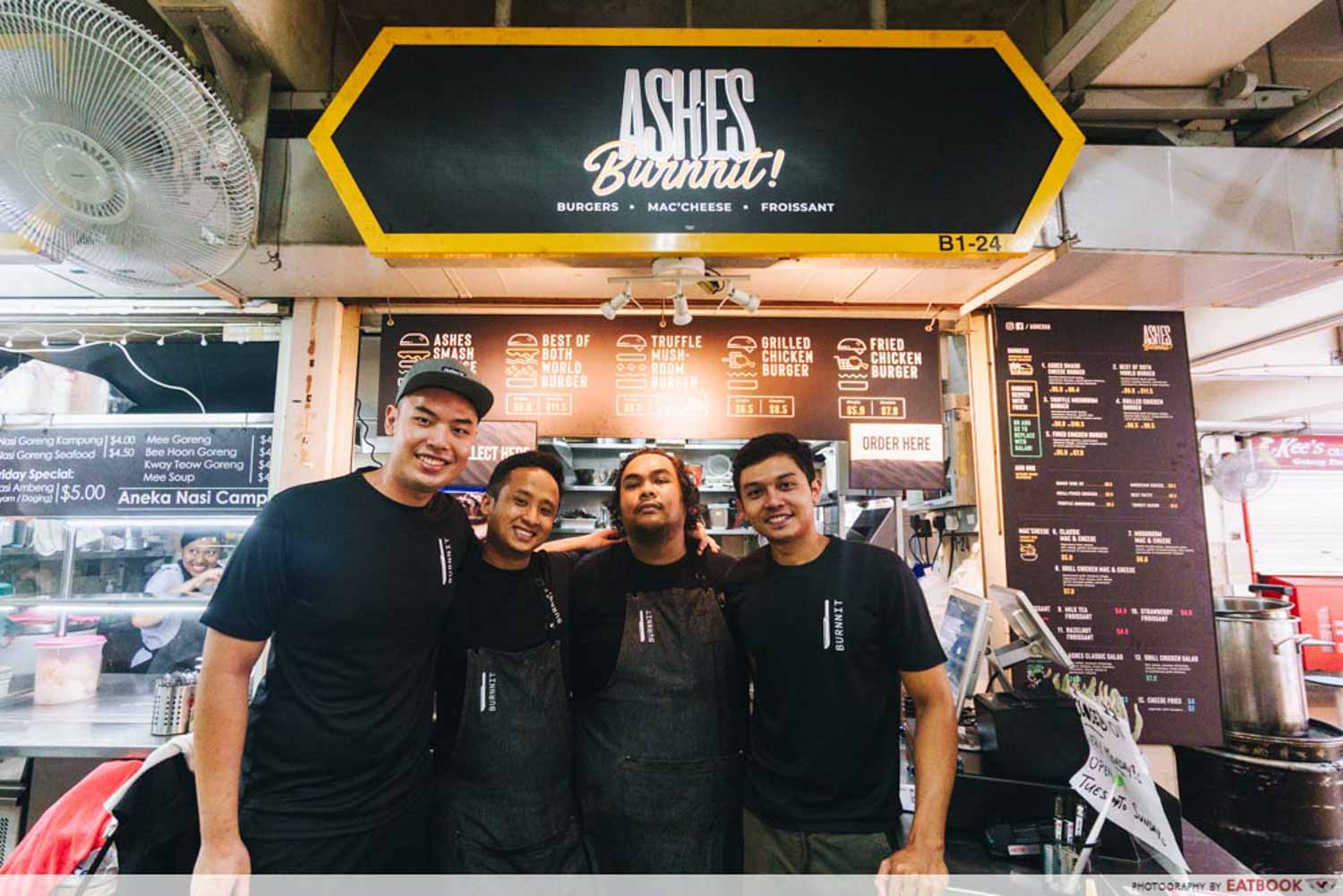 One such stall is Ashes Burnnit at Golden Mile Food Centre. Regulars of this hawker centre will be quick to realise that this burger joint took over the space of Burgs by Project Warung's OG stall.  While Burgs has since moved on to open at Timbre+ and Viva Business Park at Chia Chee, one of co-founder—Syafiq—decided not to join the move and stayed at Golden Mile Food Centre to open his own burger venture, aka Ashes Burnnit, with his friends.
Quirky is Ashes Burnnit's vibe, from their store's name to the idea of bringing the famous US smashed burger-style to our sunny island.
Food at Ashes Burnnit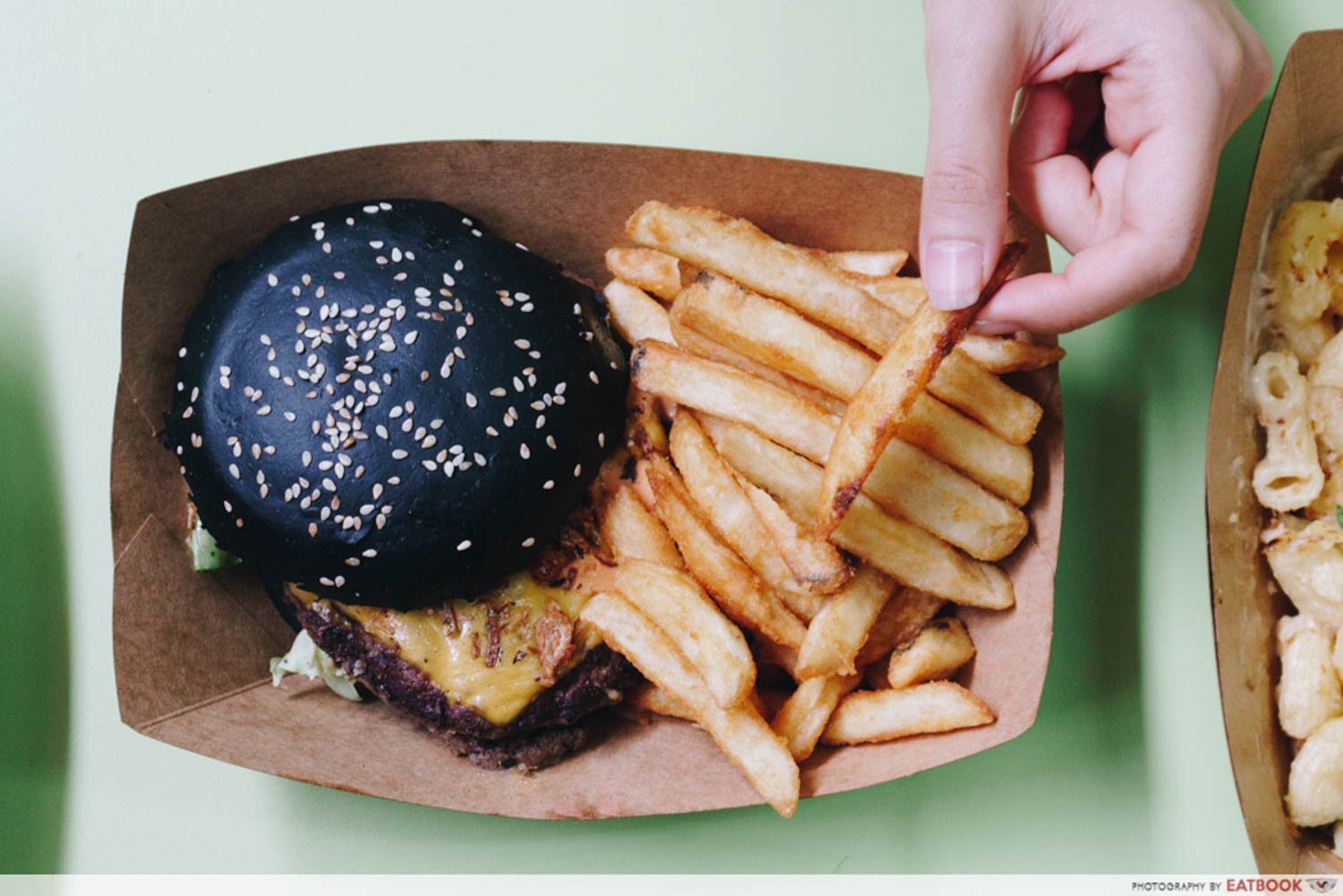 Ashes Burnnit has got your entire meal covered, from mains, including burgers and mac and cheese, to desserts.
Being the creep I am, I peeped at what people at the front of the line were ordering and went along with the popular Ashes Smash Cheese Burger. You can either go for a single ($5.90) or double patty ($8.40), and I obviously went big with the latter.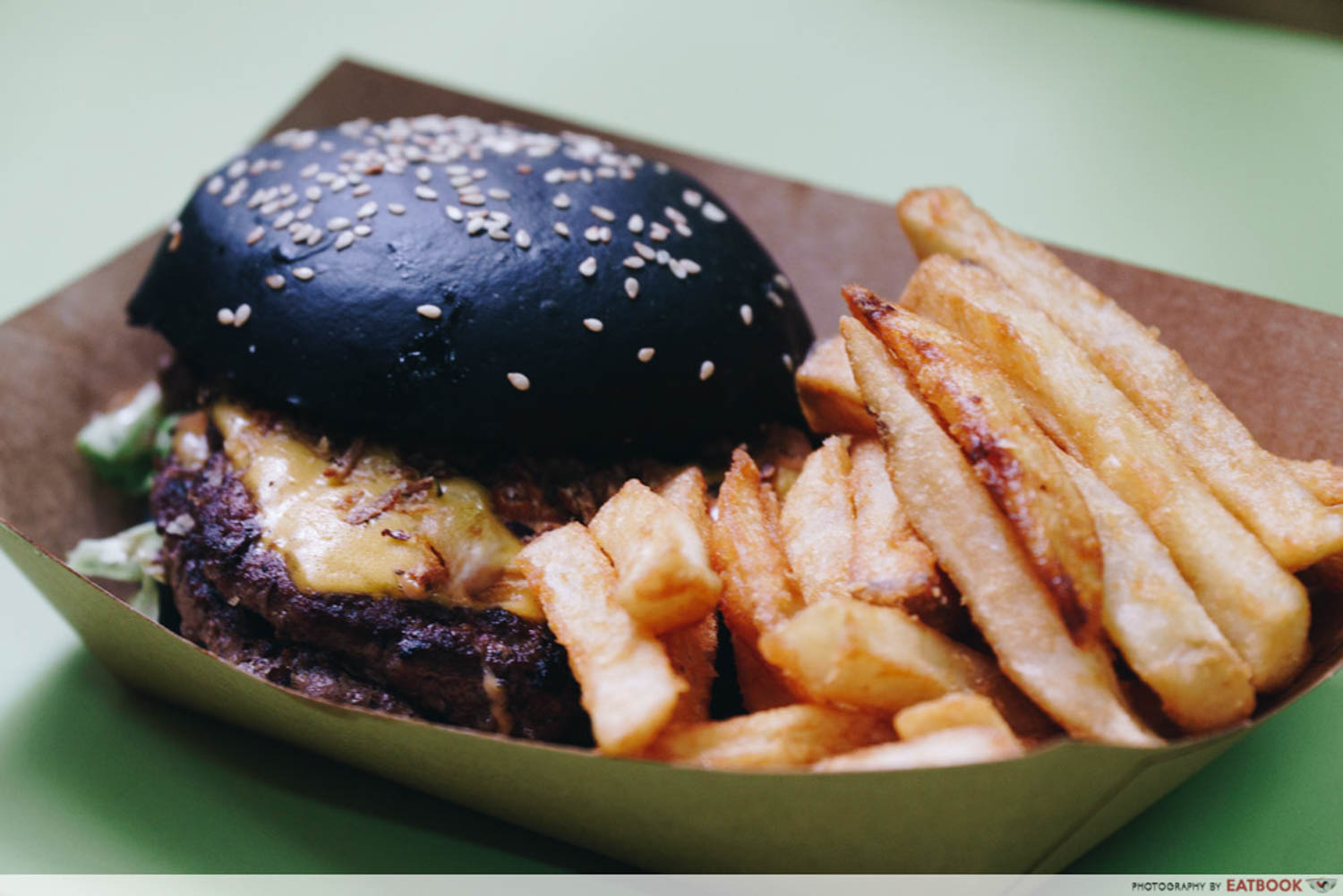 Visit with an open mind if you like your patties thick. Their signature burger features two thin patties, which are intentionally smashed when sizzling on the grill. This trademark style leaves them with a charred crust and juicy interior.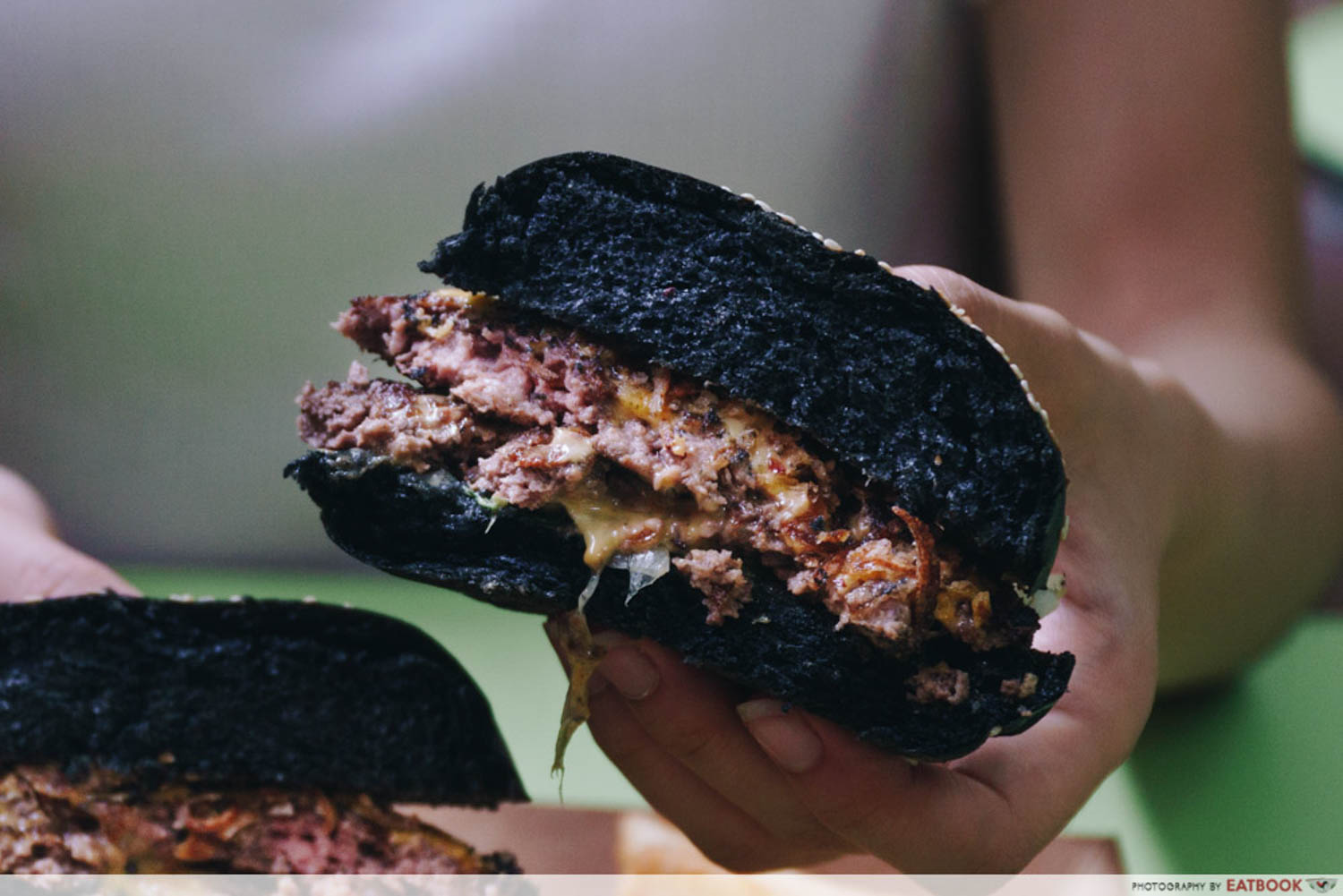 Don't worry about stretching out your jaw while chomping on this cheeseburger, as the double patty has the same thickness as a regular burger. Each bite was bursting with flavours as there was a good mix of fats and lean meat in the well-seasoned patty. 
Topped with fried shallots, the smokey beef burger was elevated with an aromatic touch.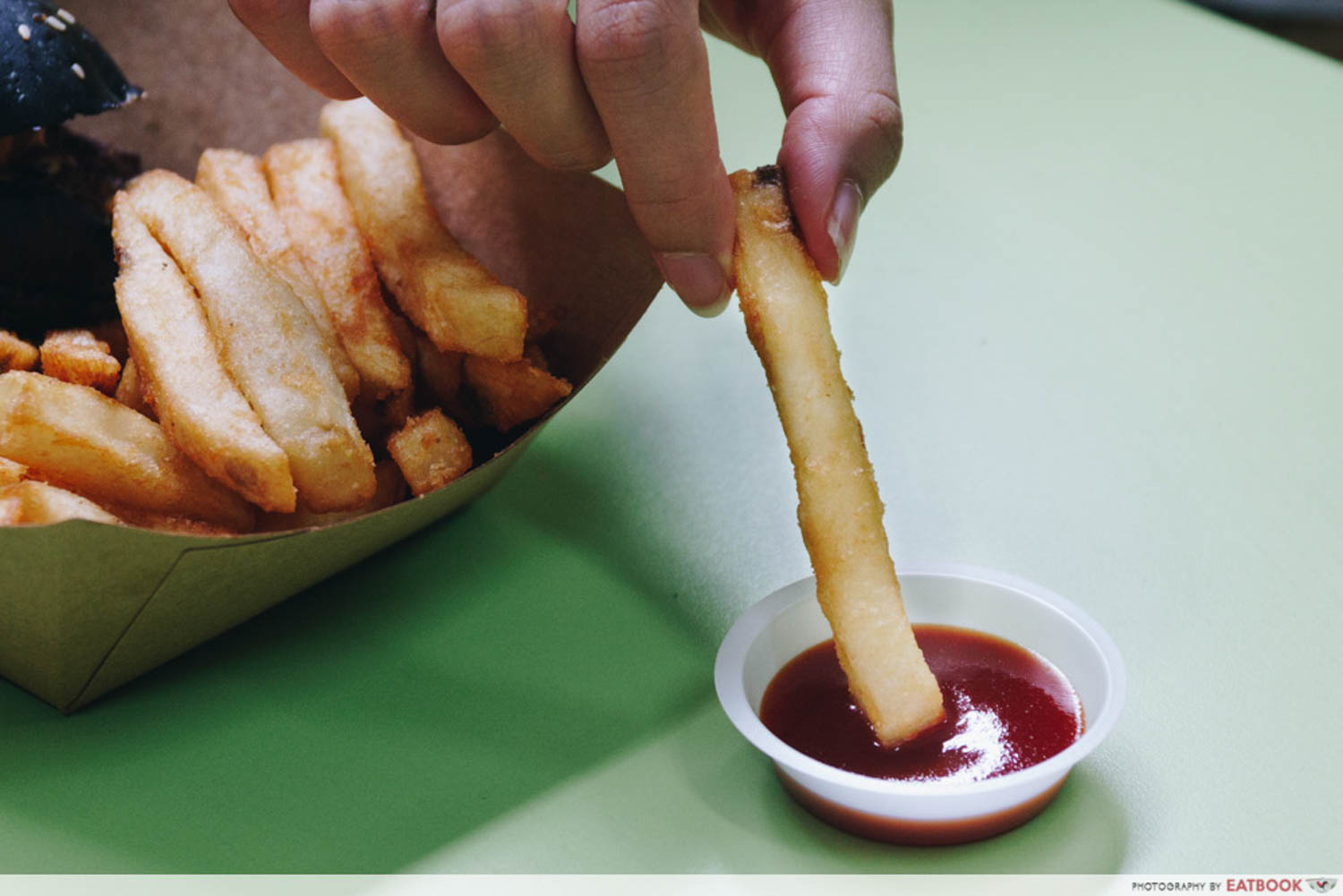 Fries are to burgers as much as Robin is to Batman. At Ashes Burnnit, you'll get thick fries with each burger order. Made from Russet Burbank potatoes, these fries have a nice fluffy bite.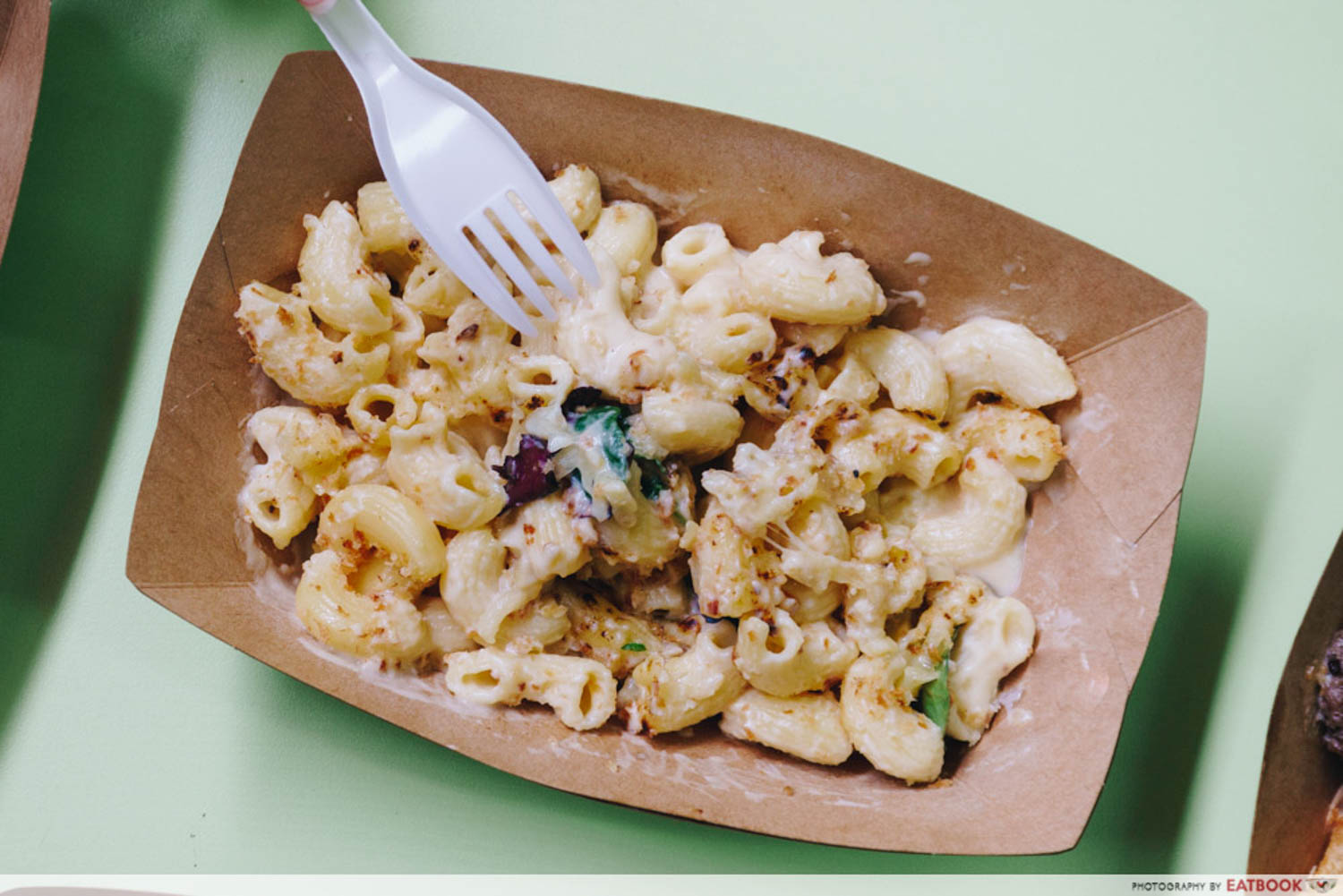 Cheese lovers can satisfy their dairy addiction with some Classic Mac & Cheese ($5). Made with three kinds of cheese—smoked cheddar, mozzarella, and parmesan—this bad boy will keep you going back for more.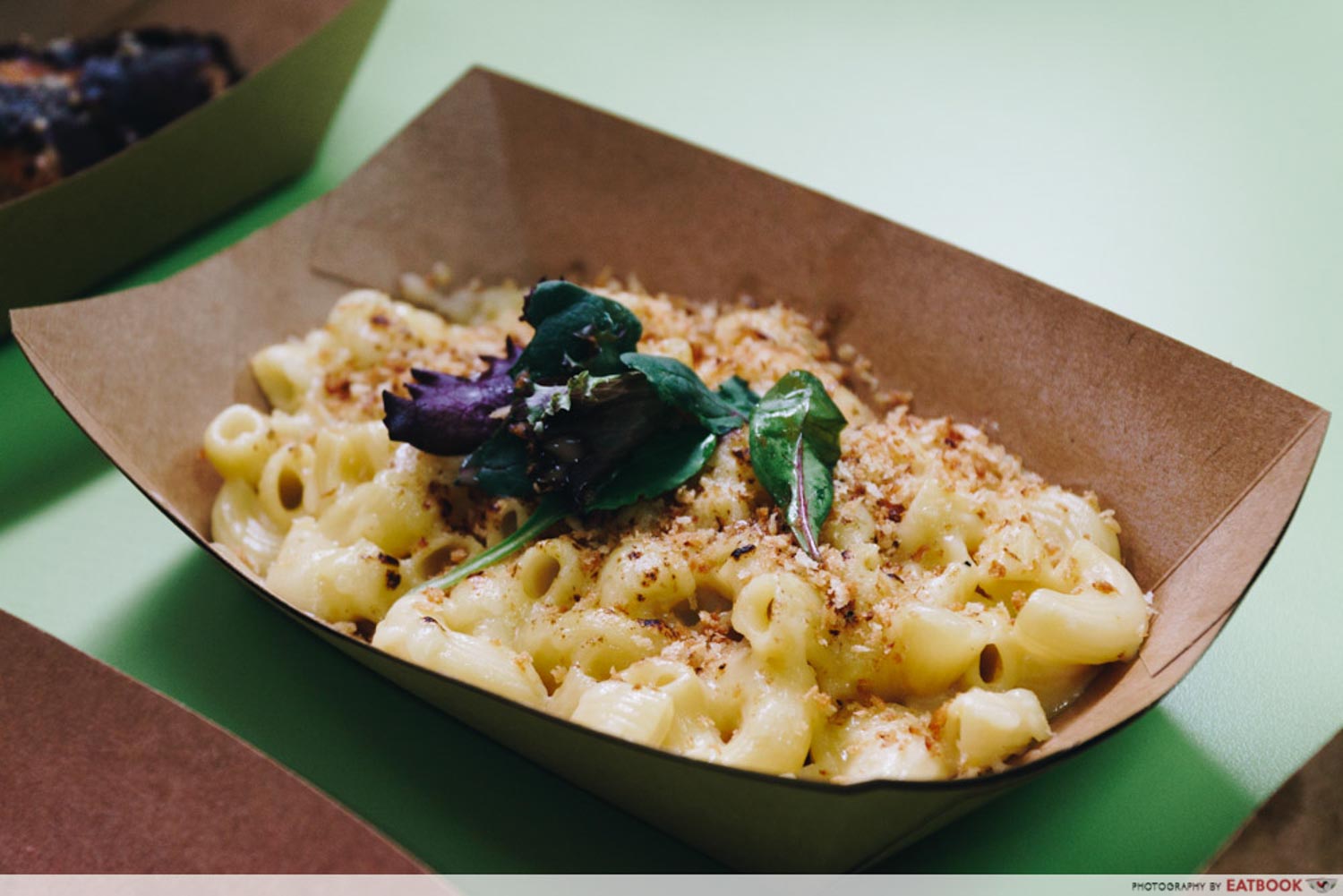 The cheese feast doesn't stop just there. Ashes Burnnit tosses in more cheese just before serving and torches them to give a golden-brown crust. 
The dish is topped with sprinkles of breadcrumbs and a fresh mix salad.
Despite being packed with all that cheese, the creamy dish was surprisingly light. This was thanks to the salad leaves' natural bitterness which helped cut through the buttery notes.
All in all, this dish still fell short as it tasted like any other mac & cheese. Despite the variety of cheese, the depth of flavours was limited to buttery and creamy notes.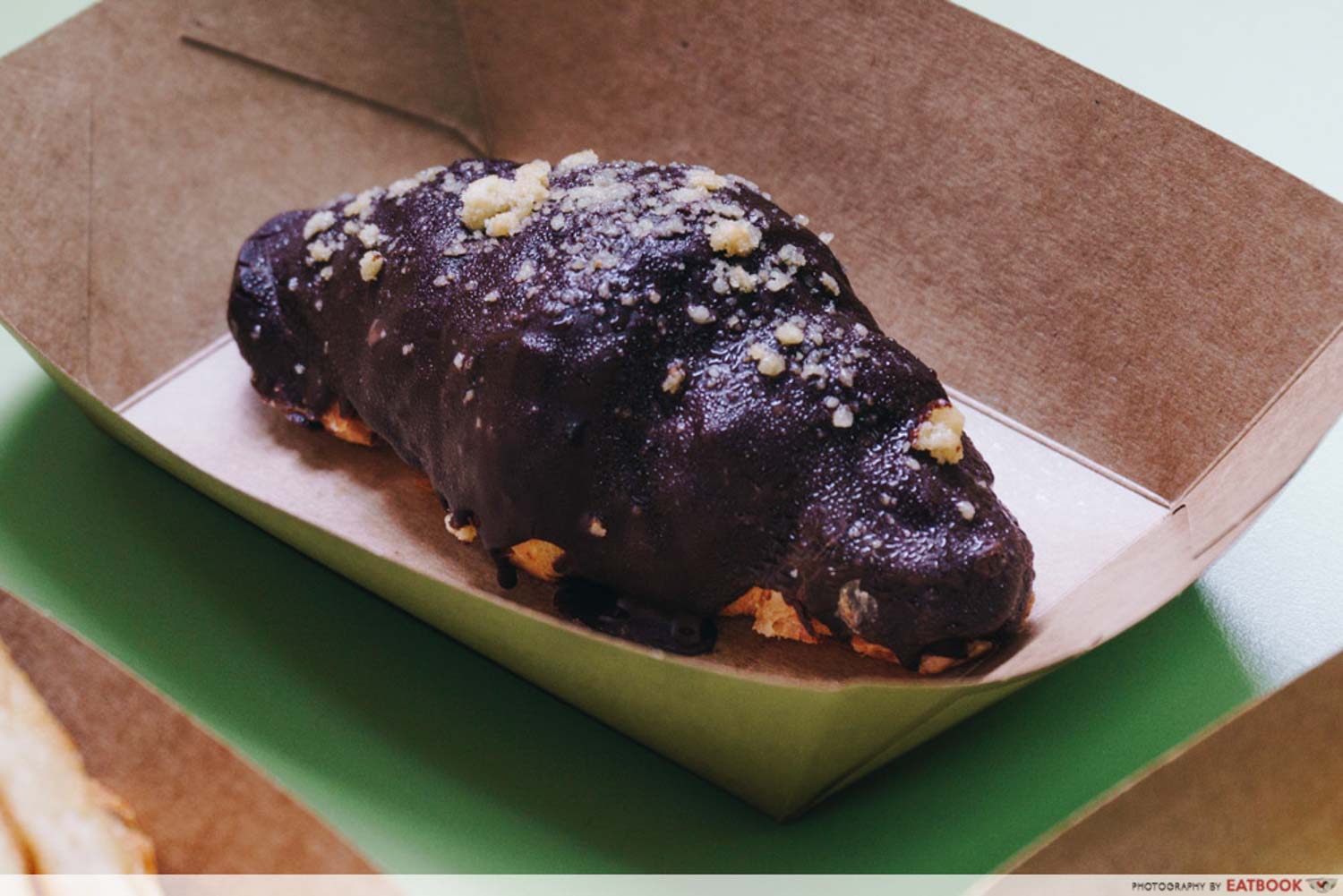 In line with their trendsetting ways, Ashes Burnnit has also launched Froissants ($4). These ice-cream-filled croissants come in three flavours: Hazelnut, Milk Tea, and Strawberry.
Working with a local baker, this unique dessert features a fluffy croissant. Once cooled down after baking, the croissant is drizzled with a decadent icing then filled with ice-cream. This is definitely a treat for those with a sweet tooth.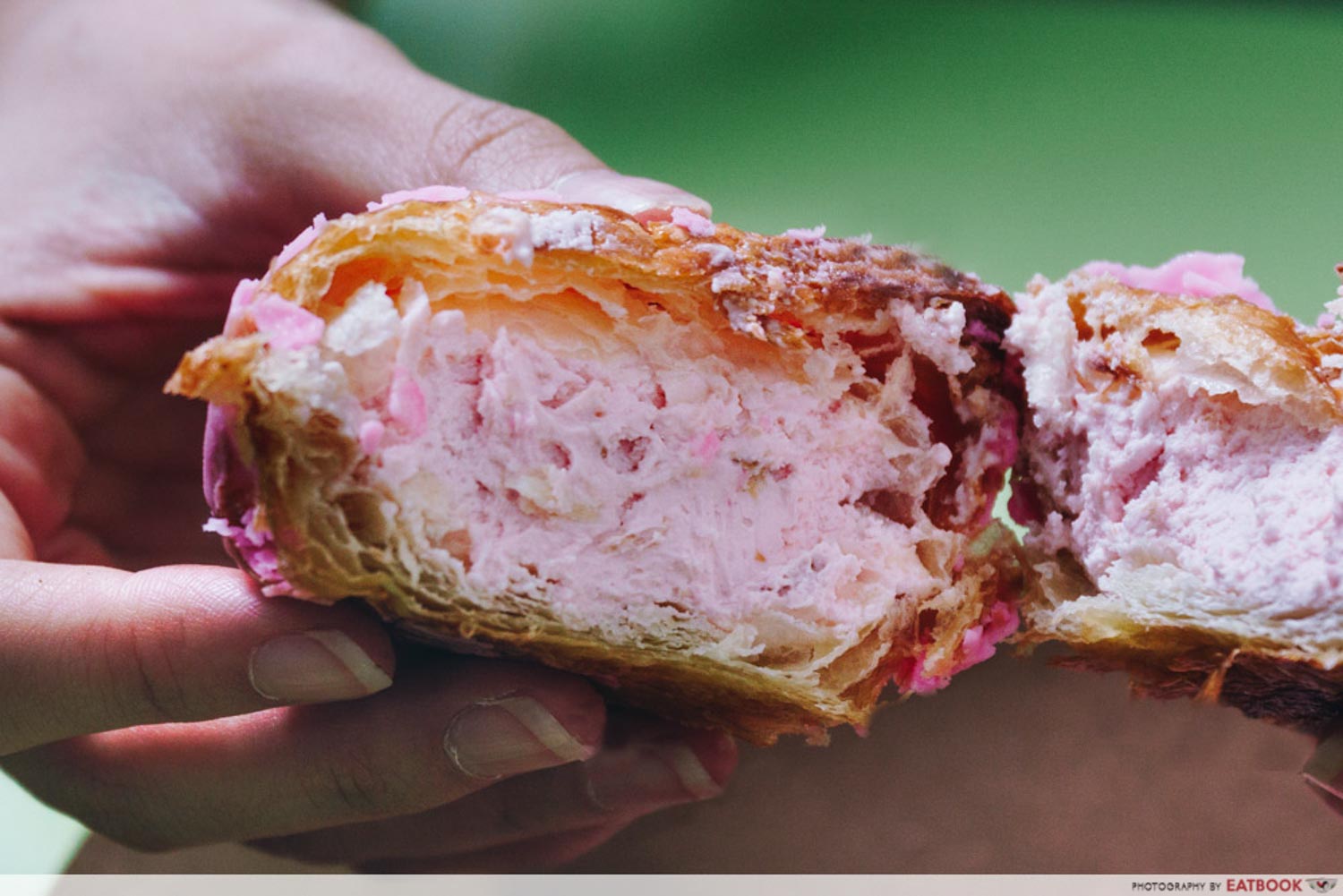 I was surprised that this creation didn't turn out as gimmicky as it sounds. The croissant was light and flaky, but its butteriness was lost in the sea of sweetness from the icing and strawberry ice-cream.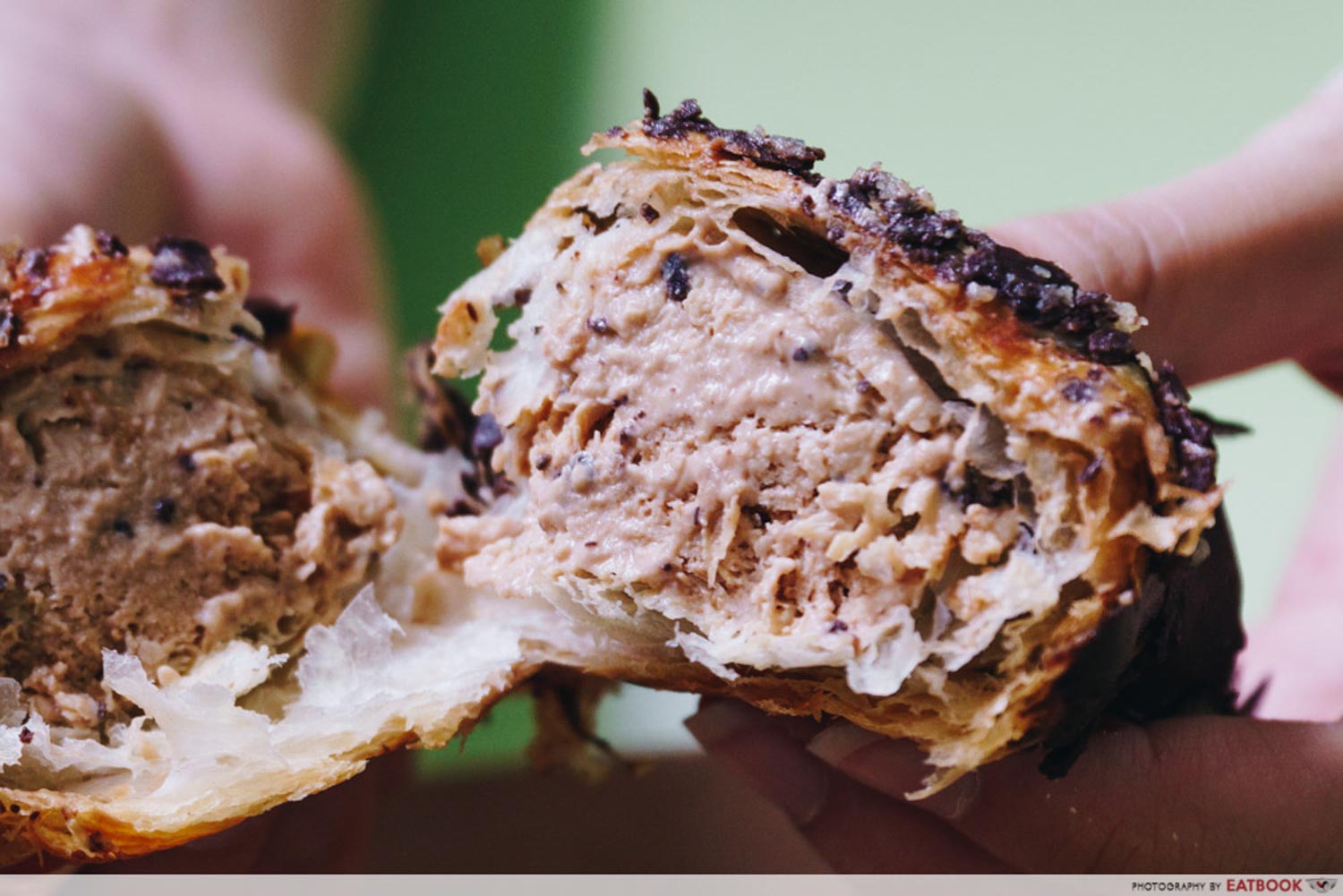 On the other hand, the Milk Tea flavour was not overly sweet. This tea-based ice-cream struck a balance between bitter and sweet, complementing the airy pastry.
Perplexed by how the ice-cream filling hadn't melted into a sticky mess, I asked Syafiq to share his secret. Turns out, the ice-cream is mixed with cream, keeping the froissant from softening, especially with the heat Singapore is notoriously known for.
Ambience at Ashes Burnnit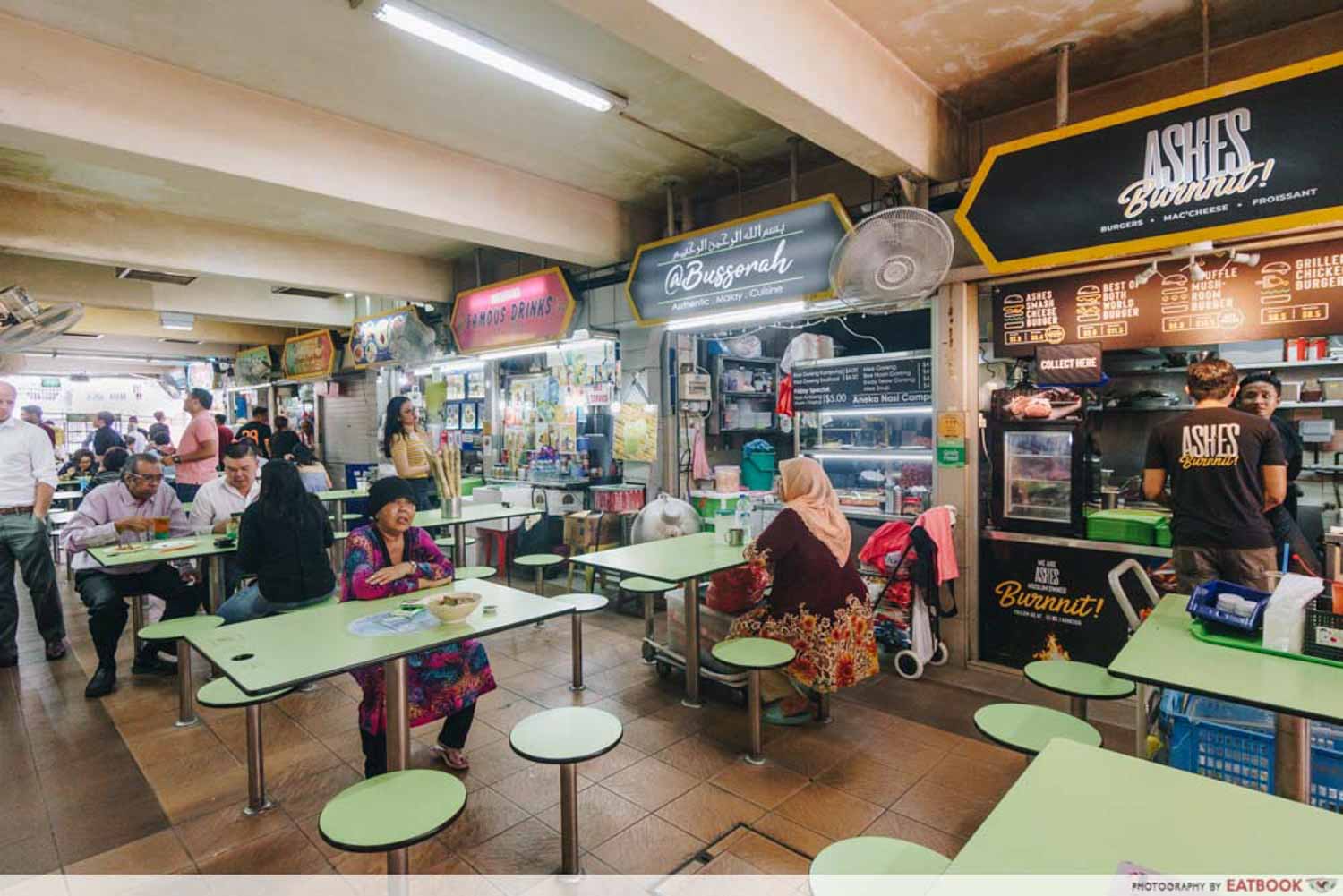 You won't miss Ashes Burnnit at Golden Mile Food Centre, as this burger stall stands out with their booming pop music playlist. Their liveliness extends to their hospitality, so don't be shy to chat up with the friendly team.
With their past experience working at now-defunct Burgs by Project Warung, the team runs the kitchen like clockwork, dishing out orders one after another.
The verdict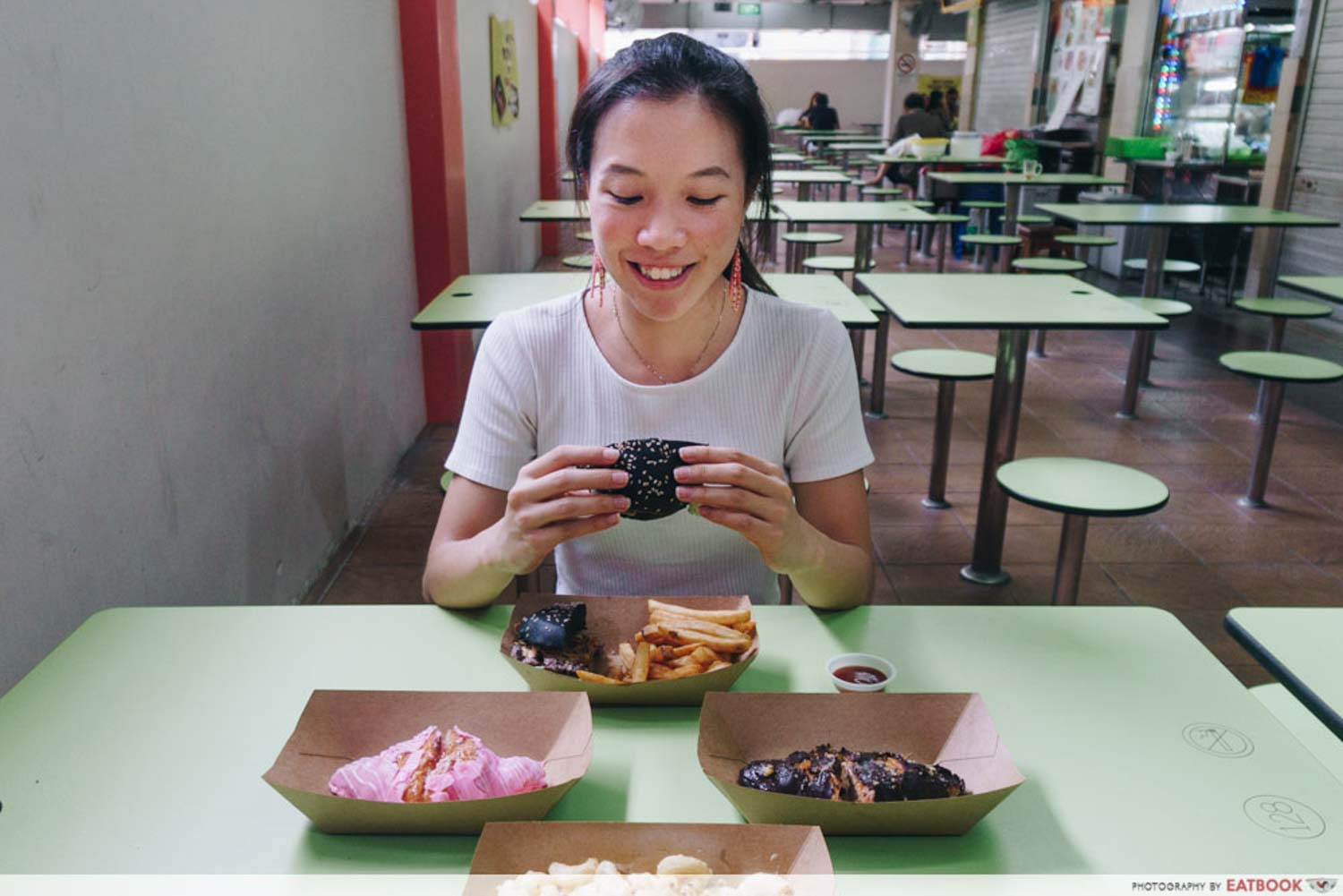 Ashes Burnnit jazzes up classic cheeseburgers with smashed burger patties, providing a refreshing change to the local burgers scene. Though I'm used to thick-cut beef patties, I ended up enjoying their thin cheeseburger.
Some dishes were a hit and miss for me. The Mac & Cheese was average tasting, but Ashes Burnnit Smashed Cheeseburger saved the day with its jam-packed flavours. Although they only launched last month, Ashes Burnnit has started strong with their burgers. With a runway to fine-tune the menu, I look forward to future visits to see what other crazy creations they have in store.
If you're looking for more Muslim-owned burger joints, check out our full review of The Social Outcast!
Address: 505 Beach Road, #B1-24, Golden Mile Food Centre, Singapore 1999583
Opening hours: Mon-Sun 11:30am to 8:30pm
Tel: 9270 4670
Website
Photos taken by Faith Toh.
This is an independent review by Eatbook.sg.
Ashes Burnnit Review: Ex-Founder Of Burgs Opens New Hawker Stall Selling Burgers & Ice-Cream Croissants
Summary
Pros
– Wallet-friendly prices
– Generous portions
– Flavourful Ashes Smash Cheese Burger
Cons
– Average Mac and Cheese
Recommended dishes: Ashes Smash Cheese Burger ($5.90/$8.40), Milk Tea Froissant ($4)
Opening hours: Tue-Sun 11:30am to 8:30pm
Address: 505 Beach Road, #B1-24, Golden Mile Food Centre, Singapore 1999583