Halal charcoal-grilled burgers in Tampines
Update (21 July 2020): The Social Outcast is now located at 348 Bedok Road. Check out the full address and new opening hours at the end of the article!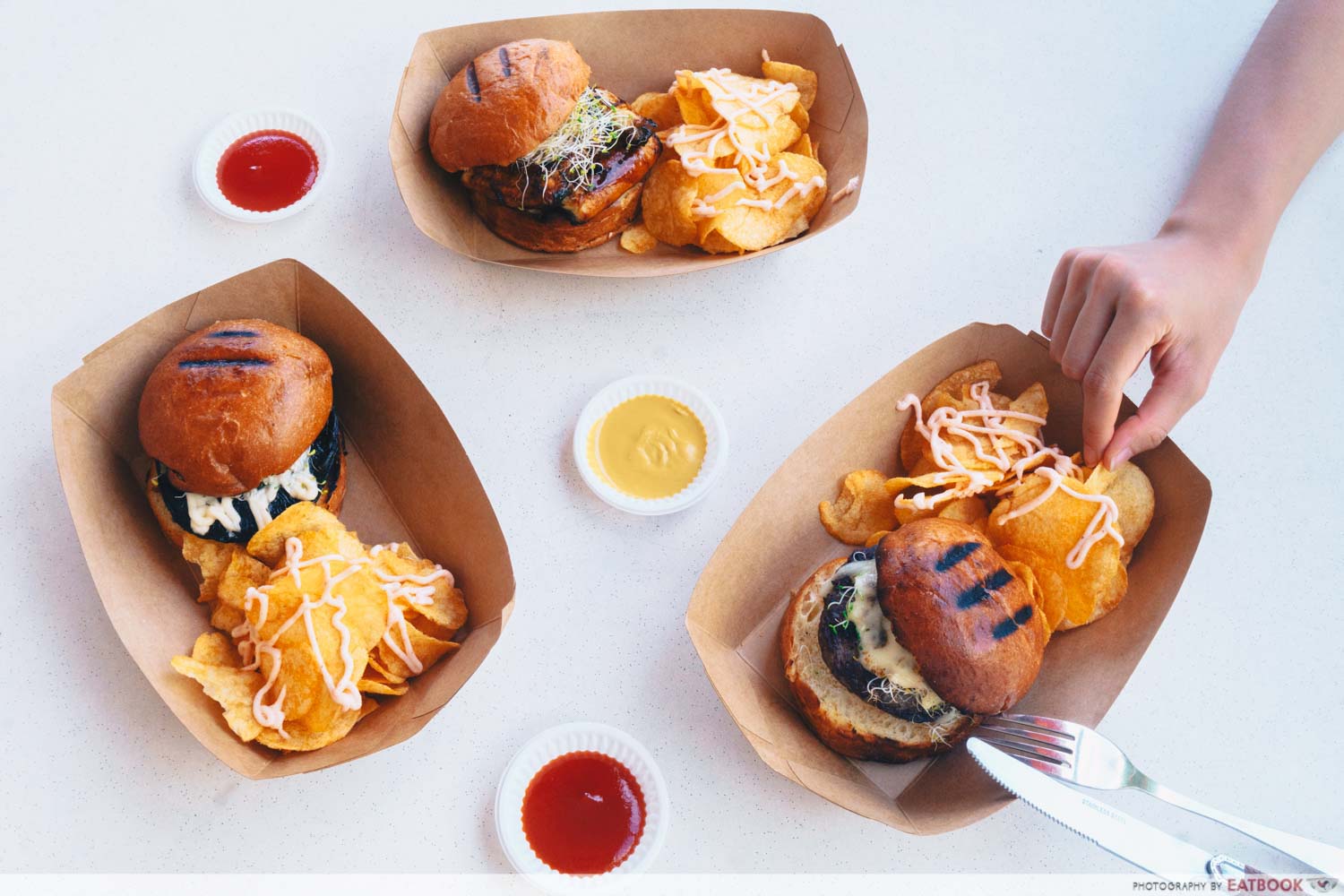 It's not easy to find a decent beef burger in Singapore; it's even more difficult to find a good halal burger. This was one of the reasons why Mint founded The Social Outcast.
Mint started cooking as a hobby, but after being spurred on by friends, he decided to turn this sideline interest of his into a full-time job. As such, he took a leap of faith and quit his stable day-time teaching career to open a stall near his flat.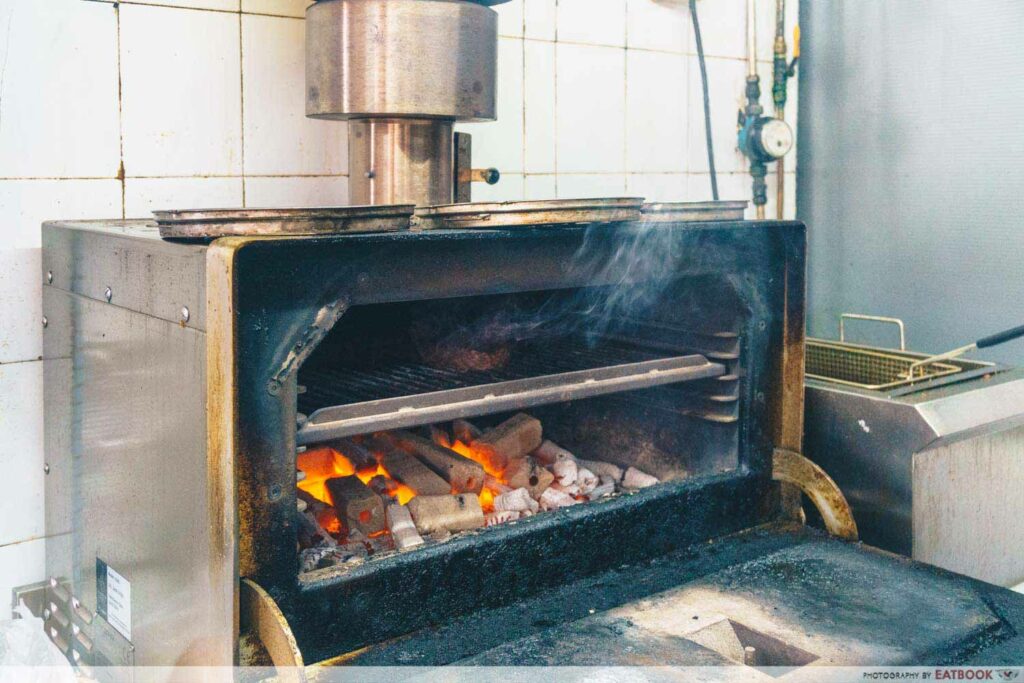 Just as its name suggests, The Social Outcast strays away from the norm. For starters, unlike most burger hawker store that is fitted with a simple grill pan, The Social Outcast goes all out and installs a charcoal-grilled oven. Mint hopes to rattle the halal food industry and push its boundaries through his humble hawker stall.
Food at The Social Outcast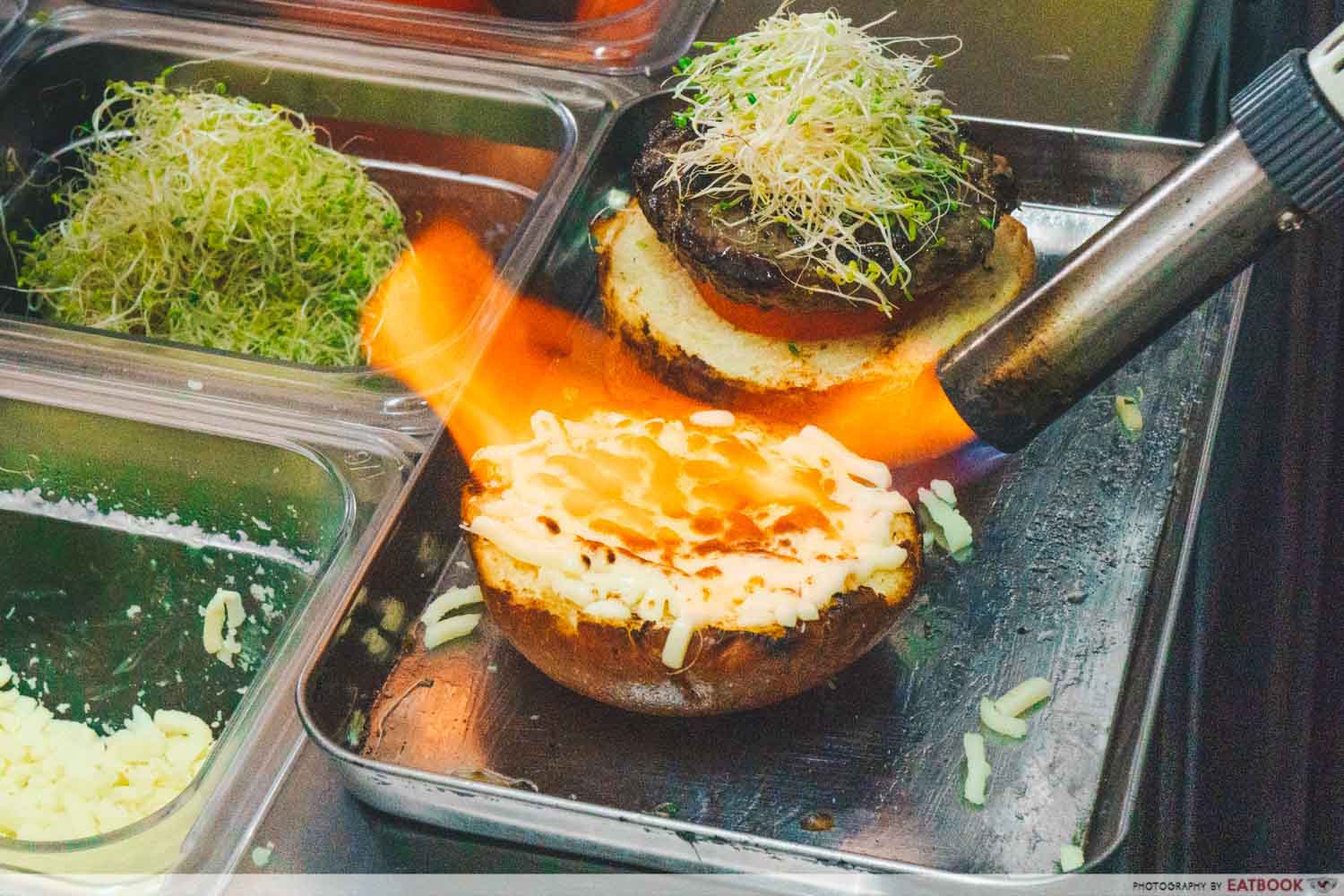 Through his travels abroad, Mint expanded his palate and knows the importance of quality produce. As a testament to this, he imports many of his ingredients and kitchen equipment from overseas, including the charcoal-grilled oven from Germany, wagyu beef from Australia, and unagi from Okinawa.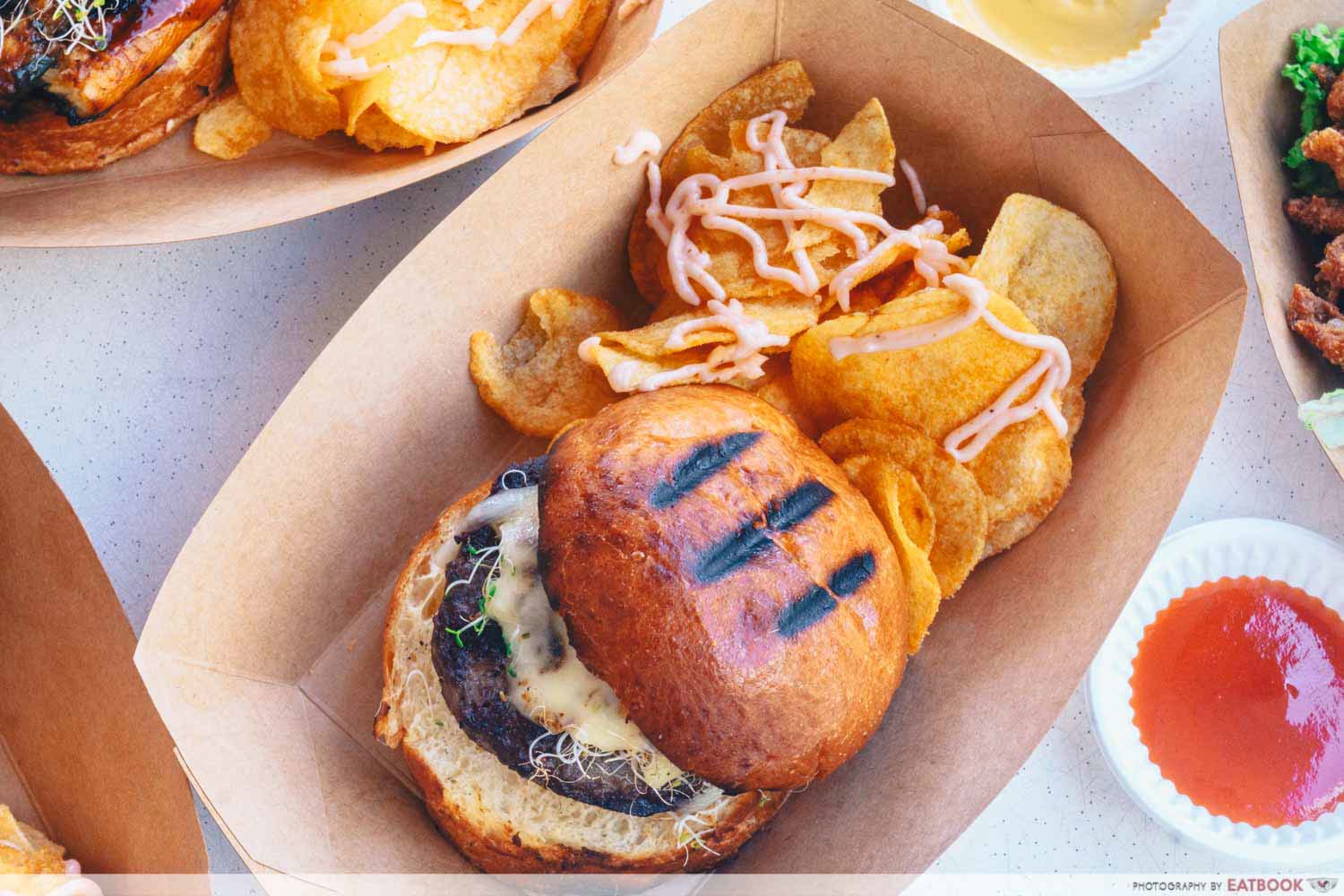 The limited menu includes a range of burgers and a few pasta options. I went straight for the first burger on the list: 400 Days Grain Fed Australia F1 Wagyu Beef ($19.90).
This may be the most expensive burger on the menu, but I'll willingly pay the price again for this glorious beef burger.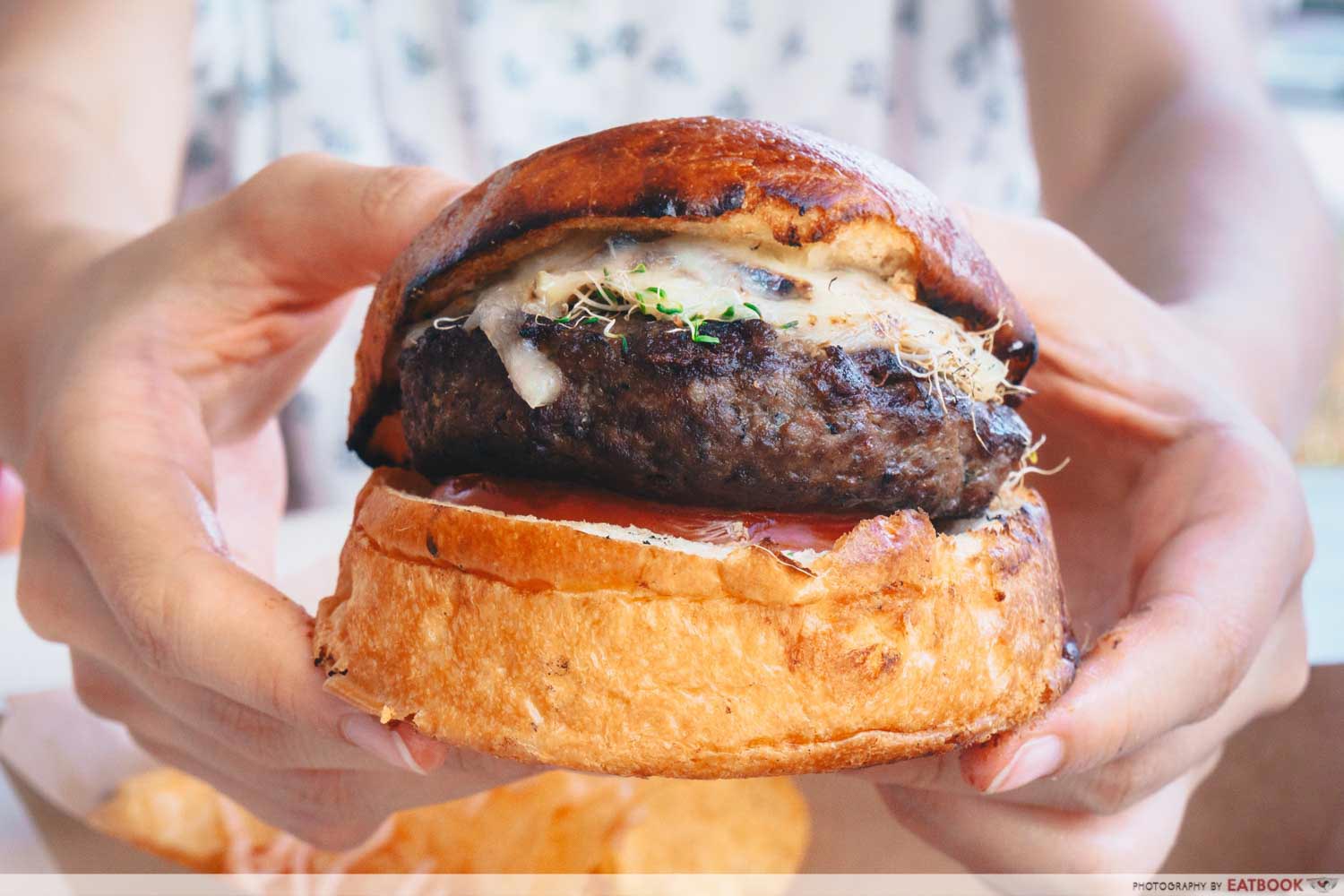 It took some effort to take a bite of this burger, as a thick beef patty was sandwiched between two buns. 
Grilling the bread and meat in the charcoal oven gave this burger a smoky flavour, reminding me of wok hei notes from hawker dishes.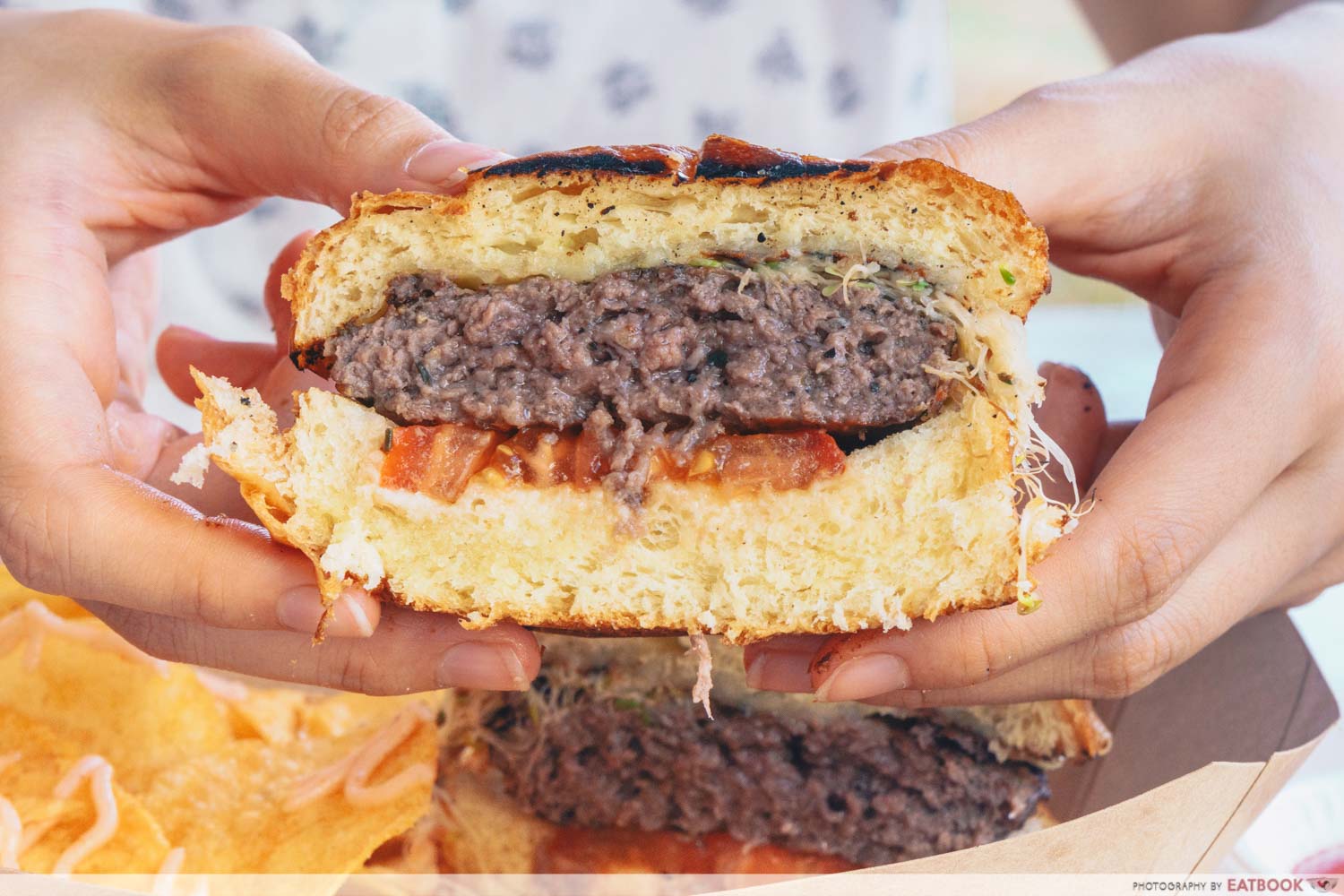 I enjoyed the buttery buns that were crisp on the outside yet soft and fluffy on the inside. The beef patty was a pleasant blend of fats and meat, resulting in a juicy and flavoursome mouthfeel. Even though the burger sat out for long, the beef wasn't tough.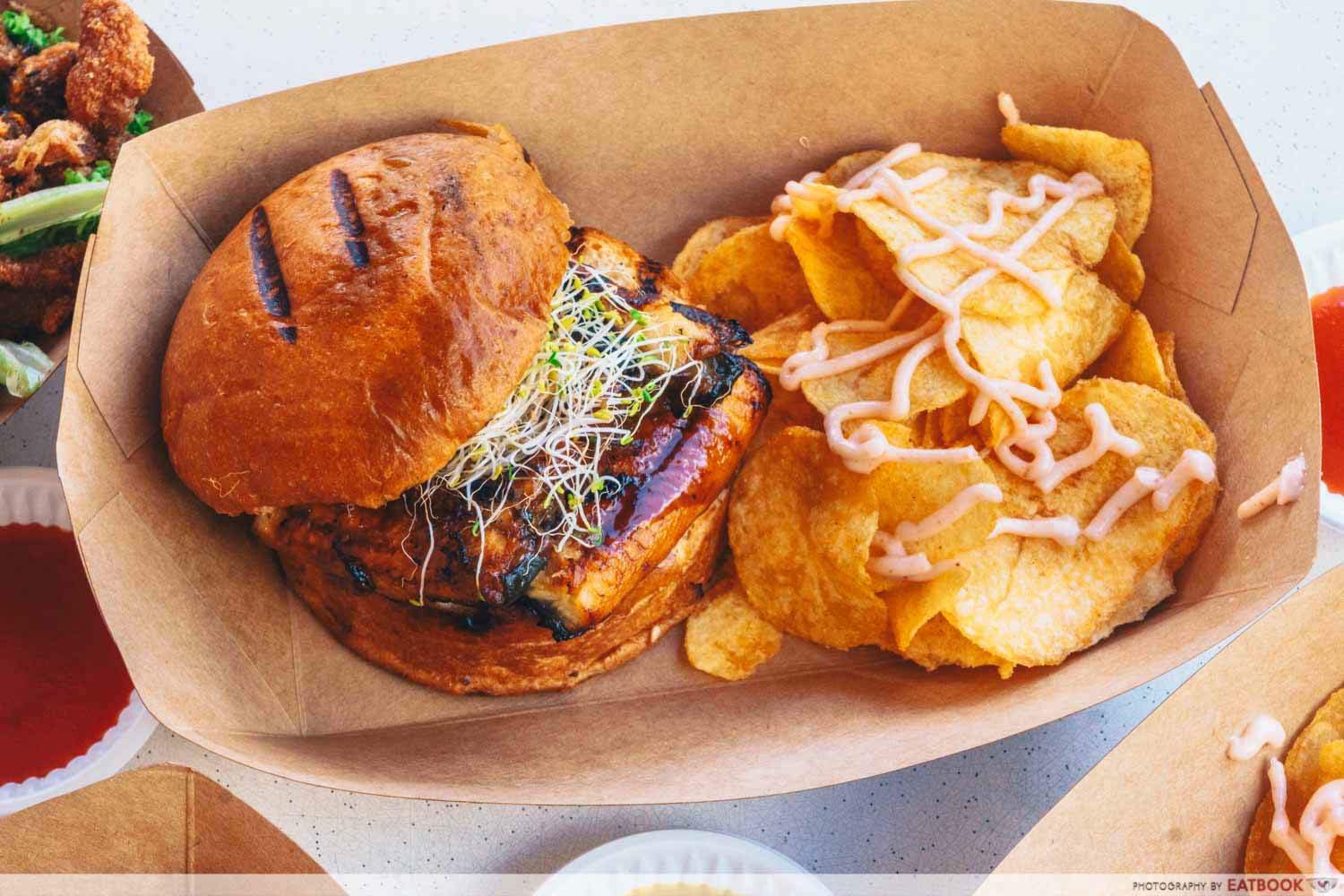 As an avid fan of Japanese cuisine, I had to order their Teriyaki Unagi Burger ($15.90). Since unagi is usually served in Japanese restaurants as a don,  I was excited to try this burger stall's rendition of this classic fish.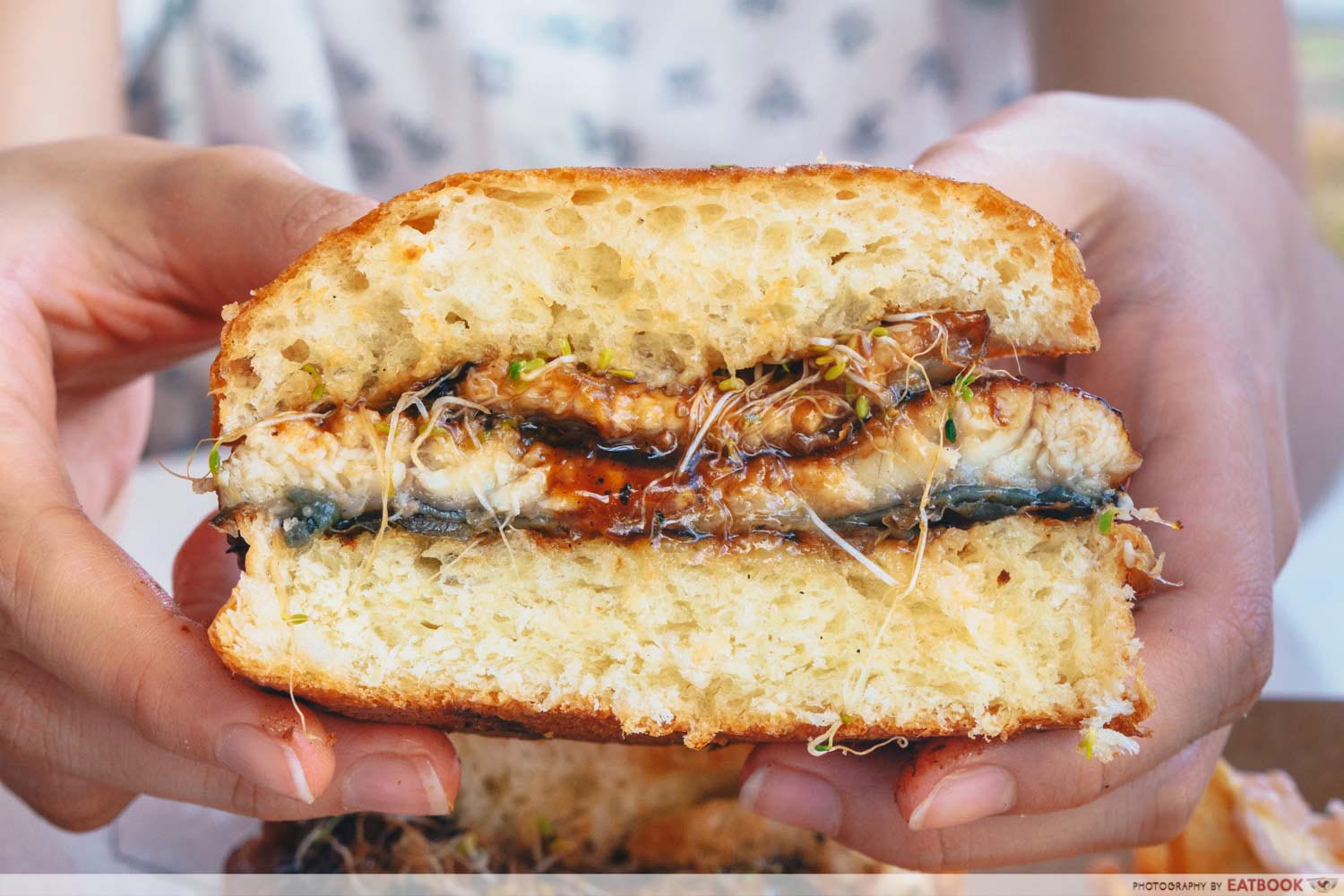 Stacked between two buns were two thick unagi slices that were glistening in teriyaki marinade.
Imported straight from Okinawa, the eel was fresh tasting and plump. Mint seems to be the master of the charcoal oven, as the unagi was charred on the outside, while the delicate flesh was kept soft.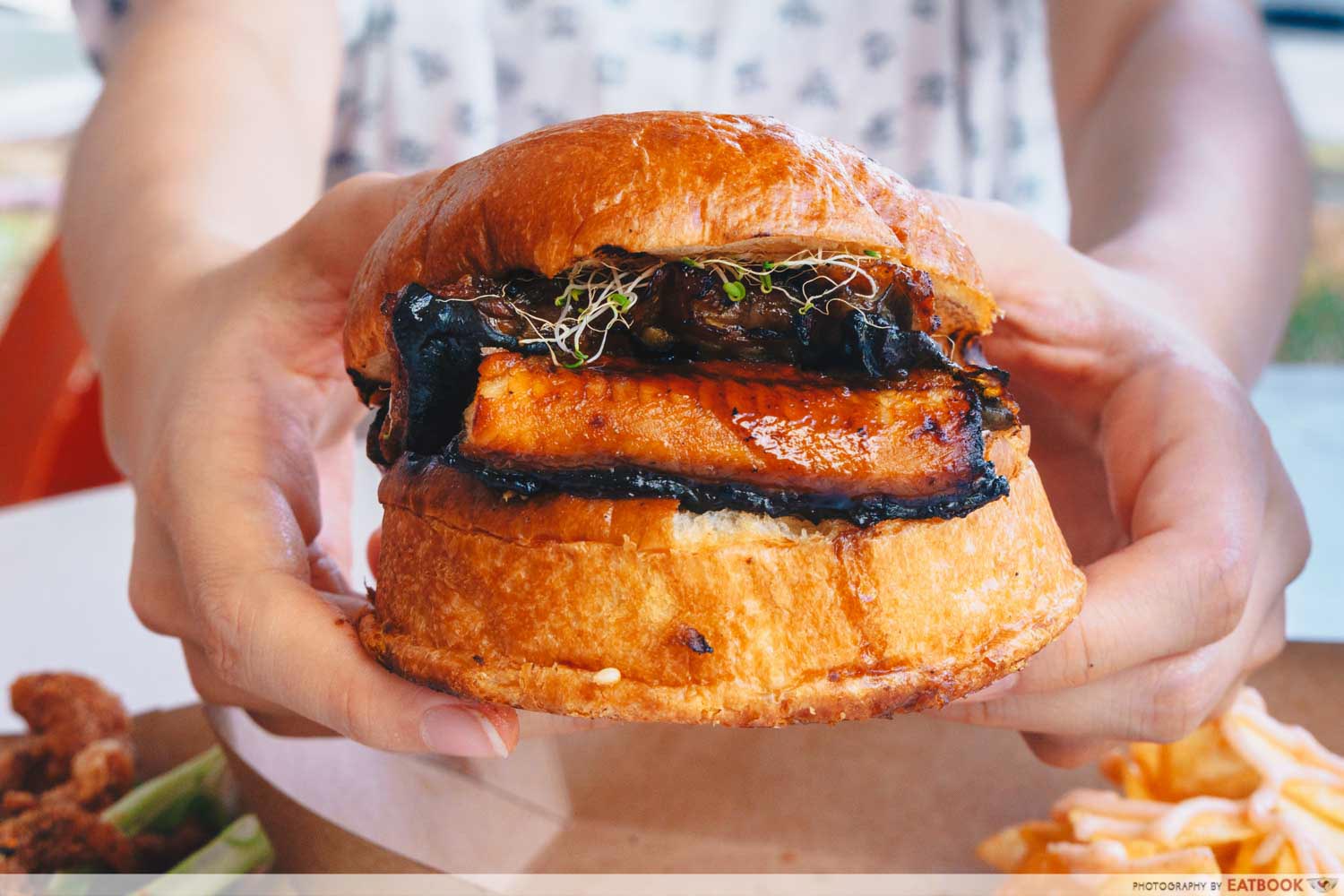 The distinct teriyaki flavours coupled with fresh-tasting unagi reminded me of the unagi don served in Japanese restaurants. The teriyaki sauce was not overly sweet too, and did not overpower the natural sweetness of the unagi.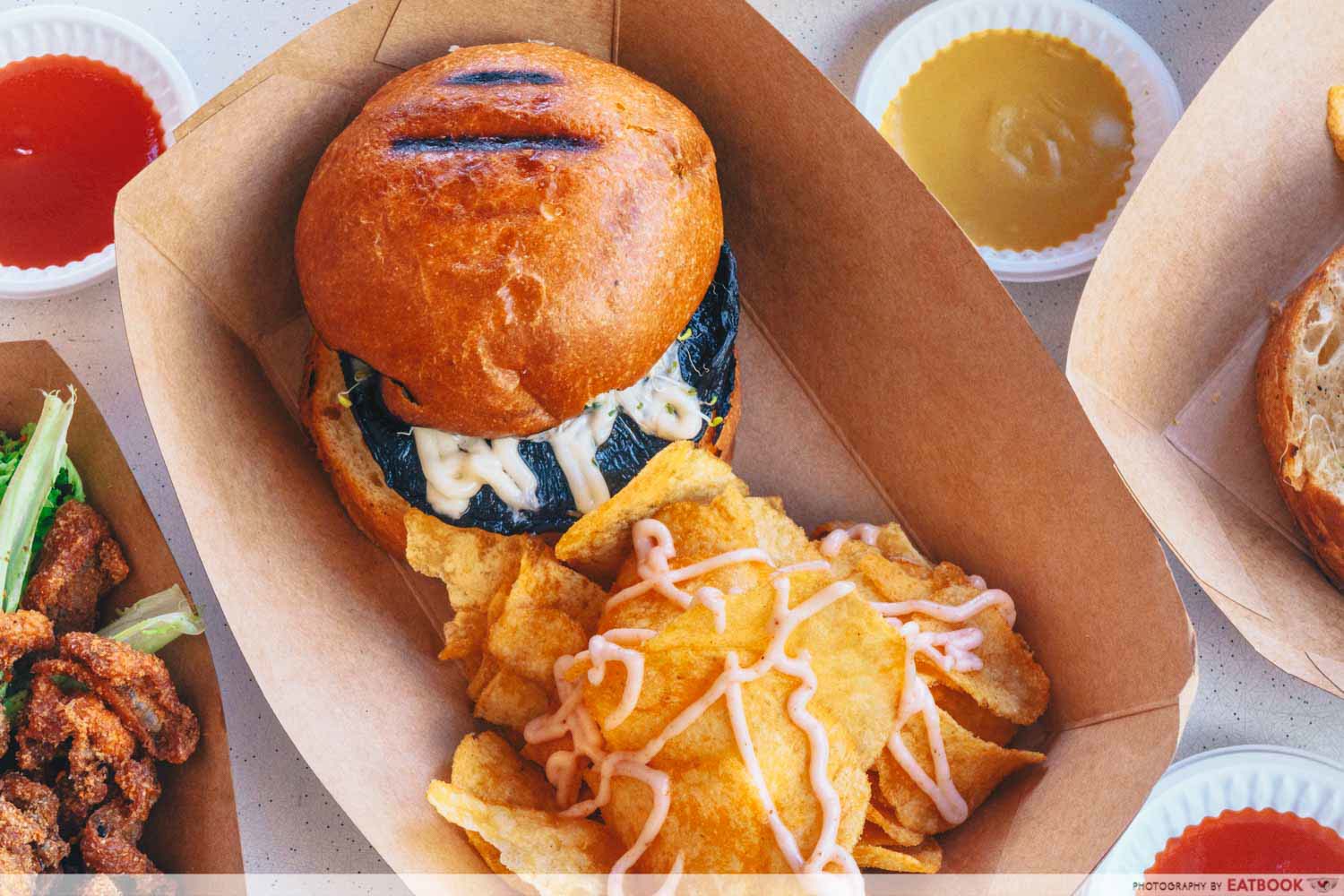 Vegetarians would be happy to know that there is a meat-free option at this burger stall. Their Sesame Mayo Portobello Burger ($8.90) strays away from the usual breaded version, by grilling a whole portobello mushroom in a charcoal oven.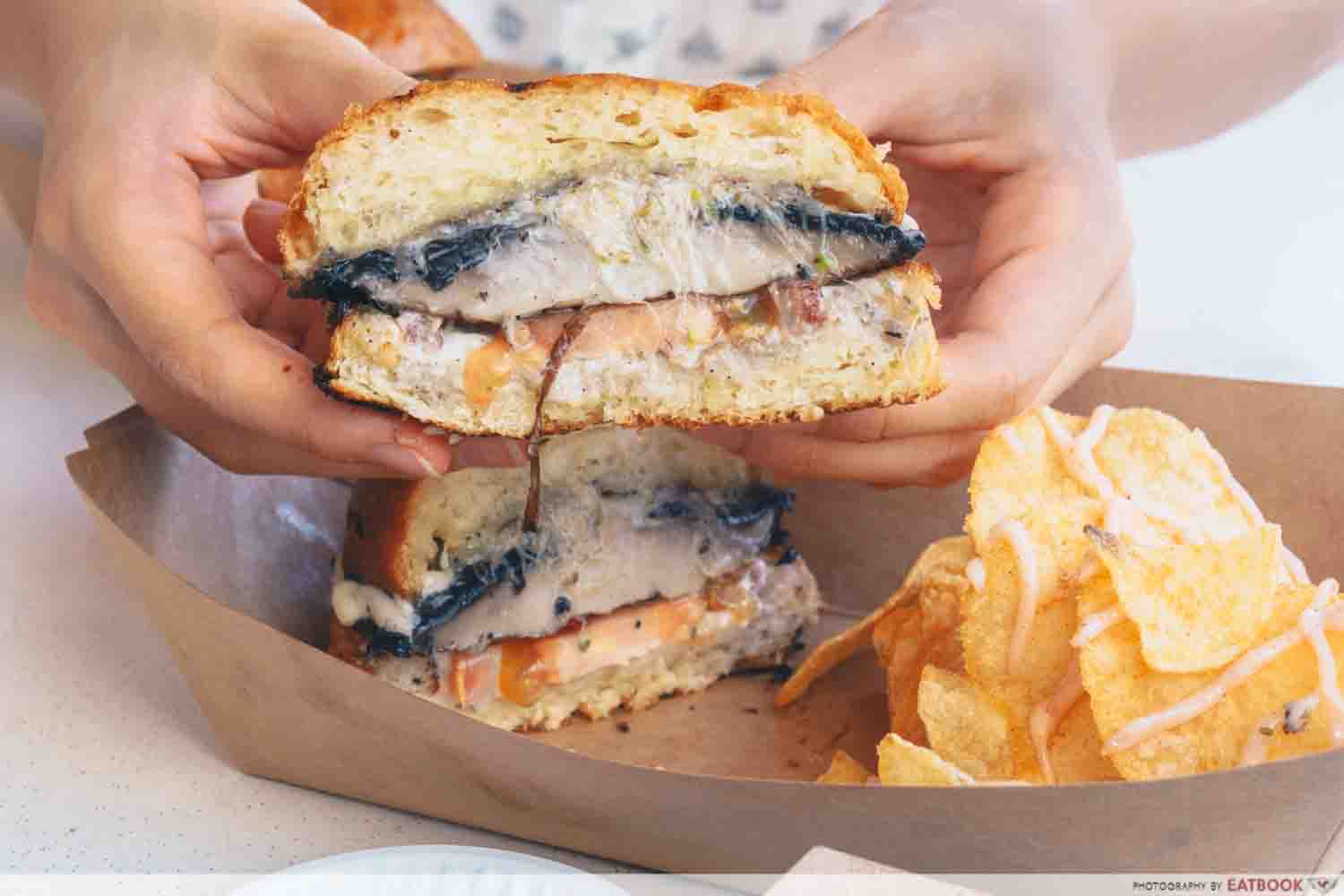 Be prepared for a juicy bite, as the thick portobello oozes out natural juices. Once again, the charcoal grill gives this mushroom a wok hei taste.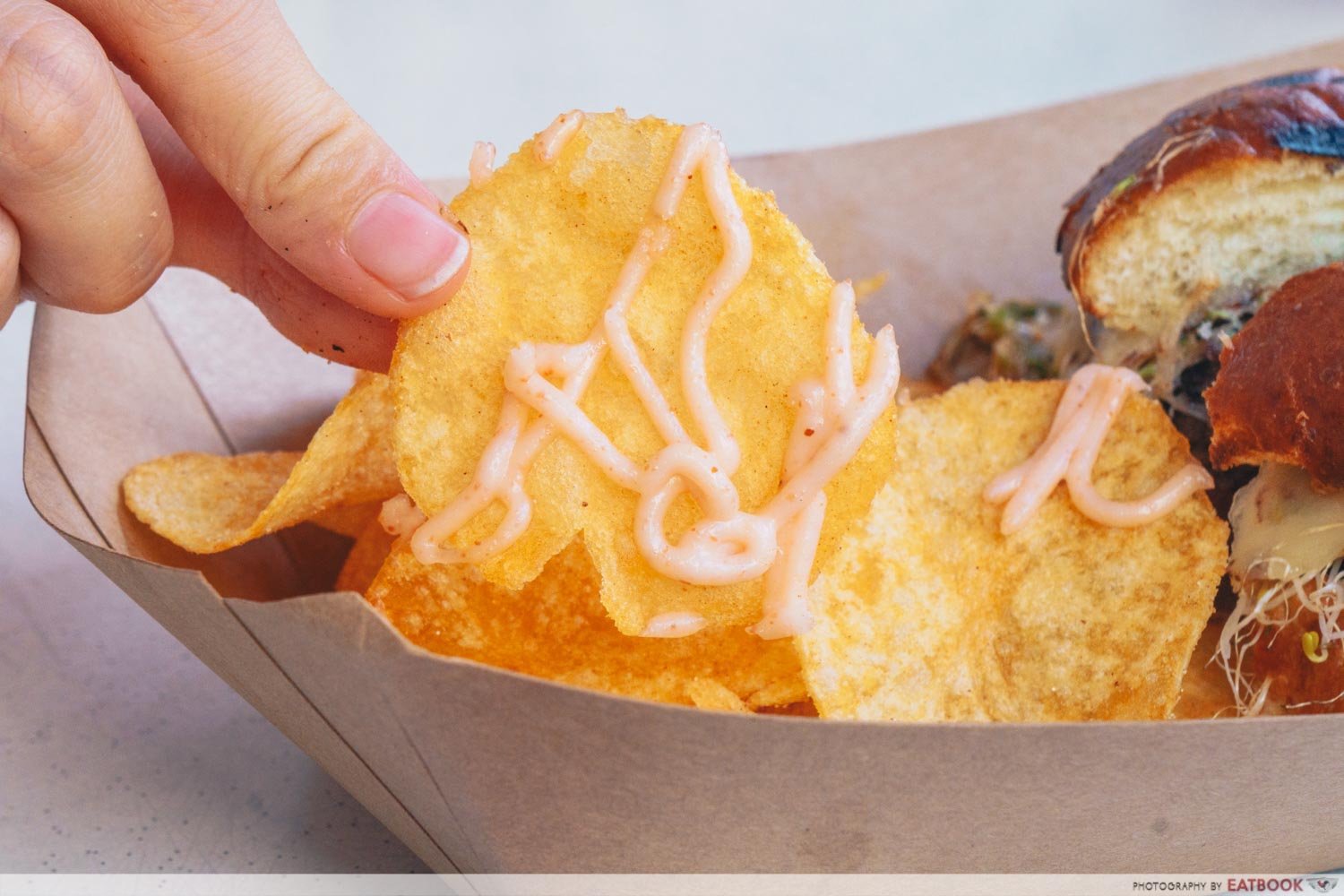 Each burger comes with a side of chips and Mint's house-made taramasalata. At first glance, the sauce looks like mentaiko. But Mint went on to explain that this Greek dip is made from salted cod roe. He softened it with mayonnaise to accommodate to local palates. 
This dip was not as jelak as mentaiko, but more refreshing and light. 
Ambience at The Social Outcast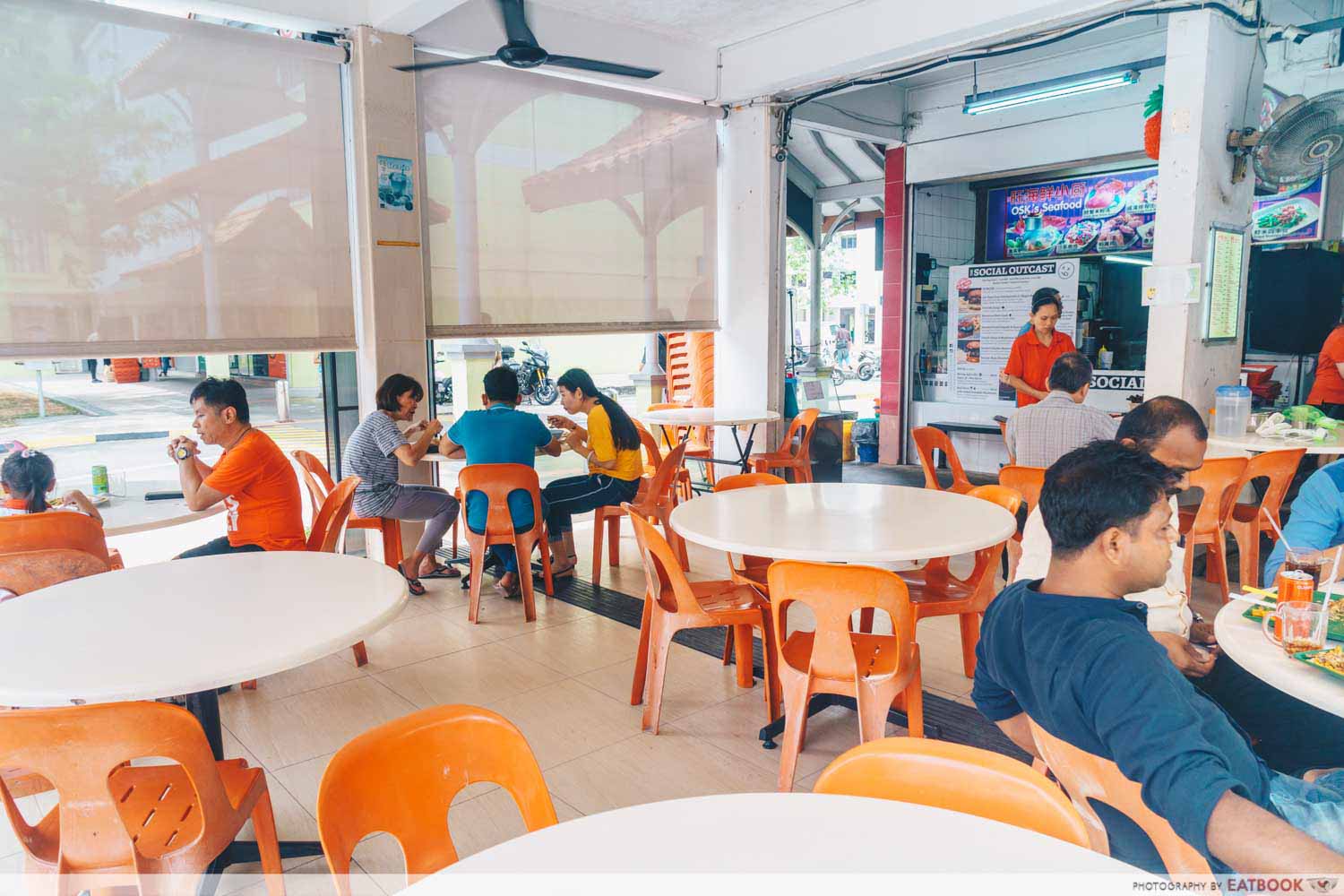 The Social Outcast stands out in this typical coffee shop at Tampines, and can be located under a zi char stall's sign board.  Be prepared to wait during peak hours, as Mint prepares each burger fresh upon order, and runs the kitchen by himself.
The coffee shop is on the smaller side, so seats are limited. You might want to head down earlier to get a good table under the fan.
The verdict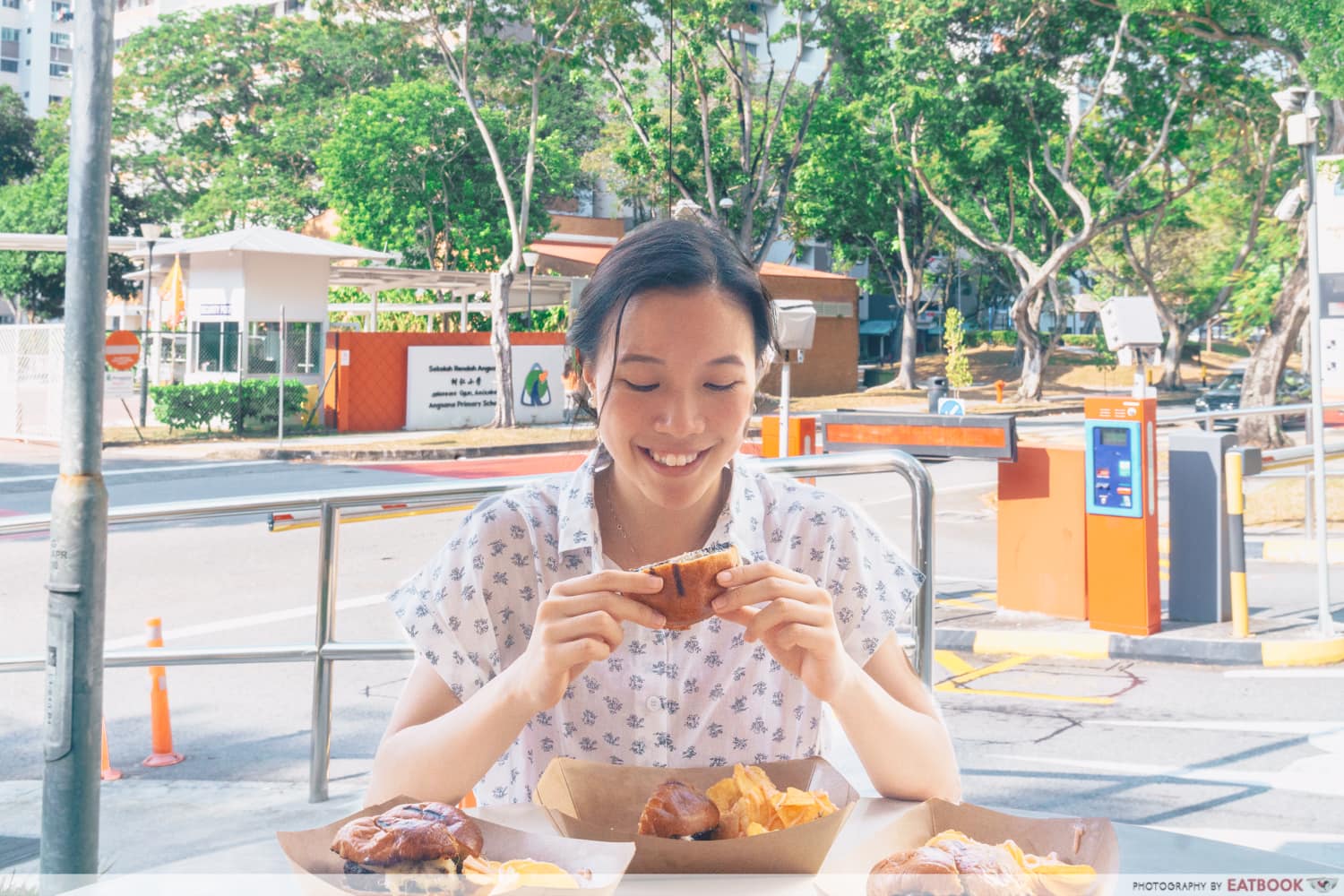 Though their prices are steep for a coffee shop stall, The Social Outcast is generous with their servings and uses fresh ingredients. The tasty burgers are thanks to Mint's efforts of going the extra mile and importing fresh ingredients.
This burger stall is located in the heartlands of Tampines, and will require a 15-minute walk from the nearest MRT Station—Tampines West. But the restaurant-quality burgers in such a casual setting makes it worth the journey.
If you're looking for more halal burgers, check out our review of Ministry of Burgers! 
Address: 348 Bedok Road, The Bedok Marketplace, Level 2, Singapore 469560
Opening hours: Tue-Wed 5pm to 11pm, Thurs-Fri 5pm to 12am, Sat 11am to 12am, Sun 11am to 11pm
Website
The Social Outcast is a Muslim-owned eatery.
Photos taken by Ian Teoh.
This is an independent review by Eatbook.sg.
Summary
Pros
– Flavour-packed burgers
– Generous portions
– Fresh-tasting meat
Cons
– Inconvenient location
Recommended dishes: Teriyaki Unagi Burger ($15.90), Sesame Mayo Portobello Burger ($8.90)
Opening hours: Tue-Wed, Sun 5pm to 11pm, Thurs-Sat 5pm to 12am
Address: 348 Bedok Road, The Bedok Marketplace, Level 2, Singapore 469560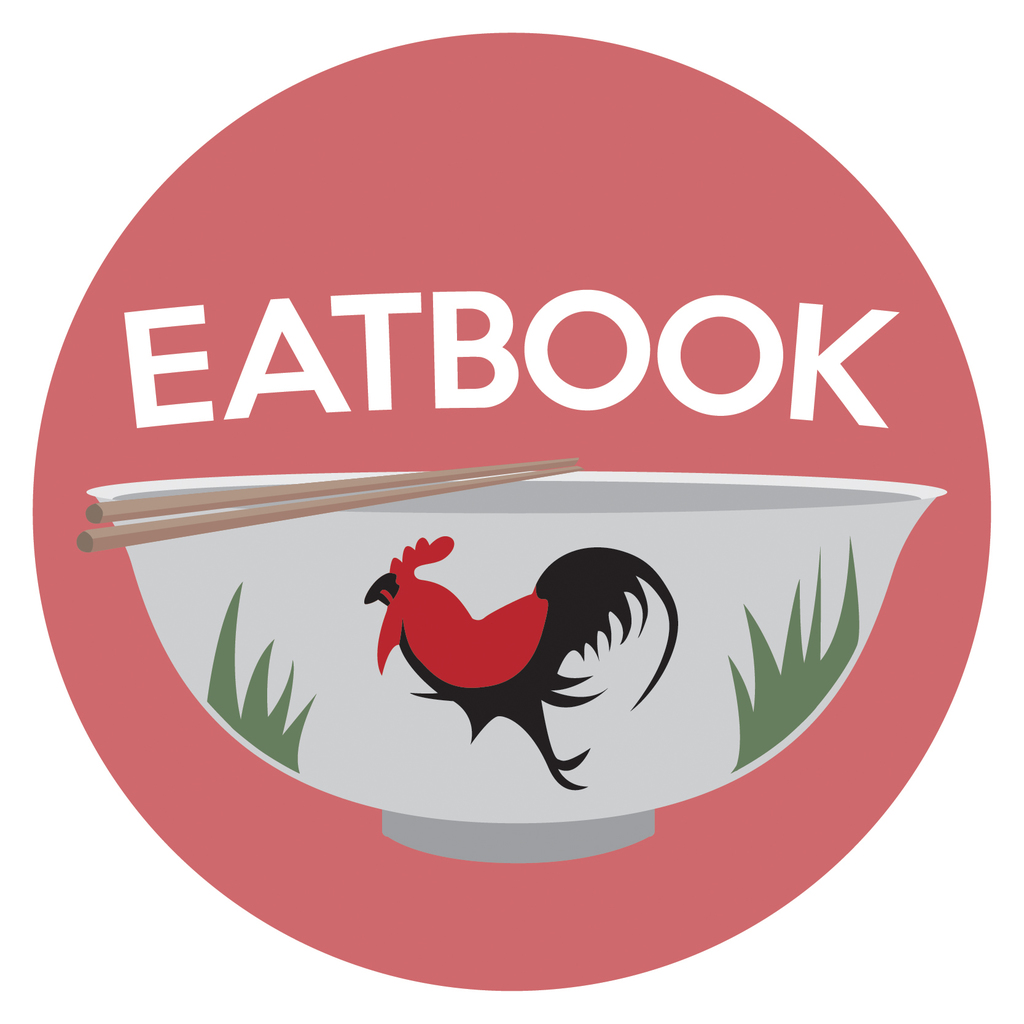 Drop us your email so you won't miss the latest news.