Ministry of Burgers at White Sands Shopping Centre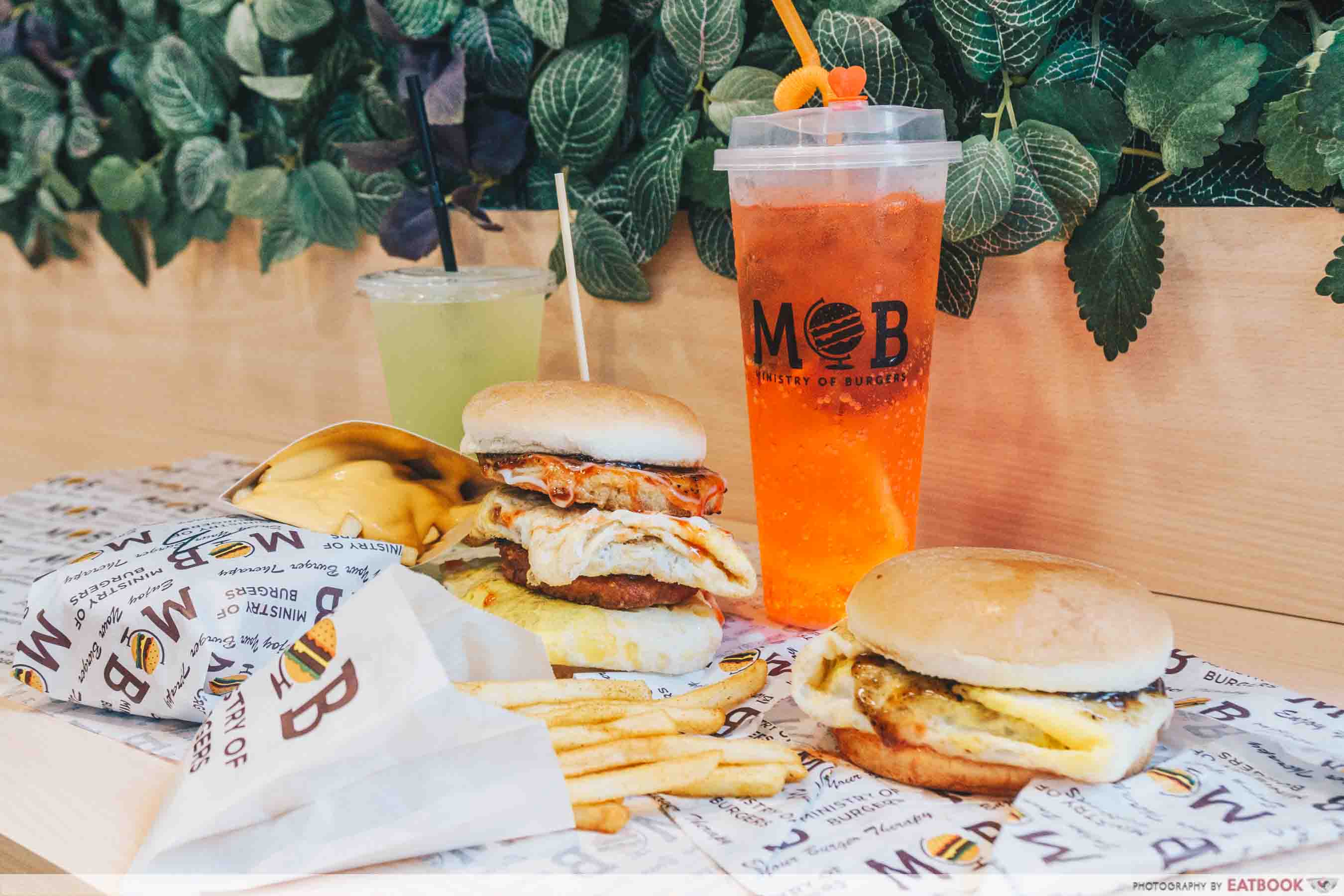 Quick – what's the first thing you'll get at a pasar malam? 90% of y'all would have probably replied Ramly Burger, and it's easy to see why. Affordable and delicious, this egg-wrapped patty is the quintessential local street food.
Alas, the transience of night markets means munching on this burg' is a rare and elusive affair. That's why Ministry of Burgers is a godsend. Hidden at a corner of White Sands Shopping Centre, this recently opened cafe specialises in Ramly burgers and other familiar pasar malam fare.
Food at Ministry of Burgers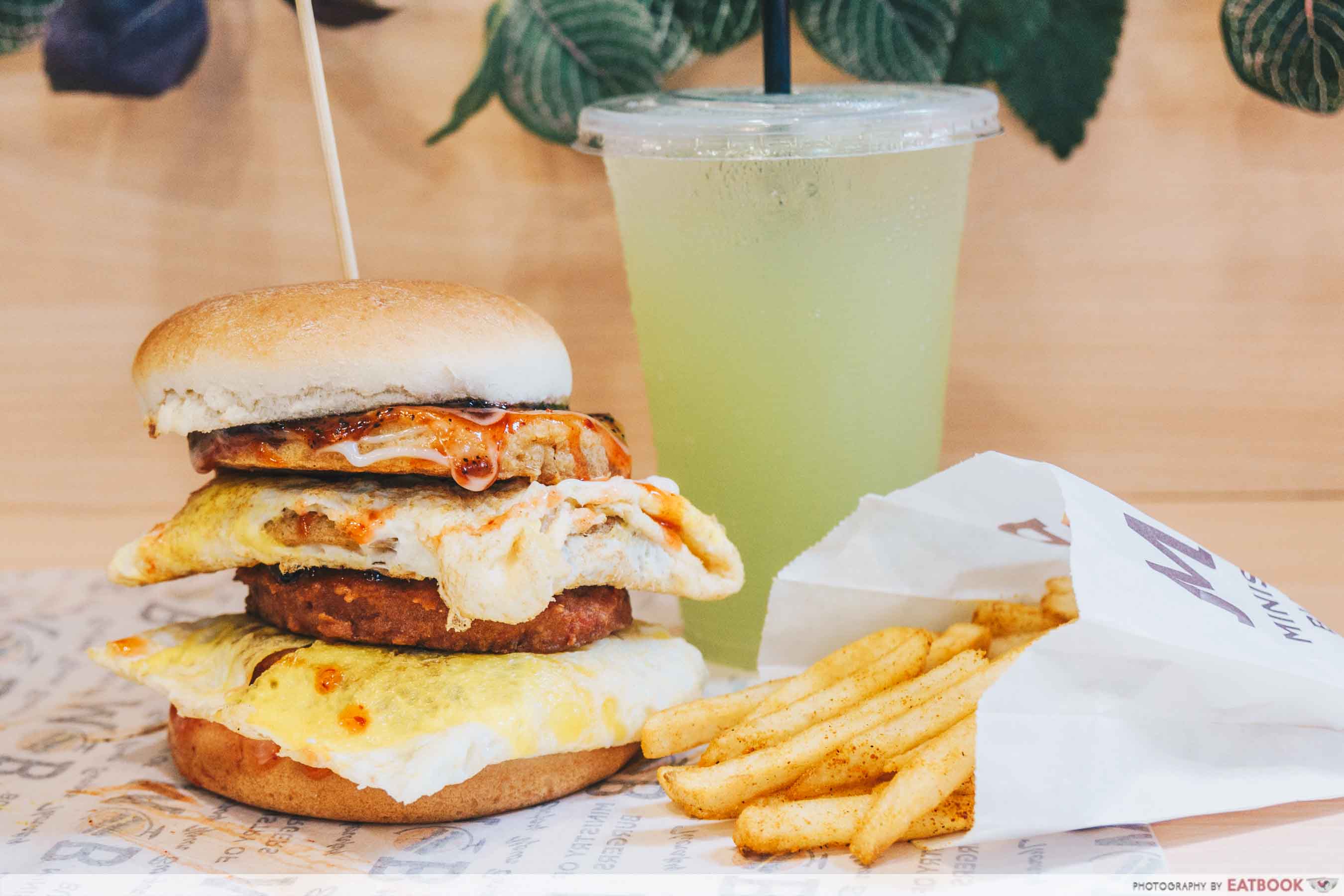 The MoB Thunder ($9.90) immediately caught our eye as we perused the menu. Made up of four patties, we needed two hands to lift the burger – and a huge appetite to finish it. You can customise the type of patties that go into the tower; we choose two beef and two chicken patties.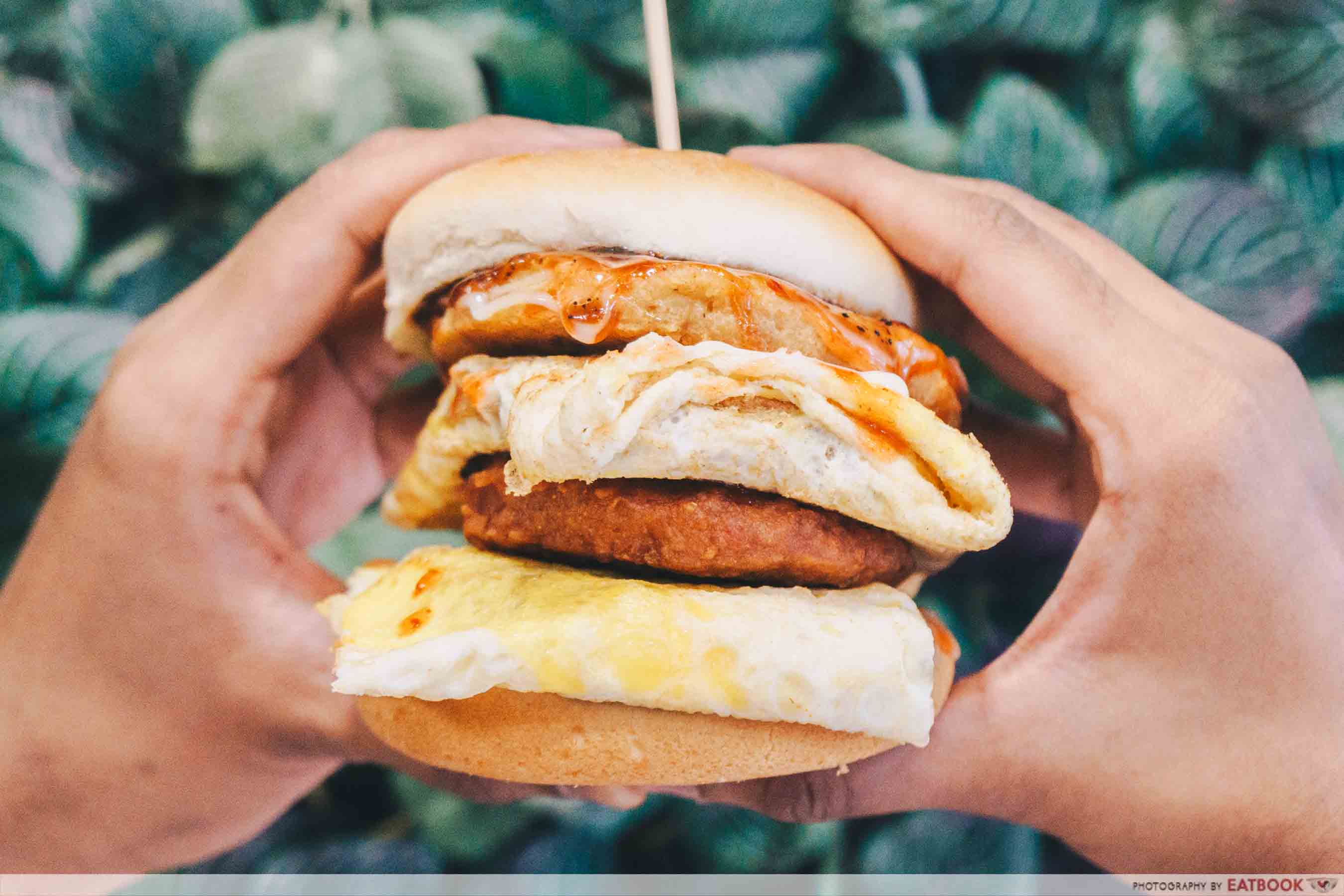 You could probably tell from the pic that these patties are thicc. According to the owners, they use custom 80-gram patties – wayyy heavier than than the usual 65-gram ones. So that's 320 grams of meat right there!
Taste-wise, it is everything you'd expect from a good Ramly burger. The buns were soft and springy. The egg crepes were light, moist and still had a hint of runniness from the egg yolk. Despite their large size, the patties weren't undercooked and were tender and juicy.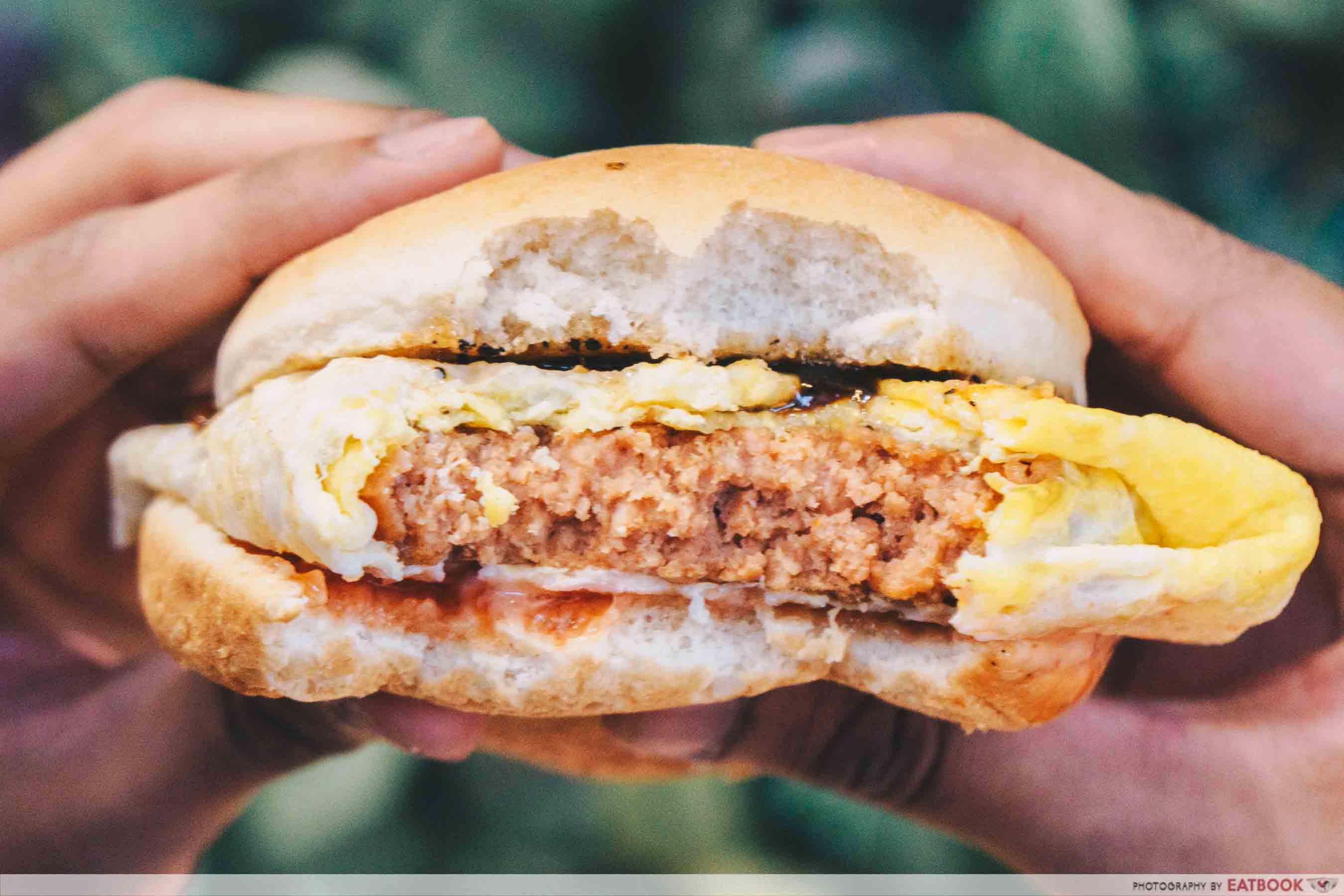 If you're a traditionalist at heart, the classic Beef Burger ($3.90) will delight your taste buds. Since it's more compact, you can better appreciate each ingredient. For instance, we realised that the buns and patty are of the same thickness, giving each bite the right amount of carbs and protein.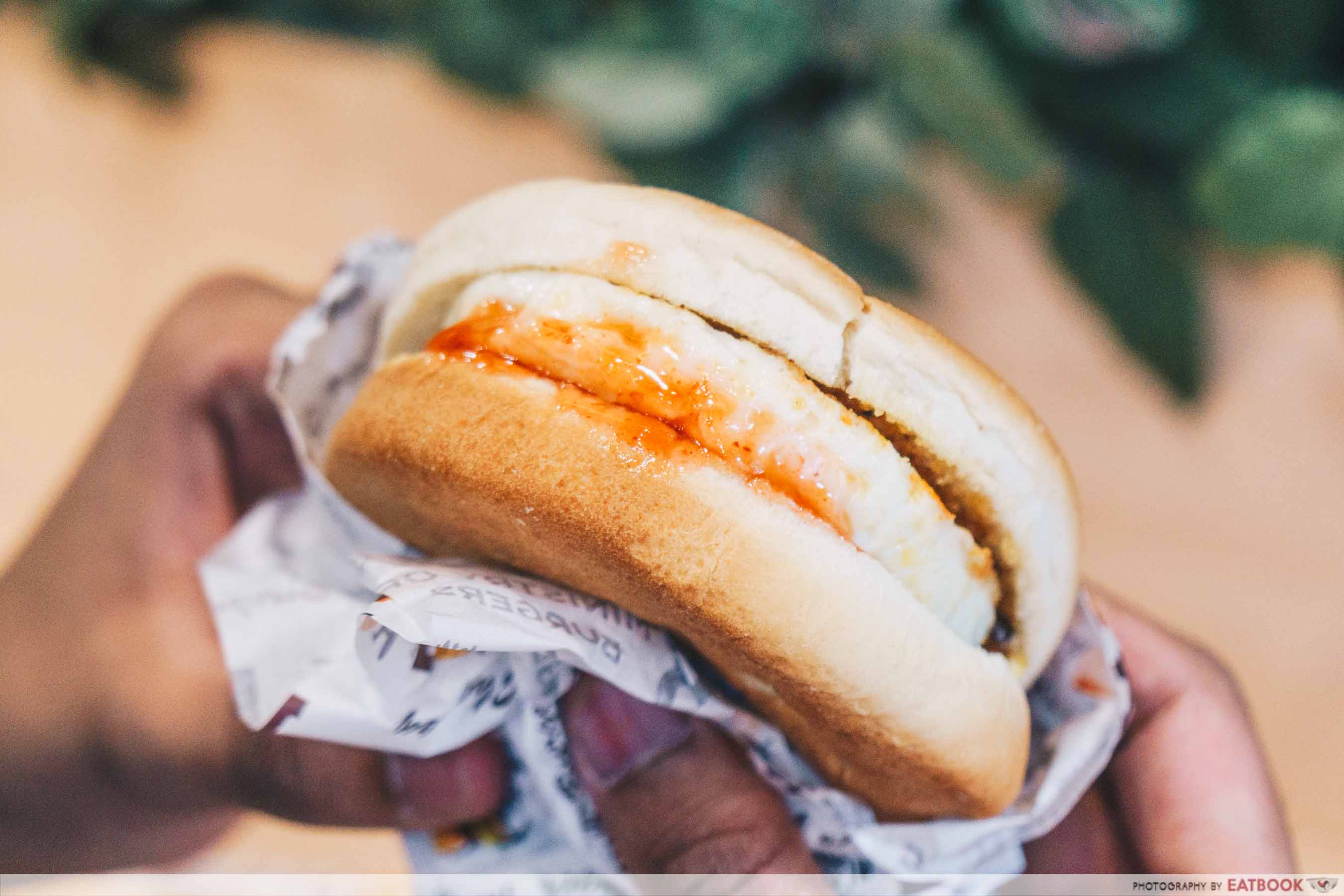 The biggest surprise that day was definitely the Egg Benjo ($2.10). Despite being light on ingredients, it was heavy on taste.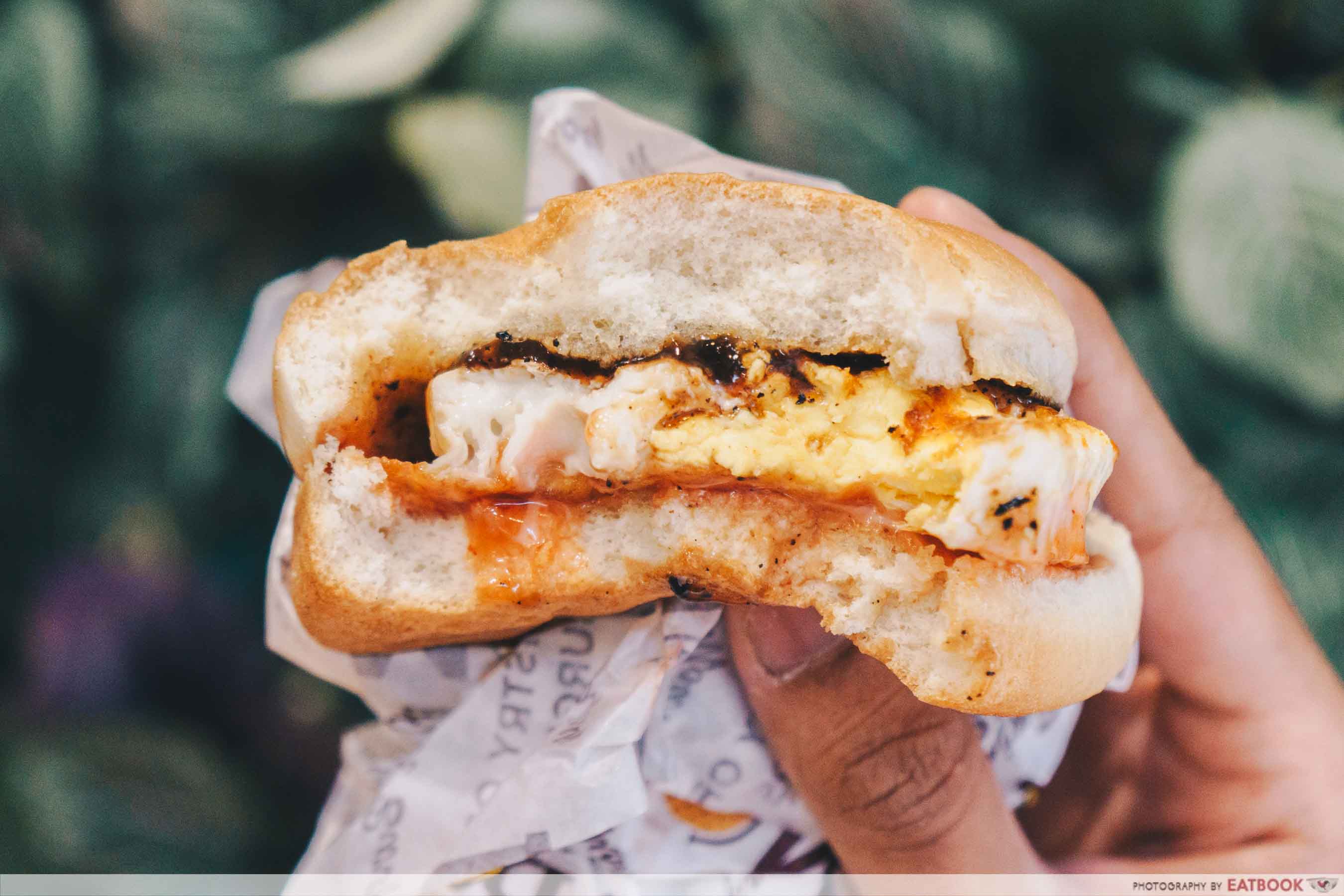 The burger consists of a sunny-side up egg doused in generous amounts of black pepper, chilli and mayo sauces. This gooey richness was amplified by the runny egg white. The result: multiple flavour profiles in every mouthful.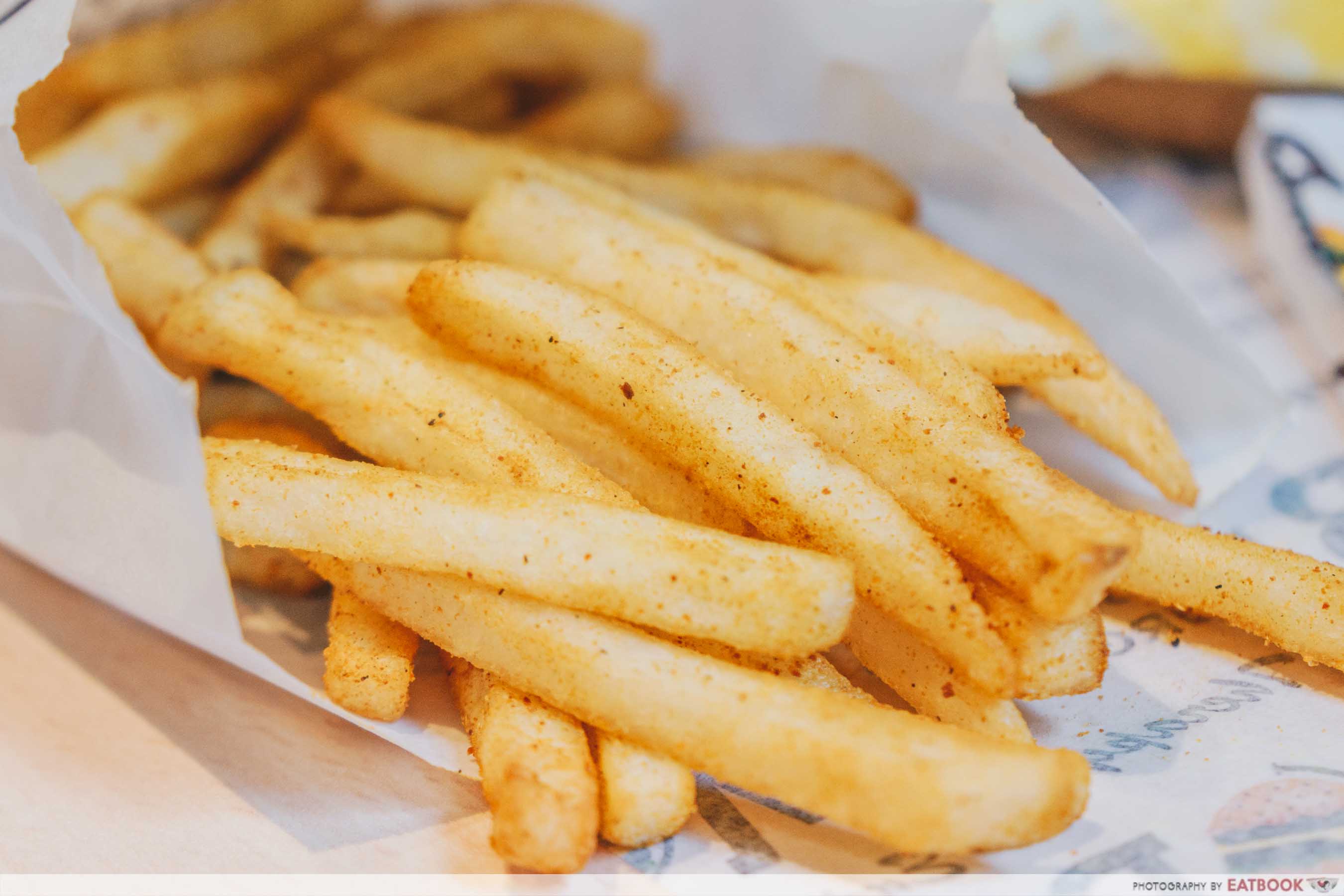 We knew we couldn't pass the opportunity to try the Special Biryani Fries ($2.50). Mixed in a blend of biryani spices, the redolent aroma dominated the surrounding air as it was brought out.
The fries had a good crunch and were fluffy on the inside. Unfortunately, the biryani taste wasn't as strong as I would've liked, but they were still addictive!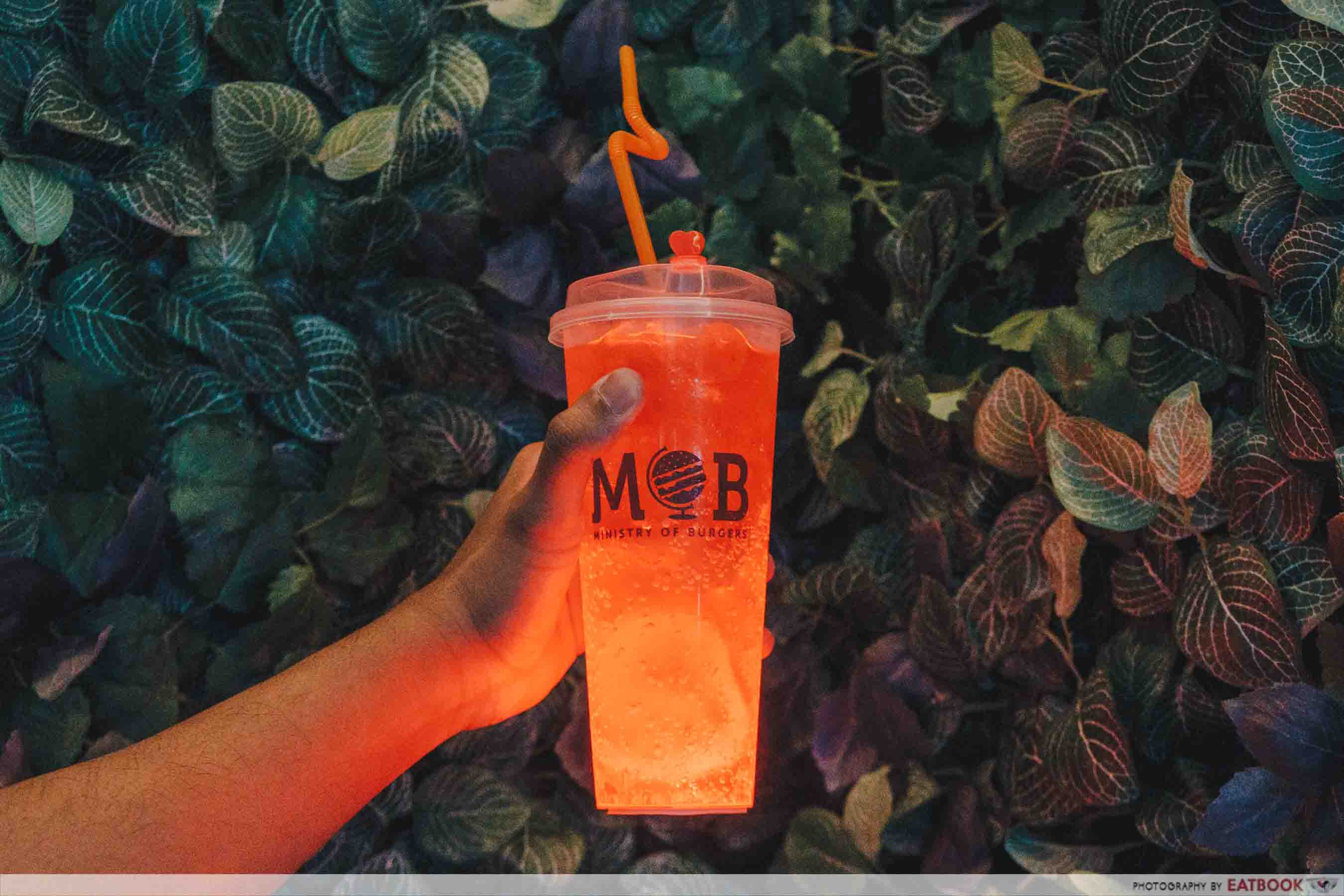 Don't leave Ministry of Burgers without trying their Singapore Lightning ($5.90) drinks. Available in multiple flavours, each cup is fitted with a light that corresponds to the colour of the drink. The twist here is that the flavours don't match the colour.
Case in point: we expected the Red Singapore Lightning to taste like rose but it had a refreshing coconut-pandan taste. Instead, it was the blue variant that tasted like rose.
Ambience at Ministry of Burgers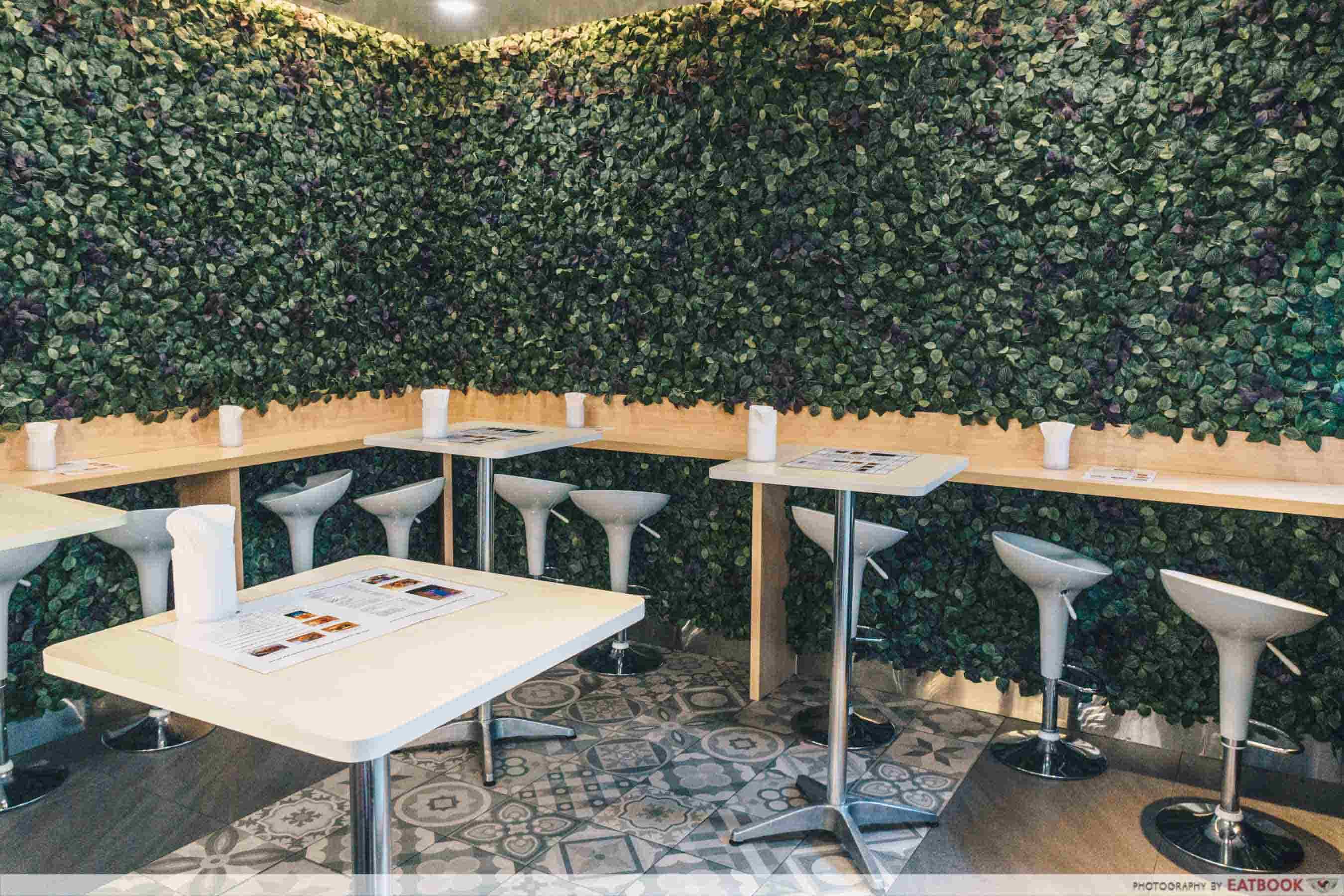 With enough seats for just nine, Ministry of Burgers mainly operates as a takeaway kiosk. That being said, if you're lucky enough to snag a seat, you'll be greeted with a beautiful forest backdrop for your IG squares.
The verdict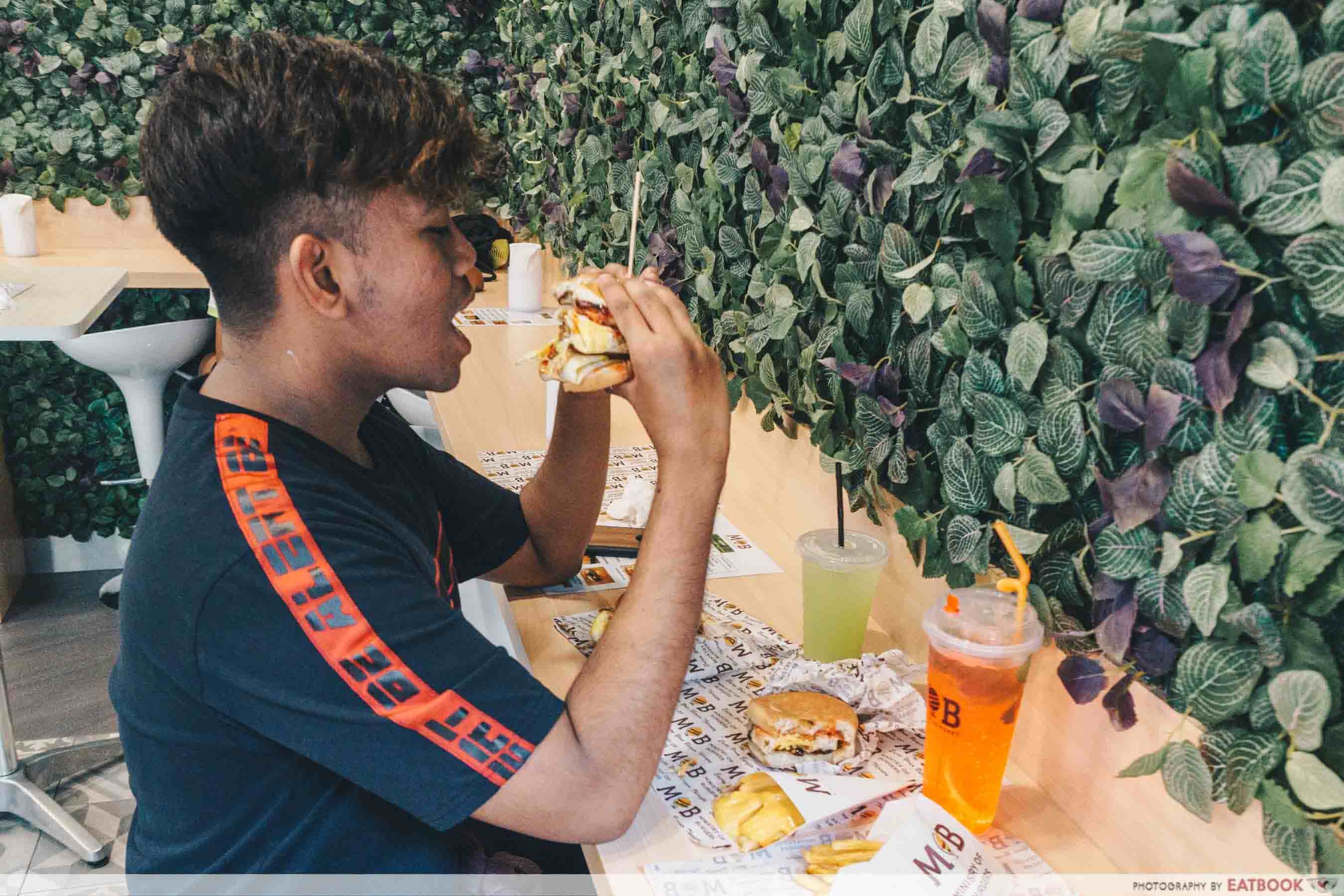 A hidden gem of Pasir Ris, Ministry of Burgers is the joint that finally lets you have Ramly-style burgers, all day, e'er' day. The burgers here are prepared quickly and are delicious to boot. Muslims will be glad to know that they've recently applied for a Halal certificate and will be receiving it soon.
If you ever have the pasar malam blues, this is the place to be!
Address: 1 Pasir Ris Central Street 3, #01-30, White Sands Shopping Centre, Singapore 518457
Opening hours: Daily 11am to 10pm
Website
Ministry of Burgers has applied for a halal certification.
Photos taken by Lim An.
This is an independent review by Eatbook.sg.
Summary
Pros
– Thick and juicy patties
– Affordable prices
Cons
– Limited seats
Recommended Dishes: MoB Thunder ($9.90), Egg Benjo ($2.10), Red Singapore Lightning ($5.90)
Opening hours: Daily 11am to 10pm
Address: 1 Pasir Ris Central Street 3, #01-30, White Sands Shopping Centre, Singapore 518457