Singapore's one and only lava baguette stall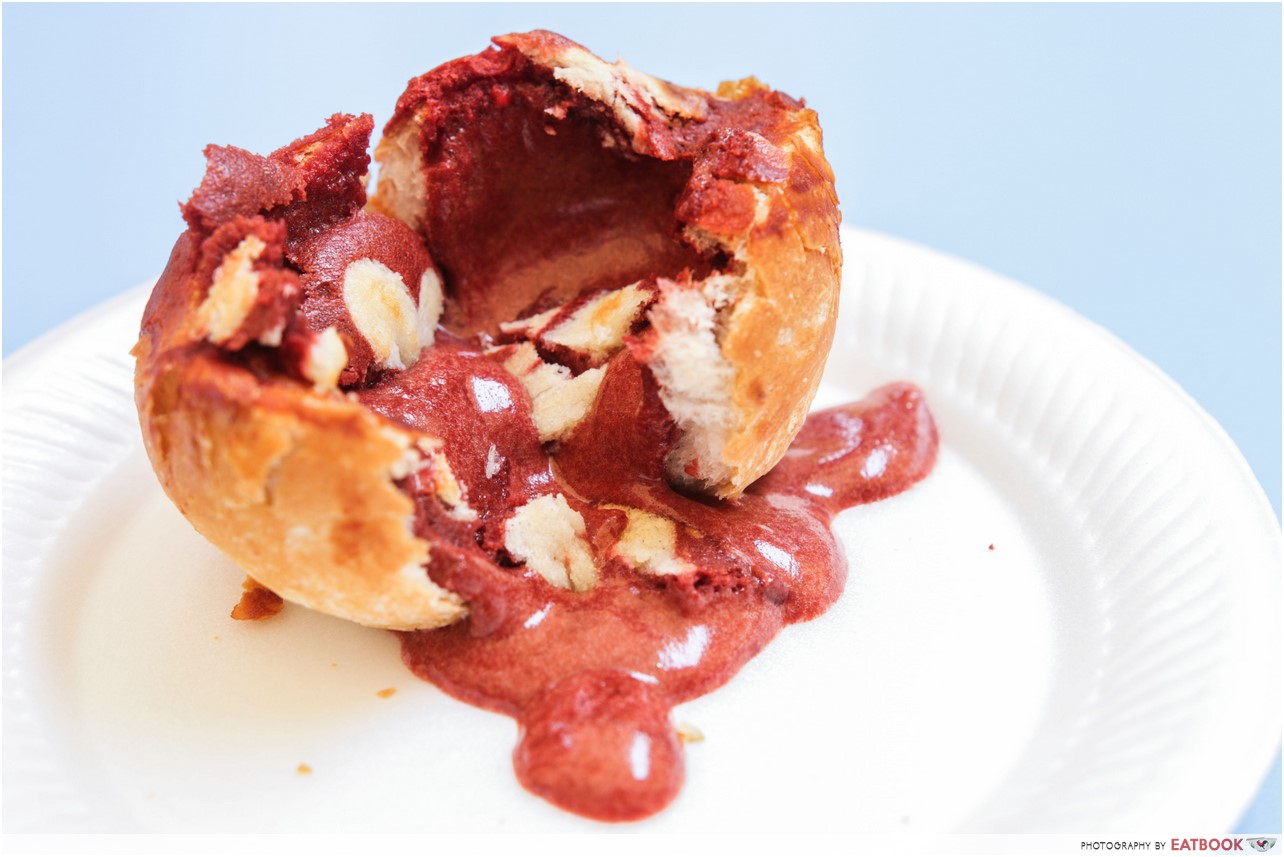 The only thing that used to cross my mind when I think of baguettes was the plain and boring ones sold at typical bakeries. But Mr Baguette changed that. Hidden in Golden Mile Food Centre, this unassuming stall provides more than 20 types of mouth-watering flavoured baguettes. Trust me, after popping by this place, you'll never see baguettes in the same light again.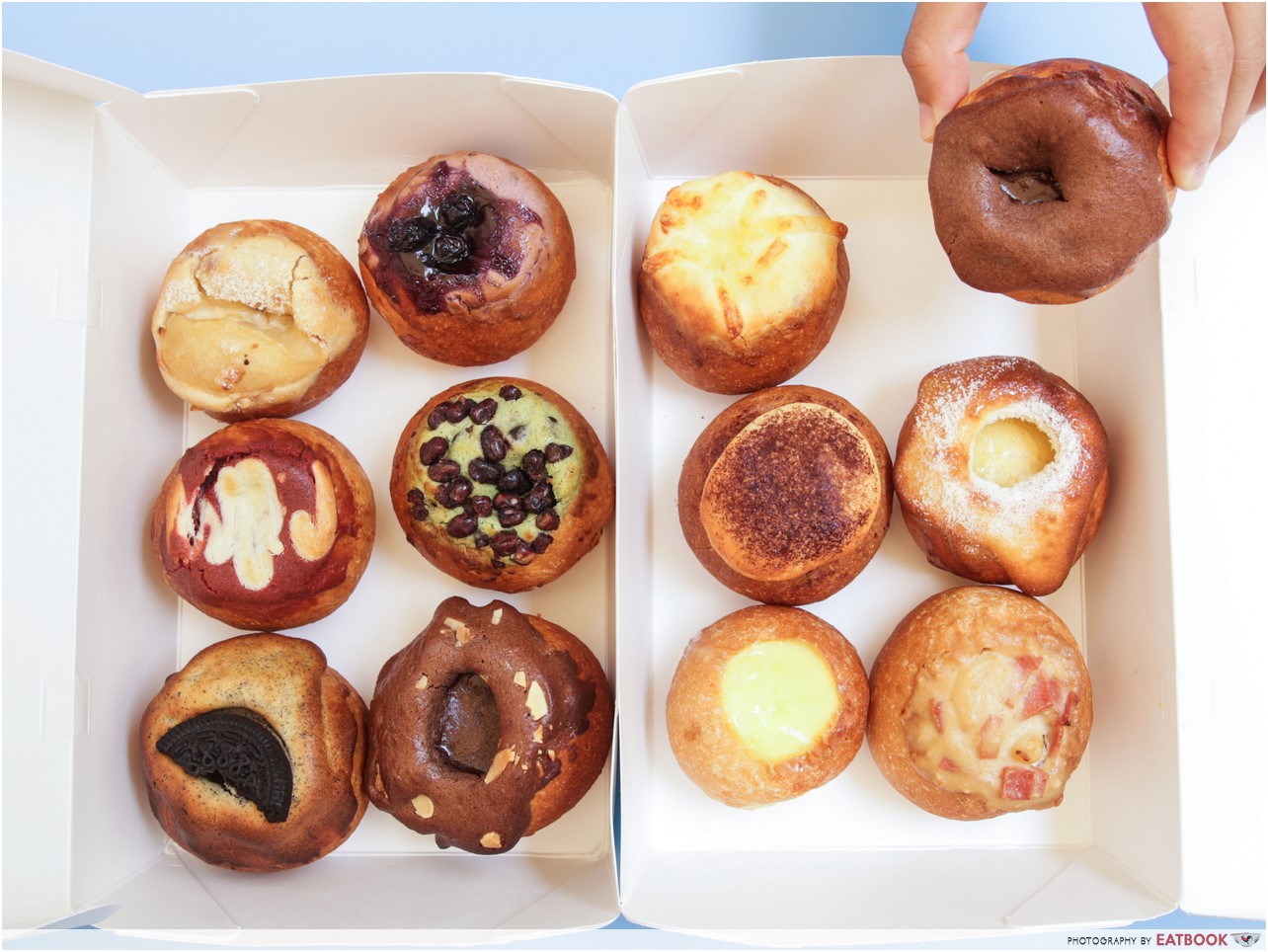 Determined to discover what's best here, I bought all 10 different lava baguettes, a baguette egg tart and a pasta baguette. Yes, I'm pretty sure I'm not gonna crave for bread any more for a long while. After tasting all 12 baguettes, here are my top 6 of the lot!
Food at Mr Baguette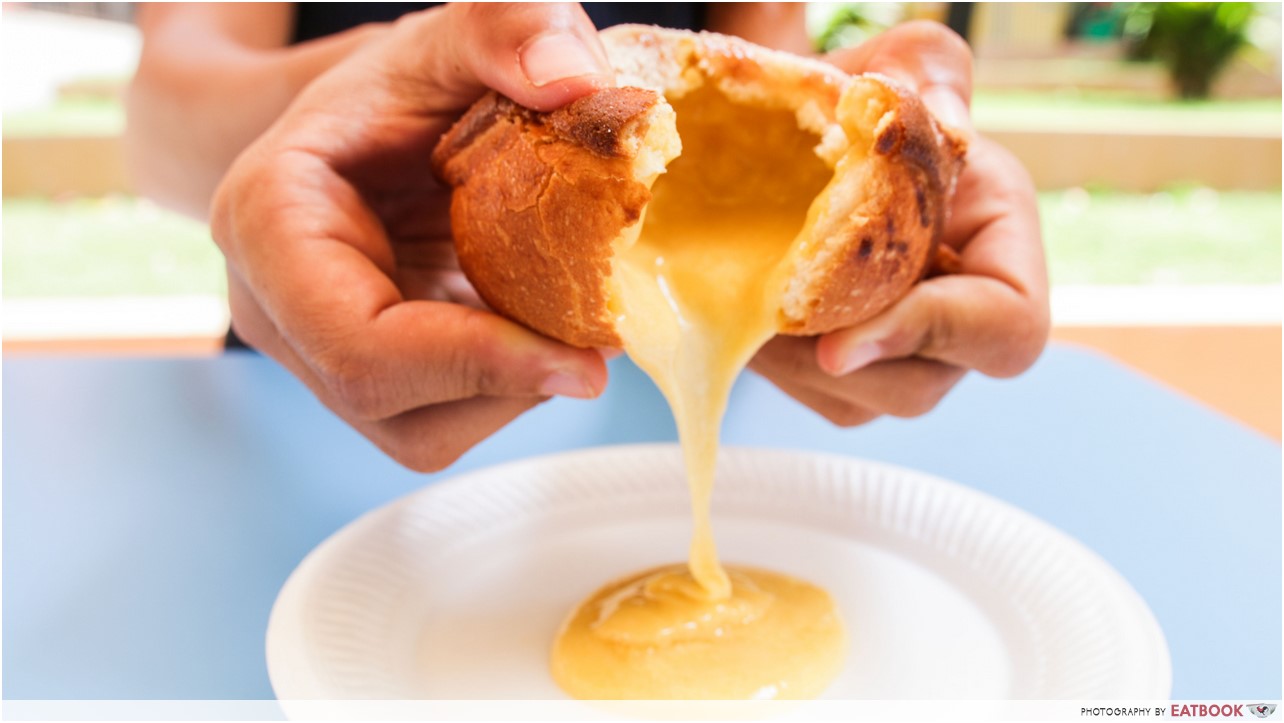 In sixth place is Eskimo Lava, which is made of white chocolate and mint filling. This reminded me of Christmas as it tasted just like peppermint candy canes: sweet but refreshing with a hint of mint.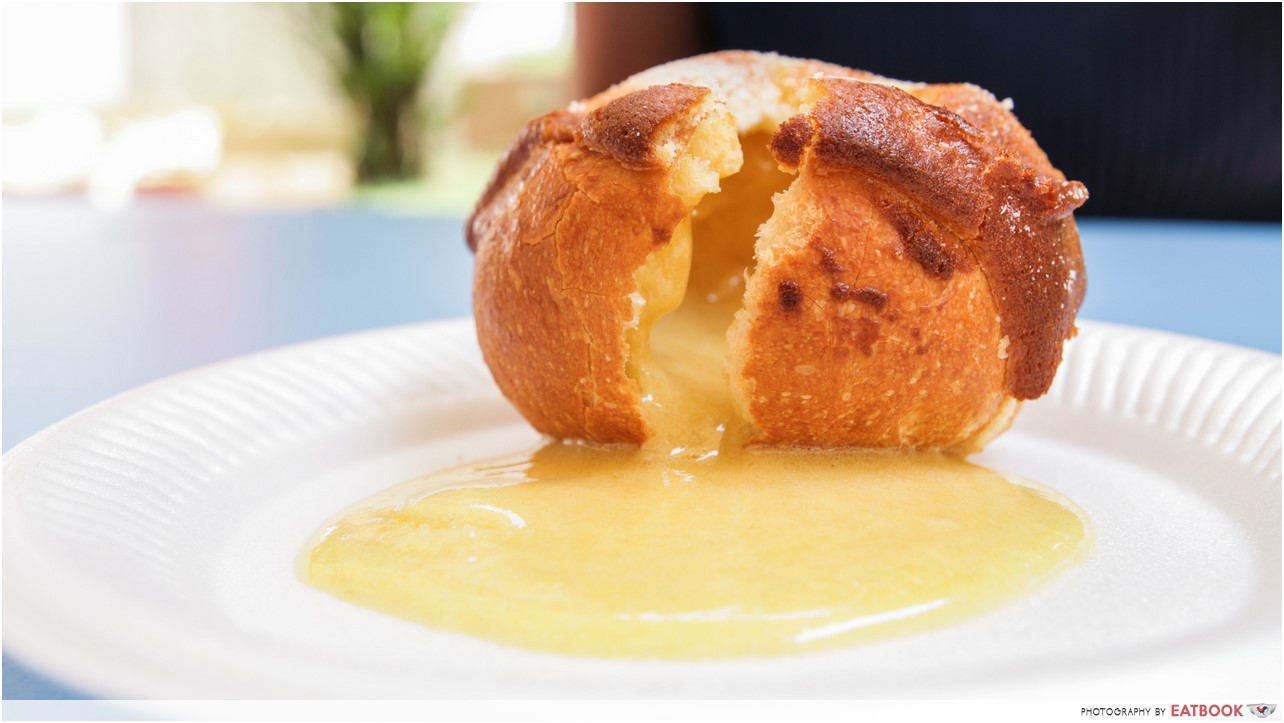 Mr Baguette wasn't skimpy on the filling at all. Even though it was jam-packed with melted white chocolate, the baguette itself didn't turn soggy and had a good crisp on the outside. The filling was so smooth and well-balanced in taste, I couldn't stop licking my fingers!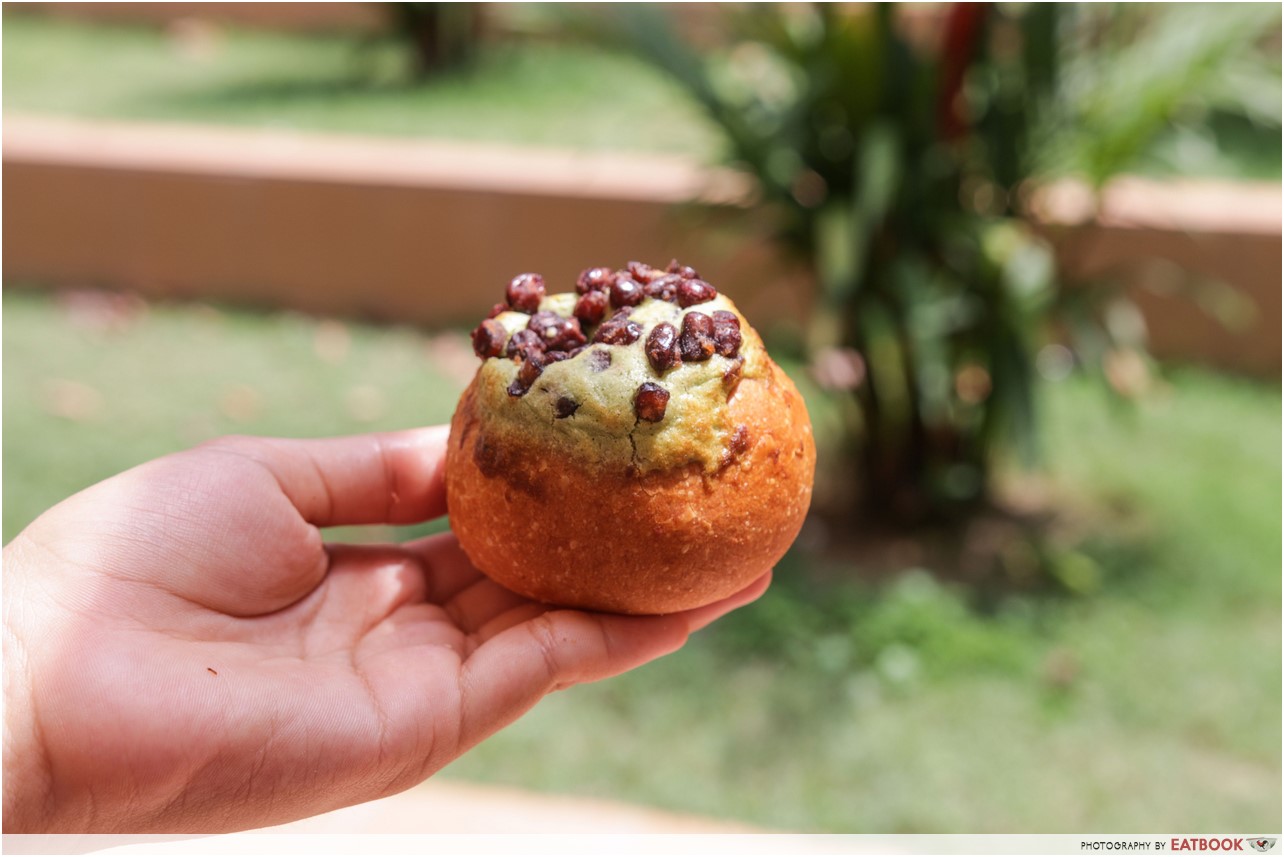 Next is Azuki Lava. I didn't have many expectations as I was imagining a cheap, diluted green tea taste based on its price. But this turned out to be 5th on my list! When I took my first bite, the rich green tea filling that flowed out of this crispy baguette proved me wrong right away. The matcha flavour was intense and the red beans hidden in the filling added texture and sweetness to it.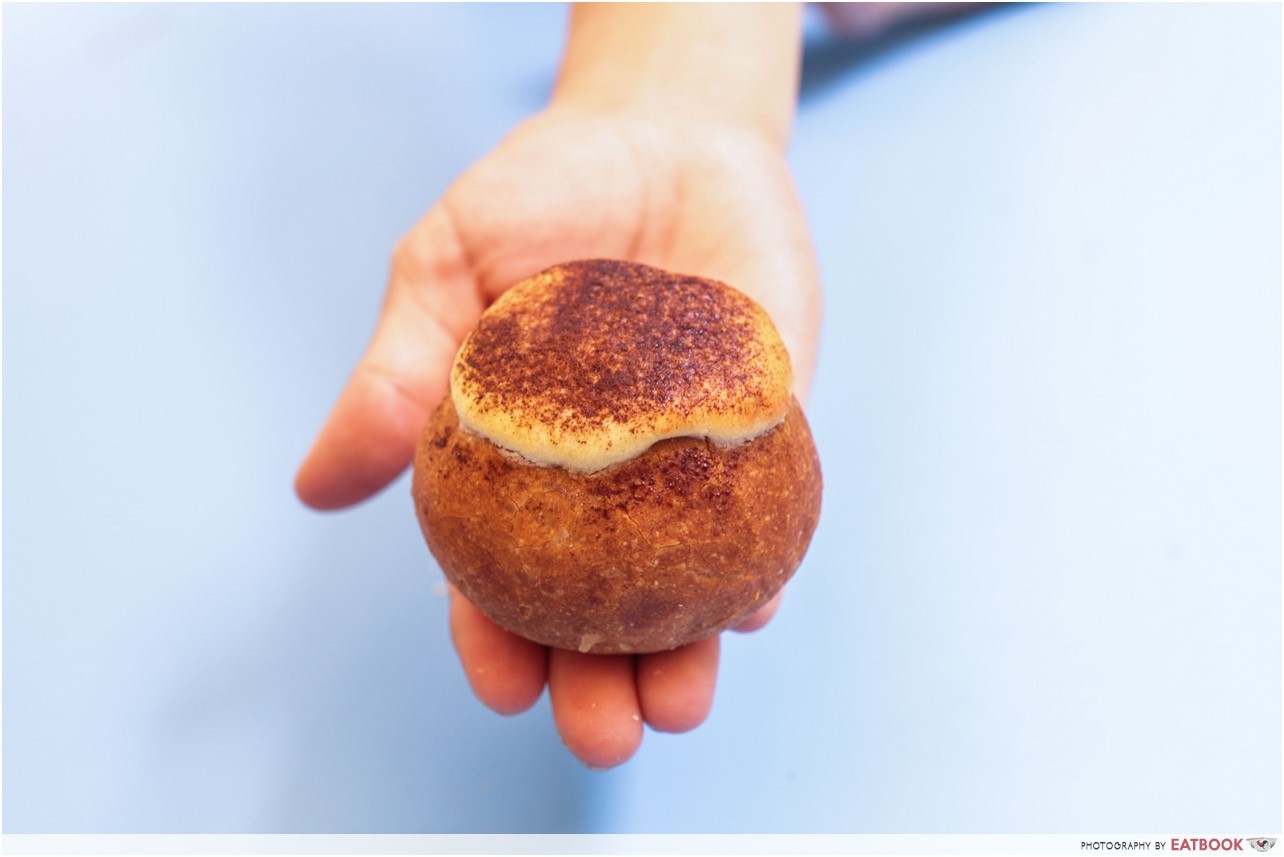 Holding strong in 4th place is Tiramisu Lava. Don't underestimate this palm-sized baguette because its filling will surprise you. An almond sponge cake soaked in coffee is seated on a bed of cheese custard in this baguette. The robust coffee aroma balanced the sweetness of the custard, making this treat less jelak.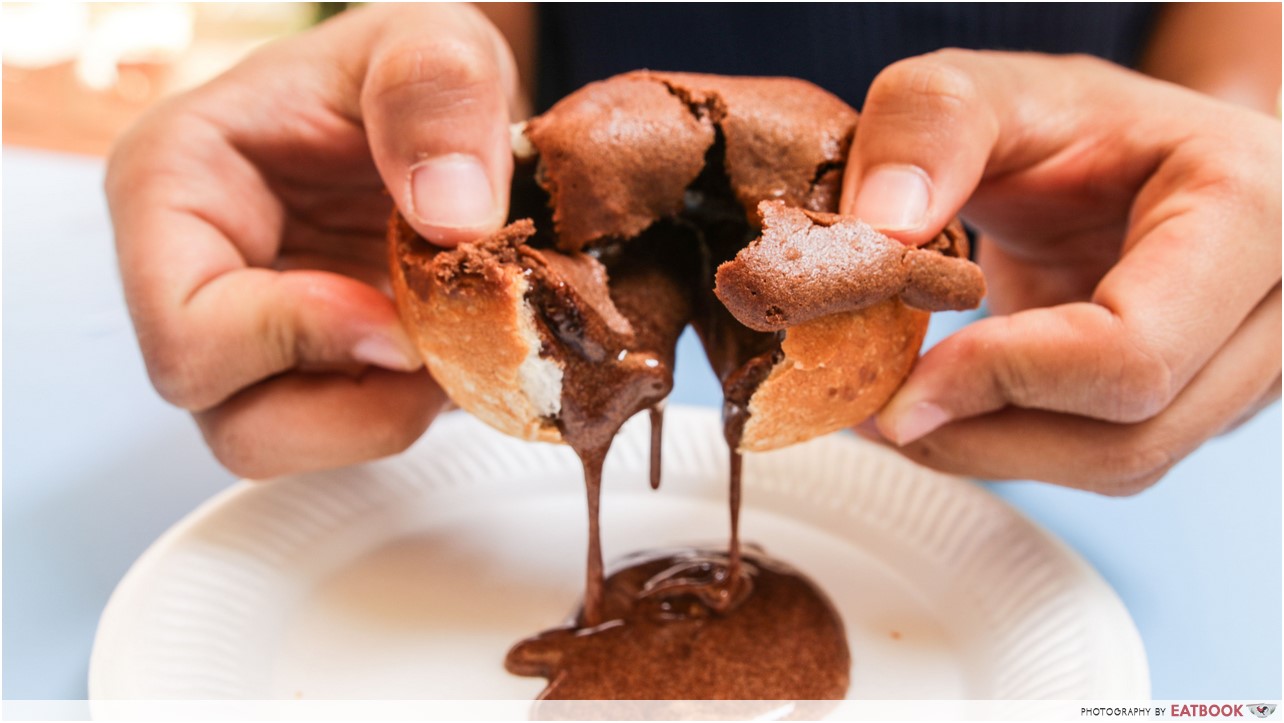 Now on to my top 3, Hazelnut Lava is a must for chocolate lovers. Its rich chocolate-hazelnut filling oozed out like a lava cake and the crumbly cake-like crust on top is the bomb. Even though it was a little too sweet to finish one on my own, this baguette is something I'd crave for on days I need comfort food.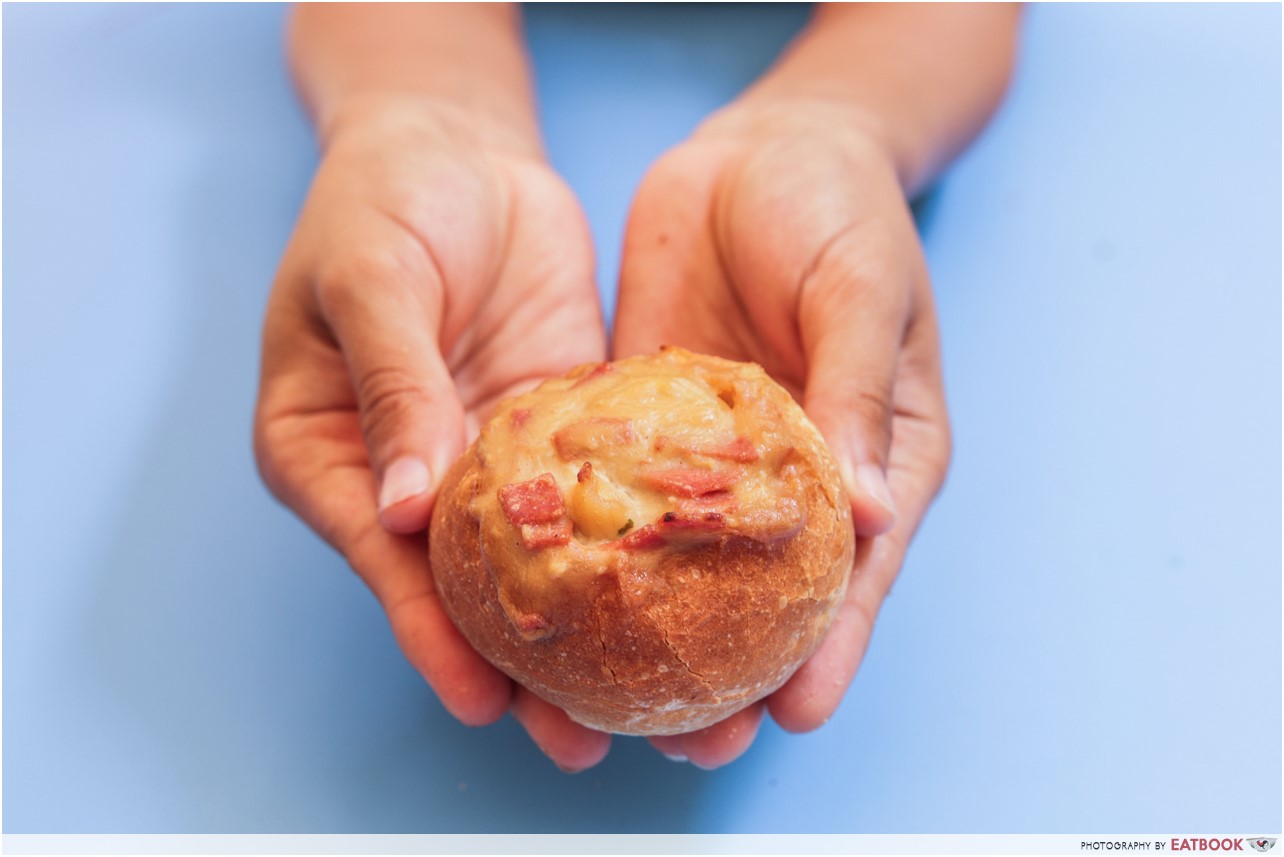 Besides their eye-catching lava baguettes, Mr Baguette serves savoury treats too! Their Carbonara Bowl is my second favourite and it is something I would get the next time I drop by.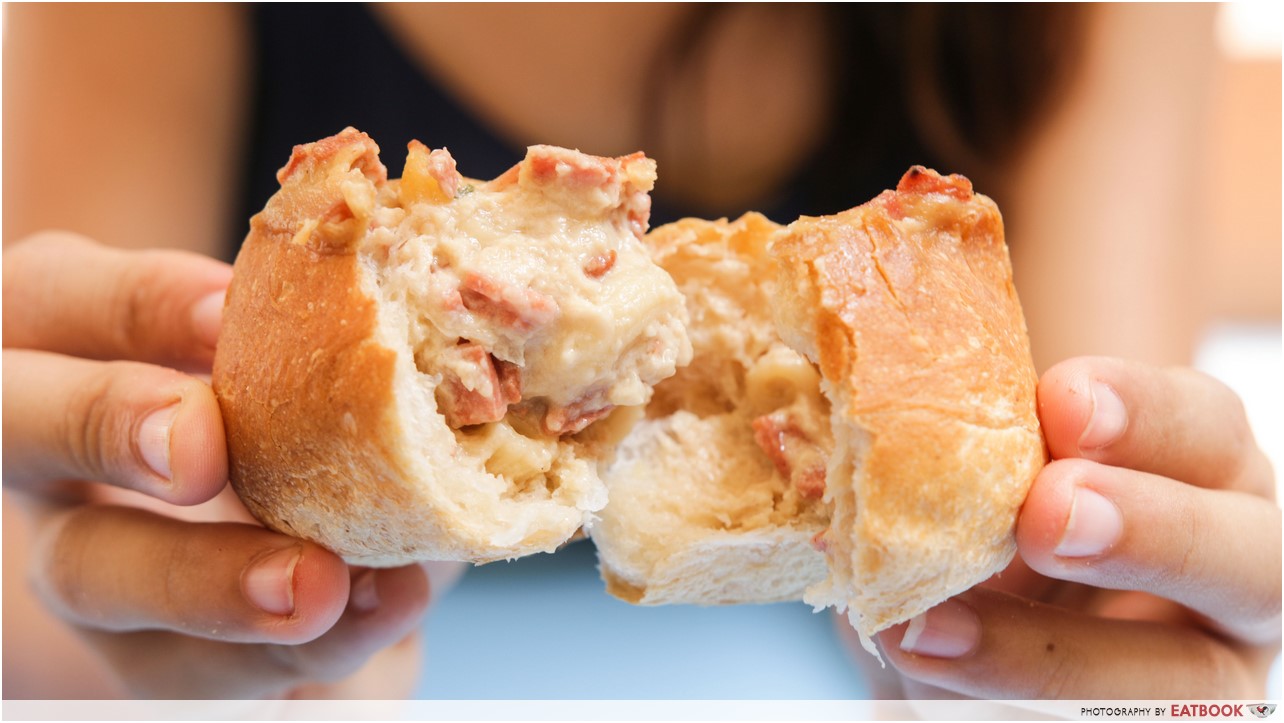 Made with macaroni, ham, carbonara sauce and cheese, it tasted like a hybrid of Campbell soup and mac and cheese. No utensils or plate needed here – just gobble everything up!
As for my all-time fave, Baguette Tart, an egg tart in a baguette, is something not to be missed. I'm all about that crust when it comes to egg tarts and I never thought I would love a version without it. This baguette tart tasted a lot lighter than a typical egg tart. Its smooth custard filling was so impeccably bouncy and firm in texture that it won my heart. This was hands down the most impressive and delicious of the lot.
Ambience at Mr Baguette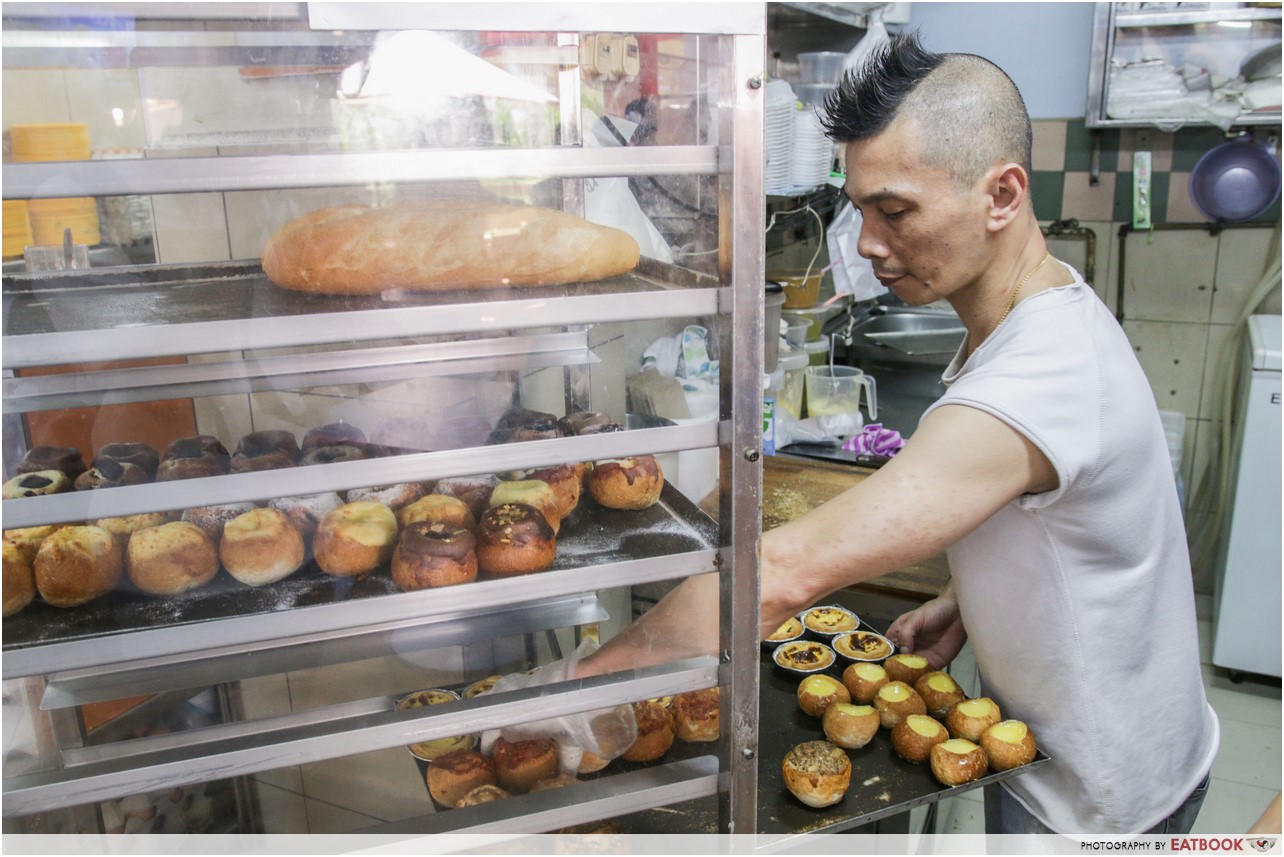 What makes Mr Baguette even better is their great service. You can Whatsapp your order to owner Kent Wee at 9184 1257 before heading down to make sure you don't waste your trip and leave here disappointed. He'll also offer to heat up your baguettes upon collection, which we highly recommend if you're gonna eat them on the spot.
Prices are $3 each, $4 for two, or $11 for six.
The Verdict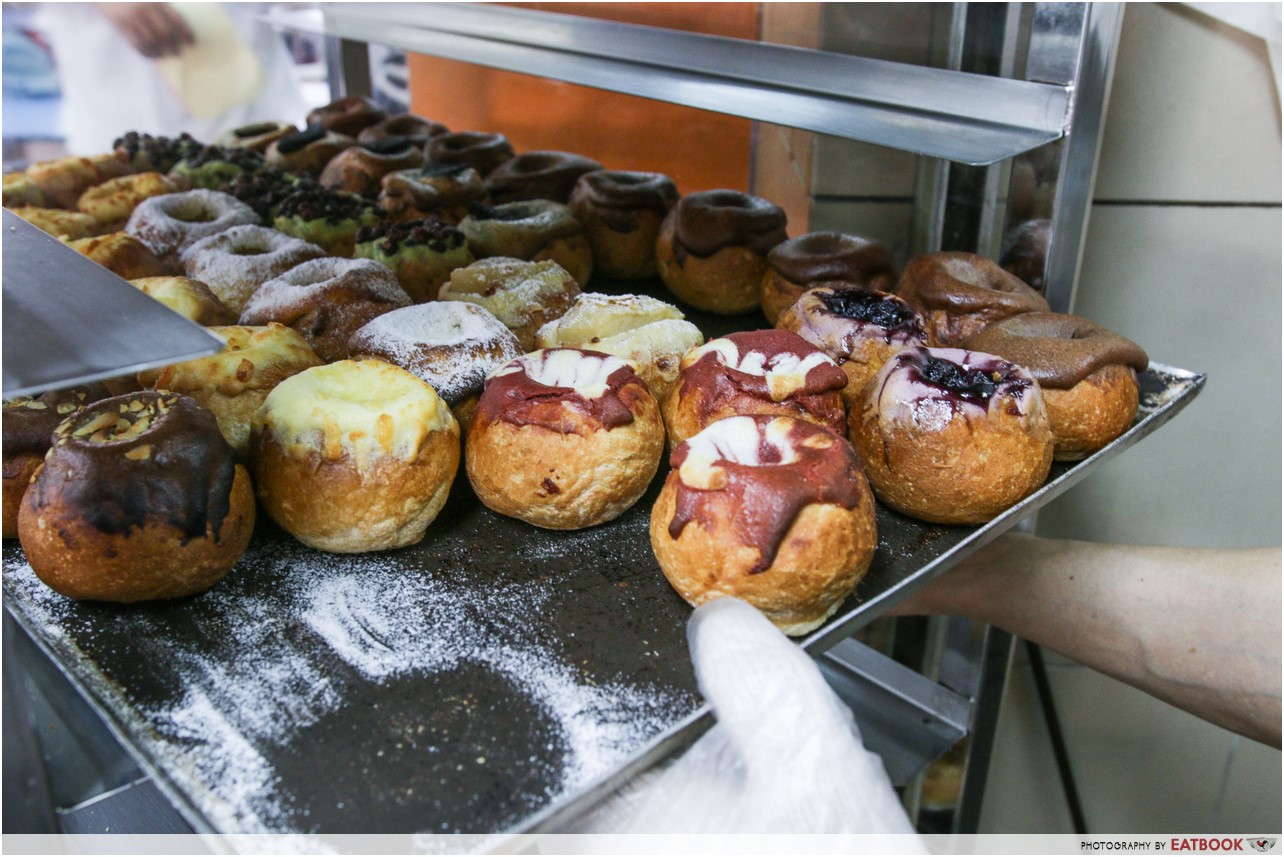 Mr Baguette's take on something as simple as baguette is truly creative. The only downside here is the lava baguettes were messy to eat and the bread hardens quite a bit when it's cold, but that can be easily solved by heating it up before eating.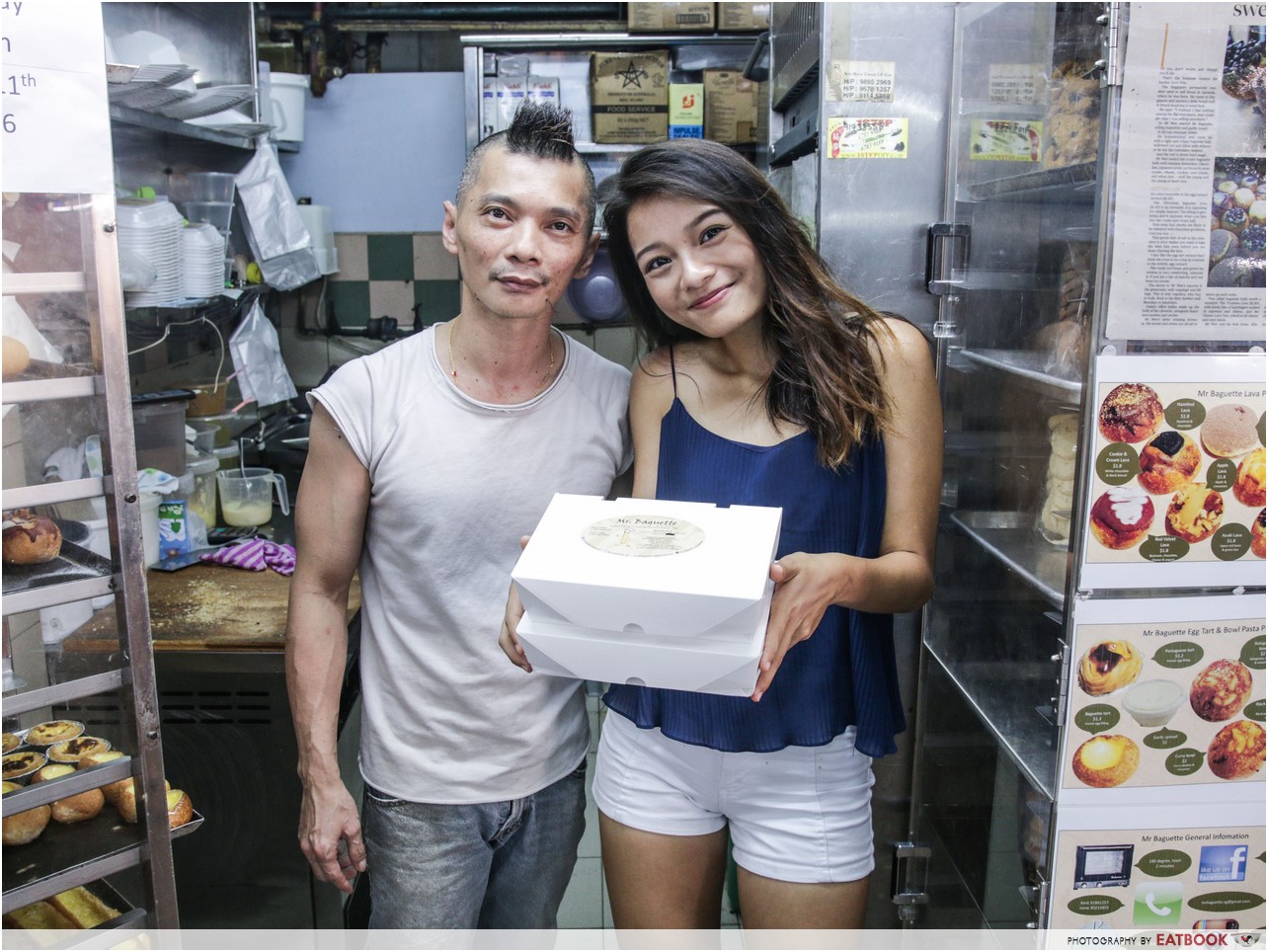 Kent Wee's aim is to create baguettes that would satisfy customers and that means generous fillings and good quality ingredients! So if you're planning to head down to give it a try, you're definitely in for a treat.
Address: 505 Beach Road, #B1-51, Golden Mile Food Centre, Singapore 199583
Opening hours: Wed-Sun 12pm to 8pm
Tel: 9184 1257
Website
This is an independent review by Eatbook.sg.
Mr Baguette Review: Lava Baguette Bombs In Tiramisu, Azuki Matcha And More Flavours
Summary
Pros
– Affordable
– Wide variety of flavours
– Convenient way to order via Whatsapp
Cons
– Messy to eat
– Hardens when cold
Recommended Dishes: Baguette Tart ($1.20), Carbonara Bowl ($2), Hazelnut Lava ($1.80)
Operating Hours:
Monday – Sunday 12pm to 8pm
Address: 505 Beach Road, #B1-51, Golden Mile Food Centre, Singapore 199583