Quality Western food from Chef Choo Signature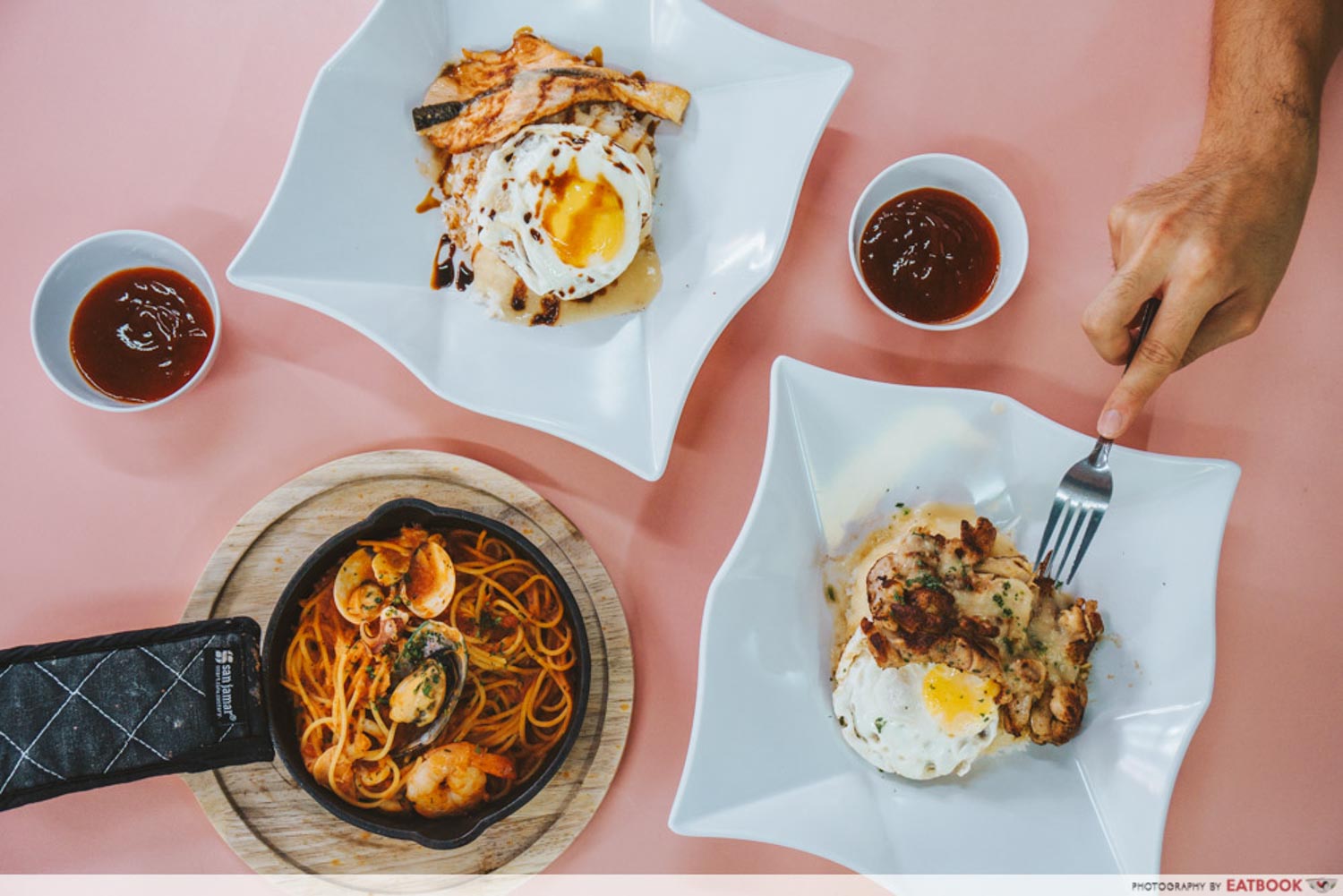 With 114 hawker centres in Singapore, our food scene is intimidatingly competitive. It thus takes a blend of passion, courage, and self-belief to dive headfirst into this industry.
And the latest contender to throw his hat into the ring is chef Choo Siew Leong. Previously cooking up a storm at Regent and Grand Hyatt, this seasoned chef took a leap of faith and opened Chef Choo Signature. Tucked in a quiet corner of Golden Mile Food Centre, this hawker stall dishes up hearty Western food at affordable prices.
Food at Chef Choo Signature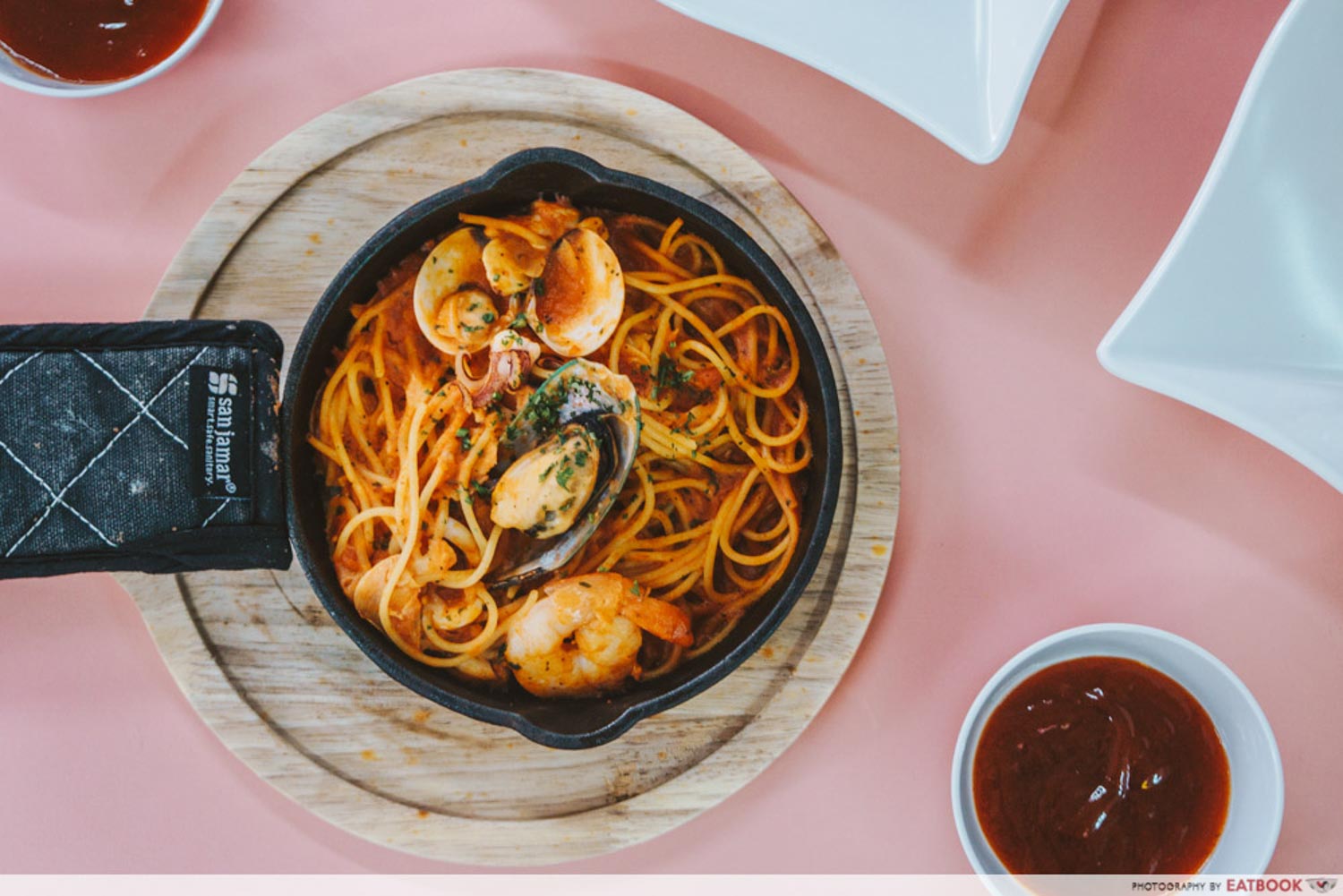 Scan across the menu of Chef Choo Signature and you'll find familiar names such as Spaghetti Carbonara ($5.50) and Pork Chop ($5.90). It's a typical Western stall menu that doesn't instantly catch the eye.
The Sizzling Seafood Spaghetti ($6.90/$12.90) was perhaps the dish which stood out most. It is a slight tweak of a typical seafood marinara, as the pasta arrives on a hot cast iron skillet. Amidst snaps, crackles, and sizzles, a white plume of white smoke billowed away. And carrying with it was an aroma redolent of spices. It was a particularly tantalising introduction.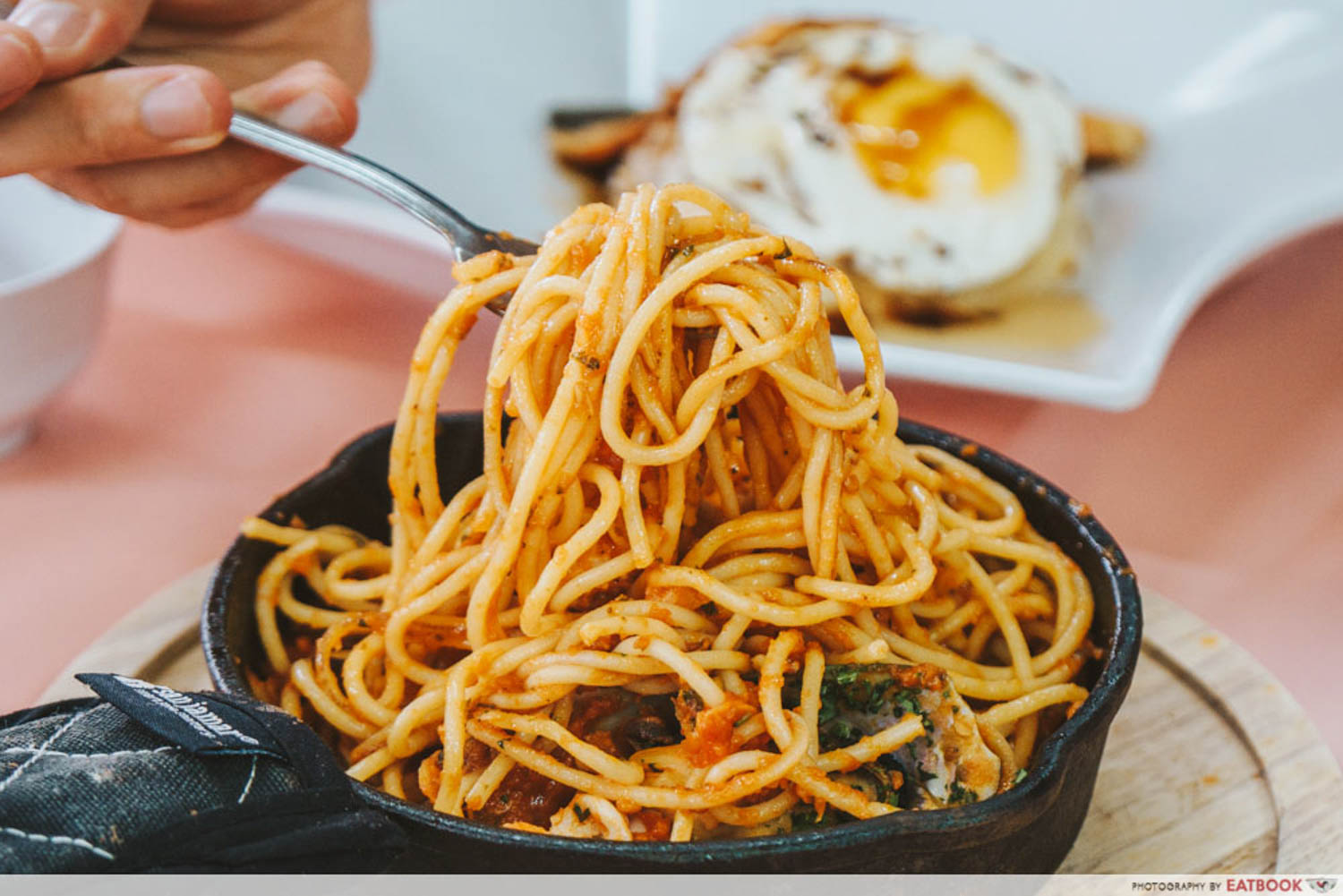 While the iron skillet kept the spaghetti piping hot, it also reduced the moisture of the dish. Thankfully, the noodles had thoroughly soaked up the Marinara sauce, so the overall dryness of the dish didn't undermine the noodles taste.
Although tomatoes formed the base of their Marinara, they were a background player in the pasta. The sweetness from tomatoes was outshone by the more noticeable notes of basil and garlic. While these elements contributed to a more nuanced taste, I would have preferred if their Sizzling Seafood Spaghetti was tangier.
That being said, I appreciated that fresh seafood were used and the pasta was unsullied by any fishiness.
Resting proudly in the centre of the pasta, the mussel was the star of the show. Plump, firm, and tender, it ticked all the boxes of a quality shellfish. Threading a fine line between briny and sweet, the mussel offered a cohesive medley of luscious and mildly salty flavours.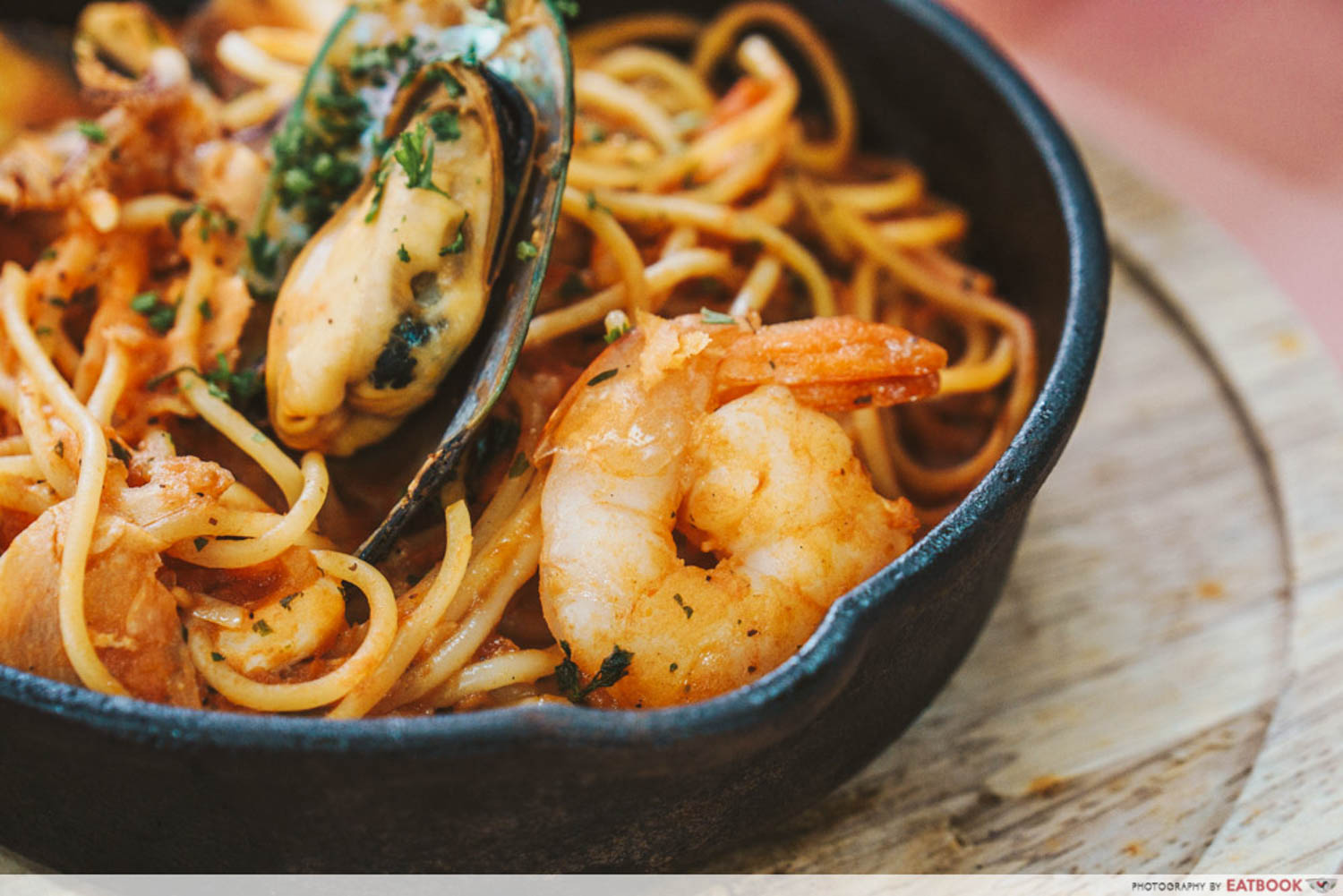 Boasting both a slight crunch and tender succulence, their shrimps were equally satisfying. Their mild taste was an added plus, as it complemented the multifaceted sauce.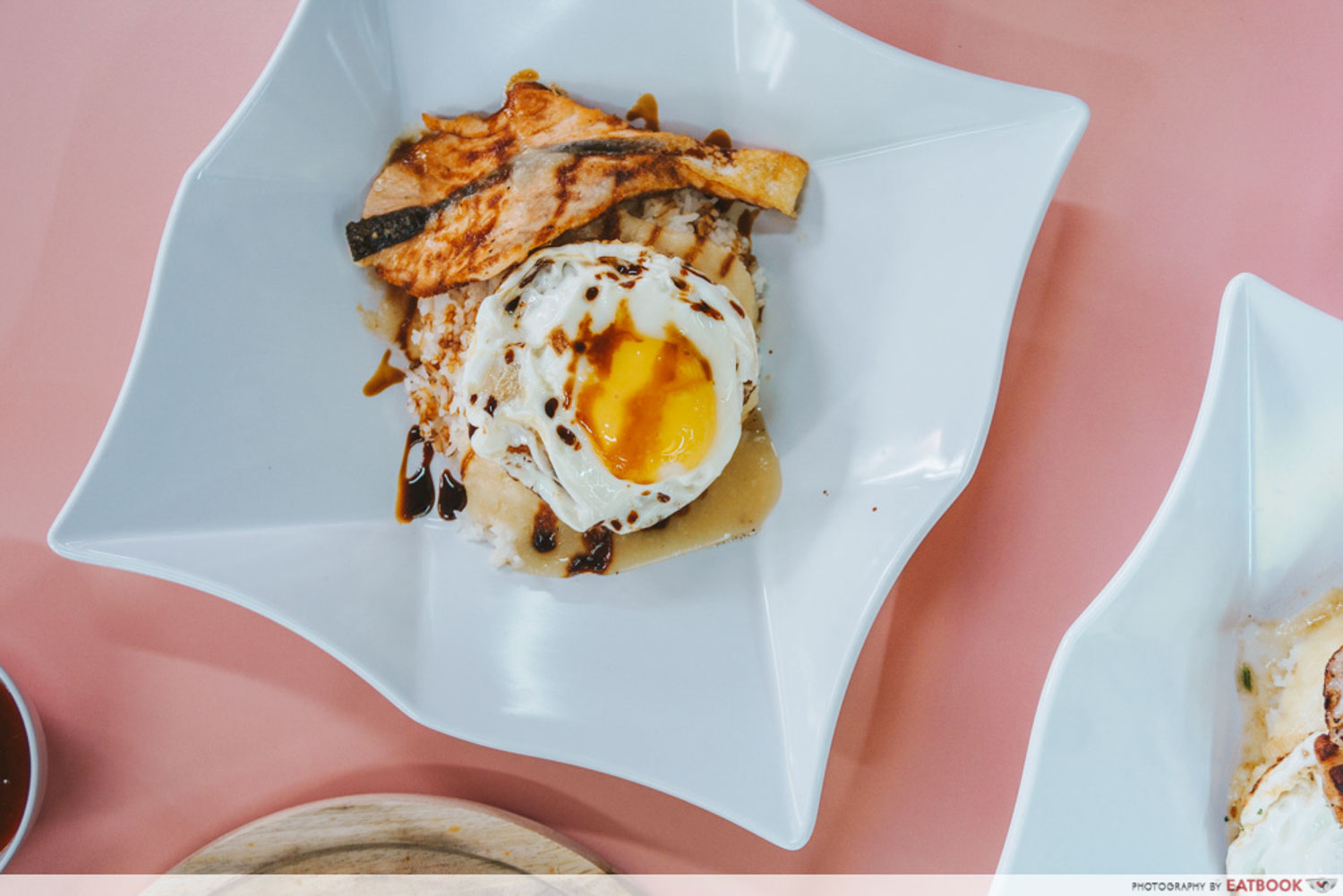 Impressed by the quality of their seafood, I had raised hopes for their Norwegian Salmon ($5.90). It was a pretty straightforward dish: rice slathered in garlic sauce, pan-fried salmon draped in teriyaki sauce, and a slightly runny sunny side up.
Given the simplicity of the Norwegian Salmon, its success is largely hinged upon the freshness of the ingredients and the quality of the cooking.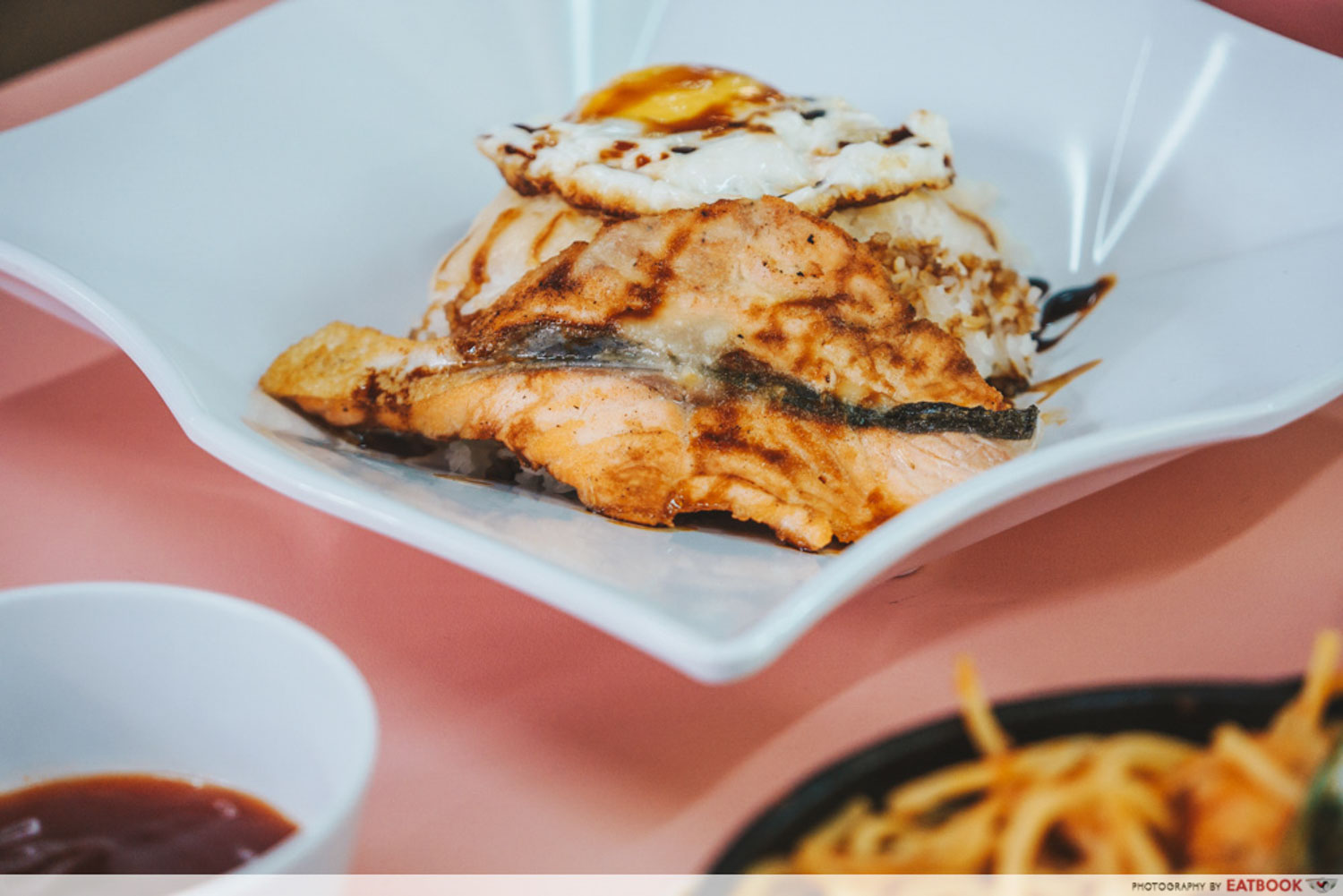 First up for the test was the grilled salmon. It was pretty tender, albeit slightly overcooked. Understandably, the fillet was fairly thin, but its size more than made up for it. Lightly seasoned with salt and pepper, the fish was both luscious and rich in flavour.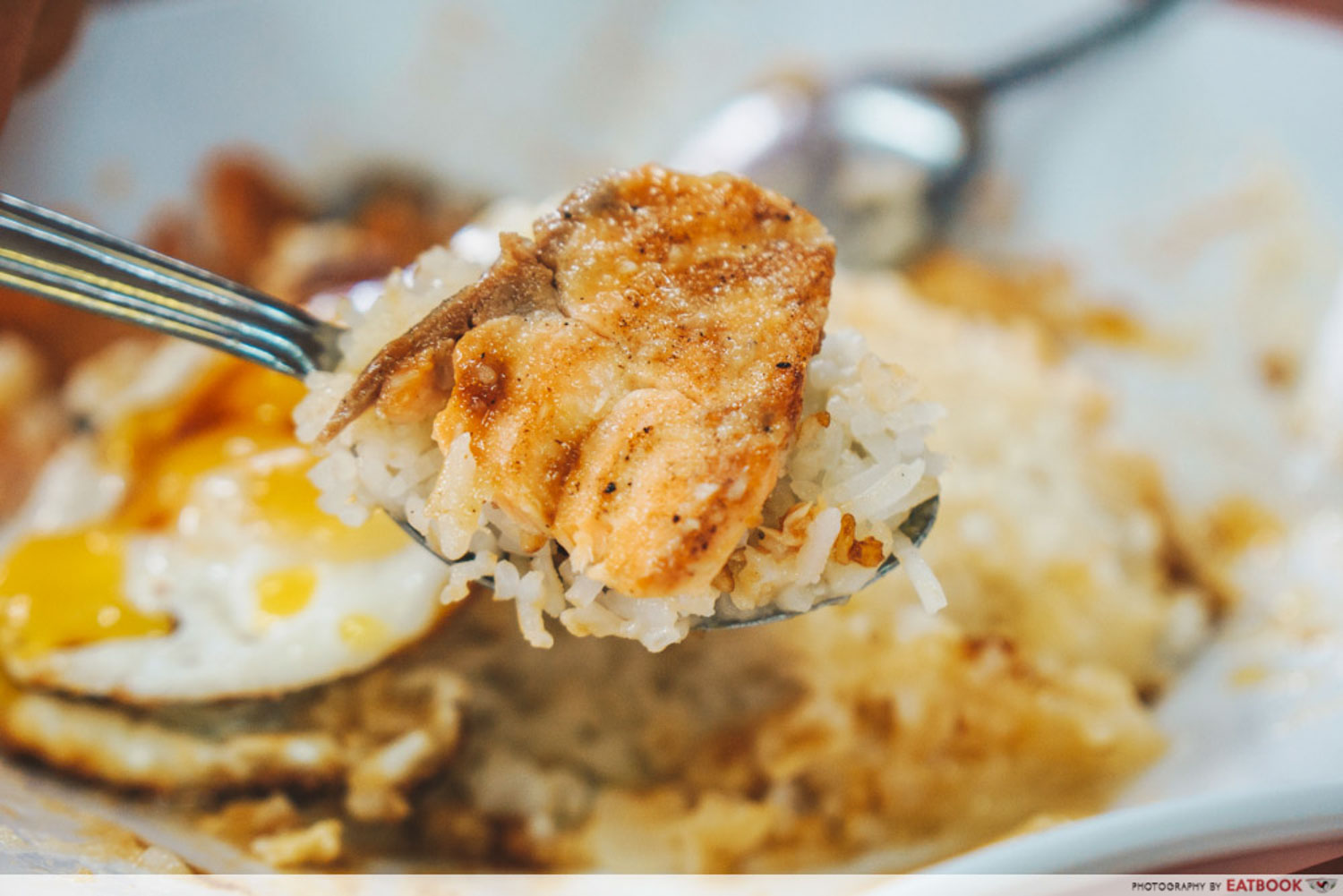 It also went superbly well with the rice. Top this duo off with the fried egg and savour the dance of savoury, garlicky, and yolky flavours. Unfortunately, the teriyaki sauce seemed like an afterthought, as I barely detected its salty sweetness.
The main letdown of this dish was the disappointing texture of the rice. Portions of it were overcooked and mushy; others were undercooked and stiff.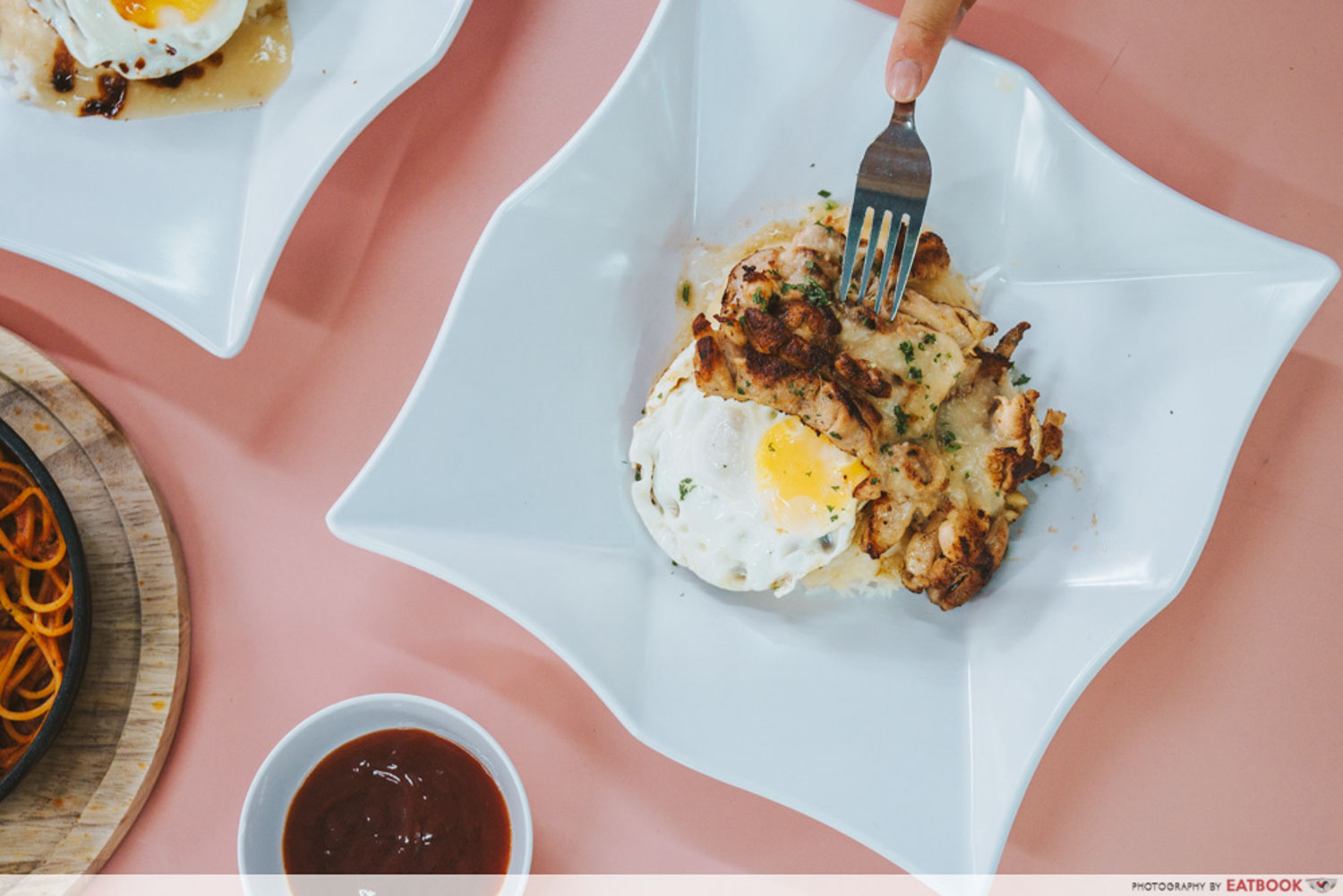 Just like their Norwegian Salmon, the Chicken Chop ($4.90) featured the same pairing of garlic rice and a fried egg.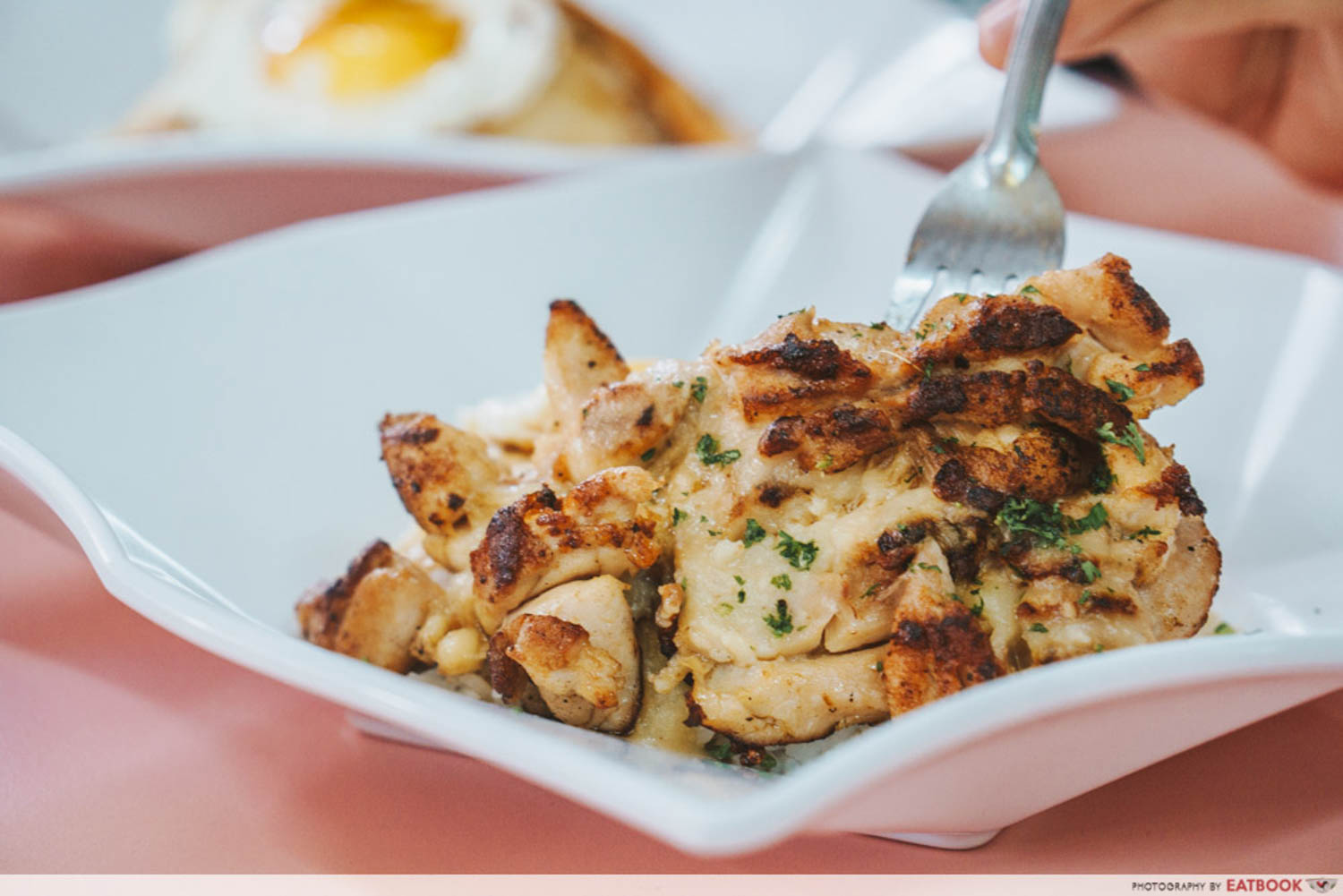 Boasting a pleasant Maillard-browning, the skilfully grilled chicken thigh tore comfortably in my mouth. Dipping the meat in ketchup was unnecessary as the meat packed a salty and peppery kick.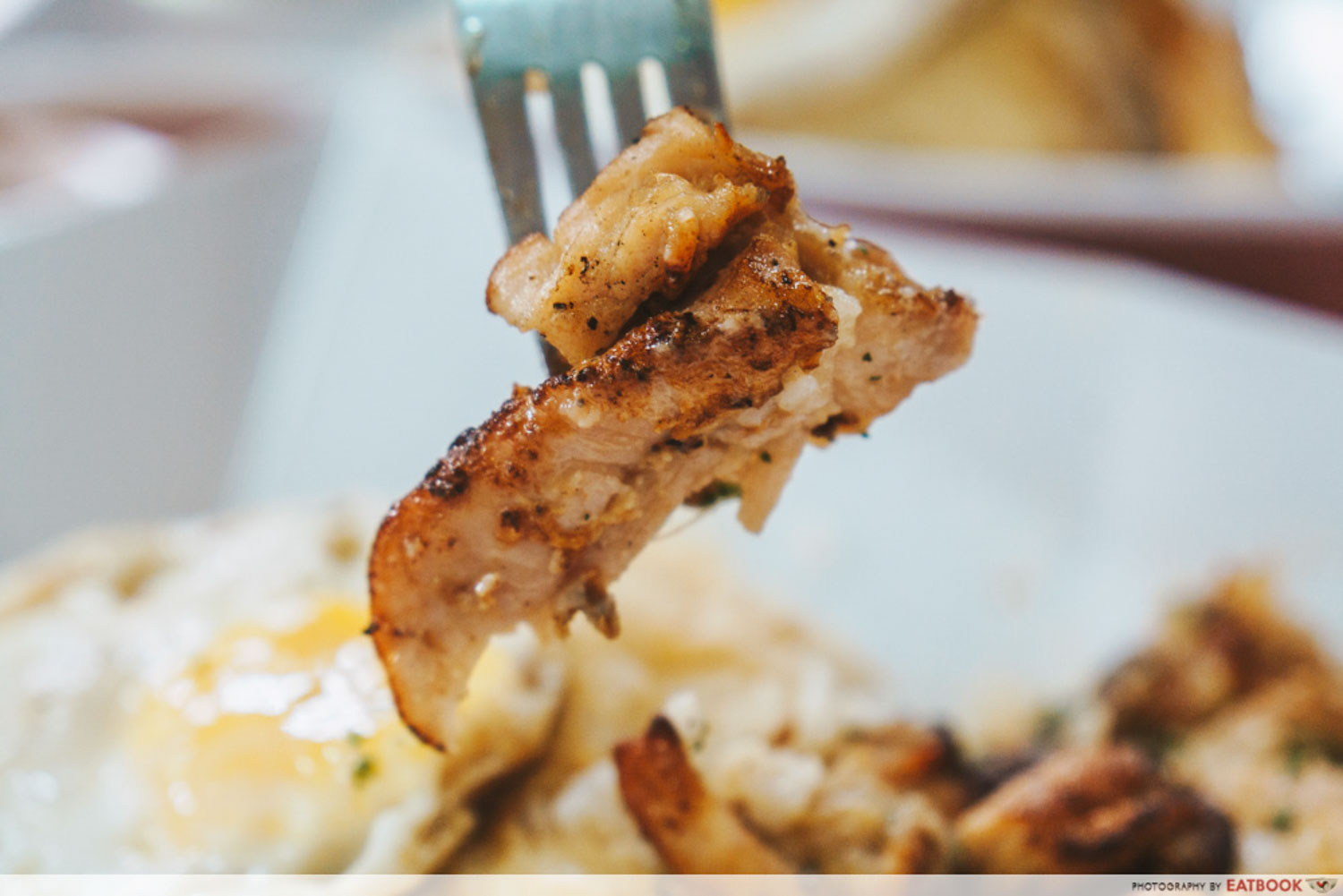 However, the robustly flavoured meat clashed with the equally distinct garlic sauce and created a confusing mishmash of flavours. Perhaps the protein is best enjoyed by itself.
Ambience at Chef Choo Signature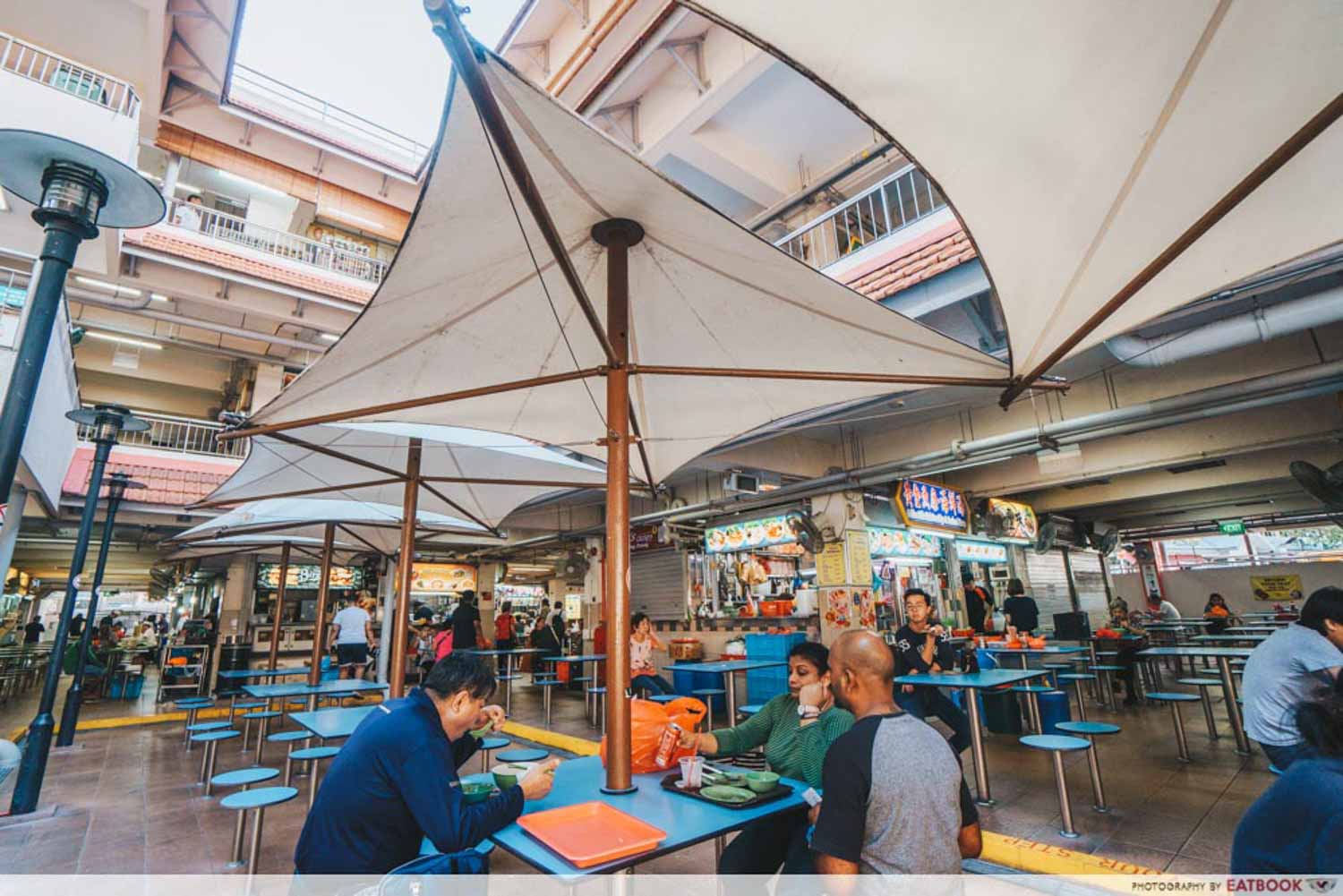 Having a meal at Golden Mile Food Centre isn't the most comfortable experience. The tables are closely packed, so it's pretty cumbersome navigating yourself around the place. In spite of the fans installed across the hawker centre, it's still pretty stuffy. Furthermore, the place is popular with both locals and tourists alike, so be prepared to jostle for seats when you visit.
10 Golden Mile Food Centre Stalls To Check Out For Cheap Burgers And More
At the same time, there's no denying that Golden Mile Food Centre is an oasis of great food. With mouthwatering meals to look forward to, a little discomfort is def' worth enduring.
While you're there, check out the salted egg xiang guo dished up by Three Good Guys! Redolent of chilli padi and curry leaves, the sauce bolsters the ingredients with its umami-packed zing.
Three Good Guys: Salted Egg Yolk Xiang Guo Stall Opens At Golden Mile Food Centre
The verdict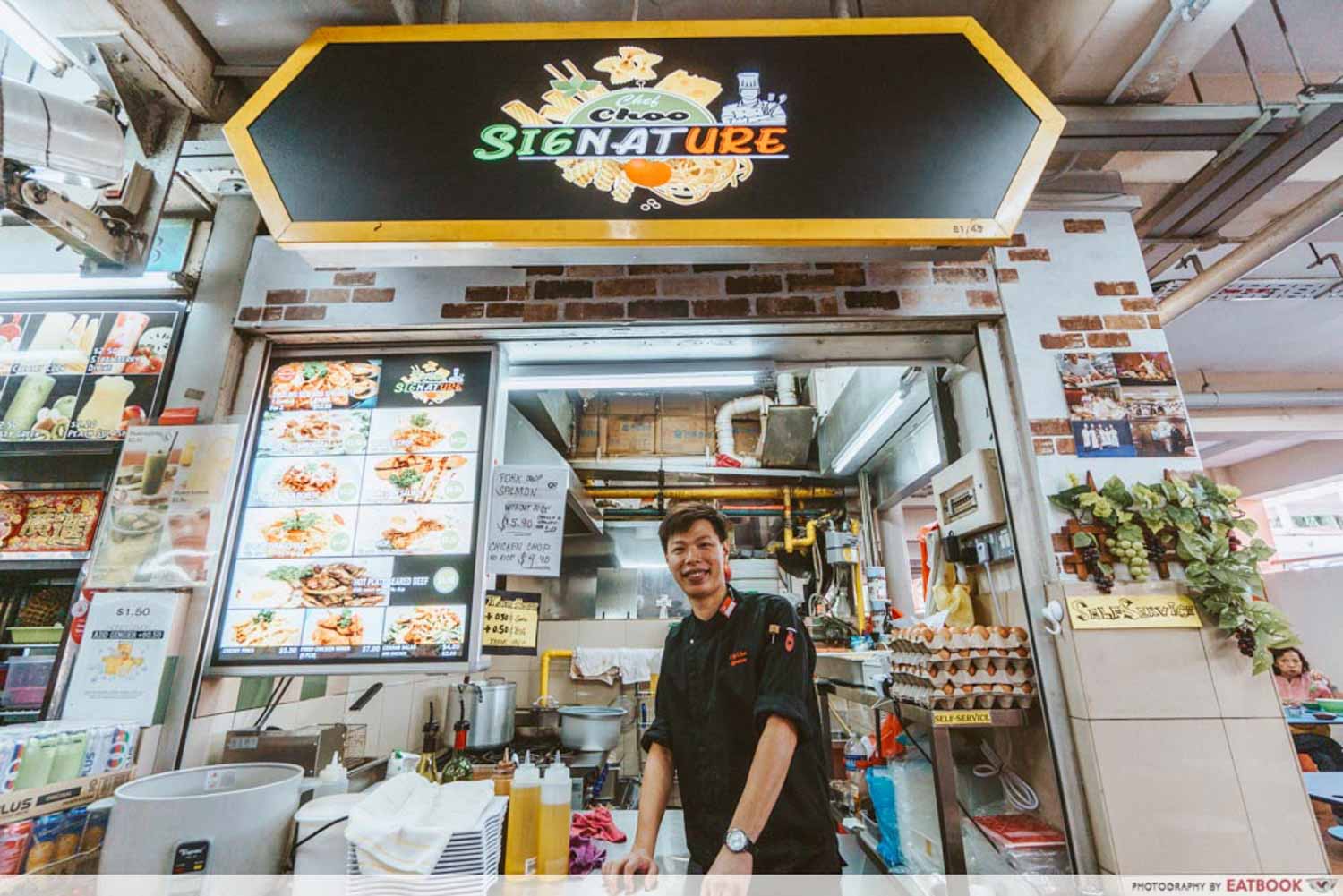 Donned in a double-breasted black jacket, chef Choo stands out among his casually dressed neighbours. His attire, befitting of a hotel chef, is a "subtle" reminder of his pedigree. At the same time, it's also telling of his self-confidence and the pride he takes in his food.
And with a steady stream of customers visiting his stall, it seems like his confidence is well-earned. Admittedly, the dishes can be tweaked for a more cohesive taste. Nevertheless, with the affordable price point, Chef Choo Signature certainly has a bright future ahead.
Address: 505 Beach Road, #B1-45, Golden Mile Food Centre, Singapore 199583
Opening hours: Tue-Sun 12pm to 8pm
Website
Chef Choo Signature is not a halal-certified eatery.
Photos taken by Pepita Hope Wauran.
This is an independent review by Eatbook.sg.
Summary
Pros
— Affordable
— Quality Western food
— Accessible location
Cons
— Flavours can be refined
Recommended Dishes: Sizzling Seafood Spaghetti ($6.90/$12.90)
Opening hours: Tue-Sun 12pm to 8pm
Address: 505 Beach Road, #B1-45, Golden Mile Food Centre, Singapore 199583