Salted egg yolk xiang guo combines two of Singapore's favourites
Update: Three Good Guys has moved and their concept has changed.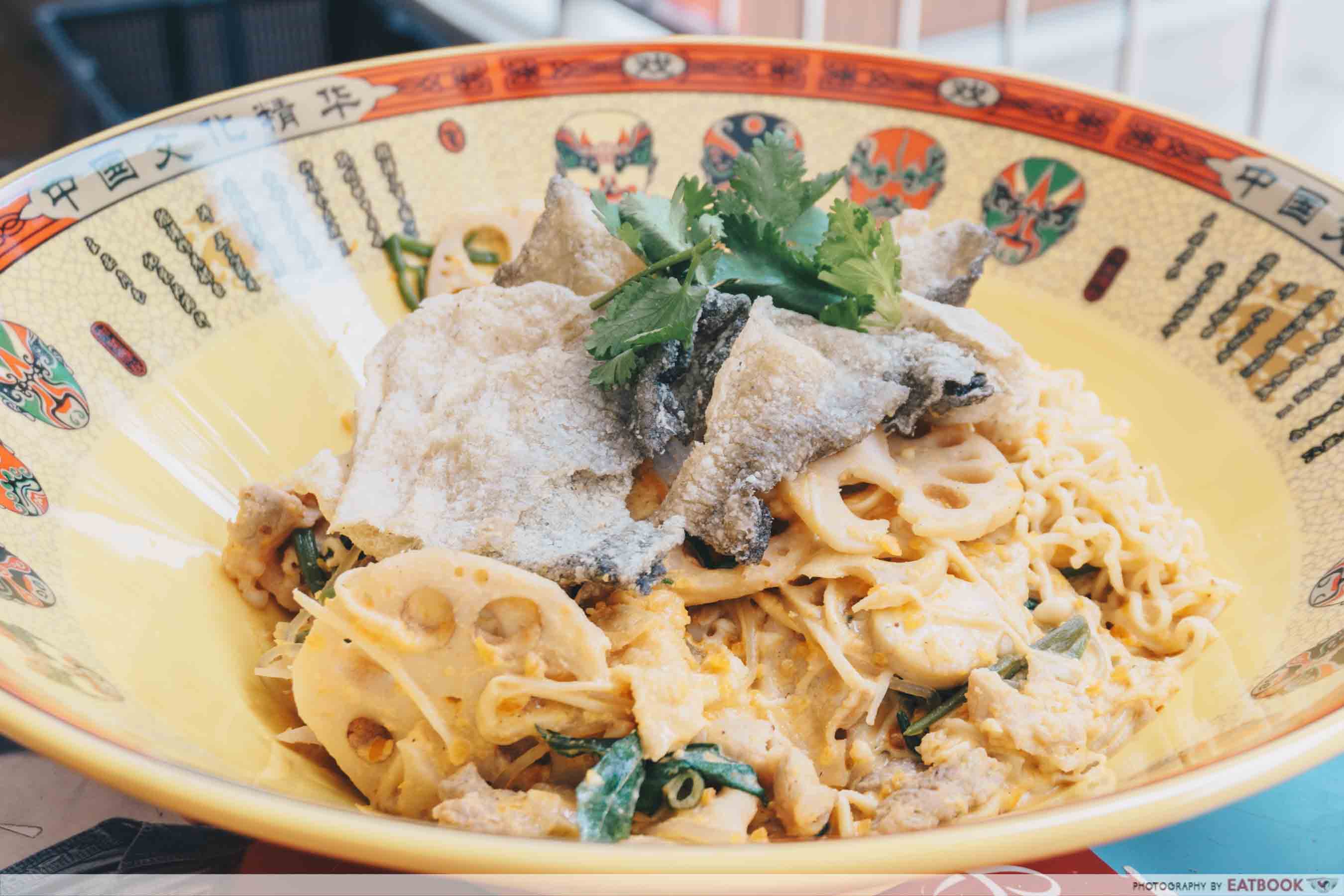 Only raising its shutters a week ago, Three Good Guys has the potential to start a new food craze in Singapore with its drool-worthy salted egg yolk xiang guo! Ma la xiang guo is one of the most beloved dishes in Singapore for its numbing spice and explosive flavour, but for those who can't handle the heat, this is a lip-smacking alternative.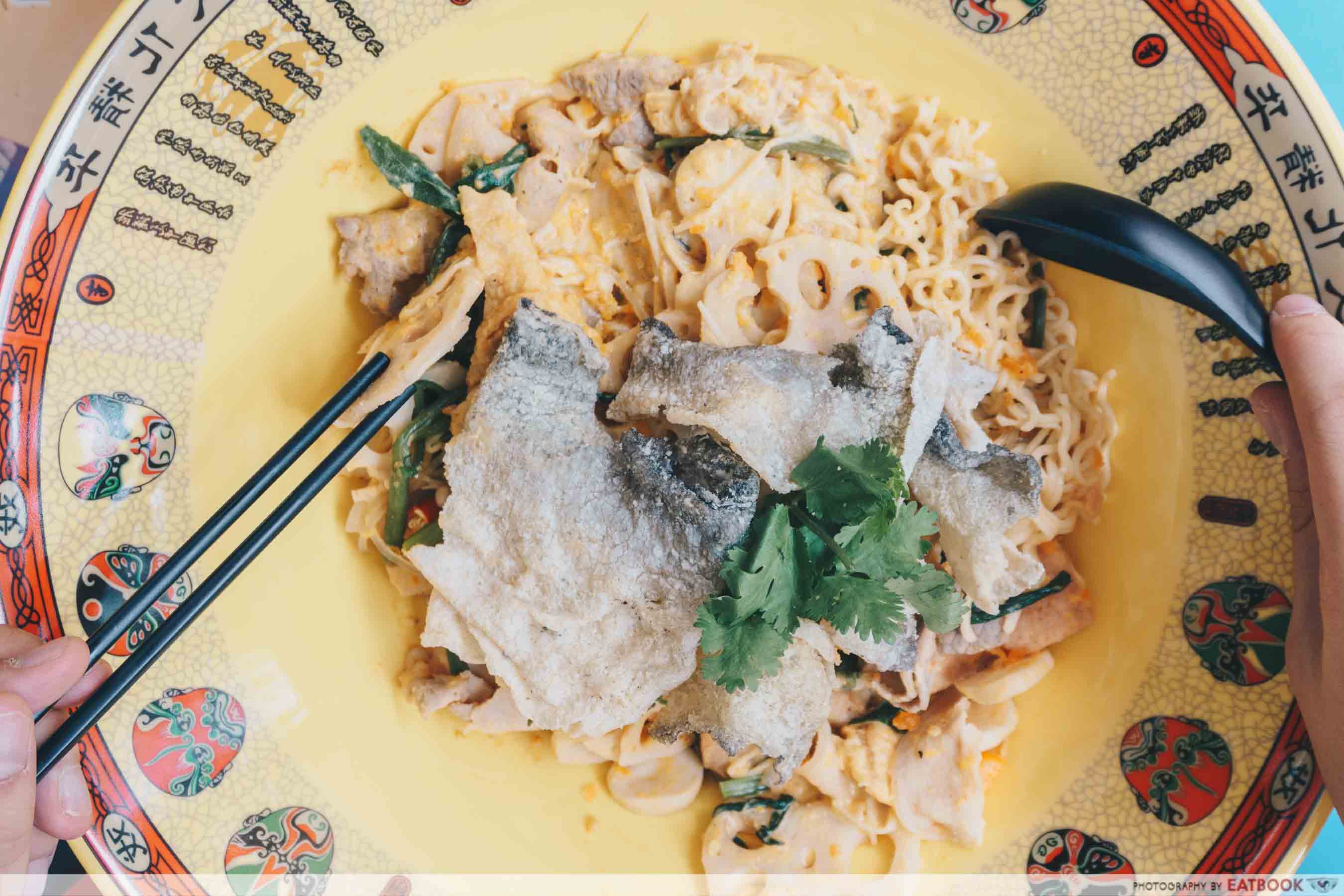 What struck us the most when we received the steaming bowl was the sheer intensity of salted egg yolk, both in terms of aroma and appearance. Unlike so many salted egg yolk dishes these days that feature an artificial, gloopy, yellow sauce, real chunks of salted egg yolk are used here, and it translates in flavour. It's also topped with a generous stack of fish skin, with curry leaves and chilli padi peeking out among the noodles.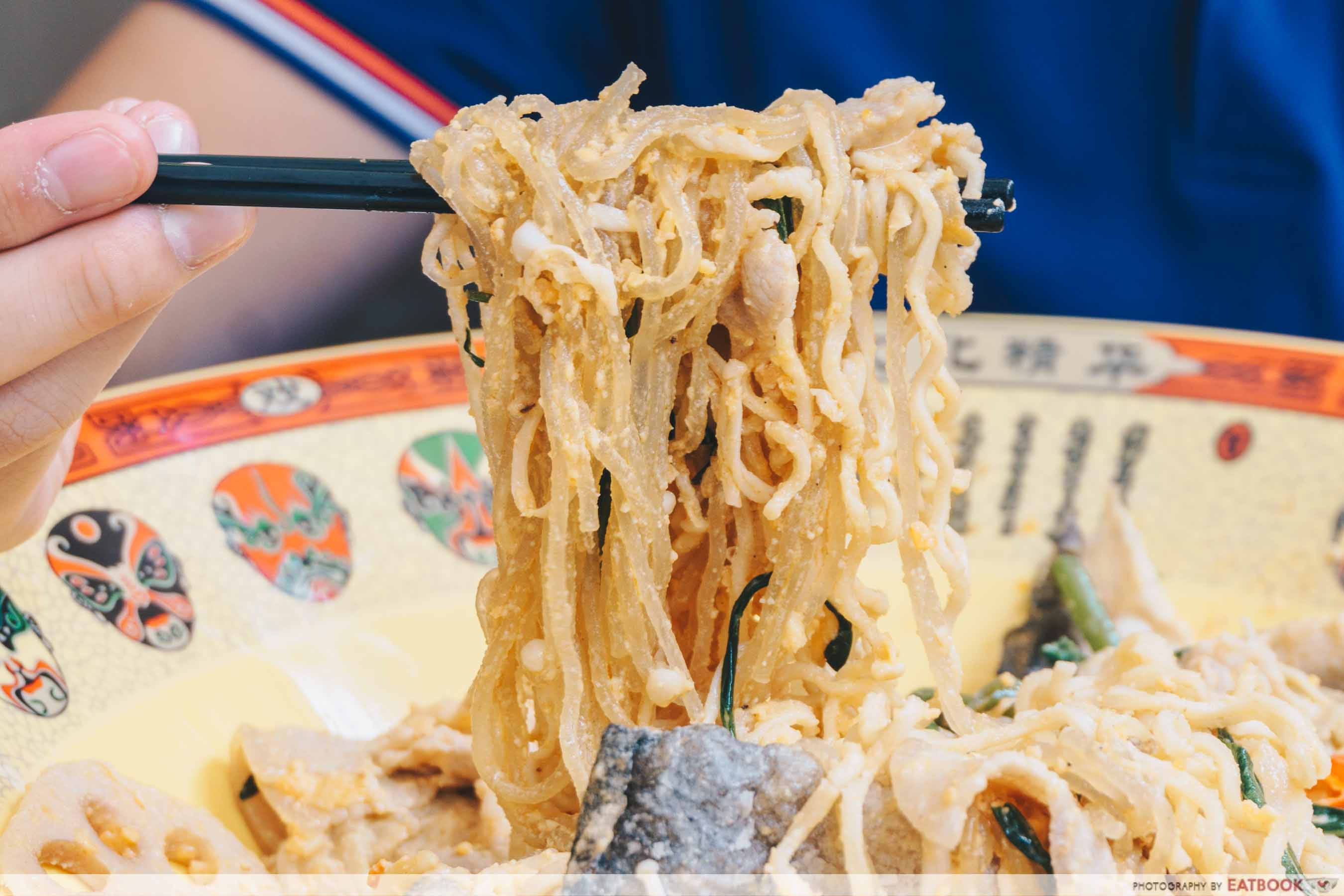 The salted egg yolk flavour was deep without being overly salty, boosted by rough nuggets of salted egg and contrasted by occasional hints of spice from the curry leaves and chilli. Every ingredient was thoroughly coated with a layer of the thick sauce, making sure we were hit with salted egg from our first bite to last.
Our favourite components were pork belly and tau kee, which stayed moist while absorbing the salted egg flavour. The trade off for this decadence is that the dish gets dry, becoming a struggle to keep eating without a tall glass of teh bing.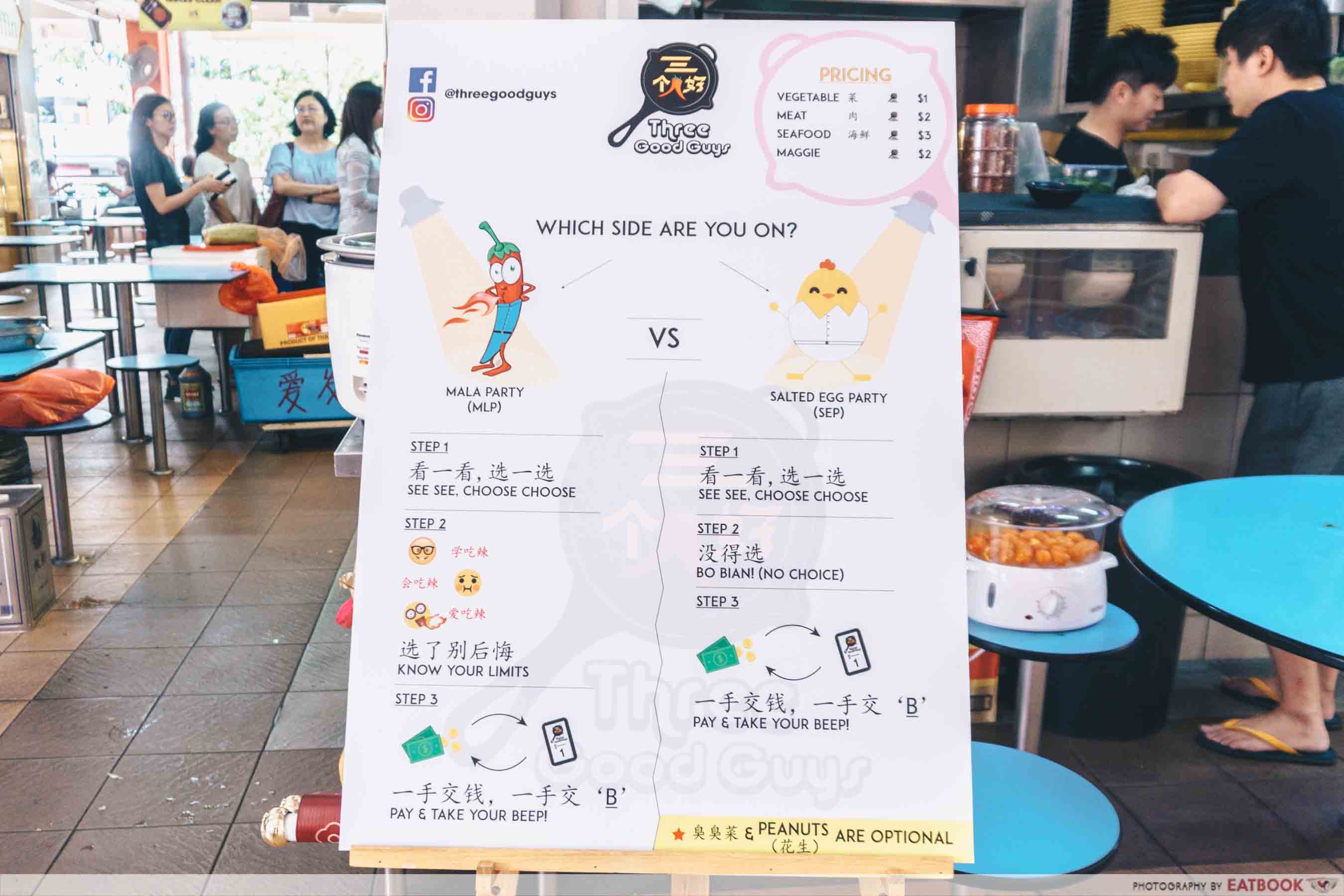 The stall is also attractive for its affordable prices that won't strain the wallets of office workers on a budget. Charging just $2 for meat, $3 for seafood, $1 for vegetables and $2 for noodles, a $12 bowl should be more than enough to fill two hungry souls. Ingredient-wise, uncommon items such as beef cubes ($3) and prawns are available, so anyone sick of the usual pork belly can get some variety!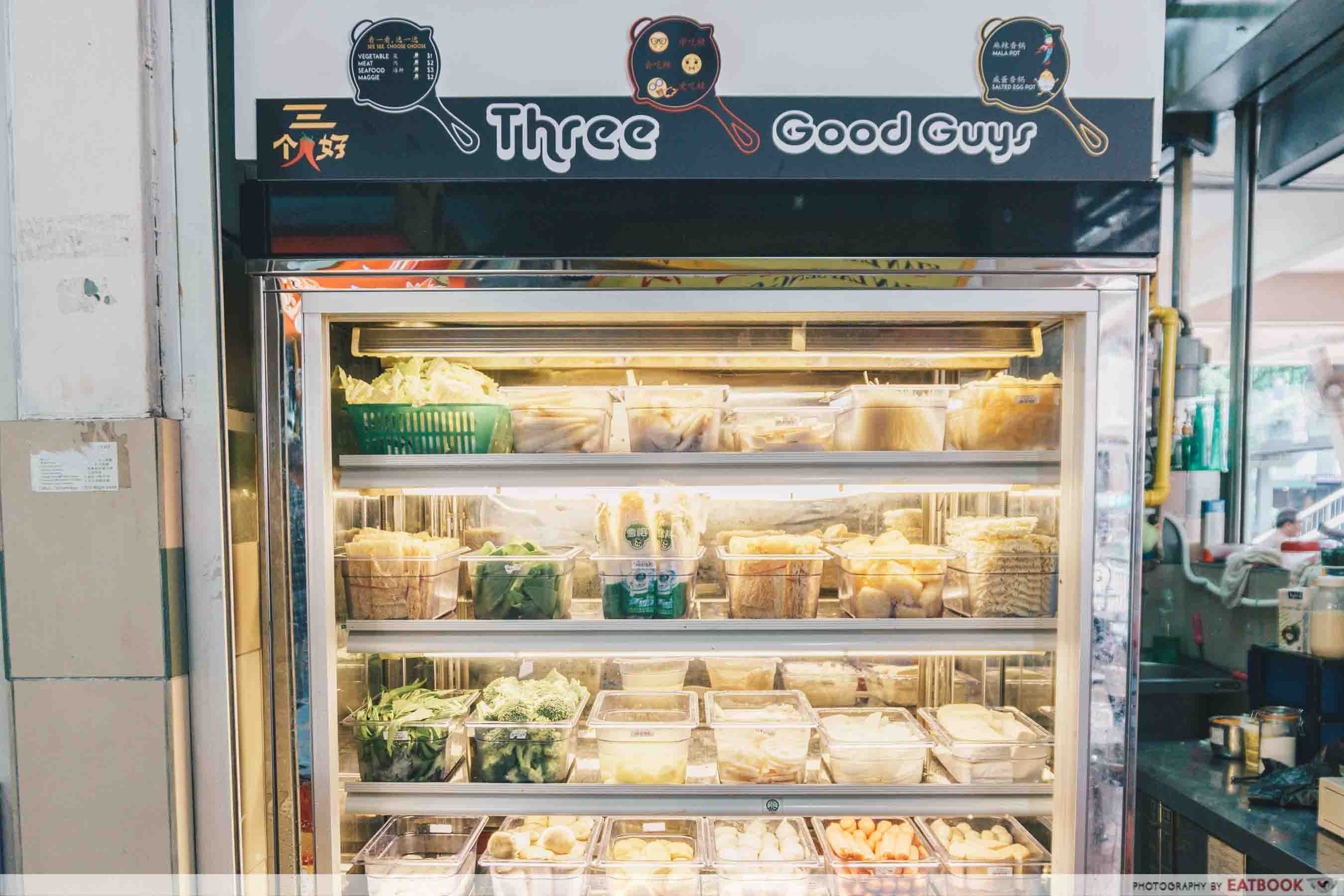 Ma la lovers who come with their friends won't be left out either, as they offer the conventional ma la xiang guo too! In fact, it's a good idea to get both, so that the wetter, spicier ma la bowl can offset the rich and creamy salted egg yolk xiang guo.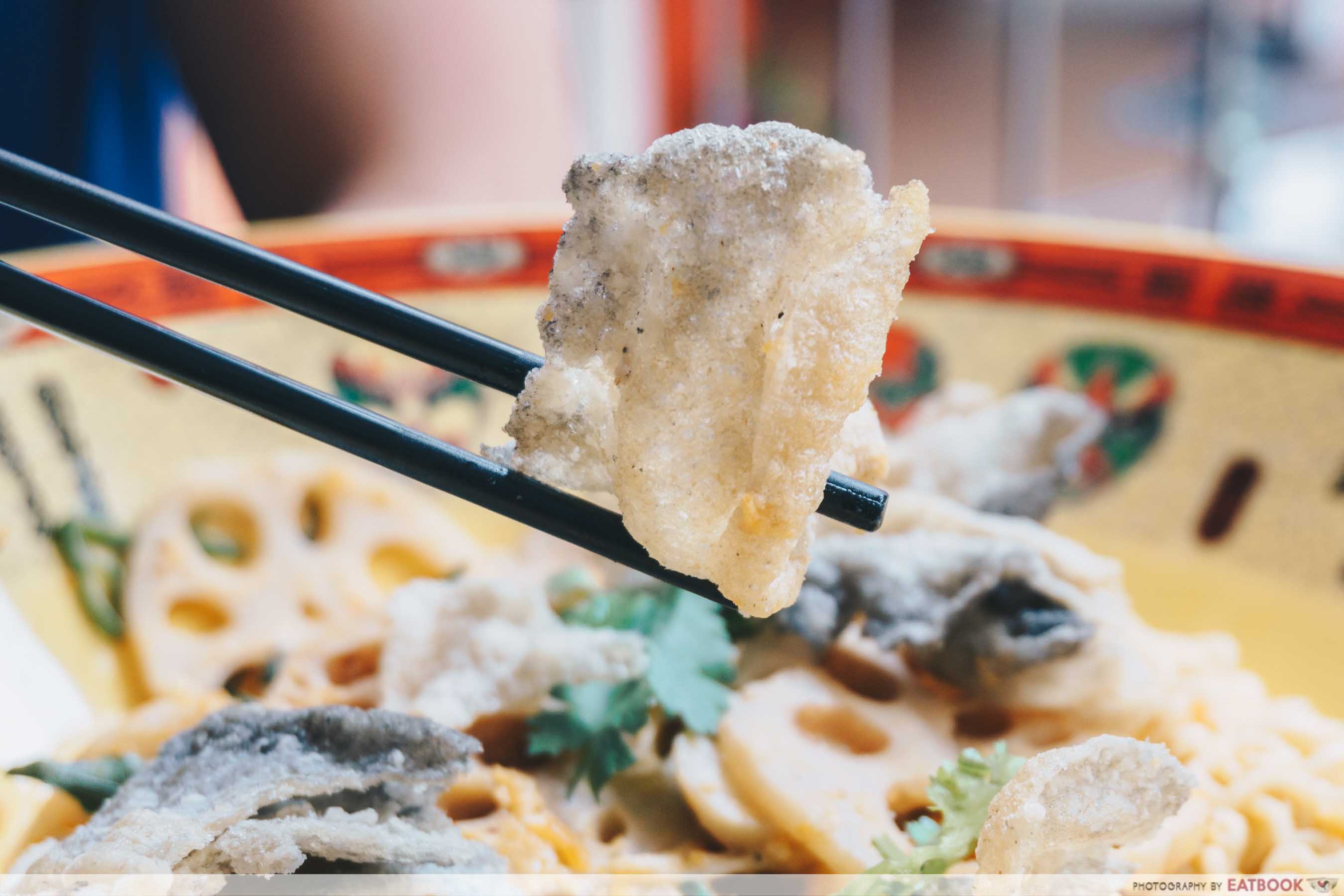 Despite being new, long queues have already started to form for this indulgent creation, so beat the crowd by making your way down when they just open at 12pm daily. The owners are determined to make sure their popularity isn't just a passing fad by planning to consistently introduce new flavours to keep Singaporeans excited!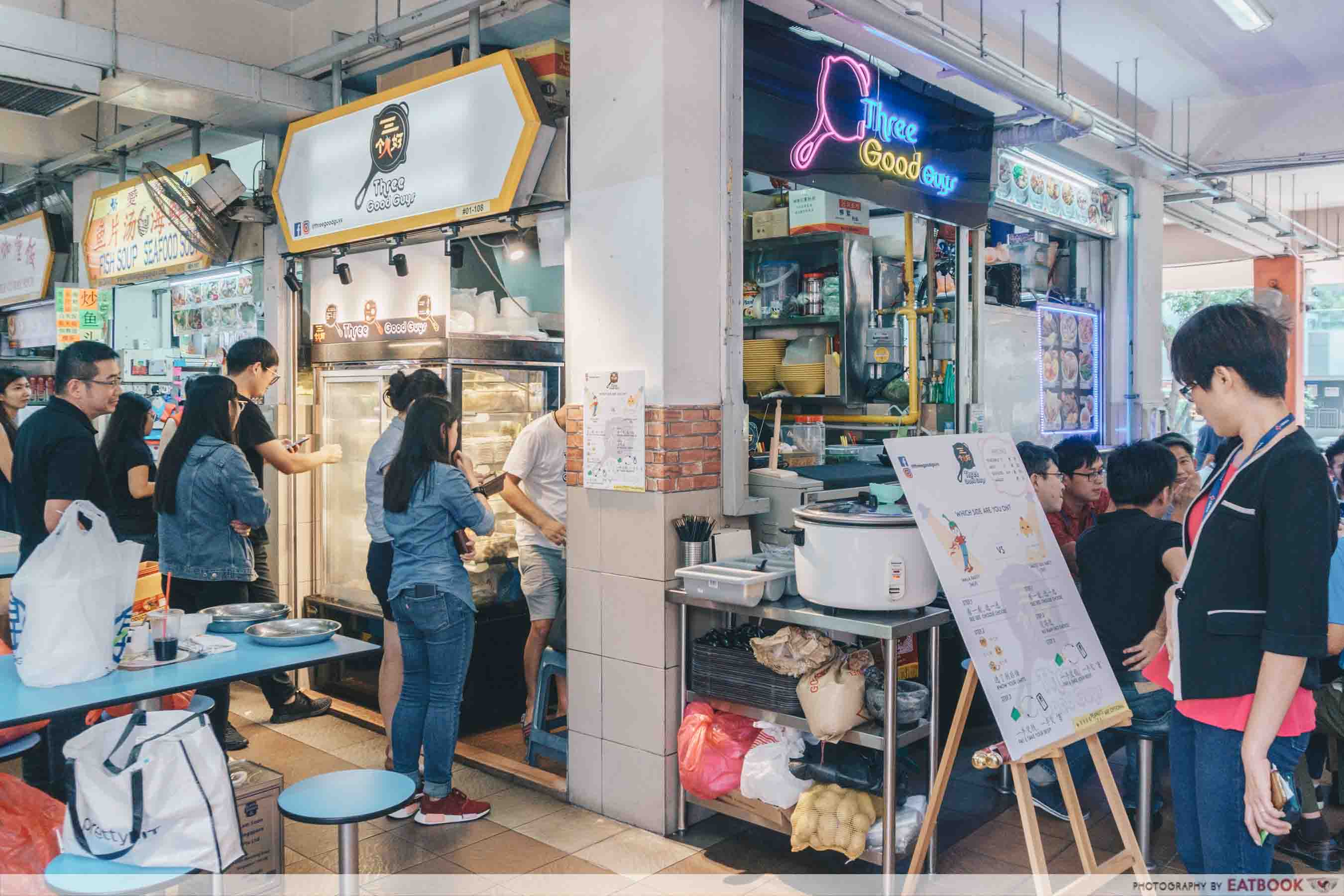 The bubbly owners are three ex-colleagues who have no prior experience in the F&B industry, and have worked for almost a year to perfect their recipe. They were passionate and eloquent about their venture, explaining that they wanted to create a xiang guo that all Singaporeans could enjoy, regardless of spice tolerance.
If you can't get enough of salted egg yolk or simply don't want to return from lunch drenched in ma la-induced sweat, give this original take on xiang guo a go! For more salted egg yolk goodness at Golden Mile Food Centre, check out our review of Adimann's salted egg yolk nasi lemak. If you're a traditionalist and want to stick to the tried and true ma la xiang guo experience, try Mala Wala Fragrant Hotpot and Fat Bird!
Fat Bird Review: Ma la Xiang Guo And Chicken Stew Hot Pot Buffet At $15.90++
Address: 505 Beach Road, #01-108, Golden Mile Food Centre, Singapore 199583
Opening hours: Daily 12pm to 9pm
Website
Three Good Guys is not a halal stall.
Photos taken by Lim An.
This is an independent review by Eatbook.