Adimann at Golden Mile Food Centre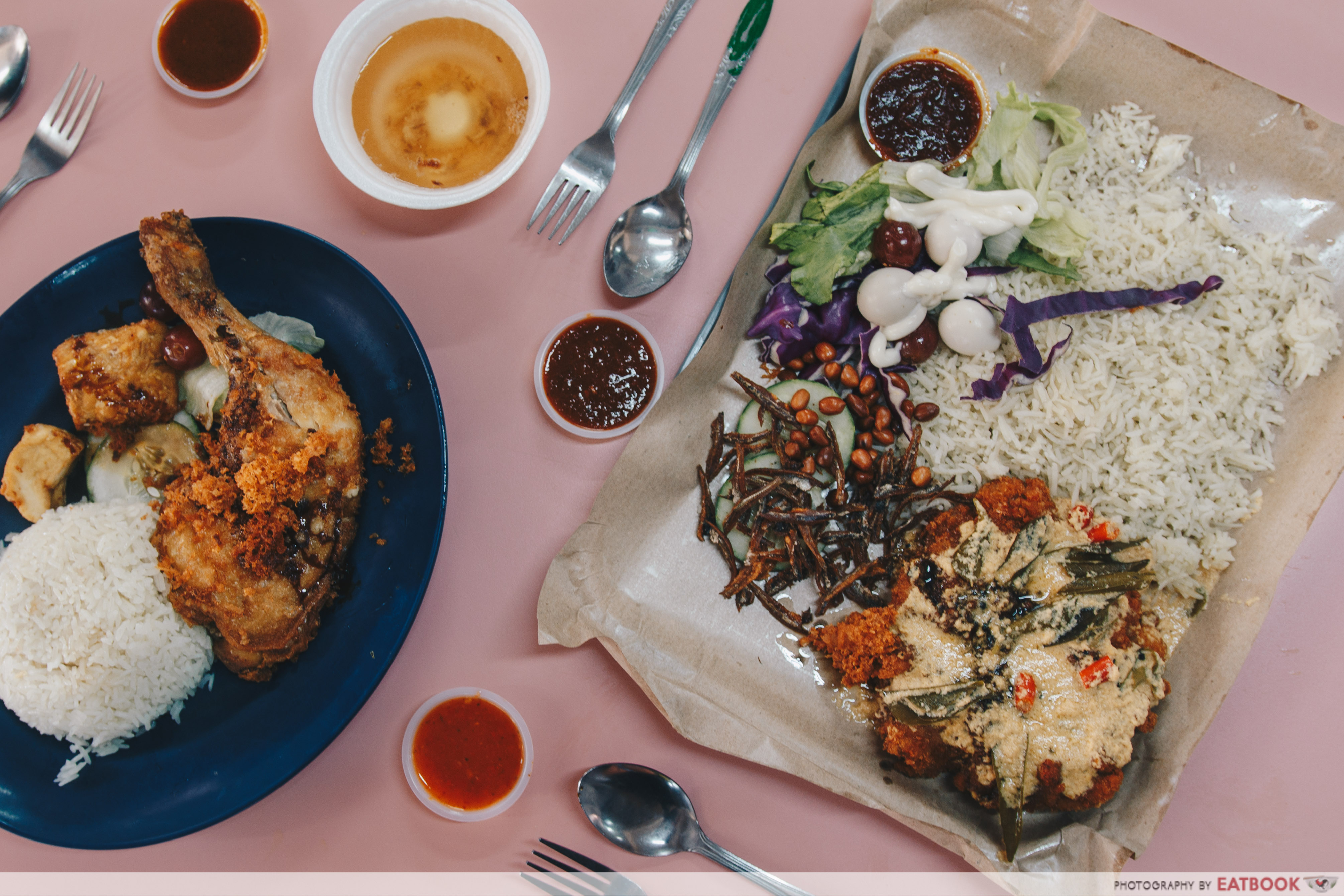 Golden Mile Food Centre is known to house a good number of food stalls with unique dishes such as Mr Baguette and Chung Cheng Chilli Mee. Hopping onto the bandwagon would be Adimann, a Muslim-owned stall selling ayam penyet with chicken rice, nasi lemak with salted egg yolk chicken cutlet, and even zi char!
Food at Adimann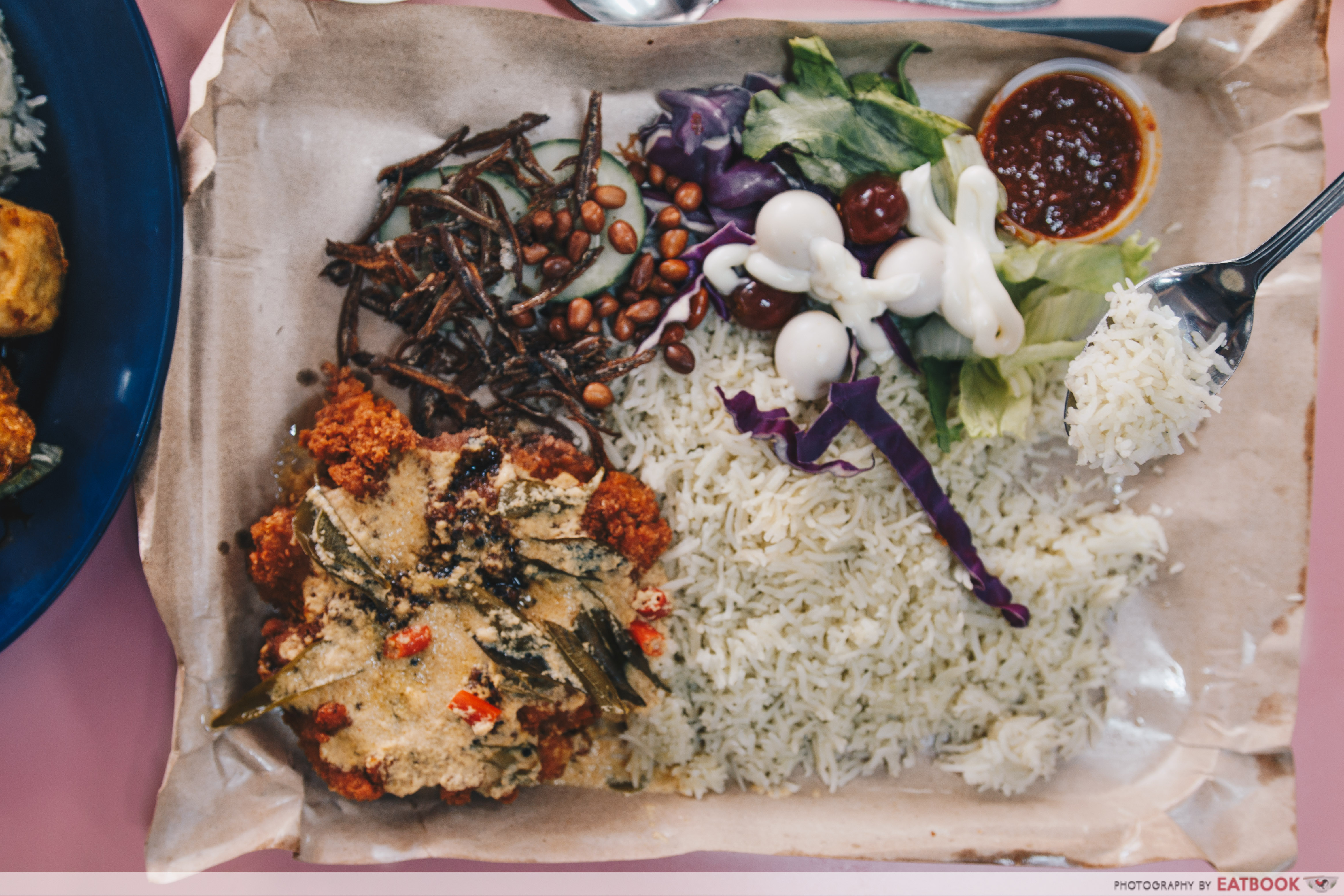 I have never been a huge fan of rice, unless it is flavoured. As such, I went ahead to order the Chicken Rice Ayam Penyet ($7). Feeling a little greedy, I also ordered one of Adimann's unique dishes, Nasi Lemak Chicken Cutlet with Salted Egg Yolk Sauce ($7.50).
When the food was served, my colleagues and I were in awe of how huge the portions were. Waiting no further, we started out with the nasi lemak first. Besides rice and a chicken cutlet, ikan bilis, peanuts, fresh raw vegetables, quail eggs, and grapes came at the side as well.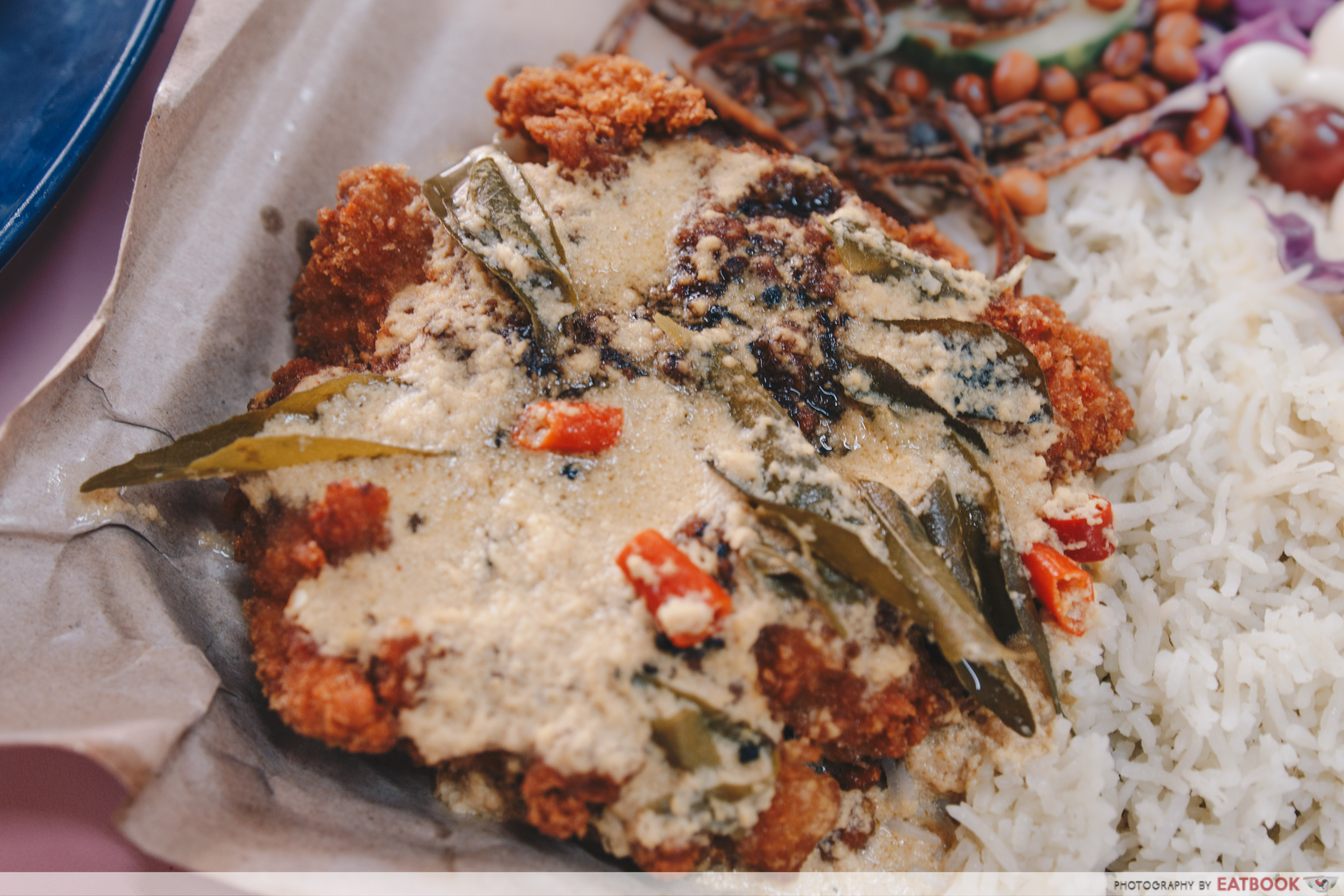 The chicken cutlet was extremely juicy, with juice seeping out as we cut it up. With every bite I took, flavours from both the batter and meat burst in my mouth. The salted egg yolk sauce was fragrant from the curry leaves it was stir-fried in, providing extra flavour to the chicken cutlet.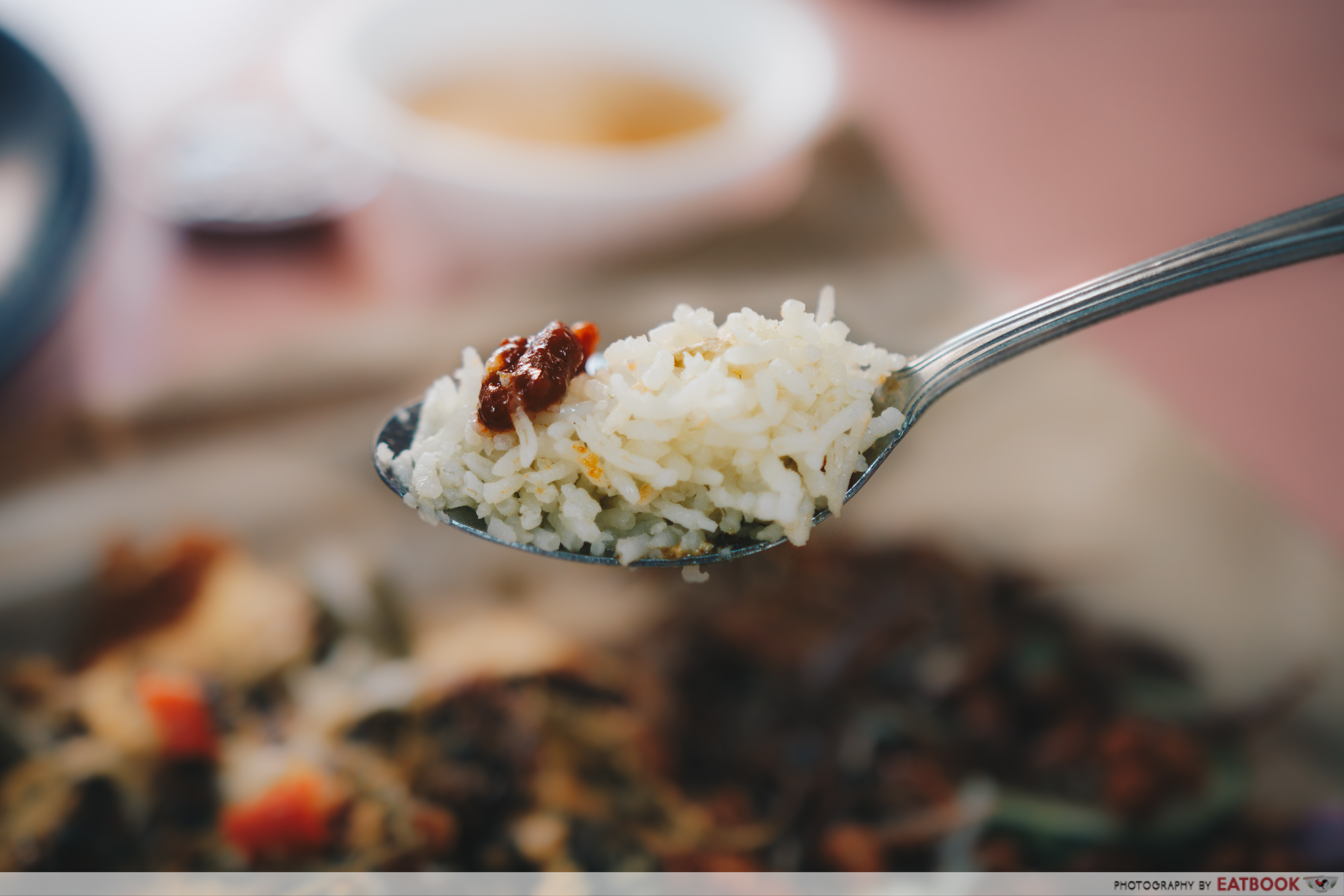 Basmati rice was used for this dish. Compared to typical white rice, this was slightly on the drier side. I was able to taste a tinge of coconut flavour, but it would be better if it was more lemak. The sambal chilli changed the game by giving the rice a boost in flavour with its slight honeyed taste and spicy kick.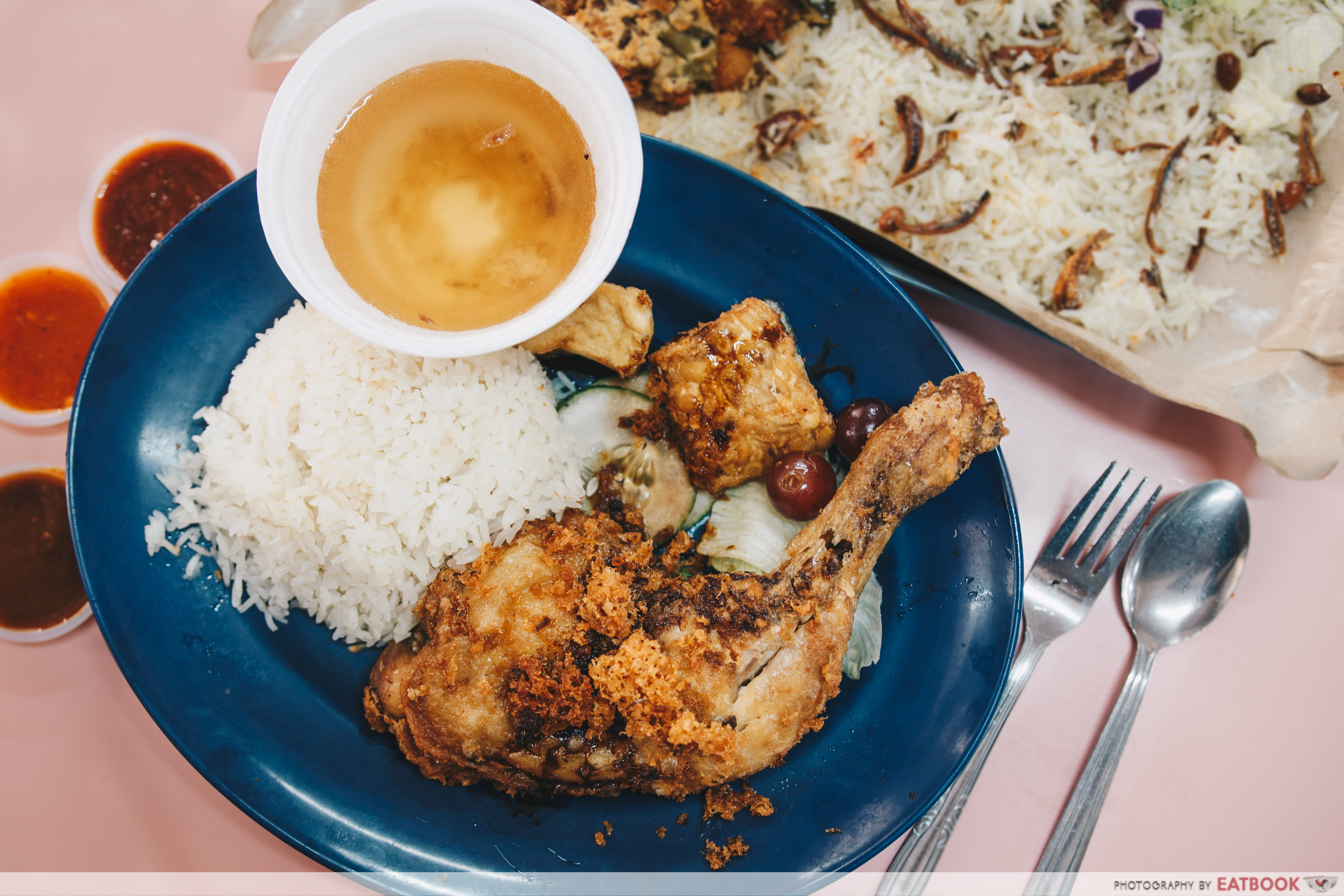 A piece of fried tofu, fried fermented bean curd, and a bowl of fried shallot soup made up their Chicken Rice Ayam Penyet together with a crispy chicken drumstick and rice.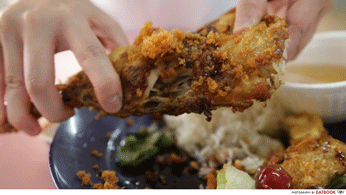 As I picked the chicken drumstick up, I was amazed by how fleshy it was. Just like the chicken cutlet, the juices flowed as I yanked it in half. As my teeth sank into the meat, I could tell that it was well-marinated.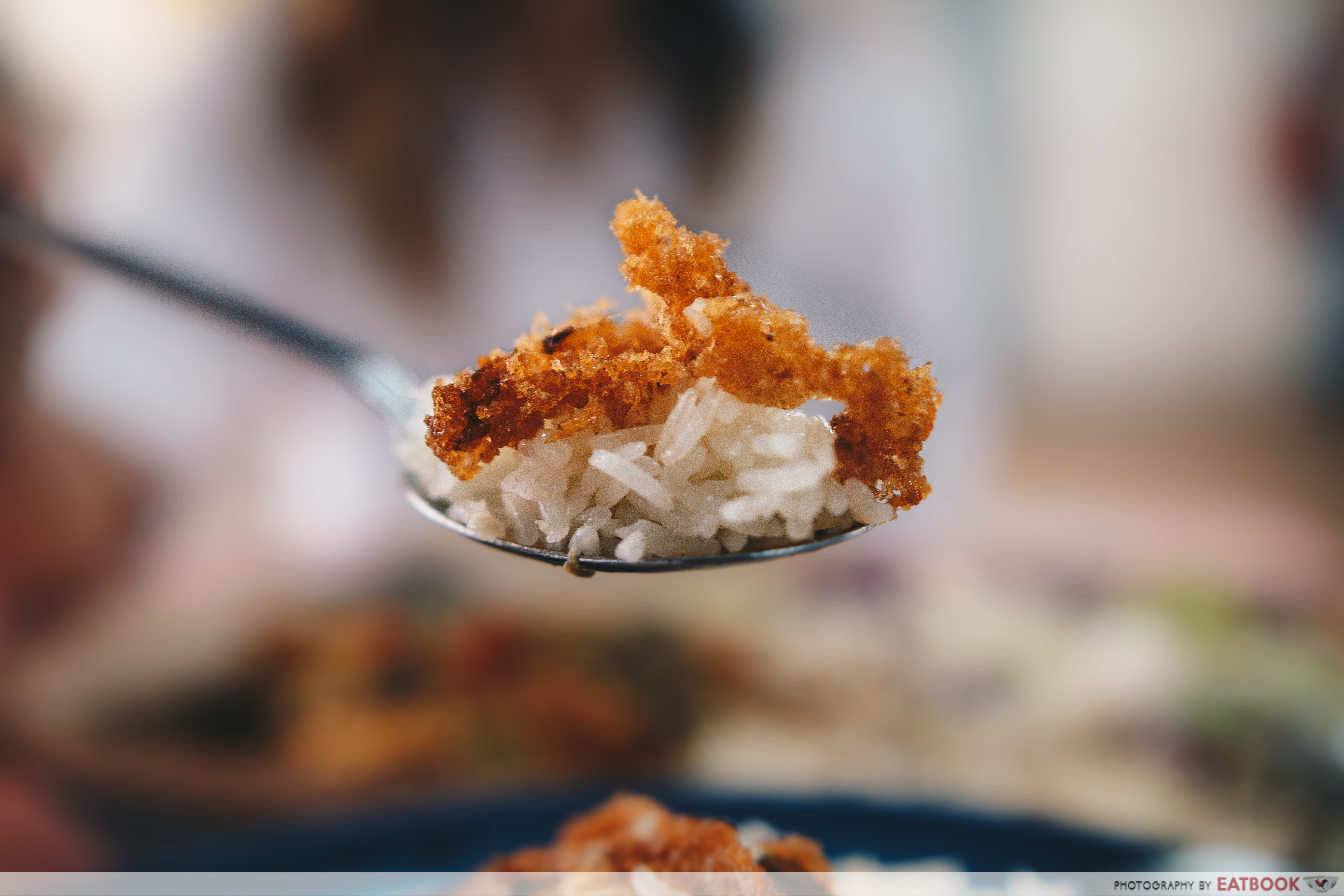 The rice was not as oily and fragrant as typical chicken rice's. Though it was kinda bland, it was still able to pass off as chicken rice, just not an amazing one.  
Ambience at Adimann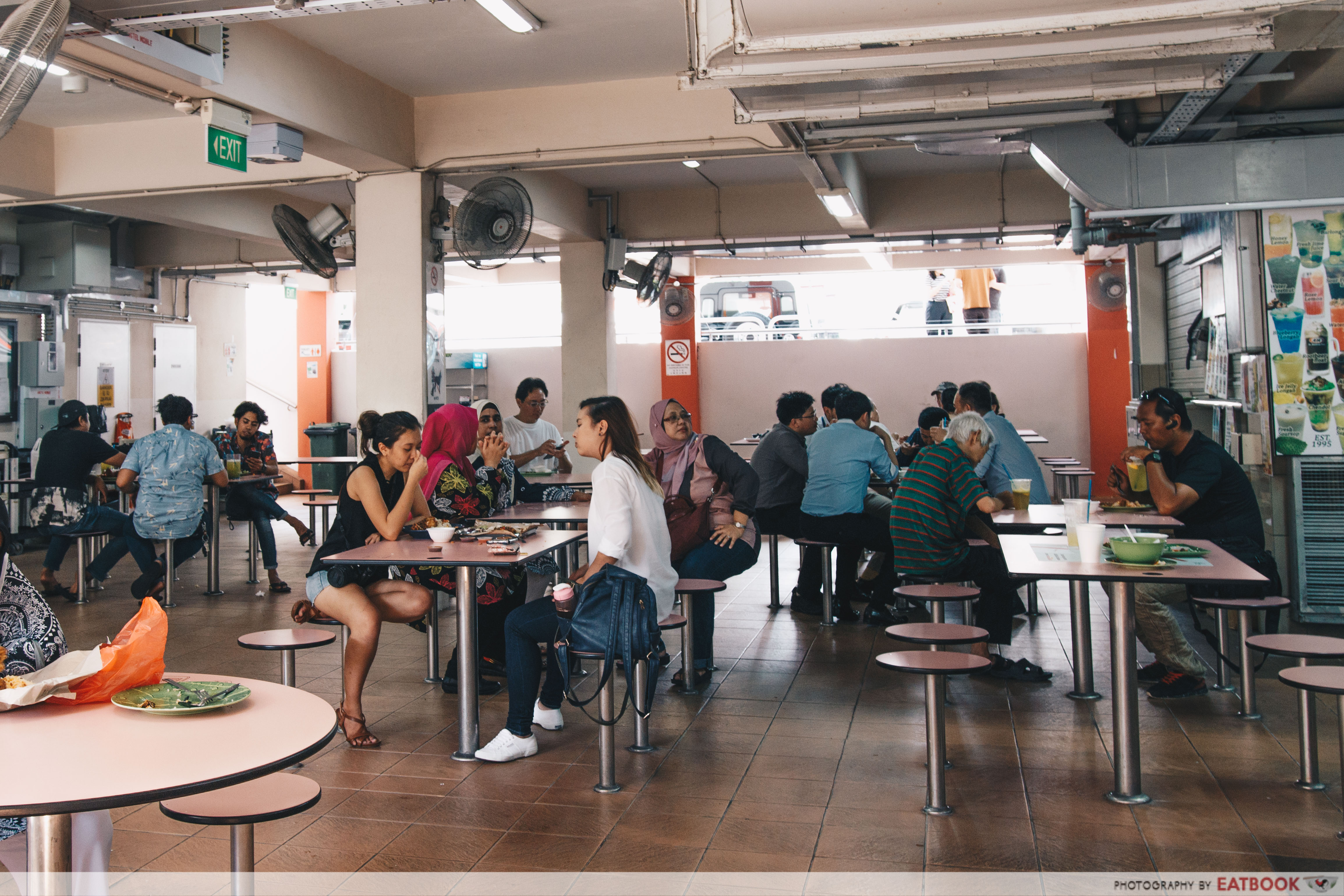 Adimann is one of the many stalls located in Golden Mile Food Centre. There is a variety of food and cuisines there, ranging from Western food to Peranakan food and Chinese desserts.
The verdict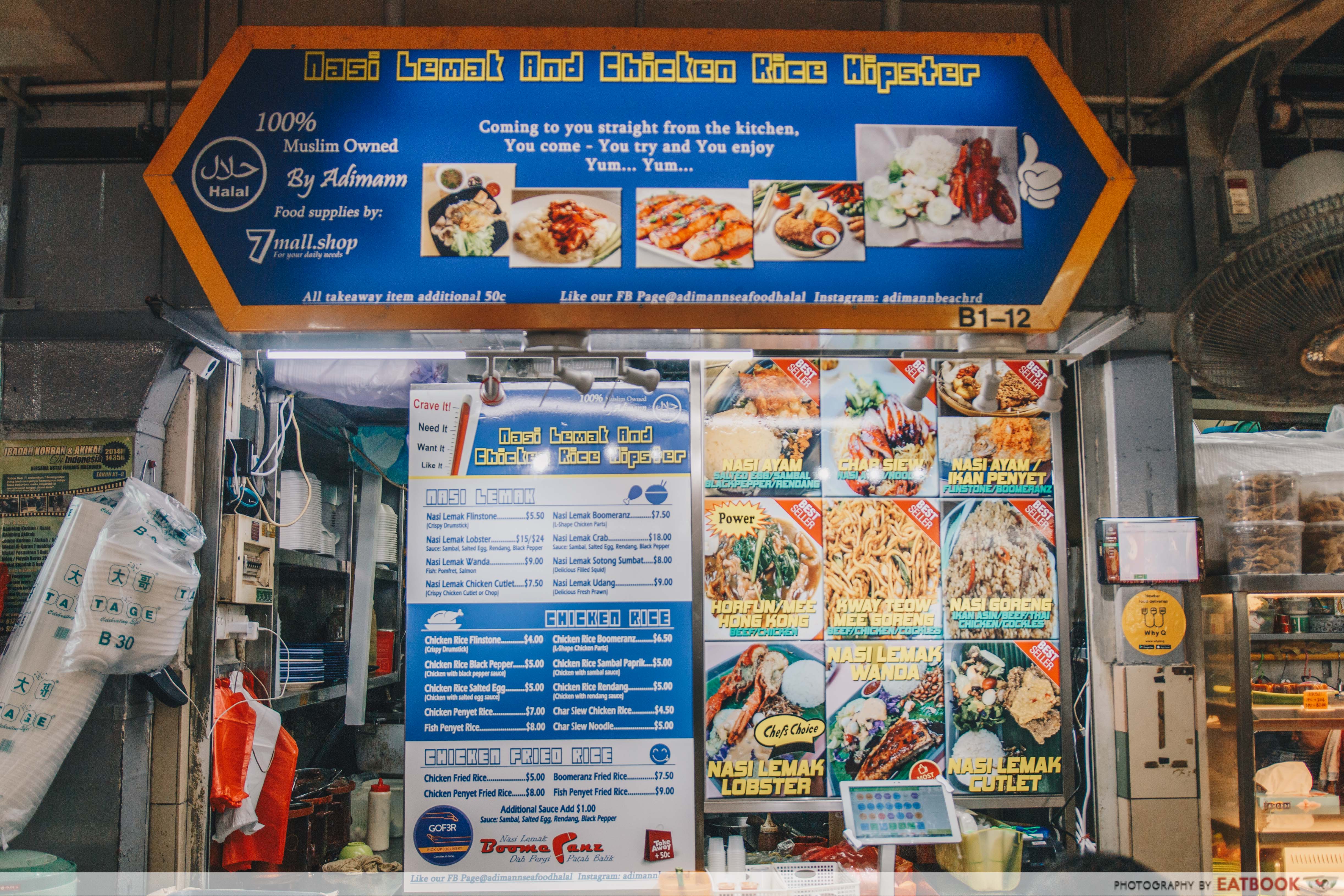 I liked how Adimann added twists into their food, making their dishes interesting and delicious. This is a stall I would not only return to, but get my friends to come along as well.
For more halal eateries, check out our review of GLC Restaurant, and our list of halal zi char places!
Address: 505 Beach Road, #B1-12, Golden Mile Food Centre, Singapore 199583
Opening hours: Daily 10am to 9:30pm
Website
Adimann is a Muslim-owned eatery.
This is an independent review by Eatbook.sg
Summary
Pros:
– Unique dishes
– Chicken was crispy and juicy
Cons:
– Rice was quite bland
Recommended dishes: Chicken Rice Ayam Penyet ($7)
Operating hours: Daily 10am to 9:30pm
Address: 505 Beach Road, #B1-12, Golden Mile Food Centre, Singapore 199583