Mala Wala Fragrant Hotpot serves up ma la stir-fry
Update: Mala Wala Fragrant Hotpot is permanently closed.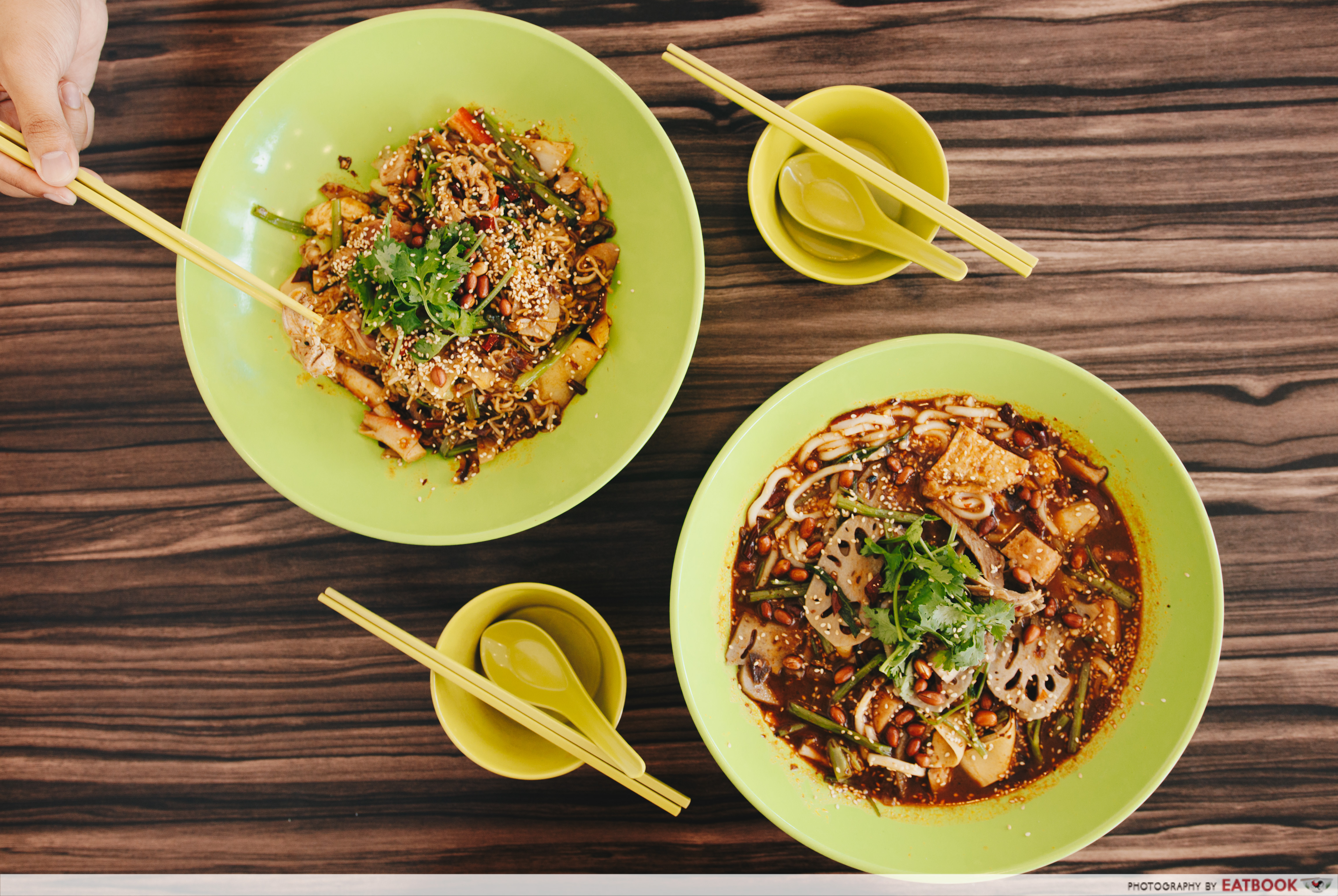 Finding halal ma la xiang guo is like finding a needle in a haystack. And as someone who is a spicy food enthusiast, I always felt #FOMO whenever I watched my friends devour a huge bowl of stir-fry ma la, sweating buckets with lips swelling like Kylie Jenner's; I could only live vicariously through them and salivate in silence. Unbeknownst to me was Mala Wala Fragrant Hotpot, a Muslim-owned ma la stall in Eastpoint's Food Junction. Without hesitation, I headed down with my colleague to extinguish my burning desire for ma la xiang guo. 
Food at Mala Wala Fragrant Hotpot
Mala Wala Fragrant Hotpot offers both dry and soup based ma la, and of course we had to get both. Pricing was a bit confusing, so I decided to just pile my plate high without thinking of the cost.  Vegetables are priced at $1 or $1.80 per 100g, while Meat and Seafood set you back $2.80 and $3.20 per 100g respectively. The bases cost either $1.50 or $3. They don't really specify which items fall under what pricing category, so you just have to trust the cashier's calculations. The variety of ingredients were similar to popular ma la xiang guo stalls, according to my colleague who has been to the famed Ri Ri Hong Ma La Xiang Guo  as well as other Chinese hawker ma la stalls.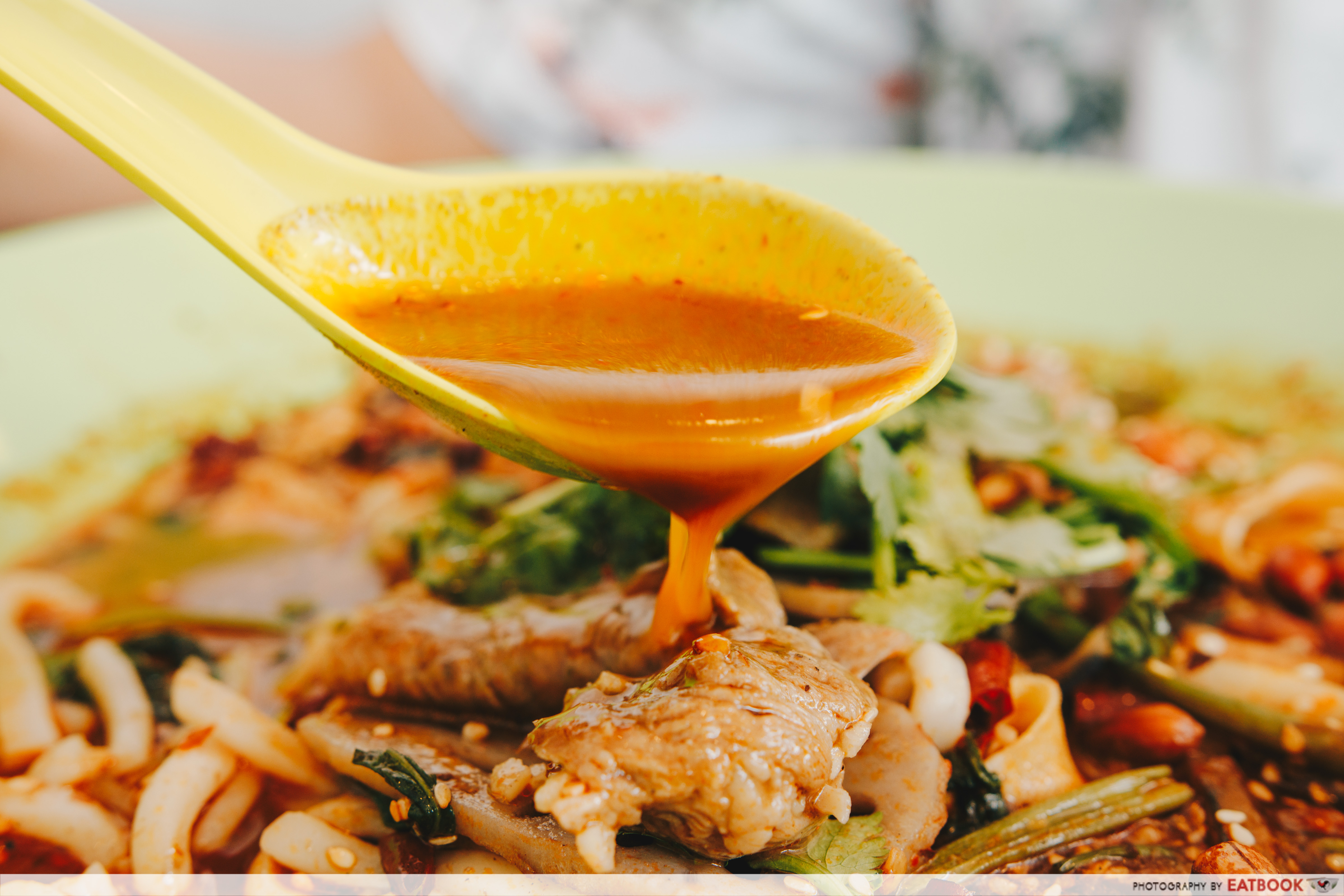 Mala Wala Fragrant Hotpot offers three spice level – mild, medium, very hot – and as a huge fan of spicy food, we went for the "very hot ". For the soup version, our ingredients were drowned in a devilishly red soup, before being topped with loads of dried chilli pepper, roasted peanuts, and sesame seeds. I took an inhalation of the steaming broth, and was greeted with a distinctive peppery smell boasting a touch of fragrant herbs.
Bracing myself for a fiery burn, I gingerly took a spoonful of the soup. However, the ma la broth wasn't as spicy as it smelled, and it took a few more sips for a slight numbing sensation to kick in on my taste buds. The soup wasn't as oily as it looked too, and did not coat my tongue with a greasy film.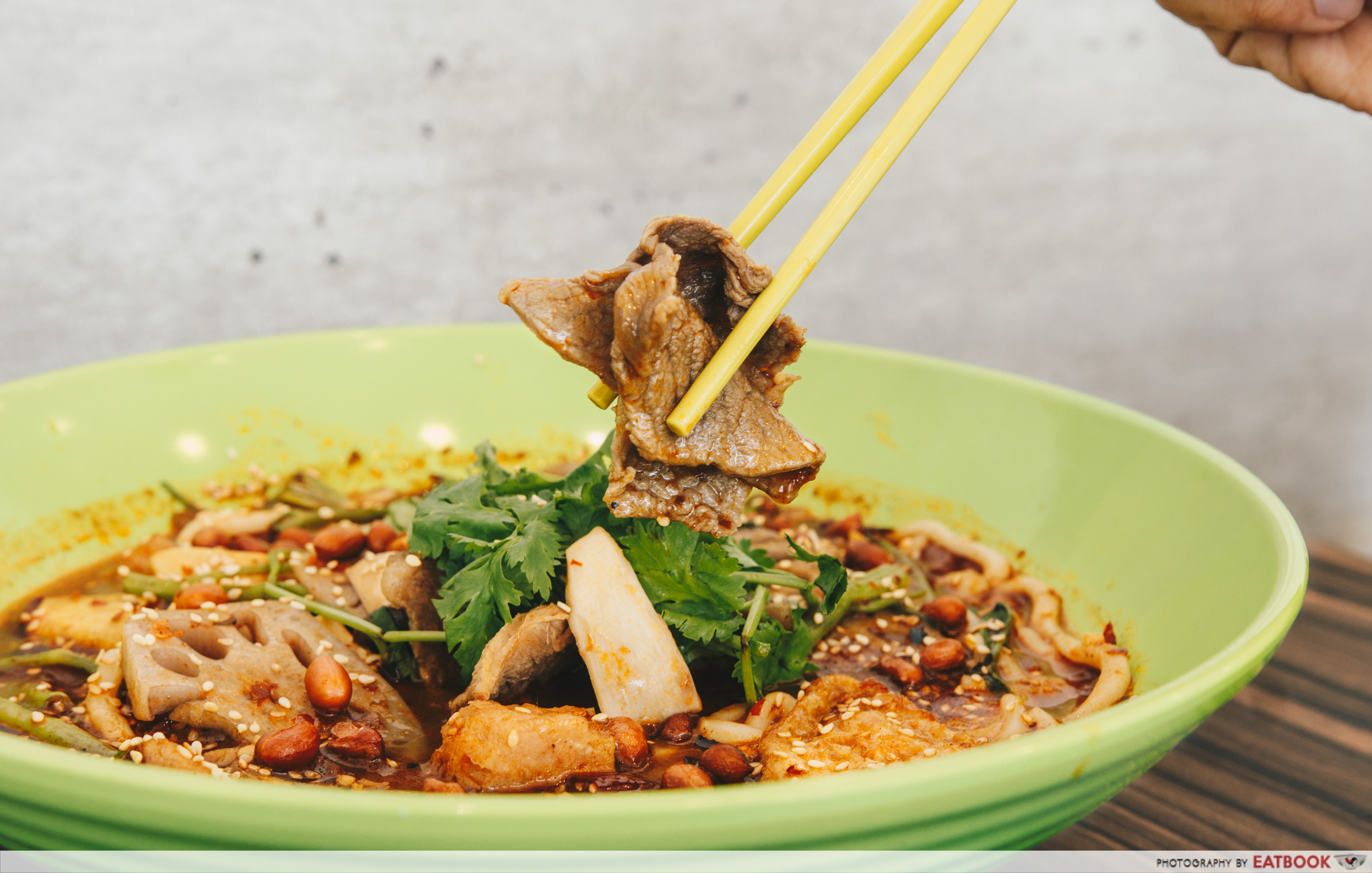 We had some sliced beef to go along with the soup. It was rather thick, making it quite tough and chewy; it was a workout for my jaws. But it did well in absorbing some flavour from the soup, making it taste savoury and slightly peppery. As a trypophobic who's easily triggered by holes, I convinced myself to try the lotus roots. It was rather pleasant, as it added an addictive crunch to the dish.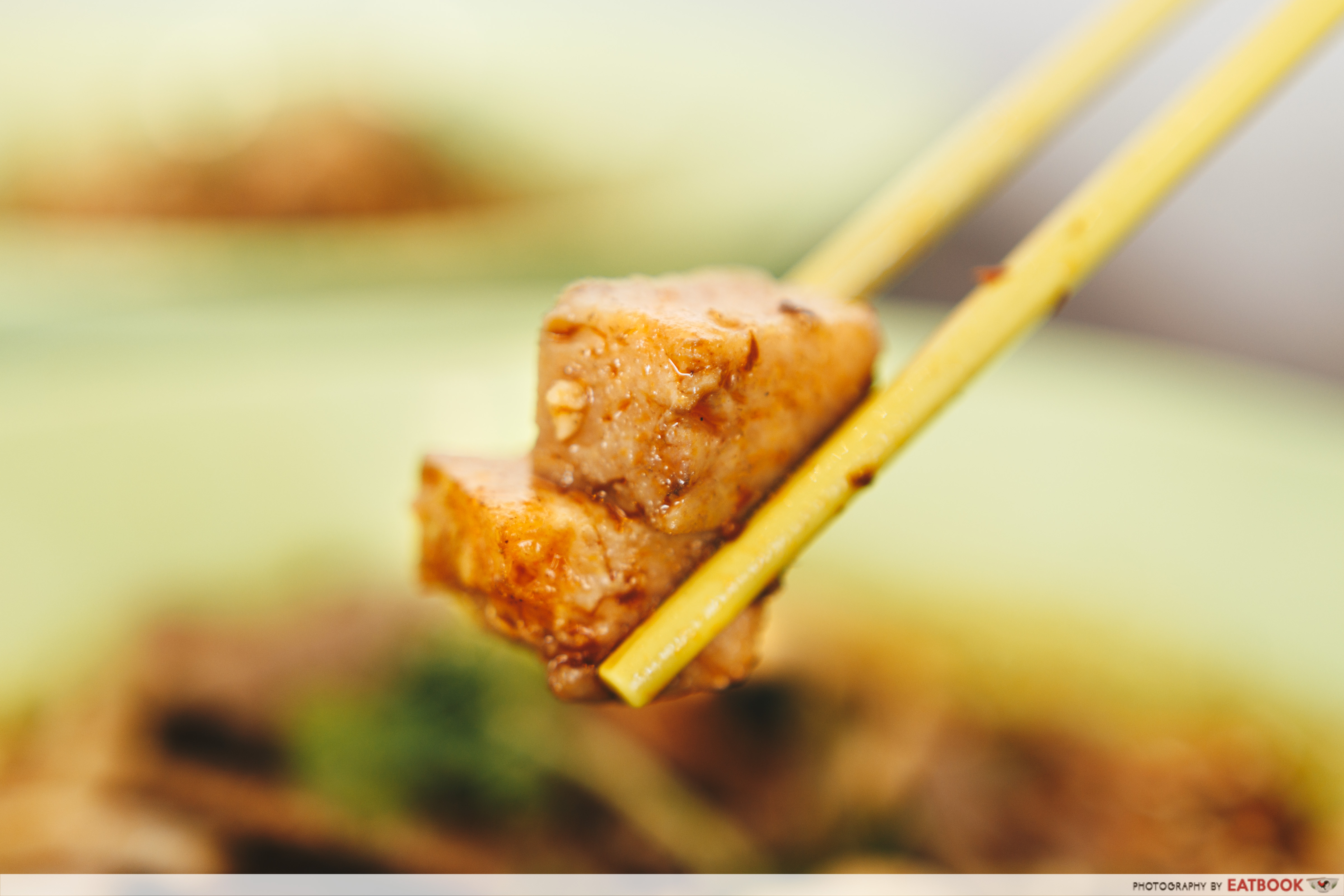 It was my first time seeing chicken luncheon meat, and it made a great choice, as it absorbed the scrummy broth, while delivering a salty touch with each bite.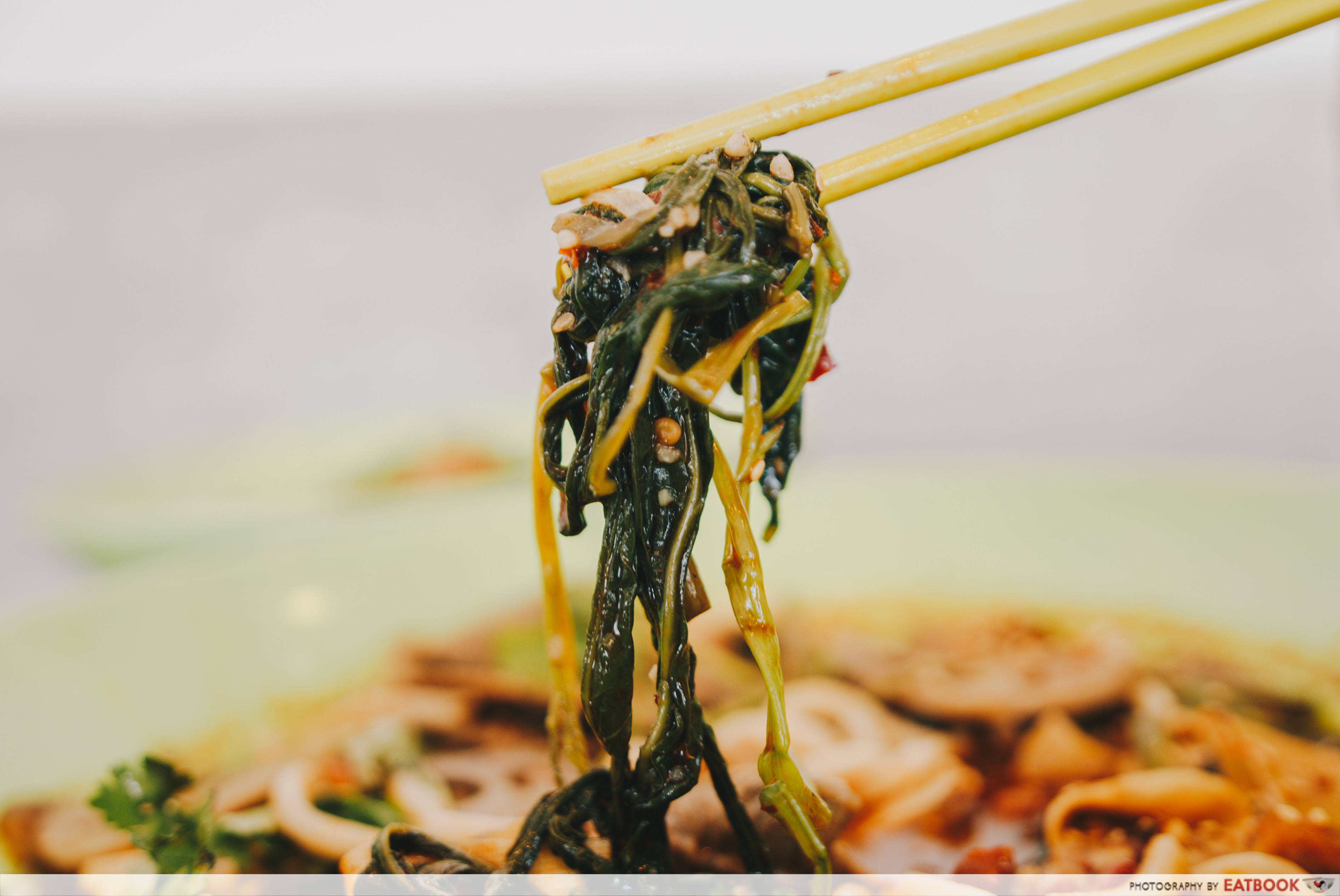 We had some kangkung thrown in the mix as well. The leafy green went pretty well with the soup and reminded me of kangkung belacan.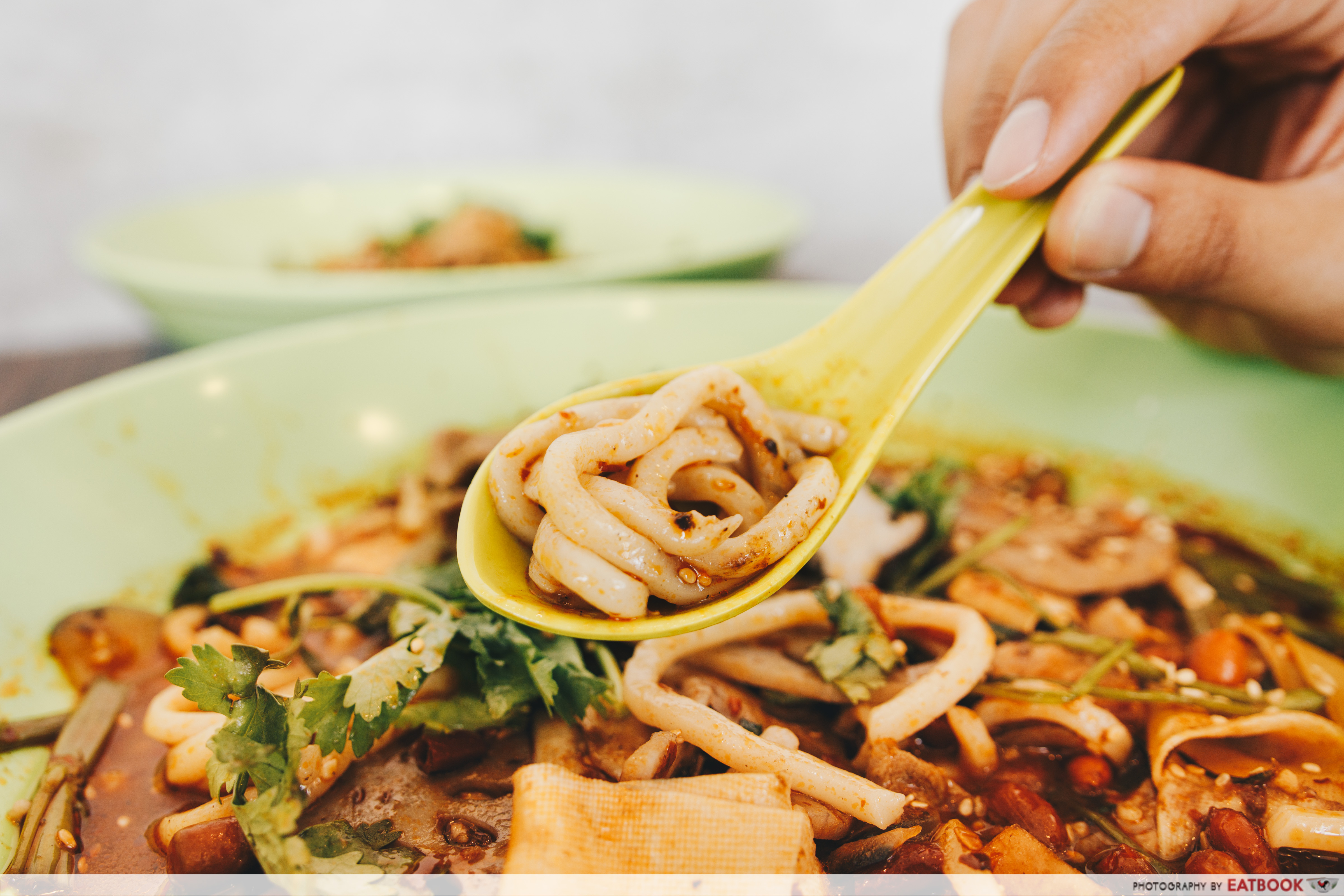 For staples, we decided to add in udon, which is apparently uncommon in ma la xiang guo. We slurped the plump udon noodles and found that it soaked up the flavours of the dish well. The udon was also not too tough or mushy, with an ideal chewy texture.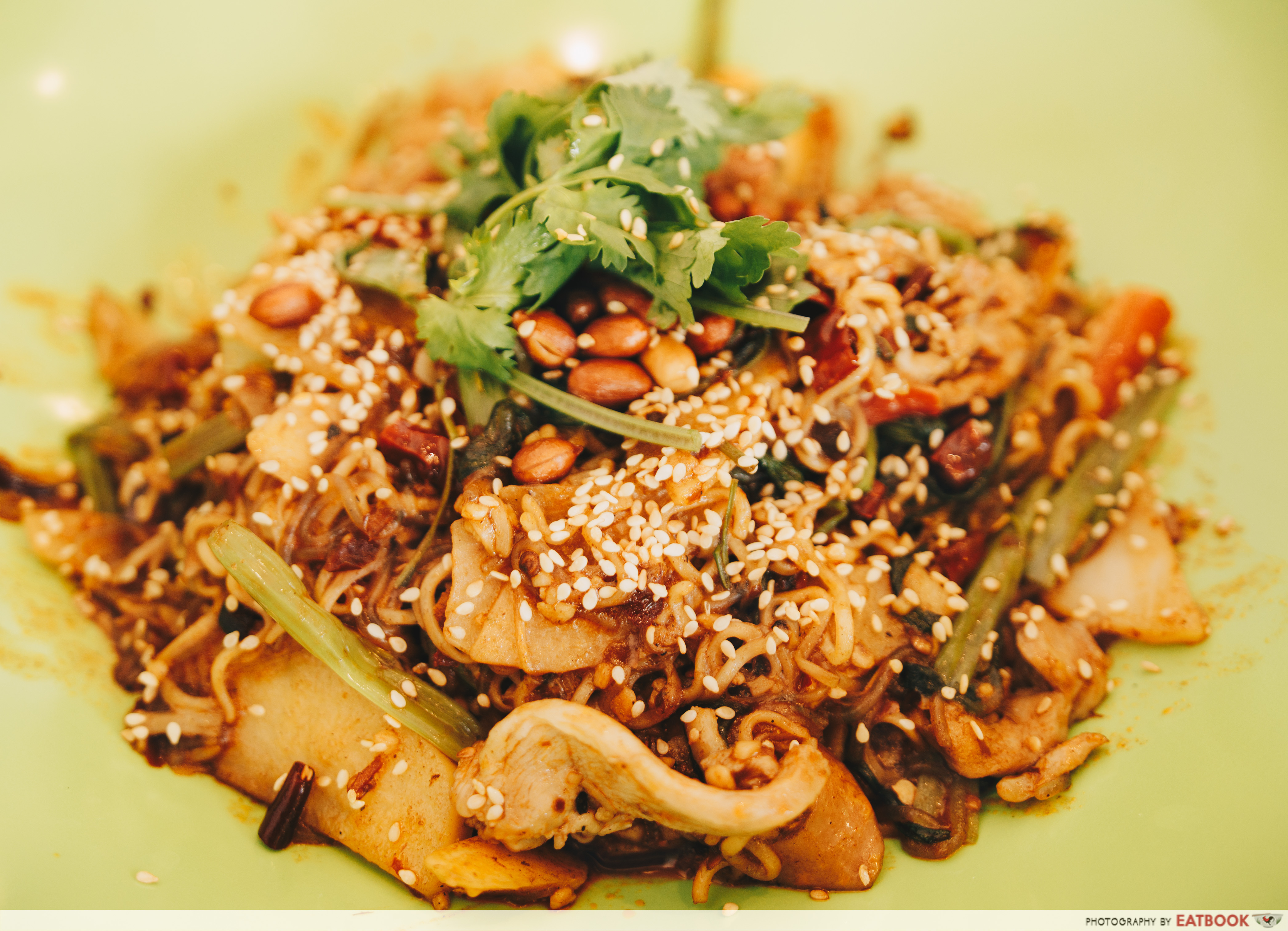 Greed bested me and our dry ma la added up to $15.20. Choosing "very hot" again, our overflowing bowl consisted of chicken, Maggie Mee noodles, tang hoon, bok choy, sausages, crab sticks, potato, and portobello mushrooms.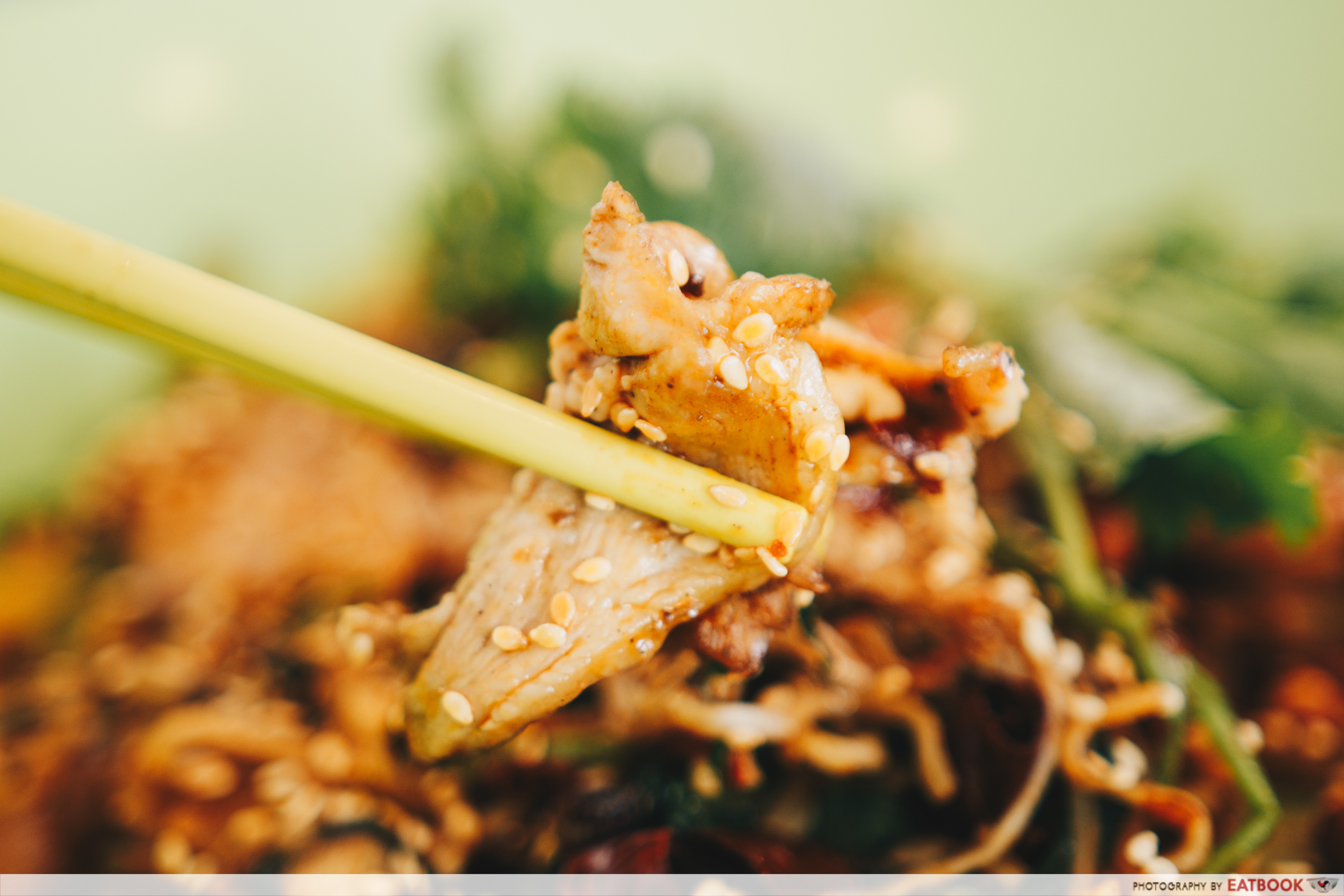 The sliced chicken was so much better as compared to the beef. It was tender and bite-sized, making it easy and enjoyable to eat. It was also laced with the piquant ma la oil, giving it a spicy kick.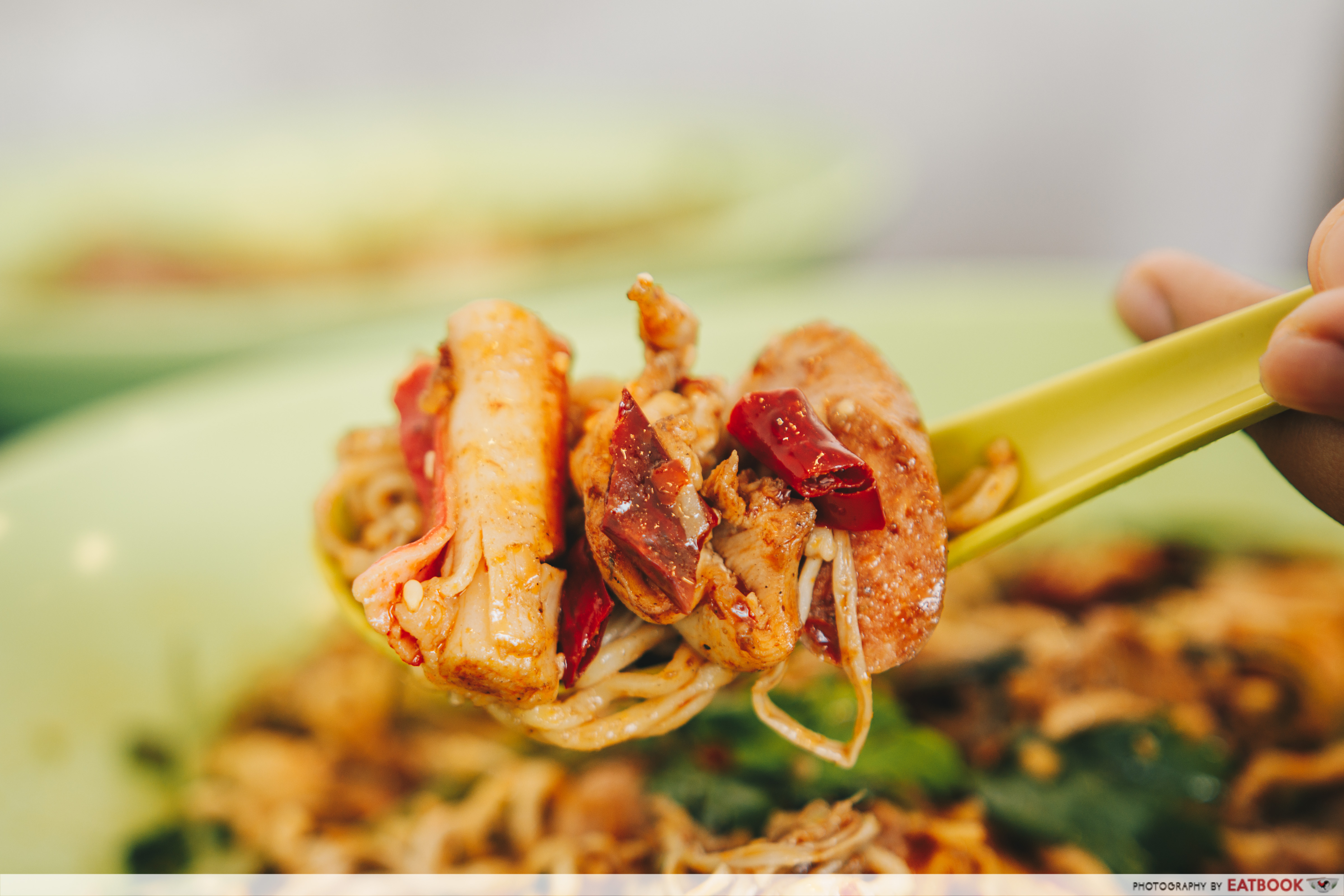 The tender chicken, savoury sausage, and crab stick went well with the springy maggie noodles. My colleague shot a dubious look at me, as I picked out the dried chilli peppers and ate them. It was rather addictive as it burst with spiciness. Perhaps I am more resilient towards spicy food, but my colleague was constantly sweating and reaching out for her teh peng.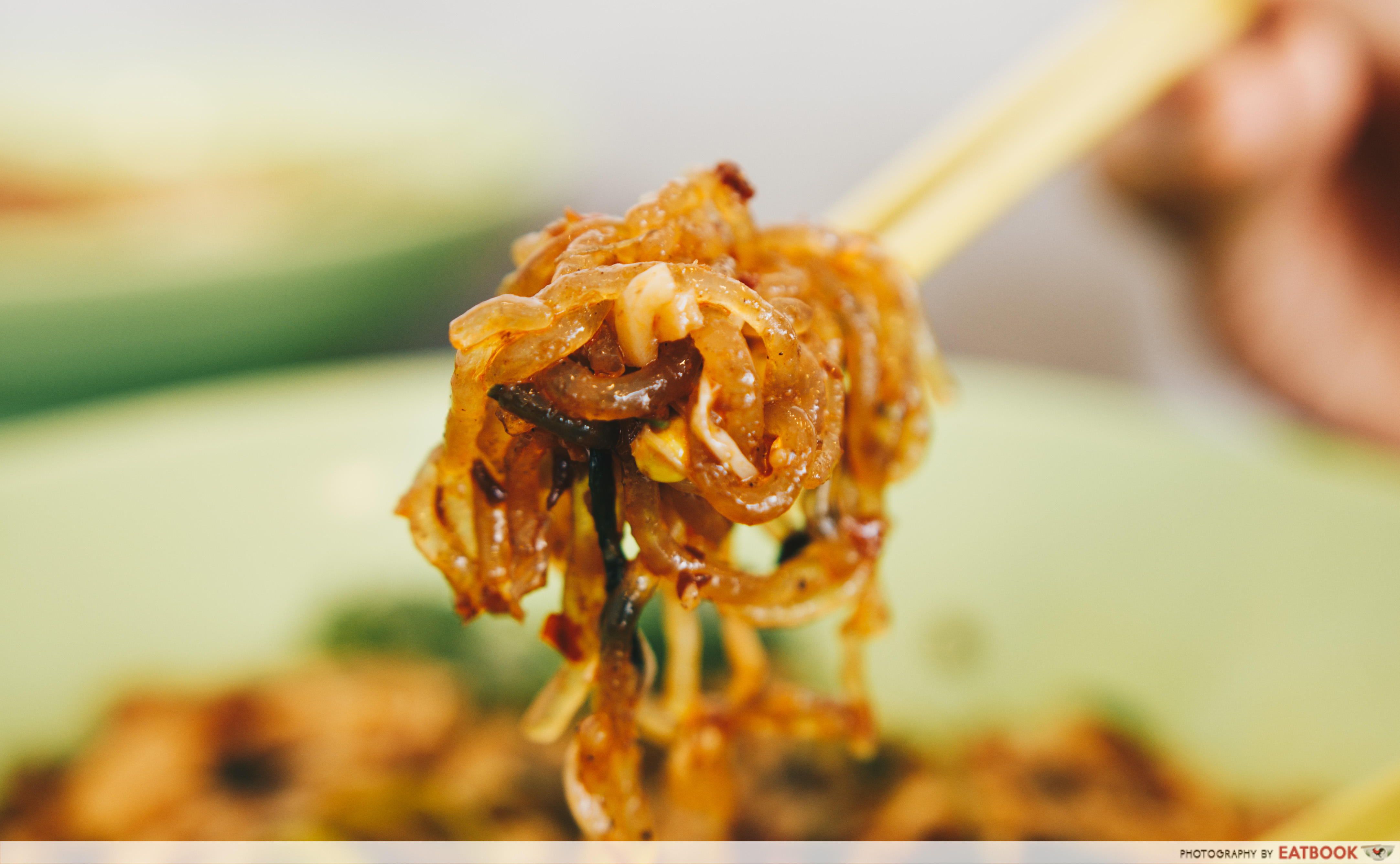 According to my colleague, tang hoon are a must-have in every ma la xiang guo, as it does a good job at soaking up the picante sauce. The glass noodles were silky smooth, although I didn't like that it was cut into short strands; I much prefer my noodles to be very long so I can slurp it with satisfaction.
Ambience at Mala Wala Fragrant Hotpot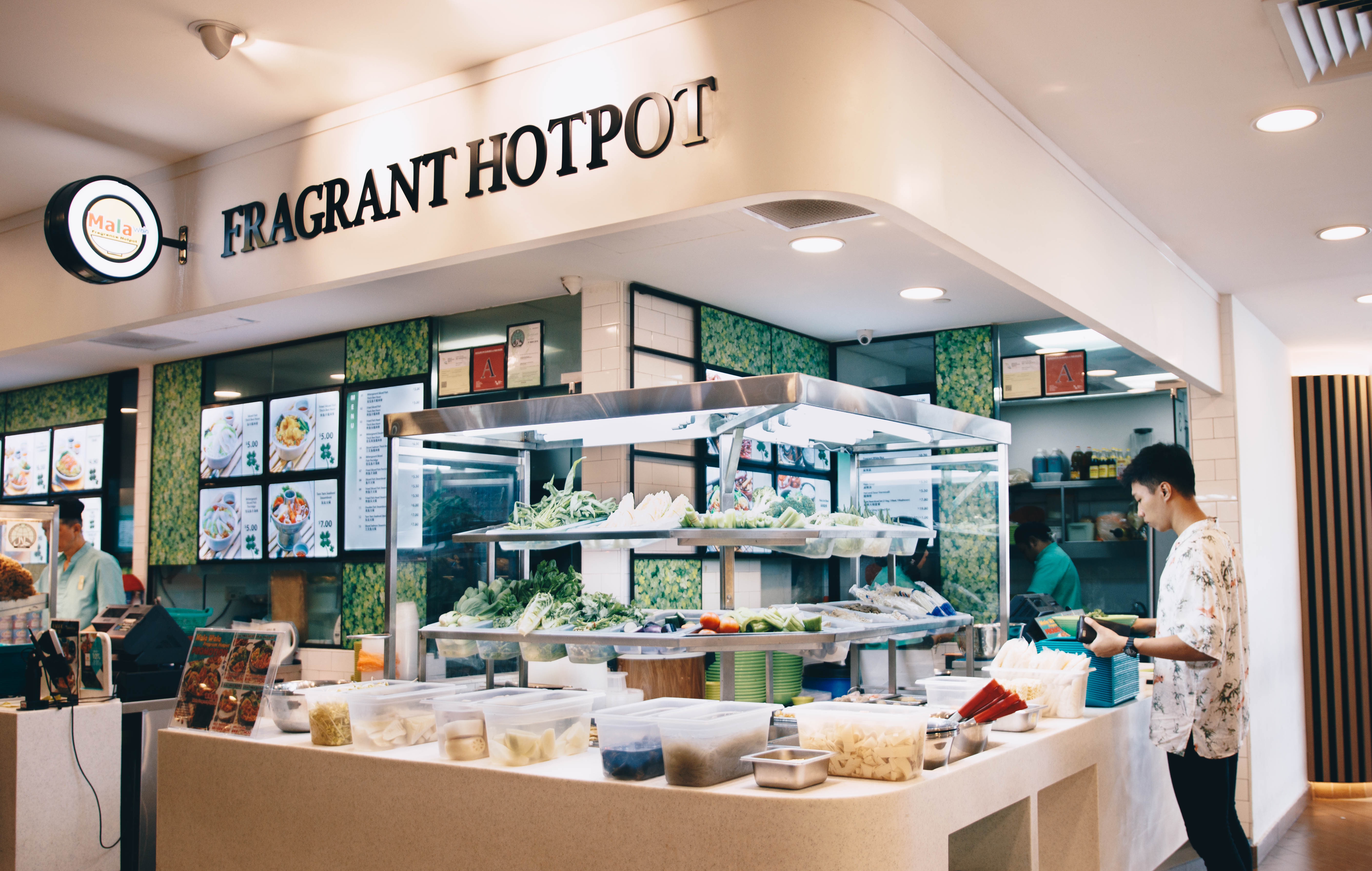 Situated at the corner of Food Junction, it's easy to spot Mala Wala Fragrant Hotpot. The ingredients were fresh and the counter was kept clean. I was easily swayed by the plethora of ingredients displayed. If you're fickle minded like me, they have a standard ma la set available too. If you're planning to drop by during peak periods, remember to bring your tissue packet to chope your seat.
The verdict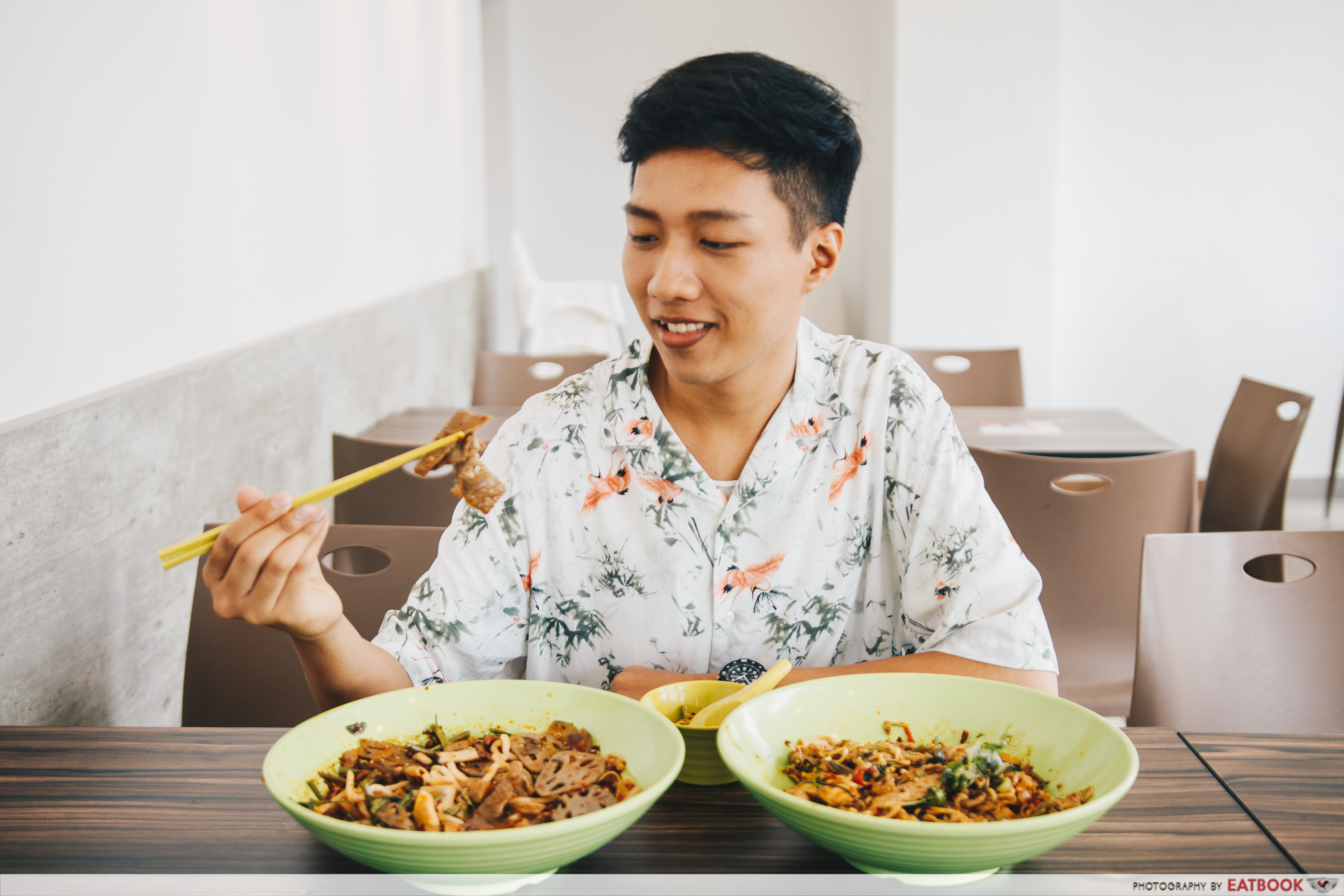 For spice enthusiasts like me, I enjoy seeking new food to set my tongue ablaze. Mala Wala Fragrant Hotpot is great for beginners who'd love to try out spicy food, but for those who can handle the heat, you might find the spice level here a little underwhelming. Nonetheless, the price is quite affordable if you share it with your friends, and I see myself coming here again if I ever crave for some ma la xiang guo.
Address: 3 Simei Street 6, #04-04, Food Junction, Eastpoint Mall, Singapore 528833
Opening hours: Daily 10am to 10pm
Mala Wala Fragrant Hotpot is awaiting for halal certification.
This is an independent review by Eatbook.sg.
Summary
Pros
– Affordable
– Located in a shopping mall
– Plethora of fresh ingredients
Cons
– Tough beef slices
– Not spicy enough
Recommended Ingredients: Tang Hoon, Chicken Luncheon, Udon, Sliced Chicken
Operating Hours: Daily 10am to 10pm
Address: 3 Simei Street 6, #04-04, Food Junction, Eastpoint Mall, Singapore 528833