Chung Cheng Chilli Mee in Golden Mile Food Centre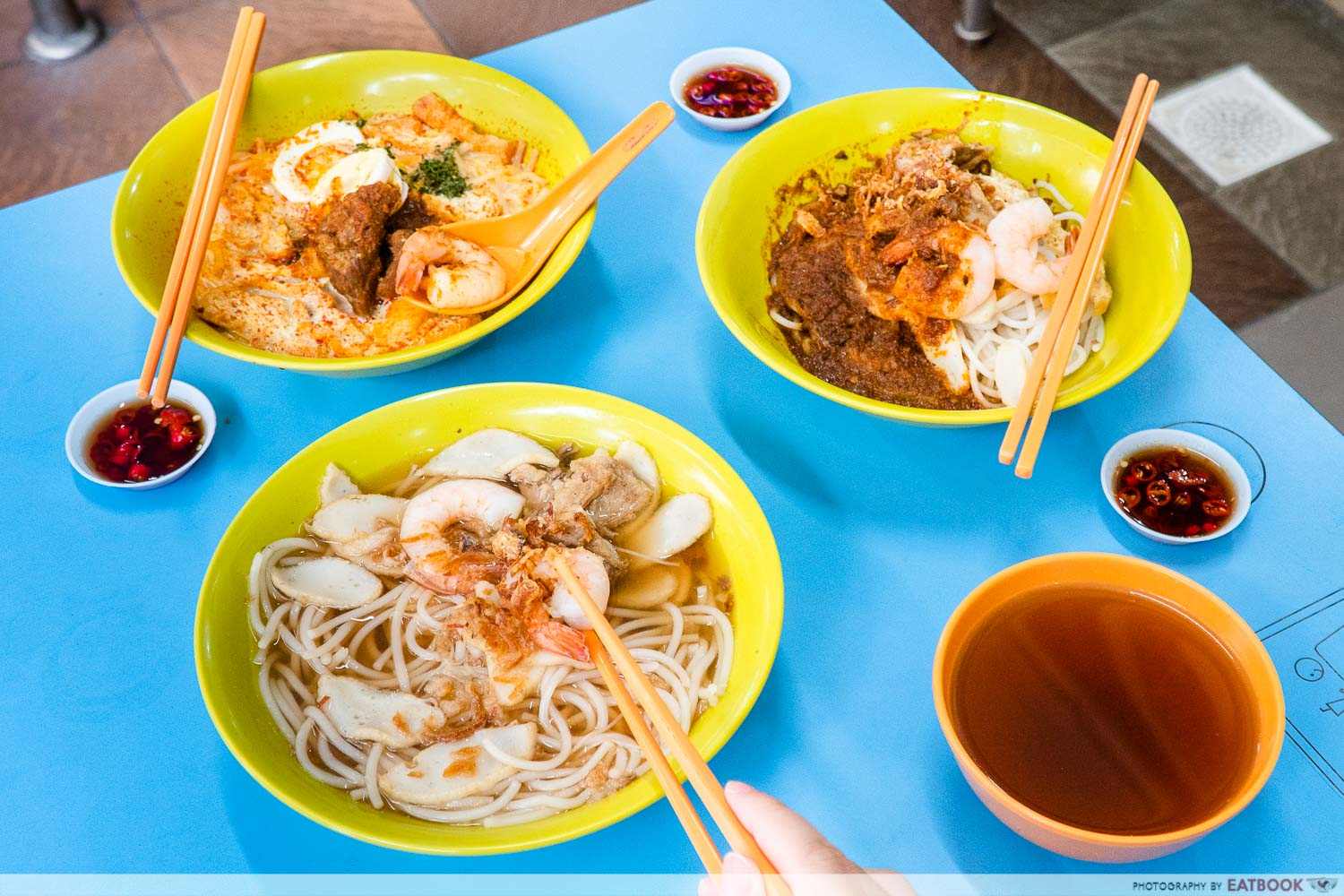 Golden Mile Food Centre is one food heaven to visit for affordable and yummy meals. Located in the popular food centre is Chung Cheng Chilli Mee, which has a line as soon as it opens every day.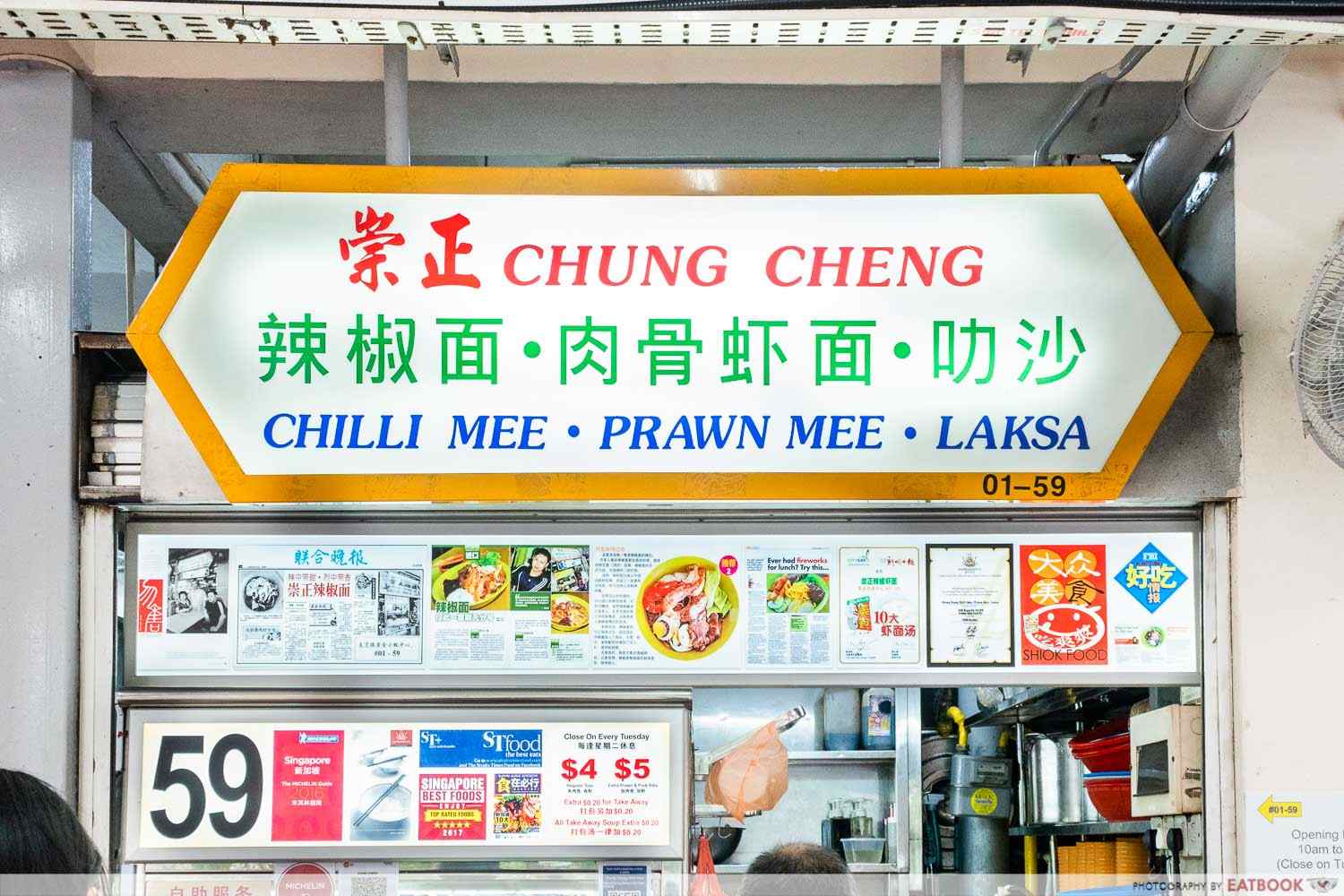 It didn't take my colleague and I long to decide what we were getting, as there were only three items on the menu. Here, you can choose your choice of noodles from six options: kway teow, thick bee hoon, mee pok, yellow noodles, thin bee hoon, and mee kia.
One Prawn Noodle Review: Silky Smooth Prawn Noodle Broth By Former Burnt Ends Chef
Food at Chung Cheng Chilli Mee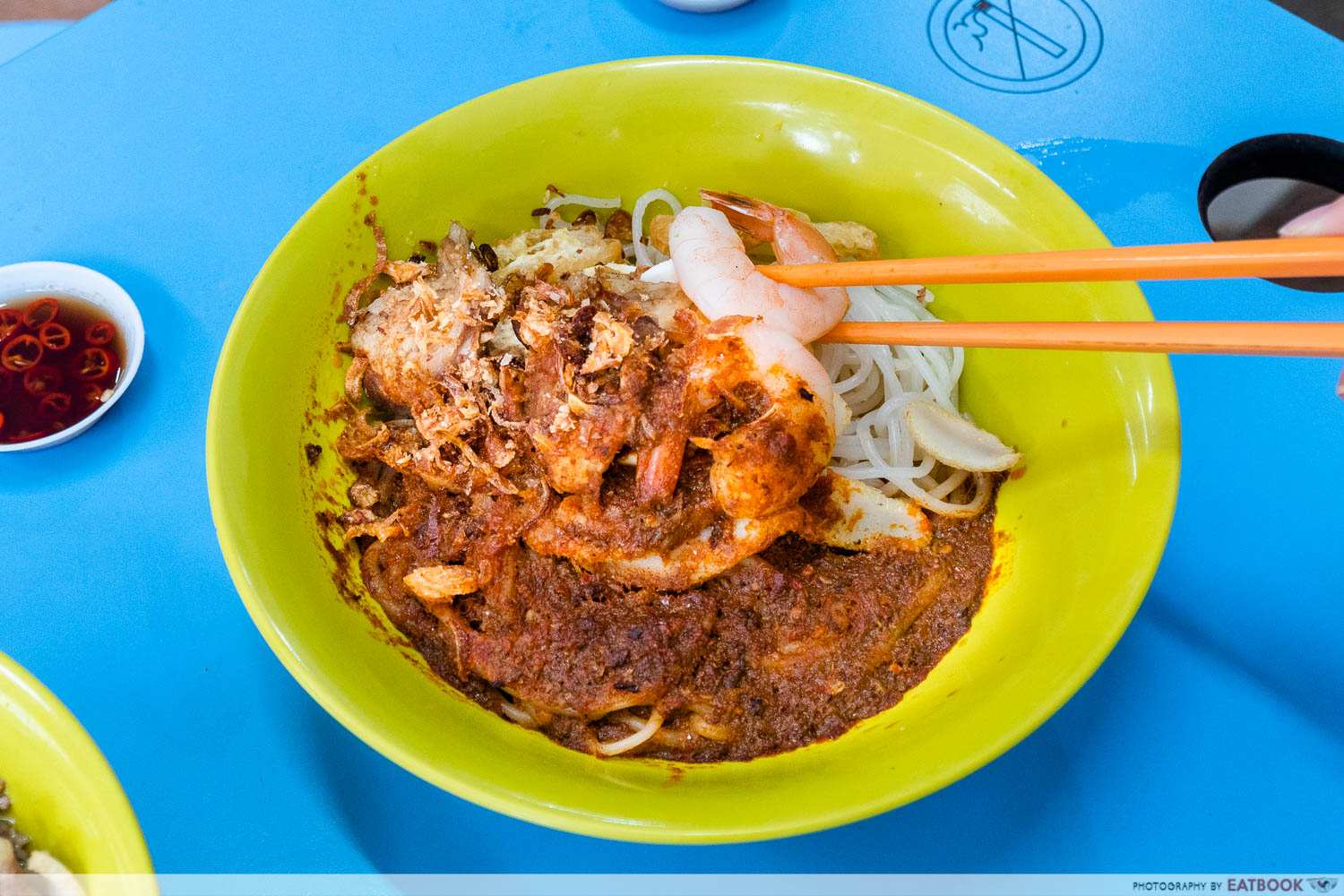 We decided to get all three items with thick bee hoon as our choice of noodle. The signature Chilli Mee ($4) comes with tau pok, fish cake, boiled egg, prawn, pork ribs, and a generous dollop of their house-made belacan chilli. It also came with a bowl of soup on the side.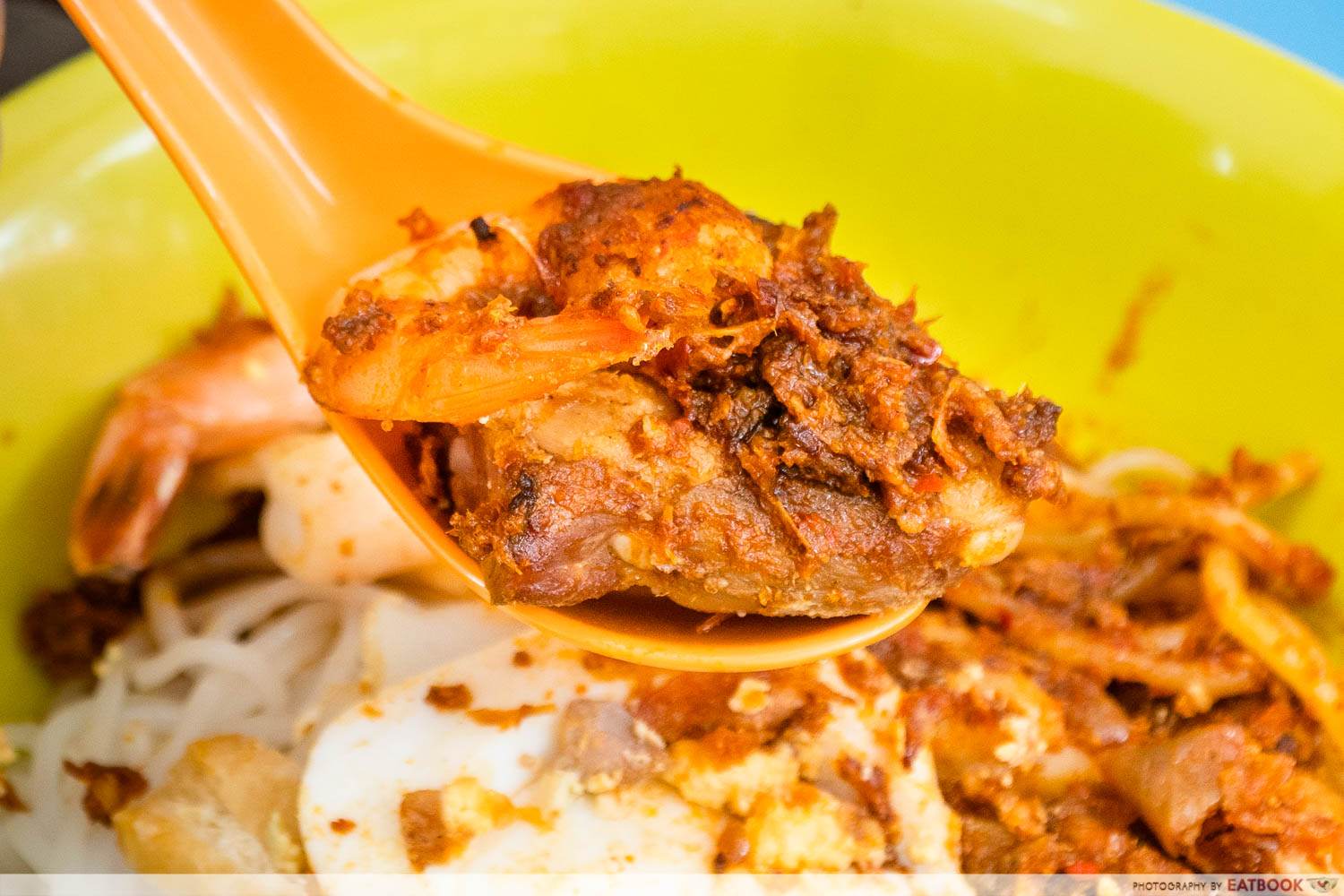 The belacan chilli leaned towards the savoury side, with a slight hint of sweetness to it. I like that the generous serving of chilli helped to coat every strand of noodles, making every slurp full of flavour. I also paired the chilli noodles with some chilli padi for an extra spicy kick.
Out of all the toppings, I was very impressed with the pork ribs. The pork ribs were rather tender, and paired nicely with the savoury-sweet belacan chilli. The prawn was also another favourite of mine, as it had a slight crunch with a hint of sweetness.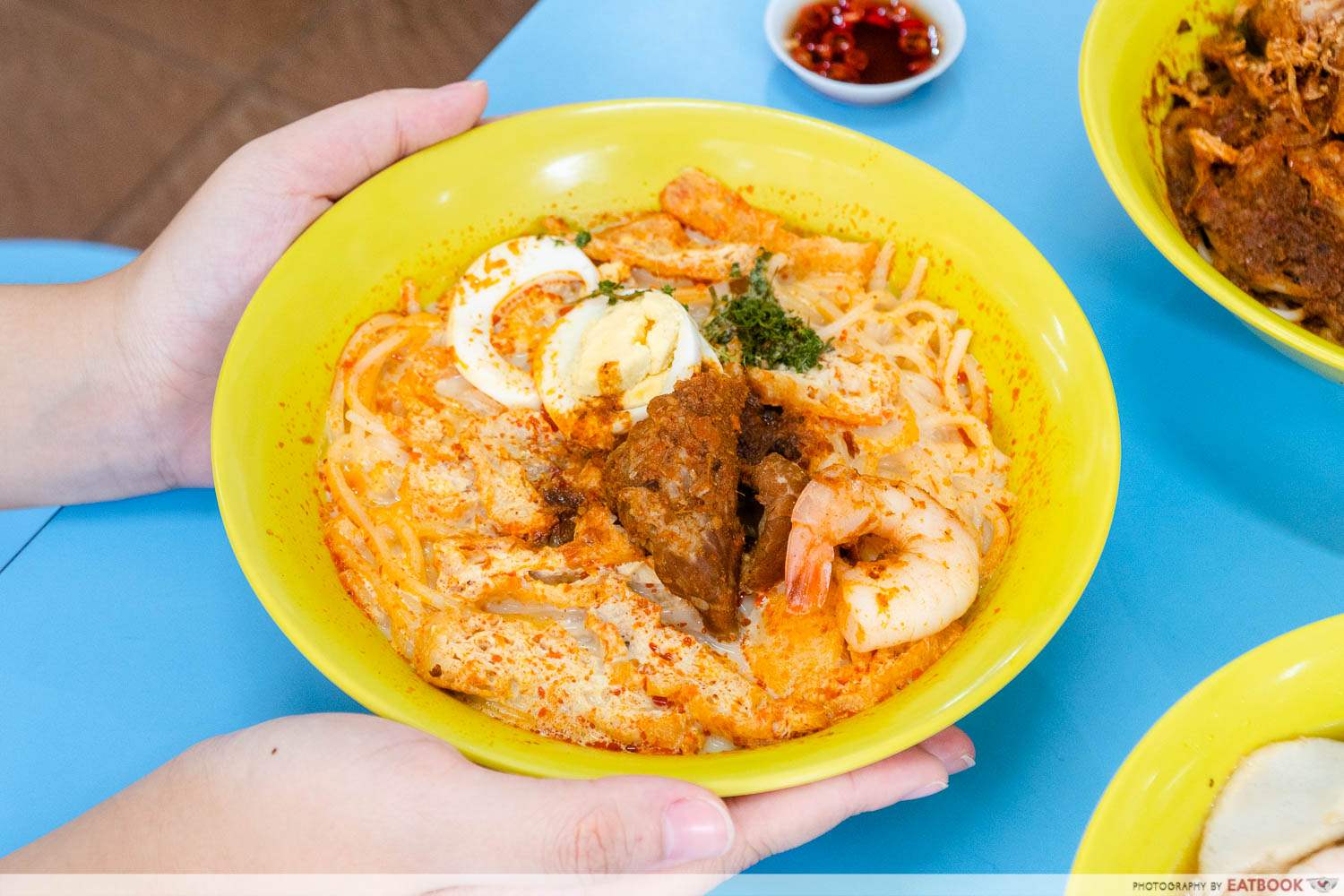 We moved on to the Laksa ($4). This bowl of laksa was so visually appealing that at least three passersby came forward to ask where we got the dish from. The toppings for this were the same as the chilli mee.
YouFu Fried Hokkien Prawn Mee Review: Young Hawker Makes Waves At Golden Mile Food Centre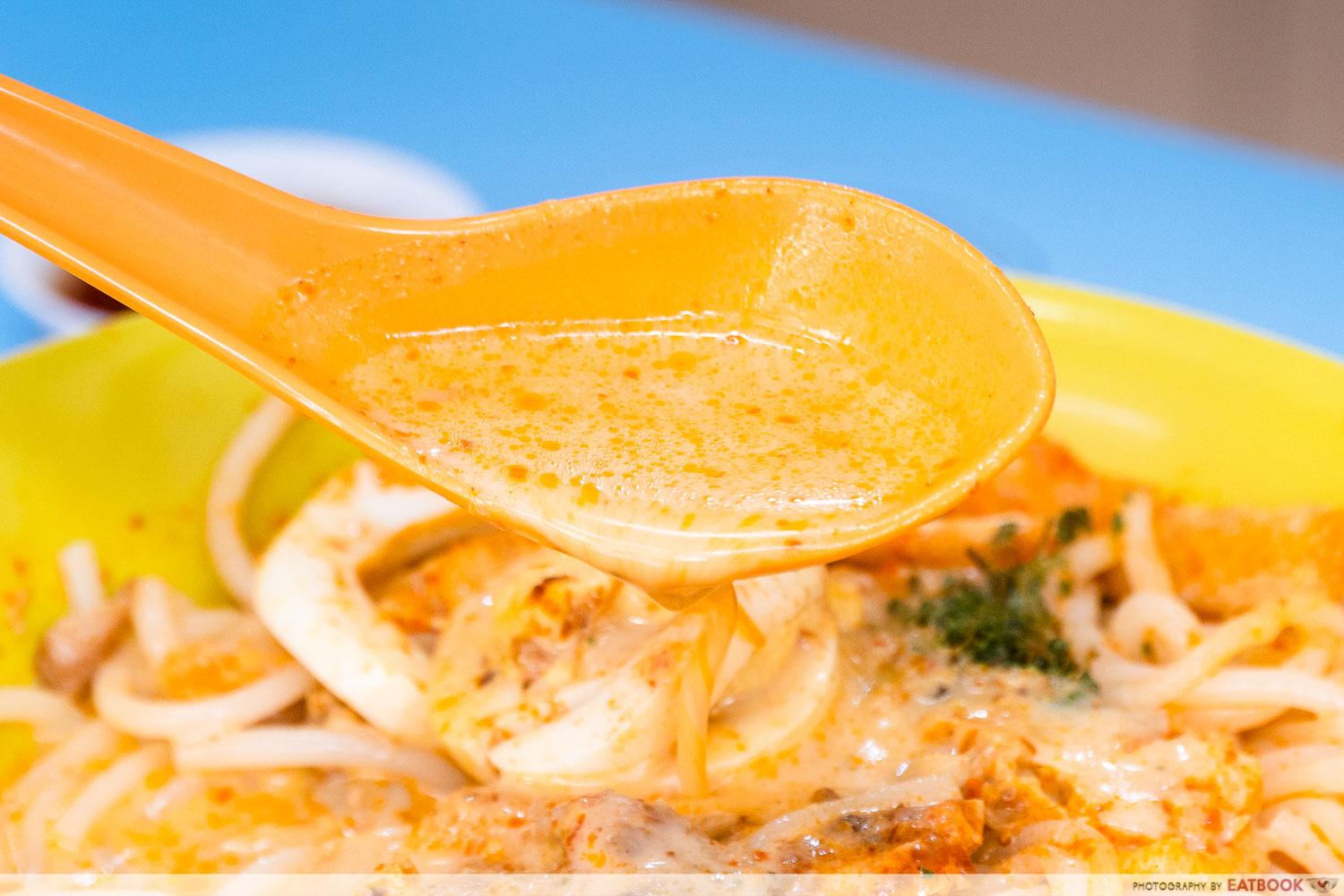 The broth, which had a very faint coconut flavour, was mildly spicy, making it perfect for those who can't take chilli. It was a lot more creamy and milky, which can get jelak at the end, but the hint of spice helped to balance the flavours out. This laksa, however, does pale in comparison to the other ones I've had, which are much more flavourful.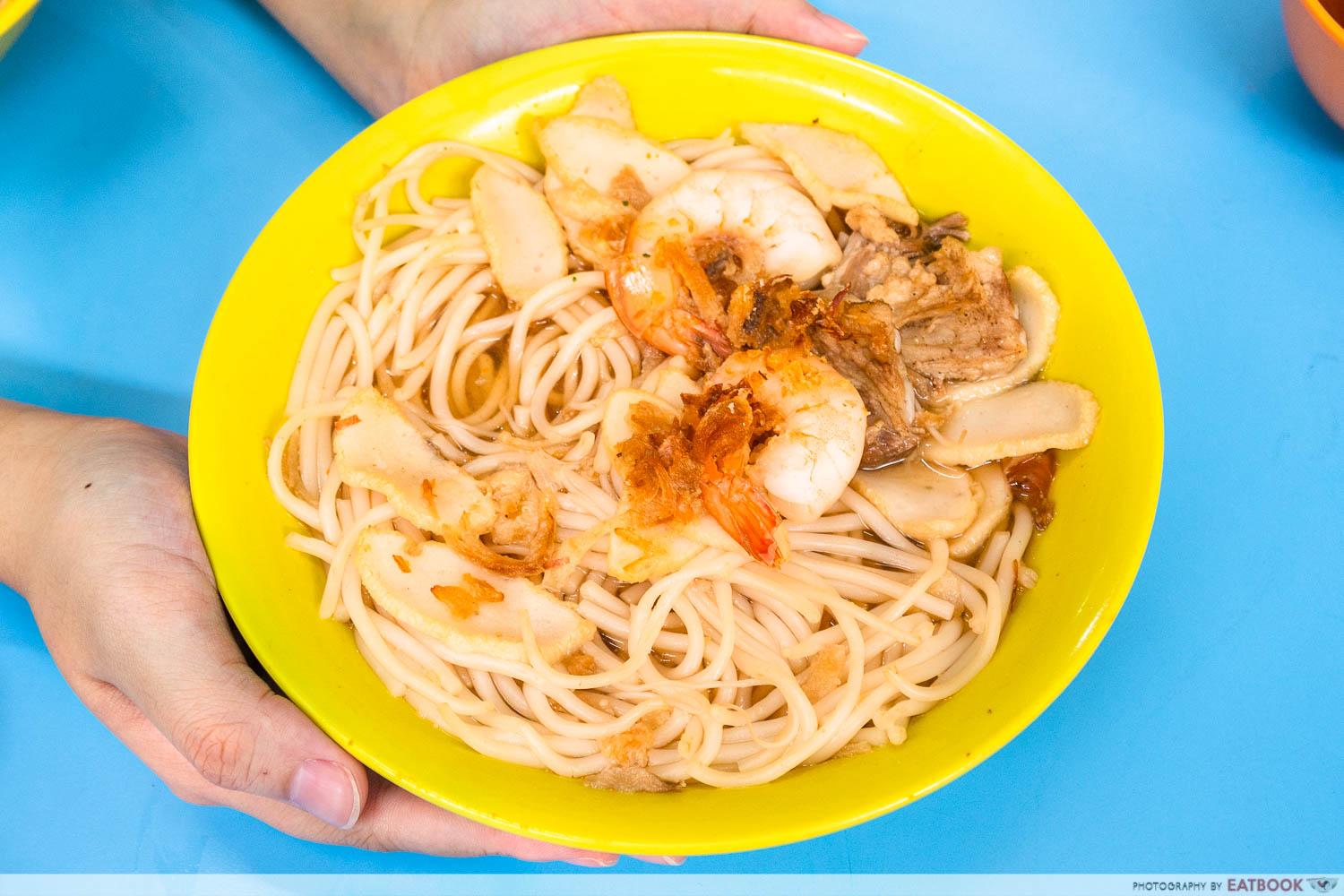 Our last dish was the Pork Ribs Prawn Mee ($4). I caught a whiff of the fragrant prawn-infused broth even before I grabbed a spoon and took a sip. The broth was not as thick as the ones in other prawn noodles I've had before, but it was still flavourful with a well-balanced sweet and salty flavour.
The prawn and pork ribs were pretty much consistent throughout the three dishes. If you find that the portion isn't enough for you, I'd suggest going for the large portion by topping up $1 to get extra prawns and pork ribs.
Ambience at Chung Cheng Chilli Mee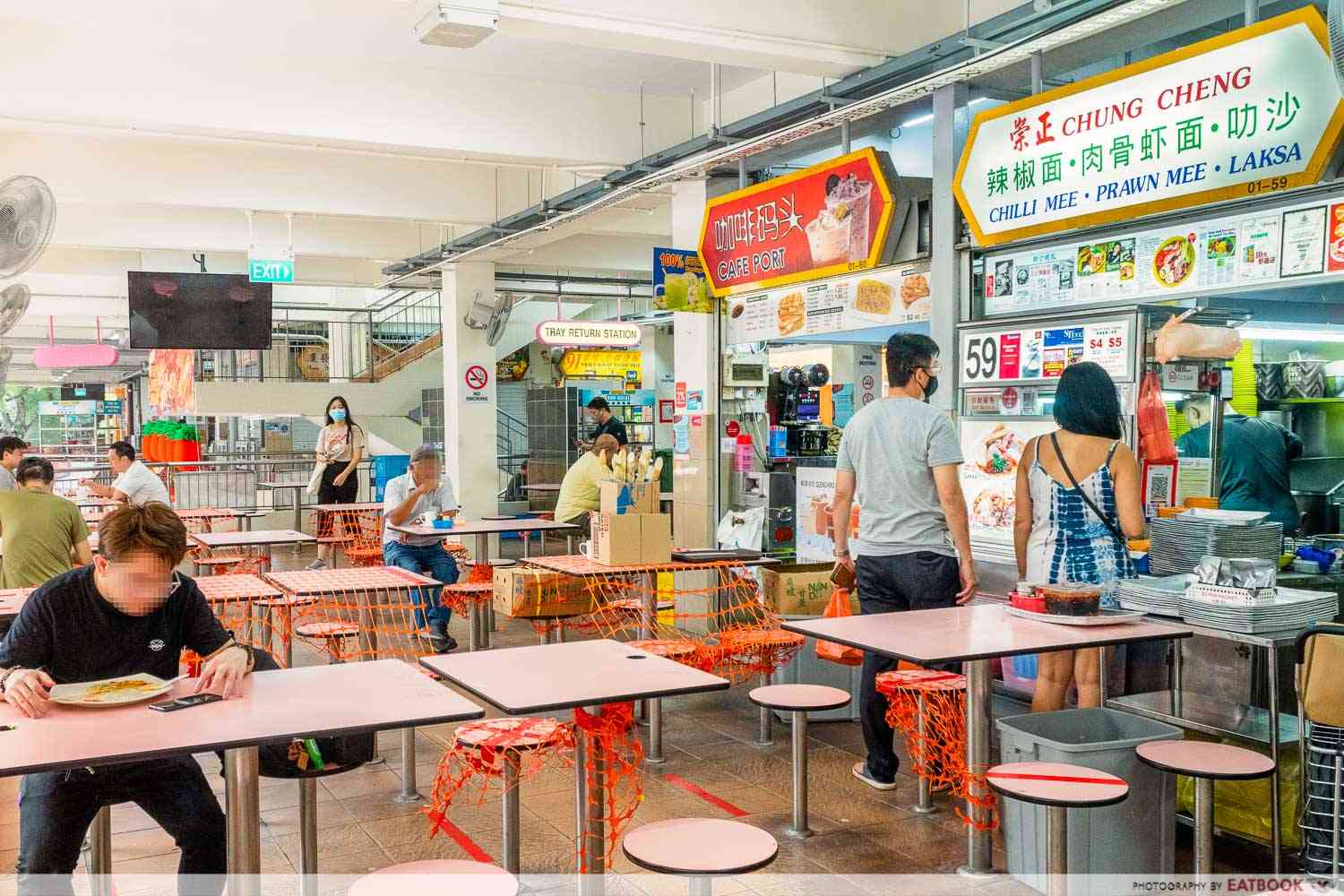 Nicoll Highway MRT Station is a seven to eight-minute walk from Golden Mile Food Centre. When we searched for more information about the stall online, we realised that it was only open till 3pm. Upon arriving close to 10am, there were already three people waiting in line. Luckily, the queue went by quickly, so we didn't have to wait for long. The food centre was also rather spacious and breezy, so you'll feel comfortable and cool in Singapore's hot weather.
The verdict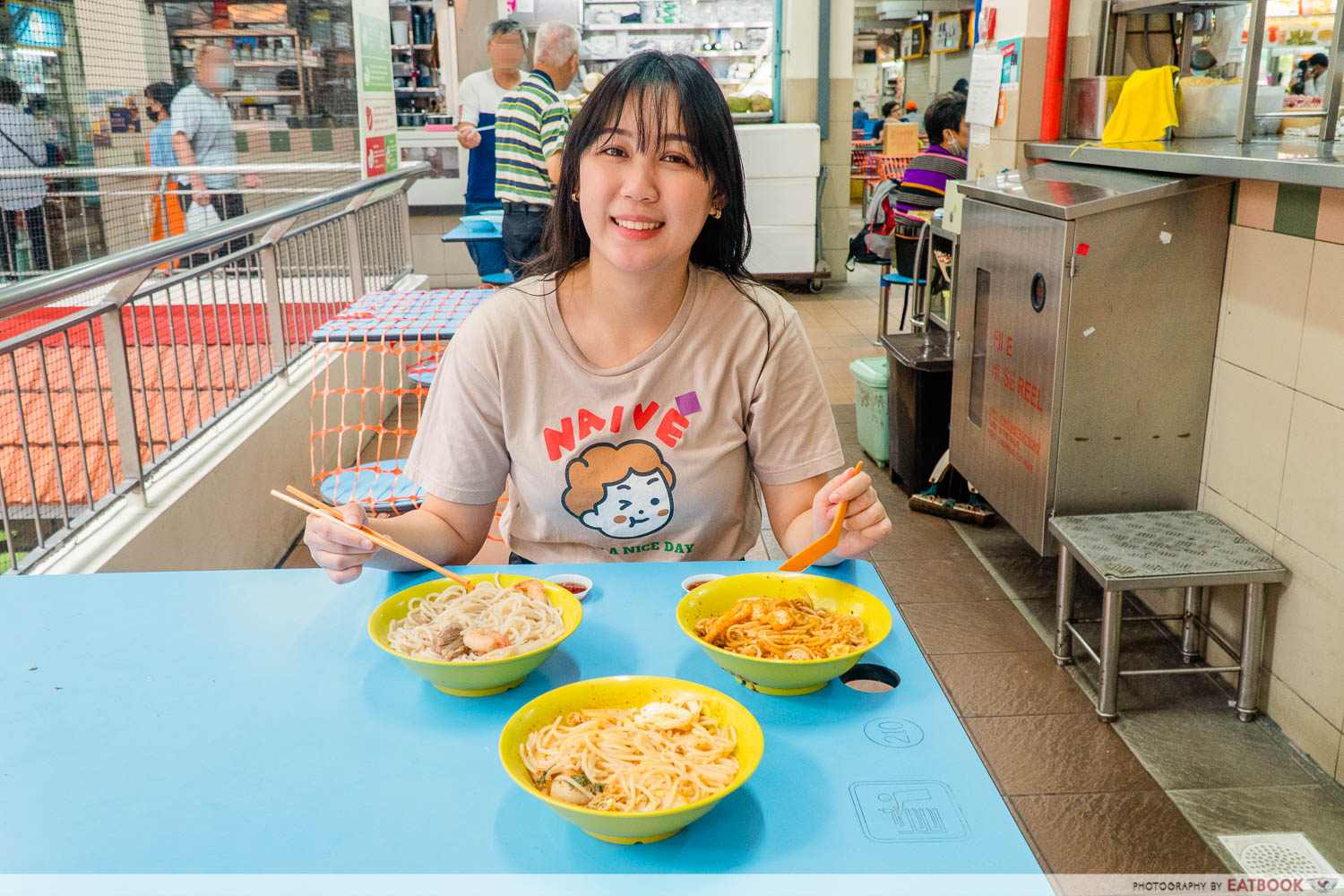 Given the price and portion of the noodles, Chung Cheng Chilli is worth trying. Although there were some aspects of the noodles that were lacking, for $4 a bowl, I can't quibble much about it. Personally, the location was a little far for me, so I wouldn't specifically come and get the noodles unless I'm passing by the area. 
For more food recommendations in Golden Mile Food Centre, check out our Wen Kang Ji review for XXL wonton mee, or you can also check out 75 Ah Balling Peanut Soup review for matcha tangyuan and more.
Address: 505 Beach Road, #01-59, Golden Mile Food Centre, Singapore 199583
Opening hours: Wed-Mon 10am to 3pm
75 Ah Balling Peanut Soup Review: Third-Generation Hawkers Keeping Tang Yuan Tradition Alive
Photos taken by Zu Yi Kong
This was an independent review by Eatbook.sg
Chung Cheng Chilli Mee Review: Popular Pan Mee With House-made Belacan Chilli, Laksa And Prawn Mee At This Hawker Stall
Chung Cheng Chilli Mee Review: Popular Sarawak-Style Mee With Long Queues In Golden Mile -

7/10
Summary
Pros
– Affordable
– Belacan chilli was flavourful
Cons
– Inaccessible location
Recommended dishes: Chilli Mee ($4), Laksa ($4)
Opening hours: Wed-Mon 10am to 3pm
Address: 505 Beach Road, #01-59, Golden Mile Food Centre, Singapore 199583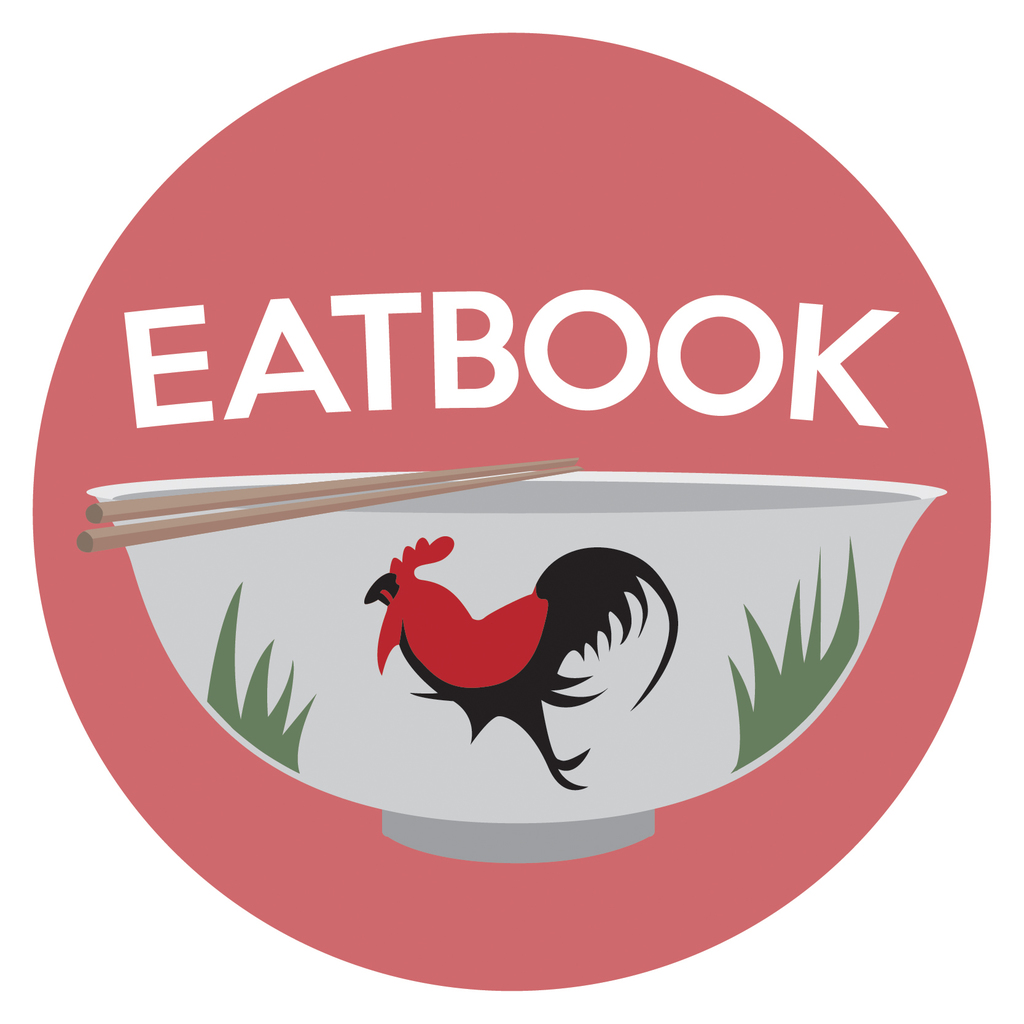 Drop us your email so you won't miss the latest news.