YouFu Hokkien Mee could be the new best hokkien mee in Singapore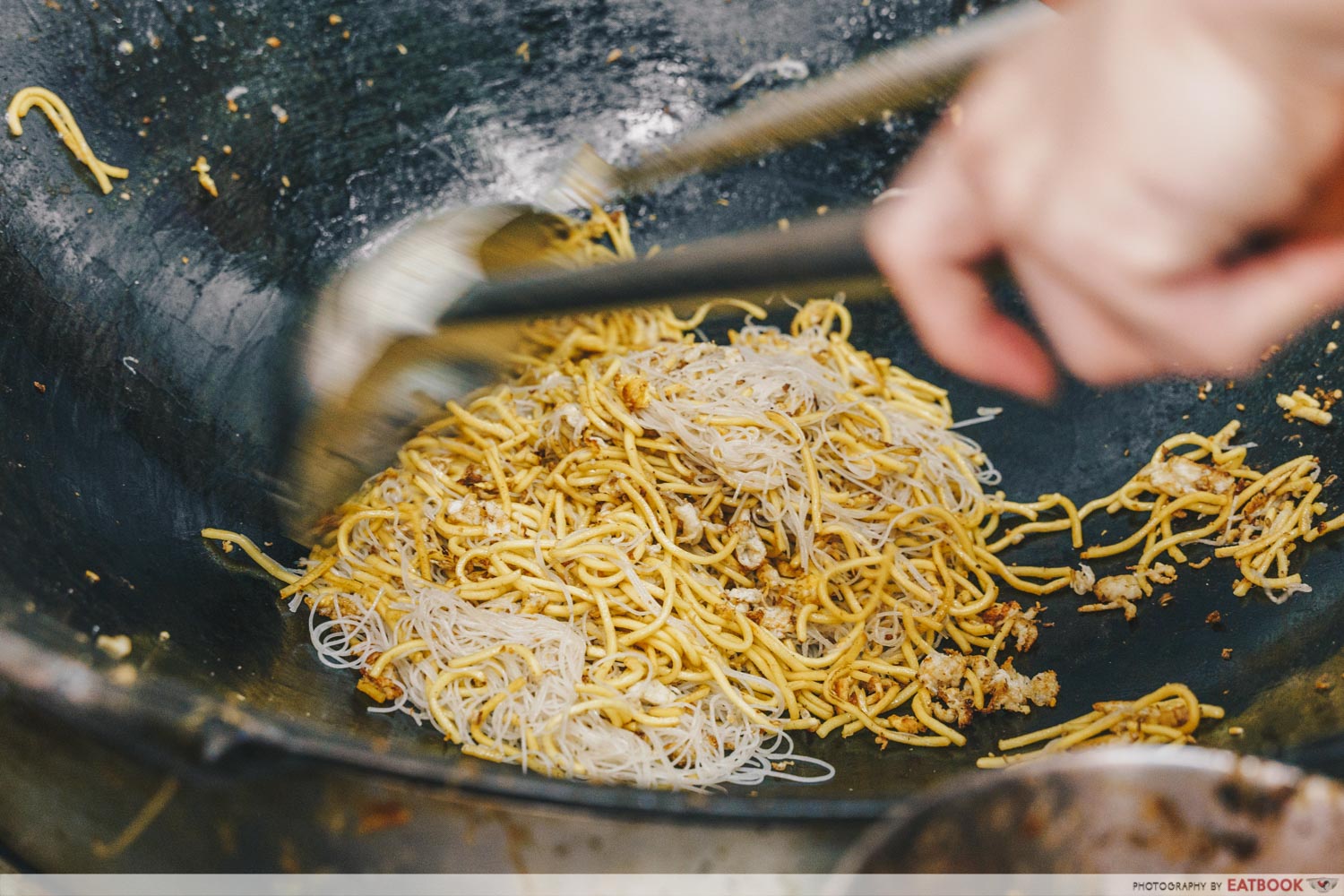 YouFu Fried Hokkien Prawn Mee in Golden Mile Food Centre is run by 21-year-old Andre and his dad. Named for himself and his brother, who helped him get the stall up and running, YouFu has breezed its way into the running for top hokkien prawn mee in Singapore.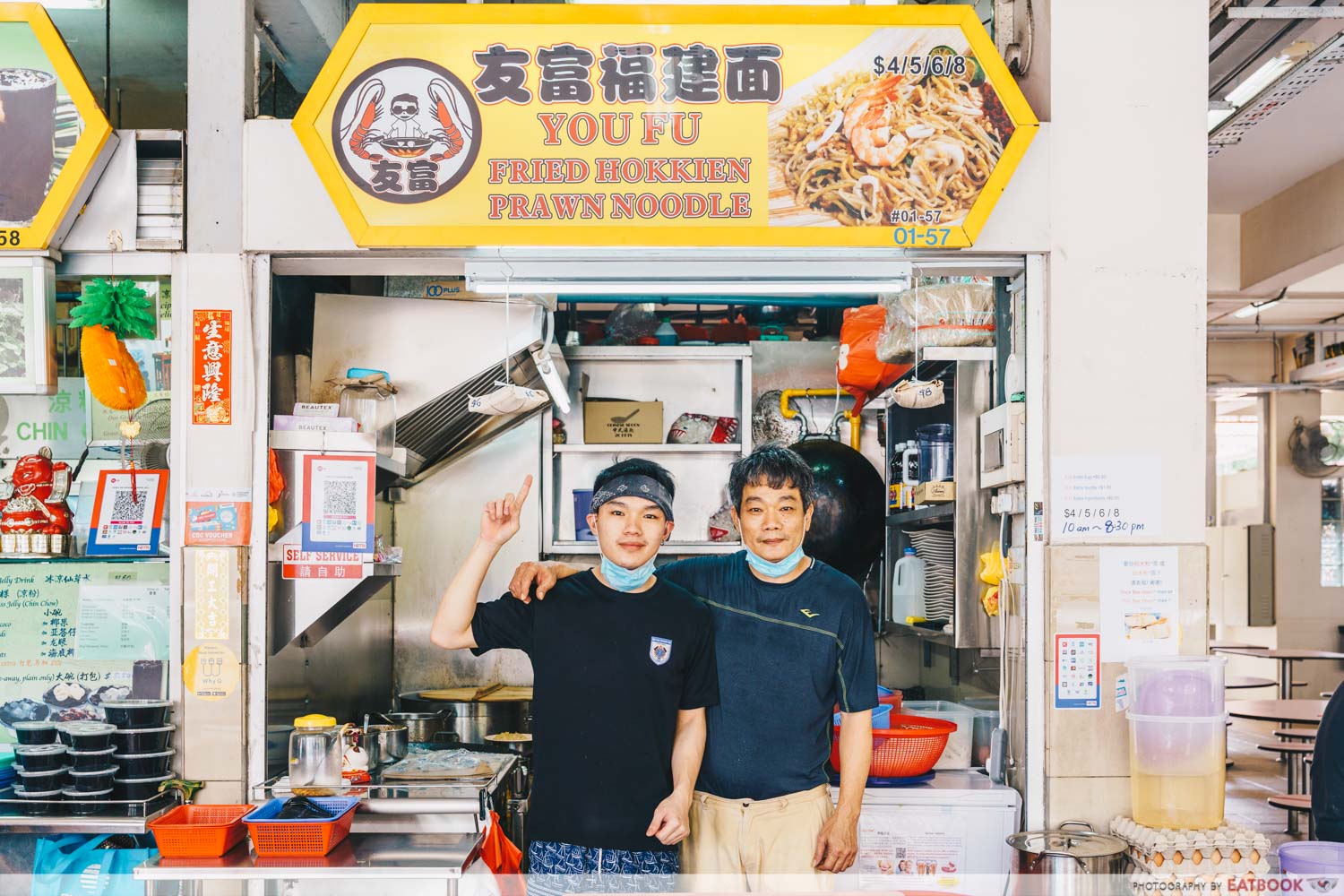 Andre was first inducted into the art of frying Hokkien prawn mee at the age of 14, when his dad used to run his own stall. Inspired to keep his dad's legacy alive, he decided to strike out and make his own mark on the circuit.
Food at YouFu Fried Hokkien Prawn Mee
From making his own chilli to frying his own lard, Andre has put every effort into serving up a plate of hokkien mee that speaks for itself. The broth that ties the dish together is boiled for at least eight hours with prawn heads, pork bones and other secret ingredients, including pig skin. How's that for a fried hokkien mee that gives your skin a collagen boost.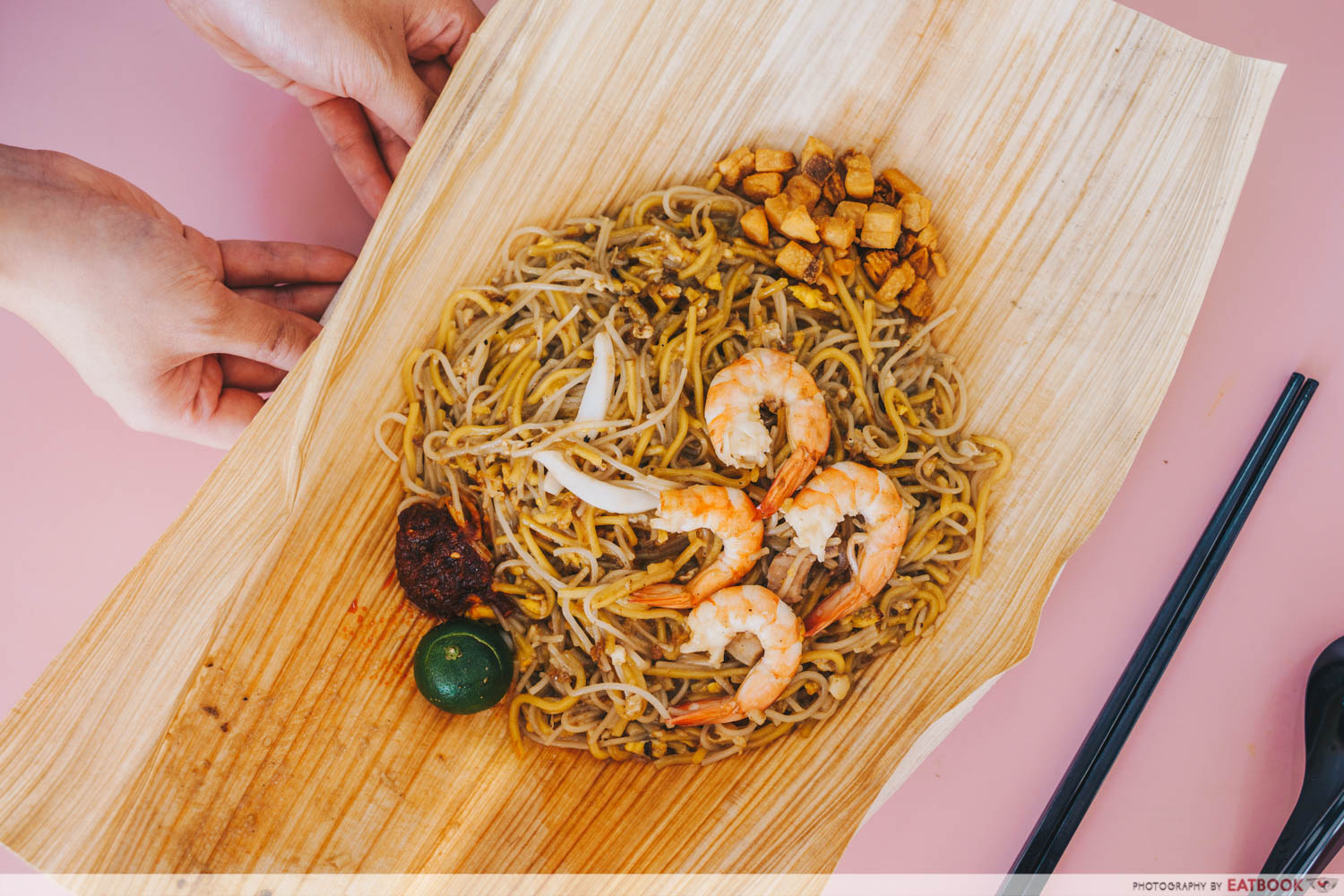 You get to choose if you want your plate of hokkien mee fried with thick, or thin, beehoon. We asked Andre's dad which is better, and he helpfully recommended going with thick beehoon if you prefer a wetter fried hokkien mee, and thin beehoon if you prefer your noodles to be on the dry side. Regardless, every strand of noodle was saturated and coated to silky perfection with the flavoursome stock.
Both versions were full of the elusive wok hei ─ that extra smokey flavour which is virtually impossible to achieve at home. We found that the drier plate of hokkien mee, fried with thin beehoon, was even punchier with wok hei. For the best of both worlds, we think it's a great idea to order them all.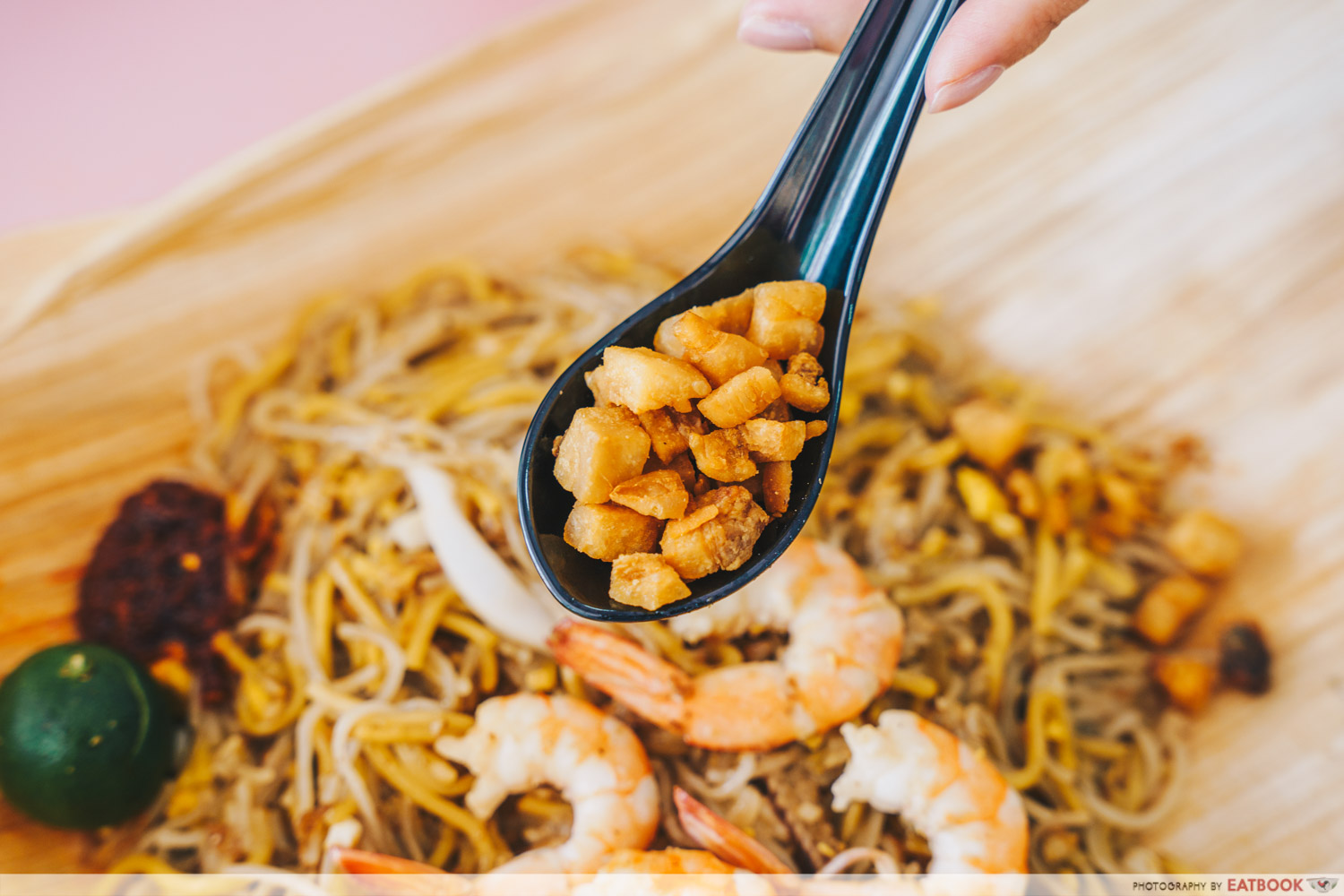 Don't skip the lard, for the good lard's sake. They're crisp, light as air and generously-salted. Even after extensive tossing and a thorough stir-through with the gravy-ful noodles, they gave a most satisfying crunch as we inhaled the hokkien mee.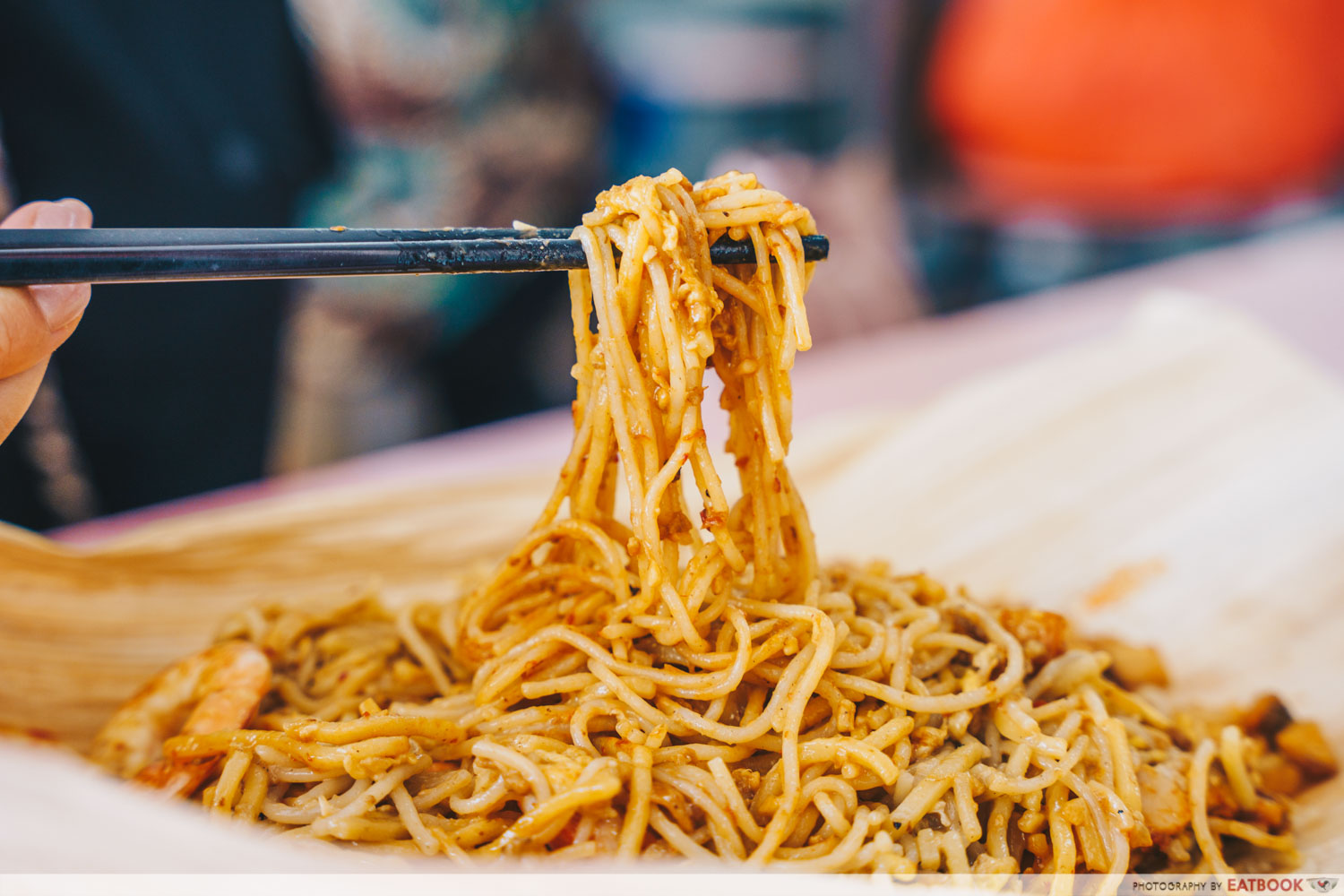 With fried hokkien mee so good, the chilli is almost secondary. Blasphemous it may seem to chilli-loving Singaporeans, but trust us when we say YouFu's fried hokkien prawn noodles don't need to be smothered in chilli. Mix the given spoonful in well, and you'll find it harmonises perfectly with the rich stock.
Hokkien Man Hokkien Mee Review: Hokkien Mee By Former Les Amis Chef At Toa Payoh
If you dapao a $6 or $8 pack of hokkien mee, Andre wraps it in an opeh leaf (the inner sheath of the bark of the Betel Nut Palm), which is most traditional. The leaf imbues the fried hokkien mee with an additional light, woody fragrance that enhances the entire experience of feasting on this dish.
Ambience at YouFu Fried Hokkien Prawn Mee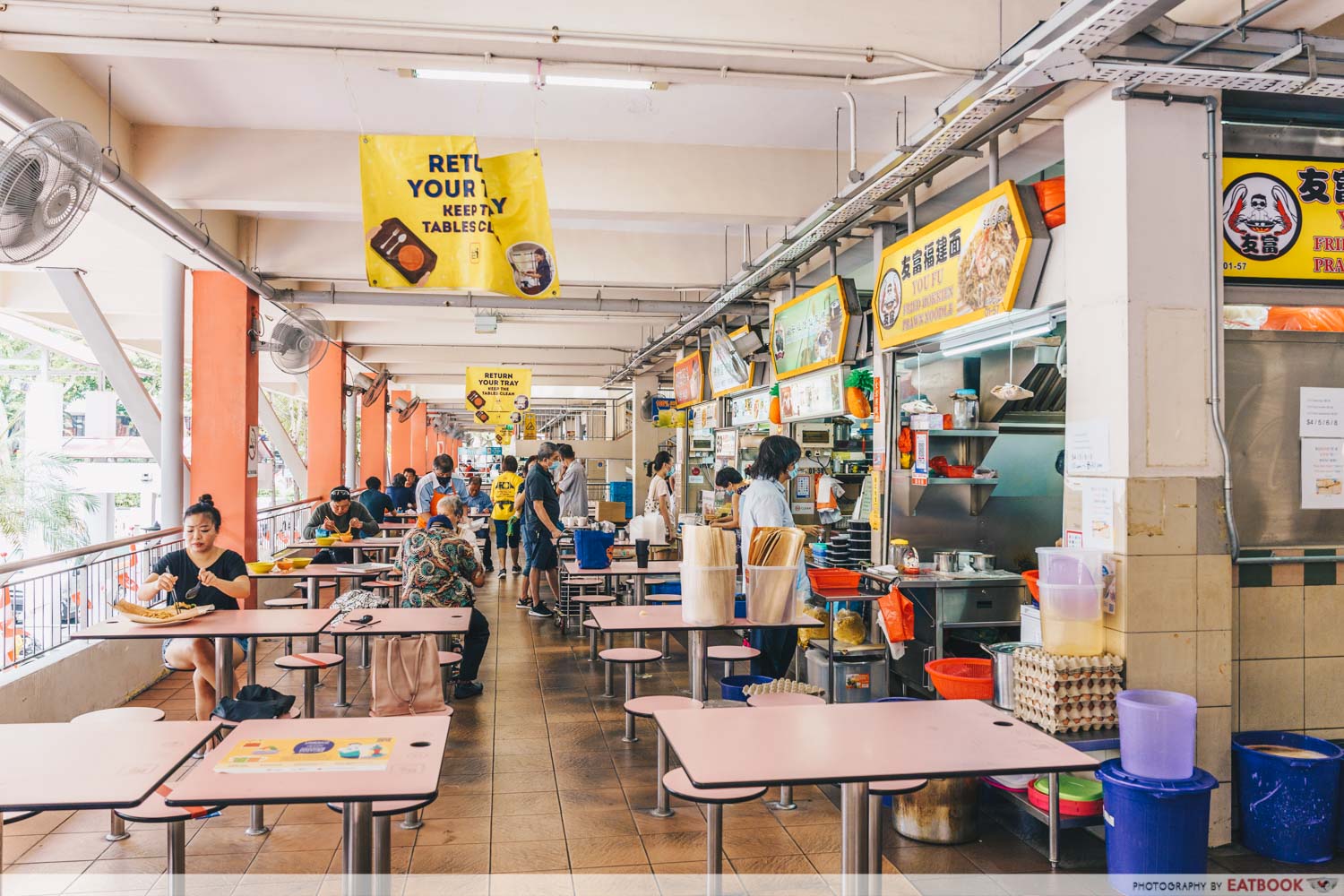 The stall is located at a breezy corner of Golden Mile Food Centre, right by the staircase to the carpark. It's located on the first floor and is well-ventilated and airy, although it is situated near the toilets. We were there in the mid-afternoon on a Friday, and it was easy to secure seats.
The verdict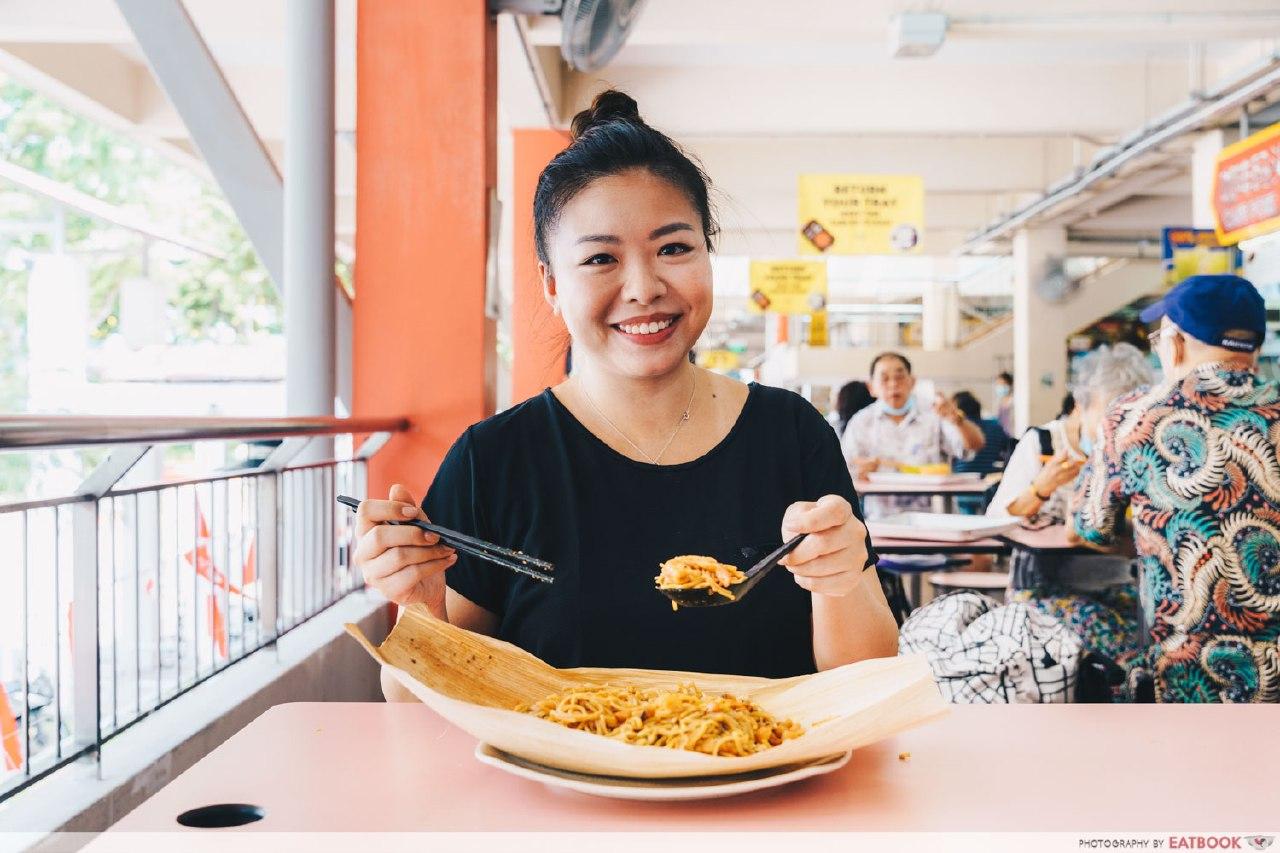 We love the hokkien mee at YouFu Fried Hokkien Prawn Mee. Portions are very generous, and we won't quibble over the slightly-inconvenient location. Priced between $4 and $8, the prices are very competitive and reasonable. We got four fresh prawns, slices of pork belly, and curls of fresh squid in our noodles, if you're keeping count.
Andre has done remarkably well for such a young hawker, and it waits to be seen how he will continue to improve on his recipe and skill. 
One Prawn Noodle Review: Silky Smooth Prawn Noodle Broth By Former Burnt Ends Chef
Gwyneth Ang, formerly of Burnt Ends, is another entrepreneurial hawker serving soupy prawn mee at Golden Mile Food Centre. Alternatively, head to Fudo for Japanese-style pastas while you're there.
Address: 505 Beach Road, #01-57, Golden Mile Food Centre, Singapore 199583
Opening hours: Tues-Sun 10am to 8:30pm
Tel: 9825 7449
YouFu Hokkien Mee is not a halal-certified stall.
Photos taken by John Lery Villanueva.
This is an independent review by Eatbook.sg.
YouFu Fried Hokkien Prawn Mee Review: Young Hawker Makes Waves At Golden Mile Food Centre
Summary
Pros
– Full of wok hei
– Crispy lard
– Can choose between thick or thin beehoon
– Generous servings
Cons
– Location is not easily accessible

Recommended dishes: Fried hokkien prawn mee in opeh leaf
Opening hours: Daily 10am to 8:30pm
Address: 505 Beach Road, #01-57, Golden Mile Food Centre, Singapore 199583