Quality halal Japanese food at Oiishii Corner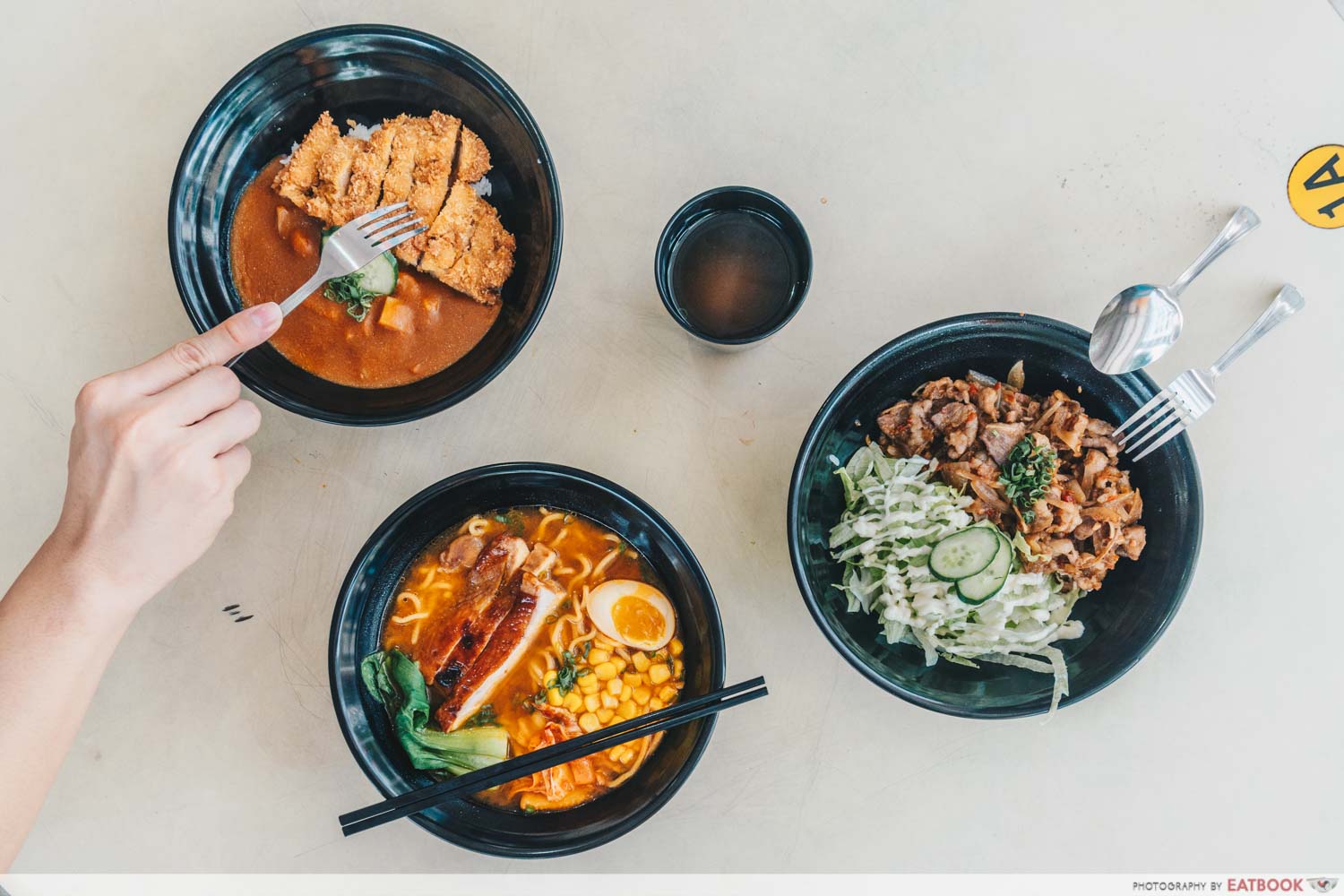 Halal Japanese food is a rare find. This is because Japanese stalls usually incorporate alcohol, such as sake and mirin, into the cooking of their dishes. Situated at Toa Payoh, halal-certified Oiishii Corner serves a myriad of comforting Japanese fare at wallet-friendly prices.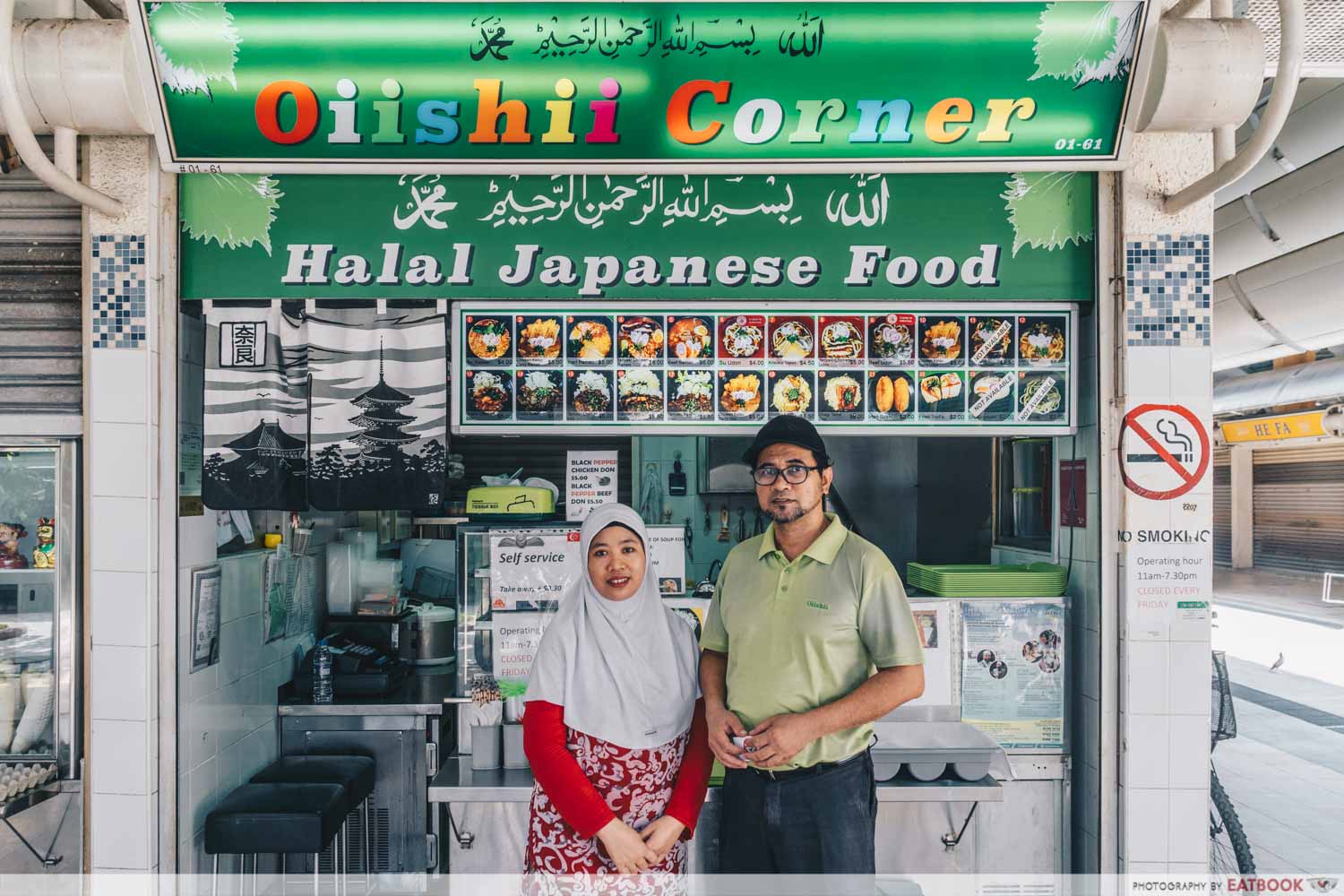 This humble stall is a mere three years old, and it's helmed by an amiable Muslim couple. The jovial husband and wife pair opened this hawker stall with the intention of letting more Muslims enjoy Japanese food. All their recipes are tweaked to fit the mould of halal Japanese food, and do not contain any alcohol or pork. The husband is no stranger to preparing Japanese food, having worked in Japan as a part-time chef.
Food at Oiishii Corner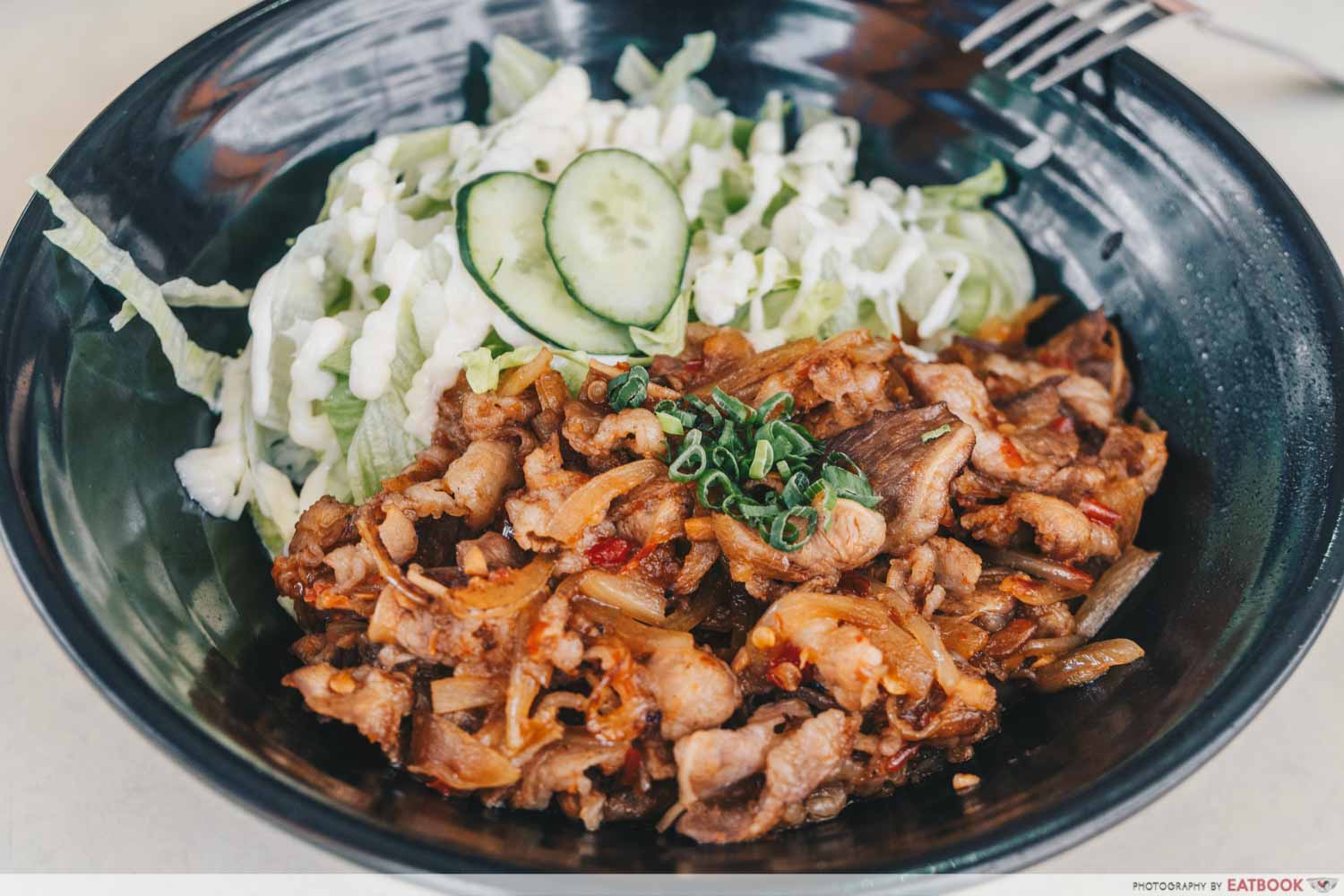 A few of Oiishii Corner's menu items have a playful local twist to them, such as their popular Oiishii Beef Don ($5.50). It features spicy beef slices and refreshing greens, all on a warm bed of short-grain Japanese rice.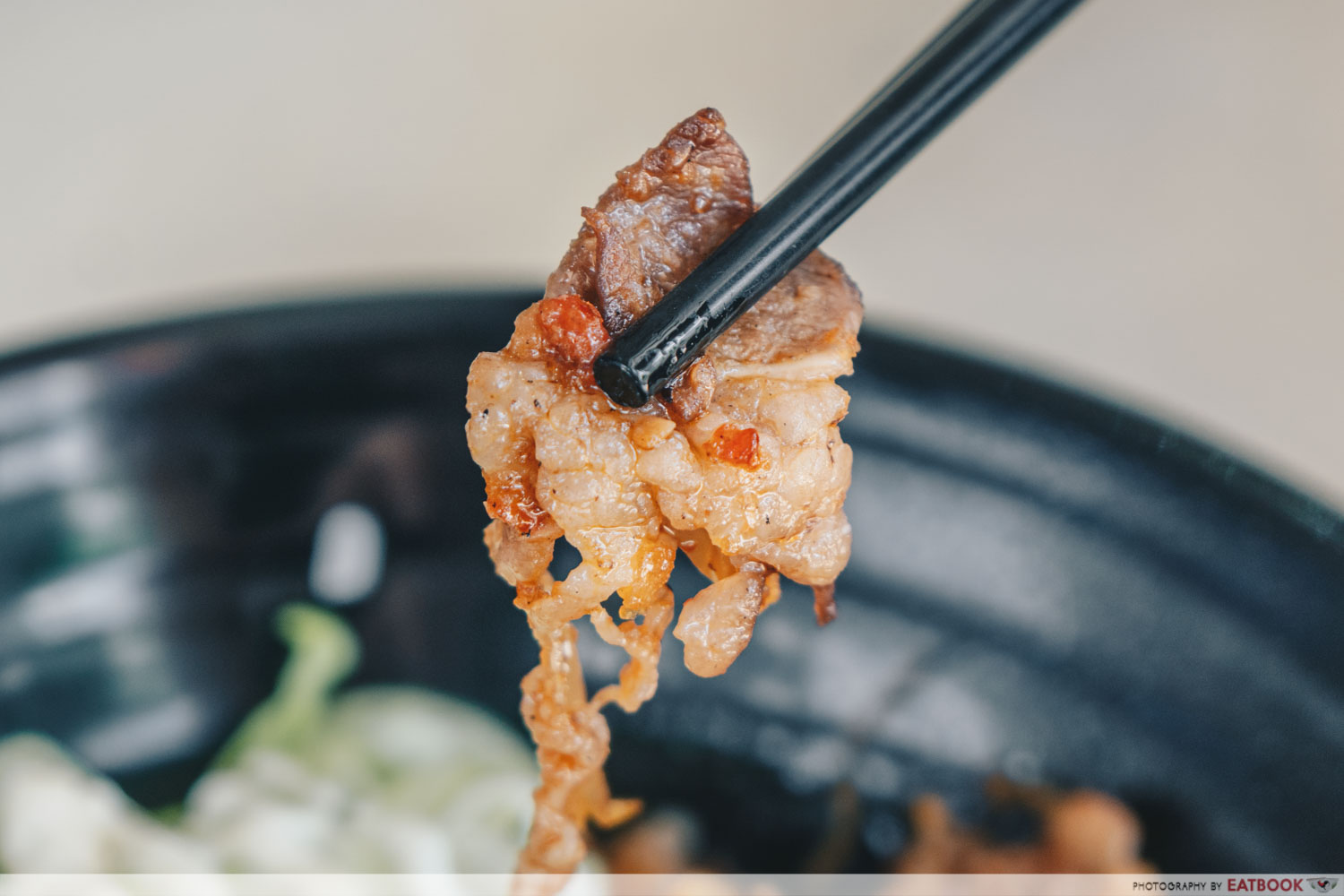 Sweet and spicy beef in a Japanese rice bowl is totally new for me. The beef slices were succulent and slightly fatty. They also boasted a tinge of chilli, which reminded me of the classic zing from sambal. Each beef slice also possessed a certain smoky wok hei flavour, and my dining companion and I were pleasantly surprised at the stall's rendition of a beef don.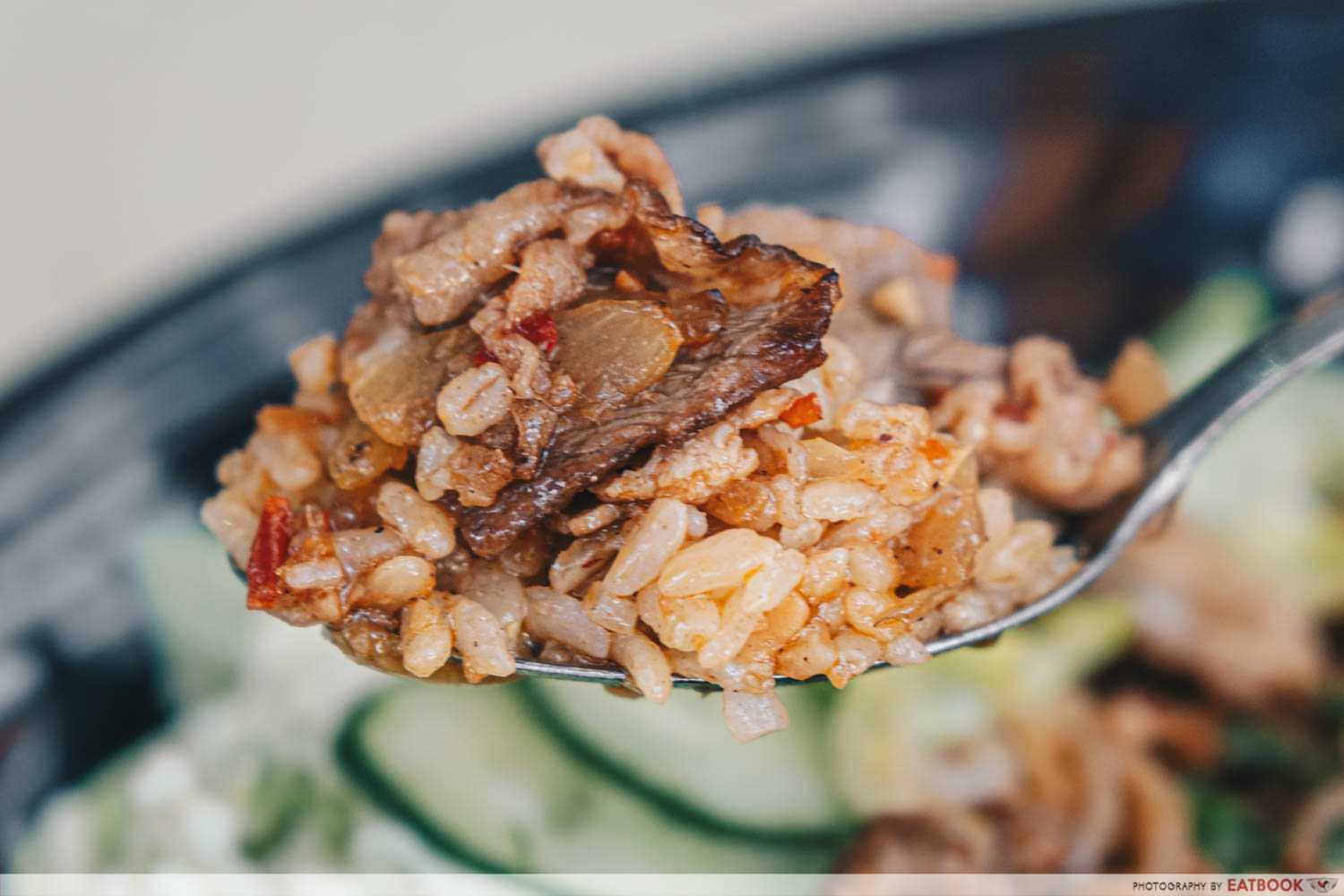 Coated in the sweet and spicy chilli, the rich and starchy Japanese rice gave the beef a savoury touch, and added a new dimension of flavour to this dish. I felt rather jelak after a few spoonfuls of the sauce-coated rice, and I couldn't help but reach for some refreshing cabbage and cucumber slices.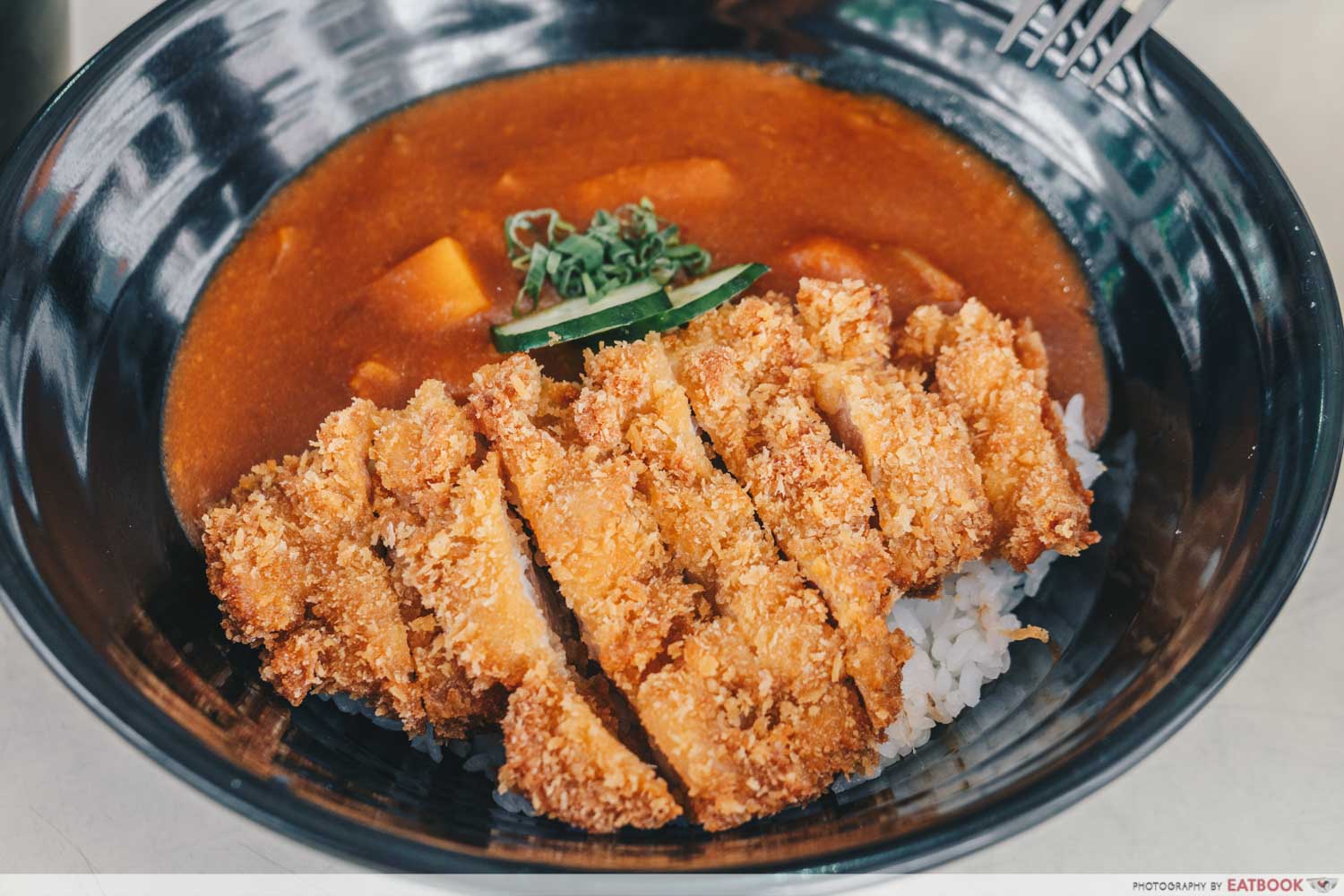 I'm a big fan of Japanese curry, and I had to try the Chicken Katsu Curry Don ($5). I was pleasantly surprised to find a generous amount of fried chicken pieces that were neatly placed atop a bed of Japanese rice. It's accompanied by a luxurious Japanese curry that boasts an orange hue.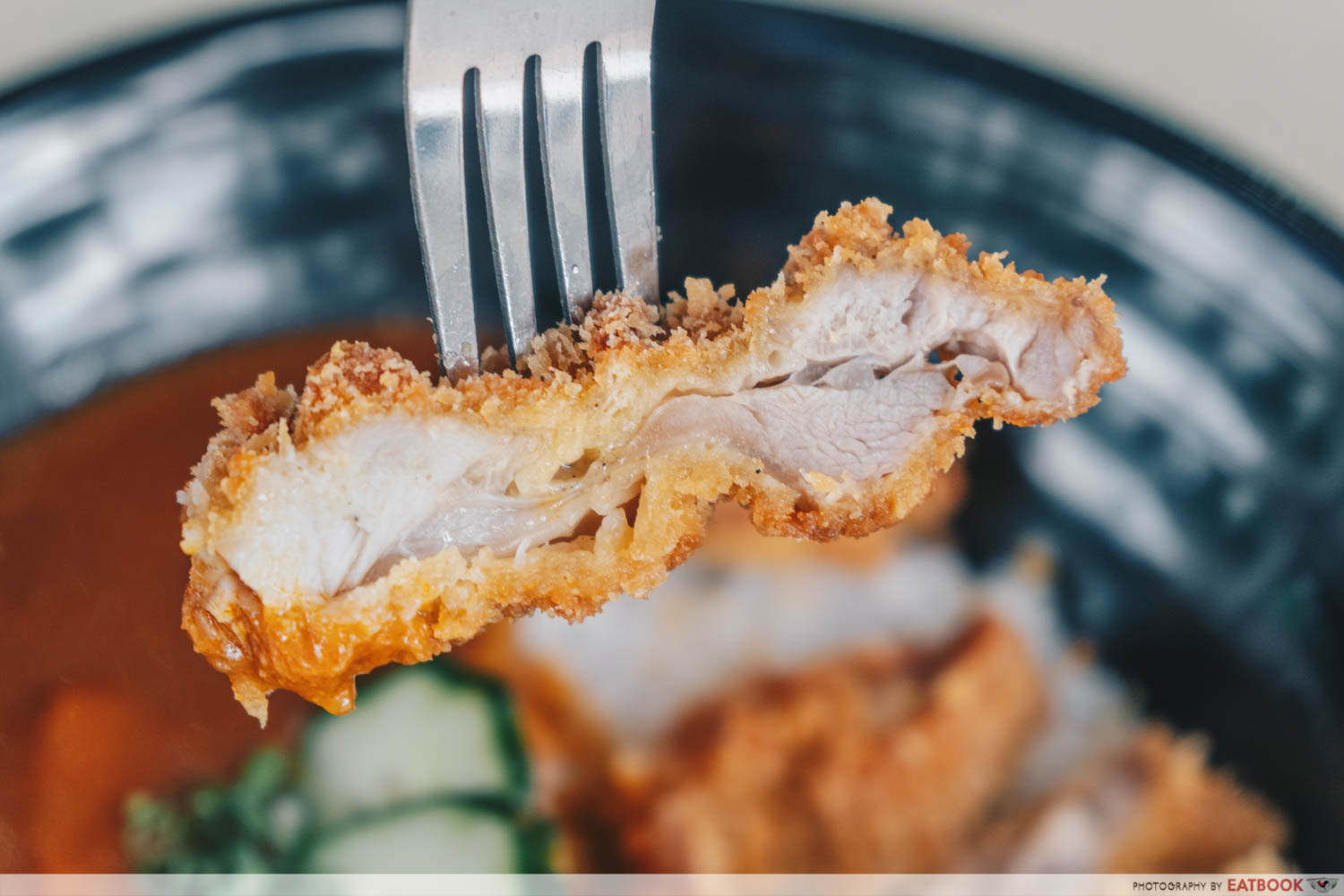 The chicken pieces were moist and tender, and I was met with a pleasant crunch with each bite. Tonkatsu is my usual go-to for Japanese curry dishes, but I'll easily settle with this tasty alternative.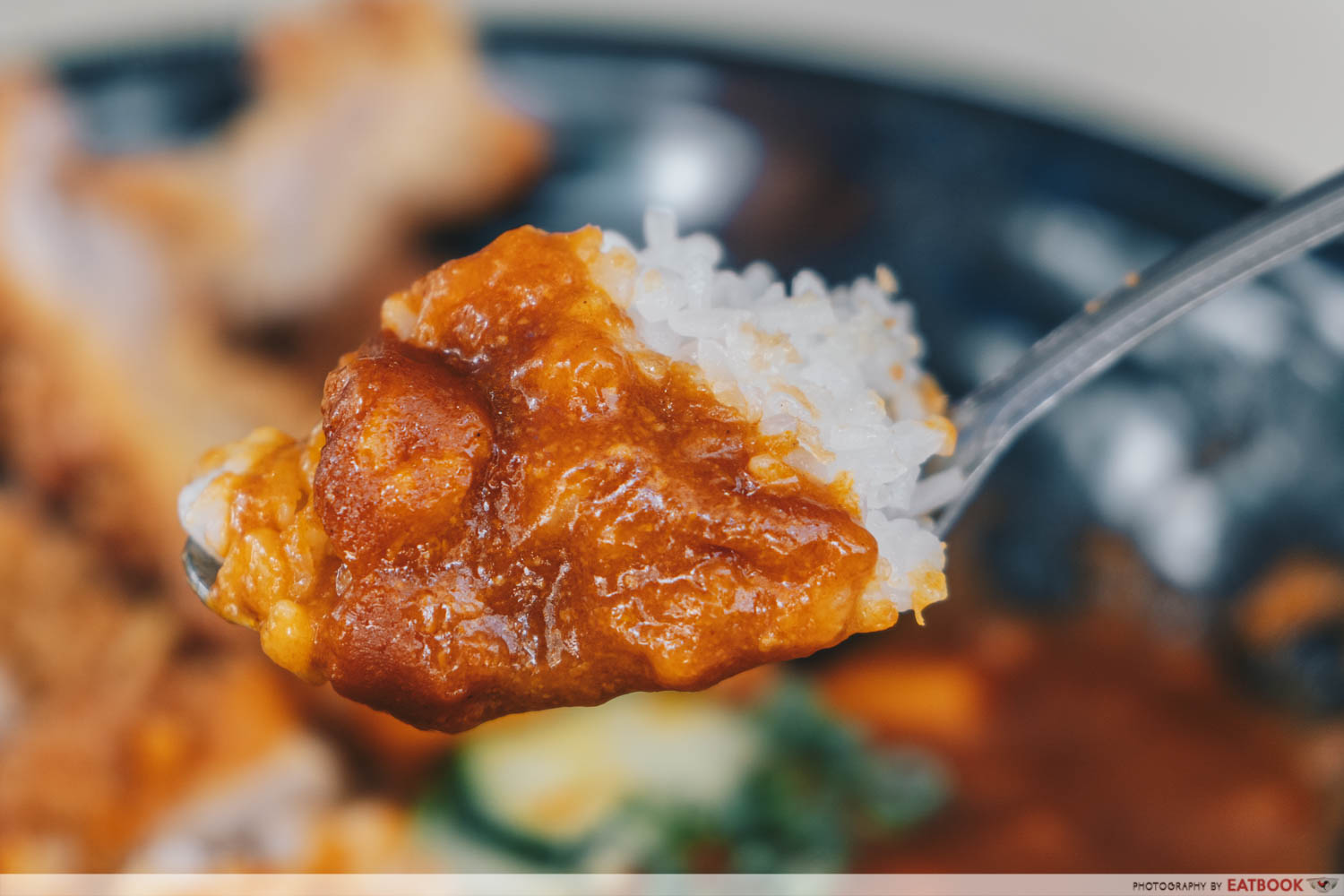 The Japanese curry was thick and flavourful. Though not as sweet as the other Japanese curries I have tasted before, it was richer and full-bodied. My dining companion also commented that this Japanese curry was on the red side, which was different from the usual brown-looking ones at Japanese restaurants.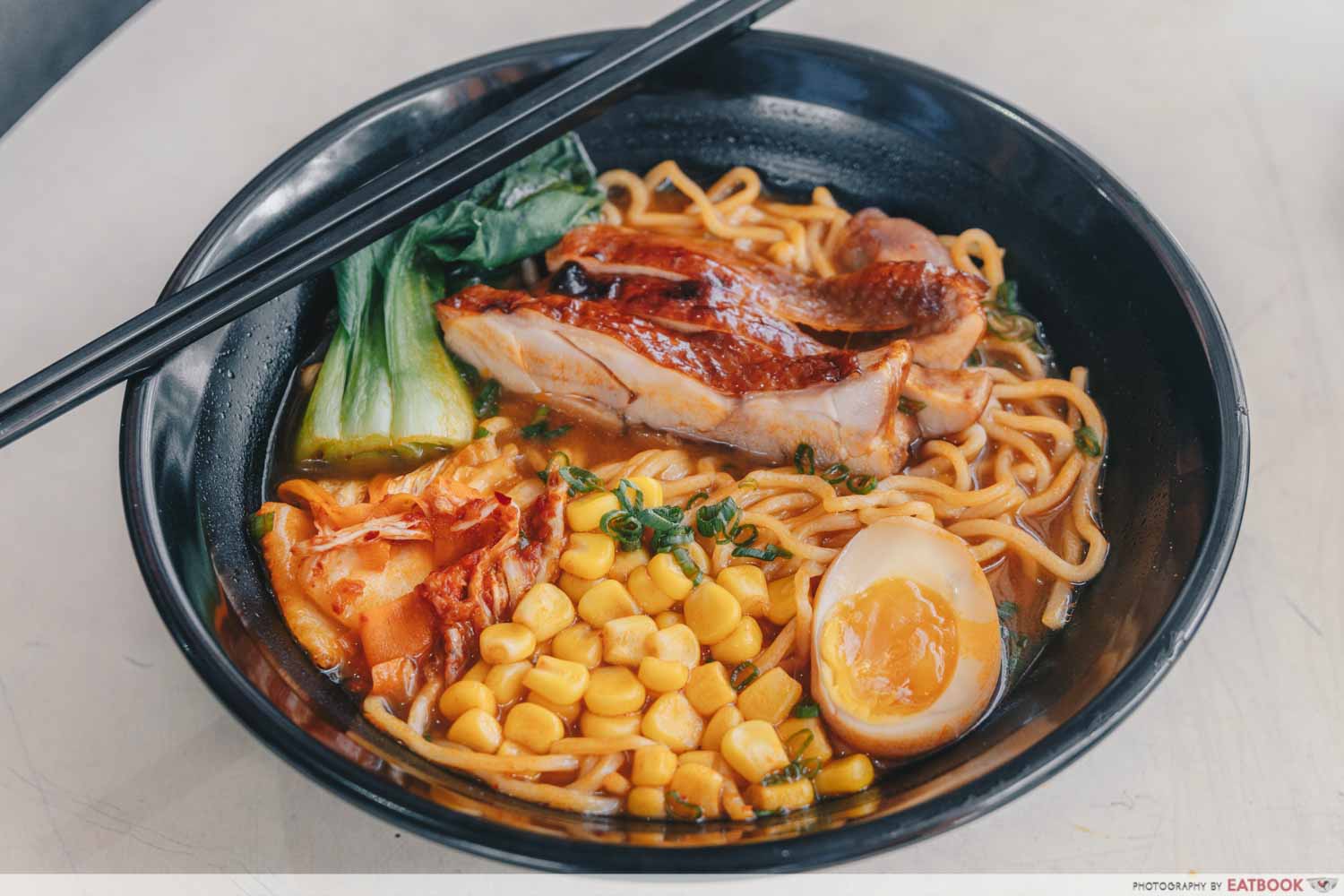 Finally, we opted for the Teriyaki Chicken Ramen ($6) to see how it'll fare against the more pricey ramen dishes from famous chains. First off, I must say it was a steal for $6. The bowl was filled to the brim with ramen, big chunks of teriyaki chicken, and vegetables. It even had a neat Hanjuku egg and a pile of kimchi!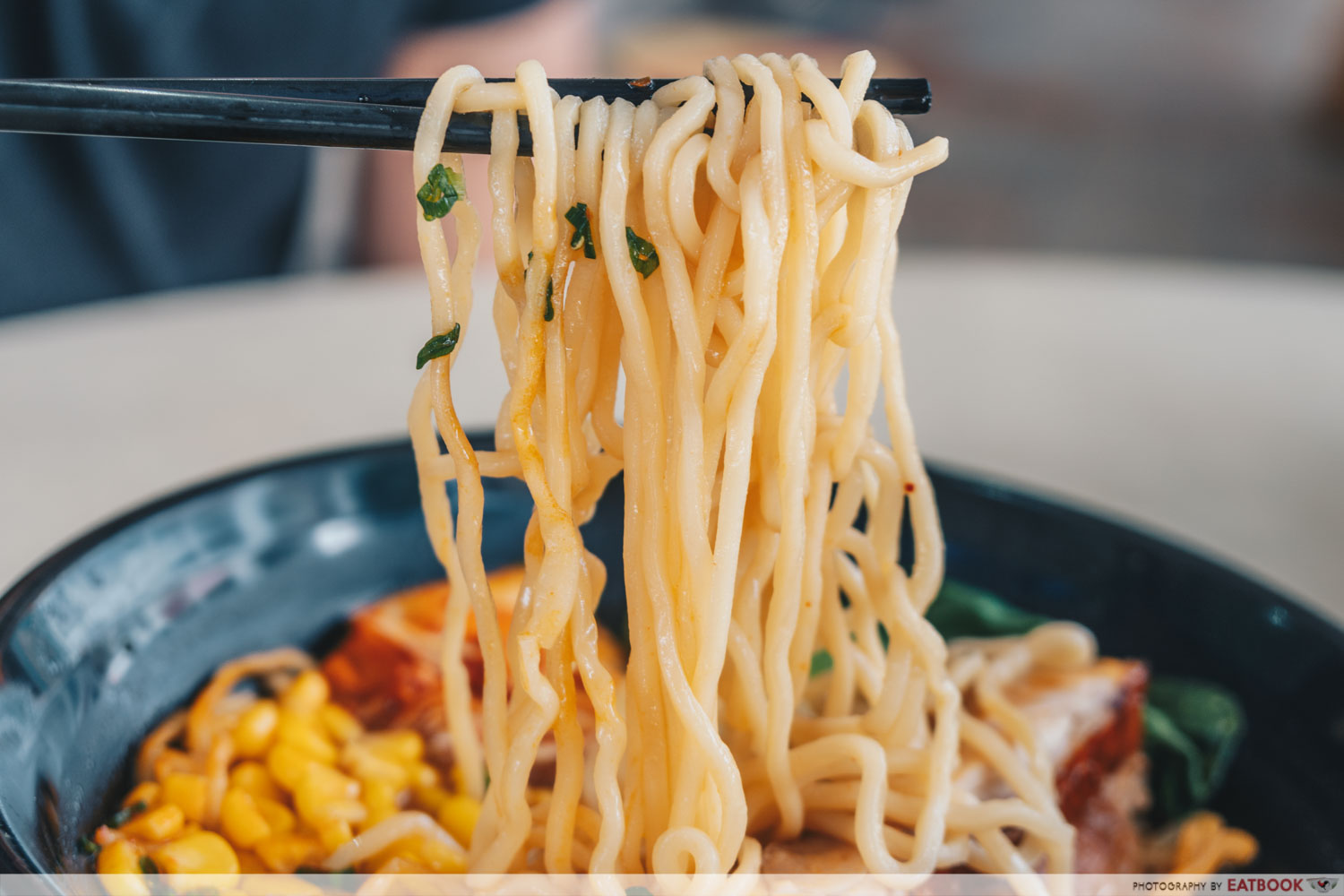 I thoroughly enjoyed slurping the noodles. They had a nice springiness and came in generous portions. However, I would've preferred thinner strands for an easier chew. 
Unfortunately, the kimchi broth was slightly diluted, and was lacking in richness and umami. You can choose from a few broths, such as kimchi and miso, and I made a mental note to try the others during my next visit.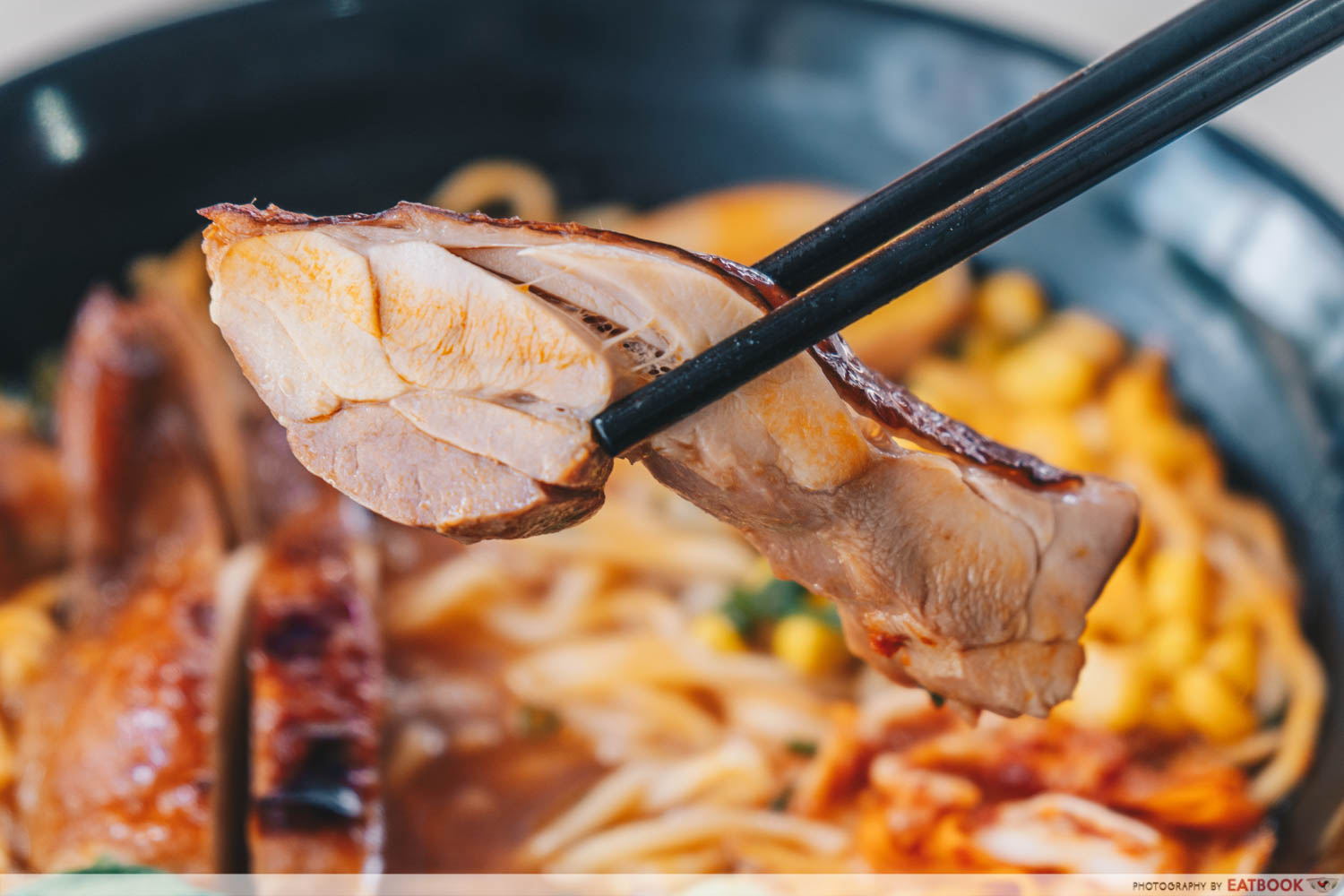 "Huge" is the word to describe each piece of teriyaki chicken. Despite its hefty size, it was tender with a slight sweetness from the teriyaki sauce. I was glad that the chicken pieces did not taste soggy even though it was immersed in the broth for some time.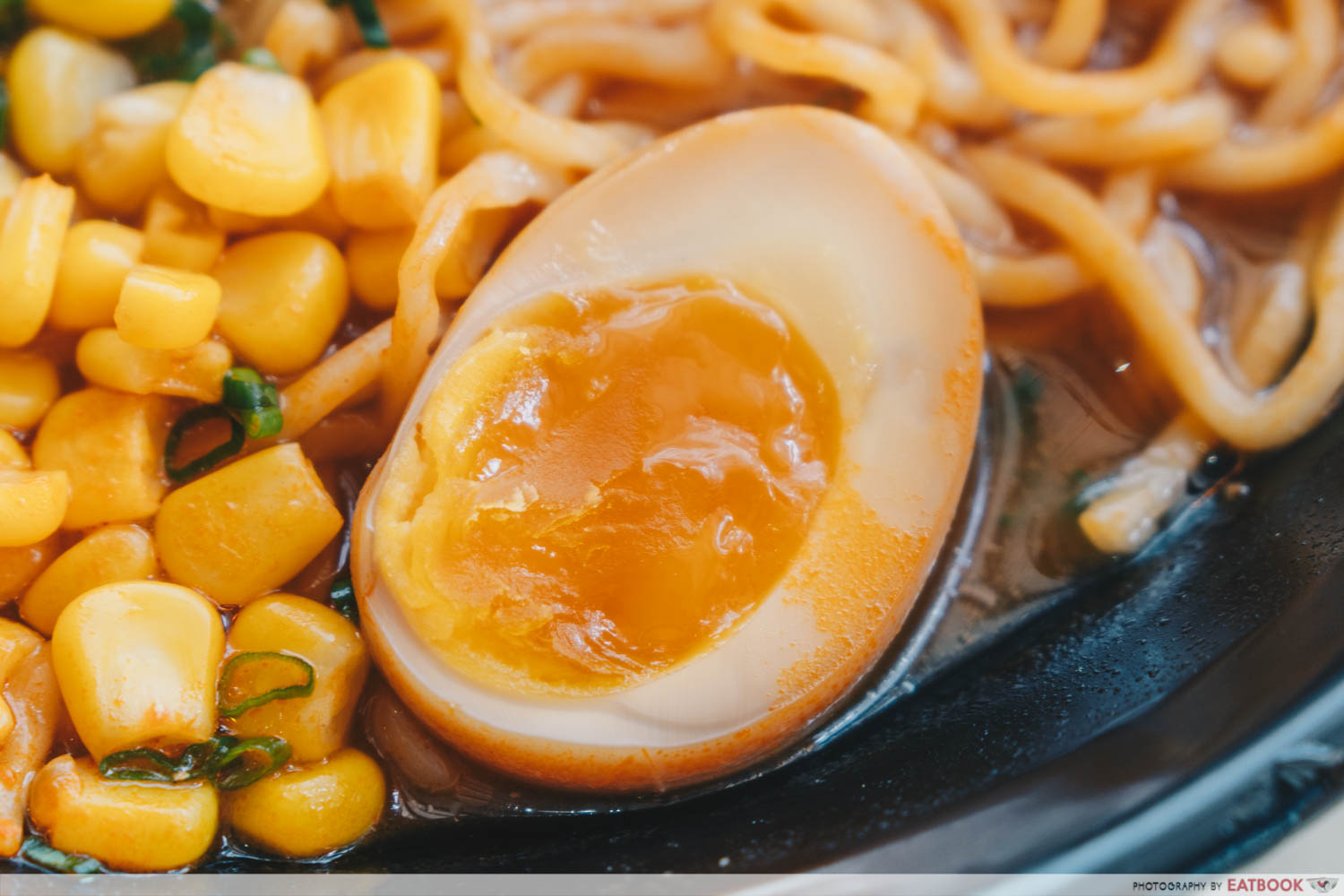 A ramen dish has to come with a Hanjuku egg, and I was pleasantly surprised at how the latter was executed. The egg was soft, supple, and boasted a runny, custard-like egg yolk.
Ambience at Oiishii Corner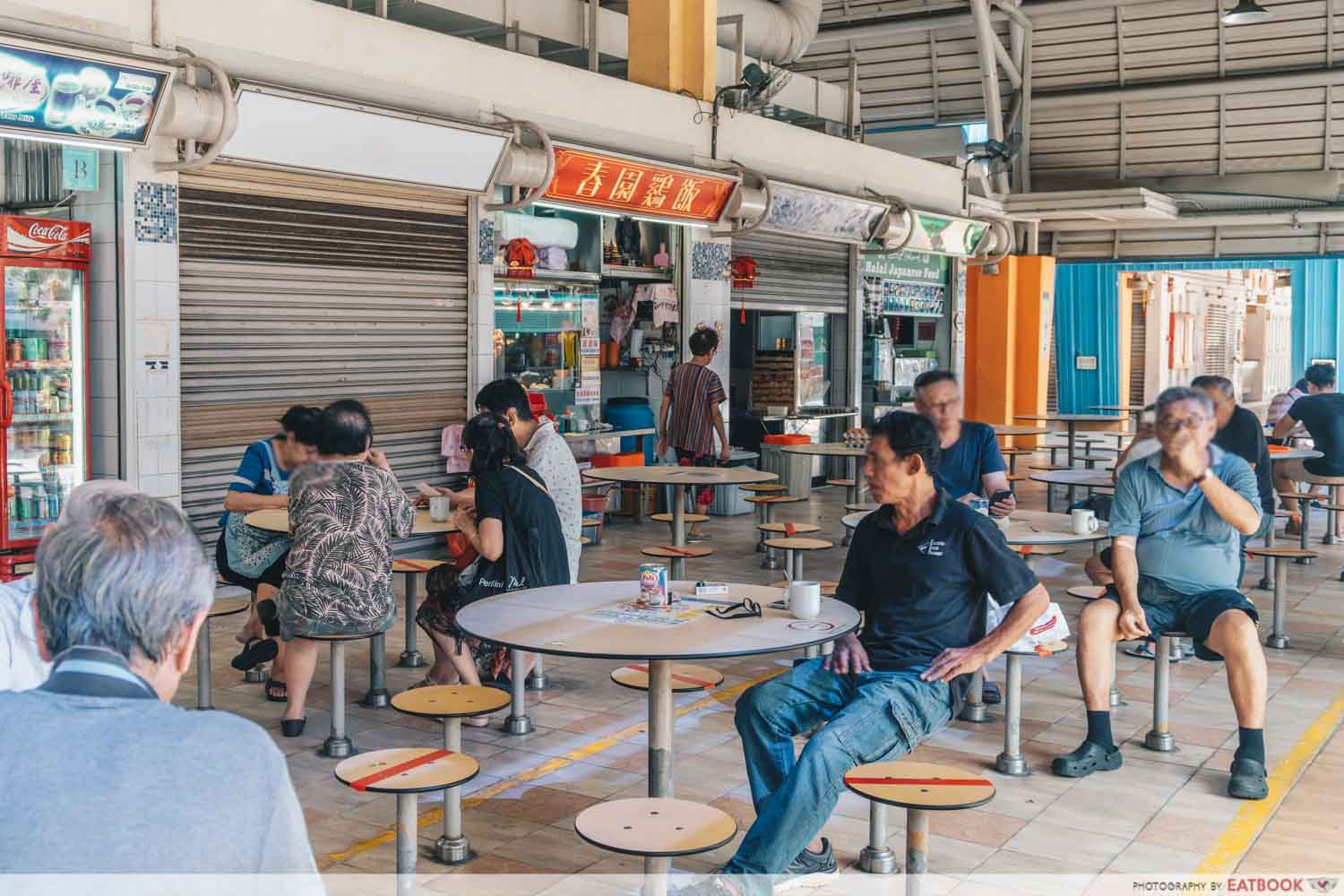 Oiishii Corner is located within Kim Keat Palm Food Centre at Toa Payoh. The area has a chill and laid-back vibe, and you'll be able to enjoy your meal comfortably. The food centre has a ton of seating space, and finding a seat during the busy lunch hours should be an easy task. Furthermore, we visited when safe-distancing measures were in place due to the COVID-19 situation, and still managed to find a seat effortlessly.
The verdict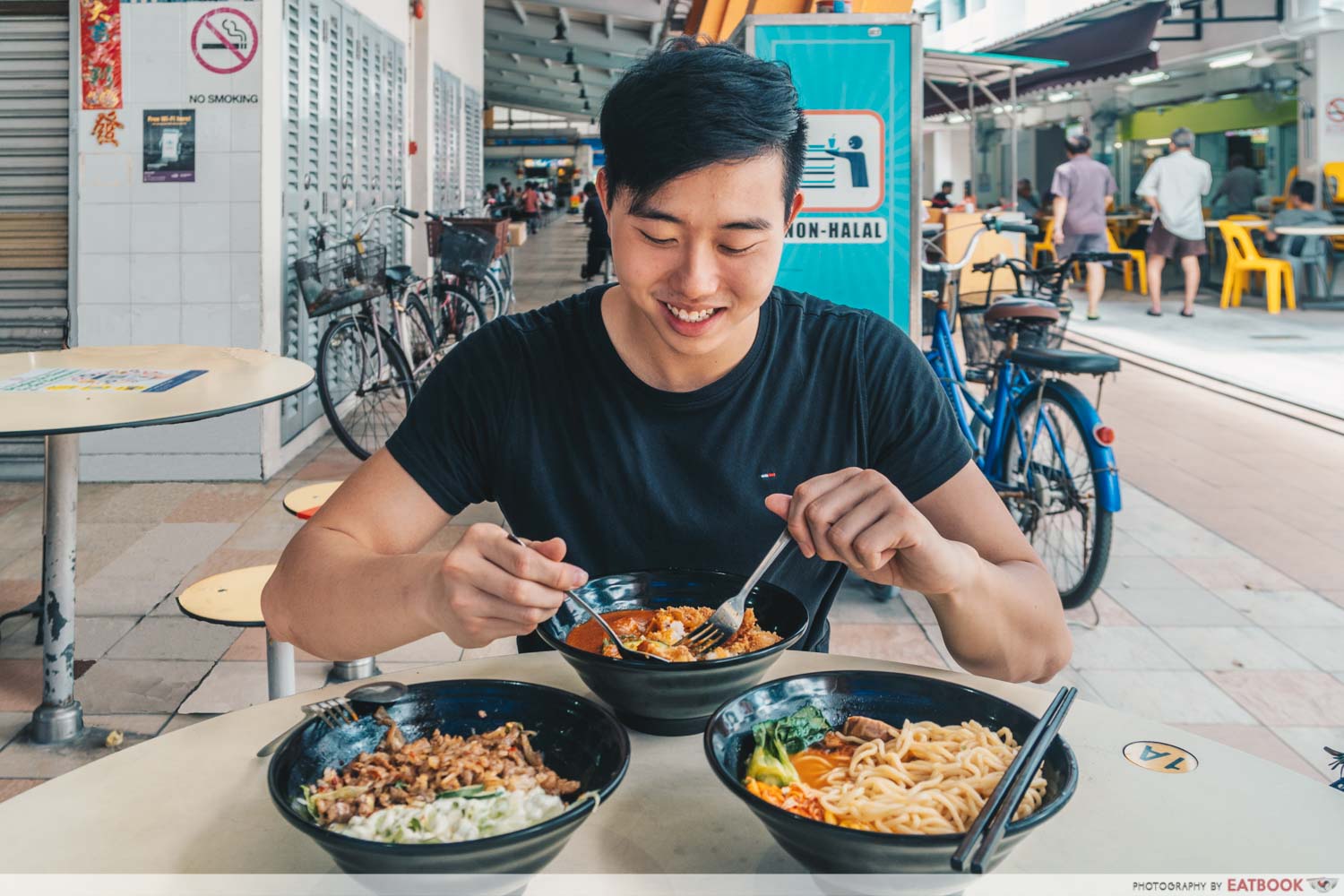 Oiishii Corner's halal Japanese fare is tasty and comforting, Though their dishes would not fit into the mould of traditional Japanese cuisine, they're a solid rendition of it considering its price. With generous portions and affordable prices, Oiishii Corner is definitely worth a visit.
18 Japanese Food Delivery Places With Delivery Fees Of $5 And Below For Ramen, Sushi And More
Japanese food lovers have to check out these 18 Japanese food delivery places with delivery fees under $5. If you fancy fusion rice bowls, check out our review of Bowl & Grill Simei.
Address: 22 Lor 7 Toa Payoh, #01-61, Singapore 311022
Opening hours: Sat-Thurs 11pm to 7:30pm
Tel: 9797 100
Oiishii Corner is a halal-certified eatery.
Photos taken by Kerrianne Goh.
This is an independent review by Eatbook.sg.
Bowl & Grill Simei Review: Customisable Chicken Chop And Truffle Mushroom Bowls From $5.50 At Simei
Summary
Pros
– Delicious spicy beef slices
– Katsu chicken was moist and flavourful
– Teriyaki chicken was tender
– Affordable prices
– Generous portions
Cons
– Ramen noodles were on the thicker side
– Ramen broth was slightly diluted
Recommended dishes: Oiishii Beef Don ($5.50), Chicken Katsu Curry Don ($5), Teriyaki Chicken Ramen ($6)
Opening hours: Sat-Thurs 11pm to 7:30pm
Address: 22 Lor 7 Toa Payoh, #01-61, Singapore 311022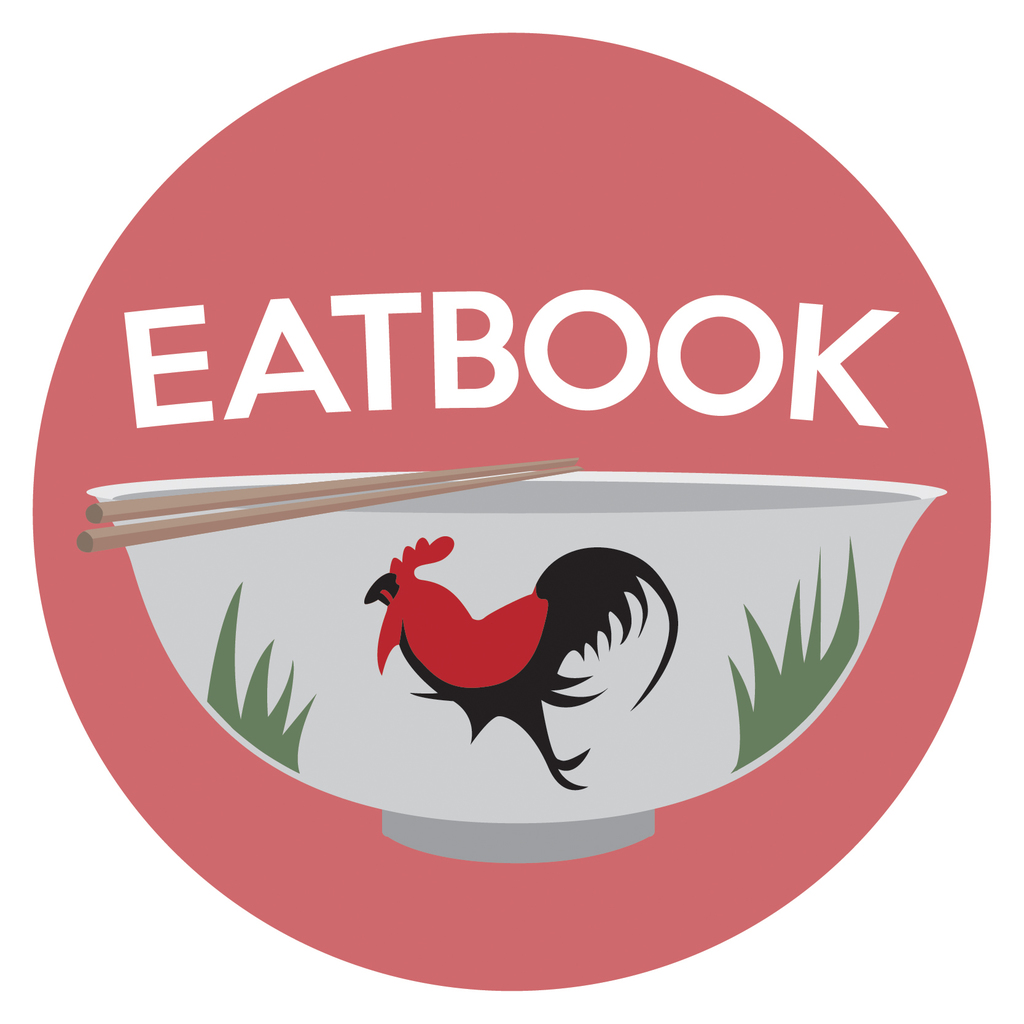 Drop us your email so you won't miss the latest news.