---
Japanese food delivery
---
Even with the current ban on dining out, enjoying restaurant-standard food at home is still just a delivery away. If you've been apprehensive about ordering in, no thanks to sky-high delivery rates, we've curated a list of Japanese food delivery places with delivery fees of $10 and less, so that you will be able to feast on your favourite Japanese food with less of a pinch.
---
1. Salmon Samurai
---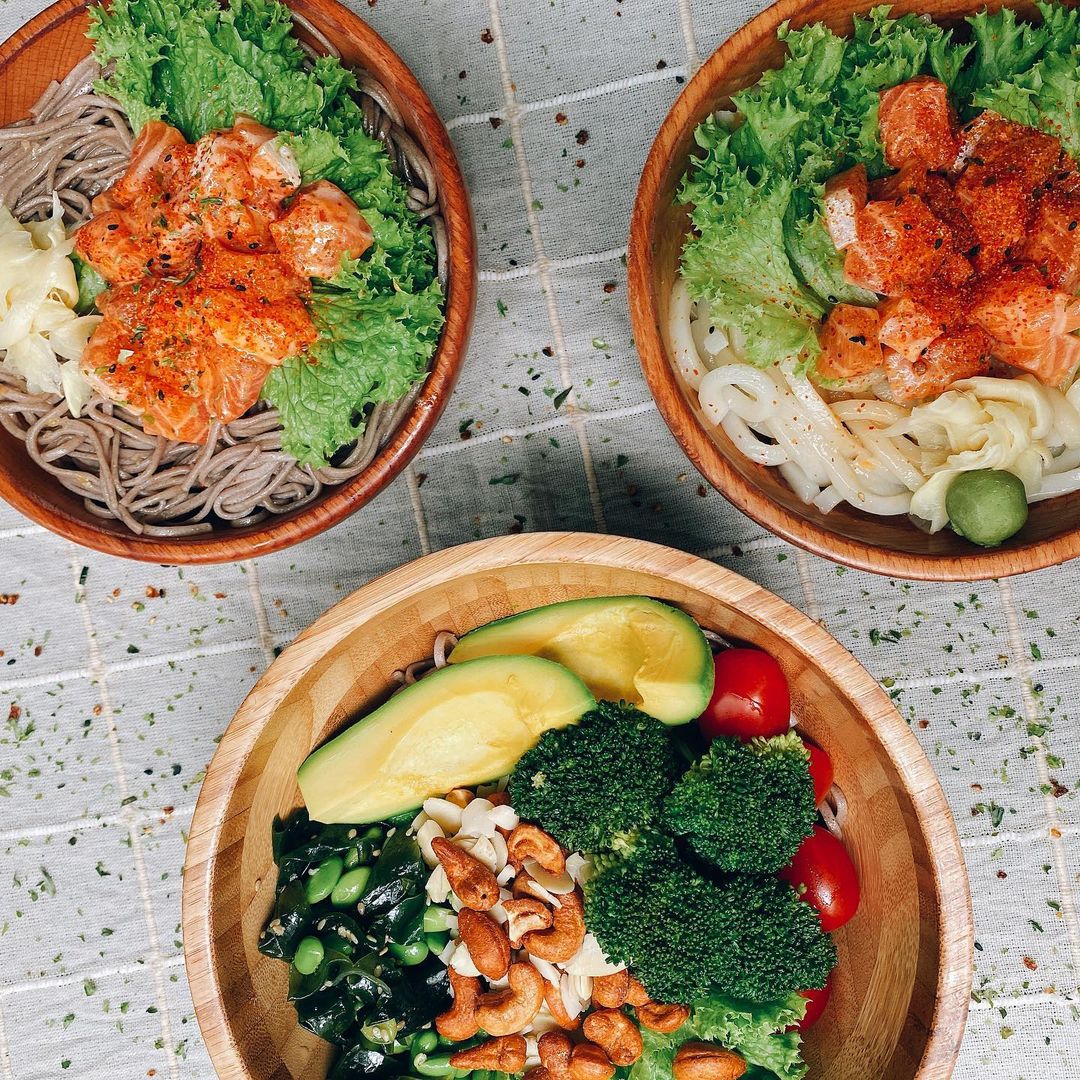 Image credit: @salmonsamurai
Hip, healthy, and customisable, Salmon Samurai offers salmon in more ways than one. Whether you're after Mala Mentai Maki ($11.90), which features seared salmon in a maki roll, slathered with mala mentai sauce, Salmon Poke bowl (from $10.90), or a Salmon Sashimi bowl (from $10.90), the bases are all covered here. Every bowl is fully customisable, allowing you to choose from yuzu ume rice, buckwheat soba, udon, or their house special Chilled Citrus Ramen, and your salmon of choice. You're also given the option to make it a salad bowl, if you're on a no-carb roll.
Islandwide delivery is available at $9 here, although it's free when you spend above $50.
Order from Salmon Samurai here!
---
2. SENS Sushi & Grill
---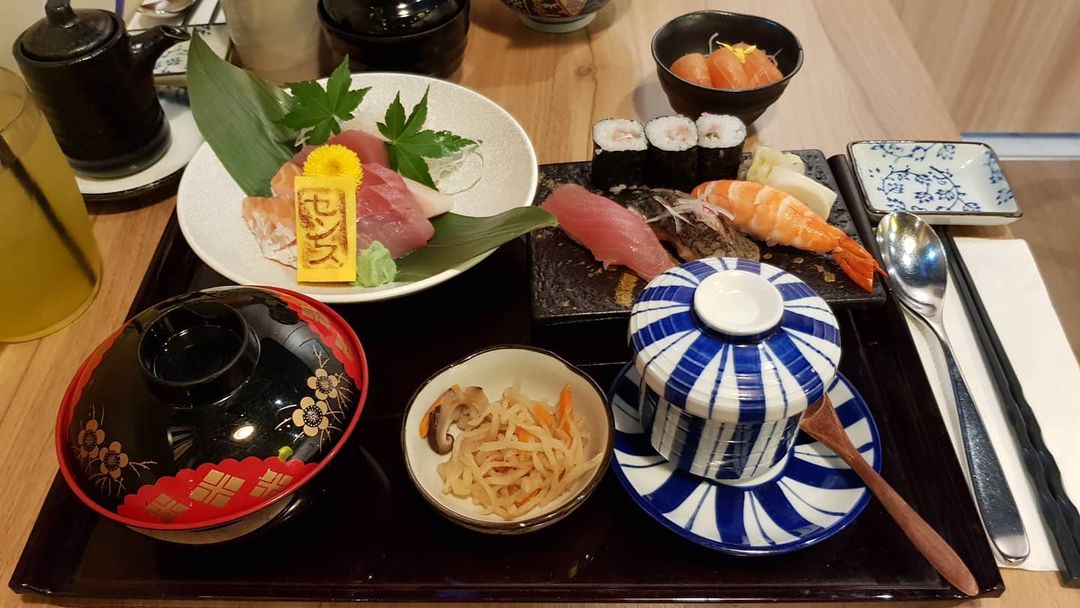 Image credit: @richardkohjd
SENS Sushi & Grill is a lesser-known gem, housed in Basement One of the Raffles Medical building in Holland Village. Get both sashimi and tempura in the Sashimi Tempura Set ($34.27), or a Salmon Soft Shell Crab Set ($26.22), both of which are great if you can't decide which you're craving. On the side, the Ikura Chawanmushi ($9.20) makes for a zhnged-up version of the Japanese steamed eggs, topped generously with the roe.
There's a minimum order of $60 for delivery, which is charged at a flat rate of $5. What's more, add on the 3-kind ($33.24) or 5-kind Sashimi Moriawase ($52.67) at 50% off when you check out your delivery order with more than $60. Otherwise, enter the code 'SENS20' for 20% off all takeaway orders. 
Order from SENS Sushi & Grill here!
---
3. PIPES By Hattendo
---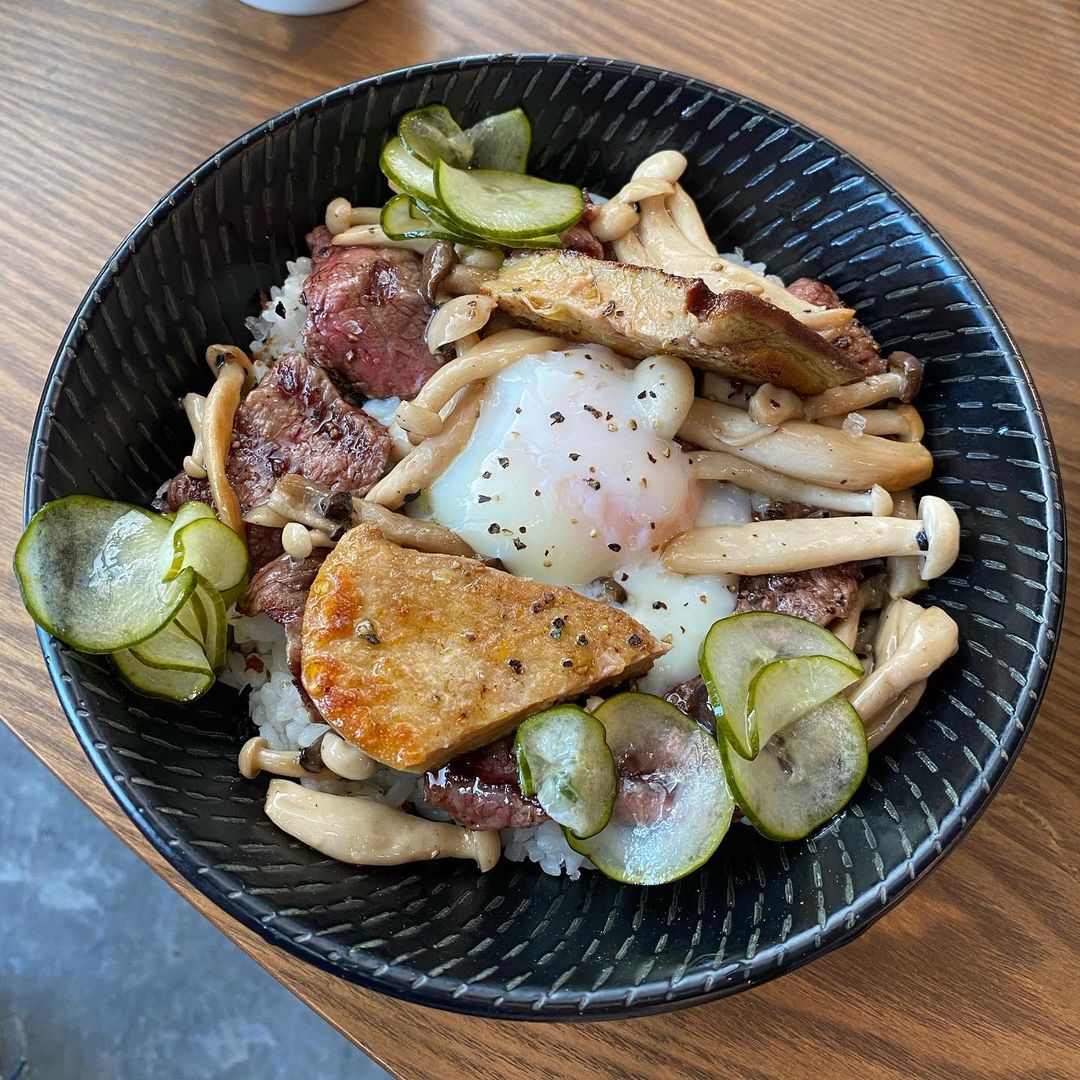 Image credit: @quoxerty
If you once queued up for their cream buns, you'll recognise PIPES By Hattendo, their new-ish cafe concept, which serves a wide range of Japanese food delivery other than just the cream buns. A signature on the menu here is the Friends With Benefits Grain Bowl ($21.90), which is topped with char-grilled A4 wagyu, foie gras, onsen egg, shimeji mushrooms, and pickled cucumber. Another item that's well worth it is Angels Only ($14)─their version of mentaiko pasta, garnished with sakura ebi, and ikura.
You can also get comforting Japanese home-style dishes, prepared with no preservatives. The items on this menu have been curated by a Japanese-certified nutritionist, and come with nutritional information to guide your ordering. If you're interested, they include a Tori Tsukune Low-Carb Set ($15). Otherwise, you can simply go with dishes such as Tonjiri ($8), a pork and vegetable soup, or Toriniku Tomato Nikomi ($10), a tomato-based chicken stew.
Use the code 'STAYHOME20' at checkout to get 20% off your order at PIPES By Hattendo, valid from now till 31 May 2021. Delivery is chargeable at $10, with a minimum order of $50, but free with $100 spent.
Order from PIPES By Hattendo here!
---
4. Waku Waku Yakiniku
---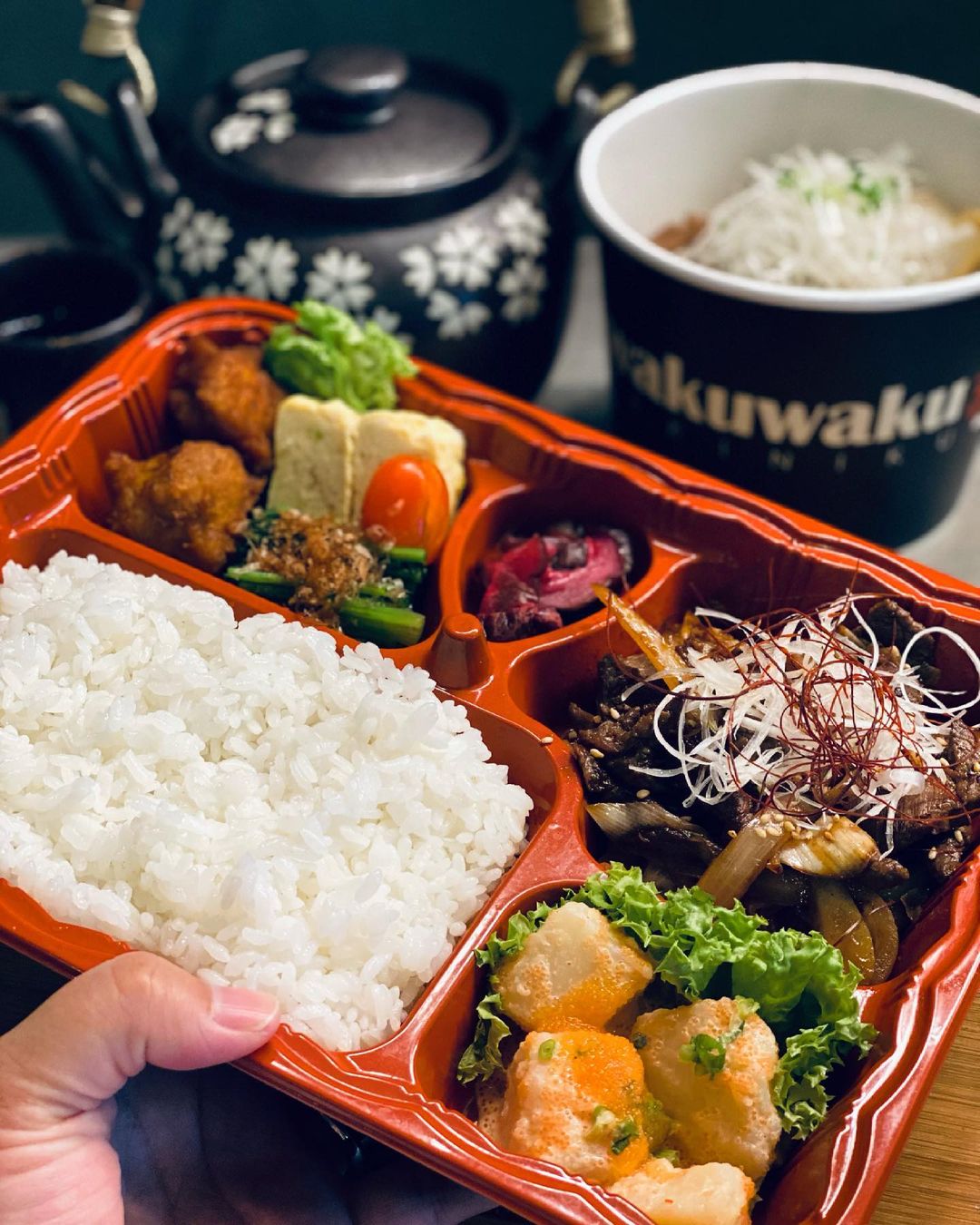 Image credit: @wakuwakusg
Singapore's first halal Japanese barbecue restaurant, Waku Waku Yakiniku, now allows you to have yakiniku at home as an option when you want some Japanese food delivery. Get a disposable, biodegradable Charcoal Grill Set ($20) that you can set up on your dining table, alongside menu items such as the Ramu Chikin Platter ($46), which comes with lamb, and chicken.
Otherwise, the Prime Wagyu Steak is $49.90 for 200g of meat. If you'd rather get cooked food, they've got rice bento sets with chicken, Torimomo ($14), or a Japanese Curry Bento ($16) that comes with beef tongue. Thanks to their sister restaurant, Fat Boys, the menu here also features the burger shack's Black Pepper Beef Rice Burger ($14.80).
Waku Waku Yakiniku offers island-wide delivery with a minimum order of $50, along with a delivery fee of $10.
Order from Waku Waku Yakiniku here!
---
5. The Sushi Bar
---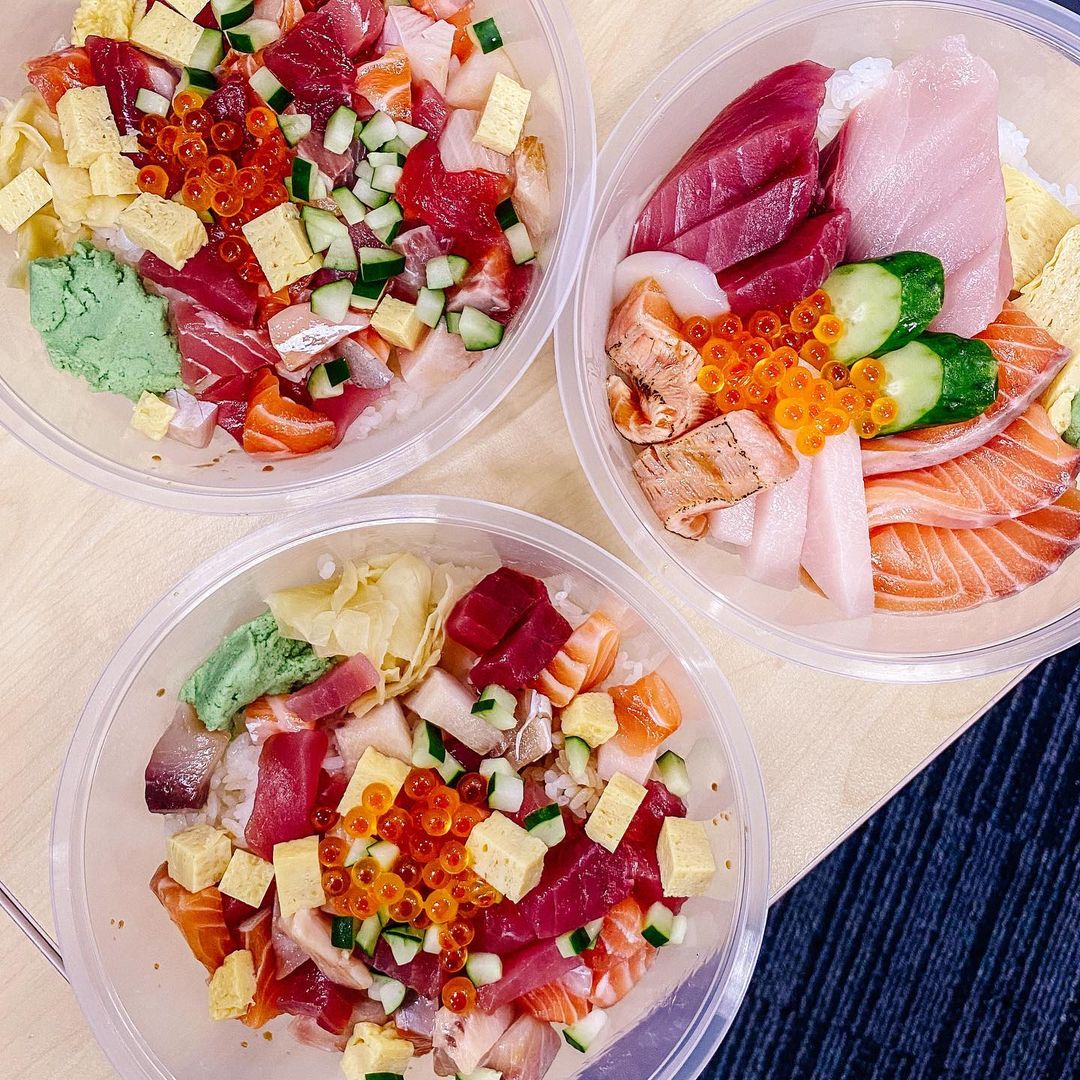 Image credit: @joliehwee
The Sushi Bar has graced many an IG feed, with their Bara Chirashi Don ($19.90), and Aburi Chirashi Don ($26.90). The affordable Jap eatery is also known for its maki rolls, of which the Soft Shell Crab Salmon Aburi Roll ($18.90) is beloved for its torched salmon, and mentaiyaki sauce. 
There's no minimum order, and their in-house delivery service only covers a maximum 12km zone from their Ngee Ann City and Tampines 1 outlets. Delivery prices range from $5 to $12, depending on the distance. More terms and conditions can be found on the respective menus.
For deliveries from their branches at Ngee Ann City, and Tampines 1, click here.
---
6. BINCHO
---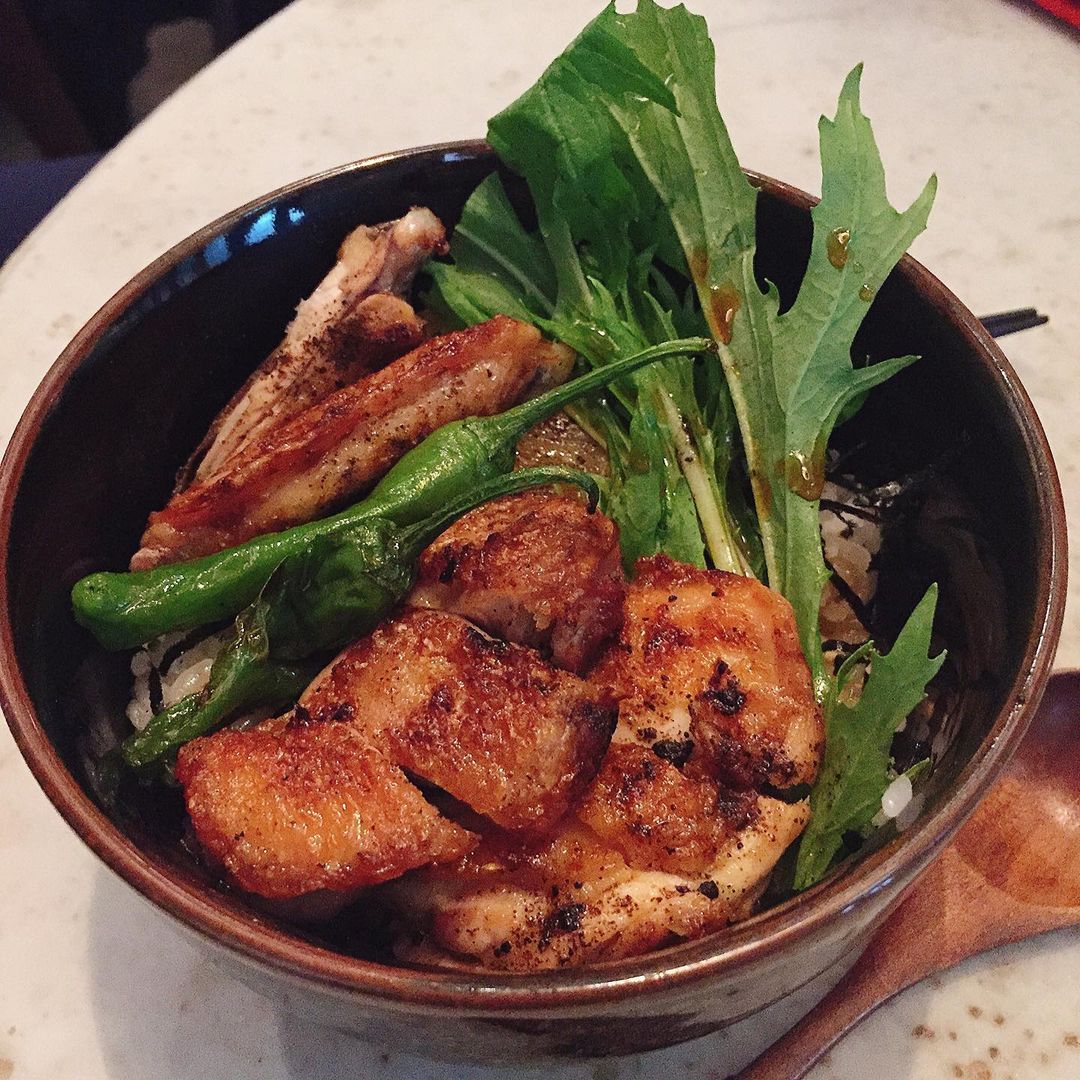 Image credit: @houseoftastyyyy
Order in from BINCHO if you're up for a splurge on Japanese food delivery. Their dishes do not come cheap, but the taste far outweighs the price. The Sumire Set ($80) is a single-serve set that comes with five pieces of sushi, a yakitori platter, as well as chicken soup, and a chicken skin-topped salad.
If you're ordering for the house, there's also a Signature Bundle ($200) that's good to share with up to three other diners. The set includes four Mentai Wings ($15 for two), Grilled Hokkaido Pork Belly With Black Garlic Sauce ($45), Bincho Style Grilled Octopus ($55), and more. For a quick meal, the Yakitori Don Set ($35) features beautifully grilled chicken in a rice bowl. 
There's a minimum order of $30 and delivery is charged at a flat rate of $5.
15 Ramen Delivery Services In Singapore For When The Tonkotsu Cravings Hit
---
7. Wafuken
---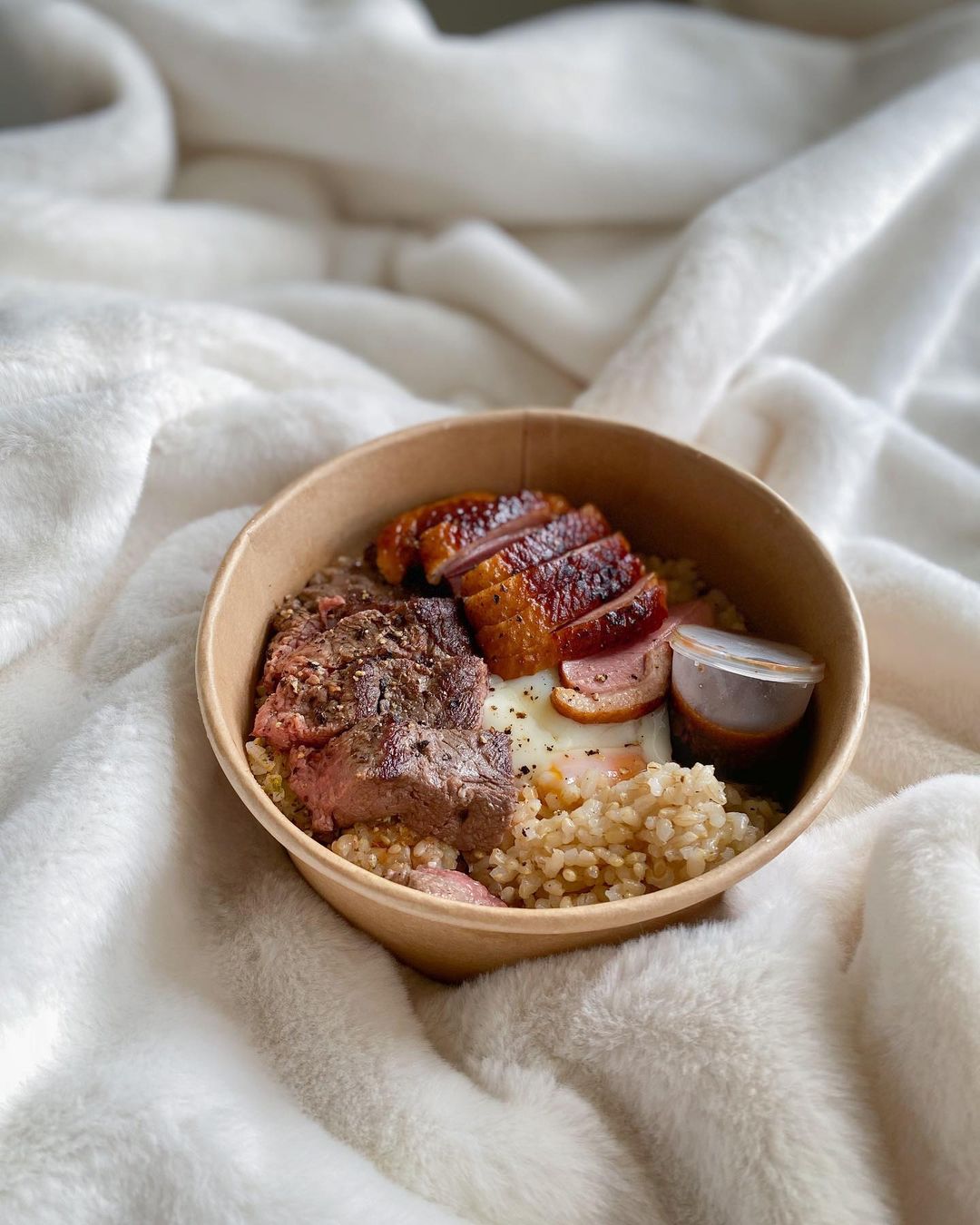 Image credit: @fkingdelish
This CBD favourite is now available online so you can have a nutritious, tasty Japanese lunchbox delivered right to your doorstep. Their website even has a calorie counter so you know exactly what you're putting in your body. Wafuken prides themselves on serving food that doesn't contain unhealthy fat, excessive sugar, or tenderisers. The Chicken Donburi ($10.50) includes half a sous-vide chicken breast on brown rice, while the Beef Set ($14) has beef with roasted potato wedges, bean paste mushrooms, and an onsen egg.
Islandwide delivery is $5 with a minimum order of $20, or free with orders of $35 and above.
---
8. Genzo
---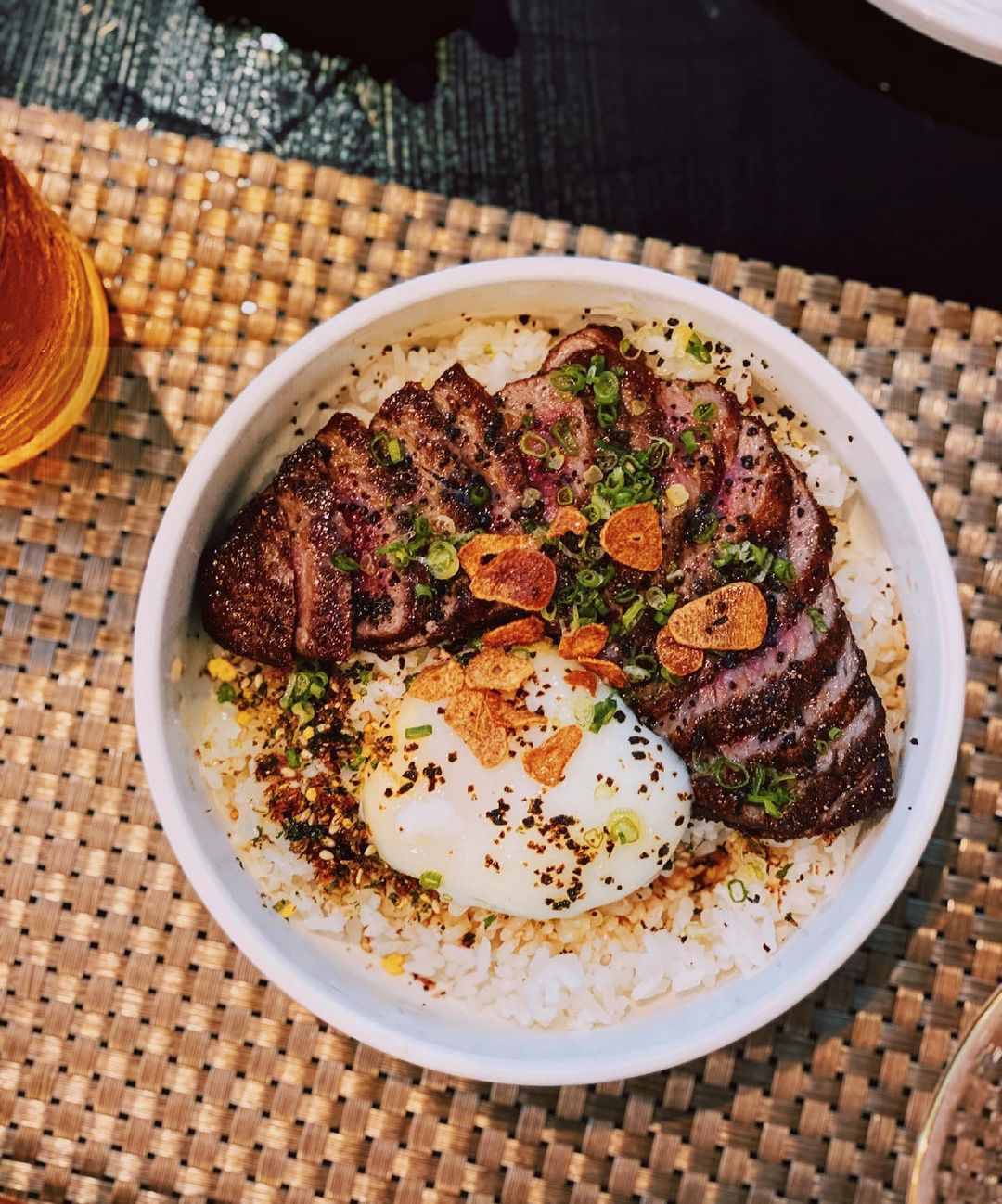 Image credit: @xo.burrito
Another recent entrant to the Japanese food delivery scene in Singapore is Genzo, which has now taken their dishes online. They're running P2HA Bundles, priced at discounted rates of $68 for the Genzo All-Star Bundle for Couples, and $138 for the Genzo All-Star Family Feast, which feeds up to six. These sets include Genzo's star dishes, such as Signature Truffle Salmon Carpaccio ($15.80), Signature Truffle Kanpachi Carpaccio ($17.80), Signature Sakura Ebi Somen ($12.80), and Genzo Truffle Foie Gras Wagyu ($29.80).
There is a minimum order of $30 for delivery, which is charged at $9, however this is waived for orders above $80. If you opt for self pick-up, you are entitled to 10% off the total bill. Do note that they're closed on Mondays.
---
9. Box N Sticks
---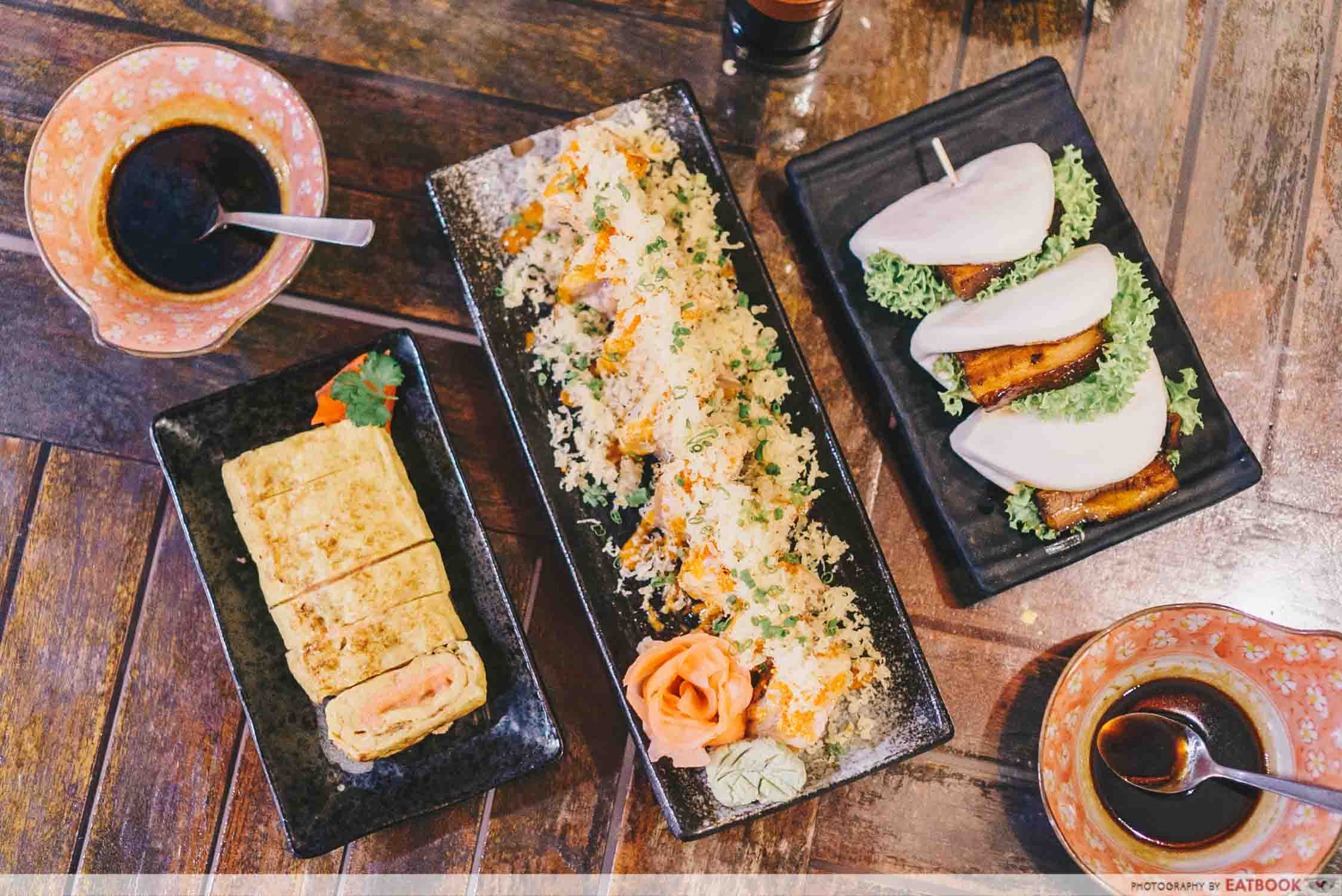 Box N Sticks is the place to go to for tasty, affordable Japanese food delivery. Their Aburi Salmon Cheese Maki ($15.80) is a cheese lover's dream, topped with melty cheese, and tobiko. Bowls here are affordably priced too, with the Bara Chirashi Don ($18.90) and Buta Kakuni Don ($18.90) headlining the assortment here. For a local twist, the Chilli Crab Don ($18.90) features tempura soft shell crab, drizzled with chilli crab sauce, on a bed of Japanese rice.
There's a minimum order of $50, with a flat $8 delivery fee. This fee is waived for orders above $100. From now till 13 June 2021, get 20% off your total order with a minimum order of $20, if you opt for self pick-up.
Box n Sticks Review: Tamago Stuffed With Mentaiko And Spicy Aburi Seafood Maki At Bugis
---
10. Akashi
---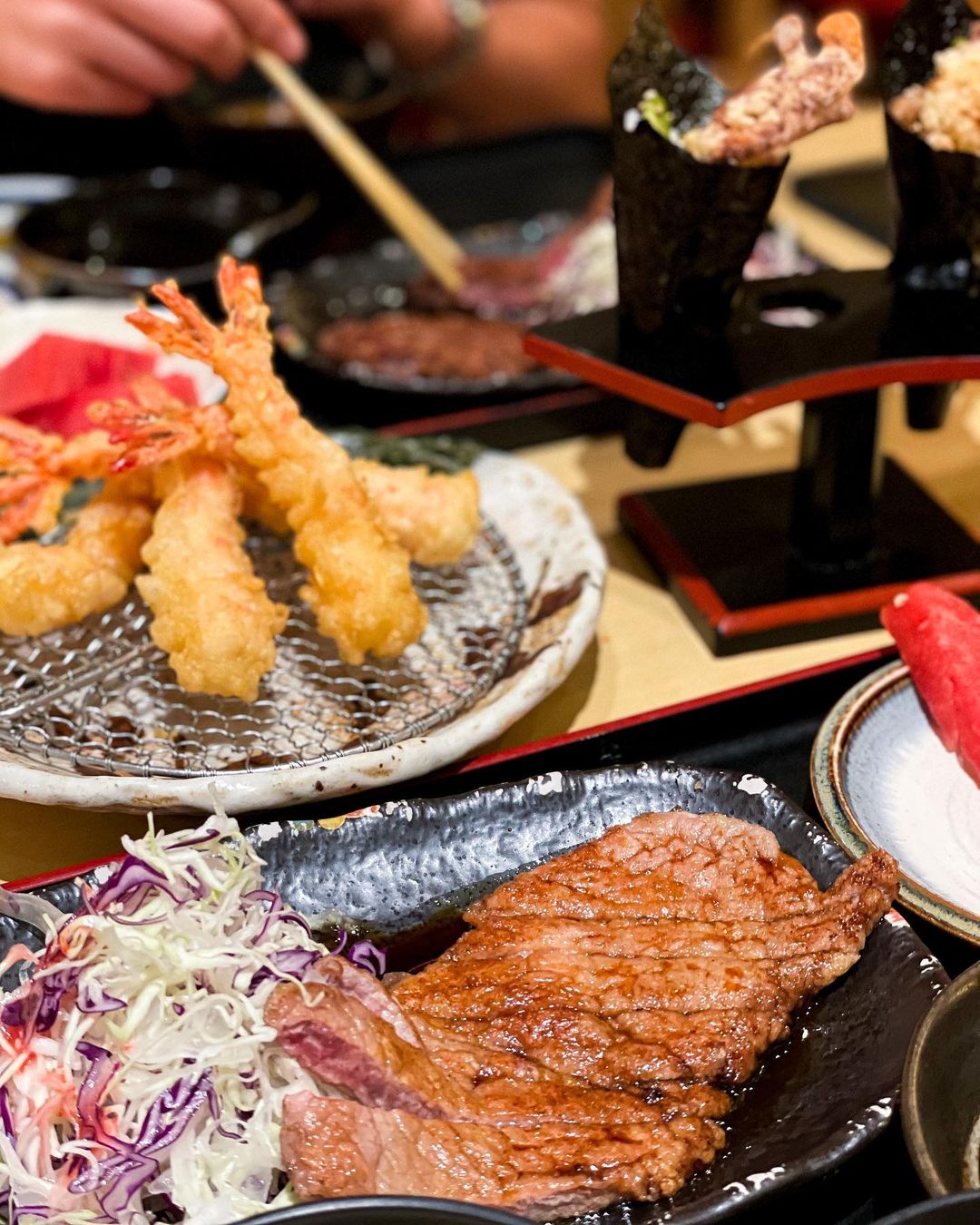 Image credit: @thefatfam_
If you've fond memories of family dinners at Akashi, here's your chance to relive those days at home. Order in for the fam, with sets such as the Gyu Don Set ($22.80), Kurobuta Tonkatsu Set ($24.80), Saba Shioyaki Set ($18.20) and Nabeyaki Udon Set ($20.20), all of which come with miso soup, and cut fruits.
Get your tuna-loving dining companion an Akami Don ($32.20), for a bowl of sushi rice topped with fresh bluefin tuna, or go wild with the Omakase Chirashi ($238) for three to five. This comes with toro, Bafun uni, and assorted sashimi on a tray of sushi rice, with nori sheets on the side.
Delivery is charged at $10, with a minimum order of $50.
20 Korean Fried Chicken Delivery Services During This Stay-Home Period
---
11. Flipper's
---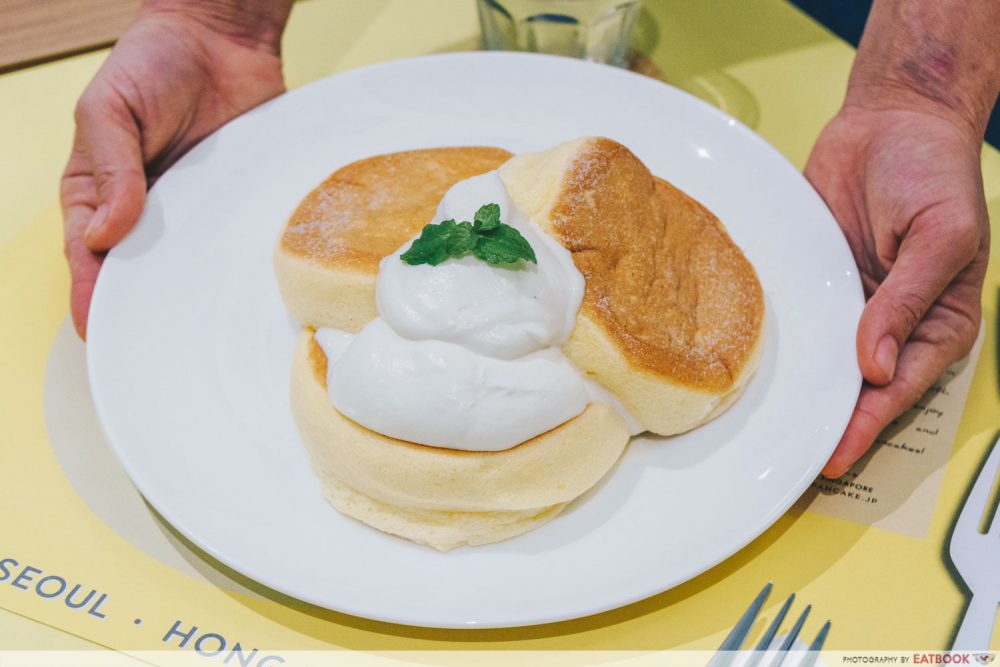 We loved Flipper's pancakes when they first launched in Ngee Ann City last year, and were besotted with their limited edition strawberry pancakes when Awayuki strawberries came into season. This month, their seasonal fruit item is the Andes melon, and you'll be able to enjoy it at home during this P2HA season with their newly launched delivery service.
Besides Kiseki Pancake Andes Melon ($24.80), there's a new Kiseki Pancake Hazelnut Chocolate ($21.80), along with the usual Kiseki Pancake Plain ($16.80), and the selection of savoury pancakes ($22.80).
There is no minimum order for islandwide delivery, and delivery rates are charged by distance, starting from below $10.
Flipper's Review: Popular Cafe From Japan Arrives With Matcha And Eggs Benedict Souffle Pancakes
---
12. Reiwa Soba
---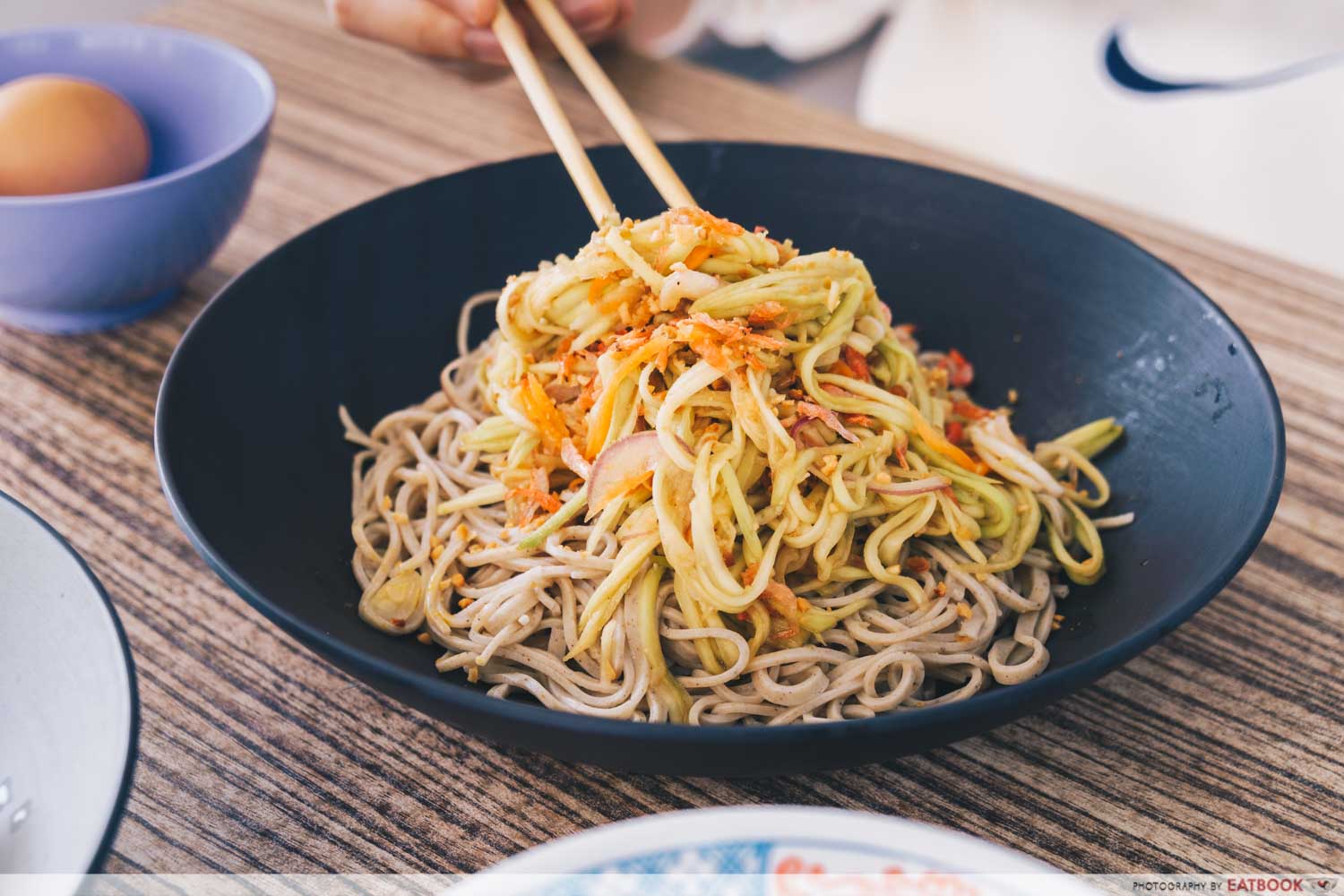 Reiwa Soba is run by a Japanese couple, who make their own soba from scratch in their hawker stall. Their fare, however, is fusion, where the buckwheat noodles are served with innovative toppings and sauces that are distinctly Thai. The Mango Salad Soba ($11.50) sees the homemade noodles dressed with green mango salad, while Reiwa Pork Soba ($13.50) comes topped with Spanish white pork, with a house-made chilli oil dipping sauce that's made with a base of chicken and fish broth.
Delivery fees differ, based on delivery location, with rates starting from below $10. There is no minimum order for delivery.
Reiwa Soba Review: Japanese Couple Sells Thai-Influenced Handmade Soba In A Food Court
---
13. nozomi by YOSHI
---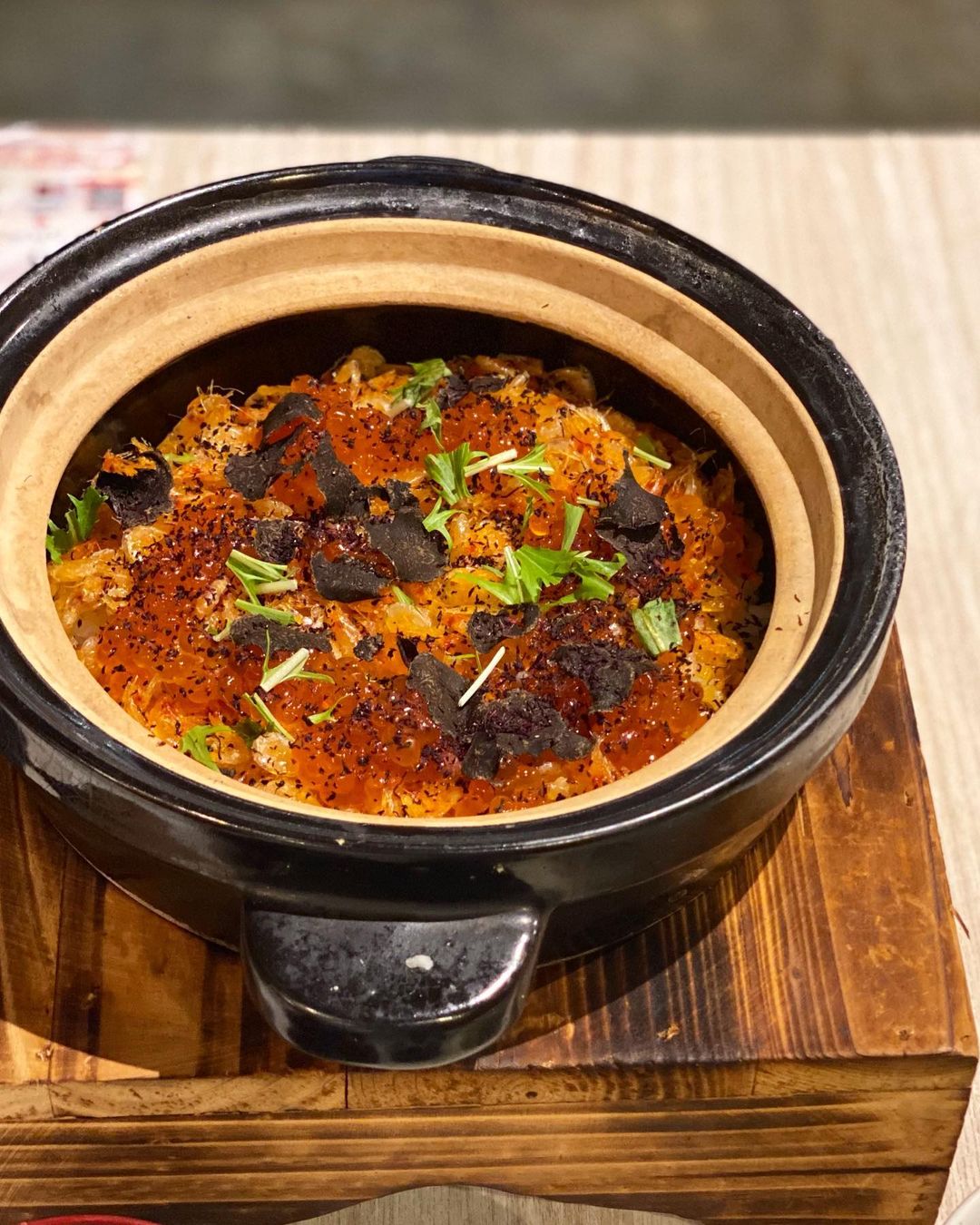 Image credit: @fatbandits
nozomi by YOSHI is a product of last year's COVID-19 Circuit Breaker, when its parent restaurant, YOSHI, was forced to adapt their kaiseki menu to a takeaway- and delivery-friendly menu. It eventually gave rise to two casual Japanese restaurants at Millennia Walk, and Forum The Shopping Mall.
They're now back to running deliveries, featuring a range of grub that varies from comforting Sakura Tai Donabe ($38), to an indulgent Black Truffle Sakura Ebi and Ikura Claypot Rice ($58), both of which feed two generously.
They serve red vinegar sushi rice here, and you can enjoy it in the Salmon Trio And Ikura Don ($24) or a Hotate, Amaebi, Zuwaigani Don ($32), that's got scallops, sweet shrimp, and snow crab.
Delivery fees, which start from below $10, vary according to delivery location. Delivery is free with orders above $100.
Order from nozomi by YOSHI here!
---
14. SABAR
---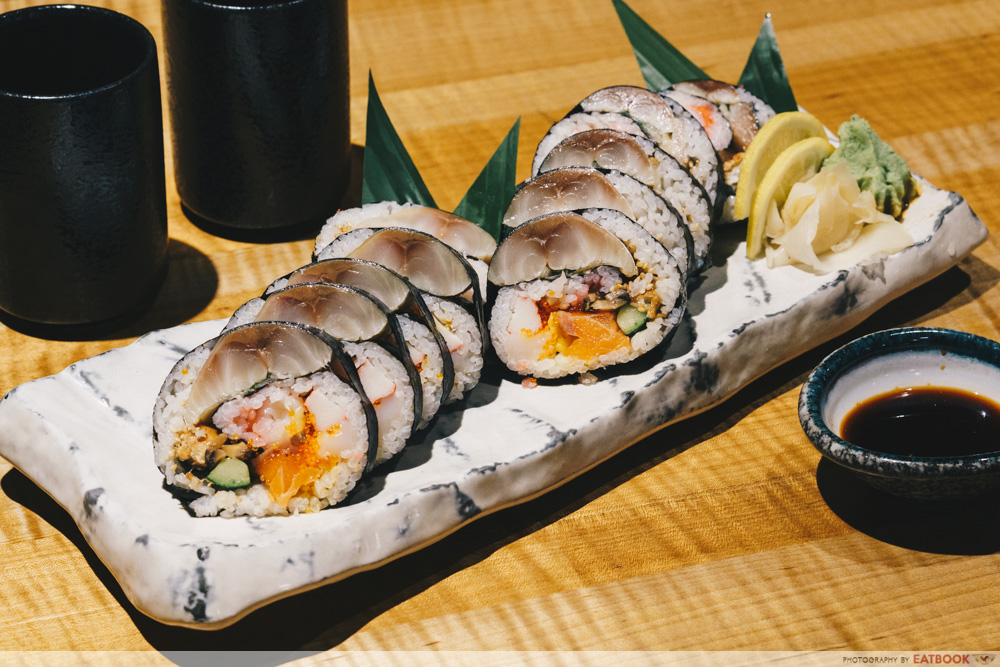 Only the best, wild-caught toro saba from the North Pacific Coast of Japan is served at SABAR, a combination of the words saba, and bar. Saba lovers need look here, because the entire menu celebrates this mackerel. The Grilled Saba Sushi ($30) features grilled fish and rice, sandwiching a slice of ginger within, while Matsumae Toro Saba Sushi ($30) showcases Edomae-style sushi, where the fish is marinated and cured with kombu. If you prefer the whole fish, you can get it with the Grilled Super Mega Toro-Saba ($58), which is said to have no fishy taste, and will spoil you for all other saba.
Delivery is charged at $8 with a minimum order of $38, or free with orders above $78. SABAR does not deliver on public holidays, and eve of public holidays.
---
15. Sandaime Bunji
---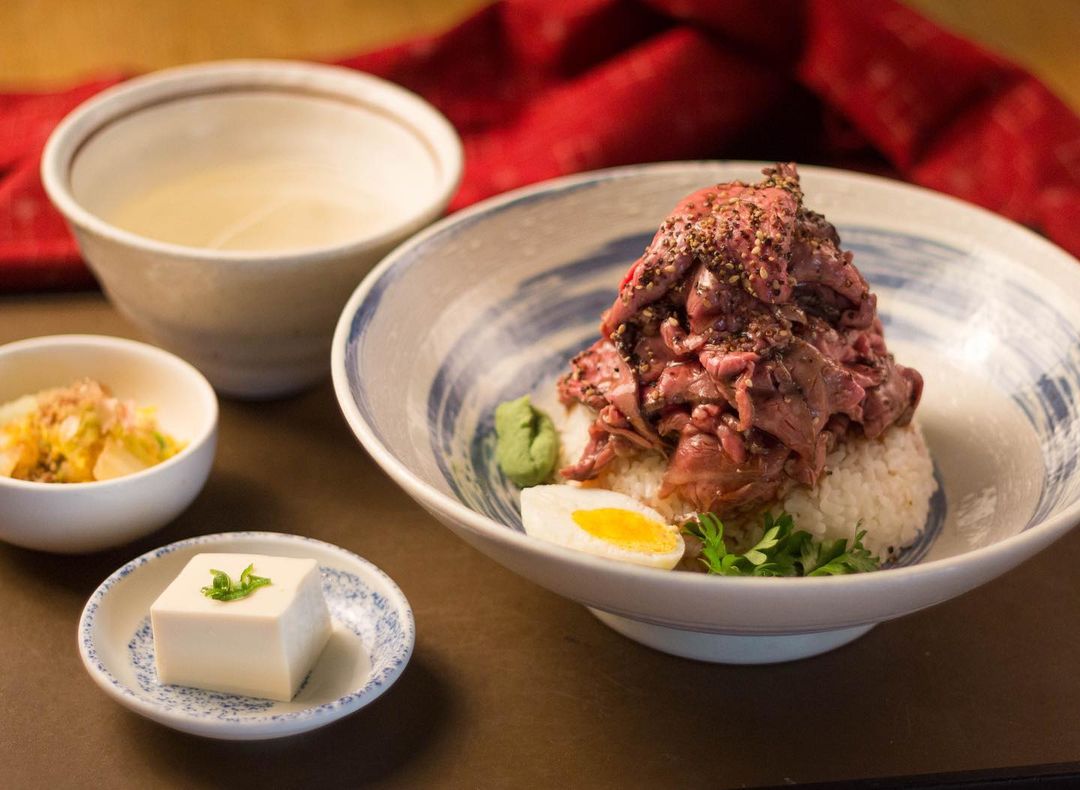 Image credit: @sandaime_bunji
You'll definitely have walked past Sandaime Bunji at Millennia Walk, which used to be packed with Japanese businessmen after work hours. Those days are a thing of the past, for now, and Sandaime Bunji has taken their offerings online. They specialise in serving oden, and beef tongue, although their roast beef bowls have made quite a name for themselves too.
Try their speciality with the 3 Kind Gyutan Mix Bento ($32.90). Here, aged beef tongue is prepared three ways: miso, ginger, and shio, with some dashimaki tamago, salad, and rice. If it's the beef bowls you're after, it comes in two sizes: Au Wagyu Roast Beef Don in S Size ($13.90), and L Size ($22.50). The former has 100g of roast beef, while the latter has 200g.
There's a minimum order of $50 for delivery, which costs $10. Currently, they're running a promotion where you'll get $3 off the delivery rate when you spend $48, which makes delivery just $7.
Order from Sandaime Bunji here!
---
16. Nanbantei Japanese Restaurant
---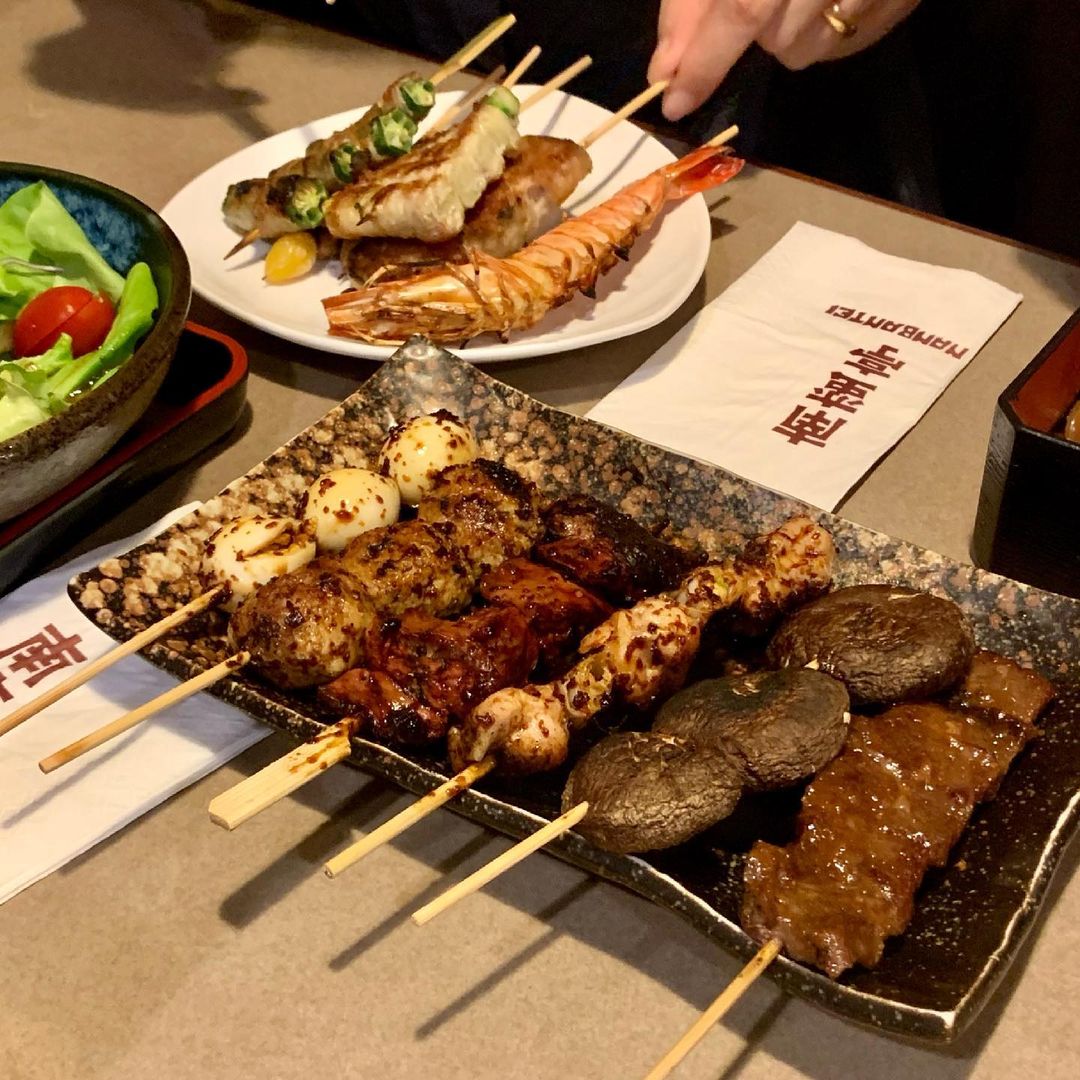 Image credit: @diet_my_ass
Nanbantei Japanese Restaurant has been around the block and back, having been around since 1983. Get a Party Tray of yakitori sticks, along with Mentai Cabbage ($13.50) and drinks, with prices ranging from $70 to $92. For a change from the regular BBQ wings from the hawker centres, get the Tebasaki Platter (from $18.20). If you'd like your yakitori with rice, check out the Yakitori Bento ($18), which gets you an assortment of signature yakitori with rice, vegetable sticks, and a dessert of the day.
Delivery fees start from $8 with a minimum spend of $50, or free when you spend $100. There's a festive surcharge of $3 around public holidays.
Order from Nanbantei Japanese Restaurant here!
---
17. Hideki
---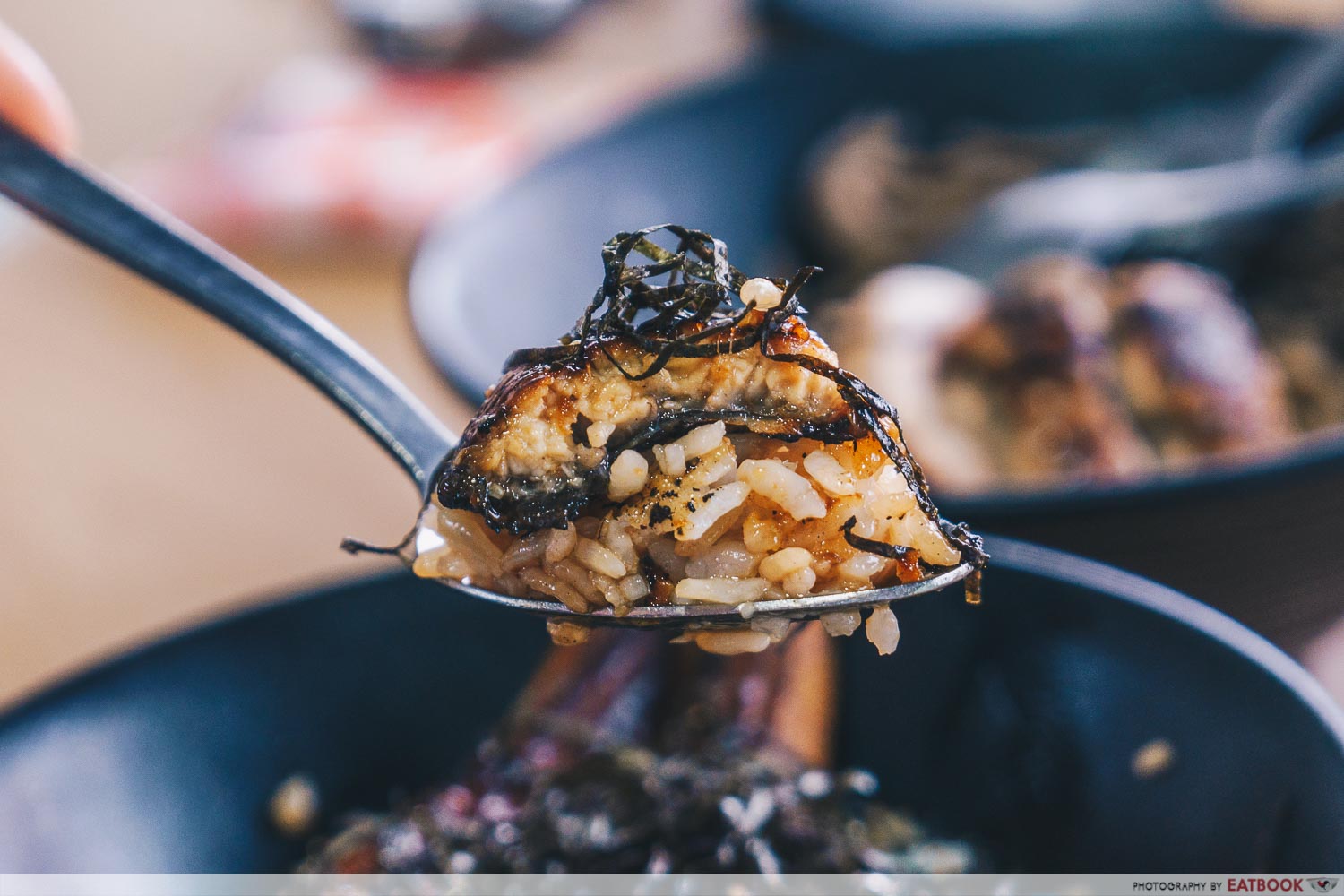 We reviewed Hideki, a Japanese cai png stall, when they first started out at Yishun Park Hawker Centre. They've now expanded to the CBD, with an operation running out of the Shenton Food Hall. We liked their fully customisable bowls, which you start building with a base ($1), followed by a protein (from $3), sauce, and side (from $1). Choose from sushi rice, soba, or salad; chicken, pork, unagi, beef, or salmon; teriyaki, truffle mayo, or nacho cheese sauces, and a whole range of sides.
For the indecisive, there are also preset options such as the Aburi Pork Belly Don ($7), and Triple Threat ($14), featuring aburi salmon, chicken, and pork belly.
Hideki doesn't have in-house delivery services, but is available on the GrabFood app, and FoodPanda app.
Hideki Review: Japanese Cai Png With Aburi Salmon, Unagi, Pork Belly And More From $4 At Yishun
---
18. Man Man Unagi
---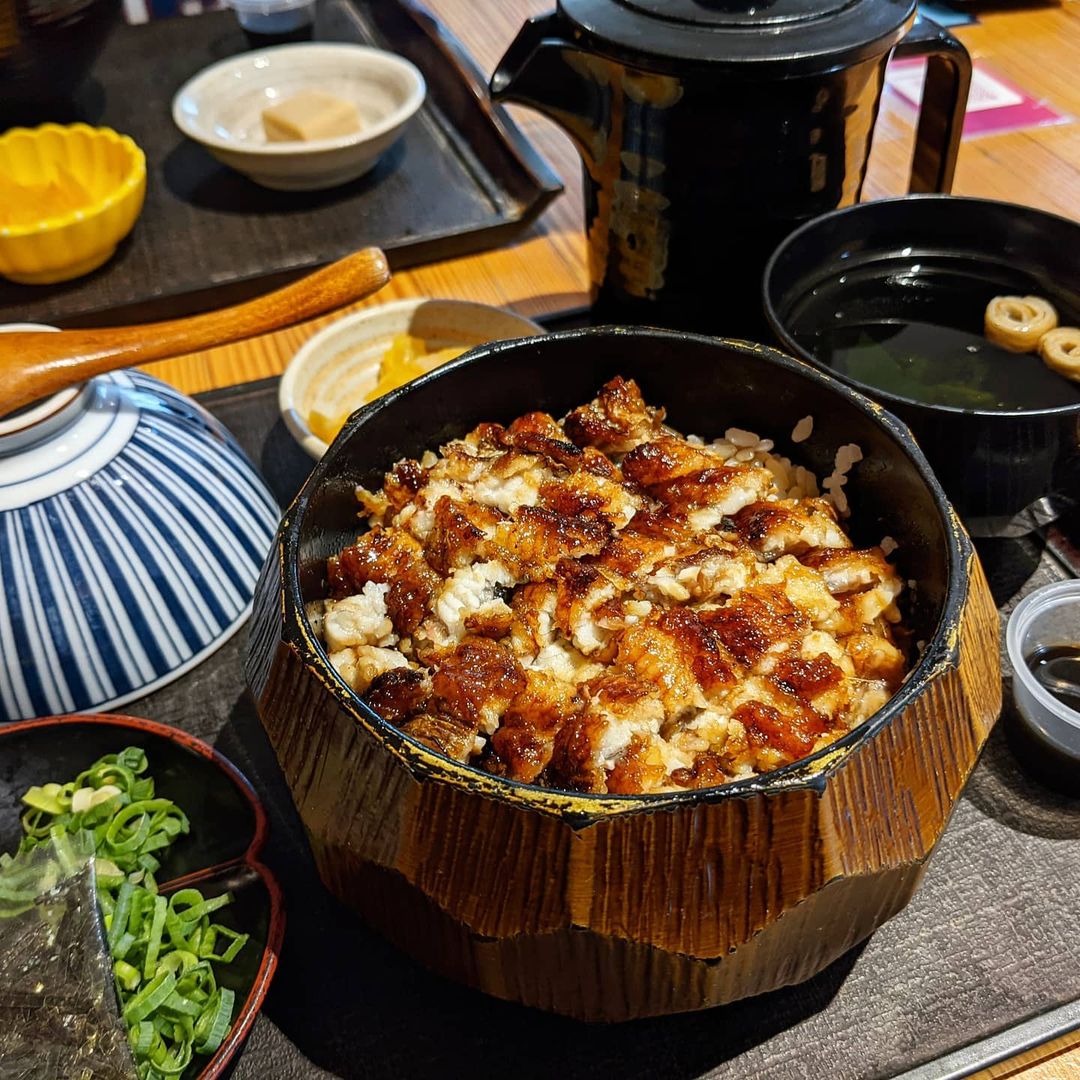 Image credit: @cknchowmein
Once upon a long time ago, Man Man Unagi attracted queues that stretched more than 50 people long. Those days are over, because Man Man is now available for islandwide delivery!
Look forward to their speciality Hitsumabushi (from $34), which allows you to enjoy their fresh unagi three ways: alone, with condiments, and third with the broth. But if you're not after all those frills, you can go for the Kabayaki Bento ($31.30), which has a large serving of unagi, with tamago, spinach, pickles, and rice. If you're even more basic than that, the Unagi Don ($32.90) is unagi, rice, and pickles.
Delivery is fixed at $8, although there is a minimum order of $80 to hit.
Order from Man Man Unagi here!
---
19. Sun With Moon
---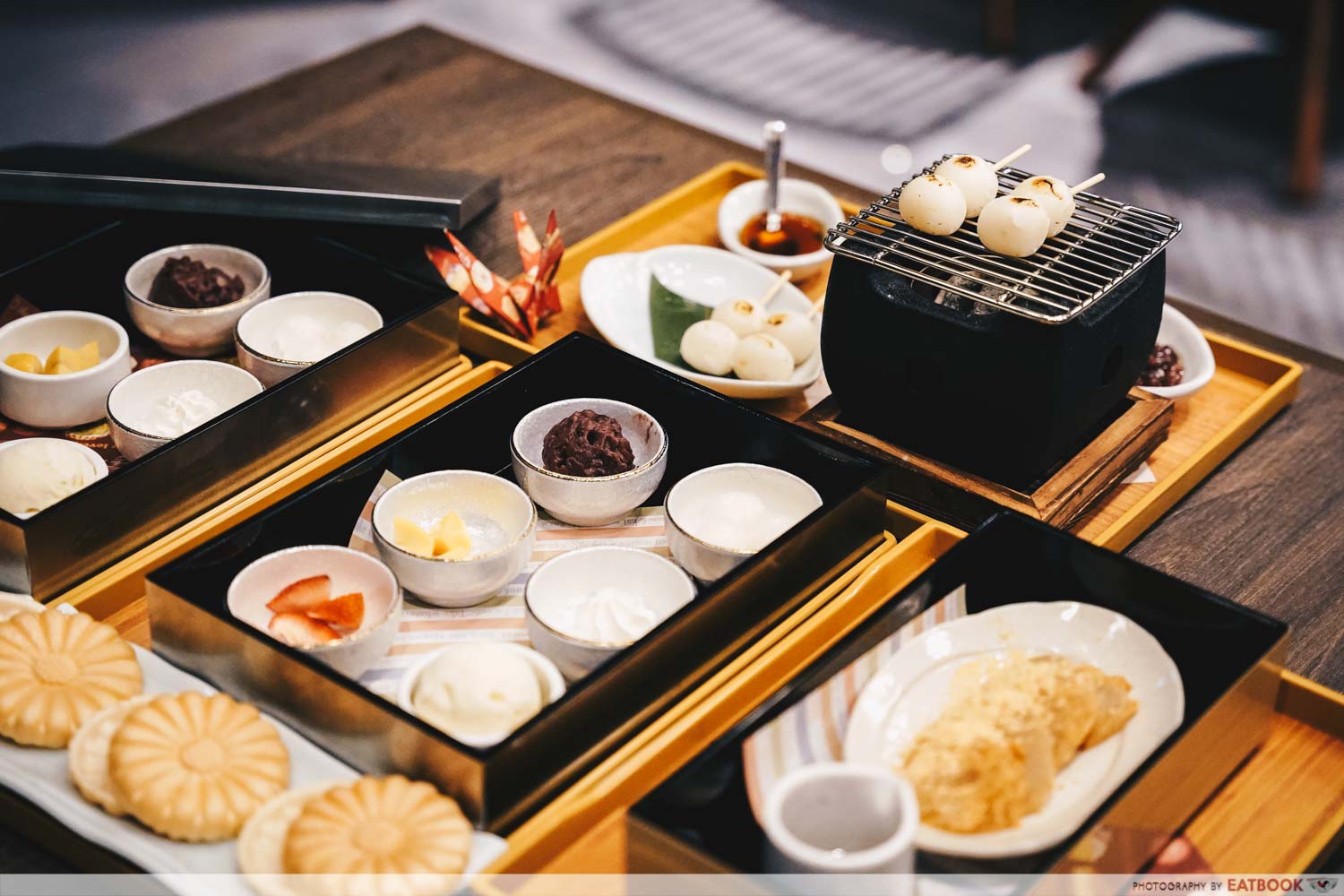 Sun With Moon is known for their kamaneshi, or kettle rice, sets, that arrive at your table in an iron pot. You can now enjoy them at home, minus the pot, between 12pm and 2:30pm every day. The 3 Kind Meat Mix Kamaneshi Set ($28.30) has sliced beef, grilled chicken, and pork kalbi, with flavoured rice, while the Aburi Kaisen Kamameshi Lunch ($29.30) comes with flame-torched diced salmon, scallop, prawn, grilled eel, ikura, and tobiko on flavoured steamed rice with mushroom, chestnut, konjak, carrot, lotus root and shredded egg. All the kamaneshi lunch sets come with assorted tempura on the side, and miso soup.
For a limited time, Sun With Moon will also have a Miyazaki wagyu special, where the prized beef features in the Miyazaki Wagyu Karubi Yaki & Kimchi Don ($27.80), and Miyazaki Wagyu Karubi Nigiri Sushi ($8.80). This menu will run till 7 June 2021.
Islandwide delivery is fixed at $5, with a minimum spend of $50.
Order from Sun With Moon here!
---
20. sen-ryo
---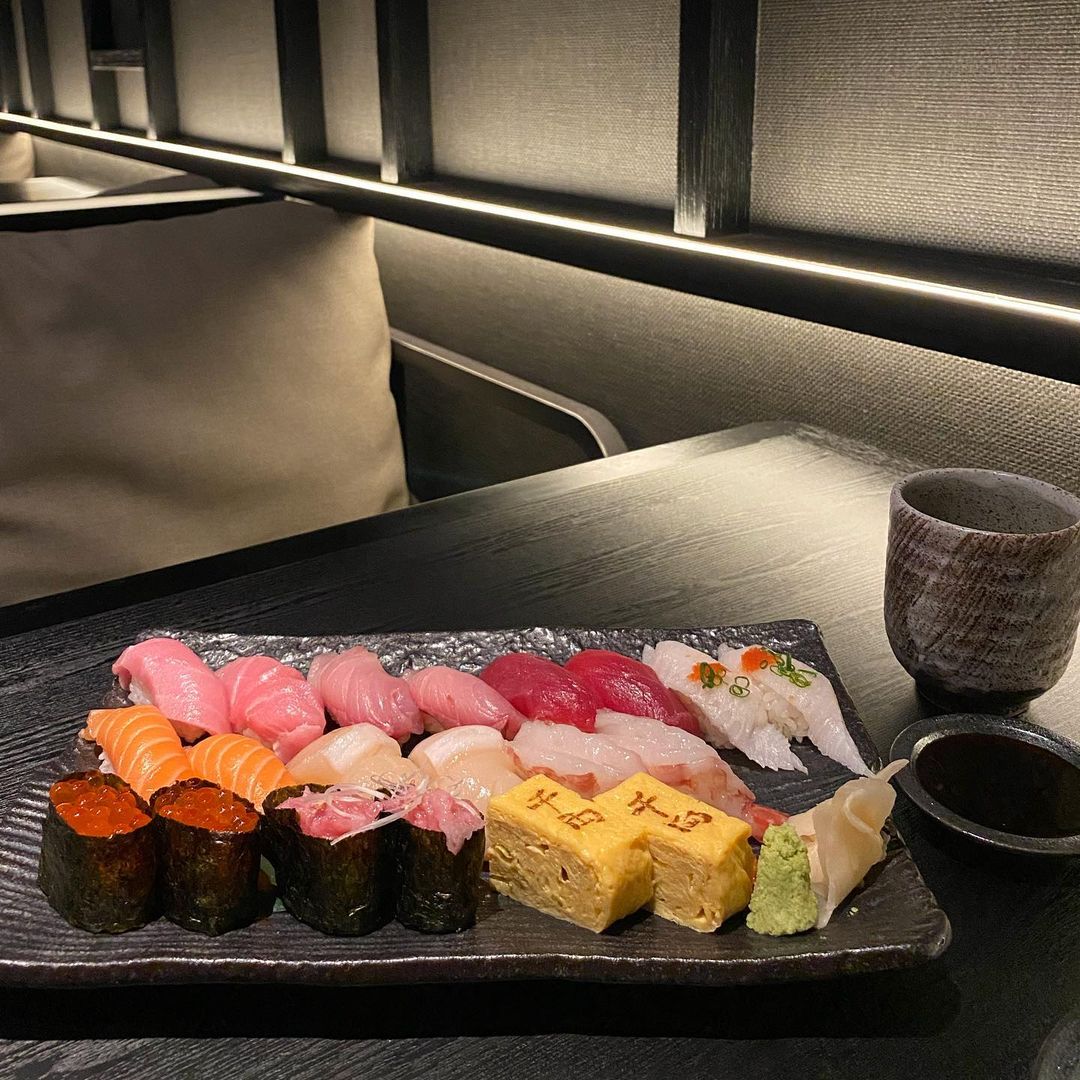 Image credit: @luv_pamela
One of Singapore's newest affordable Japanese dining options, sen-ryo has gained fame for its reasonable prices, and quality food. On their takeaway menu is a $20 sen-ryo Sushi Set, which's got a selection of sushi, served with chawanmushi and miso soup. The Kaisen Don Set ($35) is not shabby either, with nine kinds of sashimi, including uni, tomato salad, and miso soup. Not to be outdone are their bentos, priced from $15.80 for a Tori Nanban Bento, to $27 for an Australian Wagyu Bento.
sen-ryo's delivery platform will be operational soon; in the meantime, enjoy 10% off your total nett bill when you do a takeaway from now till 13 June 2021. To reduce waiting times, do call ahead at 6974 6782 or 8938 6026 to place your orders.
---
21. Tempura Tendon Tenya
---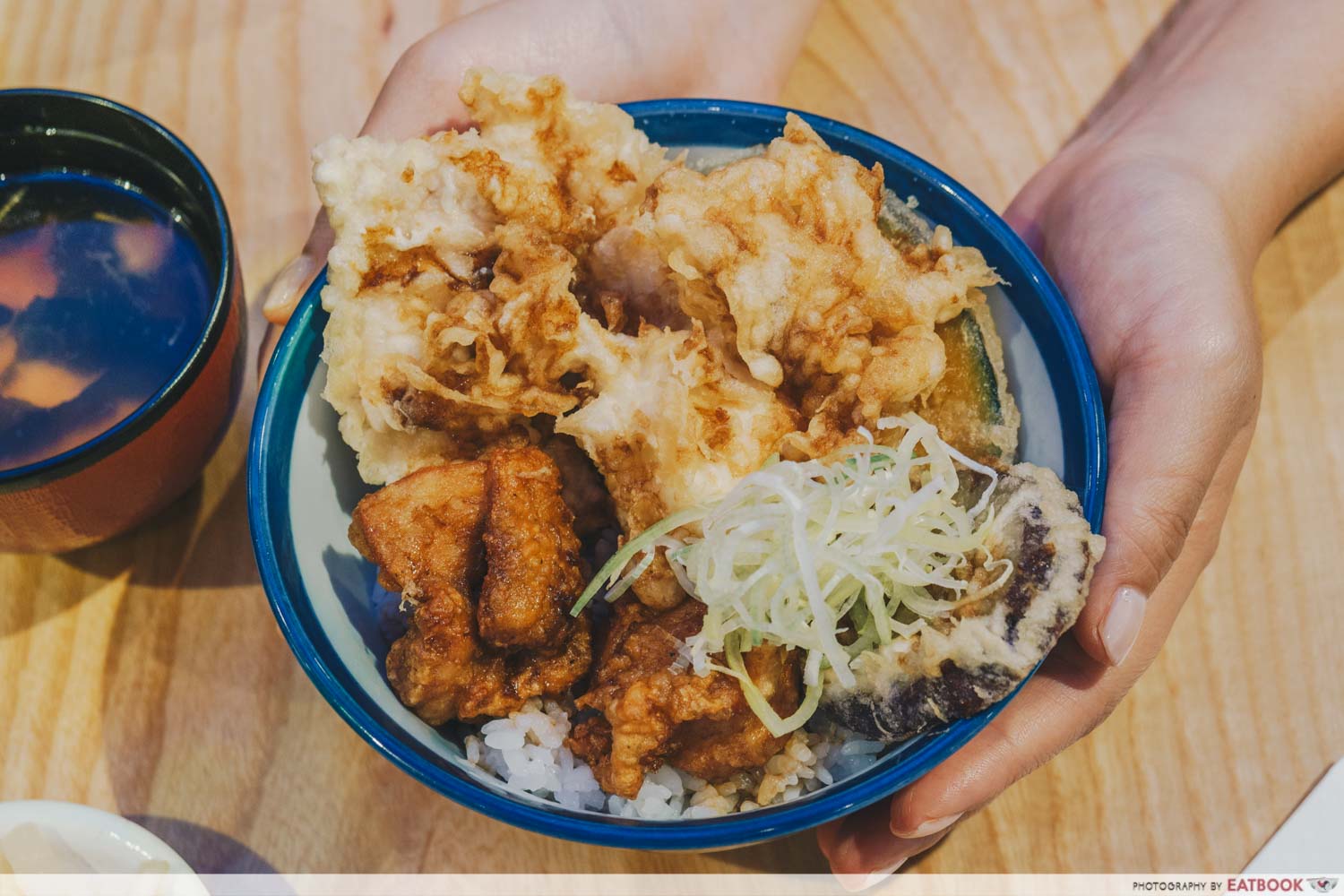 Tempura Tendon Tenya at Orchard Central is an affordably priced tendon option. The tempura dons at Tenya, Japan's number one tendon chain, cost under $15 here, with the Singapore-exclusive Tori Tendon costing just $9.90. If you prefer noodles, go for the Tempura Cold Soba ($12.90), or swap out the cold soba for hot soba, cold Inaniwa udon, or hot Inaniwa udon. Otherwise, have both rice and noodles when you make any option a Teishoku set.
Tempura Tendon Tenya is in the midst of rolling out their delivery platform, online ordering, and curbside pickup service. For now, please call 6509 6838 to place your orders, and view the menu here.
Tempura Tendon Tenya Review: Famous Japanese Tempura Don Under $15 In Orchard Central
---
22. Standing Sushi Bar
---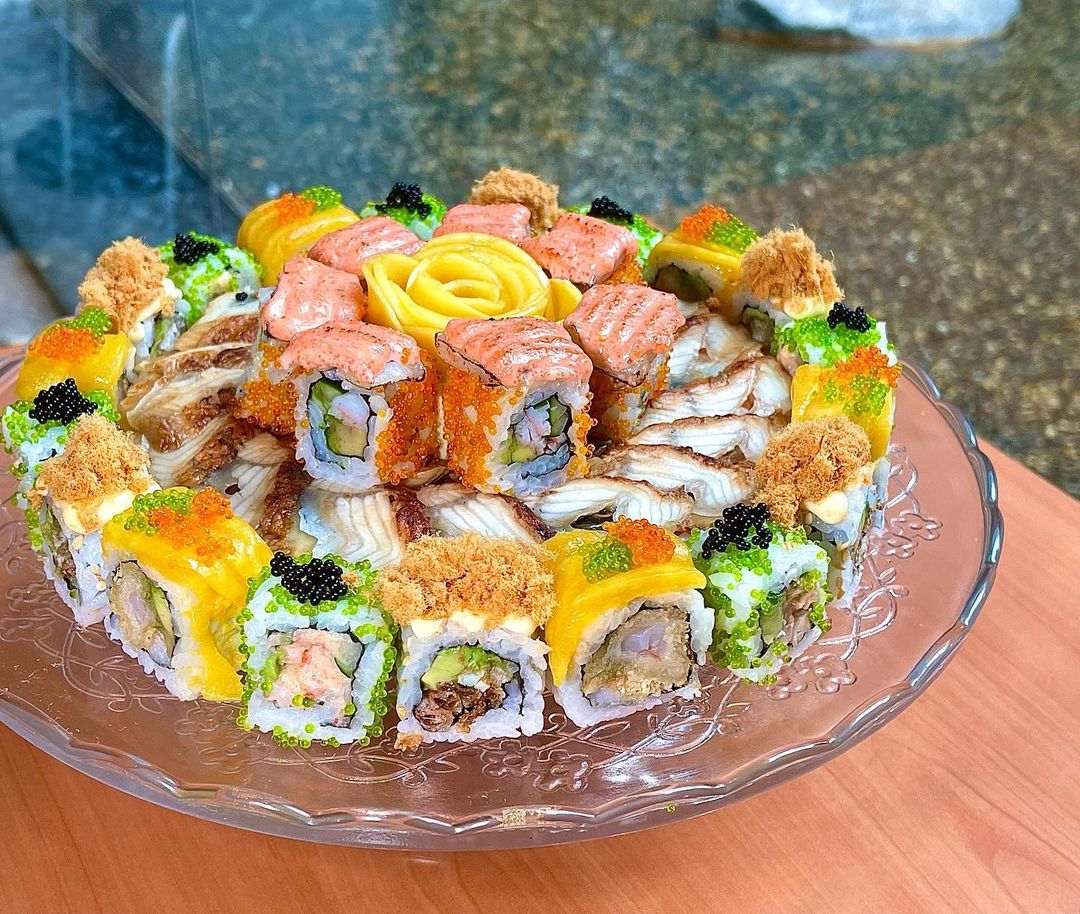 Image credit: @nantheless
Standing Sushi Bar is well-loved for its sashimi, and drinks. Now, have them at home, or send your friend a sushi cake this P2HA, with their latest, IG-worthy creation. A 1.2kg Sakura Sushi Cake ($99) features four of Standing Sushi Bar's speciality maki rolls, decorated with ikura, and a salmon "rose". Otherwise, feast on an Aburi Superstar Sampler Set, now discounted at $35, or have an a la carte Grilled Salmon Mentai Steak for $16. There's something for the kids too, such as Garlic Fried Rice ($8), or My Salty Sweetie Maki ($17.90), with deep-fried prawn, mango, crabsticks, avocado, ebiko, and tobiko.
Islandwide delivery is $9, but free if you order above $80. Do give at least two hours notice when you place your orders.
Order from Standing Sushi Bar here!
---
23. RAPPU
---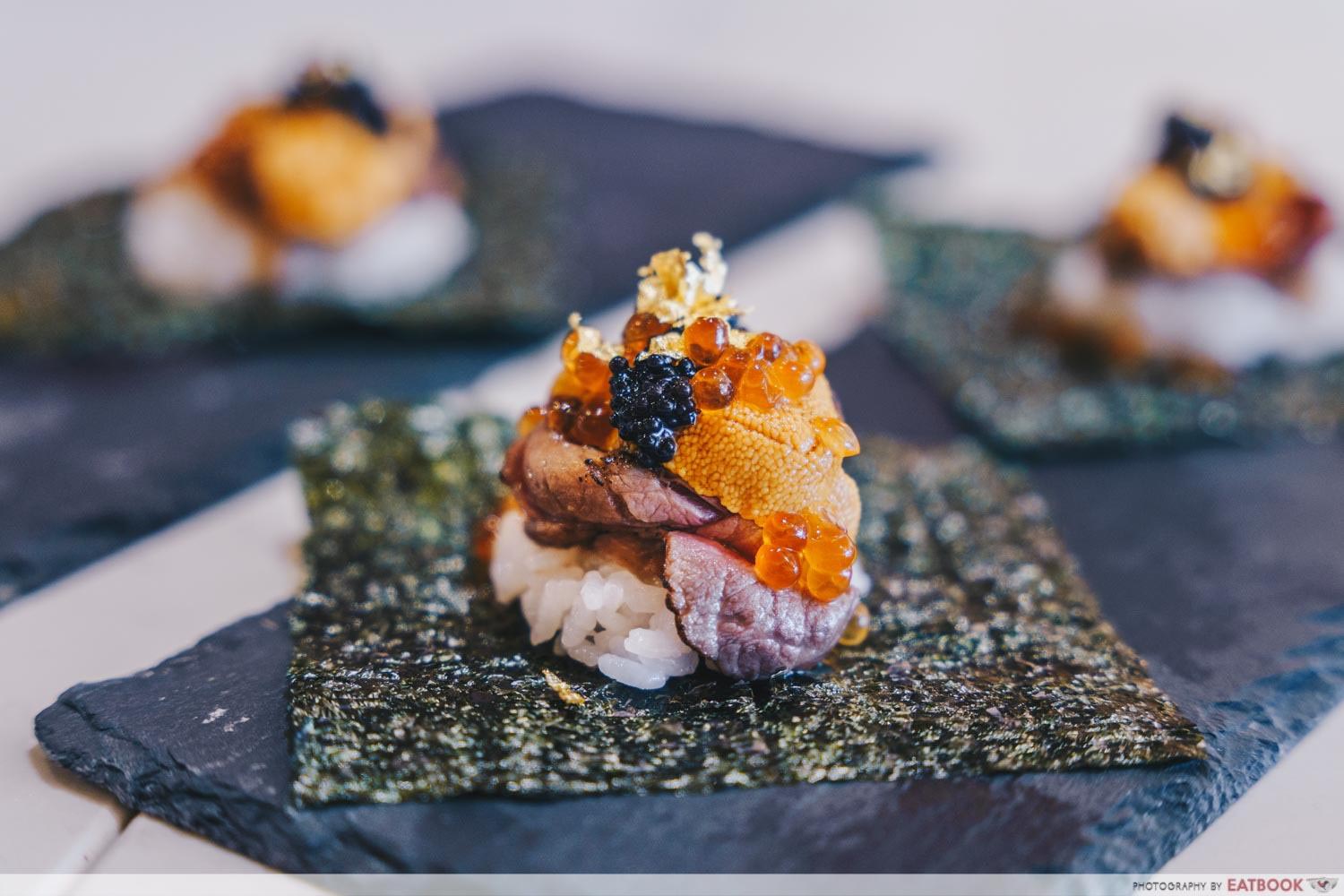 RAPPU's handrolls blew us away when we first sampled them last year. Instead of serving up a $36 handroll course, RAPPU has pivoted to present the rolls as chirashi boxes, with nori sheets on the side for you to DIY the handrolls at home, should you choose. The Rappu 6 ($43) is their less premium option, comprising hotate, kanpachi, salmon, toro, crab, and engawa. The High Roller ($88) is the one you'll be seeing most on IG, with Grade A uni, wagyu, engawa, toro, ikura, hotate, and caviar.
Delivery fees vary, based on distance from RAPPU, with a minimum order of $28. It's free with orders above $100.
Rappu Review: New Sushi Restaurant By The Feather Blade Serves A Full Handroll Course At $36++
---
24. Genki Sushi
---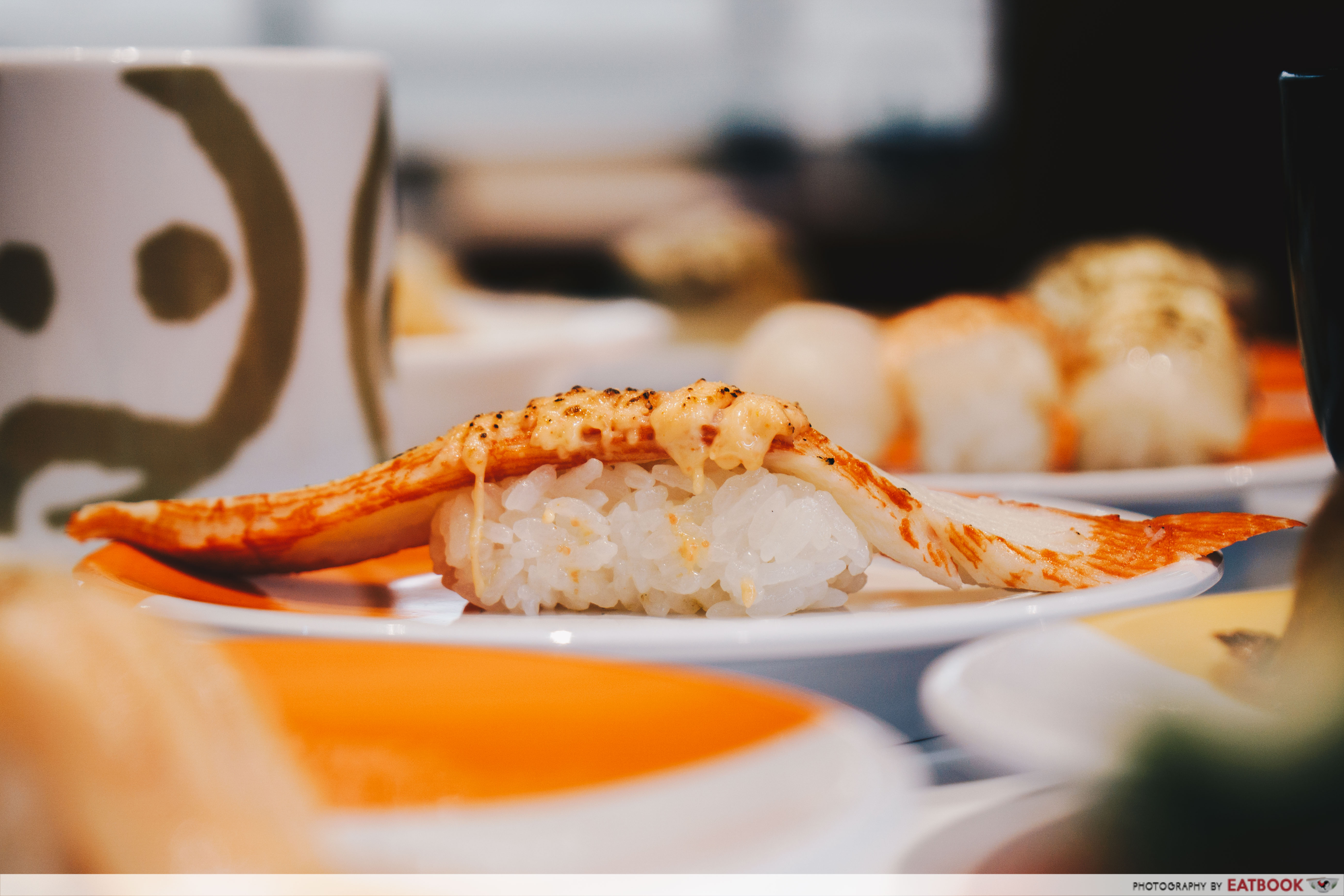 Everyone loves Genki Sushi for its affordable sushi, so it only makes sense for them to have a place on this list. True to form, the Chirashi Bundle has two mini chirashi don, ebi tempura, and salmon belly sashimi, all for the wallet-friendly price of $23.85. For purely sushi options, sushi sets are priced from $10.90 to $56.90, the latter consisting of a whopping 64 pieces of sushi. Delivery exclusive items include a Teriyaki Chicken & Ebi Soba Bento ($12.90), and an Unagi & Ebi Bento ($16.50).
There's a minimum order of $35 for delivery, which starts from $5. There's an additional surcharge of $3 on public holidays, and eves of public holidays.
---
25. Sando
---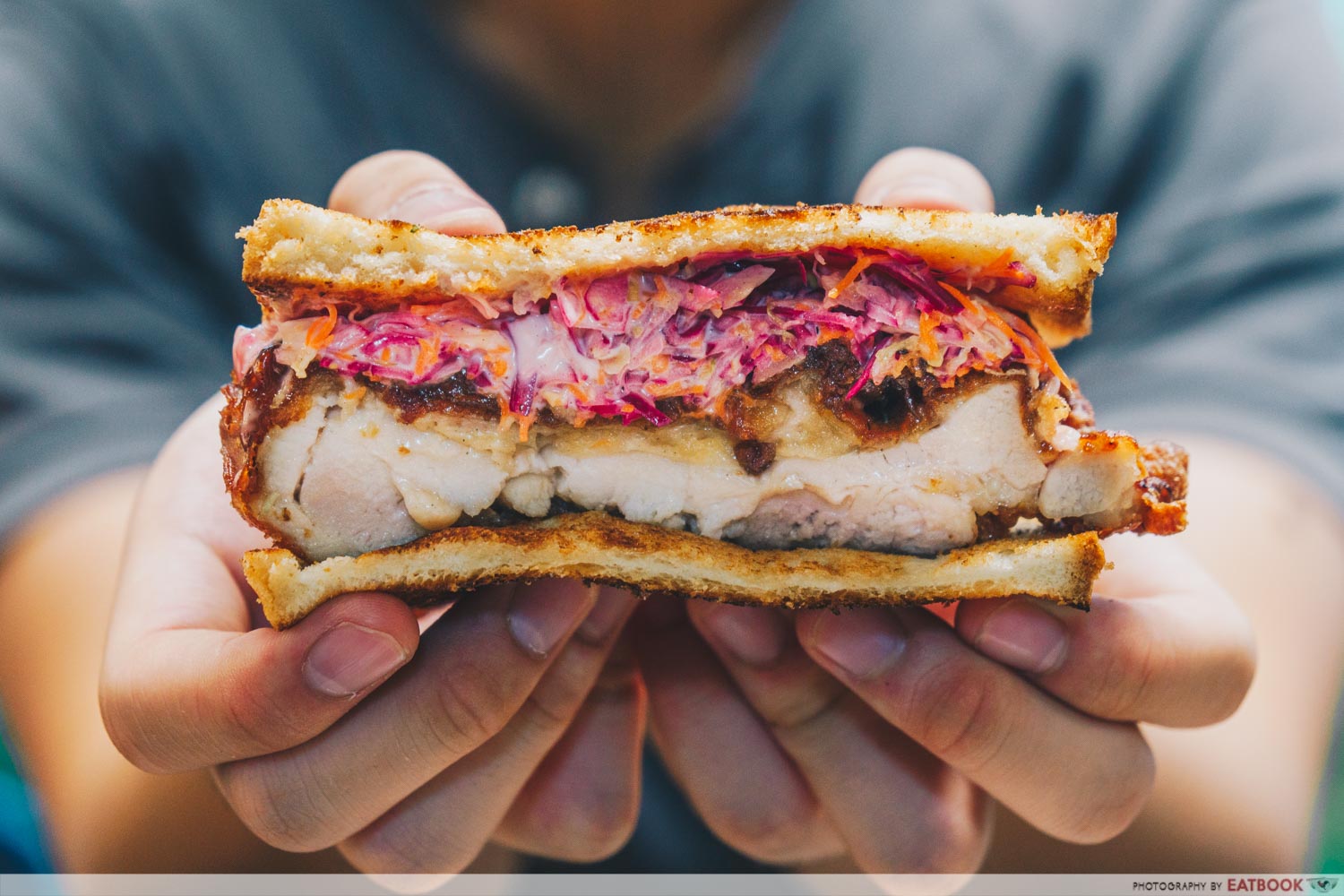 Japanese sandos are legendary, and Sando at Alexandra aims to do them justice. This Japanese food delivery menu has expanded to include breakfast sandos, such as the Tamago Sando ($6), a luscious sandwich of tamago, kombu mayo, and bonito flakes, although this is only available between 8am and 10:30am on weekdays. On the main menu, go for the Katsu Sando ($$11), a katsu sandwich that's zhnged-up with duck fat confit onions, or the Tori Karaage Sando ($10.50), filled with a jalepeno citrus slaw, and chile-infused honey.
Sando has a flat delivery rate of $6, waived with orders of $120 and above.
Sando Review: Legit Tonkatsu Sandwiches Found At Alexandra Technopark
---
26. YAYOI
---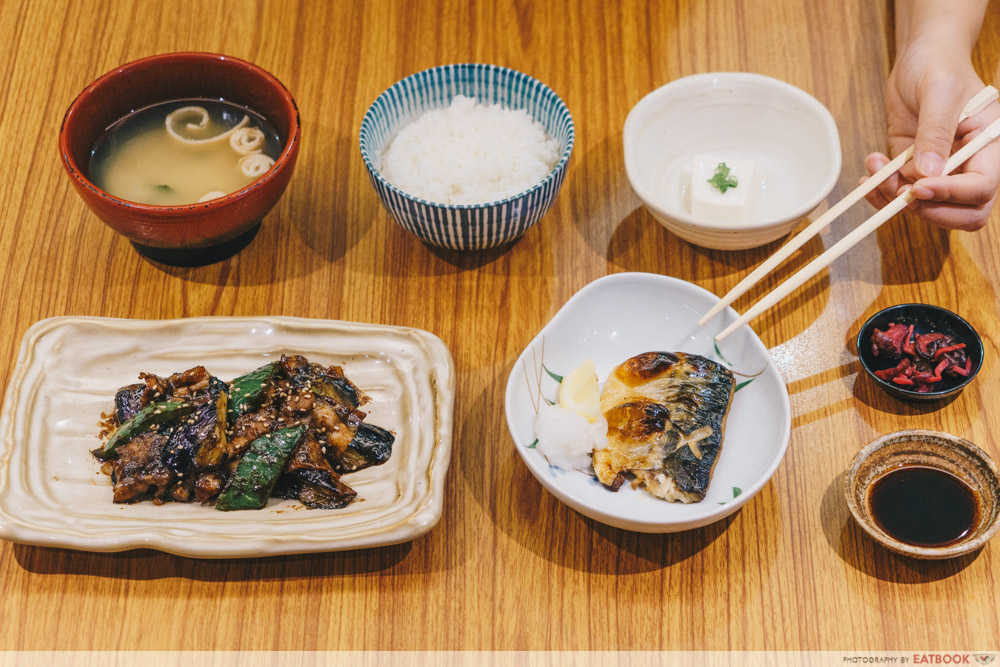 YAYOI specialises in teishoku, or set meals─centred around a bowl of rice, with meat or fish, a main of vegetables, pickles, and soup. Enjoy teishoku with YAYOI's delivery bentos, some of which you can order with a 20% discount, applicable at check out. The Nasu Miso Bento ($15.90), headlined by fried miso eggplant, would work out to cost $12.72 after the discount has been applied. Another attractive promotion is their 1-for-1 deal on Buta Yakiniku Don ($15.90), except you'll now be getting two bowls for the price of one!
Delivery is charged at a flat $5, with a minimum of $35 spent. Festive surcharges of $3 apply.
---
27. Chiru
---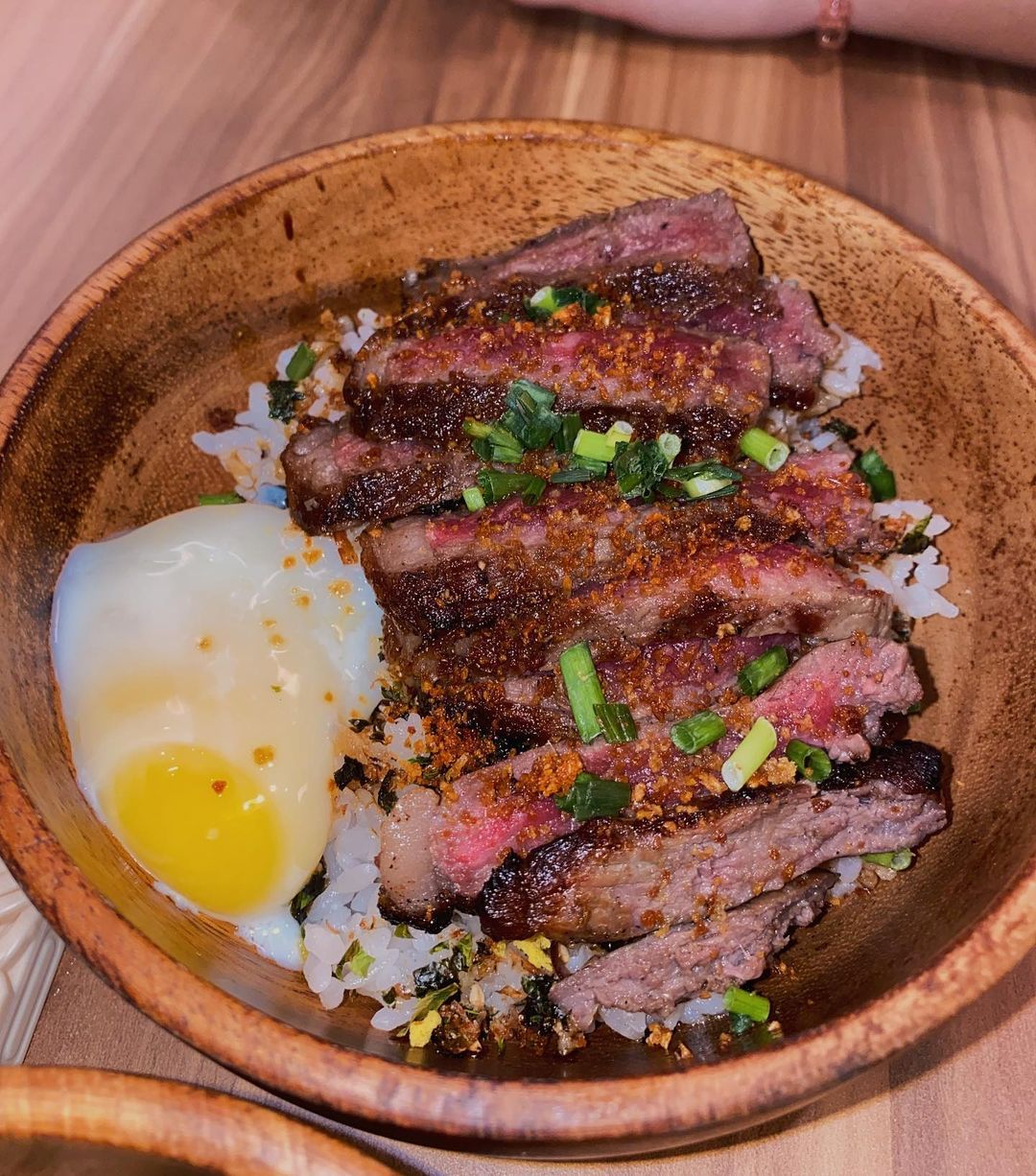 Image credit: @chxr.eats
Chiru takes over what used to be Torii Izakaya on Duxton, serving a mix of maki, donburi, and yakitori. For the month of May, enjoy 1-for-1 on all donburi at Chiru! In short, get their Truffled Beef Donburi at just $14 a bowl, or $28 for two. Other donburi on their menu include Wagyu A5 Donburi ($48), Kurobuta Kakuni Donburi ($18), and Scallop Foie Gras Fried Rice ($28). These prices now get you two of the same bowl. You can also order Snow Crab Croquettes ($18) or Kawa Karaage ($9) on this Japanese food delivery.
Click here to order, or WhatsApp 8939 2377 to place your orders. Payments should be made via PayNow. Delivery is free for orders above $80.
---
28. Saboten
---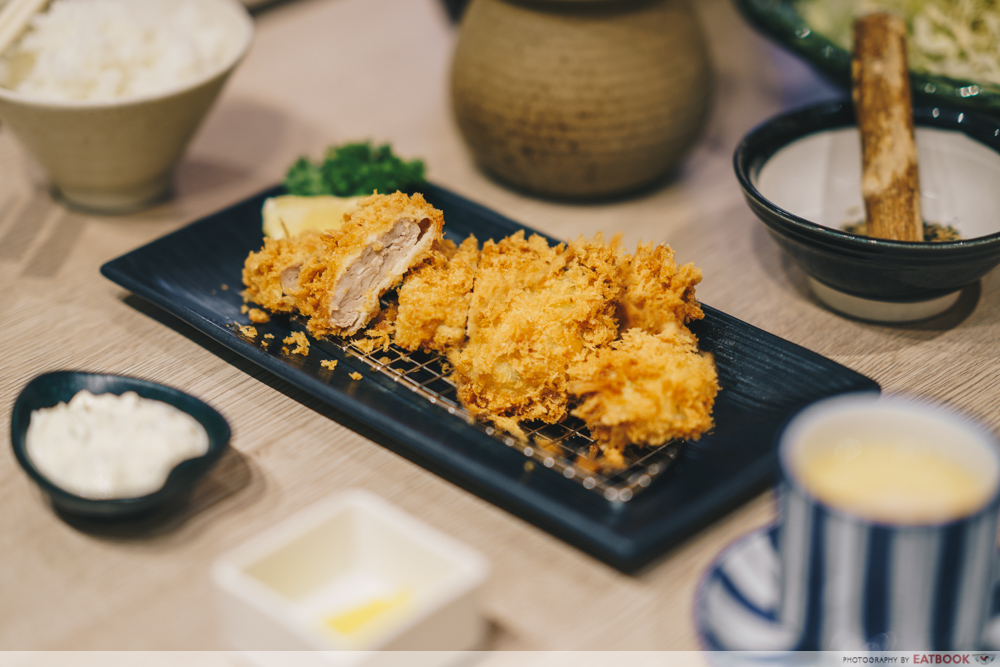 With more than 500 outlets worldwide, Saboten is an authority on tonkatsu. Share a Twin Special Gozen ($54.45) two ways, with imported Japanese rice, pork loin katsu, fried shrimp, crab cream croquettes, and a cheese tenderloin. Besides the regular tonkatsu sets, there are also curry katsu sets, such as the Tenderloin Katsu Curry ($23.65), or Chicken Katsu Don ($21.45), which sees the fried cutlet and rice drenched in a special donburi gravy.
Delivery is $5, with a minimum of $60, but is free on orders above $100.
---
29. Aburi-En
---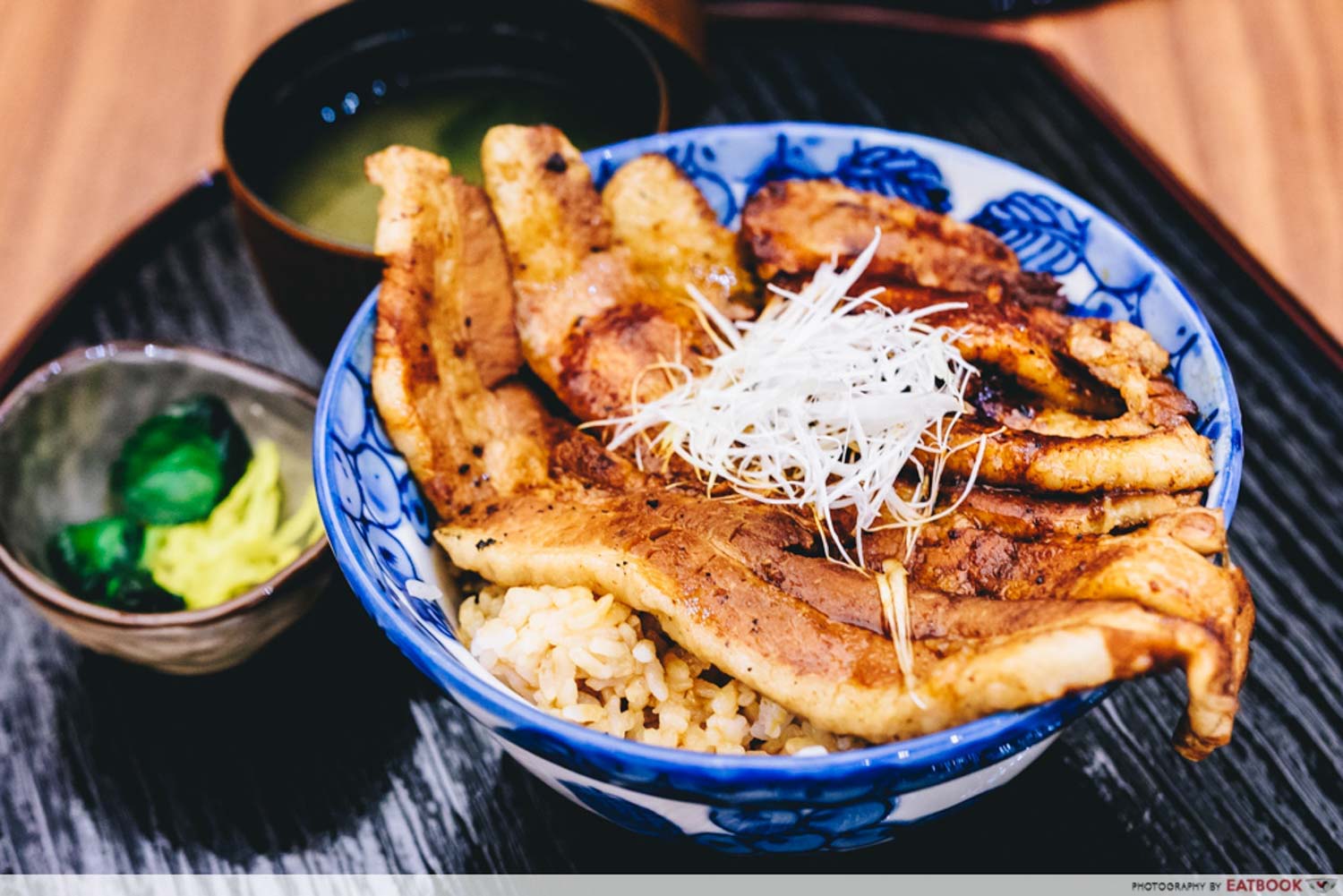 Aburi-En's best selling bowl is its Premium Buta Don ($17.80) that differentiates itself from the regular Buta Don ($14.20) with chestnut pork, aka pork from a pig that feeds on chestnut. For greater indulgence in your Japanese food delivery, get the Premium Buta Bara Don ($19.20), for grilled chestnut pork belly on rice. This fatty cut makes for lots of drippings on the rice, an alternative being the Iberico Hoho Don ($19.20). For a noodle option, consider their Tantan Mazesoba ($12.80), a spicy, dry ramen topped with minced pork, and an egg yolk.
Delivery is charged at a flat rate of $5, with a minimum order of $50.
Aburi-EN Review: Blow-torched and Chargrilled Japanese Rice Bowls In The CBD
---
30. Tsukada Nojo
---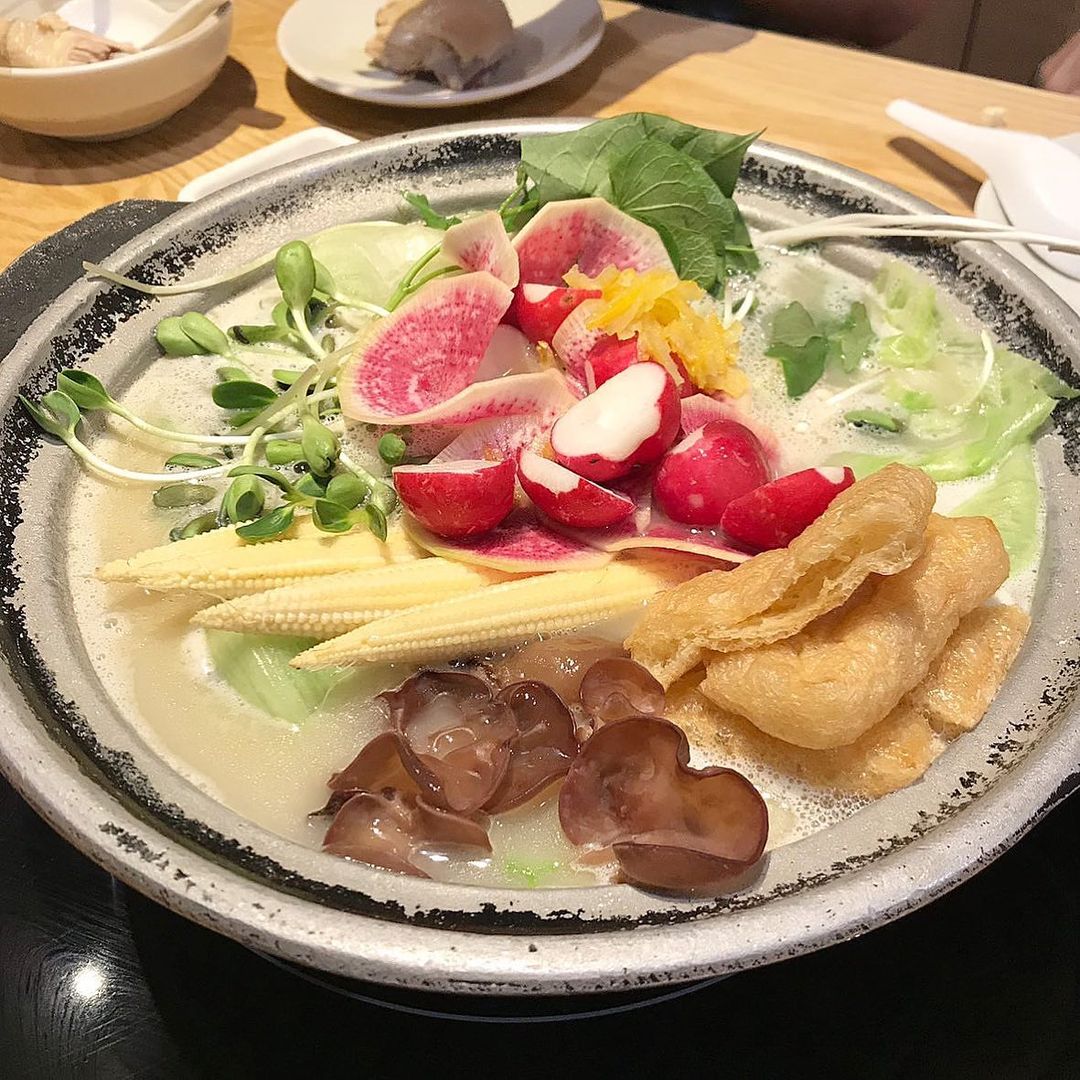 Image credit: @serial_food_eater
If you've not tried Japanese hotpot, here's your chance. Tsukada Nojo serves their Bijin Nabe, or beautiful person pot, with collagen broth made with the golden Jidori chicken, imported specifically from their farms in Japan and boiled for more than eight hours.
The Bijin Nabe Chicken Set ($58) comes with 1kg of collagen soup, alongside ingredients that are good for two to share. The Bijin Nabe Pork Set ($80) gets you both chestnut pork, and Japanese pork, while the Bijin Nabe Beef Set ($108) has regular, and wagyu beef. If you prefer, a la carte options are available, with 1kg of Bijin Nabe Collagen Soup costing $23.
Delivery is charged at $5, and a minimum spending of $50 is required.
---
 Get Japanese food delivered
---
Dining in doesn't have to be boring, not when you've got so many options for Japanese food delivery. Help #saveFNBsg and support our local F&B industry, when you order in!
If you're looking for ramen, check out our list of ramen deliveries in Singapore! Otherwise, here are some options for Korean fried chicken delivery.
20 Korean Fried Chicken Delivery Services During This Stay-Home Period
This post was originally published on 20 May 2020.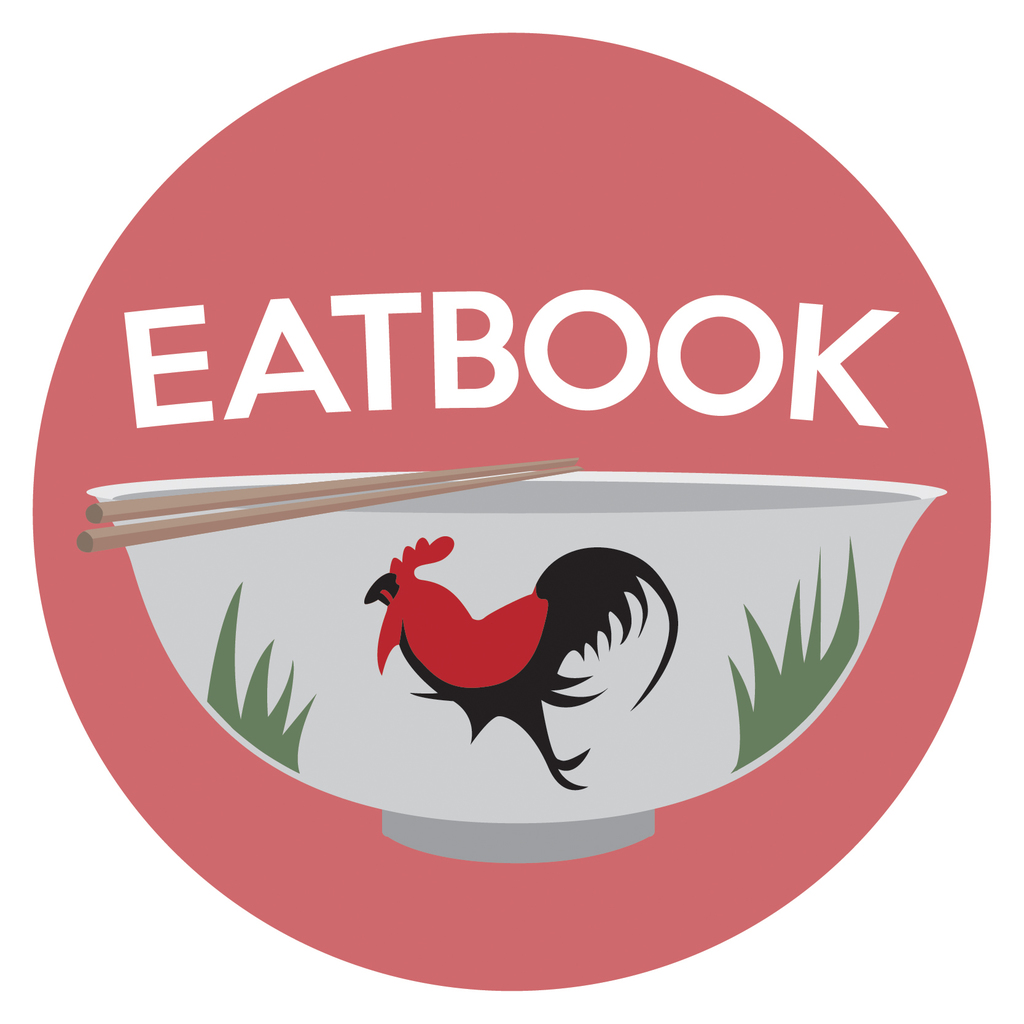 Drop us your email so you won't miss the latest news.