---
Korean fried chicken delivery in Singapore
---
The popularity of Korean cuisine in Singapore has sharply risen over the past decade, with the onslaught of K-fever, K-dramas, and such. With all of us staying in, turning to Netflix and Viu in our spare time, it's no wonder that our palates get inspired by what we watch.  Satisfy your cravings for chimaek while watching the latest Korean dramas with these 20 Korean fried chicken delivery services.
Update: Mom's Touch has permanently closed.
---
1. Chir Chir Fusion Chicken Factory
---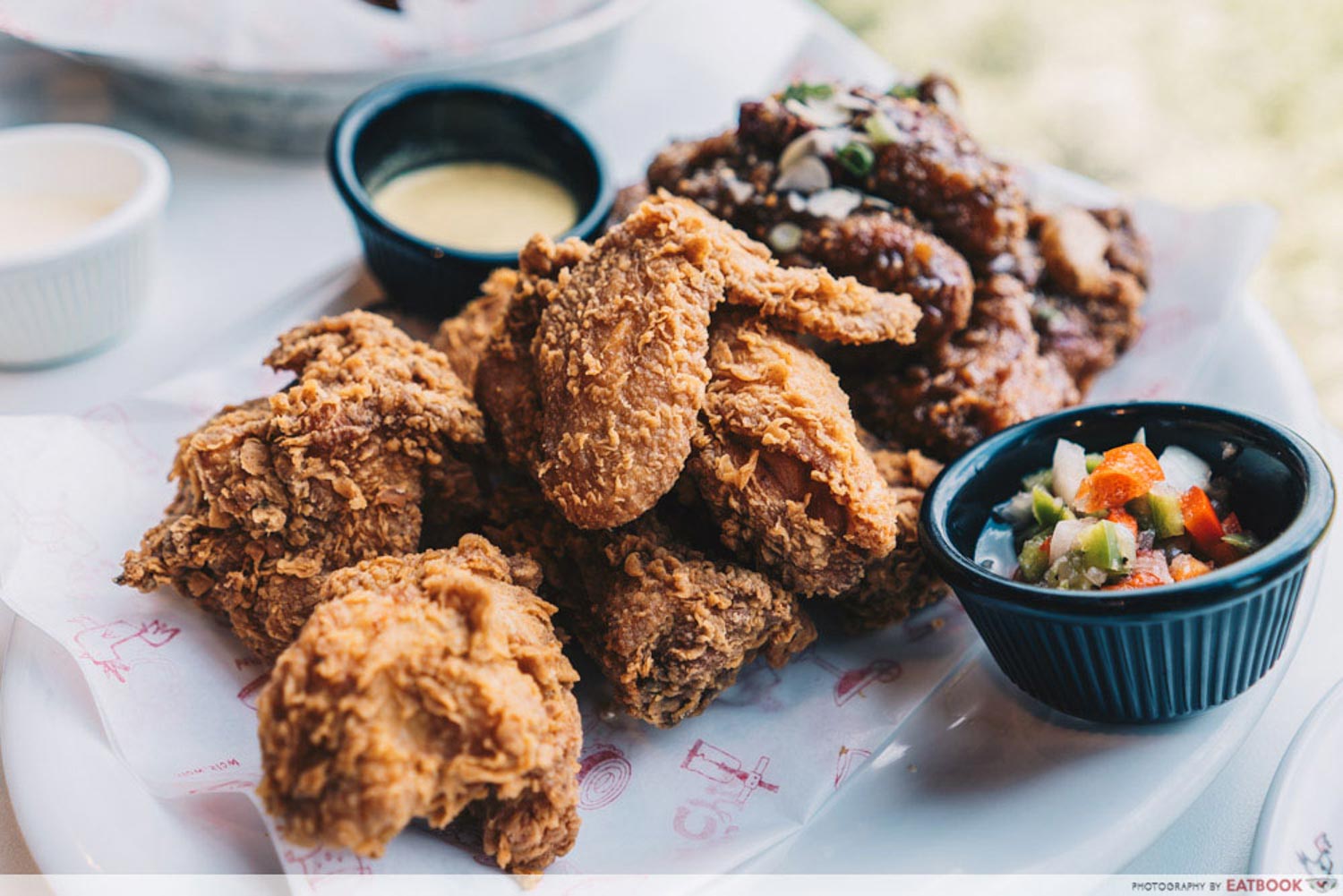 Chir Chir Fusion Chicken Factory is one of Singapore's most popular Korean fried chicken chains, known for their best-selling Honey Butter Chicken ($34.63). This sweet-savoury treat features juicy chunks of chicken meat, slathered with a comforting honey butter sauce that's rich with a hint of caramel, mixed in with cranberries, potato wedges and tteokbokki. New to the delivery menu are Vampire Killer ($31.04) and Sour Cream & Onion Chicken ($33.44), respectively spicy, garlic-laden fried chicken wings, and fried chicken tenders with a creamy onion dipping sauce.
It's not just Korean fried chicken on the menu here: get food delivered from their sister brands The Chir Cafe + Bar, Masizzim, Nipong Naepong, and finish the meal with drinks from The Alley, including their Brown Sugar Deerioca series (from $5.90)!
There's a minimum order of $50 for delivery, which is chargeable at $8 islandwide. There's a running promotion of $5 off delivery, with a minimum spend of $100, and 1-for-1 on beers, until 13 June!
Order from Chir Chir Fusion Chicken Factory here!
---
2. Mom's Touch
---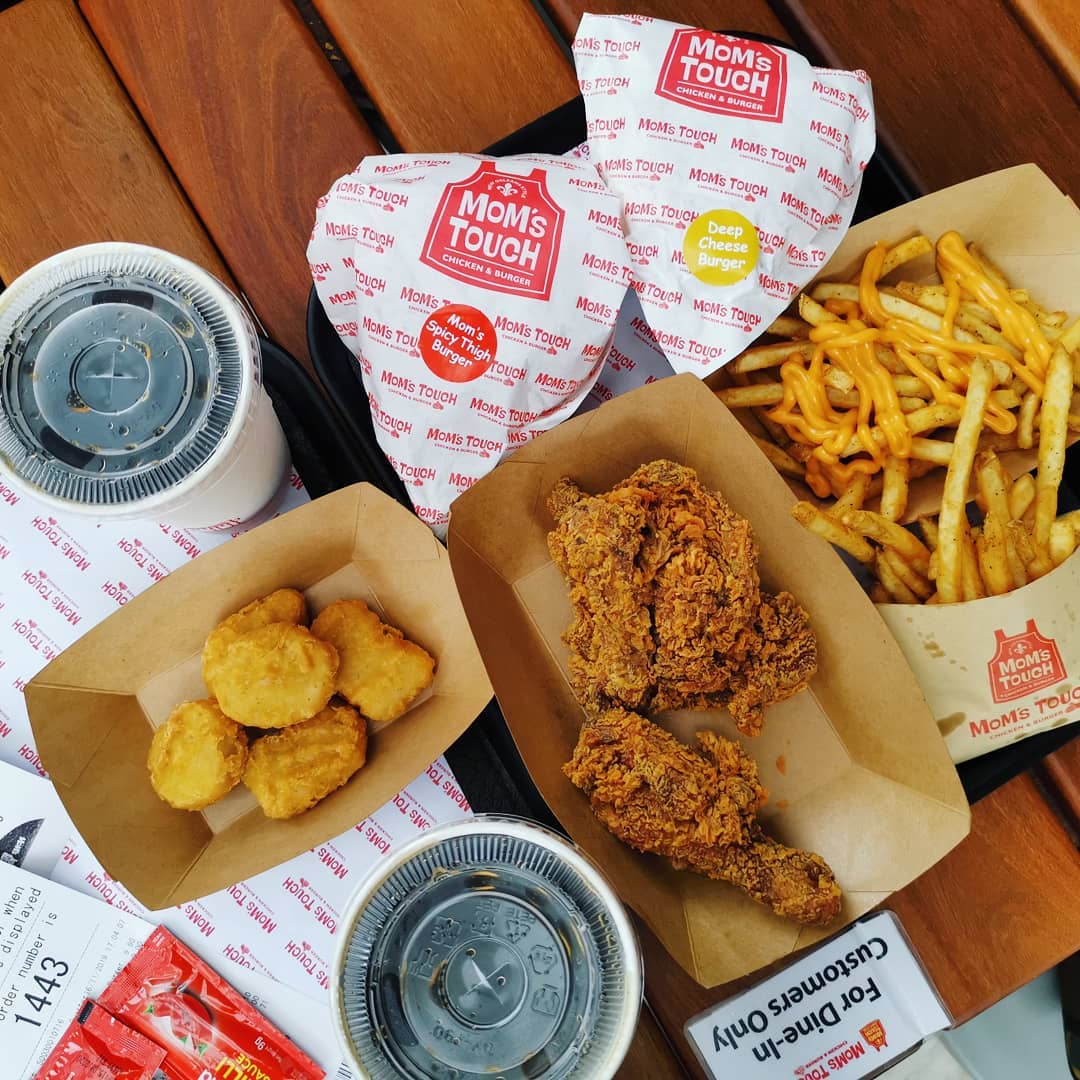 Image credit: @iriskok
Famous Korean fast food restaurant Mom's Touch made a name for themselves with their Korean fried chicken. Try their 9pcs Mom's Fried Chicken ($29), or 12pcs Mom's Fried Chicken ($37.80) for maximum fried chicken indulgence. Have it plain, or coated in Mom's Spicy Sauce ($29.90/$39). Also available are Mom's Thigh Burger ($6.30), and the Incredible Burger ($7.90), which sees the patty of boneless chicken thigh paired with ham and fried egg.
They've also taken their fried chicken for a local spin, with a Rendang Chicken Set ($10.90), and Flavoured Rice With Rendang Chicken ($8.90), both of which are only available till 31 May. Another locally inspired menu item is Ondeh Ondeh Churros ($6), although these are only sold at selected outlets.
Delivery of Mom's Touch fried chicken requires a minimum order of $48, with a flat $5 delivery fee islandwide.
Mom's Touch deliveries are available here!
---
3. Bonchon Chicken
---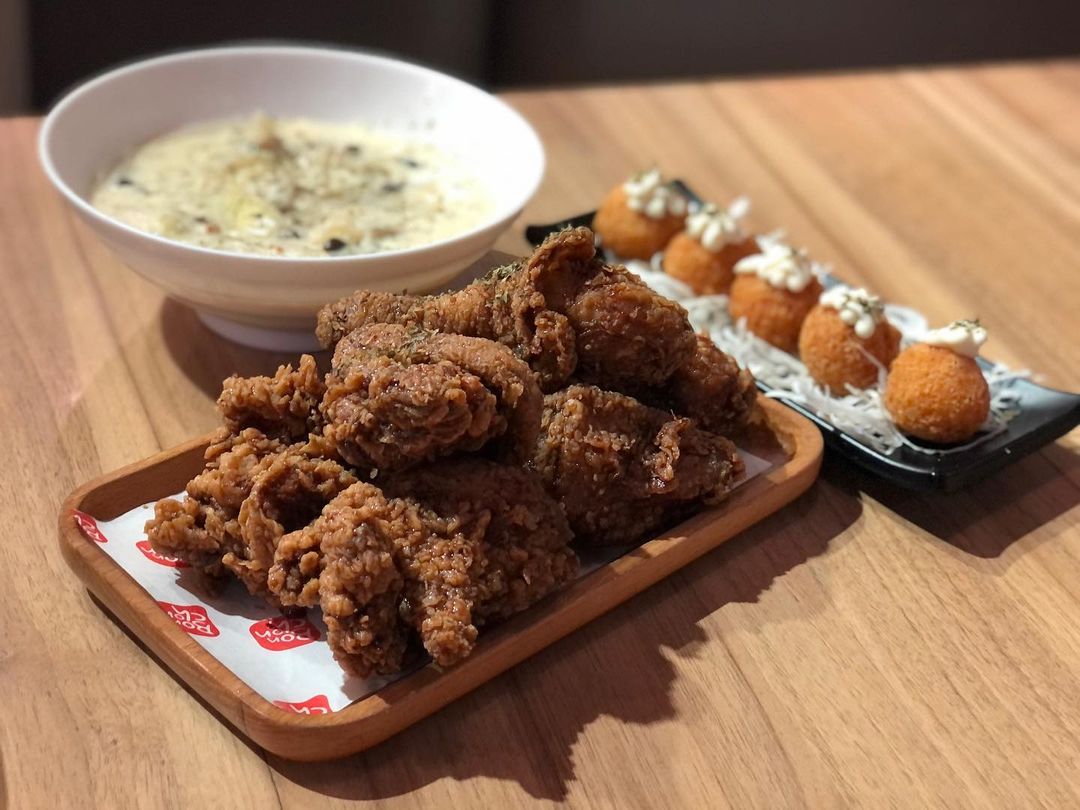 Image credit: @budgetfoodiee
Bonchon Chicken is yet another native Korean import, now an international brand famous for their hand-battered, double-fried chicken.
Choose their sauced options, and the sauce is brushed on by hand to ensure it gets into every nook and cranny. Have your pick of Wings (from $8.90), Whole Chicken Parts (from $16.90), and Boneless (from $12.90), and opt for Soy Garlic, Spicy Sauce, Half & Half, or no sauce at all. Besides Korean fried chicken, you can also order side dishes such as Seafood Pancake ($16.90), and Fried Mandu ($8.90), or other main courses including Galbi-Jjim ($16.90), Budae Jjigae Army Stew ($29.90), ramyeon, and more. 
There's a minimum order of $70, with delivery priced at $5. 
Get your Bonchon Chicken here!
---
4. Nene Chicken
---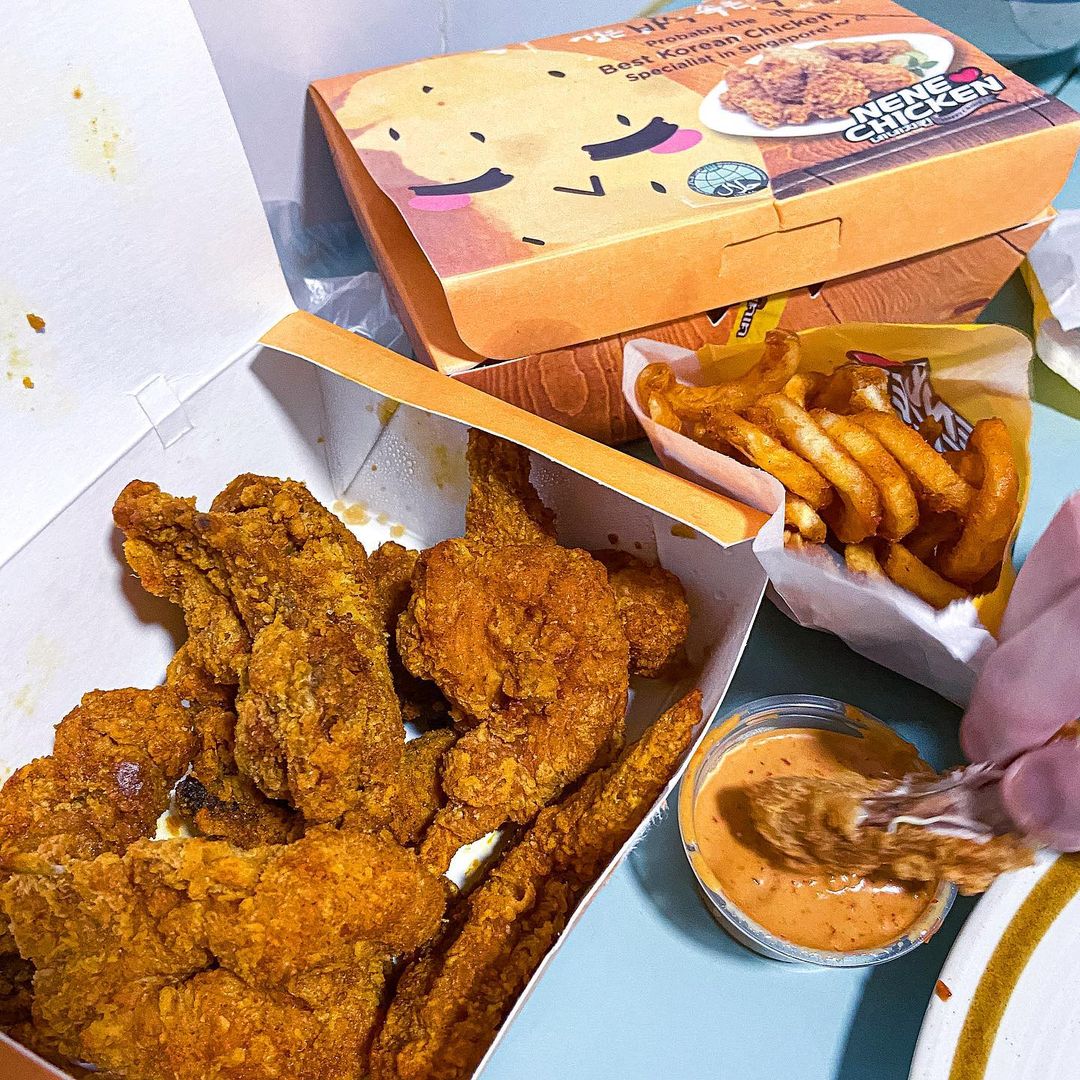 Image credit: @greedybutpicky
Halal-certified chain Nene Chicken now delivers islandwide via the Boss Happy Delivery website. Try their 12pc Bulgogi Wings N Sticks + Curly Box ($27.80), which comes complete with curly fries, and optional add-ons of Nene Bulgogi Chicken Burger ($5.90), or Japchae ($6.50). Get LiHO bubble tea drinks to go with your food, such as a cup of large Royal Oolong Double ($5.60).
To top it all off, you can also order from Paik's Bibim, Taiwanese food from Wu Shui Men, and even Gong Yuan Mala Tang, all in the same delivery!
There's a minimum order of $30, and a flat $5 delivery fee applies, although this is waived for orders above $45.
Place your orders for Nene Chicken here!
LiHO Has A New Website With Islandwide Delivery For Bubble Tea, Korean Chicken And More
---
5. Kko Kko Nara
---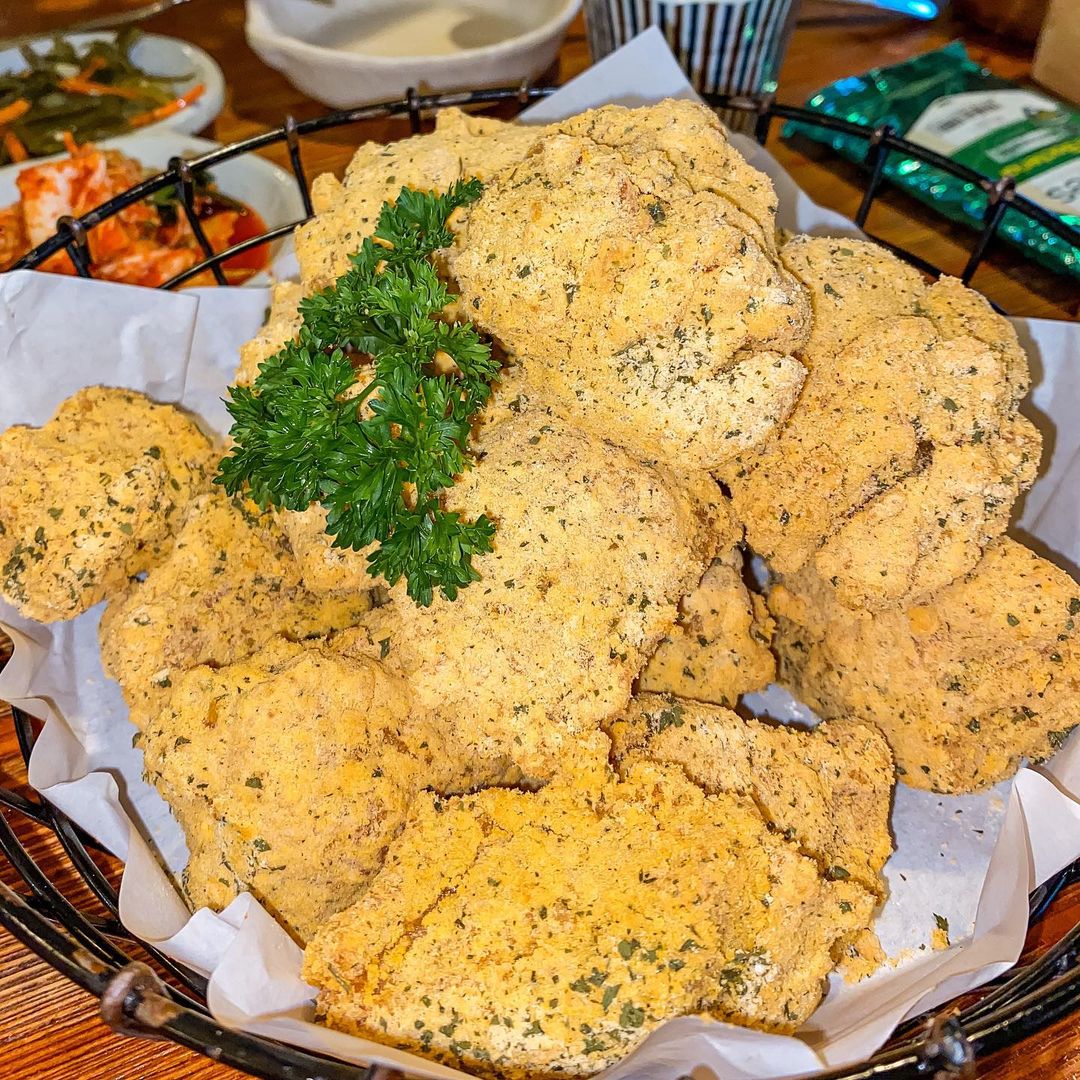 Image credit: @sgfoodhopper
Kko Kko Nara is touted as the first restaurant to introduce chimaek, the pairing of Korean fried chicken and beer, in Singapore. The restaurant's Cheese Sprinkle Chicken ($35) is a huge fan favourite, dusted with an addictive cheese powder. New to the menu is their latest Mala Chicken ($32), which you can now enjoy a 10% discount on. They've also got Ganjang Gejang ($69)─soy marinated raw crabs, for those unfamiliar with the concept. If that's not your cup of tea, they've got all sorts of Korean street food favourites, and cooked food, as well. 
There's a minimum order of $60 for delivery, which is chargeable at $8. Free delivery is available if your order exceeds $160.
---
6. Jinjja Chicken
---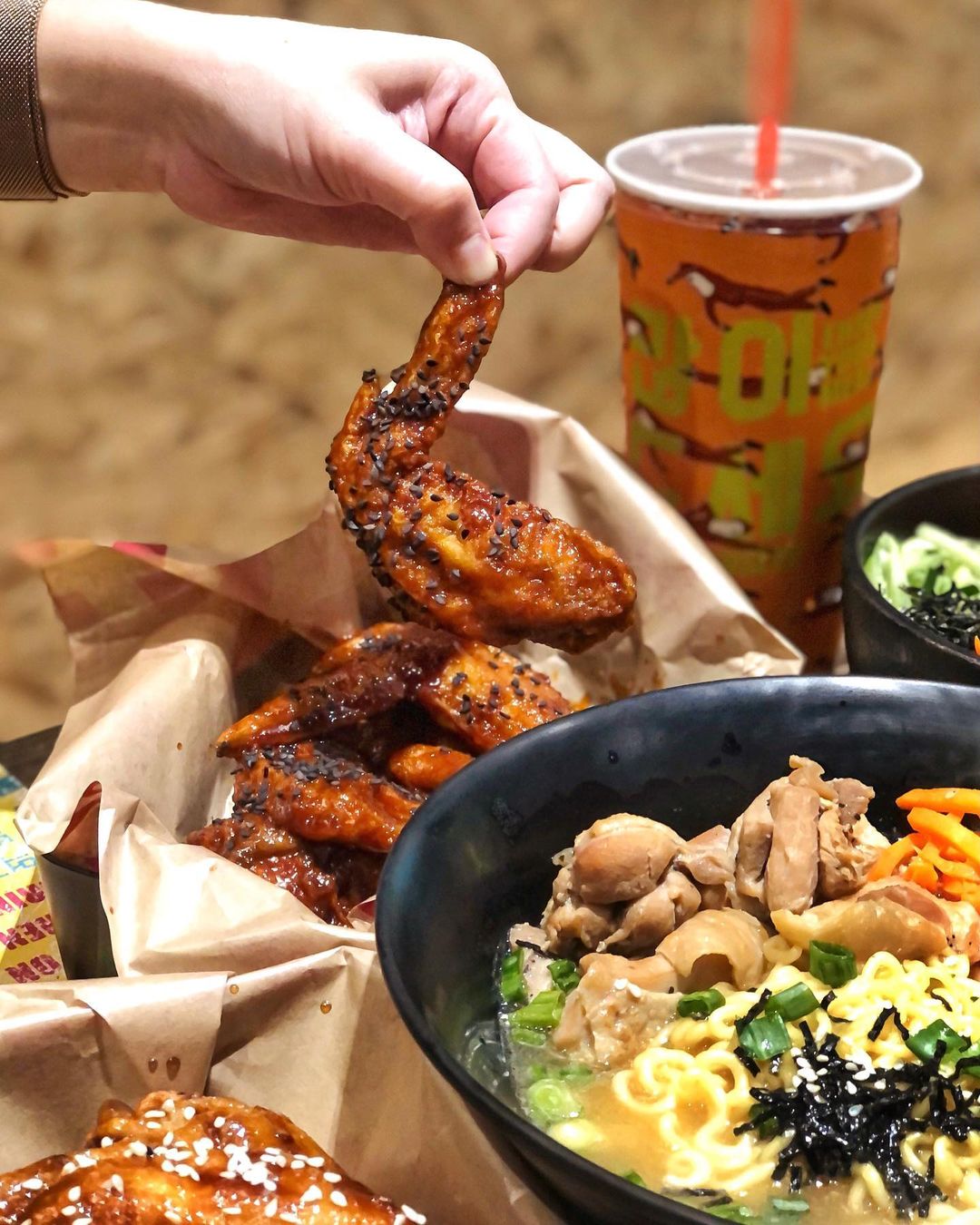 Image credit: @thehungertrack
Jinjja Chicken is another halal-certified casual joint that serves up affordable Korean food. Have a feast at home with the Jinjia Wings Party Set ($53.90), a platter of 50 signature Jinjja wings in a flavour of your choice. Choose from the comforting Soy Garlic, sweet and spicy Yangnyeom, or the devilishly fiery Monster Sauce. On the side, get Kpop Chicken ($4.90), their version of popcorn chicken, house-made daily with fresh chicken, or have Beef Bulgogi Kimbap ($9.50). For a non-meat option, go for the Kimchi Tofu Burger ($7.50).
There's a minimum order of $49, with varying islandwide delivery fees, depending on your location. This fee is waived for orders above $200. 
---
7. Vatos Urban Tacos
---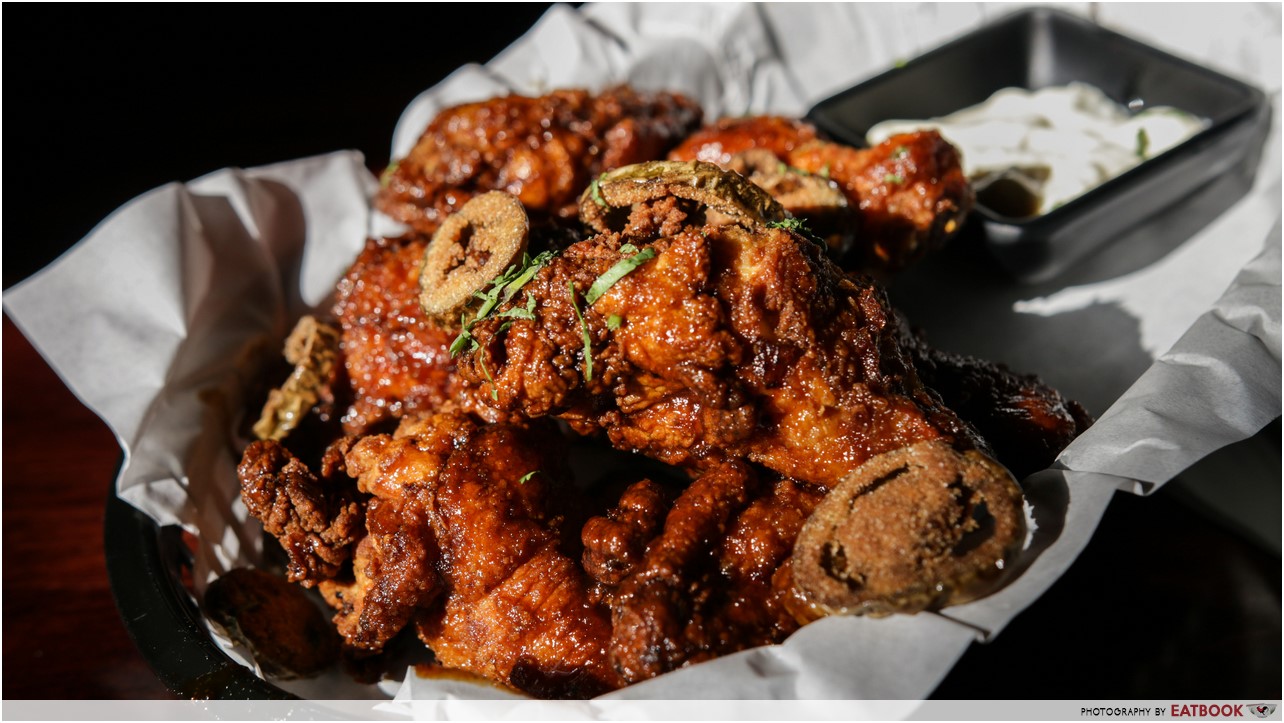 Vatos Urban Tacos serves up delectable Korean-Mexican dishes, now available for delivery islandwide. Their Honey Tequila Chicken Wings ($19) are coated in a house-made, sweet and spicy honey tequila sauce, topped with crunchy, deep-fried, masa-battered jalapenos. If that wasn't enough, these wings come with a blue cheese dipping sauce that's not for the faint of heart.
Alternatively, try the Suka Suka Jerk Chicken Wings ($19), another fusion dish that sees Jamaican influences, and is said to be sweet, spicy, and savoury. Enjoy these with Vatos' signature tacos, including the Barbacoa Pork (from $13), or Kimchi Pork Quesadillas ($16).
There's a minimum order of $60, and a delivery charge of $6, for your orders here.
Order from Vatos Urban Tacos here!
Vatos Urban Tacos Review: Hipster Korean-Mexican Food Worth Your Money
---
8. Twins Korean Restaurant
---
Image credit: @jamnfood0
Located in Tanjong Pagar, the popular Twins Korean Restaurant uses only fresh chicken for all their Korean fried chicken. As is standard, choose to have Wings (from $18), Half Chicken (from $16), Whole Chicken (from $30), or Boneless ($20). Flavours here come in: Cheese, Original, Sweet & Spicy, and the ubiquitous Soy Garlic. Get Kimchi Fried Rice ($15) to go alongside, or Black Bean Noodle ($12), aka jjajangmyeon. 
There's no minimum order, and orders to locations nearby their restaurant in Tanjong Pagar are subject to a delivery fee of between $5 and $7. Outside of that, delivery is chargeable at $13.
Place your orders via WhatsApp at 9006 3875.
Check out the menu on Twins Korean Restaurant's Facebook page!
---
9. Gayageum Korean Family Restaurant
---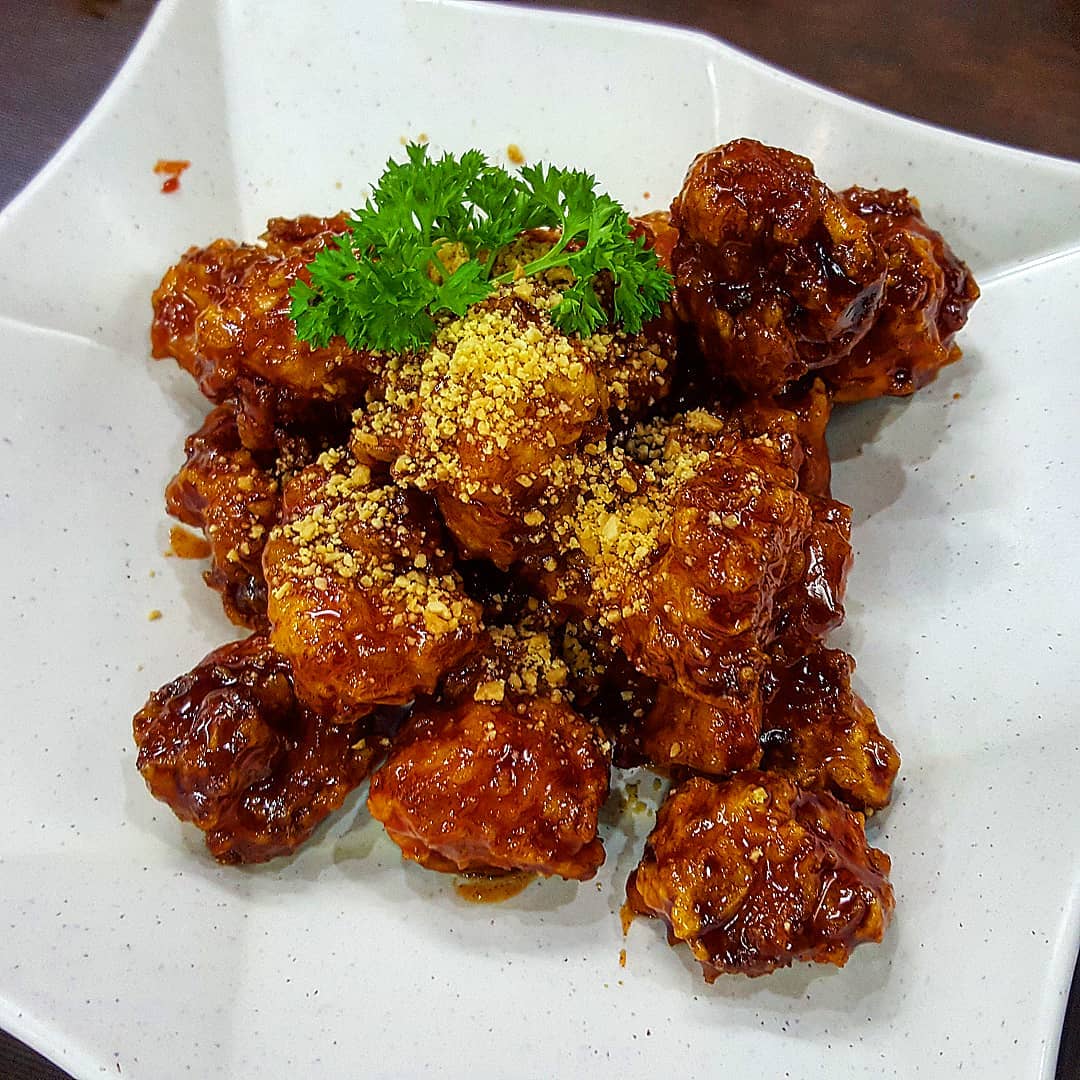 Image credit: @teosheewee
Gayageum Korean Family Restaurant at Bukit Timah Shopping Centre dishes out homey Korean fare, including the classic Korean fried chicken. The Fried Chicken (from $18) here is lip-smackingly good, and if you can't decide which sauce you want, get the Assorted Fried Chicken ($42). This comes with four different tastes: Sweet, Spicy, Soy, and Spicy Soy. If you've got a grill at home, you can even order Korean BBQ Sets (from $49), which include one bowl of Bibimbap, and one bowl of either Kimchi Pork Soup, or Seafood Soybean Paste Soup.
There's no minimum order, and a flat $5 delivery fee applies for orders under $70. However, do note that Gayageum Korean Family Restaurant only delivers to locations within 5km of Bukit Timah Shopping Centre.
Place your orders via phone, at 6463 8011, or via this link.
Check out the menu on the Gayegeum Facebook page!
---
10. Woorinara Korean Restaurant
---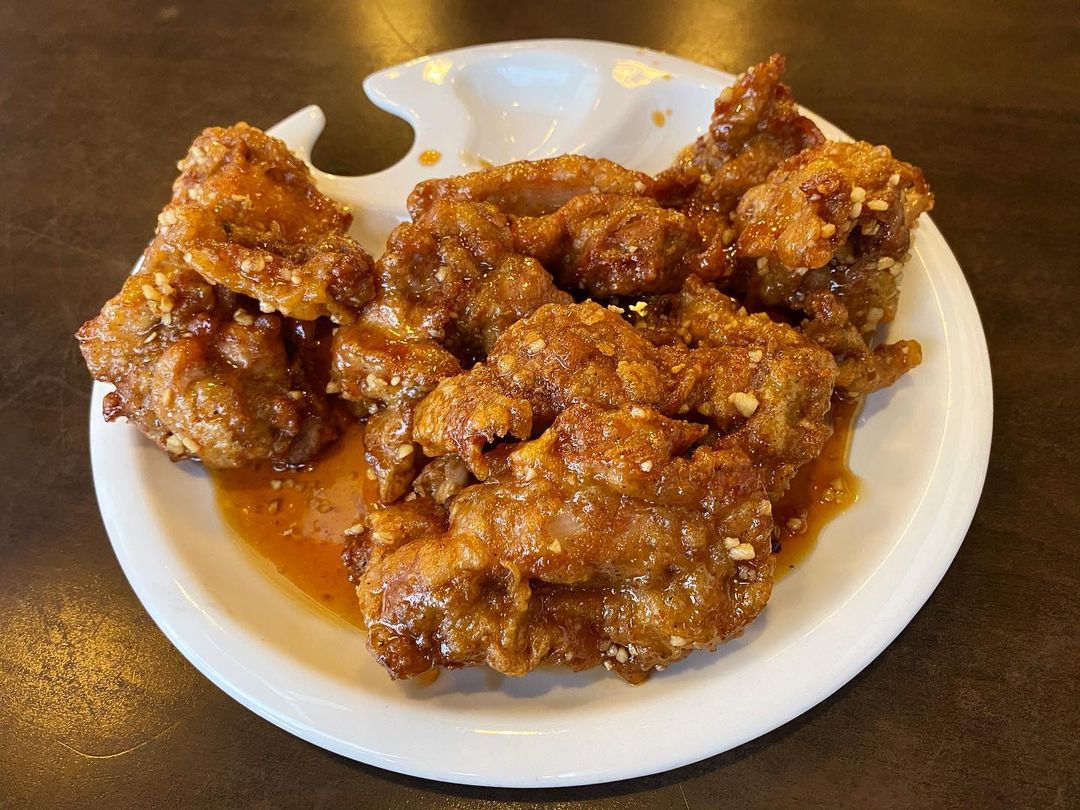 Image credit: @foodforfoong
We featured Woorinara Korean Restaurant in our list of underrated Korean fried chicken in Singapore, and it's no wonder. The Yum Yum Garlic Chicken (from $17) comes with chicken that's coated in a sweet and spicy garlic sauce, while Cheese Fried Chicken ($18 for small) sees Korean fried chicken zhnged-up with melty cheese. This family restaurant has plenty of other dishes, including Korean BBQ too, so check out their website for more options.
There's no minimum order, and delivery is separately charged based on GrabExpress rates. 
Order from Woorinara Korean Restaurant!
---
11. Seoul Good Desserts & Coffee
---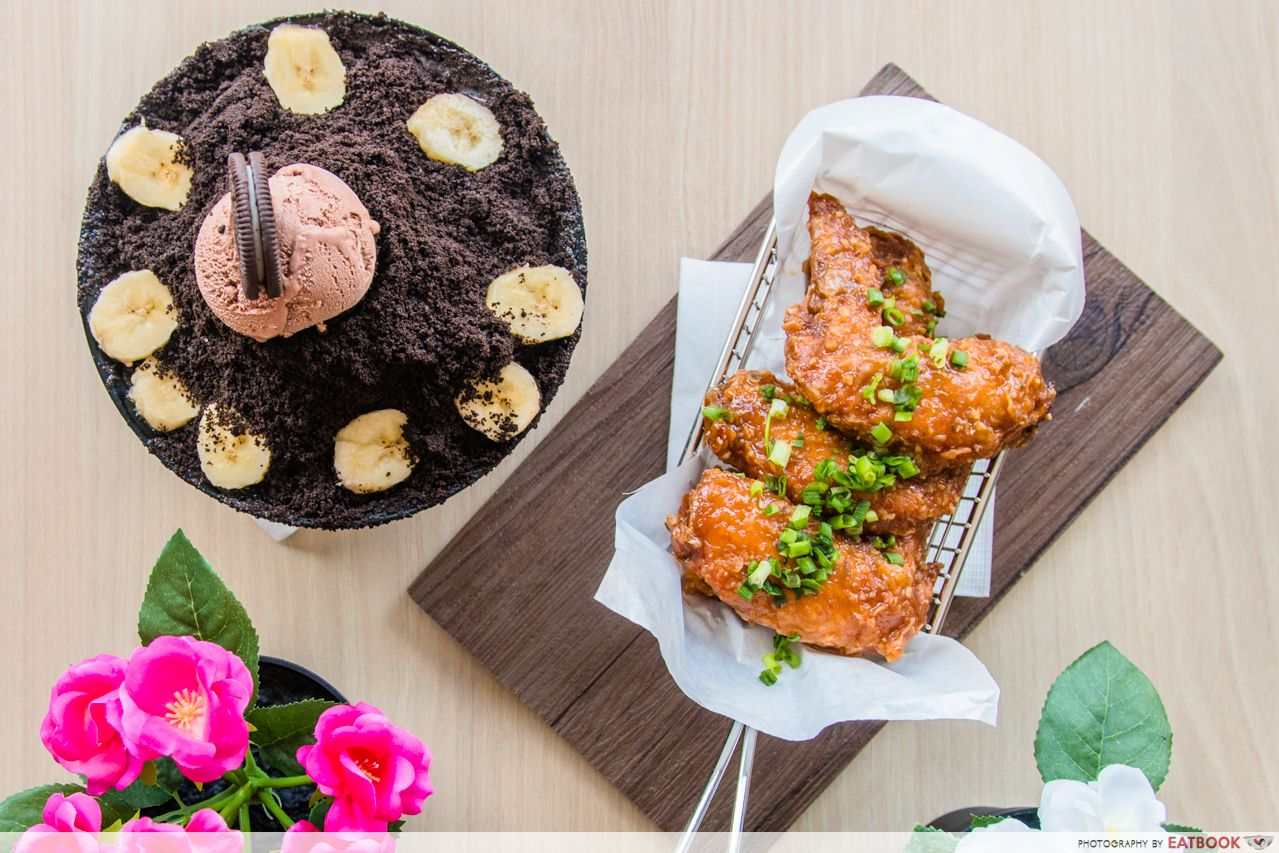 Featuring a recipe for Korean fried chicken that's said to be obtained from an actual Korean ahjumma, Seoul Good Desserts & Coffee serves up tantalising fried chicken and Korean dishes at Punggol East Container Park. They're running a current promotion, where, with a minimum order of $38.80, you'll be getting Kimchi Soup, Seoul Good Fried Enoki Mushroom, and Jeju water for free. 
Do note that the stall only delivers to Punggol, Hougang, Sengkang, and Pasir Ris. There's no minimum order, with delivery fees ranging from $4 to $12. This fee is waived for orders above $50. The stall only accepts payment via PayNow. 
See the menu, and place your orders through WhatsApp at 9139 7260.

Seoul Good Review: Korean Fried Chicken And Bingsu Cafe At A Container Park In Punggol
---
12. Hoho Chimek
---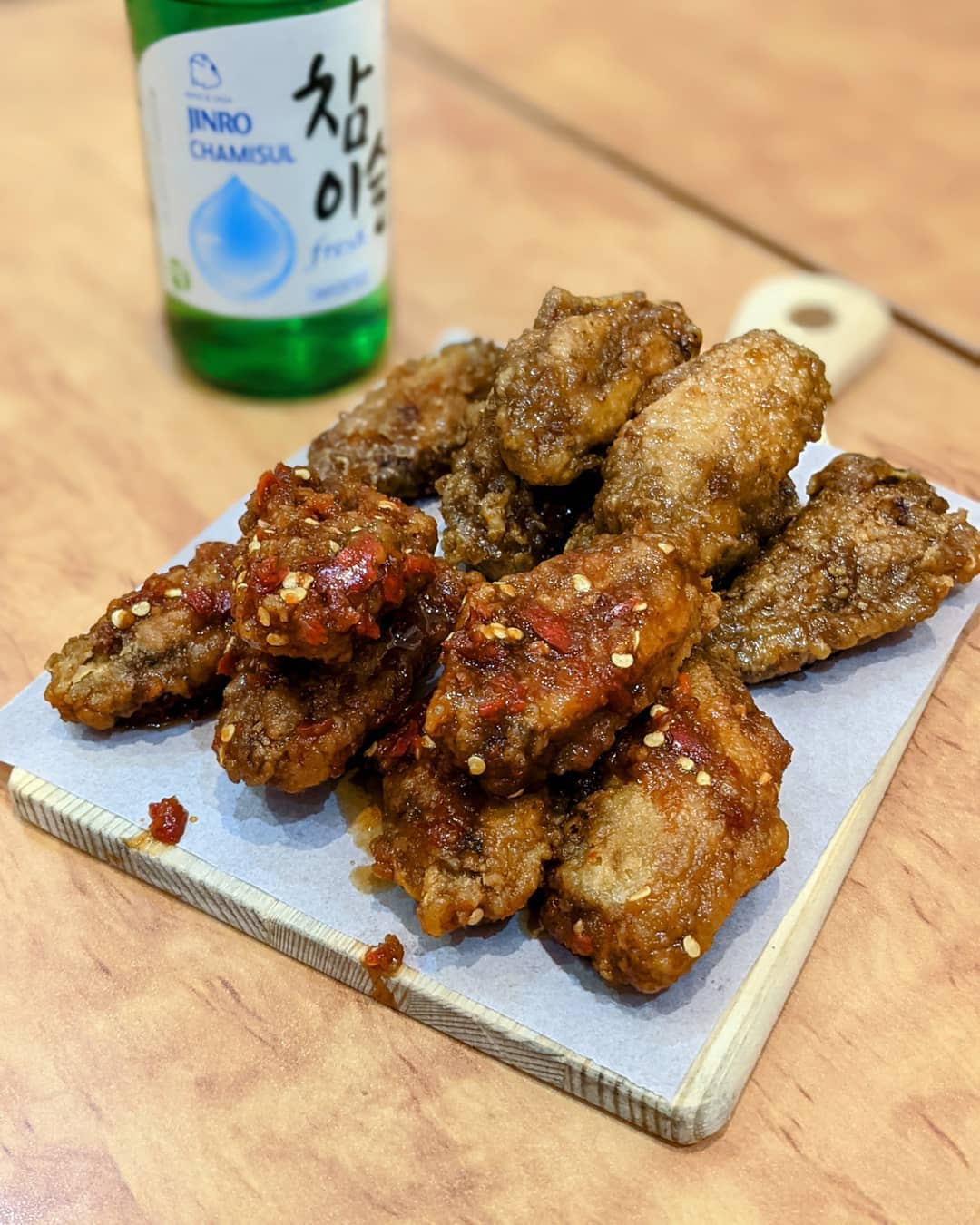 Image credit: @monstergirl_eats
Hoho Chimek is an unassuming stall at East Village, along Upper Changi Road, for Korean fried chicken in the East. They've only got fried chicken in Soy Garlic (from $9.90), or Spicy (from $10.90) sauces, although you can get them both in the six-piece Chicken Combo ($11.50). Complete the meal with their range of sides, stews, Korean pancakes, noodle, and rice dishes, all of which are made with no MSG or artificial flavourings.
There's a minimum order of $50, while islandwide delivery is charged at $5. If you live nearby, they're offering a 20% off takeaways!
Place your Hoho Chimek orders here!
---
13. Hongdae Oppa Korean Dining House
---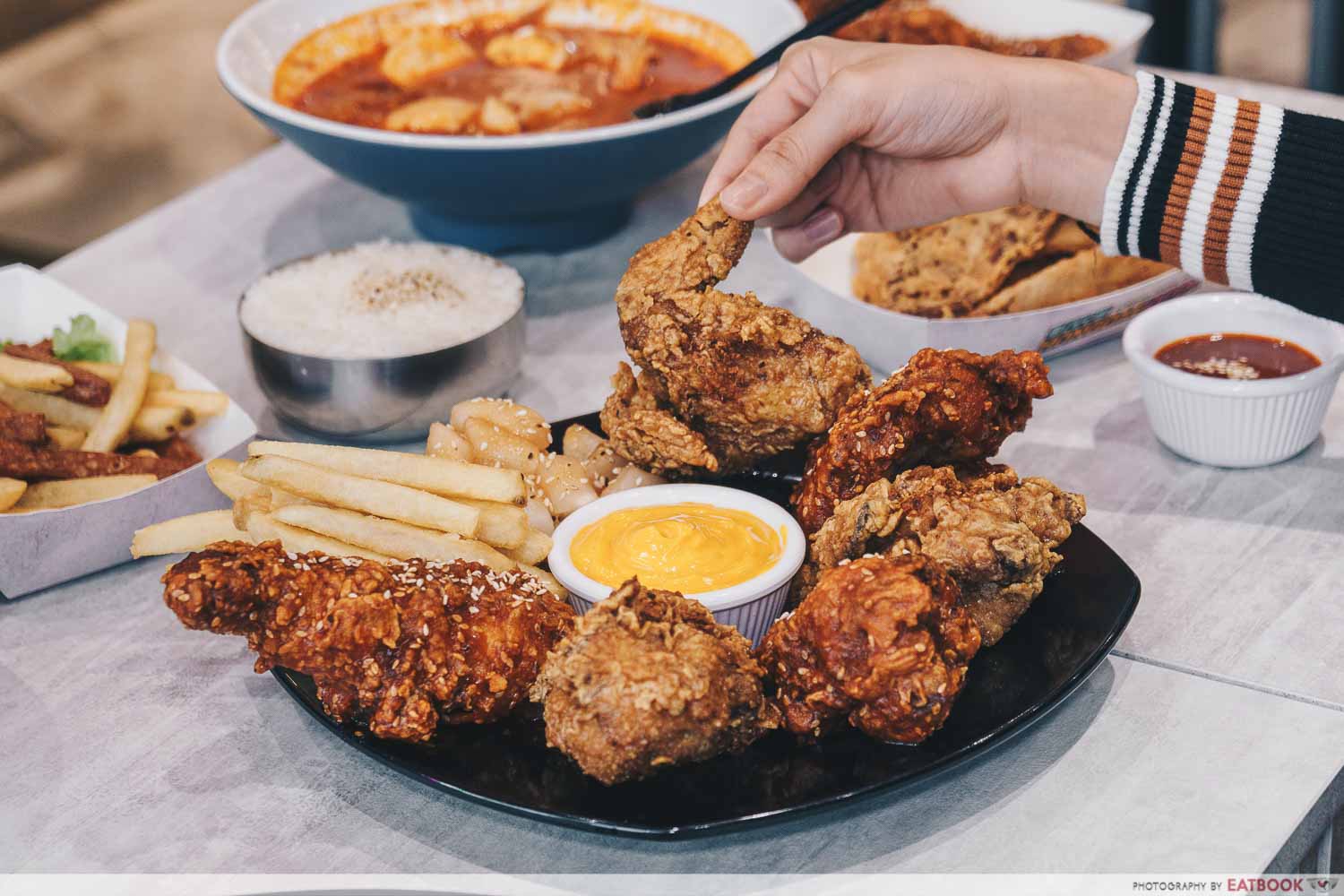 Hongdae Oppa Korean Dining House is a household name among Singaporeans. They're famed for Oppa's Chix, their range of Korean fried chicken, available four ways: in house-made Gochujang Sauce, house-made Soy Garlic, Spicy, or Original. Each portion is priced from $10.90, which gets you three pieces of chicken. Choose to add on Crispy Chix Skin ($5.90), Egg Fried Rice ($3), or Spam X Fries ($5.90) to make it a complete set.  
There's a minimum order of $10 for delivery, charged at $20. This fee is waived for orders above $40.
---
14. Oven & Fried Chicken
---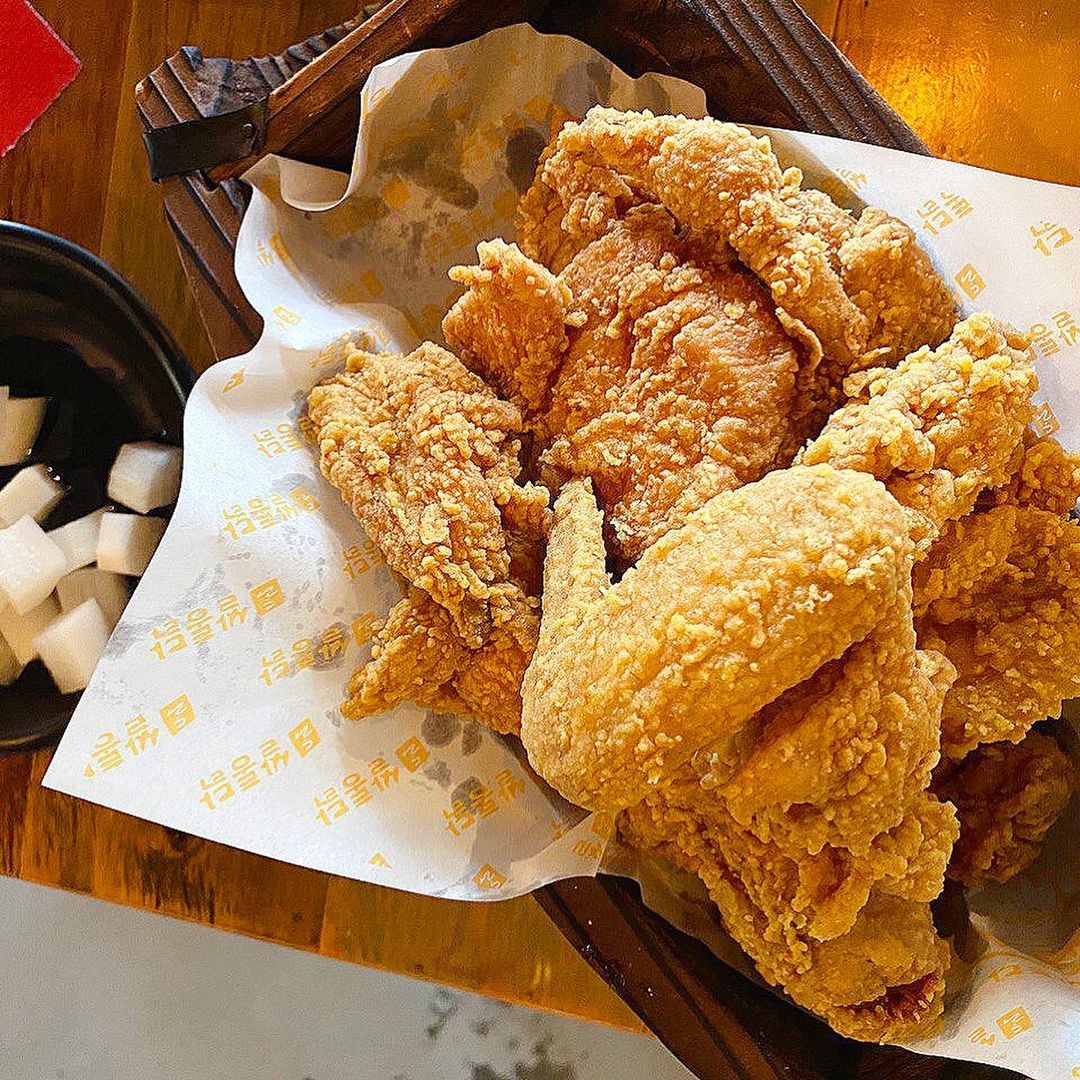 Image credit: @gluttonthoughts
Oven & Fried Chicken specialises in Korean-style baked and fried chicken. What differentiates them from other Korean fried chicken restaurants is that they use rice flour instead of regular flour, which makes the chicken pieces more crispy, and less oily. For their fried options, try Fried Wings ($19/$34), or take a rain check on the fried, and go for oven-baked with Crunch Chicken (from $18). These are cooked without oil, and available either without sauce, or coated in Yang Nyeom, aka Korean spicy sauce.
There's no minimum order, and they deliver islandwide with varying delivery fees. Make your orders via GrabFood or Deliveroo.
Check out the Oven & Fried Chicken menu here!
---
15. Basasak Chicken
---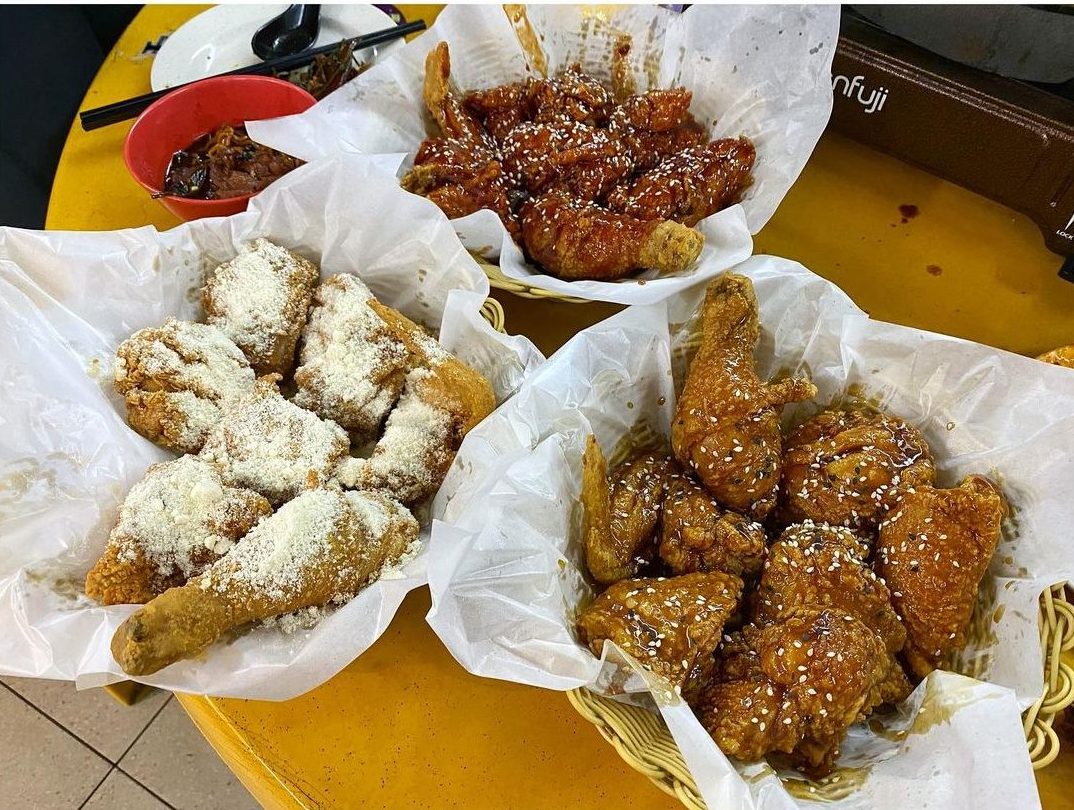 Image credit: @chubbycheeksss
Situated right next to Kovan MRT Station, Basasak Chicken is the place to get your supper cravings for Korean fried chicken sorted, with their opening hours stretching past midnight all week. There are only two options: Tenders 4pc ($6.30), or Tenders 8pc ($11.30). You'll only get to choose two flavours if you purchase the eight-piece set, and what they lack for in chicken part options, they make up for in flavours.
Choose from 11 different ways to have your chicken tenders, with flavours ranging from Original Crispy with Spicy Chilli, Honey Mustard, Soy Garlic, Sweet-Spicy, or Wasabi Mayo Dips, Snowing Cheese Powder, Honey Butter Powder, Butter Garlic Powder, and Hot Curry Powder. 
There's no minimum order, and they deliver islandwide. Delivery fees are quoted based on location through their in-app partner Lalamove.
Order your Basasek Chicken here!
---
16. Pink Candy
---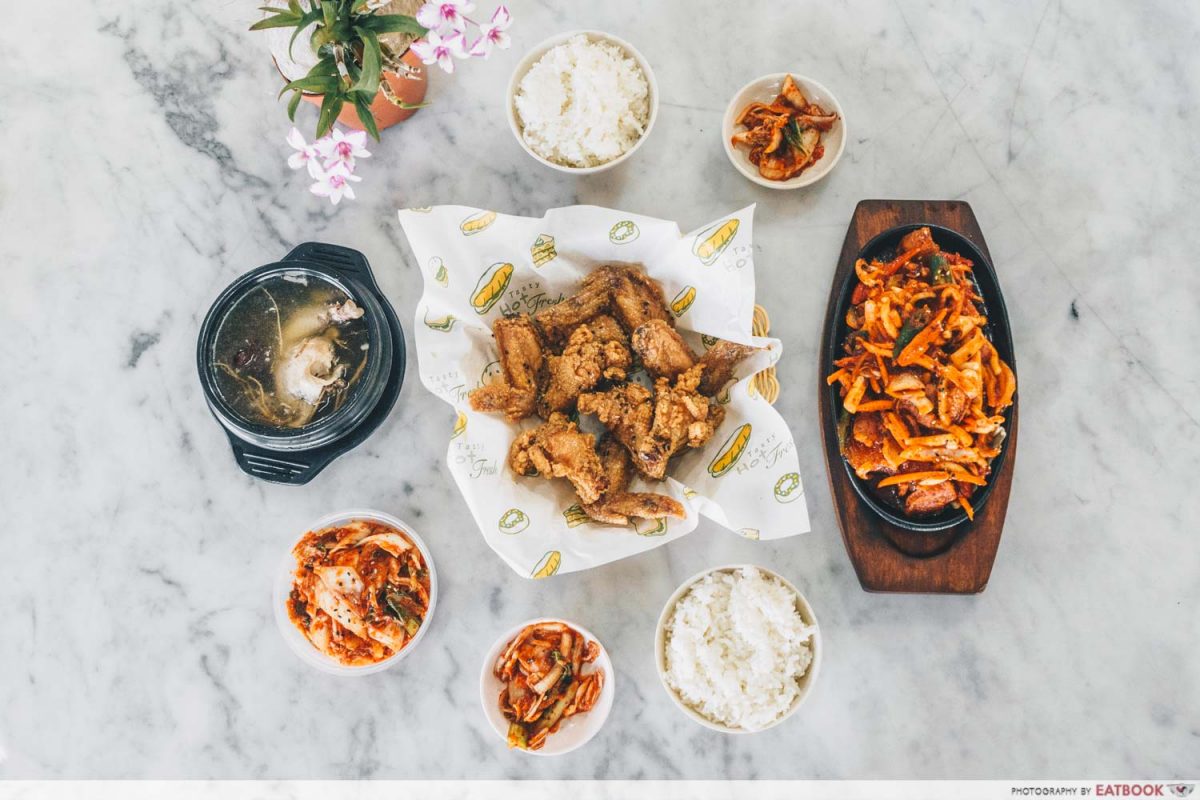 We visited Pink Candy last year, a rooftop Korean eatery that serves up homestyle Korean fare. The Korean fried chicken ($18.90) here comes either dredged in Soy Sauce, or Spicy Sauce. Apart from this, Korean owner-chef Helena Kim has got a wide range of comforting Korean grub, including Beef Bulgogi Dosirak ($9.90), Soft Tofu Soup ($13.90), and Andong Steamed Chicken ($40), a chicken stew that's great for cooler days.
Pink Candy is available for delivery through WhatsApp at 9170 2365, direct message on Instagram, or via delivery partners FoodPanda, and GrabFood.
See the full menu on the FoodPanda app and GrabFood app, or the partial menu on their website.
Pink Candy Review: Affordable Korean Hawker With Rooftop Views Near Beauty World
---
17. Don N Bap
---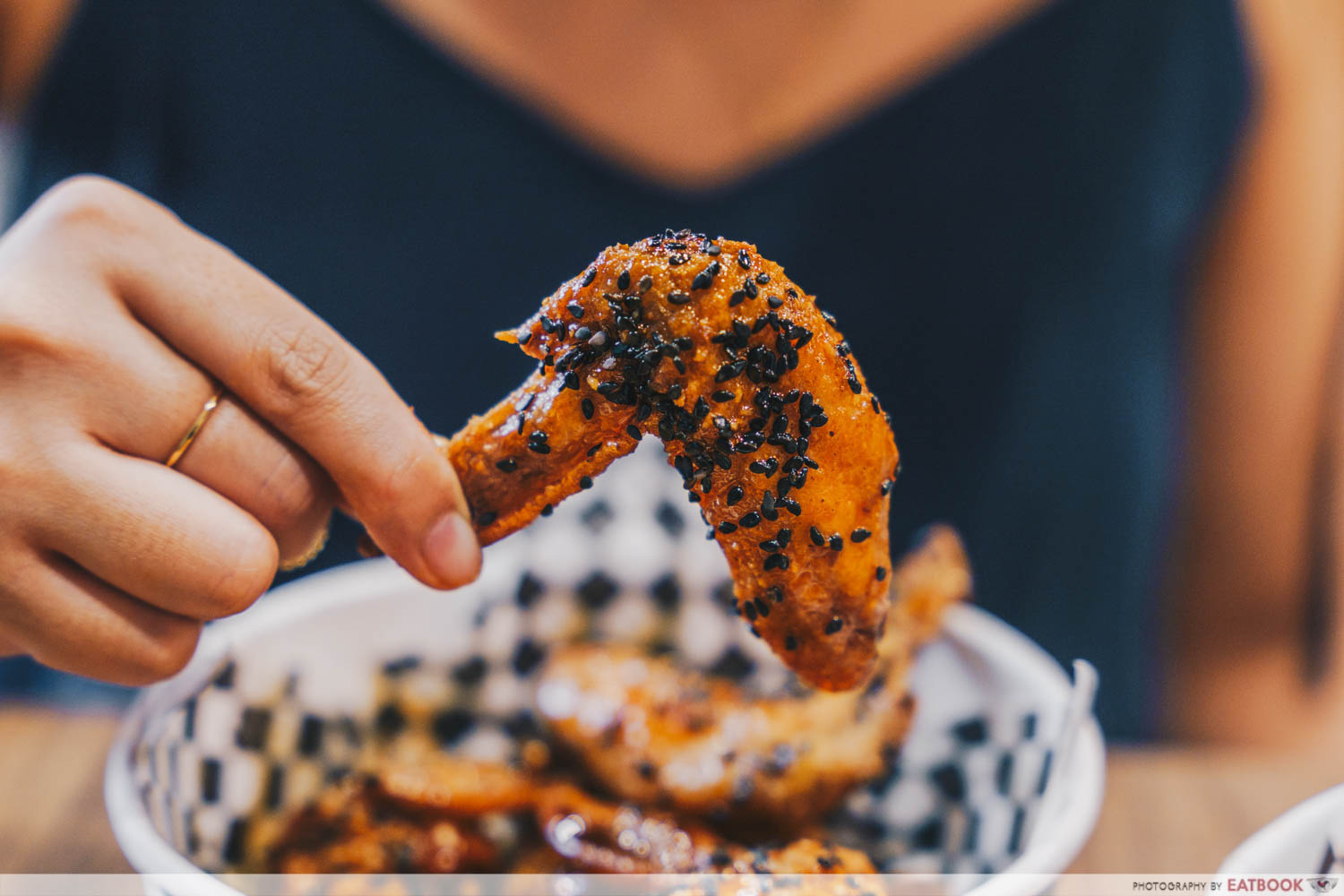 The Korean fried chicken at halal-certified Don N Bap took us by surprise. Wings-Holic (from $6.50) come in a choice of two flavours: Fiery, and Ninniku. The former, needless to say, is a spicy sauce, while the latter their moreish take on the classic soy garlic flavour. If you can't decide if you want Korean, or Japanese, food, Don N Bap has both, so you and your dining companions can choose from both. Their affordable don, or rice bowls, are priced at just $7.80, including proteins such as Salmon Teriyaki, Chicken Bibimbap, and Saba Shioyaki.
There is a minimum order of $28 for delivery, which is charged at $10.
Don N Bap Review: Affordable Halal Korean Fried Chicken, Bibimbap, Rice Bowls And More Hidden At Bugis
---
18. Pint And Dine
---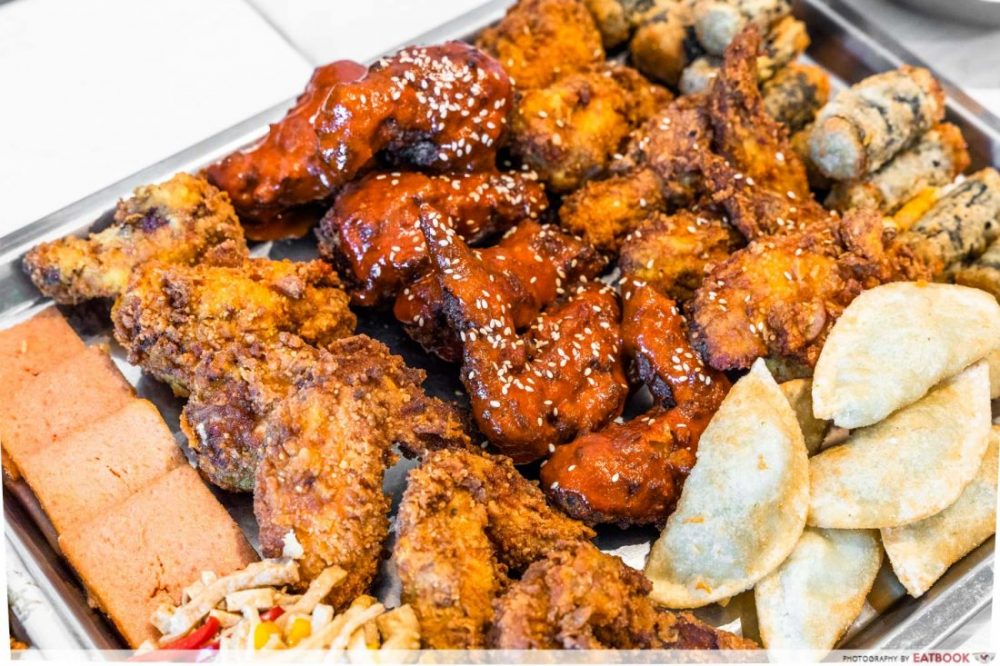 Dropping in at Pint And Dine for their mukbang buffet may be out of the question now, but that doesn't mean you can't still enjoy their Korean P&D Chicken Wings (from $8) at home. You can have them without sauce, with Soy Garlic Sauce, or spicy Yangnyum. Alternatively, have a mini mukbang session at home with the P&D Platter ($22), which gets you the wings, nuggets, curly fries, and seaweed rolls. Another fried chicken option you can get here is the K-Chick Waffle ($18), for fried chicken and a kimchi slaw, served on an orange thyme waffle.
There is no minimum order for delivery, but delivery charges vary based on location.
Get your Pint And Dine delivered here!
Pint And Dine Review: Korean Mukbang Buffet With Free-Flow Korean Fried Chicken, Samyang And More At Tai Seng
---
19. Hanjip Korean Grill House
---
Hanjip Korean Grill House burst onto the Clarke Quay scene last year with their swanky, black-and-gold interiors, and premium grill meats. They aren't only good at K-BBQ, though, and their Korean fried chicken is a testament to that. Available as Wings ($18) or by Half Chicken ($20), these come in the standard Original with no sauce, Soy, or Spicy. Otherwise, enjoy their premium grill meats with rice bowls, where the Wagyu Striploin MS7 Bowl rings in the till at $35, while the Kurobuta Bowl is priced at $18.
There is a minimum order of $50 for islandwide delivery from Hanjip Korean Grill House, which is chargeable at $15. This is waived for orders above $100. If you pick up your order in-stores, enjoy a 20% discount on your total bill, with the code 'TAKE20′ at checkout. Orders may be placed through their website, or via WhatsApp at 8882 9011.
Order from Hanjip Korean Grill House here!
Hanjip Korean Grill House Review: Korean BBQ With USDA Prime Ribeye And Wagyu Platters In Clarke Quay
---
20. Huluruk Myeon House
---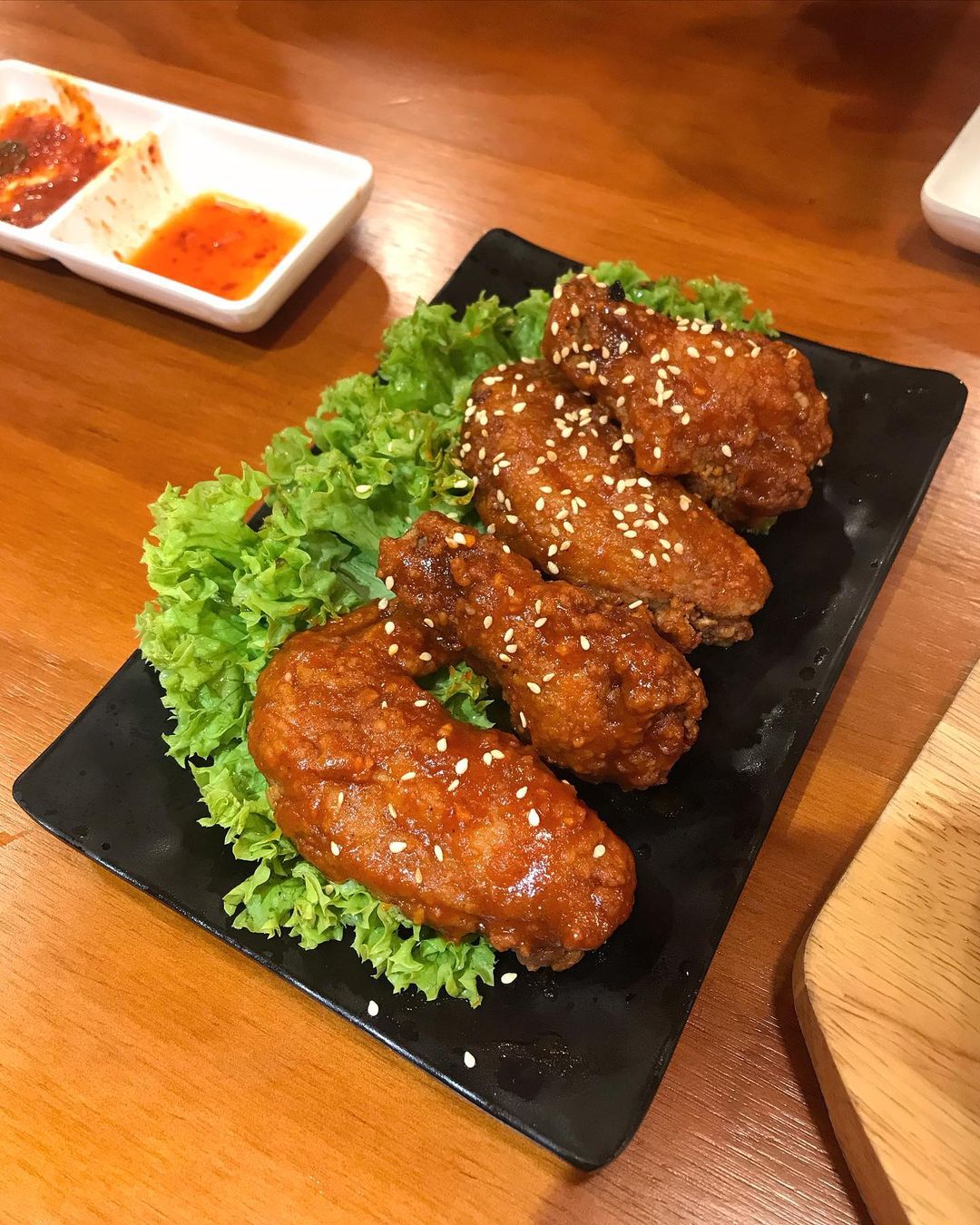 Image credit: @yuminmytummi
Huluruk Myeon House has been making waves for its bakery arm, Korfe Bakery, with its injeolmi azuki mochi buns, but its main restaurant also does a mean Korean fried chicken as well. Theirs start from $8.80 a portion and come in Original, Spicy, and Soy Garlic. The versions with sauce cost a dollar more, at $9.80. Don't skip over Huluruk Myeon House's signature noodles, made with Halmuni Song's own secret recipe, and give the Volcano Fried Rice series a shot while you're at it!
A minimum order of $50 is required, with a delivery fee of $5.
Order from Huluruk Myeon House here!
---
Korean fried chicken delivery
---
If you're one of those who thinks Korean fried chicken is a cut above all other fried chicken, this list is made for you. Get your favourite Korean fried chicken delivered to you, along with other Korean favourites, so that you won't miss it all that much while you shelter at home!
Otherwise, try making some Korean chilli chips at home, or check out our list of sushi delivery services.
3 Asian-Inspired DIY Mexican Recipes Including Mala Fajitas And Korean Chilli Nachos
This article was originally written on 27 May 2020.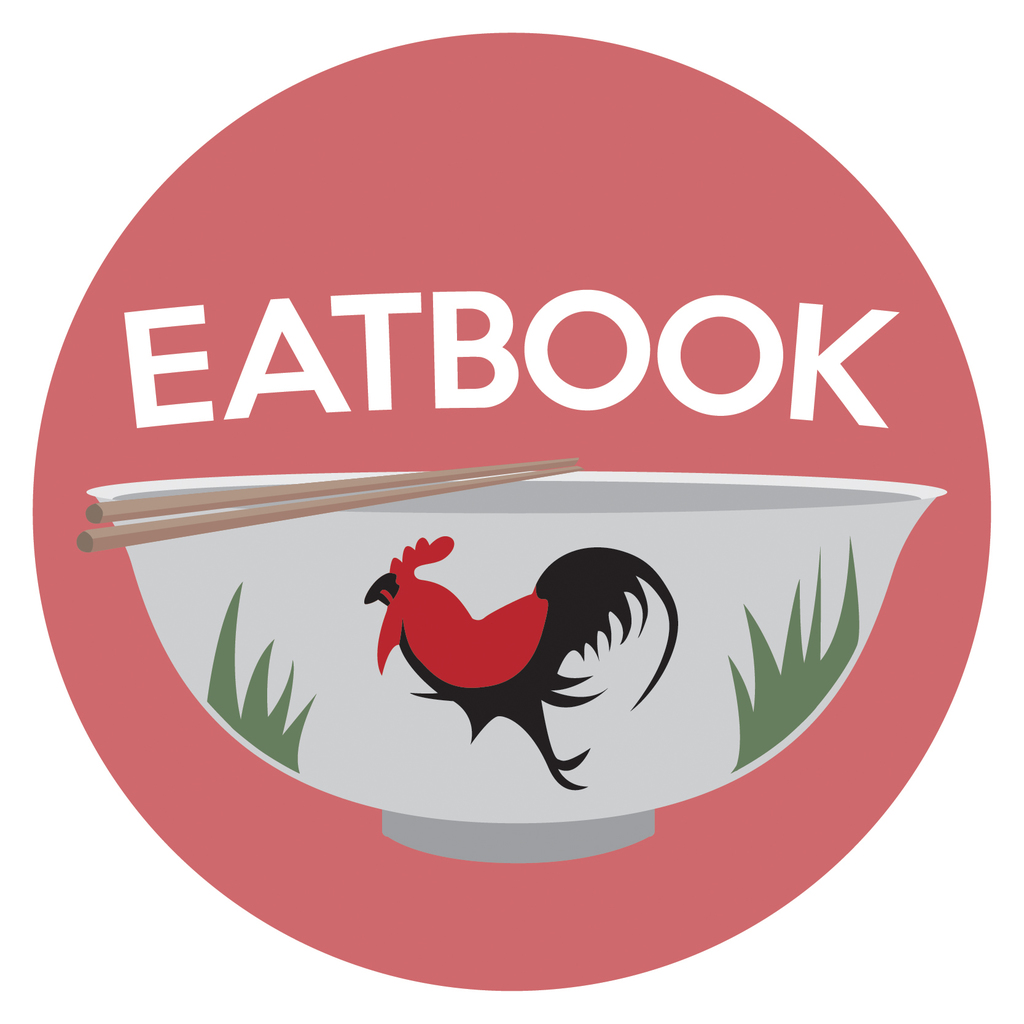 Drop us your email so you won't miss the latest news.