Hanjip Korean Grill House at Clarke Quay
My best friend and I were taking a post-dinner stroll along a deserted Clarke Quay just last week, feeling sad to see the empty nightspots, and reminiscing the times when staying out past 10:30pm was fun. I was pleasantly surprised when I then found out about Hanjip Korean Grill House, a brand new player set to revive the Clarke Quay food scene and the area's first Korean barbecue restaurant.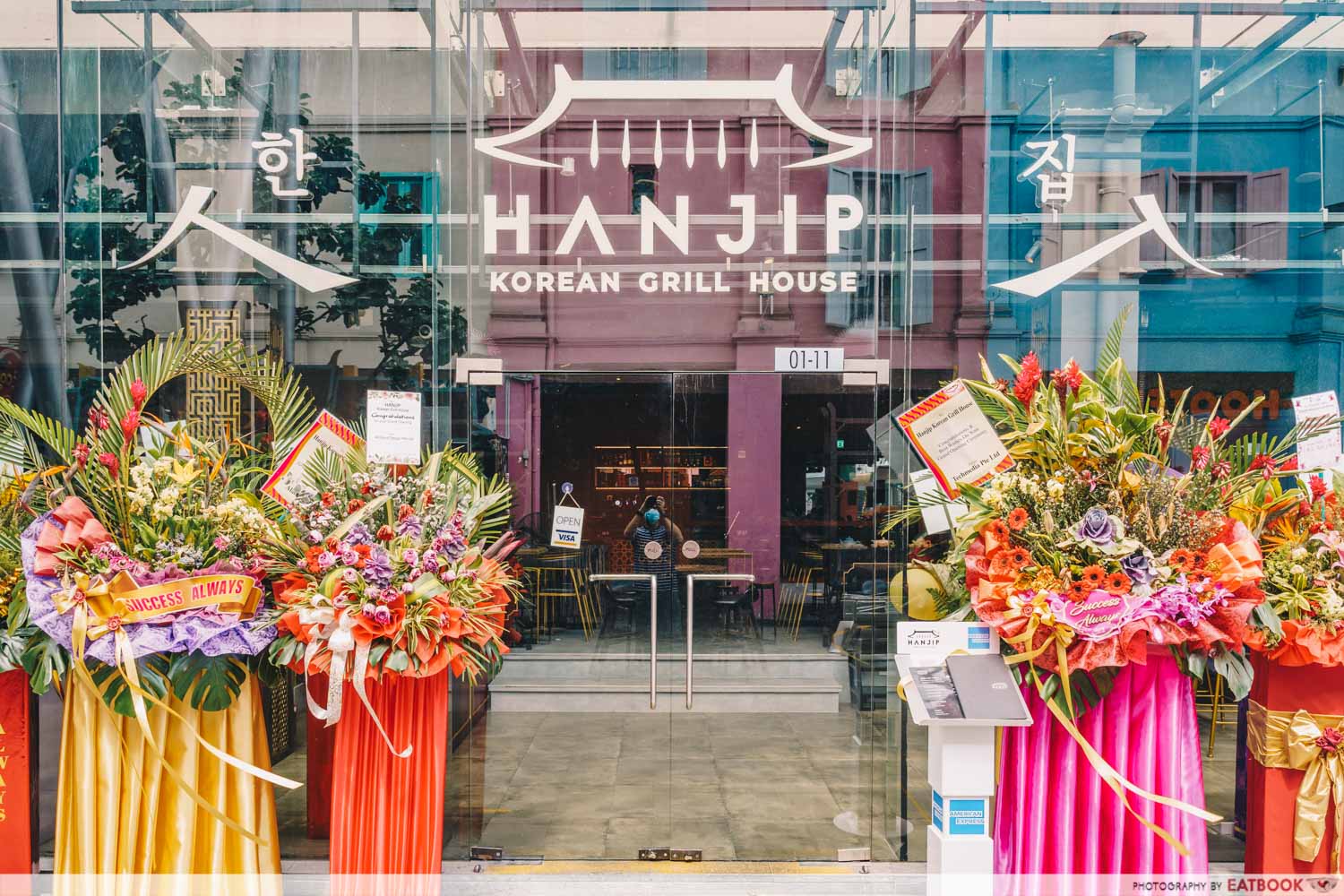 Hanjip Korean Grill House seeks to differentiate itself from your regular Korean BBQ house with its selection of premium beef, and private dining rooms that would not look out of place in a K-drama.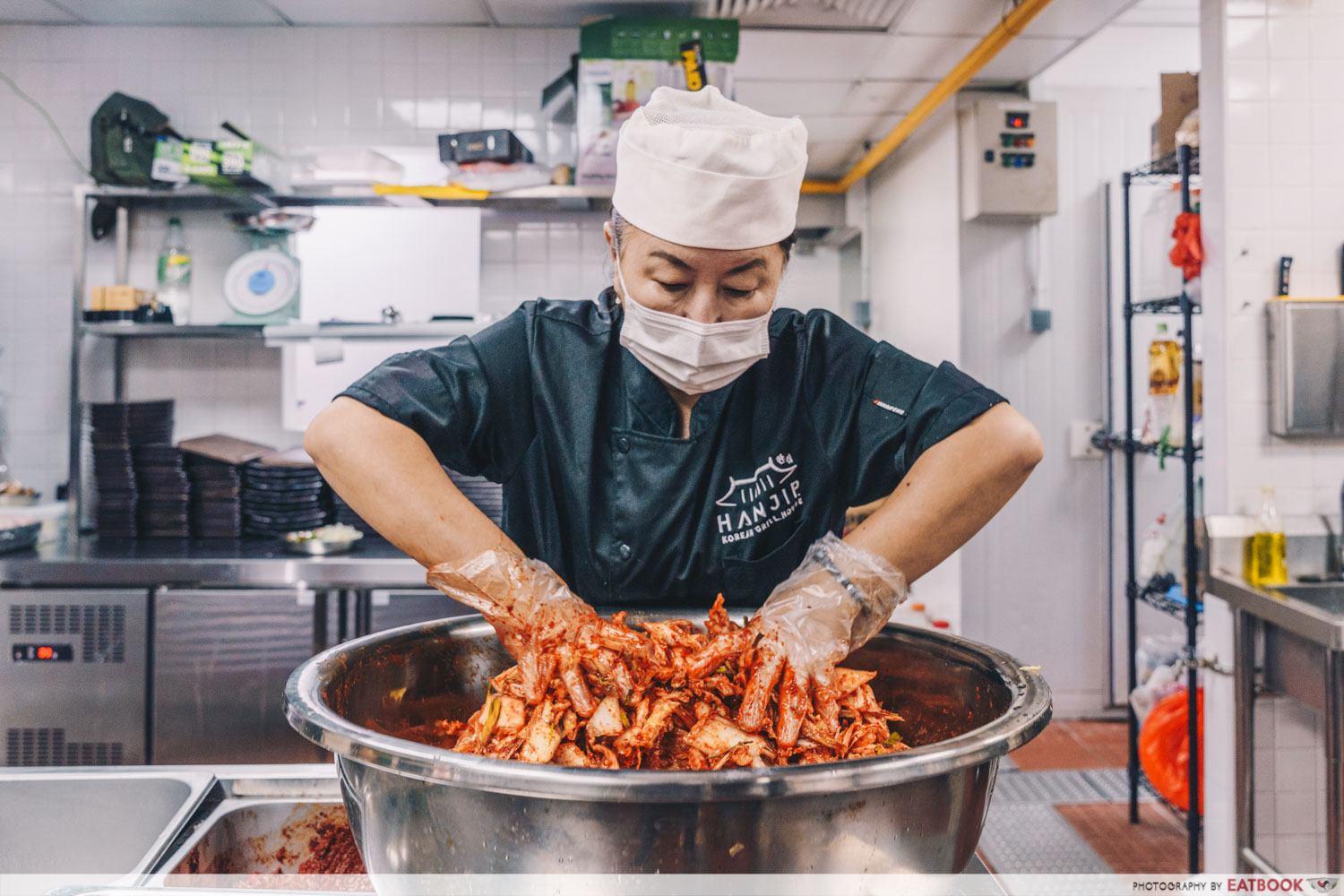 Helming the kitchen here are two Korean chefs, one of whom is Hanjip's culinary consultant, with several other Korean eateries under her watch. They personally oversee the kitchen operations and make the kimchi, banchan, and soup stocks daily.
Food at Hanjip Korean Grill House
The menu at Hanjip Korean Grill House is comprehensive, with BBQ meat platters, stews and soups, fried, and side dishes. Of course, K-BBQ isn't K-BBQ without soju, and beer. Hanjip's got that covered with massive draught beer towers and a wide selection of tipples as well.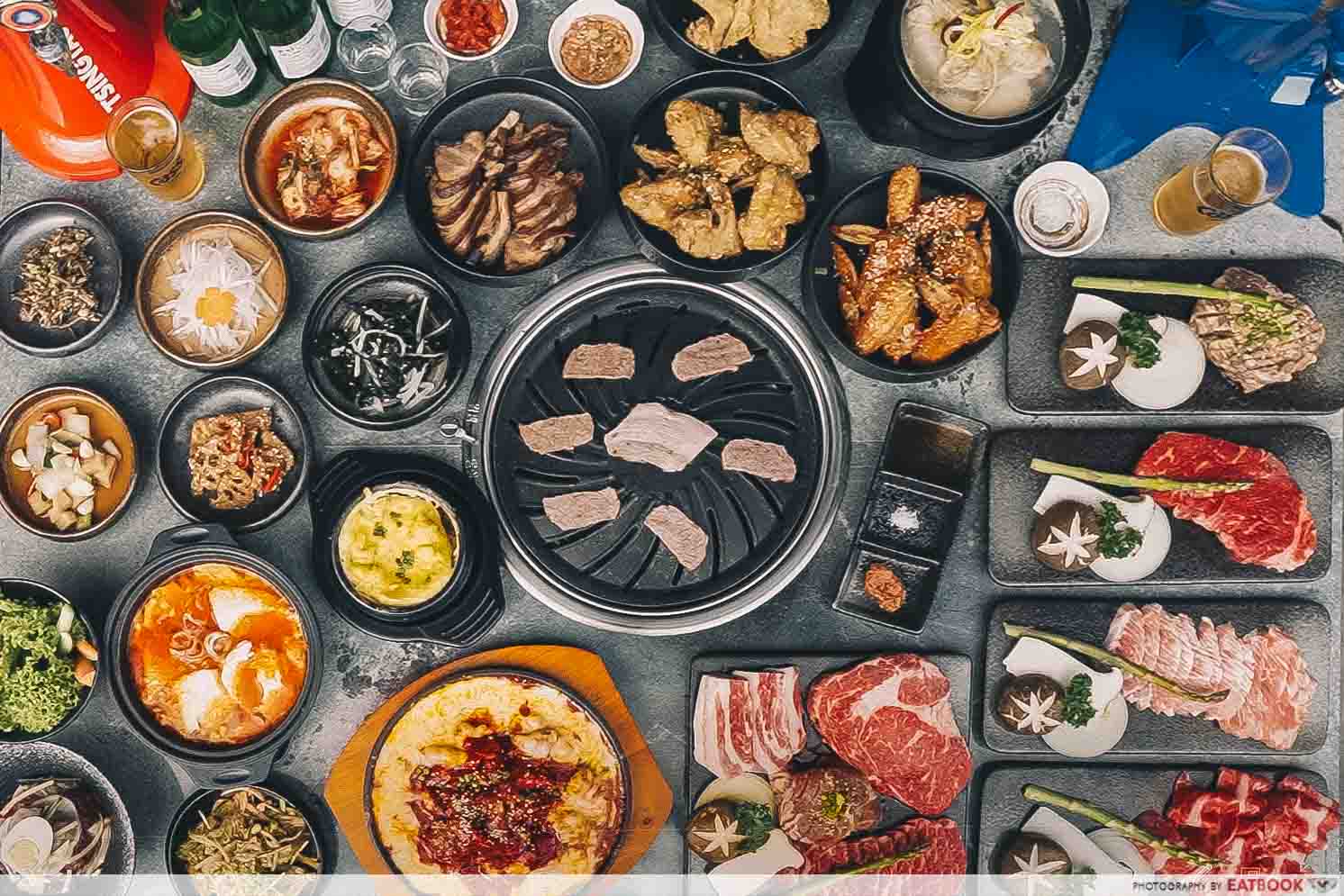 The banchan at Hanjip Korean Grill House is made by the Korean chefs daily. There's a rotating selection which you can request top-ups for, my favourite of which was the lotus root. My non-vegetable-eating friend had this, and went for extras.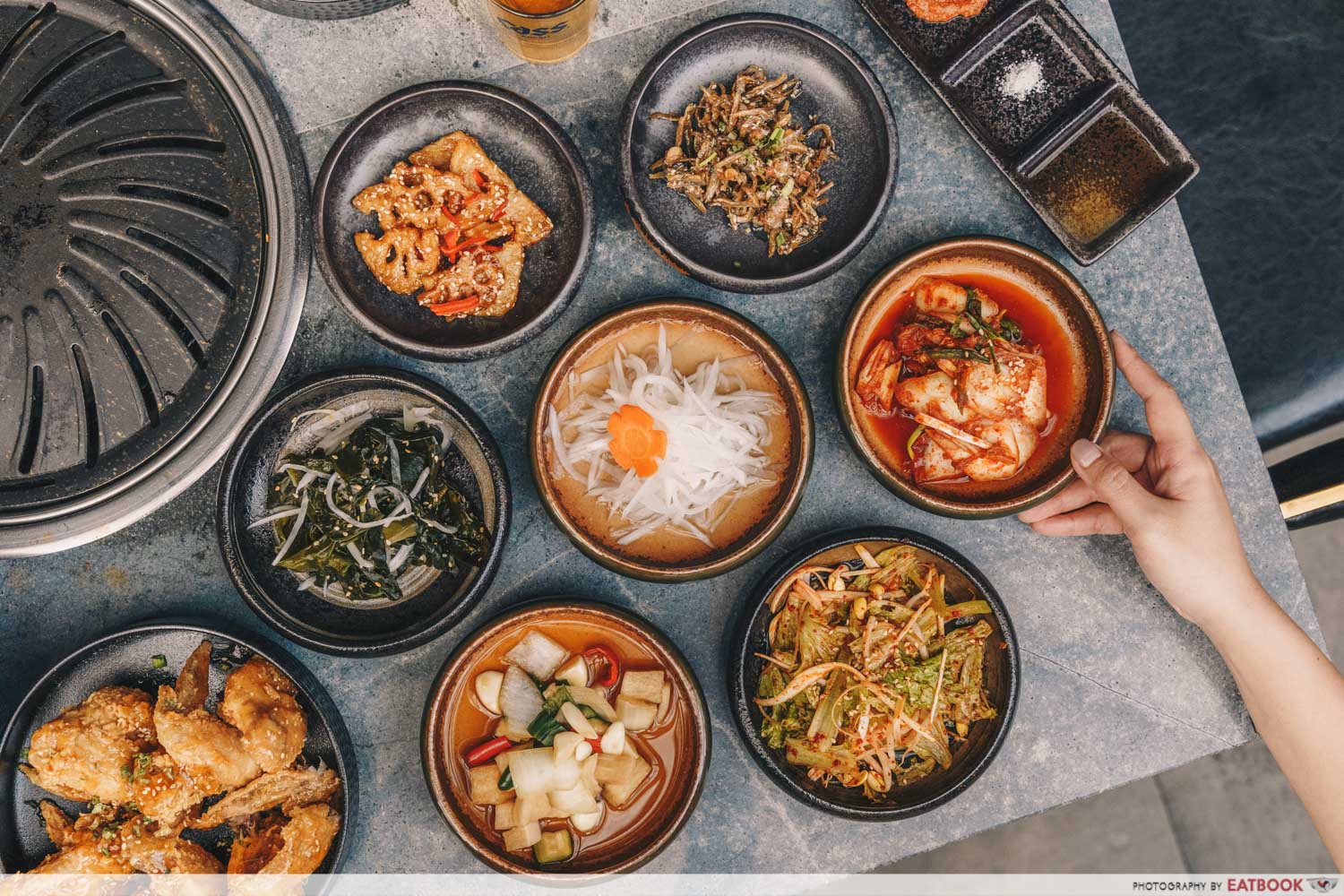 Braised Pig Trotter ($32++), or Jokbal, isn't a dish that jumps out at me when I order at a Korean eatery. When I took a bite of this starter, however, I was hooked. The rich, nuanced taste of the braising liquid permeated throughout each slice of pork, speaking of long hours of patient cooking. I imagine this would be a good beer bite, but fair warning to eat this while it's warm.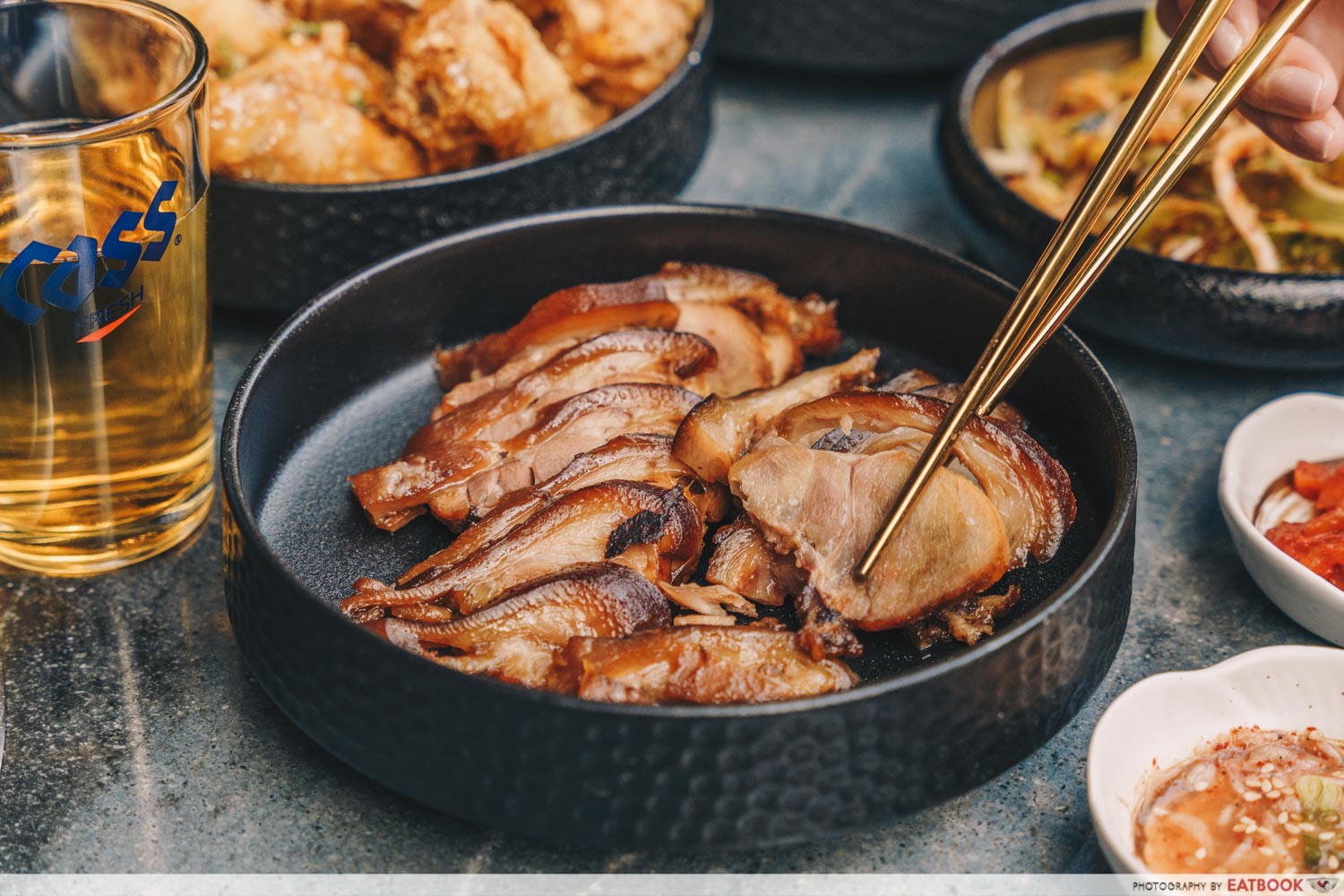 The pride of the menu at Hanjip Korean Grill House is the Hanjip Platter ($158++), a 650g platter of USDA Prime ribeye and short rib, Kurobuta pork belly, as well as marinated Kurobuta pork collar. 
If you weren't aware, the Prime label is the highest grade on the USDA scale, only issued to top-quality meat for exceptional tenderness, juiciness, and flavour. Similarly, Kurobuta pork refers to meat obtained from pure-bred Berkshire black pigs, with maximum marbling and juiciness.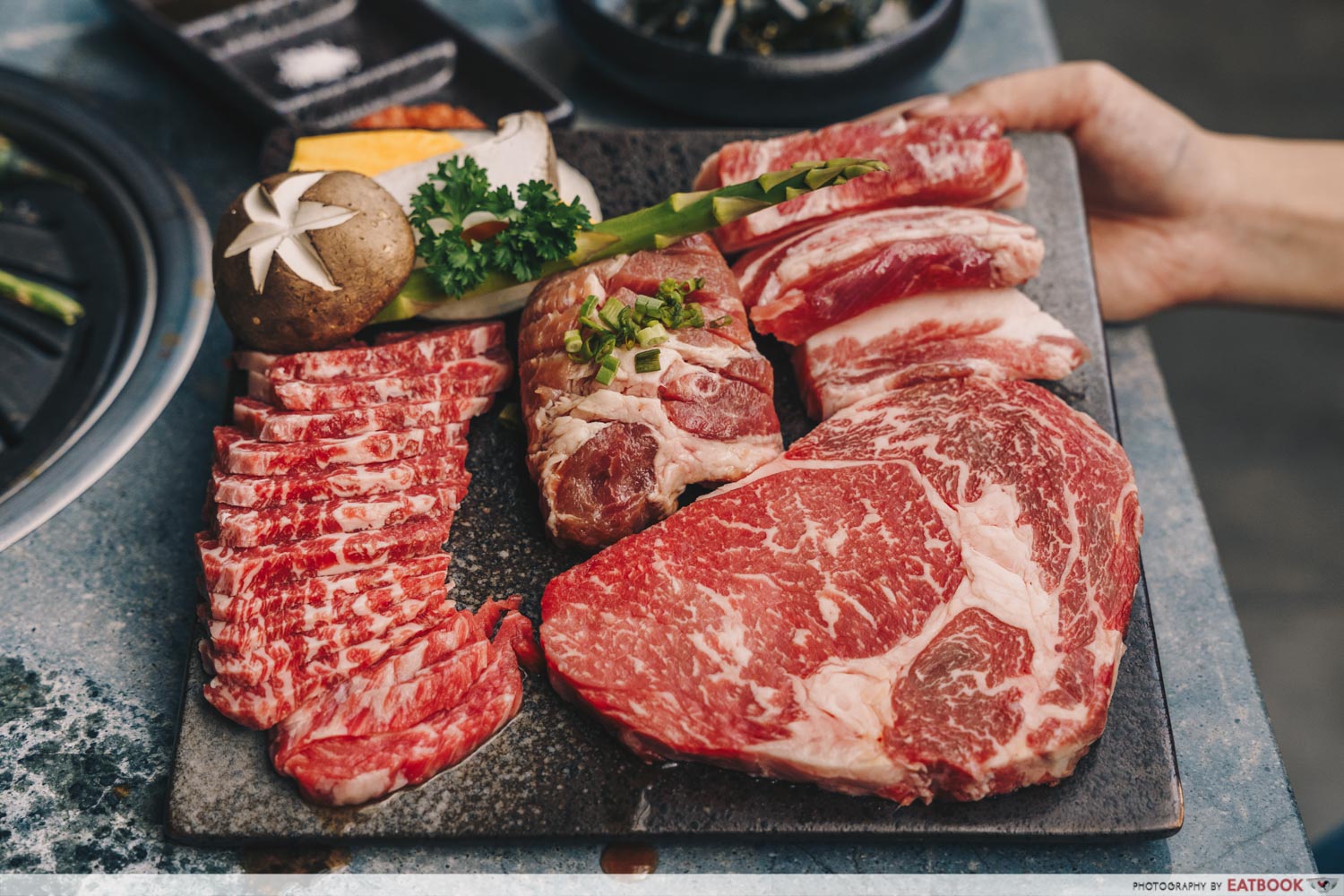 These well-marbled cuts of meat are barbecued at your table by Hanjip's team of attentive staff to just the right doneness, over white-hot charcoal. Overcooked meat is a pet peeve of mine, so I was pleased to have the quality meat served at its best.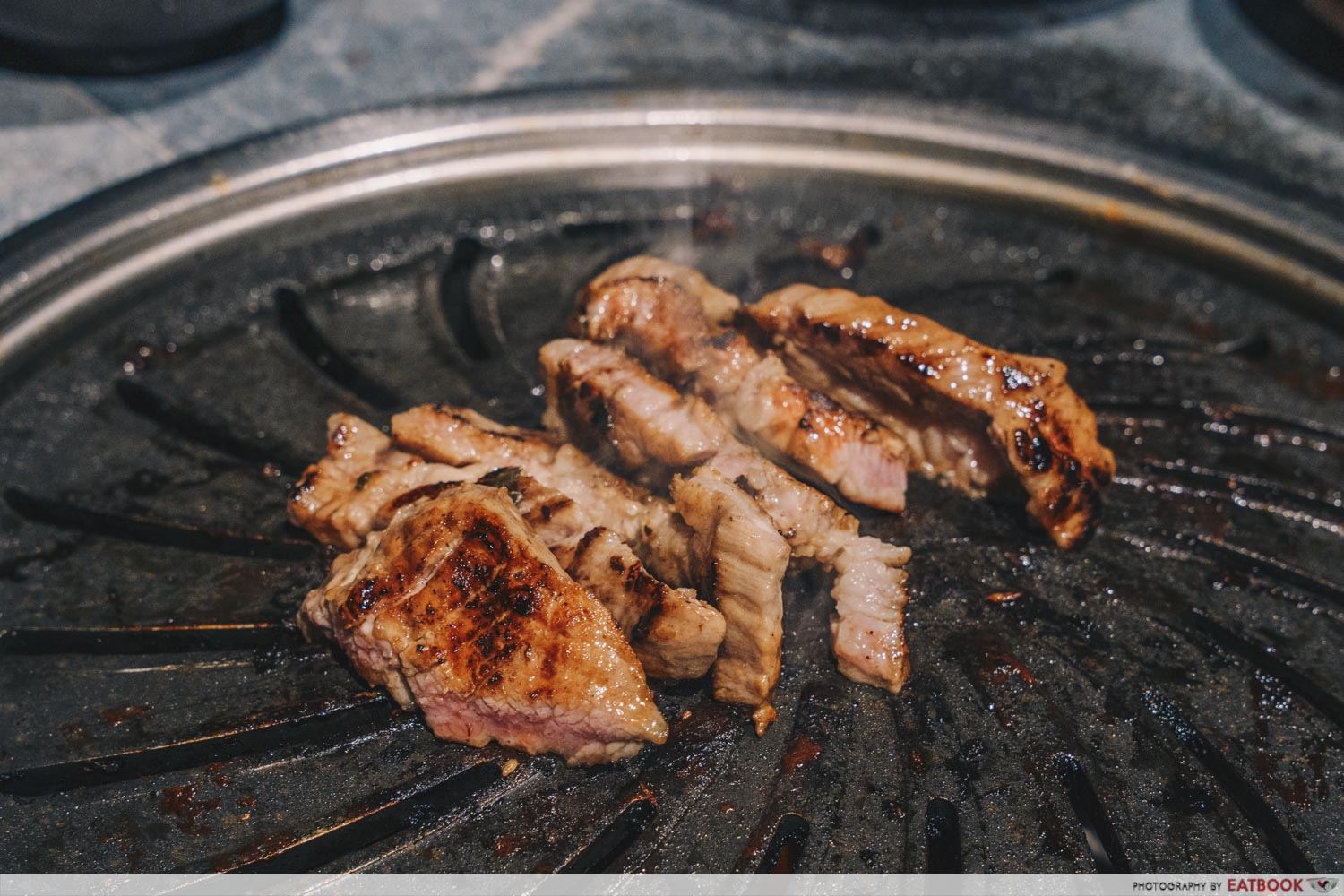 While the plain beef and pork allowed the quality of the meat to shine through, I enjoyed the marinated Kurobuta Pork Collar ($32++) equally. It was tender, thanks to the even marbling that ran through the cut, and the meat wasn't ruined from sitting in the marinade for too long.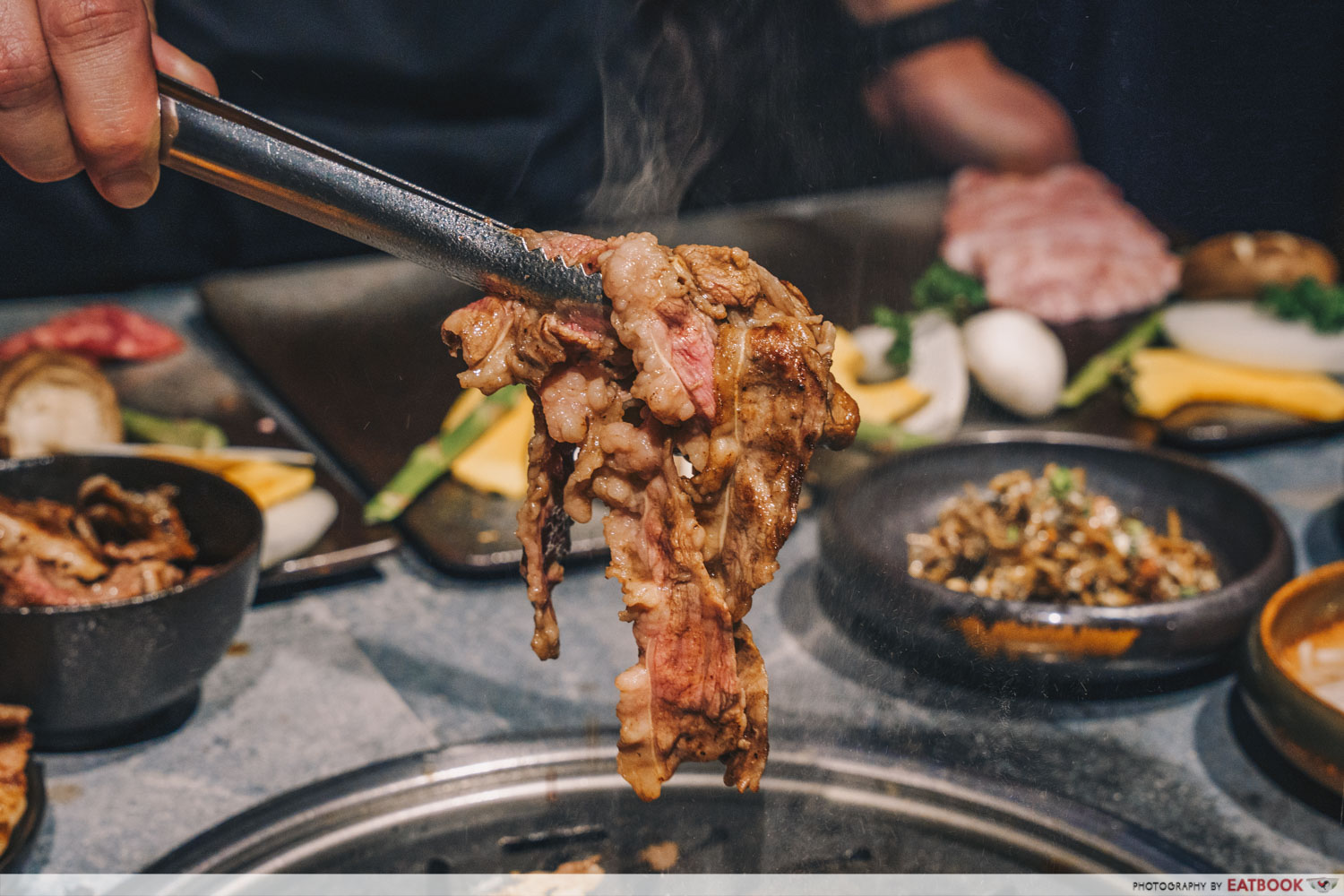 Other than USDA Prime beef, Hanjip also serves Australian wagyu of MS5 and MS9 gradings. Again, MS9 is the top grade of marbling on the Australian wagyu scale, equivalent to its Japanese counterpart. The Wagyu Brisket ($32++) comes thinly sliced, and cooks to a tender, melting finish in the mouth.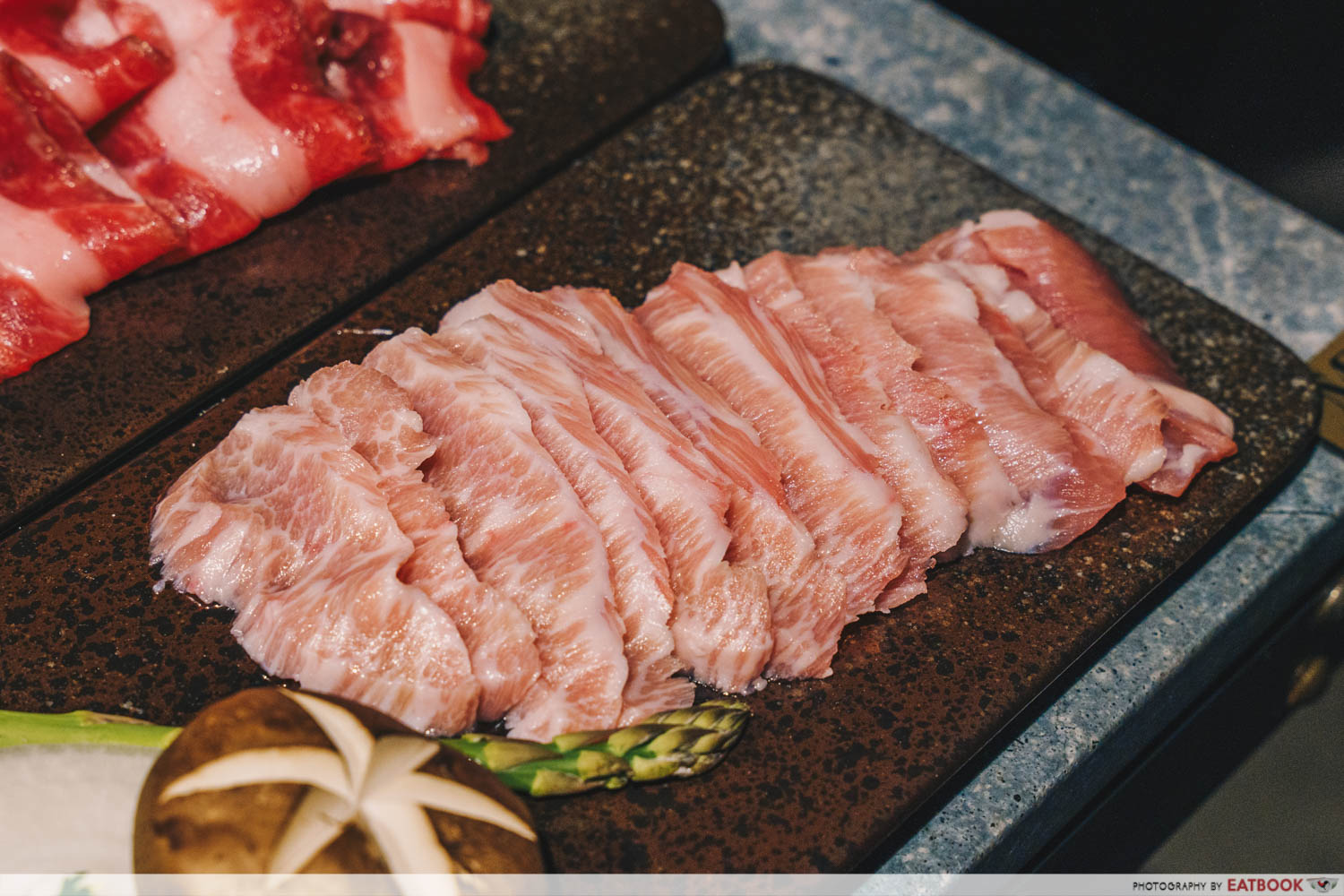 Hanjip has got Kurobuta Pork Jowl ($32++). It's one of my favourite cuts, and the staff here cooked it just right.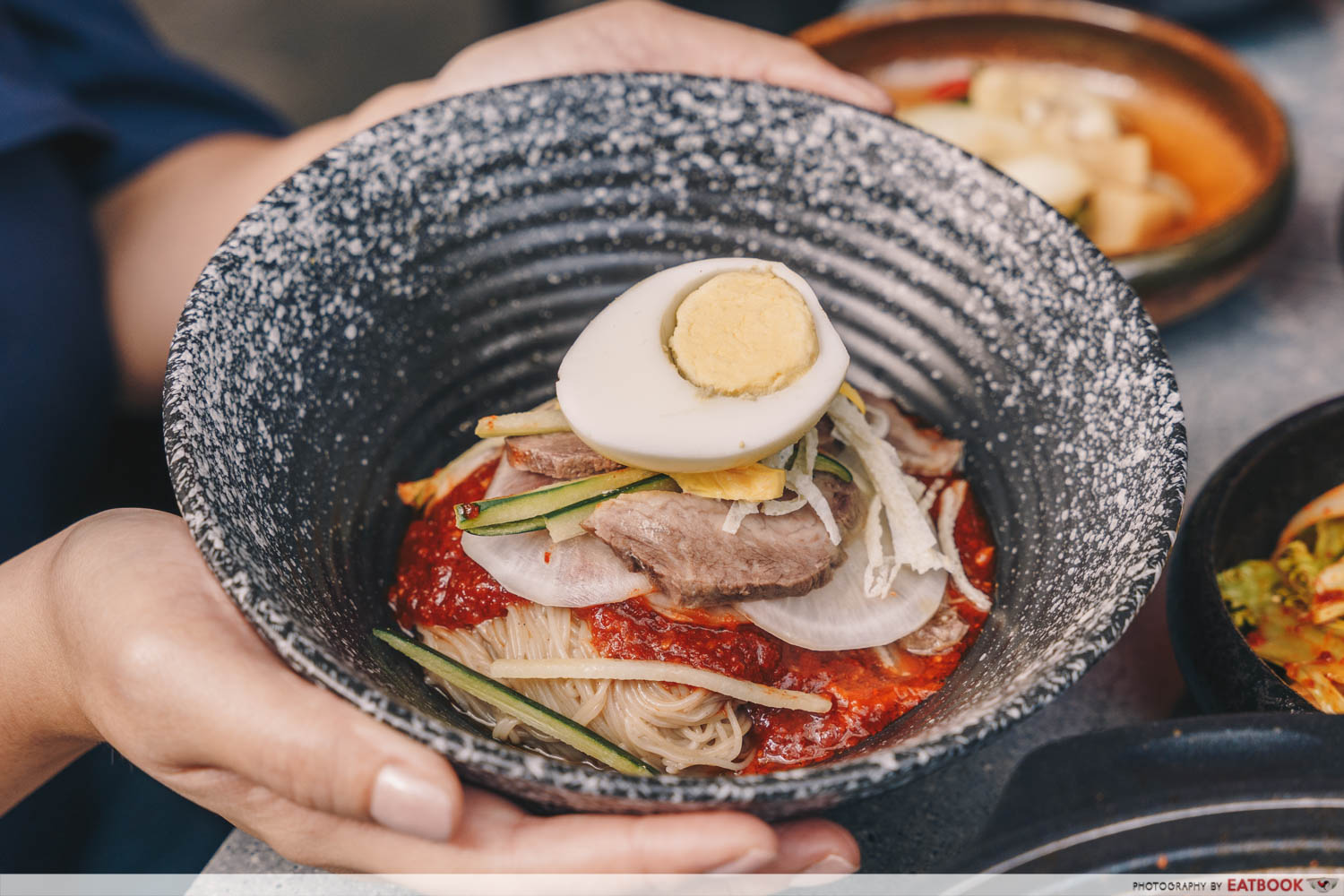 One of the only carb options on the menu, I was happy to see Spicy Cold Noodle ($18++), or Bibim Nangmyeon, here. If you like bibimbap, this features the same sweet-spicy sauce tossed with chewy, cold noodles, paired with refreshing white radish, and sliced beef.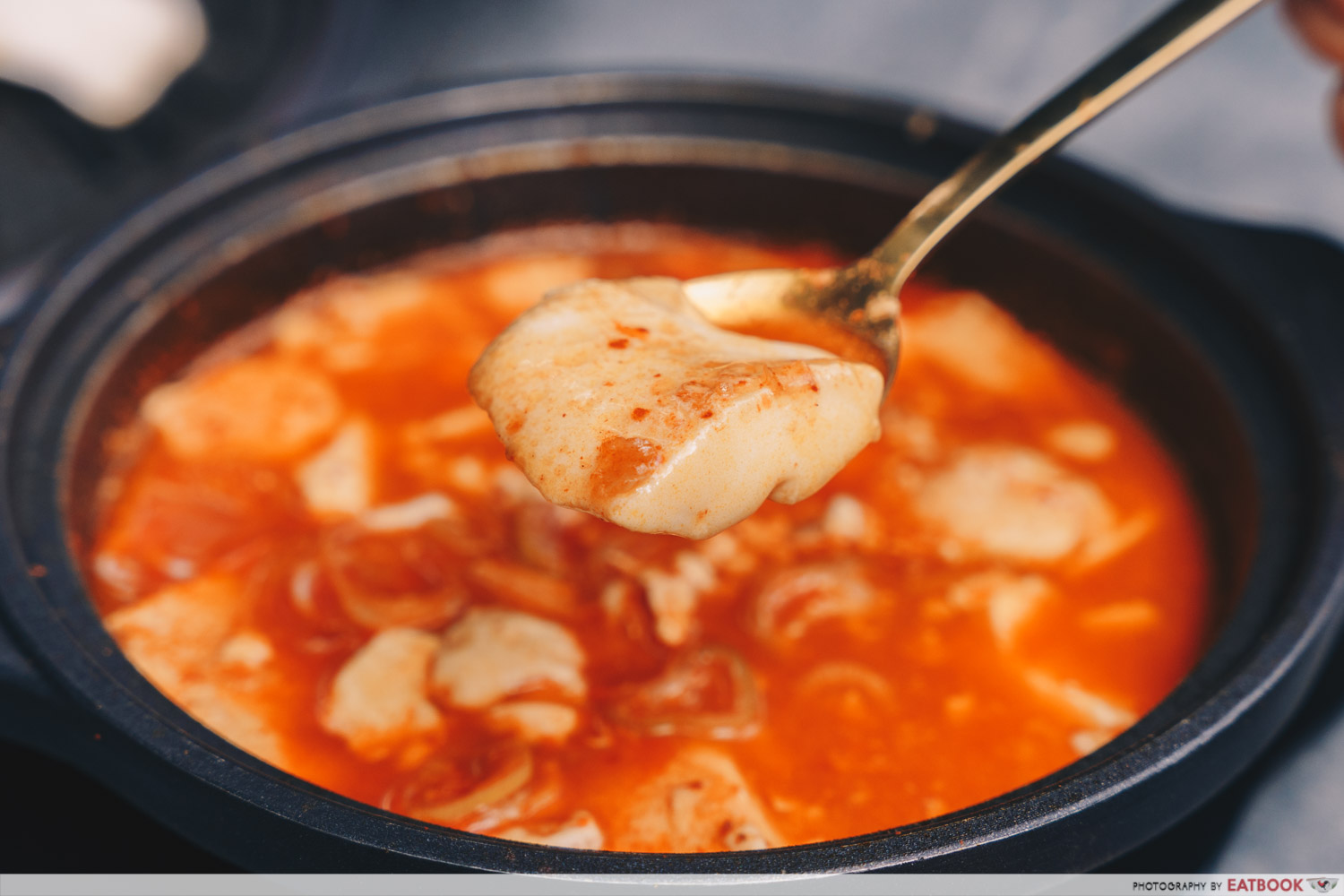 We also went for the Spicy Handmade Tofu ($20++), a piquant stew which I saw their Korean chef peeling dried anchovies to make the stock for. The handmade tofu was silken, its soybean taste coming through in spite of the flavourful broth.
One of my favourite orders of the evening was Hanjip's Ginseng Chicken ($28++). Made with real Korean ginseng roots, the samgyetang here was, like what I've had in Korea, not strongly herbal in taste. It's more like a rich chicken soup, lightly flavoured with ginseng.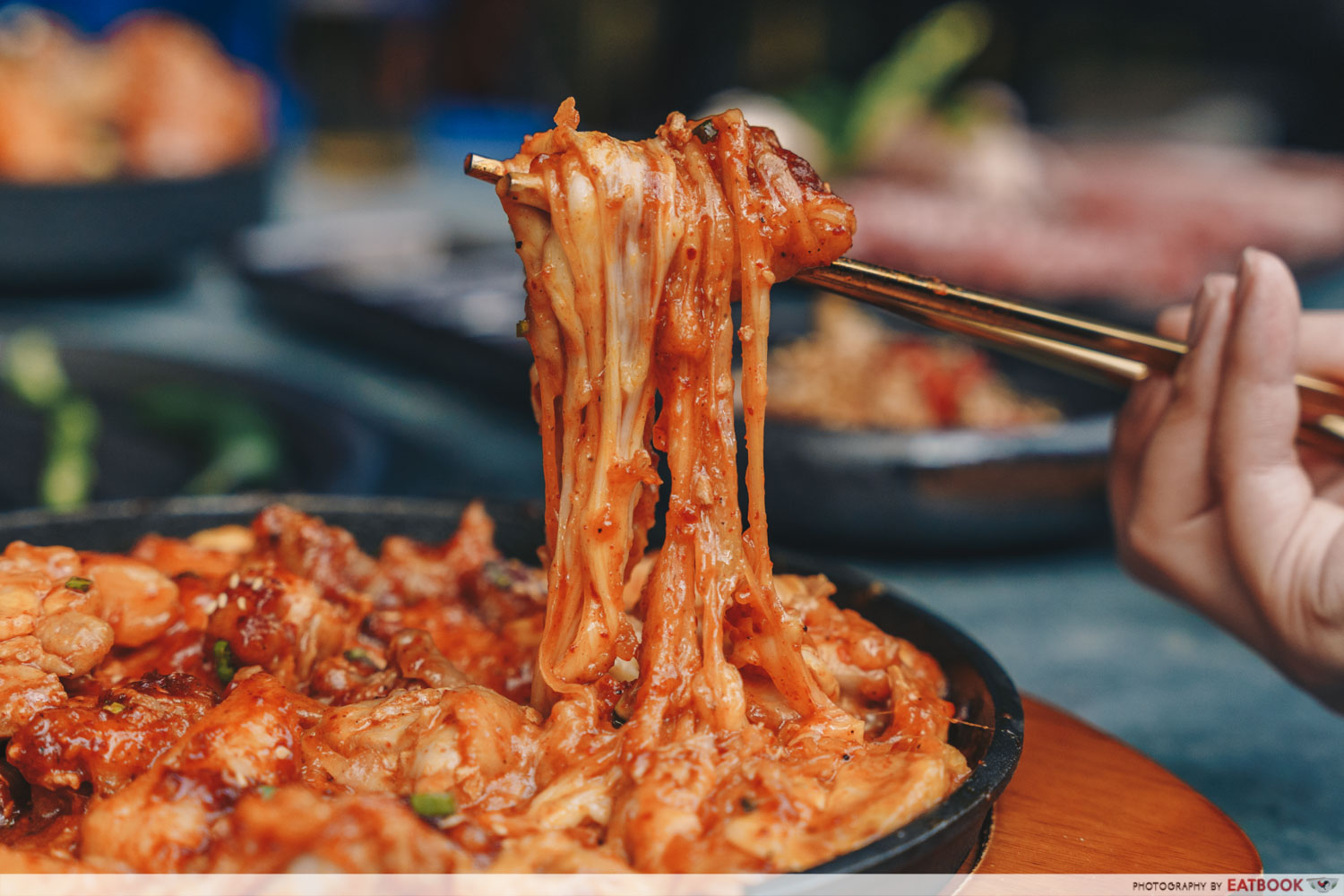 Another highlight for me was the Spicy Chicken with Cheese ($28++), a hotplate of oozing mozzarella. It gets jelak, though, so it's great if you have a larger dining party. There's tteokbokki here too, but I found that secondary to the cheese and chicken.
If you're here with chimaek-loving friends, you've got to try the Korean Fried Chicken Wings ($20++), available in Original, Soy, or Spicy. Battered and fried to order, they're best eaten fresh for maximum enjoyment, with just the right amount of glaze so they remain crispy, rather than drenched in sauce.
Ambience at Hanjip Korean Grill House
Hanjip Korean Grill House sits right in between Clarke Quay and Fort Canning MRT Stations, a mere four-minute walk from each making this new Korean eatery highly accessible.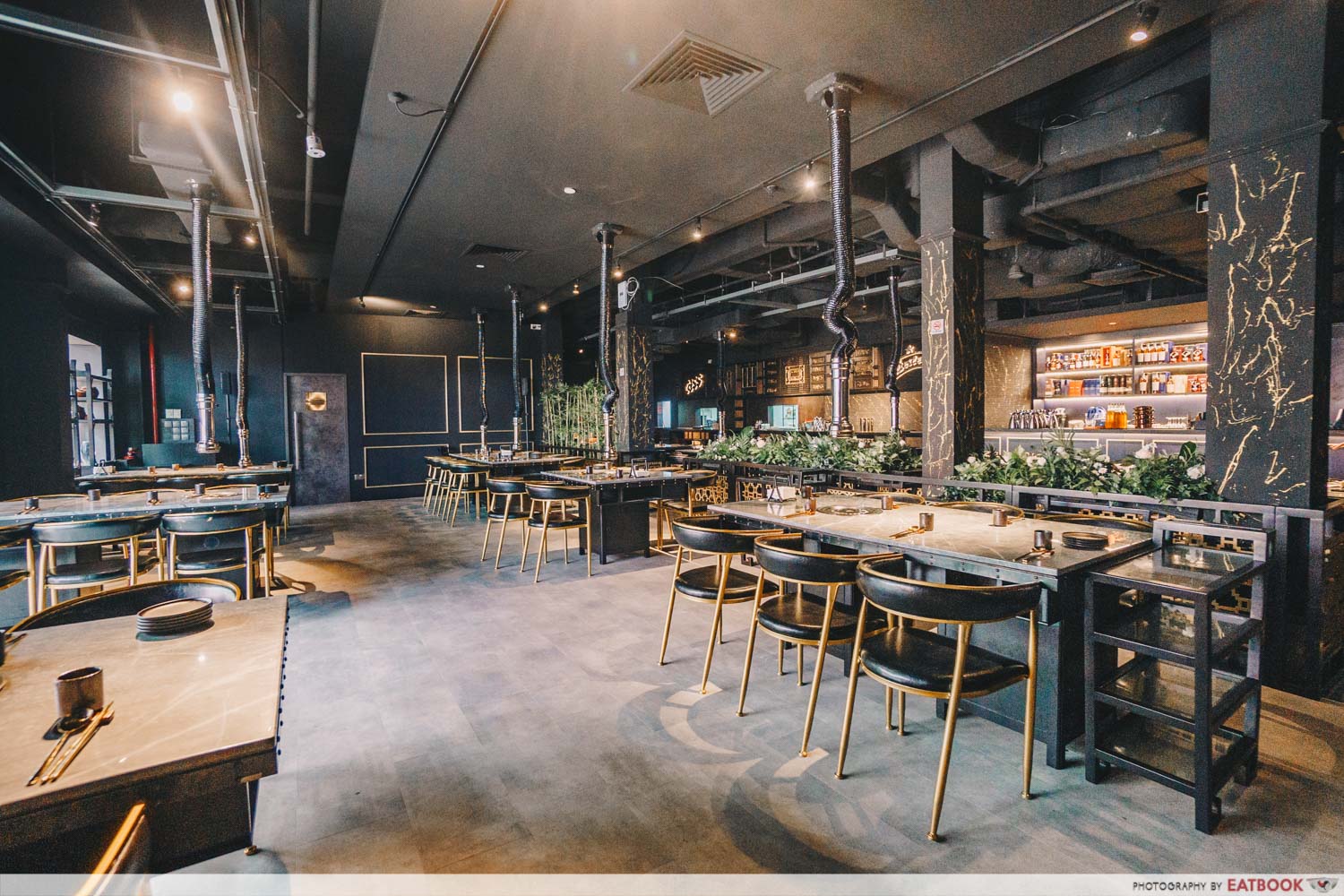 The restaurant exudes an atas vibe, thanks to its sleek black-and-gold themed, and spacious, interiors. There's no squeezing on little stools around the tables here, for sure. Perhaps because there are fewer grills, the place doesn't reek of smoke and barbecue, and I walked out barely smelling like grilled meat.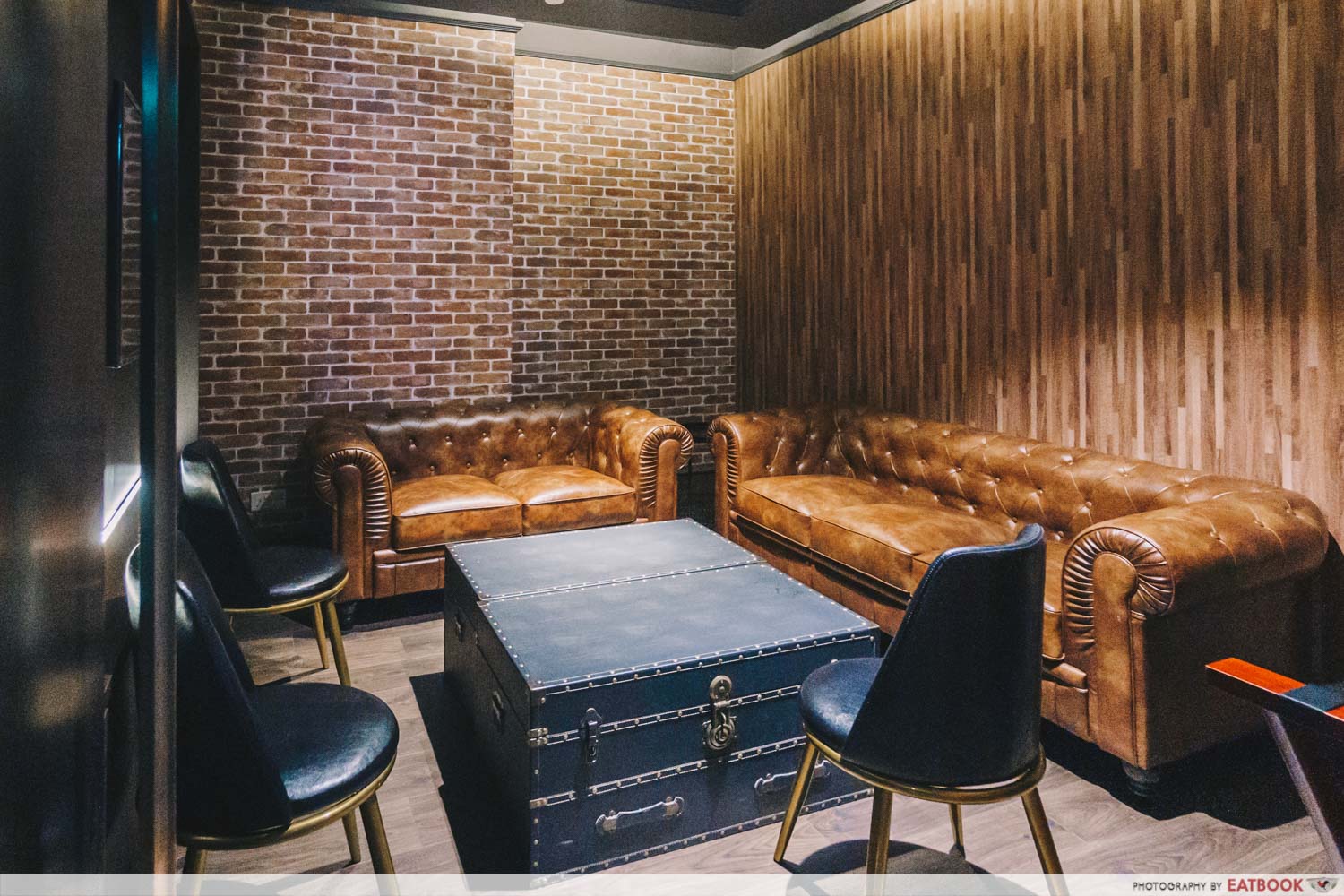 If you're looking for an intimate dining experience and lots of drink-chugging with your chinggu, Hanjip's got seven private rooms of varying sizes, complete with TV screens and soundproofing. Do note that there's a minimum spending applicable, based on the size of the room. You'll also not get any grilling action here. Rather, the staff will grill the meat outside, and send them in.
The verdict
This new kid on the K-BBQ block is definitely one to check out, especially if you enjoy the finer meats. The prices here are well worth the premium meats, and dedicated table service. I'd give Hanjip Korean Grill House extra points for being so centrally located too.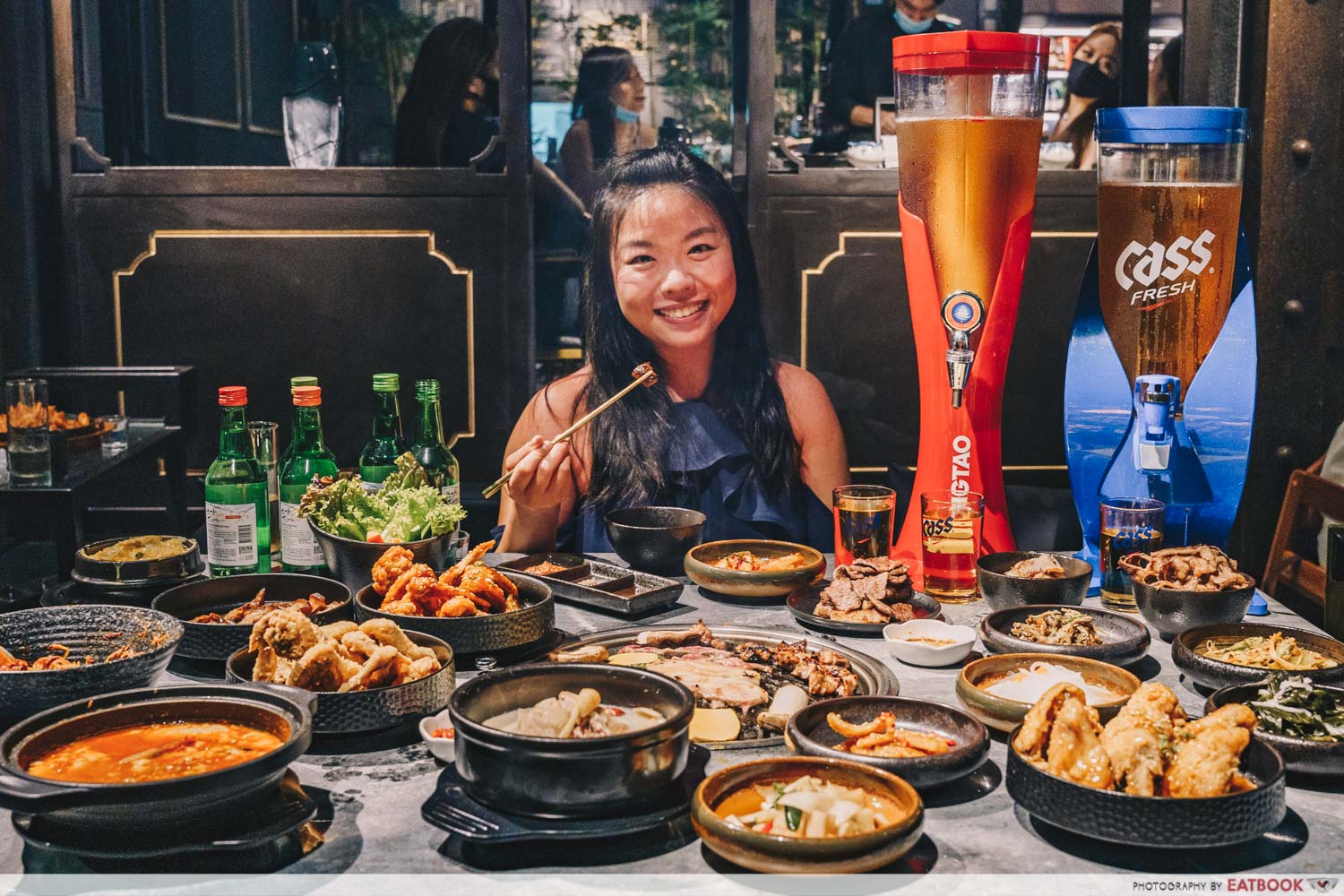 I appreciated the effort that went into preparing the food here, down to the soup bases that were made from scratch, rather than relying on powdered stock.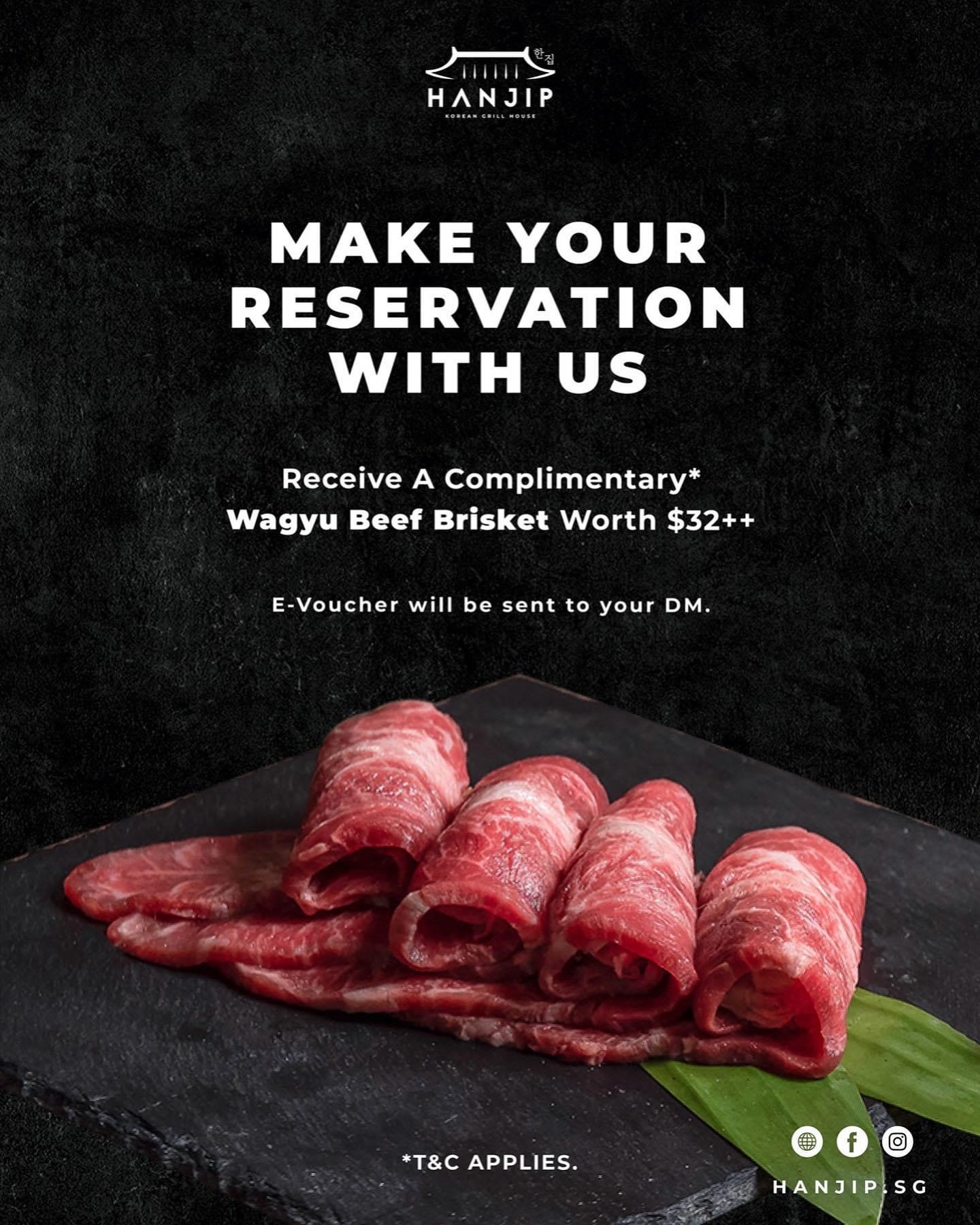 For the month of February, follow and make a reservation at Hanjip Korean Grill House through their social media platforms to receive an e-voucher for a complimentary tray of Wagyu Beef Brisket (MS9) worth $32++ when you spend $100 in a single receipt! Terms and conditions apply.
Address: 3C River Valley Road, #01-11, Blk C, The Cannery, Clarke Quay, Singapore 179022
Opening hours: Daily 12pm to 2:30pm, 5pm to 12am
Tel: 8882 9011
Website
Hanjip Korean Grill House is not a halal-certified eatery.
Photos taken by John Lery Villaneuva.
This post is brought to you by Hanjip Korean Grill House.
Hanjip Korean Grill House Review: Korean BBQ With USDA Prime Ribeye And Wagyu Platters In Clarke Quay
Hanjip Korean Grill House Review: Korean BBQ With USDA Prime Ribeye And Wagyu Platters In Clarke Quay -

8/10
Summary
Pros
– Convenient location and private rooms
– Quality BBQ meat with dedicated table service
– Tasty, homemade non-BBQ Korean food
Cons
– Soup and stew portions are a little small
Recommended dishes: Hanjip Platter ($158++), Ginseng Chicken ($28++), Spicy Chicken with Cheese ($28++)
Opening hours: Daily 12pm to 2:30pm, 5pm to 12am
Address: 3C River Valley Road, #01-11, Blk C, The Cannery, Clarke Quay, Singapore 179022