Don N Bap for Korean fried chicken and more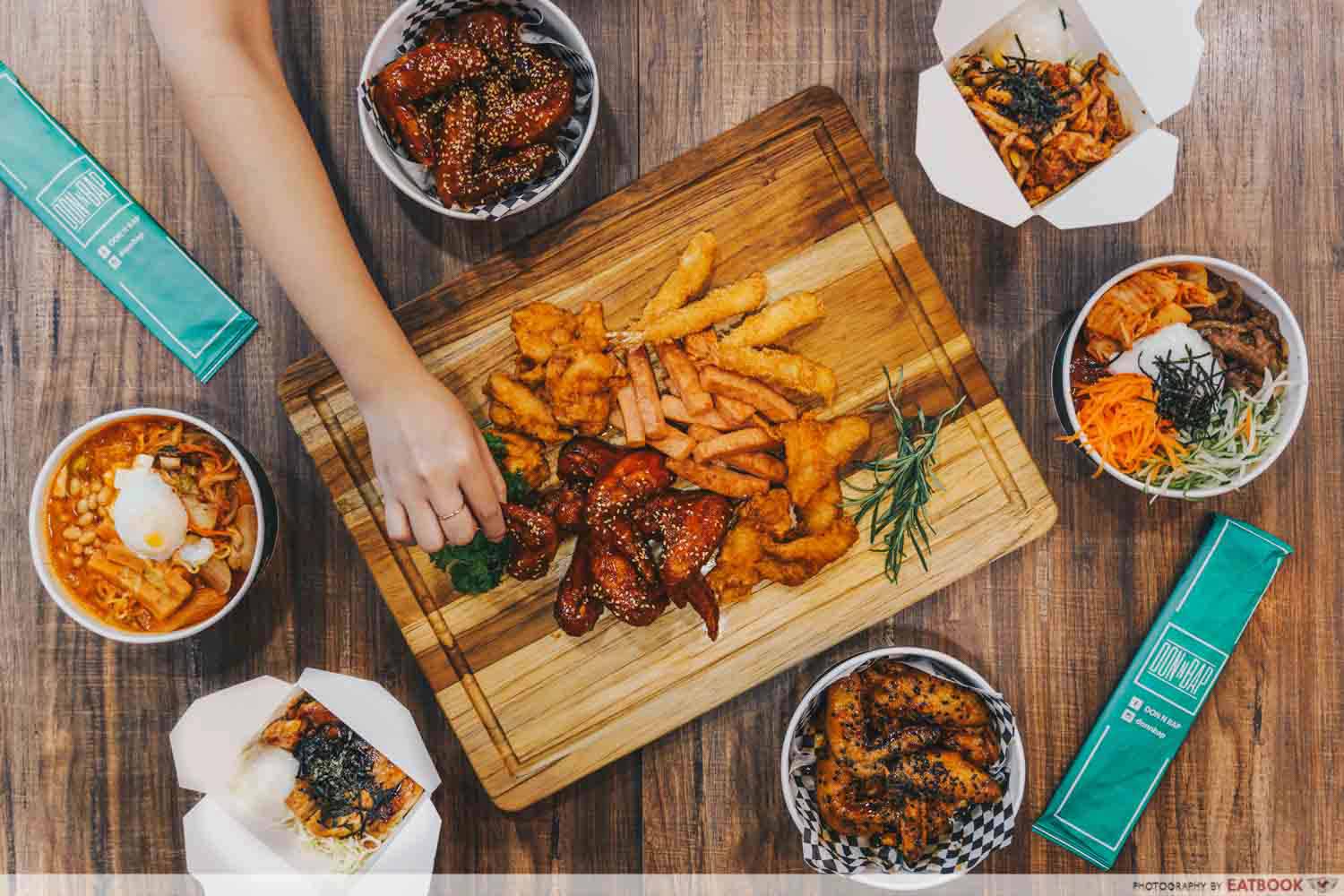 Bugis is known to be brimming with little cafes, bistros, and mom-and-pop eateries such as Don N Bap. This casual dining spot is hidden along Jalan Sultan, serving a wide variety of Japanese and Korean food, including their affordable Korean fried chicken that priced only from $5.50 a pop.
Food at Don N Bap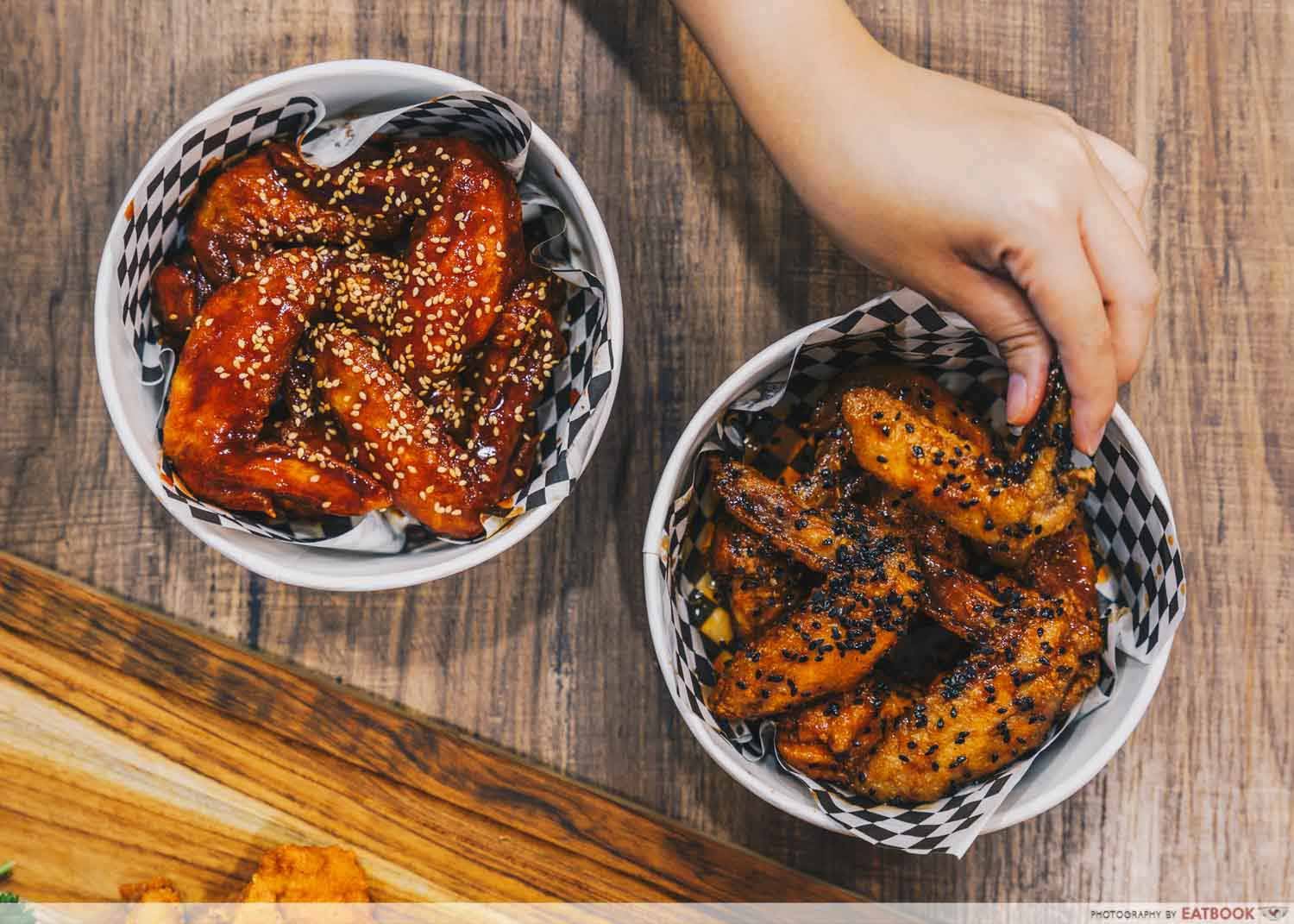 You would expect rice bowls to be the star dishes at Don N Bap, but it is the Korean fried chicken which caught me by surprise first. Priced from only $5.50 for a pair of winglets and a pair of drumlets, the fried chicken came in two flavours: Fiery Wings and Ninniku Wings.
For $10 you would get four winglets and four drumlets, and $14 for six winglets and six drumlets.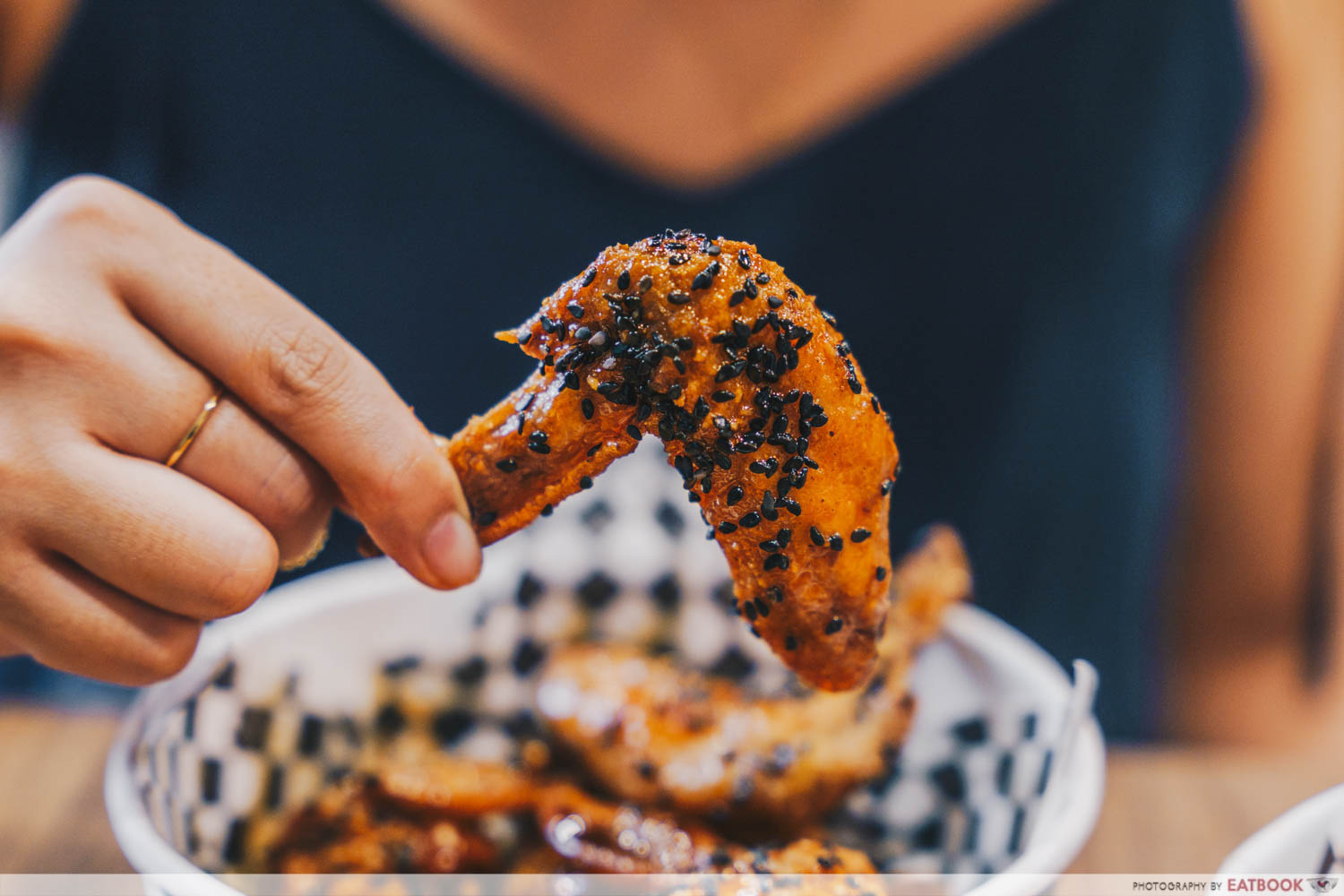 The sauce on the Ninniku Wings delivers caramel-like notes similar to honey, and a salty-savoury combination from soya sauce. The sticky coat also boasts piquant flavours of garlic, making each fried chicken quite simply moreish.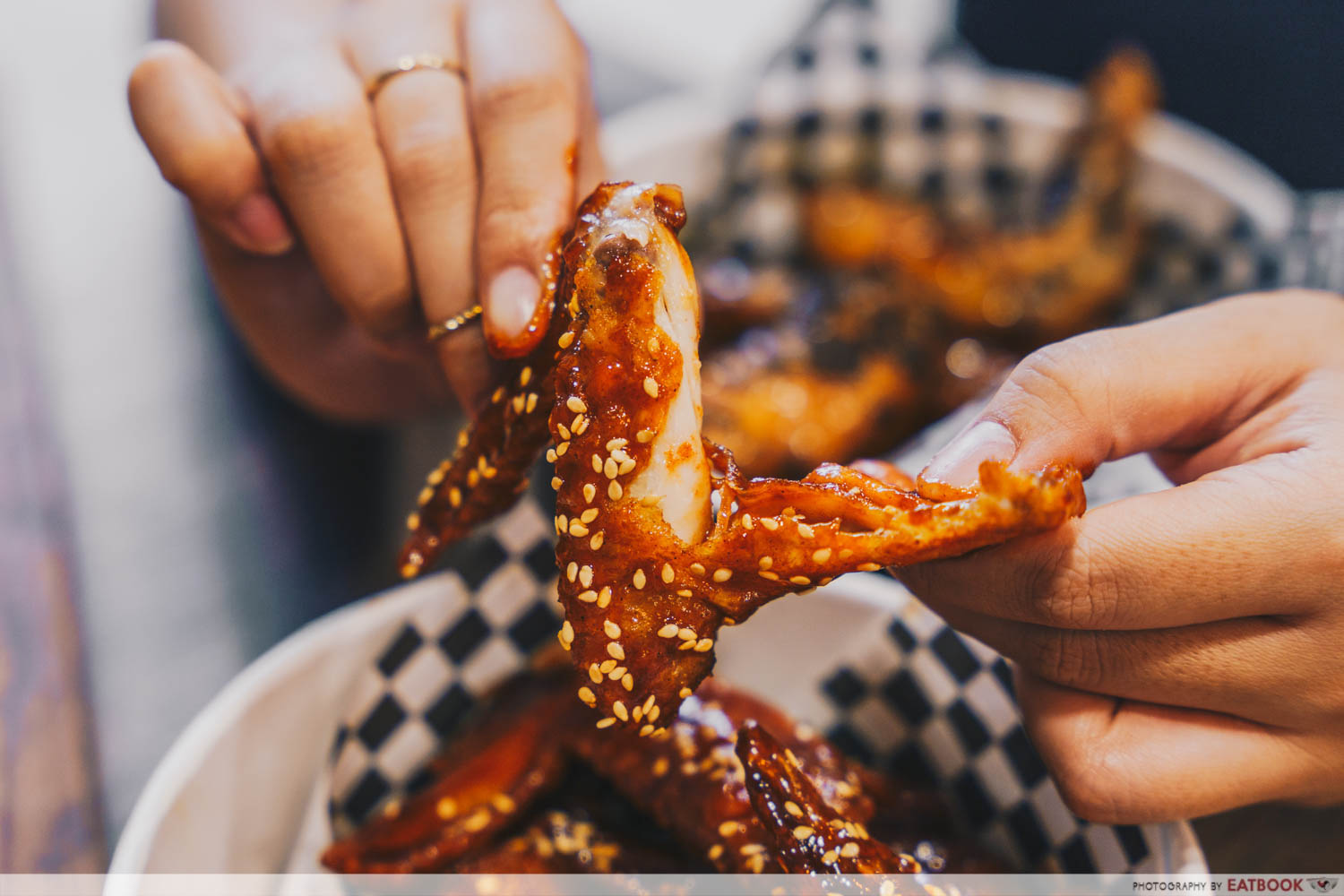 The Fiery Wings, on the other hand, are tossed with a sweet and spicy mix. Wrapped with tons of sesame seeds, each bite was mildly peppery and aromatic. One thing to take note, just like the Ninniku Wings, is that the crunch from the Fiery Wings takes a back seat thanks to the thick douse of Korean chilli pepper sauce.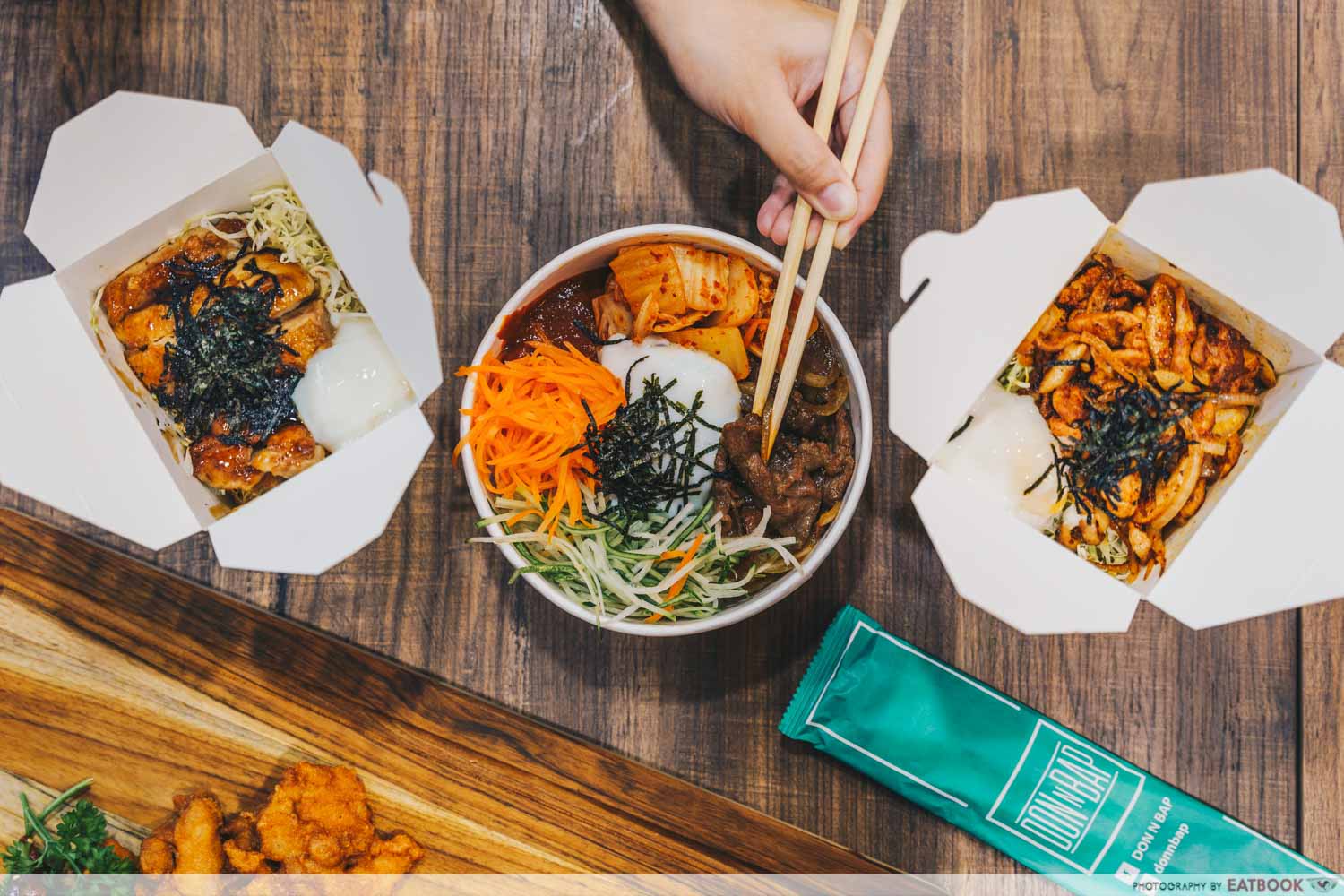 They also offer a good selection of rice bowls featuring Korean BBQ Chicken Bap ($6.80), Beef Bibimbap ($6.80), Chicken Teriyaki Don ($6.80) and more. Each bowl is filled to the brim with a well-seasoned protein, crisp vegetables with a sesame dressing, and rice.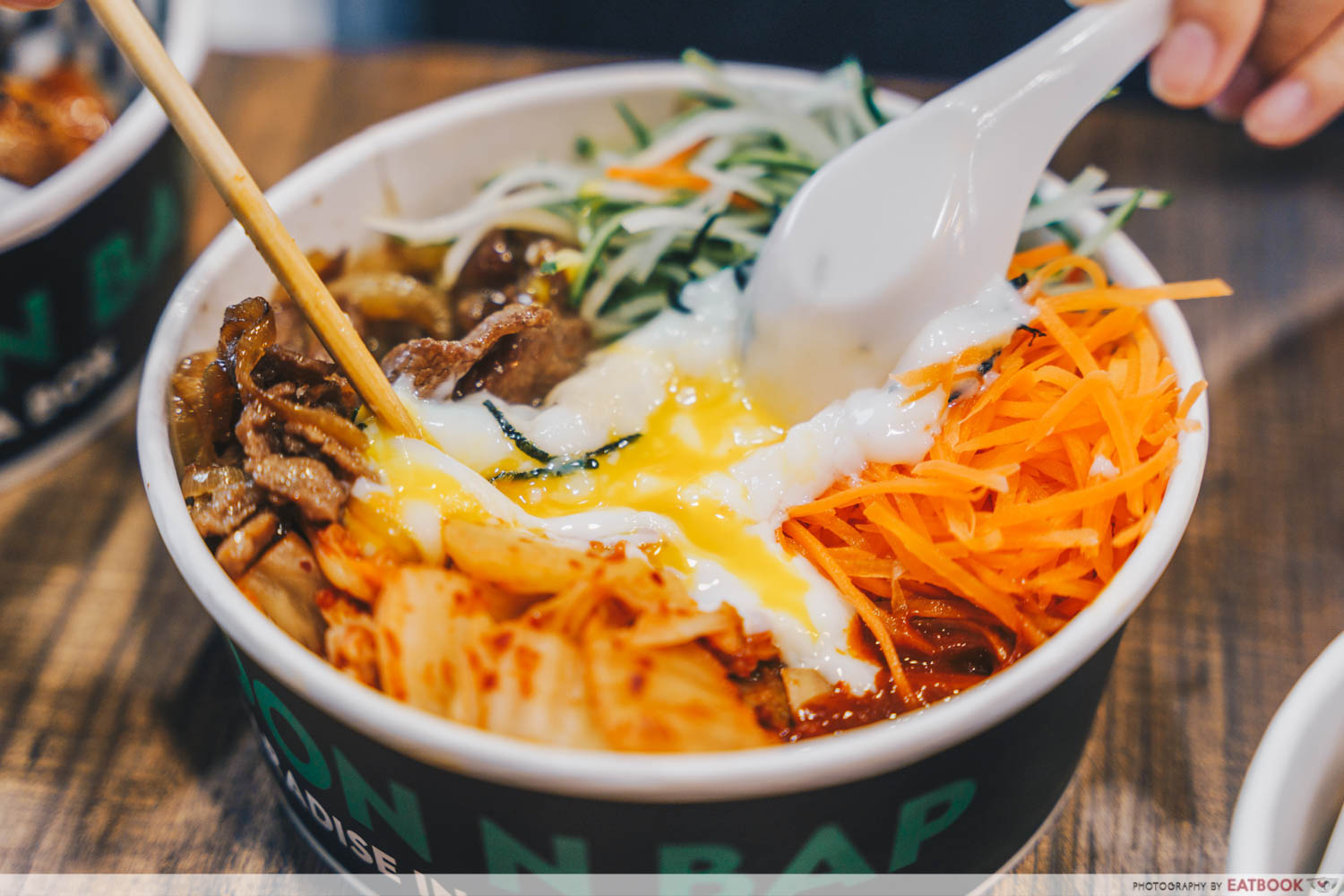 There's also a perfectly runny onsen egg propped atop each bowl, furnishing the rice bowls with silkiness.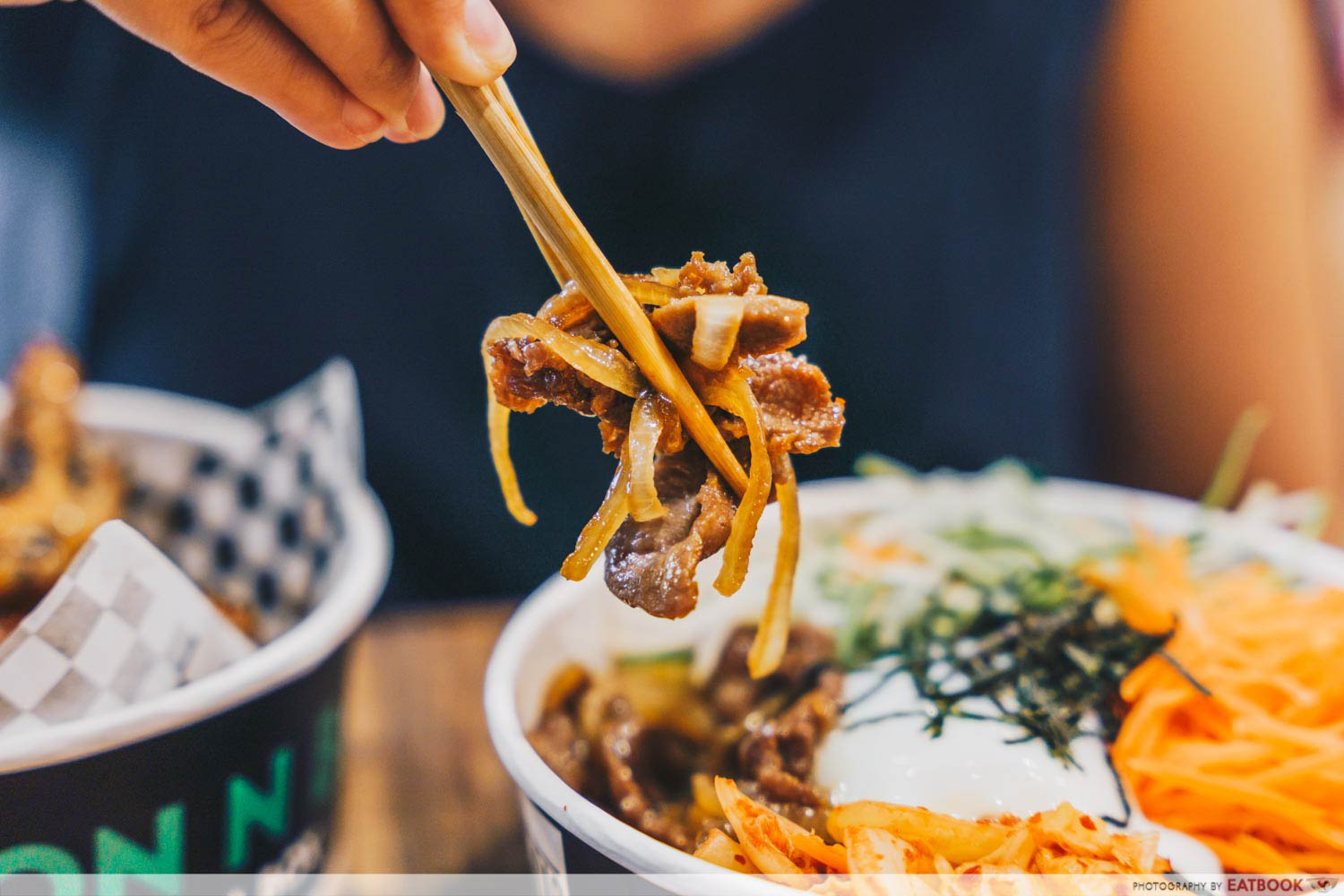 My favourite out of the lot is the Beef Bibimbap. The beef was nicely seared and paired well with slivers of crunchy, caramelised onion. Though not a looker, the bibimbap tasted the best after a good mix of gochujang, kimchi, vegetables, and beef.
Noodle lovers will also be happy to find Korean ramyun and Japanese dry and soup udon on the menu. The Army Stew Ramyun ($8.50) is the best for these rainy days on a budget. The usual army stew might burn a hole in the pocket. Yet, this individually portioned one gave the same soul-warming satisfaction from the savoury kimchi broth, chewy noodles, and comforting taste of chicken luncheon meat strips.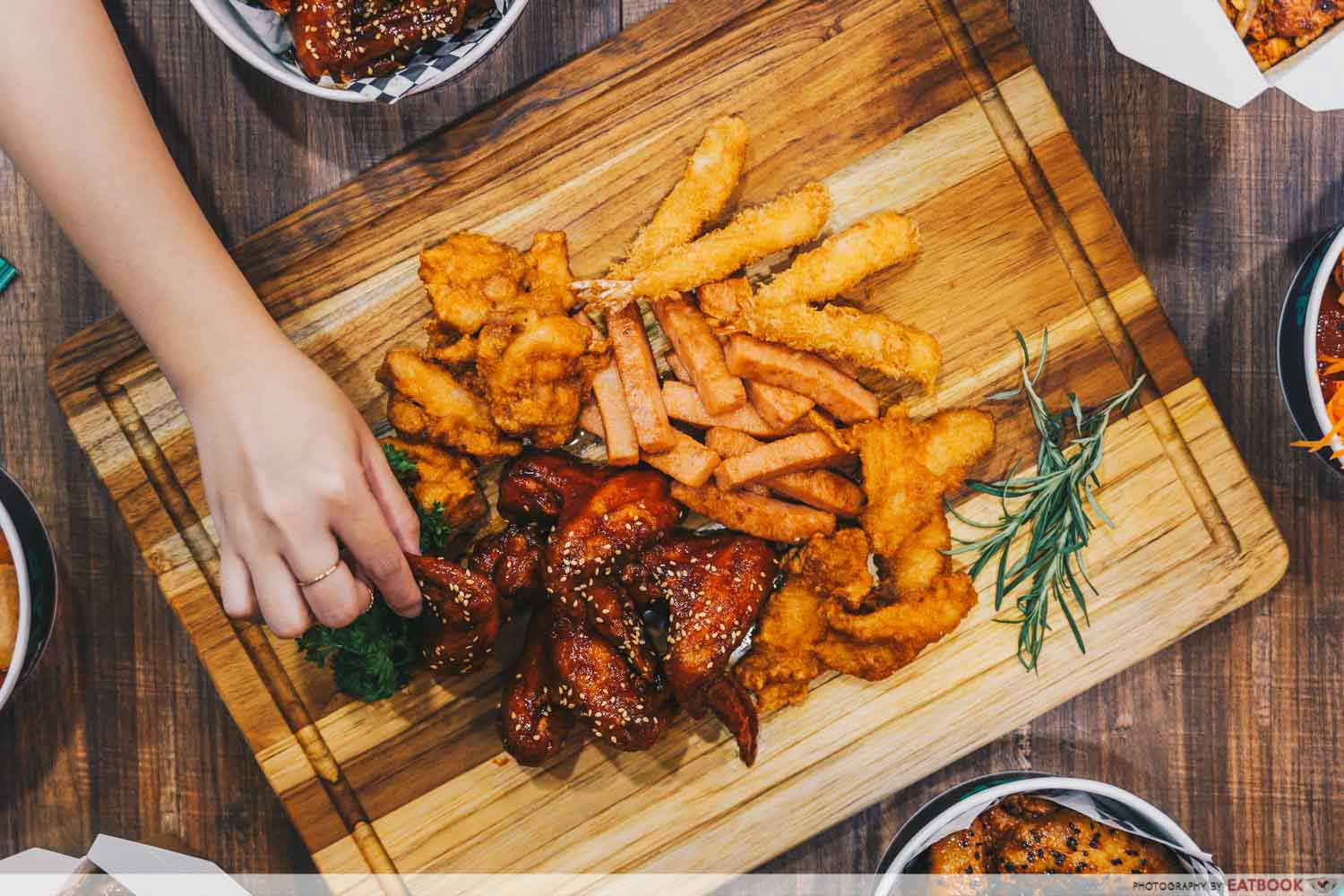 If you're on potluck duty for the end of year festivities, Don N Bap also offers a platter of Fiery or Garlicky Wings, Chicken Spam Fries, Chicken Karaage, Fish Karaage, and Ebi Fry at a promotional price of $24.80. This all-in-one mix is good for three to four people, making it an easy solution for home parties.
Score a $5 return voucher when you purchase this platter during their promotional period from now till 31 January 2021!
Ambience at Don N Bap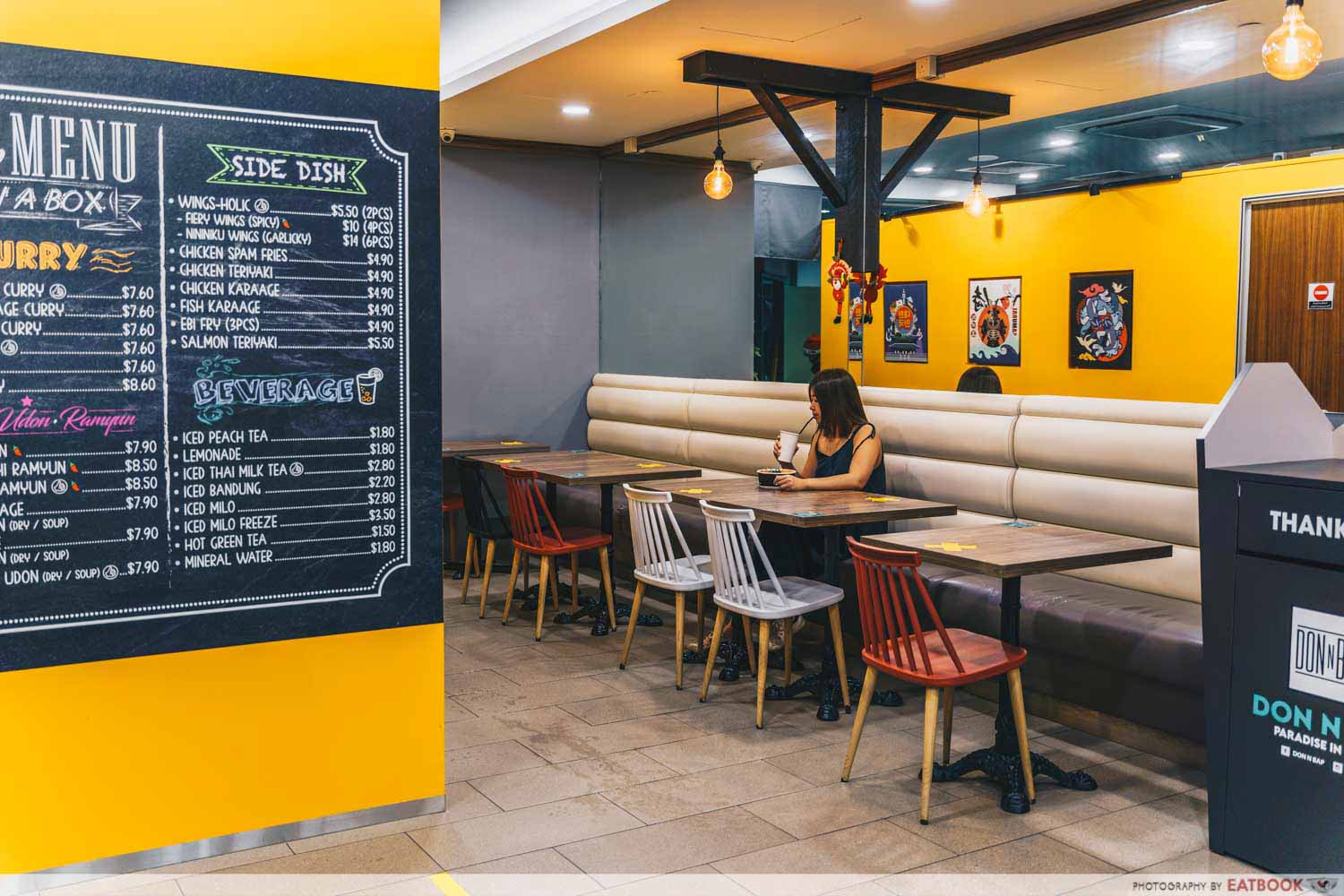 As with many small-scale eateries, the ambience wasn't the main draw of Don N Bap. Though minimally decorated with yellow walls and simple furniture, it was more of a dine-and-go spot for me.
The verdict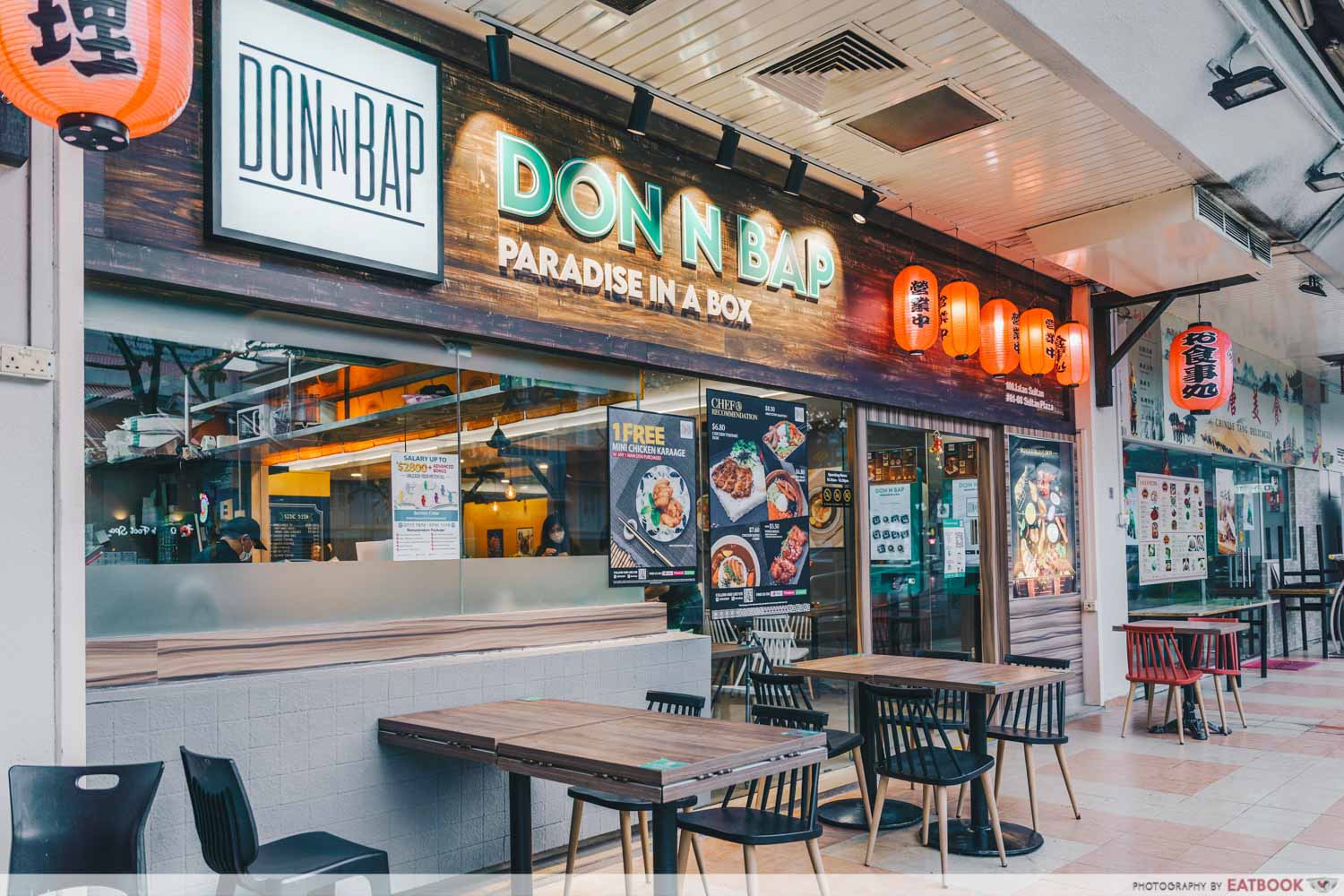 Situated at the ground floor of Sultan Plaza, the easy joint might not be the best place to bring a date to. That being said, the food here was actually surprisingly good. The prices are really reasonable, considering the fact that the eatery was located in the area of Bugis.
If you're looking for more nosh in the area, check out this list of Bugis food places, or Monarchs & Milkweed Gelato for dessert.
Monarchs & Milkweed Gelato Review: New Gelato Cafe With Unique Flavours By Ex-Fine Dining Pastry Chefs
Address: 100 Jalan Sultan, #01-08, Singapore 199001
Opening hours: Daily 10am to 10:30pm
Website
Don N Bap is a halal-certified eatery.
Photos taken by Lim An.
This post is brought to you by Don N Bap.
Don N Bap Review: Affordable Korean Fried Chicken, Bibimbap, Rice Bowls And More Hidden At Bugis
Summary
Pros
– Prices are affordable
– Extensive menu
Cons
– Located far from the MRT station
– Underwhelming ambience
Recommended dishes: Ninniku Wings ($5.50), Beef Bibimbap ($6.80)
Opening hours: Daily 10am to 10:30pm
Address: 100 Jalan Sultan, #01-08, Singapore 199001