---
What to eat at Bugis
---
Bugis food is like a cherry on the cake for me. I'm often in this part of town for the boutiques, and a little food break in between my hunt for the best bargain deals at the shopping malls is inevitable. Fortunately, the quest for a good meal proves to be an easy task in this food and clothing paradise, with the array of restaurants, cafes and more at Bugis+, Bugis Junction and Arab Street area that's near Bugis MRT. Here are some of my favourite places to hit up to refuel for part two of an intense shopping spree.
---
1. Sticky Rice
---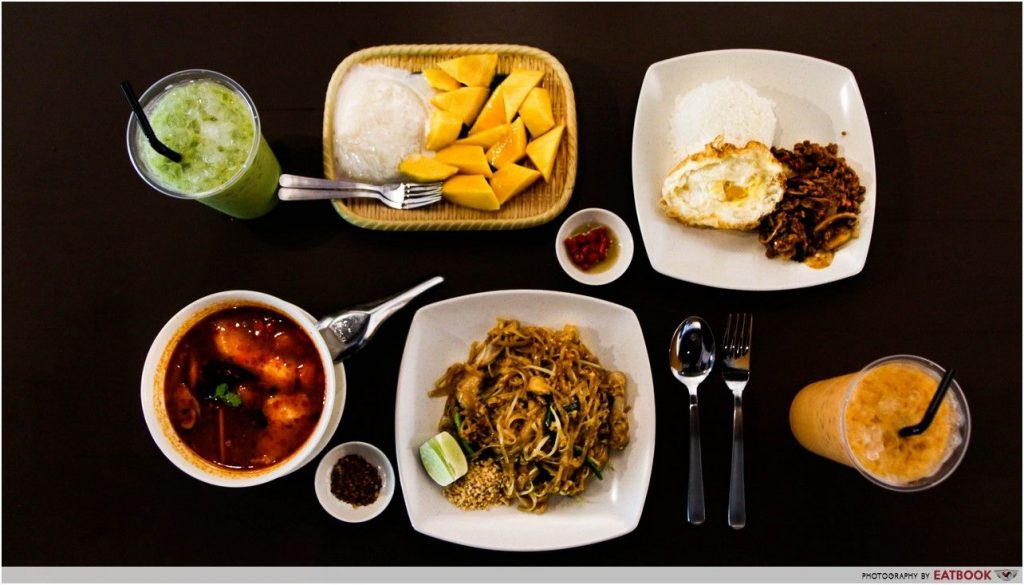 Most of the food at Sticky Rice costs below $10, so if you're craving Thai food, you know where to go! We loved the Chicken Pad Thai ($6.50+), which had a strong wok hei fragrance and a slice of lime on the side to enhance the dish with a sour kick. Thai food tends to get a little fiery, and a cold and creamy cup of Thai Iced Milk Tea ($3+) will help ice the burn. Dessert's a must as well, when there's Mango Sticky Rice ($7+) involved! We loved how fresh the mangoes tasted, and the velvety texture of the sticky rice, which was soaking in silky coconut cream.
Check out our full review of Sticky Rice!
Address: 23 Bali Lane, Singapore 189859
Opening hours: Mon-Thur 12pm to 3pm, 6pm to 10pm, Fri-Sat 12pm to 3pm, 6pm to 10:30pm
Tel: 6294 0118
Website
Sticky Rice is a halal-certified eatery.
---
2. Muugu Fork
---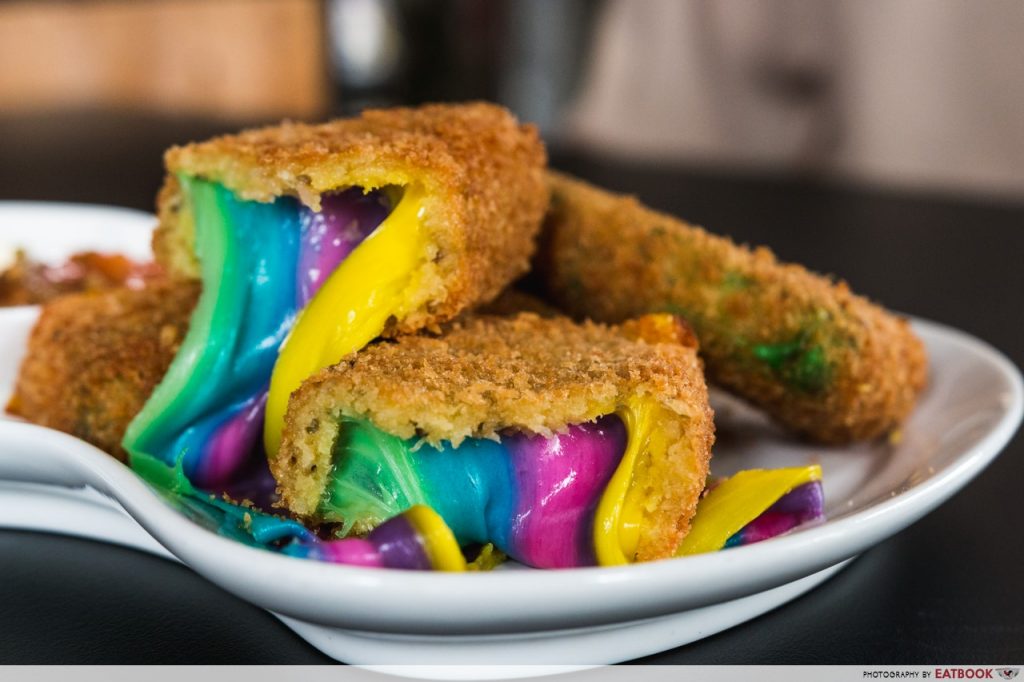 Muugu Fork is a hipster's heaven! You can't leave without trying their MuUnicorn Rainbow Cheese Dippers ($$9.90+). Ready your camera, because this is probably the prettiest cheese pull you'll ever witness. It's not just a tacky gimmick either – the dippers taste as good as they look, and even come with house-made salsa and truffle mayo sauces. Apart from rainbow cheese sticks, Muugu fork also offers Rac and Chicks ($19.90+), a giant crispy chicken cutlet draped in a layer of torched raclette cheese. End your meal with a slice of Ondeh Ondeh Cake ($8.90+), a fluffy pandan cake with layers of grated coconut shavings and gula melaka cream.
Muugu Fork Review: New Rainbow Cheese Dippers At A Halal Cafe At Bugis
Address: 142 Arab Street, Singapore 199828
Opening hours: Mon-Thur 12pm to 10:30pm, Fri-Sun 1pm to 11:30pm
Tel: 6292 7363
Website
Muugu Fork is a halal-certified eatery.
---
3. Eleven Finger
---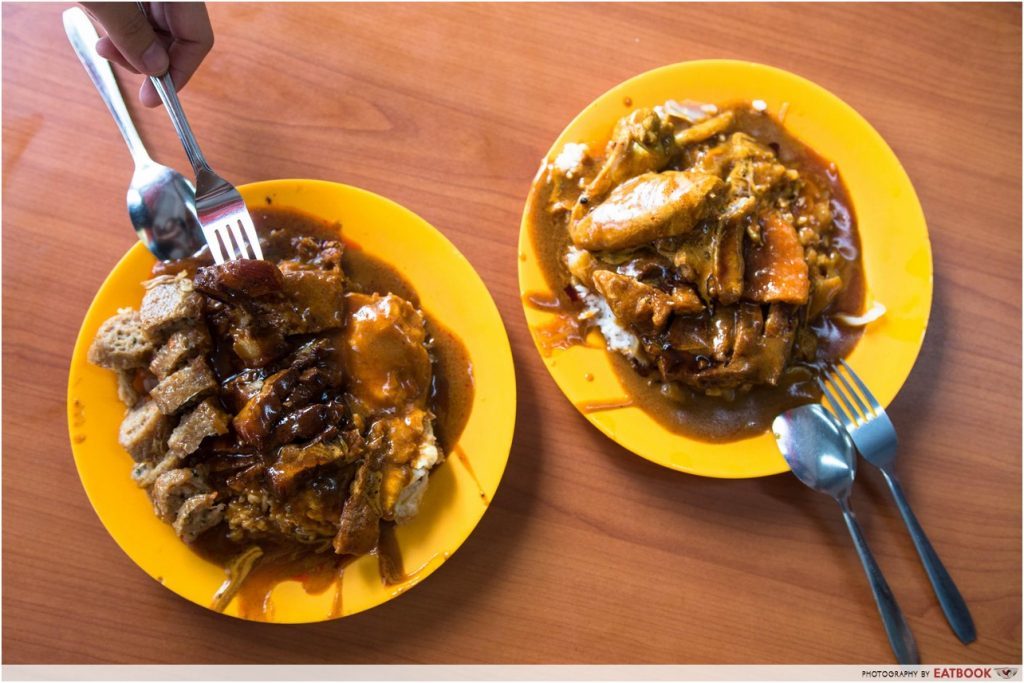 Look no further than Eleven Finger for a hearty plate of curry rice! There's an interesting story behind the name of this stall. Turns out, the owner of Eleven Finger has an extra finger! One meat and vegetable costs $3, while a small add-on such as an egg would cost $0.50 extra. Some recommended ingredients include Chap Chye, Tau Pok, Curry Chicken, Fried Egg and Braised Pork Belly. Come early if you're hungry, because queues start forming even before the store opens for business.
Find out more in our full review of Eleven Finger!
Address: 269B Queen Street, #01-235, Singapore 180269
Opening hours: Daily 10:30am to 7pm
Eleven Finger Scissors Curry Rice is not a halal eatery.
---
4. Mrs Pho
---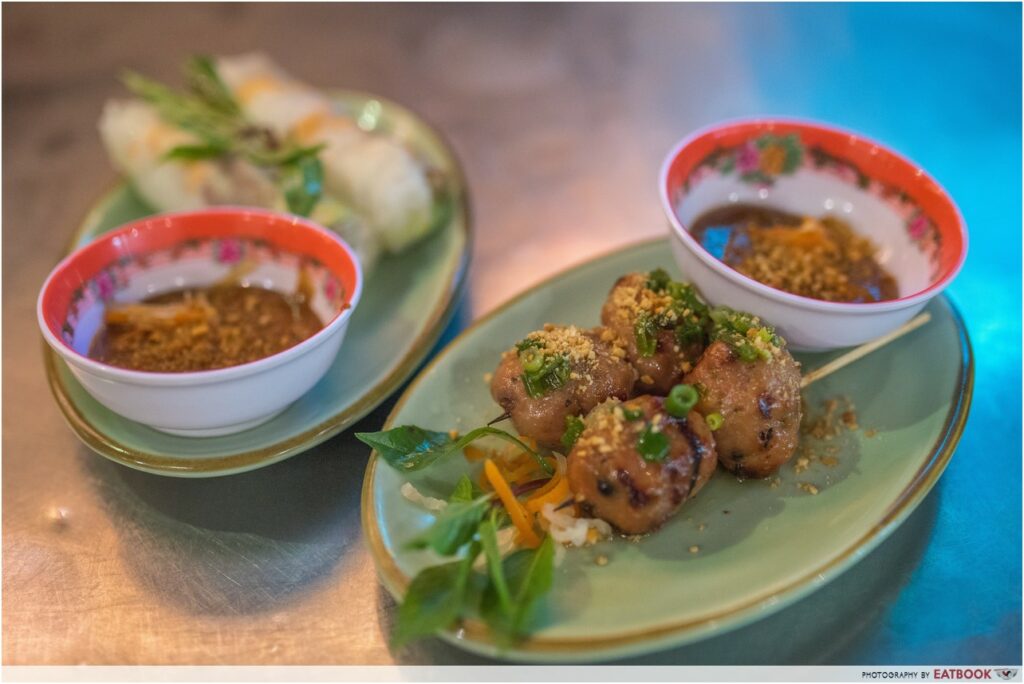 Get transported to the streets of Hanoi at Mrs Pho, a hidden gem of a Vietnamese joint. A bowl of Pho Bo Tai Nam ($7.90+) is served piping hot, with tender beef slices and brisket simmering in a wholesome, flavourful broth. If you're looking to grab a small bite, try sides such as Nem Nuong ($3.50+), skewered meatballs marinated in a delightful sauce. It also comes with a peanut dip, although you might be too busy savouring the meatballs to try it. Another alternative would be their Goi Cuon ($3.50+), fresh spring rolls stuffed with vermicelli, pork, prawns and lettuce.
Find out more in our full review of Mrs Pho!
Address: 349 Beach Road, Singapore 199570
Opening hours: Sun-Thur 11am to 10pm, Fri to Sat 11am to 11pm
Tel: 6292 0018
Website
Mrs Pho is not a halal eatery.
---
5. Man Man Unagi
---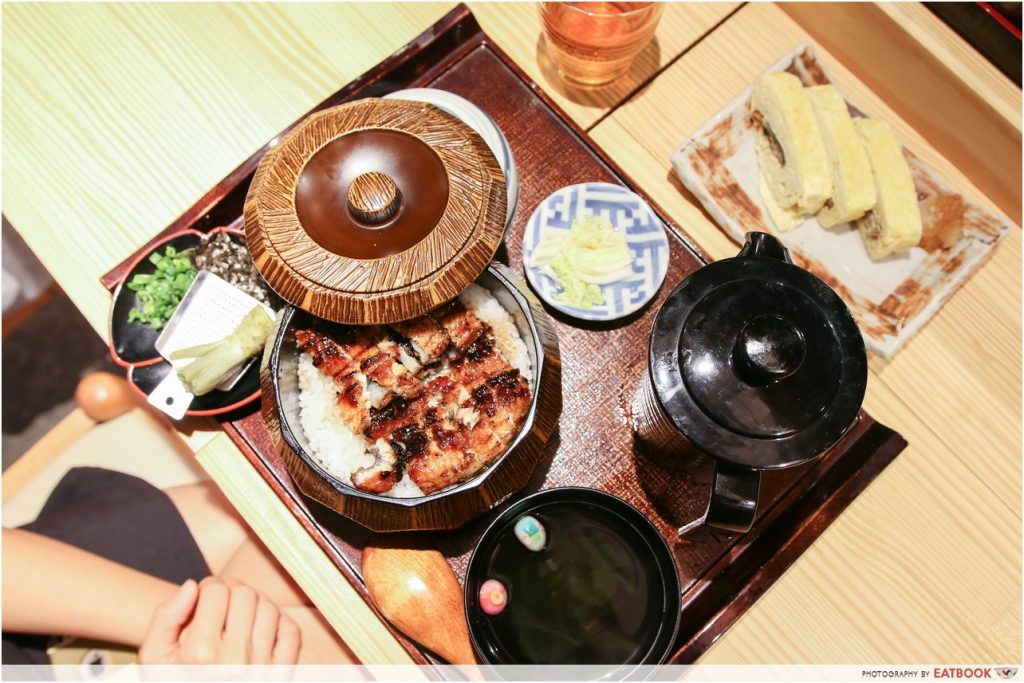 Unagi lovers should definitely not miss out on Michelin Bib Gourmand awardee Man Man Unagi. Fresh eel is grilled right before your very eyes, so you can be sure this place takes pride in its quality servings. We tried their Hitsumabushi ($26.80+), which comprised of smoky unagi marinated in salty-sweet tare arranged atop plump Japanese short-grain rice. Apart from rice bowls, Man Man also offers Umaki ($12.80+), pillowy pan-fried, rolled egg with a slice of unagi wrapped in its core. What sets the egg apart from regular tamago is that it's actually more savoury than sweet!
Check out our full review of Man Man Unagi for more details.
Address: 7 Fraser Street, #01-48, Duo Galleria, Singapore 189356
Opening hours: Mon-Sat 11:30am to 3pm, 6pm to 10:30pm
Tel: 6222 0678
Website
Man Man Unagi is not a halal-certified restaurant.
---
6. UnaUna
---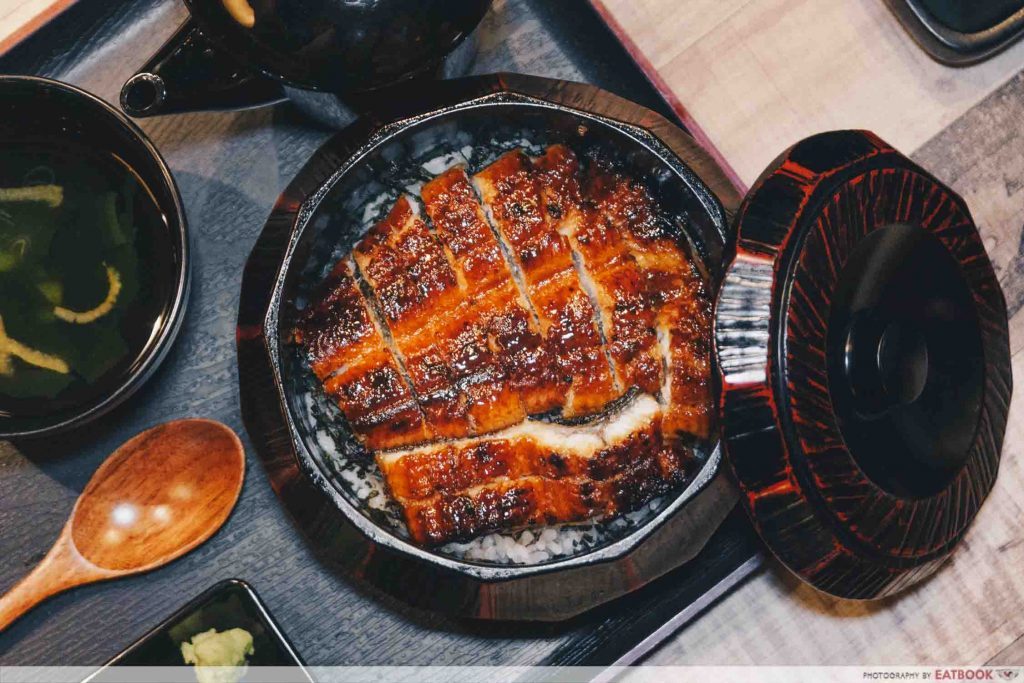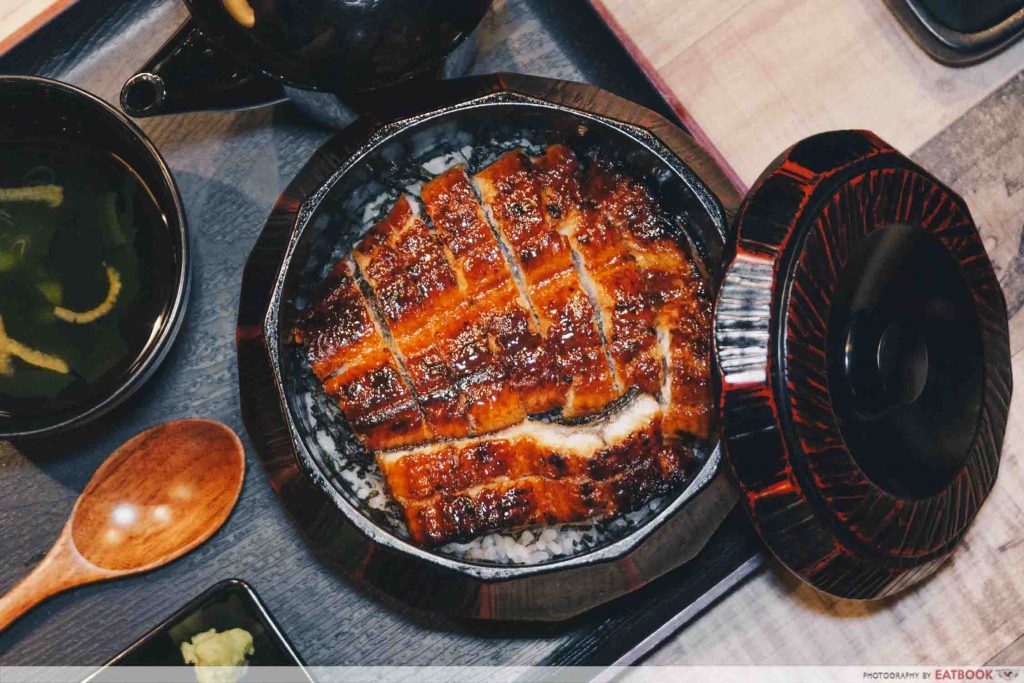 Another unagi restaurant on the list, UnaUna is a cheaper alternative to Man Man Unagi. Located at Bugis+, the restaurant serves the cheapest hitsumabushi in Singapore at only $9.80++ for a small serving. Get the double portion, which is priced at $19.90++, if you're looking to share. Aside from unagi bowls, you can also find other Japanese dishes such as sashimi and sushi rolls.
Find out more about UnaUna here!
Address: 201 Victoria Street, #04-10, Bugis+, Singapore 188067
Opening hours: Mon-Fri 11:30am to 3pm, 5pm to 10:30pm, Sat-Sun 11:30am to 10:30pm
Tel: 6835 7056
Website
---
7. Lickety
---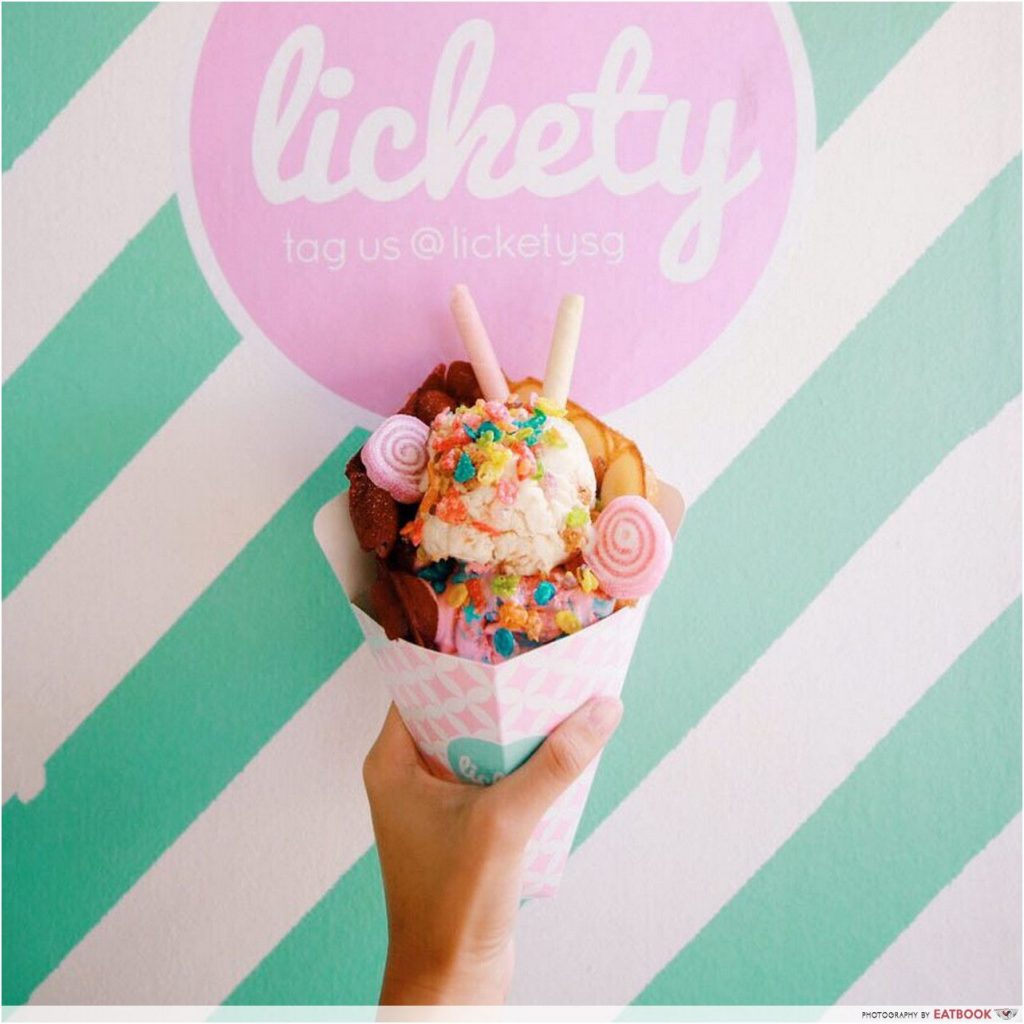 Lickety is a halal dessert joint dishing out Egglets ($4.50). You can further sweeten the egglets with ice-cream as well, at $8.90. Top it all off with a sprinkling of a topping of your choice, such as Fruity Pebbles and Pocky sticks. You can further choose to have your egglets stuffed with buttermilk or red velvet, and if you can't decide which tastes better, you could always ask for half of each flavour.
Address: 34 Bussorah Street, Singapore 199452
Opening hours: Daily 12pm to 11pm
Tel: 6291 7670
Website
Lickety is a Muslim-owned eatery.
---
8. Moosh
---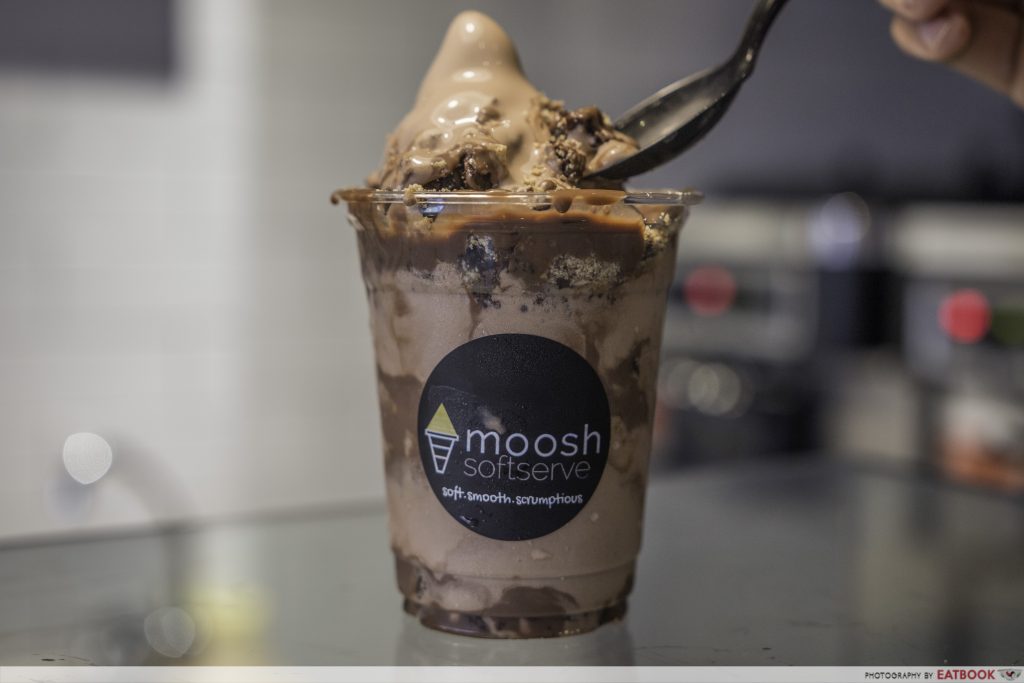 If egglets ain't your thing, how about some soft serve at Moosh? This Muslim-owned ice-cream place serves really unique flavours, ranging from Ondeh Ondeh ($4.50) to Strawberry Cheesecake ($4/$4.50) to Nutella Brownies Cheesecake ($4.60/$6). We loved the Ondeh Ondeh best. Gula melaka soft serve coupled with pandan sauce and coconut shavings made the ice-cream really remind us of ondeh ondeh!
Read more about Moosh in our full review.
Address: 44 Haji Lane, Singapore 189237
Opening hours: Mon-Thur 12pm to 8pm, Fri-Sun 12pm to 9pm
Tel: 6294 0118
Moosh is a Muslim-owned eatery.
---
9. Japanese Curry Express
---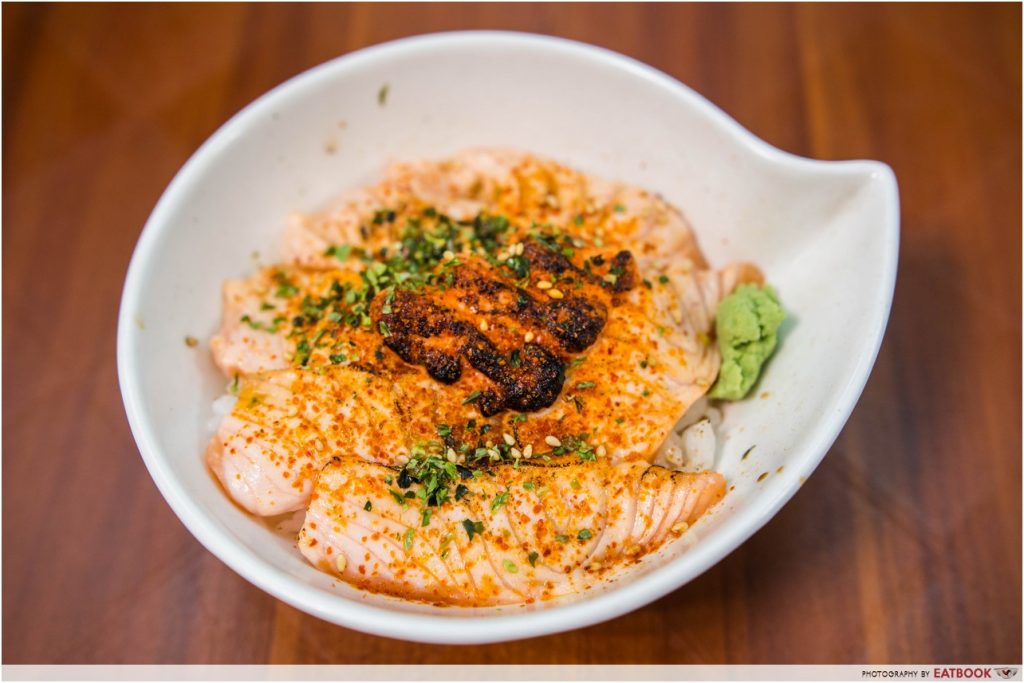 Unlike what its name suggests, Japanese Curry Express doesn't only offer curry rice, but also other rice and noodle bowls. Try their Salmon Mentai Don ($10/$13), vinegared rice which comes with mentaiko mayo drizzled over raw salmon, before it is torched to release a smoky flavour. The Pork Katsu Curry Rice ($7) comes with crispy pork katsu and a huge side of Japanese curry, a truly hearty dish that is bound to fill your belly. Nothing goes over $10 as well, so you can be assured you won't burn a hole in your pocket here.
Japanese Curry Express Review: Legit Japanese Food At Fortune Centre With Nothing Over $10
Address: 190 Middle Road, #03-04, Fortune Centre, Singapore 188979
Opening hours: Mon-Sat 11:30am to 3pm, 4:30pm to 8:30pm
Tel: 9689 6314
Website
Japanese Curry Express is not a halal restaurant.
---
10. Sumo Bar Happy
---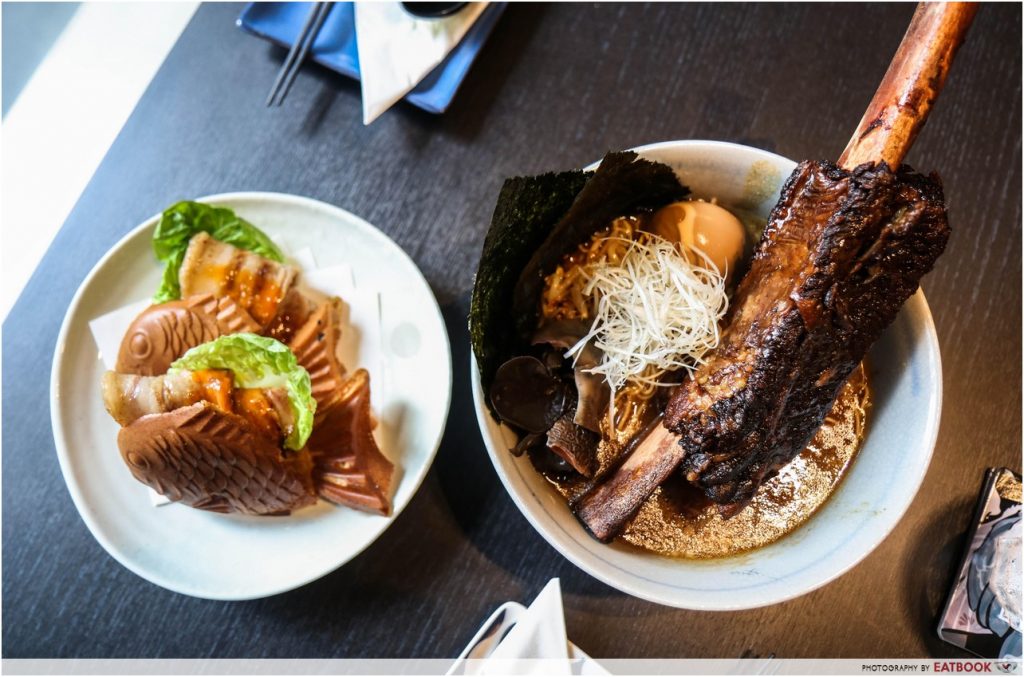 Be blown away by the sumo-sized short ribs over at Sumo Bar Happy. Get their Bone-In Short Rib Ramen ($42++) if you're a beef fan. The unmistakable 600g short rib is braised in red wine and yakiniku sauce, giving the succulent meat an earthy aroma. The dish also comes topped with black fungus, seaweed, kimchi-flavoured bean sprouts and a free flow of soft-boiled eggs! If you love taiyaki (fish-shaped pancakes), you might want to give their Char Siew Taiyaki Sliders ($14++) a go as well. We found the sweet pancake contrasted rather well with the savoury meat, and made for a good appetiser.
Check out our full review of Sumo Bar Happy for more details!
Address: 261 Waterloo Street, #01-24, Waterloo Centre, Singapore 180261
Opening hours: Mon-Sat 5pm to 12am (last order for food at 10pm), Sun 12pm to 5pm
Website
Sumo Bar Happy is not a halal restaurant.
---
Bugis food places worth your money
---
From small bites to filling meals, Bugis food is sure to satisfy you. If, like me, you've come to this part of town to restock your wardrobe, remember that a happy belly makes a happier shopper! For more good eats in Bugis, check out our compilation of Bugis hawker stalls with food below $5 or the food at Albert Centre!