---
What to eat at Bugis
---
Food at Bugis is like a cherry on the cake for me. I'm often in this part of town for the boutiques, and a little food break in between my hunt for the best bargain deals at the shopping malls is inevitable. Fortunately, the quest for a good meal proves to be an easy task in this food and clothing paradise, with the array of hawkers, restaurants, cafes and more at Bugis+, Bugis Junction, and Haji Lane area that's near Bugis MRT. Here are some of my favourite places to hit up to refuel for part two of an intense shopping spree.
---
1. Sticky Rice
---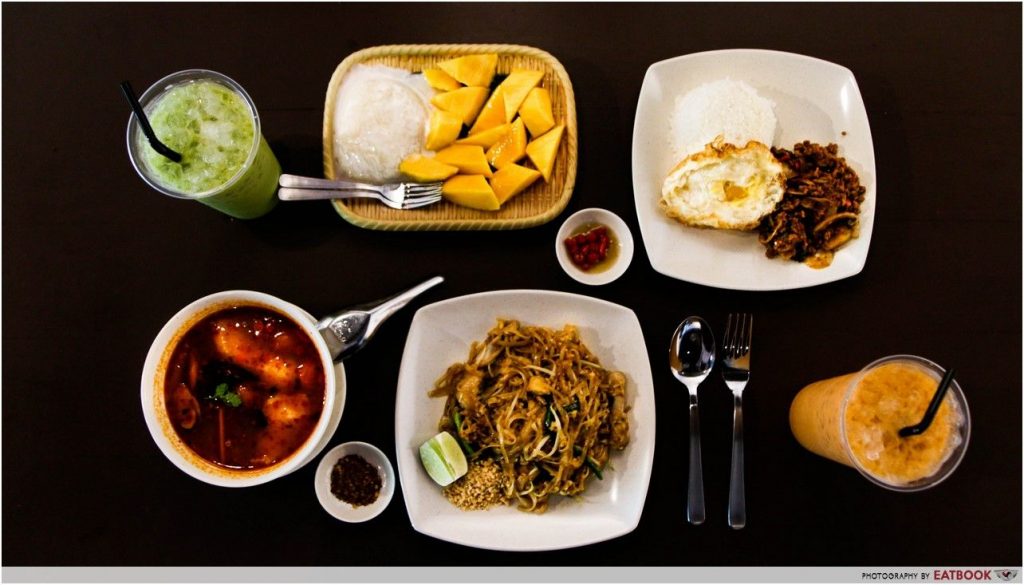 Most of the food at Sticky Rice costs below $10, so if you're craving Thai food, you know where to go! We loved the Chicken Pad Thai ($6.50+), which had a strong wok hei fragrance and a slice of lime on the side to enhance the dish with a sour kick. Thai food tends to get a little fiery, and a cold and creamy cup of Thai Iced Milk Tea ($3+) will help ice the burn. Dessert's a must as well, when there's Mango Sticky Rice ($7+) involved! We loved how fresh the mangoes tasted, and the velvety texture of the sticky rice, which was soaking in silky coconut cream.
Check out our full review of Sticky Rice!
Address: 23 Bali Lane, Singapore 189859
Opening hours: Mon-Thur 12pm to 3pm, 6pm to 10pm, Fri-Sat 12pm to 3pm, 6pm to 10:30pm
Tel: 6294 0118
Website
Sticky Rice is a halal-certified eatery.
---
2. Muugu Fork
---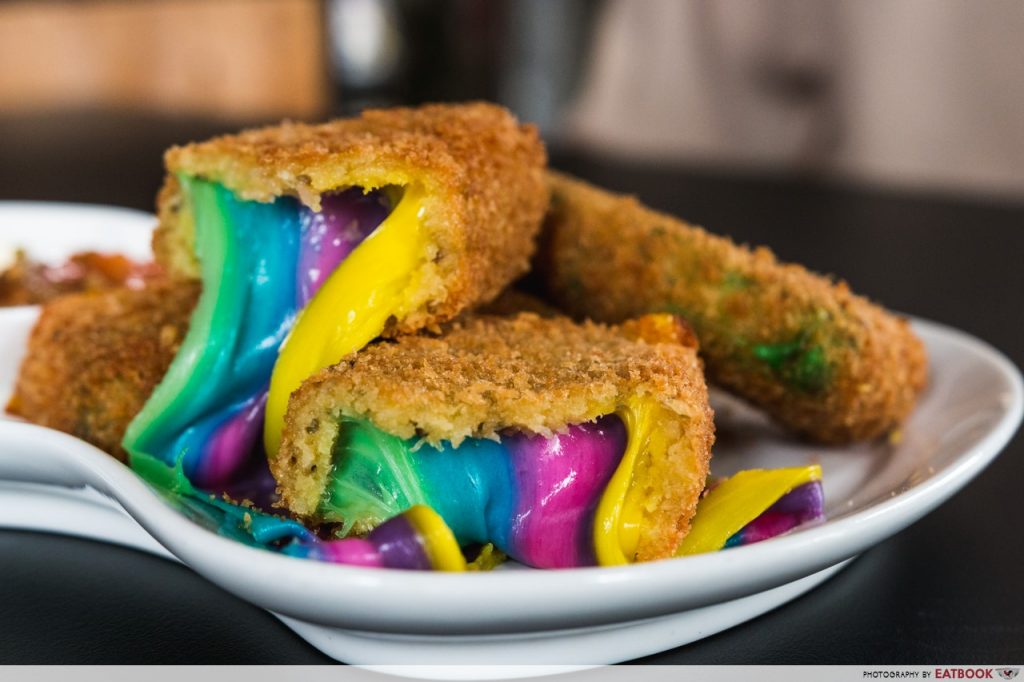 Muugu Fork is a hipster's heaven! You can't leave without trying their MuUnicorn Rainbow Cheese Dippers ($$9.90+). Ready your camera, because this is probably the prettiest cheese pull you'll ever witness. It's not just a tacky gimmick either – the dippers taste as good as they look, and even come with house-made salsa and truffle mayo sauces. Apart from rainbow cheese sticks, Muugu fork also offers Rac and Chicks ($19.90+), a giant crispy chicken cutlet draped in a layer of torched raclette cheese. End your meal with a slice of Ondeh Ondeh Cake ($8.90+), a fluffy pandan cake with layers of grated coconut shavings and gula melaka cream.
Muugu Fork Review: New Rainbow Cheese Dippers At A Halal Cafe At Bugis
Address: 142 Arab Street, Singapore 199828
Opening hours: Mon-Thur 12pm to 10:30pm, Fri-Sun 1pm to 11:30pm
Tel: 6292 7363
Website
Muugu Fork is a halal-certified eatery.
---
3. Eleven Finger
---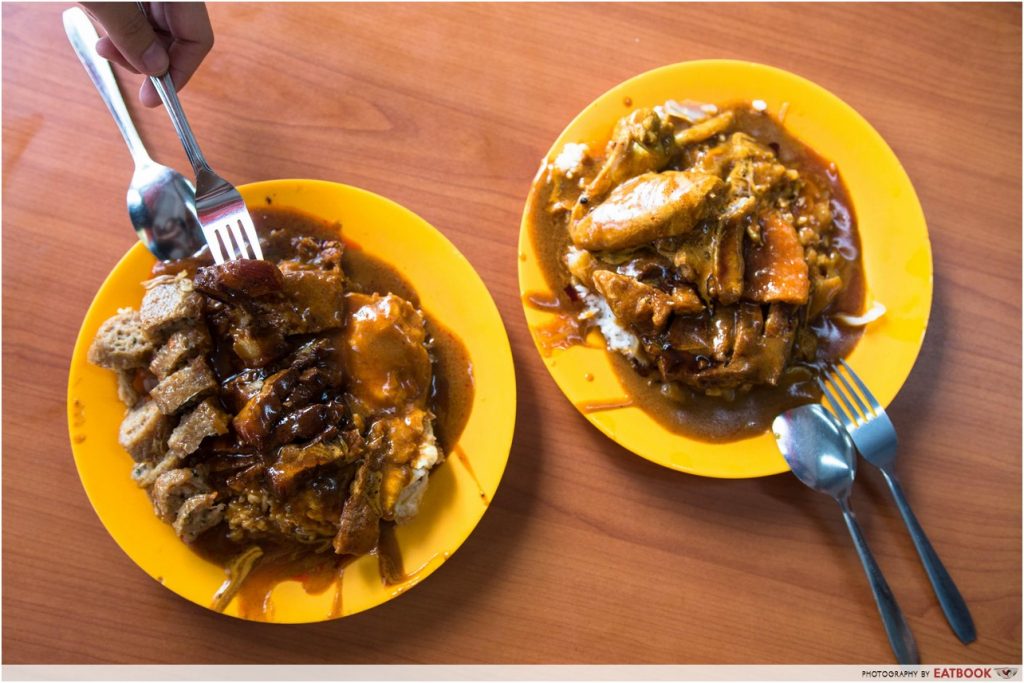 Look no further than Eleven Finger for a hearty plate of curry rice! There's an interesting story behind the name of this stall. Turns out, the owner of Eleven Finger has an extra finger! One meat and vegetable costs $3, while a small add-on such as an egg would cost $0.50 extra. Some recommended ingredients include Chap Chye, Tau Pok, Curry Chicken, Fried Egg and Braised Pork Belly. Come early if you're hungry, because queues start forming even before the store opens for business.
Find out more in our full review of Eleven Finger!
Address: 269B Queen Street, #01-235, Singapore 180269
Opening hours: Daily 10:30am to 7pm
Eleven Finger Scissors Curry Rice is not a halal eatery.
---
4. Mrs Pho
---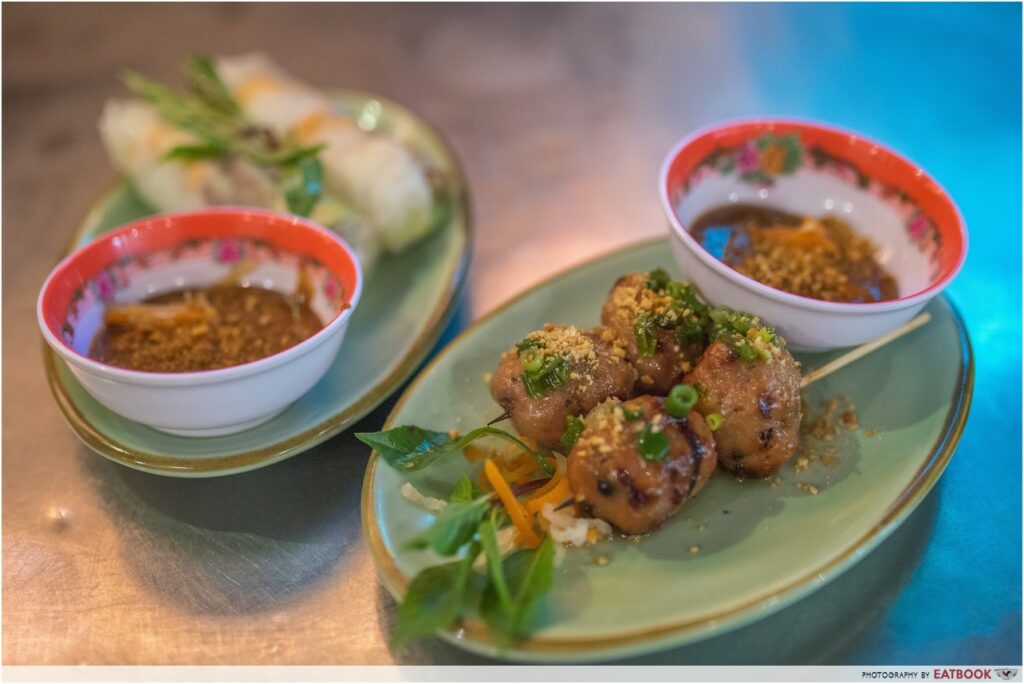 Get transported to the streets of Hanoi at Mrs Pho, a hidden gem of a Vietnamese joint. A bowl of Pho Bo Tai Nam ($7.90+) is served piping hot, with tender beef slices and brisket simmering in a wholesome, flavourful broth. If you're looking to grab a small bite, try sides such as Nem Nuong ($3.50+), skewered meatballs marinated in a delightful sauce. It also comes with a peanut dip, although you might be too busy savouring the meatballs to try it. Another alternative would be their Goi Cuon ($3.50+), fresh spring rolls stuffed with vermicelli, pork, prawns and lettuce.
Find out more in our full review of Mrs Pho!
Address: 349 Beach Road, Singapore 199570
Opening hours: Sun-Thur 11am to 10pm, Fri to Sat 11am to 11pm
Tel: 6292 0018
Website
Mrs Pho is not a halal eatery.
---
5. Man Man Unagi
---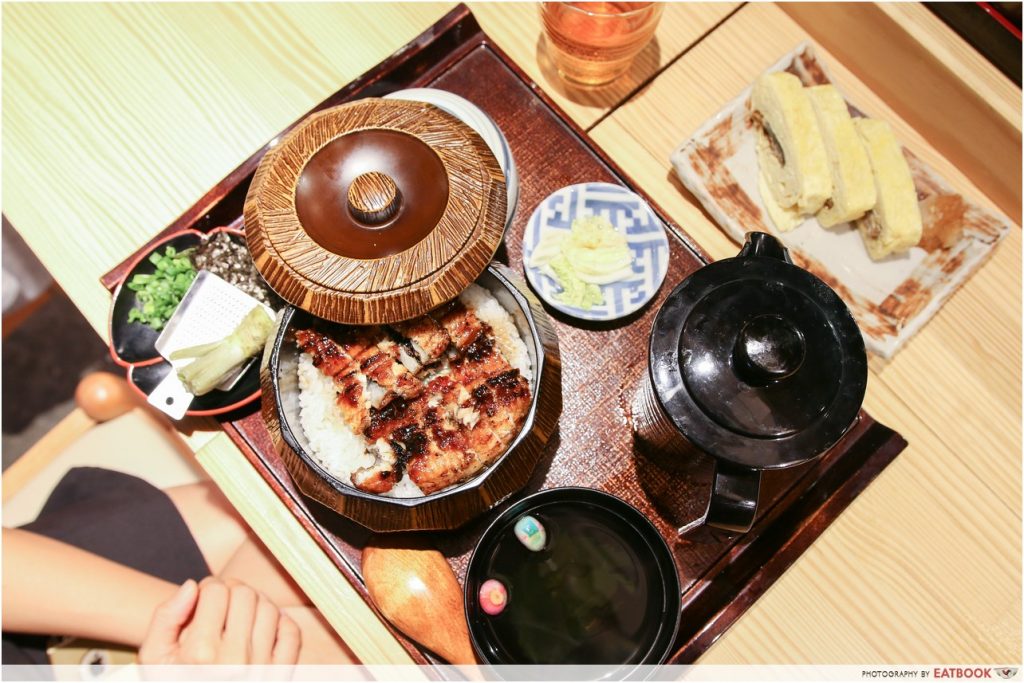 Unagi lovers should definitely not miss out on Michelin Bib Gourmand awardee Man Man Unagi. Fresh eel is grilled right before your very eyes, so you can be sure this place takes pride in its quality servings. We tried their Hitsumabushi ($26.80+), which comprised of smoky unagi marinated in salty-sweet tare arranged atop plump Japanese short-grain rice. Apart from rice bowls, Man Man also offers Umaki ($12.80+), pillowy pan-fried, rolled egg with a slice of unagi wrapped in its core. What sets the egg apart from regular tamago is that it's actually more savoury than sweet!
Check out our full review of Man Man Unagi for more details.
Address: 7 Fraser Street, #01-48, Duo Galleria, Singapore 189356
Opening hours: Mon-Sat 11:30am to 3pm, 6pm to 10:30pm
Tel: 6222 0678
Website
Man Man Unagi is not a halal-certified restaurant.
---
6. UnaUna
---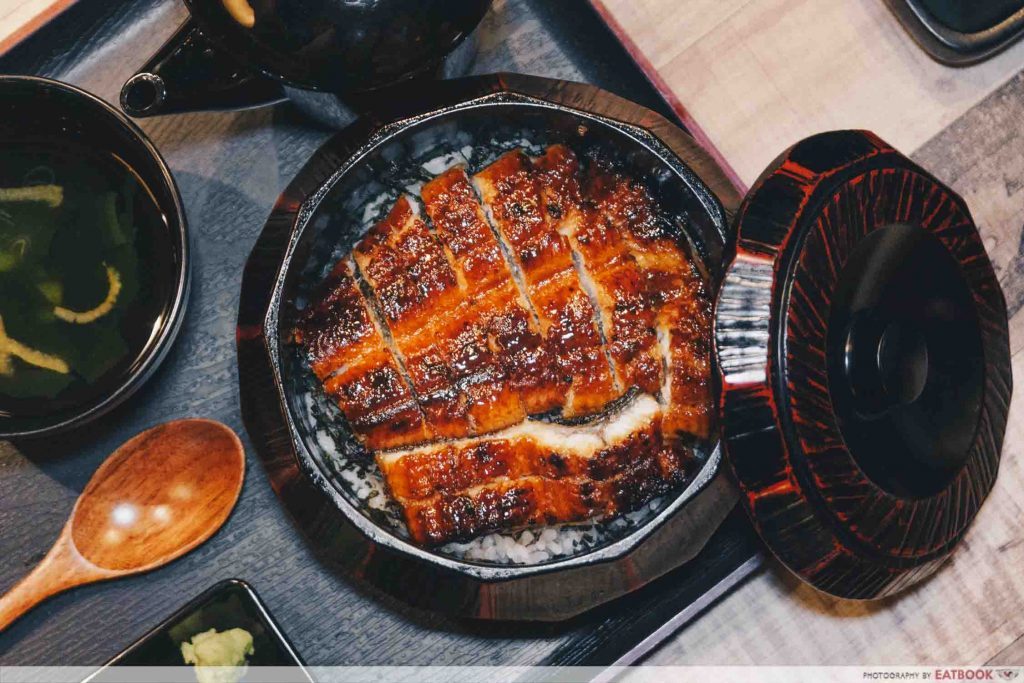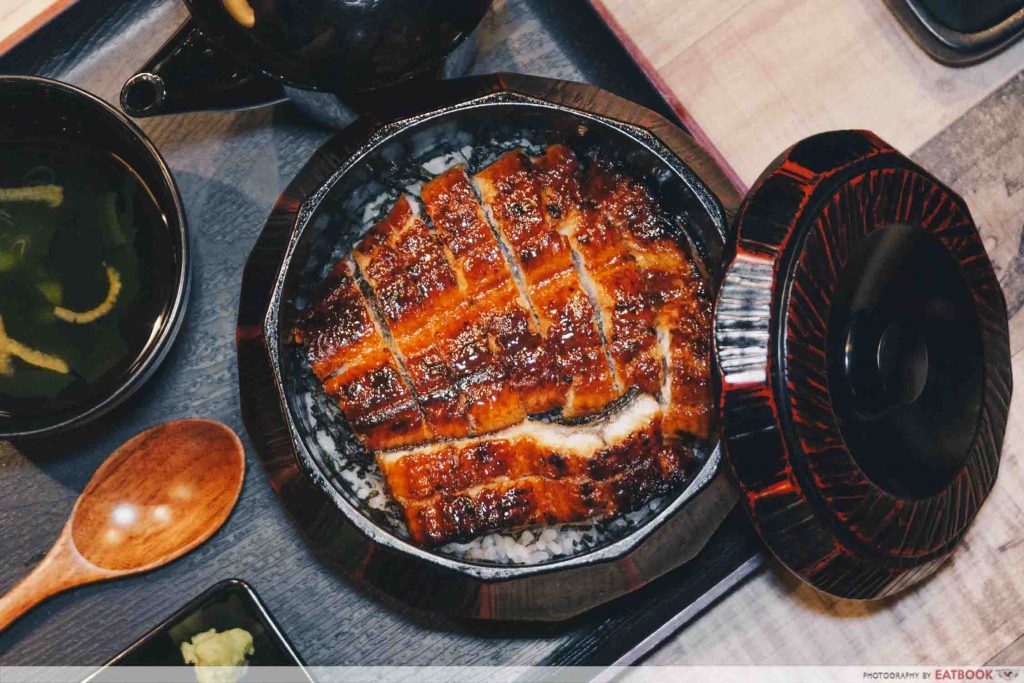 Another unagi restaurant on the list, UnaUna is a cheaper alternative to Man Man Unagi. Located at Bugis+, the restaurant serves the cheapest hitsumabushi in Singapore at only $9.80++ for a small serving. Get the double portion, which is priced at $19.90++, if you're looking to share. Aside from unagi bowls, you can also find other Japanese dishes such as sashimi and sushi rolls.
Find out more about UnaUna here!
Address: 201 Victoria Street, #04-10, Bugis+, Singapore 188067
Opening hours: Mon-Fri 11:30am to 3pm, 5pm to 10:30pm, Sat-Sun 11:30am to 10:30pm
Tel: 6835 7056
Website
---
7. Lickety
---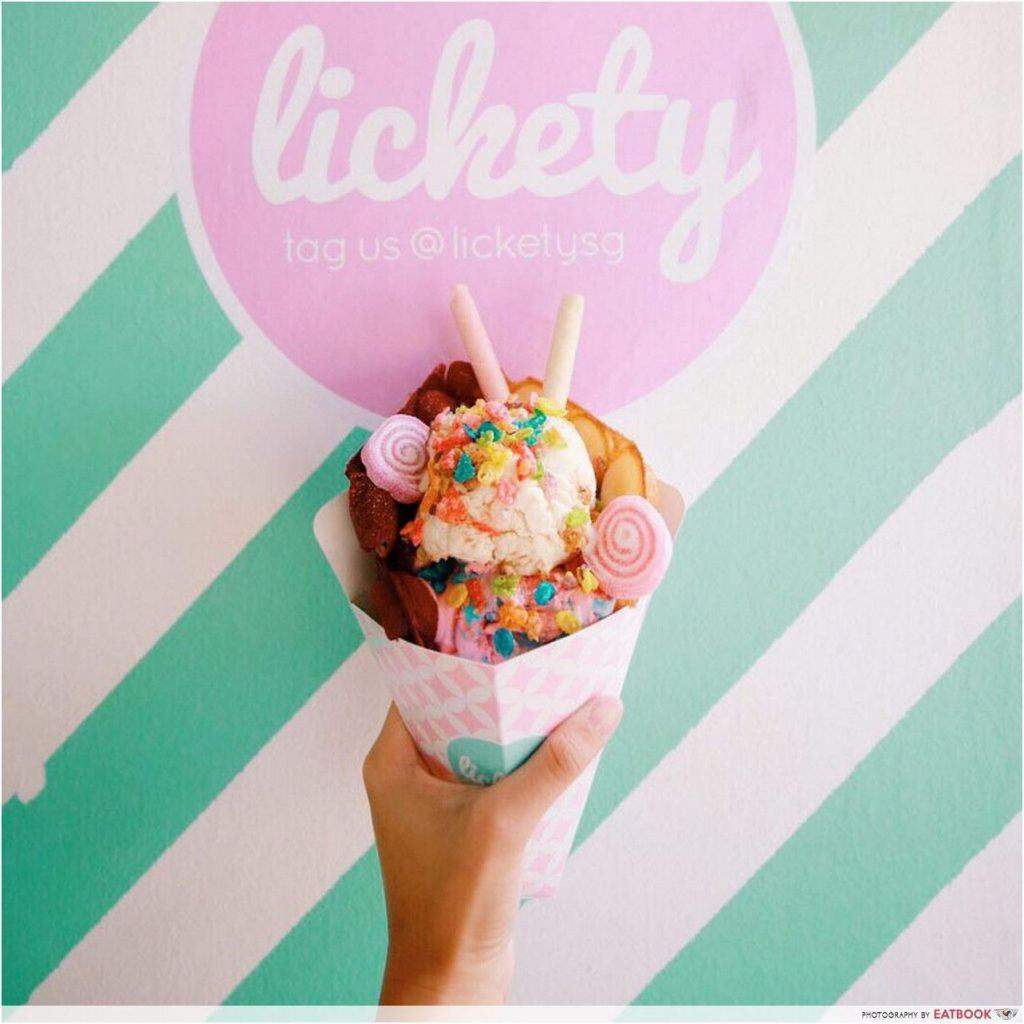 Lickety is a halal dessert joint dishing out Egglets ($4.50). You can further sweeten the egglets with ice-cream as well, at $8.90. Top it all off with a sprinkling of a topping of your choice, such as Fruity Pebbles and Pocky sticks. You can further choose to have your egglets stuffed with buttermilk or red velvet, and if you can't decide which tastes better, you could always ask for half of each flavour.
Address: 34 Bussorah Street, Singapore 199452
Opening hours: Daily 12pm to 11pm
Tel: 6291 7670
Website
Lickety is a Muslim-owned eatery.
---
8. Moosh
---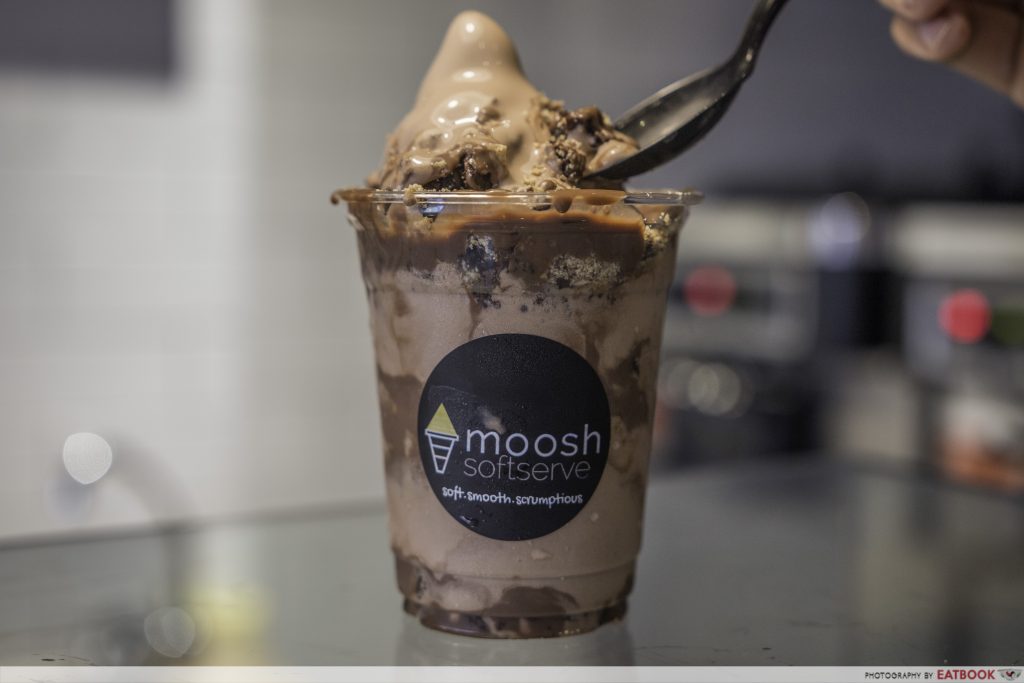 If egglets ain't your thing, how about some soft serve at Moosh? This Muslim-owned ice-cream place serves really unique flavours, ranging from Ondeh Ondeh ($4.50) to Strawberry Cheesecake ($4/$4.50) to Nutella Brownies Cheesecake ($4.60/$6). We loved the Ondeh Ondeh best. Gula melaka soft serve coupled with pandan sauce and coconut shavings made the ice-cream really remind us of ondeh ondeh!
Read more about Moosh in our full review.
Address: 44 Haji Lane, Singapore 189237
Opening hours: Mon-Thur 12pm to 8pm, Fri-Sun 12pm to 9pm
Tel: 6294 0118
Moosh is a Muslim-owned eatery.
---
9. Japanese Curry Express
---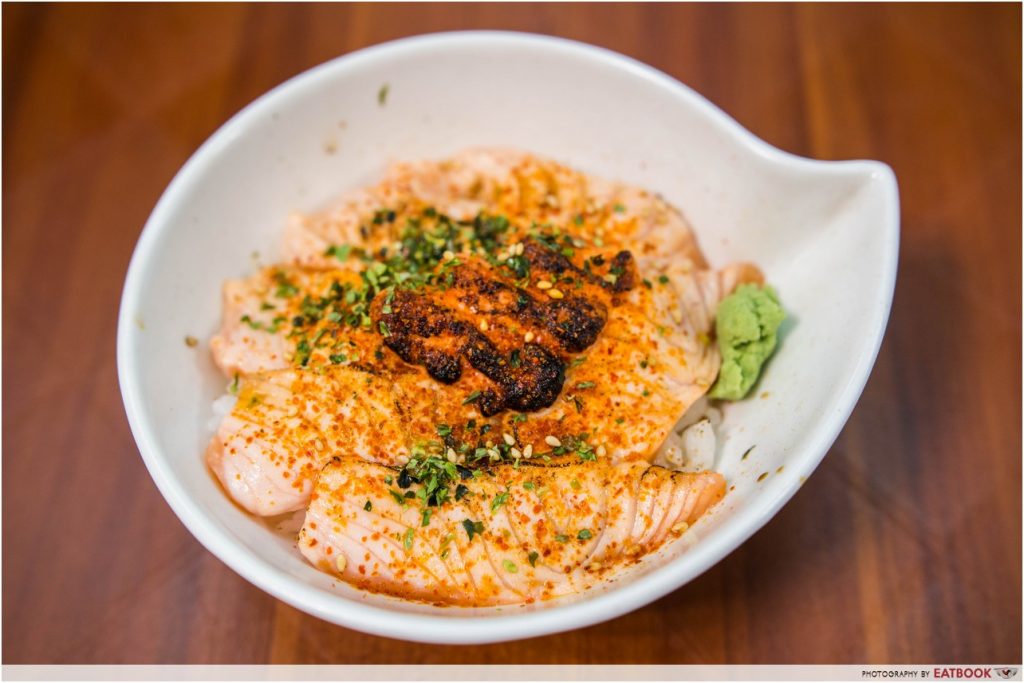 Unlike what its name suggests, Japanese Curry Express doesn't only offer curry rice, but also other rice and noodle bowls. Try their Salmon Mentai Don ($10/$13), vinegared rice which comes with mentaiko mayo drizzled over raw salmon, before it is torched to release a smoky flavour. The Pork Katsu Curry Rice ($7) comes with crispy pork katsu and a huge side of Japanese curry, a truly hearty dish that is bound to fill your belly. Nothing goes over $10 as well, so you can be assured you won't burn a hole in your pocket here.
Japanese Curry Express Review: Legit Japanese Food At Fortune Centre With Nothing Over $10
Address: 190 Middle Road, #03-04, Fortune Centre, Singapore 188979
Opening hours: Mon-Sat 11:30am to 3pm, 4:30pm to 8:30pm
Tel: 9689 6314
Website
Japanese Curry Express is not a halal restaurant.
---
10. Sumo Bar Happy
---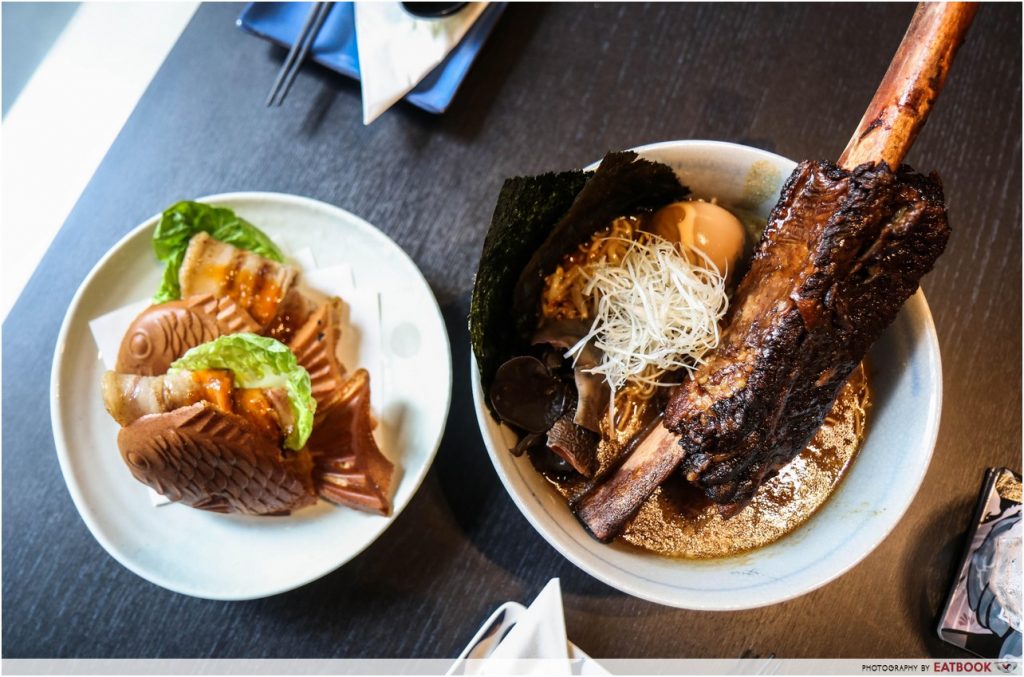 Be blown away by the sumo-sized short ribs over at Sumo Bar Happy. Get their Bone-In Short Rib Ramen ($42++) if you're a beef fan. The unmistakable 600g short rib is braised in red wine and yakiniku sauce, giving the succulent meat an earthy aroma. The dish also comes topped with black fungus, seaweed, kimchi-flavoured bean sprouts and a free flow of soft-boiled eggs! If you love taiyaki (fish-shaped pancakes), you might want to give their Char Siew Taiyaki Sliders ($14++) a go as well. We found the sweet pancake contrasted rather well with the savoury meat, and made for a good appetiser.
Check out our full review of Sumo Bar Happy for more details!
Address: 261 Waterloo Street, #01-24, Waterloo Centre, Singapore 180261
Opening hours: Mon-Sat 5pm to 12am (last order for food at 10pm), Sun 12pm to 5pm
Website
Sumo Bar Happy is not a halal restaurant.
---
11. IndoBowl
---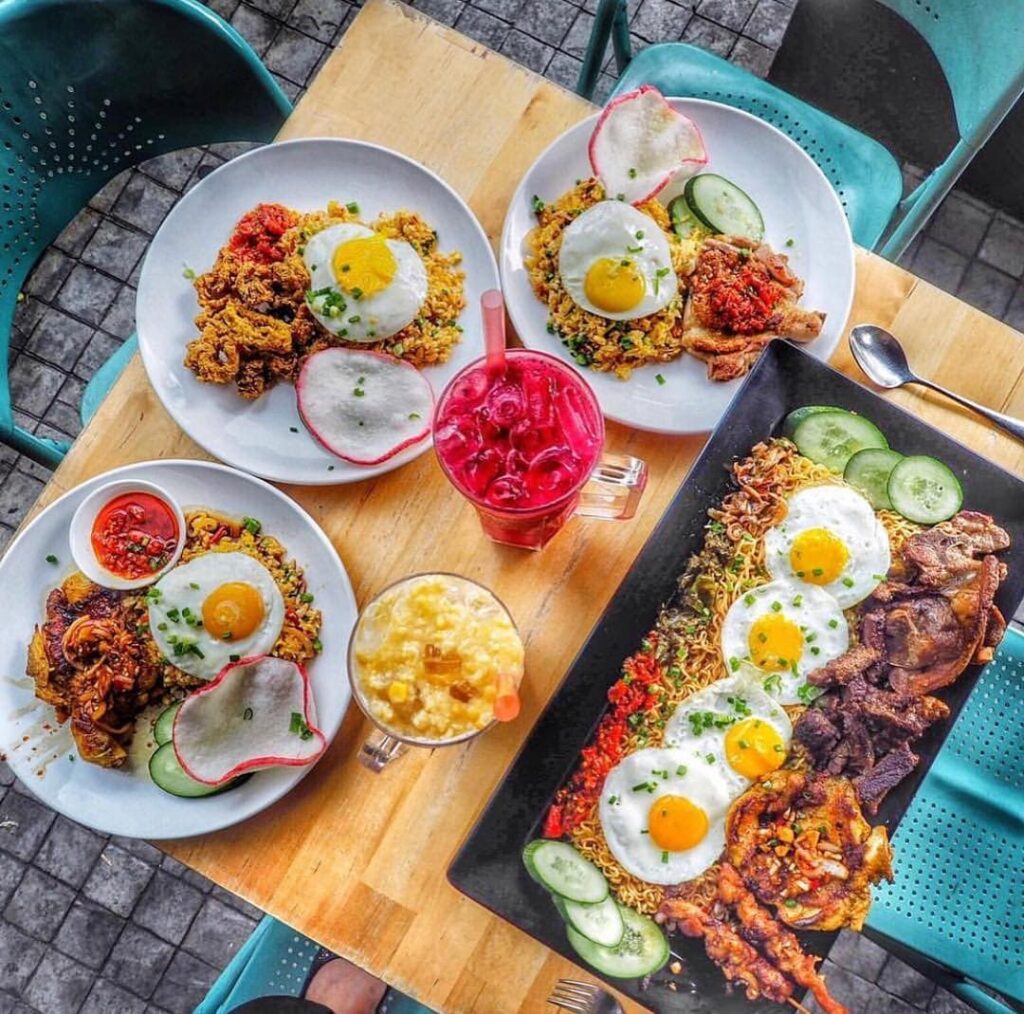 Image credit: @indobowlofficial
IndoBowl, Singapore's first Indomie-themed cafe, gets what this well-loved instant noodle brand is all about. Most of us have spent many a night slurping down a pack (or two) of Indomie for a guilty supper, but IndoBowl ups the sinful factor with their mammoth Indomie Mumbo Jumbo ($49.90). 
The platter grabs the spotlight with a mountain of kecap manis-glazed noodles before delivering the knockout punch with its assortment of grilled meat. Consider your Indomie dreams fulfilled with this impressive set.
IndoBowl: Singapore's First Indomie Cafe Will Be Opening At Kampong Glam On 25 Oct 2019
Address: 39 Sultan Gate, Singapore 198487
Opening hours: Mon-Fri 11am to 4pm, 5pm to 8pm, Sat-Sun 12pm to 4pm, 5pm to 8pm
Tel: 6291 7152
Website | Menu
---
12. Belle-ville Pancake Cafe
---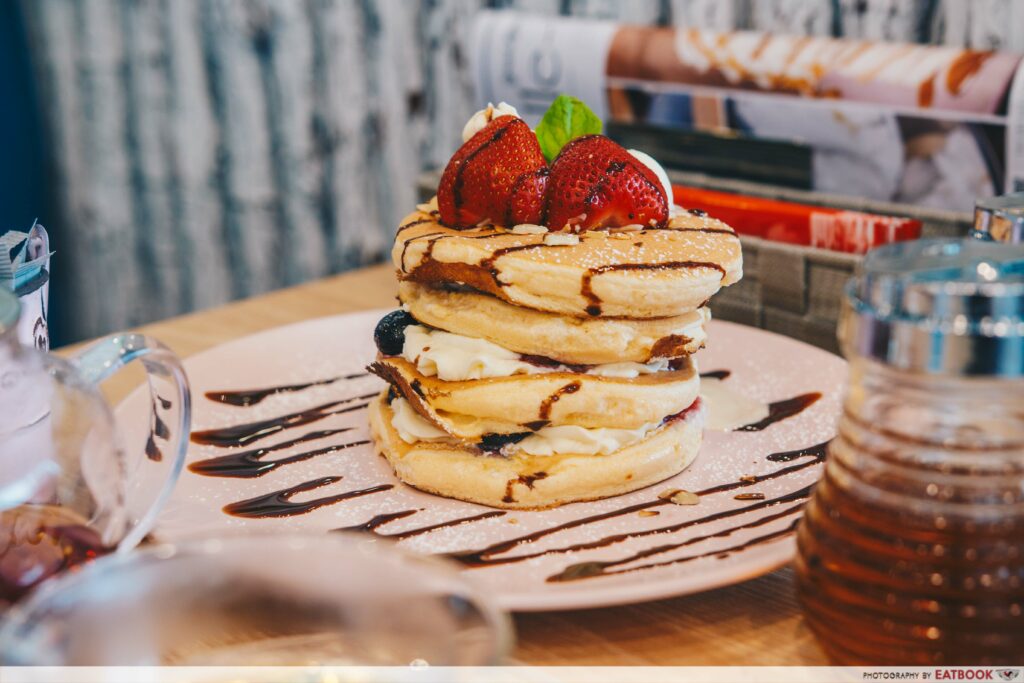 For all the hype surrounding Gram Cafe & Pancakes, Belle-ville Pancake Cafe remains my top pick for a satisfying and IG-worthy tower of souffle pancakes. Perfumed with a rich aroma of meringue, their Millefeuille Pancake ($7.90++ for four, $11.90++ for eight pieces) literally melts in your mouth, dissolving into a pool of buttery and eggy goodness. 
To get that extra splash of colour, and a dose of fruity sweetness, fork out that extra dollar and treat yourself to the Strawberry and Mixed Berry Pancake ($11.90++ for two, $14.40++ for four pieces) instead.
Address: 230 Victoria Street, #01-01B, Bugis Junction Towers, Singapore 188024
Opening hours: Daily 8am to 8:30pm
Tel: 6255 5456
Website
---
13. Box n Sticks
---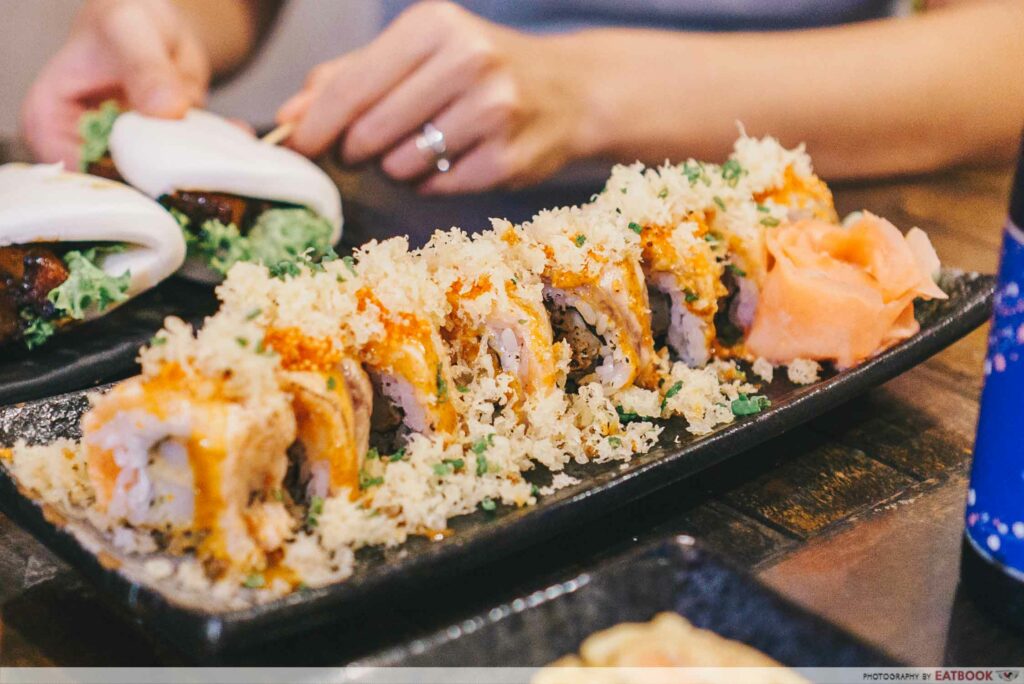 Nestled on a quiet stretch in Kampong Glam, Box n Sticks has become a preferred night haunt for many with their chill vibes and cosy ambience. If that isn't reason enough to visit this cosy izakaya for a relaxing post-work tipple, most of their dishes also taste superb with a pint of beer. 
Pair their beer or sake with their signature Spicy Aburi Seafood Maki ($18.90+), which features a sushi roll crammed with torched salmon, prawn tempura, and crabstick. A dash of house-made chilli sauce caps off this kaleidoscopic treat, cutting through the richness of the seafood and fizziness of the beer with its tangy bite.
Address: 28 Kandahar Street, Singapore 198889
Opening hours: Tue-Sun 12pm to 3pm, 6pm to 10pm (Closed on Public Holidays)
Tel: 6341 7780
Website
---
14. Ah Heng Curry Chicken Bee Hoon Mee
---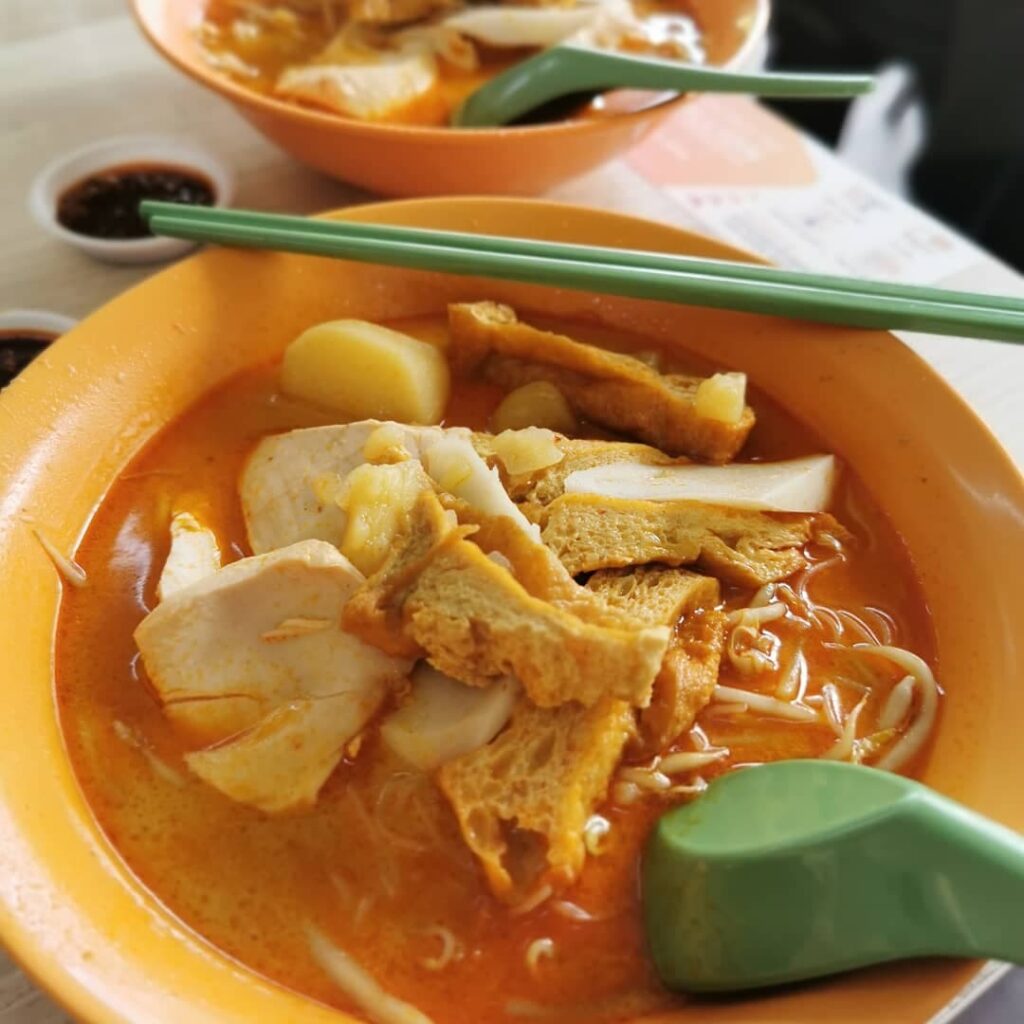 Image credit: @jcbellyneverfull
For my family, no trip to Bugis is complete without a meal at Ah Heng's Curry Chicken Bee Hoon Mee. This popular eatery gets every aspect of their Chicken Curry Noodles ($5/$6/$7) down pat—from the satisfying tussle offered by the poached chicken to the smooth and aptly spicy curry broth. For an extra kick of fieriness, mix the curry with a pinch of their house-made chilli paste and savour the smoky burn that lingers on your tongue. 
Address: Blk 269B Queen Street, #01-236, QS269 Food House, Singapore 182269
Opening hours: Fri-Wed 9am to 4pm
Website
---
15. KinMoo The Thai Noodle House
---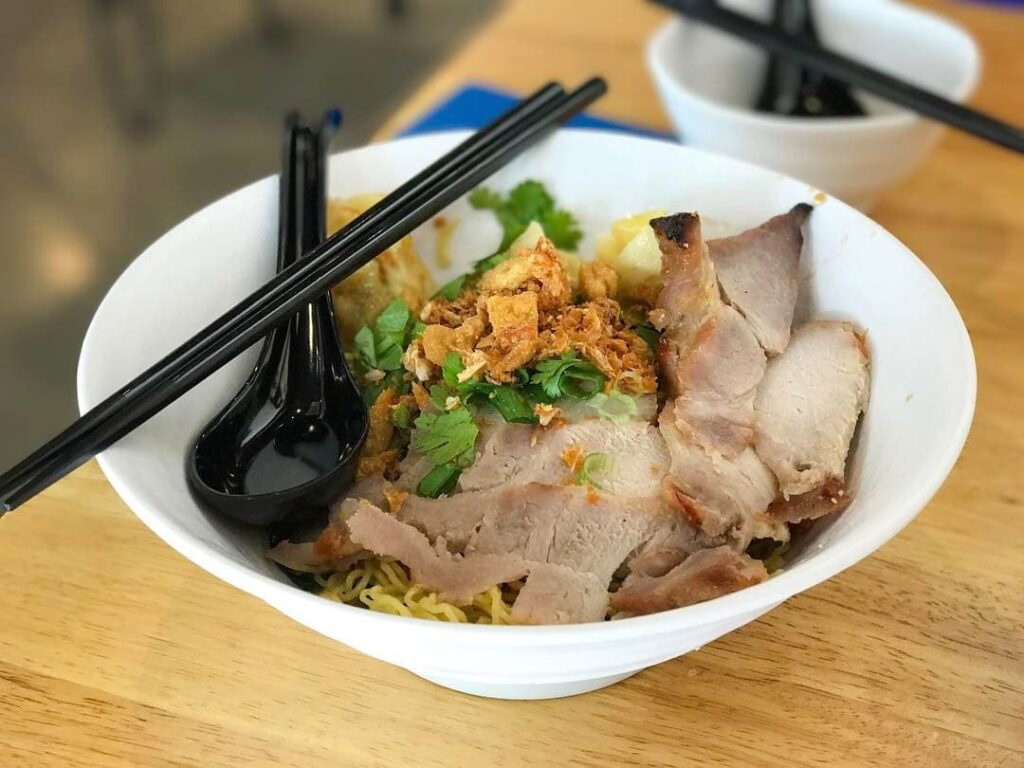 Image credit: @thehangryhero
KinMoo The Thai Noodle House brings the comforting touch of Thai street food to our shores with their homely bowls of BaaMee Keow Haeng Moo Dang ($8). More commonly known as Thai wonton mee, this signature dish features egg noodles that are tossed in a heady mix of lard oil, pork lard, and Thai garlic. 
Packing a savoury punch, these springy noodles are a worthy treat on their own, but taste even better with the juicy strips of grilled pork char siew.
Address: 2 Tan Quee Lan Street, #01-02, Singapore 188091
Opening hours: Daily 11:30am to 3pm, 5:30pm to 10pm
Tel:  8795 1188
Website
---
16. Eat3Cuts
---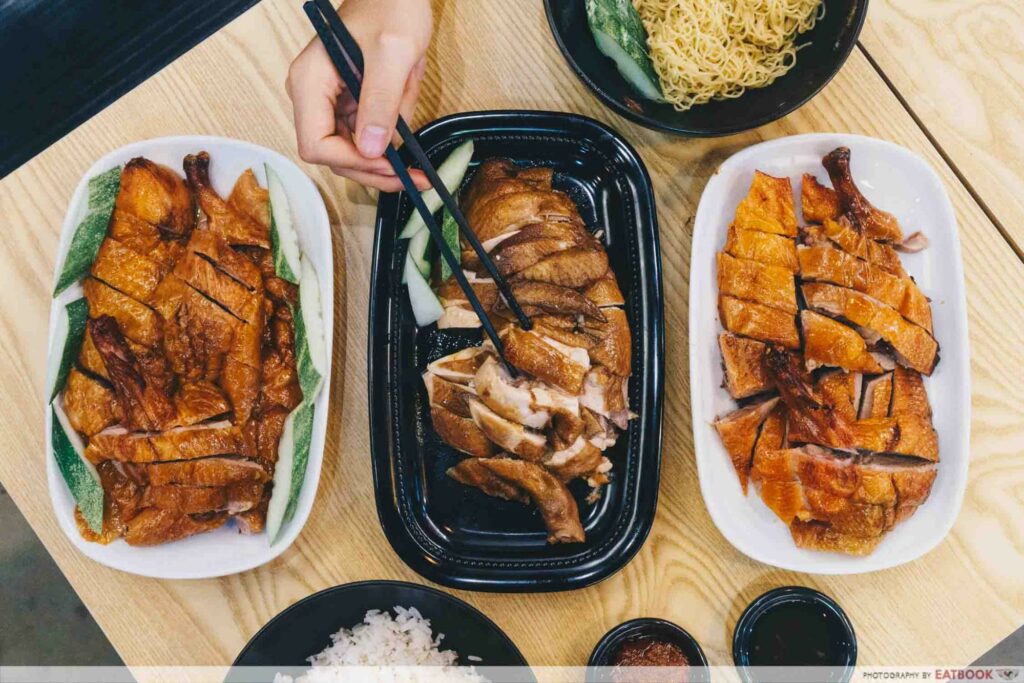 Not many Cantonese eateries today choose to prepare their roast meat the traditional way, making Eat3Cuts a breath of fresh air in the roast meat scene. Roasted in a charcoal-power oven, their Whole Roast Duck ($35) effuses a smoky aroma and gives fancier competitors a run for their money with its crisp skin and succulent bite.
Yet, delicious as the Whole Roast Duck is, the top accolades still belong to their Whole Pipa Duck ($39). Marinated for between four to six hours before being roasted at a fiery 300 degrees, the pipa duck is then brushed with hoisin sauce, such that every bite of this juicy bird offers a sweet and salty tang. 
Address: 175 Bencoolen Street, #01-49, Burlington Square, Singapore 189649
Opening hours: Daily 11am to 9pm
Tel: 9384 5503
Website
---
17. Say Seng Cooked Food
---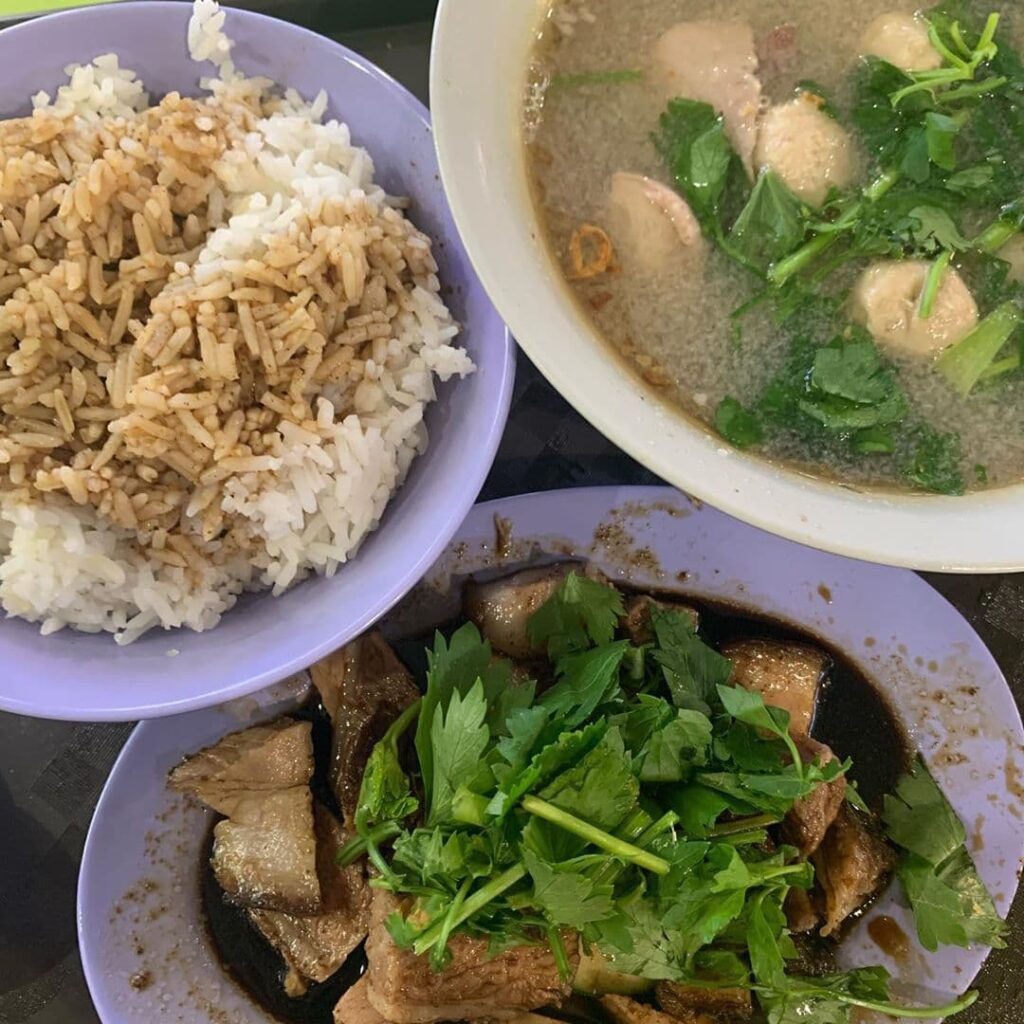 Image credit: @followlin
Grab a quick meal at Albert Centre Food Centre and you'll notice an unmistakable queue snaking around Say Seng Cooked Food. The hands behind this old-school eatery are tirelessly working during lunch hours, chopping down slabs after slabs of braised pork belly with methodical precision. 
A splash of savoury braised sauce then washes over this Lor Bak ($5), sealing off a meaty treat that goes perfectly with a plain bowl of white rice. Simple comfort food at its best.
Address: 270 Queen Street, #01-92, Albert Centre Market & Food Centre, Singapore 180270
Opening hours: Tue-Sun 12pm to 8pm
---
18. Omurice Keisuke
---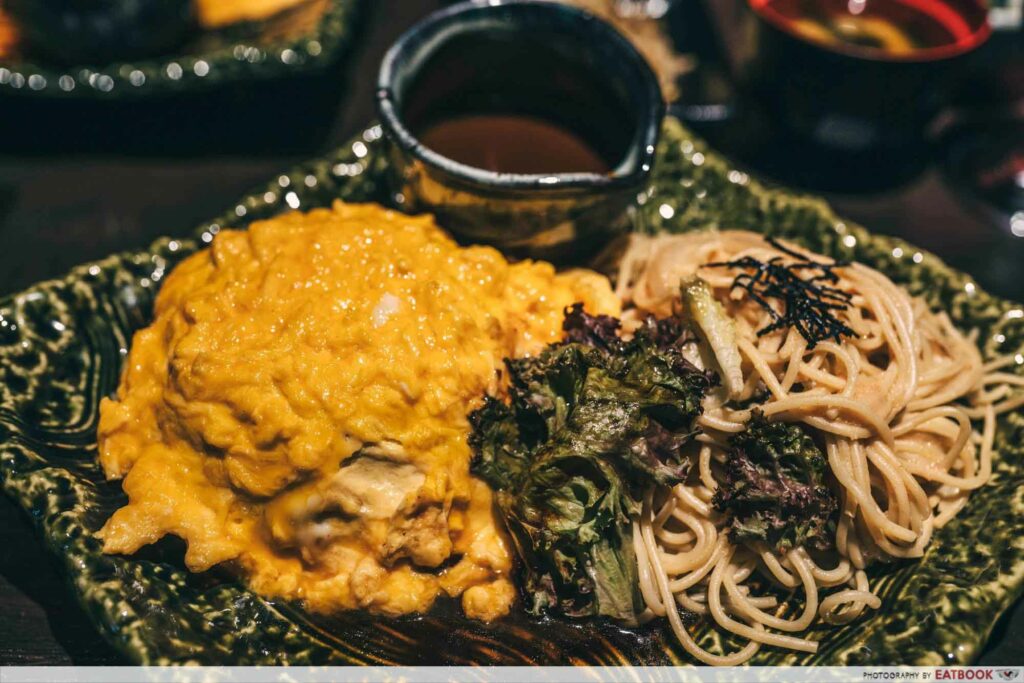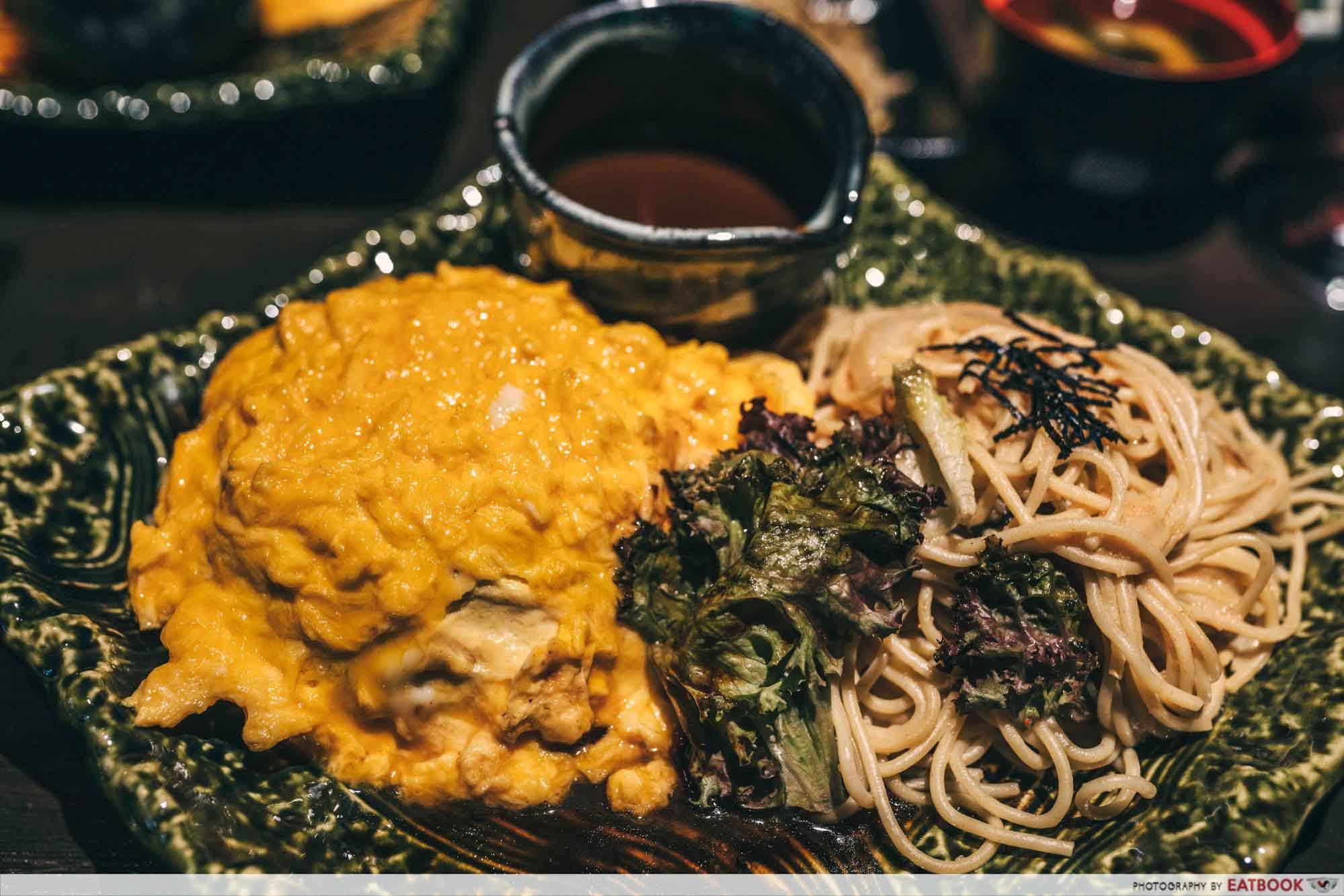 Whether it's Tonkotsu King or Keisuke Tokyo, Keisuke Takada has planted himself firmly in our hearts with the consistency and novelty of his restaurants. Unsurprisingly, Omurice Keisuke, his eggy creation of 2019, provides a safe bet for delicious omelette fried rice.
Hungry bellies should head straight for their Omurice Combo ($12++), featuring a hearty duo of spaghetti and omurice. Draped in a pillowy blanket of egg, the latter steals the show here, leaving you clamouring for more with their marriage of sweet and creamy flavours.
Address: 200 Victoria Street, #04-01, Bugis+, Singapore 188067
Opening hours: Daily 11:30am to 9:30pm
Tel: 6634 4558
Website | Menu
---
19. New Rong Liang Ge Cantonese Roast Duck Doubled Boiled Soup
---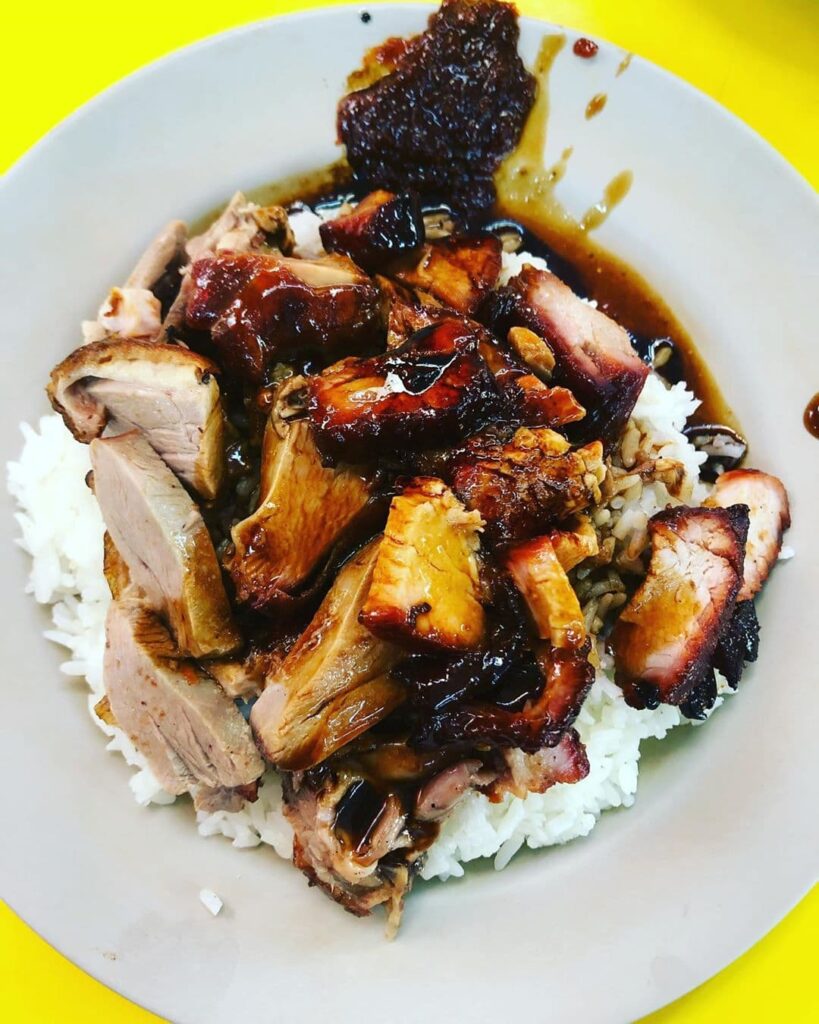 Image credit: @aiohpue
New Rong Liang Ge Cantonese Roast Duck Double Boiled Soup not only stands as one of Singapore's best spots for sio bak, but also one of her most affordable as well. A plate of Char Siew Rice only sets you back $2.50 back here while their "San Pin" set– a hearty combination of roast duck, char siew, and sio bak– comes at a wallet-friendly price of $5. 
If these affordable dishes don't give your dollar a good stretch, their selection of double-boiled soups surely does the trick. Priced as low as $2.50, these warm bowls of soup taste best on a rainy day.
Address: 269B Queen Street, #01-235, 3838 Eating Place, Singapore 182269
Opening hours: Daily 7am to 8pm
Tel: 9099 9489
---
20. Supreme Pork Chop Rice
---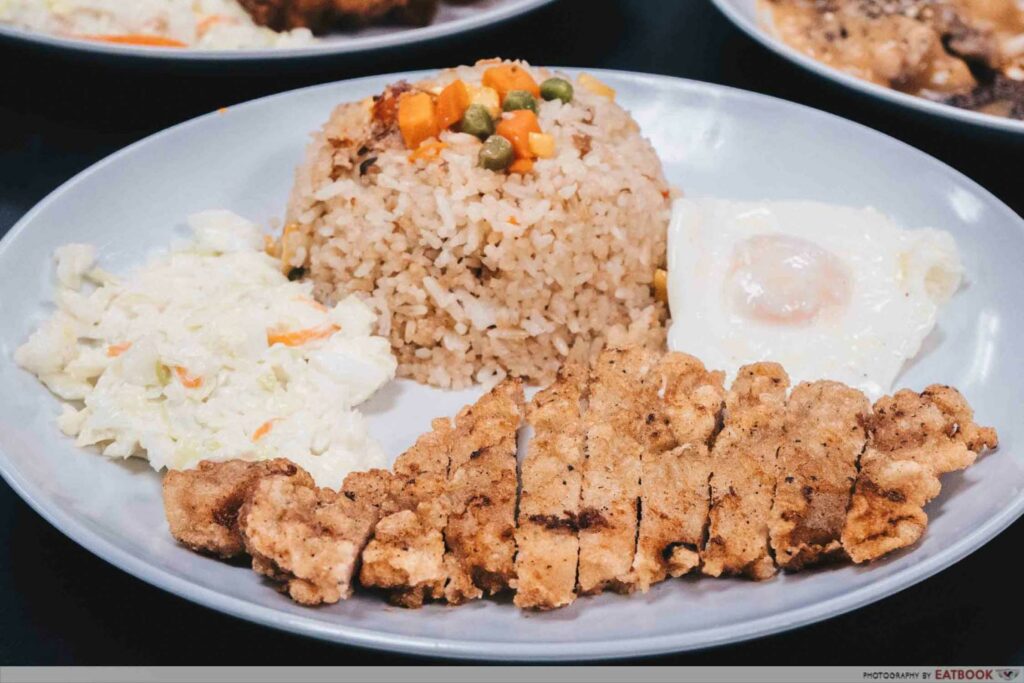 Churning up affordable plates of Taiwanese fare, Supreme Pork Chop Rice frequently pops up on the lunch list of CBD workers. Just as the name suggests, this hidden gem in Bugis prides themselves in their mouth-watering Pork Chop Fried Rice ($5). Their pork cutlets offer a resonant crunch with every bite, unfurling in a burst of garlicky and cinnamon-ey accents. 
Address: 67 Beach Road, #B1-01, Bulkhaul House, Singapore 189688
Opening hours: Mon-Sat 10am to 8pm
---
Bugis food places worth your money
---
From small bites to filling meals, Bugis food is sure to satisfy you. If, like me, you've come to this part of town to restock your wardrobe, remember that a happy belly makes a happier shopper! For more good eats in Bugis, check out our compilation of food at Albert Centre!