---
Laze at these Bugis cafes on your rest days
---
It may sound sacrilegious, but my café haunts in Telok Ayer and Tiong Bahru have become mundane. I have since travelled around Singapore in search of the next bona fide café district. Bugis surfaced as my favourite. Here are eight Bugis cafes that I feel are the best in Bugis, serving Instagrammable and tasty grub.
---
1. Mellower Coffee
---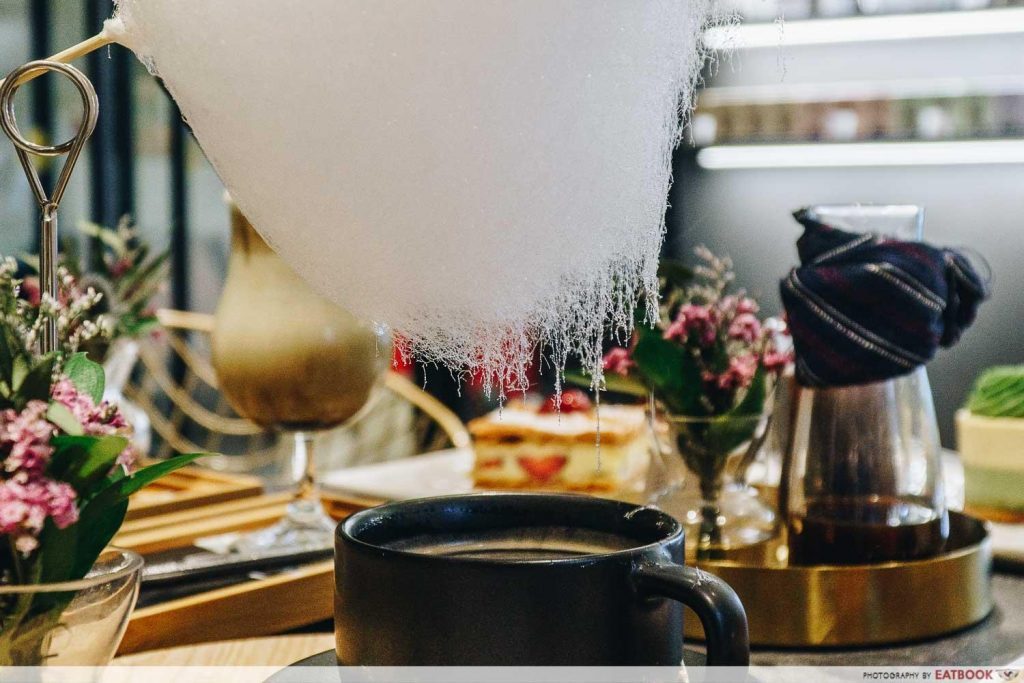 Because of how aesthetic it is, the Sweet little Rain ($9.80+) from Mellower Coffee never fails to appear on my Instagram feed. A dreamy ball of cotton candy suspends over a freshly brewed cup of americano. Steam from the coffee melts the cotton candy, sending a rain of sugar to sweeten your drink.
If that strikes you as gimmicky, try their Matcha Latté ($6+) instead. It has a distinctive matcha fragrance that blends well with its milky consistency. For cakes, their Strawberry Cheesecake ($8+) and Matcha Red Bean Cheesecake ($8+) are safe bets. Both have a dense cheesecake filling with a buttery crust that easily dissolves in your mouth.  
Address: 108 Middle Road, #01-01, The Prospex, Singapore 188967
Opening hours: Daily 8am to 10pm
Tel: 6255 0820
Website
Mellower Coffee is not a halal eatery.
---
2. Twenty Grammes
---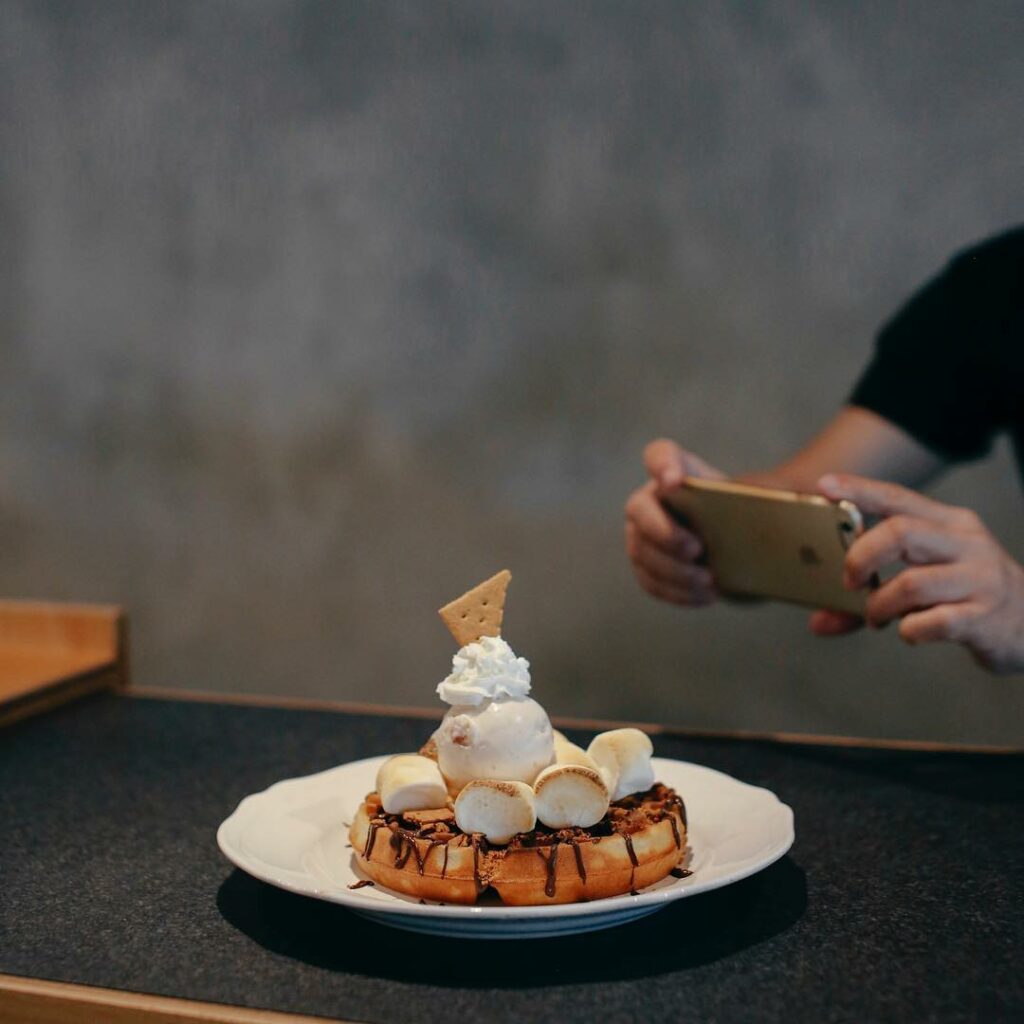 Image credit:@twentygrammes
If you're looking for a quiet spot to enjoy some desserts, Twenty Grammes dishes out waffles and ice-cream. Their ingenious Smores Waffle ($15) has a torched marshmallow, which imparts a pleasantly smoky aroma. Top it with their selection of home-made ice-creams that are dense and sticky. They melt onto the waffles, giving it a sugary oomph.
The Hojicha Soft Serve with Waffles and Brownie Cubes ($8.50) is a crowd favourite amongst hojicha lovers. A bed of brownie and waffle pieces rests below a towering swirl of hojicha ice-cream.The ice-cream lacks the bitterness associated with hojicha, making for an enjoyable dessert.
Address: 753 North Bridge Road, #01-01, Singapore 198721
Opening hours: Sun-Thu 12pm to 10pm, Fri-Sat 12pm to 1am
Tel: 6717 1733
Website
Twenty Grammes is not a halal eatery.
---
3. Yummo Chow
---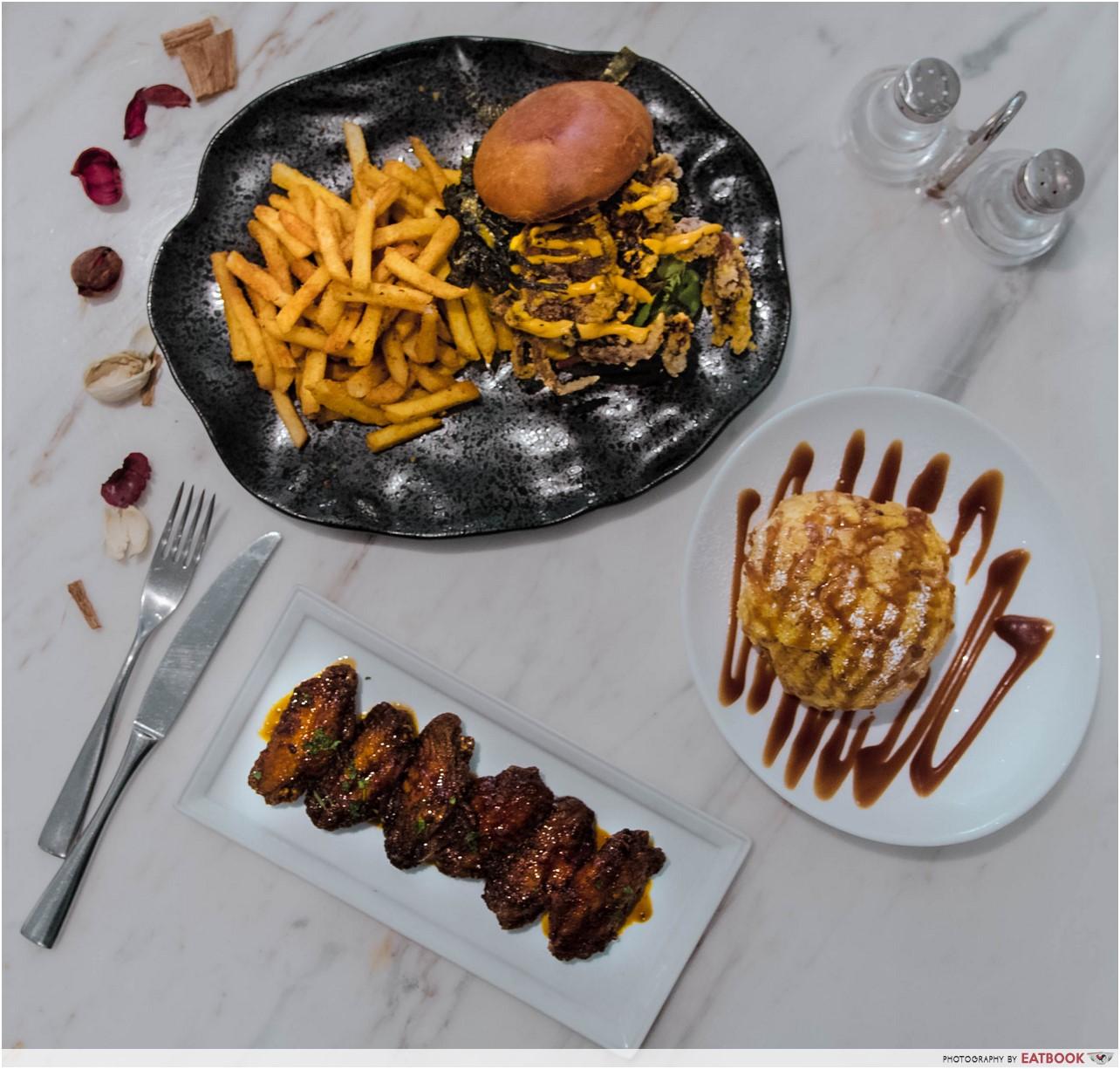 Blended into the white-washed facade of Purvis Street lies Yummo Chow.  Marvel at the gorgeous interior as you enter the café, with its plain white walls and colourful impressionism paintings.
The food is pretty too. The Sambal Teri Wings ($10++) has a reflective sheen, courtesy of the house-made teriyaki sauce that gives a sweet and tangy punch. Biting into the wing, chicken oil explodes in your mouth, coating your tongue in a layer of meat juices. Take it up a notch by ordering the Tempura Ice-cream ($12++). Cold vanilla ice-cream contrasts against the warm crunchy batter, which feels sublime in the mouth.
Check out our full review of Yummo Chow!
Yummo Chow Review: Fried Tempura Ice-cream And Sambal Wings At Bugis
Address: 13 Purvis Street, Singapore 188592
Opening hours: Daily 12pm to 3pm, 5:30pm to 10pm
Tel: 6873 1295
Website
Yummo Chow is not a halal eatery.
---
4. The Green Ducklings
---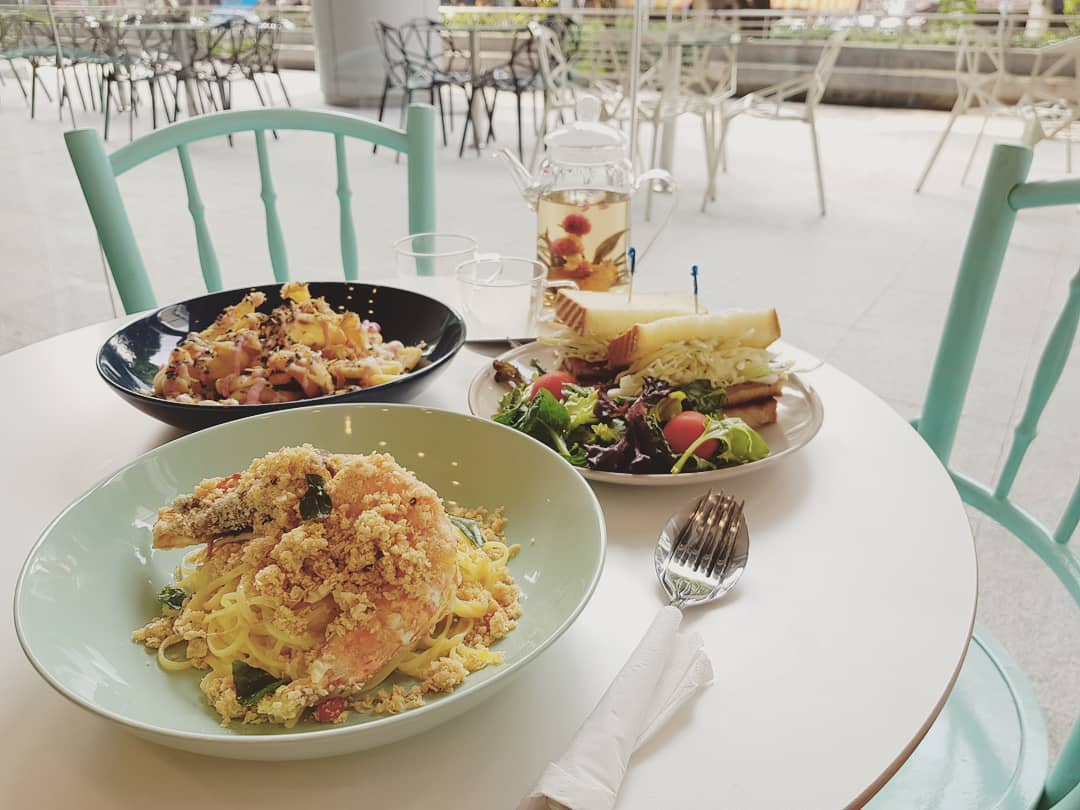 Image credit:@thegreenducklings
The Green Ducklings is holed in a cosy corner of The Concourse. They serve up a spread of fusion dishes. For instance, Their Cereal Prawn Pasta ($18.90++) takes the zi char favourite and gives it a Western twist. Here, the large prawn is throned atop creamy alfredo pasta, and finished with a generous sprinkle of buttery cereal.
Address: 302 Beach Road, #01-06, The Concourse, Singapore 199600
Opening hours: Tues-Sun 8am to 7pm
Tel: 9664 1518
Website
The Green Ducklings is not a halal eatery.
---
5. The Masses
---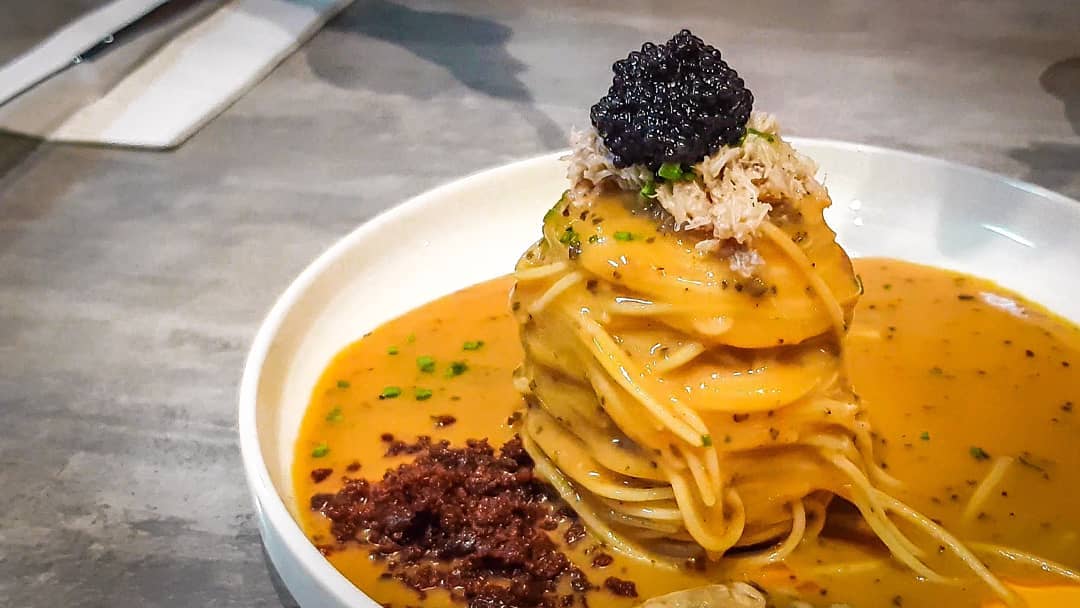 Image credit:@themassessg
The Masses was opened by Saveur's co-founder. They aim to serve French fare at affordable prices. The CCCC Pasta, for instance, comes with crab, caviar, clams and chorizo at $15.90++. It's an indulgent treat that gives an oceanic explosion in your mouth, with delicate notes of crab shining through. If you're feeling rich, you could also add uni for $6++.
One of my favourites here is the Deep-Fried Camembert ($9.90++). It comprises a crunchy and slightly sweet batter that coats a soft and gooey camembert. It's accompanied by a dollop of yogurt ice-cream that provides tartness,balancing the heaviness of the fried cheese.
Address: 85 Beach Road, #01-02, Singapore 189694
Opening hours: Mon-Fri 12pm to 9:30pm, Sat-Sun 10:30am to 9pm
Tel: 6266 0061
Website
The Masses is not a halal eatery.
---
6. Symmetry
---

Image credit:@symmetrysg
Symmetry is synonymous with quality brunches in Singapore. Their Sunday roast ($31++), for instance, showcases a tender and meaty steak lathered with a creamy mushroom ragout. It's then topped with an herb-infused smoky beef sausage and sunny side up.
For a sweet treat, the Symmetry Waffles ($18++) features a colourful plate of petals and fruits. The waffles have a dense centre that complement the velvety ice-cream. It's a must-order for anyone looking for an indulgent morning treat.
Address: 9 Jalan Kubor #01-01, Singapore 199206
Opening hours: Mon 10:30am to 9pm, Tue-Thurs 10:30am to 11pm, Fri 10:30am to 12am, Sat 9am to 12am, Sun 9am to 7pm
Tel: 6291 9901
Website
Symmetry is not a halal eatery.
---
7. Fika
---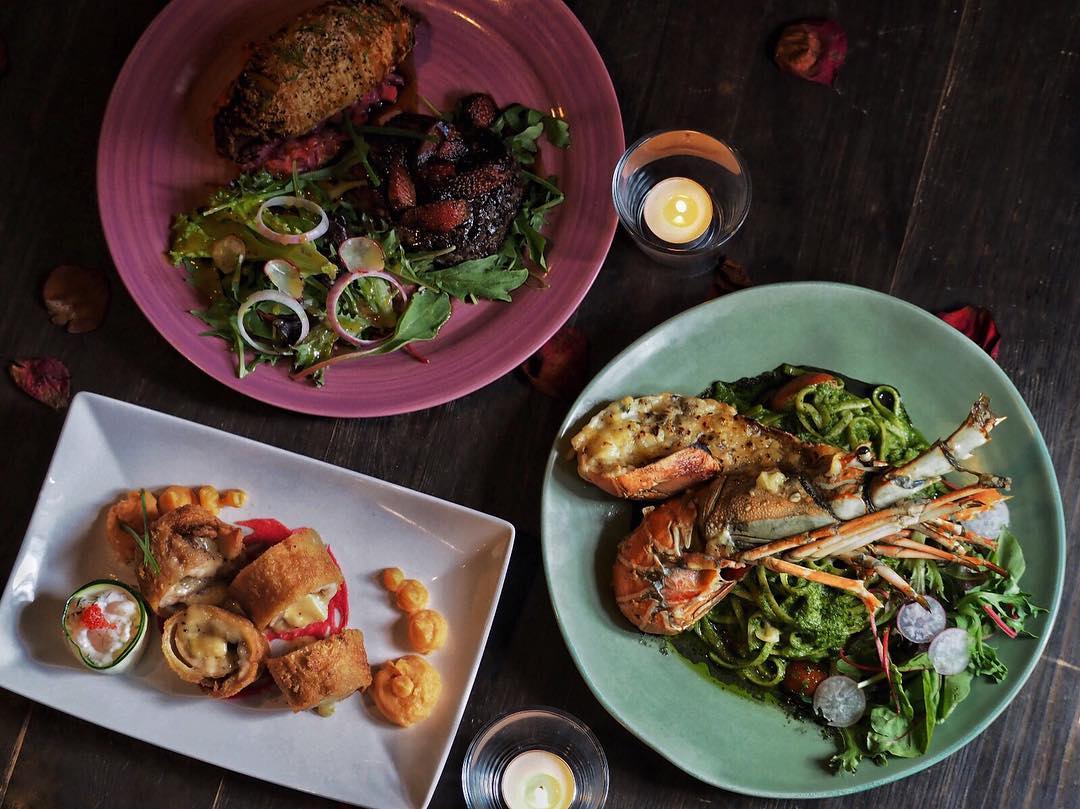 Image credit: Fika Swedish Cafe & Bistro's Facebook page
Serving halal Swedish dishes, Fika is a great place to experience Swedish cuisine that isn't IKEA. Try their Swedish Meatballs ($19++) for a juicy meatball that has a profound beefy taste. The cream sauce used also has a herbaceous perfume that gives depth to the rich meatballs.
Having been there a few times, their Korvstroganoff ($15++) is my personal favourite. It's a chicken sausage stew that's simmered in a creamy tomato base. Rice is also served alongside, acting as a great starchy accompaniment to your stew. Do note, however, that their menu is seasonal, so some dishes might not be available when you visit.
Address: 257 Beach Road, Singapore 199539
Opening hours: Sun-Wed 11am to 10pm, Thur-Sat 11am to 11pm
Tel: 6396 9096
Website
Fika is a halal certified eatery
---
8. Belle-Ville
---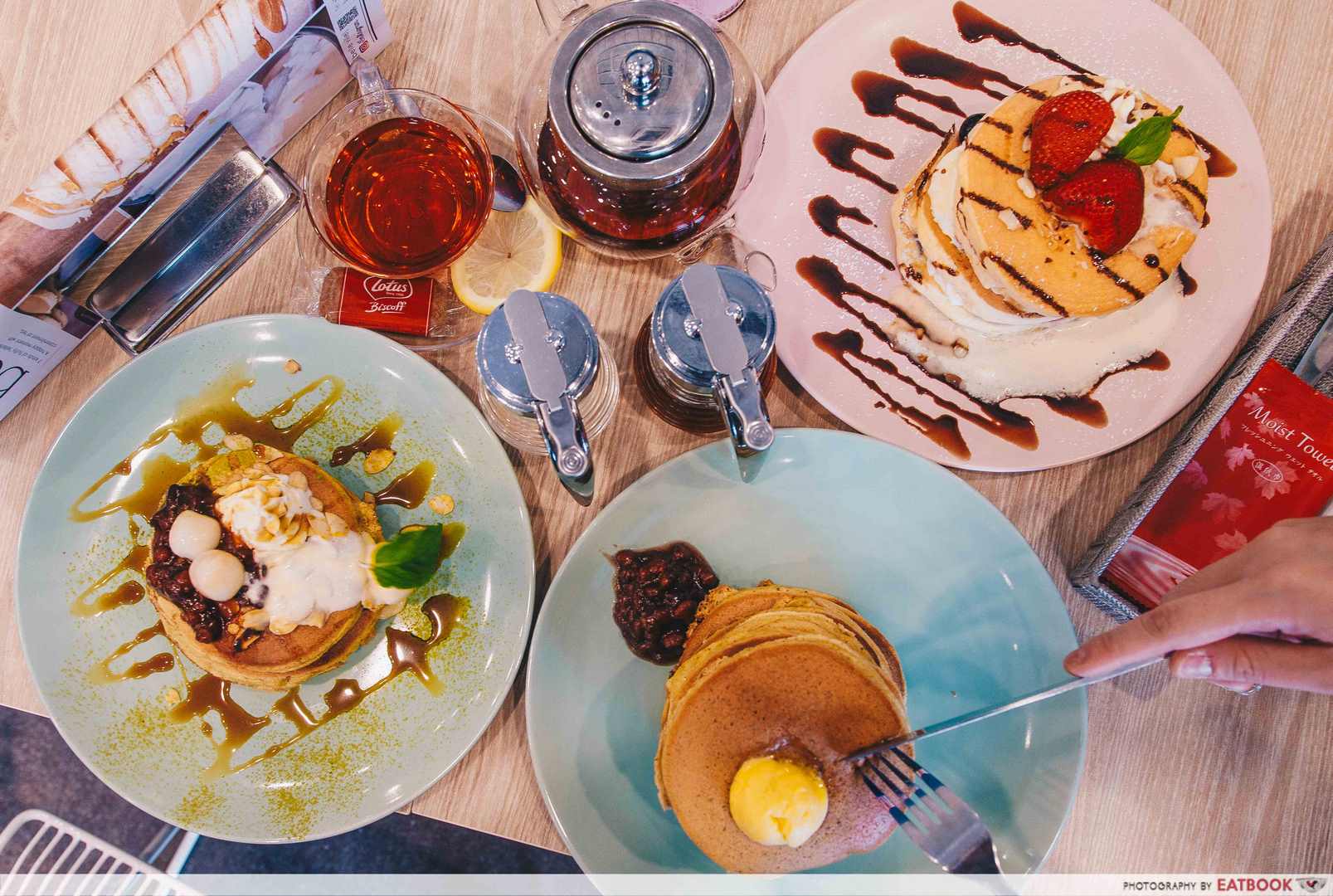 Belle-Ville serves up fuwa fuwa Japanese pancakes. They are basically a wobblier rendition of traditional pancakes, quite similar to castella cakes. To achieve this fluffy consistency, they used a meringue base. This also means that the pancakes are light — so you can eat more!
Opt for the Millefeuille Pancake ($7.90++ for four, $11.90++ for eight pieces) to taste its unadulterated flavour. Buttery and eggy notes are very apparent, with the maple syrup giving a subtle sweetness. You could also try the Strawberry and Mixed Berry Pancake ($11.90++ for two, $14.40++ for four pieces). It has a nice tartness that cuts through the meringue's eggy flavours, making it a good choice for those who aren't too keen on plain pancakes.
Check out our full review of Belle-Ville!
Belle-ville Pancake Cafe Review: Fluffy Japanese Pancake Stacks At Bugis Junction
Address: 230 Victoria Street, #01-01B, Bugis Junction Towers, Singapore 188024
Opening hours: Daily 8am to 8:30pm
Tel: 6255 5456
Website
Belle-ville is not a halal eatery.
---
Café hop around Bugis
---
If you enjoy café hopping as much as I do, you can also check out the newly opened Baristart Coffee for some cute bear shaved ice. There's also an uber minimalist Lee's confectionary in Jurong if you are looking for a nice café in the West!