---
Laze at these Bugis cafes on your rest days
---
It may sound sacrilegious, but my café haunts in Telok Ayer and Tiong Bahru have become mundane. I have since travelled around Singapore in search of the next bona fide café district. Bugis surfaced as my favourite. Here are 16 Bugis cafes that I feel are the best in Bugis, serving Instagrammable and tasty grub.
---
1. Mellower Coffee
---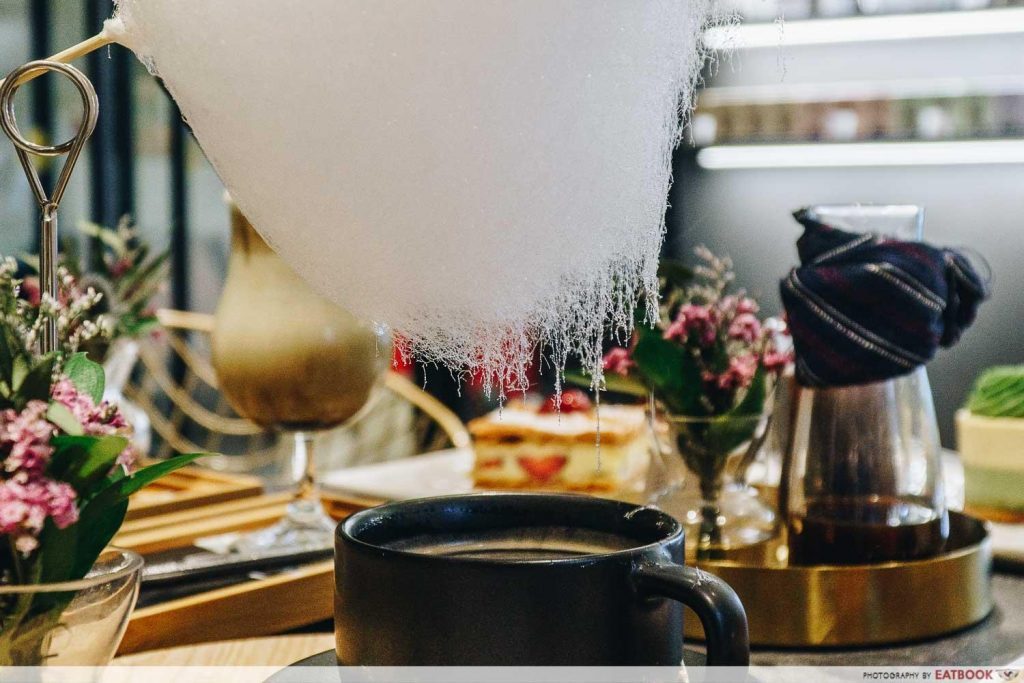 Because of how aesthetic it is, the Sweet Little Rain ($9.80+) from Mellower Coffee never fails to appear on my Instagram feed. A dreamy ball of cotton candy suspends over a freshly brewed cup of americano. Steam from the coffee melts the cotton candy, sending a rain of sugar to sweeten your drink.
If that strikes you as gimmicky, try their Matcha Latté ($6.50+) instead. It has a distinctive matcha fragrance that blends well with its milky consistency. For cakes, their Strawberry Cheesecake ($8+) and Matcha Red Bean Cheesecake ($8+) are safe bets. Both have a dense cheesecake filling with a buttery crust that easily dissolves in your mouth.  
Address: 108 Middle Road, #01-01, The Prospex, Singapore 188967
Opening hours: Sun-Thurs 9:30am to 8pm, Fri-Sat 9:30am to 9pm
Tel: 6255 0820
Website
Mellower Coffee is not a halal eatery.
---
2. Twenty Grammes
---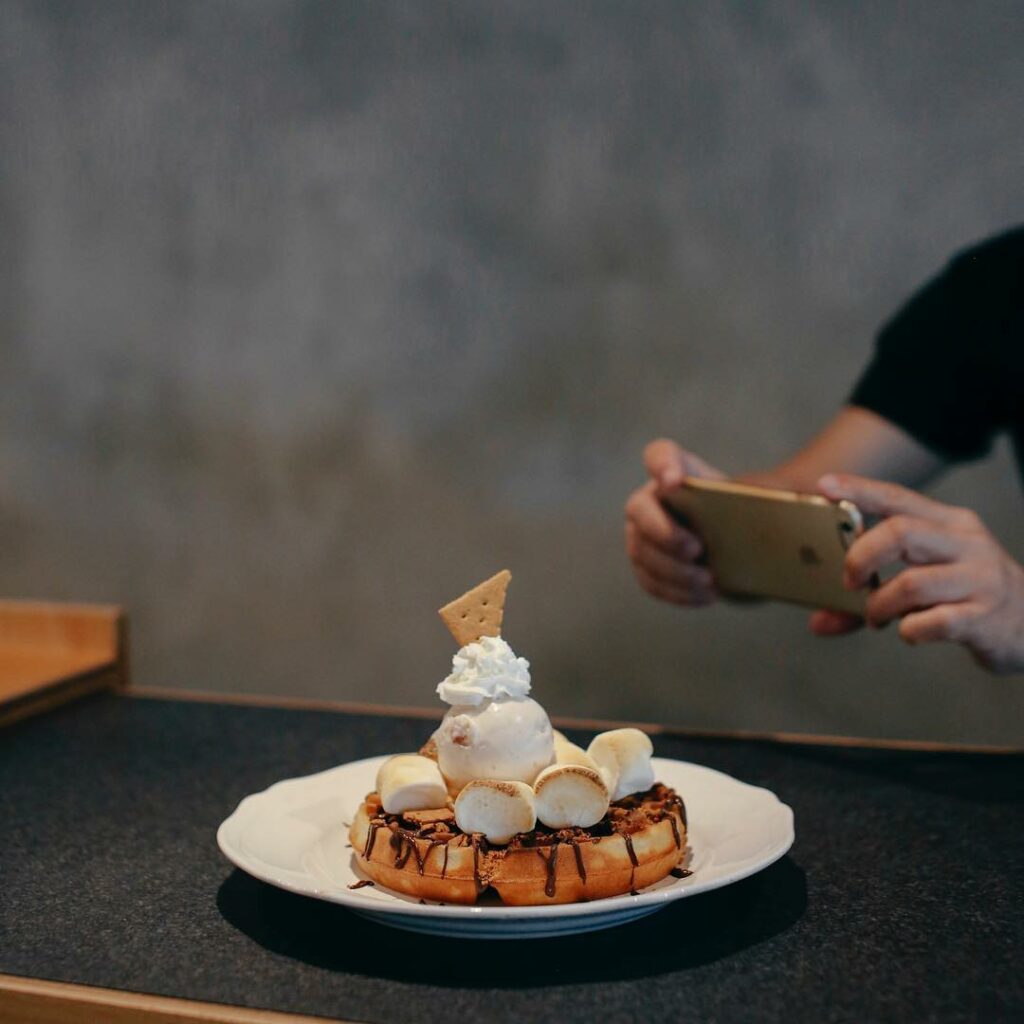 Image credit: @twentygrammes
If you're looking for a quiet spot to enjoy some desserts, Twenty Grammes dishes out waffles and ice cream. Their ingenious Smores Waffle ($15) has a torched marshmallow, which imparts a pleasantly smoky aroma. Top it with their selection of house-made ice cream flavours that are dense and sticky. They melt onto the waffles, giving them a sugary oomph.
The Hojicha Soft Serve with Waffles and Brownie Cubes ($9.50) is a crowd favourite amongst hojicha lovers. A bed of brownie and waffle pieces rests below a towering swirl of hojicha ice cream. 
Address: 753 North Bridge Road, #01-01, Singapore 198721
Opening hours: Sun-Thu 12pm to 10pm, Fri-Sat 12pm to 1am
Tel: 9447 2020
Website
Twenty Grammes is not a halal eatery.
---
3. Yummo Chow
---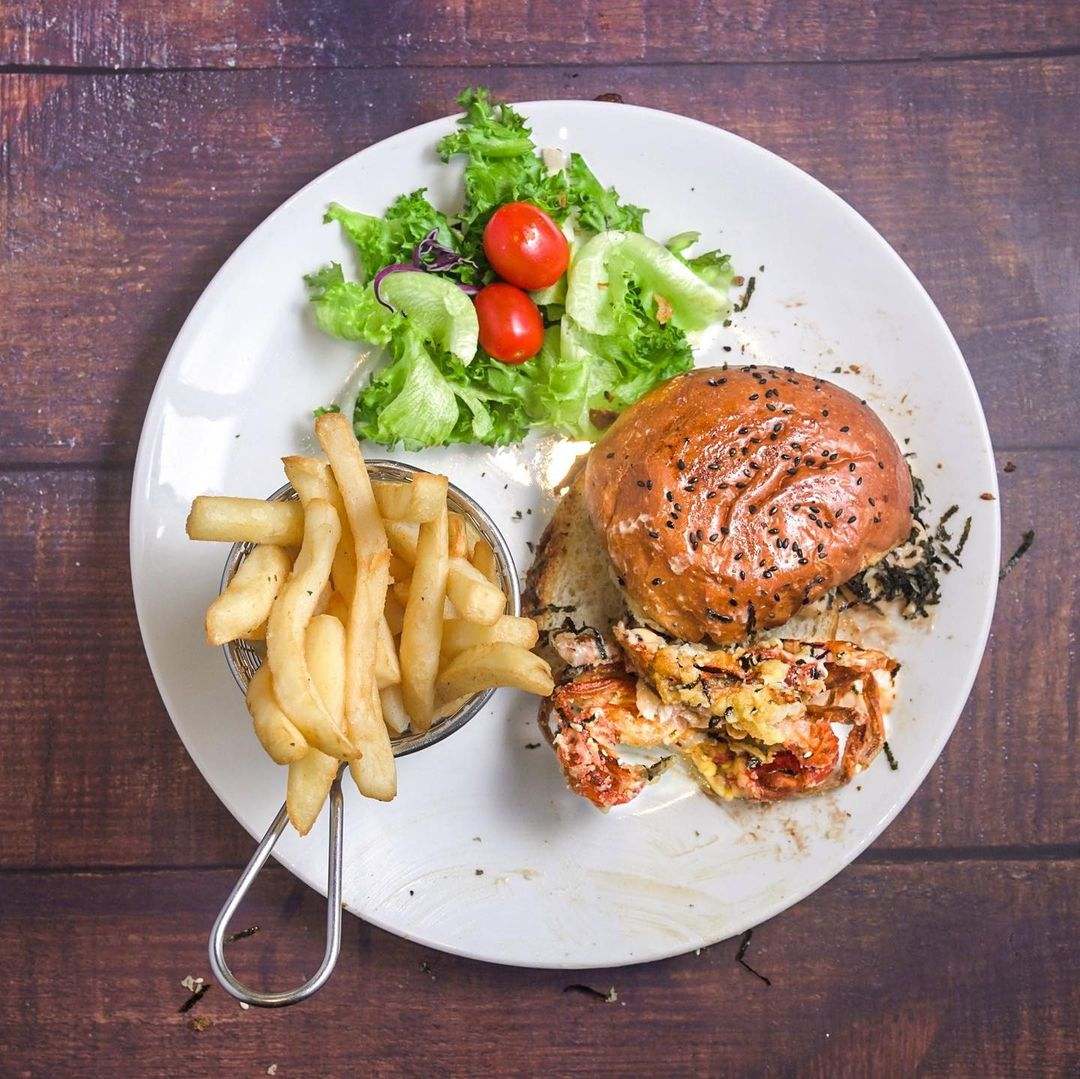 Image credit: @yummochowsg
Blended into the white-washed facade of Purvis Street lies Yummo Chow.  Marvel at the gorgeous interior as you enter the café, with its plain white walls and colourful impressionism paintings.
The food is pretty too. The Soft Shell Crab Burger ($24.90++) is a deliciously messy number featuring deep-fried soft shell crab in between two brioche buns. Other must-try mains are the Signature Grilled Chicken Chop ($19.90++), and the cream-based Smoke Salmon Pasta ($22.90++).
Check out our full review of Yummo Chow!
Yummo Chow Review: Fried Tempura Ice-cream And Sambal Wings At Bugis
Address: 13 Purvis Street, Singapore 188592
Opening hours: Daily 10:30am to 10pm
Tel: 6873 1295
Website
Yummo Chow is not a halal eatery.
---
4. Wan Wan Thai
---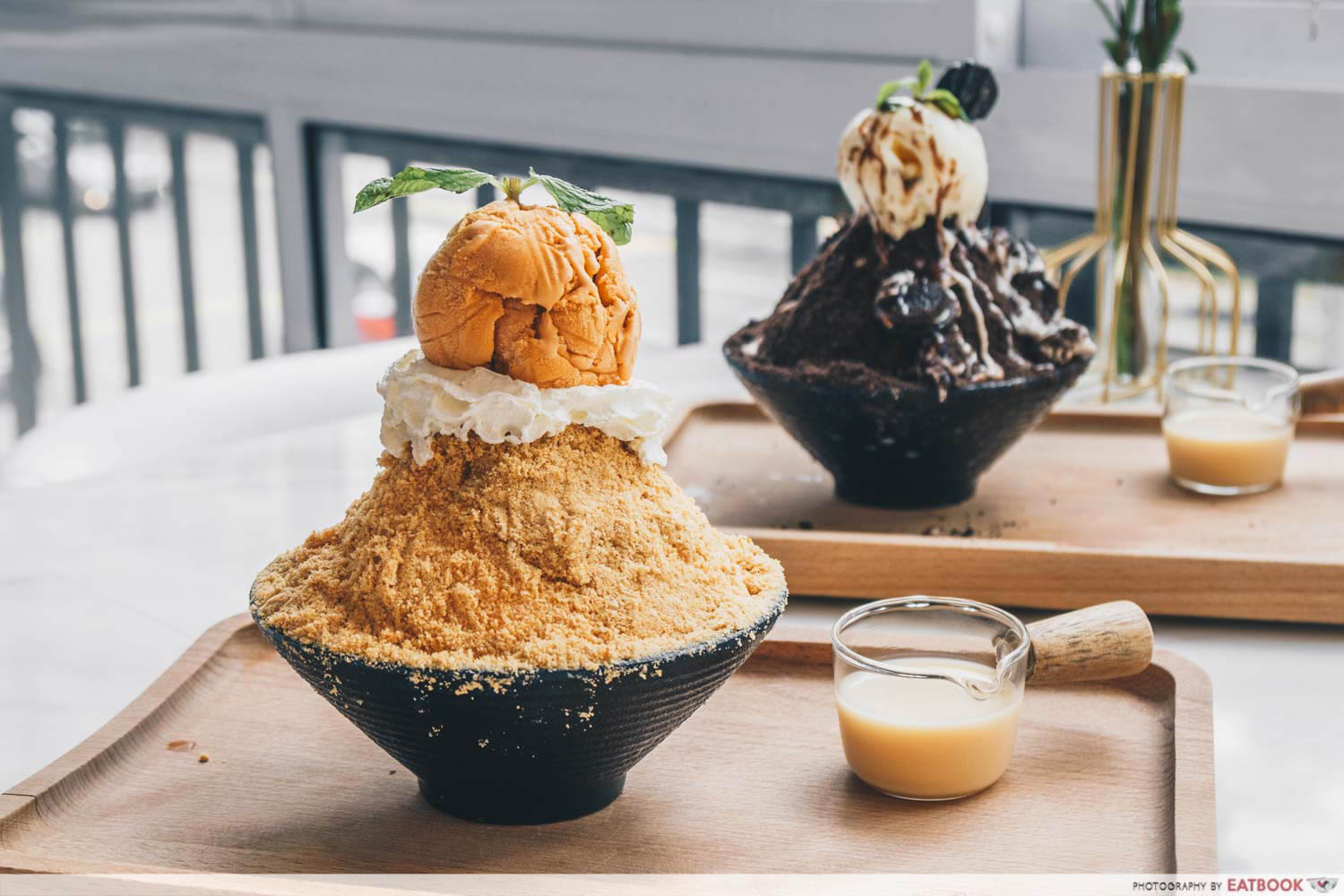 Wan Wan Thai is a neon-lit dessert cafe that matches its pretty decor with equally stunning desserts. This includes fare like their Thai Milk Tea Bingsu ($10.90++), served with milk tea ice cream, and their Shibuya style thick Kaya Toast ($8.90++), accompanied by fragrant pandan jam and aromatic kaya. They are also open till 3am, making it a great spot to satisfy your sweet tooth in the wee hours of the morning.
Check out our Wan Wan Thai review!
Address: 127A Bencoolen Street, Singapore 189637
Opening hours: Daily 12:30pm to 3am
Tel: 6336 8812
Website
Wan Wan Thai Cafe is not a halal eatery.
---
5. The Masses
---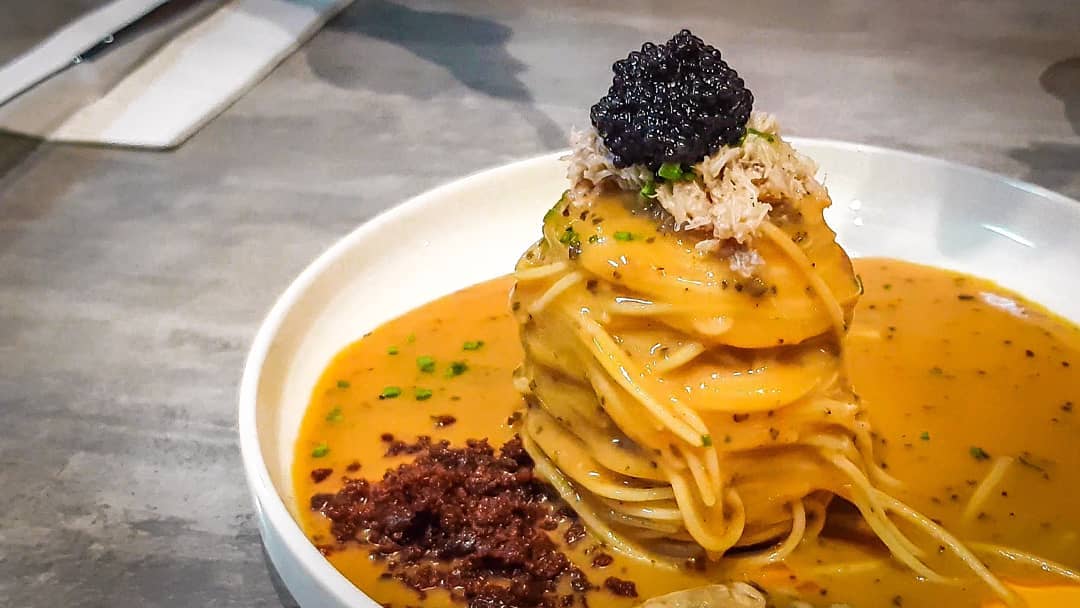 Image credit: @themassessg
The Masses was opened by Saveur's co-founder. They aim to serve French fare at affordable prices. The CCCC Pasta, for instance, comes with crab, caviar, clams and chorizo from $17.90++. It's an indulgent treat that gives an oceanic explosion in your mouth, with delicate notes of crab shining through. If you're feeling rich, you could also add uni for $7++.
One of my favourites here is the Deep-Fried Camembert ($13.90++). It comprises a crunchy and slightly sweet batter that coats soft and gooey camembert. It's accompanied by a dollop of yogurt ice-cream that provides tartness, balancing the heaviness of the fried cheese.
Address: 85 Beach Road, #01-02, Singapore 189694
Opening hours: Daily 12pm to 3pm, Mon-Sat 5:30pm to 9:30pm, Sun 5:30pm to 9pm
Tel: 6266 0061
Website
The Masses is not a halal eatery.
---
6. Symmetry
---

Image credit: @symmetrysg
Symmetry is synonymous with quality brunches in Singapore. Their Symmetry Big Breakfast ($25++) is a signature, served with all the works—scrambled eggs, tater tots, smoked salmon, chicken cheese sausage, mixed mushrooms, maple-glazed bacon, sourdough, and berry butter.
For a sweet treat, the Symmetry Home-made Waffles ($21++) feature a colourful plate of petals and fruits. The waffles have a dense centre that complements the velvety ice cream. It's a must-order for anyone looking for an indulgent morning treat.
Address: 9 Jalan Kubor #01-01, Singapore 199206
Opening hours: Mon 11am to 9pm, Tue-Thurs 11am to 11pm, Fri 11am to 11:30pm, Sat 9am to 11:30pm, Sun 9am to 7pm
Tel: 6291 9901
Website
Symmetry is not a halal eatery.
---
7. Fika
---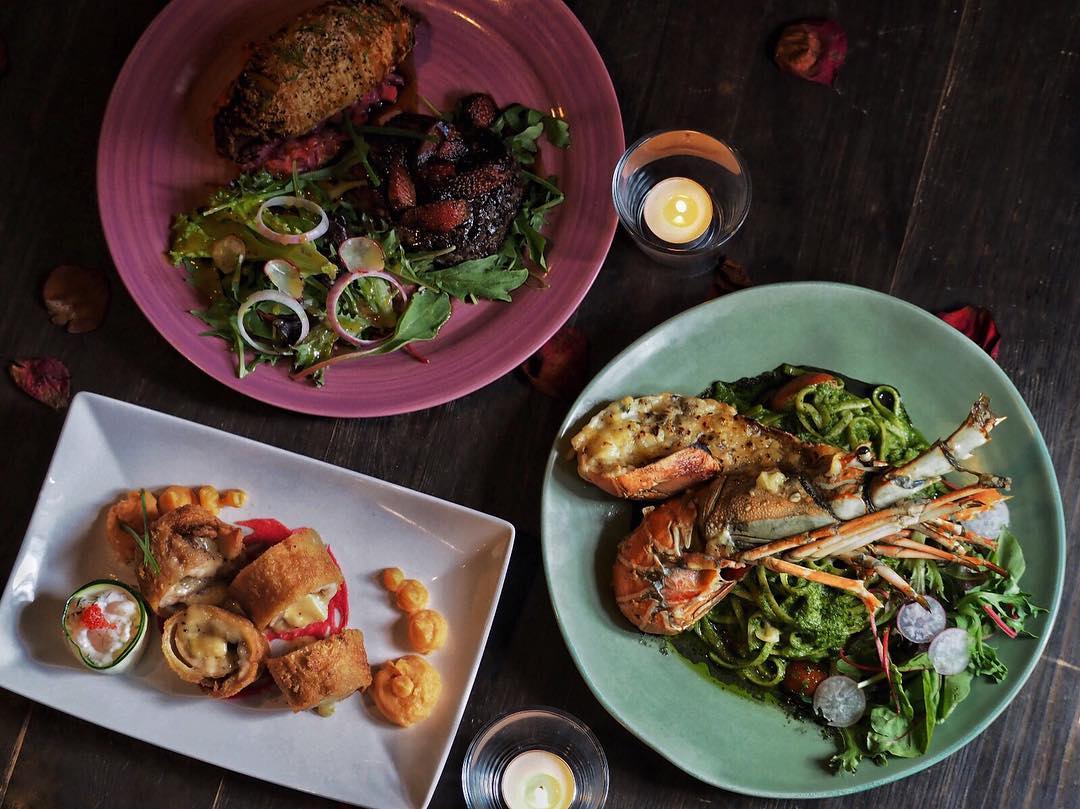 Image credit: Fika Swedish Cafe & Bistro
Serving halal Swedish dishes, Fika is a great place to experience Swedish cuisine that isn't IKEA. Try their Swedish Meatballs ($19++) for a juicy meatball that has a profound beefy taste. The cream sauce used also has a herbaceous perfume that gives depth to the rich meatballs. 
They also have pasta options including the Fishermans Pasta ($26++), which comes with mussels, white fish, squid, and prawns, served in a lemon butter sauce. A vegetarian version is available at $16++.
Address: 257 Beach Road, Singapore 199539
Opening hours: Sun-Thurs 11am to 10pm, Fri-Sat 11am to 11pm
Tel: 6396 9096
Website
Fika is a halal-certified eatery
---
8. Belle-Ville
---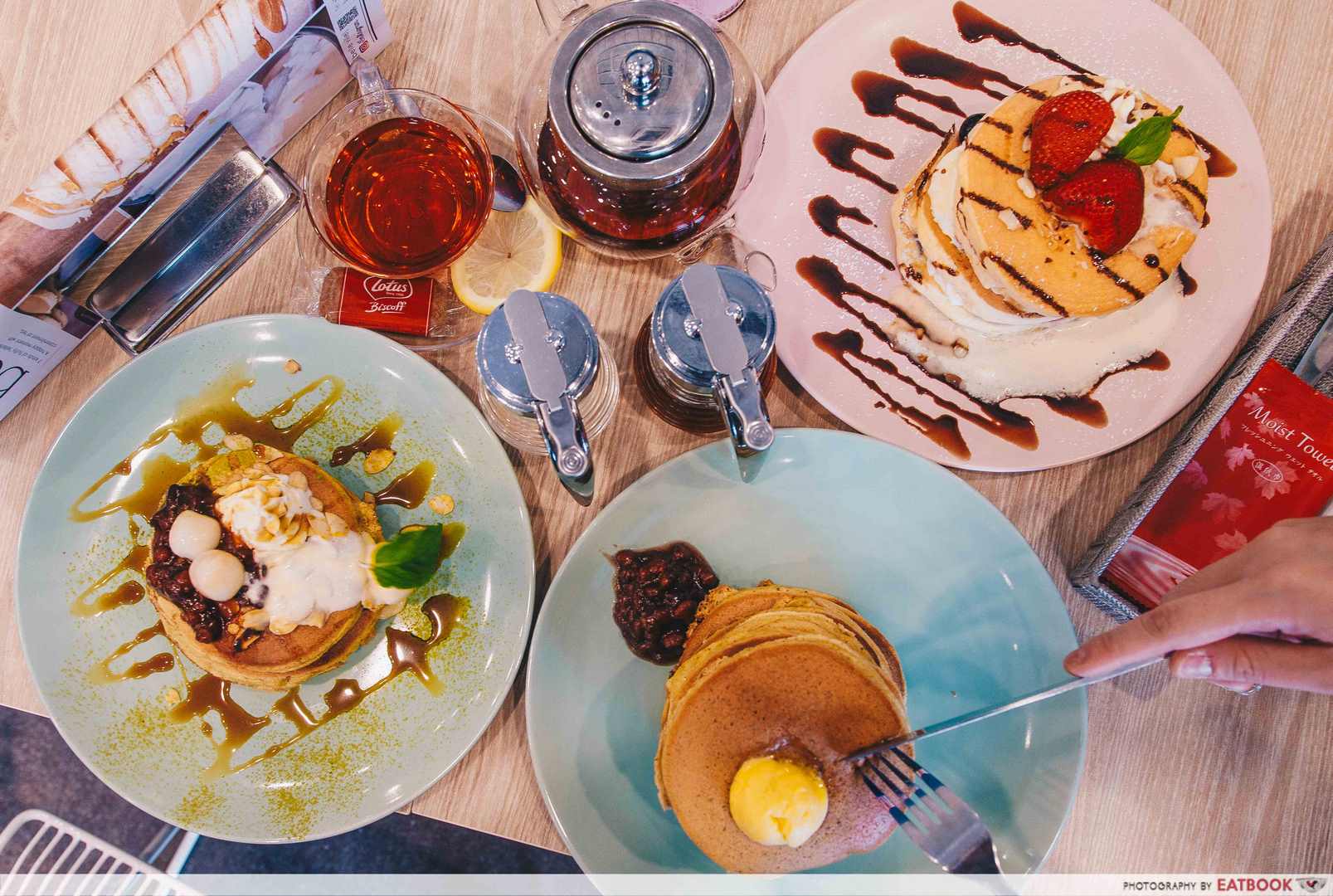 Belle-Ville serves up fuwa fuwa Japanese pancakes. They are basically a wobblier rendition of traditional pancakes, quite similar to castella cakes. To achieve this fluffy consistency, they used a meringue base. This also means that the pancakes are light—so you can eat more!
Opt for the Millefeuille Pancake (from $12.20++ for four) to taste its unadulterated flavour. Buttery and eggy notes are very apparent, with the maple syrup giving a subtle sweetness. You could also try the Strawberry and Mixed Berry Pancake (from $11.90++ for two). It has a nice tartness that cuts through the meringue's eggy flavours, making it a good choice for those who aren't too keen on plain pancakes.
Check out our full review of Belle-Ville Pancakes, or read our guide to souffle pancakes!
Belle-ville Pancake Cafe Review: Fluffy Japanese Pancake Stacks At Bugis Junction
Address: 230 Victoria Street, #01-01B, Bugis Junction Towers, Singapore 188024
Opening hours: Sun-Thurs 11am to 8pm, Fri-Sat 11am to 8:30pm
Tel: 6255 5456
Website
Belle-ville is not a halal eatery.
---
9. Flipper's
---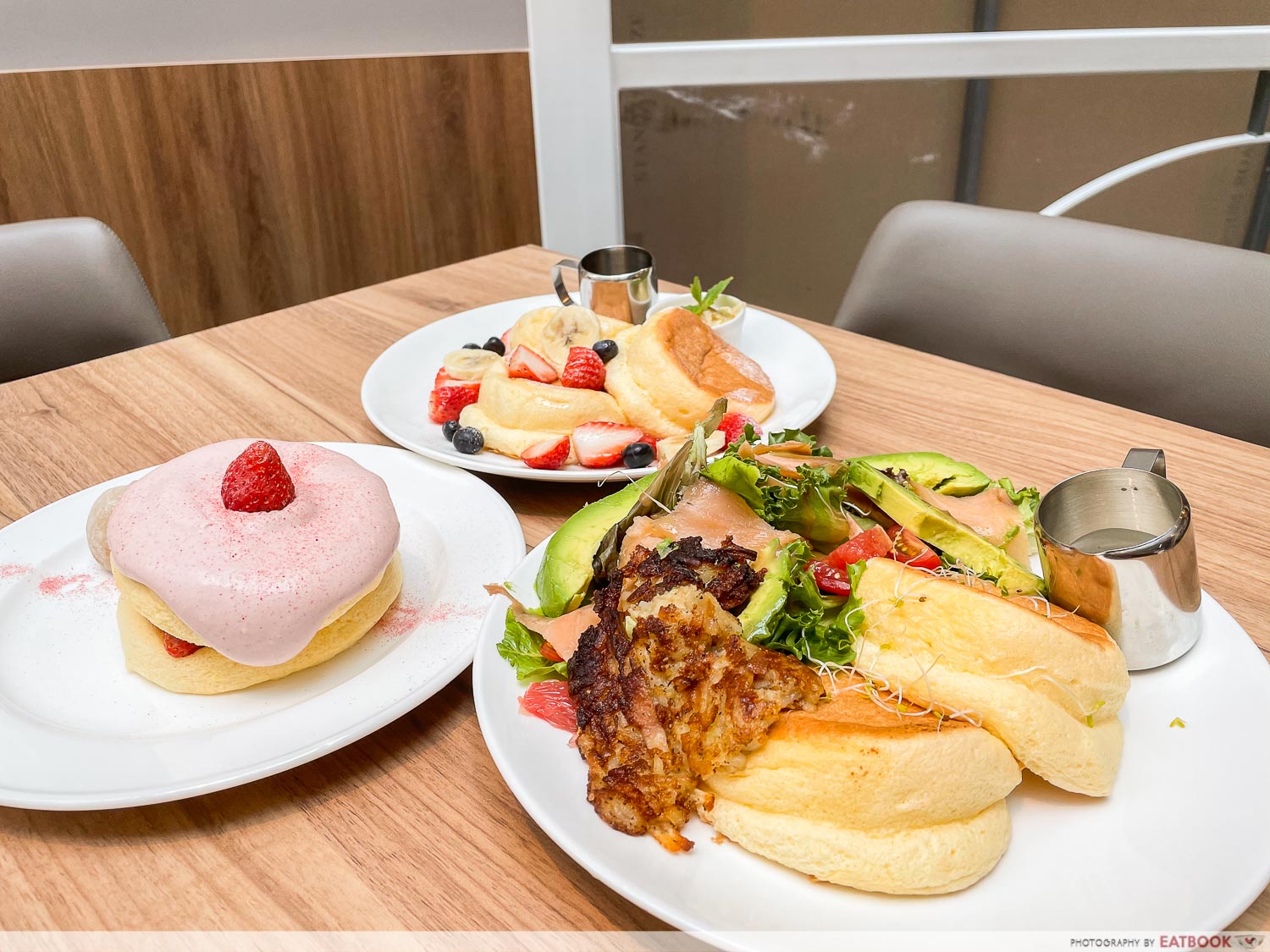 Another spot for Japanese souffle pancakes is Flipper's at Bugis Junction. This halal-certified pancake cafe serves thick and fluffy Kiseki pancakes in savoury and sweet flavours, including Avocado Salmon ($22.80++), Eggs Benedict ($22.80++), and Fresh Fruits with Honeycomb and Nut Butter ($21.80++).
Also look out for their limited-run specials, including the popular Japanese Awayuki Strawberry Souffle, which comes with dollops of strawberry-infused cream, fresh whipped cream, and strawberry syrup, and premium Awayuki strawberries.
Address: 80 Middle Road, Bugis Junction, #01-97, Singapore 188966
Opening Hours: Daily 11:30am to 10pm
Website
Flipper's is a halal eatery.
---
10. Fluff Bakery
---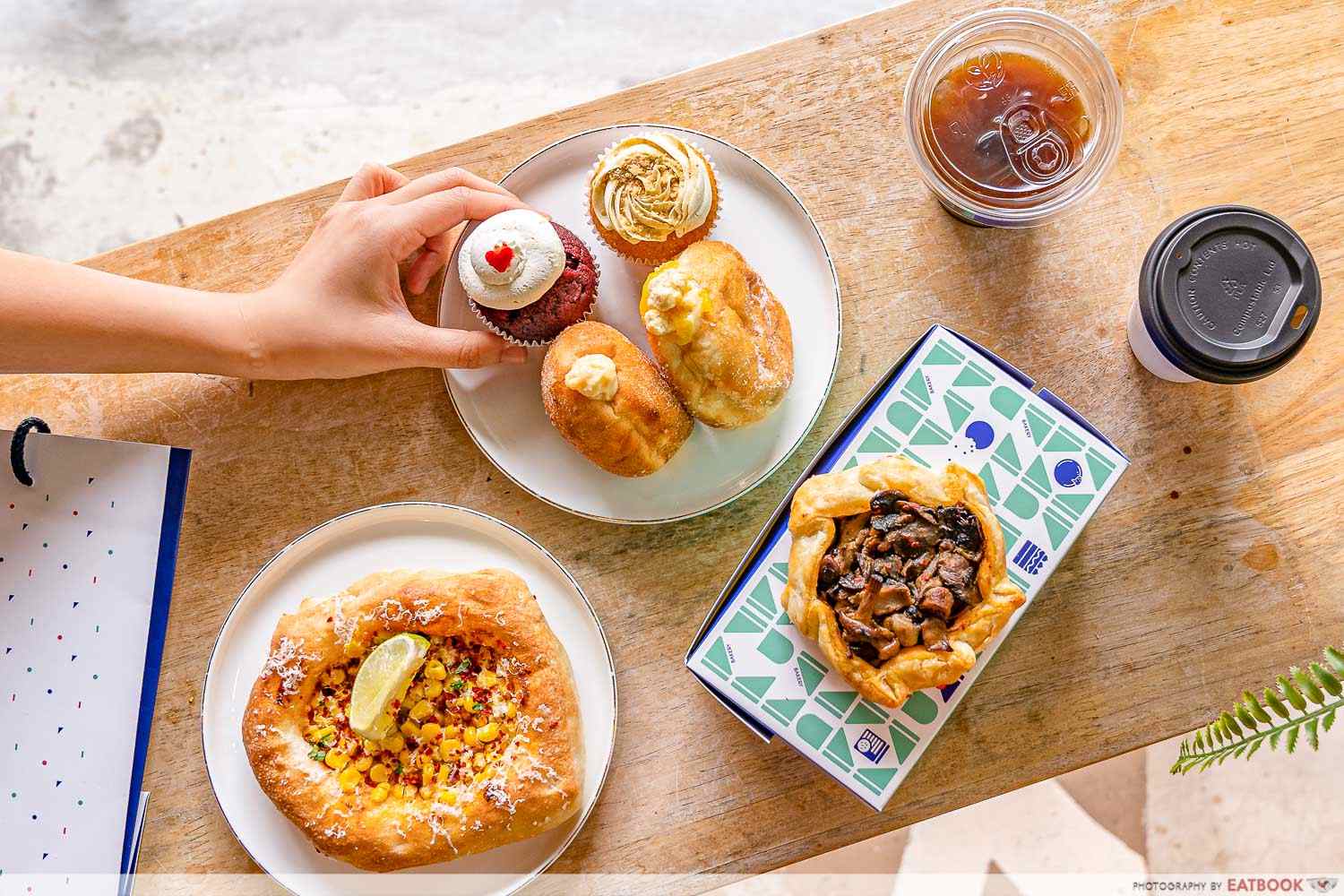 The IG-famous Fluff Bakery recently found a new home along the busy North Bridge Road, spanning two spacious units. Currently, their store only allows for takeaways, but the menu is pretty extensive with a wide variety of fresh bakes, ice cream, and barista-brewed coffee-to-go.
Go for the doughnuts ($4.50), available in flavours such as Maple Cinnamon Toast, which features a cinnamon sugar-dusted doughnut filled with a maple-spiked custard. If you prefer something savoury, get the Miso Butter Mushroom Galette ($5.50), topped with chunky, umami-ladened mushrooms.
Address: 795 North Bridge Road, Singapore 198763
Opening hours: Mon-Sat 12pm to 7:30pm
Tel: 9144 7729
Website
Fluff Bakery is a halal eatery.
---
11. Smile Dessert
---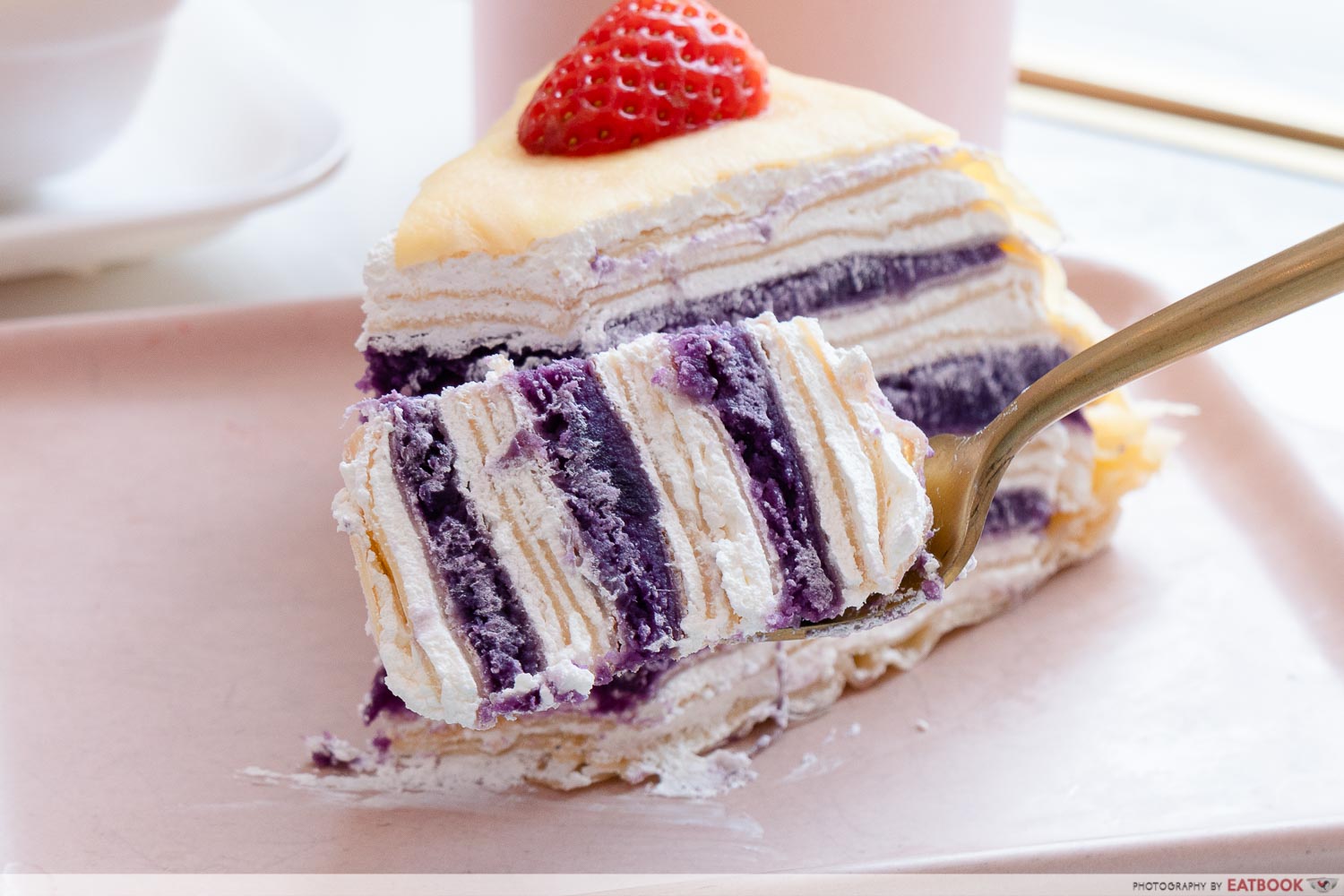 Sort your late-night hunger pangs at Smile Dessert, a cafe along North Bridge Road that opens around the clock. Tuck into the aesthetically-pleasing Multi-Layer Sweet Potato Cake ($9.90), which sees purple-hued sweet potato and cream sandwiched between thin crepe layers. They're also known for their fluffy souffle pancakes, including the Black Swan Souffle ($15.90), topped with black sesame cream and brown sugar shavings.
Address: 534 North Bridge Road, #01-01, Singapore 188749
Opening hours: Daily 24/7
Tel: 6232 7801
Website
Smile Dessert is not a halal eatery.
Smile Dessert Review: Pink Cafe With Black Sesame Souffle Pancakes And Sweet Potato Crepe Cake
---
12. Tolido's Espresso Nook
---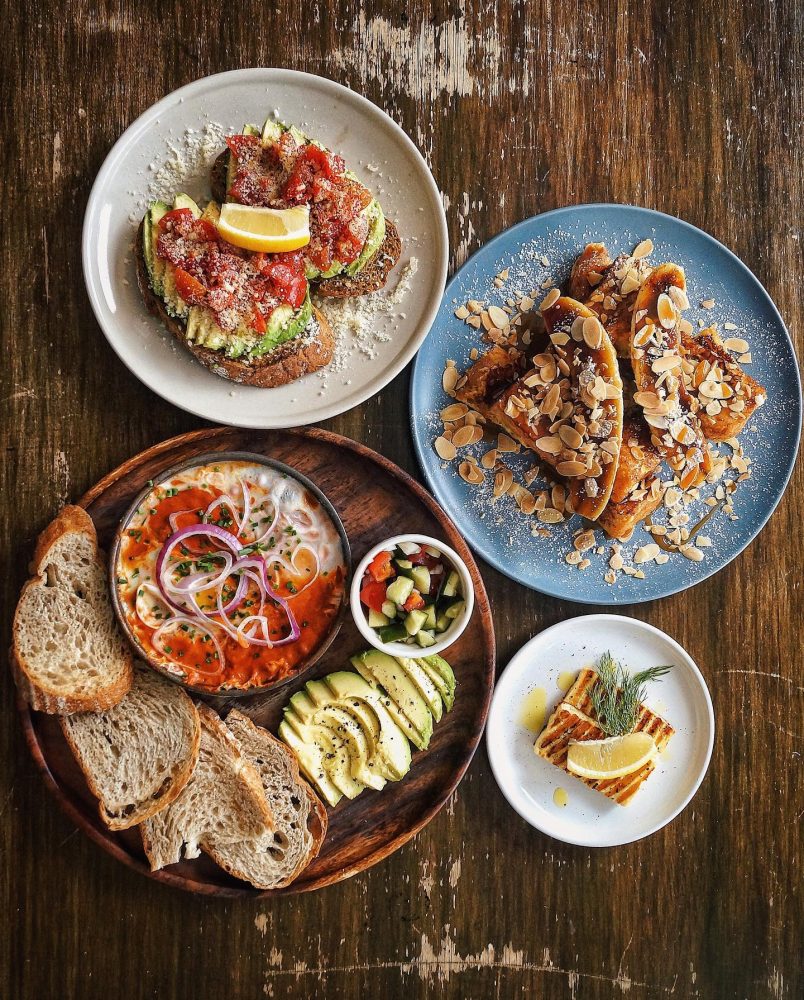 Image credit: Tolido's Espresso Nook
Sandwiched between Bugis and Lavender, Tolido's Espresso Nook regularly draws long queues for their twists on cafe fare. Enjoy dishes such as the Stout Glazed Bacon French Toast ($18++), a sweet-and-salty spin on classic french toast, Rosti (from $17++), and 462 Prawn Laksa Pasta ($19++), a crowd favourite. Try to make reservations in advance by calling them so you can avoid the queue.
Address: 462 Crawford Lane, #01-63, Singapore 190462
Opening hours: Thurs-Tue 8am to 5pm
Tel: 6293 0382
Website
Tolido's Espresso Nook is not a halal eatery.
---
13. DurianBB
---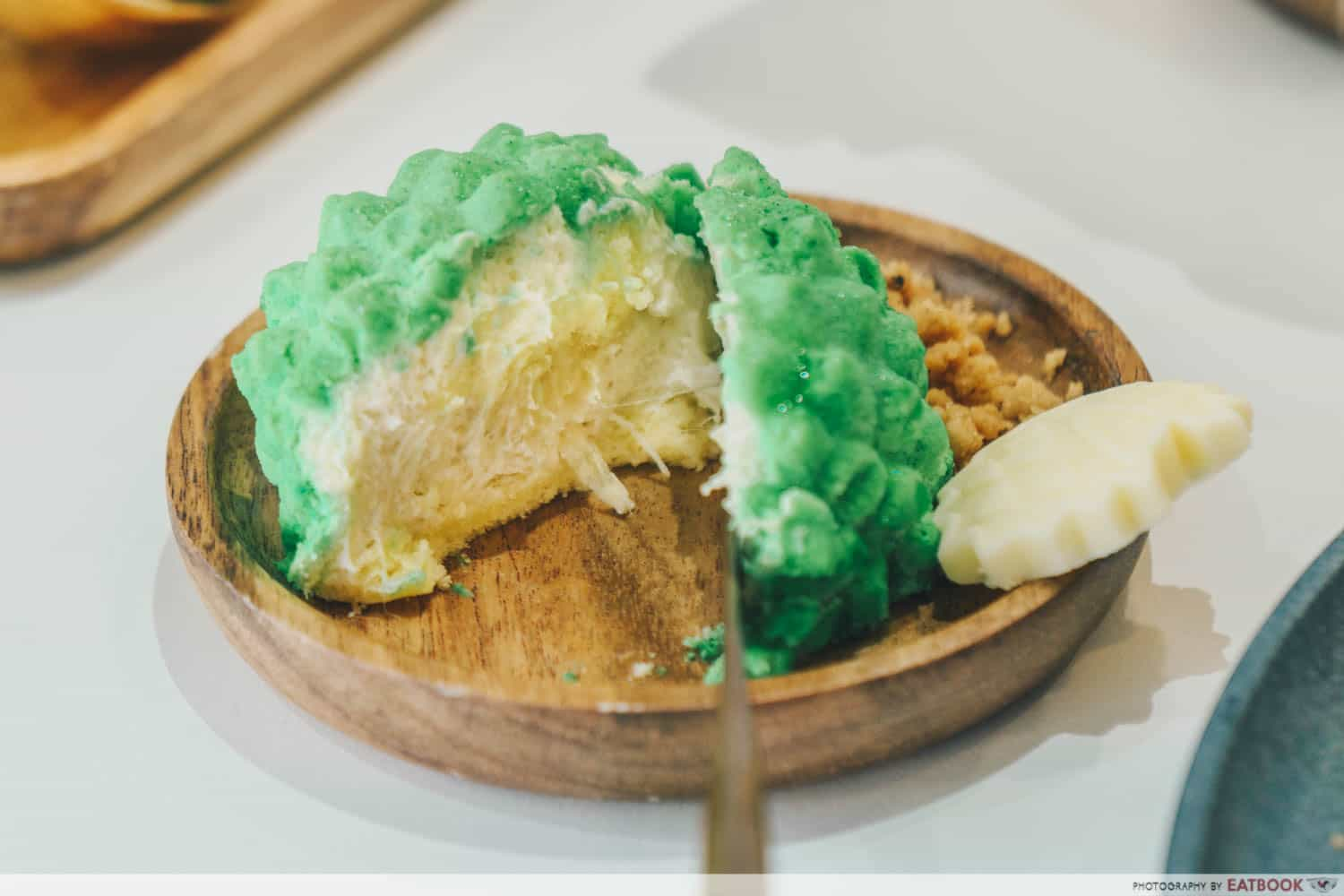 Singapore has witnessed a small boom in durian desserts, as well as standalone cafes serving the King of Fruit. One such cafe is DurianBB, run by the folks behind a prominent durian farm in Malaysia. Their menu stars all-durian desserts, coffees, and bakes, including a Crispy Puff ($3.80), filled with MSW cream, and I'm Burnt St. Sebastian MSW Cheesecake ($8.80), a durian-spiked rendition of the popular burnt cheesecake.
Check out our DurianBB review!
Address: 462 Crawford Ln, #01-65, Singapore 190462
Opening hours: Tue-Sun 2pm to 10pm
Tel: 9245 0788
Website
DurianBB is not a halal-certified eatery.
DurianBB Has A Durian Buffet With Free-Flow MSW, D24 XO And More In Lavender
---
14. Earlybird
---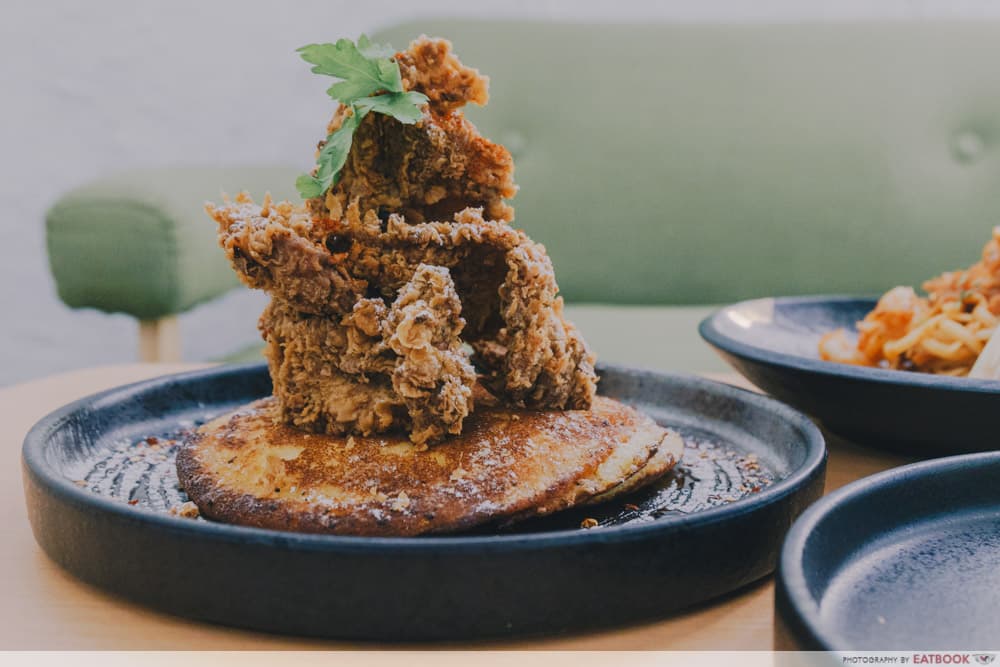 Earlybird serves a menu of all-day breakfast fare, but they are best-known for their Chicken And Pancakes ($19), where a towering hunk of fried chicken is served on maple-dressed pancakes. Apart from the signature, expect the likes of Salmon & Avo ($22), a salad of miso salmon and avocado, or Chilli Scramble ($18), where spicy eggs meet thick-cut bacon and sourdough. Apart from the food, Earlybird also has a pretty alfresco area, decked in sunny yellow, with monochrome furniture that's great for the 'gram.
Check out our Earlybird review! Or read our full guide to brunch cafes in Singapore.
Address: 17 Jalan Pinang Singapore, Singapore 199149
Opening hours: Sun-Fri 9am to 5pm, Sat 9am to 9pm
Tel: 9788 6856
Website
Earlybird is not a halal-certified eatery.
20 Cafes In Singapore For Brunch And Desserts, Including Glasshouse And Minimalist Cafes
---
15. Brotherbird Coffeehouse
---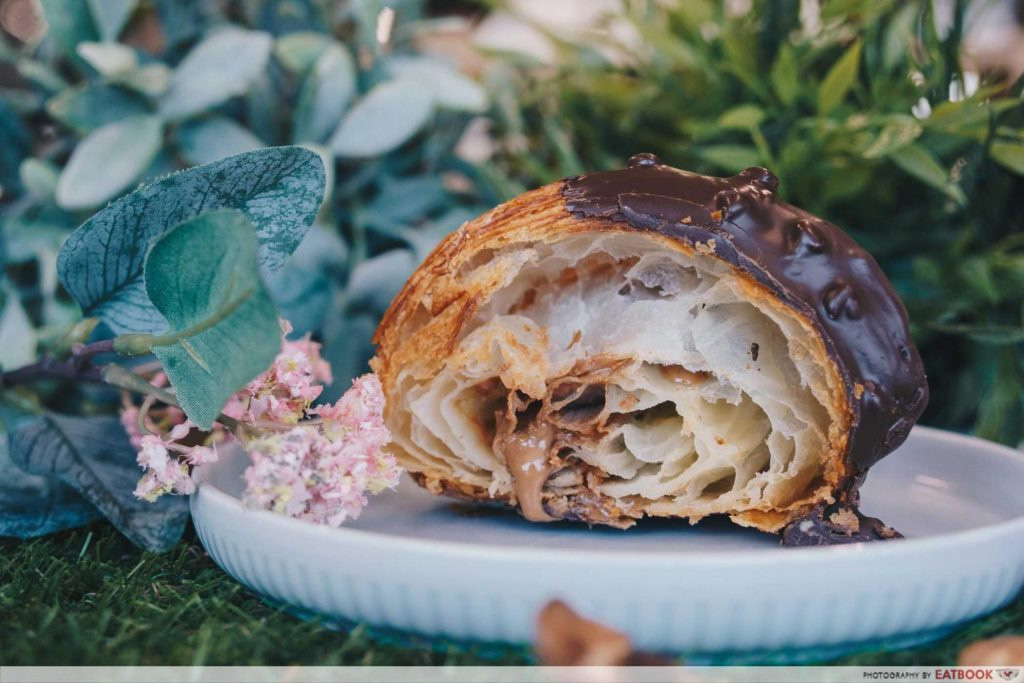 You may know Brotherbird for their sold-out flavoured croissants sold at their flagship Brotherbird Milk & Croissants bakery, but they also have a cafe, Brotherbird Coffeehouse, located in the Bugis 'hood. Apart from their famous pastries, you can also look forward to a small drinks menu with options including Espresso Tonic ($7), Yuri Matcha beverages (from $6), and cold-pressed juices ($7).
Find out more about Brotherbird Coffeehouse's reopening.
Address: 32 Bali Lane, Singapore 189868
Opening hours: Mon-Tue 10am to 4pm, Wed-Sun 10am to 6pm
Website
Brotherbird Coffeehouse is not a halal-certified eatery.
---
16. (working title) Burger Bar
---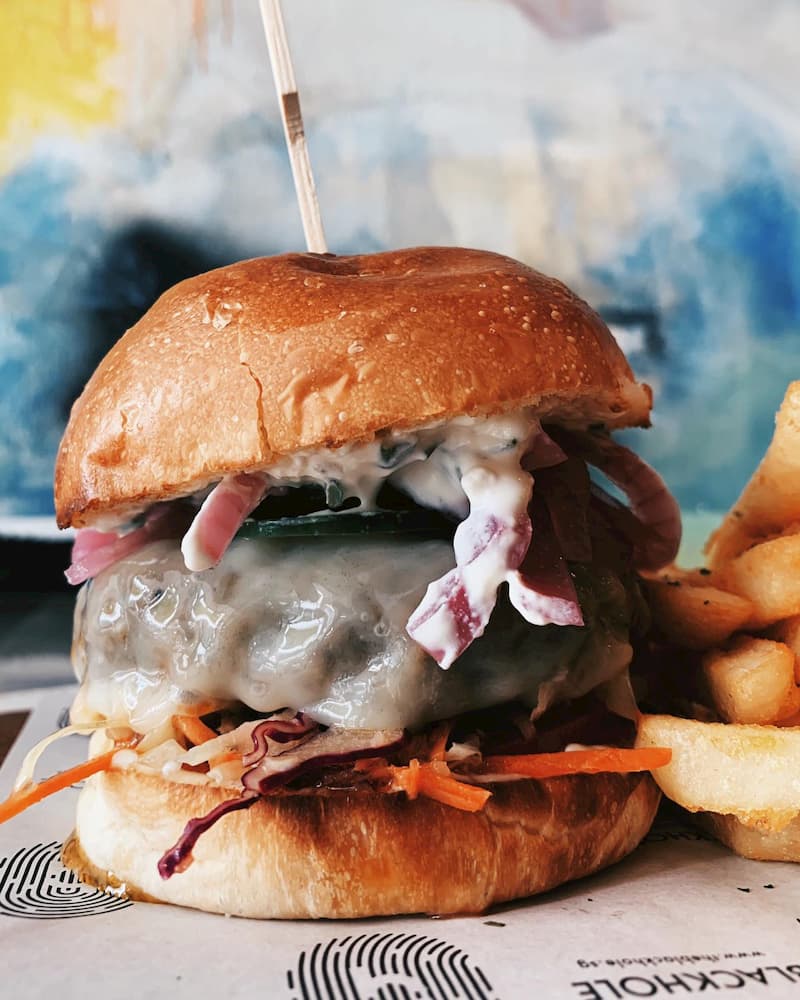 Image credit: (working title)
Halal-certified cafe (working title) also doubles as a burger bar, serving hand-ground gourmet burgers. Choose from the likes of Classic Beef ($16.90++) or Magic Truffle Mushroom ($16.90++), and enjoy it with other sides, such as Truffle Tater Tots ($9.90++) and Ribena Wings ($9.90++). Apart from their burger offerings, they do brunch classics, available from 9am to 3pm daily.
For more on burgers, check out our guide to the best burgers in Singapore!
Address: 783 North Bridge Road, Singapore 198751
Opening hours: Sun-Fri 12pm to 10pm, Sat 12pm to 11pm
Tel: 8768 0463
Website
Halal Burger Joint Working Title To Open On 13 February At Kallang With Ribena Wings And More
---
Café hop around Bugis
---
If you enjoy café hopping as much as I do, you can also check out the newly opened Baristart Coffee for some cute bear shaved ice. There's also an uber minimalist Lee's Confectionary in Jurong if you are looking for a nice café in the West!
This article was originally written on 15 February 2019.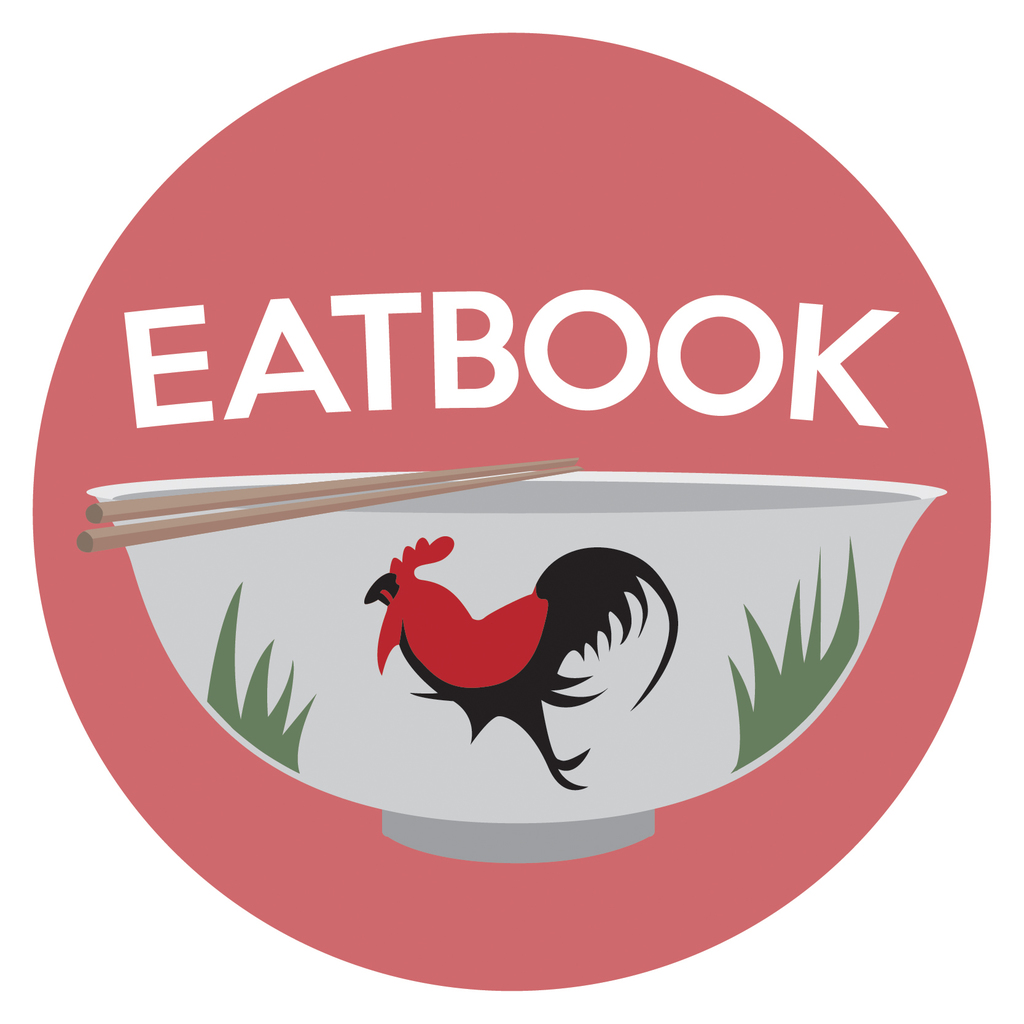 Drop us your email so you won't miss the latest news.