---
City Gate food guide
---
Many were devastated after Golden Mile Complex closed its shutters in May 2023 for redevelopment plans. Yet, there's a silver lining in this: a few popular Thai restaurants and stalls from the now-defunct mall have relocated to the nearby City Gate, a newish mixed-development shopping centre along Beach Road.
Bookmark this list of the 10 best City Gate food places for famous sweet potato balls, legit Thai food, dessert cafes and more!
---
1. Diandin Leluk Thai Restaurant
---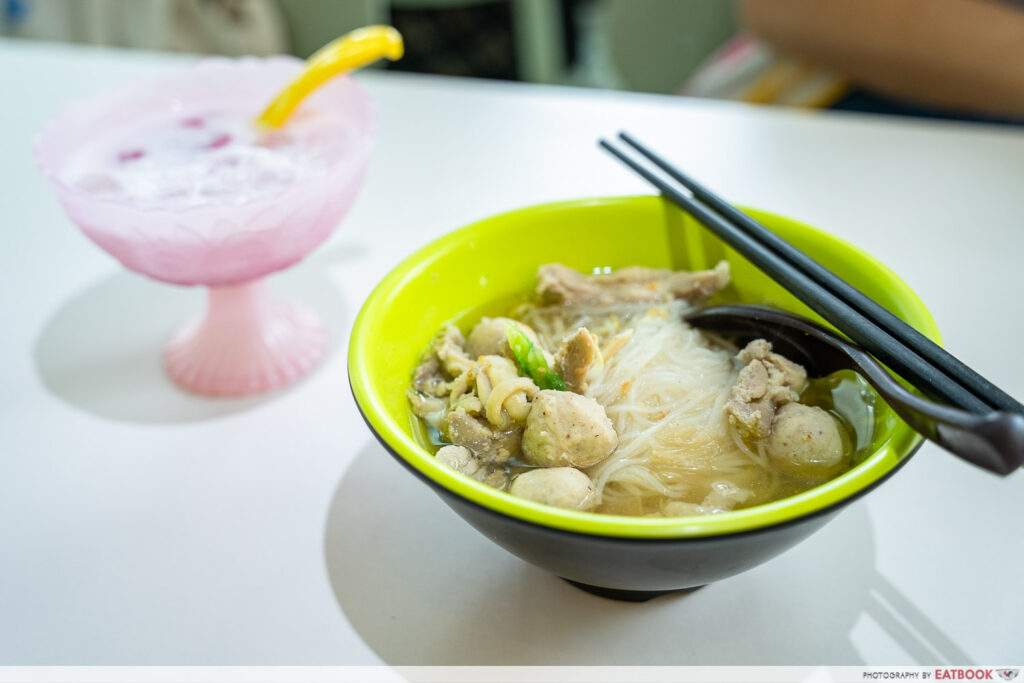 Diandin Leluk Thai Restaurant is a popular Thai eatery that has been around since the 1980s. They first set up shop in Golden Mile Complex in 1985 and have recently moved to the first floor of City Gate.
Here you'll find classics such as Thai Style Noodle Soup with Chicken ($5++), which comprises slippery rice noodles in a clear broth, served with tender chicken slices and bouncy chicken balls.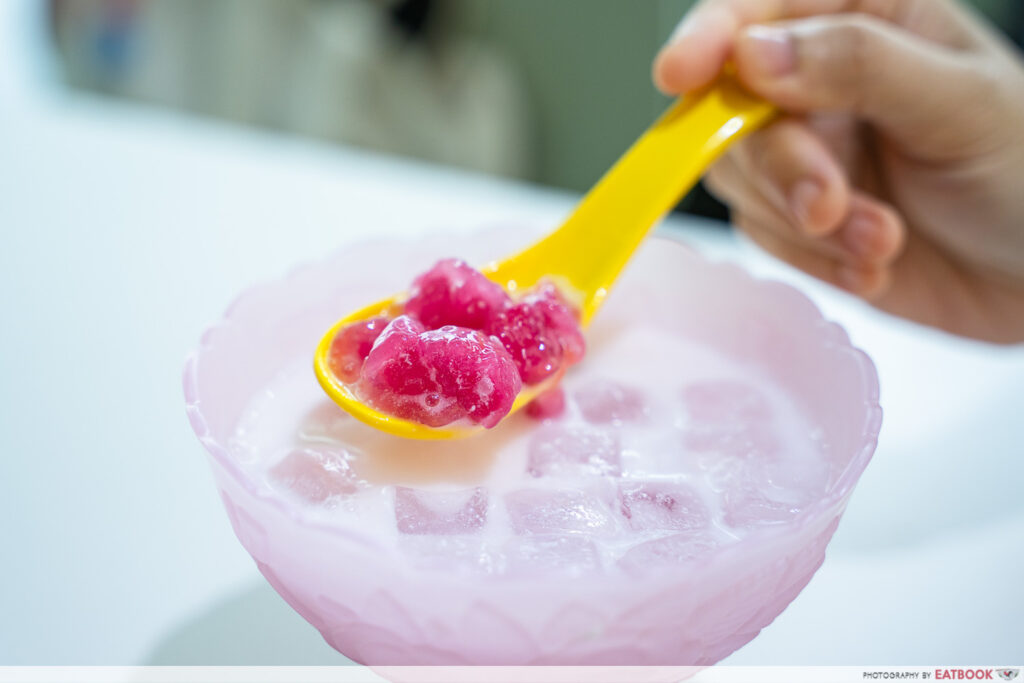 For dessert, you won't go wrong with their Red Ruby ($3++) AKA thapthim krop: a refreshing and creamy treat of coconut milk with chewy pink tapioca chunks.
Unit: #01-17/18
Opening hours: Daily 10am to 10pm
Tel: 9023 9389
Website
Diandin Leluk Thai Restaurant is not a halal-certified eatery.
---
2. Beer Thai House
---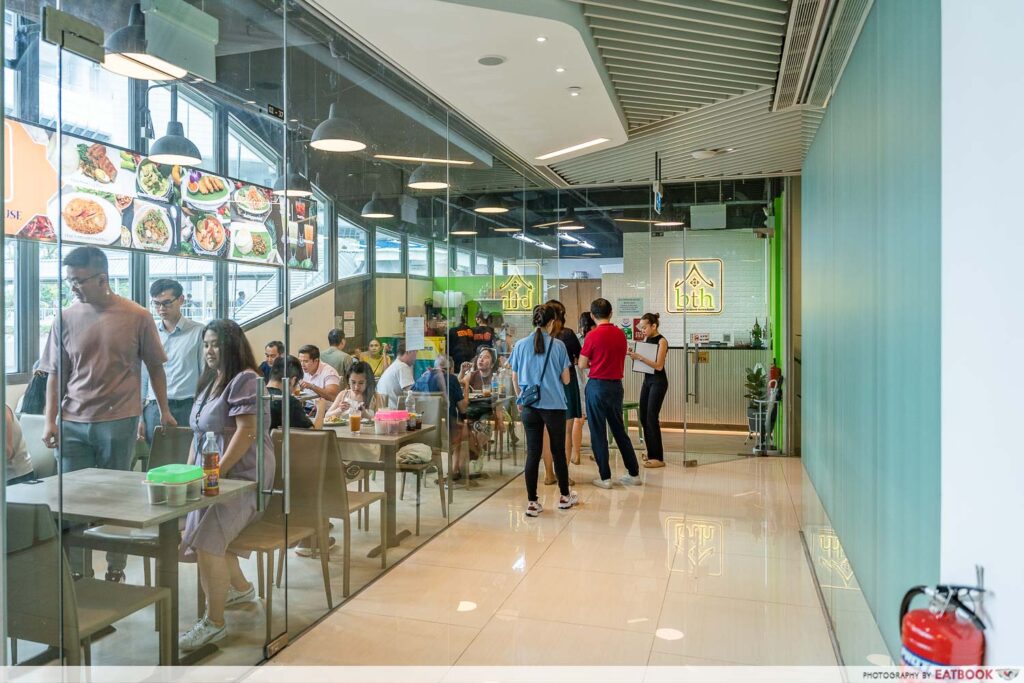 BeerThai House is known for serving unpretentiously good Thai fare at affordable, nett prices. They moved out of Golden Mile Complex in December 2022, and now have two outlets: City Gate and Kitchener Road.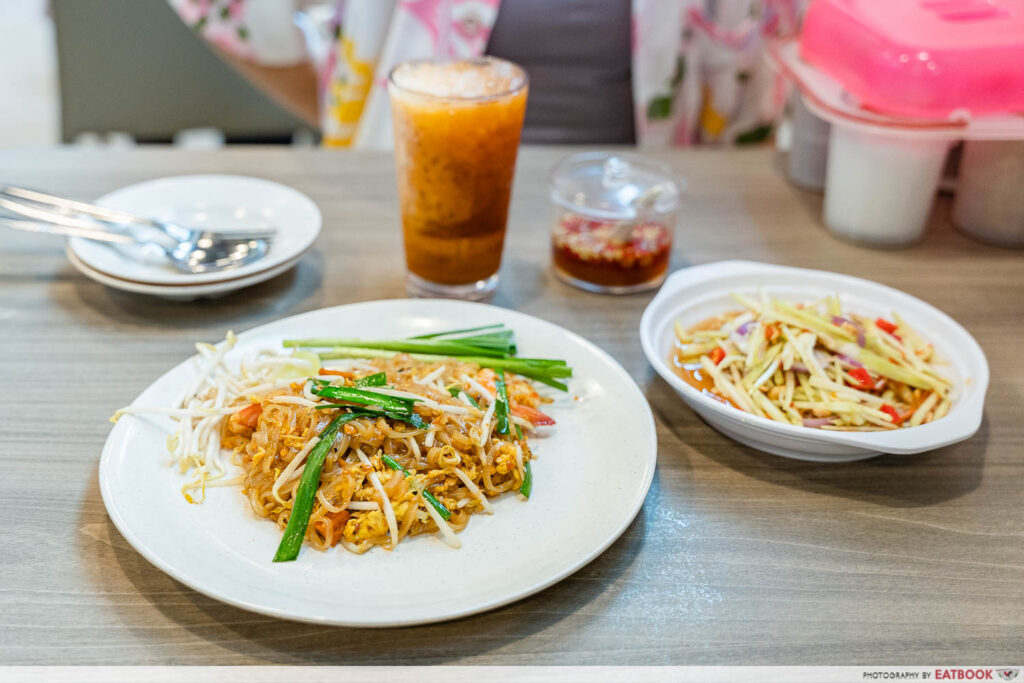 Order their Prawn Phad Thai ($6), which comes with a generous portion of sticky sweet and savoury rice noodles, tossed in the wok with scrambled eggs and prawns. Pair this with a side of Mango Salad ($6), a sweet and spicy Thai-style salad. The food here is on the spicy side, but a cup of Thai Milk Tea ($2) will do the trick to quell your thirst.
Beer Thai House's space is fairly small, so be prepared to queue during peak meal times.
Unit: #02-37
Opening hours: Wed-Fri, Mon 11:30am to 10pm, Sat-Sun 11am to 10pm
Website
Beer Thai House is not a halal-certified eatery.
---
3. Golden Banana
---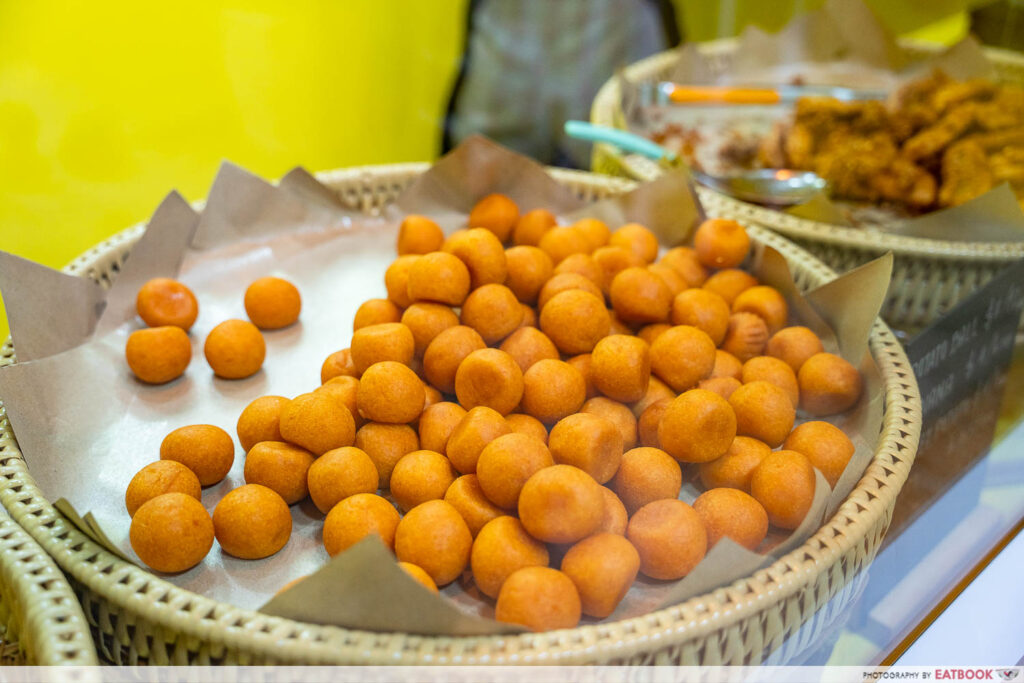 If you used to frequent Golden Mile Complex, you'd be familiar with Golden Banana, a popular kiosk right next to the old Thai supermarket entrance. Good news: they've moved to City Gate, so you can still get your fix of piping hot sweet potato balls and banana fritters!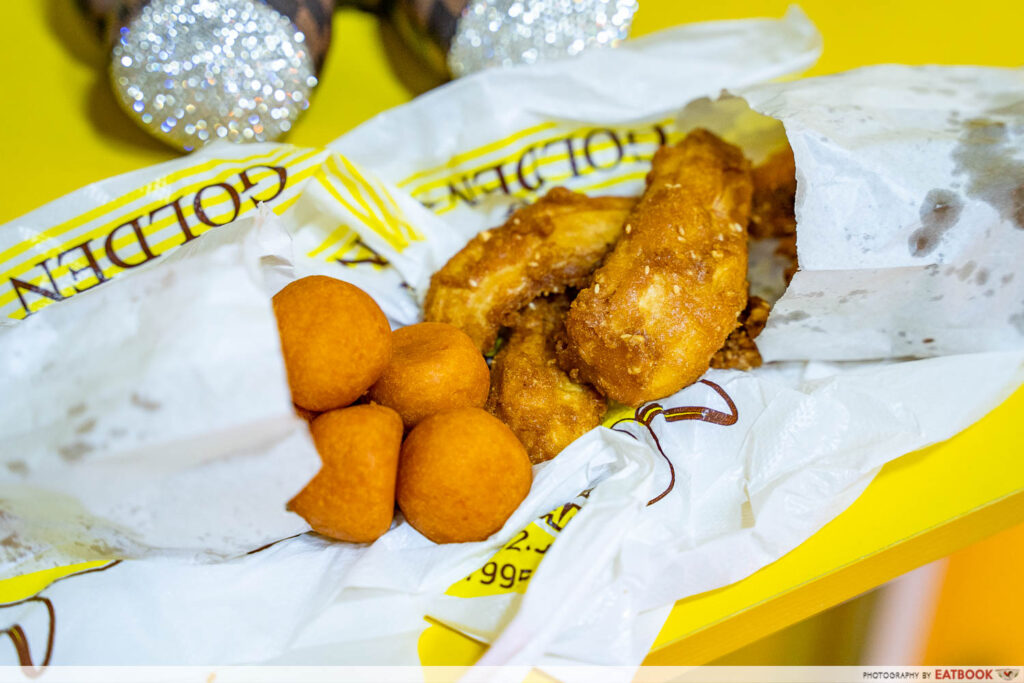 Their Sweet Potato Balls and Banana are the most popular items on the menu. You can get a portion at $4; the former comes with 12 balls, while the latter features 6 chunky pieces. The Sweet Potato Balls boast a QQ interior with a light and crispy batter on the outside. Those who love goreng pisang should try the Thai-style banana fritters, coated in a slightly savoury batter, and deep-fried till crispy ends.
Read our Golden Banana review.
Unit: #02-27
Opening hours: Tue-Sun 11am to 8pm
Tel: 9766 5001
Website
Golden Banana is not a halal-certified eatery.
Golden Mile's Famous Sweet Potato Balls And Thai Banana Fritters Are Now At Beach Road
---
4. Garang Grill Express
---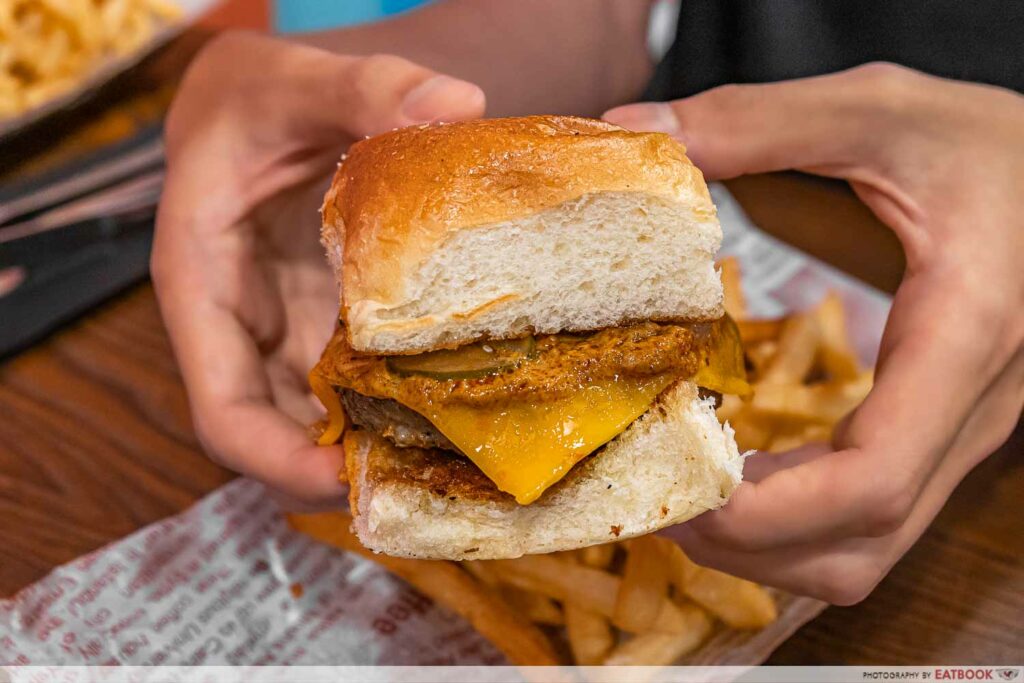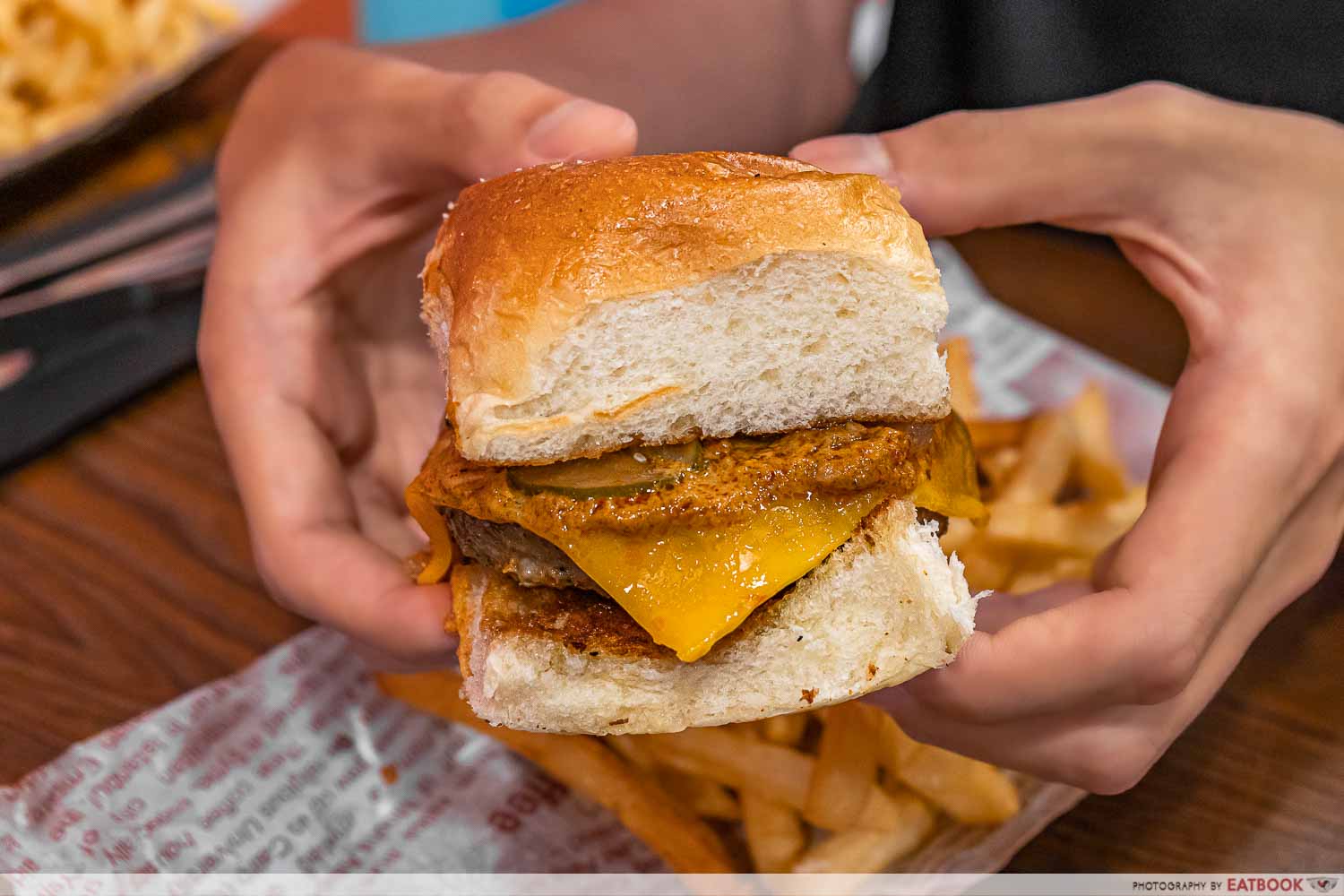 Garang Grill Express is a  relatively new Western fusion eatery by the renowned New Ubin Seafood Group. Here they serve a sloppy Smoked Burger – Raya's Rendang ($17.50), a cheeseburger zhnged up with a piquant rendang sauce. There's also a unique buah keluah version at the same price, if you prefer something distinctly rich and earthy.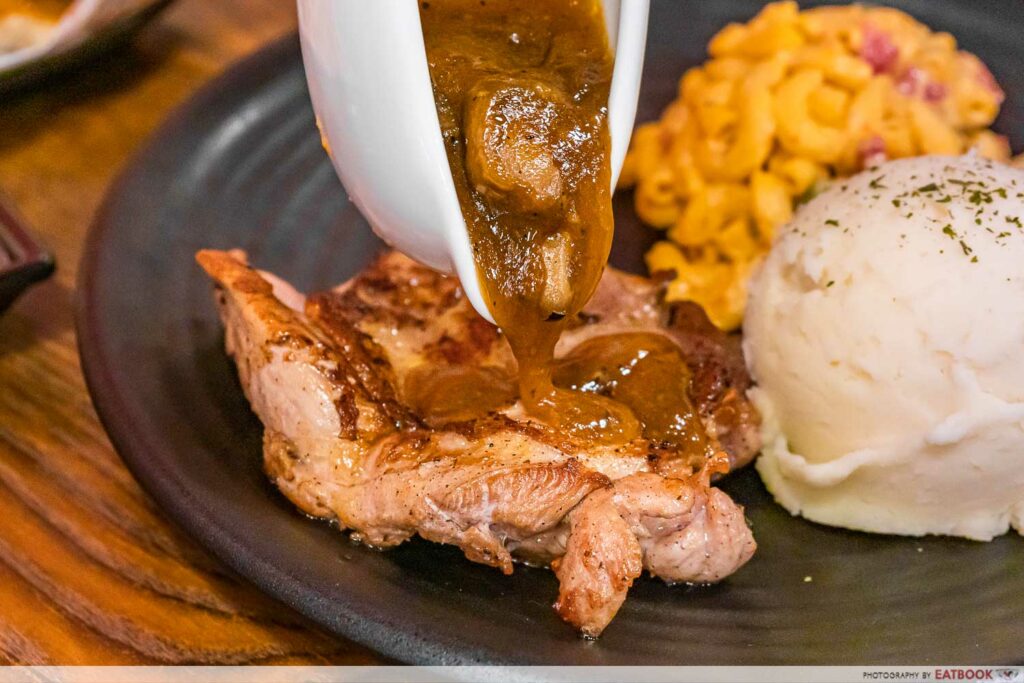 You'll also find Western plates here, including the Mushroom Chicken Chop ($11.90), which lets you pick two sides. We got ours with mashed potatoes and Mexican cheese pasta, AKA mac and cheese with bell peppers, for a double hit of carby goodness.
Read our Garang Grill Express review!
Unit: #02-29
Opening hours: Tue-Sun 11am to 9:30pm
Tel: 9740 6870
Website
Garang Grill Express is not a halal-certified eatery.
Garang Grill Express Review: Fusion Western Food By New Ubin Seafood Founders At Beach Road
---
5. Sinful Cakes
---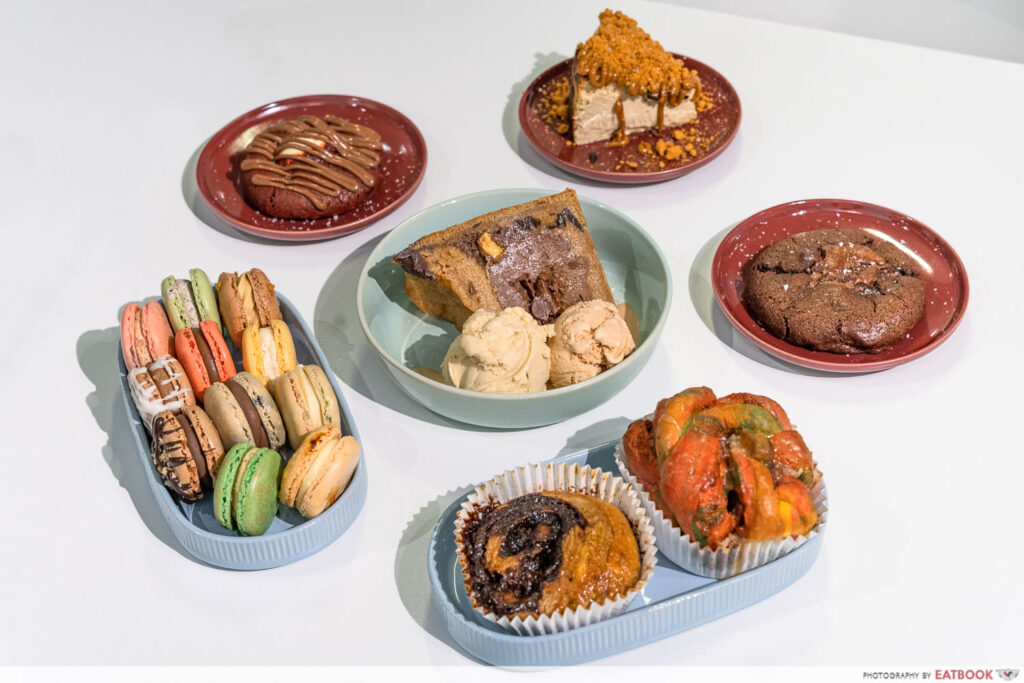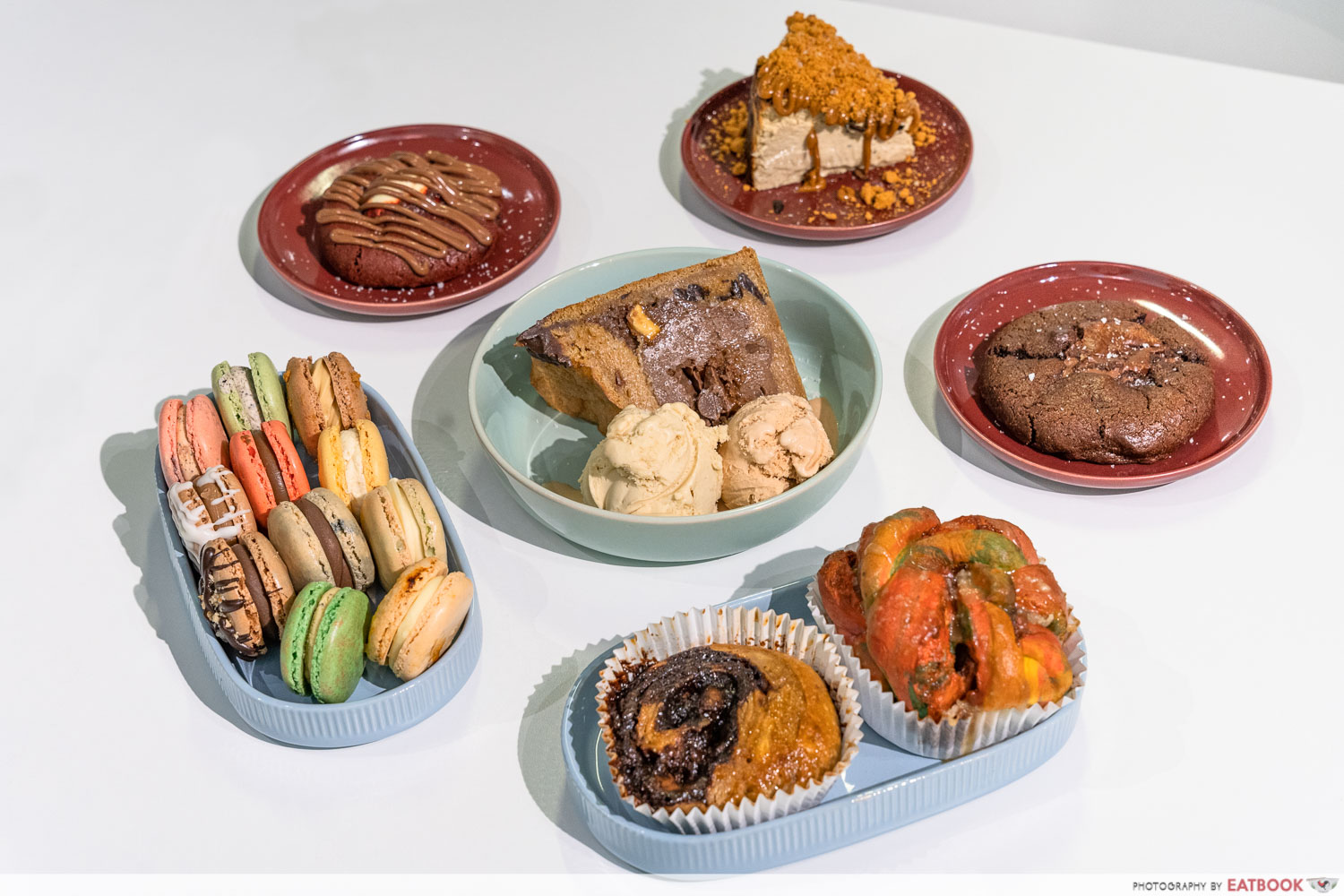 Those with a sweet tooth can end their meal at Sinful Cakes, a Muslim-friendly cake with IG-worthy macarons, brioche doughnuts, lava cookies and more. Tuck into their bestselling macarons, available in 12 flavours including Horlicks, Fruity Pebbles, and Teh Tarik. These flavours change on a monthly basis, so you'll get to try something new each time.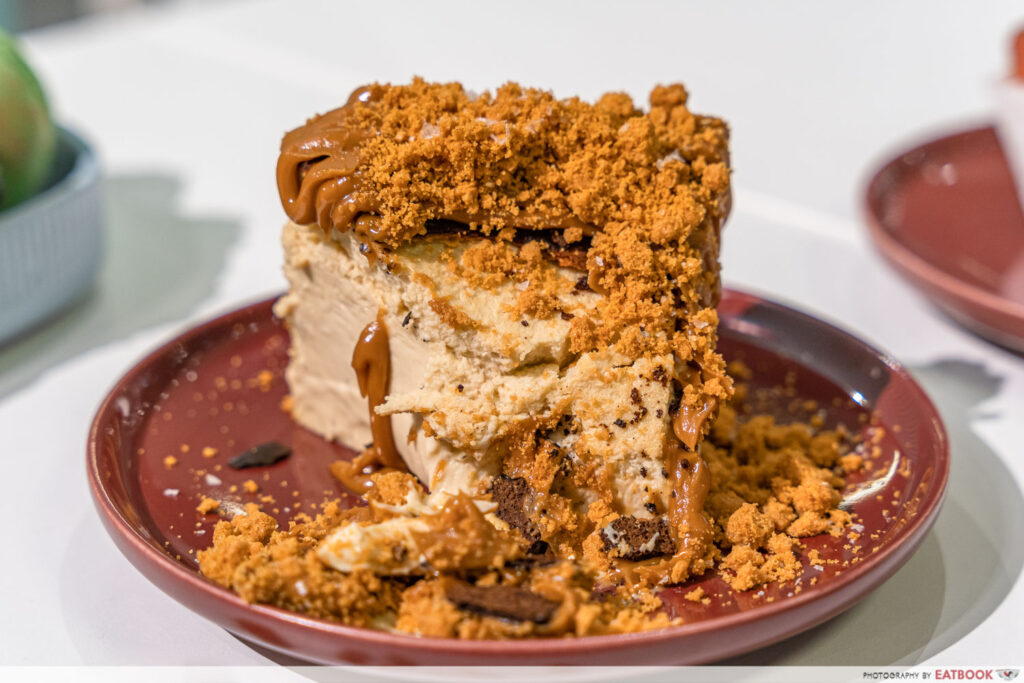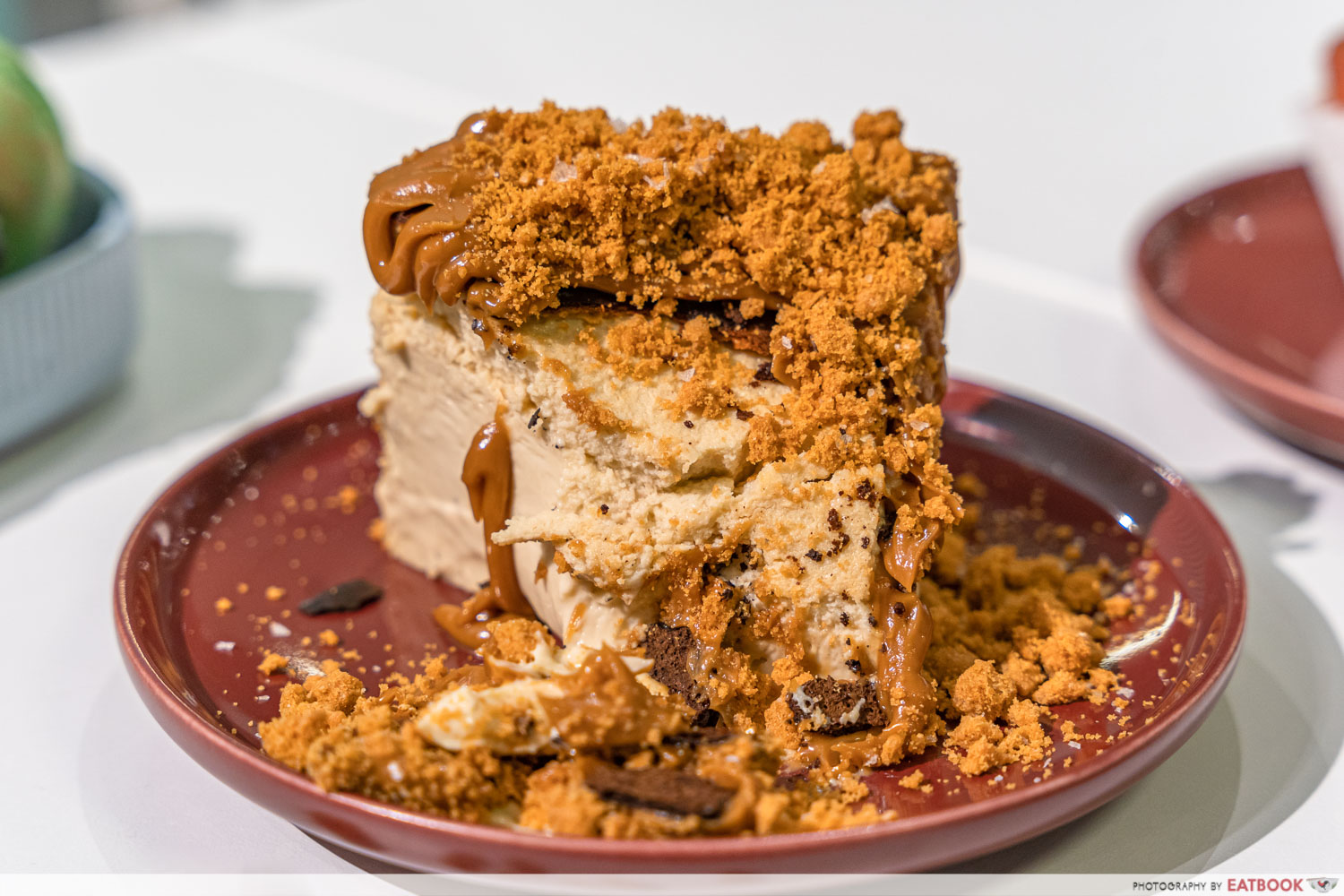 Another signature is the Lotus Biscoff Basque Cheesecake, which goes for $13.75 a slice or $55 for the whole cake. This monster of a slice is loaded with caramelised cookie spread mixed into cheesecake, topped with even more of that same spread and crumbled Biscoff biscuits.
Check out our Sinful Cakes review!
Unit: #02-44/45
Opening hours: Tue-Sun 12pm to 8pm
Website
Sinful Cakes is not a halal-certified eatery, but is Muslim-owned
Sinful Cakes Reopens In Bugis With IG-Famous Macarons, Cookie Cake And Rainbow Cinnamon Bun
---
6. Nuodle
---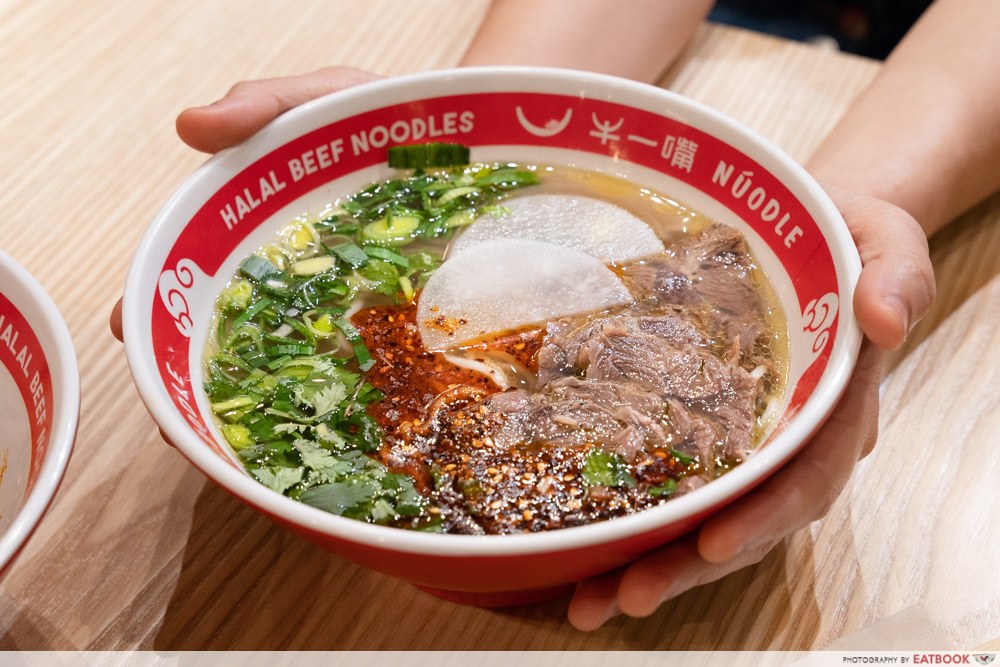 Halal beef noodles are hard to come by, but you'll find exactly that and more at Nuodle's City Gate branch. This halal chain is popular for their Signature Beef La Mian ($8.85++), a hearty main comprising a generous portion of noodles of your choice, paired with thin beef slices, in a flavourful broth.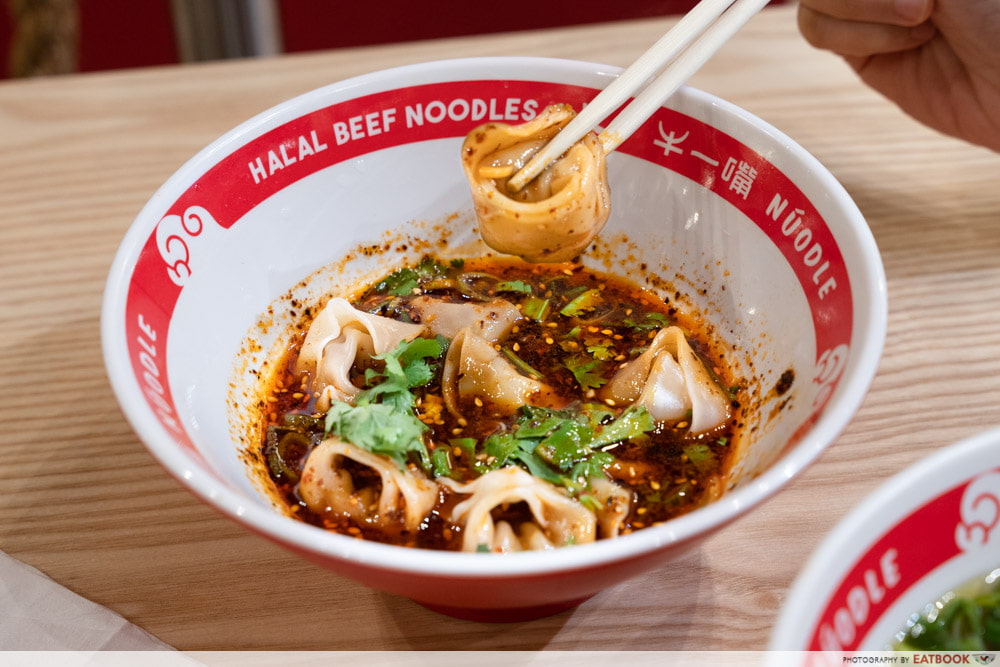 If you're still feeling peckish, add on a serving of Hot & Spicy Beef Wonton ($8.55++) to share; this dish gets you 10 plump dumplings tossed in a savoury, spicy chilli oil sauce. Set meals are also available from $12.25++, and come with a drink and a side.
Read our Nuodle review!
Unit: #01-14
Opening hours: 11am to 9pm
Tel: 8624 5339
Website
Nuodle is a halal-certified eatery.
---
7. Flying Pig
---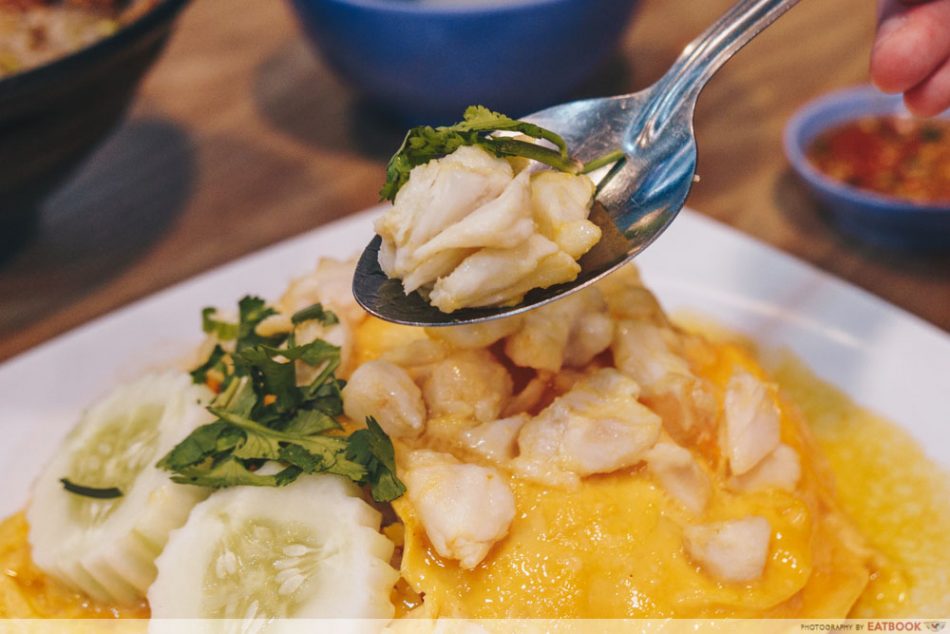 While fairly new—they've only been around since 2021—Flying Pig is a popular ex-Golden Mile eatery known for their value-for-money omelette fried rice. Their signature Fried Rice Omelette Crab ($12) is a must-try; this main comes with a creamy, savoury egg omelette blanketed over rice, topped with chunks of crab meat. There's also a zhnged-up version with prawns and crab at $19.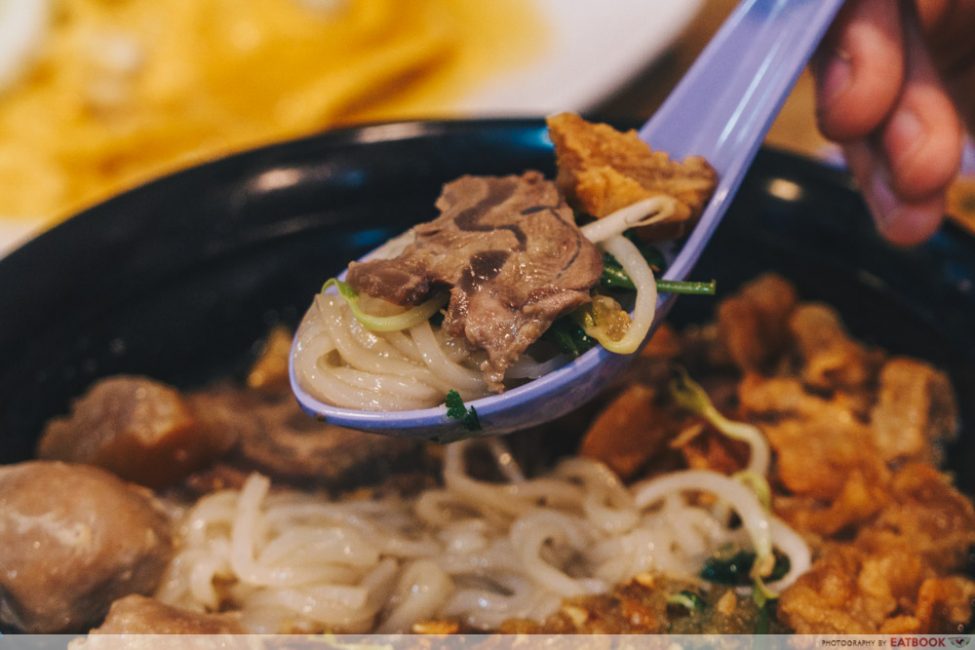 If noodles are your go-to carb, get the Beef Noodle Soup ($8), a comforting bowl of beef tendon, beef balls, QQ Thai rice noodles sitting in a piping hot broth. Crunchy pork lard is added to the mix for an extra boost of flavour and richness.
Read our Flying Pig review!
Unit: #02-03
Opening hours: Thurs-Tue 11:30am to 9:30pm
Tel: 8818 0139
Website
Flying Pig is not a halal-certified eatery.
---
8. Synergy Coffee
---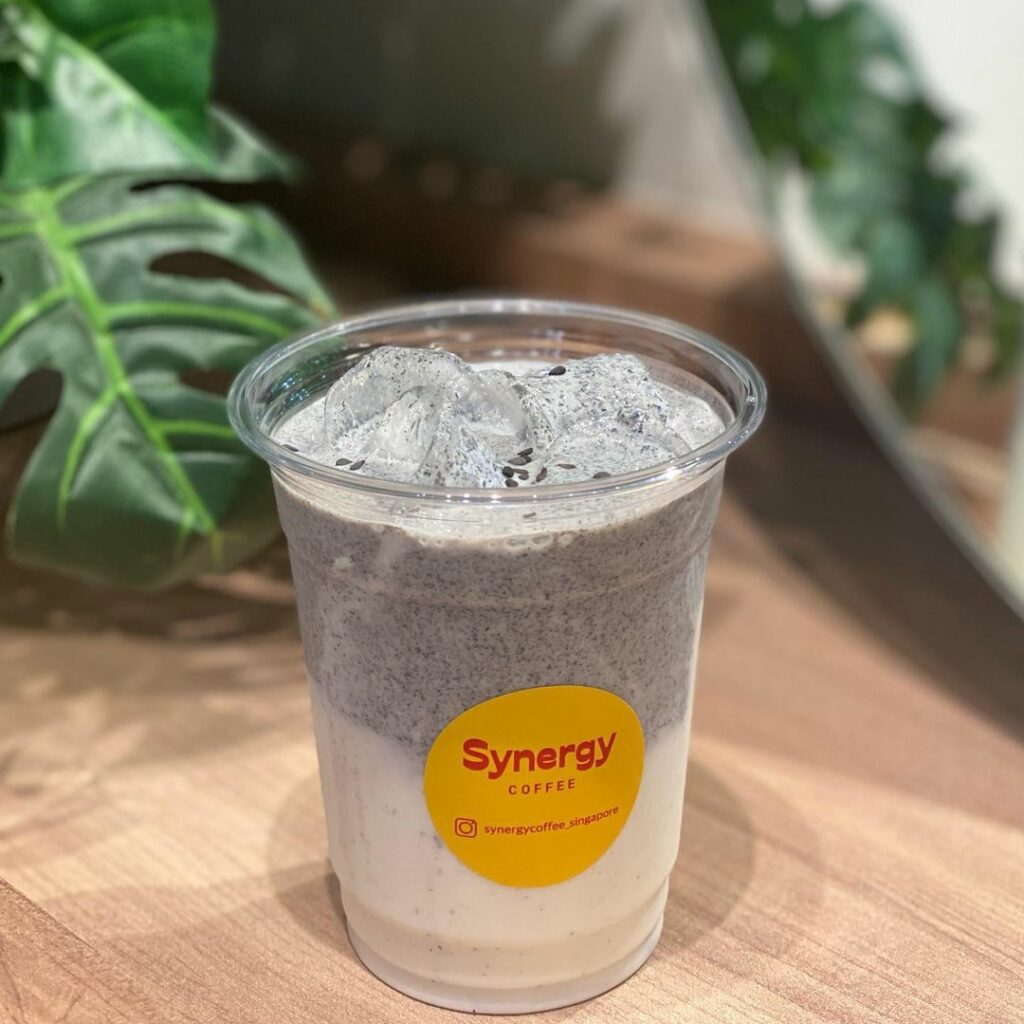 Image credit: @synergycoffee_singapore
Synergy Coffee is a cosy cafe with a few seats for dine-in, but most folks prefer grabbing their cuppa to-go. Their seasonal Black Sesame Latte (price TBD), which combines fresh espresso with milk and a creamy, nutty sesame paste, is a good choice if you love all things goma. They also have other interesting caffeinated drinks, such as Biscoff Latte (from $6) and their house special, Synergy Coffee (from $5.50): caramel latte topped with cream.
Pair your coffee with a light snack; their croffles are priced from an affordable $3.50 for the Original version, served with maple syrup. There's also a unique Chicken Floss flavour at $4.50!
Unit: #01-49
Opening hours: Tue-Fri 8:30am to 4:30pm, Sat-Sun 9am to 5pm
Website
Synergy Coffee is not a halal-certified eatery.
---
9. Mia Tavola
---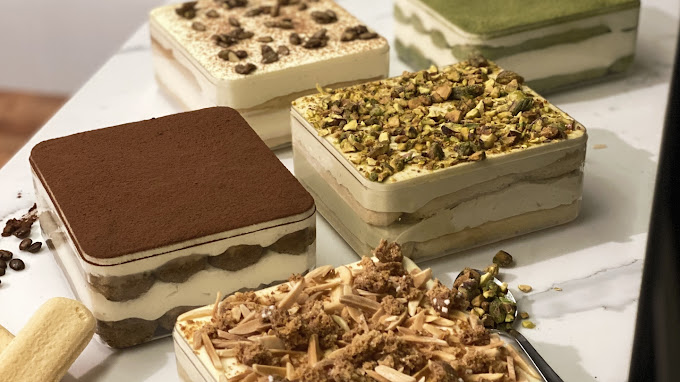 Image credit: Mia Tavola
Italian diner and deli Mia Tavola was previously featured in our list of the best tiramisu in Singapore. The pasta and desserts here are based on Italian-American Chef Nick's family's recipes, based down from generation to generation. Their Tiramisu is a best-seller; you get to pick from a variety of flavours including Original, Pistachio, Almond-Amaretto, and Limoncello. Those who don't take alcohol can try their Asian-inspired Matcha or Black Sesame flavour instead. These are priced at $34 for a small size, and go up to $92 for a large square of 20cm by 20cm.
Unit: #B1-22
Opening hours: Tue 9am to 1pm, Wed-Sun 9am to 4pm
Tel: 9372 6736
Website
Mia Tavola is not a halal-certified eatery.
---
10. I Love Thai Mart
---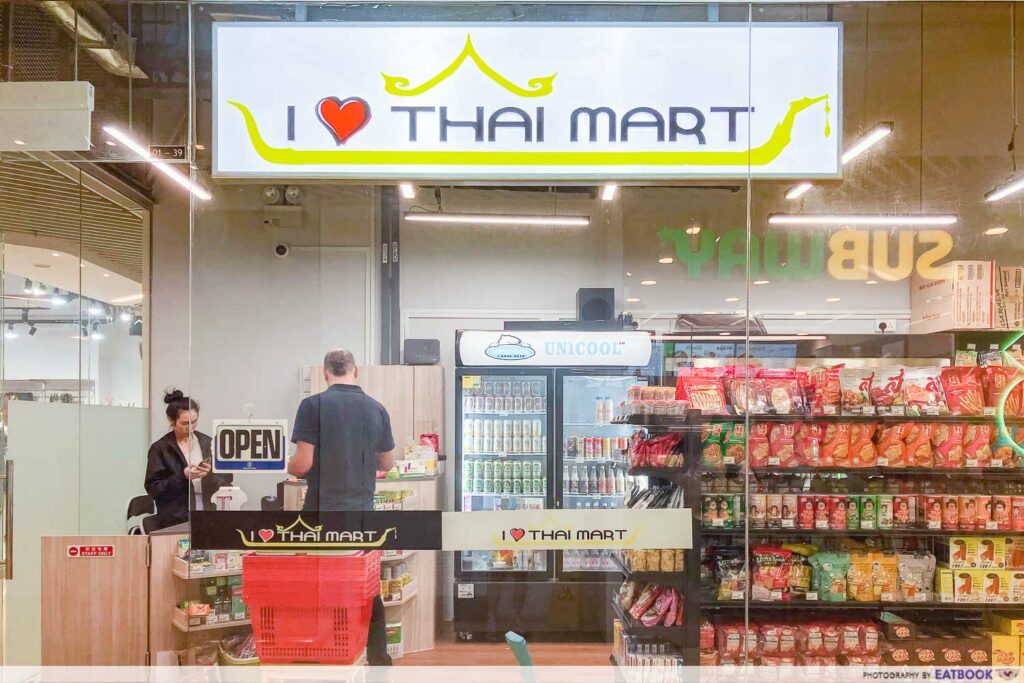 Popular Golden Mile snack shop I Love Thai Snacks has relocated to City Gate and rebranded to I Love Thai Mart. Located on the first floor of the mall, the nondescript convenience store is stocked with all your favourite snacks from Thailand, including a wide array of cup noodles, rice crackers, and potato chips in a variety of Thai-exclusive flavours. You'll also find Thai milk tea blends by the famous ChaTraMue Brand, so you can DIY your own cha yen at home.
Unit: #01-39/40
Opening hours: Daily 10am to 9pm
Tel: 9889 1350
I Love Thai Mart is not a halal-certified store.
---
Where to eat in City Gate
---
City Gate is directly connected to Nicoll Highway MRT Station, a short three-minute walk away. Bookmark this list the next time you're in the Beach Road or Bugis area, and you're looking for delicious Thai food and snacks!
If you're up for more Thai food content, read our Warm Up Cafe review. This restaurant serves legit Thai-style crab omelette rice and boat noodles in an alfresco setting. Otherwise, read our guide to the best Thai food in Singapore for delicious tom yum, pad thai and more.
Warm Up Cafe Review: Legit Thai Boat Noodles, Crab Omelette Rice And More In Little India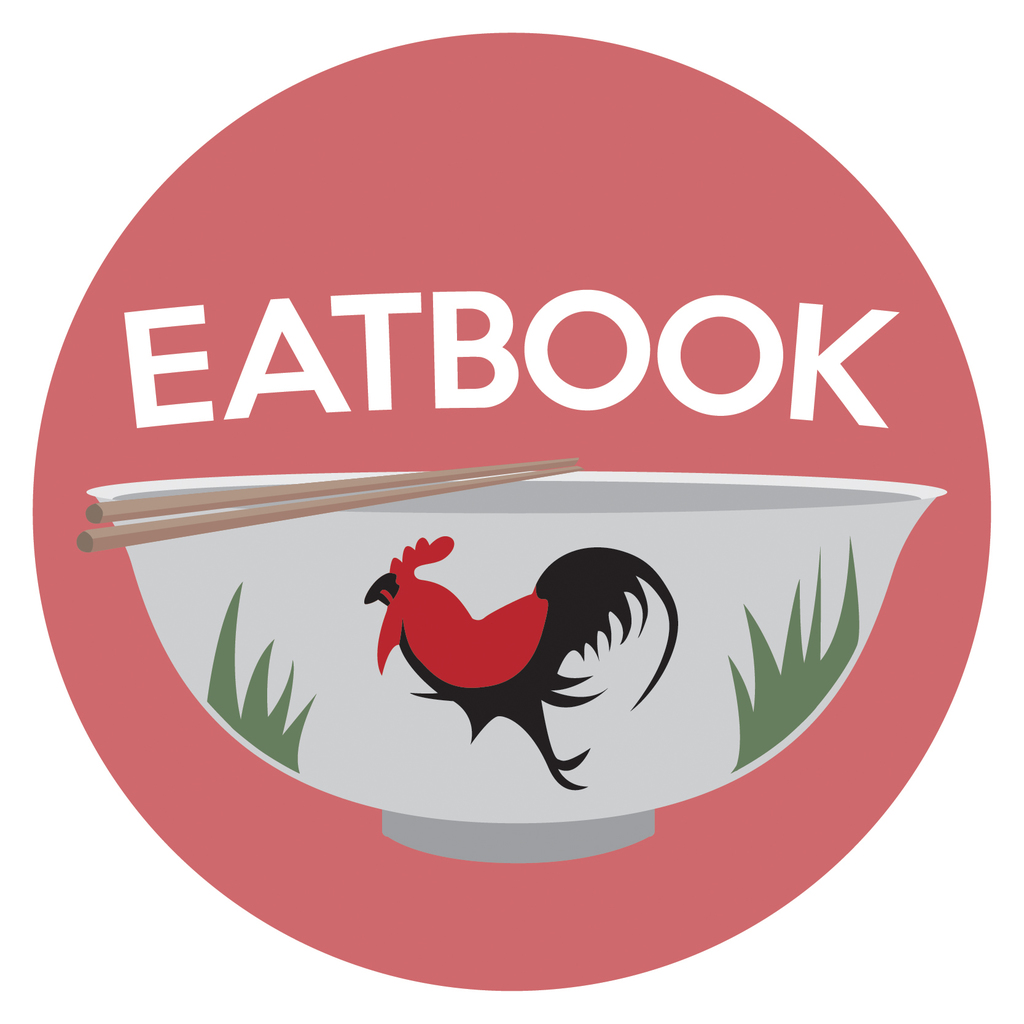 Drop us your email so you won't miss the latest news.