Flying Pig located in Golden Mile Complex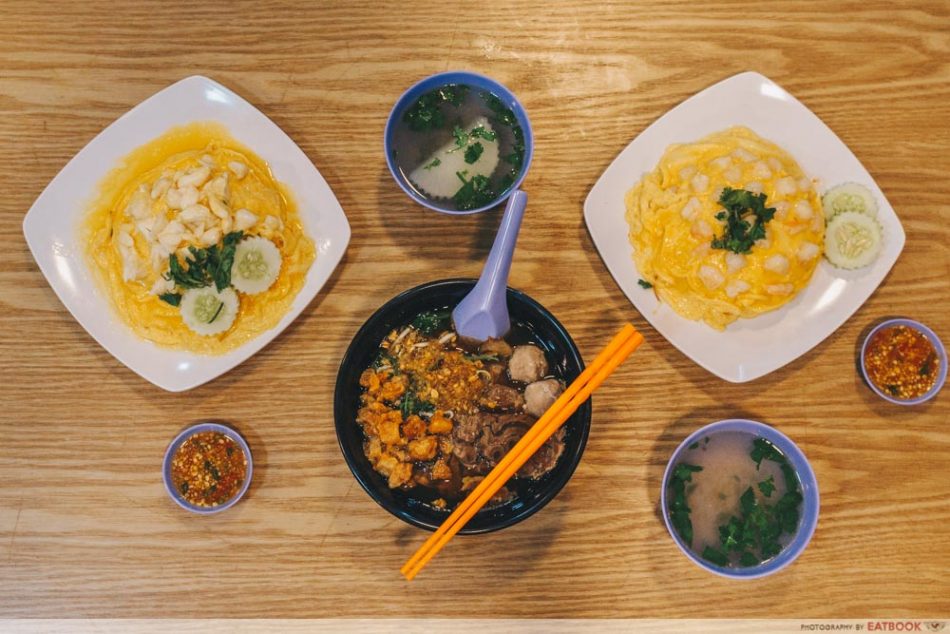 One thing Singaporeans absolutely love is seafood, and it's not surprising seeing how Thai dishes like crab meat omelette rice have become a popular trend around the city. Enter Flying Pig, a new restaurant serving such Thai delicacies including that famed omelette rice, situated in Golden Mile Complex. 
They opened last September and have been attracting a steady slew of customers since. This is due to their eye-catching crab meat omelette rice, where the dish was popularised by one Michelin-starrred Bangkok eatery, Raan Jay Fai, featured on Netflix's Street Food. Flying Pig brought this unique dish to Singapore, proving a big hit with the local crowd.
Food at Flying Pig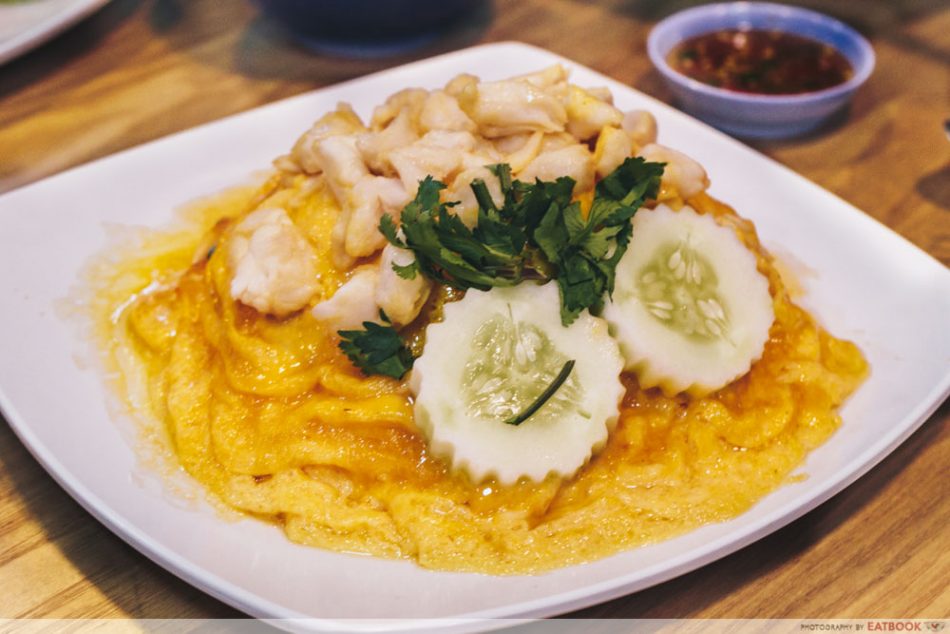 Their star attraction is their Crab Omelette Rice ($10), and rightfully so. Presentation-wise, it looks really inviting, with large, visible crab meat chunks resting on top of a fluffy omelette, enveloping a bed of white rice.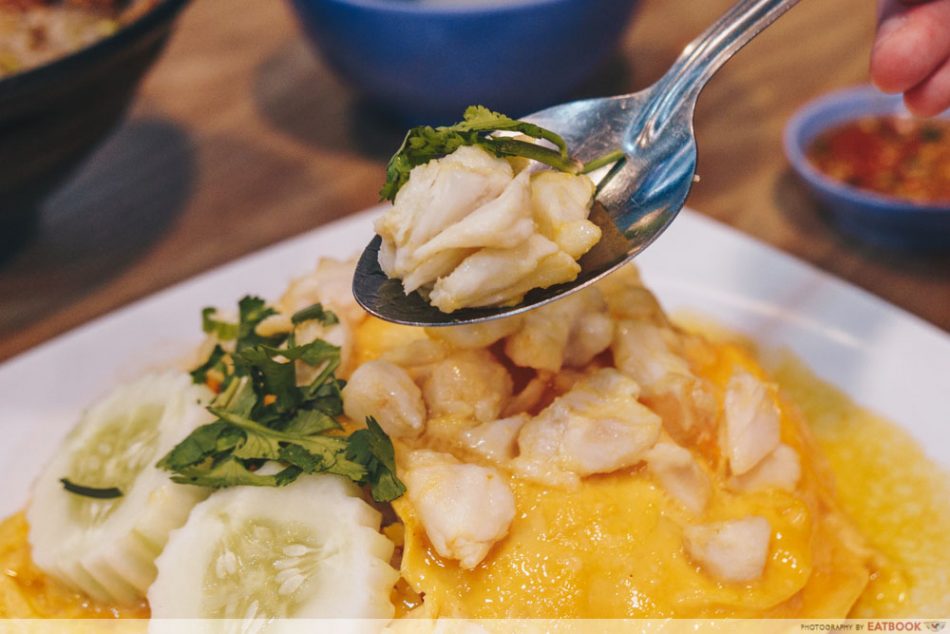 The crab meat's freshness was brought out by how sweet and juicy it was. The omelette was well done, rich and creamy with a buttery aftertaste that added flavour to the plain white rice.
For $10, you get a generous enough serving of crab meat to go with your savoury egg omelette rice, as well as a side of their house-made tangy yet slightly sweet chilli to complement the dish. I was completely won over by their version.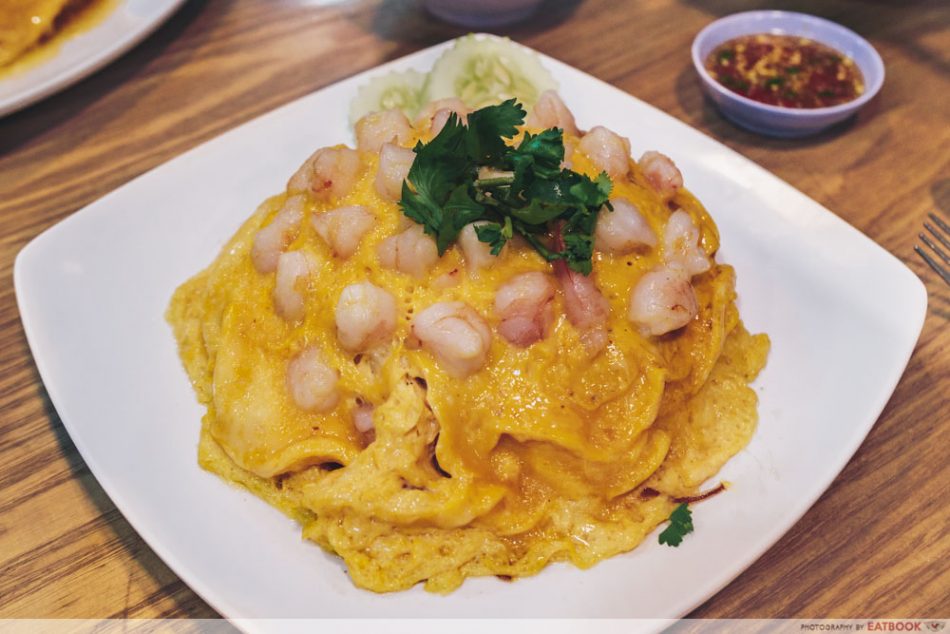 If prawns are your preferred seafood, don't fret. Their Prawn Omelette Rice ($10) is equally satisfying, albeit a little less hyped up by the public. Their juicy prawns are completely deshelled, perfect for lazy people, myself included.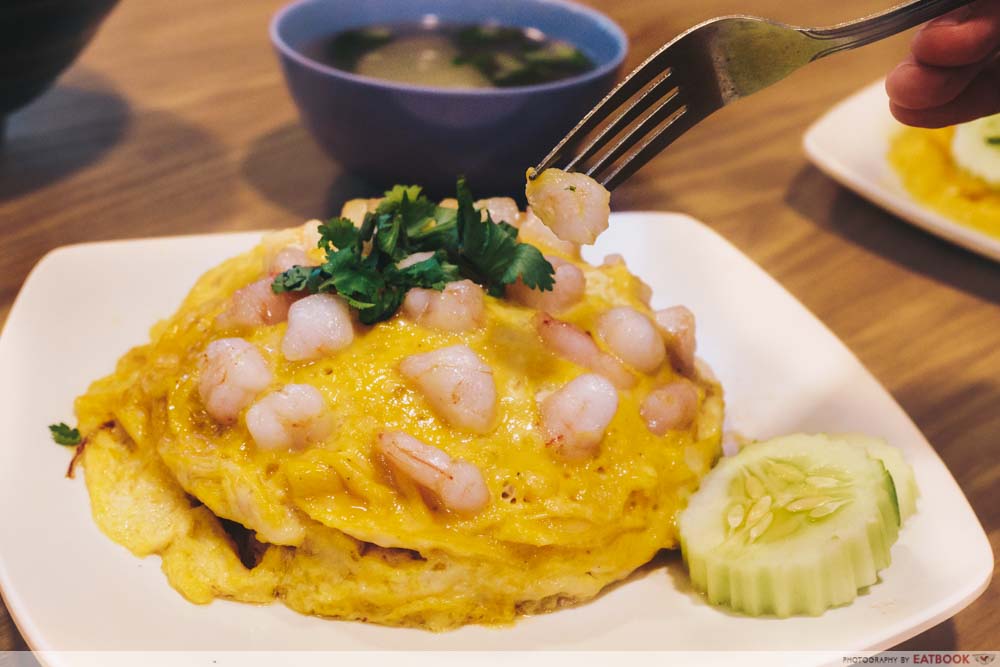 The prawns added texture, providing a nice bite to the smooth omelette and rice combo. Yet, I feel like the prawns were smaller in size than what was advertised on their social media pages, but I can't really complain as they were abundant in quantity.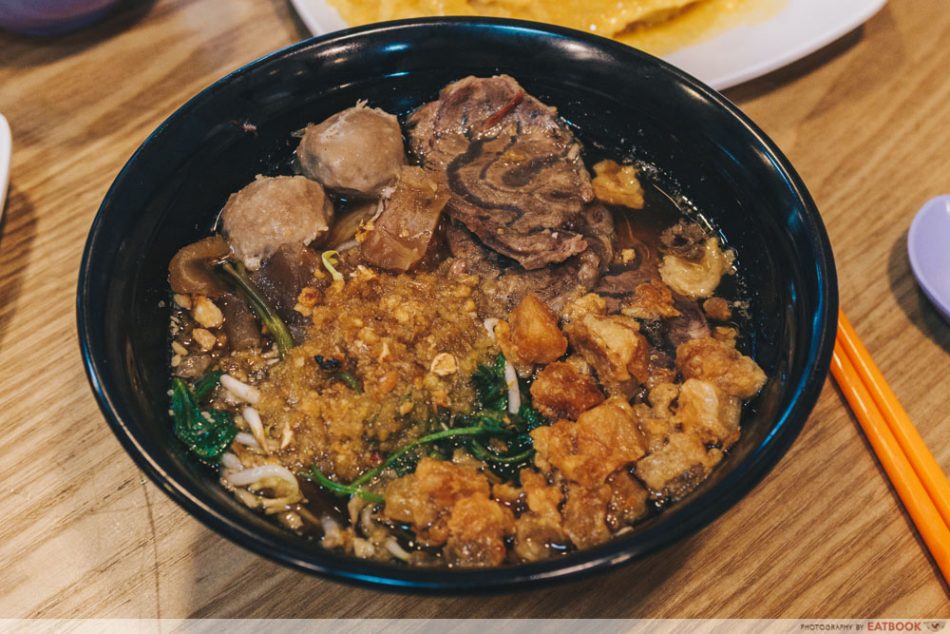 Their signboard proudly proclaims that they are the "Noodle Queen", so we had to at least try one noodle dish to see how they matched up. Their Beef Noodle Soup ($7) came with a good selection of ingredients such as beef tendon, beef balls, and tons of fried lard in a piping hot broth.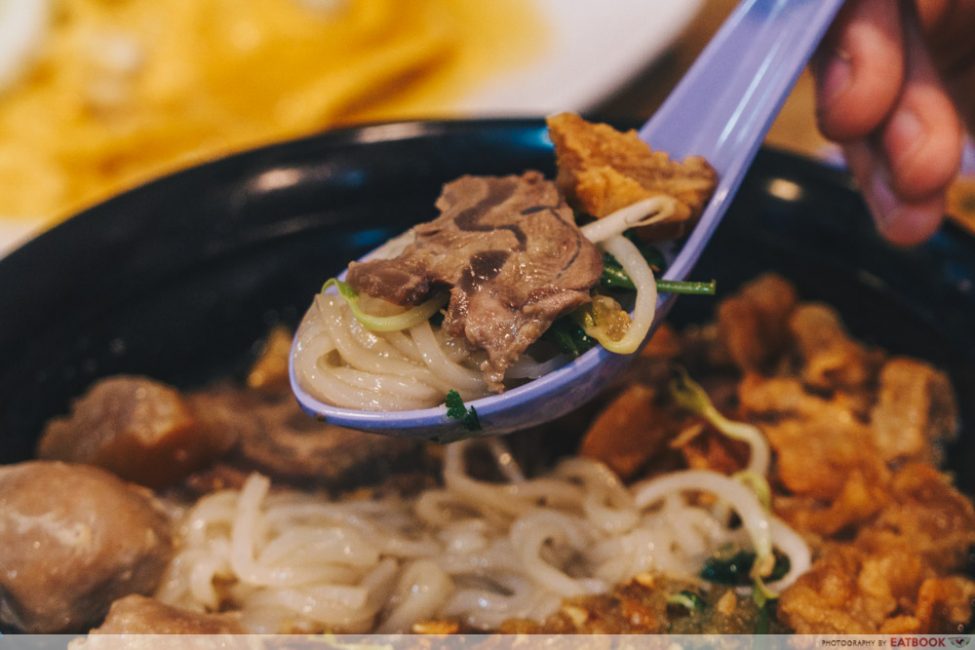 They give you the liberty to choose your noodle type, like yellow egg noodles and glass noodles. We chose their rice noodles, which were really QQ . The noodles absorbed the flavours of the broth well, each bite laced with a nice balance of sweetness and saltiness from the soup. 
The broth was light and flavourful, but got a touch too salty after a while.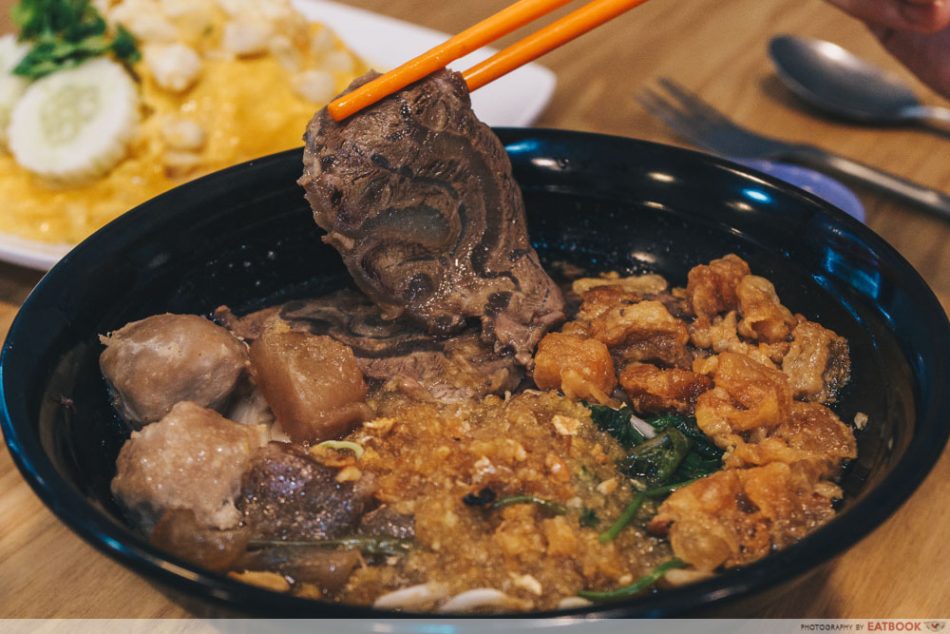 The variations of beef provided a mix of textures, from the jelly-like tendons to the firm beef balls.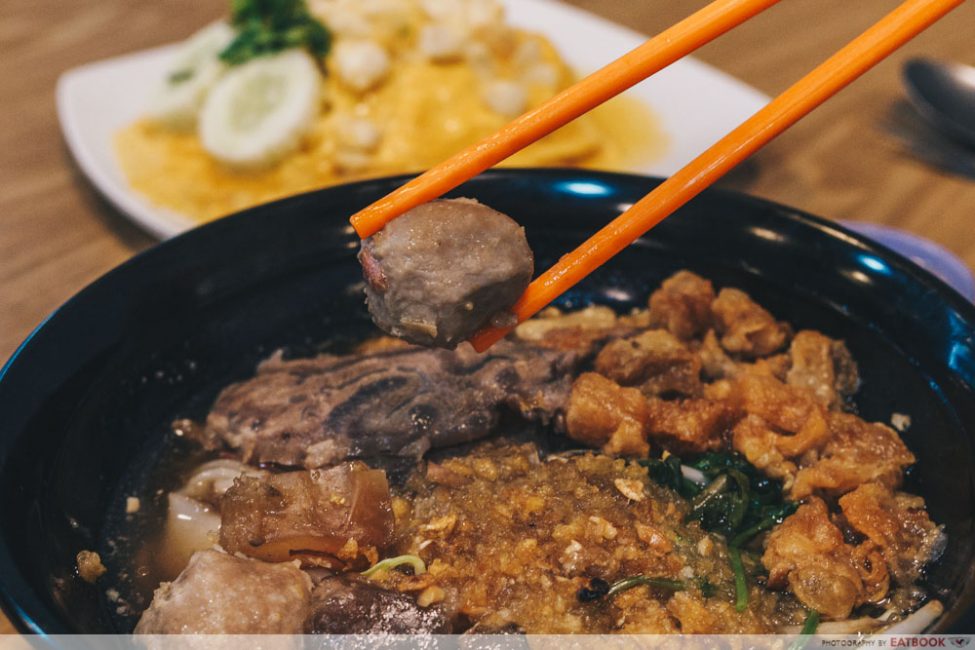 Ambience at Flying Pig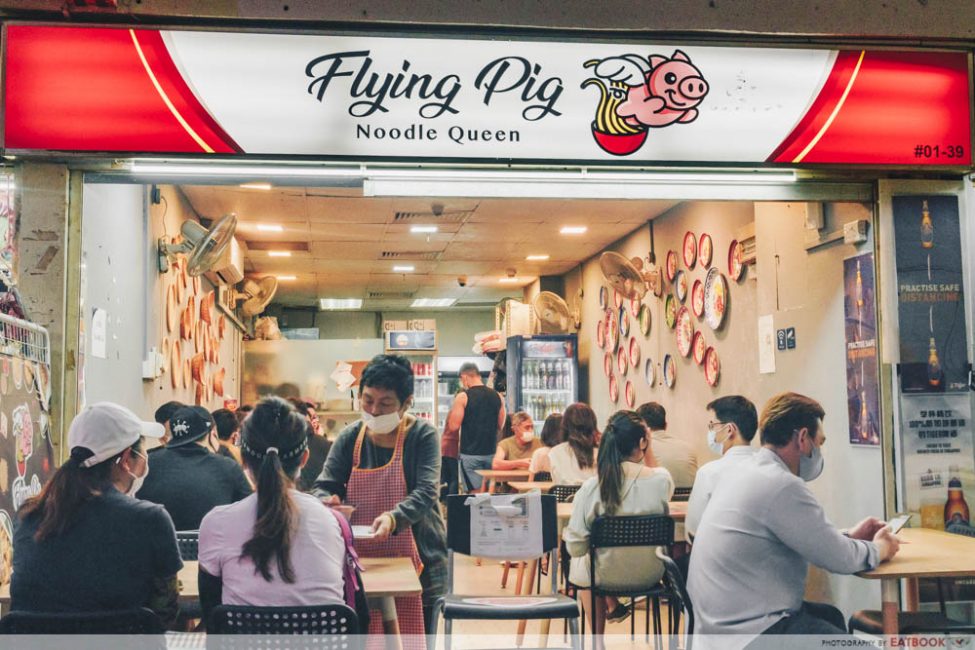 Flying Pig is conveniently found at the first floor of Golden Mile Complex, walking distance from Lavender and Nicoll Highway MRT Stations. On a weekday lunchtime, the wait was about 30 to 45 minutes long, with a long line stretching outside of the shop.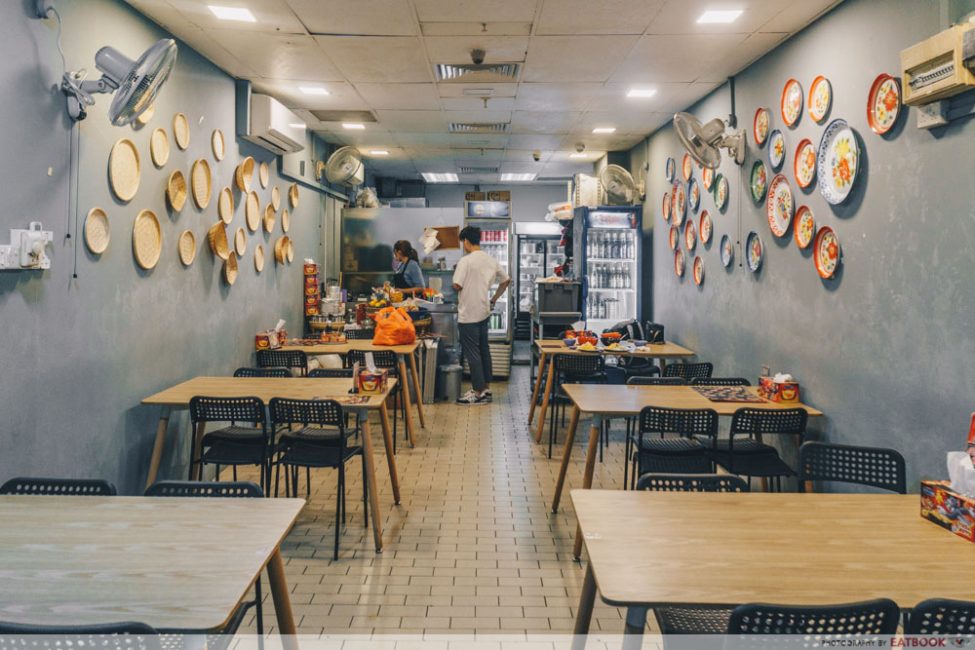 The restaurant itself seats about 30 to 40 people, with tables arranged in close proximity in their smaller shop space. The atmosphere itself is quite cosy but can get stuffy, especially with more customers filling up seats due to their growing popularity.
The verdict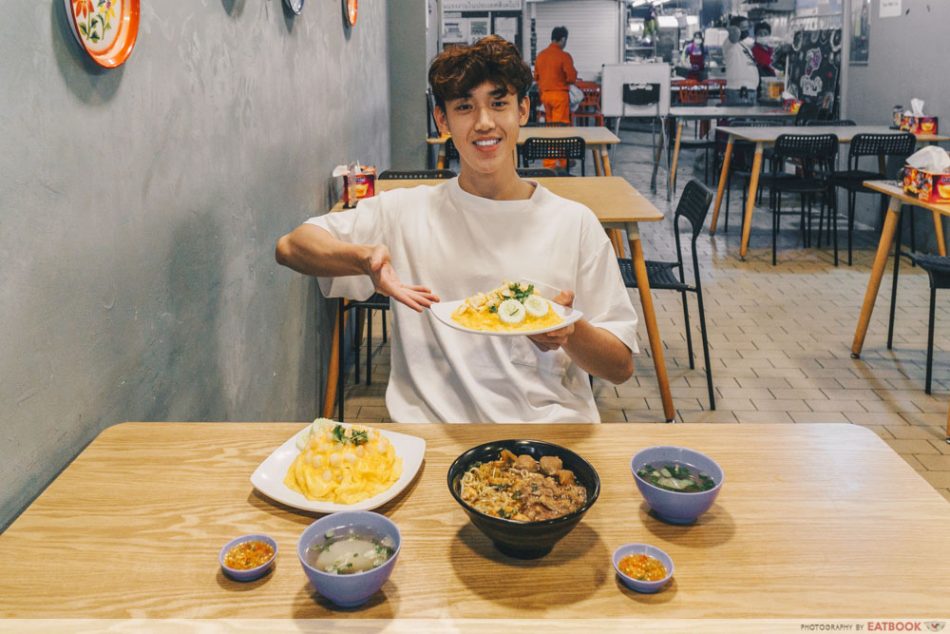 Not a big fan of queueing myself, I initially didn't understand why people saw the need to stand in line for so long just to sit uncomfortably and eat Thai food. But, Flying Pig proved me wrong, justifying its hype.
The crab meat omelette rice is a refreshing addition to the Thai food scene in Singapore, as we now know where to get our dose of BKK's famed street food dish. The prawn omelette rice and beef noodle soup were great dishes to try too, but their crab meat omelette rice really stole the show.
We would definitely return to try other favourites such as their Big Omelette Rice Platter ($29), with toppings like crab meat, prawns, garlic and basil pork, making it ideal for sharing with friends or family.
If you're looking for other Thai food places, check out our Pratunam Famous Chicken and Pork Leg Rice review for Thai street food at affordable prices in Geylang. Alternatively, read our Wan Wan Thai Cafe review for Thai desserts like milk tea bingsu in town.
Address: 5001 Beach Road, #01-39, Golden Mile Complex, Singapore 199588
Opening hours: Mon, Wed-Sun 12pm to 3pm, 5pm-10.30pm
Tel: 8168 4590
Website
Flying Pig is not a halal-certified eatery.
Pratunam Famous Chicken And Pork Leg Rice Review: Thai Chicken Rice And Pork Skewers In Geylang
Photos taken by Nur Syamira.
This is an independent review by Eatbook.sg.
Flying Pig Review: $10 Thai Crab Meat Omelette Rice And More At Golden Mile Complex
Summary
Pros
– Crab meat omelette rice is unique and delicious
– Prices are affordable and portions are generous
Cons
– Beef noodle soup can be a bit too salty
Recommended dishes: Crab Omelette Rice ($10)
Opening hours: Mon, Wed-Sun 12pm to 3pm, 5pm-10.30pm
Address: 5001 Beach Road, #01-39, Golden Mile Complex, Singapore 199588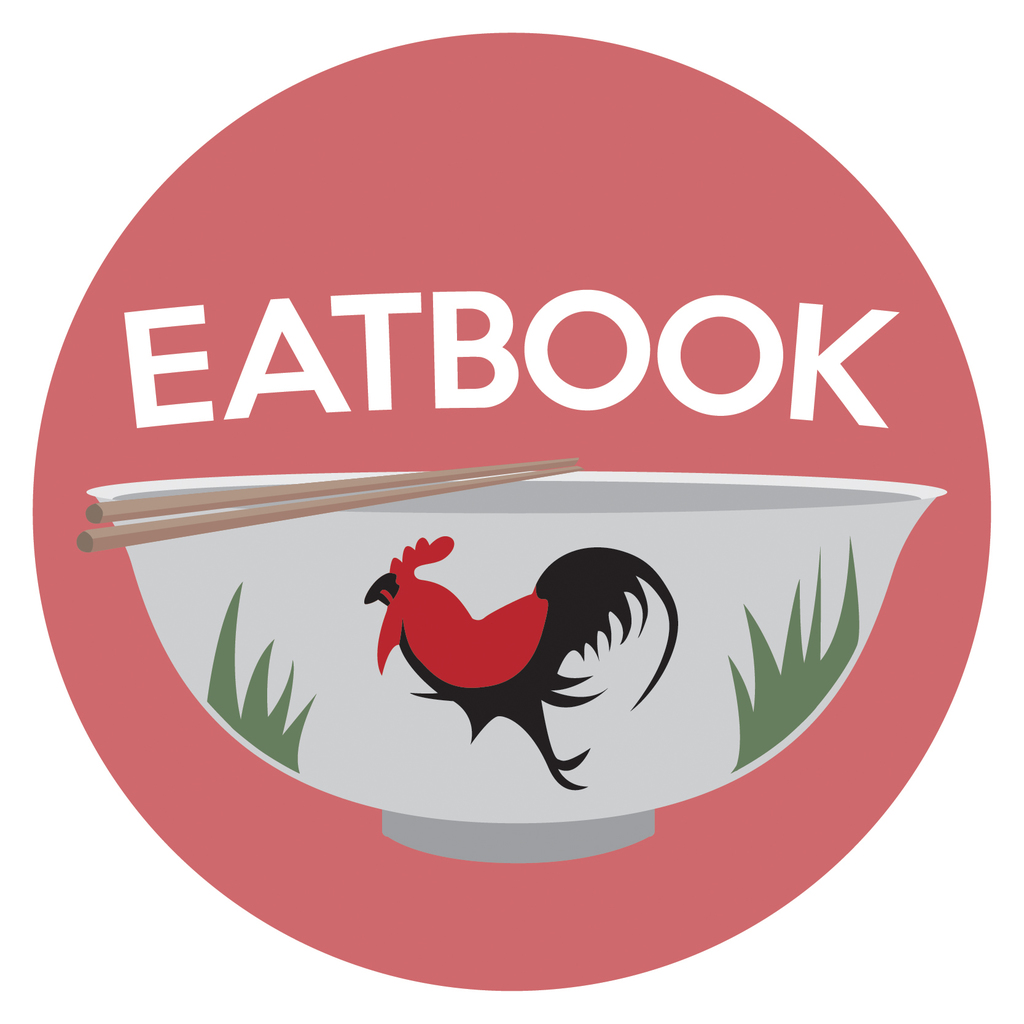 Drop us your email so you won't miss the latest news.