Pratunam famous chicken and pork leg rice in Geylang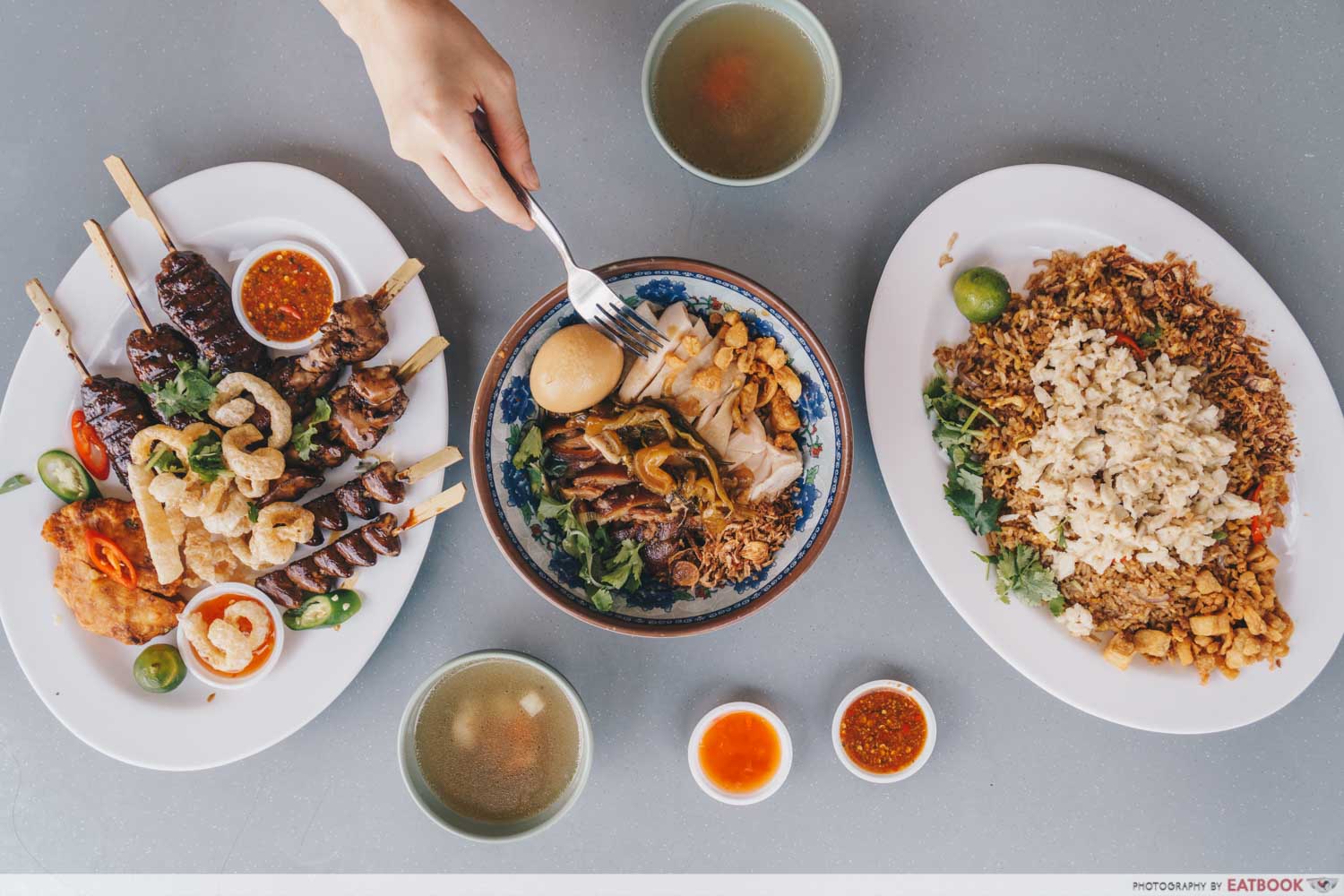 Thai food has bold flavours and strong aromas, which explains why this particular cuisine fares so well in Singapore. But, there's so much more to Thai food than just tom yum goong, boat noodles, and mookata.  Allow me to share some iconic Pratunam eats with you by drawing your attention to this hawker stall nestled in Geylang─Pratunam Famous Chicken And Pork Leg Rice.
10 Affordable Thai Food Places With Mains Below $10 For Your Next Squad Outing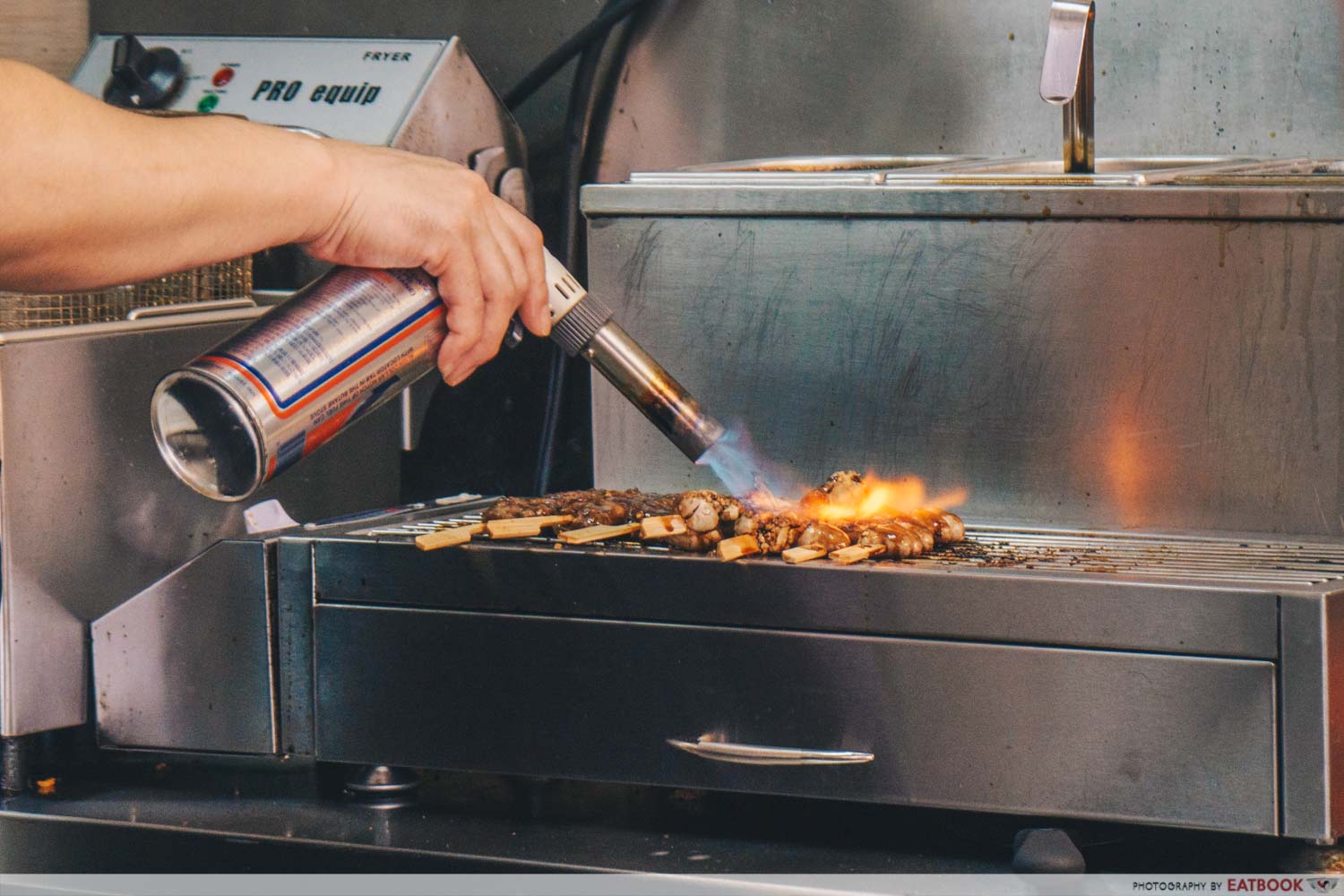 Never mind the travelling constraints at the moment, because you'll get a taste of Bangkok-style chicken rice and skewered street snacks right here. 
Food at Pratunam Famous Chicken And Pork Leg Rice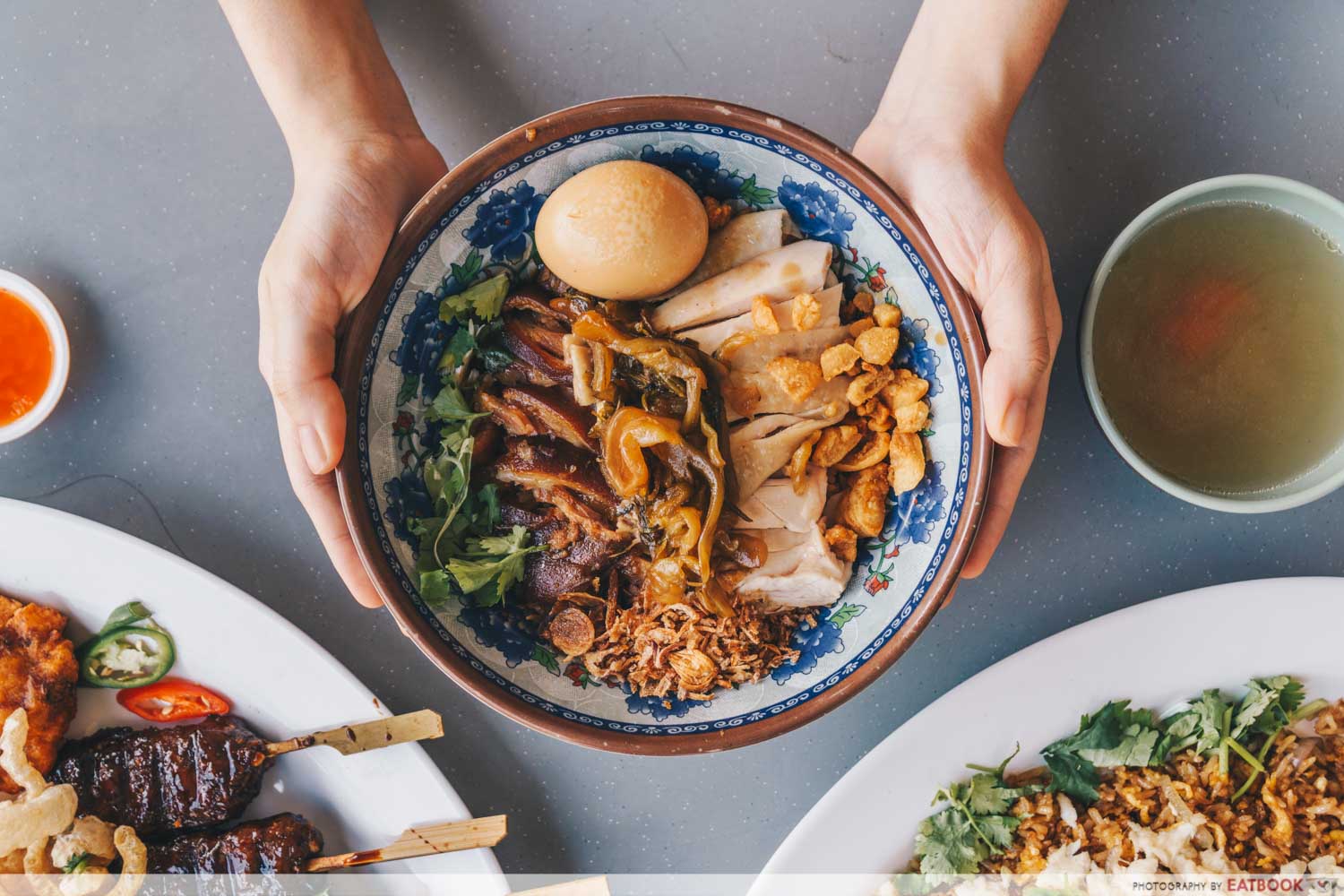 If you have a thing for Go-Ang Pratunam Chicken Rice, you might want to give this stall a shot. They offer Pratunam chicken rice for $5.90. But the Pork and Chicken Rice Combo ($8.90) here comes with a duo of meat─braised pork and steamed chicken. It is also served along with rice, preserved vegetables, a whole egg, and is garnished with fried shallots, lard and parsley. For the price, you're definitely getting your money's worth with the generous portion.
Go-Ang Pratunam Chicken Rice Review: Try The Famous Bangkok Chicken Rice At $4.50++ At Nex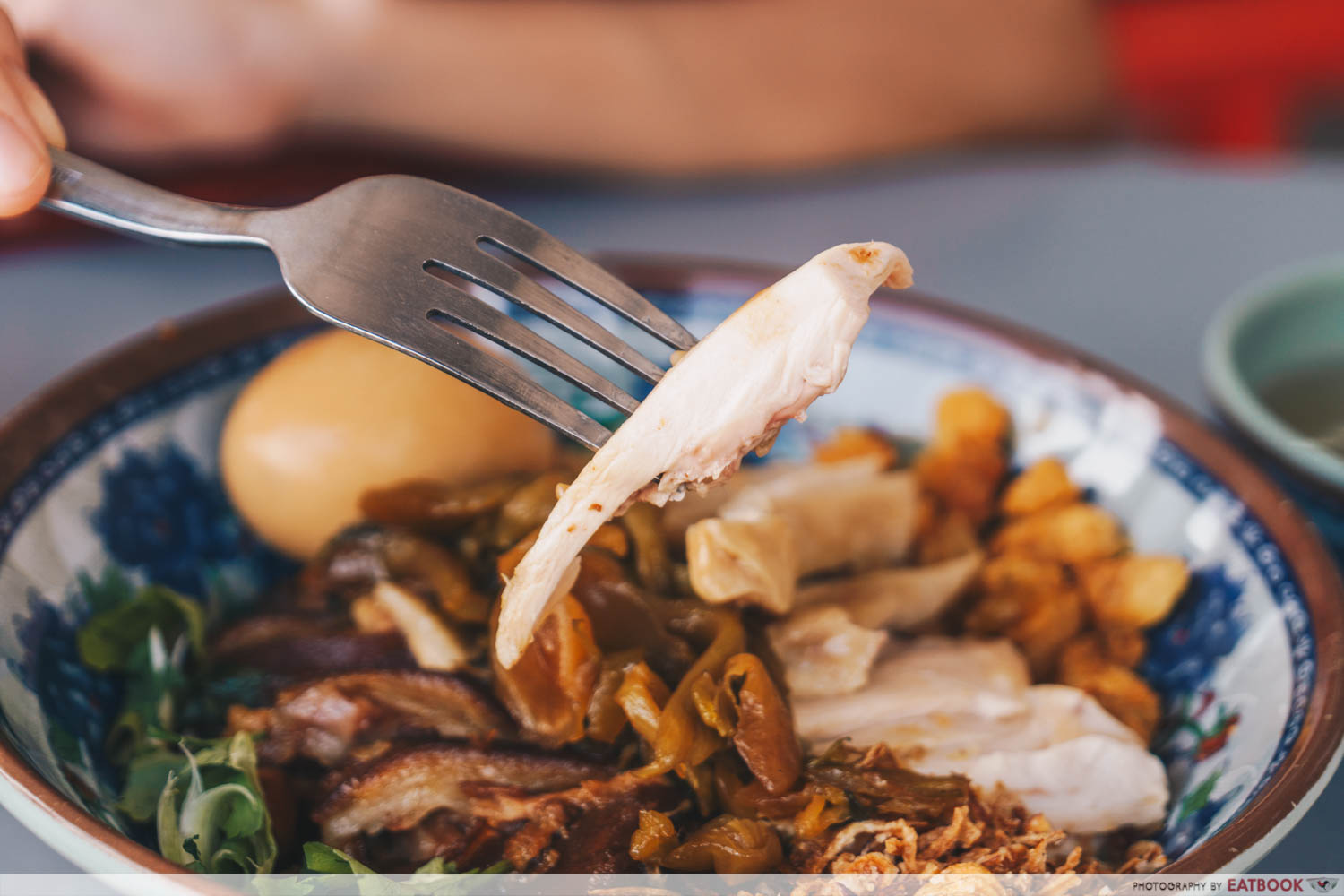 Despite being given the breast, known to be the toughest and driest part of the chicken, it was still moist and bouncy. Even the skin was silky and smooth.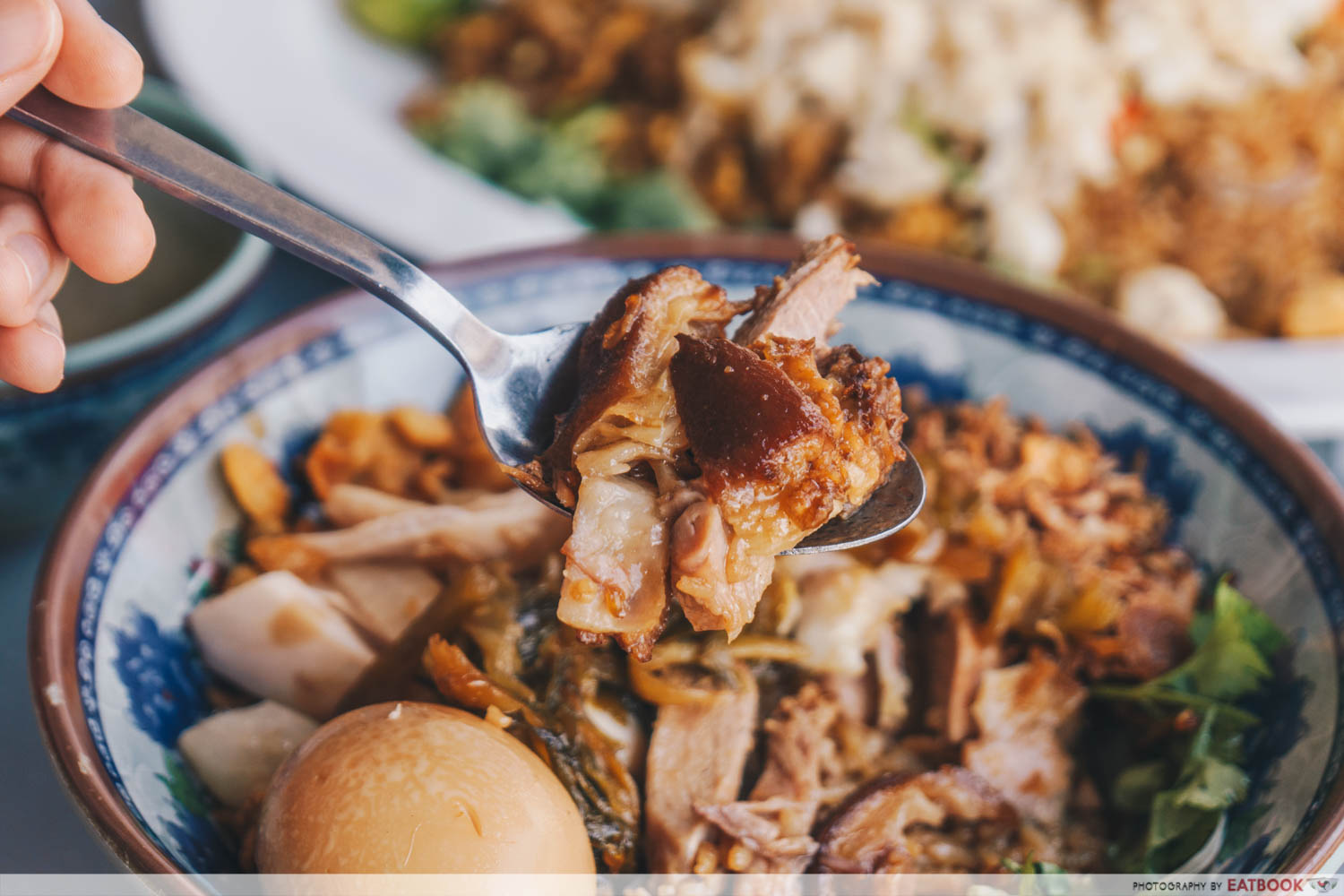 When I think of Thai braised pork, I expect flavourful chunks of meat that are falling apart. Though the pieces of pork were not as tender as I expected them to be, they did carry the savoury flavours of the braising liquid. 
The pork skin was also a little greasy and slightly too chewy for my liking. Perhaps it could have done with a longer braising time for it to break down more.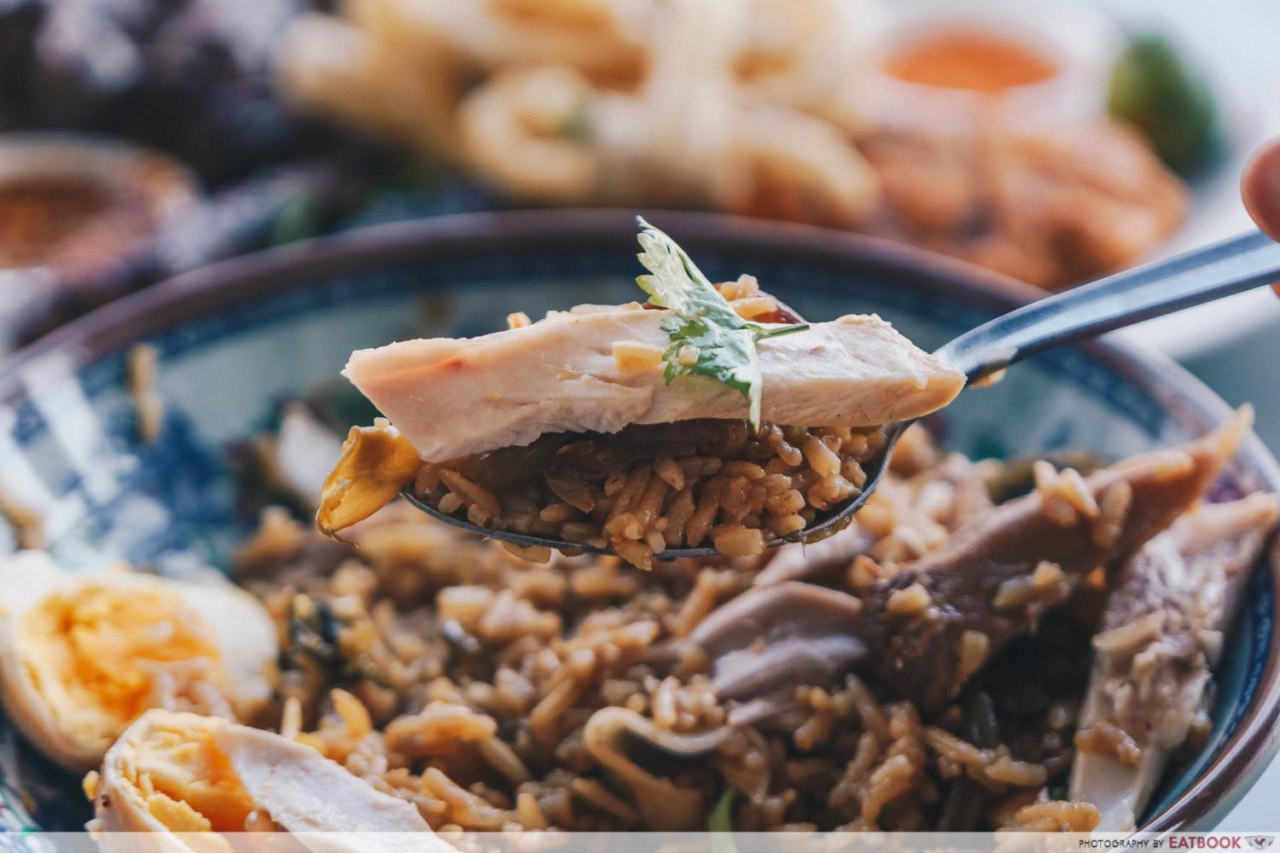 This stall swaps out the regular chicken rice with what seemed to be yam rice. It had hints of flavours that reminded me of Teochew braised duck and kway chap. It was tasty, but would've been better if the rice was slightly less salty, as the braised pork and preserved vegetables already provided that element to the dish.
The inclusion of fried shallots, lard and parsley, however, did a fine job of injecting fragrance into the dish, making it more flavourful. However, with so many elements in the bowl, the flavours were a tad overwhelming.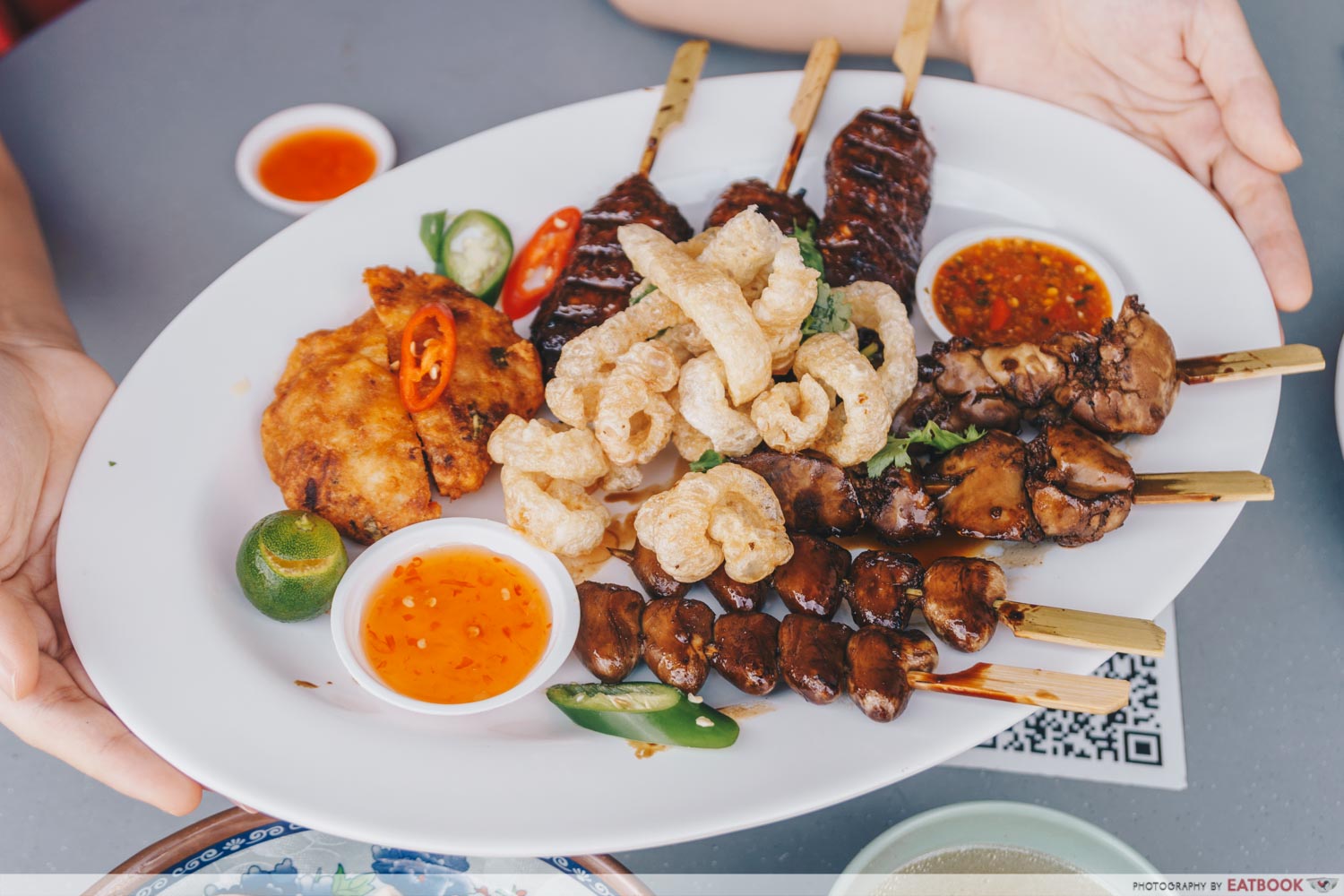 Opt for their Side Dish Combo 2 ($12.90) instead of the individual skewers ($2.90 each) and have a taste of Pratunam street food on a plate. It consists of five parts─moo ping (Thai grilled pork skewers), chicken heart, chicken liver, pork crackers, and Thai fish cakes. For those who squirm at the sight of offal, you might want to sit this one out.
If you're planning to order this, do note that there's a 20- to 30-minute waiting time.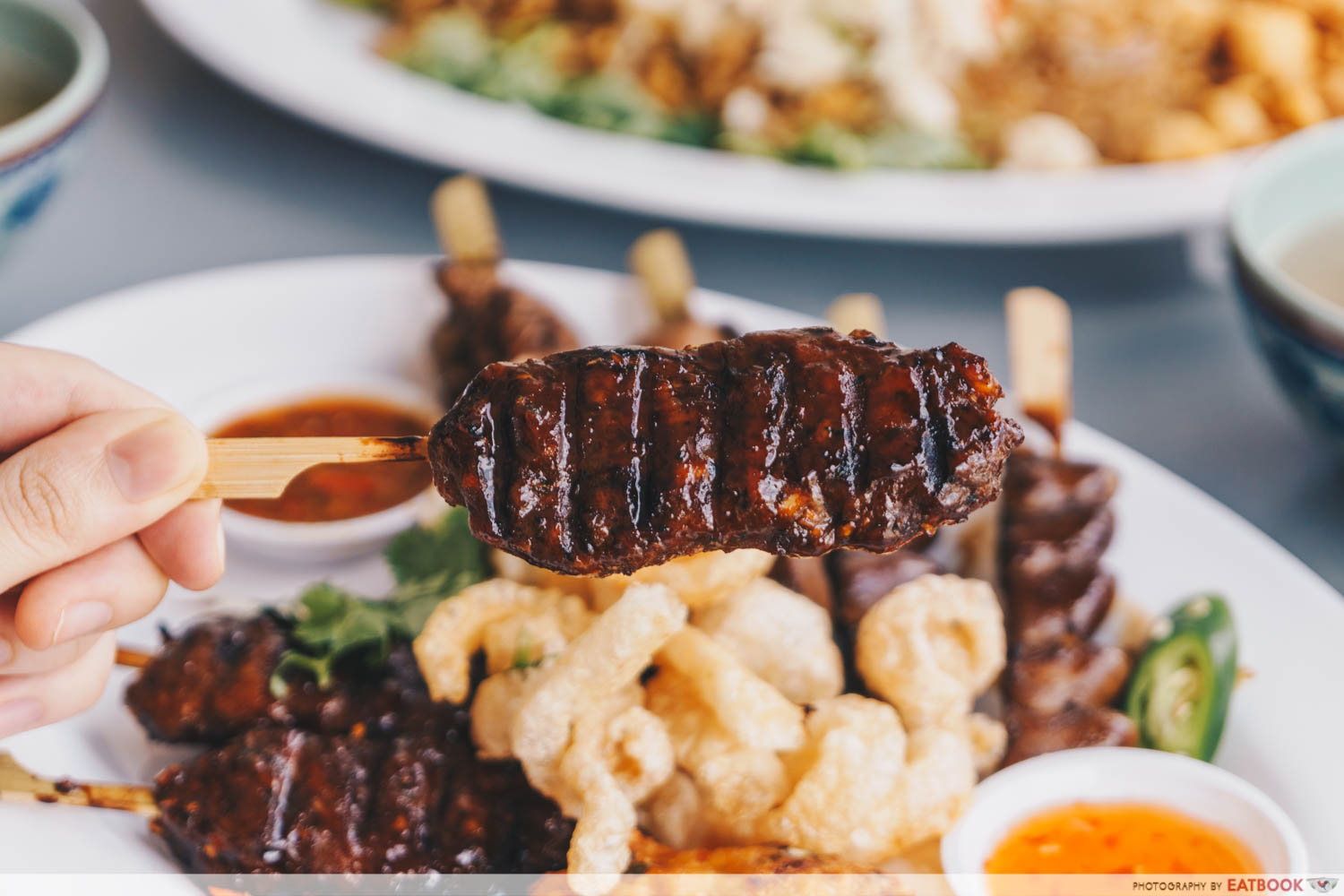 Moo ping is essentially Thai satay, except that it is much leaner and thicker. It is made with marinated minced pork that's packed tightly onto a skewer and grilled over charcoal. 
It had an aftertaste similar to that of bak kwa. There were hints of smokiness and it was well seasoned with a lovely hum of spices. The sauce, which was used as a glaze on these skewers, had a molasses-like sweetness. The only issue I had with this was the texture, as it was dry and tough.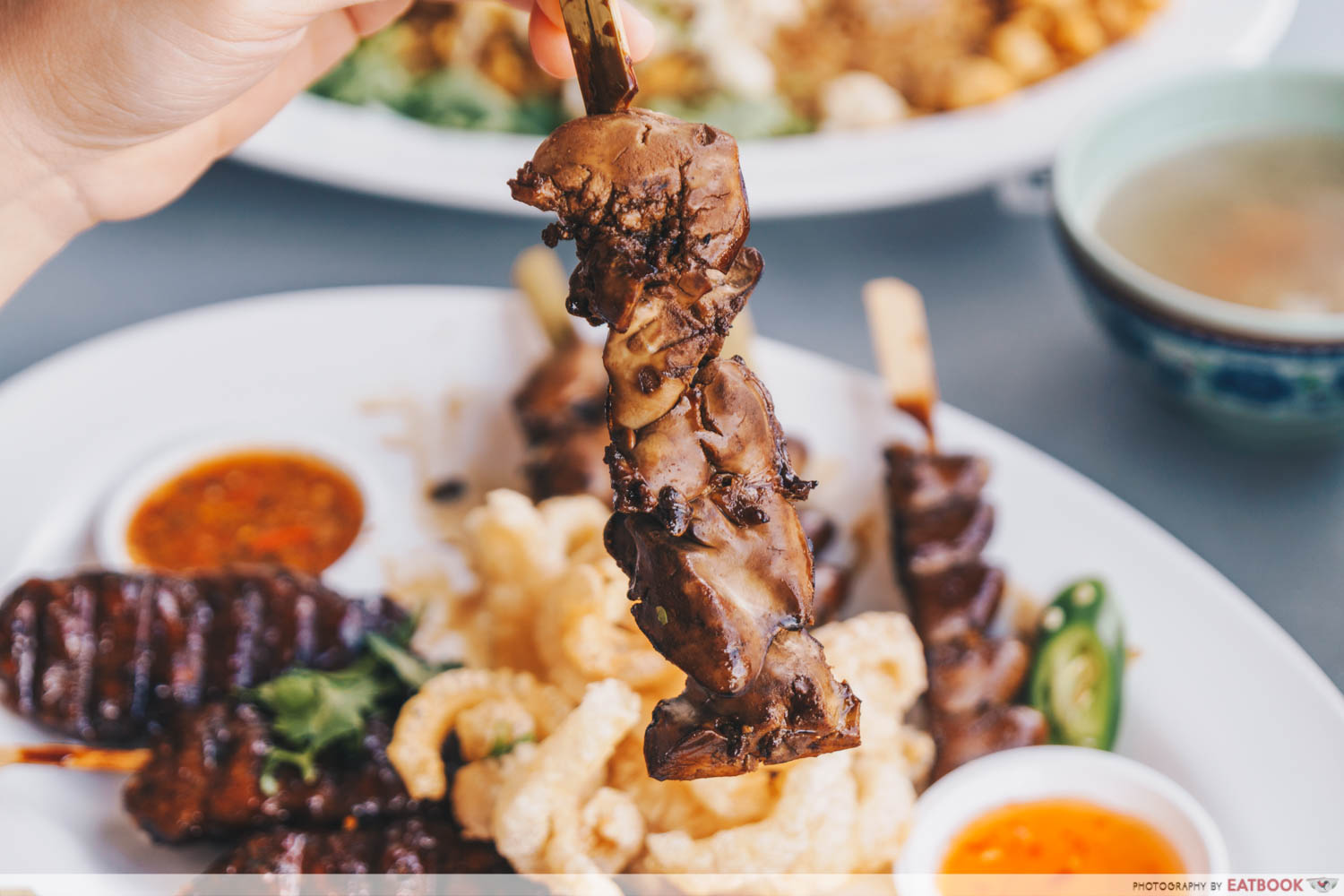 The chicken liver had a pleasant mouthfeel as it was soft and smooth. However, it was rather gamey, and the same glaze that was used on the moo ping didn't really help to take that away.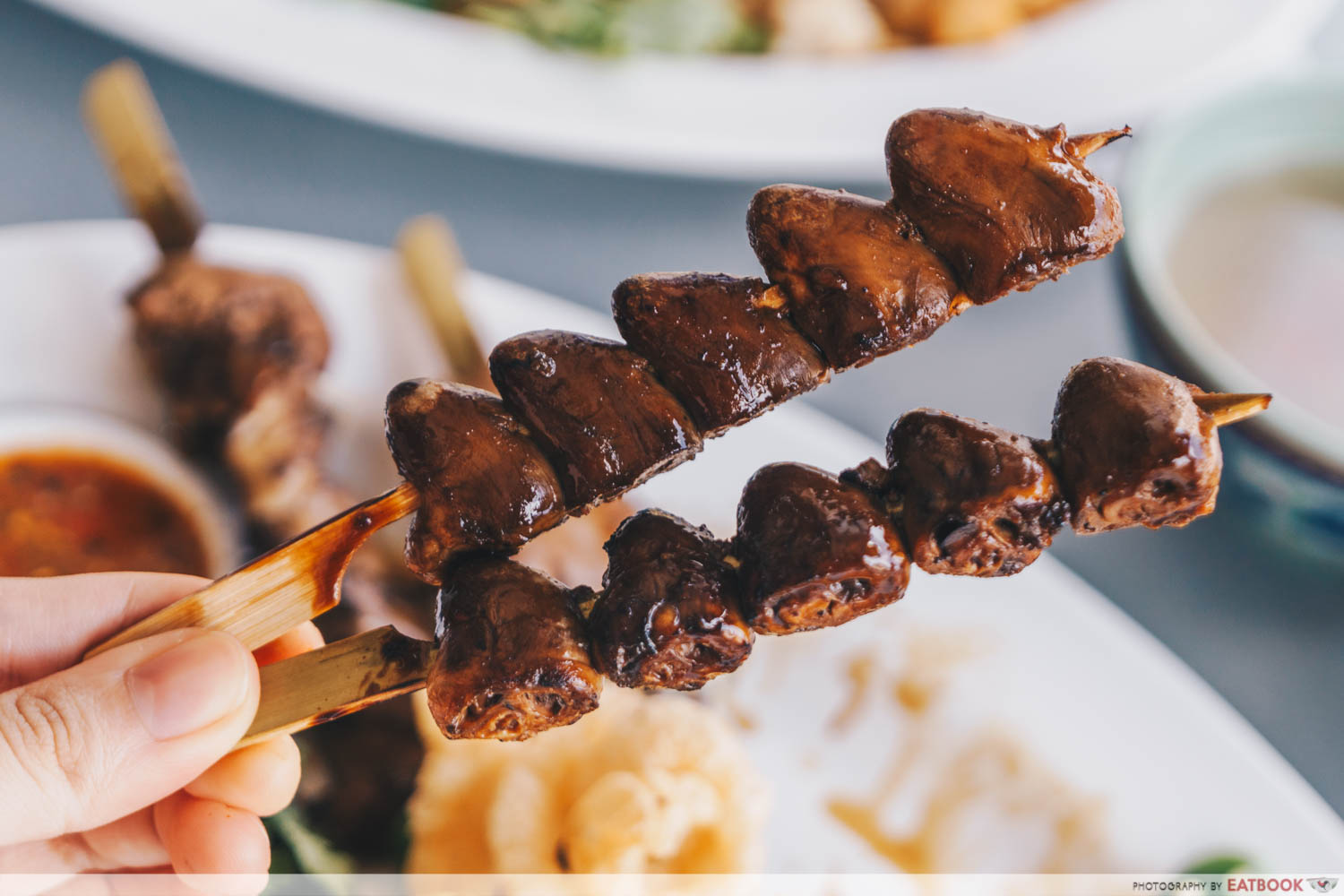 The chicken heart had a similar texture to the chicken liver, though a little tougher and less mushy. Once again, it featured the same glaze, but I felt that it didn't really complement the chicken heart skewers.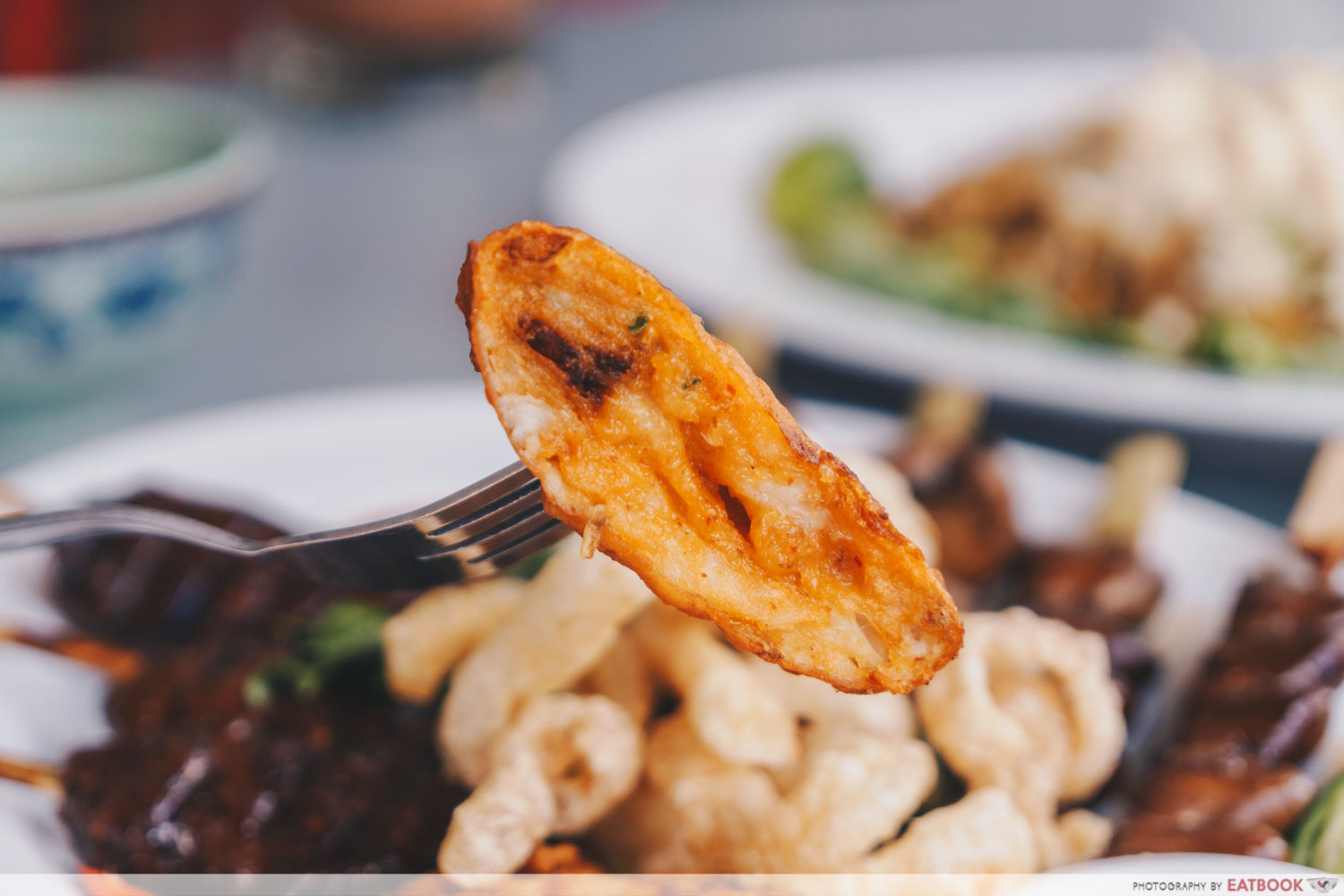 This was my favourite element of the dish. The Thai fish cakes were juicy, and there were hints of fragrance from the tom yum spices. Watch out for the bits of chopped red and green chilli padi in the fish cakes as you'll be hit with a sudden spicy kick once you bite into these. Perhaps if the chilli padi were more minced, it could have been distributed more evenly in the fish cake mix so you wouldn't get that unexpected burn in the mouth.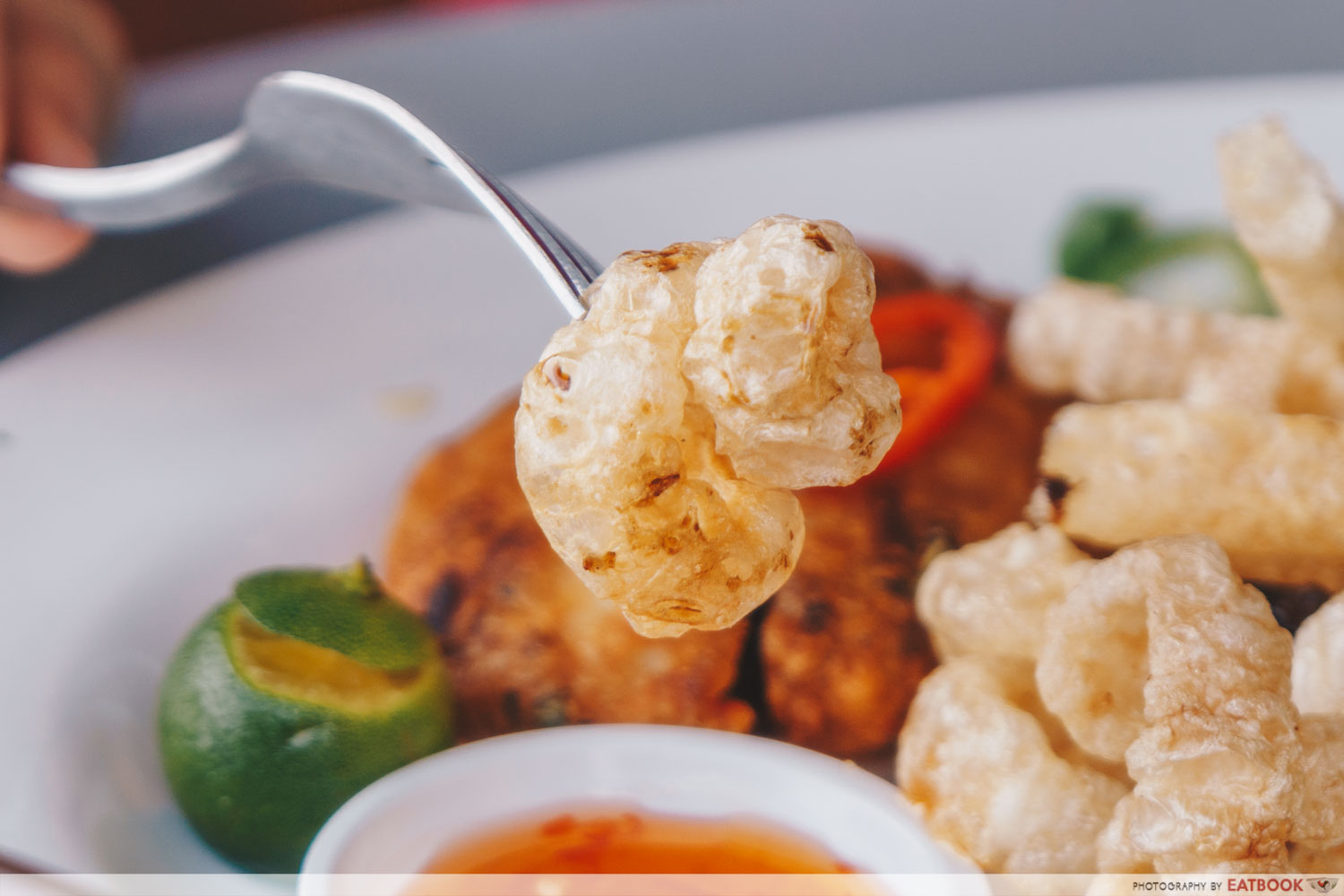 Light, airy, and crispy, the texture of these pork skin crackers were comparable to keropok, but didn't save the dish for me.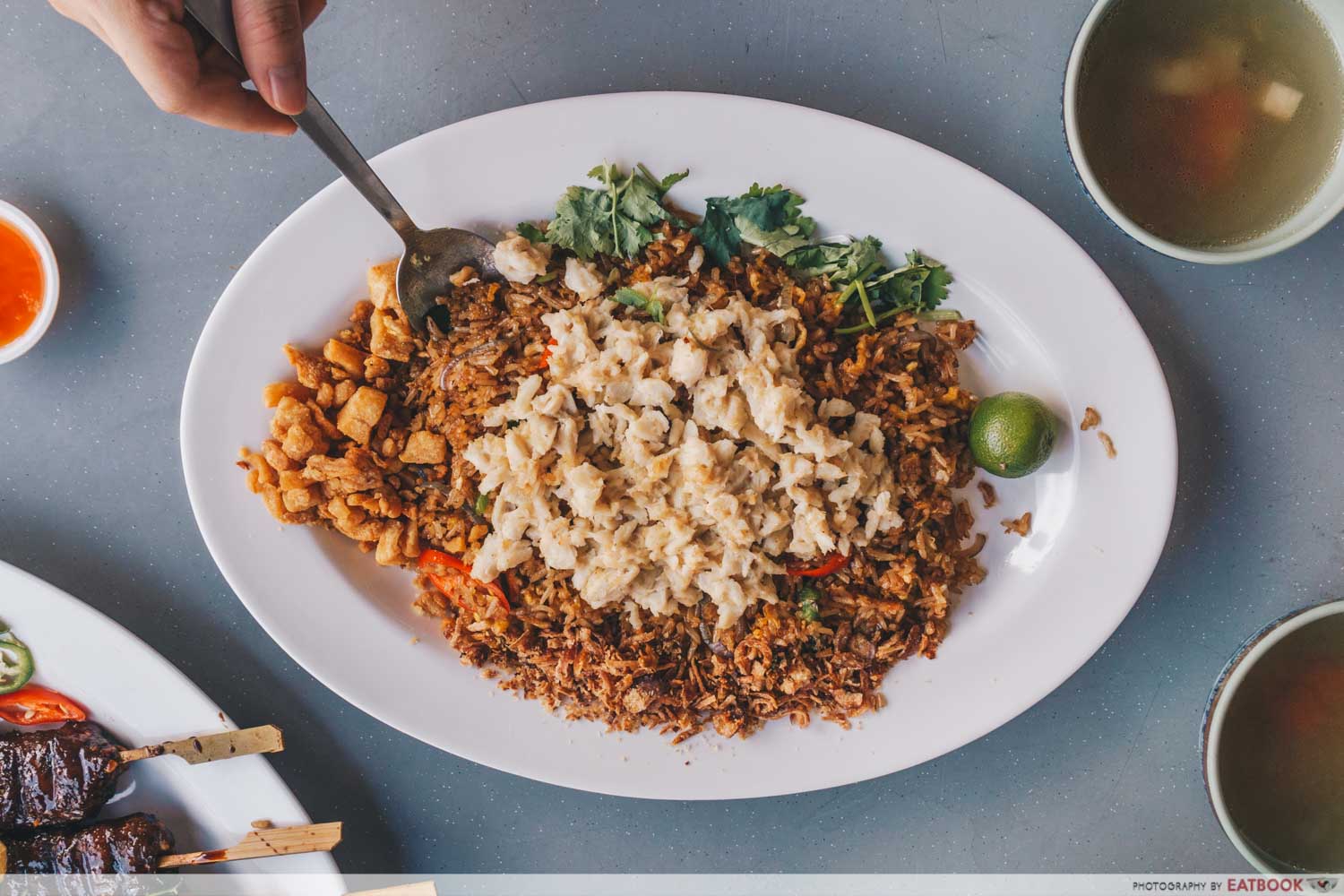 The Crab Meat Fried Rice ($14.90) is large enough to feed two to three. The platter of fried rice was topped with a copious amount of crab meat, as well as fried shallots, lard and parsley. 
Be sure to squeeze the lime over the dish for a refreshing pop of citrus.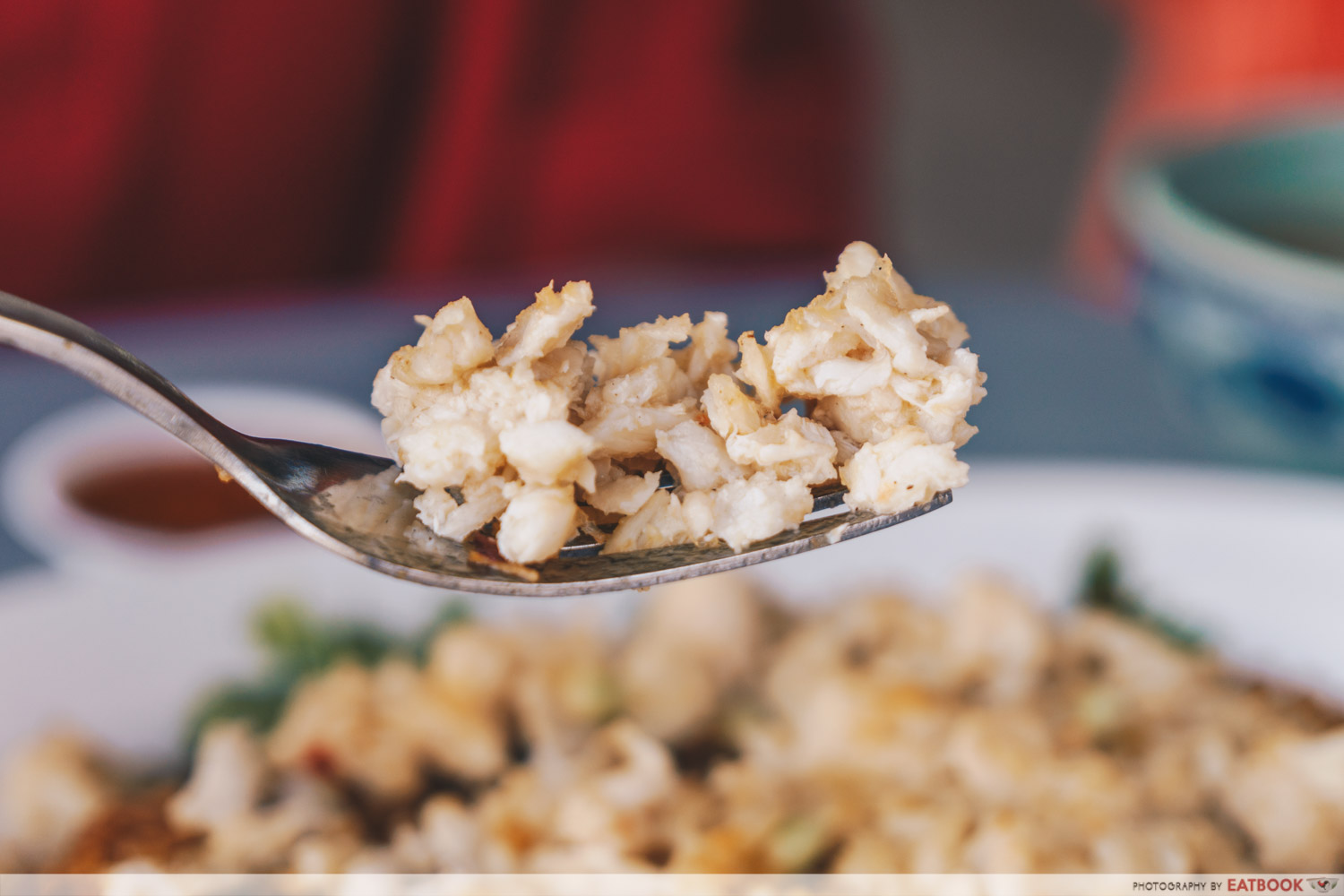 They definitely didn't skimp on the crab meat. Though it didn't have much flavour on its own, there was still a subtle briny taste which went well with the rice. It was chewy, and a little dry.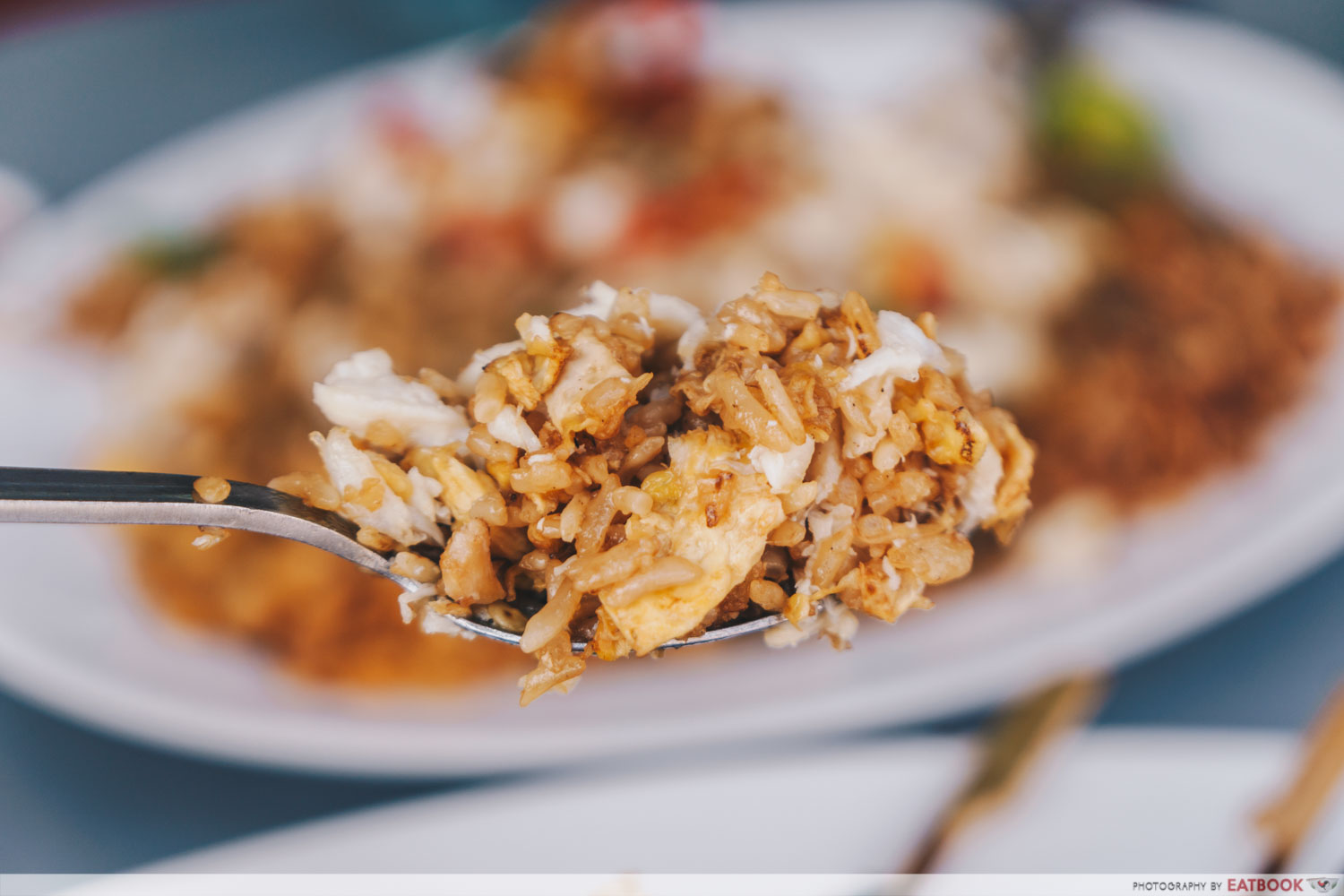 The fried rice had a charred, wok hei flavour, which tasted like a typical plate of fried rice from your neighbourhood zi char stall. Not mind-blowing, but well-executed.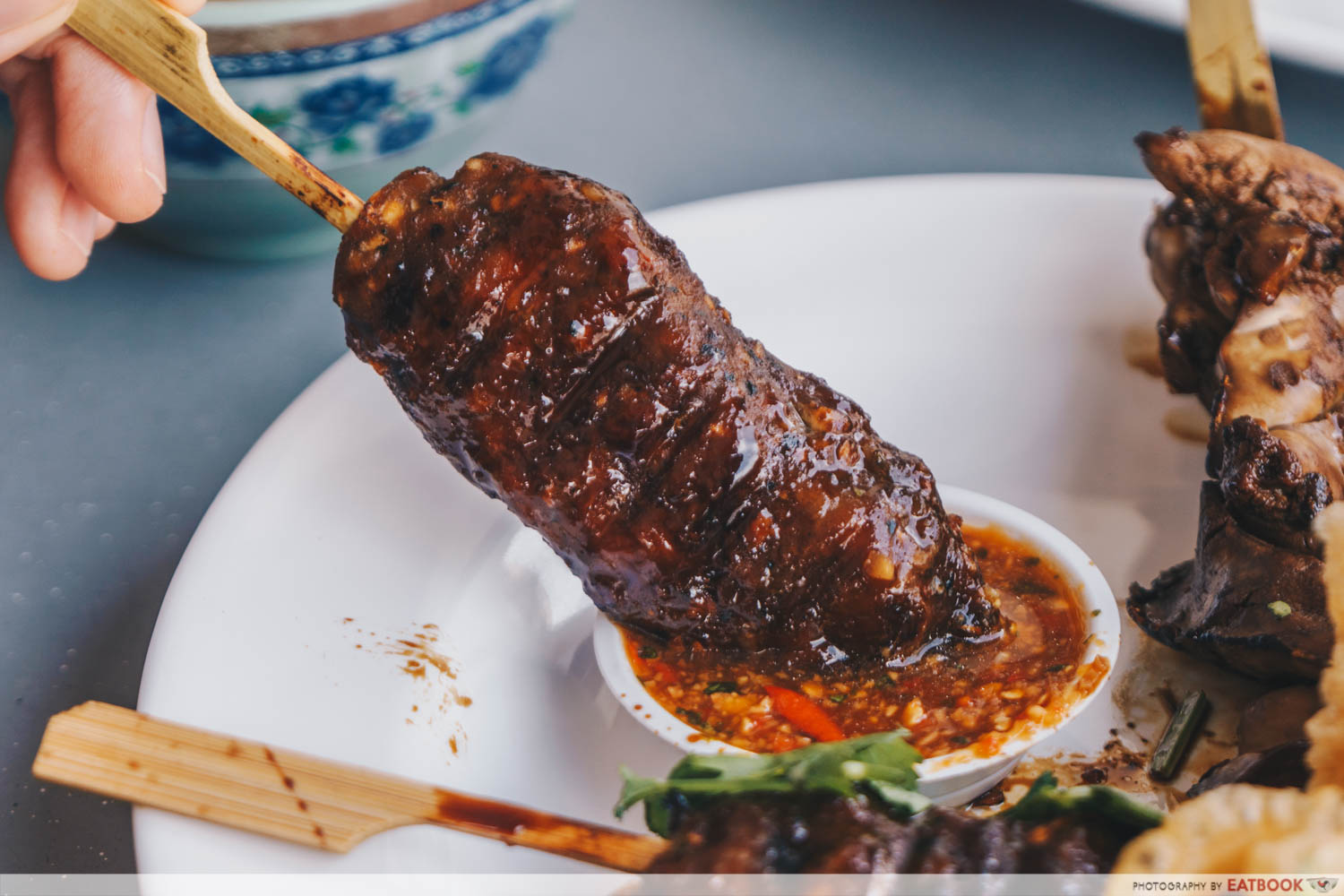 The chilli sauce was the hero of the meal. It was sweet, salty, spicy, and tangy altogether. I like the fact that it was versatile as it could complement both the rice dishes and the sides.    
Ambience at Pratunam Famous Chicken And Pork Leg Rice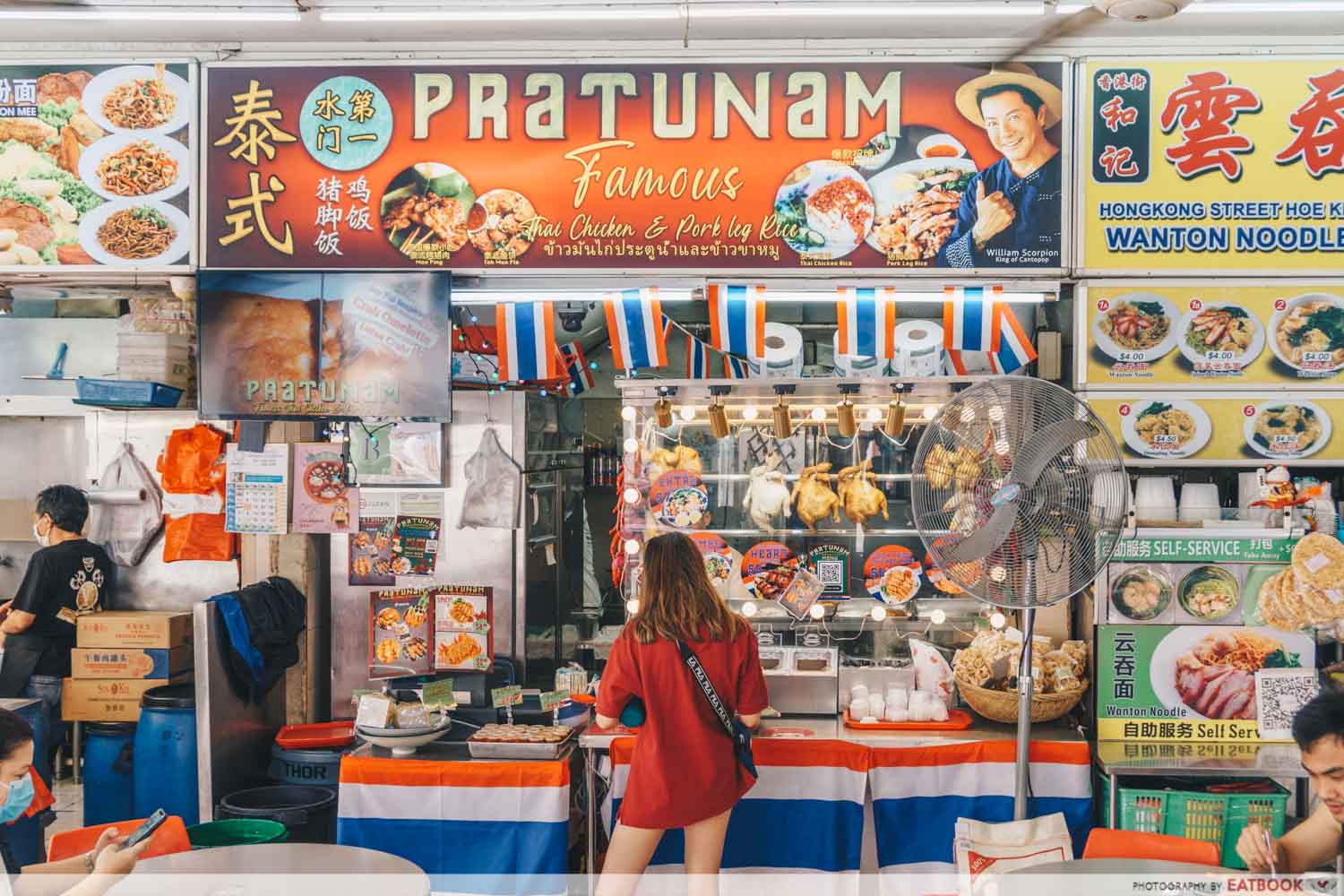 Pratunam Famous Chicken And Pork Leg Rice is located at a corner coffee shop in Geylang, which will take you a little over five minutes to get to if you decide to walk from Aljunied MRT Station. It can get a little stuffy and hot at the coffee shop especially with Singapore's blazing weather, so you might want to order some cold drinks to beat the heat while you're there. 
The verdict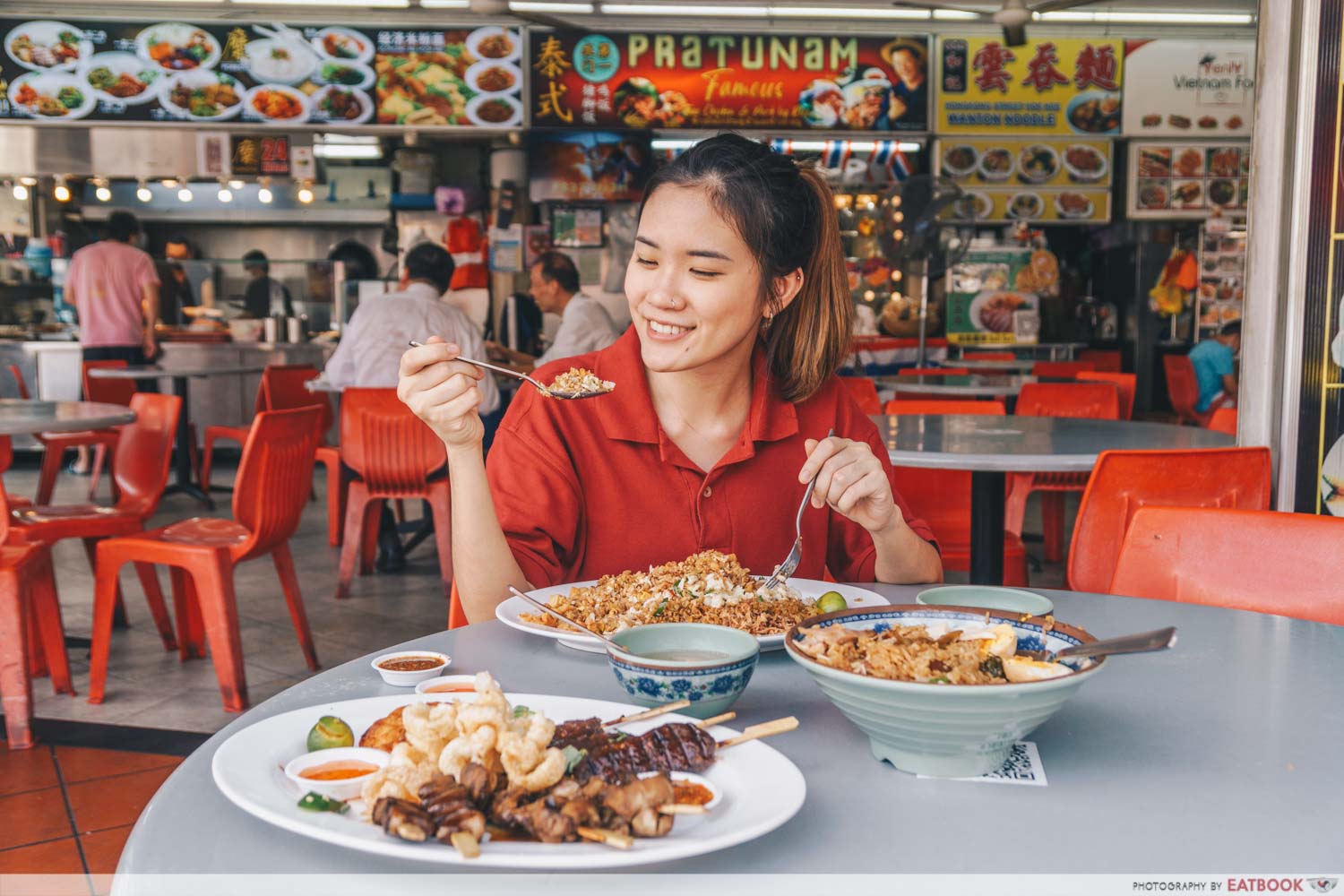 Pratunam Famous Chicken And Pork Leg Rice does offer interesting Bangkok eats that are out of the norm in Singapore's Thai food scene. However, the dishes that we tried were pretty subpar. If I were to return to the stall, I would go for their crab meat fried rice and maybe just the Pratunam white chicken rice instead of the combo. 
Soi Candy Review: Northern Thai Noodle Bar With Pork Stew And Tempura Kangkong In Tanjong Pagar
If you haven't heard about this Northern Thai noodle bar in Tanjong Pagar, head over to our review on Soi Candy. Otherwise, check out what we think about Ice On You, a hawker stall in Ghim Moh Market and Food Centre that serves Bangkok-style desserts.
Ice On You Review: Hawker With XXL Thai Milk Tea Shaved Ice And More Bangkok-Style Desserts
Address: 9 Lorong 27A Geylang, 27A Coffee Shop, Singapore 388134
Opening hours: Daily 12pm to 10pm
Website
Pratunam Famous Chicken And Pork Leg Rice is not a halal-certified eatery.
Photos taken by Muhammad Hafiq.
This is an independent review by Eatbook.
Pratunam Famous Chicken And Pork Leg Rice Review: Thai Chicken Rice And Pork Skewers In Geylang
Summary
Pros
– Generous portions
– Steamed chicken was delicious
– Thai chilli sauce was good
Cons
– Braised pork could be more tender
– Offal was gamey
– Dishes, in general, were not well-executed
Recommended Dishes: Pratunam White Chicken Rice ($5.90), Crab Meat Fried Rice ($14.90)
Opening hours: Daily 12pm to 10pm
Address: 9 Lorong 27A Geylang, 27A Coffee Shop, Singapore 388134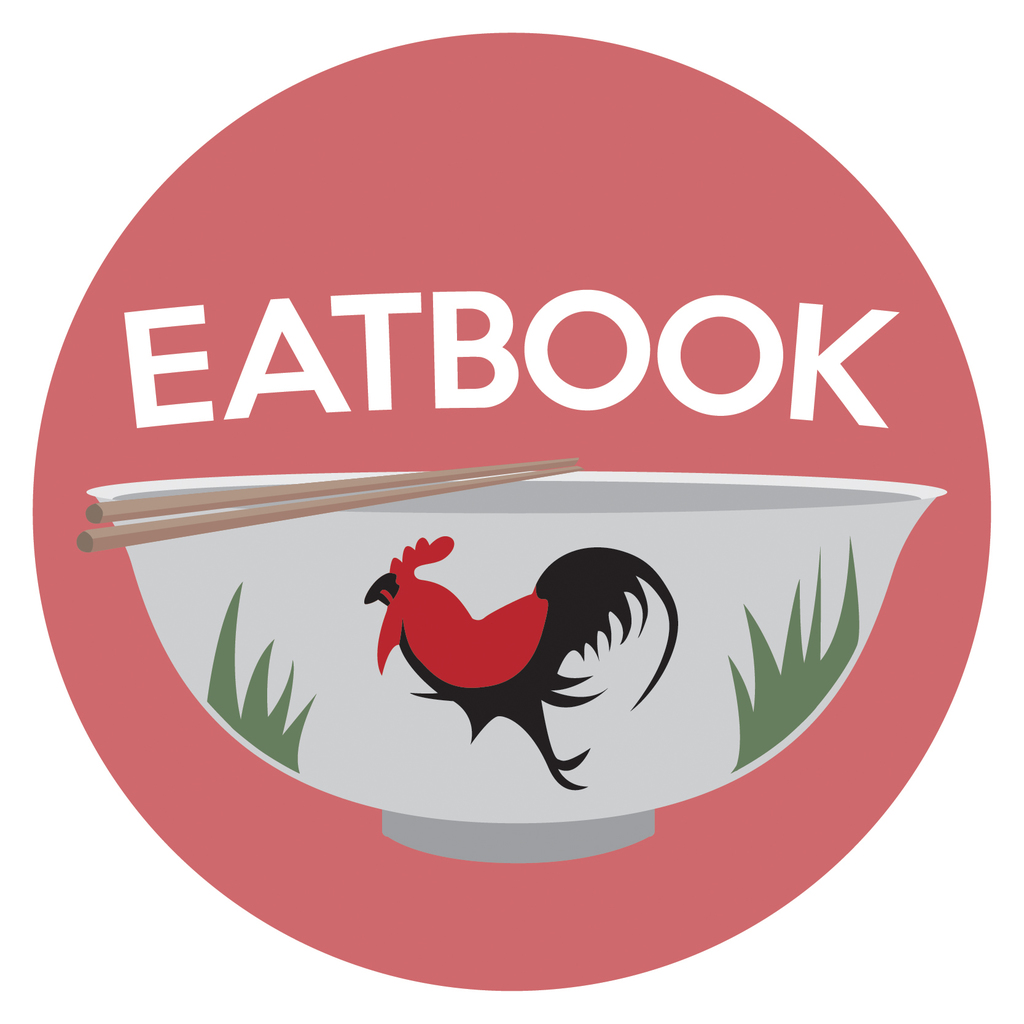 Drop us your email so you won't miss the latest news.