Soi Candy in Tanjong Pagar has rustic Thai food
You might be forgiven for thinking I got my cuisines wrong if I told you to meet me at Tanjong Pagar for Thai food. The area is better known for the stretch of Korean eateries that line the street, but Northern Thai eatery Soi Candy is a new addition to the area that brings a different kind of spicy to the thoroughfare.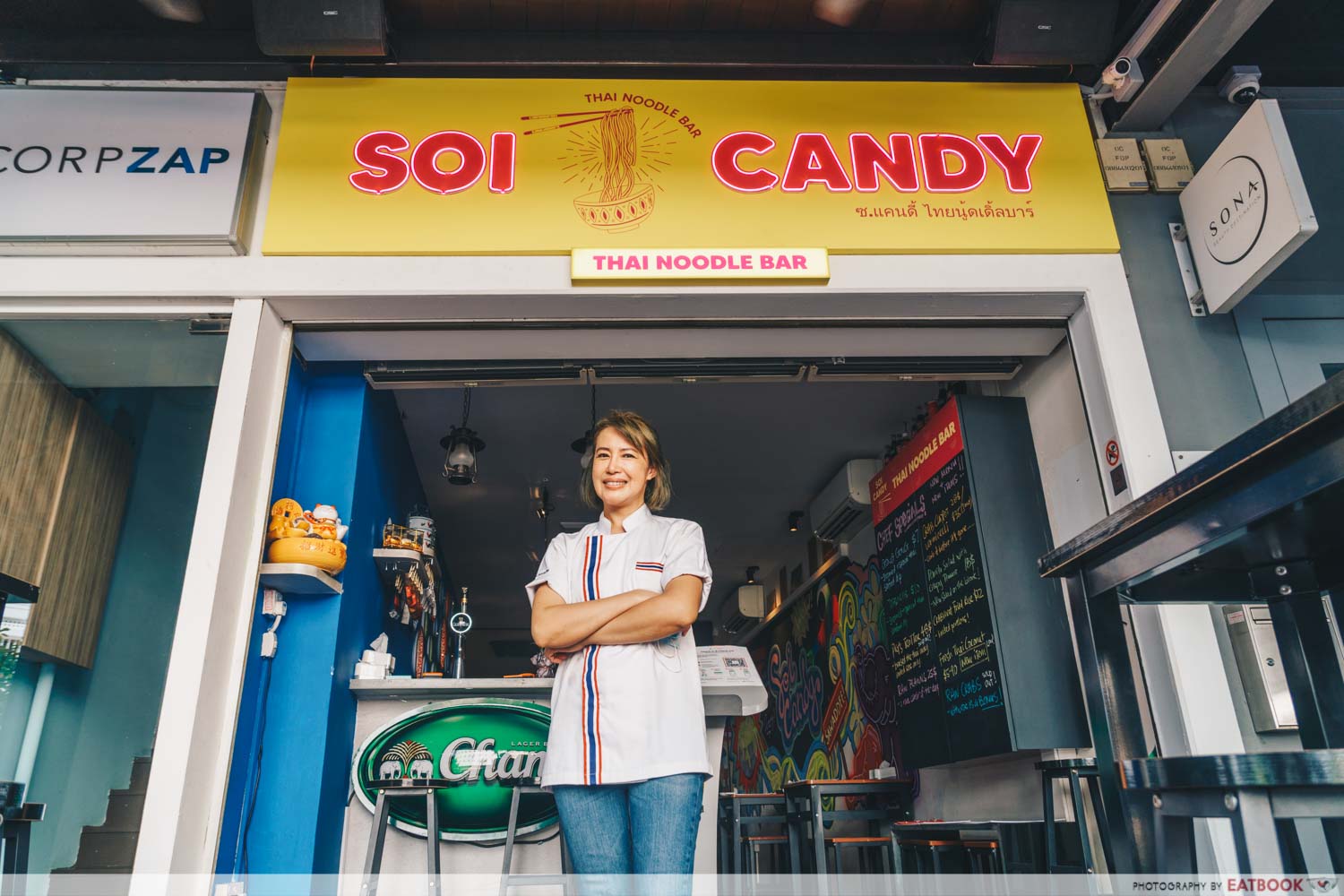 Everything at Soi Candy is made in-house from spices sourced directly from Chiang Rai, or with spice pastes imported from the city in Northern Thailand, which is where their head chef Candy is from.
Food at Soi Candy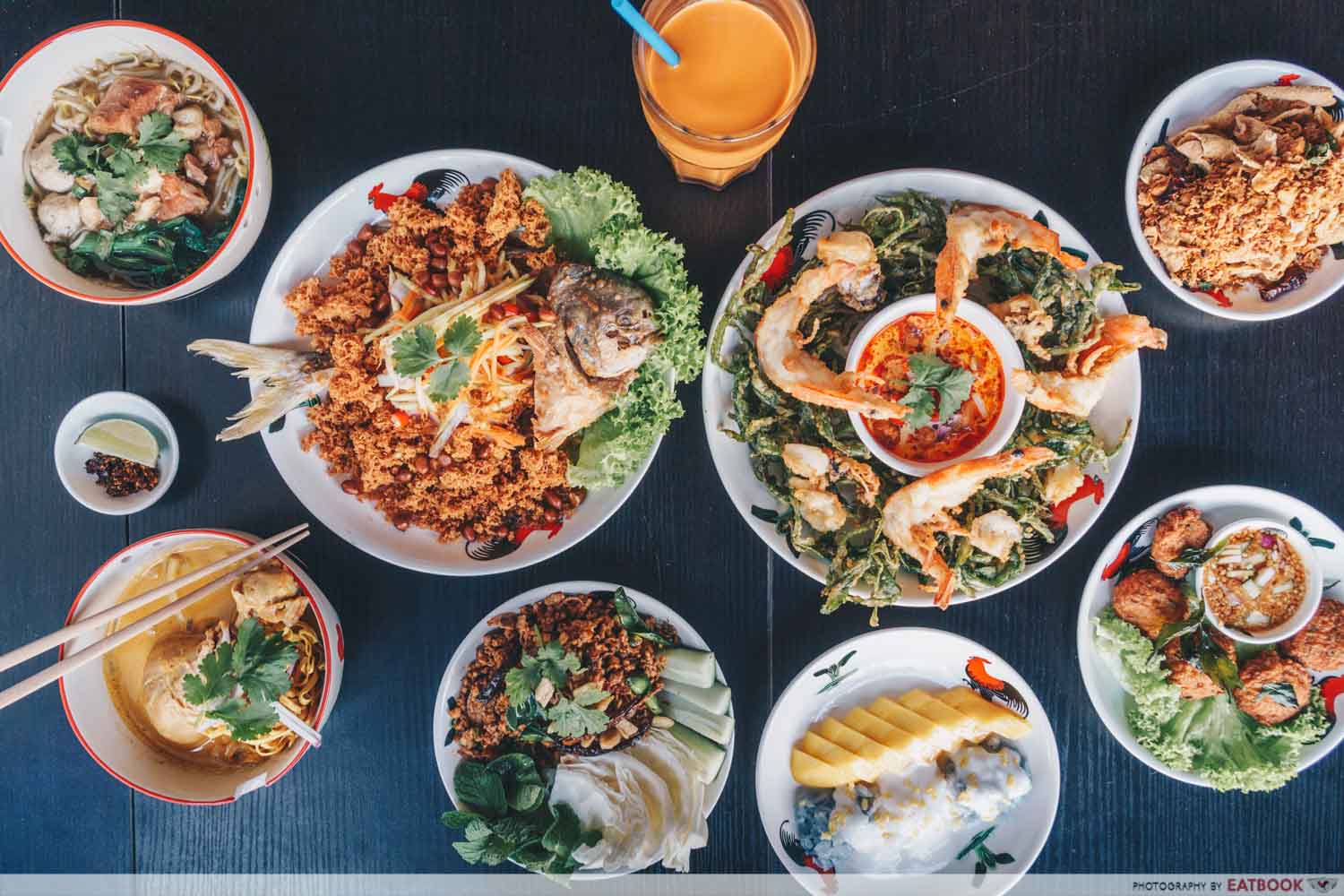 "It's like otak!"
"No, it's pepes!"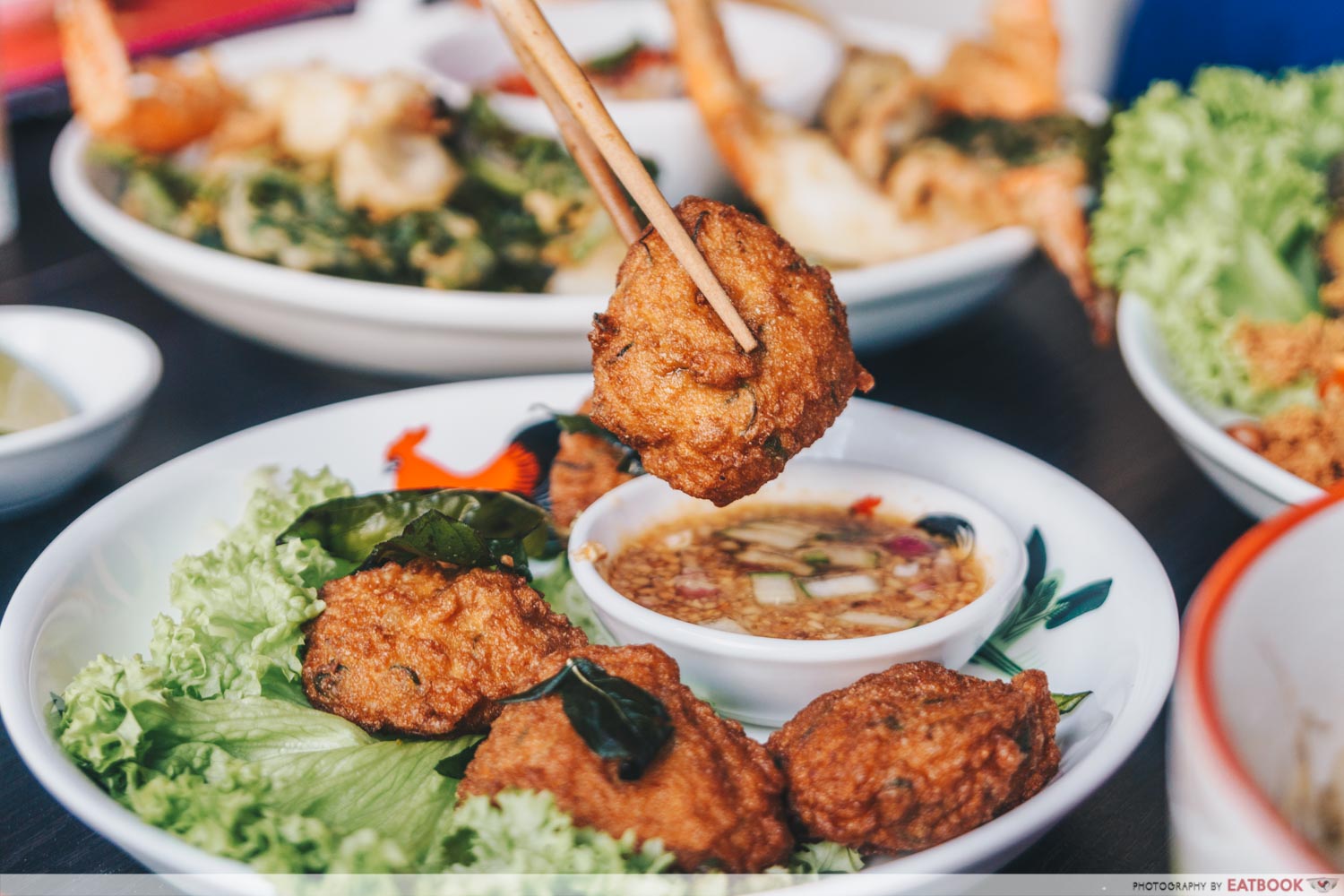 My dining companion and I had a bit of a squabble over these Fried Squid Cakes ($8.90)─little nuggets of squid paste and fresh squid, with the welcome crunch of finely sliced long beans.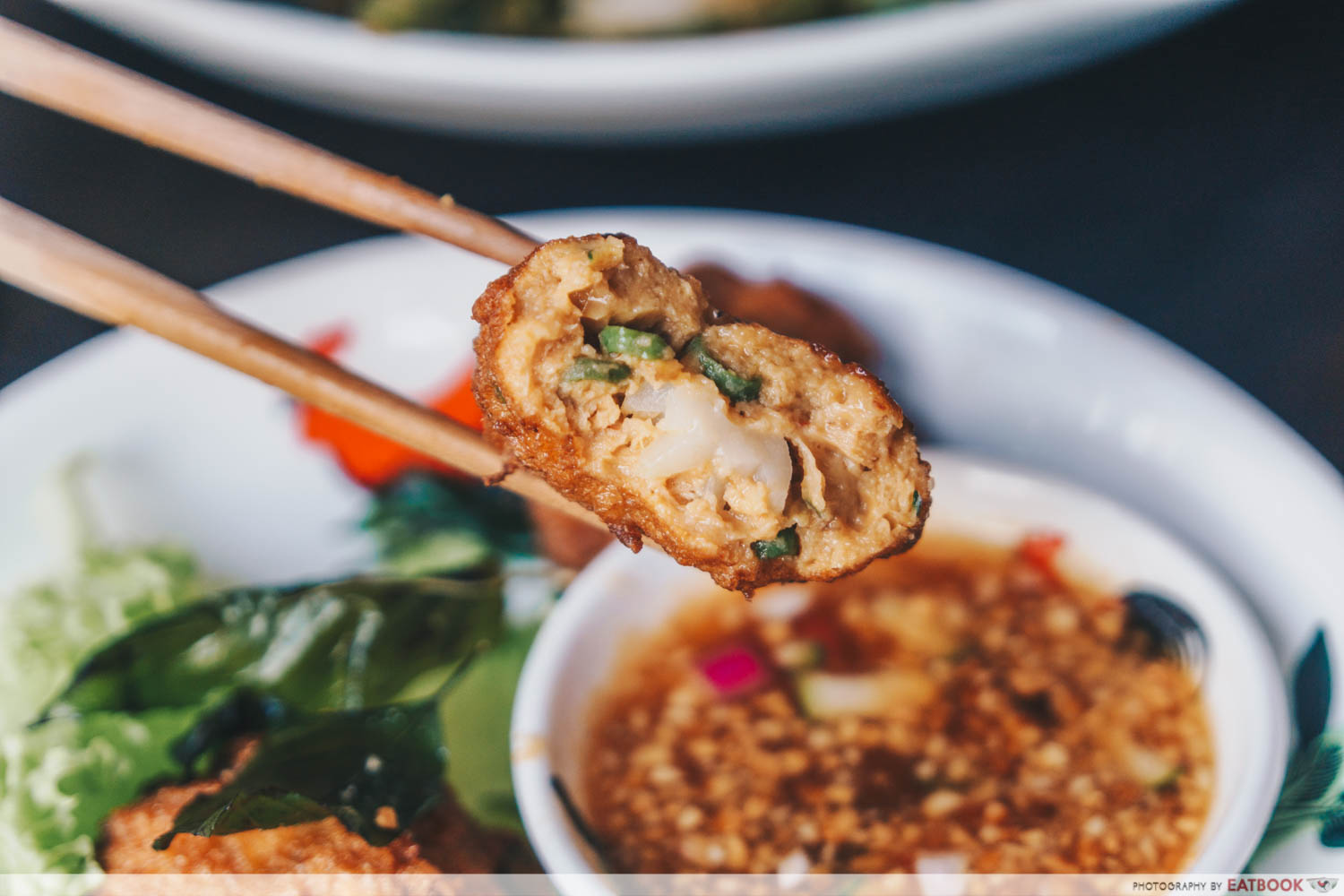 Whether reminiscent of otak or pepes, these squid cakes are a lightly fragrant, fishcake-like appetiser that's addictive, especially with the piquant house-made sweet chilli dipping sauce.
Unlike the punchier flavours of Southern Thai food, Soi Candy's Northern fare is slightly lighter and subtler.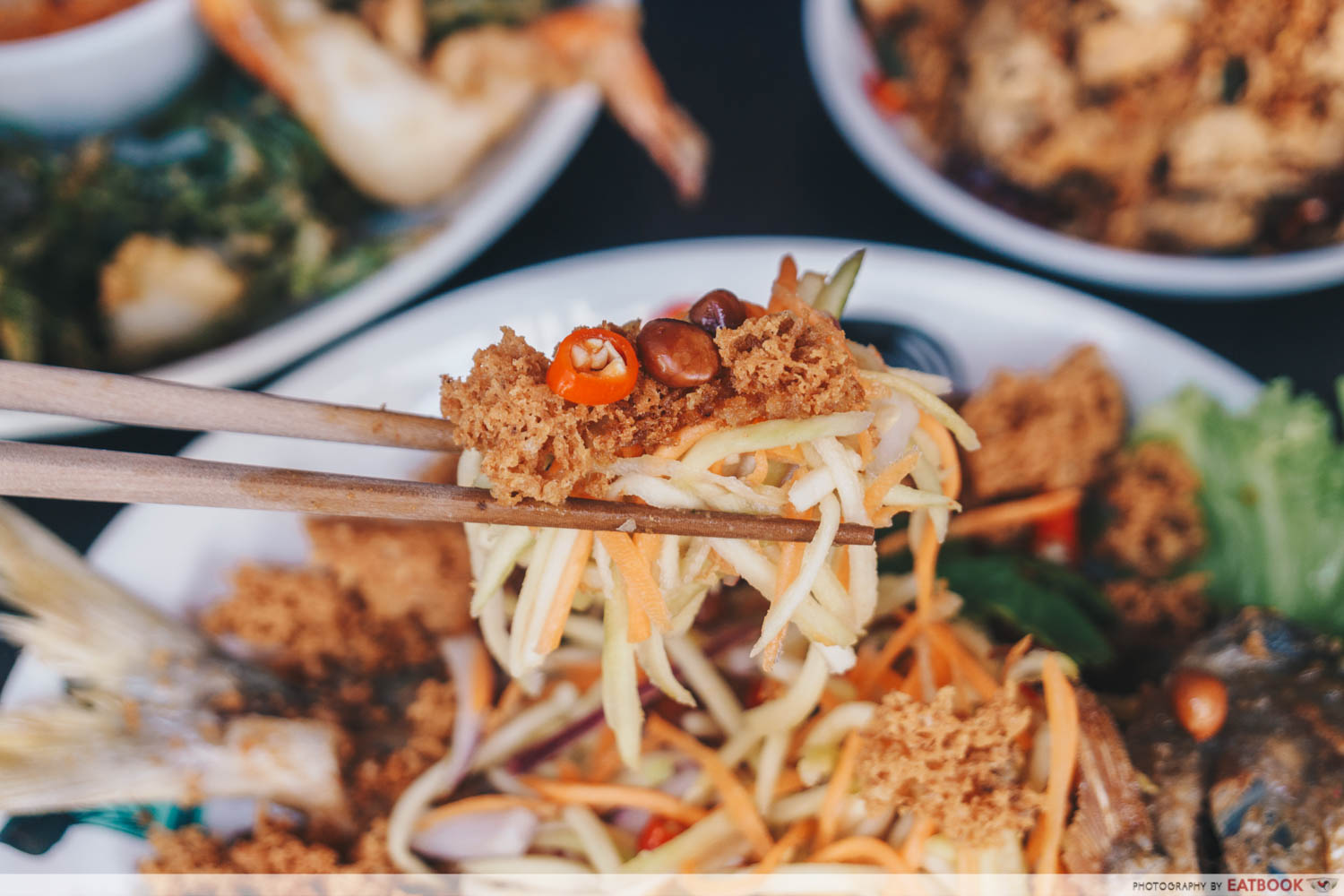 This was evident in the Mango Salad With Crispy Fish Floss (from $17.90), where fresh pomfret is painstakingly steamed, flaked and deep-fried into floss that still retained the natural flavour of the fish. This was texturally balanced out by the refreshing mango salad that was neither too sweet, tart or spicy.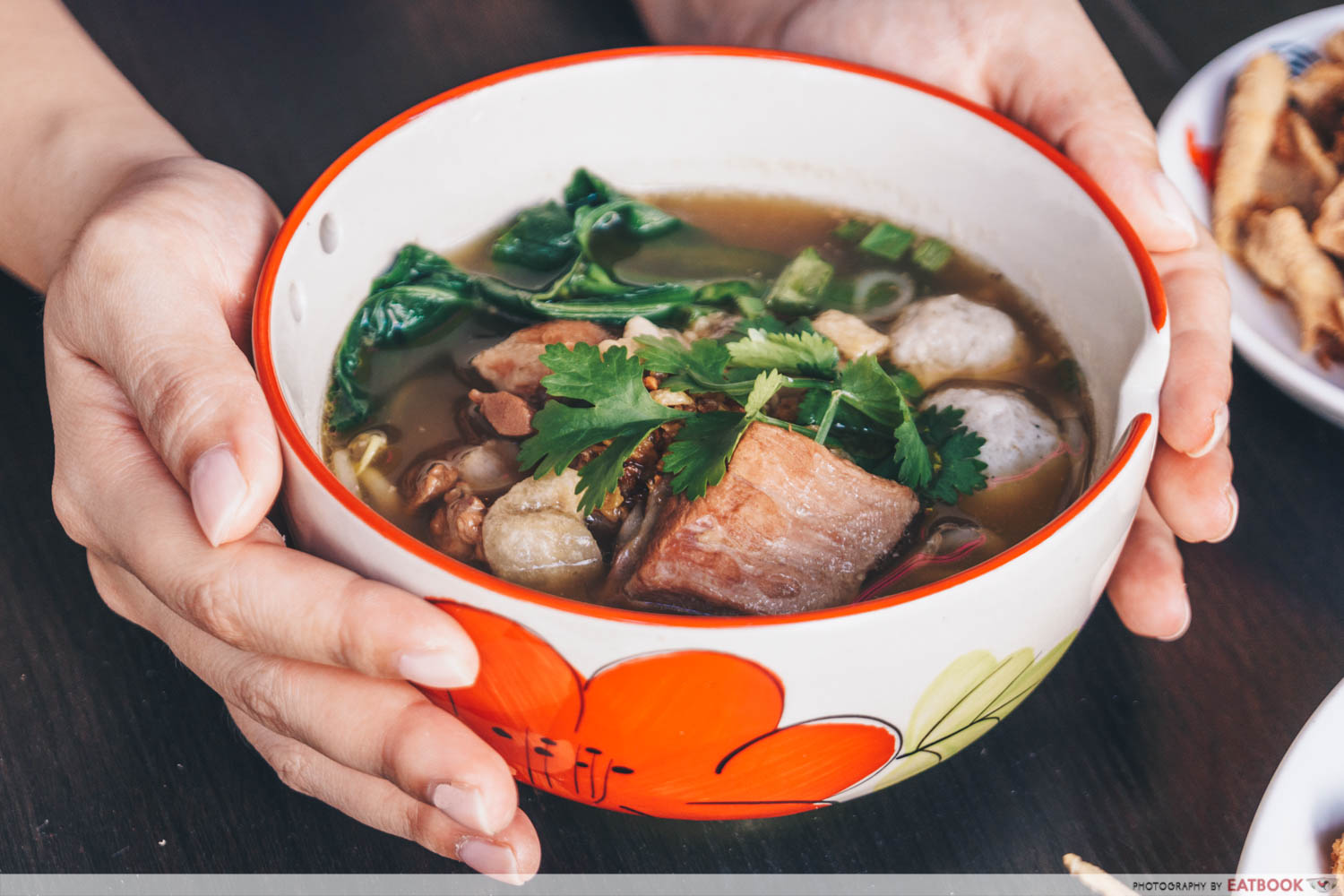 We were hard-pressed to choose our favourite dish of this meal, torn between the Signature Softbone Pork Longan Stew With Rice Noodles ($10.90) and Crispy Kangkong With Seafood and Speciality Dip ($21.90).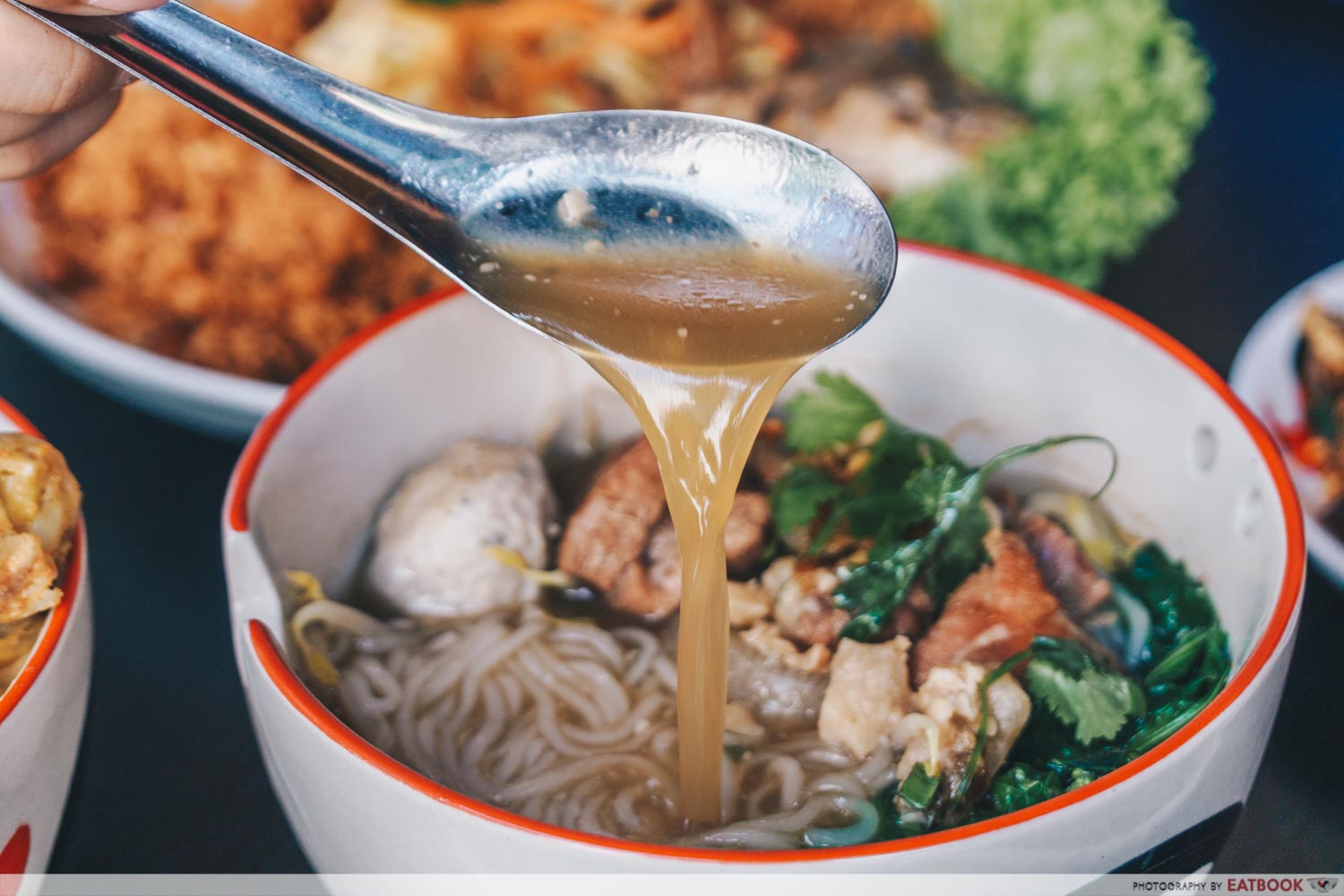 The Signature Softbone Pork Longan Stew With Rice Noodles is not so much a stew as a super gao soup that's simultaneously rich, savoury, comforting, and sweet from the use of longan and radish. We kept coming back to take sips of this.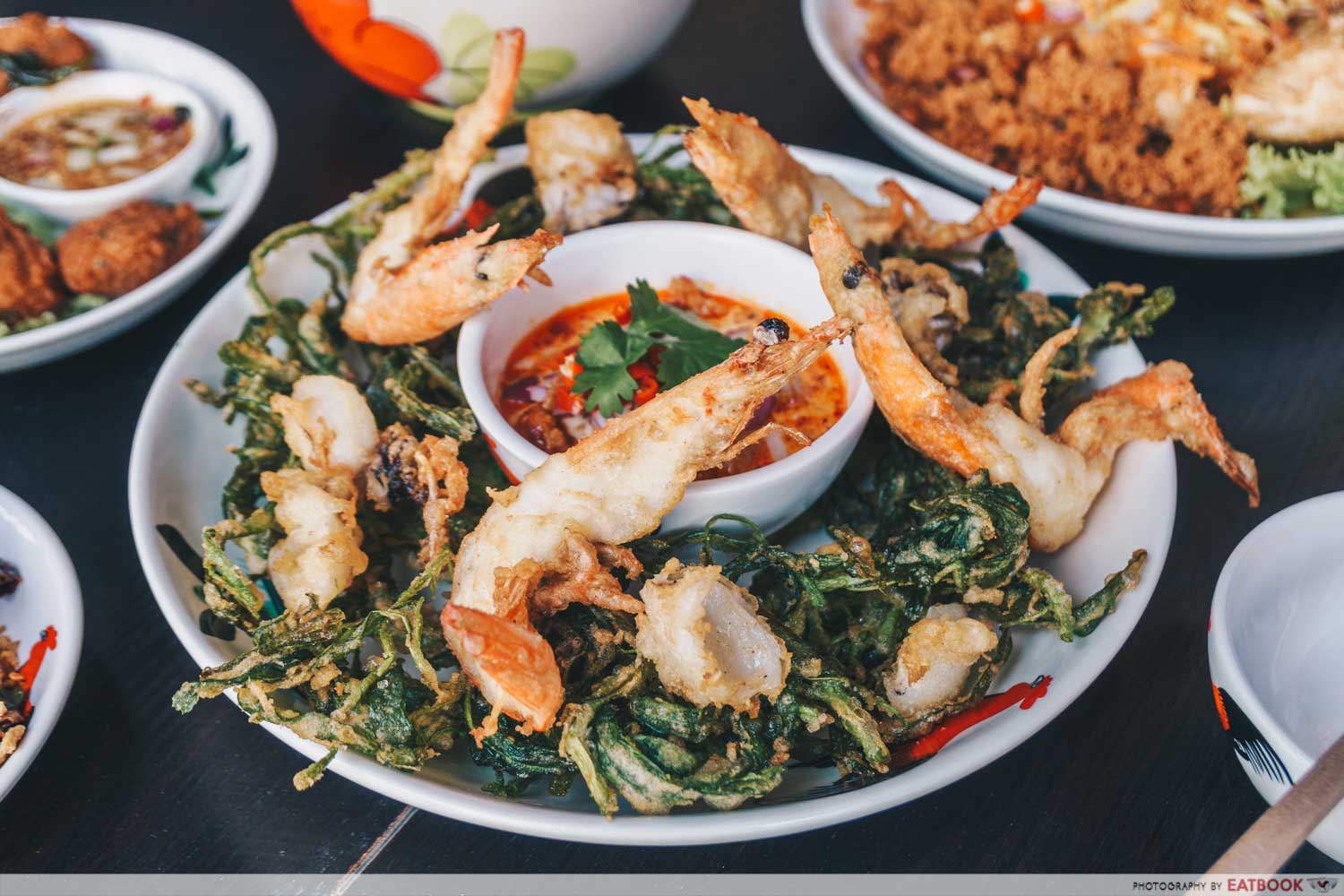 Similarly, we couldn't stop munching on the crispy kang kong, dipped in the speciality sauce that Chef Candy makes herself. It looks red and spicy, but is actually not. We were surprised to find out that there was chicken meat and fresh milk in this dip!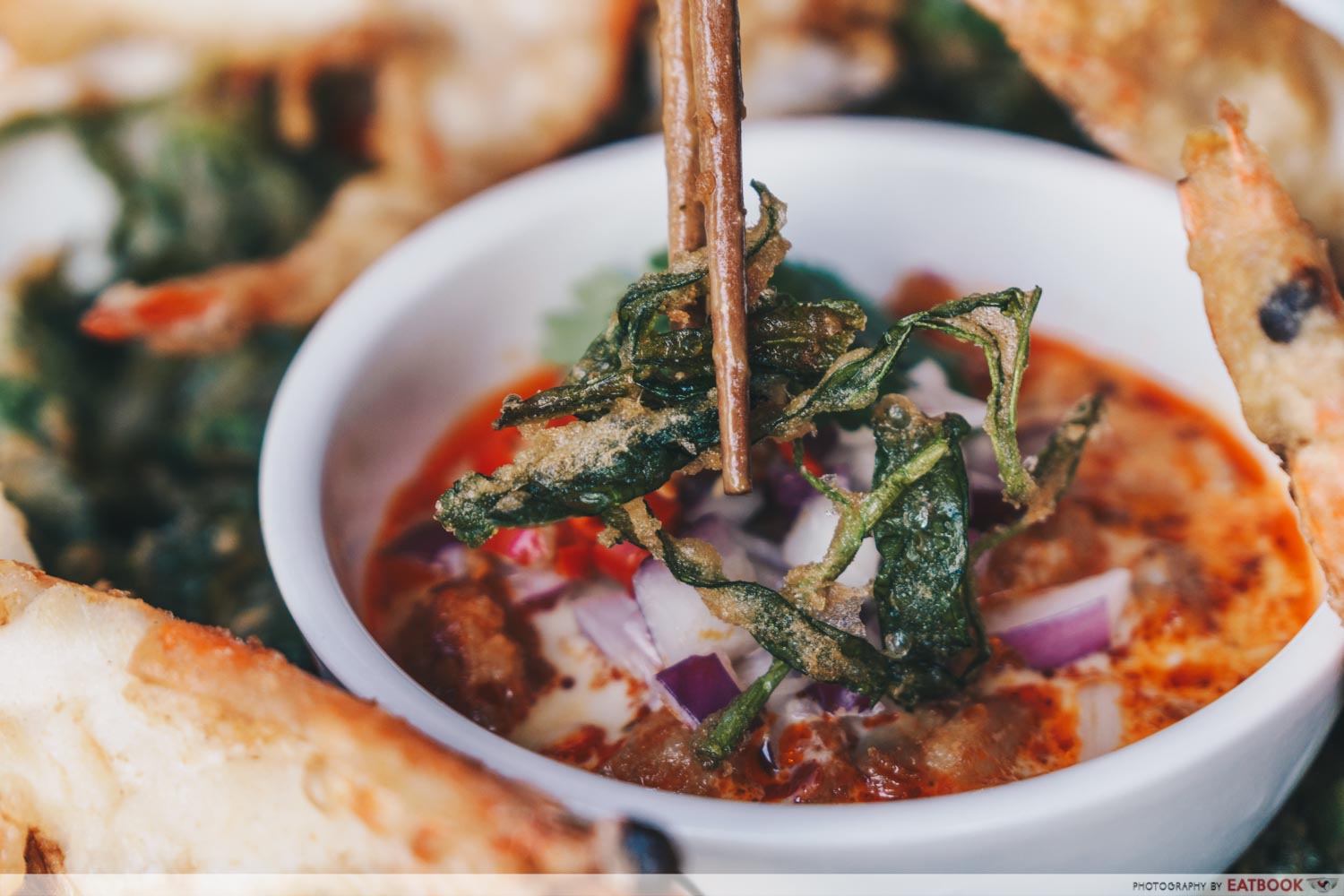 Although visually stunning, the seafood in this dish didn't quite stand out for us. While the batter on the kang kong and seafood was crisp to a fault, we felt the kang kong and dip didn't need the frills.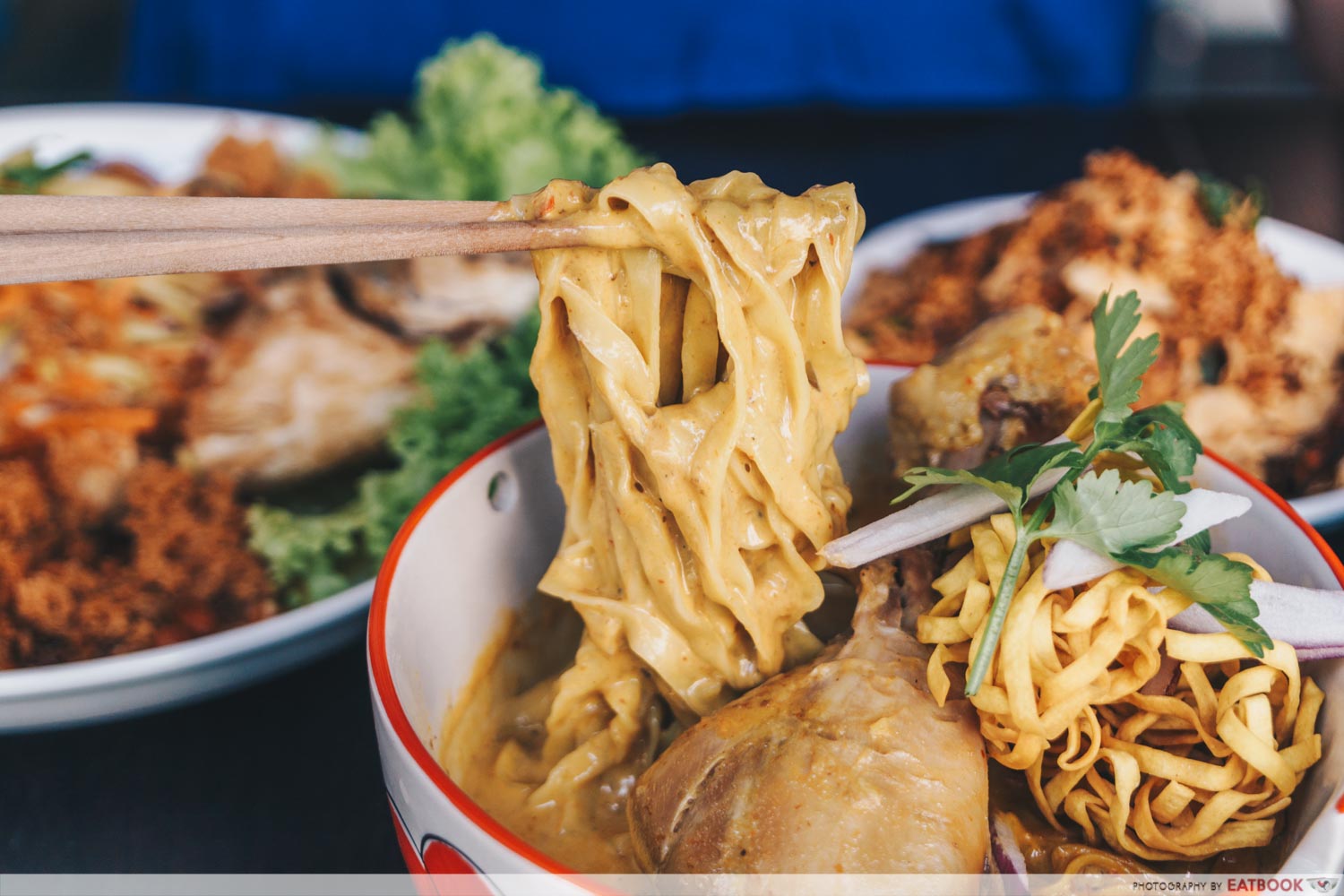 Go for the Signature Khao Soi Gai With Mee Pok ($10.90) to sample one of Northern Thailand's most famous dishes. Soi Candy does a more-than-decent rendition with a huge drumstick, whose meat I found lacked flavour. It's probably a better idea to shred it into the lemak curry before you eat it.
Syohachi Wagyu Hamburg Review: Japanese A5 Wagyu Hamburgs And Sandwiches From $7.70 At Raffles Place
Pair your meal with the classic Thai Milk Tea ($4.90). P.S. It's not your average ChaTraMue cha yen, but zhnged with Soi Candy's own tea leaves too!
Ambience at Soi Candy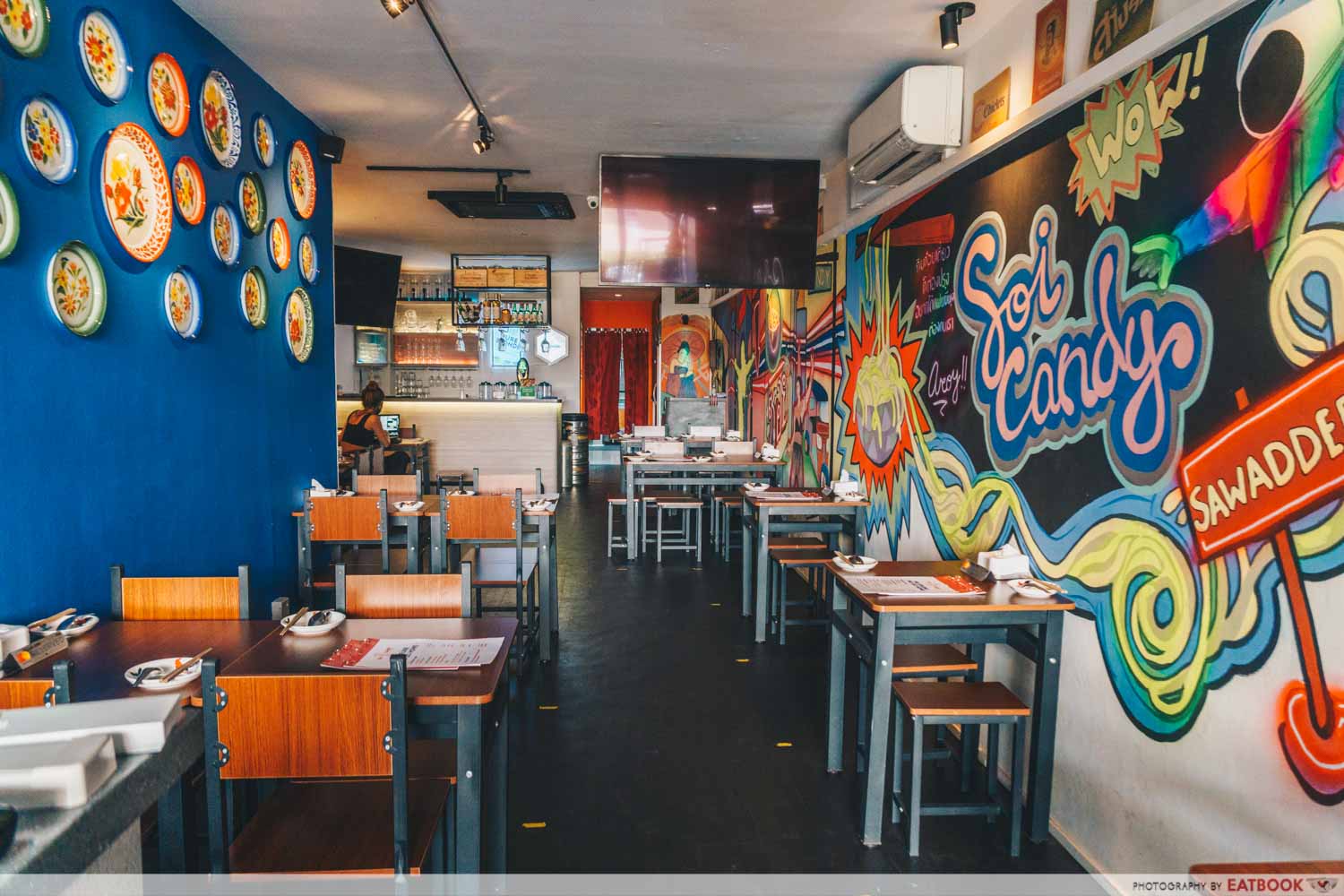 The shop space looks narrow, but you'll be surprised to know that it easily seats 46 between its psychedelic, graffiti-scrawled walls. You get a choice between sitting in the air-conditioned shop, along the bar counter, or outdoors where there fans to beat the sultry Singapore heat.
Soi Candy is centrally located in the CBD, just a five- to 10-minute walk from Tanjong Pagar MRT station.
The verdict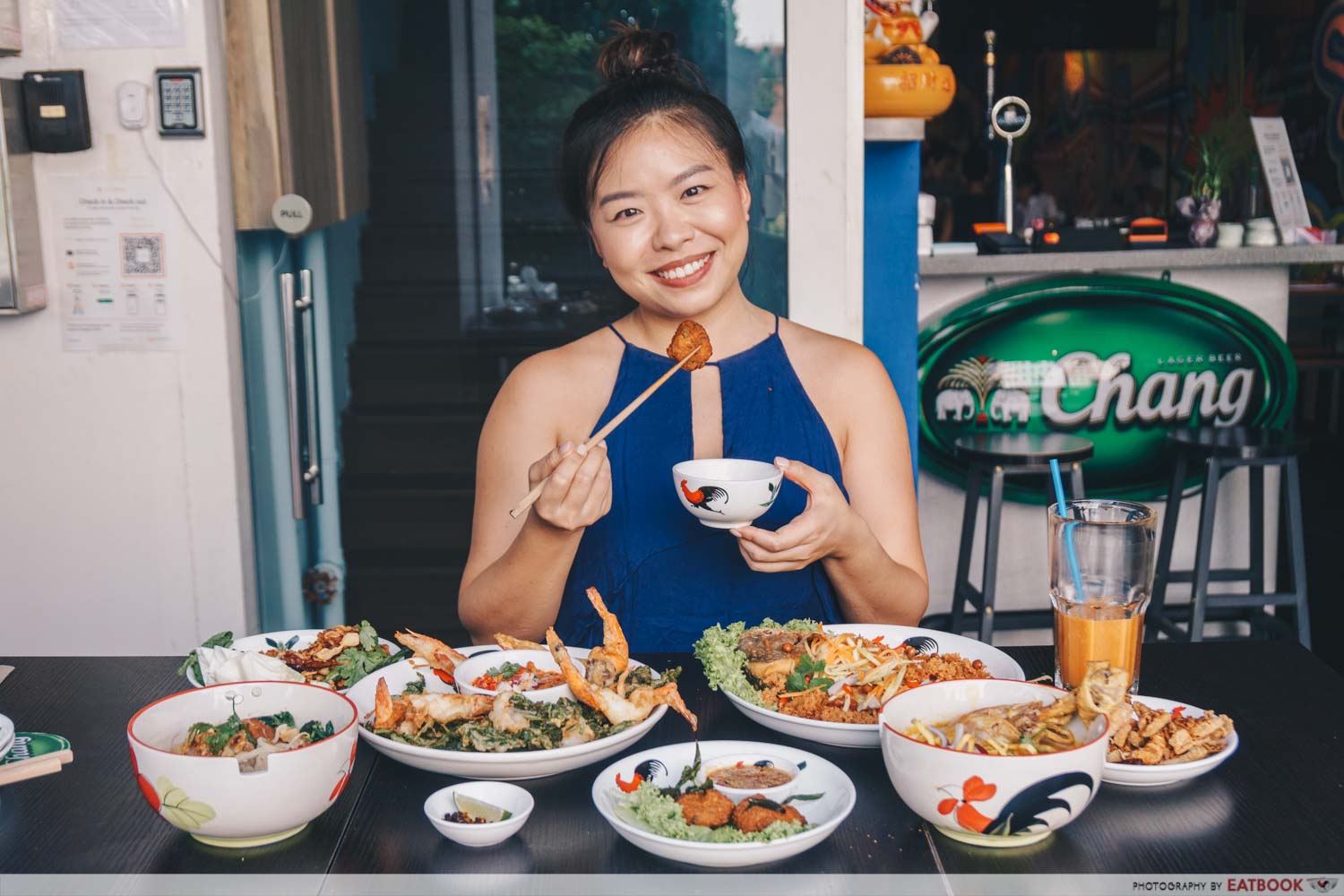 We were prepared to be spiced out of our wits, but found out that Chef Candy dialled down the spice levels of her food after receiving feedback that it was too spicy. You can always request for them to pack on the chilli if you're up for the kick.
Prices here are reasonable too, considering most of the food here is homemade.
I've not found a Thai eatery in Singapore that ticks all the boxes for me, but Soi Candy seems to be a promising candidate for my next Thai food haunt. Although some small elements of certain dishes need to be finetuned, it's to be hoped that unlike my previous favourites, the standards here will only get better, rather than drop.
20 Maxwell Food Centre Stalls Including $1 Noodles, Curry Chee Cheong Fun, And Ondeh-Ondeh For CBD Lunches
It's worth noting that if you book to dine at Soi Candy between 5pm and 7pm any day of the week, you're entitled to a 15% discount on your total bill. Do book ahead of your visit at dinner time on the weekends, because we hear that they're usually full!
Just across the street is Maxwell Food Centre, a treasure trove of foodie gems. For more new eateries, you could also try out wagyu beef sandwiches under $10 at Syohachi Wagyu Hamburg!
Address: 20 Tanjong Pagar Road, Singapore 088443
Opening hours: Tues-Sat 11:30am to 3pm, 5pm to 10:30pm
Tel: 8875 3095
Website
Soi Candy is not a halal-certified eatery.
Photos taken by Muhammad Hafiq.
This was a media tasting at Soi Candy.
Soi Candy Review: Northern Thai Noodle Bar With Pork Stew And Tempura Kangkong Along Tanjong Pagar
Summary
Pros
– Centrally located
– Well-prepared homemade Thai food

Cons
– Some small elements need finetuning
Recommended dishes: Signature Softbone Pork Longan Stew With Rice Noodles ($10.90), Crispy Kangkong With Seafood and Speciality Dip ($21.90)
Opening hours: Tues-Sat 11:30am to 3pm, 5pm to 10:30pm
Address: 20 Tanjong Pagar Road, Singapore 088443