---
Affordable Thai food on a budget
---
I'm a sucker for Thai food. I love how every dish boasts a complex interplay of flavours; each bite can be sweet, spicy, sour, and salty all at the same time. With so many new Thai food places popping up across the island, there's no need to fly to the Land of Smiles to satiate your Thai food cravings! Here is a list of affordable Thai food places with mains below $15 that your wallet and taste buds will thank you for.
---
1. Kra Pow Thai Street Food

---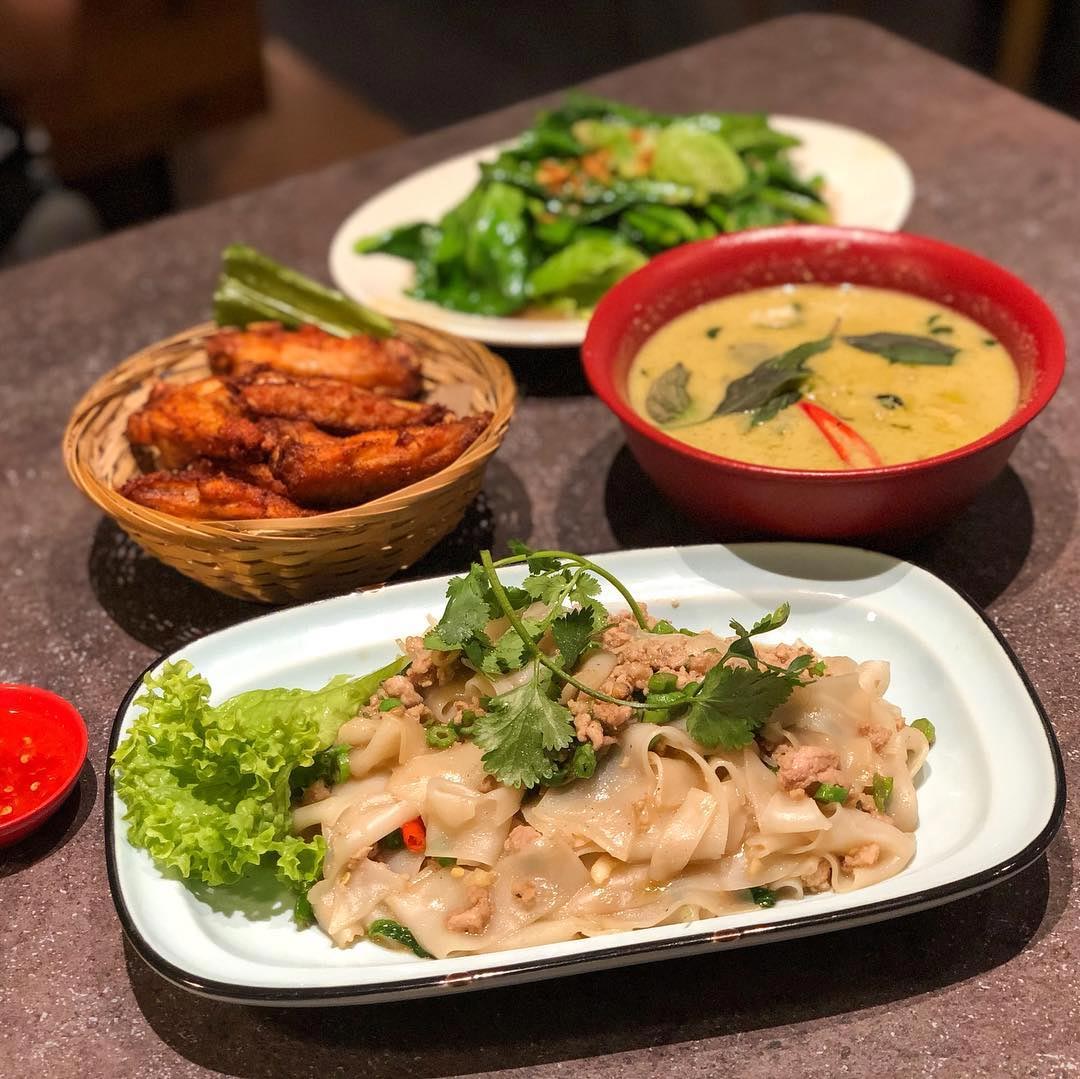 Image credit: @gabond99
Hidden in a corner of Far East Plaza, Kra Pow Thai Street Food is a casual eatery that serves up some real gems in the heart of Orchard Road. Tuck into classics such as Seafood Red Tom Yum Soup ($12.50) and Krapow Pork with Rice ($9), or venture out of your comfort zone with Drunkard Noodle Pork ($9) that is best described as a Thai-style fried hor fun. Most mains are under $10 here, with no added service charge or GST.
Their sharing plates are also not to be discounted. Crispy Thai Wings ($8.50) are a safe bet, but those who can handle the heat should go for the intimidatingly named Crying Tiger ($16.50). This contains grilled beef knuckle slices swimming in a fiery lime and chilli sauce and it is certainly not for the faint of heart.
Address: 14 Scotts Road, #03-26/27, Far East Plaza, Singapore 228123
Opening hours: Daily 11:30am to 9pm
Tel: 6734 1946
Website
---
2. Soi 47 Thai Food

---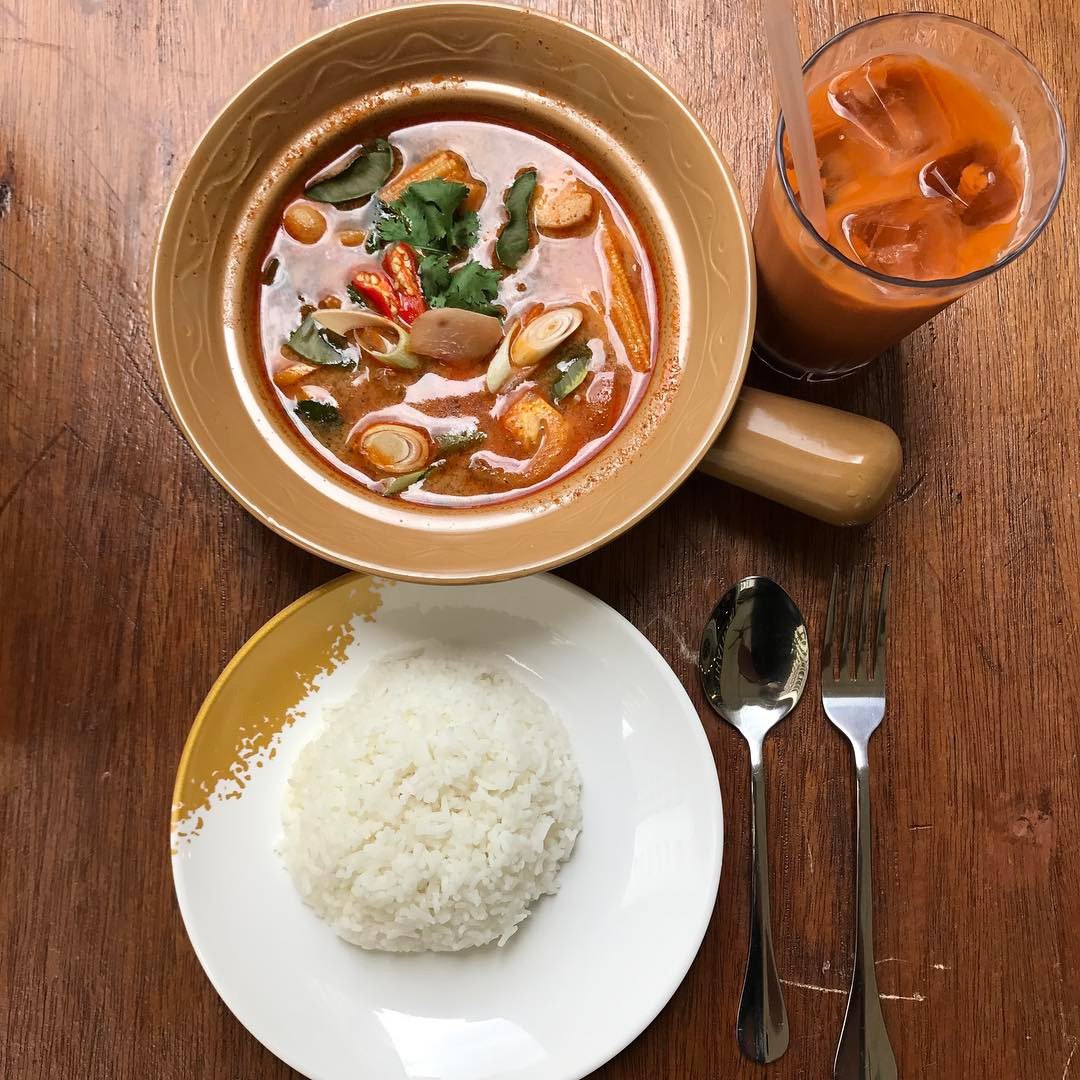 Image credit: @soi47thaifood
Soi 47 Thai Food offers Thai decor, music, and food below a block of flats in Toa Payoh. Feast on dishes such as Claypot Tang Hoon with Prawns ($12), Fried Rice with Seafood ($6), and Basil Pork Rice with Fried Egg ($5). Plus, you'll be glad to know they don't use MSG in any of their dishes!
Address: 47 Lorong 6 Toa Payoh, #01-130, Singapore 310047
Opening hours: Wed-Mon 12pm to 2:30pm, 5:30pm to 10pm
Tel: 6266 4747
Website | Full list of outlets
---
3. Thai Tantric
---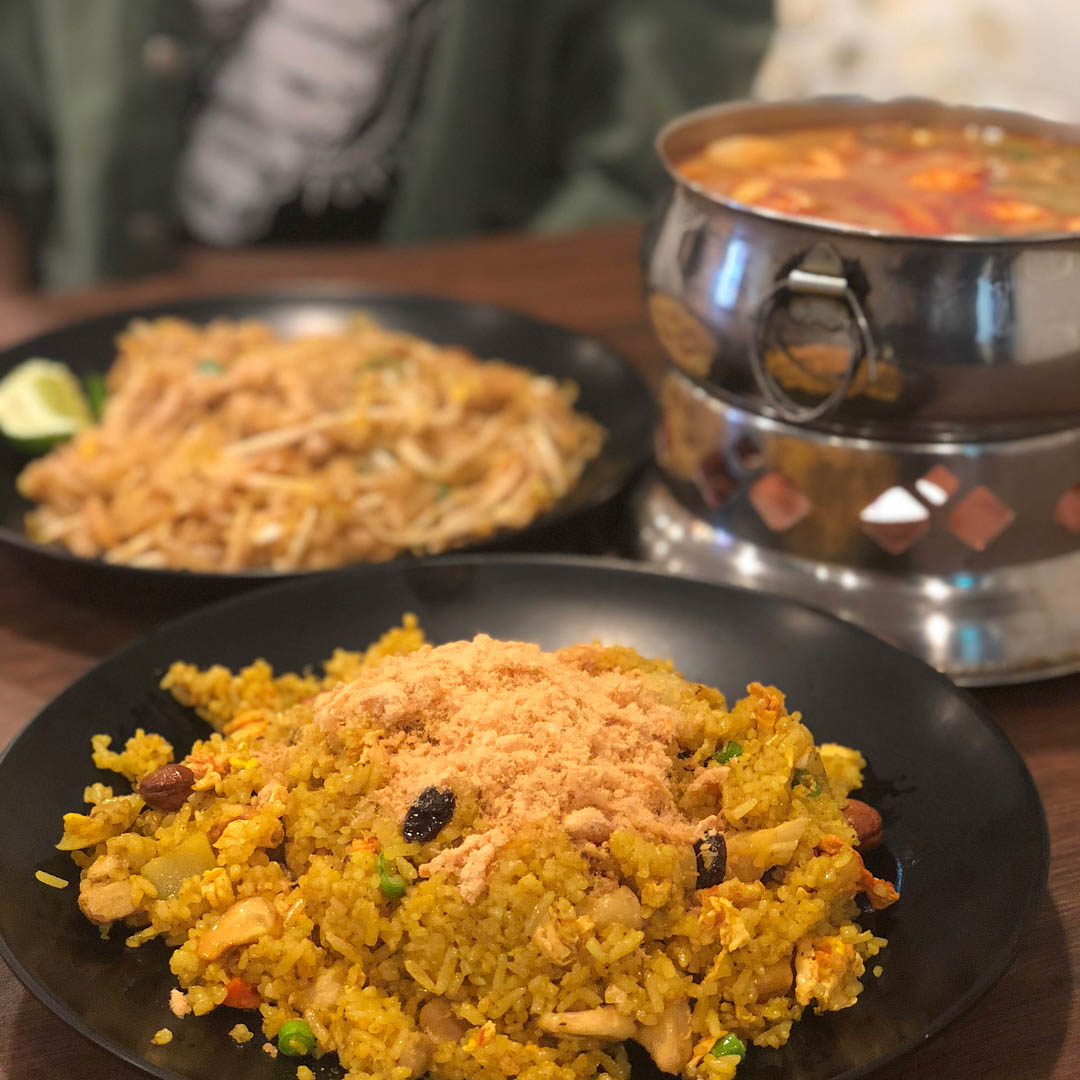 Image credit: @247hangri
Orchard Towers has a questionable reputation as a sleazy mall, but put those qualms aside to enjoy no-frills, quality Thai grub at Thai Tantric. Tom Yum Fried Rice with Chicken ($7), Stir-Fried Glass Noodle with Chicken ($8) and Pineapple Rice ($8) are all affordable options for a satisfying meal. If you want something to share with your buddies, get the Coconut Chicken Soup ($12). Beware if you order spicy dishes though, 'cause they certainly don't hold back on the chilli.
Address: 400 Orchard Road, #03-44, Singapore 238875
Opening hours: Mon-Sat 11:30am to 10:30pm
Tel: 9625 7523
Website
---
4. Saap Saap Thai

---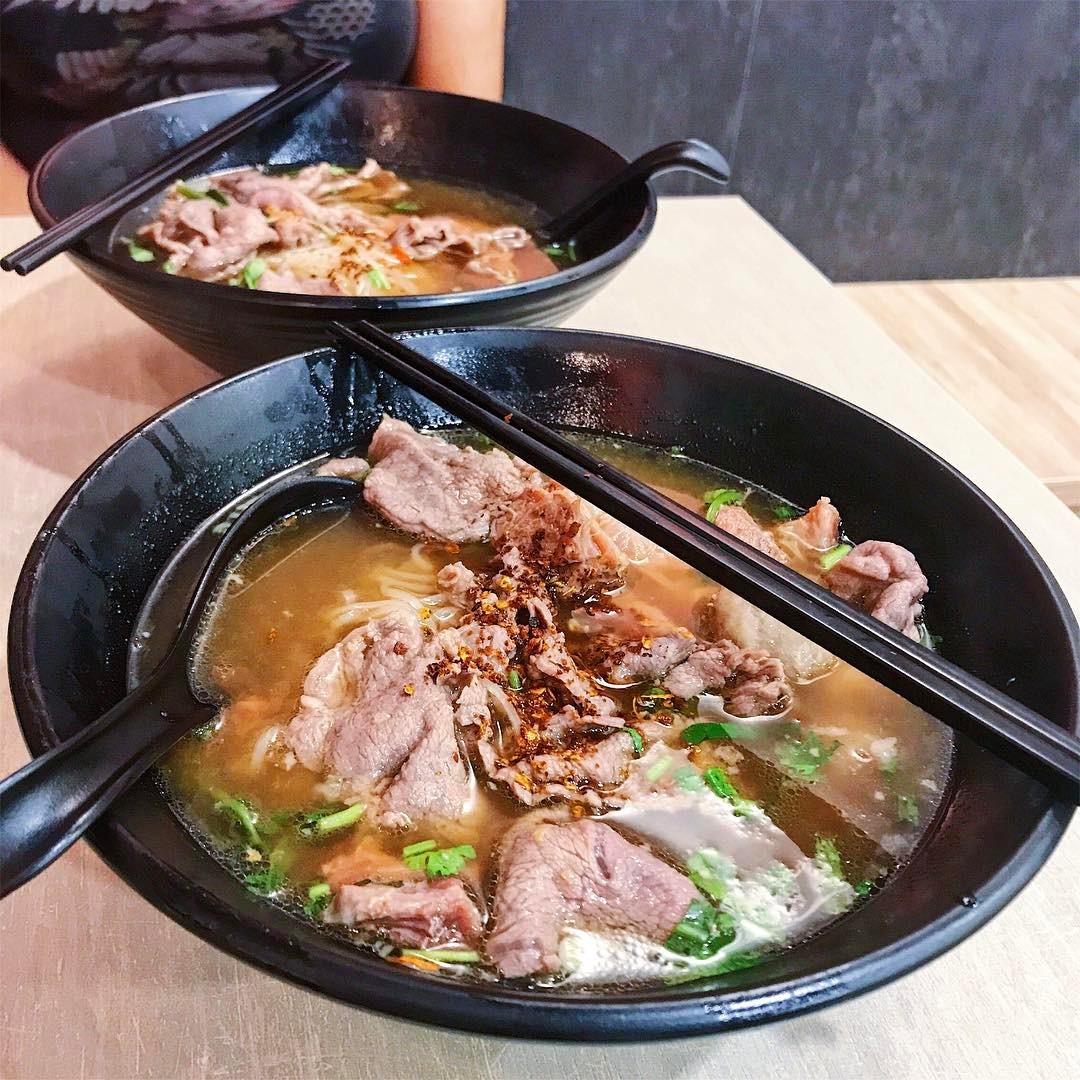 Image credit: @nurulainkznm
Nestled in Our Tampines Hub, Saap Saap Thai is a halal-certified eatery that uses imported Thai sauces, herbs, and spices. Over 50 items are featured on the menu, such as Thai Glass Noodle Salad ($6.50/$8.50), Tom Yum ($7.90/$9.90), and Chicken/Beef Boat Noodles ($7.90/$9.90). End your meal on a sweet note with a plate of Mango Sticky Rice ($5.50).
Address: 51 Tampines Avenue 4, #01-100, Our Tampines Hub, Singapore 529684
Opening hours: Sun-Thur 11am to 9pm, Fri-Sat 11am to 9:30pm
Tel: 9366 0322
Website | Full list of outlets
---
5. Thai Gold Food

---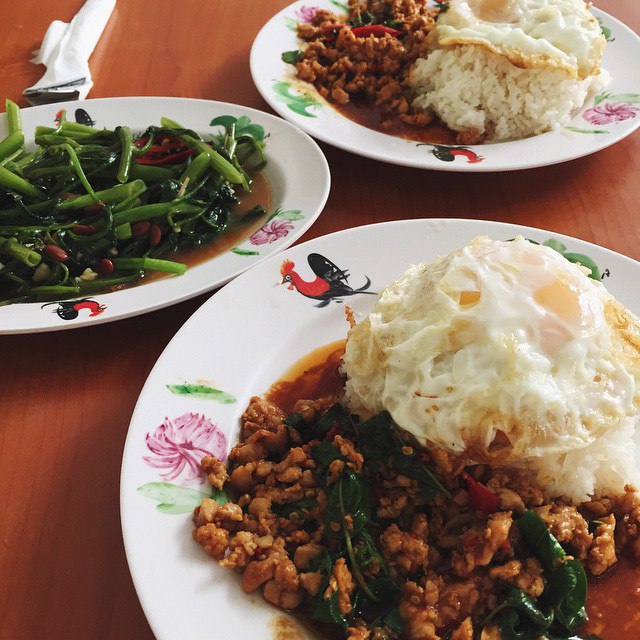 Image credit: @ 5__am
Thai Gold Food is a no-frills Thai restaurant located at Sunshine Plaza, beside Merely Ice Cream. Due to its affordable prices, it is a hit among students from nearby campuses. You'll be able to find Pad Thai ($5), Basil Pork Rice ($6), Fried Green Curry Chicken Rice ($6) and more classic Thai plates here, all at nett prices. After your meal, quench your thirst with their popular Thai Iced Milk Tea ($1.50)!
Address: 91 Bencoolen Street, #01-14, Sunshine Plaza, Singapore 189652
Opening hours:  Daily 11:30am to 3pm, 5:30pm to 9:30pm
Tel: 6883 1575
---
6. Beerthai House
---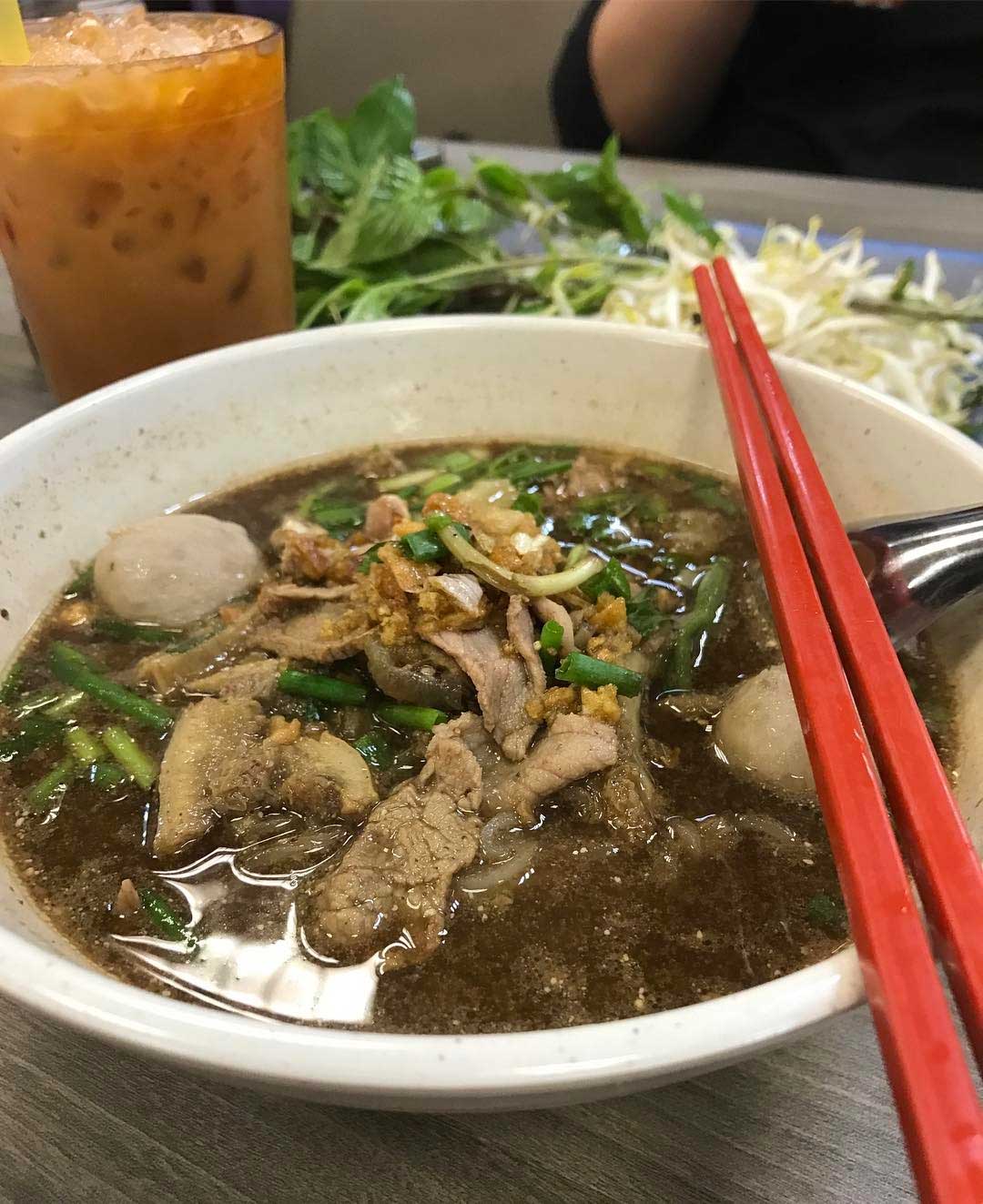 Image credit: @chefray28
Golden Mile Complex is Singapore's Little Thailand, and Beerthai House is its hidden gem. An expansive menu is available, with standard fare such as Green Curry Fried Rice ($7) and Thai Beef Noodles ($7). There are also interesting dishes up for grabs, such as Thai Horfun ($7) and Thai Laksa ($8). The former is a Thai version of yong tau foo. A personal favourite of mine is Papaya Salad with Salted Egg ($10), where the salty creaminess of a whole salted egg perfectly complements the sweet, sour and spicy papaya.
Address: 5001 Beach Road, #01-94/96, Golden Mile Complex, Singapore 199588
Opening hours: Daily 11am to 10pm
Tel: 6291 2267
---
7. Nangfa Thai Kitchen
---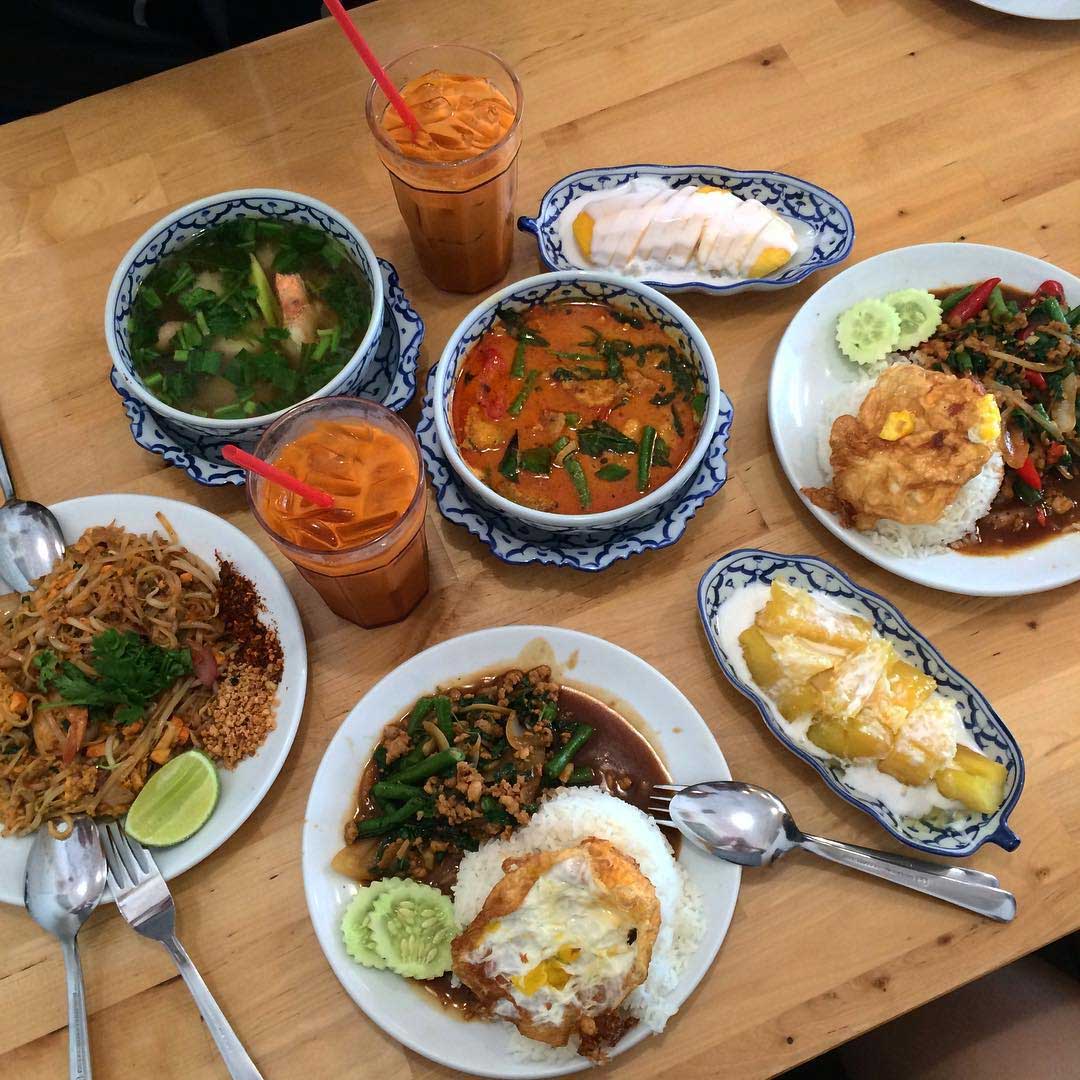 Image credit: @peach_ingg
Situated just two shops away from the popular Nakhon Kitchen, Nangfa Thai Kitchen serves up Thai food using fresh ingredients in generous portions. Here, prices are largely below $15, and you can even get seafood dishes such as Stir-fried Mix Seafood with Hot Basil Leaves, Stir-fried Squid with Hot Basil Leaves, and Deep Fried Squid with Thai Chilli Sauce at $10.80 nett. Don't forget to quench your thirst with their signature Homemade Thai Ice Milk Tea ($3.50). 
Address: Blk 136 Bedok North Avenue 3, #01-166, Singapore 460136
Opening hours: Daily 11:30am to 2:30pm, 5:30pm to 10pm
Tel: 6245 5548
Website
---
8. Shuang Bao Thai
---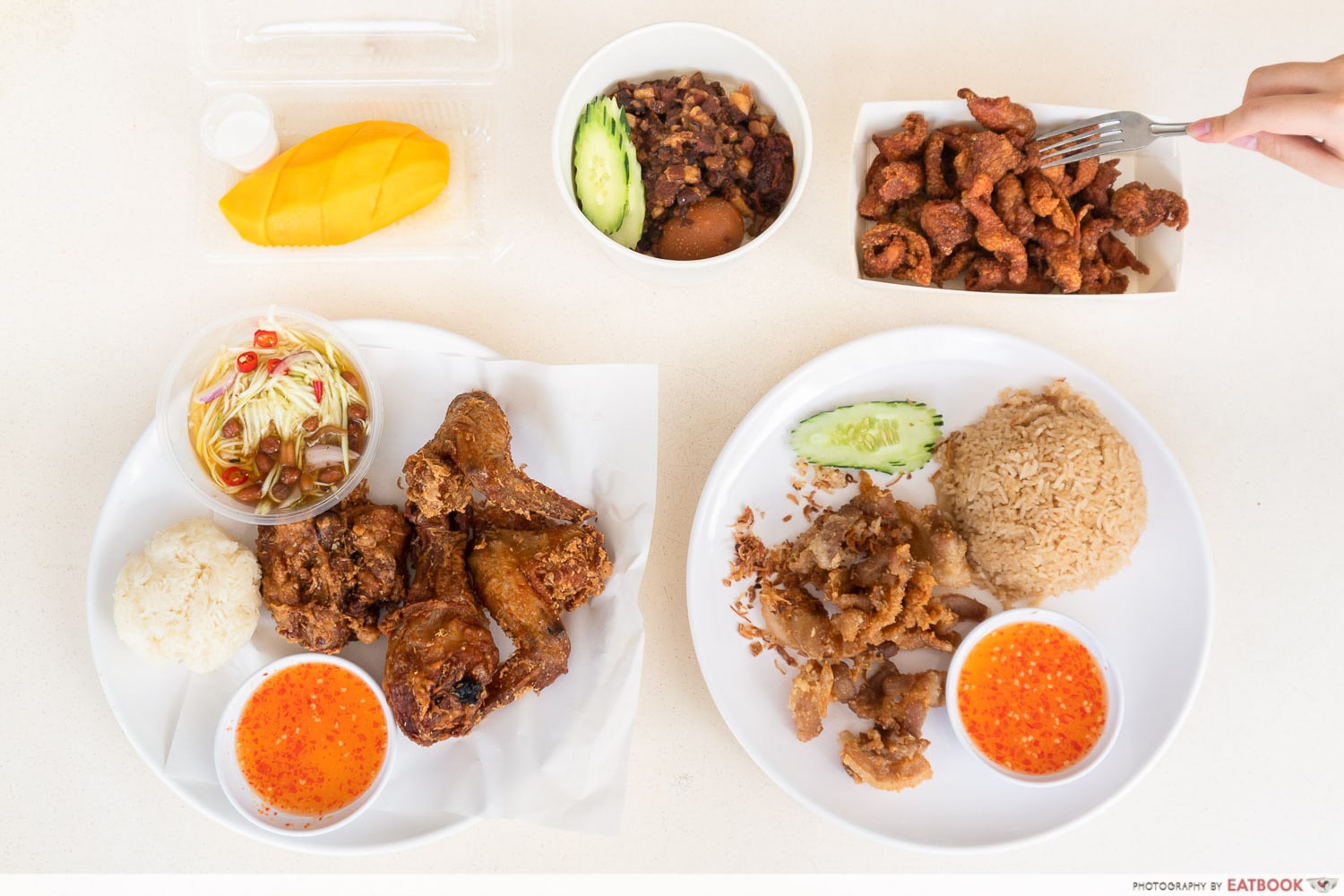 If you're missing Thailand street food, Shuang Bao Thai is a hawker stall at Bedok North serving Hat Yai-style fried chicken. Opt for the set meal ($10.80), which consists of the signature fried chicken sprinkled with shallots, and served with sticky rice and mango salad. Besides the fried chicken, there's also the Thai Fried Pork Belly ($5.50), which replaces fried chicken with fried pork belly. You can also get Fried Chicken Skin ($3.50, 100g) as a side dish or as a snack.
Check out our Shuang Bao Tai review here!
Address: 204 Bedok North Street 1, #01-393, Happy Hawkers, Singapore 460205
Opening hours: Daily 11am to 8:30pm
Tel: 8282 4595
Website
---
9. Pha Muk
---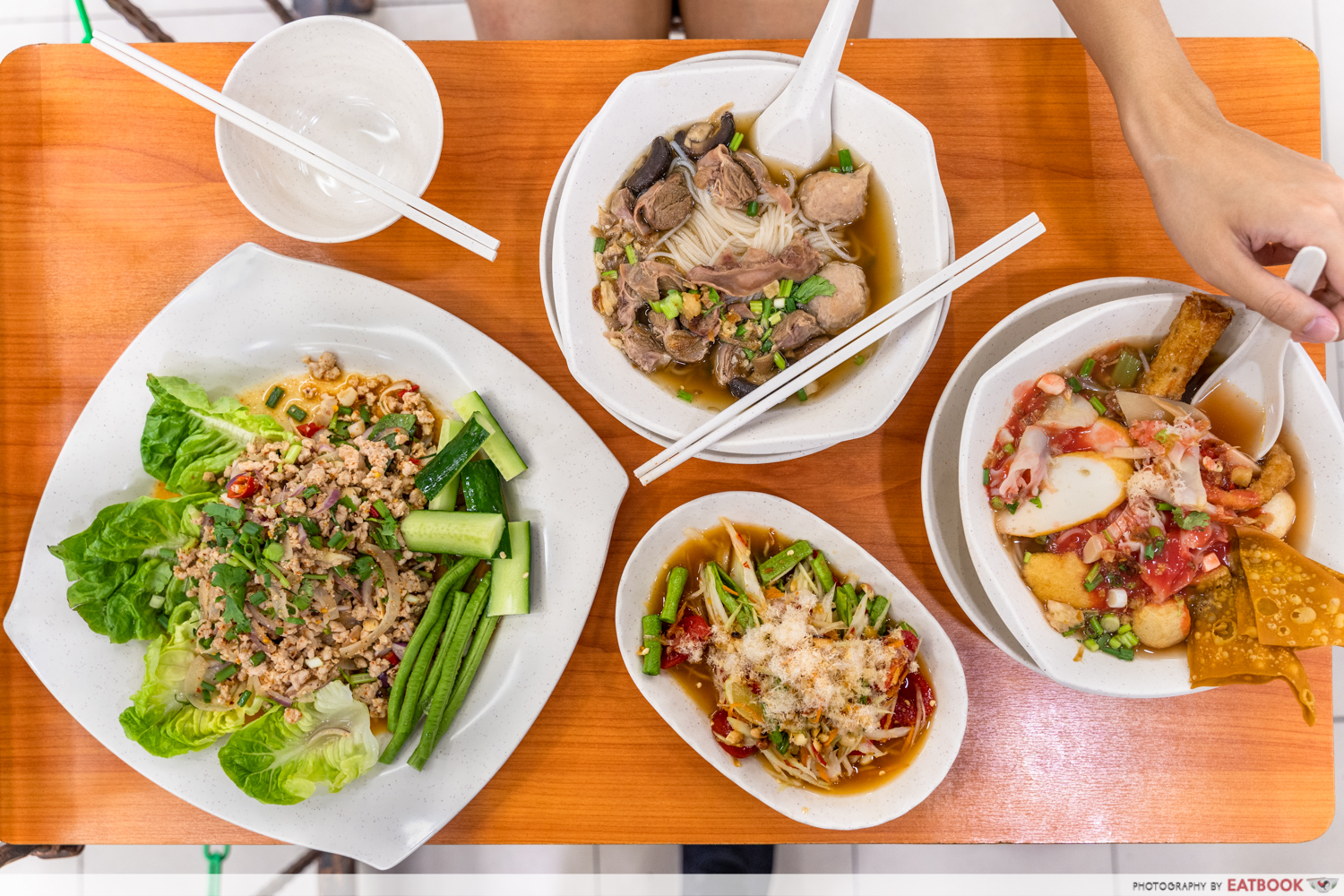 Hidden within the Golden Mile Complex supermarket are a few eateries offering authentic Thai food, including Pha Muk. You have the classic Papaya Salad ($5) with shredded green papaya, long beans, cherry tomatoes, pork floss, and chilli padi. Alternatively, opt for the Grilled Pork Salad ($6), which has a combination of savoury and sweet flavours and an intense spicy kick from the chilli padi. You can also opt for Yen To Fo ($7)—a popular Thai noodle dish that features a pink broth with an assortment of toppings including fishcake, deep-fried wontons, cuttlefish, and vegetables.
Check out our Pha Muk review here!
Address: 5001 Beach Road, #02-64 Unit D, Golden Mile Complex, Singapore 199588
Opening hours: Tue-Mon 10:30am to 7pm
Pha Muk Review: Legit Thai Food Such As Yong Tau Foo, Papaya Salad And More Hidden In A Supermarket
---
10. The Three Elephants
---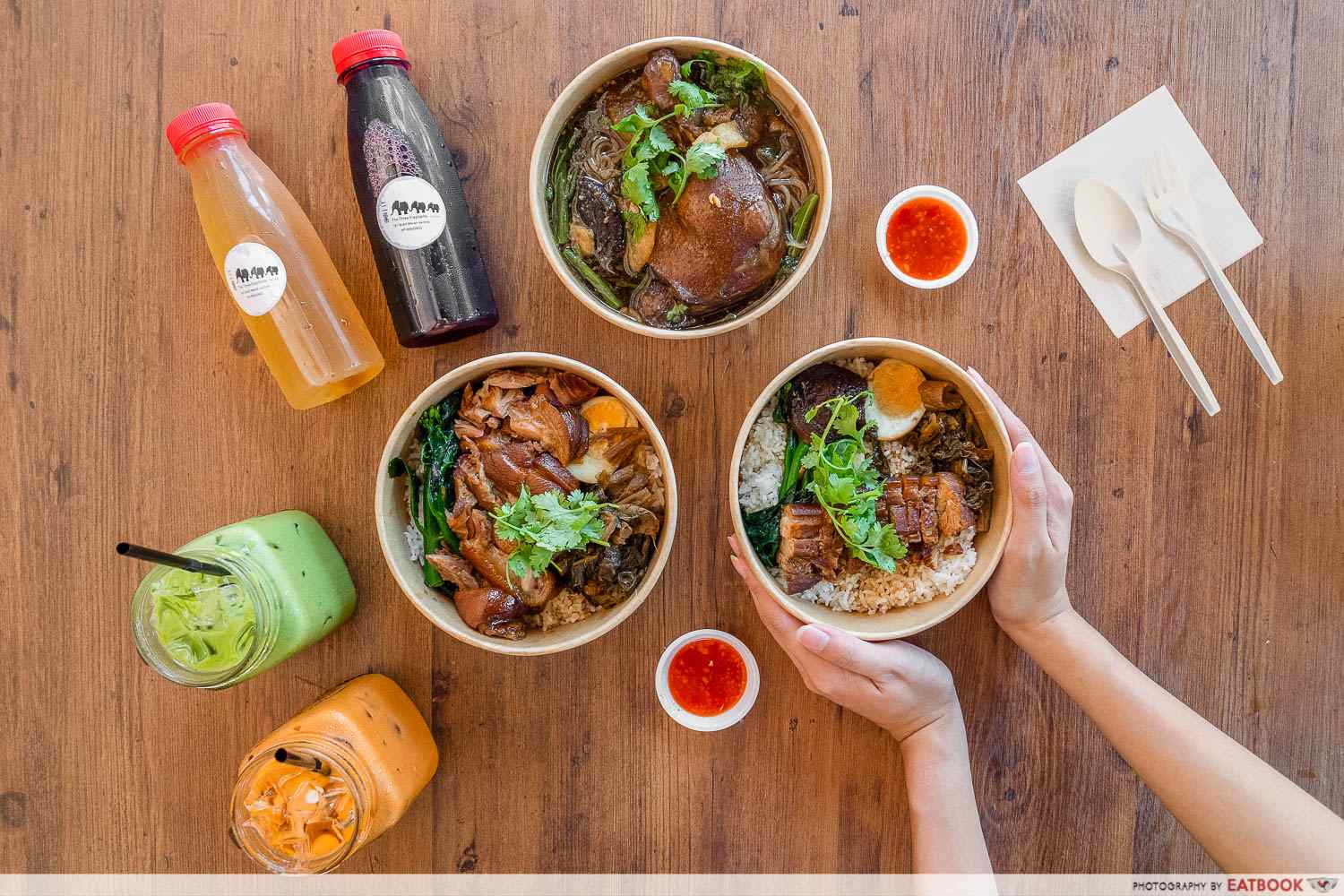 Located along a stretch of shops in Bukit Merah Central, The Three Elephants offers Thai comfort food at wallet-friendly prices. The Braised Pork Trotter Rice ($6.80) is served with tender braised pork trotter, a braised egg, fresh greens and preserved vegetables. Something unique to try here is the Braised Duck Drum Kway Teow Soup ($7.80), which comes with silky rice noodles, tender red meat, leafy green vegetables, a braised egg, and radish.
Check out our The Three Elephants review here!
Address: 161 Bukit Merah Central, #01-3729, Singapore 150161
Opening hours: Mon-Sat 11am to 8pm
Tel: 9690 0822
Website
The Three Elephants Review: Thai Braised Pork Trotter Rice And Duck Kway Teow From $5.80
---
11. Flying Pig
---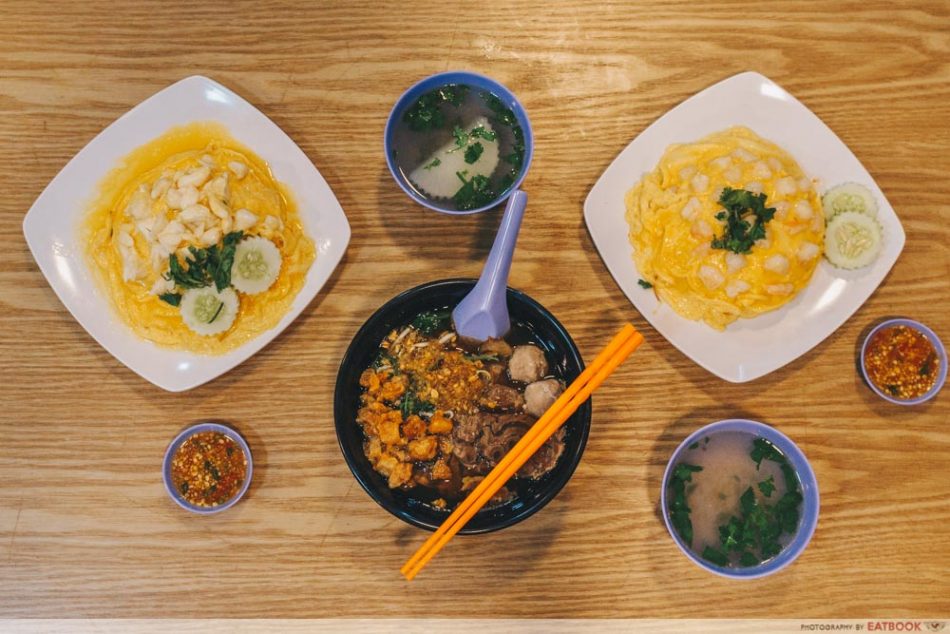 Another Thai eatery located in Golden Mile Complex is Flying Pig. Their popular Fried Rice Omelette Crab ($10) comes with visible chunks of crab meat atop a fluffy omelette. This dish also comes with a prawn option at the same price. Those who love noodles can enjoy their Beef Noodle Soup ($7), topped with beef tendon slices, beef balls, and fried lard.
Check out our Flying Pig review here!
Address: 5001 Beach Road, #01-39, Golden Mile Complex, Singapore 199588
Opening hours: Mon, Wed-Sun 12pm to 4pm, 5pm-9.30pm
Tel: 8168 4590
Website
Flying Pig Review: $10 Thai Crab Meat Omelette Rice And More At Golden Mile Complex
---
12. Soi Candy
---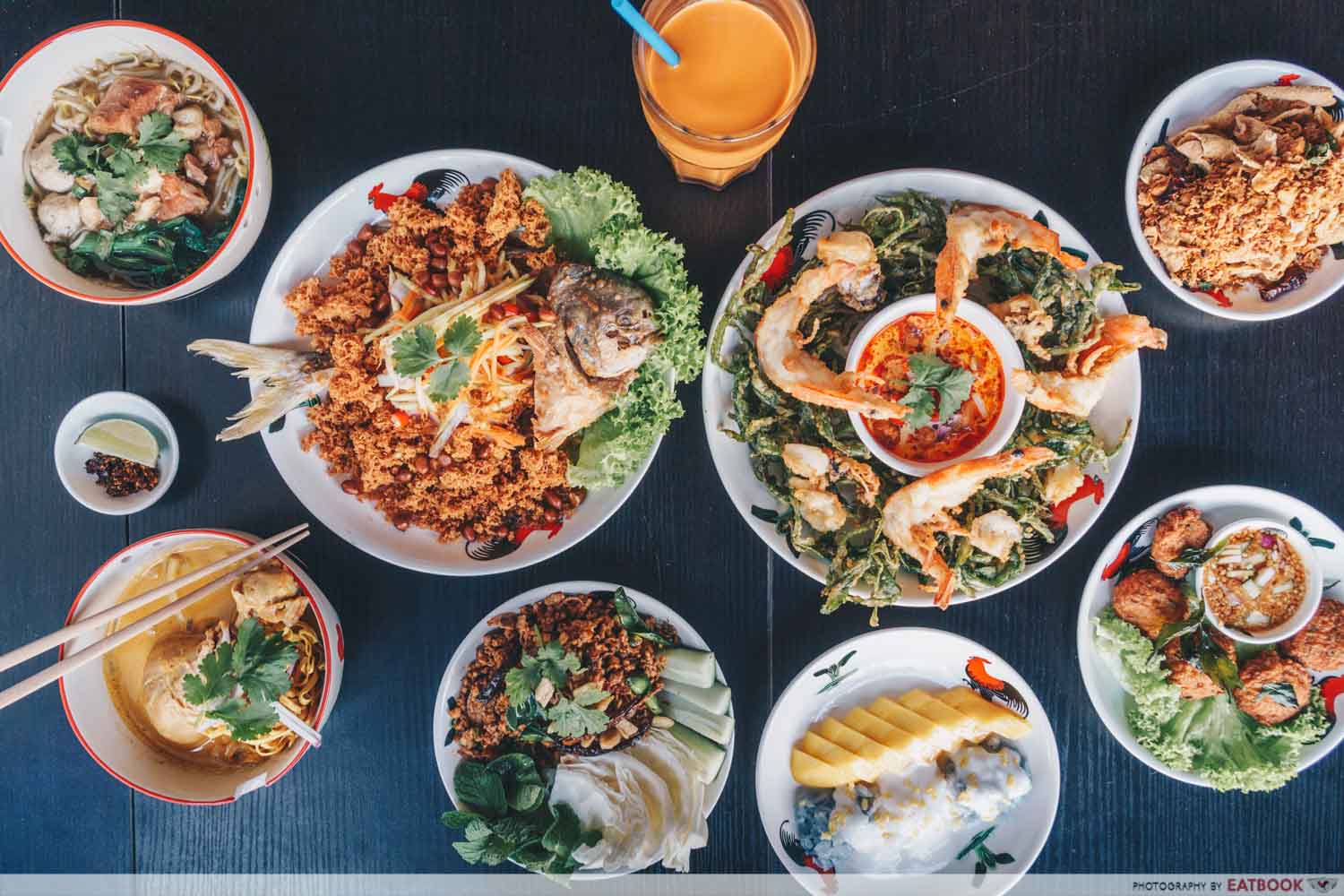 Soi Candy is helmed by head chef Candy, who comes from Chiang Rai, which is a city in northern Thailand. Every dish is house-made with spices sourced directly from her hometown. Start with their appetiser, Fried Squid Cake ($8.90), which is a mix of squid paste, fresh squid, and sliced long beans for a pop of colour. Pair the appetiser with their Signature Khao Soi Gai with Mee Pok ($12.90), which is a popular Northern Thailand noodle dish.
Check out our Soi Candy review here!
Address: 20 Tanjong Pagar Road, Singapore 088443
Opening hours: Tue-Fri 12pm to 3pm, 5pm to 10:30pm, Sat-Sun 12pm to 10:30pm
Tel: 8875 3095
Website
Soi Candy Review: Northern Thai Noodle Bar With Pork Stew And Tempura Kangkong In Tanjong Pagar
---
Thai food that won't burn your wallet
---
Hit some of your buddies up and head down to these places to stuff your faces in some seriously satisfying nosh. For more wallet-friendly food, check out these affordable dim sum and cheap ramen places in Singapore!
Featured image adapted from @sara.mcfoodie's post.
This post was originally written in 21 February 2019.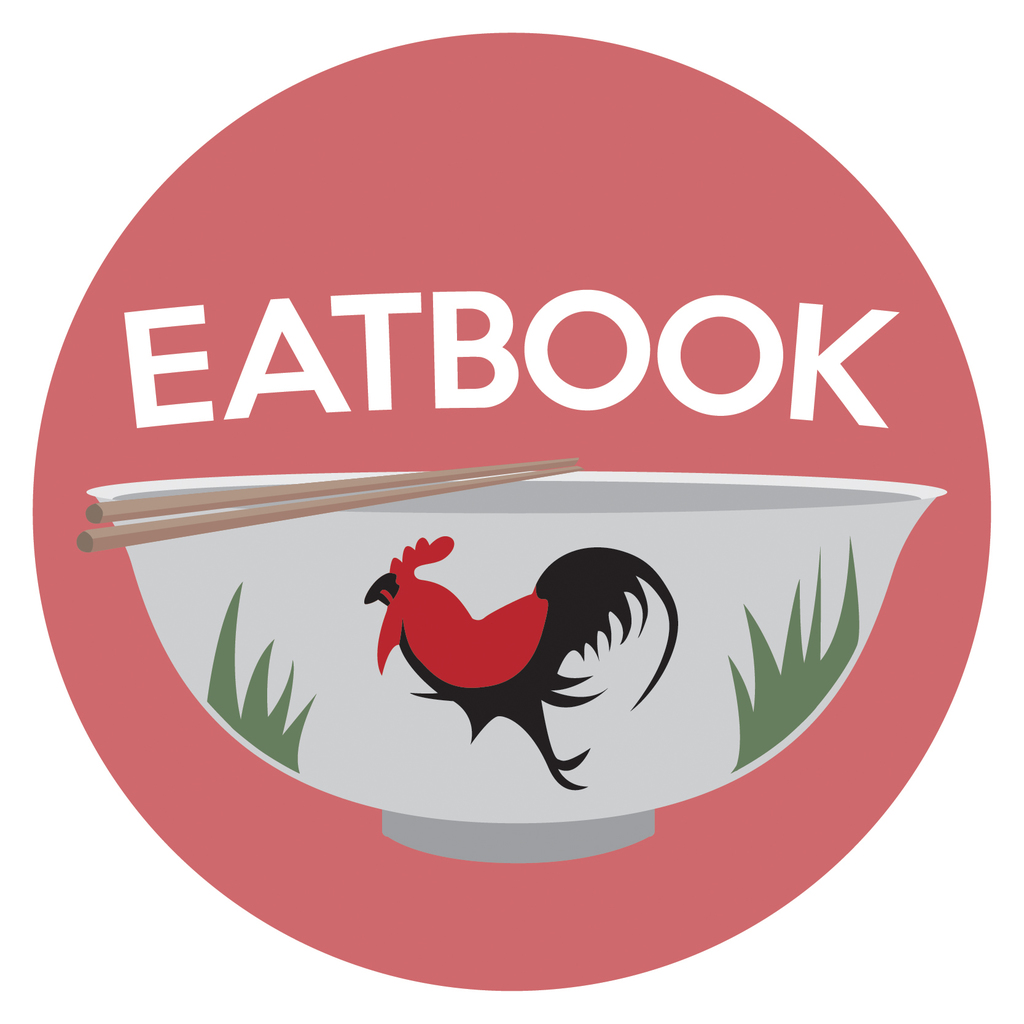 Drop us your email so you won't miss the latest news.