---
Cheap ramen around Singapore
---
As a huge ramen lover, I've always had to splurge on quality ramen. In fact, this has become a weekly affair, something my wallet isn't too pleased about. Lucky for us, Singapore is not short of cheap ramen choices under $10, including halal ones, dry versions and more.
---
1. Buta Kin
---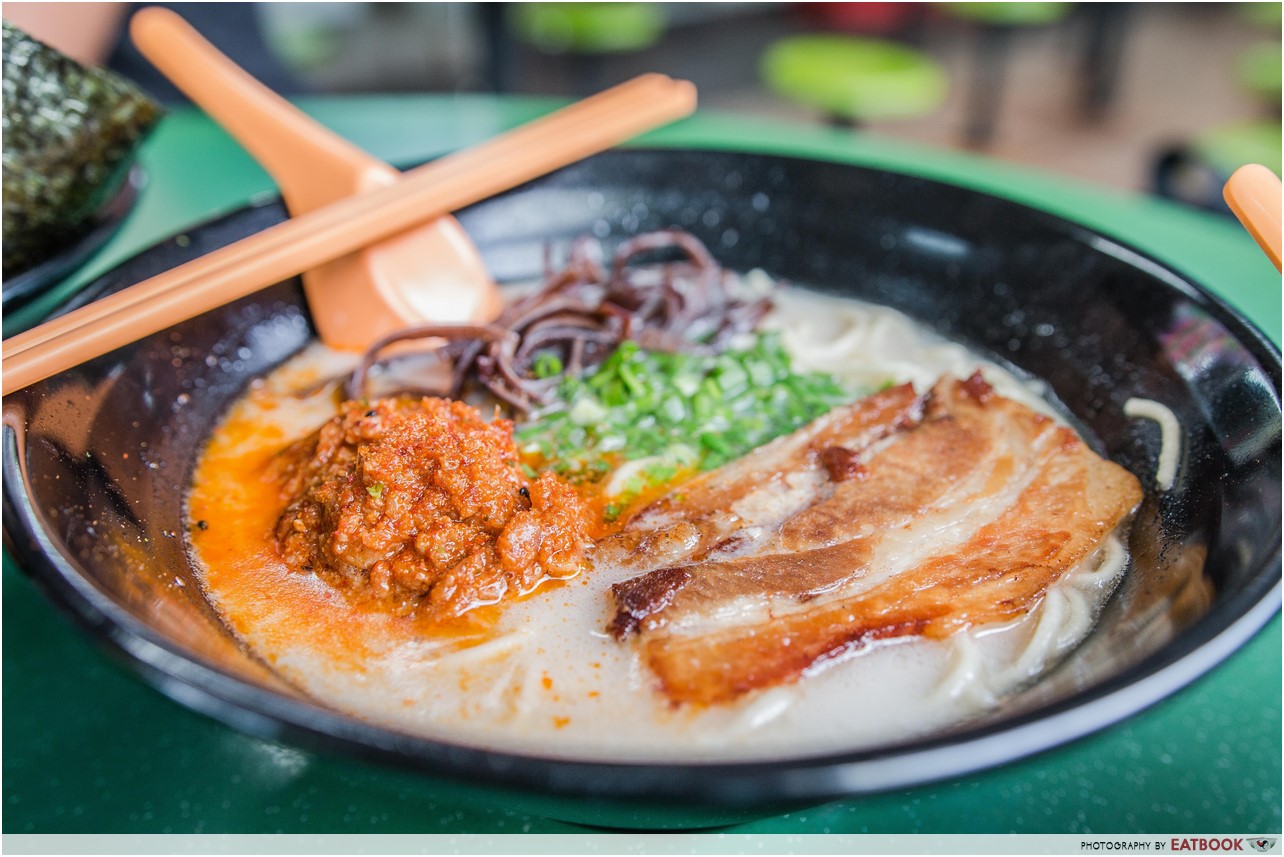 Buta Kin serves up ramen at one of the most affordable prices in our list. Their Tonkotsu Original Ramen is priced at just $5.50 for a regular-sized bowl. Spice lovers can also get the Tonkotsu Red Ramen ($6.50), which packs some heat from a spicy paste made with minced meat. Expect thicker slices of chashu than your average bowl of ramen. If you can't go without your daily dose of greens, the Vegetable Ramen ($5) is an option to consider as well.
Check out our full review of Buta Kin.
Address: Upper Bukit Timah Road, #04-28 144, Singapore 588177
Opening hours: Mon-Fri 12pm to 8:45pm, Sat-Sun 11:30am to 8:45pm
Tel: 8661 6028
Website
---
2. Ramen Taisho
---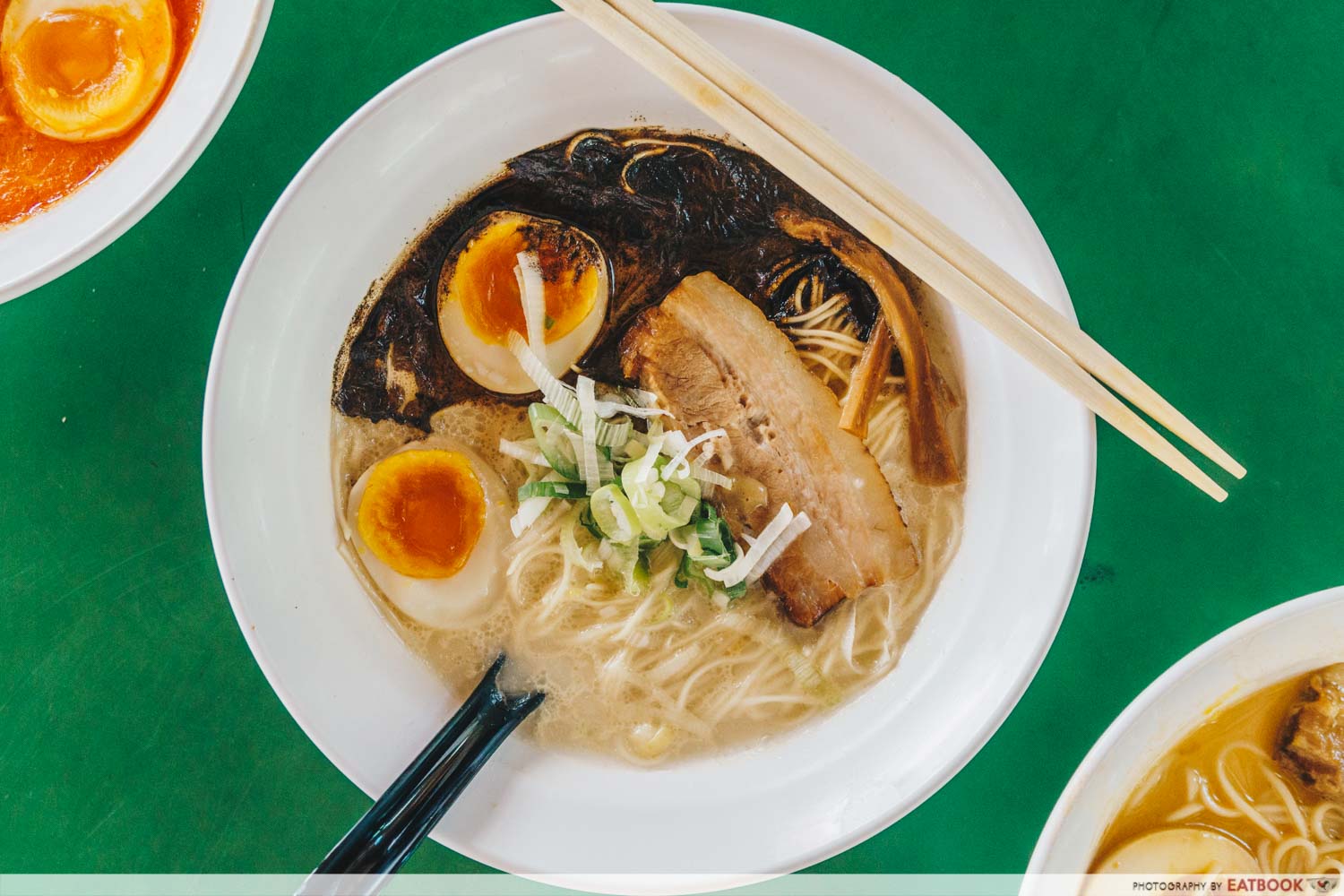 Ramen Taisho is a great option for those who appreciate the strong flavour of garlic with their noodles. Despite having a thin broth, the Black Garlic Tonkotsu Ramen ($7.80) remains flavourful with a distinct nuttiness from the black garlic oil used. Alternatively, if you're one who likes all things spicy, spice your meal up with their Spicy Black Garlic Tonkotsu Ramen ($8.80) instead.
Check out our full review of Ramen Taisho.
Address: 1 Kadayanallur Street, #01-32 Maxwell Food Centre, Singapore 069184
Opening hours: Tues-Thur and Sat 11:30am to 9:30pm, Fri 11:30am to 10:30pm
Tel: 9831 1855
Website
---
3.Takagi Ramen
---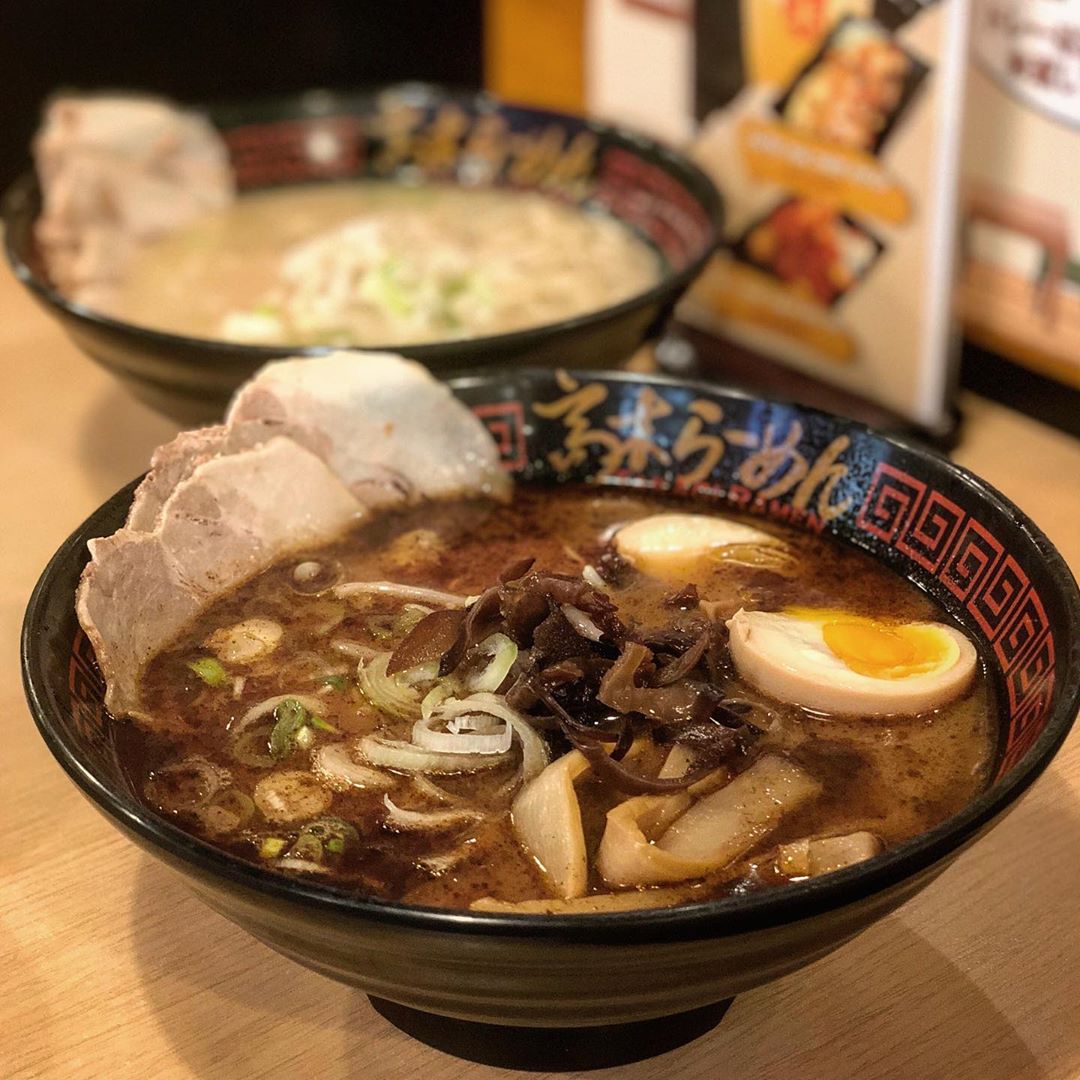 Image credit: @thenoisyelephant
Takagi Ramen is pretty well known for their cheap ramen done Hakata-style, characterised by rich and milky broth. Those who adore intense flavours can go for the Black Tonkotsu ($7.90), which owes its dark colour to slow-roasted black garlic infused in the broth. Enjoy it with soft, tender chashu that is braised for more than 12 hours. If you're craving some spice, also check out the Karaka-men ($7.50) which is made with a medley of red chillies.
Check out our full review ofTakagi Ramen.
Address: 51 Ang Mo Kio Ave 3, #01-01C, Singapore 569922
Opening hours: Daily 24 hours
Tel: 9170 7870
Website
---
4. KURO-OBI
---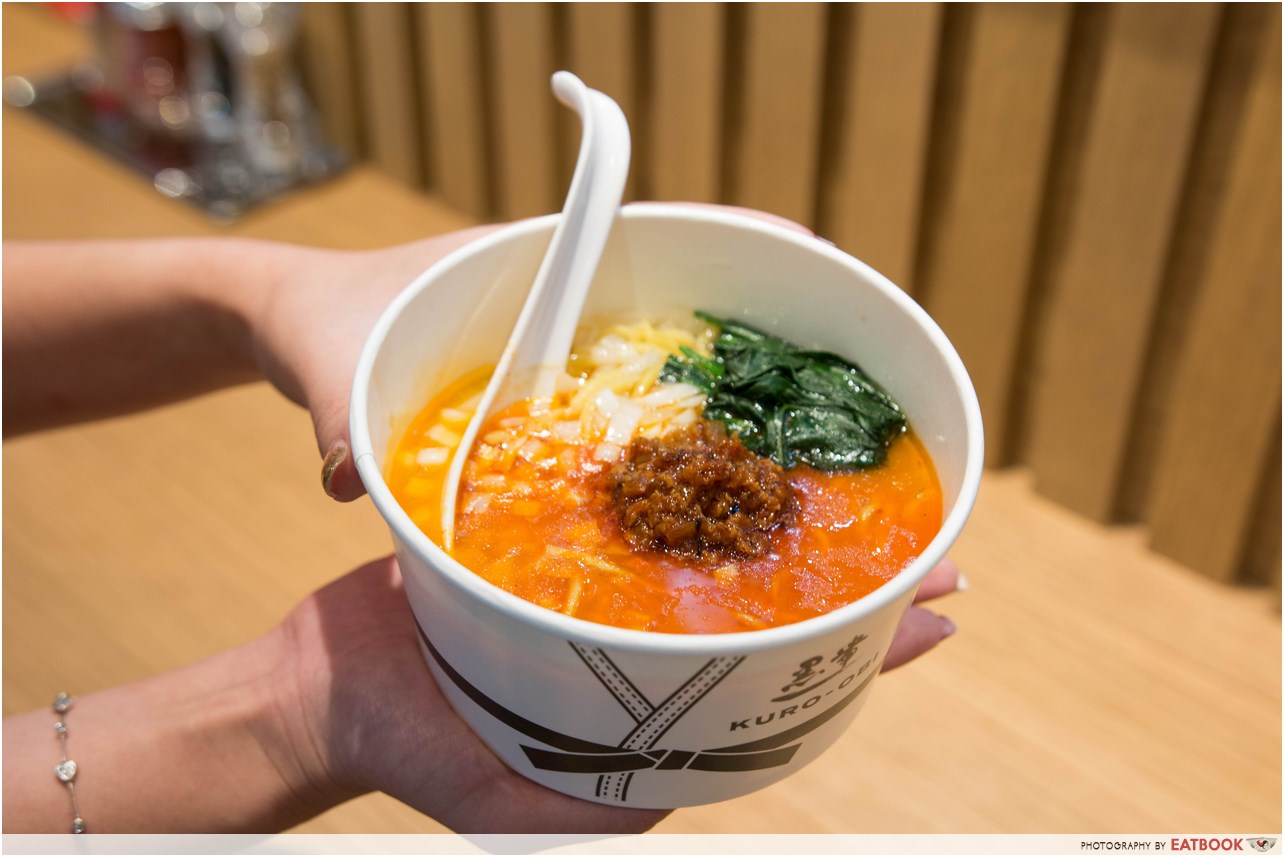 Operated by Ippudo as a takeaway bar, KURO-OBI sells reasonably priced ramen, great for those who prefer to enjoy their food at home or in the office. Go for the Shiro Obi ($8) which features a milky and savoury chicken broth. Otherwise, the Aka Obi ($10) is a spicy alternative that offers shrimp-based soup, with a piquant flavour reminiscent of hae bee hiam.
Check out our full review of KURO OBI.
Address: 2 Bayfront Avenue, #B2-54/55, The Shoppes at Marina Bay Sands, Singapore 018972
Opening hours: Daily 11am to 10pm
Tel: 6688 7064
Website
---
5. A Noodle Story  
---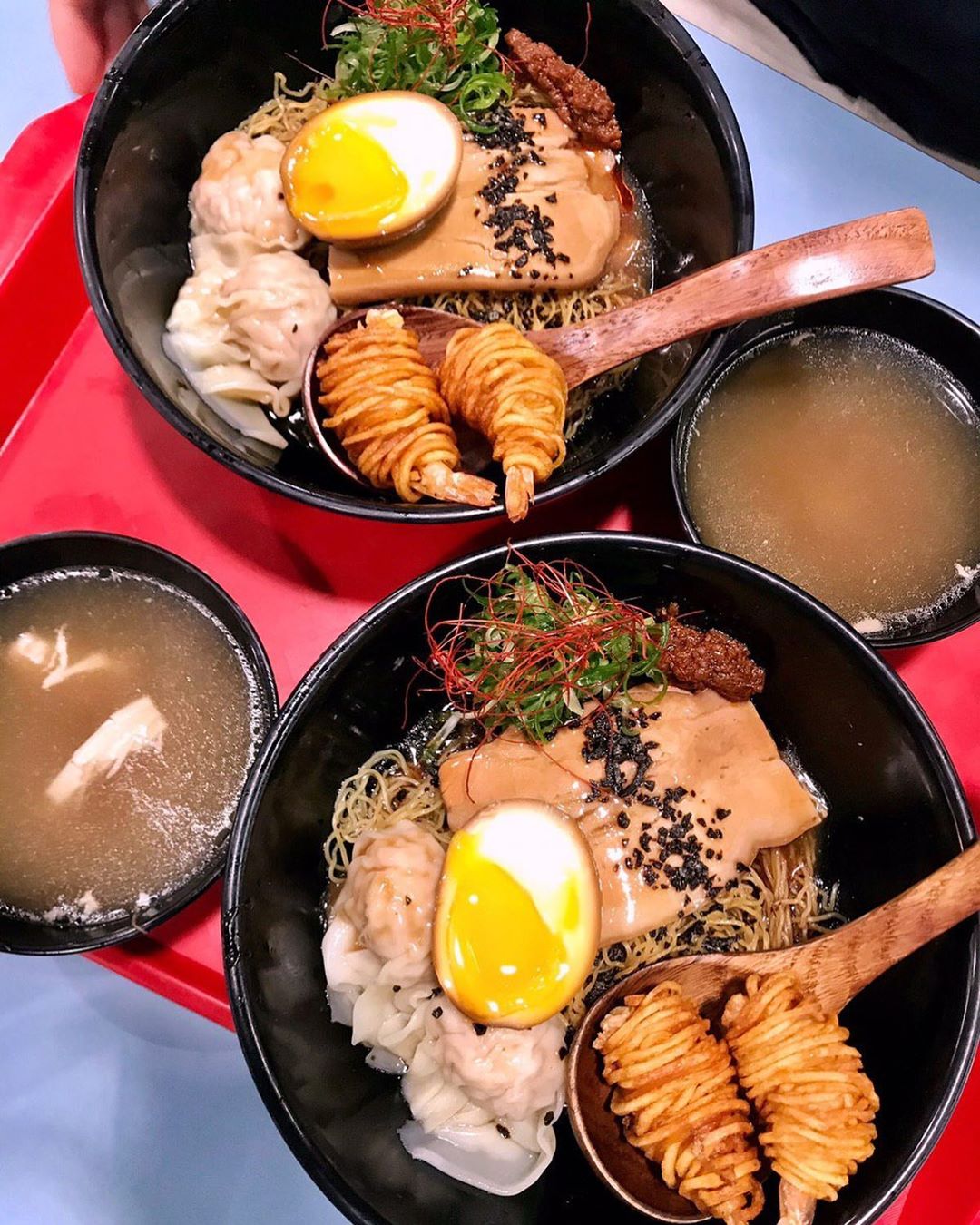 Image credit: @boosuzatummy
Always sporting long queues, A Noodle Story is home to the crowd-pleasing Singapore-Style Ramen ($9/$12). As its name states, this is ramen with a local, wonton mee twist. Their rendition features chashu braised for 36 hours, deep-fried potato-wrapped prawns, braised lava eggs, and steamed wontons—great for those looking for a less-than-conventional Japanese food fix.
Address: 7 Maxwell Road, #01-39, Amoy Street Food Centre, Singapore 069111
Opening hours: Mon-Fri 11:15am to 1:30pm, 5:15pm to 7pm, Sat 11:30am to 1:15pm
Tel: 9027 6289
Website
---
6. Suparakki Ramen
---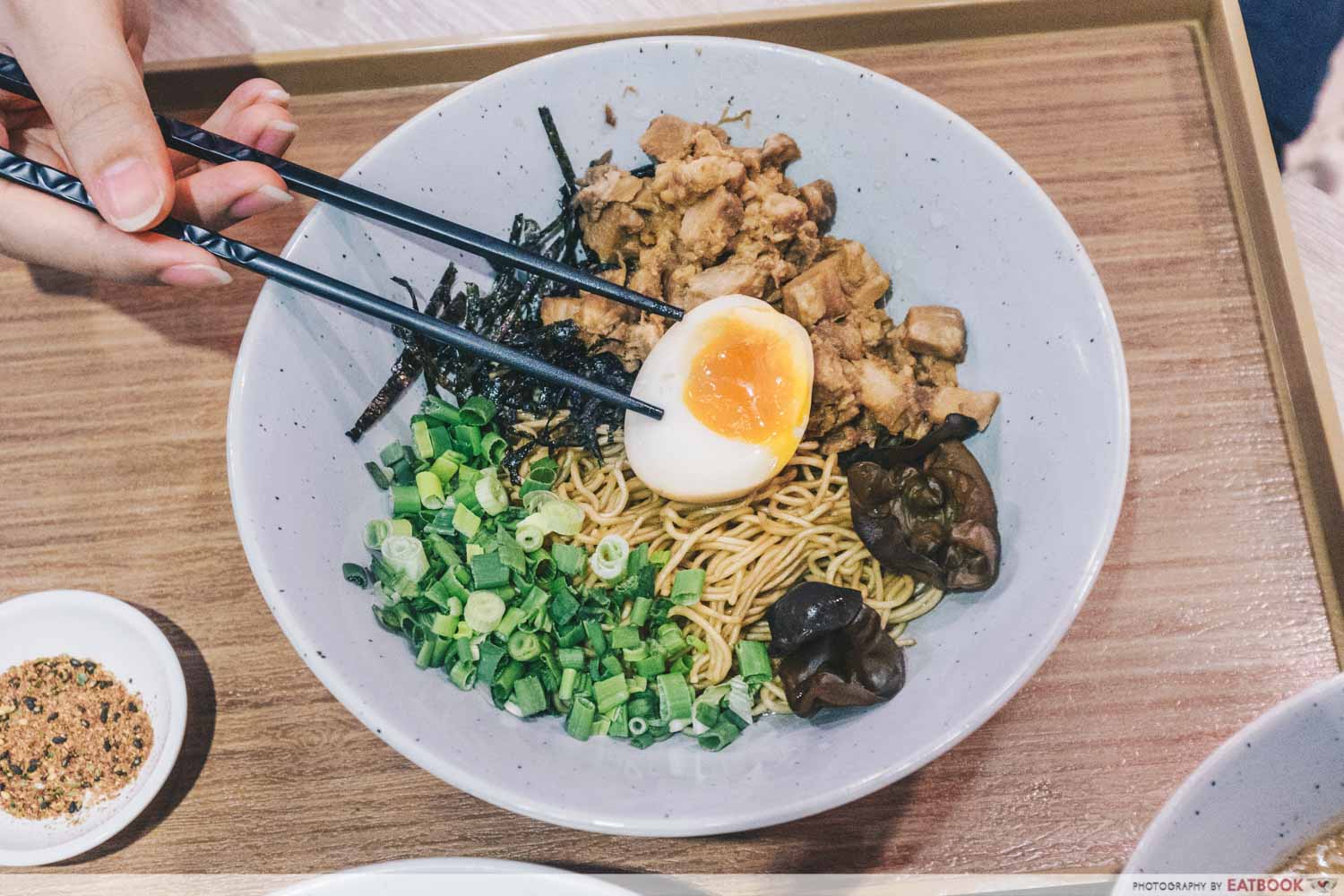 As a Northie, Suparakki Ramen is my go-to place for cheap ramen. While their Original Tonkotsu Ramen ($7.90+) is my usual choice for a warm, comforting meal, their Dry Truffle Ramen ($6.90+) is another wallet-friendly option for truffle lovers. You can look forward to noodles brimming with the earthy aroma of truffle along with a silky hanjuku egg and sweet shredded pork.
Check out our full review of Suparakki Ramen.
Address: 930 Yishun Avenue 2, #B2-154, North Point City, Singapore 769098
Opening hours: Daily 10:30am to 9:30pm
Website
Suparakki Ramen Review: Dry Truffle Ramen And Tonkotsu Ramen Below $10 At Northpoint City
---
7. Gonpanchi Ramen
---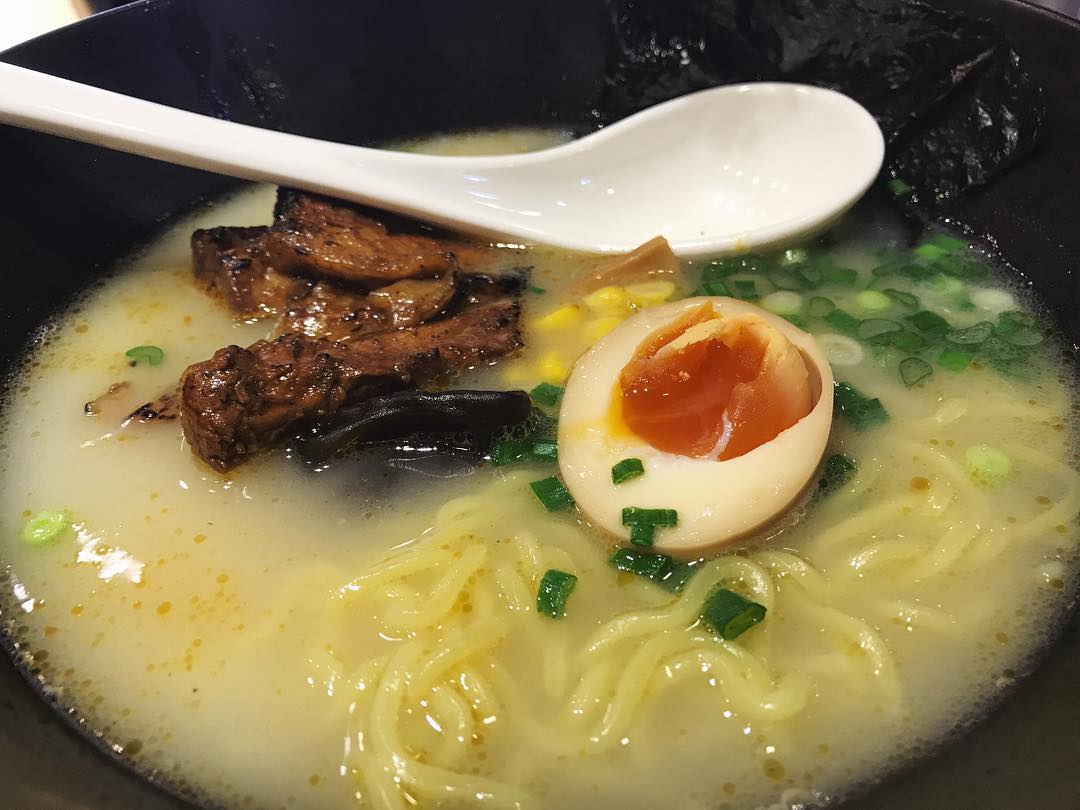 Image credit: @mcphailstreet
Stashed away in a more ulu part of Kovan, Gonpachi Ramen has plenty of menu options under $10. If you're open to an alternative to the usual chashu slices, try the Miso Kakuni Ramen ($7.80), which features braised pork chunks instead. They are tender and juicy, having been braised and marinated for six hours. Alternatively, try a less common protein—duck. The Smoked Duck Chashu Ramen ($7.80) is popular among their customers too.
Address: 212 Hougang Street 21, #01-329, Singapore 530212
Opening hours: Tue-Thurs, Sun 11:45am to 3pm, 5:30pm to 10:30pm, Fri-Sat 11:45am–3pm, 5:30pm to 10:45pm
Tel: 6584 1943
Website
---
8. Wok Hey

---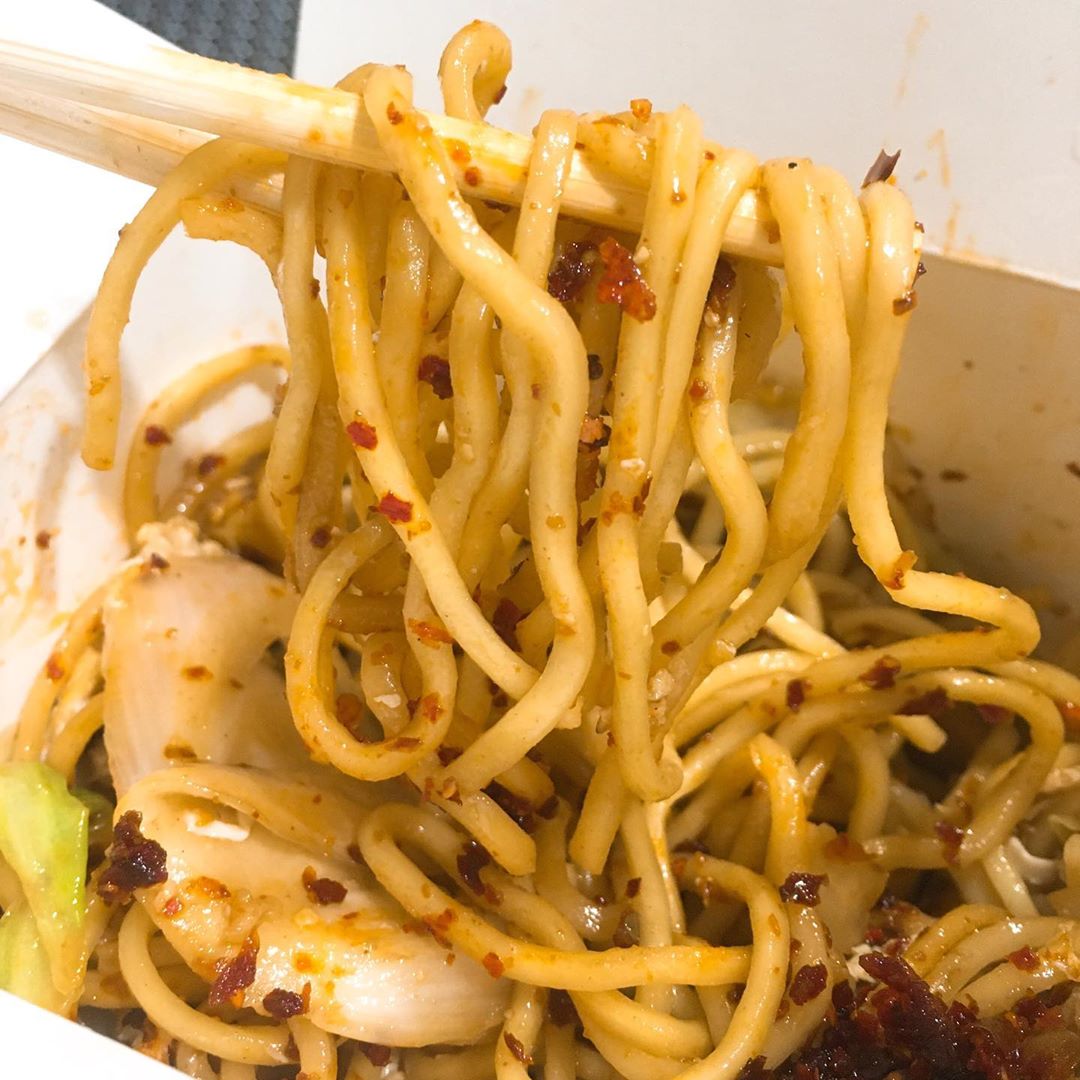 Image credit: @foodingmywayy
Most of us are familiar with Wok Hey and their delicious egg fried rice. However, not everyone knows that Wok Hey also has ramen on their menu. My personal favourite is their Fresh Ramen With Grilled Chicken ($6.80). The fried dish has a distinct smoky, charred aroma alongside generous chunks of meat. Feel free to also pair your order with other proteins such as beef and prawns. If you're feeling fancy, add a sous vide egg or greens such as edamame for an additional $1.
Address: 200 Victoria Street, #B1-K03, Bugis Junction, Singapore 188021
Opening hours: Daily 11am to 10pm
Website
---
9. Mad Bros Sg

---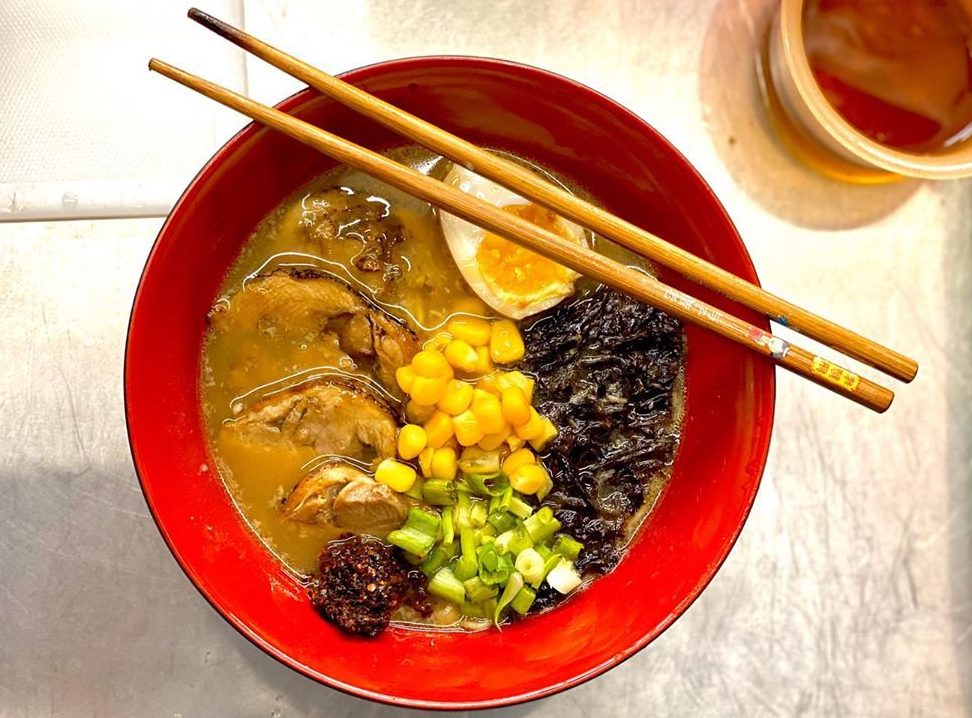 Image credit: @mad.bro.sg
Mad Bros Sg is a Muslim-friendly and wallet-friendly option with dishes starting from $6.90. Whether you fancy a lighter, milky shio chicken broth or soya sauce-based chicken broth, Mad Bros Sg has you covered either way with their Shio Ramen ($6.90) and Shoyu Ramen ($6.90) respectively. The bonus part is that you can also opt to make it spicy at no extra cost.
Address: 6 Tanjong Pagar Plaza, #02-03, Singapore 081006
Opening hours: Mon-Fri 10am to 3pm
Tel: 9190 4861
Website
10 Unique Japanese Noodle Dishes Such As Tsukemen & Mazesoba, And Where To Get Them In Singapore
---
10. Japanese Curry Express 
---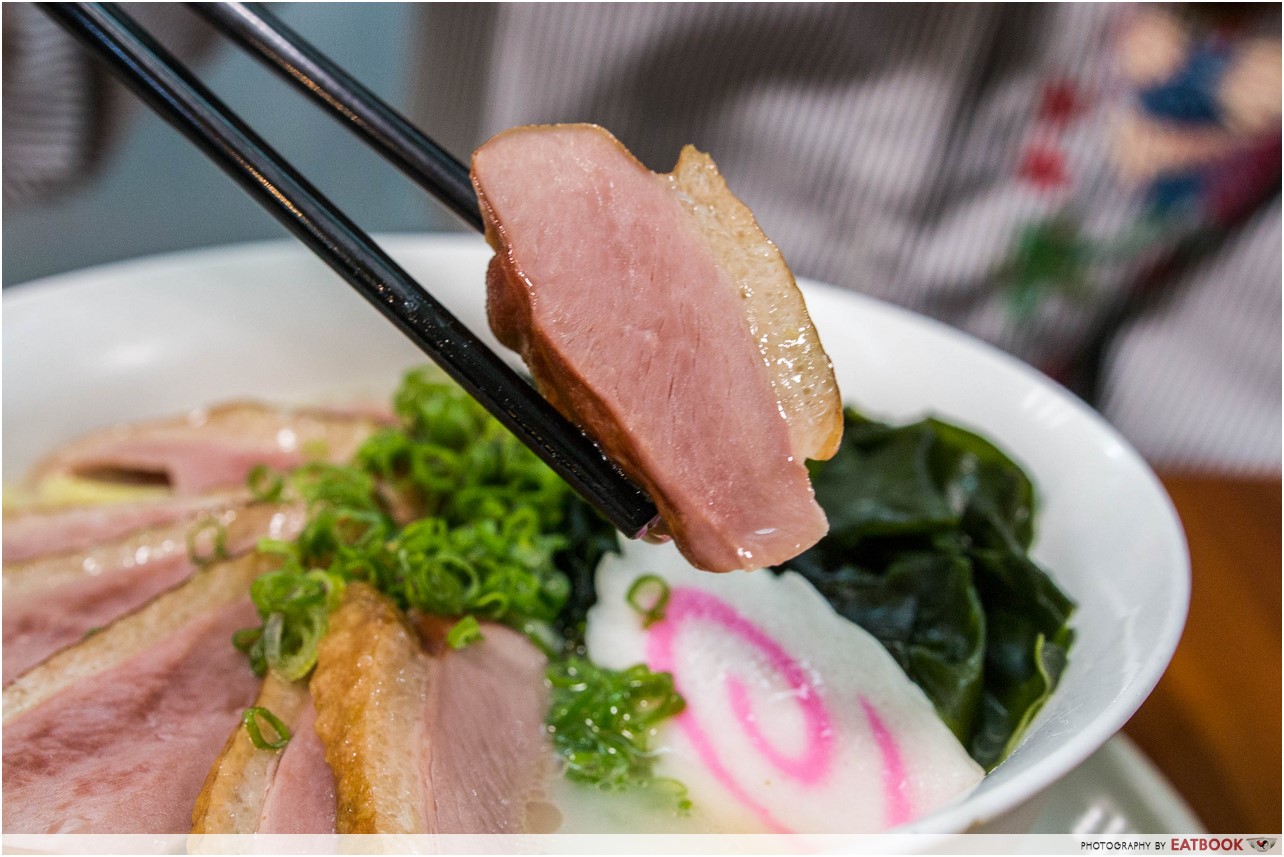 For those who like to pair their noodles with more interesting proteins apart from chashu, Japanese Curry Express offers Smoked Duck Ramen ($7). Expect thick chunks of salty smoked duck to go with soup lighter than regular broth. If you still prefer chashu to go with your order, they have Charsiew Ramen for $7 as well.
Check out our full review of Japanese Curry Express.
Address: 190 Middle Rd, #03-04, Fortune Centre, Singapore 188979
Opening hours: Mon-Sat 11:30am to 2:30pm, 5:30pm to 8:30pm
Tel: 9689 6314
Website
---
11. Umisushi Teishoku
---
Image credit: @caromeowww
Umisushi Teishoku offers a variety of ramen, and you can customise your soup base, as well as the type of pork to go with the noodles. A bowl starts at $9.90 with a hearty Miso Soup Base. If the good old tonkotsu broth is still your thing, you'll have to stretch your budget out as the Tonkotsu Soup Base costs $11.90. 
Choose among sliced pork, braised pork, and regular chashu to go with your choice. If you're looking to get some shabu shabu feels, try the Buta Shabu Ramen, which features sliced pork similar to those we get in hotpot.
Address: 930 Yishun Avenue 2, #B1-153, Northpoint City South Wing, Singapore 769098
Opening hours: Mon-Thurs 10am to 9pm, Fri-Sun 10am to 10pm
Tel: 6253 0508
Website
Kuroshiro Review: New Hawker Stall Selling Cheap White Curry Rice From Only $5 At Marsiling
---
Cheap ramen in Singapore
---
Ramen doesn't have to be an expensive affair all the time. With the variety of reasonably priced options out there, I'll definitely be saving dollars to occasionally indulge more toppings for my order,
This article was originally written by Yin Yi Lim, published 26 April 2017.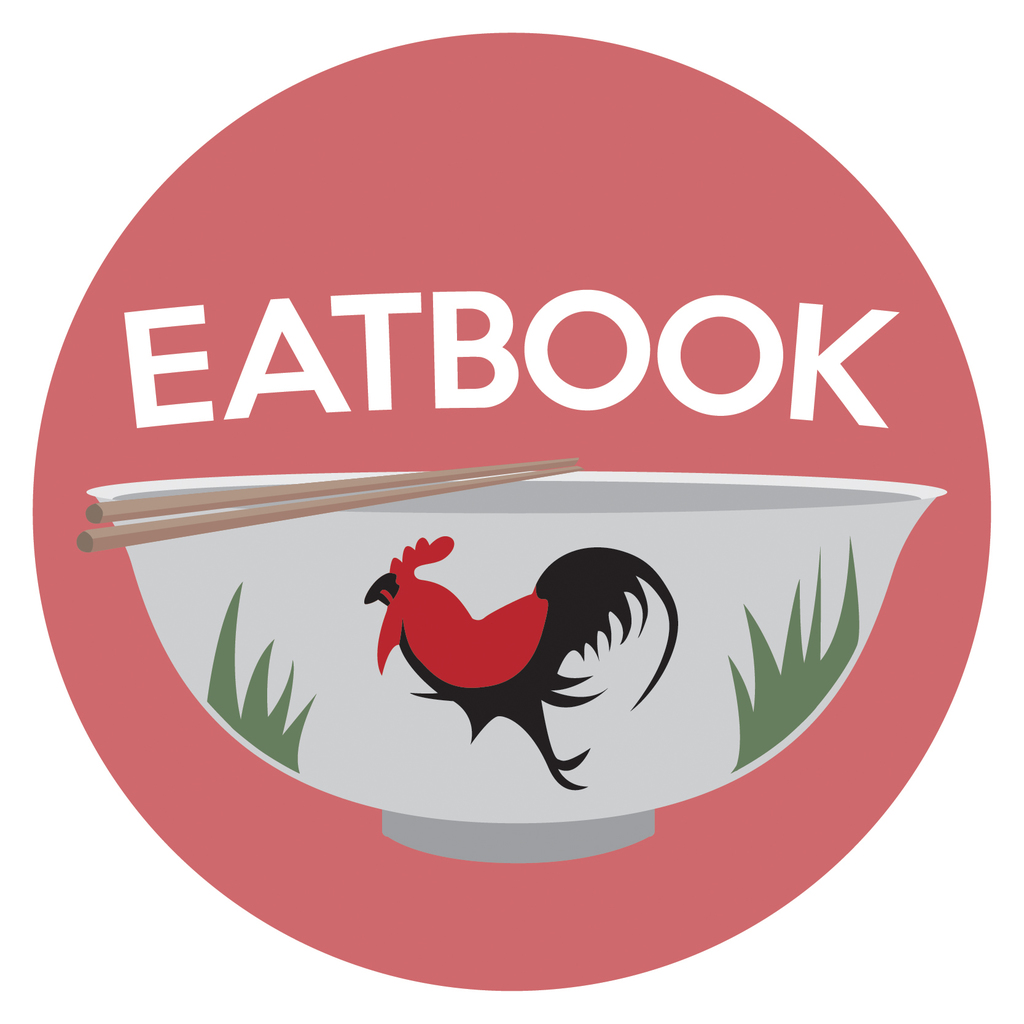 Drop us your email so you won't miss the latest news.