KURO-OBI is Ippudo's new takeaway ramen bar at MBS

Warning: this review of KURO-OBI might make you break your #carbless and #meatlessmonday new year resolutions. This takeaway by Ippudo offers four types of ramen with paitan (milky) chicken soup, and what's even better is each bowl of Ippudo-standard ramen here comes at $8. Cheers to sticking to your budget without depriving yourself of good ramen!
Food at Kuro-obi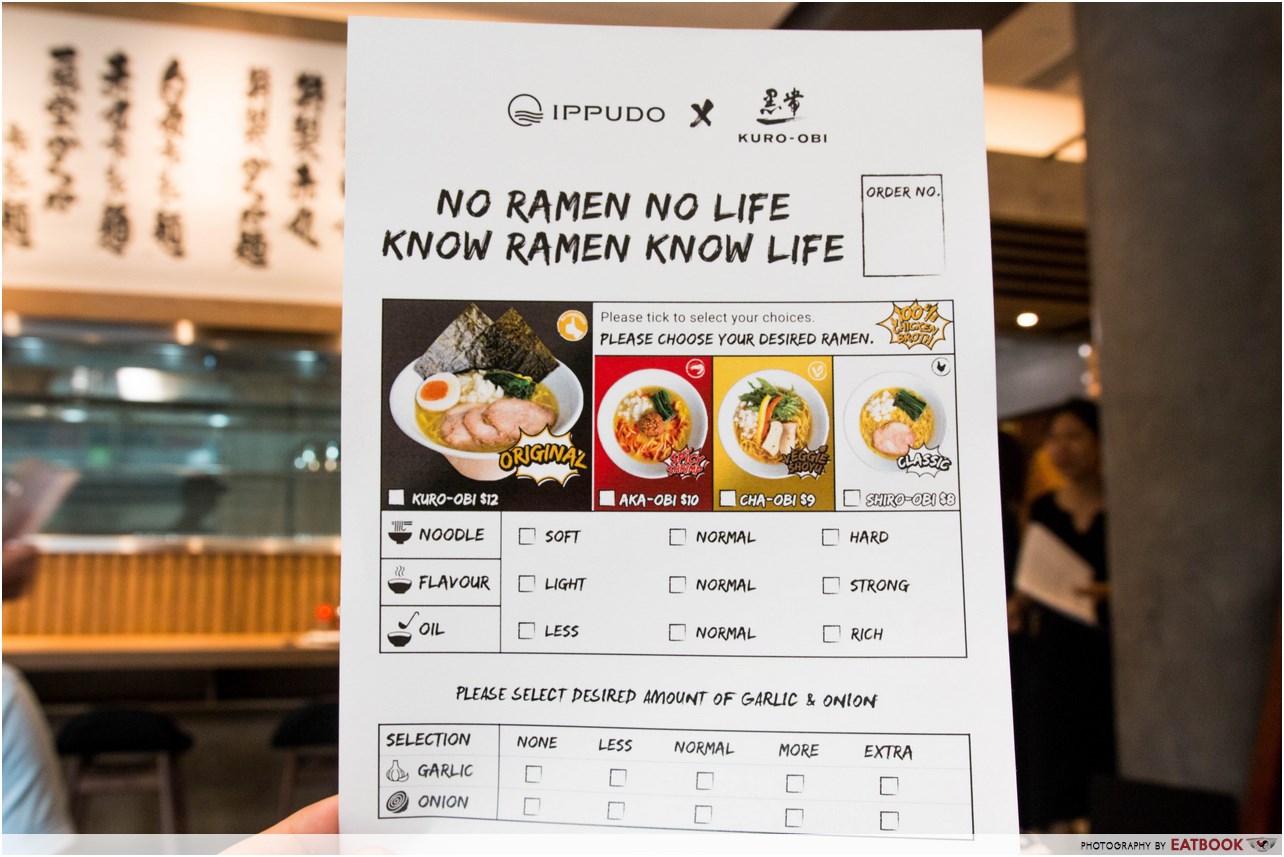 What I really like about KURO-OBI is you get to customise your ramen. Start off by choosing your ramen base, then pick the texture of your noodles, the intensity of your broth, amount of oil and additional toppings such as garlic and onion.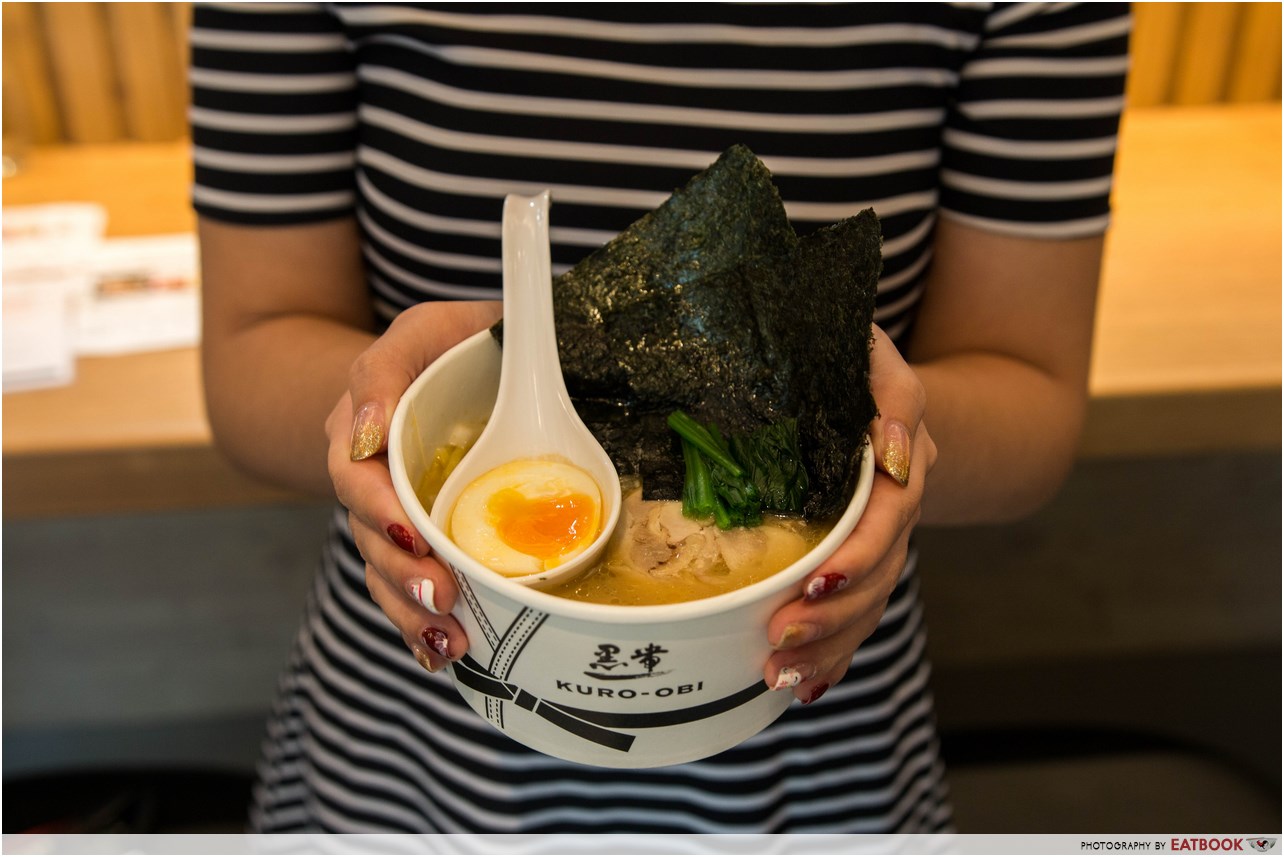 This is the first time I felt so strongly about a restaurant's slogan – "NO RAMEN NO LIFE". Give your palate some life with Kuro-Obi ($12), a generous pile of ramen noodles dunked in paitan chicken soup and topped with chicken chashu, ajitama (marinated soft-boiled egg) and nori (seaweed). The difference between Kuro-obi and a cheaper Shiro-Obi ($8) is that the latter only comes with one slice of cha shu.
Made with chicken and only chicken, you can expect a broth that is less dense but as flavourful as a typical tonkotsu broth.
This was my first time having chicken cha shu in ramen and I liked it. As compared to pork cha shu, this had lesser fats but remained succulent due to the thigh cut.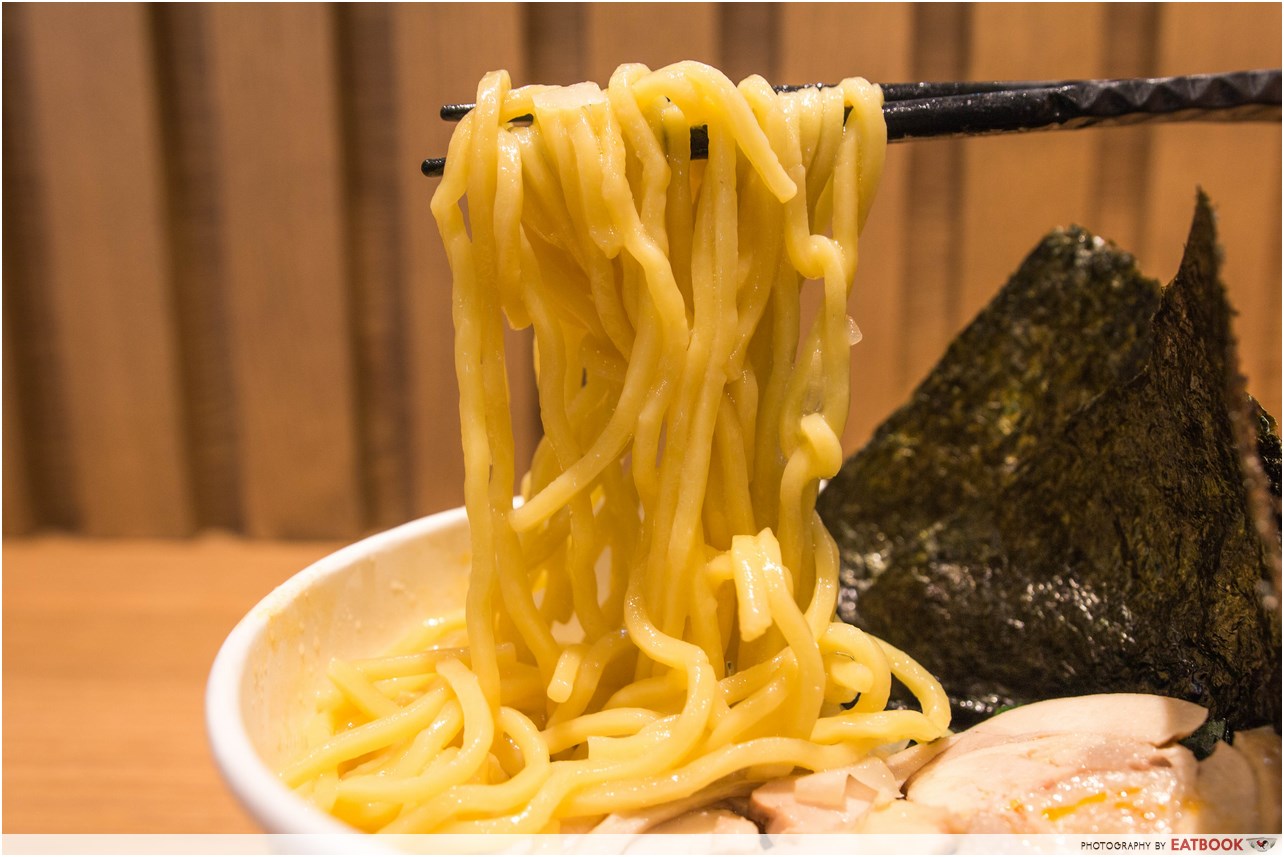 Don't dismiss this bowl of yellow-mee-looking ramen just yet. The reason why the noodles here are a total opposite from Ippudo's bee-hoon thin ramen is because this thicker version brings out the flavour of the chicken broth better. You can customise the texture of your noodles – soft, normal or hard. I had mine in soft and it was still surprisingly springy.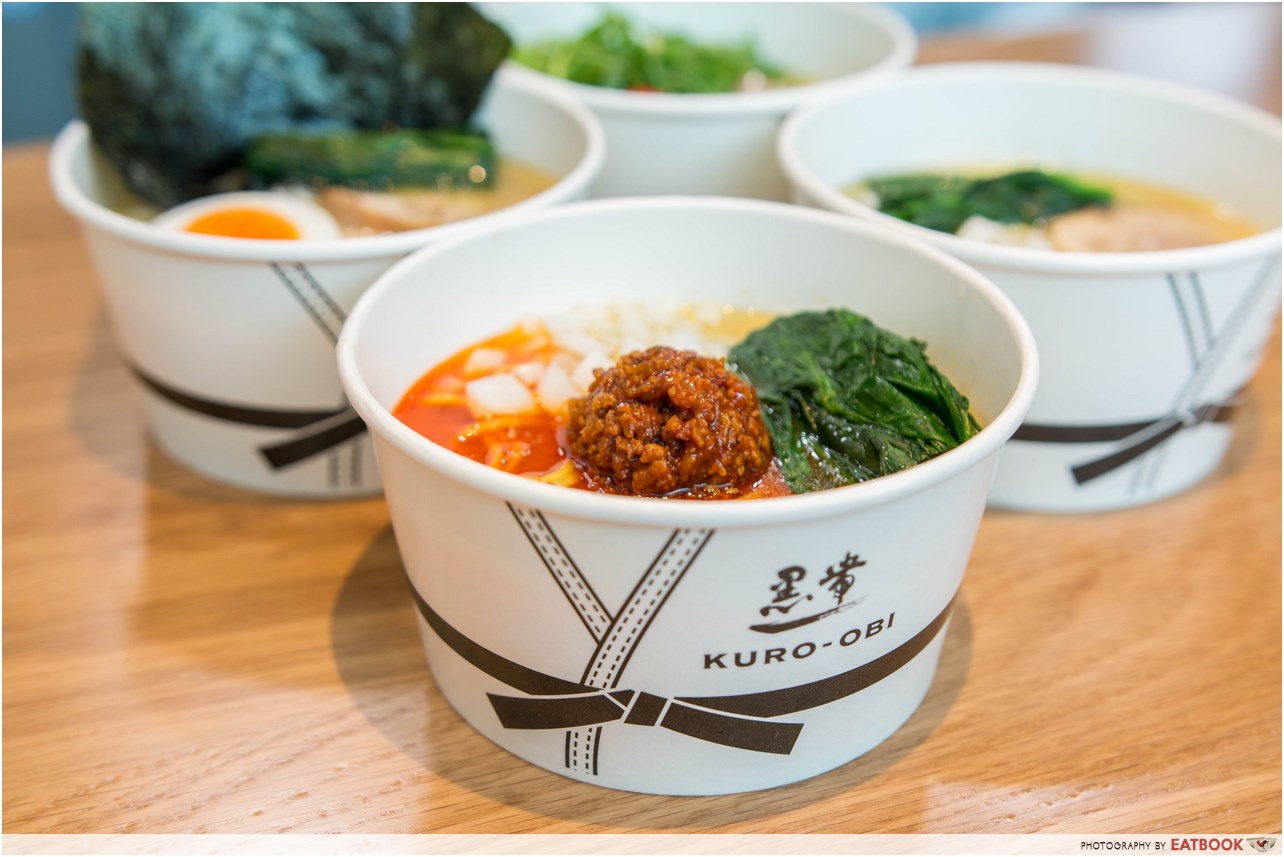 Aside from Kuro-Obi, we also tried Aka-Obi ($10). This had a spicy shrimp flavour that reminded me of hae bee hiam (dried shrimp sambal).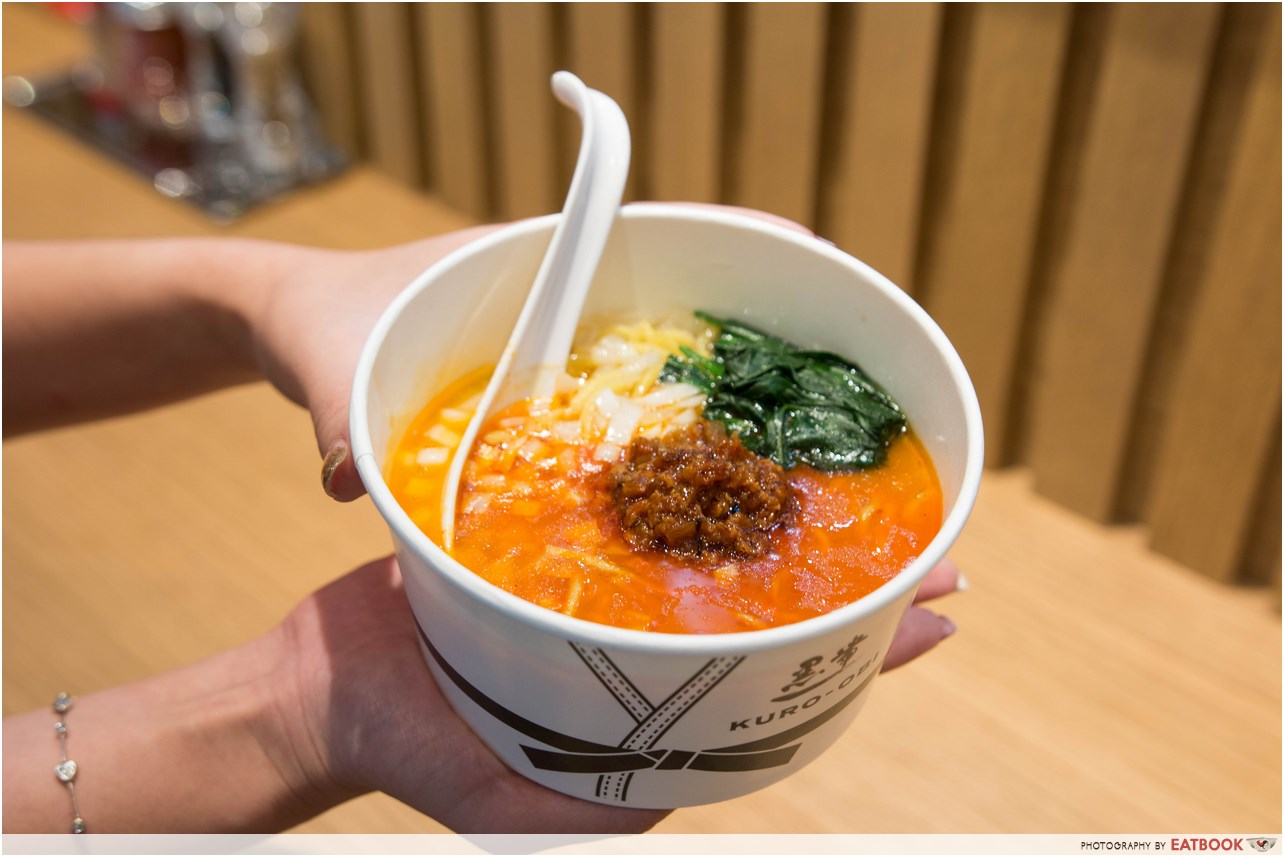 With the same chicken broth and noodles, what made this stand out was the extra splash of chilli oil and a blob of spicy shrimp paste with minced meat. The highlight was the soup, which was sweet and not too spicy. It also came with a light tang that kept it from being too jelak.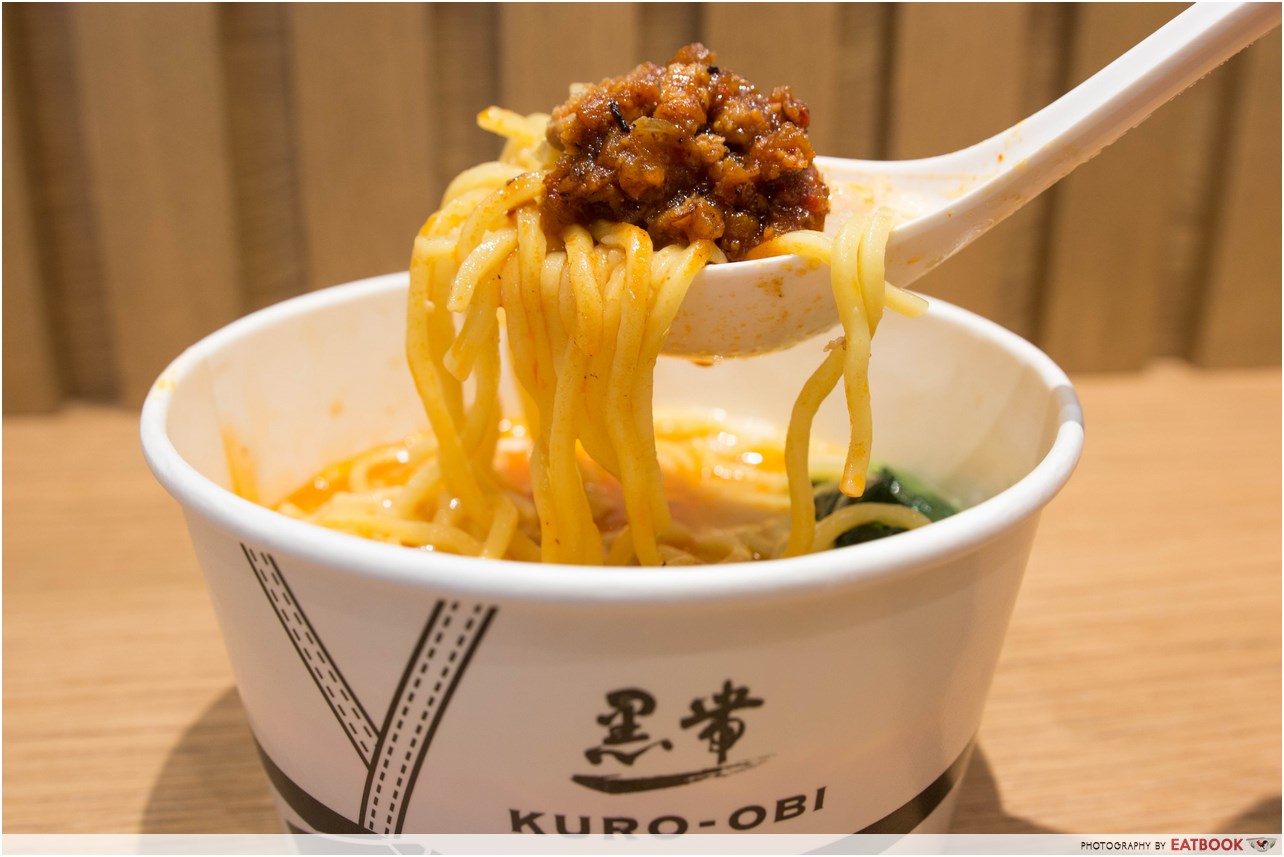 Even though this ramen didn't come with cha shu or egg, the minced meat was enough to satisfy. Having a spoonful of this spicy and creamy soup along with bits of chewy minced meat on a rainy day would be very comforting.
Ambience at Kuro-Obi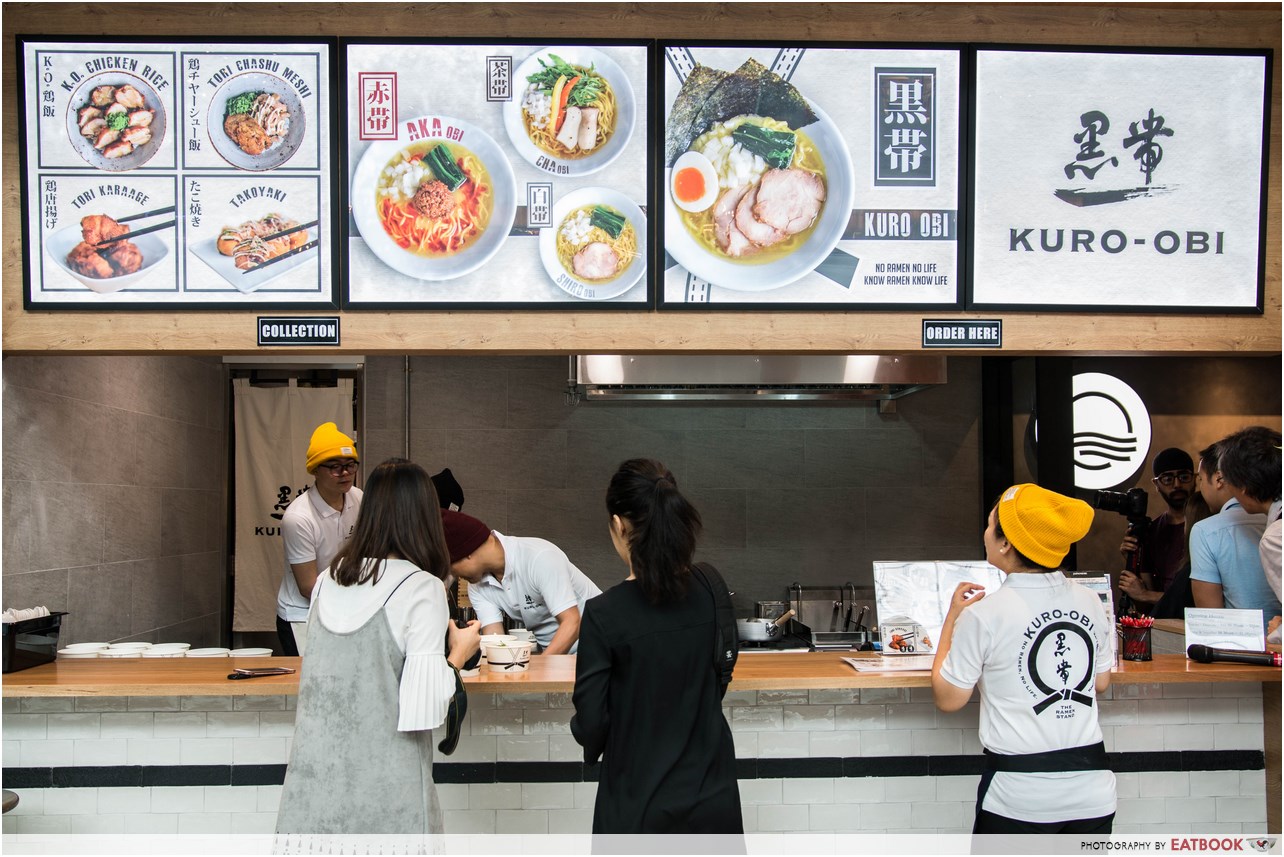 Hailing itself as a takeaway counter of Ippudo's, KURO-OBI would be great for days you don't have enough time to have a chill meal. With a strict no dine-in policy, the concern of having your ramen bloated and soft by the time you bring it home is real. So I recommend finding a good spot outside MBS to enjoy the ramen at its best or make a special request to separate the noodles and the broth if you really want to slurp it up at home. The takeaway is located right where Ippudo is, so finding it wouldn't be much of a problem.
The verdict
With so many atas restaurants and expensive food courts at MBS, this is definitely a gem for those who wanna save some bucks. Also, to be able to have ramen by Ippudo for less than $10 is a steal!
This was a media tasting with KURO-OBI.
KURO-OBI Review: Ippudo's New Takeaway At MBS With $8 Ramen
Summary
Pros
– Affordable
– Delicious
– No GST or service charge
Cons
– No seating space
Recommended Dishes: Kuro-Obi ($12), Aka-Obi ($10)
Operating Hours:
Sunday – Thursday & PH: 10:30am to 11pm (last order at 10:20pm)
Friday – Saturday & eve of PH: 10:30am to 11:30pm (last order at 10:50pm)
Address: 2 Bayfront Avenue #B2-54/55, Marina Bay Sands, Singapore 018972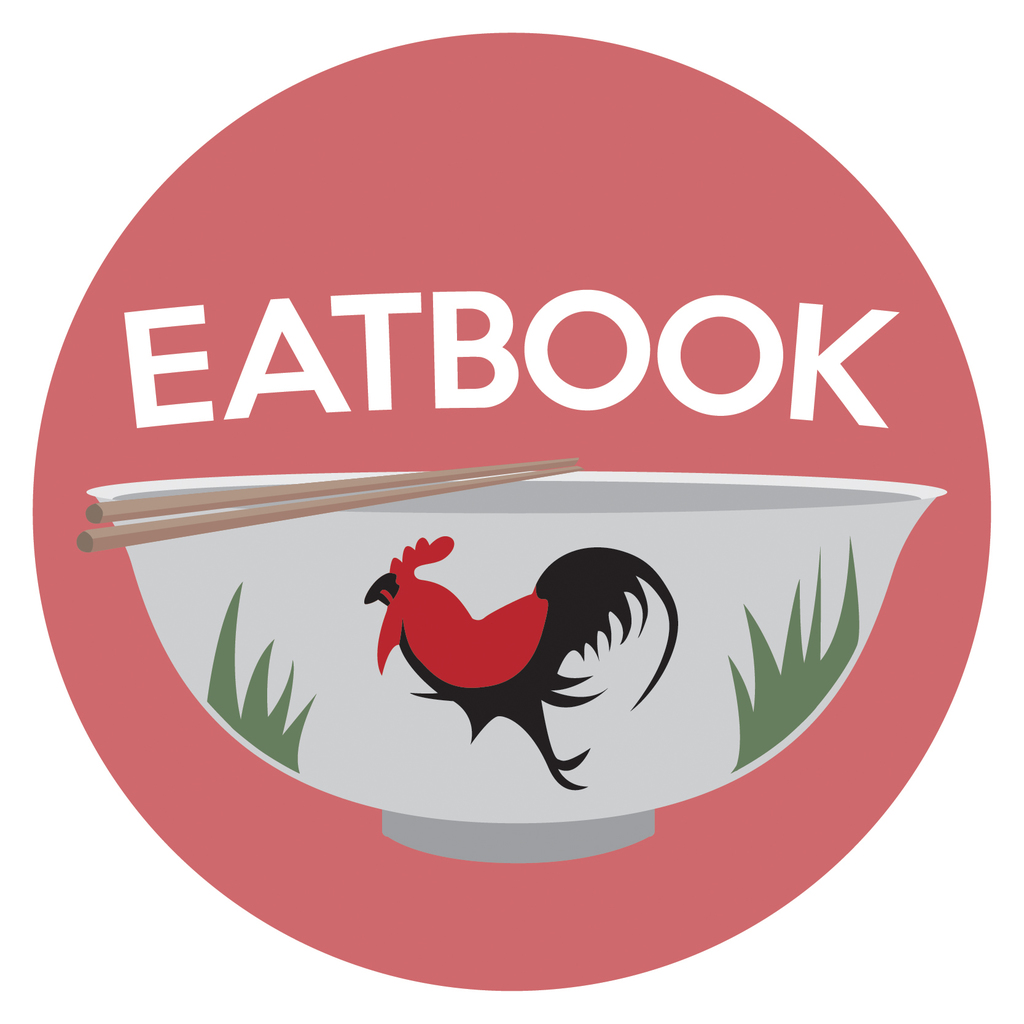 Drop us your email so you won't miss the latest news.