Affordable ramen at Suparakki Ramen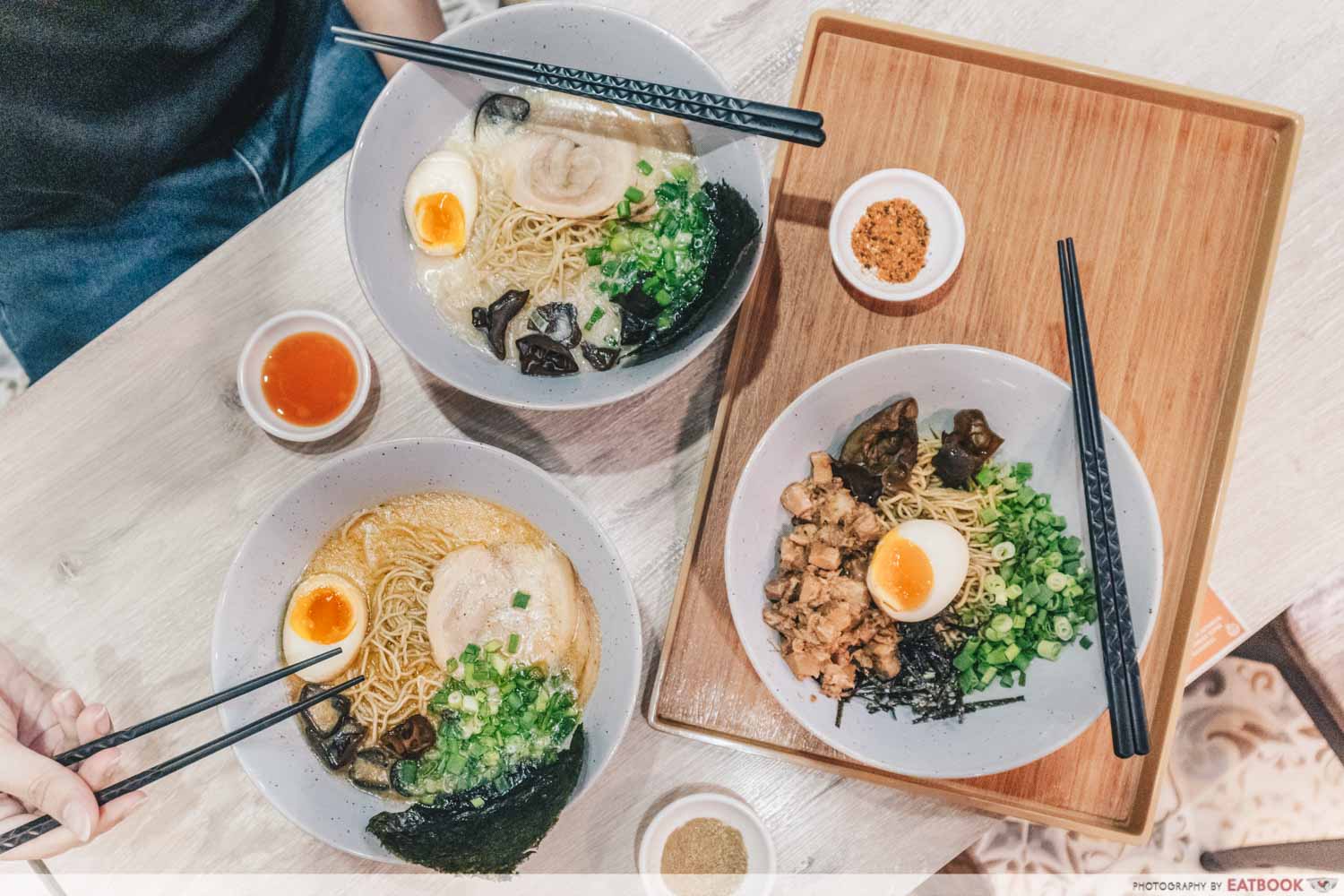 My favourite ramen restaurant is Nantsuttei, which is located all the way in Orchard. As someone who lives in the North, it can be gruelling to take a 40-minute MRT ride just to get my favourite ramen. Usually, when I feel a craving for hot soup, firm noodles, and tender chashu, I resign myself to cup noodles until the feeling fades. 
Enter Suparakki Ramen at Northpoint City. The ramen house has been here for quite a while, but I was only told about it recently. A bowl here is less than $10, and while I was sceptical of the quality, it was affordable and convenient enough for me to give it a shot. I eagerly headed over to find out whether it could be my new favourite.
Food at Suparakki Ramen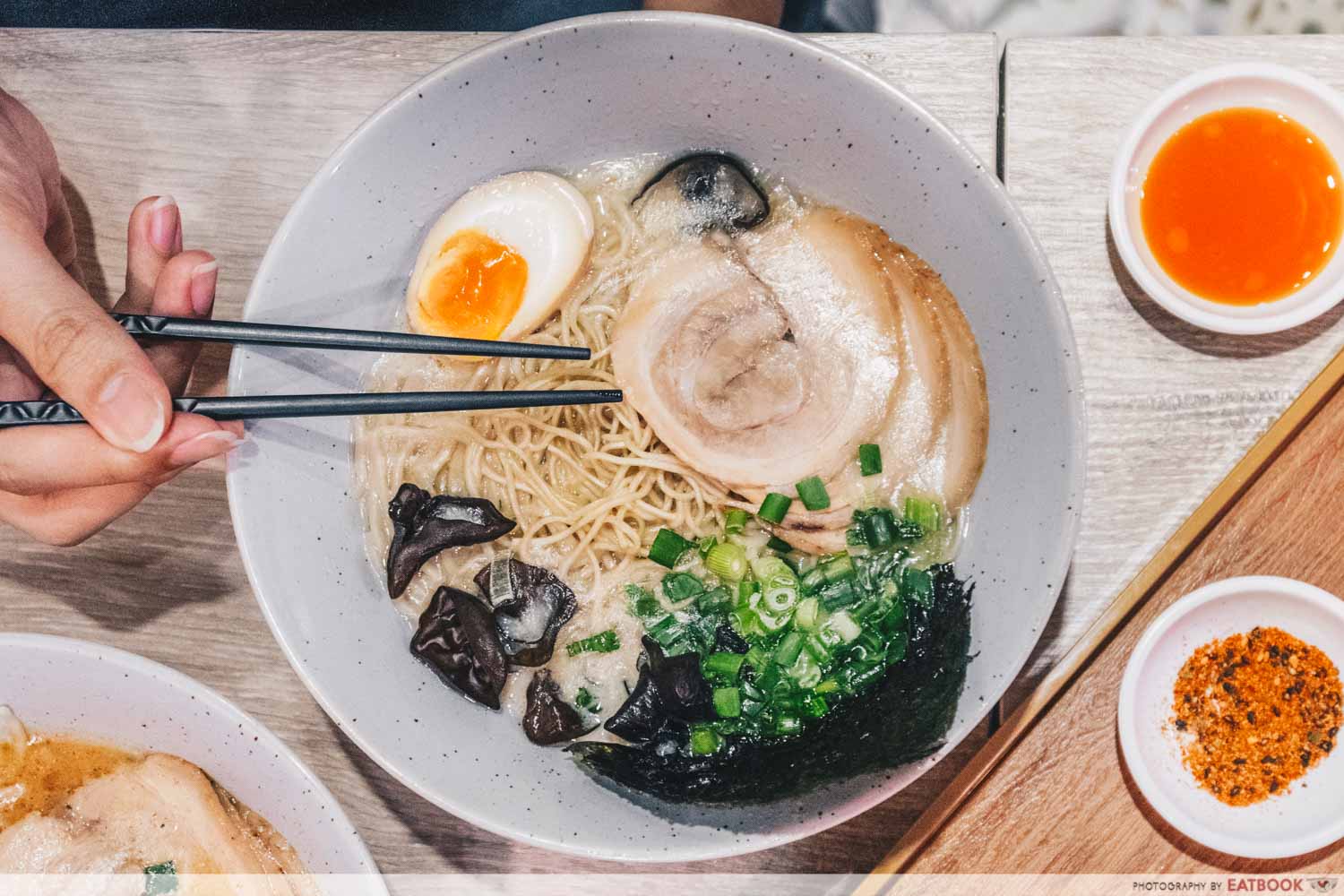 Every ramen restaurant has a signature dish that tends to reflect their overall standard. For Supurakki Ramen, it was their bestselling Original Tonkotsu Ramen ($7.90++). I was relieved to see that it didn't skimp on the egg. Many cheaper ramen places are only that affordable because they charge extra for an ajitama egg, but Suparakki had half of the marinated morsel accompanying the ramen. Each bowl also had a respectable portion of chashu. You'll be paying for a full bowl of ramen here and nothing less.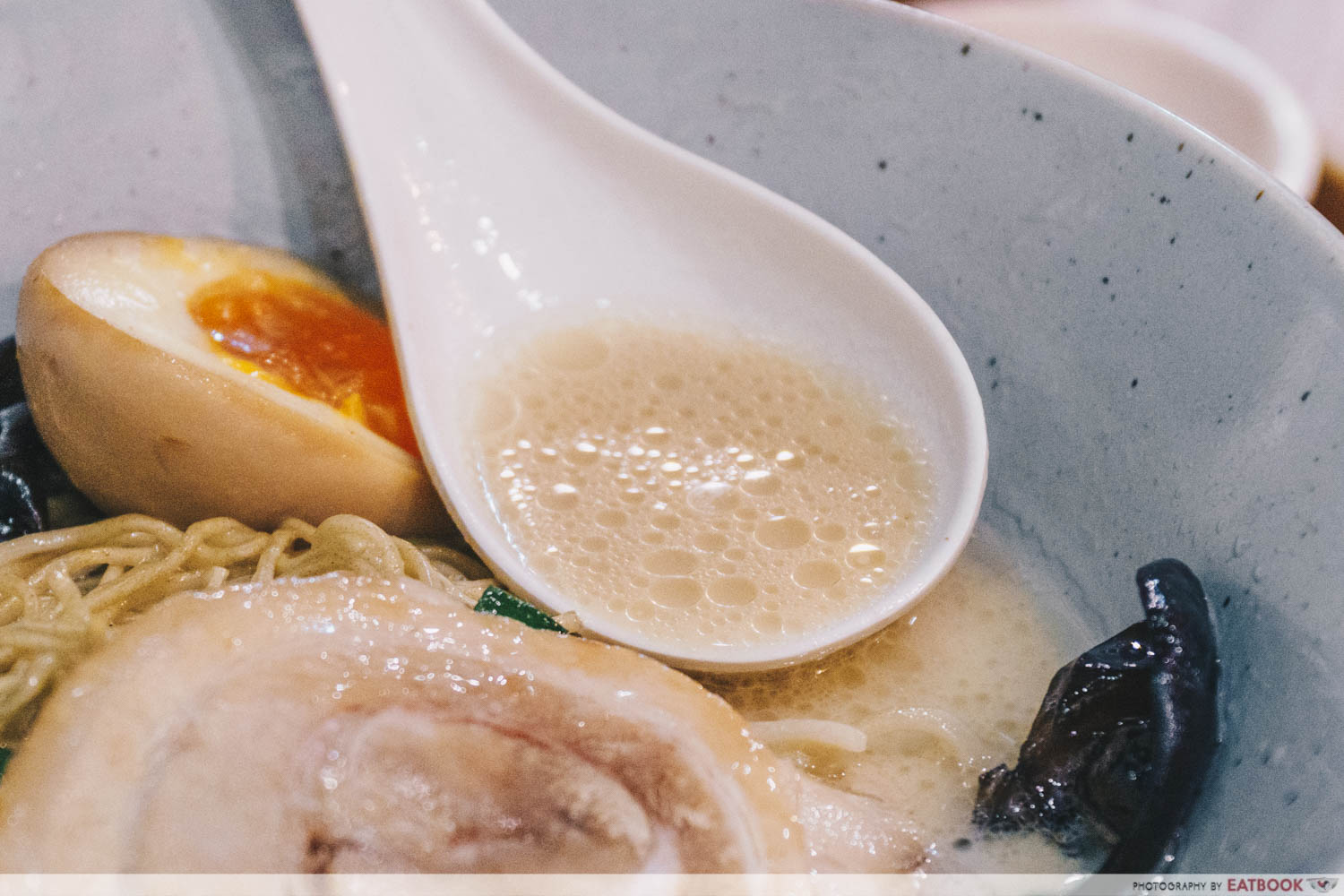 The amount of soup served was less than I'd expected. Even when it was freshly served, the mountain of noodles stuck out above the soup. The parts that weren't immersed in soup quickly dried up and hardened significantly. Unfortunately, the eatery doesn't give refills on soup.
In terms of taste and texture, the tonkotsu soup wasn't half bad. It was thick and rich, and stuck to our lips due to the oil. The flavour was savoury without being overpowering. It was certainly not the best I've had, but it was more than worth the price for a bowl of creamy, comforting soup.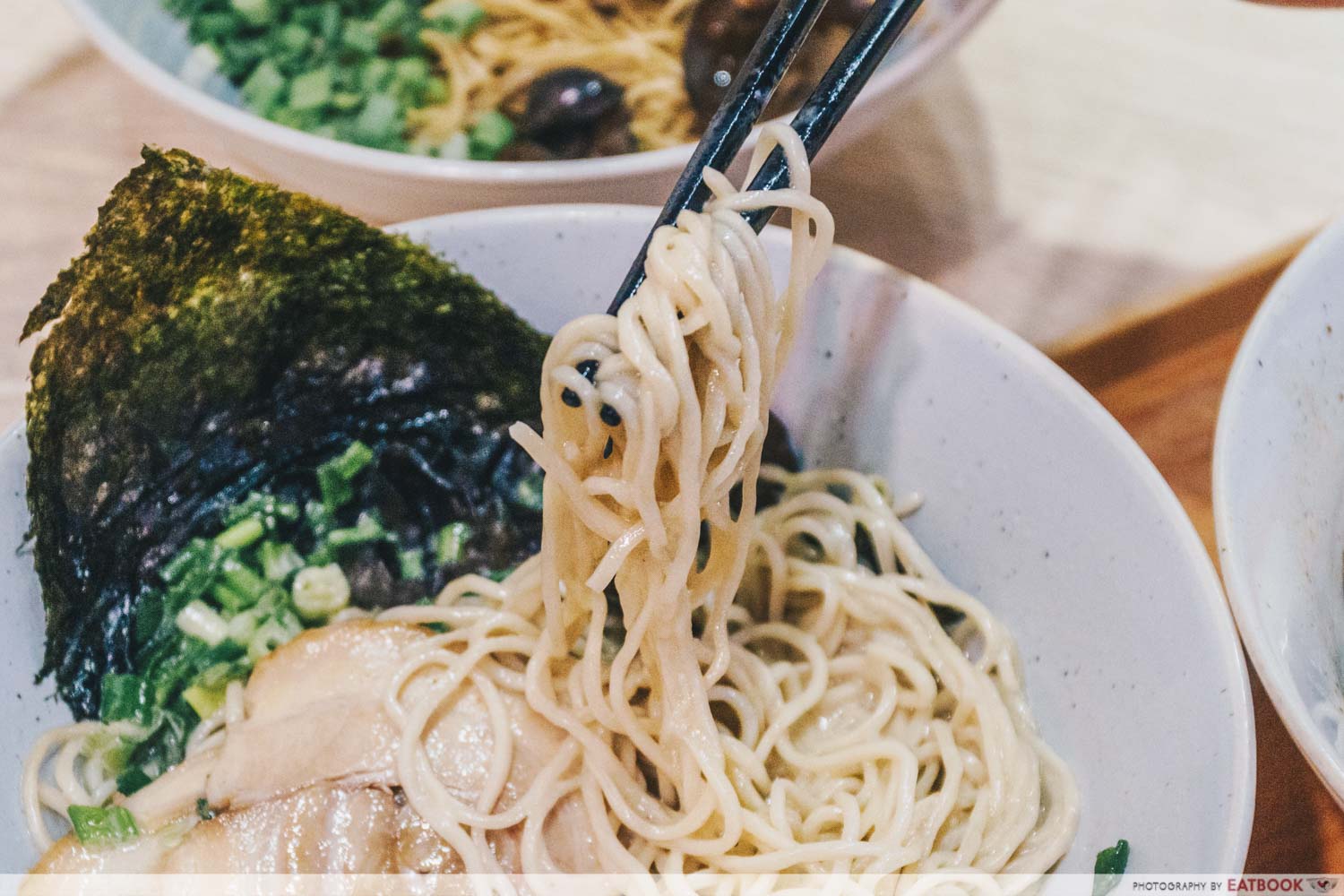 The noodles were a little on the hard side. They were smooth, slippery, and trapped flavourful soup between their thin strands. I liked the slight starchiness they gave, which cut through the richness of the broth well. However, the parts that were hardened stayed that way for quite a while even after I immersed them in soup. Every so often, there were strands of harder, slightly crunchy noodles that made for an awkward shift in texture.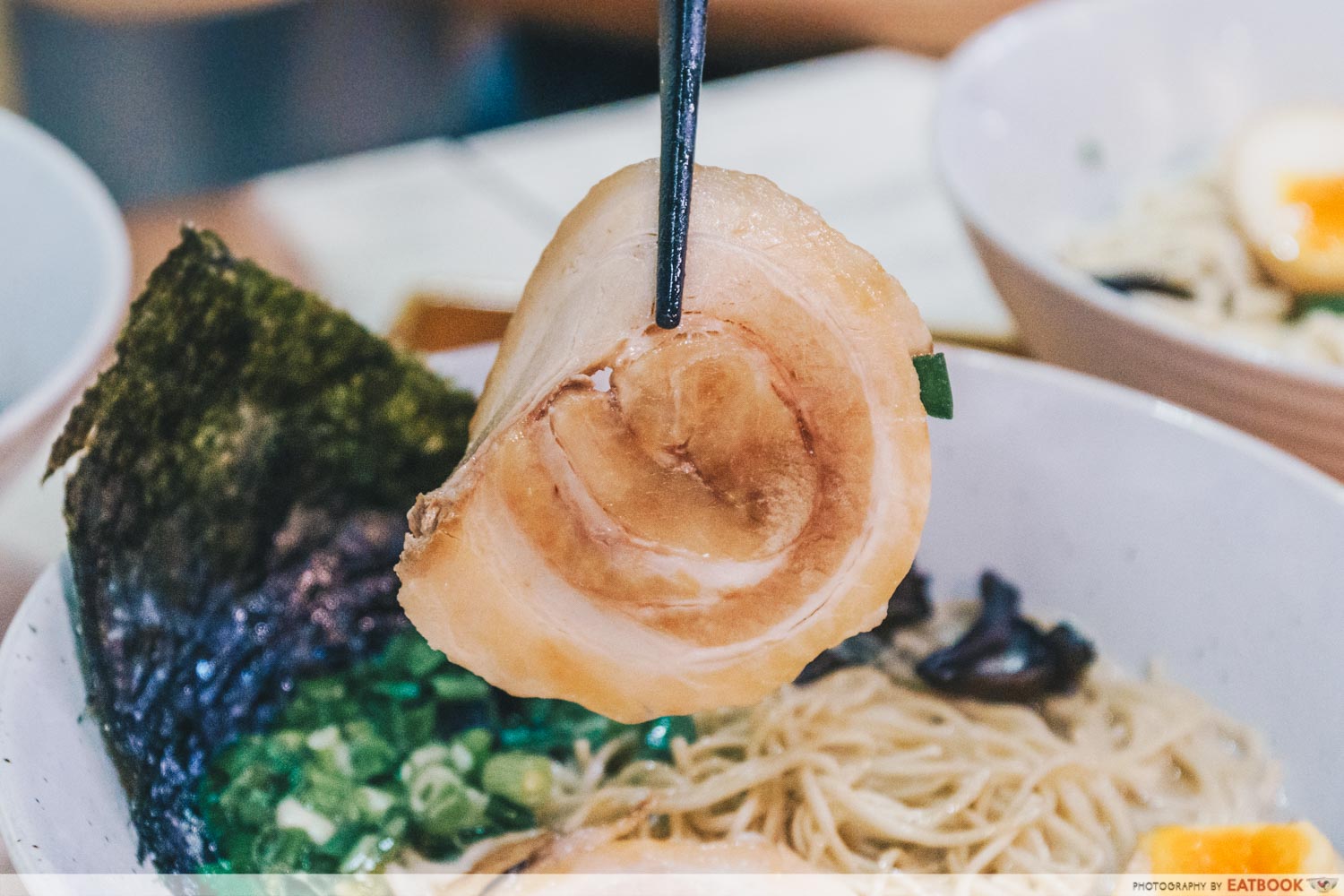 The pork belly chashu was a little on the dry side, but still flavourful and meaty. It was easy to chew and pull apart, but didn't have that much juice or moisture in it. Soaking it in what was left of the soup helped slightly.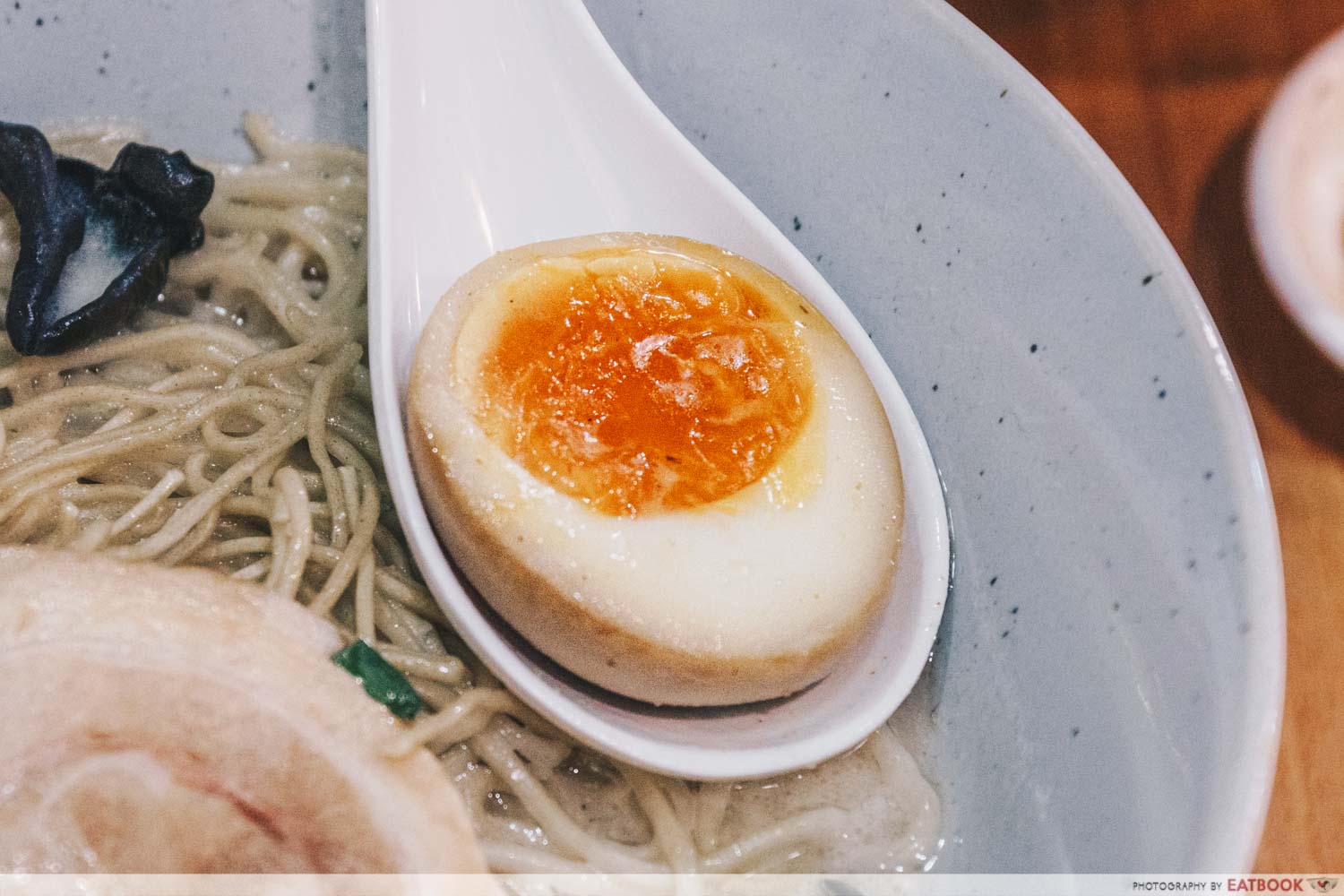 I had no complaints about the egg at all. It was expertly done. The marination seeped into it, making sure it didn't taste plain. The yolk was a perfect mix of gooey and solid textures, and the white parts were still incredibly soft. It was possible to slurp this whole thing up without even chewing. The taste and texture of the egg was the same among all three bowls we tried, so kudos to them for maintaining consistency.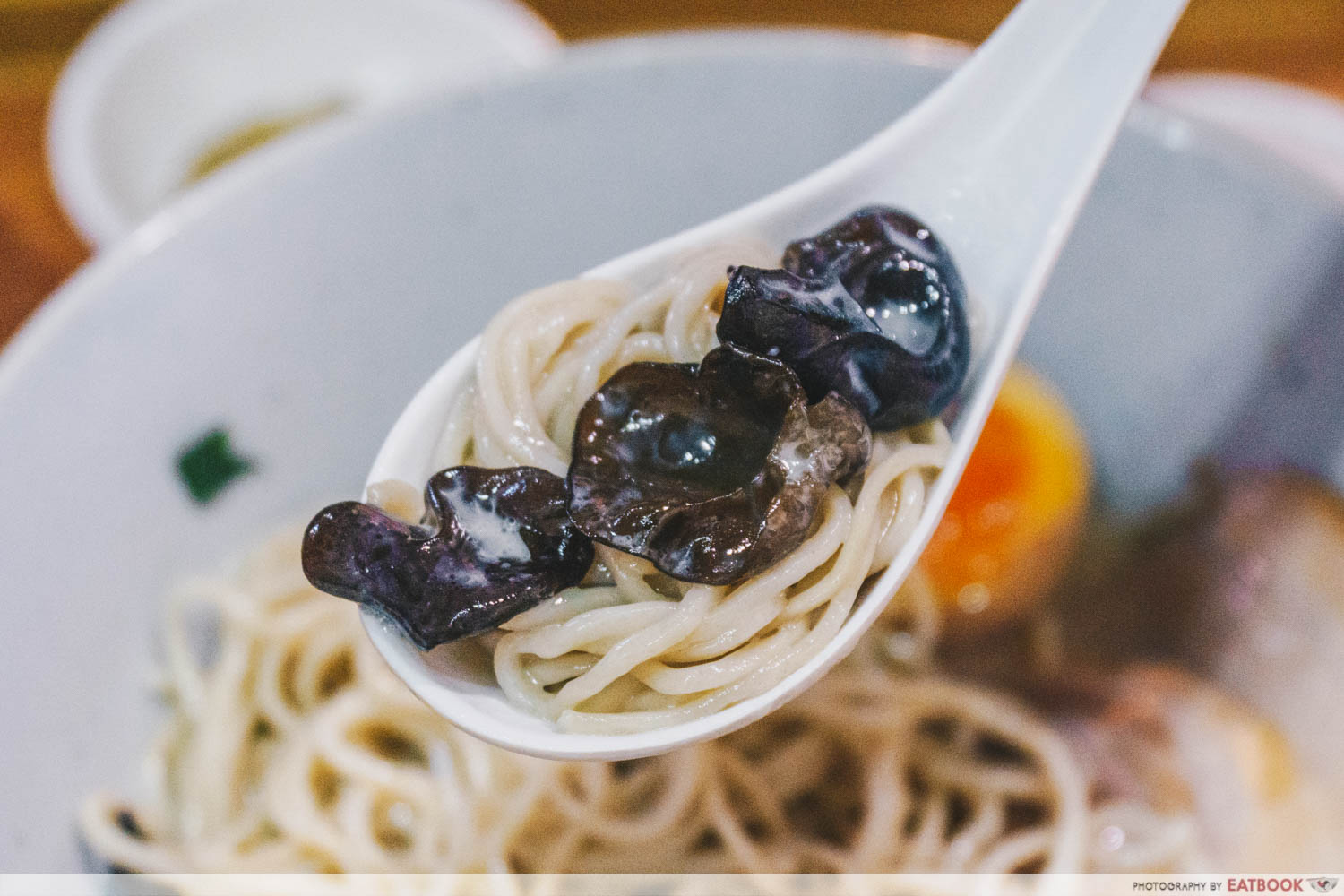 Every bowl comes with a few pieces of black fungus. They're chewy and have a springy crunch to them. They went well with the soup and I enjoyed snacking on them among bites of noodles and chashu.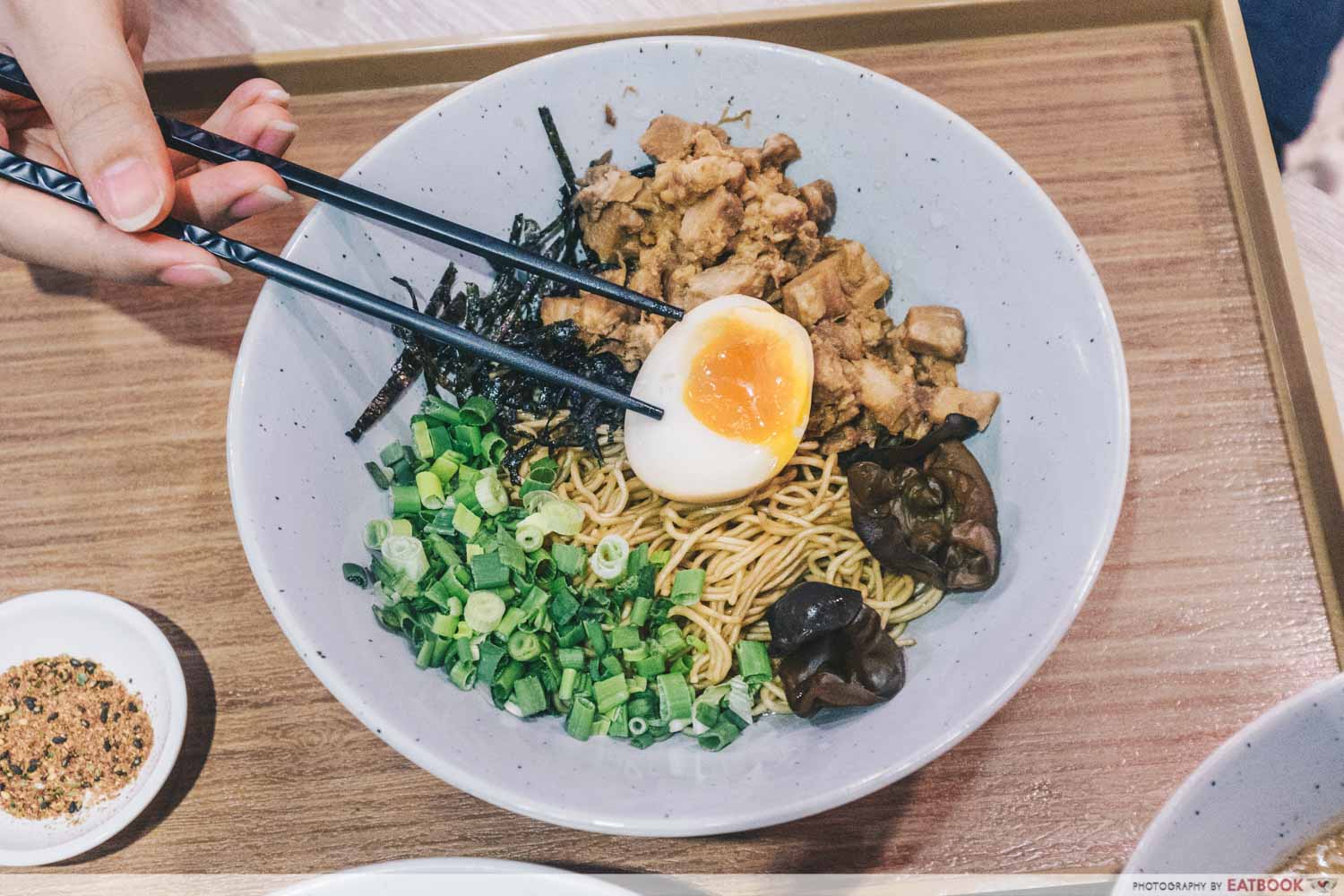 Because of the hard noodles that came with the tonkotsu ramen, I wasn't too excited to try the Dry Truffle Ramen ($6.90++). However, this completely blew me away once I got started on it.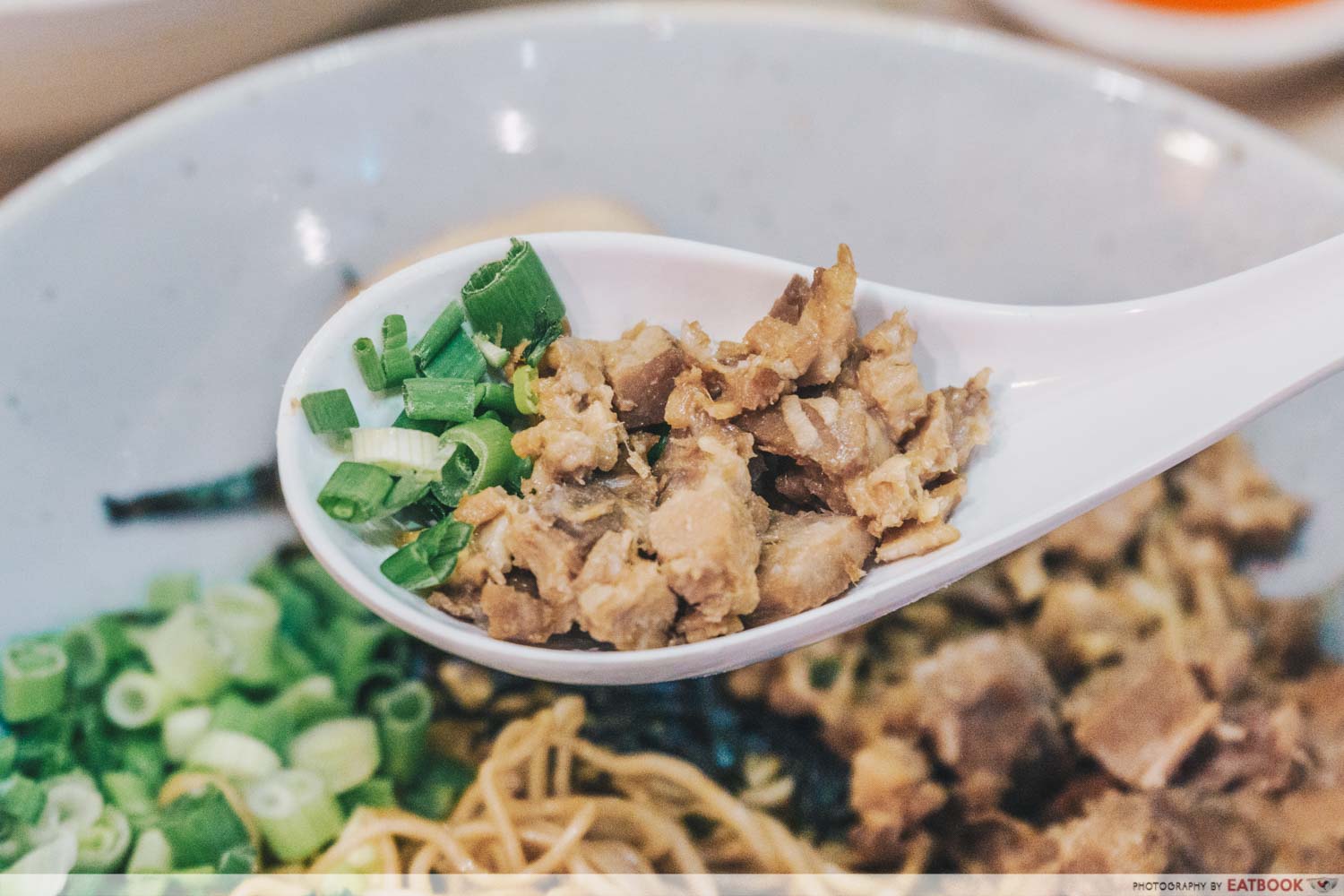 The thing that changed my mind was the meat. Instead of chashu, scoops of stir-fried shredded pork were flavoured in a sweet marinade. They were tender, sweet and juicy, with a slight truffle fragrance from the oil. It was a mix of unctuous fats and soft lean meat. 
We really couldn't get enough of this meat. My dining companions and I took as many scoops of it as possible. The fact that they were separate chunks allowed them to be mixed in well with the dry ramen, evenly blessing the dish with bombs of flavour. 
11 Cheap Ramen Places To Get Your Ramen Fix At Less Than $10
The dry ramen wasn't as bad as I thought it would be. It wasn't overly hard, though certainly harder than the ones in warm soup, but it managed to maintain an al dente texture. The addition of the meat really helped boost the taste of the dish, and the earthy truffle fragrance was present in each bite.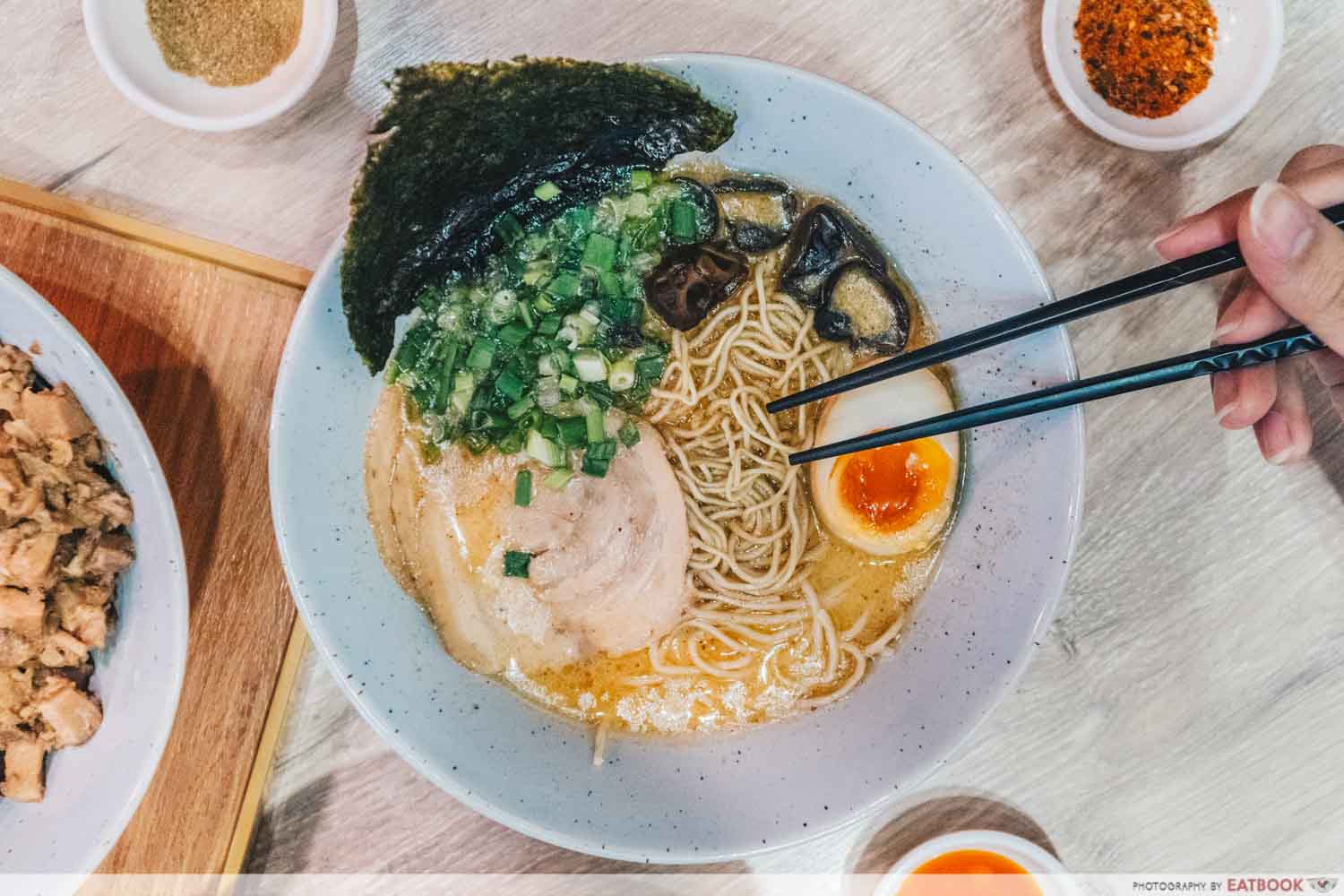 Lastly, we got the Tonkotsu Gyokai Ramen ($8.90++), which was another dish recommended on the menu. To mix things up a bit, we picked the spicy option. The only real difference between this and the first tonkotsu ramen was the soup. This dish used a mix of tonkotsu pork bone broth and seafood stock. In Japan, tonkotsu gyokai broth is usually served in a dipping bowl, as a more concentrated broth, with a side of dry ramen to dunk inside like soba.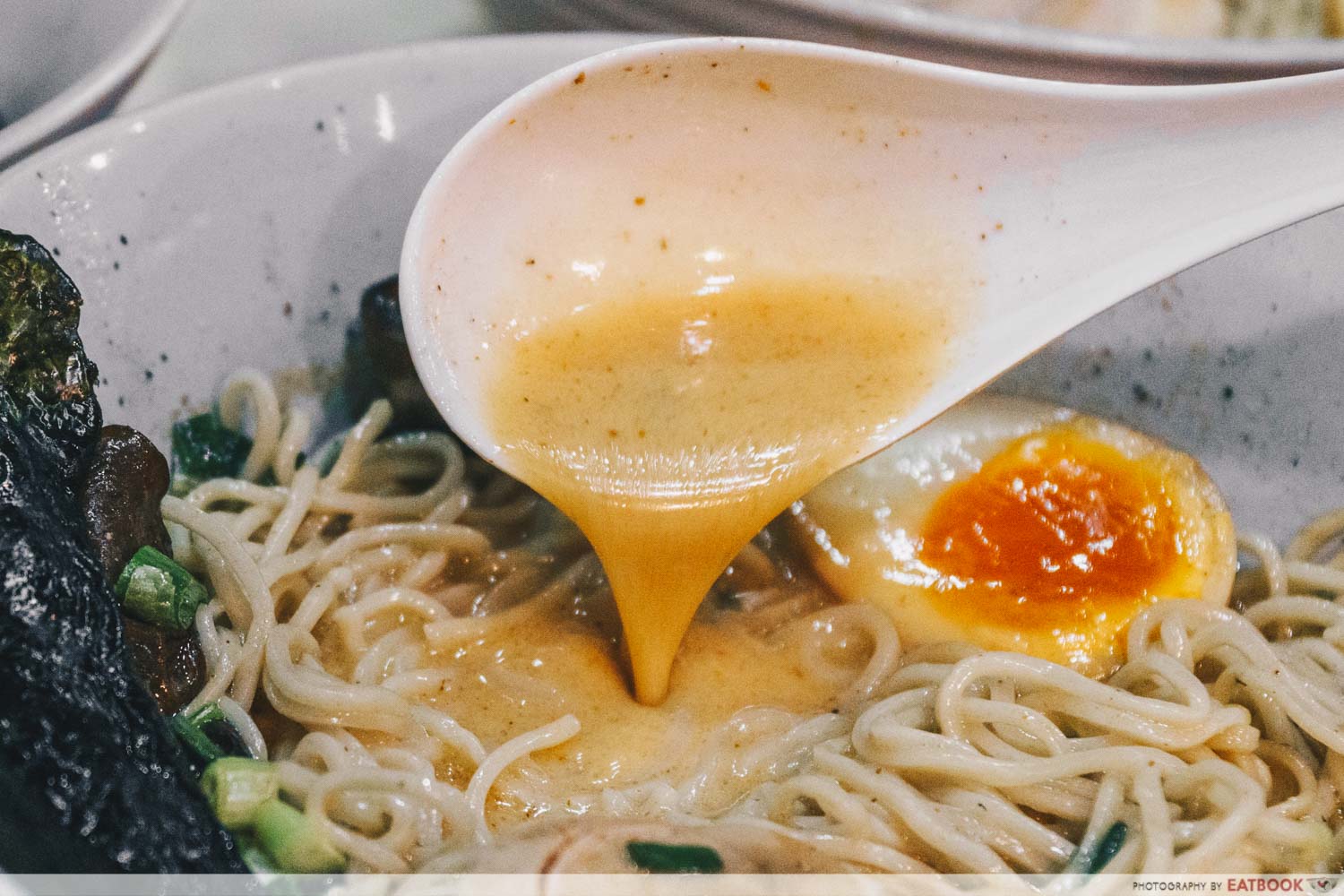 The soup had a more intense flavour than the plain tonkotsu. The rich seafood flavours gave it a bit of sweetness, while the spicy option only added a mild kick of heat to it. While the taste was slightly sharper, it wasn't that much better than the cheaper option of plain pork broth.   
Ambience at Suparakki Ramen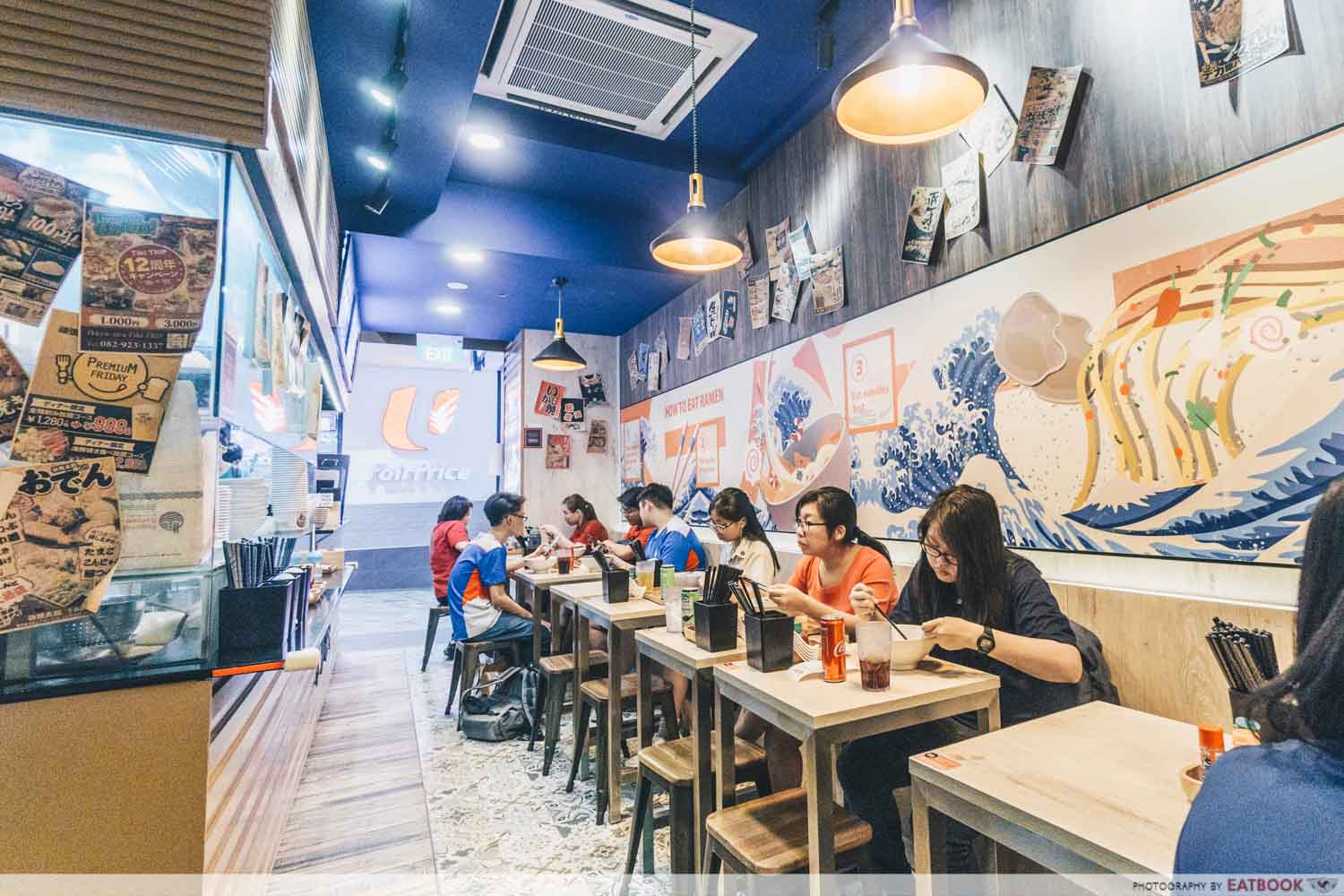 The ambience at Suparakki Ramen's Northpoint City outlet left much to be desired. It was small and cramped, which wouldn't be that bad by itself, but the biggest issue was the tables.
Every single table in the restaurant used to have stickers at their corners. When the stickers were removed and replaced, massive patches of sticky glue were left behind. Our arms would end up sticking to the table if we weren't constantly keeping track of where we were putting them throughout the entire meal. There was no way to avoid it. There was even an elderly couple who brought it up with the staff and the response they got was, "It's like that." 
Supurakki Ramen is at Basement two of Northpoint City. You can walk there directly from Yishun MRT Station. Just head down the escalator into the mall, and it's easily within reach. 
The verdict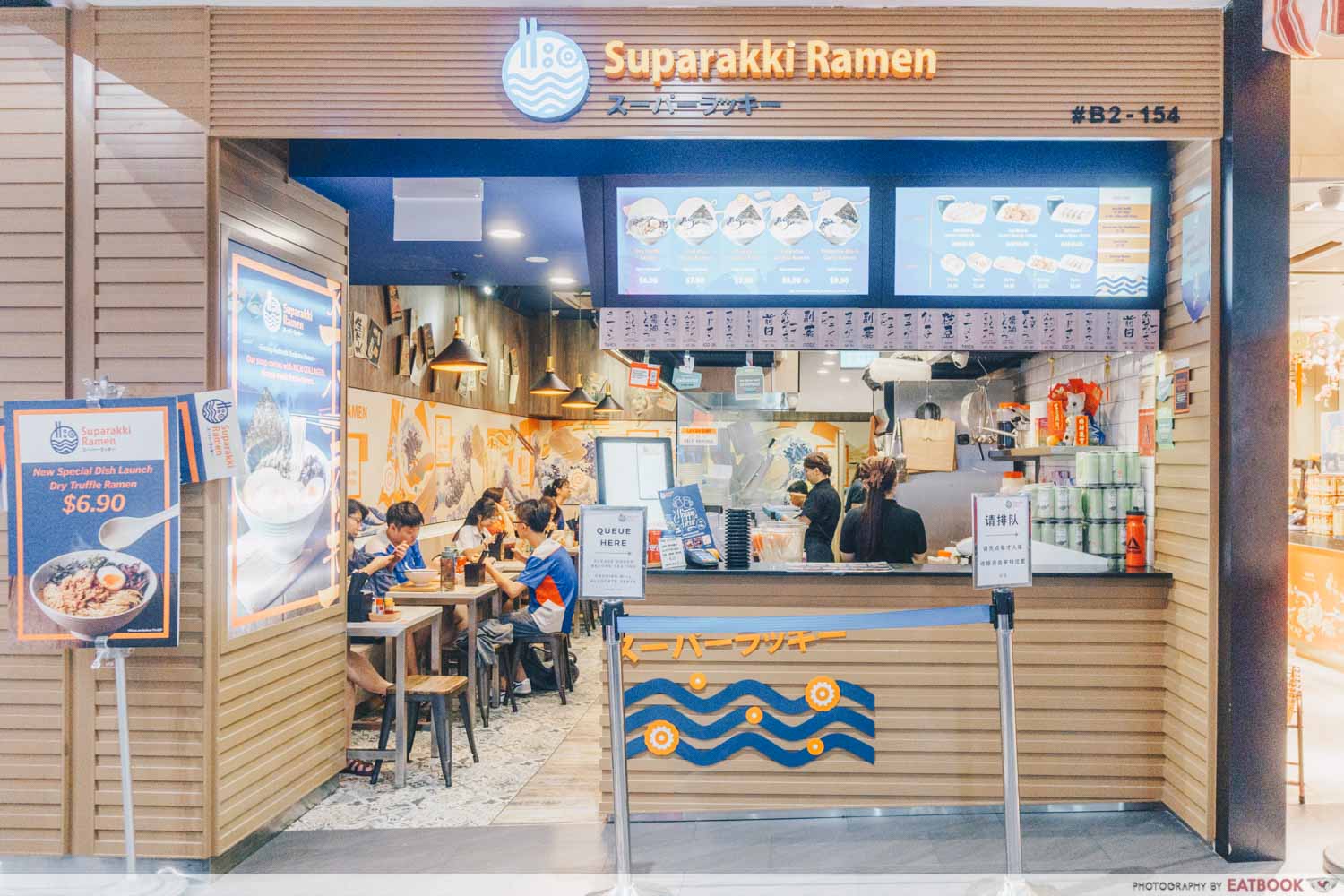 Suparakki Ramen is cheap and accessible. The menu could have benefited from shaking things up a bit, as pretty much all the items were presented the same way, except with different soups. That being said, as a Northie who struggles to find good ramen, I'd go back just because of how literally close to home it is. I hope the next time I head down, they'd have fixed the issue with the sticky tables, since it really matters while dining there. Otherwise, I'd be cool to just pay another $0.50 to dapao the ramen. 
For more food in the North, check out our Causeway Point Food Guide, where we cover all the places to eat at Woodlands Central! Or check out Shaker Lakers, a Western fusion restaurant at Yishun Park Hawker Centre.
Causeway Point Food: Restaurants, Cafes And Hawker Stalls Beside Woodlands MRT Station
Address: 930 Yishun Avenue 2, #B2-154, North Point City, Singapore 769098
Opening hours: Daily 10:30am to 9:30pm
Website
Suparakki is not a halal-certified eatery.
Photos taken by Amanda Phoon.
This is an independent review by Eatbook.sg.
Summary
Pros
– Affordable
– Dry ramen was delicious 
Cons
– Tables had remnants of glue on them
– Chashu was slightly dry
– Not enough soup given
Recommended dishes: Dry Truffle Ramen ($6.90)
Opening hours: Daily 10:30am to 9:30pm
Address: 930 Yishun Avenue 2, #B2-154, North Point City, Singapore 769098