---
Causeway Point food spots
---
I've been visiting Causeway Point (CWP) literally my entire life, so I definitely feel a sense of pride in writing about the food in my home turf. Over the last 20 years, CWP has gone through a couple of massive renovations. Some old stores said their goodbyes, and a couple of new ones popped up, but in case you haven't been here in a while, here's a guide to get reacquainted with all the Causeway Point food places.
---
1. Aburi-EN
---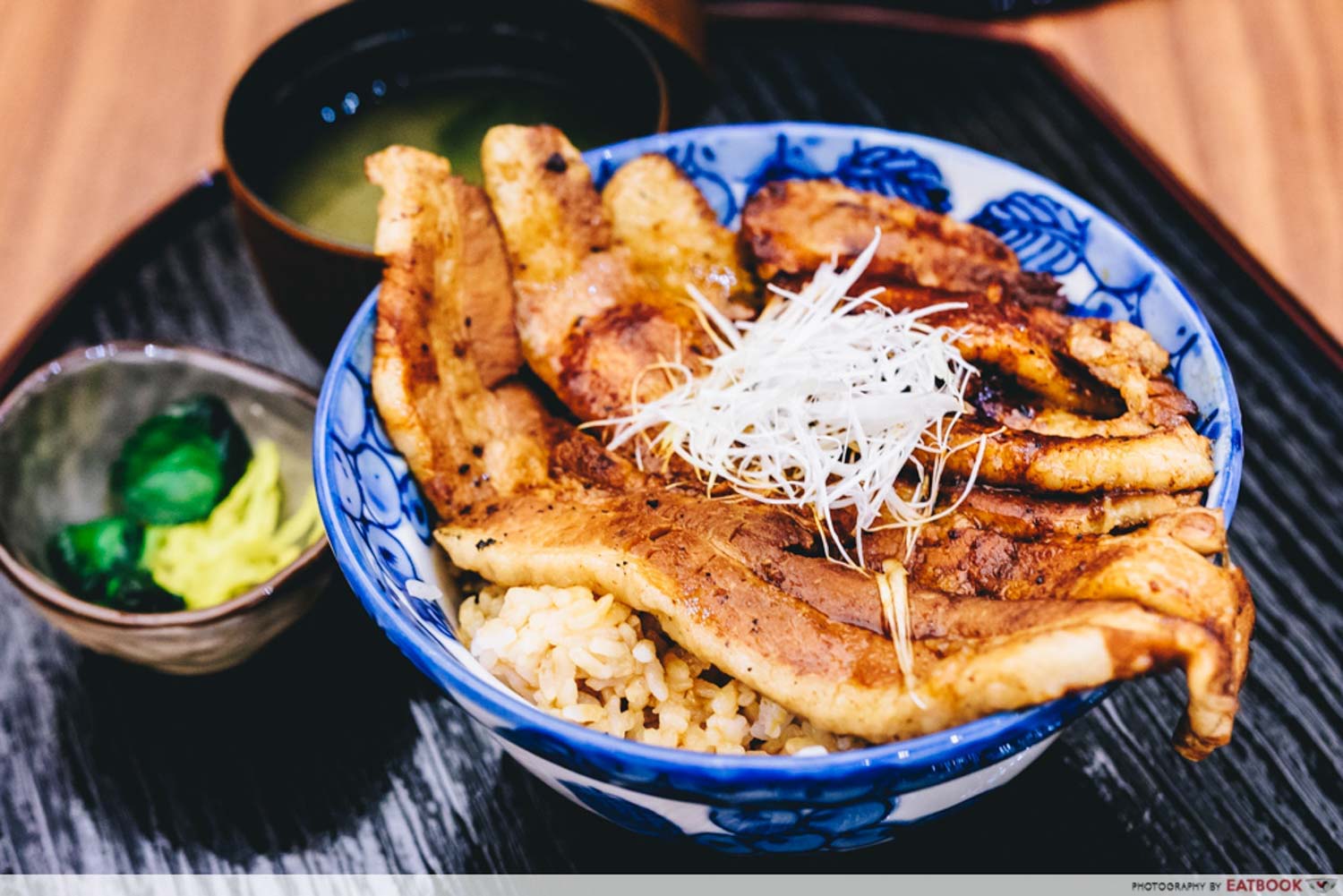 Aburi-EN focuses on rice bowls, filled with heaping portions of grilled pork and Wagyu beef. Their signature item is the Premium Buta Bara Don ($16.50++), which comprises huge slabs of grilled chestnut-fed pork belly on a bed of pearl rice. From 11am to 5pm, lunch mains include a bowl of miso soup and pickles. 
The pigs from the farms that Aburi-EN sources from are fed a natural diet that includes chestnuts, giving the meat a natural sweetness and tender texture. It's flavourful, charred lightly, and slightly unctuous.
Generous servings of pork aside, another affordable option they have is the Aburi Salmon Don ($13.80++), which contains slabs of lightly torched salmon on rice. The searing is expertly done, making sure the meat isn't too dried out. Each piece is smoky and slightly crispy on the outside, while remaining soft and tender enough to pry apart.
Check out our full review of Aburi-EN!
Unit number: #02-09B
Opening hours: Daily 11am to 10pm
Tel: 6760 2081
Website
Aburi-EN Review: Blow-torched and Chargrilled Japanese Rice Bowls In The CBD
---
2. Teppan-Yaki
---

Image credit: @yusman.tajap
Teppan-Yaki's name is generic but self-explanatory. You place your order at the counter and have a seat, while the chefs start parcelling out huge portions of food onto the teppanyaki grill. It's a rather novel experience to watch your food get cooked in front of you and served immediately. The vegetables, usually neglected as sides in most places, are flavoured wonderfully with garlic and sauces. The tender meat is piping hot, and the seafood is grilled to just the right texture—especially the prawns. I would also recommend getting the spicy sauce for the meat.
There are multiple sets available here. It's better to get a set than a la carte, so you can get both meat and veggies. One of the more premium options is Set A ($21.50), which comes with two large prawns, fish, a sirloin steak, and vegetables. And if you're here with a friend, get the Double Set A ($35), which contains enough steak, prawns, fish, scallops, and vegetables for two people. Most of the sets come with rice, soup, and a drink. 
Unit number: #02-09D-10
Opening hours: Daily 10:30am to 10:30pm
---
3. Hot Tomato
---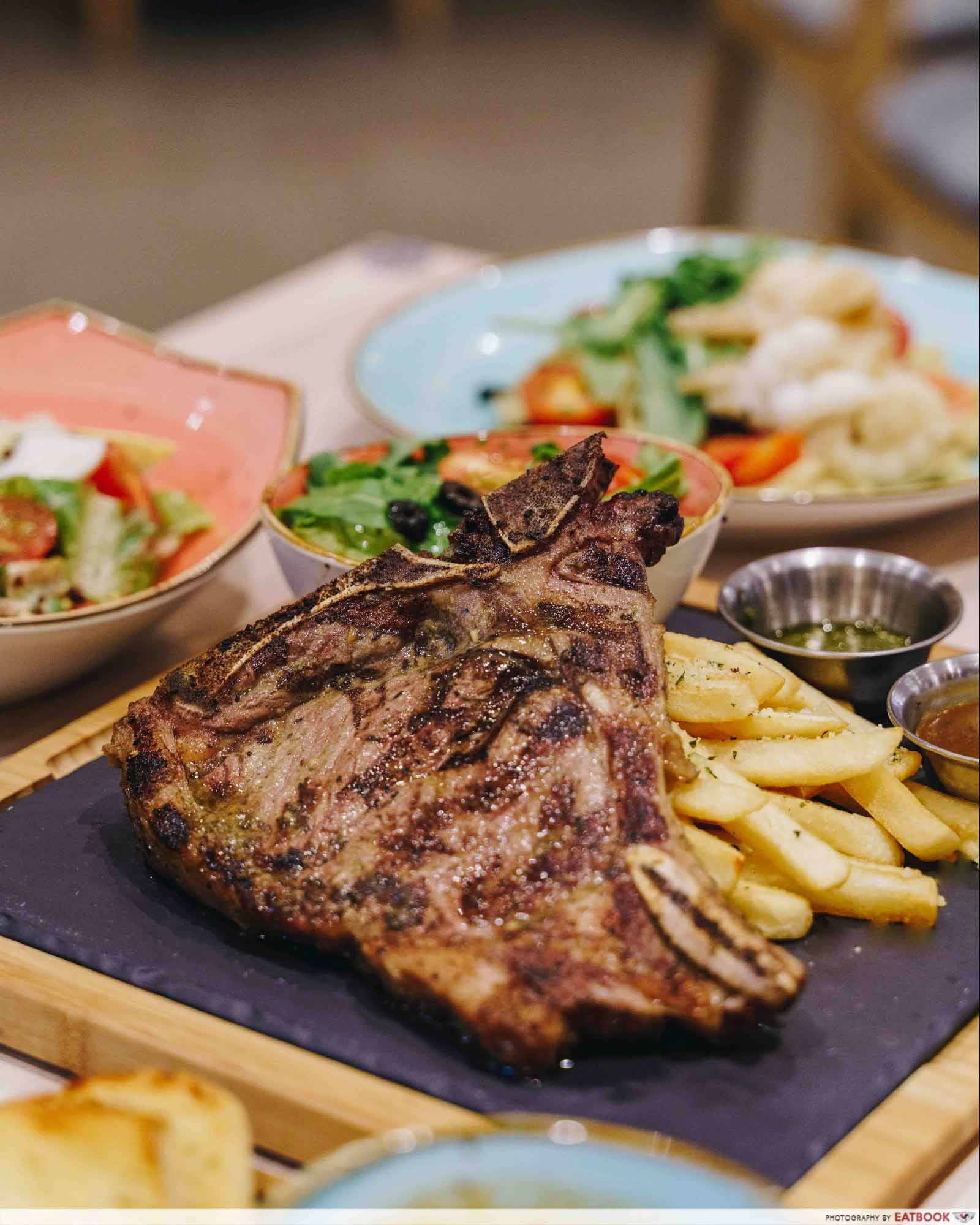 Hot Tomato is probably the best place to get affordable Western food in Causeway Point. It's particularly good for students since their Student Meal only costs $10 nett. The student meal is available from 11am to 5pm, and is a good offer. You can get Sirloin Steak & Aglio Olio, Chicken Chops & Aglio Olio, Fish & Chips, Grilled Salmon & Salad, Chicken & Sausage Marinara, or Carbonara along with a drink. It offers good value for what you're paying. 
Hot Tomato focuses mainly on steak and pasta. Most of their mains come with a free side of flavourful, al dente Aglio Olio ($6.90++). Dishes such as their Steak & Prawn ($14.20++) and Chicken Chop & Sausage ($12.90++) have heaping portions of spaghetti and a bowl of salad on the side, making it a full meal no matter what you order. The restaurant also has premium options such as the mouth-watering T-Bone Steak ($25++), which features 430g of tender and gently charred beef. There's also the tasty Lobster Linguine ($14.90++) with large chunks of juicy lobster tails. 
Unit number: #02-11
Opening hours: Daily 11am to 10pm
Tel: 6894 2685
Website
Menu
---
4. Sushiro
---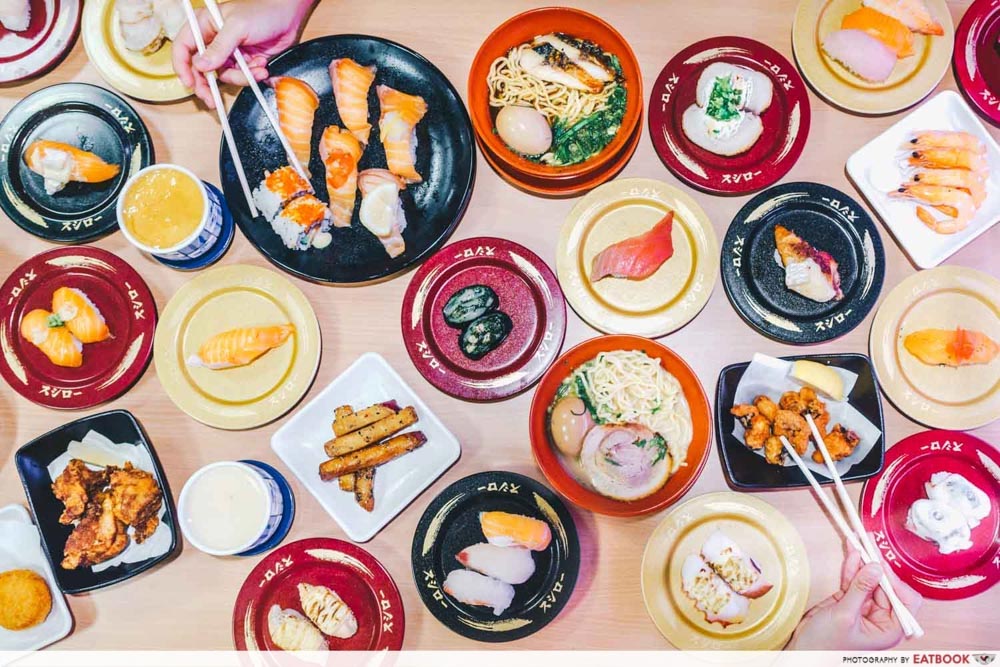 Sushiro is a sushi place that's a little more affordable than Ichiban Sushi, that's on the same floor. The conveyor belt sushi restaurant has a range of Nigiri Sushi (from $2.20++), such as Broiled Salmon Belly, Fatty Tuna, and Grilled Mackerel. Their prices are similar to Genki Sushi's, so you can guiltlessly order plate after plate of fresh sashimi and sushi. 
On top of fish, there are also cooked food and appetisers such as Tonkotsu Ramen ($5.50++), Miso Soup with Clam ($2.50++) and Crab Cream Croquettes ($3.50++).
Check out our review of Sushiro!
Unit number: #05-16-18
Opening hours: Daily 11am to 10pm
Website
Sushiro: Japan's Largest Conveyor Belt Sushi Chain Opening In Singapore This August 2019
---
5. Jollibee
---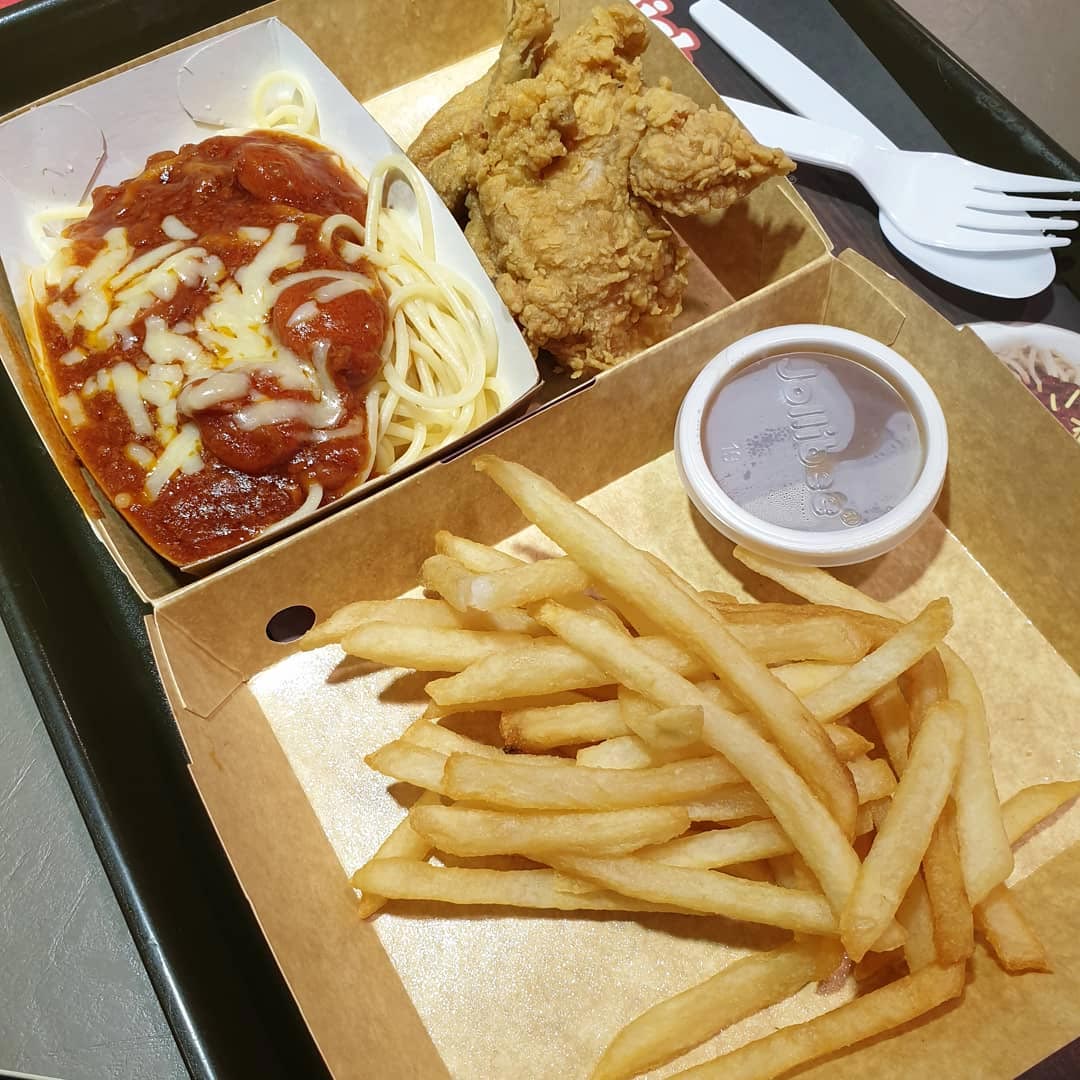 Image credit: @kenghua76
Even today, Jollibee at Woodlands MRT Station still sees long queues and massive crowds. While it's not technically at Causeway Point, chicken lovers can make their way to the Woodlands MRT Station, which is connected to the mall, to satisfy their cravings. 
Their fried chicken is a lot less greasy than KFC's, with juicy meat and a crisp layer of skin. The rich and flavourful gravy that accompanies it also tastes delicious. Their cheesy spaghetti is another popular choice among customers. You can get a 2pc Chickenjoy with Regular Sides for $7, which includes two pieces of their signature chicken and either rice, mashed potatoes, or buttered corn. The Value Meal ($7) gets you a piece of their Chickenjoy with a serving of Jolly Spaghetti and a drink. You can also get a big bucket of chicken to share, in the form of their ChickenJoy Bucket ($27.25), which includes six pieces of chicken, three servings of spaghetti, three drinks, and three side dishes.

Address: Woodlands MRT Station
Opening hours: Daily 8am to 10pm
Website
---
6. Shabu Sai
---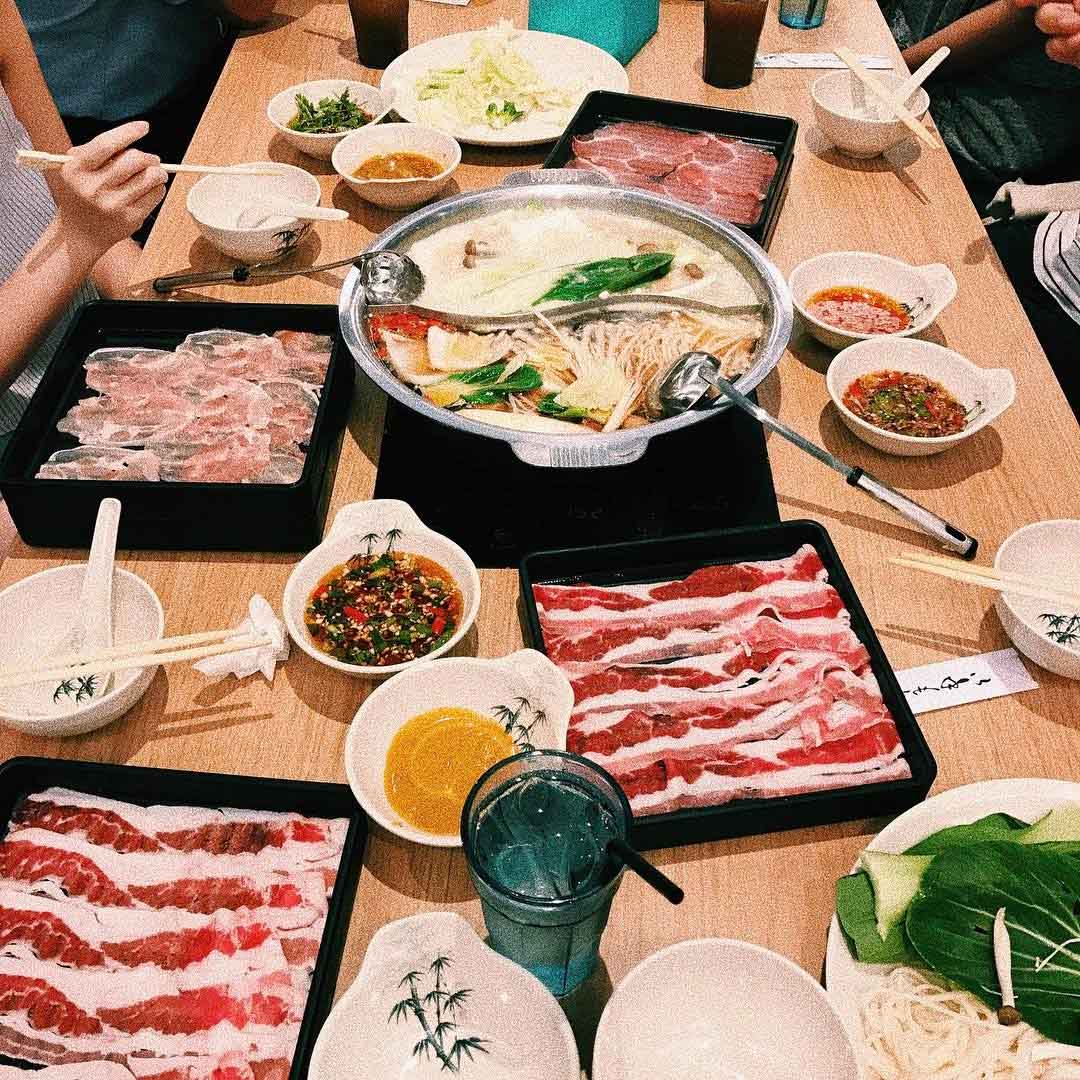 Image credit: @cyleats
Shabu Sai has been my go-to hotpot place for a long time. It's rather standard, as far as hotpot goes, but it is still a reliable place to enjoy piping hot soup and free-flow meat. Their soup options include the standard variants—Sukiyaki, Tomato, Spicy, and others. However, they also have a unique soup each month, with special options such as Bak Kut Teh and Gochujang Tonkotsu popping up every so often. 
Dinner is $25.99++ on weekends for a 90-minute buffet. The meat variety isn't that impressive, with only chicken, beef, and pork, but it's still enough to satisfy most appetites. You can get free-flow drinks and soft-serve ice cream for another $1.99++ too, so make the most of it after you're done with your soup and meat. 
Unit number: #05-14/15
Opening hours: Daily 11am to 10pm
Tel: 6462 1557
Website
---
7. Bali Thai
---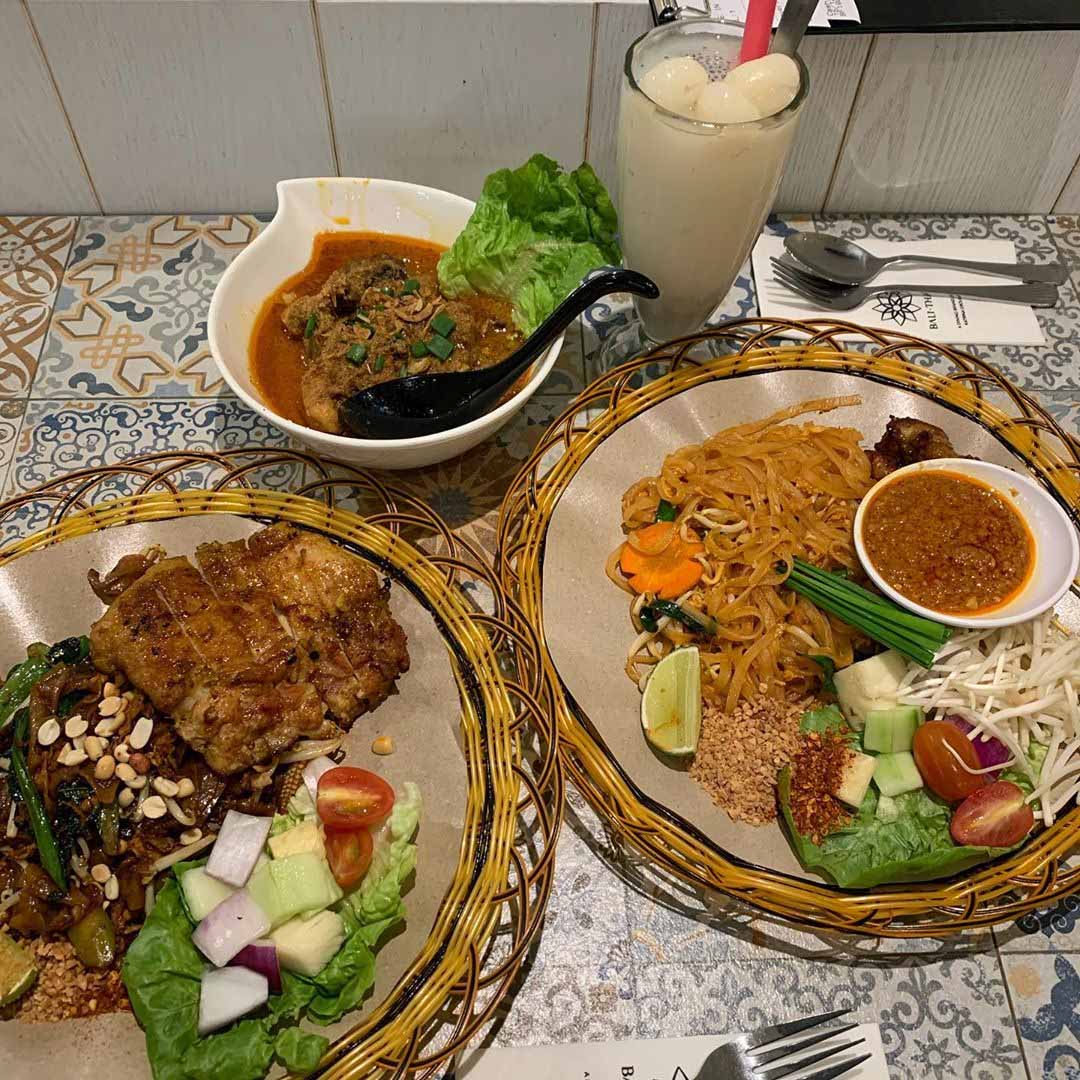 Image credit: @evelynmichaljerusha
Bali Thai is another go-to place to get Indo-Thai food in Causeway Point. Start off your meal with classic appetisers such as the Thai Prawn Cakes ($7.40++) and a sharing portion of Tom Yum Soup ($17.80++), before moving on to the main courses. The restaurant also has Indonesian staples such as Mee Goreng with Satay ($14.80++), as well as dishes that bring out the best of sour-spicy Thai flavours, such as the Pad Thai with Satay ($14.50++) and Thai Green Curry ($13.80++). I've visited with my family a couple of times, and it's a good place to have a lively family meal. 
Unit number: #05-05
Opening hours: Daily 11:30am to 10pm
Tel: 6894 1363
Website
---
8. Monster Planet
---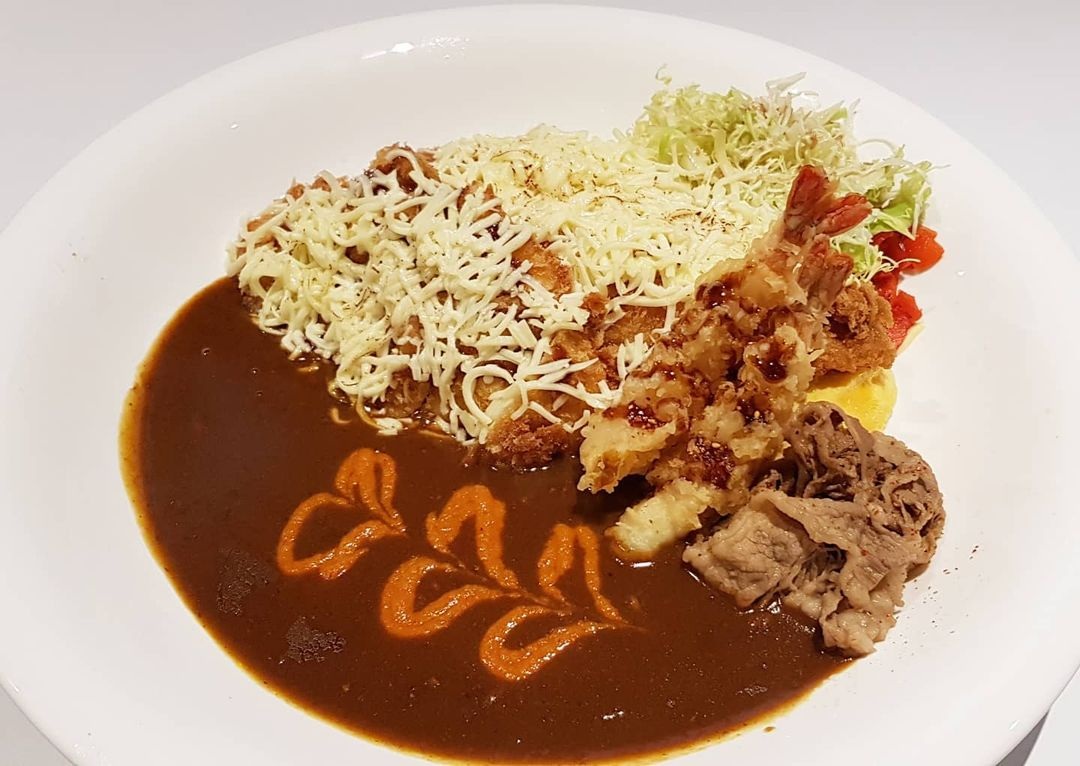 Image credit: @reene_aw
Monster Planet happens to be a subsidiary of Monster Curry, and is the very first halal outlet with a MUIS-certified menu. Go for the Monster Combo Curry ($27.80), which comes with chicken katsu, beef shabu-shabu, shrimp tempura, and fried fish. For those who just want a good plate of their signature curry plate, the Signature Chicken Katsu Curry ($13.80) is a great option. There's also the Lemongrass Chicken Burger ($11.80)—one of the exclusive items available at this outlet. 
Unit number: #05-13
Opening hours: Daily 11am to 10pm
Tel: 6760 0021
Website
---
9. Tamago-EN
---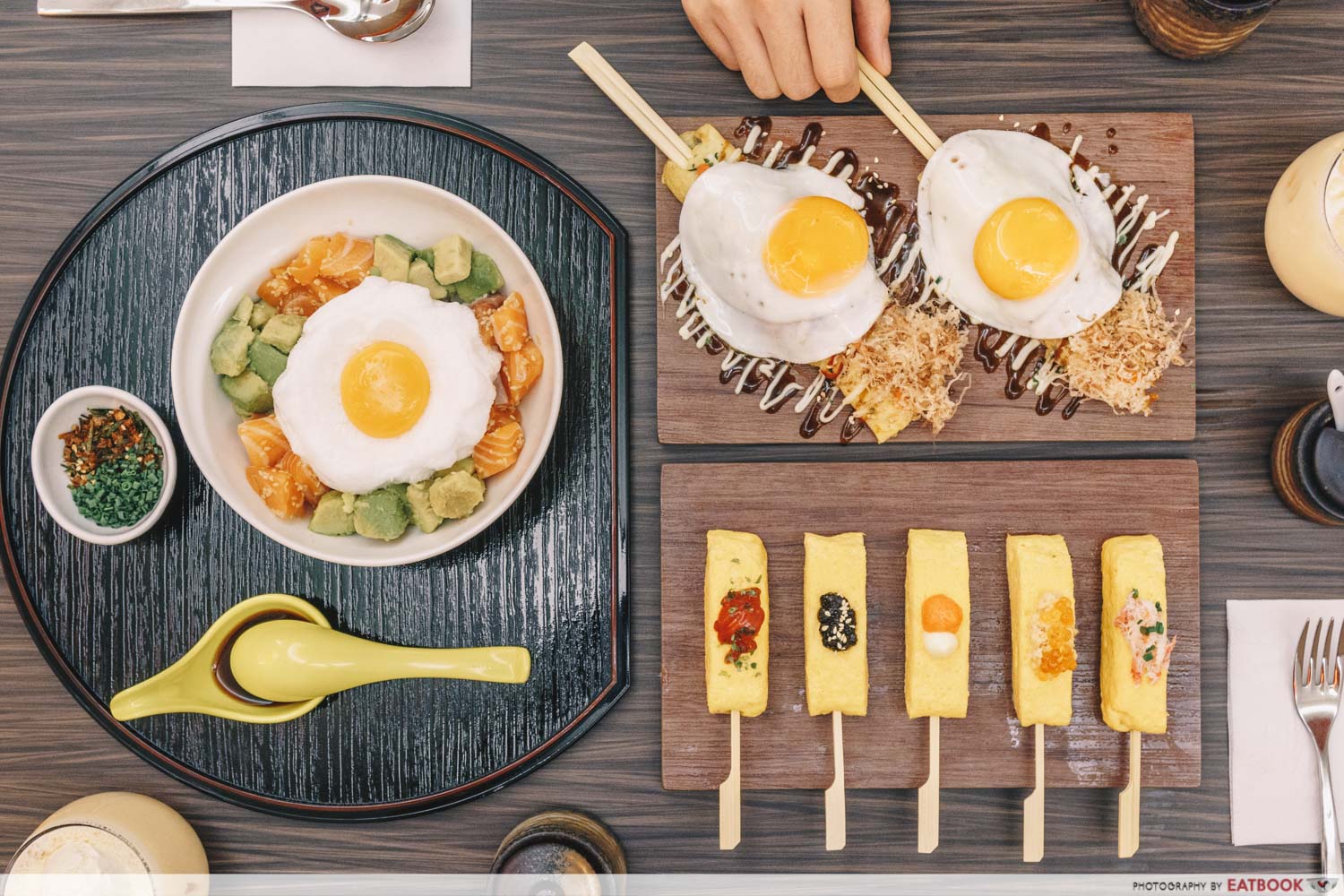 For those who are not familiar with Tamago-EN, they are an egg-themed restaurant that use fresh eggs imported directly from Okinawa. Get started with their popular Ultimate Tamago Kake Gohan ($5.90++), also known as the Ultimate Egg Rice. Alternatively, switch it up with  the Salmon Flake Ikura ($11.50++), which is a mix of salmon flakes and roe. Their Chicken Steak Omurice ($13.90++) is another popular dish to look out for; it features a tornado omelette with butter rice and chicken steak. 
Unit number: #B1-19
Opening hours: Daily 10am to 10pm
Website
---
10. Lam's Abalone Noodles
---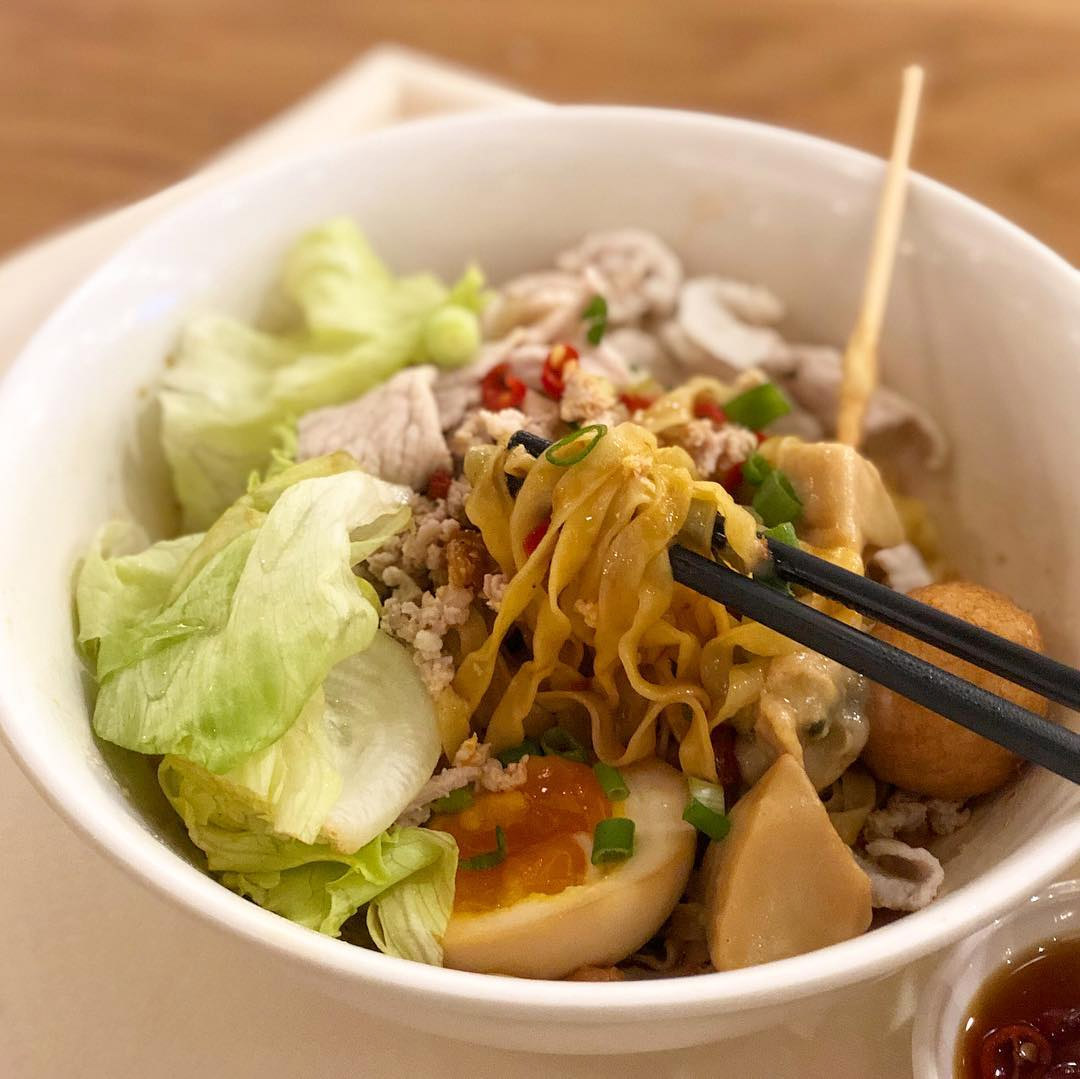 Image credit: @littlechefathome
Lam's Abalone Noodles is located at Food Republic, on the fourth floor. It's definitely the most notable stall in the bustling food court. Their signature dish is Lam's Abalone Noodles ($7), which is a plate of mee pok with a fishball, Hanjuku egg, assorted meats, and a stick of abalone and scallop in their special sauce. The chilli gives the dish a kick of spice, and the marinated egg yolk is an explosion of flavour in the mouth. The abalone is chewy and succulent, and the whole dish meshes well together. 
They also have other signature items such as the Baked Chicken Thigh with Rice ($6.90) set, which includes a tender and juicy leg of chicken on a plate of rice and veggies. Each bite of chicken is flavourful and full of salty-sweet flavour.
Unit number: #04-01
Opening hours: Daily 10am to 10pm
Tel: 6336 0848
Website
---
 11. Kuriya Japanese Market
---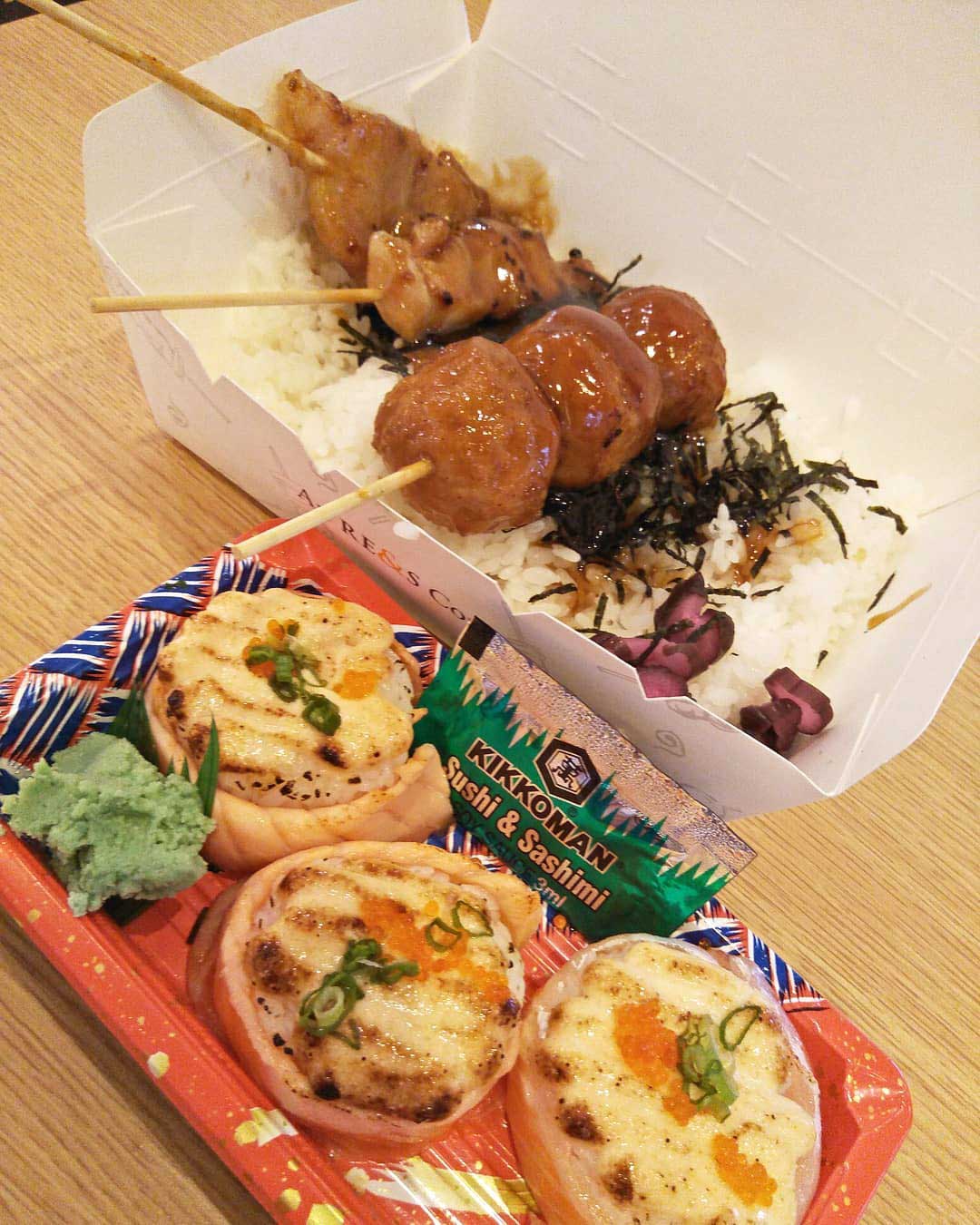 Image credit: @anthonylohhc
Kuriya Fish Market contains a tonne of smaller kiosks within it, offering up a range of low-budget Japanese food. It's good for grabbing a meal on the go, or to sit down for a quick dinner. The Wadori Yakitori kiosk serves sticks of meaty and savoury yakitori. A box of warm rice, chicken meatballs, juicy pork, and sweet teriyaki sauce makes for good comfort food after a long day. The Wadori Box Combo A ($9.50) comes with a bowl of miso soup and a cup of chawanmushi. The box contains two sticks of yakitori, a fried prawn, and a stick of dumplings. The a la carte version costs $7.50 and come without the sides.
You can get various other options in Wadori too. You can enjoy an Oyako Don ($8) from the adjacent Ichiban Bento, Salmon Sashimi ($6.90) from Kuriya itself, or even head to the freezer and get some Japanese ice cream for $2 each. The store has imported Japanese ingredients too, such as bottles of sauces, noodles, and condiments for your kitchen. 
Unit number: #B1-17
Opening hours: Daily 11am to 10pm
Tel: 6893 2832
Website
---
12. Hokkaido Baked Cheese Tart
---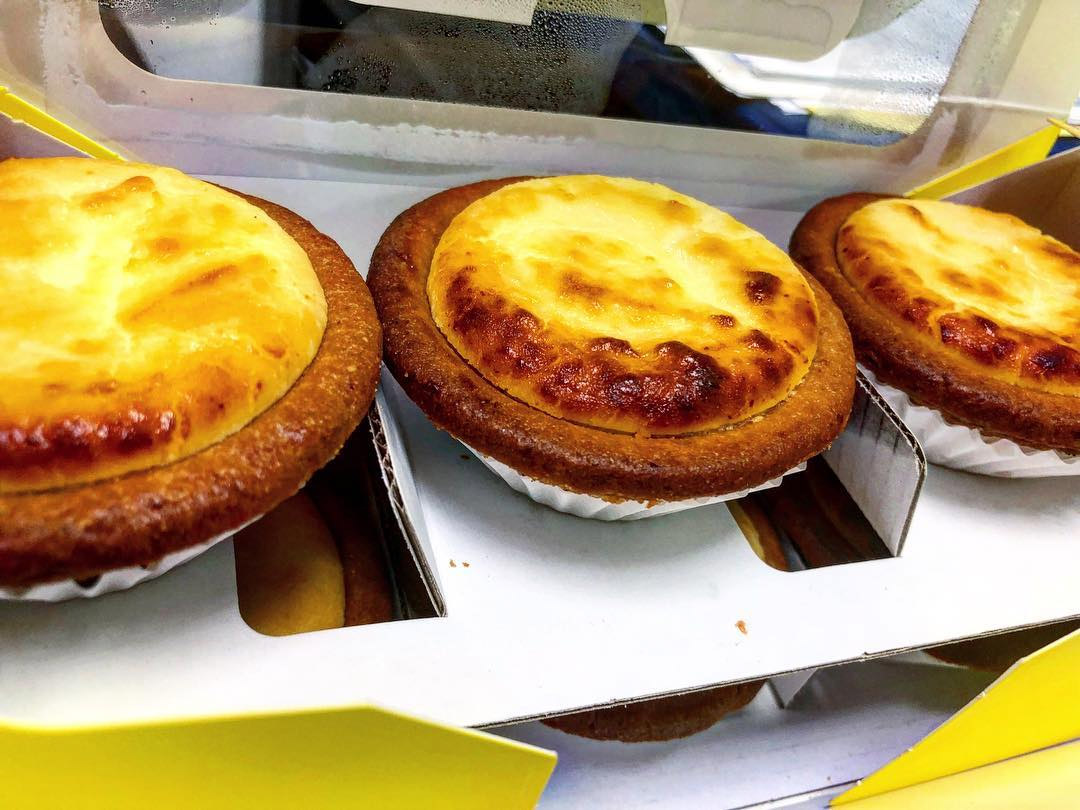 Image credit: @mfp_diaries
Hokkaido Baked Cheese Tart is often confused with the very similarly named Hokkaido cheese tart shop, Bake, which has now shut down. Regardless, they both sell the same products. Back when cheese tarts were all the rage, there was a lot of confusion between the two.
Hokkaido Baked Cheese Tart's pastries have a thicker crust, and the texture of the custard inside is silky smooth. It's sweet, but isn't as distinctly cheesy as some of its competitors. The Original Cheese Tart goes for $2.90, but the dessert kiosk has a multitude of other flavours such as the Strawberry ($3.30), Cookies & Cream ($3.30), and Durian ($3.30). The strawberry flavour is intensely tart, contrasting against the sweetness of the original custard.
Unit number: #B1-K25
Opening hours: Daily 11am to 9:30pm
Tel: 6760 3757
---
13. Boon Lay Power Nasi Lemak
---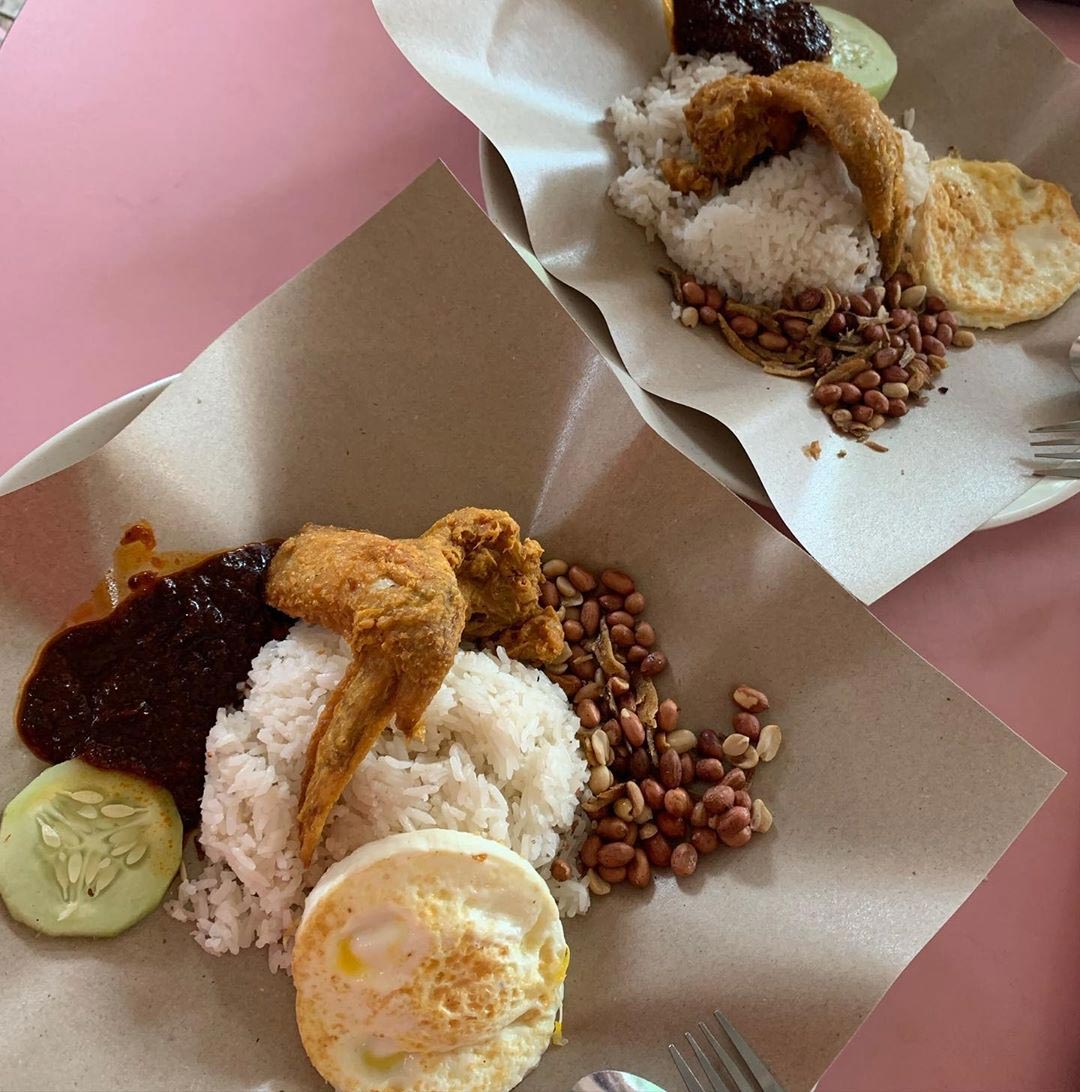 Image credit: @daveltk
There's no need to make a long journey to the West, as the legendary Boon Lay Power Nasi Lemak has opened a branch in Causeway Point's basement. All the ingredients are cooked daily, and you can get their signature Nasi Lemak Chicken Wing Set ($4.95)—an indulgent treat of fragrant rice, spicy sambal and crispy fried chicken. You can add on other sides such as sausages and hash browns for another $0.50. After 4pm, you can get a Value Meal ($4), which comes with fried chicken, egg and ikan bilis.  
Boon Lay Power Nasi Lemak has also recently set up nasi lemak vending machines, so you can get a chance to taste it even if there aren't any outlets near you!
Unit number: #B1-K15
Opening hours: Daily 10am to 9pm
Website
Boon Lay Power Nasi Lemak Vending Machines Are Now Found Across Singapore
---
14. Nine Fresh
---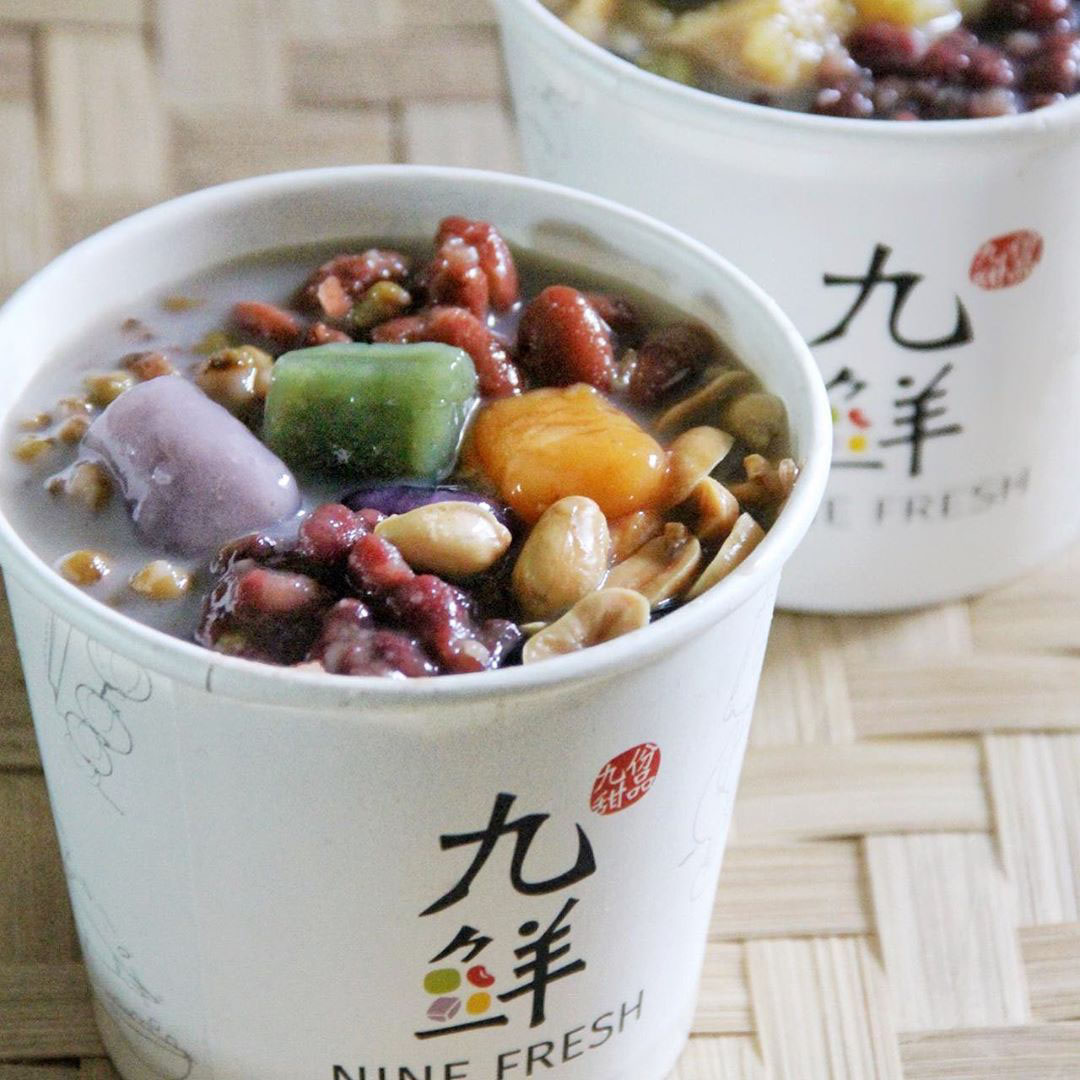 Image credit: @ninefresh
Nine Fresh offers traditional Taiwanese desserts, such as grass jelly and ai-yu jelly. Their desserts are affordable, filling, and wholesome. The Nine Fresh Signature ($3) has a little bit of everything, with two kinds of jelly, assorted beans, roasted peanuts, and chewy, gooey taro balls. Their signature items are the taro balls and glutinous rice. 
My favourite is the Black Sugar Ai-Yu Special ($3.60), with a second portion of Taro Balls ($0.60) added on. The jelly is a lot lighter and delicate than those sold by competitors, while the dessert also comes with chewy pearls and taro balls. It's a lot more affordable than other desserts too, making it a great treat you can get any time. While they may not be as flashy and modern as a cup of bubble tea, Nine Fresh's desserts are still tasty and refreshing.
Unit number: #01-K06
Opening hours: Daily 11am to 10pm
Website
---
15. 9pm Kkochi
---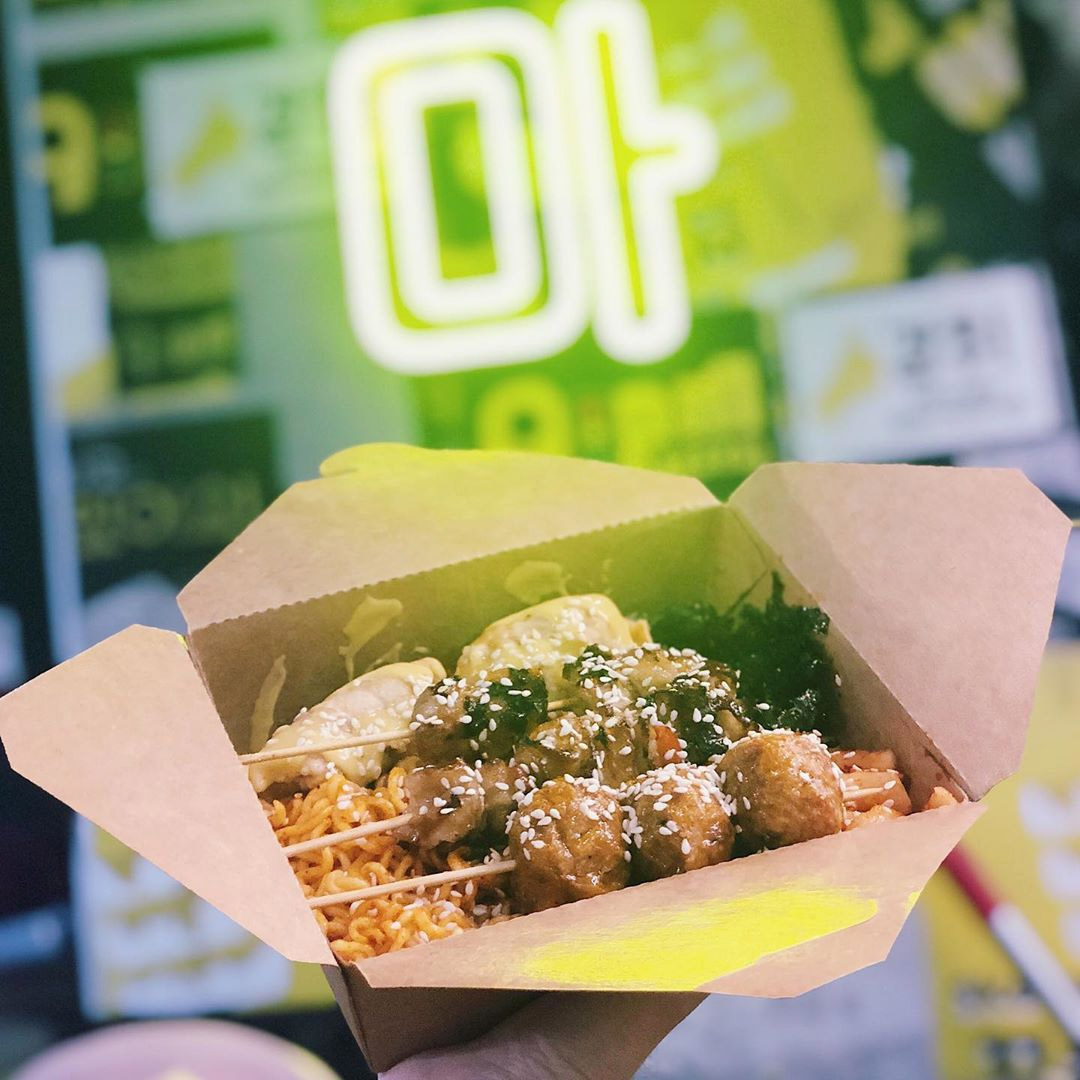 Image credit: @9pmkkochi
9pm Kkochi serves Korean street food-inspired fare in takeaway boxes. The most affordable set is Set A ($5.70), which comes with two sticks of chicken yakitori, seaweed rice, and a pile of kimchi. The more pricey meals, such as Set C ($9.50), come with chicken, pork belly, kimchi dumplings, and a choice of rice or jajangmyeon. 
I like getting the larger sets, and the springy noodles go well with the sour funkiness of the kimchi dumplings. The beef belly is tender and juicy and comes with lots of delicious fats. Their boxed set meals are warm, comforting, and convenient, especially if you're on a budget. You can also get sides and add-ons, such as Tteokbokki In A Cup ($4.90) or Pork Belly Zig Zag ($1.80) skewers. 
Unit number: #B1-K11
Opening hours: Mon-Thurs 11am to 8:30pm, Fri-Sun 11am to 9pm
Tel: 6219 5884
Website
---
16. Roti Mum
---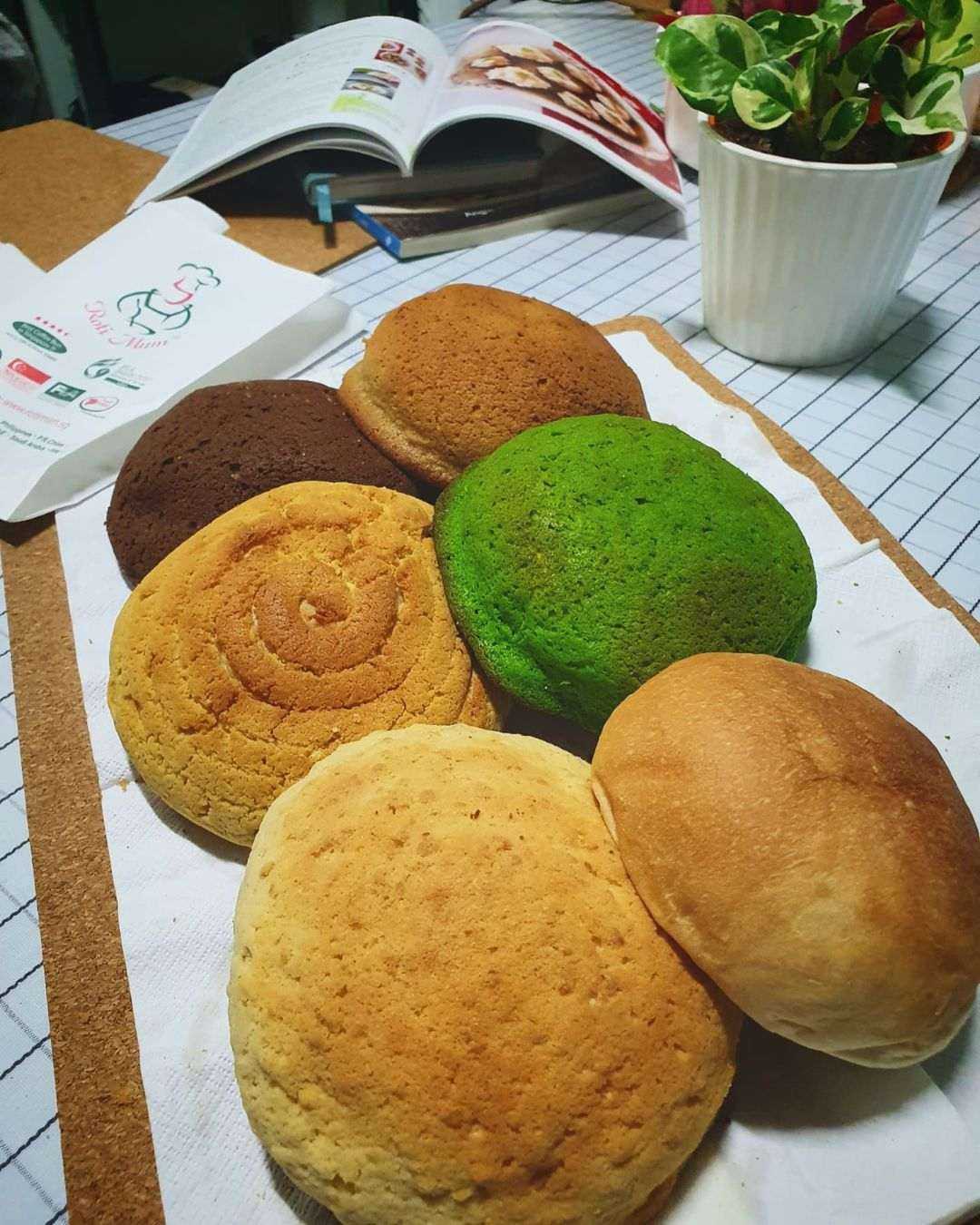 Image credit: @rotimumofficial
An alternative to JB-famous Rotiboy is Roti Mum. Roti Mum's offerings are similar to Rotiboy, with a menu comprising their signature Coffee Bun, as well as other flavours including Butter Bun, Oat Bun, Salted Egg Bun, Pandan Bun, and Chocolate Bun.
All of their buns are priced at $2 each, and when you purchase any five, you will get one free bun of your choice. For something different from the regular Coffee Bun, try the Butter Bun, or the Salted Egg Bun for a salty-sweet combination. 
Unit number: #B1-K27
Opening hours: Daily 9am to 10pm
Tel: 6219 5947
Website
---
17. Yomie's Rice X Yogurt
---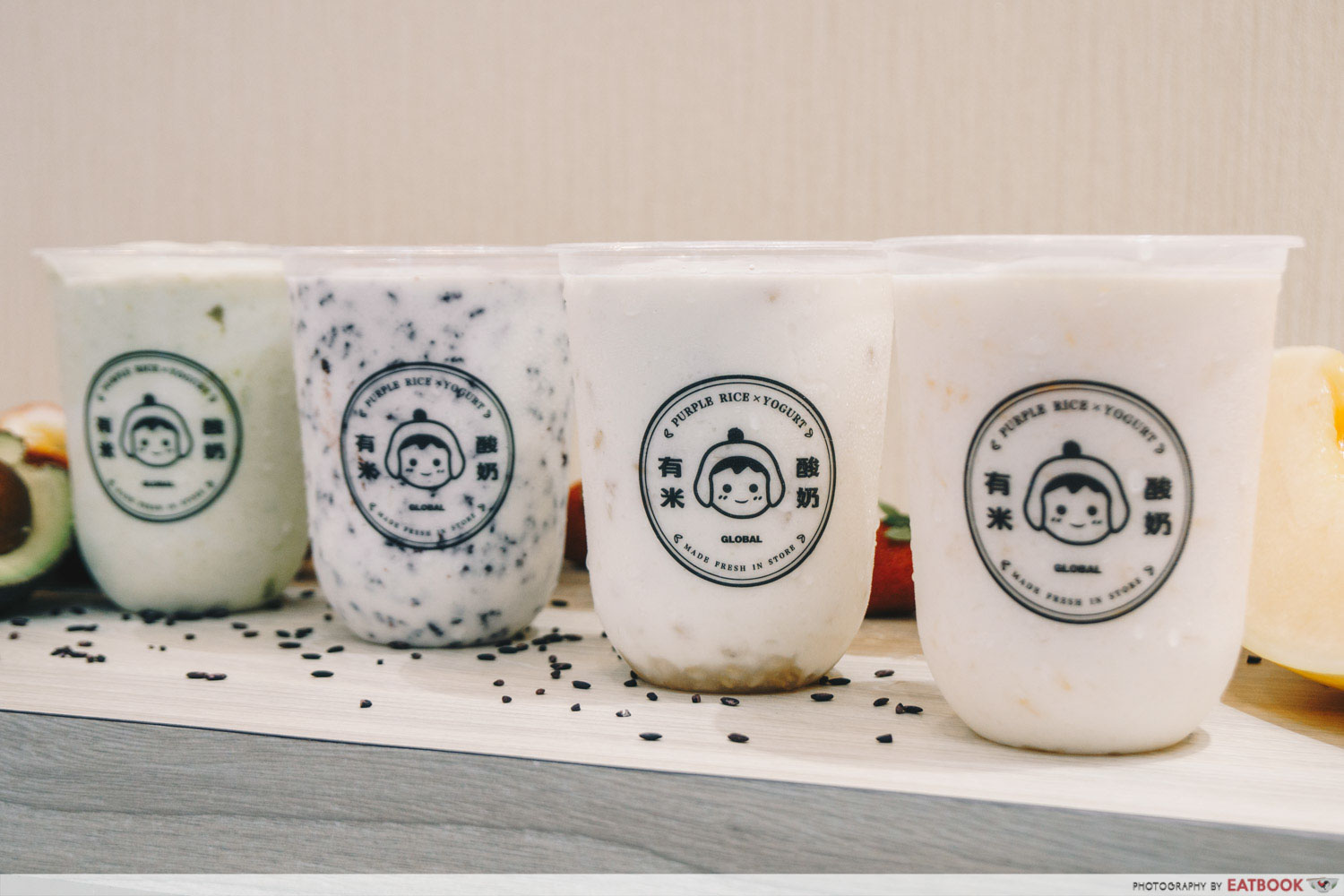 Famous yogurt drink stall Yomie's Rice X Yogurt has multiple outlets islandwide, including one at Woodlands! The brand uses all-natural and fresh ingredients, and their yogurt is also made in-house. Their signature Yomie's Purple Rice Yogurt ($5.60) is blended with purple rice grains to add texture to the smooth and milky yogurt.
For those who love avocado shakes, opt for Avos! ($7.20). Fully ripe avocados are blended together with yogurt for an extra smooth and creamy texture. 
Unit number: #B1-K24
Opening hours: Daily 10am to 10pm
Website
---
Causeway Point food directory
---
Causeway Point is the source of many of my childhood memories. It may sound a bit cheesy, but the mall feels familiar and homely to me, and I've grown up alongside it for nearly two decades. It's always sad to see stores close down, since plenty have been around as long as I can remember, but it's exciting to see what opens in their place. 
For more food directories, check out our guide to Clarke Quay that features 30 lunch and happy hour deals! Also take a look at our Orchard Central food guide to see what there is to eat in town. 
Address: 1 Woodlands Square, Singapore 738099
Nearest MRT Station: Woodlands (NS9/TE2)
Clarke Quay: Restaurants And Bars For Good Lunch Deals And Happy Hour
This article was originally written on 24 February 2020.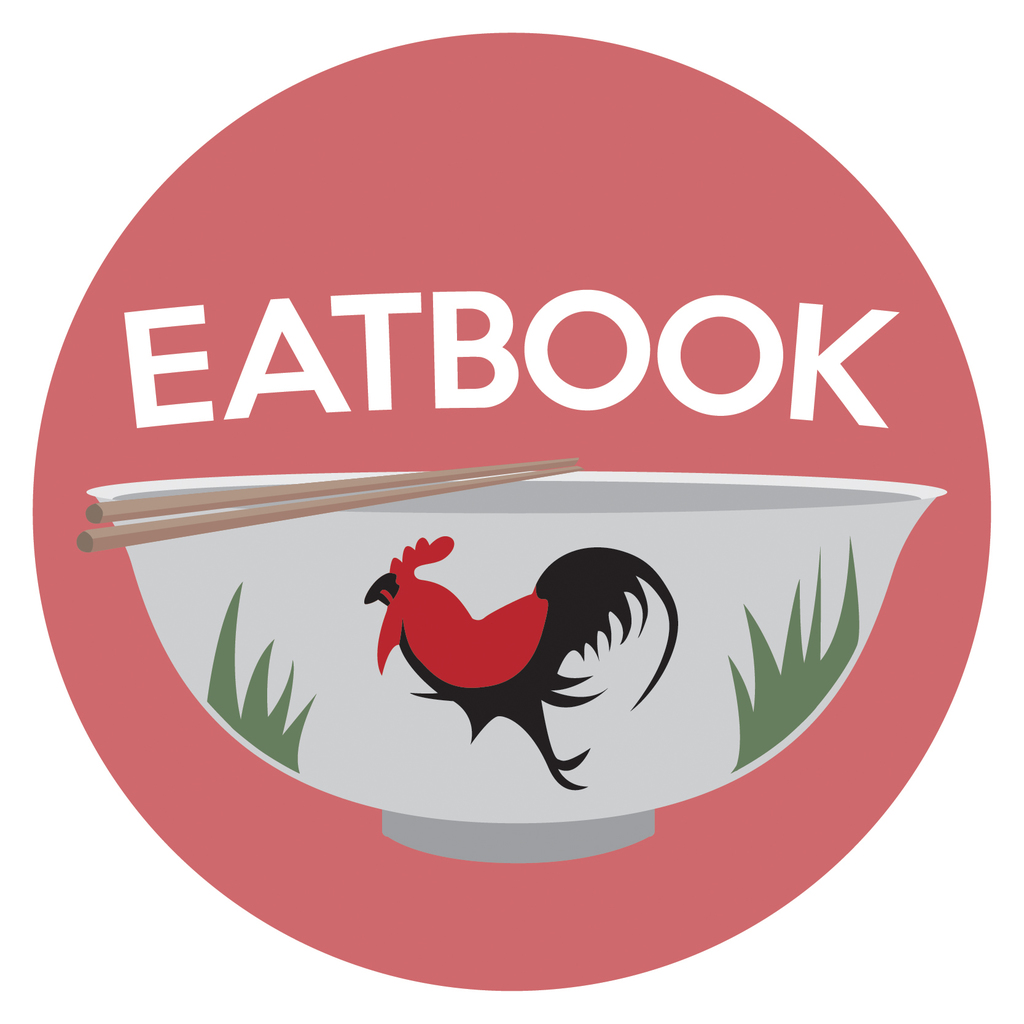 Drop us your email so you won't miss the latest news.