Hearty Japanese grub at Aburi-EN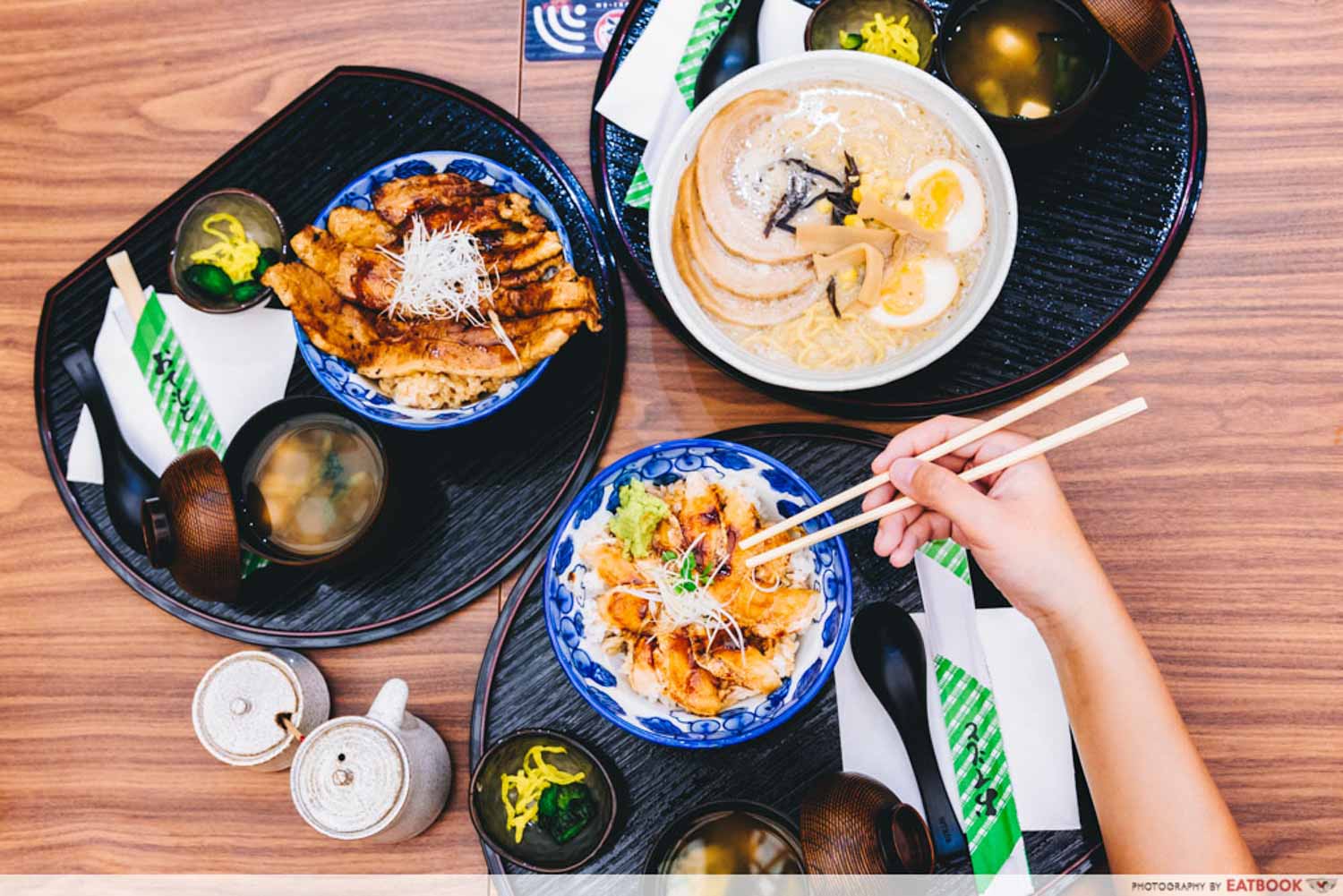 With the thrill of watching meat seared and a smoky aroma lingering in the air, Aburi-EN provides a compelling argument of how meat is best cooked grilled. Opened by the same group behind En Sakaba, you can expect this quaint restaurant to serve flavourful rice bowls, ramen and sides.
Food at Aburi-EN

One of Aburi-EN's signature is its Buta Bara Don ($15++), which features grilled chestnut pork belly, served on a bowl of chewy Yamagata rice. We all love a bit of fattiness in our pork and I appreciate how the pork belly had a golden ratio of fats to meat.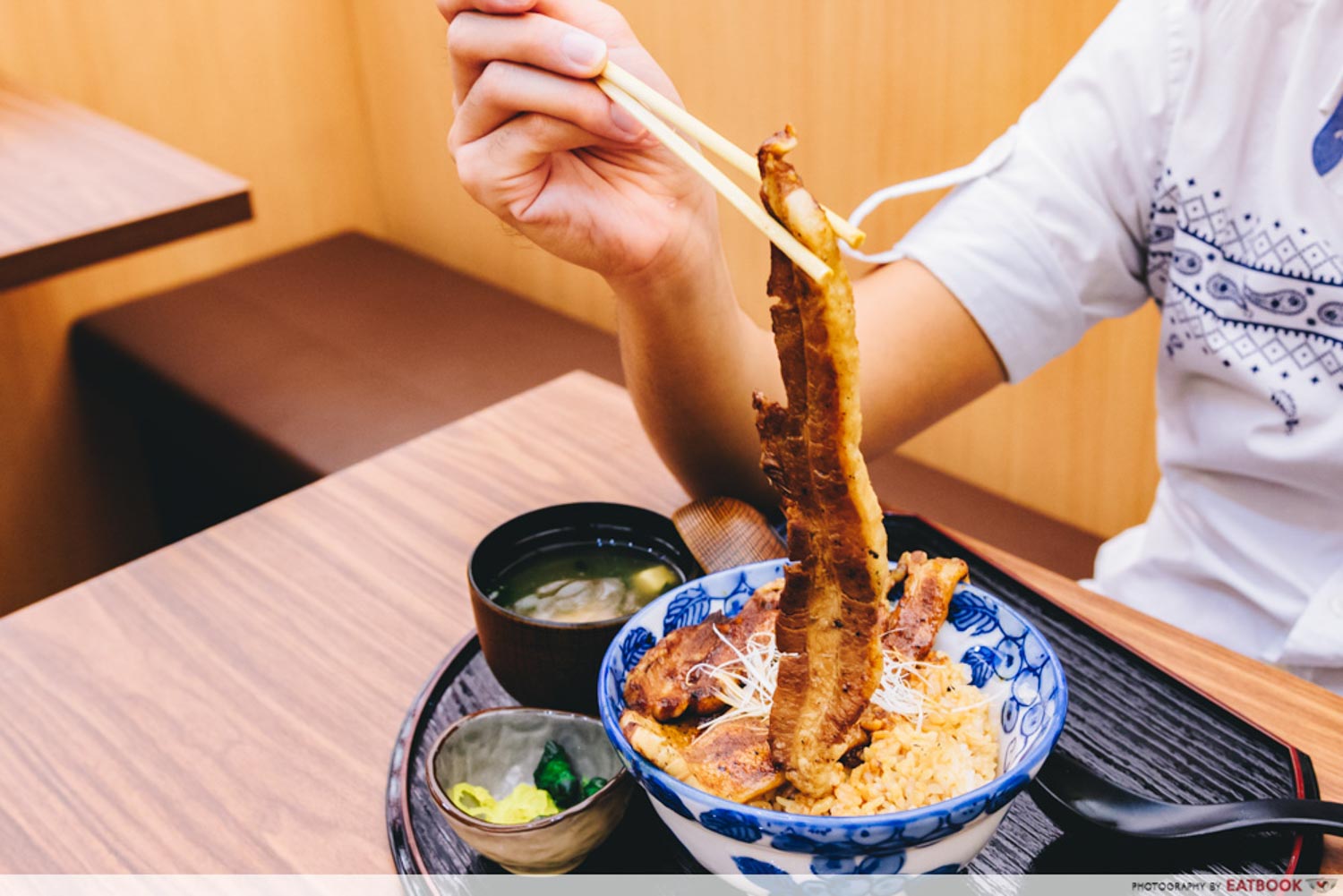 The pork belly also grabbed my attention with its sheer length. Lifting it up, the ends of the meat easily reached my chest level. The natural oils from the pork belly seeped into the rice below, giving each spoonful a rich and buttery flavour.
Taking a bite of the pork belly, I found that it had a more pronounced porkiness compared to most I have tasted. Grilled over a charcoal fire, the meat had a distinct smokiness. Ridiculously tender, the meat tore easily despite the little force I exerted.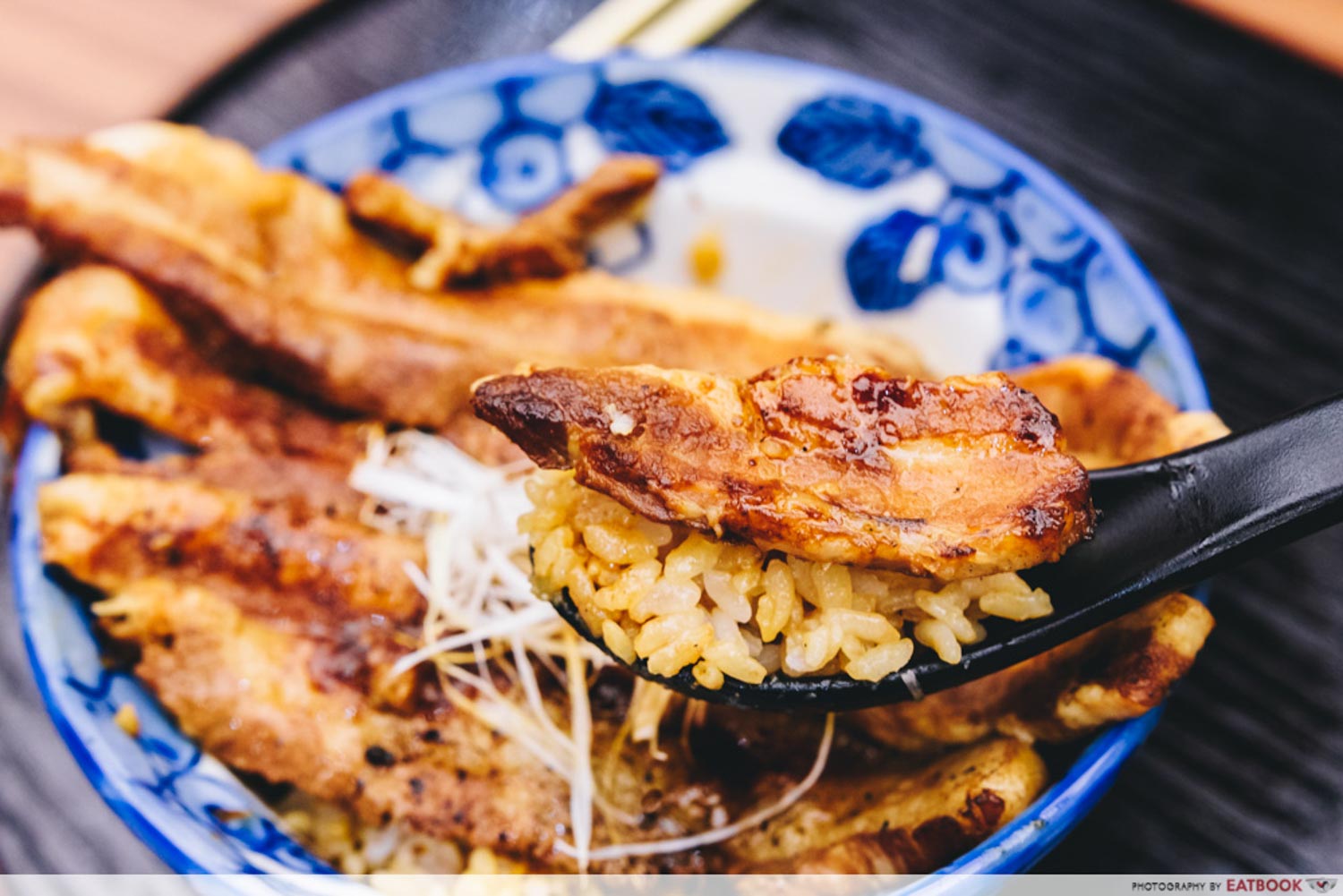 But like most fatty meat, the first mouthful is thrilling; the second mouthful intense; and the subsequent few becomes slightly overwhelming. For those who might find the dish too greasy, I recommend adding either a sprinkle of chilli powder or spring onion on the meat.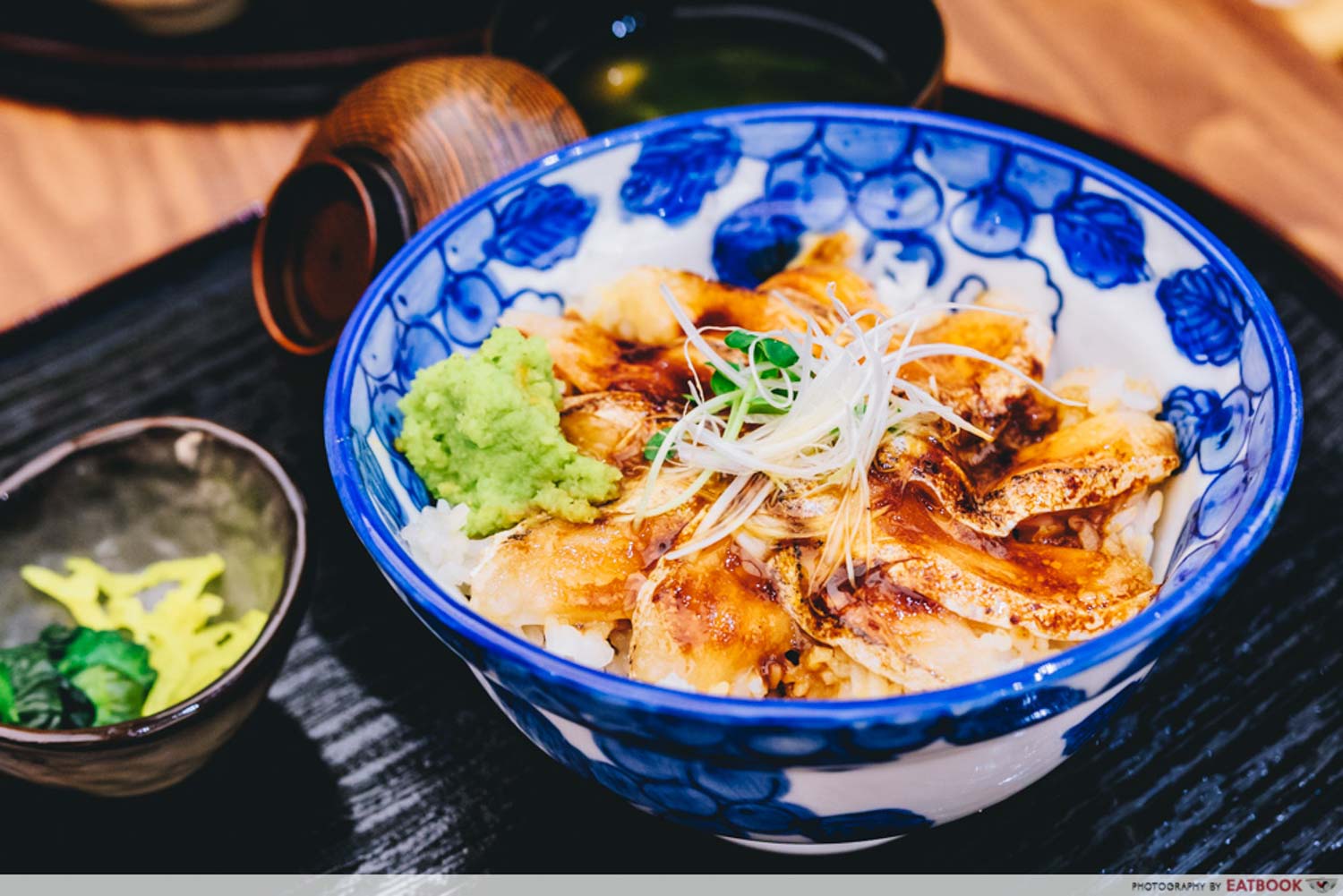 A fan of all things salmon, the Aburi Salmon Don ($13++) instantly drew my attention. The salmon slices had a nice char and was glistening with fish oils, released during the torching process.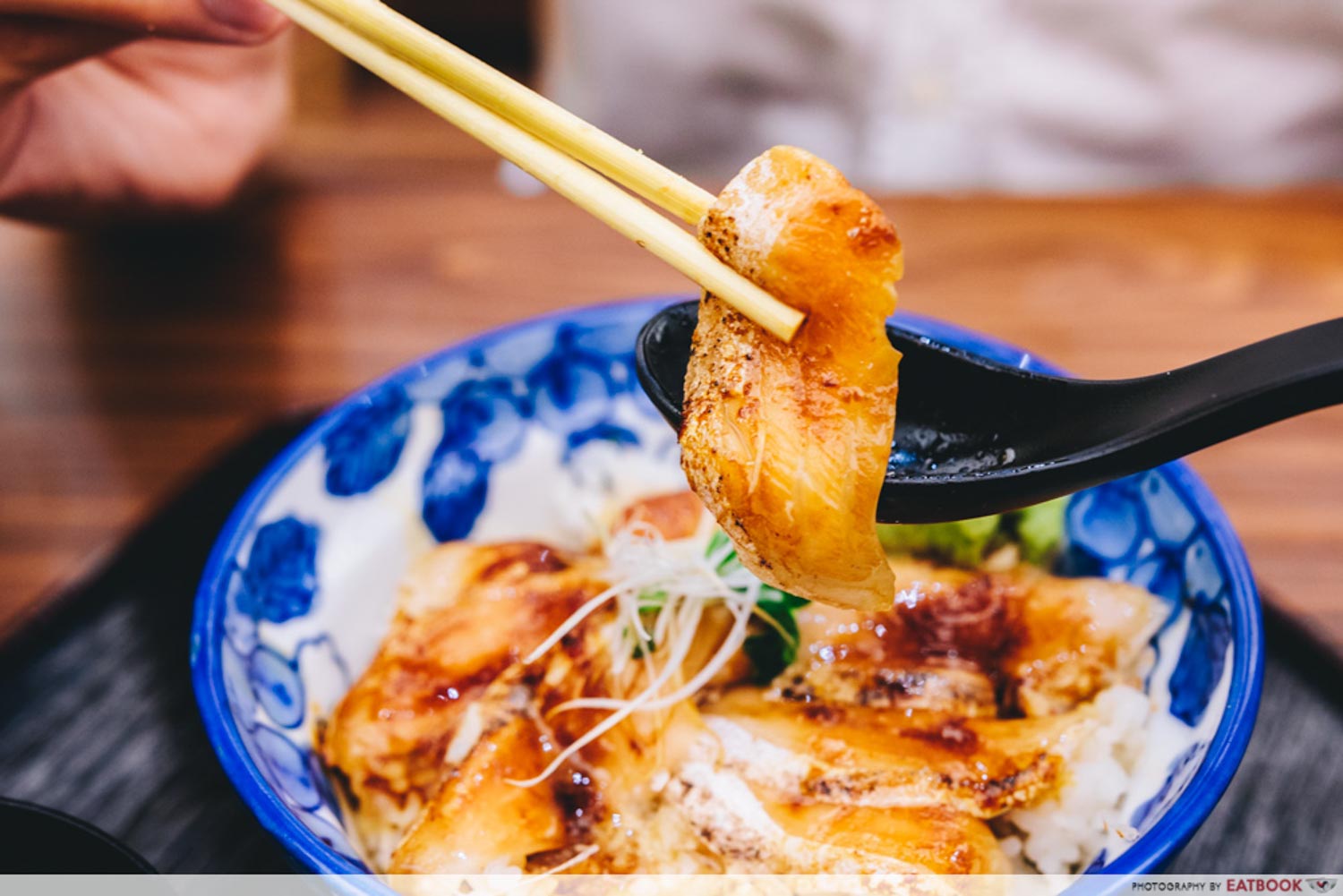 The salmon belly slices were well-seared, an impressive feat considering the thinness of each slice. With a soft texture, the salmon disintegrated in my mouth without me chewing much. Don a bib on me, as it felt like I was eating baby food!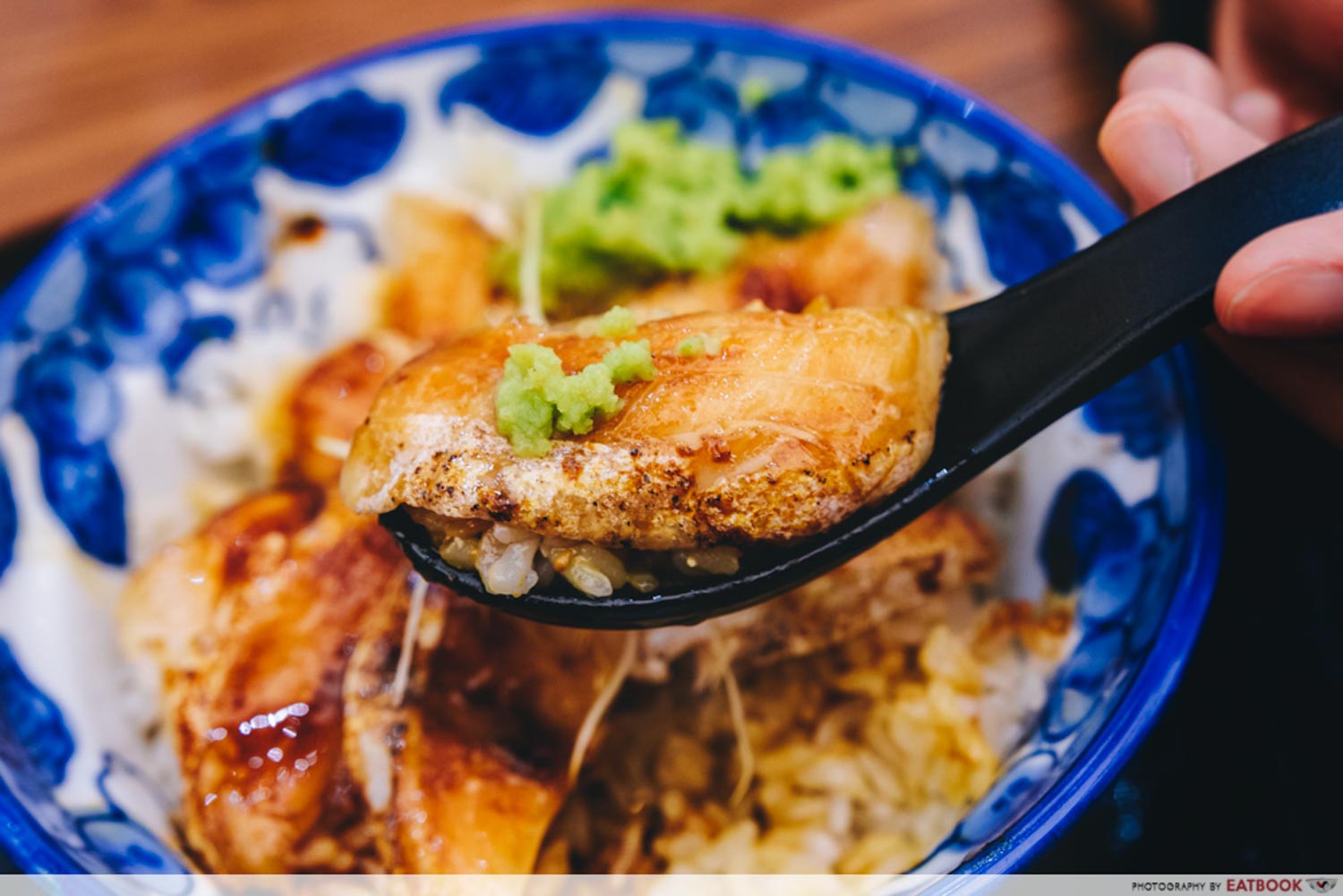 It is easy to feel jelak from salmon belly due to its fatty content. However, this wasn't the case for their Aburi Salmon Don, as I found myself craving mouthful after mouthful. Left with an empty bowl in a matter of minutes, I only wished for more salmon slices.
What also stood out was their wasabi, which seemed freshly grated. It was sweet and lacked the mushy texture of typical wasabi paste served in Japanese restaurants.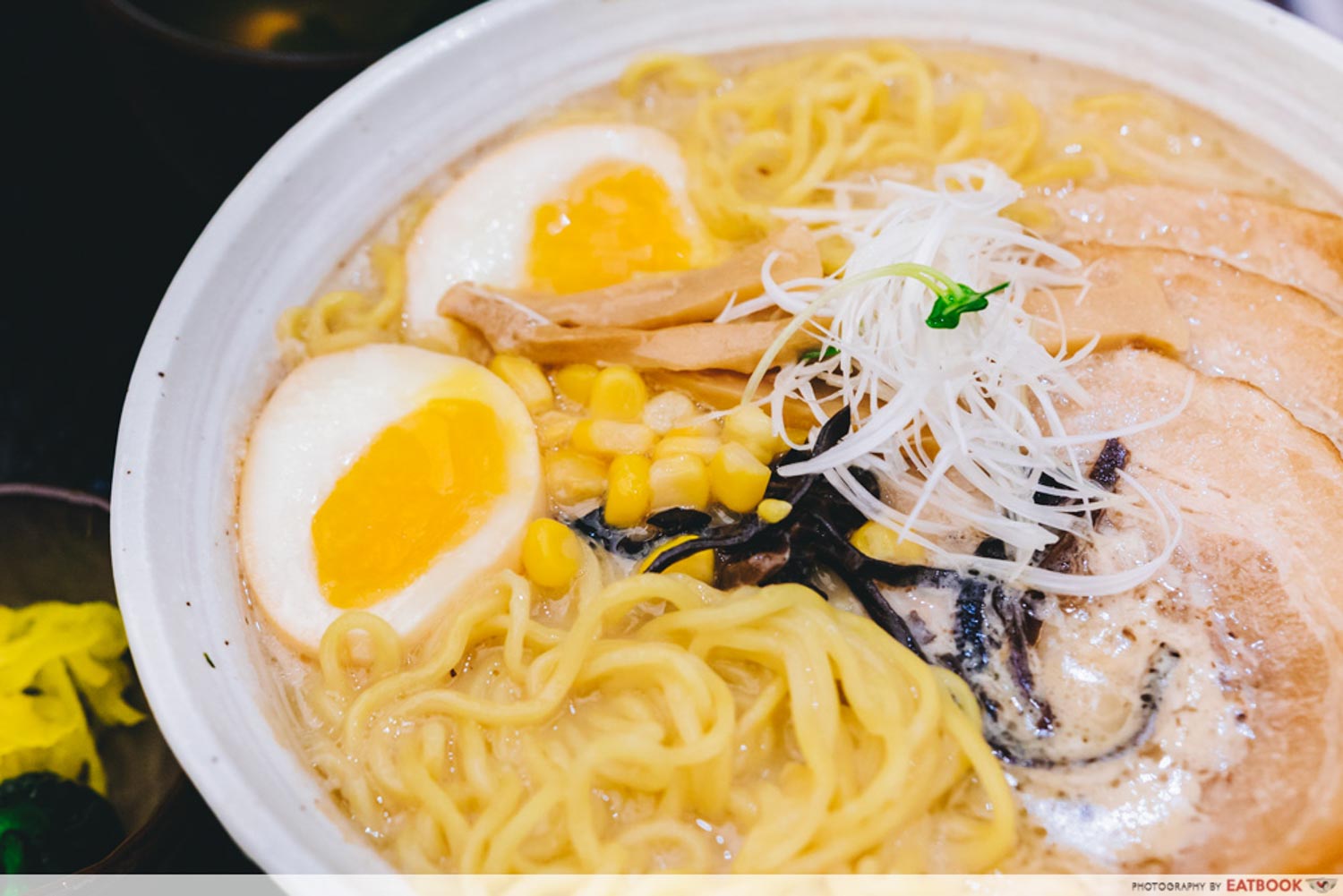 I originally wanted to finish my meal with the Satsuma Age Moriawase ($5.80++), which is a deep-fried fish cake platter with cheese and mentaiko fillings – but they were sold out. Instead, I went for the Tonkotsu Ramen with Aburi Char Siew ($15++).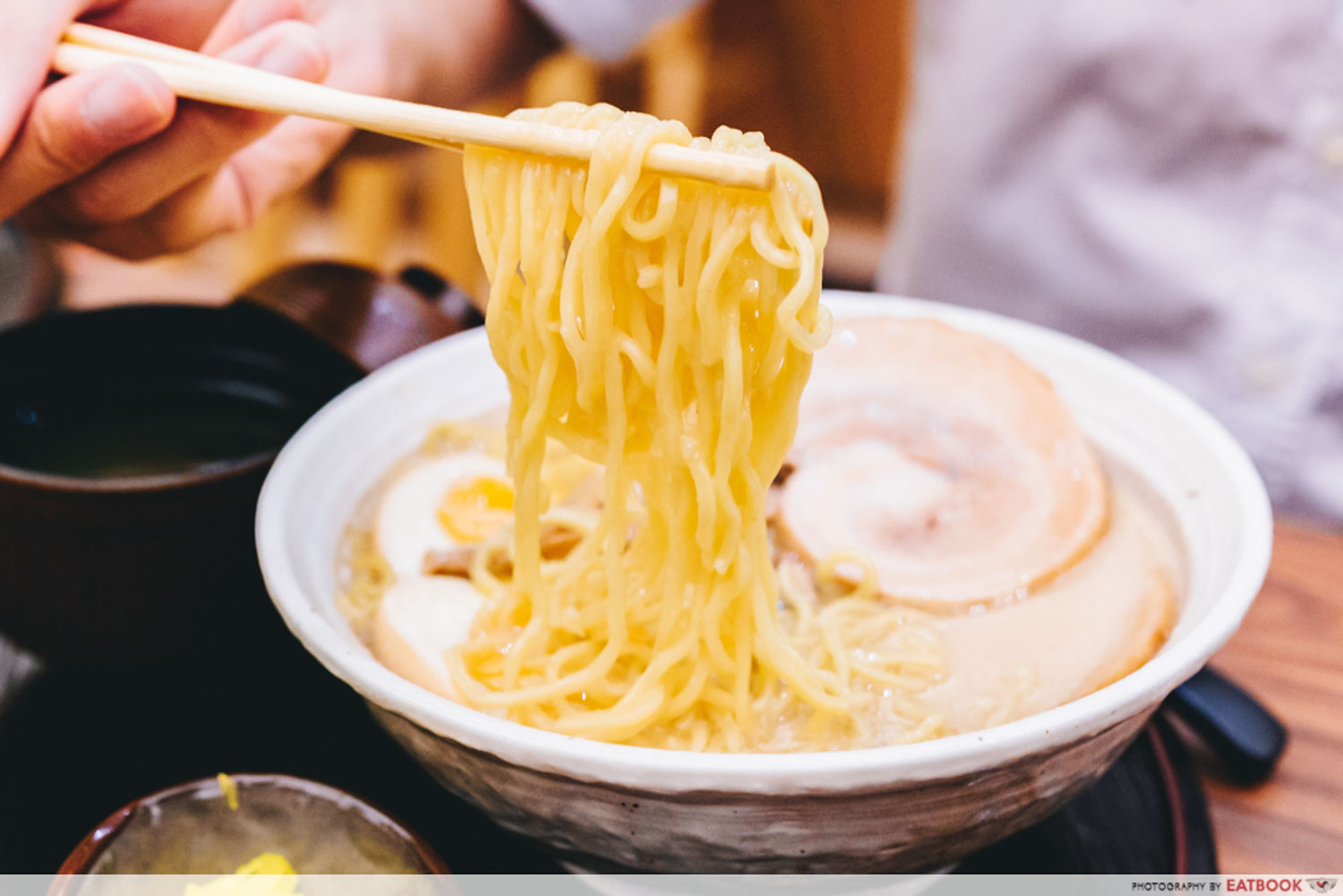 I loved how chewy the ramen noodles were, as each strand retained a spring in its texture, despite being soaked in the broth for a long period of time.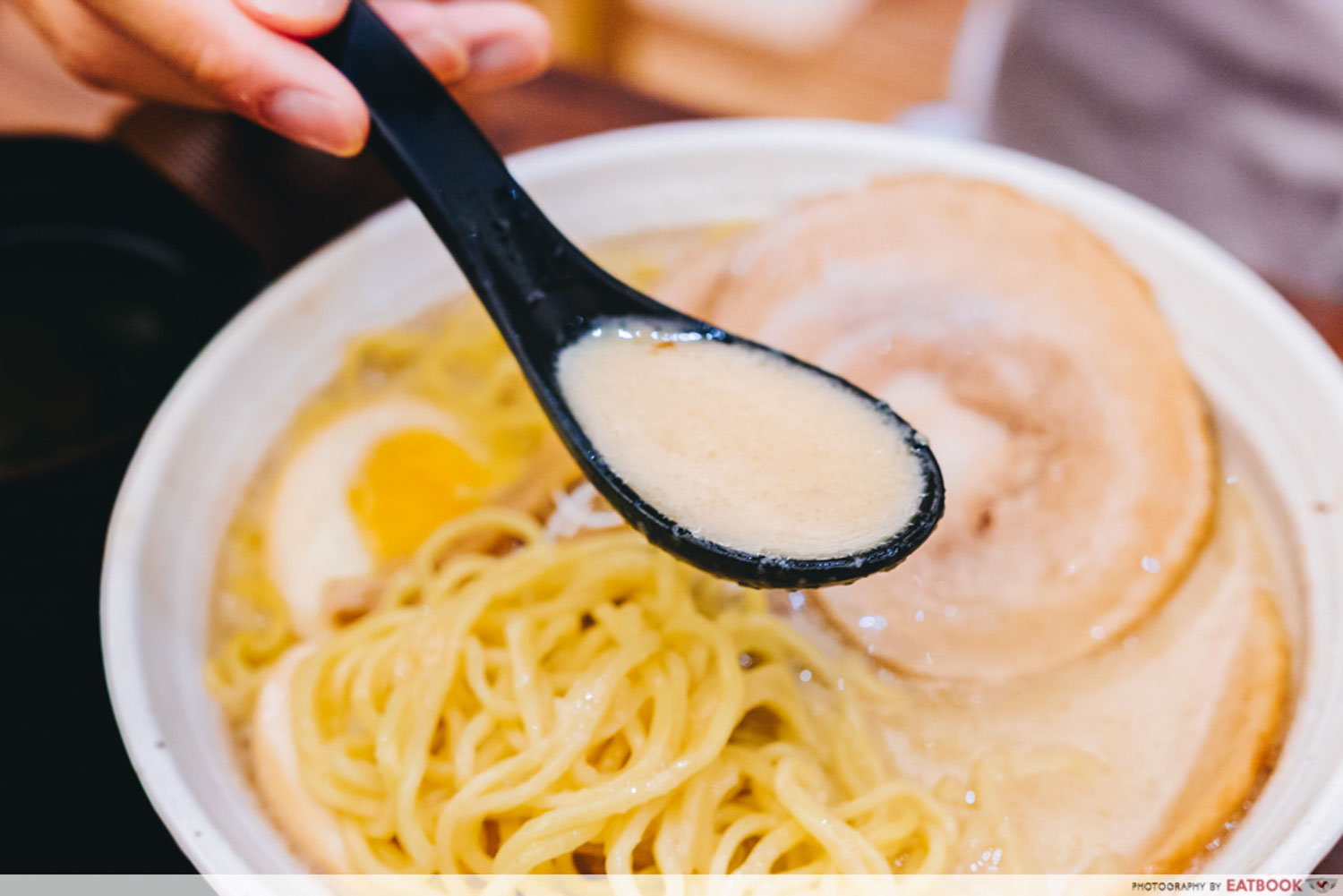 The pork bone broth was thick and creamy, infused with the pork's rich flavours. My sole dissatisfaction was that I found the broth overpowering, giving the whole dish an intense, salty flavour.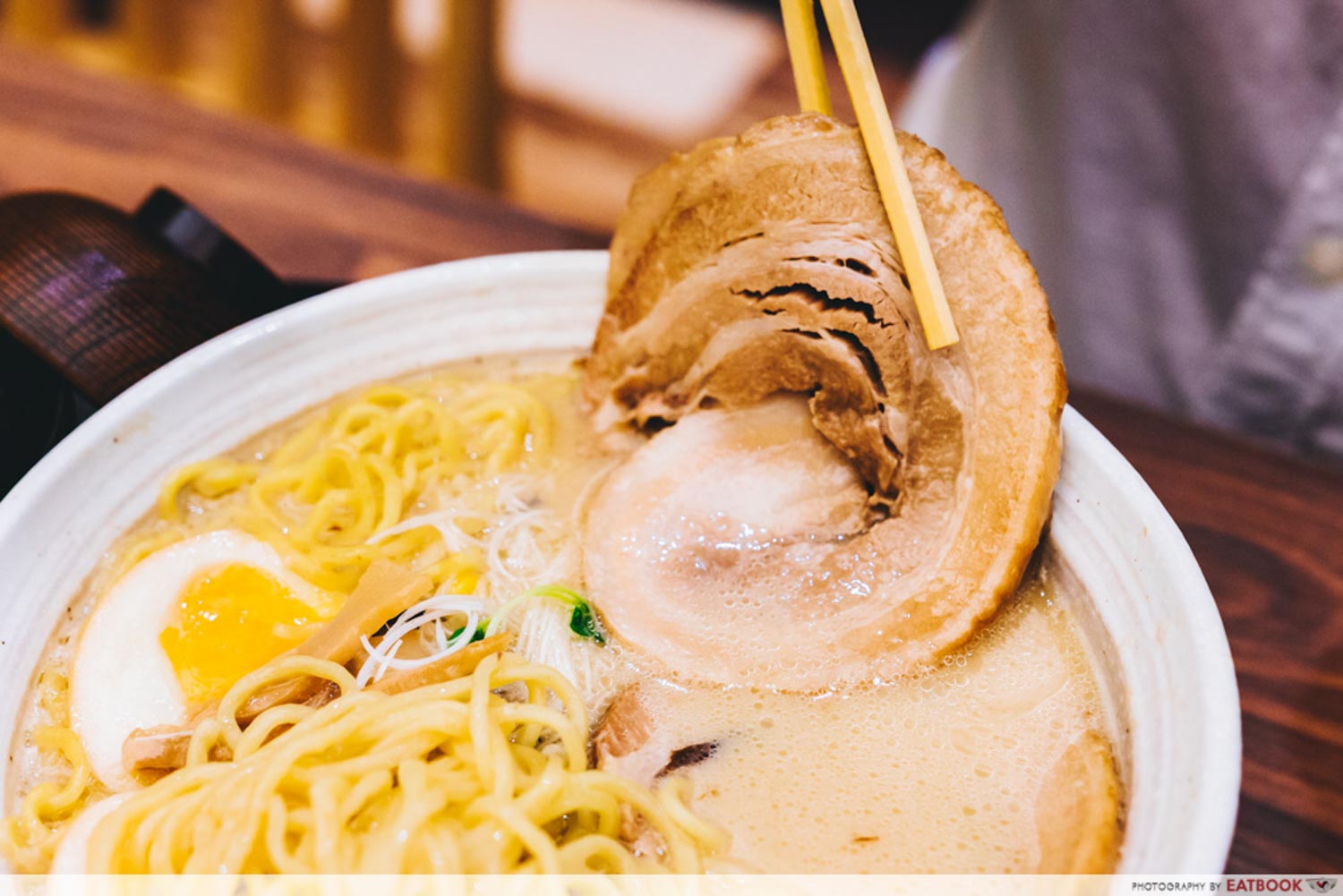 The undeniable star of the tonkotsu ramen was the aburi char siew. Each bowl of noodles came with three large pieces of char siew, which could easily fill the palm of my hand. The char siew was grilled until it was delightfully tender and threatened to tear, as I lifted it up with chopsticks.
Ambience at Aburi-EN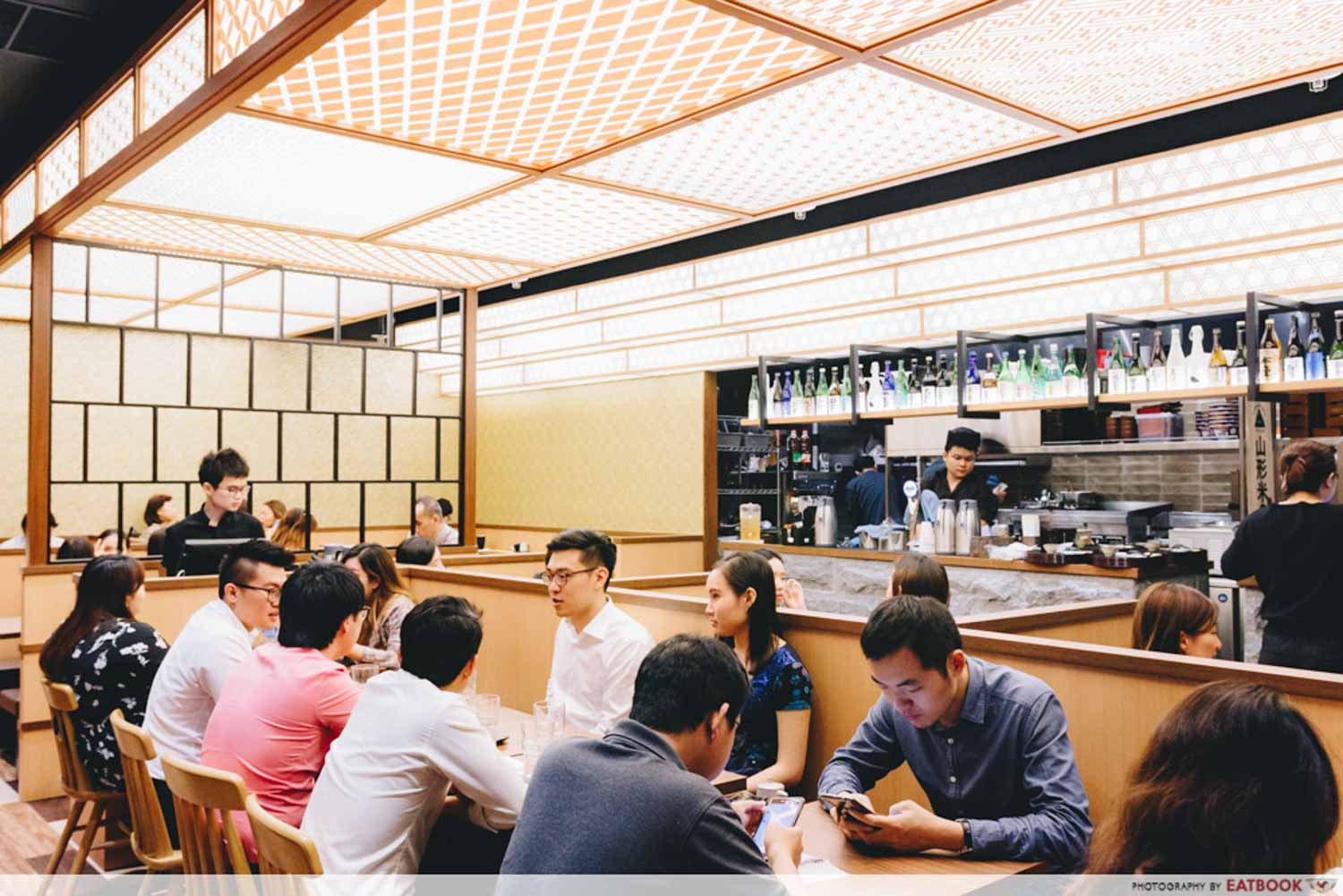 With the traditional Japanese porcelain on display and minimalist design, Aburi-EN reminds me of a classic Japanese izakaya. It boasts a sleek setting that's perfect for a comfortable conversation with a loved one.
10 Japanese Izakaya Restaurants With Food Below $20++ For Your Next Drinks Session
The verdict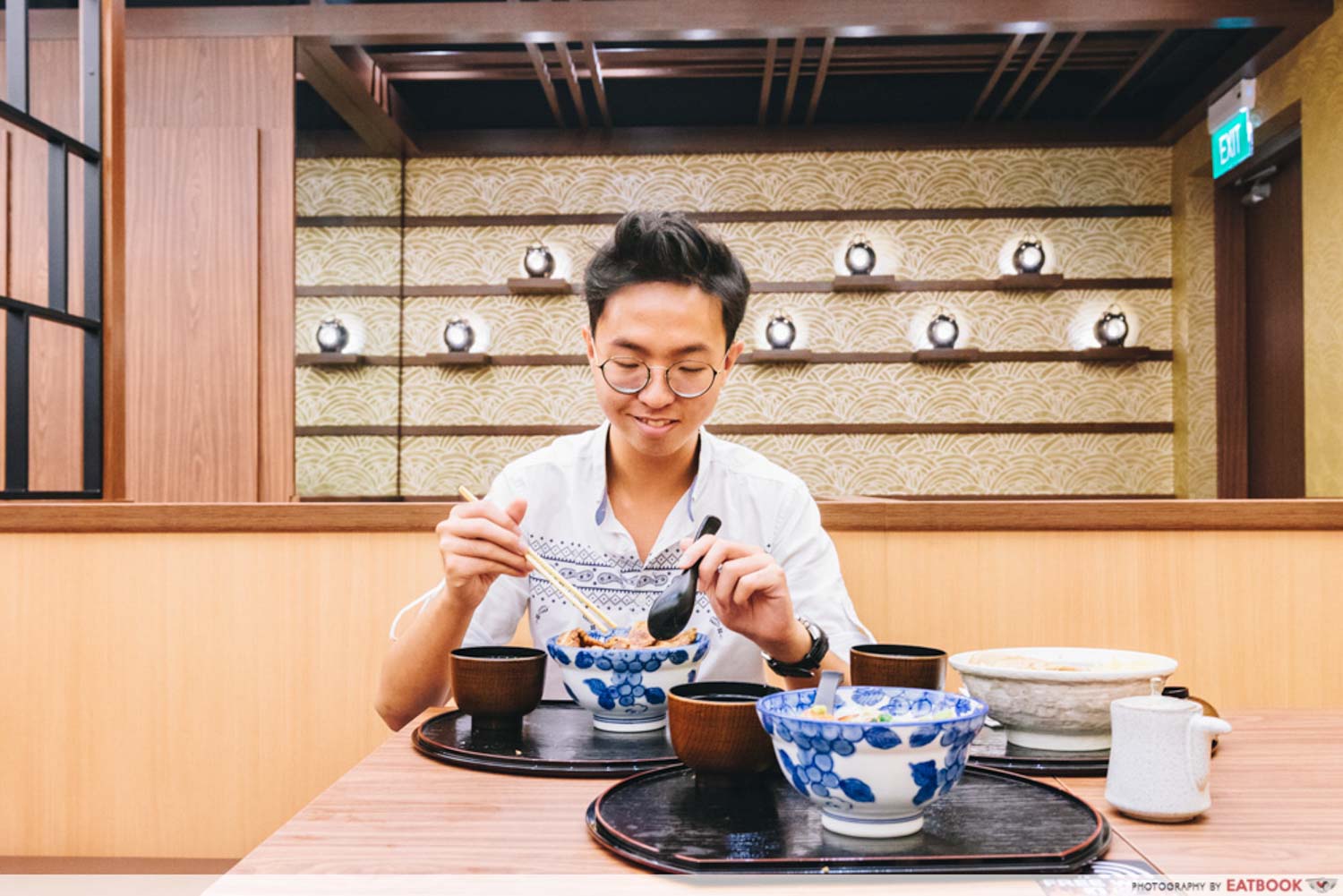 Chargrilled food is usually a hit-or-miss. Done wrong, the overcooked meat is stiff and unappetising; done right, as Aburi-EN has done, and the meat is nicely charred and flavourful. Conveniently located right at the exit of Tanjong Pagar MRT Station, Aburi-EN is definitely worth a visit the next time you are in the CBD!
If you are a fan of charcoal grilled meat, check out our review of Yakiniku Ohji, an affordable Japanese Charcoal BBQ in Ang Mo Kio!
Yakiniku Ohji Review: Japanese Charcoal BBQ And Sushi Buffet At Ang Mo Kio
Address: 7 Wallich Street, #B2-09, Tanjong Pagar Center, Singapore 078884
Opening hours: Daily 11am to 10pm
Tel: 6214 3570
Website
Aburi-EN is not a halal eatery.
Photos taken by Pichan Cruz.
This is an independent review by Eatbook.sg.
Summary
Pros
– Tender grilled meat
– Quality ingredients
– Convenient location
Cons
– Crowded during peak hours
Recommended Dishes: Buta Bara Don ($15++), Aburi Salmon Don ($13++)
Opening hours: Daily 11am to 10pm
Address: 7 Wallich Street, #B2-09, Tanjong Pagar Centre, Singapore 078884