---
Orchard Central food to enjoy in town
---
Orchard Central is one of the prime shopping and dining hubs in town, along with other contenders such as Paragon, Takashimaya, and 313 Somerset right next door. The sprawling vertical mall, which is the tallest mall in Singapore, has tons of different cuisine from Western BBQ ribs at Morganfield's, to the bustling Japanese food court, Hokkaido Marche, down in the basement. Here's our guide to dining at Orchard Central for any occasion!
---
Casual restaurants
---
These places are good for a quick lunch or weeknight dinner. If you like hanging out in town after work or school, these places are nice to pop by at any time of the day.
---
1. Genki Sushi
---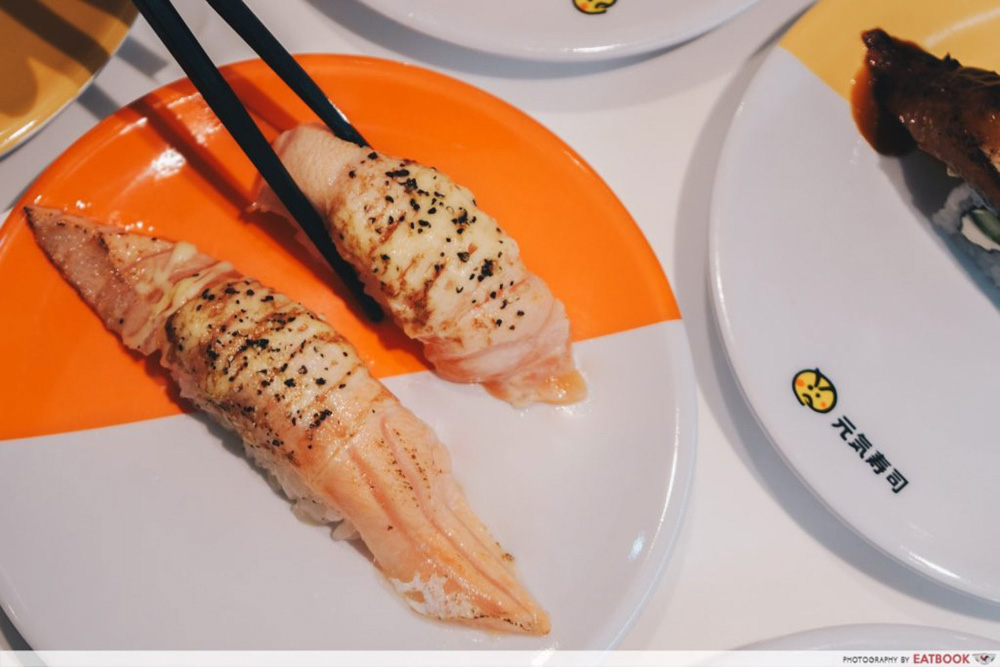 Genki Sushi sets the stage as one of Orchard Central's ever-crowded eateries. It's a favourite of the younger crowd for its high-quality and affordable sushi. The sushi chain hopped onto the mentaiko trend with their smoky and velvety Seared Salmon Mentaiko Sushi ($2.80++) a couple of years back, and the dish has become a mainstay on the menu. A brand new addition is the Seared Salmon With Salted Egg Sushi ($2.80++), which offers the taste of creamy and savoury salted egg along with fresh, lightly seared salmon.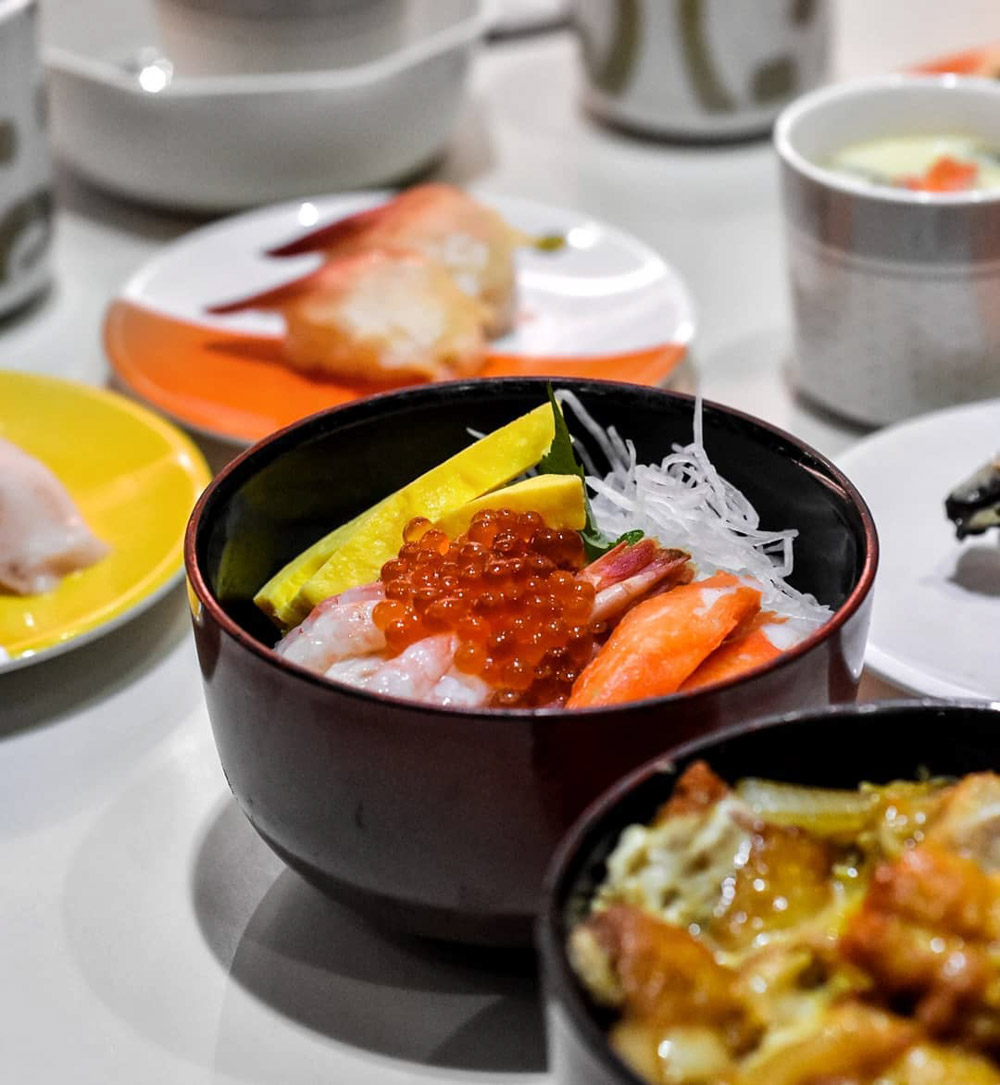 Image credit: @jiababueysg
Considering that it's located in Orchard, Genki Sushi isn't too pricey for a sushi restaurant. If you don't feel like getting plates of sushi, you can also get a Chirashi Don for $9.80++. This filling rice bowl comes with crab sticks, two pieces each of salmon, swordfish, and tuna, amaebi sweet shrimp, tamago, and a scoop of ikura! Definitely worth the money. 
Unit number: #04-30
Opening hours: Daily 11am to 10pm
Tel: 6957 2724
Website
---
2. Nantsuttei
---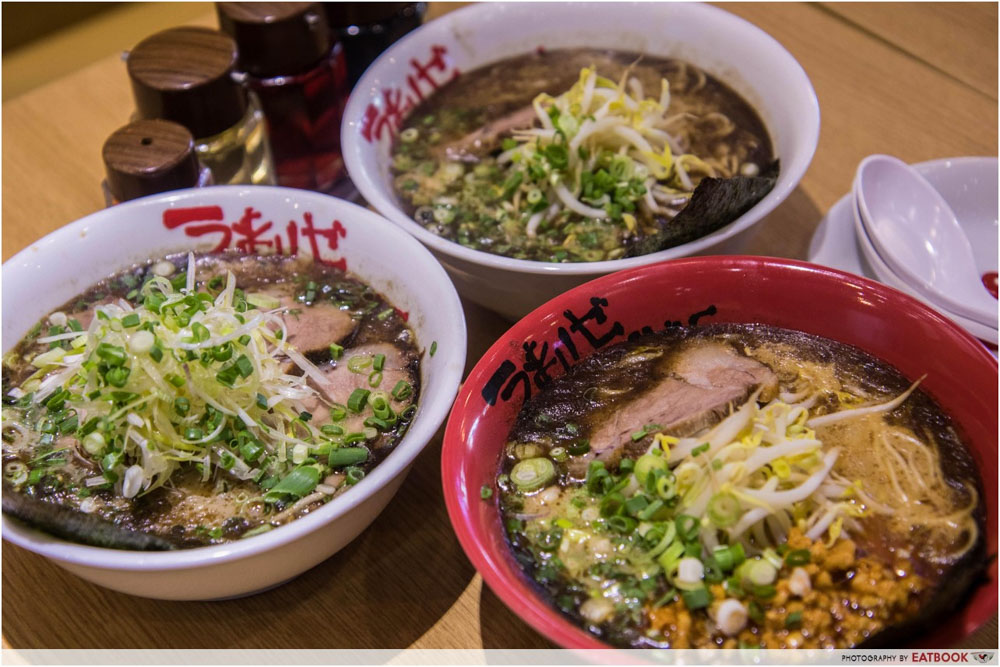 Nantsuttei is known for their Nantsuttei Ramen ($12++), which comes with a creamy, thick, and fragrant tonkotsu broth that's flavoured with copious amounts of black ma-yu garlic oil. It's then topped with several pieces of soft chashu that melts in the mouth. Customisation options are aplenty. You can pick between regular and Japan-size portions for your ramen, and also choose how hard you want your noodles.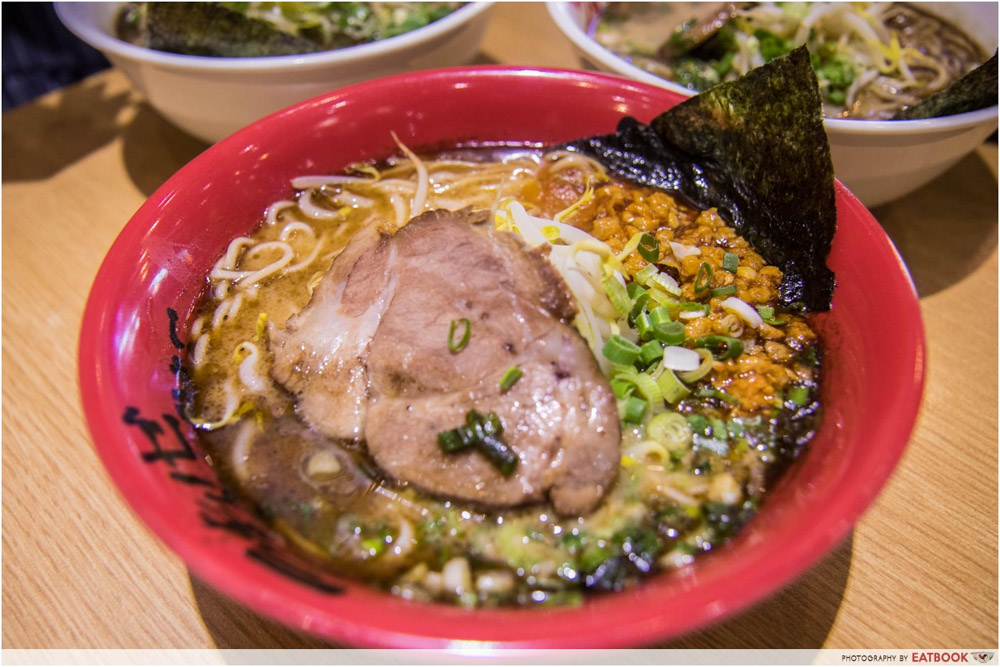 The overwhelmingly spicy Dragon Ramen ($15++) hits you with a burst of heat right from the very first sip. It uses a house-made spicy paste that comprises minced pork, chilli paste, chillies, sake, and cayenne pepper. While it doesn't bear the fiery look of most chilli dishes, it's super spicy regardless.
Read our full review of Nantsuttei here!
Unit Number: #07-12/13
Opening hours: Daily 11am to 10:30pm
Tel: 6337 7166
Website
---
3. K.Cook Korean BBQ Buffet
---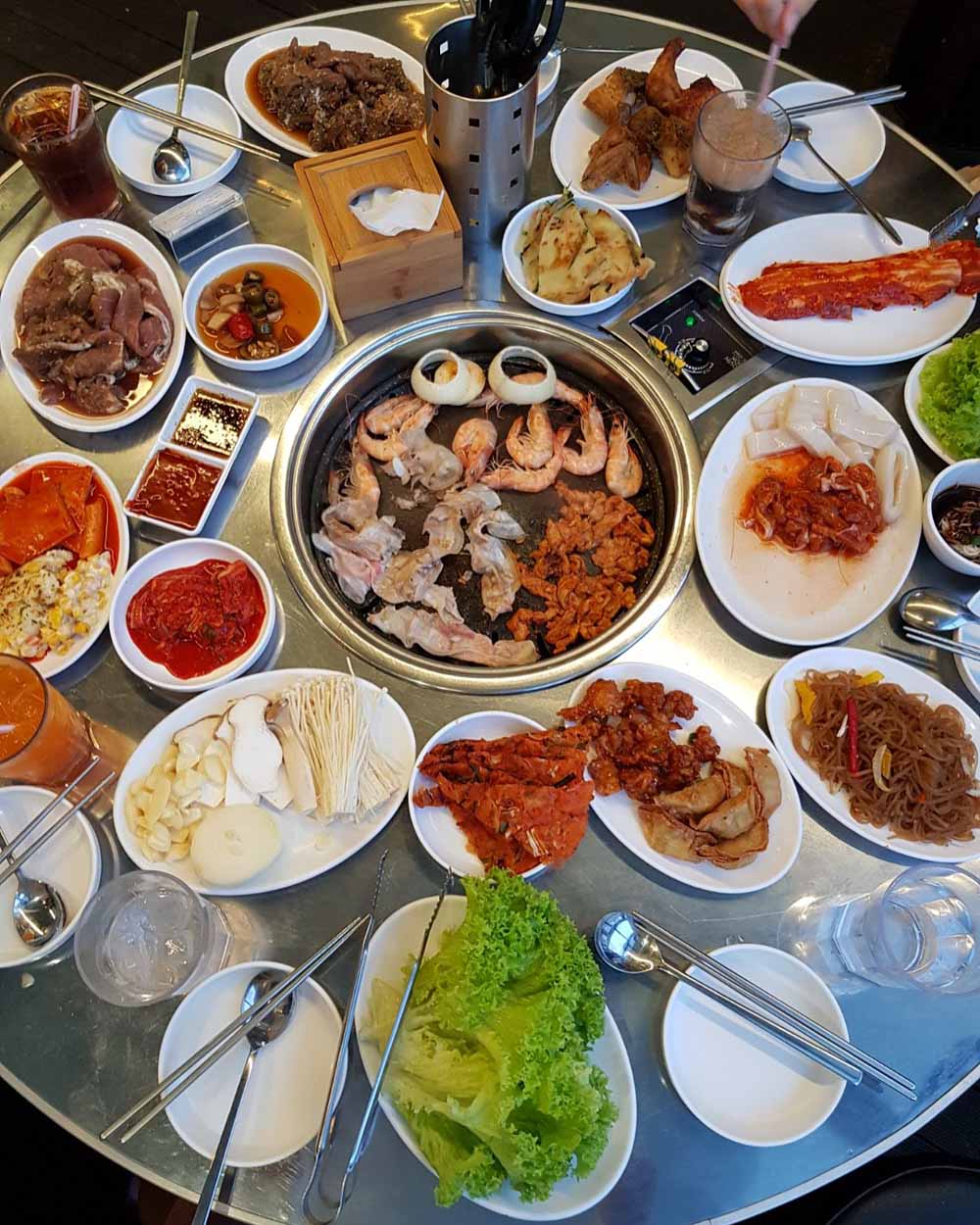 Image credit: @notibadi
All the way up on the seventh floor of Orchard Central sits K.Cook Korean BBQ Buffet. Besides a generous selection of marinated meats, the buffet also has pre-cooked food such as kimchi pancakes, gimbap, tteokbokki, and roasted rosemary chicken. 
One of the popular choices here is the Japchae, or Korean glass noodles, and customers have plenty of good things to say about it. The wallet-friendly buffet costs $14.90++ for weekday lunch and $24.90++ for weekday dinners. All the latest Kpop music videos appear on screens at the al fresco area, and you can enjoy the view of Orchard Road as you eat to your heart's content!
Unit number: #07-01
Opening hours: Mon-Thurs 11:30am to 3pm, 5:30pm to 10pm, Fri 11:30am to 3pm, 5pm to 10pm, Sat-Sun 11:30am to 10pm
Tel: 6884 7282
Website
---
4. Gangnam Story
---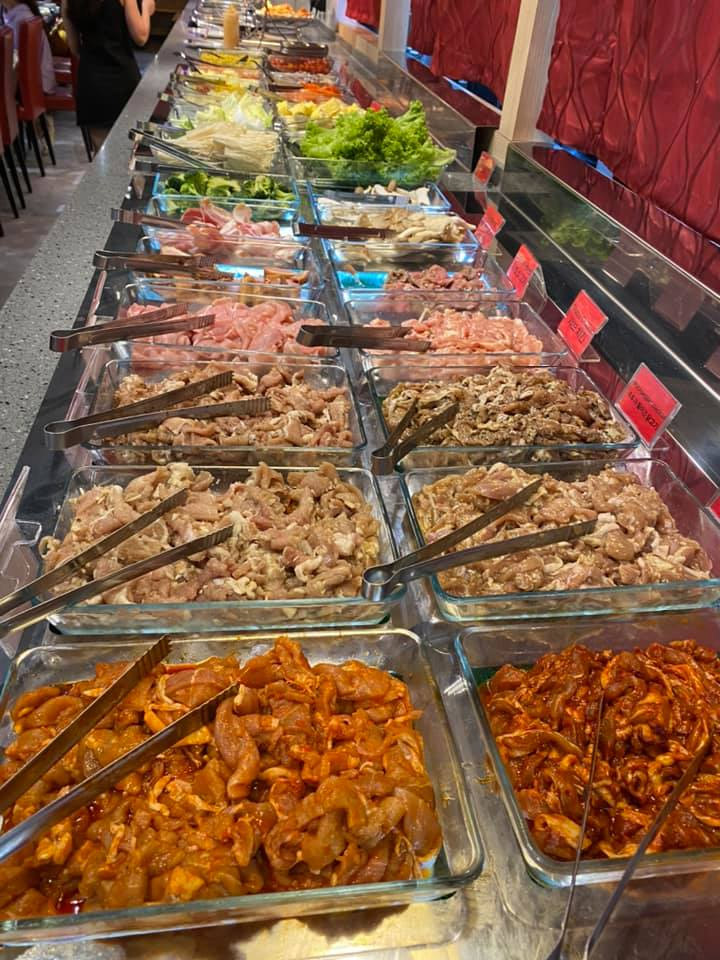 Image credit: Gangnam Story's Facebook page
While most malls close late at night, Orchard Central is open 24/7. The first floor and the rooftop garden are free for visitors to visit all the time. Gangnam Story operates till 6am daily, so you can drop by at pretty much any time. 
This KBBQ and steamboat buffet also includes two free soup bases for your hotpot, such as Ginseng Chicken, Mala Soup, Gangnam Collagen and more! The premium items are available at both lunch and dinner, including salmon, cheesy scallops, and tons of other seafood options. The lunch set is $24.90++, but for those seeking a late-night buffet, dinner costs $29.90++. There's a $3++ surcharge on Fridays, weekends, and public holidays. 
Unit number: #08-04/05
Opening hours: Daily 12pm to 11pm
Tel: 8799 6061
Website
---
5. Hokkaido Marche
---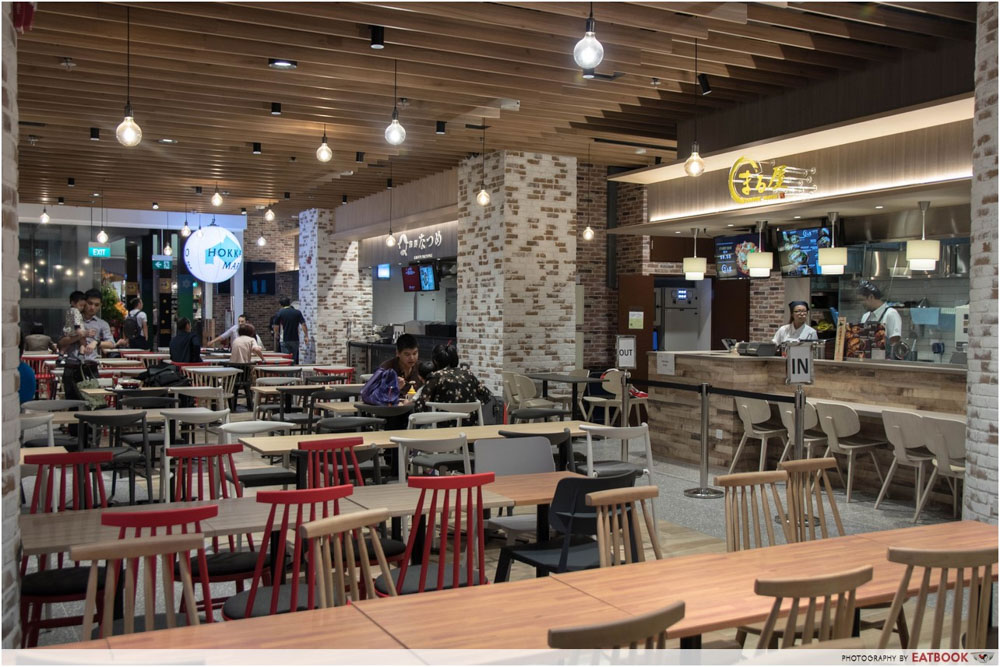 The closest thing to a food court in Orchard Central is Hokkaido Marche. Located down in the basement, right next to Don Don Donki, this Japanese food court is made from a series of eight stalls that serve Japanese cuisine. There are fresh kaisen dons, meaty donburi, grilled yakitori, miso ramen, and dessert stores to choose from!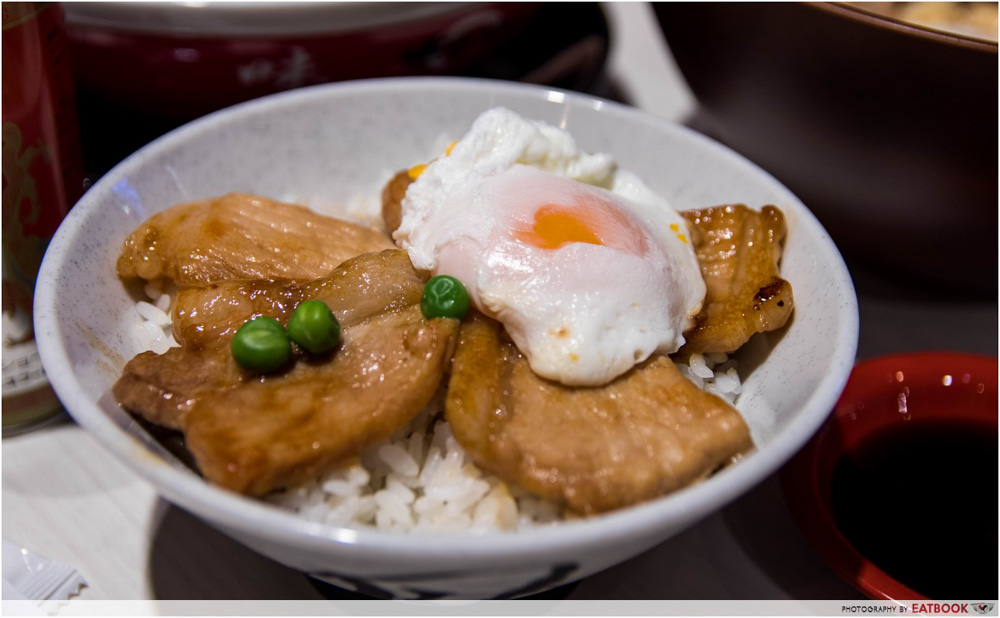 One of the more impressive dishes is the Special Beef Don ($12), which comes with a poached egg and tender beef slices that are drizzled with a sweet teriyaki sauce. Some other notable mentions are the Spicy Zaru Soba ($16.50/$19) and the Kakiage-Don Set ($14.50).
Check out our full review of Hokkaido Marche here!
Unit number: #B2-11- 29, 44-48
Opening hours: Daily 11am to 10pm
Tel: 6509 9383
Website
---
6. Ootoya Japanese Restaurant
---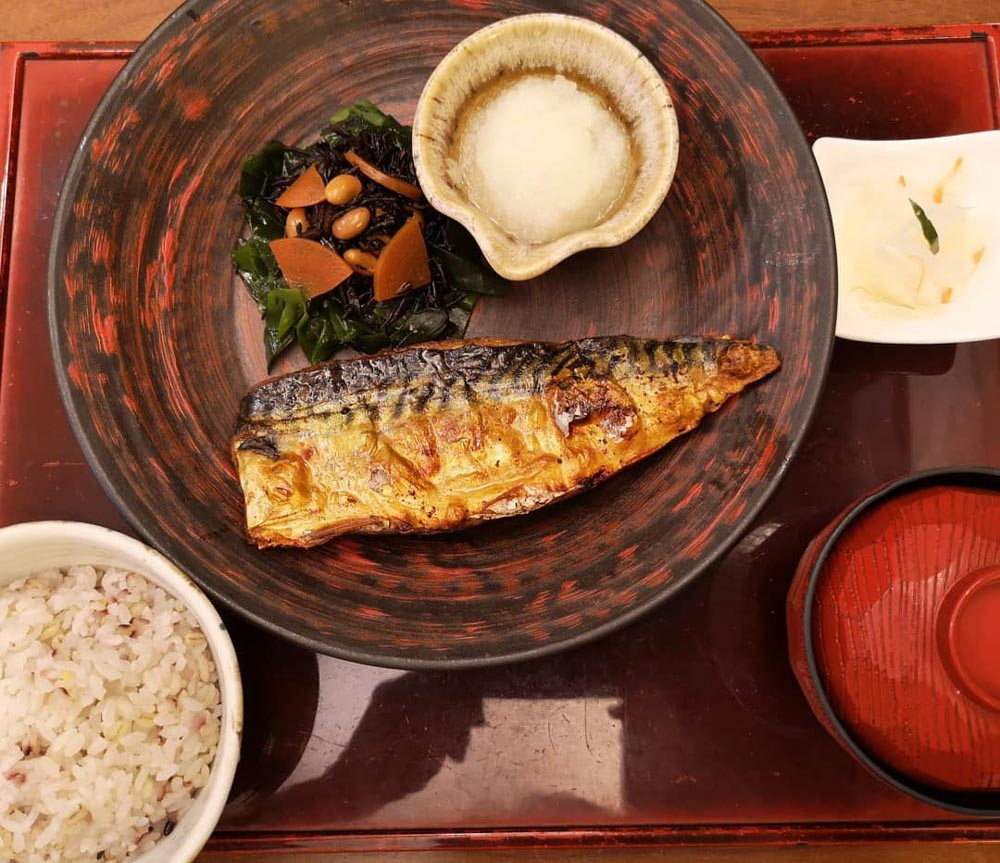 Image credit: @ootoyasg
If you're looking for reasonably priced Japanese fare that isn't sushi or ramen, Ootoya Japanese Restaurant has you covered. Ootoya's goal is to provide the vibes of home-cooked food, and it aims to whip up the kind of meals that a Japanese family would share over a dinner table. They have an extensive menu, with items such as Saba Fish ($20++) sets, Pork Katsu Toji ($20++) pork cutlet hotpots, and donburi sets such as the Yaki Tori Jyu ($17++). 
Ootoya also has kid's meals, if you're there for a family dinner, and has a range of dessert options. Treat yourself to a Maccha Parfait ($8++), Maccha Warabi-Mochi ($4.50++), or scoops caramel-drizzled Tamago Pudding ($3++). 
Unit number: #08-12
Opening hours: Daily 11am to 8:30pm
Tel: 6884 8901
Website
---
7. Tapas Club
---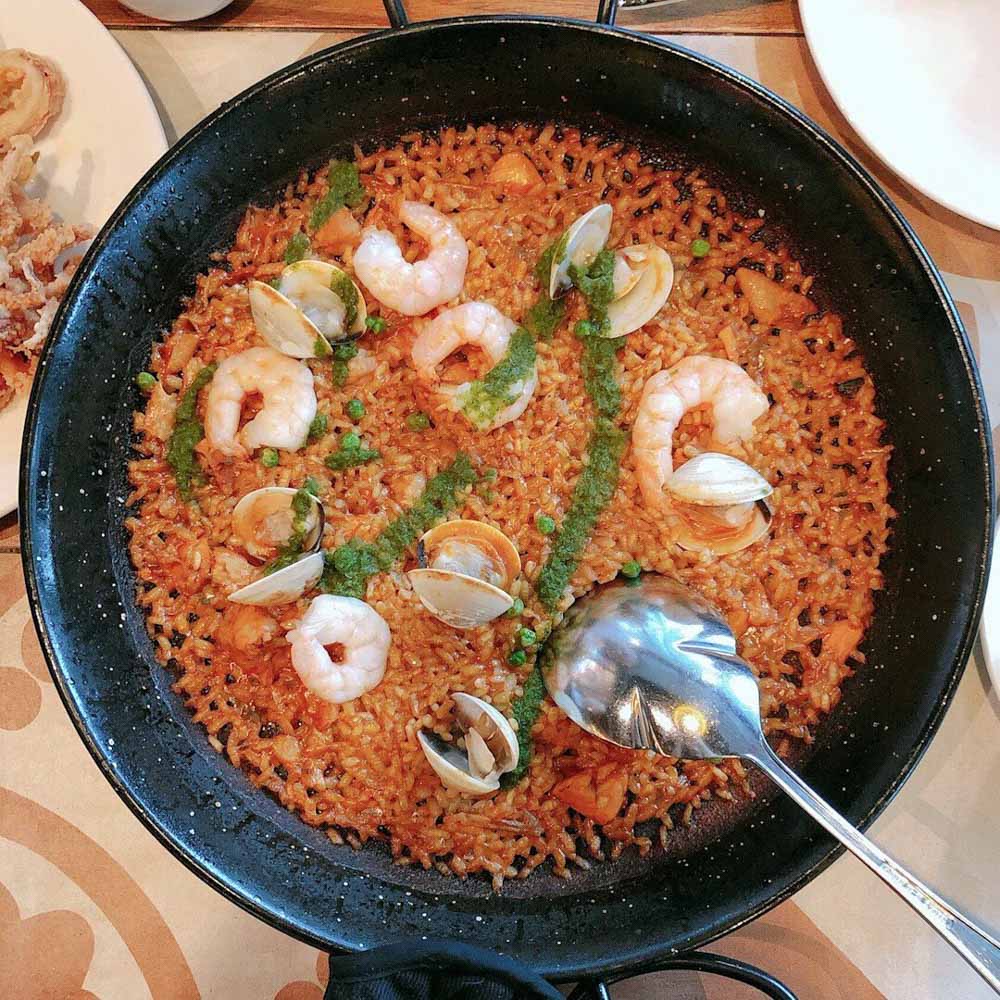 Image credit: @zq_83
A tapa is a Spanish snack or meal starter that's typically mixed and matched with other dishes to make a full meal. Tapas Club is a restaurant that serves simple, no-frills Spanish cuisine. Eating here is a lively affair; upbeat music blares loudly, and the interior is designed to resemble a Spanish city. You can pair together sides such as their mushroom croquettes, Croquetas De Champinones ($16++), squid rings Calamares Fritos ($16++), and garlic prawns Gambas Alajillo ($13++).
Tapas Club is a great place to meet your friends for some Friday night drinks and catch up after a long week of work. You'll definitely want to come in a large group so you can share their huge mains, such as the massive pans of paella rice. All Paella sets cost ranges from $30++ to $36++, and include flavours such as squid ink, chicken and seafood, and a chilli crab flavour that's seasonally available. 
Unit number: #02-13
Opening hours: Mon-Fri 12pm to 2:30pm, 5pm to 10:30pm, Sat-Sun 12pm to 10:30pm
Tel: 6602 8081
Website
---
8. Tanuki Raw
---

Image credit: @qihao_lau
Tanuki Raw serves up sashimi, rice bowls, sushi rolls, and a couple of their own inventions. They dish up live Fresh Raw Oysters for $4++ per piece, and you can get it upgraded with a bunch of different flavours such as Ikura ($6++), Mentai ($6++) and Truffle ($6++). At lunchtime, you can enjoy their rice bowls such as the Truffle Yakiniku ($23.80++) and Chirashi Don ($22.90++). Some of their original creations also include the Chilli Cheese Gyoza ($10.90++) and Lobster Salad & Salmon Bao ($15.90++).
Unit number: #04-01
Opening hours: Daily 11:30am to 9:30pm
Tel: 6636 5949
Website
Menu
---
9. Tsukiji Fish Market Restaurant
---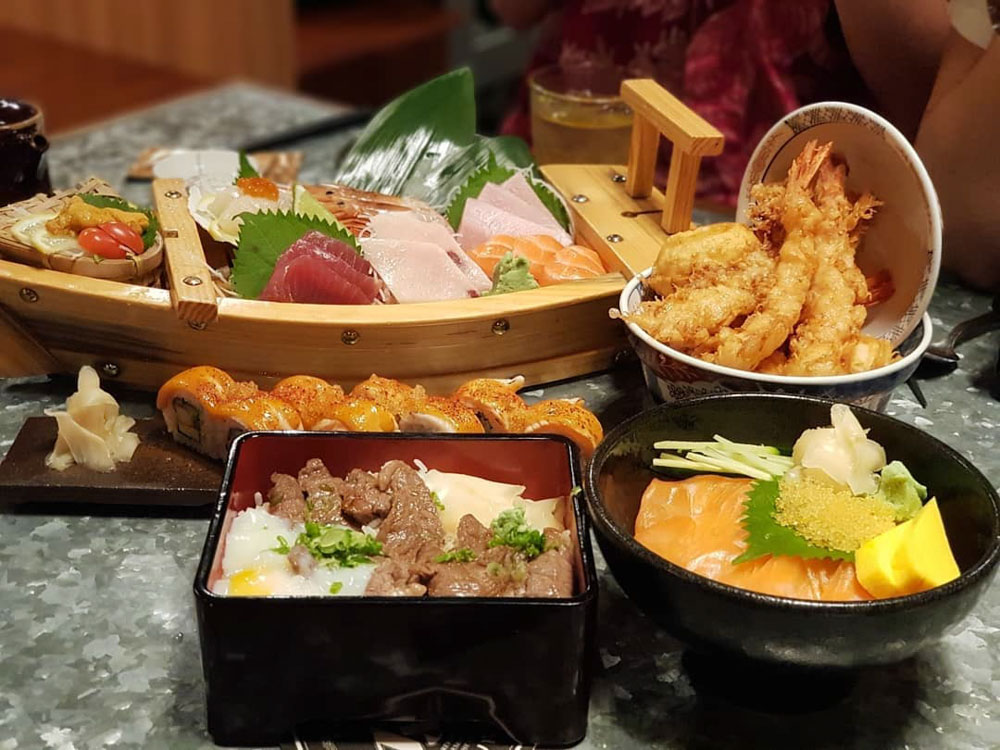 Image credit: @arcurban
Six different dining concepts come together at Tsukiji Japanese Restaurant. There's a sushi restaurant, an omakase joint, a yakiniku grillery, one that sells tempura, a ramen stall, and one that sells chicken dishes. It's like an upscale version of Hokkaido Marche. Japanese food lovers will love being able to get the most popular dishes at one stop. 
For something refreshing, try the Yuzu Salmon Don ($18++) or Natto & Daikon Grated Radish Cold Soba ($18++).
Unit number: #12-02
Opening hours: Mon-Tue, Sat 12pm to 2:30pm, 6pm to 10pm, Wed 12pm to 10:30pm, Thurs-Fri 12pm to 2:30pm, Sun 12pm to 10pm
Tel: 6634 2803
Website
---
10. Tempura Tendon Tenya
---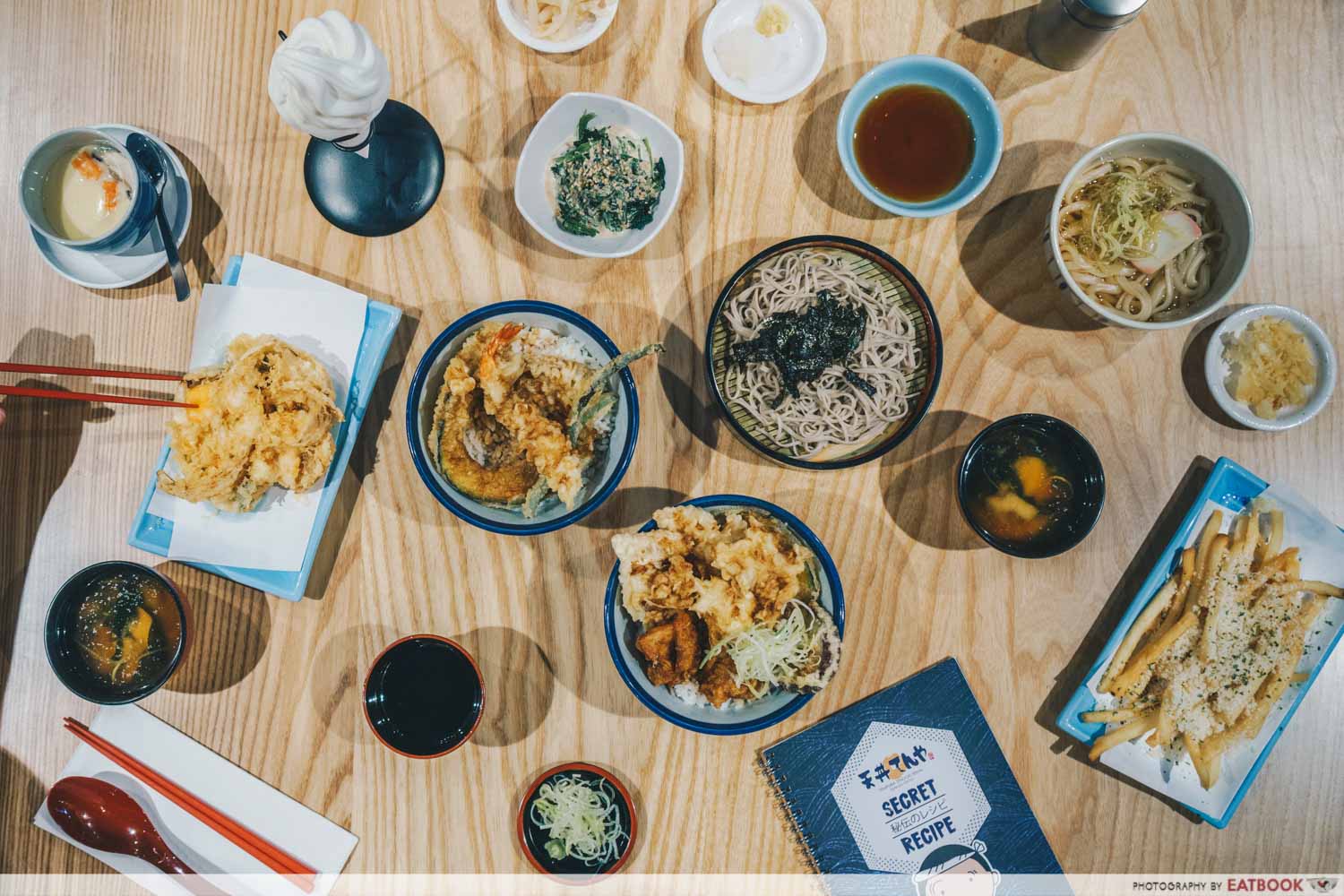 Known for their affordable yet premium tempura rice bowls, Tempura Tendon Tenya offers exclusive items such as Tori Tendon ($9.90), which features karaage, chicken breast tempura, and a tempura soft-boiled egg atop Aomori Masshigura rice. You can choose to add a variety of side dishes including fried squid tentacles Ikageso ($5.90), Mentai Fries ($3.90), or Hiroshima Oyster Tempura ($8.90). 
Unit number: #B1-01
Opening hours: Daily 11am to 10pm
Tel: 6509 6838
Website
---
Cafes & desserts at Orchard Central
---
If you're just walking around Orchard Road or have just finished a hefty meal at Orchard Central, you might want to get a nice sugary snack. There are more than enough places at Orchard Central to get your fix of ice cream or cakes. Or perhaps you aren't looking for a full meal, and just want to relax in a cosy cafe with a friend. These places will most likely do the trick.
---
11. Henri Charpentier
---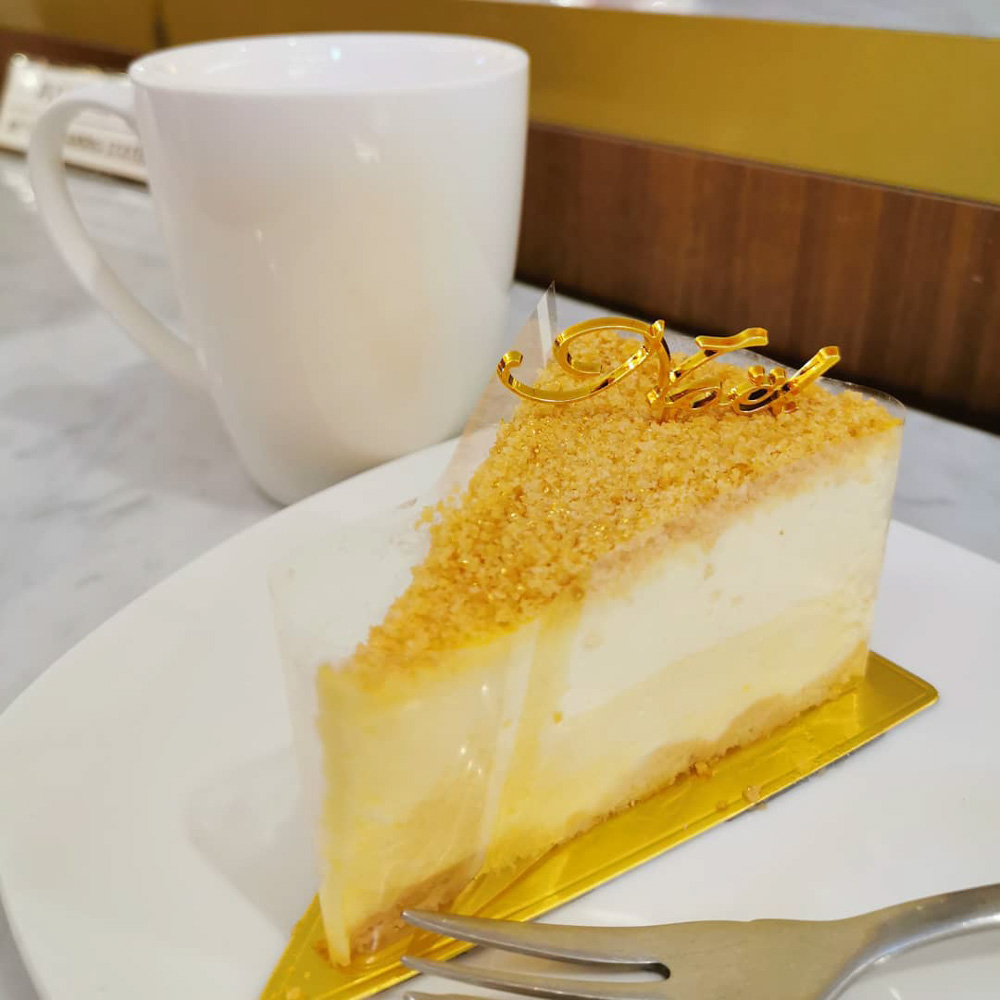 Image credit: @pohsoh
Henri Charpentier started out with the intention of perfecting the crepe suzette, a French dessert that enthralled the founder when he first tasted it. Unfortunately, their signature dish isn't available at the Orchard outlet, but another must-try item is their Double Cheesecake ($8.50), which contains two layers of cream and mascarpone cheese within a crust of tasty sable crumbs. It's delightfully luscious and sweet, with two distinct textures and flavours contained in the one slice. 
The patisserie also sells their Financier Biscuits ($2.50 for three), which are little French almond cakes. The light, sweet morsels are great as gifts and come packaged in boxes of three, five, and 10 pieces. 
Unit number: #01-18
Opening hours: Daily 10am to 10pm
Tel: 6634 4608
Website
---
12. Lady M 
---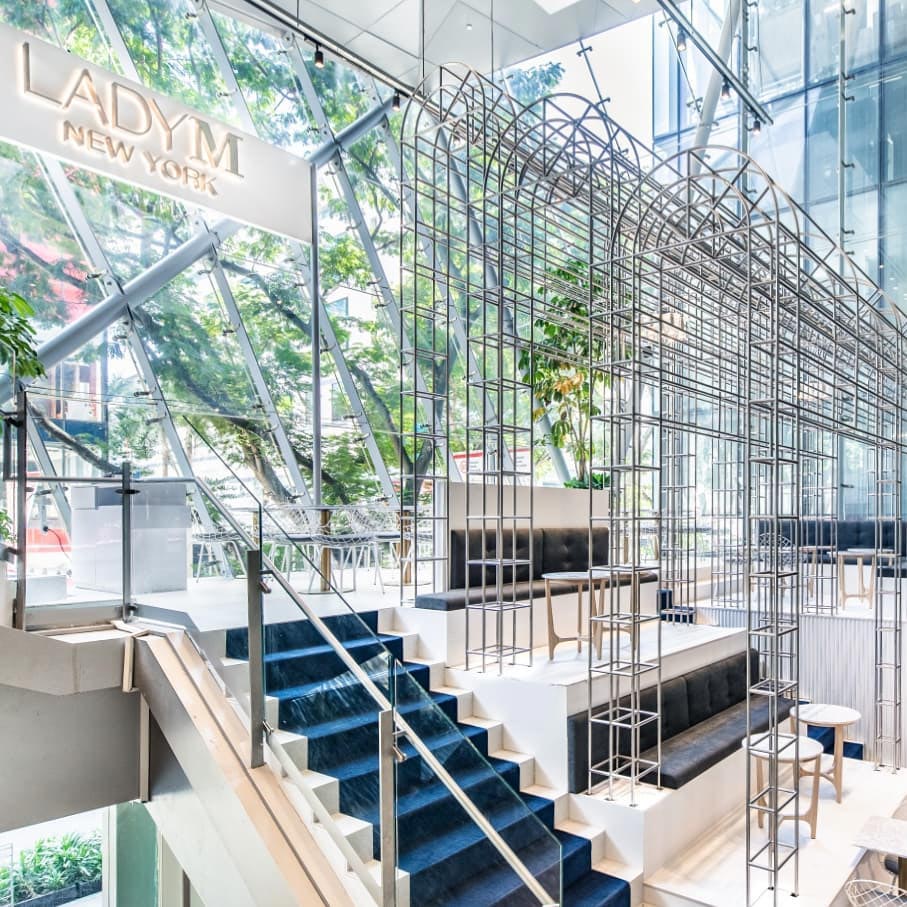 Image credit: @ladymsg
The sprawling Lady M boutique is visible from Orchard Central's street level. Massive glass windows allow natural light to filter into the spacious loft, where customers dine on delightfully light and delicate crepe cakes. Lady M's flagship Orchard outlet is the largest and most luxurious branch in Singapore, with two floors and a modern aesthetic inspired by New York City architecture.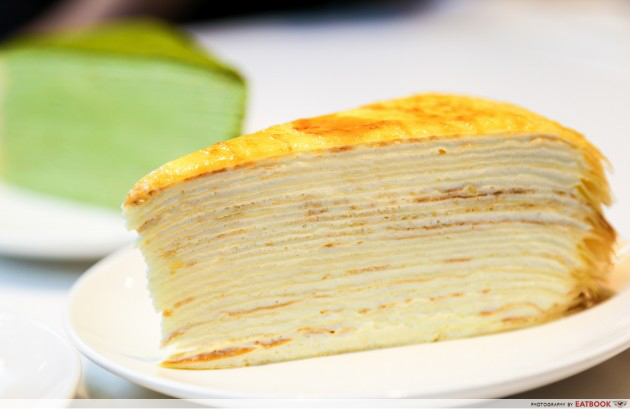 The bakery's main attraction is the Signature Mille Crepe ($9.50++), which has a top layer that's lightly torched to give a layer of delectable caramel. It's made from dozens of thin layers, causing it to melt right in your mouth. Lady M's crepe cakes come in other flavours, such as green tea, rose, and marron glace. Apart from the signature items, there are also rich and luxurious desserts such as strawberry shortcake, yuzu cheesecake, and chocolate eclairs to choose from.
Unit number: #01-27, #02-07
Opening hours: Sun-Thurs 11:30am to 10pm, Fri-Sat 11:30pm to 10:30pm
Tel: 6509 3673
Website
---
13. Maccha House
---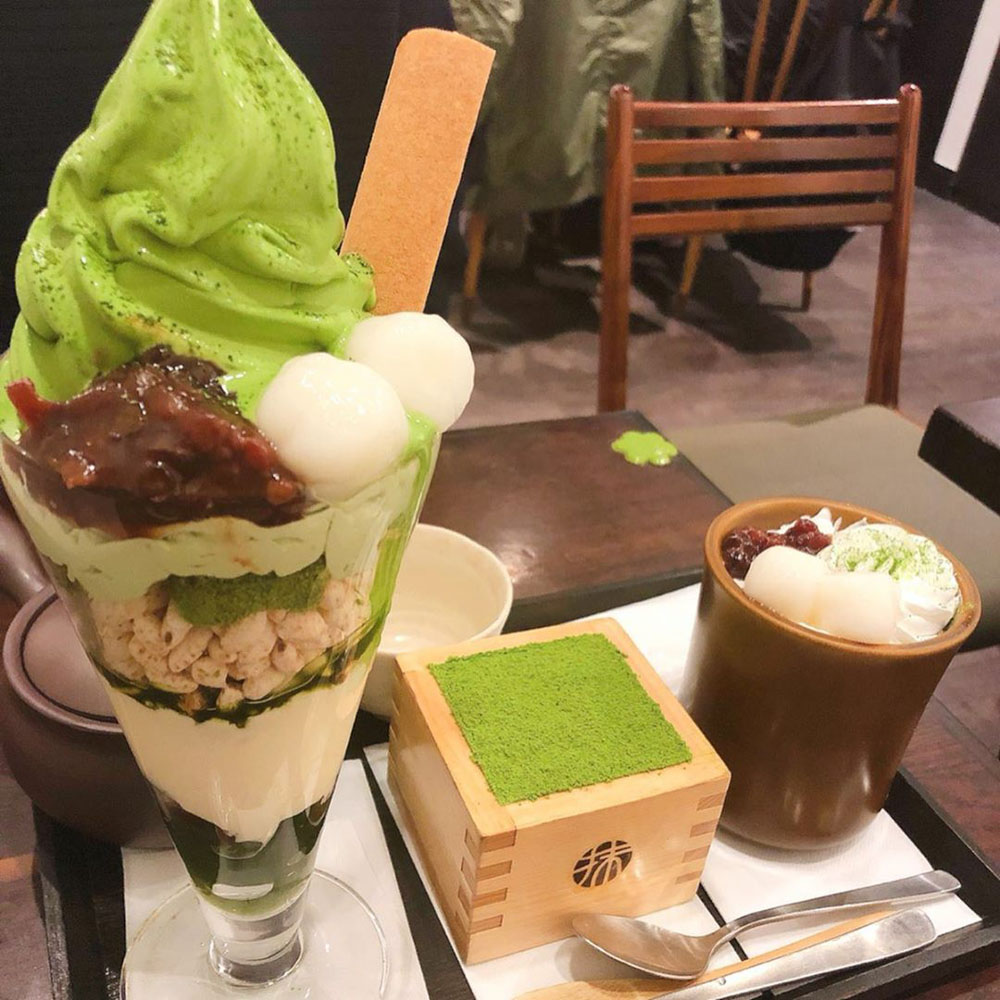 Image credit: @deliciousfood.77
The lower floors of Orchard Central are filled with Japanese restaurants. Maccha House is another one of them. The store's main focus is their range of matcha desserts, but they also have main courses where you can grab a full meal there without issue. Matcha lovers will enjoy their bittersweet Maccha Latte ($4.40++/$4.90++), or their signature Matcha Tiramisu ($6.99++). The latter is a square dessert that has its ingredients transported from Japan, and is made from matcha powder, layers of cream, and light, spongy chiffon. 
And for those who love Matcha without any frills or added sweetness from desserts, there's the Traditional Matcha ($3.90++). These sets contain a bowl of pure matcha powder, hot water, and a traditional wooden matcha whisk. You're meant to make your own cup the classic Japanese way, with no sugar or ice cream to go along with it. It's the best way to enjoy genuine, legit matcha. Two chewy and sweet dango comes with the meal, to offset the natural bitterness.
Unit number: #B1-39
Opening hours: Daily 11am to 10pm
Tel: 6636 5830
Website
---
14. Walking on Sunshine
---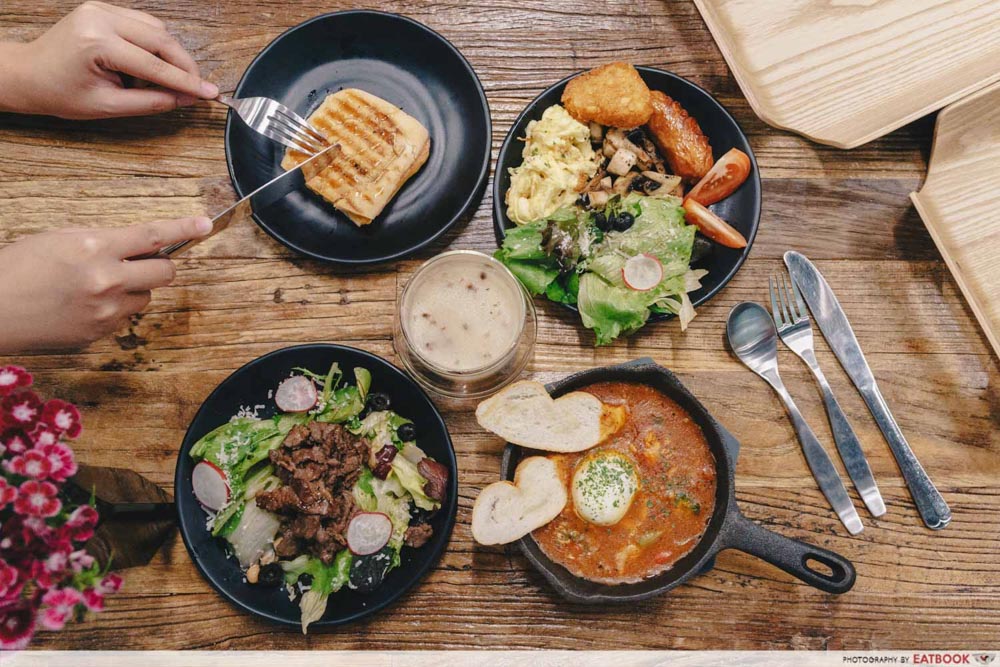 Walking on Sunshine is rather unique in what it offers. The Korean concept store is a two-in-one cafe and beauty salon, with neither aspect being a mere gimmick. On weekdays, from 9am to 12pm, you can enjoy their latest Kroffle Buffet for just $14.90++! If you don't know what a kroffle is, it's simply a combination of croissant and waffle. Here, they come with various toppings including Mixed-berries, Lime-Avocado, and Corn-Cheese.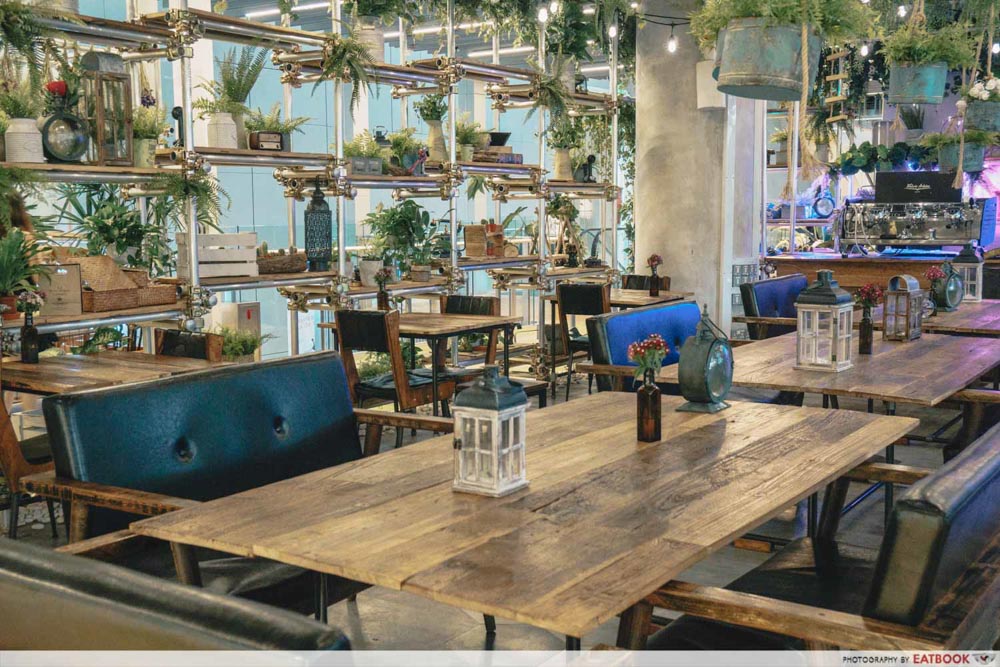 If you miss the delightful brunch buffet, fret not. You can still enjoy plenty of other dishes, such as the signature Luke's Favourite ($25); a salad bowl topped with salmon, avocado, poached egg and drizzled with red rice sesame dressing. And once you're done with your meal, you can spend a lazy afternoon lounging around and enjoying the salon's beauty services, including haircuts, hair colouring, nail polishing, and foot care.
Unit number: #03-07
Opening hours: Sun-Fri 10am to 8pm, Sat 10:30am to 8pm
Tel: 8877 0088
Website
---
15. Cafe Morozoff
---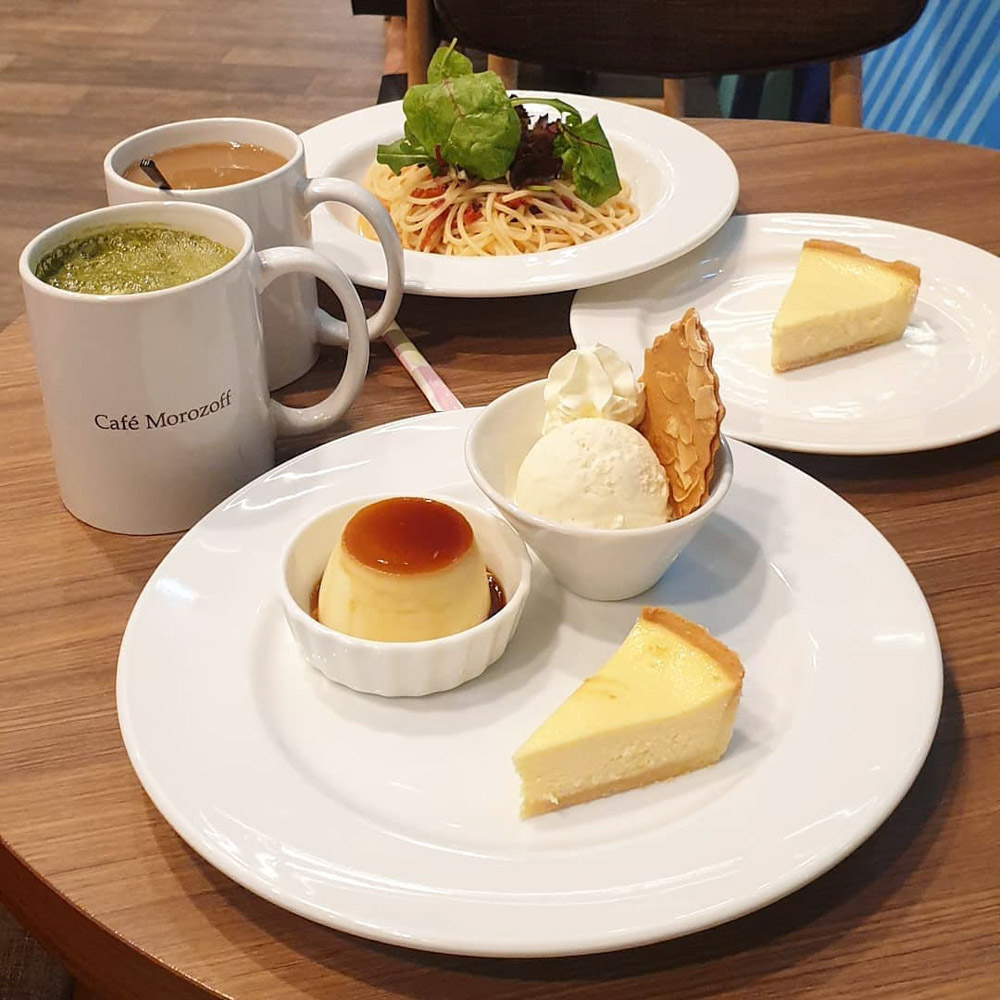 Image credit: @karenkohh
Cafe Morozoff is a cosy Japanese cafe that serves up decadent desserts to satisfy your sweet tooth. Morozoff is popular in Japan for introducing Valentine's Day chocolates to the nation. The store has a relaxing and rustic ambience, with wooden walls that are covered in lush greenery. Some of their bestsellers are their baked cheese biscuits, which are filled with savoury camembert cheese and are great for gift giving. 
If you're looking to dine in, a good choice would be the Hokkaido Cream Cheese Cake ($10++). The cheesecake is soft and smooth, and is infused with lemony notes. Be sure to also make room for the Signature Custard Pudding ($7.80++), which features a silky and velvety scoop of panna cotta, with a delightful layer of caramel sauce on the top.
Unit number: #01-17/17A
Opening hours: Daily 11am to 10pm
Tel: 6509 6735
Website
---
16. Real Food
---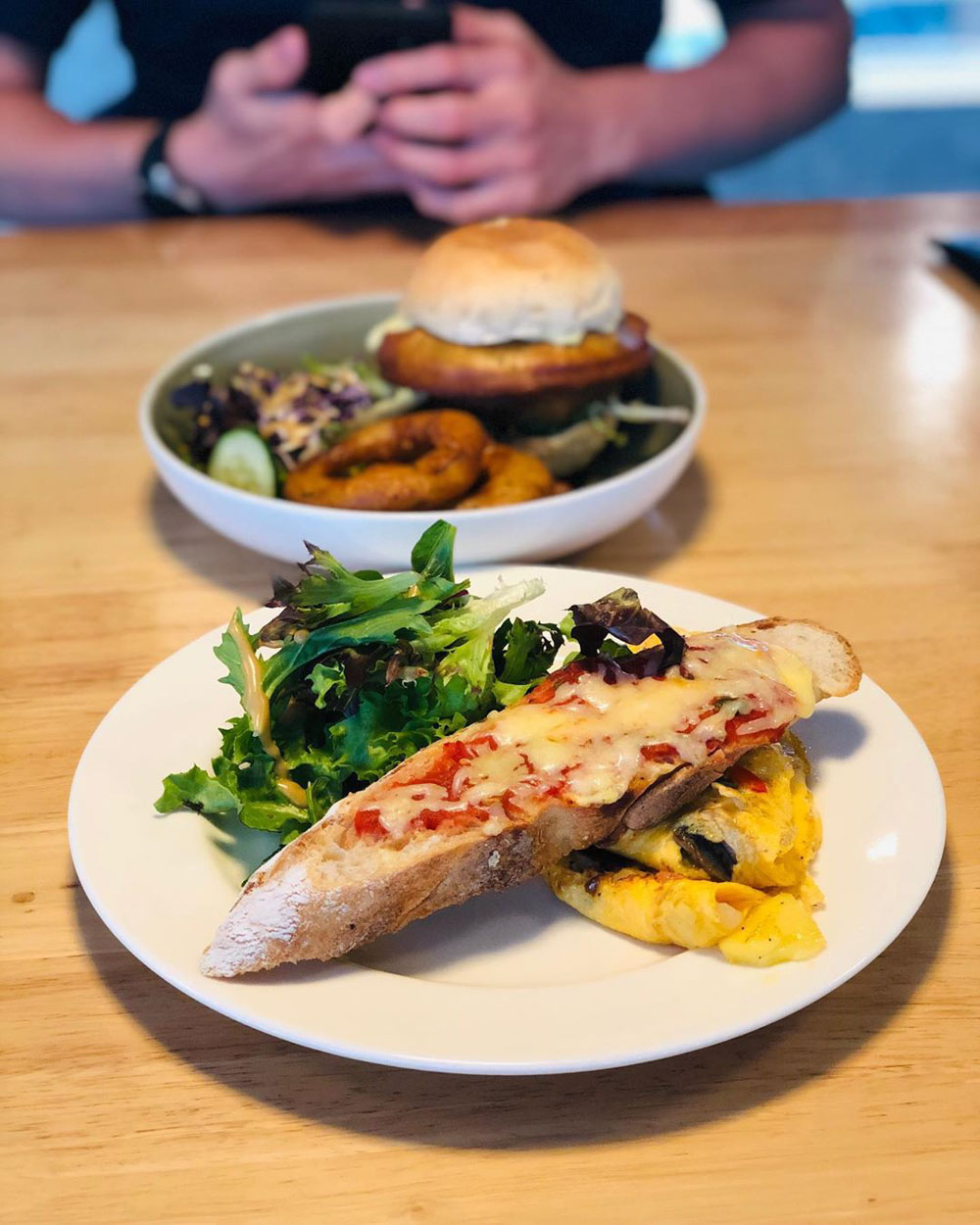 Image credit: @kaekae_adventures
Real Food is airy and spacious, with huge windows that light up the whole dining area. This cosy vegetarian cafe is a vegetarian store that prides itself on using all-natural ingredients. Comfy couches and wooden shelves line the walls, giving a wholesome and relaxing atmosphere. 
Start your day right with a healthy breakfast of Scrambled Tofu with Broccoli ($9.80++) consisting of stir-fried tofu with turmeric on sourdough bread. If you're looking for something more filling, treat yourself to one of their bestselling Beet Millet Burger ($14.80++) that's made with a tasty vegetarian patty and accompanied by fresh greens on the side. Vegetarians and those looking to eat healthy will surely love the clean-tasting and low-cal food that Real Food serves.
Unit number: #02-16 -to 19
Opening hours: Daily 10am to 10pm
Tel: 6737 9516
Website
---
17. Dont Yell At Me
---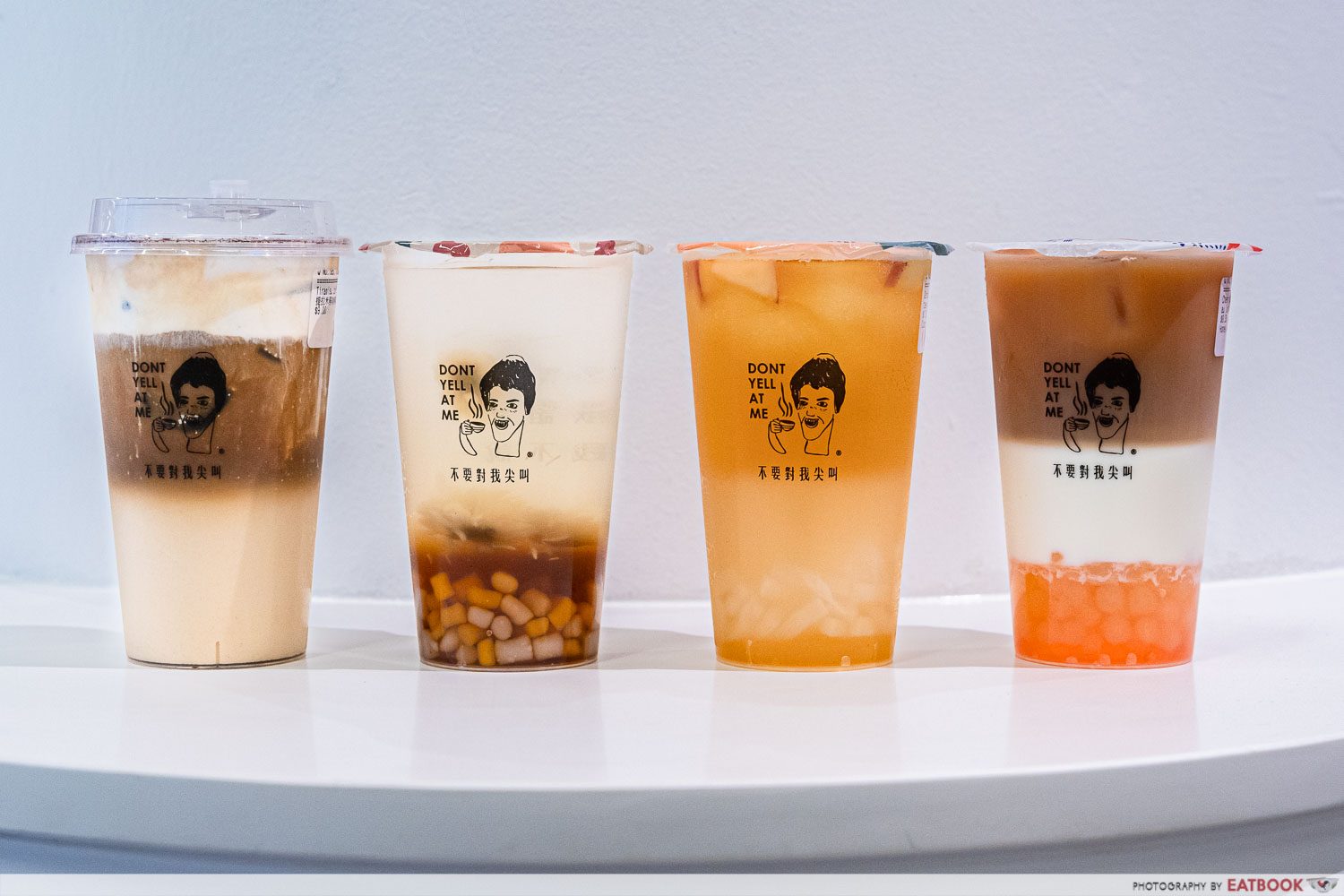 Quench your thirst with Dont Yell At Me's bubble tea selections. A bestseller is the refreshing Winter Melon Chrysanthemum Tea With Sweet Potato and Taro Pearls ($5.60), perfect for Singapore's sunny weather. You can also choose from their range of layered drinks—the Tiramisu Café Au Lait ($9) comes with a light cheese foam topping, paired with two shots of espresso and a milk layer at the bottom. There are plenty of seats available, which makes it a perfect place to grab a drink and chill with your friends.
Unit number: #02-24/12A
Opening hours: Daily 11am to 10pm
Website
---
18. Grain Alley
---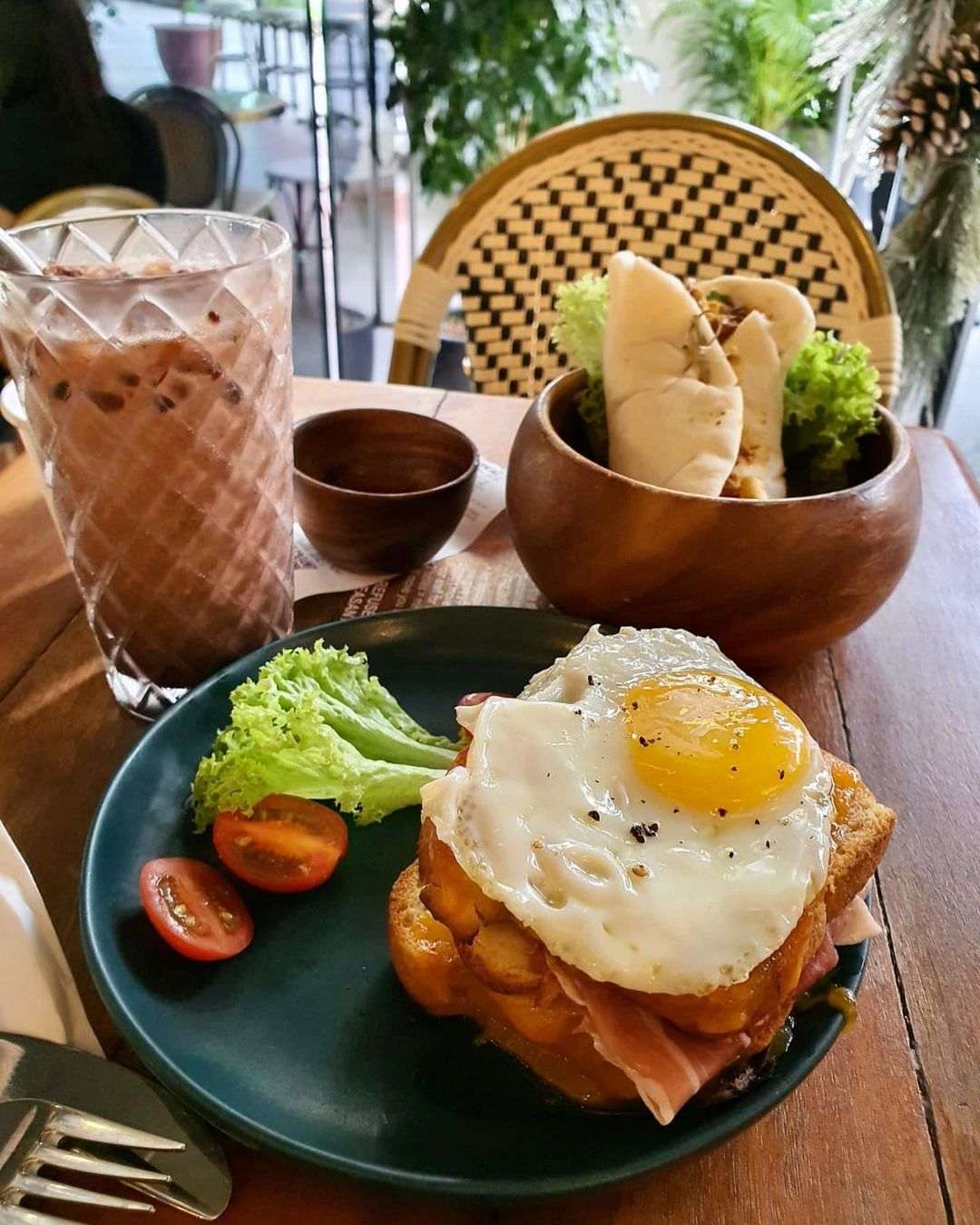 Image credit: @lioneechew
Tucked on the first level of Orchard Central, Grain Alley offers all-day brunch items with plenty of seats, perfect for chilling or working. Start with their Awesome Avocado Toast ($11), which features hand-mashed avocado on vegan-buttered sourdough bread. Their mains are available from 11am to 8pm and there is an extensive selection on offer, including Great Greek Salad with Crab Claw Meat ($19), Traditional Feta Shakshuka with Garlic Pita ($23), and Kong Beef Bao with Pita Bread ($25).
Unit number: #01-10
Opening hours: Sun-Thurs 9am to 11pm, Fri-Sat 9am to 12pm
Website
---
Special occasions
---
The last restaurants on this list are relatively pricey. You most likely won't be able to drop by more than once in a while, but it's great to save them for special occasions such as a family member's birthday or to celebrate that new promotion you just got.
---
19. Dancing Crab
---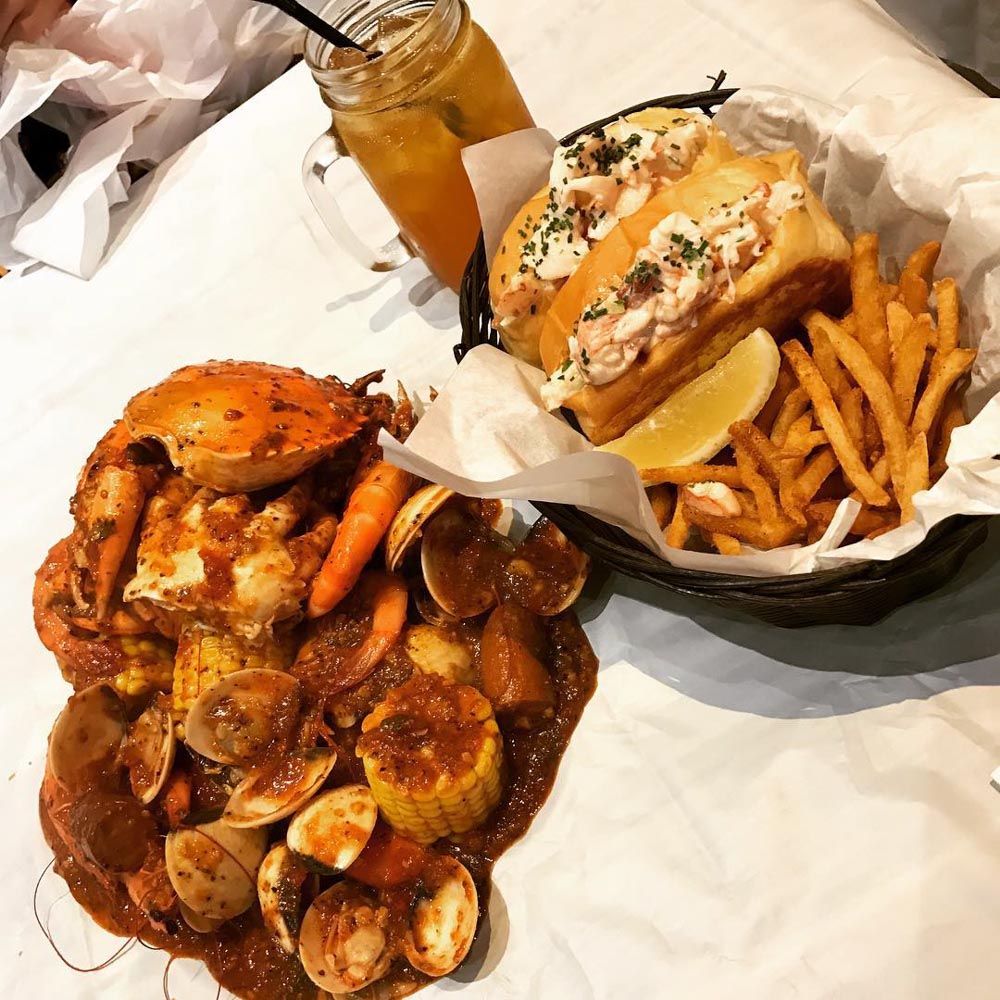 Image credit: @jasoncjttttt
Eating at Dancing Crab is a sloppy and messy affair, but the sheer amount of food gives you a good reason to dig in without regard for table manners. In fact, you're encouraged to don a bib and tear into the juicy crab legs and fat shellfish with your bare hands. The food is served in either a bag or a bucket, and then dumped onto the table for you to enjoy. Their signature combo is the Live Crab Combo With World Famous Signature Cajun Sauce ($98++), meant for a big group to share. It consists of a live Sri Lankan crab weighing 800 grams, 350 grams of prawns, 350 grams of clams, a heap of grilled corn with their tangy cajun BBQ sauce, and chicken sausage. 
Lobster rolls are gradually gaining popularity, and Dancing Crab is more than happy to provide their own brand of the succulent sandwiches. The Live Lobster Roll ($36++) is packed with chunks of mayo-slathered lobster claw and tail that are delightfully juicy and fresh. The pair of lobster rolls come in buttery brioche buns, and is a good way to round out your meal. For $1++ more, you can add on Truffle Fries or Sweet Potato Fries. 
Unit number: #07-14/15
Opening hours: Daily 11:30am to 3pm, 5:30pm to 10pm
Tel: 6509 1878
Website
---
20. Joie by Dozo
---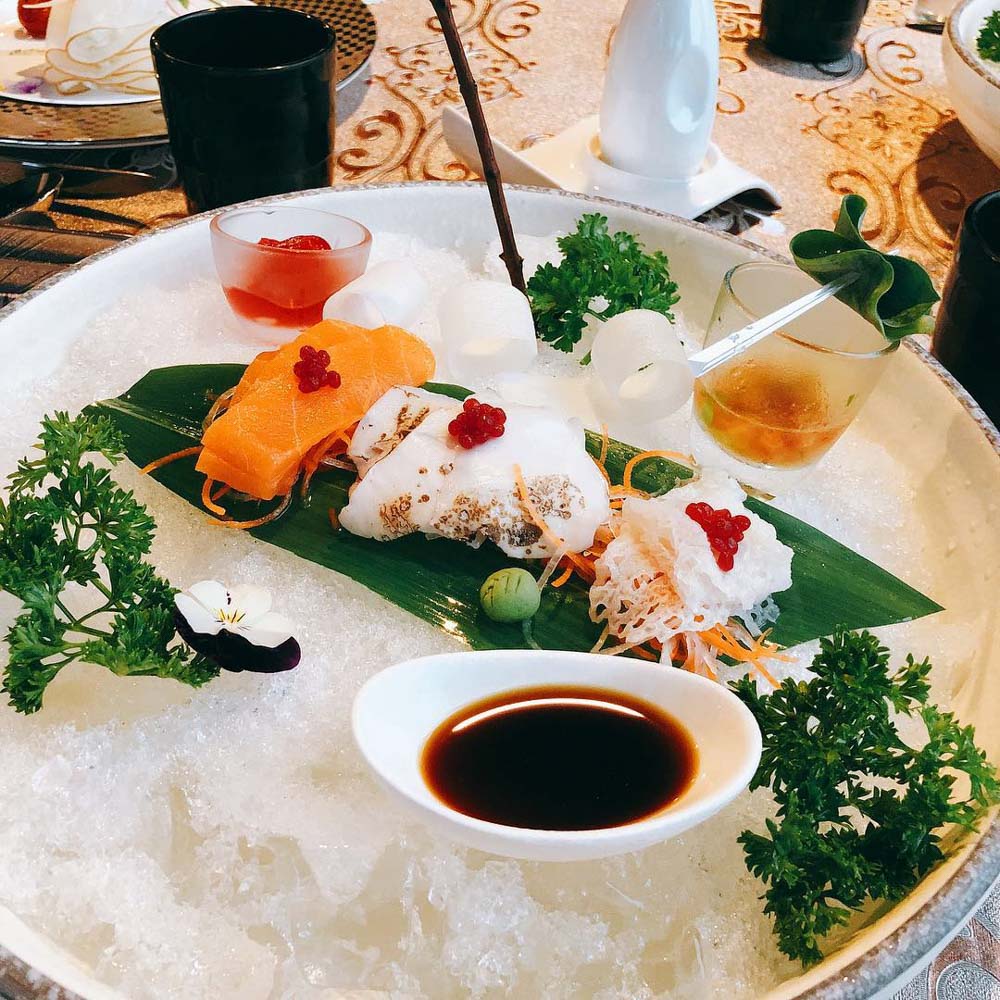 Image credit: @happyfatcheeks
Joie by Dozo is a restaurant that specialises in meat alternatives. The restaurant comes up with dozens of dishes that accurately capture the texture of meat that we carnivores love so much. Their Vegetable Sashimi is made from carrot and konjac, coconut, and pear. And yet, they taste just like sashimi once dipped into soy sauce. It's an impressive feat, and it looks just like the real deal.
Other items are the Wild Rice and Eggplant Terrine, which consists of eggplant transformed into a piece of artificial meat, and the Grill Bai Ling Steak on Pu Ye Hot Stone, a massive mushroom steak that's juicy, thick, and succulent. Joie has no a la carte items, and a 6 Course Set Lunch costs $39.80++, while a 7 Course Set Dinner will set you back at $69.80++. If you're a vegetarian or your significant other is one, this place is a prime spot for a romantic date or special occasion. 
Unit number: #12-01
Opening hours: Daily 12pm to 2pm, 6pm to 9pm
Tel: 6838 6966
Website
Menu
---
Dine at Orchard Central
---
Orchard Central is one of the largest malls in town, and is located right smack in the middle of Orchard Road. Some of the places might be pricey, but there's a huge amount of variety here. You'll definitely be able to find a place to eat at, no matter the budget or occasion. 
For more guides on huge shopping hubs where you can get all sorts of food, check out 20 places to eat at Bugis; or discover some of the other good eats at Orchard, such as Burger+!
This post was originally published on 12 February 2020.