Hokkaido Marche at Somerset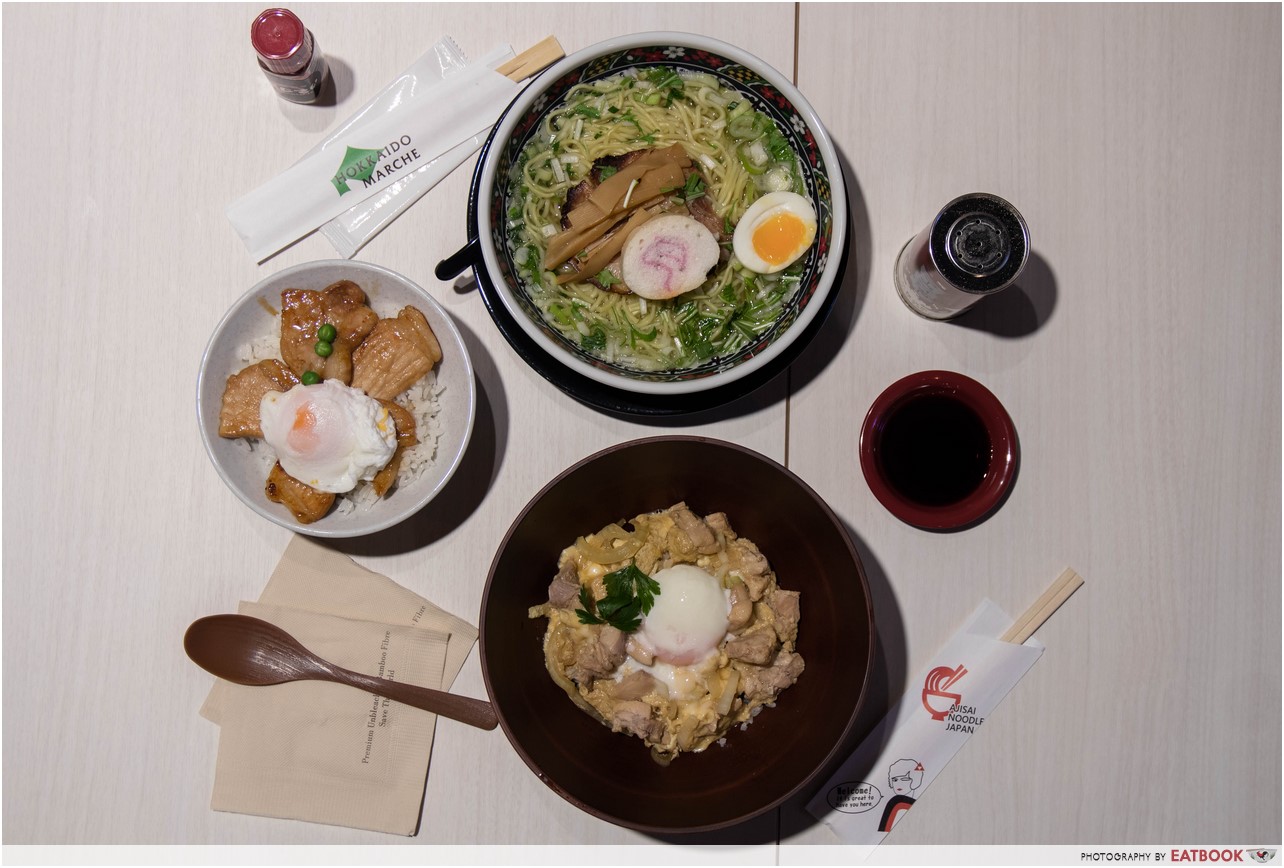 Just last December, Don Don Donki made its grand opening at the basement of Orchard Central. A Japanese food court called Hokkaido Marche was scheduled to open within the area by end-January this year. After a month's wait, the day finally arrived! With much excitement, I hurried to Hokkaido Marche on the first day of its opening. The eight stalls there are run by Japanese chefs, and they serve a range of Japanese dishes including curry rice and sushi.
Food at Hokkaido Marche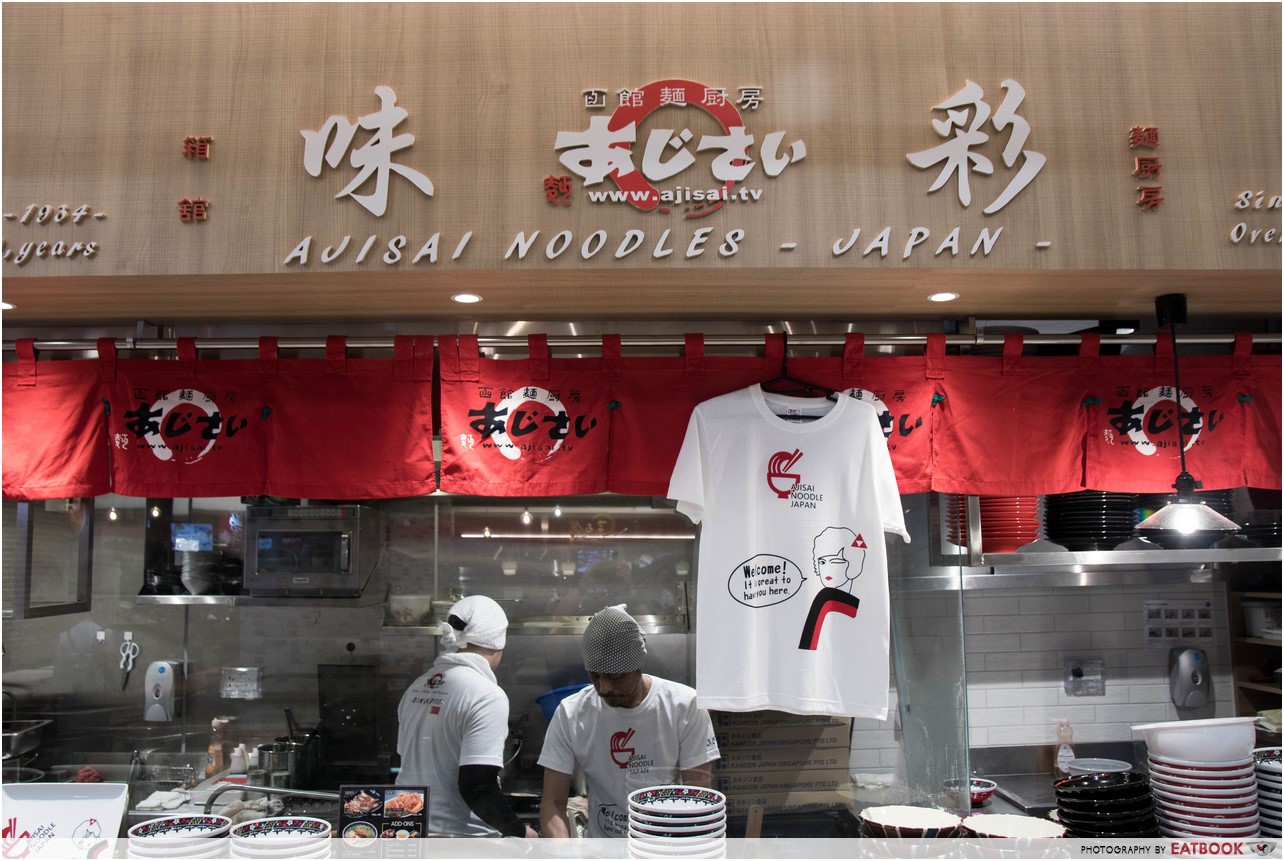 The first stall I ordered from is Ajisai Noodle Japan, which sells ramen. The staff there were exceptionally polite and friendly.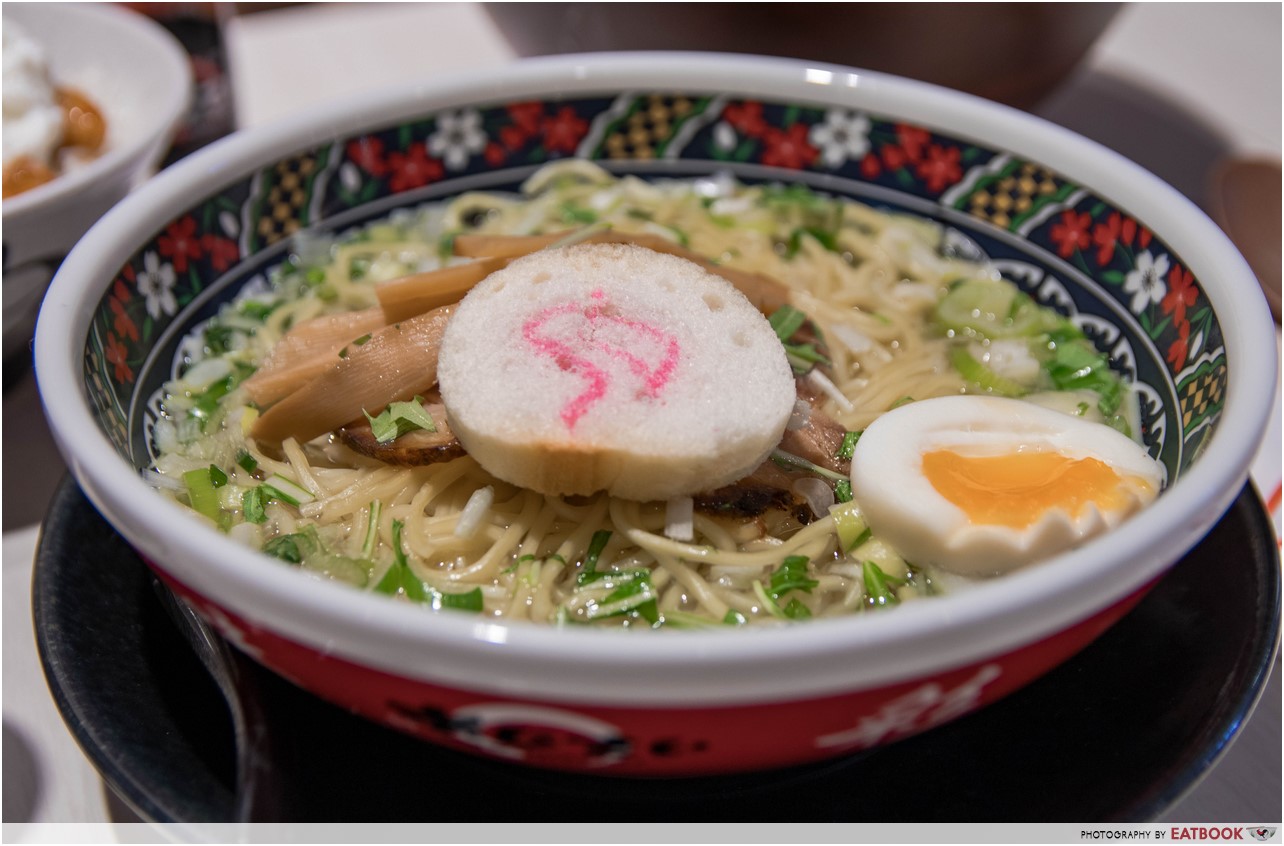 As I was spoilt for choice from the variety of ramen Ajisai offers, I asked for a recommendation from one of the staff. I was recommended Shio Ramen ($12) – the simplest and cheapest. But beauty lies in simplicity and the Shio Ramen proved this quote right. This dish consisted of a seasoned egg, chashu, bamboo shoots, naruto (Japanese fish cake), and a generous amount of leek.
When eating a bowl of ramen, the first thing I always try is the broth. Still piping hot, I took a sip of it and found that it was a tad too salty for my liking. If you enjoy the heavily seasoned broth though, you'll be glad to know they offer free refills.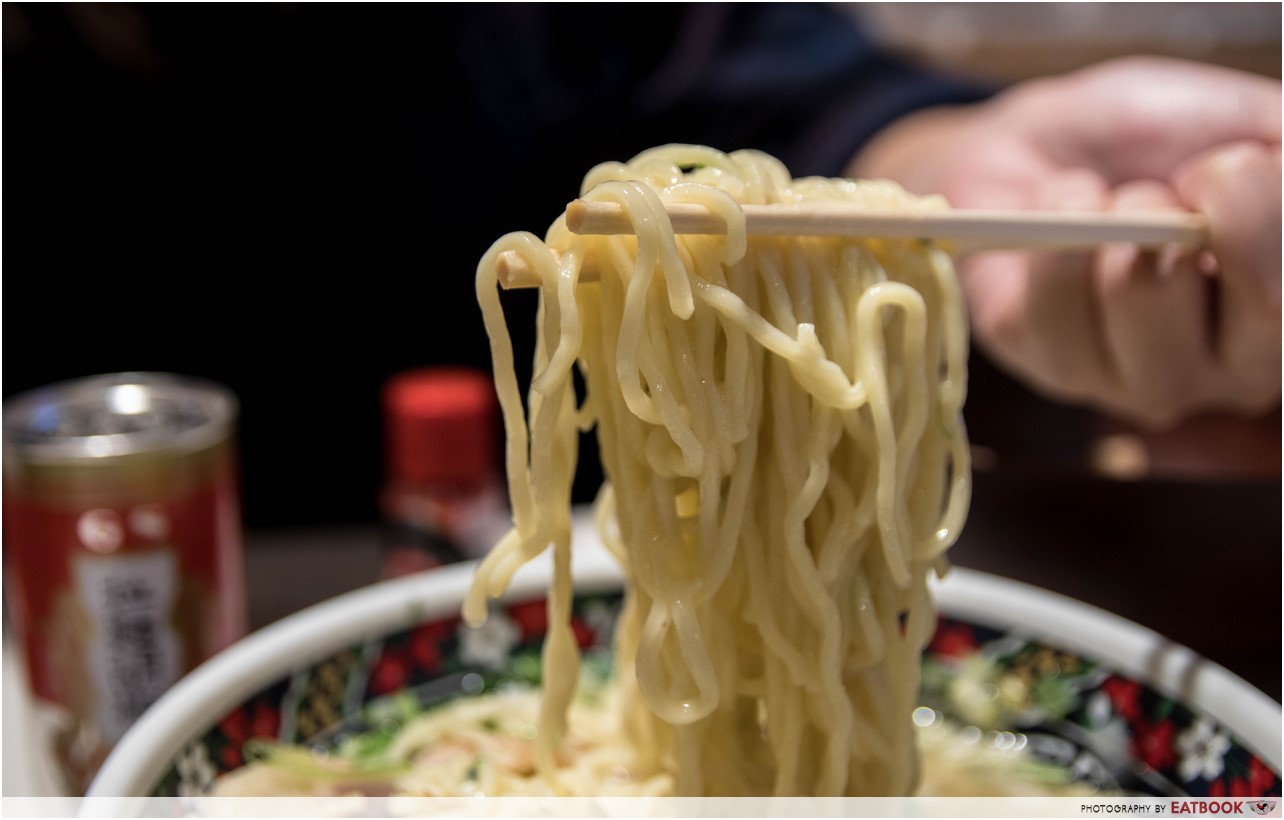 What I liked about the noodles is that they have a starchy flavour to them. It is like eating a Japanese version of mee kia, together with the flavour of the broth that it soaked up. Also, they do not turn soggy easily even if you were to leave them untouched for a while. Ajisai is really generous with the amount of noodles in their ramen.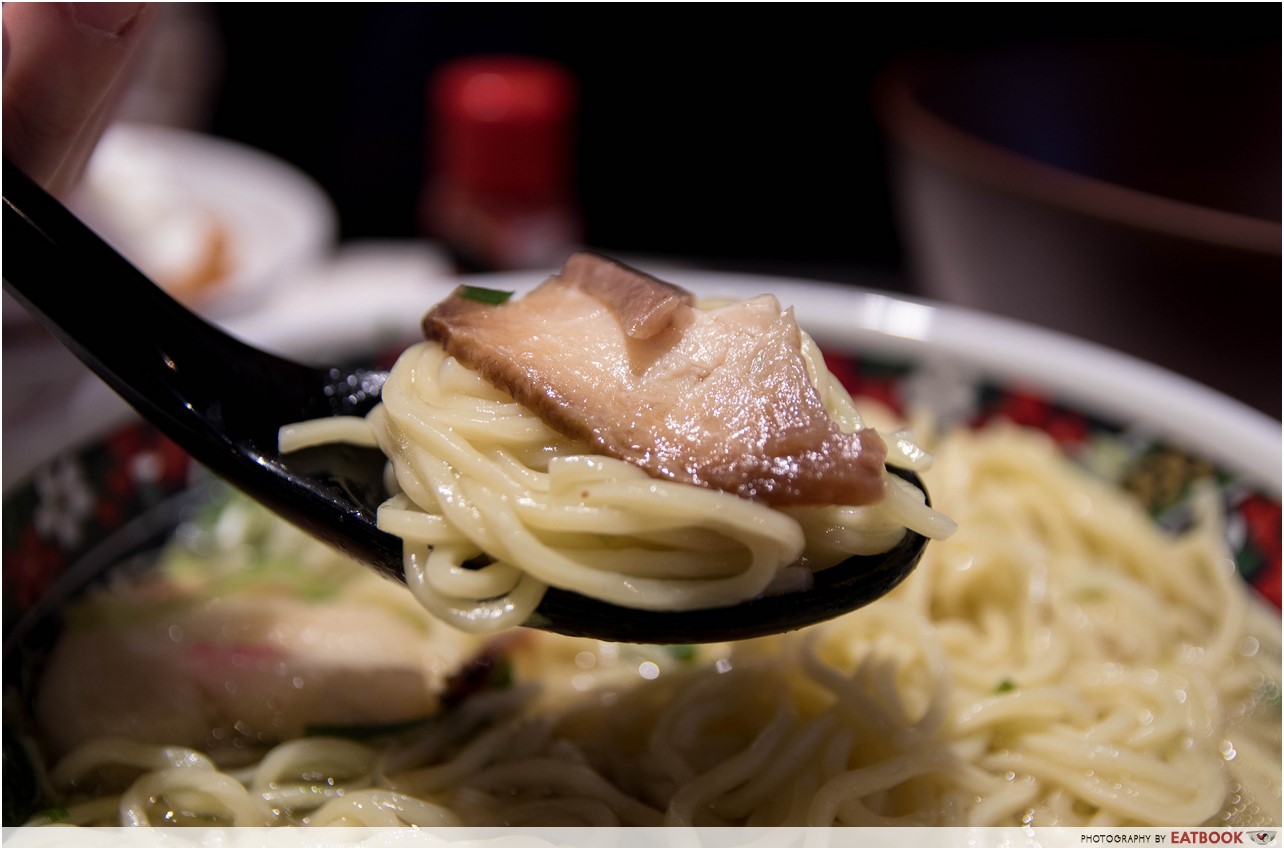 The chashu disappointed me. It was thin with barely any layers of fat. Also, it disintegrated easily and there was nothing special about the taste. Though the taste of the Shio Ramen is decent, it is something you can find at almost any other casual Japanese ramen restaurants. You do not have to specially travel down to Hokkaido Marche just for it.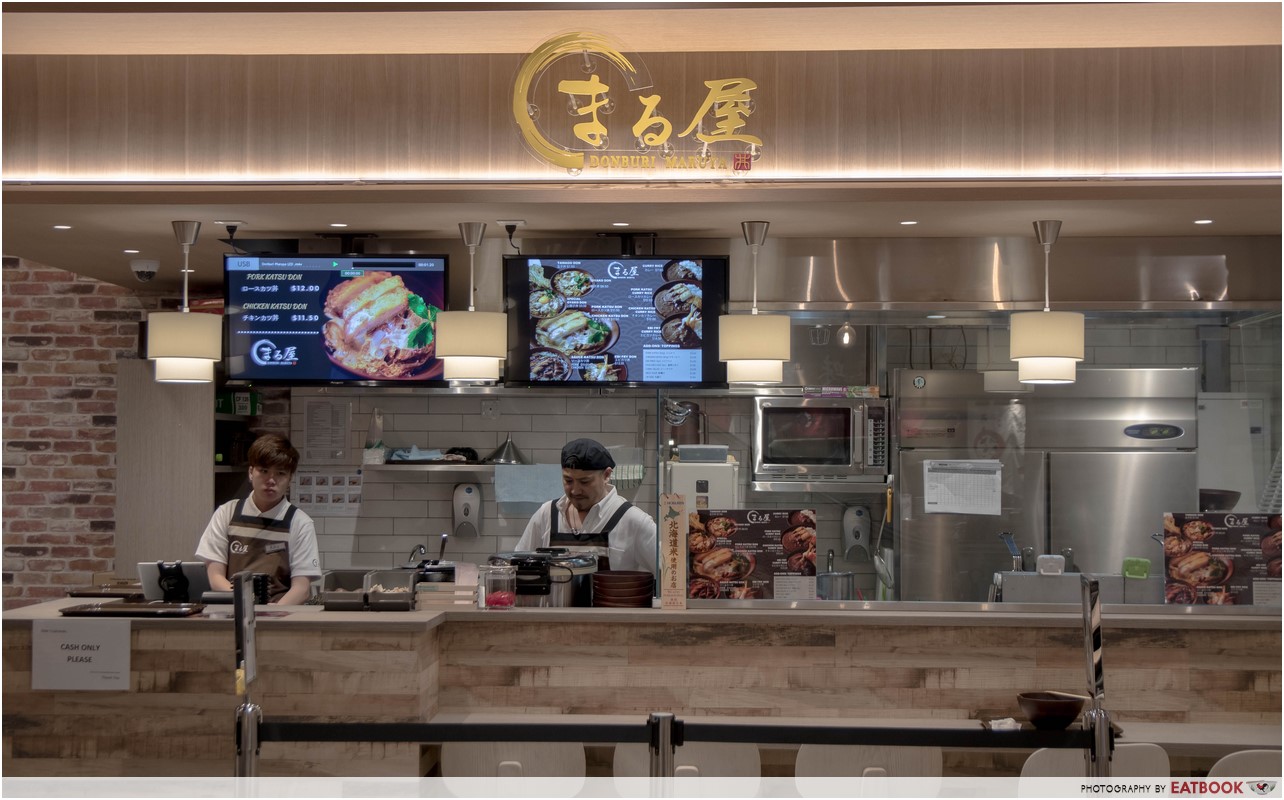 The next stall that I tried is Donburi Maruya. This stall sells curry rice and a few types of donburi. Being a huge fan of eggs, I went ahead to order the Special Oyako Don ($9.50).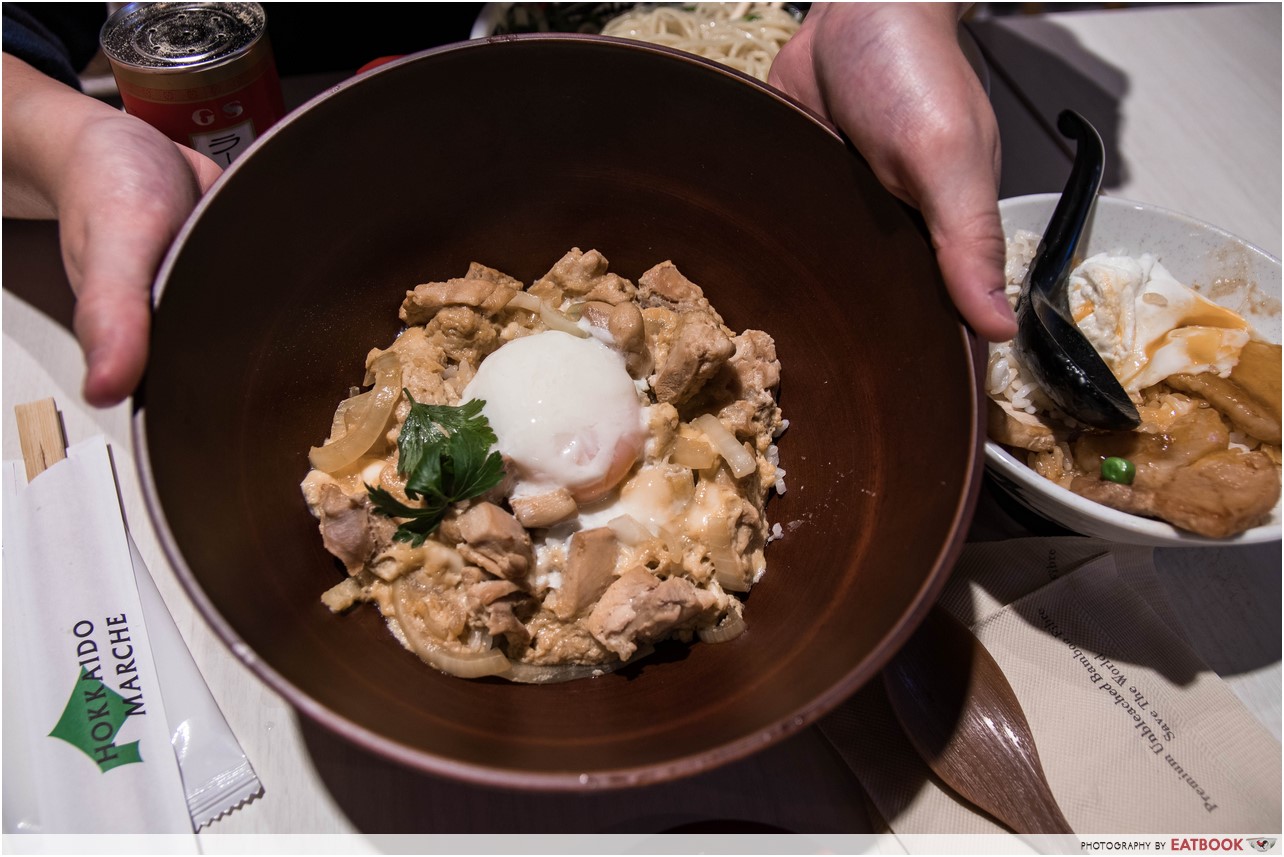 As I walked back to the stall to collect my food, I was amazed by the size of the bowl from afar. However, the giant bowl was deceiving – the portion of donburi barely filled half the bowl!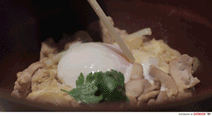 Already disappointed by the portion, I prayed hard that the onsen egg would be done well. And yes! The onsen egg flowed nicely into the rice.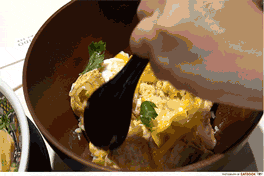 After mixing the rice, I gave it a taste. The dish was bland. Not much seasoning and sauce were added to the ingredients. I ate a few more mouthfuls hoping for some taste but to no avail. Although the egg was good, I felt it made the entire dish more jelak.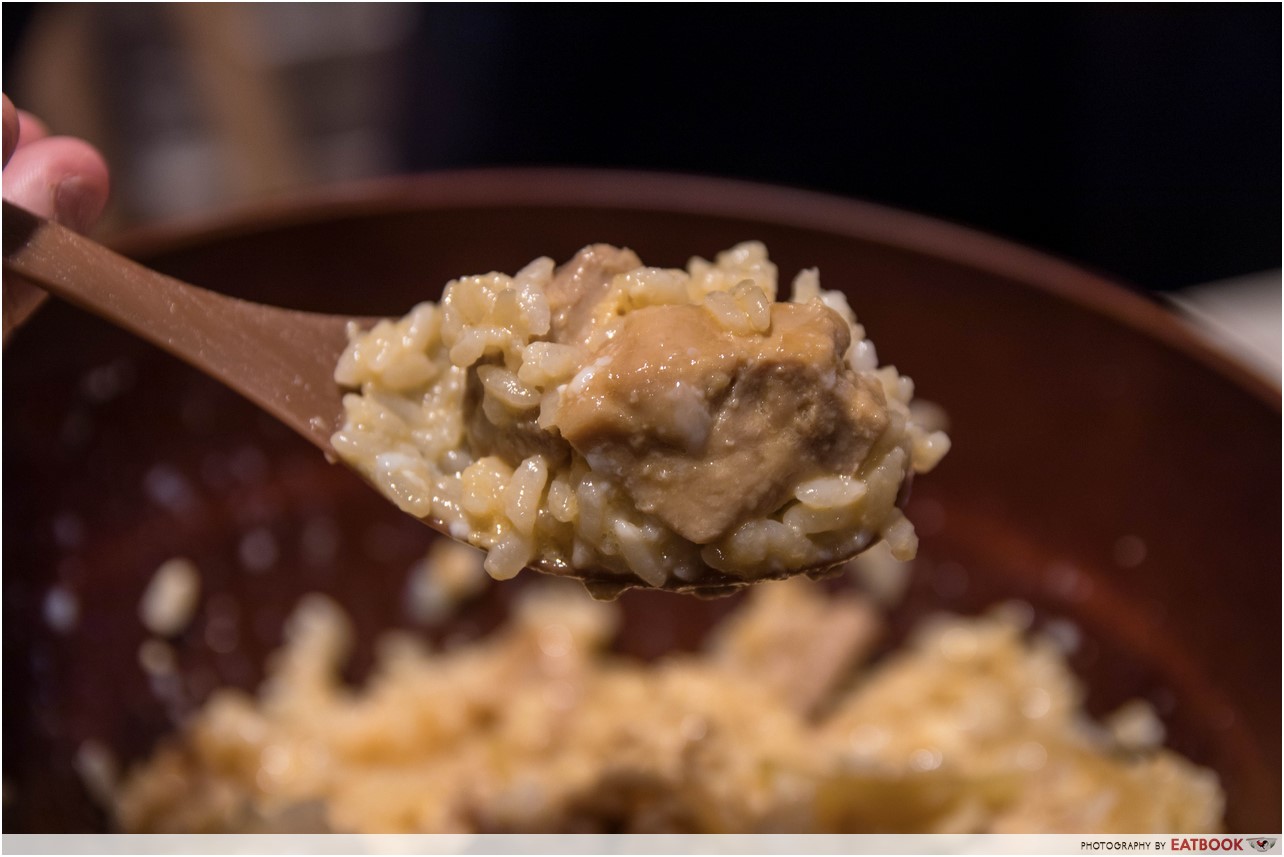 In addition, the chicken was tough. It's a lil' like eating boiled chicken breast with a bit of seasoning. Besides the onsen egg being well done, there was nothing about the Special Oyako Don that stood out. The portion of this dish was not worth the money, and this is probably the last time I'll be eating it.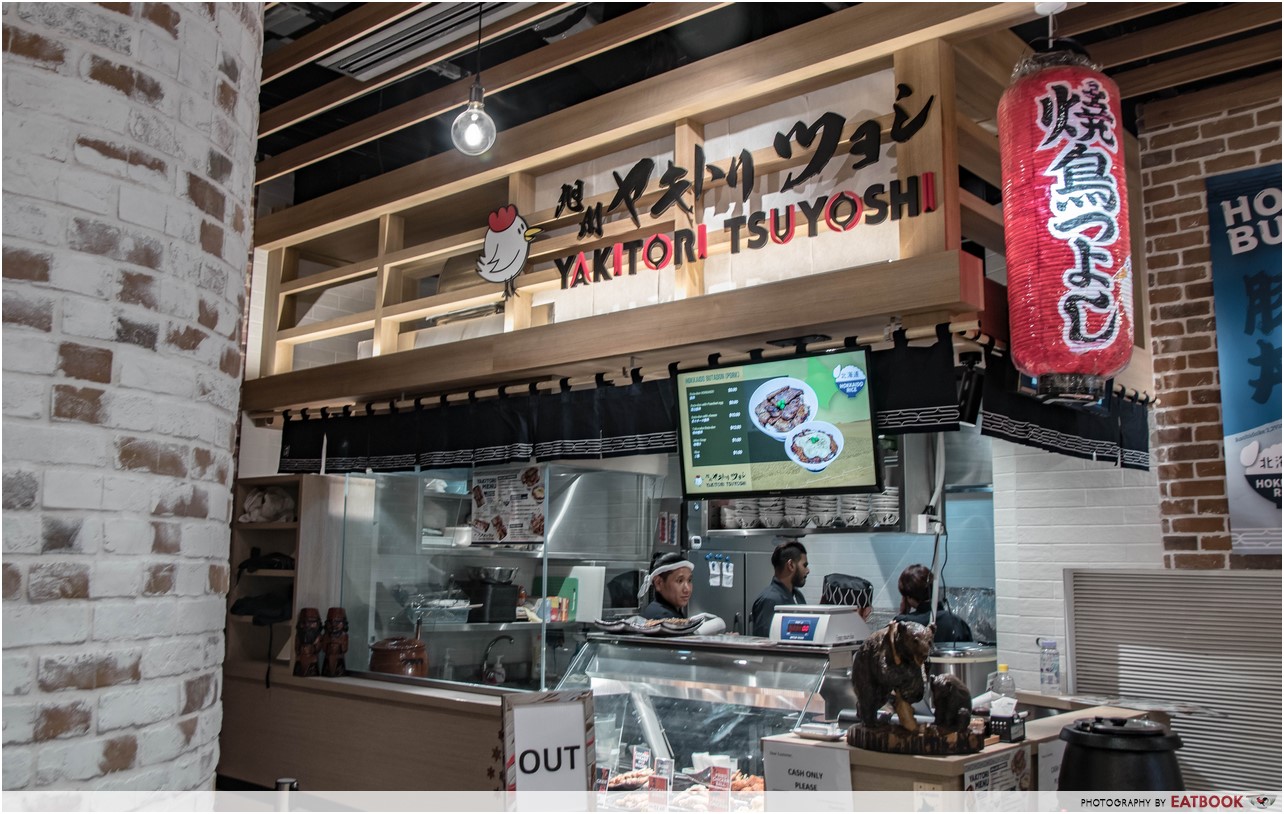 I got my last dish from Yakitori Tsuyoshi, a stall that sells yakitori, buta don and fried food.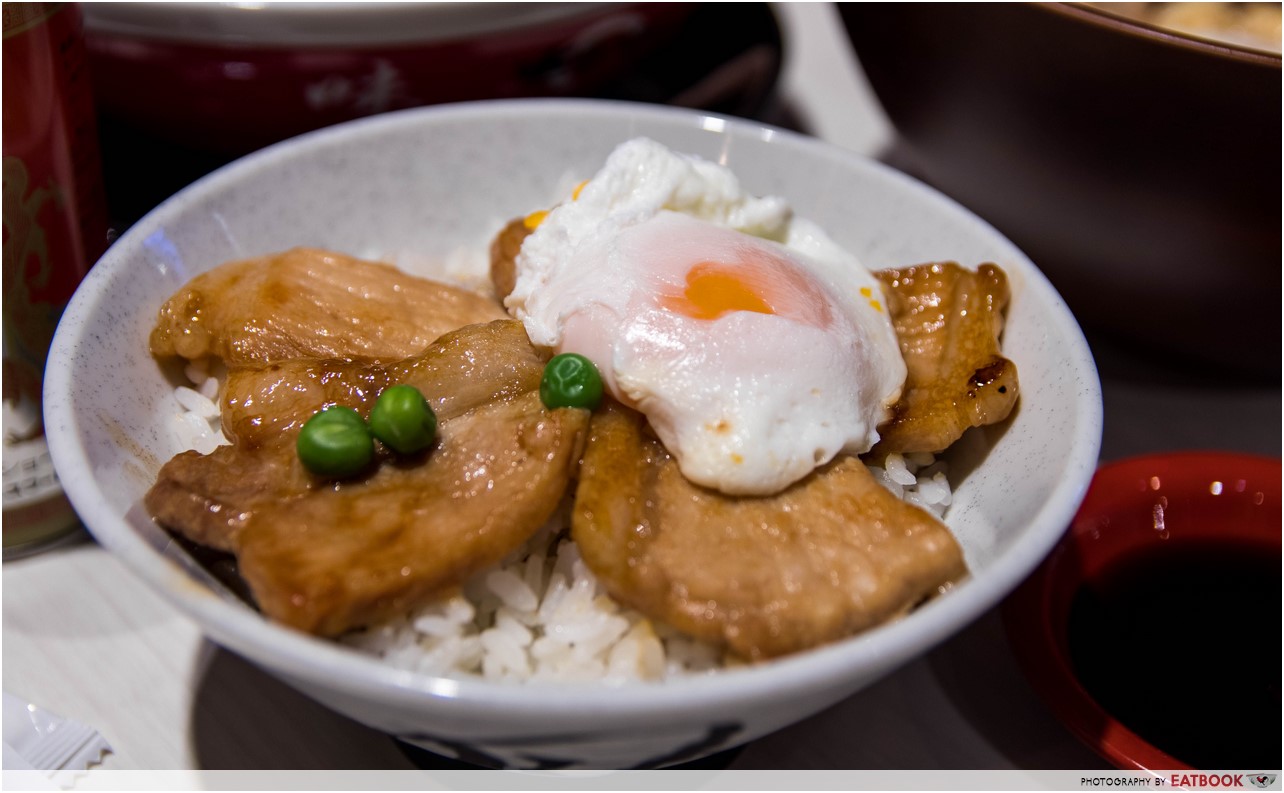 Buta Don with Poached Egg ($9.90) comprises a bowl of Japanese white rice with pork slices, three peas, and an onsen egg. The dish is then drizzled with teriyaki sauce. The portion was smaller than I expected, especially since I paid close to $10 for this.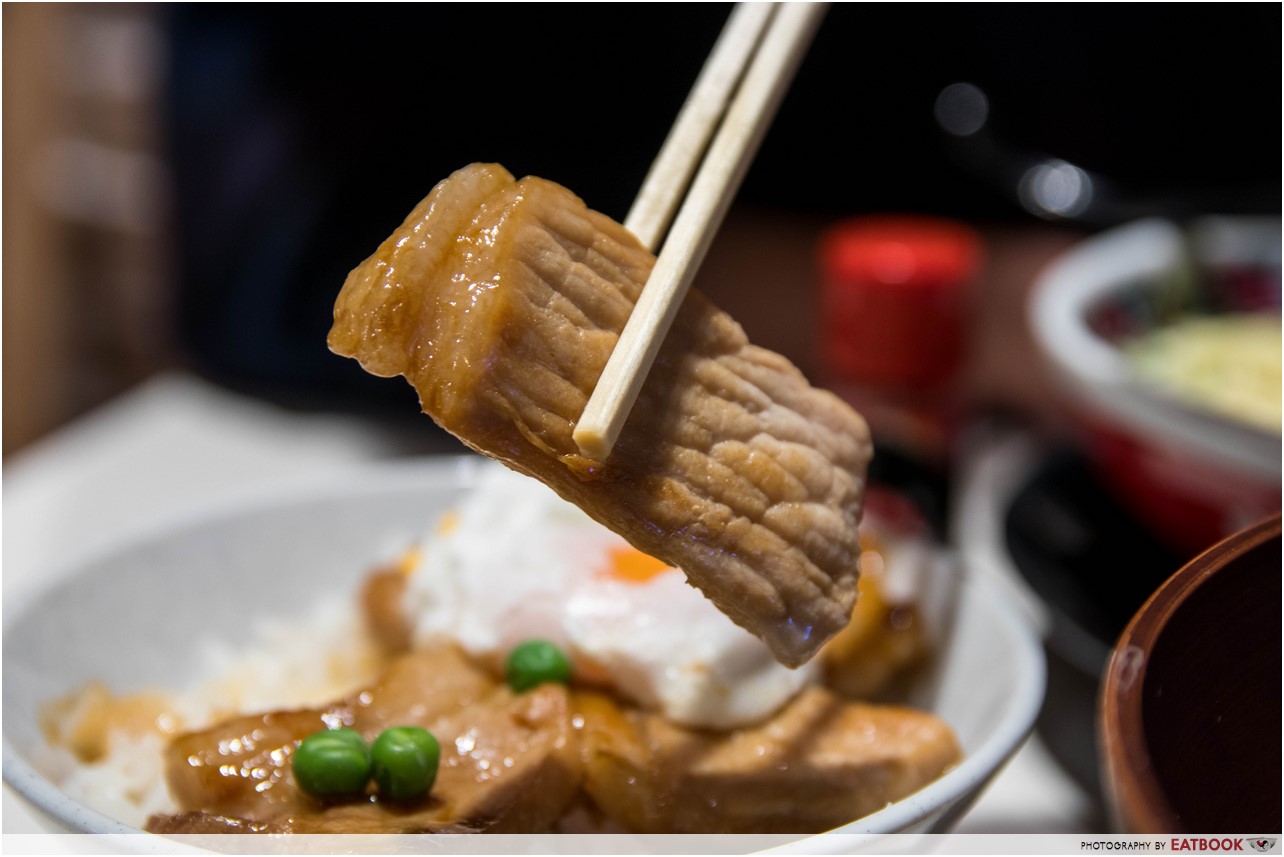 I picked up the pork not expecting much. However, I was taken by surprise when I bit into it. Although the pork was pretty tough, it was overall really well-marinated. The teriyaki sauce gave the pork a boost in flavour as well.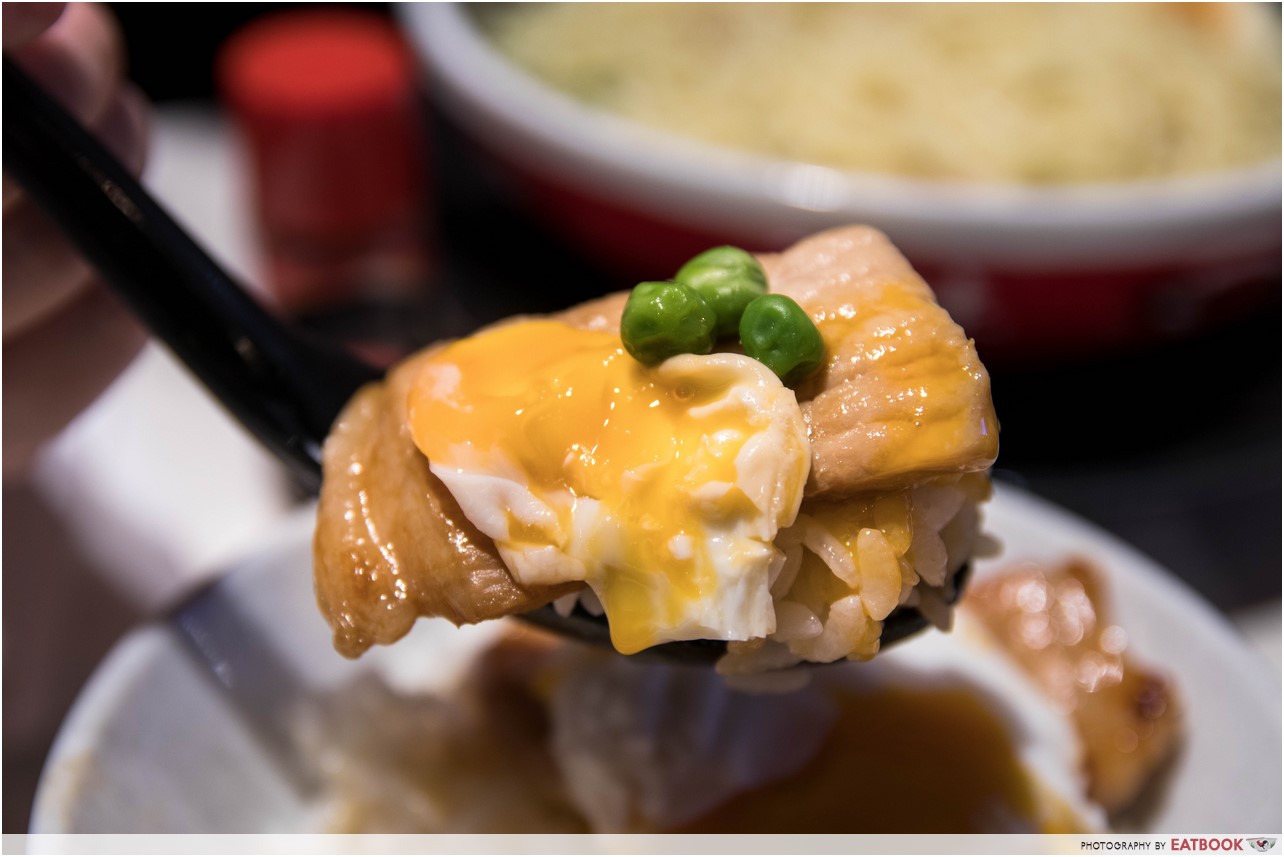 The rice was tasty too. There was a tinge of vinegar taste to it, the kind of flavour you can find in sushi rice. This dish may look simple, but taste-wise, it really blew me away.
Ambience at Hokkaido Marche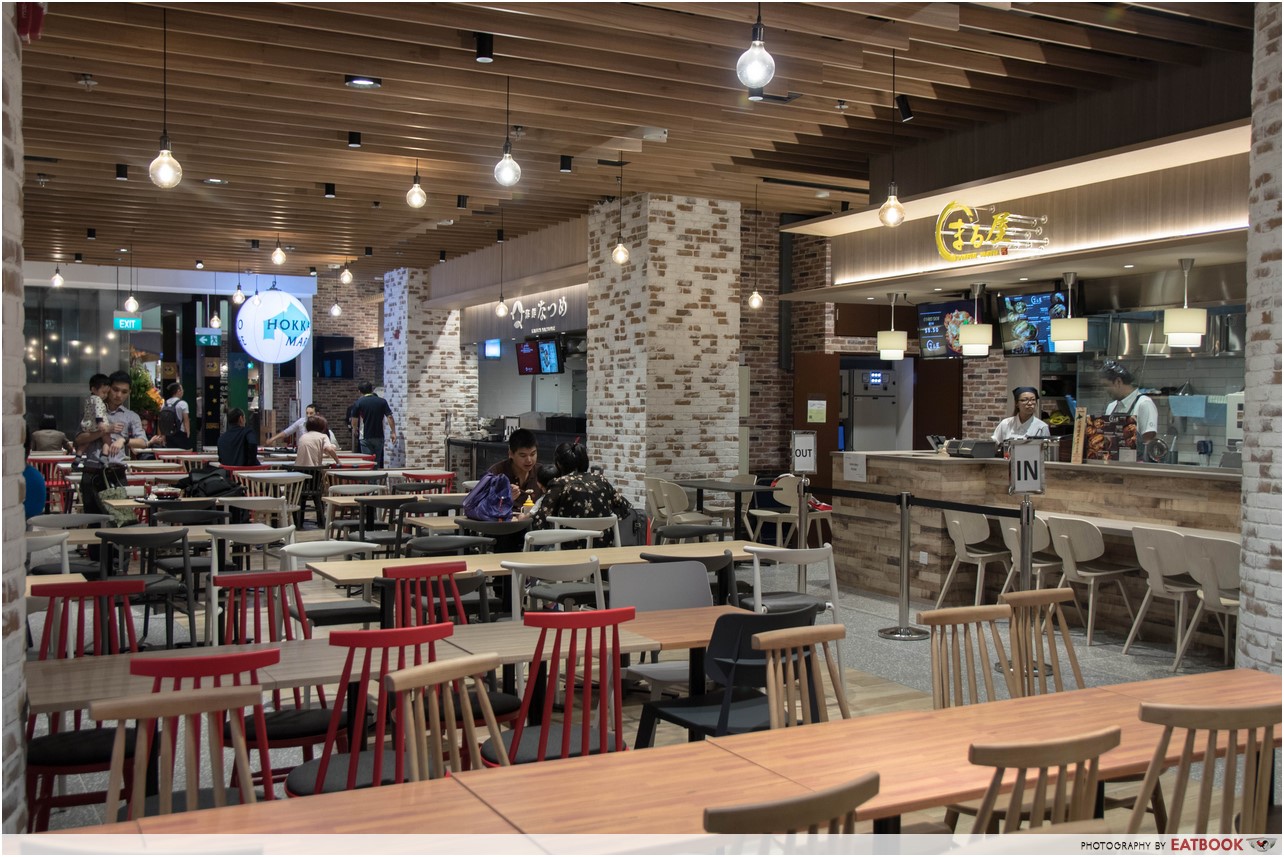 Hokkaido Marche is like any other air-conditioned food court but a little smaller than I thought. It's found within Don Don Donki, and you'll find stalls serving sushi, poke bowls, and curry rice as well.
The verdict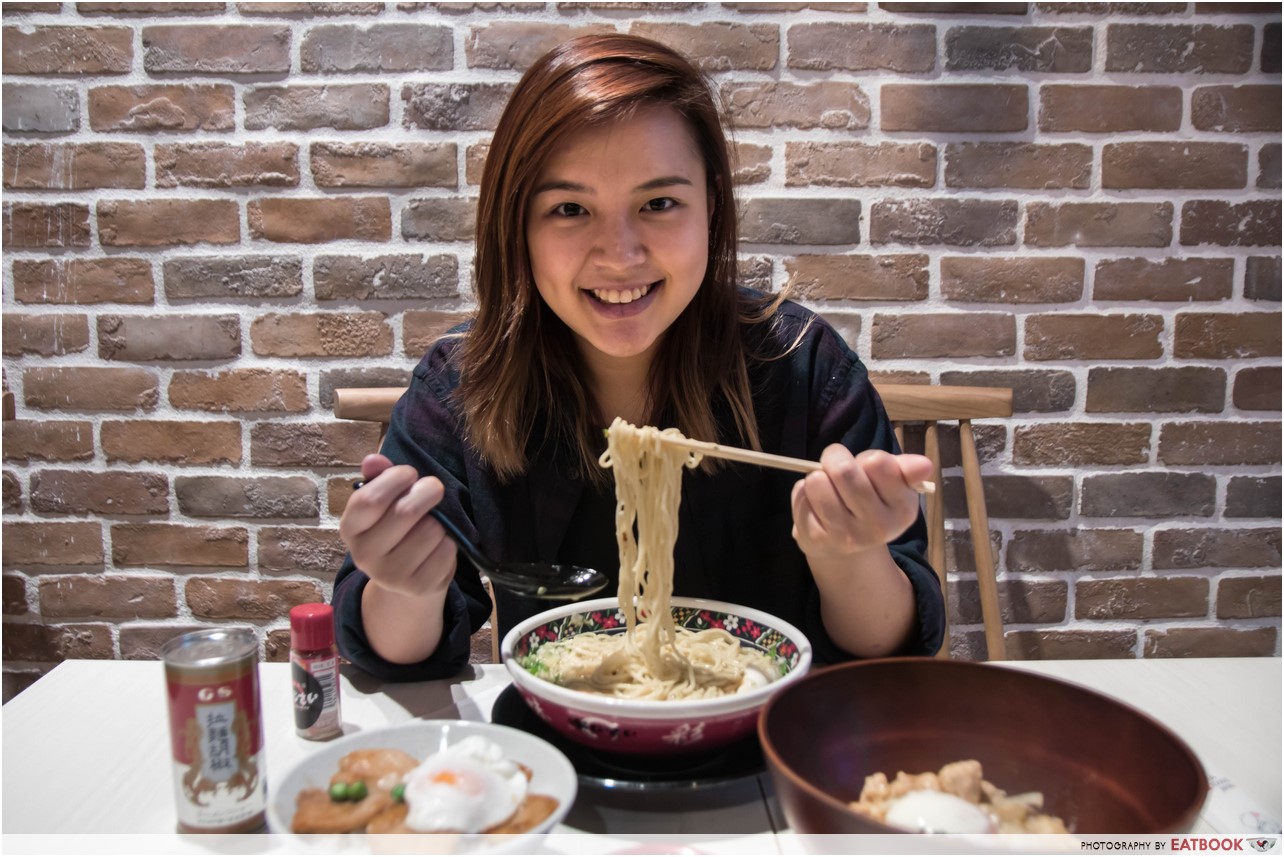 On a whole, I feel that Hokkaido Marche could offer much more. While there was a variety of Japanese dishes offered, two out of the three dishes we tried weren't outstanding. They could definitely be more generous with their portions as well. For more value-for-money Japanese food, check out our list of affordable donburi places and review on Don & Udon, a stall that sells Japanese food priced at $7 and less!
Address: 181 Orchard Road, B2, Don Don Donki, Orchard Central, Singapore 238896
Opening hours: Daily 11am to 11pm
Hokkaido Marche is not a halal eatery.
This is an independent review by Eatbook.sg.
Summary
Pros:
– Ramen was served in a huge portion
– Buta Don was tasty
– Convenient location
Cons:
– Special Oyako Don was bland
– Portions of theButa Don and Special Oyako Don can be improved
Recommended dishes: Buta Don ($9.90)
Operating hours: Daily 11am to 11pm
Address: 181 Orchard Road, B2, Don Don Donki, Orchard Central, Singapore 238896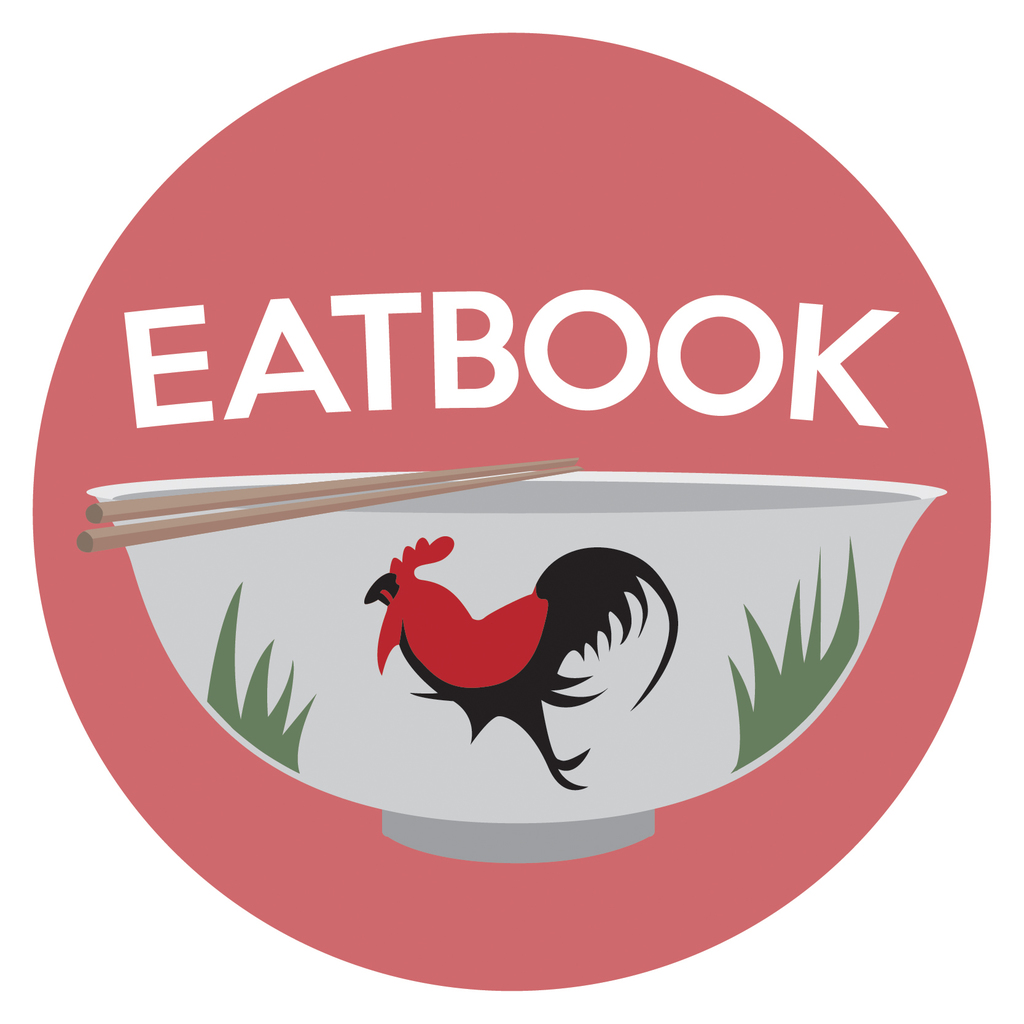 Drop us your email so you won't miss the latest news.