---
Affordable donburi, be happy
---
Donburi is fast becoming one of my favourite go-to options for lunch, and for good reason. The simple pairing of marinated meat over a bed of steaming rice is comforting and satisfying. The endless combinations of different meats and sauces on varying textures of rice mean eating them never gets old, and I'm drawn into the donburi hype a little more each time. I'm always on the lookout for a new place to try, so here is a list of donburi that cost $12 or less, for your own donburi-hopping adventure.
---
1. The Burning Oak
---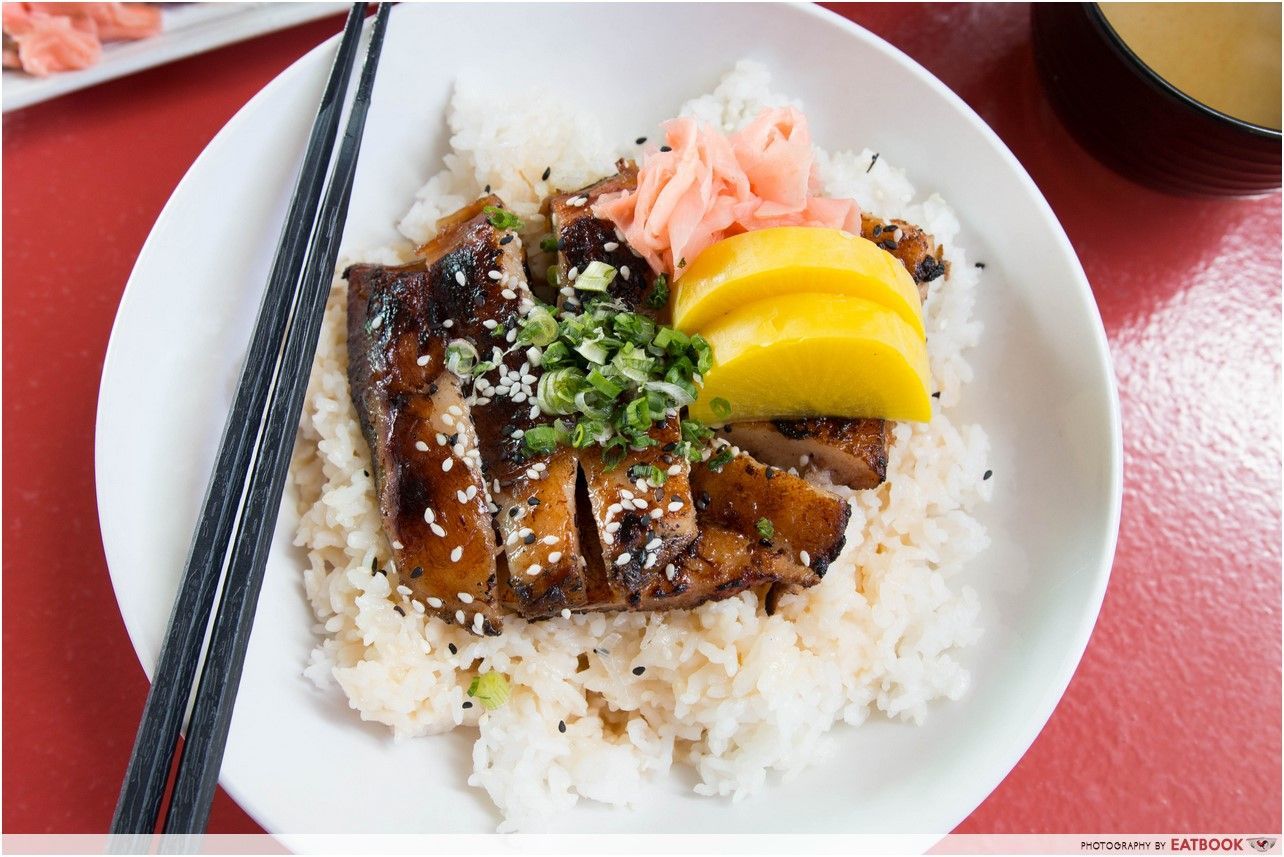 The Burning Oak's Pork Cheek Don ($12) wow-ed me on my first bite. The pork here is incredibly juicy and rich, with a good fat-to-meat ratio so it bursts with flavour on your tongue without being greasy. Some caramelisation creates crackling on each piece. The portion is generous and could probably feed two small eaters.
Read our full review of The Burning Oak.
Address: 348 Bedok Road, #02-16, The Bedok Marketplace, Singapore 469560
Opening hours: Tue-Thur 12pm to 1:30pm, 6pm to 9:30pm, Fri-Sat 12pm to 1:30pm, 6pm to 10pm, Sunday 6pm to 10pm
Tel: 9873 6093
Website
---
2. Bazuka Yakibuta
---
Bazuka Yakibuta takes char siew rice and roast pork belly rice up a notch with their Caramel & Crackling Roast Pork Combination Donburi ($9.80). The char siew stands out among the two with its sweet, caramelised coating, crispy charred bits, and it falls apart with hardly any resistance. If you've picked a favourite, you can also enjoy Caramel Roast Pork Donburi ($7.80) and Crackling Roast Pork Donburi ($7.80) on their own. Adding an onsen egg (+$1) and stirring the flowy yolk into the Japanese rice with Bazuka Yakibuta's fragrant house-made shallot chilli completes the donburi.
Address: 1 Kim Seng Promenade, #B1-12A, Great World City, Singapore 237994
Opening hours: Daily 11am to 8pm
Tel: 6735 1398
Website
Full list of outlets
---
3. Japanese Curry Express
---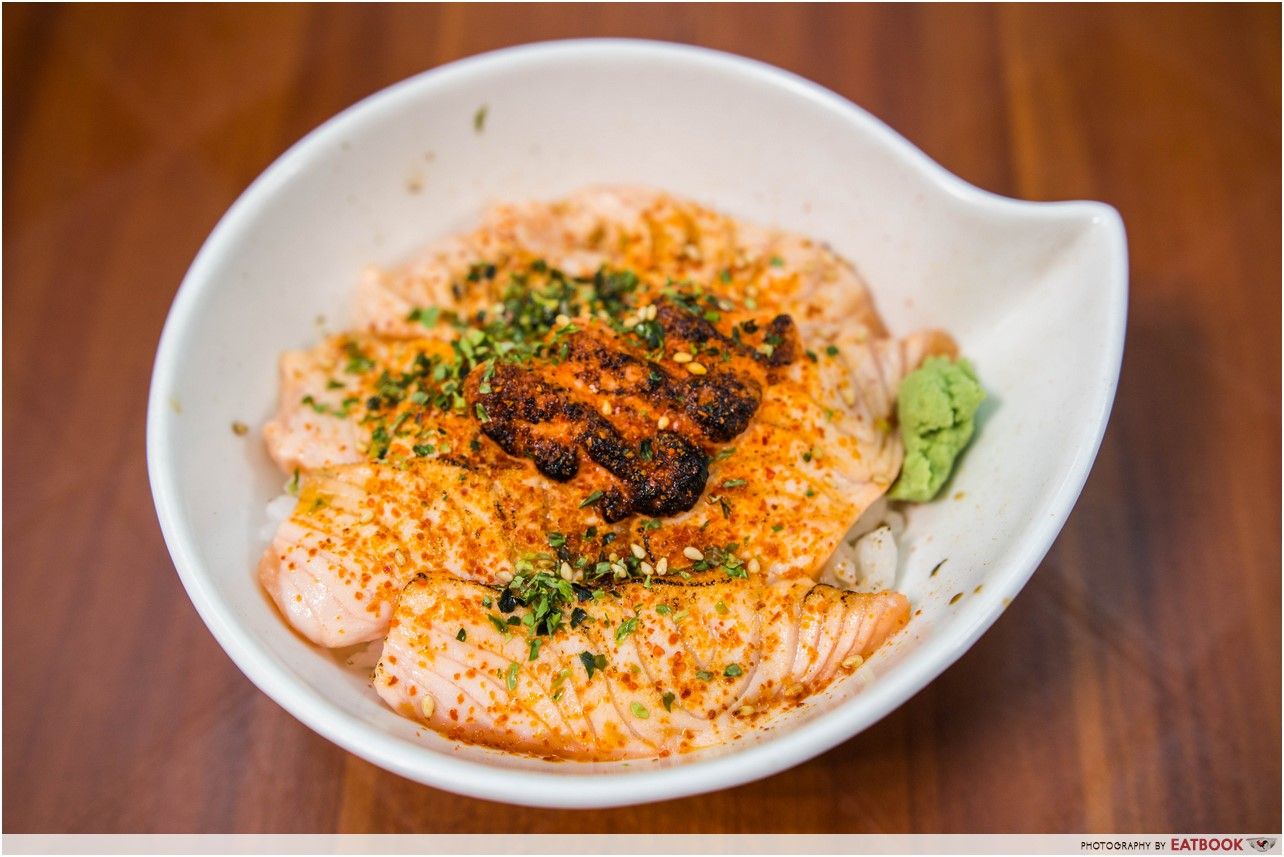 Hidden in Fortune Centre is Japanese Curry Express. Go for Salmon Mentai Don ($10/$13), which has slices of torched salmon with a touch of mentaiko mayo. The chewy vinegar rice, dotted with seaweed flakes, sesame seeds and chilli flakes, is good enough to be polished off on its own – that's how you know it's a good donburi.
Check out our full review of Japanese Curry Express.
Address: 190 Middle Road, #03-04, Fortune Centre, Singapore 188979
Opening hours: Mon-Sat 11:30am to 3pm, 4:30pm to 8:30pm
Tel: 9689 6314
Website
---
4. Kazan Japanese Cuisine
---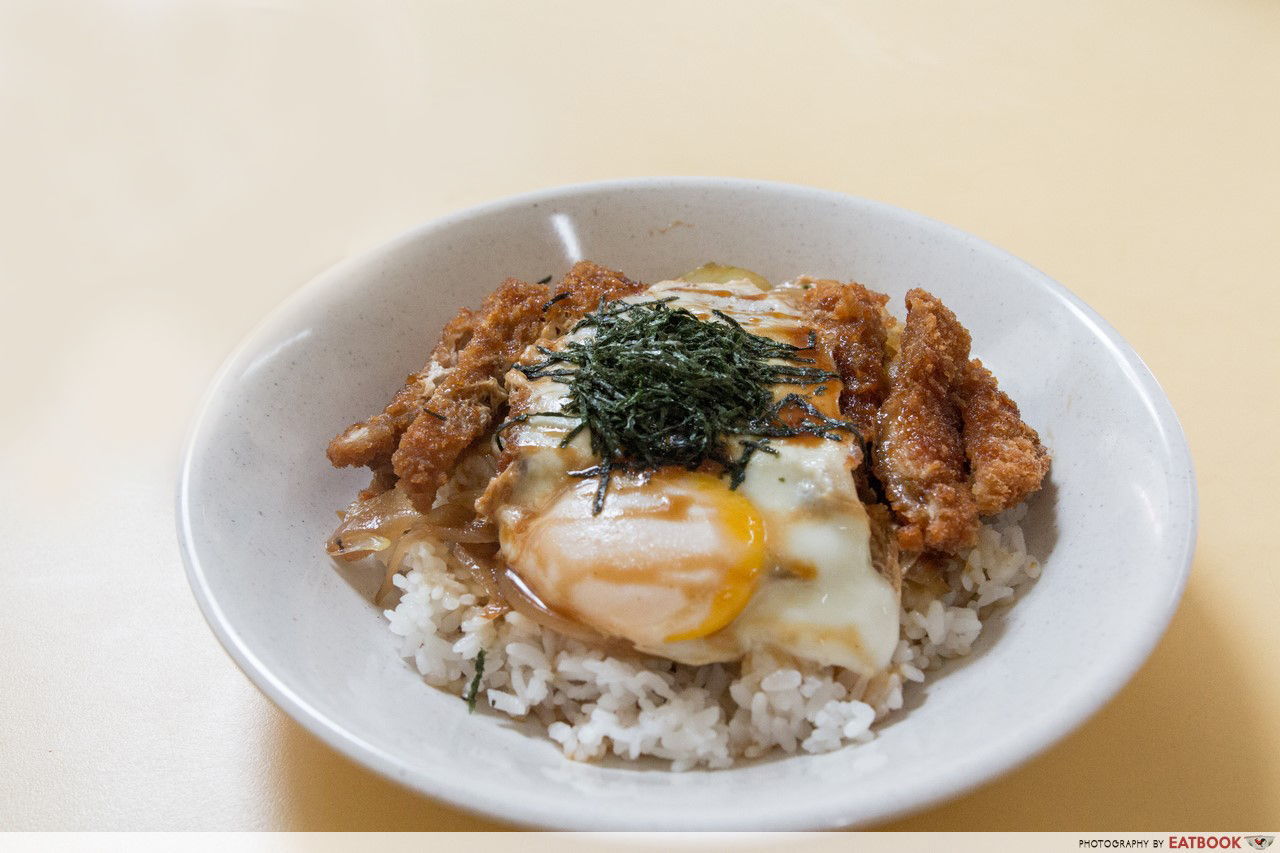 Kazan Japanese Cuisine is the epitome of good, affordable food, with nothing on their menu over $8. You can choose between chicken or pork katsu to go with your Oyako Don ($5). We'd go for the latter, which has tender meat coated in a dense, crunchy batter. For a bento option, don't miss Katsuo Boshi Chicken Set ($5.50). It blends creamy mayo, sweet teriyaki sauce, and umami bonito flakes together in the most addictive way.
Check out our full review of Kazan Japanese Cuisine.
Address: 335 Smith Street, #02-001, Chinatown Complex Market & Food Centre, Singapore 081006
Opening hours: Mon-Fri 12pm to 8:30pm, Sun 12pm to 6:30pm
Tel: 8455 5229
---
5. Koh Grill & Sushi Bar

---
Besides Insta-famous maki rolls, Koh Grill and Sushi Bar also serves affordable donburi such as this Ten Don ($10.90++). It is one of the most affordable tendon around and comes with a tempura poached egg with lava yolk, along with the usual suspects such as tempura prawns and assorted tempura vegetables. There's also a vegetarian option – Kakiage Don ($8.90++) – with shredded carrot, eggplant, and mushroom fried in a light batter.
Find out where else to get delicious maki rolls in Singapore.
Address: 435 Orchard Road, #04-21, Wisma Atria Shopping Centre, Singapore 238877
Opening hours: Daily 11:30am to 10pm
Tel: 9180 3805 (SMS for reservations)
---
6. Kushiya
---
Kushiya serves donburi and freshly grilled Japanese-style skewers from a little kiosk in Westgate. Their speciality is Pork Belly Don ($8.90), which is served with a generous portion of smoky, aromatic roast pork, half a hanjuku egg, and a spoonful of kimchi. Pair your donburi with skewers such as Beef Ribeye Kushiyaki ($2.60) or Chicken Leg with Scallion ($2.60). Be prepared to wait because each order is grilled over charcoal upon order, but the flavourful charred bits will be worth it.
Address: 3 Gateway Drive, #B2-K4, Westgate, Singapore 608532
Opening hours: Daily 11am to 10pm
Tel: 9067 3489
Website
---
7. Takumi by Sushiro

---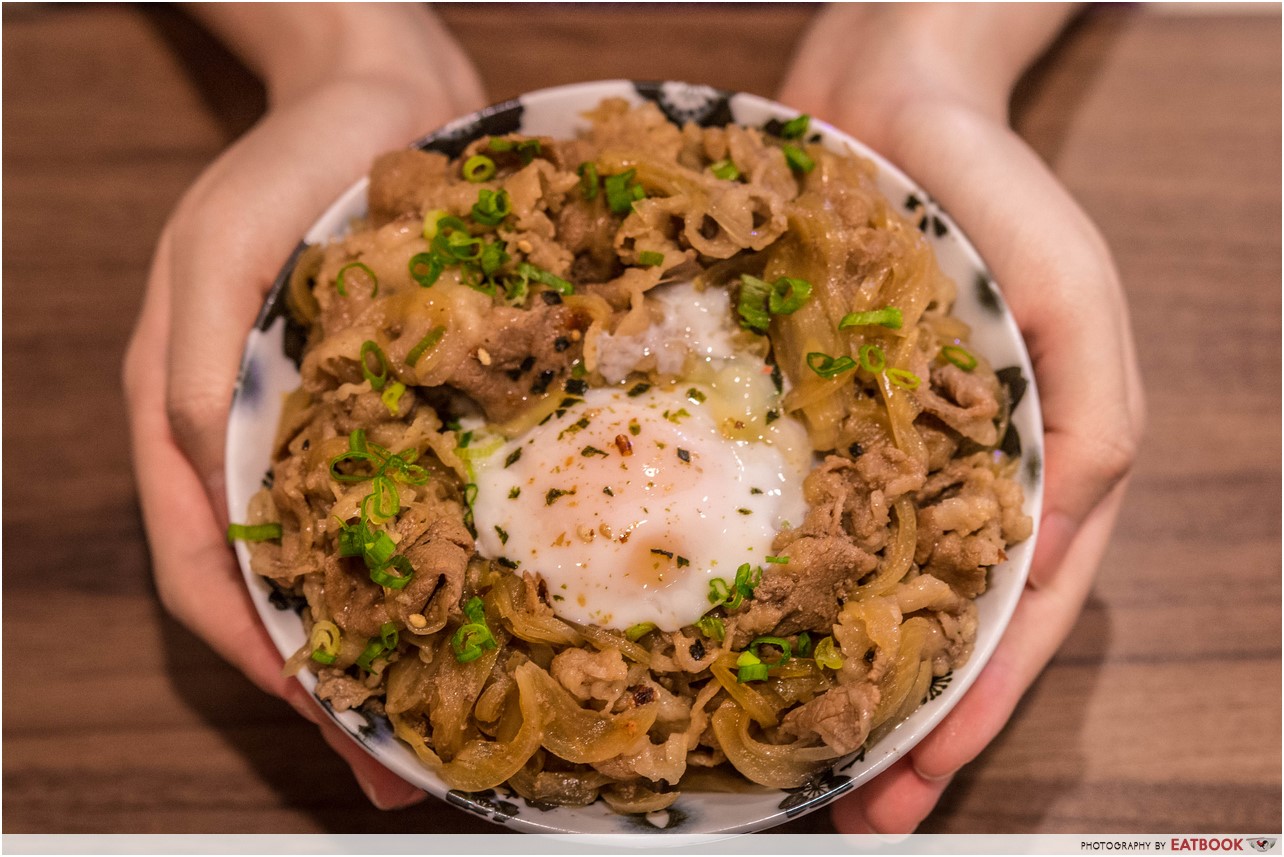 Takumi by Sushiro holds its own against its popular sister restaurant Sushiro. The most affordable item on their menu is Tokyo Gyuniku Don ($12), which has extra thin slices of beef simmered with onions, and an onsen egg over Japanese rice. The meat has the mildly sweet taste of its accompanying sauce, which dissipates into the savoury, meaty flavour of beef. Other items we love on their menu are Unatama Don ($15) and Salmon Mentaiyaki Don ($13), and the latter is a must-order if it's on the daily special menu when you visit.
Read our full review of Takumi by Sushiro.
Address: 301 Upper Thomson Road, #01-113F, Thomson Plaza, Singapore 574408
Opening hours: Tue-Sun 11:45am to 2:15pm, 5:45pm to 9:15pm
Tel: 9450 1020
---
8. Katanashi

---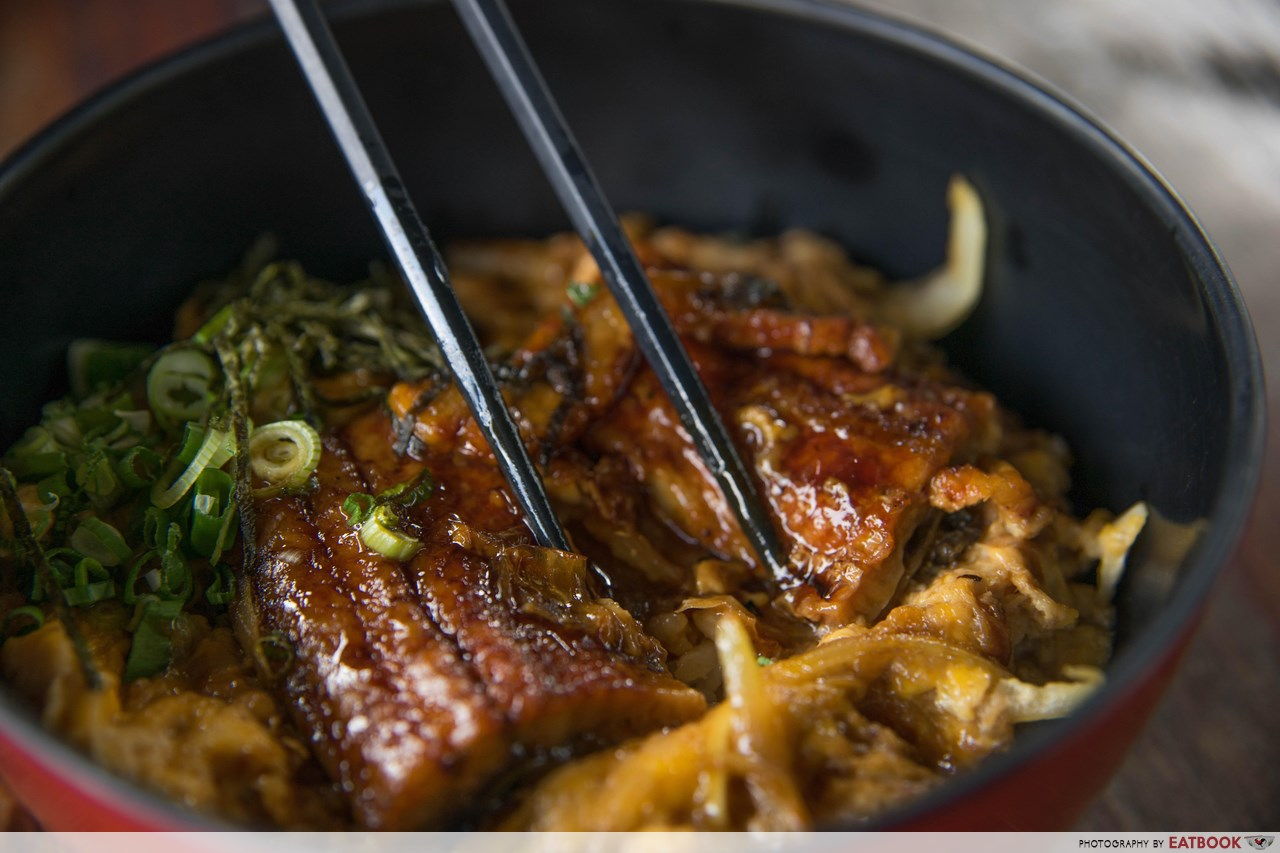 In the madness that is the CBD lunch crowd, Katanashi is a sanctuary. From 12pm to 2:30pm, $12 will get you a donburi, chawanmushi, and a bowl of miso soup at a serene space along Boat Quay. The unagi in Unatama-Don ($12) is fresh and coated in unagi sauce that enhances without overwhelming the taste of the meat. My favourite is Chicken Teritama-Don ($12) because the crispy batter coating juicy chunks of chicken contrasts nicely with chewy short-grain rice. Drizzles of Japanese mayo and teriyaki sauce jazzes up the dish.
Check out our full review of Katanashi.
Address: 77 Boat Quay, Singapore 049865
Opening hours: Mon-Fri 11:45am to 2:30pm, 5pm to 11:30pm, Sat 5pm to 11:30pm
Tel: 6533 0490
Website
---
9. Chalong
---
Chalong takes pride in their simple menu of three types of donburi. A bite of 18hr Sous-Vide Iberico Jowl ($12) gives you crusty skin, sweet meat, and bits of chewy fat with the fragrance of lemongrass from their Thai-inspired marinade. Spicy food lovers must top their bowl with Chalong's chilli sauce, which has a strong kick to it and zingy flavours from spices mixed in. It is served with a mi-cuit (half-cooked) egg with a flowy, creamy yolk. Give yourself a mid-week treat with Grass Fed Black Angus Sirloin ($14), which features tender steak slices with a touch of red wine sauce.
Address: 7 Wallich Street, #B2-21, Tanjong Pagar Centre, Singapore 078884
Opening hours: Mon-Fri 11:30am to 2pm, 5:30pm to 7:30pm
Website
Menu
---
10. Ho-Jiak
---
Head to Ho-Jiak for Japanese curry don with a variety of meat, such as Beef Knuckle Shabu ($9.90), which has a robust savoury flavour that brings a new layer to sweet Japanese curry. Other favourites are Chicken Karaage ($8.90) topped liberally with creamy Japanese mayo, as well as Oven-baked Chicken Leg ($7.90).
Address: 80 Anson Road, #02-01, Fuji Xerox Tower, Singapore 079907
Opening hours: Mon-Fri 10am to 6pm
Tel: 9298 2896
Website
---
These affordable donburi be bowl-lin'
---
I'm counting on these affordable options to sustain my donburi addiction. Have you had a bowl that impressed you? Let us know in the comments below.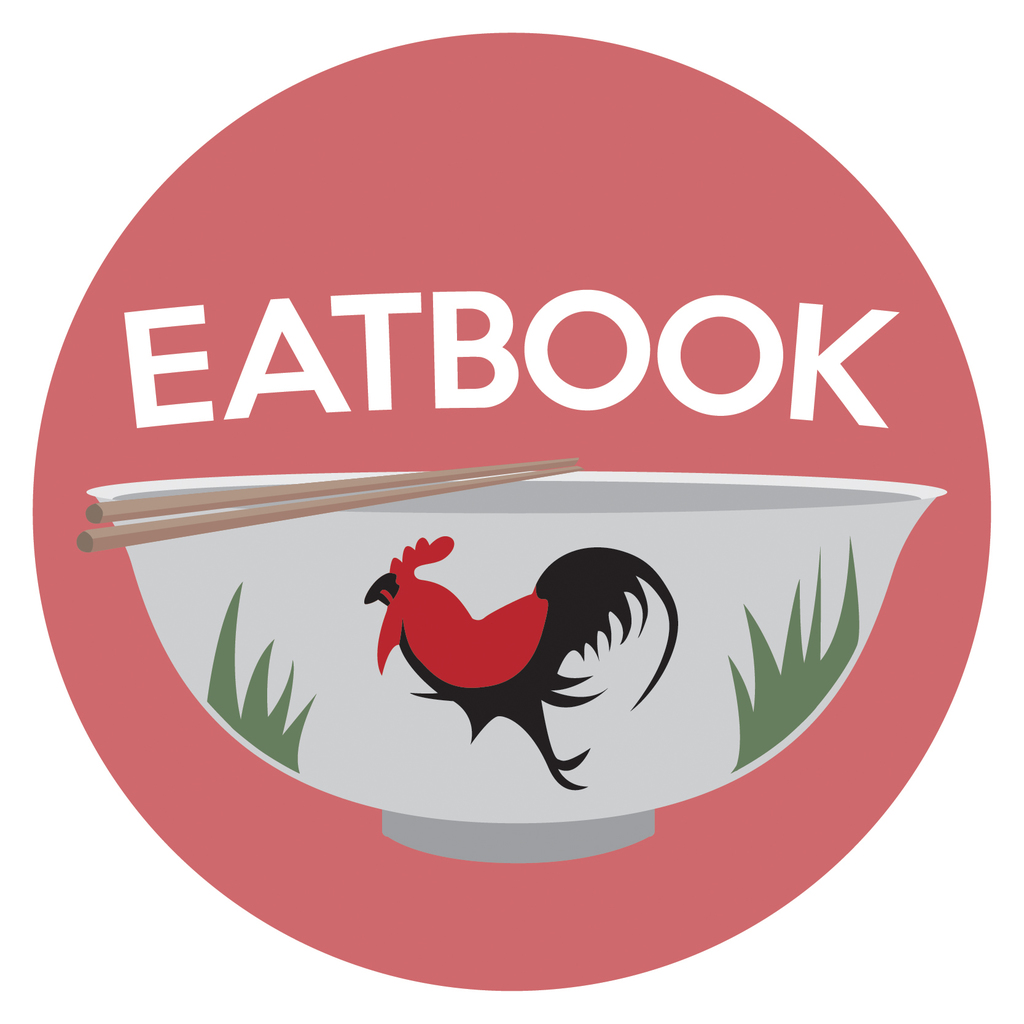 Drop us your email so you won't miss the latest news.