Kazan Japanese Cuisine is a hidden gem at Chinatown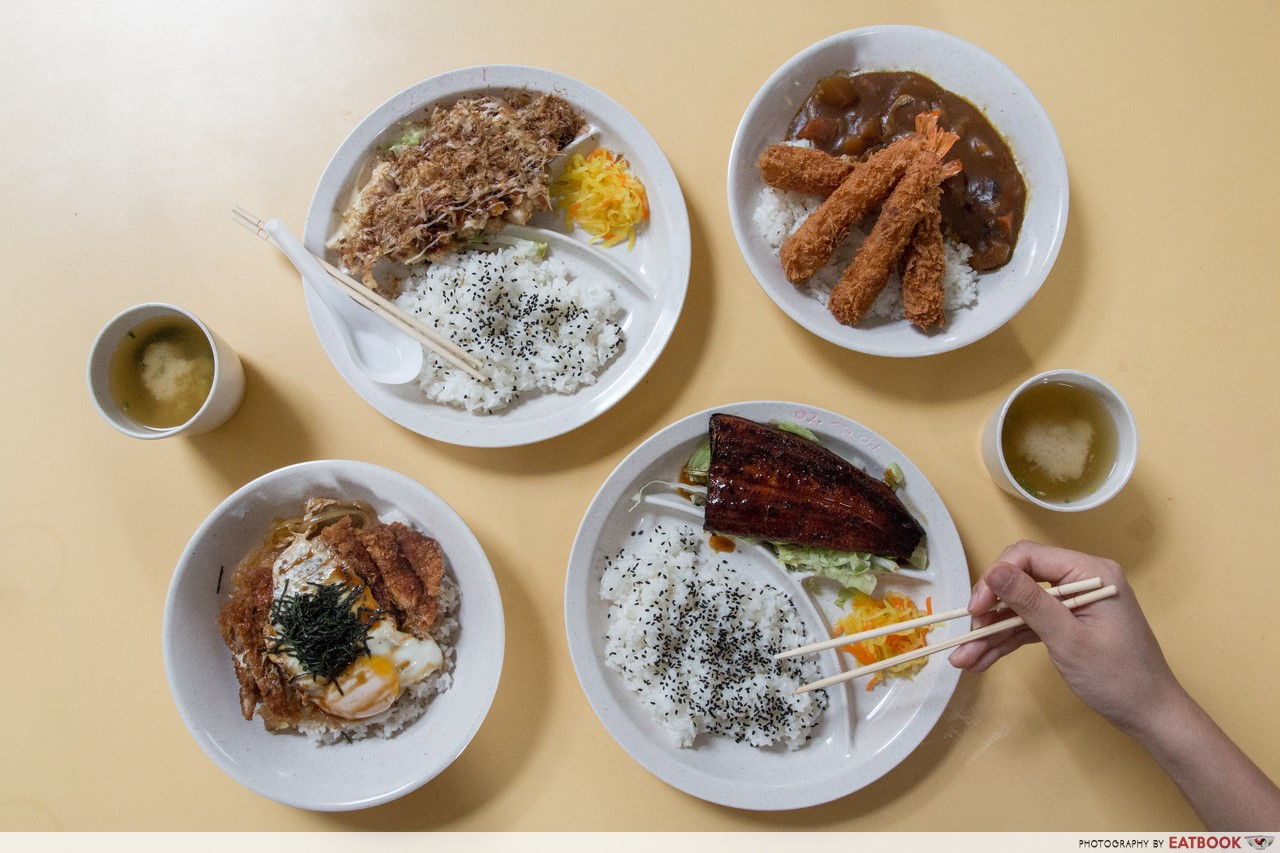 We all know of at least one overachiever. These unicorns effortlessly excel at work, are able to charm everyone in the office – even the receptionist – and all the while manage to keep a social life.
Kazan Japanese Cuisine is like that, if there were such a title for hawker stalls. With good food, generous portions, and affordable prices, you can hardly ask for more.
Food at Kazan Japanese Cuisine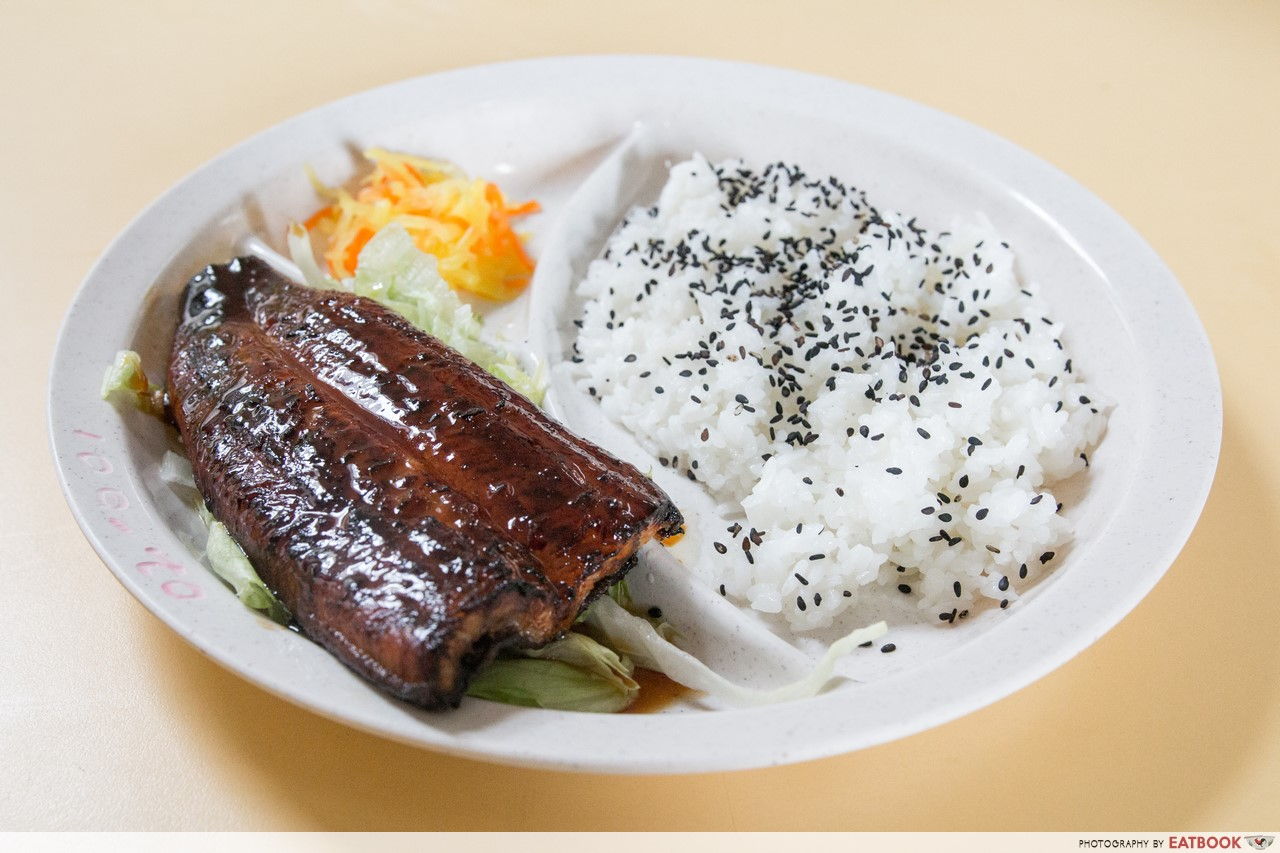 We knew we had to order an Unagi Set ($8) when we saw it – unagi at this price is too good a steal, and the aunties in us can't resist a bargain. A slice of unagi glistening with a coat of unagi sauce was laid across some shredded iceberg lettuce, and a bowl of miso soup was included in the set.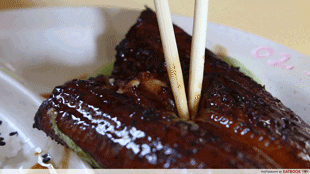 The slice of unagi was thick and fleshy, and we liked that it was grilled until its skin was slightly crisp.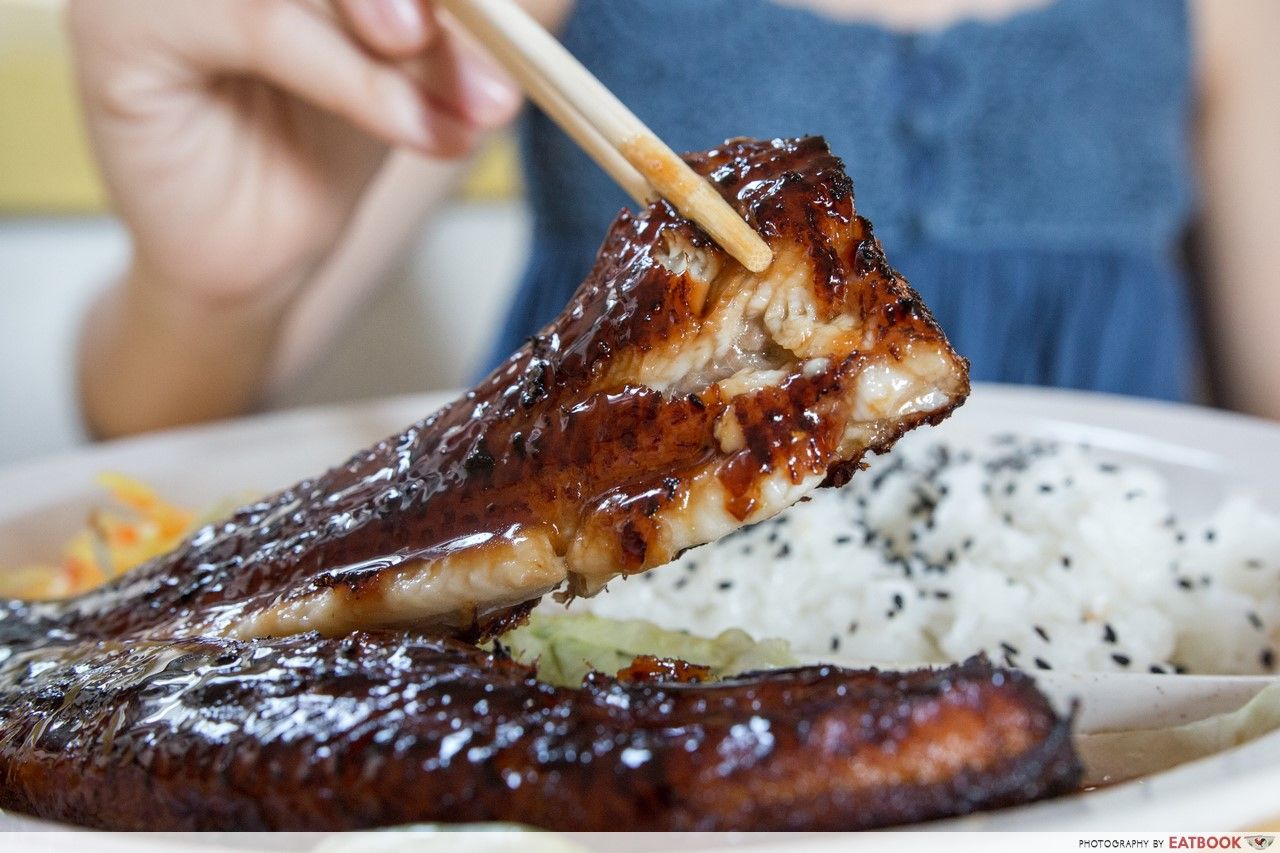 The eel had a somewhat mushy texture, but at this price there's really no complaining – this set satisfies both the tummy and the wallet. Kazan uses sticky short-grain rice like most Japanese food stalls.  A sprinkling of black sesame seeds over the rice imparts a subtle fragrance and adds texture to each spoonful.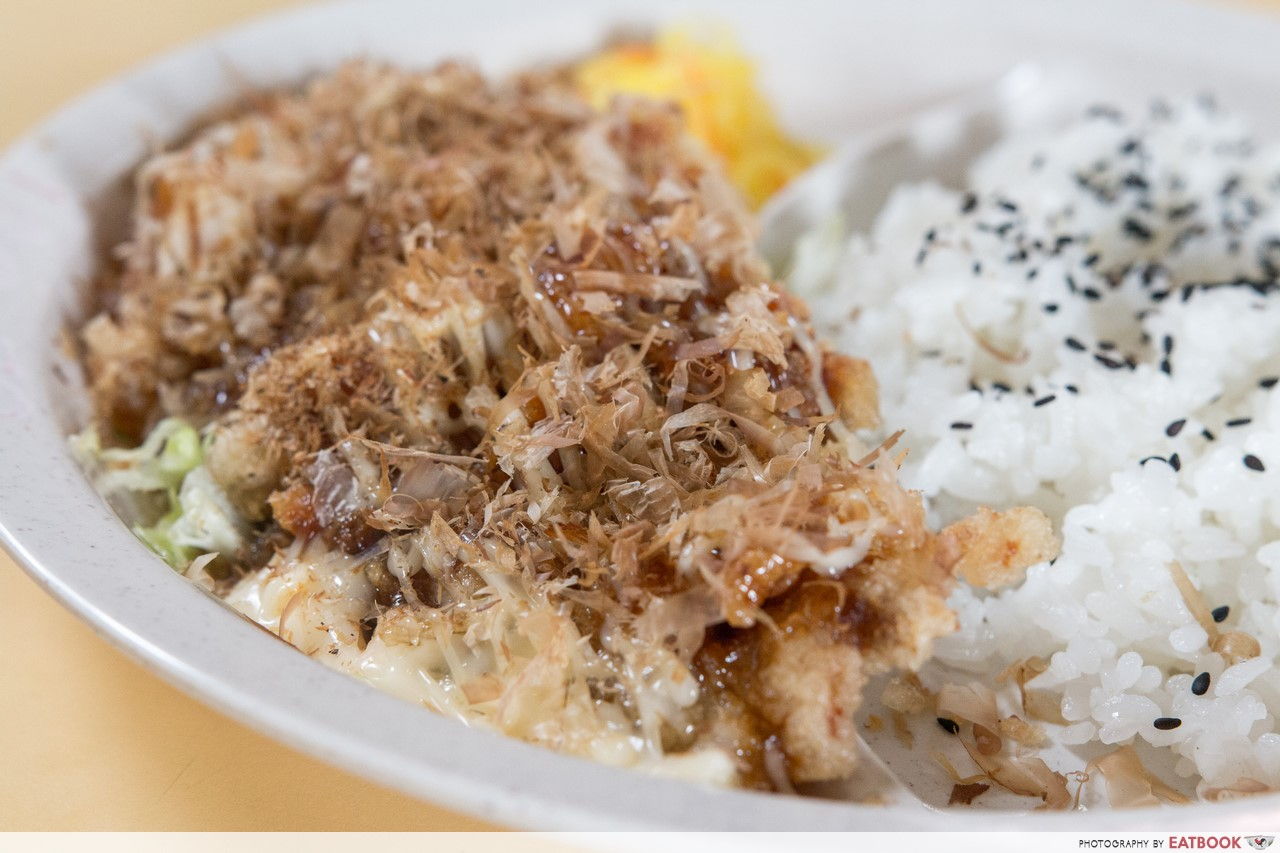 The chef recommended Katsuo Boshi Chicken Set ($5.50), which is basically Kazan's popular Chicken Teriyaki Set ($5) but better. It is made up of chicken cutlet covered in teriyaki sauce and a drizzle of mayonnaise, with bonito flakes over the top. This set was also accompanied by miso soup.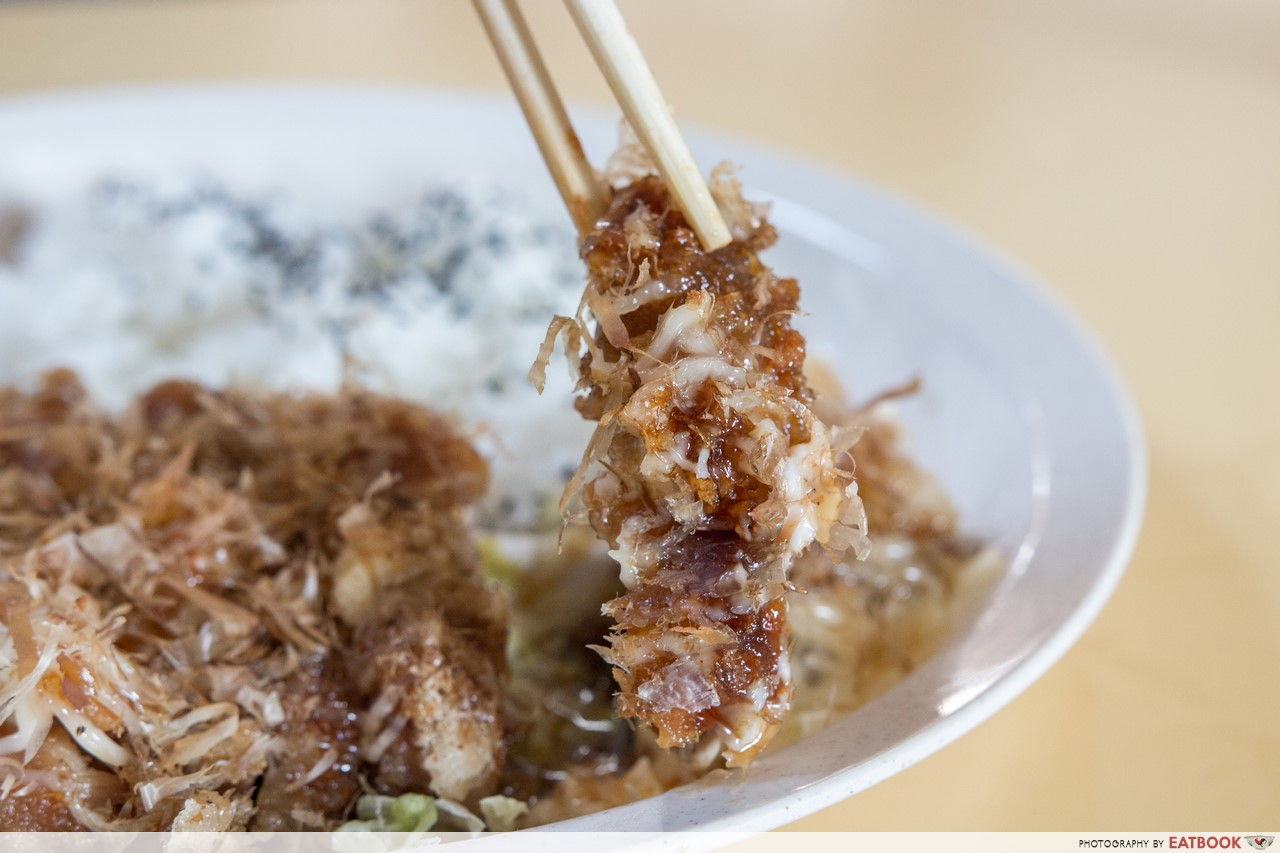 I'd willingly pay $0.50 more for Katsuo Boshi Chicken every single time. The tastes and textures were so well balanced that I had to constantly remind myself to savour the chicken slowly, lest I am left with plain white rice at the end of my meal.
Creamy mayo enhanced the sweet teriyaki sauce, and an umami touch from bonito flakes completed the combination of flavours. The airy, crispy batter coating the chicken provided an interesting contrast to the light, feathery mouthfeel of bonito flakes.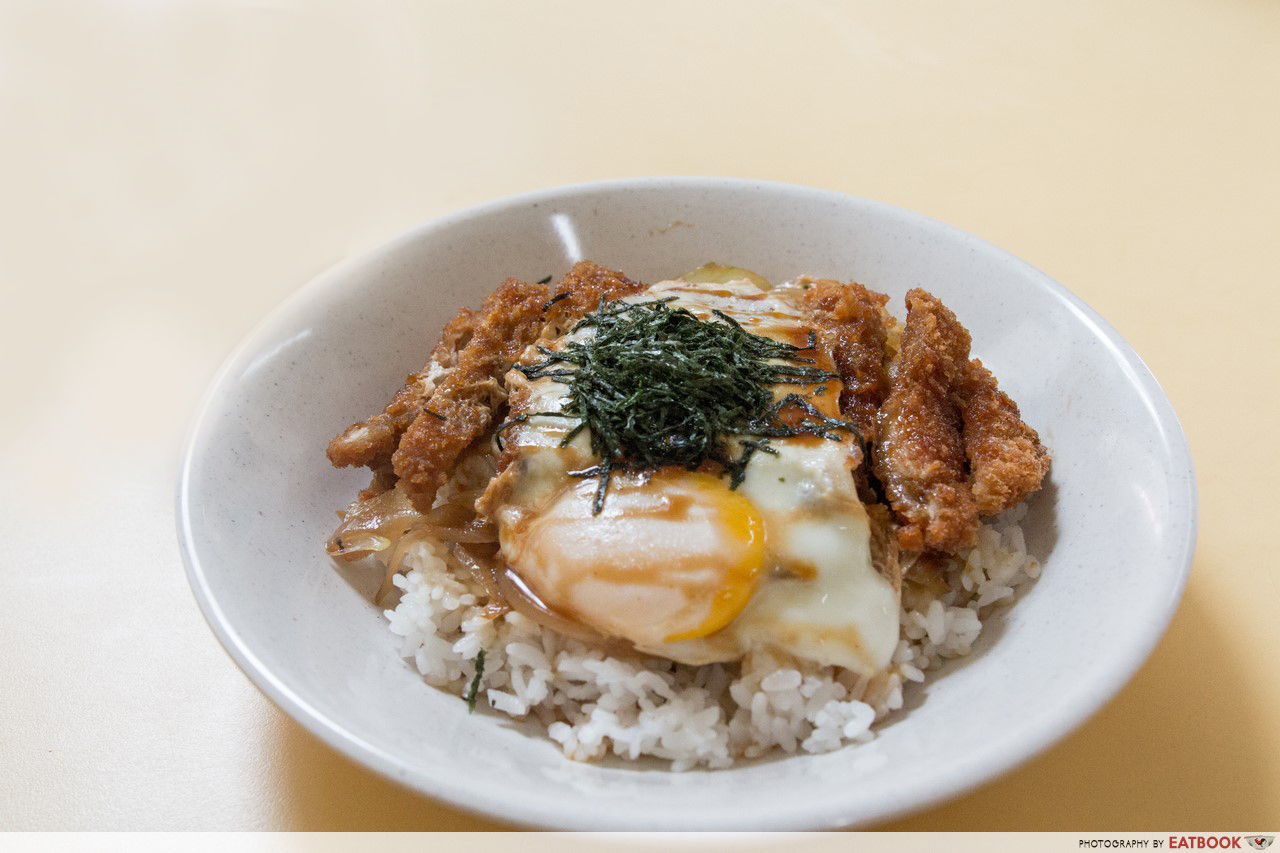 We dug into Oyako Don ($5) next. You'll get a choice between chicken or pork katsu, and we went with the latter. A sunny side up was draped over a pretty large portion of breaded pork cutlet, which rested on a bed of caramelised onions and rice.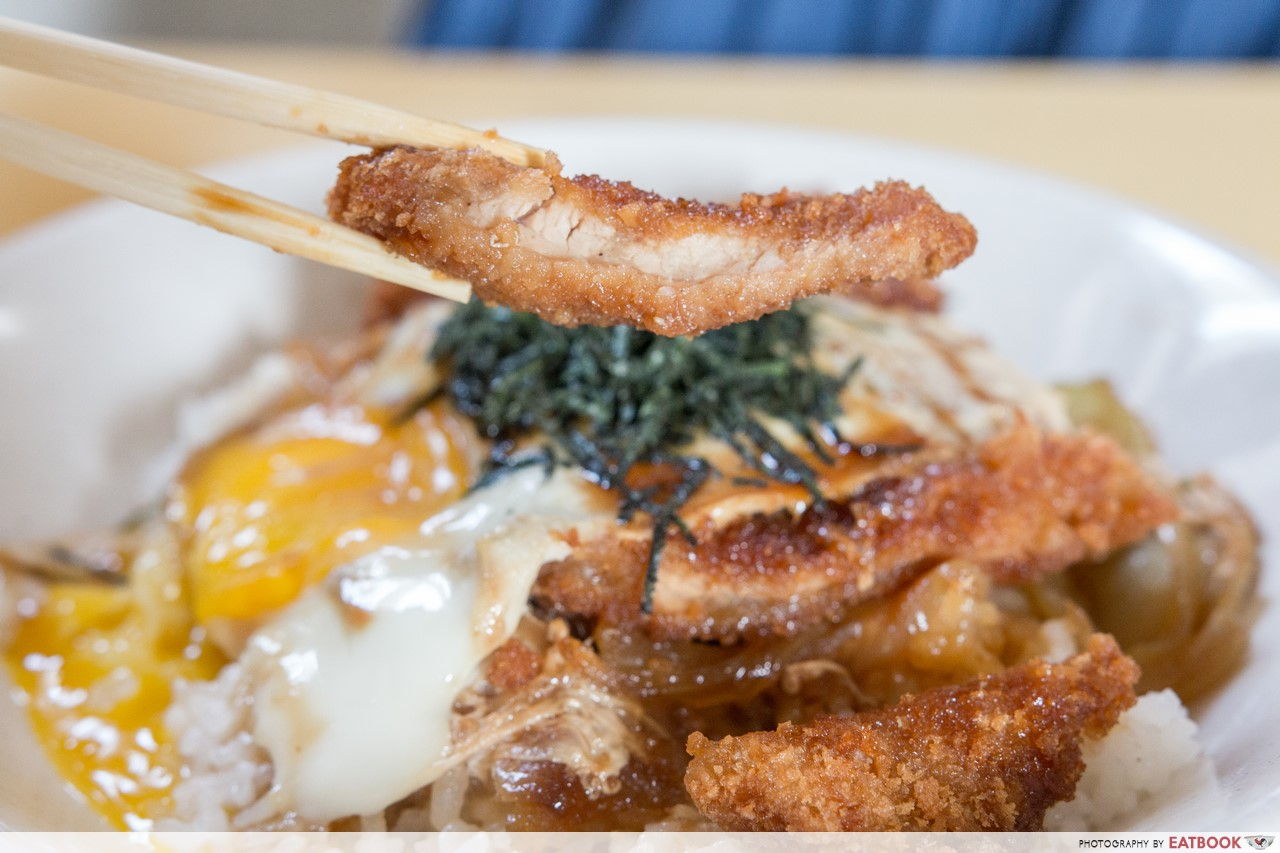 The breading on the pork cutlet was denser than that of the chicken we had. It was well-fried, achieving a crunchy exterior while retaining the tenderness of the meat.  
Get your cameras ready for a #foodporn-worthy shot from this runny egg. The sauce spooned over the rice was mildly sweet, tempered by savouriness from its dashi stock.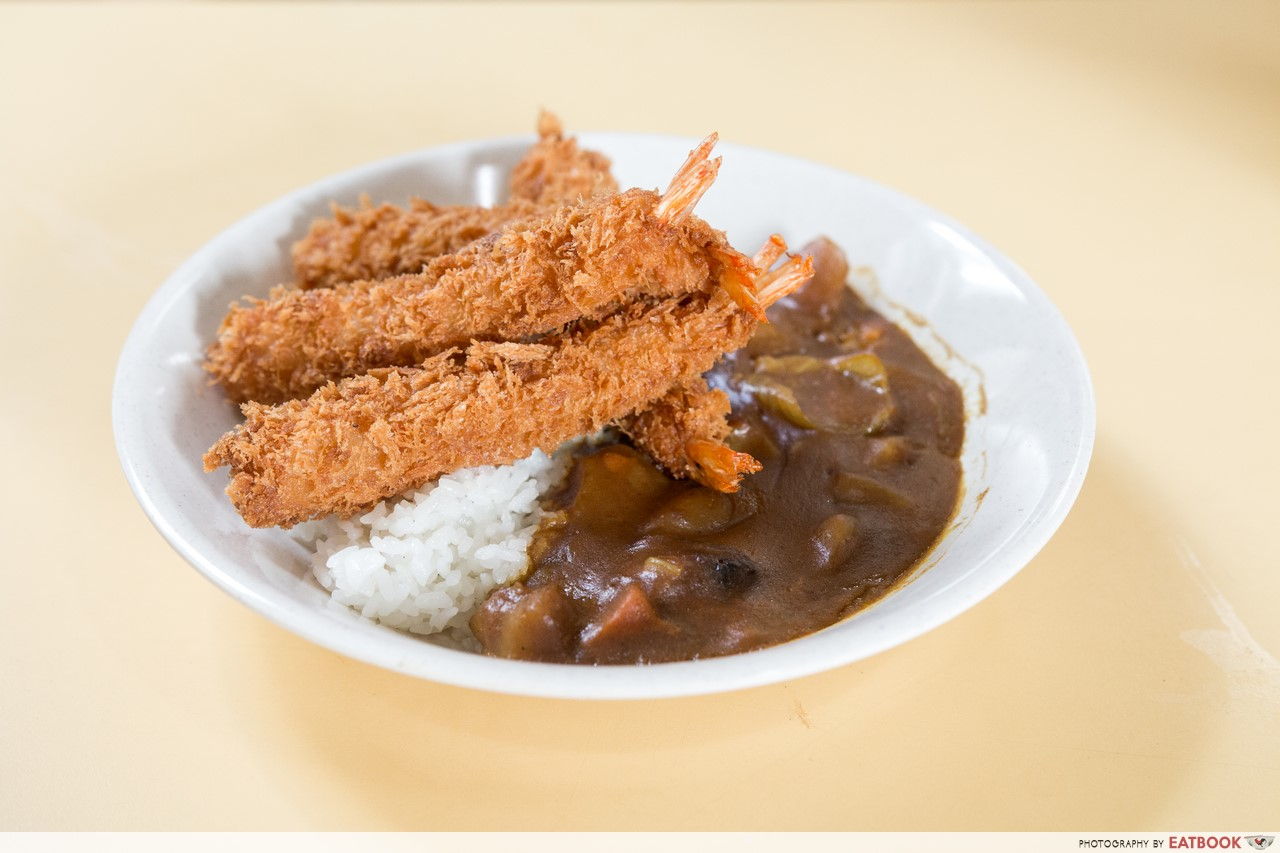 Our final order was Ebi Curry ($5.50), which came with four large prawns.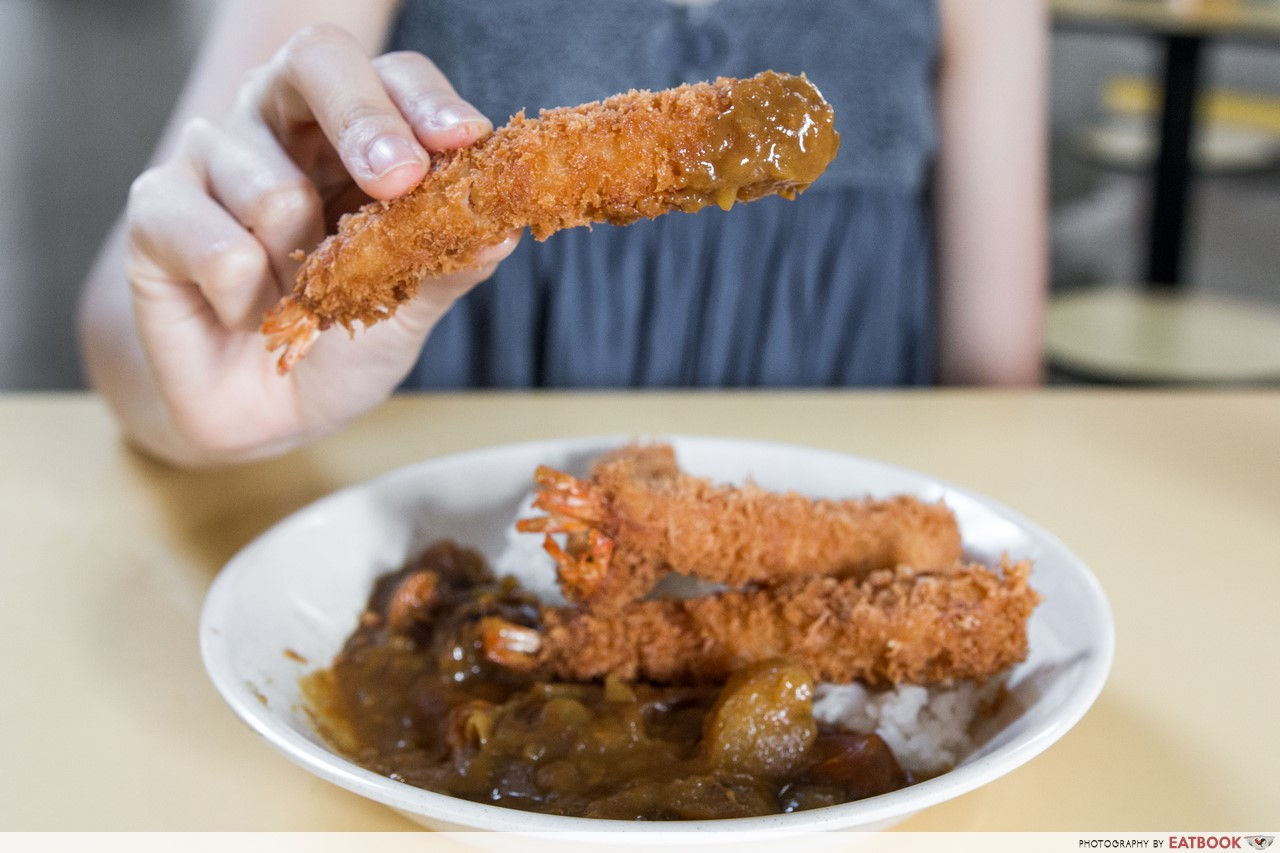 Instead of a flour-based batter typically used when preparing tempura, the prawns were coated in panko (Japanese-style bread crumbs), resulting in a light and flaky coating that was not greasy.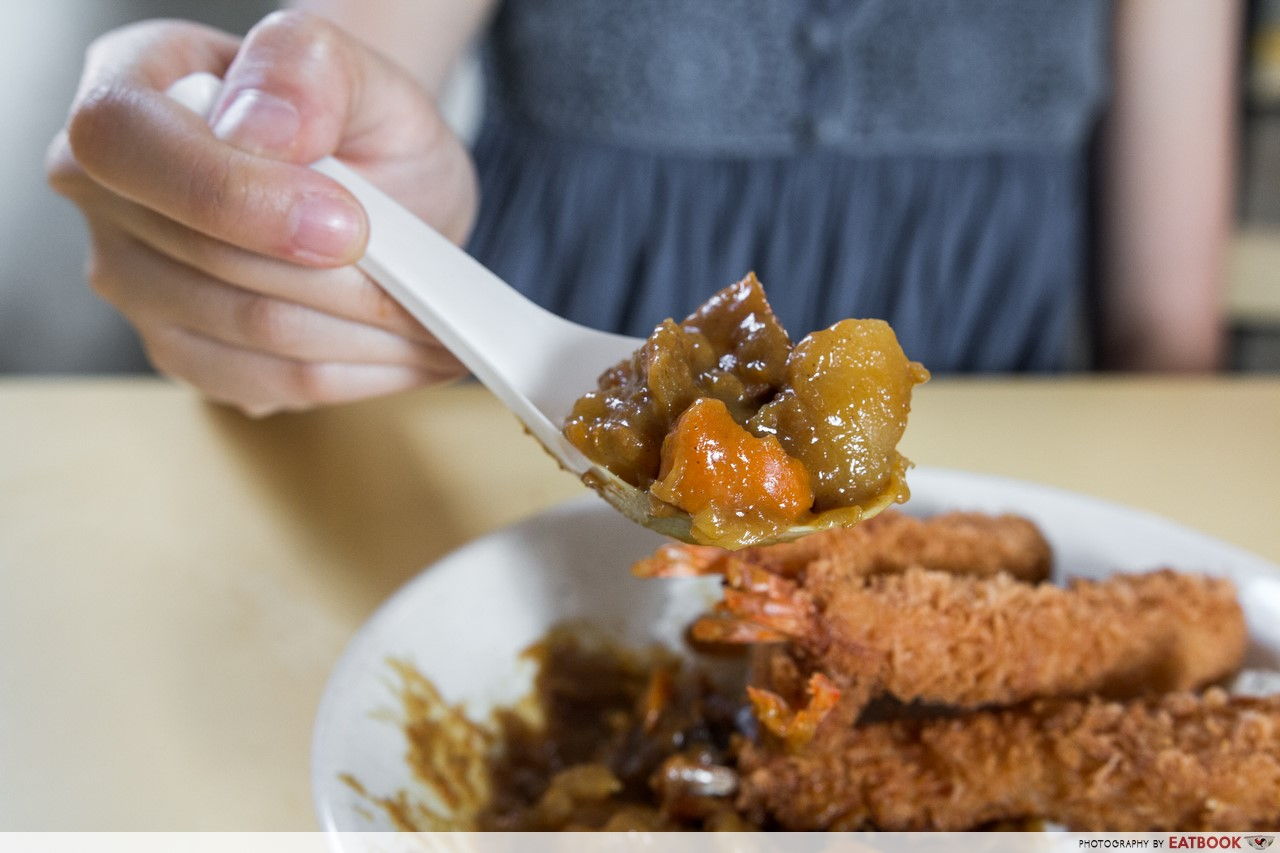 The Japanese curry was thick and came with a big serving of potatoes and carrots. It was decent but a little too sweet for our liking. We'd go for other options on the menu though the ebi deserved a shout-out.
Ambience at Kazan Japanese Cuisine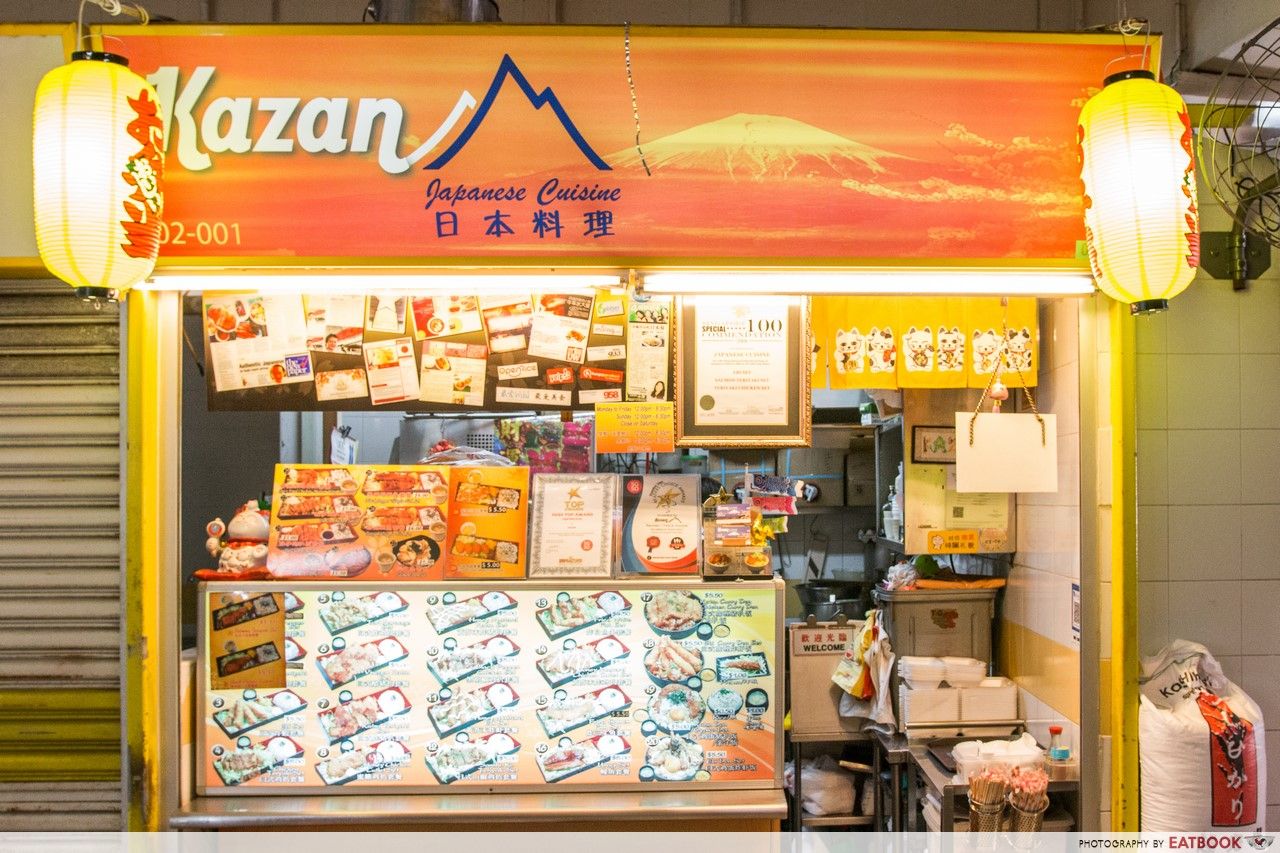 It's worth it to seek out Kazan from the huge array of stalls in Chinatown Complex Food Centre. There may be a lunch crowd but service is quick so you won't have to queue for too long. If you're worried about the hawker centre being too hot and humid, don't fret because Kazan is located at a corner of the food centre and tables near to the store are relatively well-ventilated.
The verdict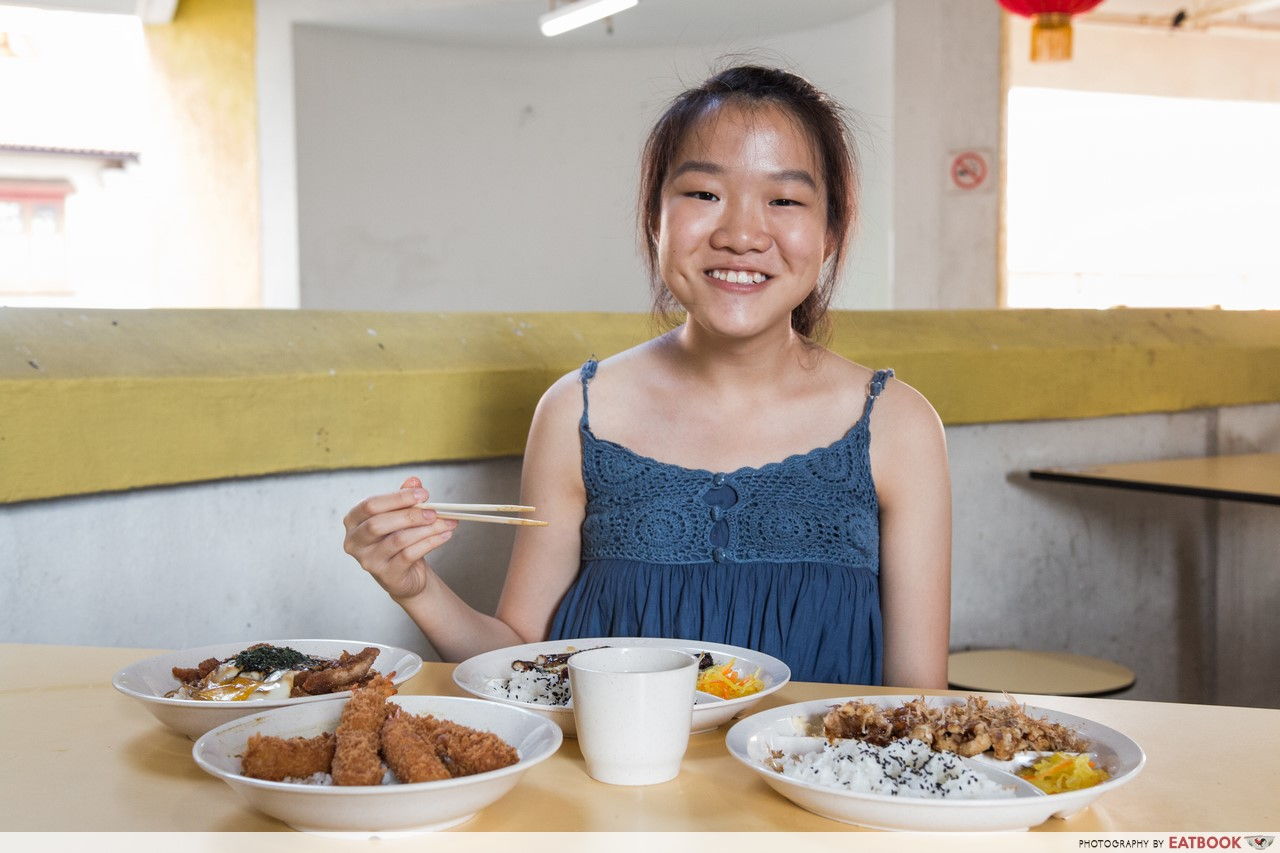 Kazan Japanese Cuisine is a real gem. They serve good food in generous portions and prices are wallet-friendly. They don't offer more atas options like sashimi or wagyu, most of the menu is based around agemono (deep-fried dishes) and some grilled options, but I'd still visit Kazan over other Japanese eateries when I'm in the area.
This is an independent review by Eatbook.sg.
Summary
Pros
– Affordable
– Generous portions
– Convenient location
Cons
– Menu features mainly deep-fried dishes
Recommended Dishes: Katsuo Boshi Chicken Set ($5.50), Unagi Set ($8), Oyako Don ($5)
Operating Hours:
Monday – Friday: 12pm to 8:30pm
Sunday: 12pm to 6:30pm
Tel:
8455 5229
Address: 335 Smith Street, #02-001, Chinatown Complex Market & Food Centre, Singapore 050335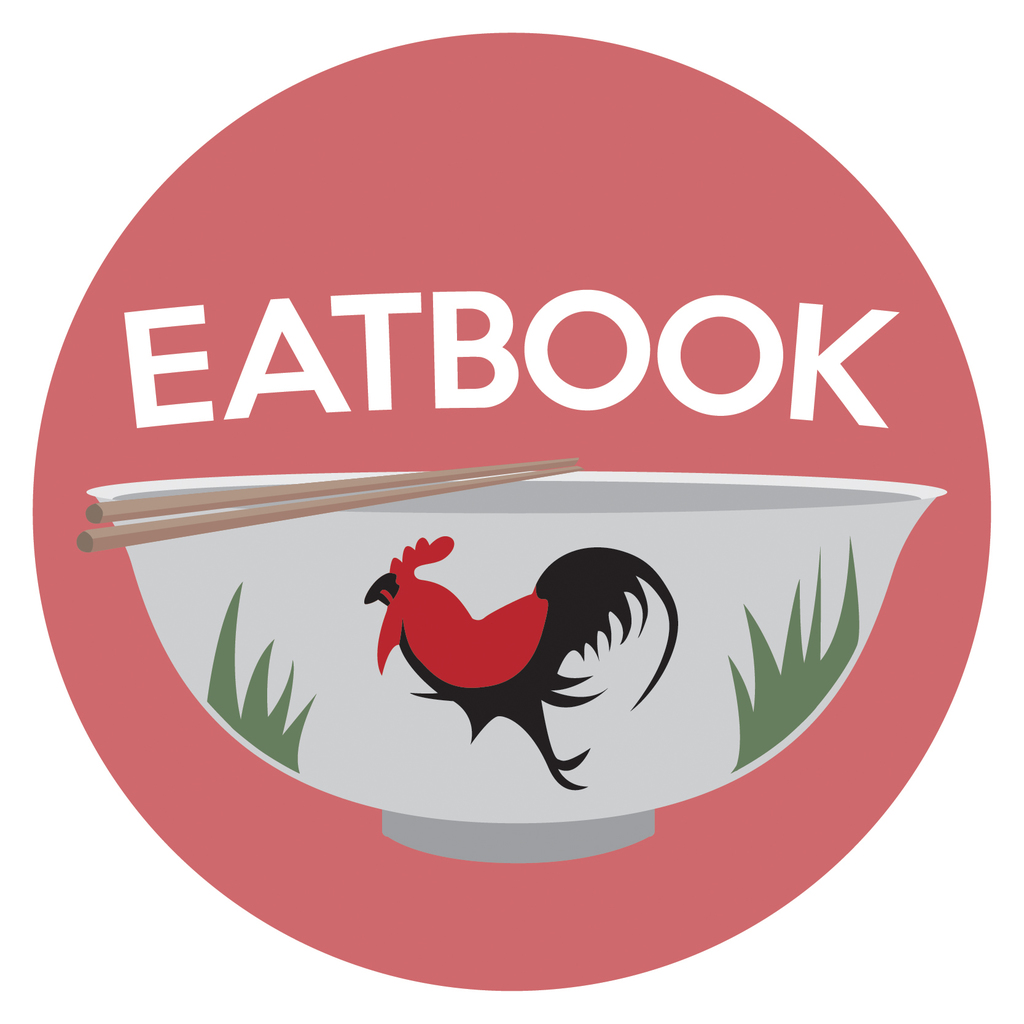 Drop us your email so you won't miss the latest news.