FYP Cafe is a new cafe in Somerset by Whiskdom and Big Big Fries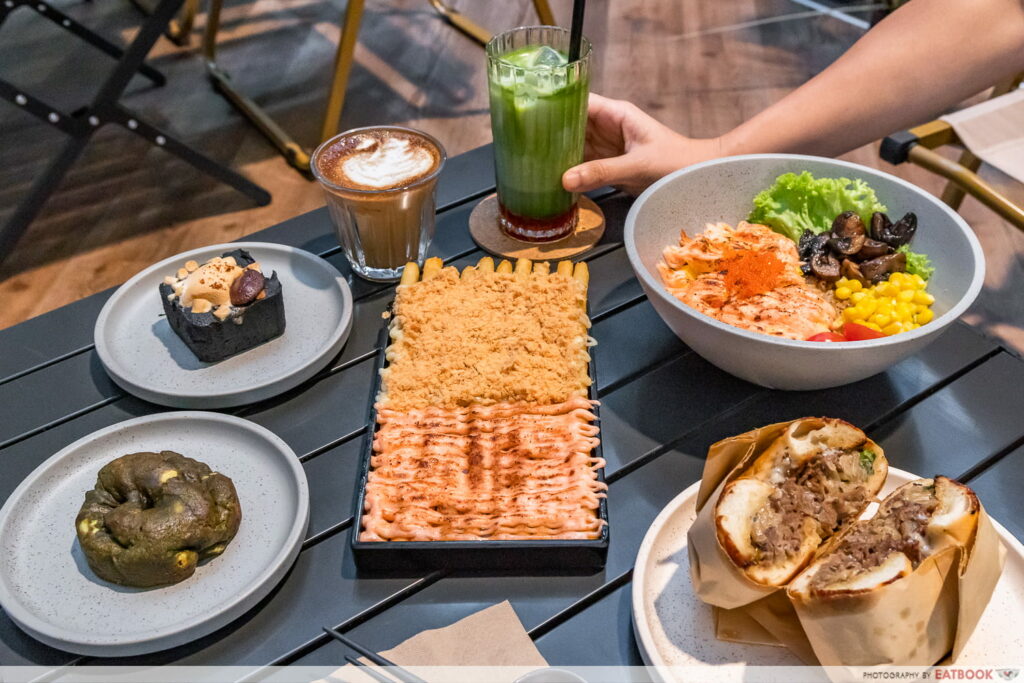 Fans of Big Big Fries were devastated when they closed down their Chomp Chomp and NEWest Mall outlets. After making an appearance at numerous food fairs, the homegrown brand has officially reentered the scene at FYP Cafe, a new cafe collab with famous bagel and brownie shop Whiskdom.
Located on the fourth floor of Orchard Central, FYP is short for "For You People". The new Somerset cafe combines the best of both worlds—savoury and sweet—and showcases the two brands' most signature items: think XXL fries, loaded bagels, lava brownies and many more.
Whiskdom Review: Loaded Bagelwiches, Lava Cookies And More By IG-Famous Bakery In Bugis
Food at FYP Cafe

You can now get your hands on Big Big Fries' famous XXL handmade fries, priced at $12.90+ per serving. Choose up to two out of six sauces: Himalayan Pink Salt, Nacho Cheese, Seaweed Mayonnaise, Truffle Mayonnaise, Mentaiko Mayonnaise, and Chicken Floss Special. We opted for the last two.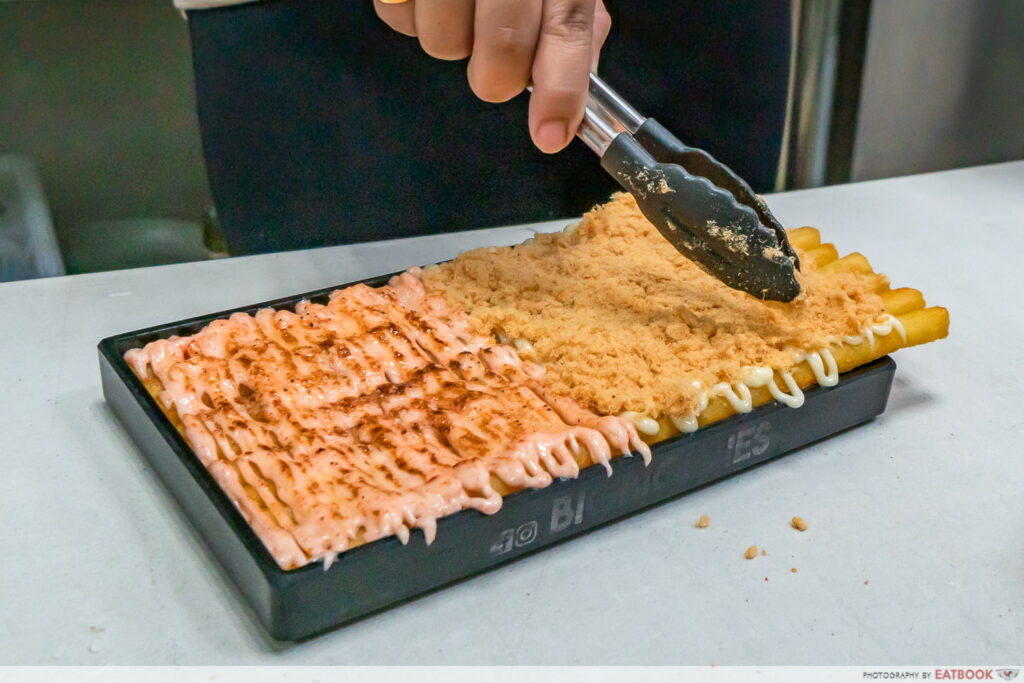 I've heard my friends rave about Big Big Fries, so I was stoked to try them for the first time. Each batch of fries is handmade from scratch with only potatoes, without any fillers or additives, resulting in a crisp exterior and fluffy insides.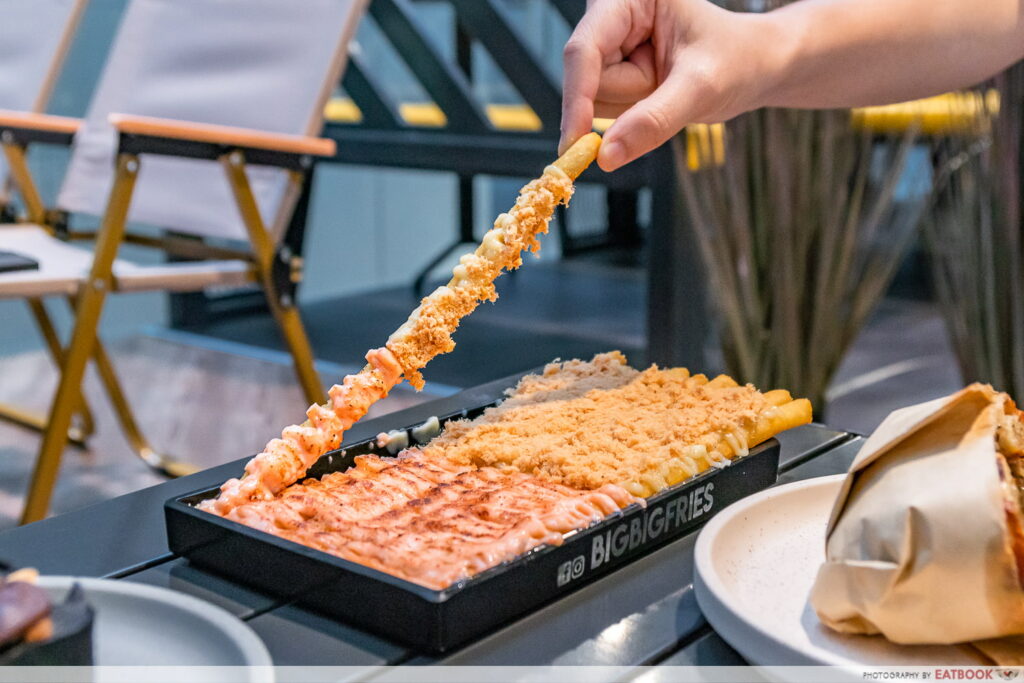 They're also known for their house-made torched mentaiko mayo, which didn't disappoint. The generous amount of umami-ladened sauce went excellently well with the uber-long fries. The sweet chicken floss on the second half of the fries helped to counteract some of that richness from the torched mentaiko, but I preferred if they were less heavy-handed with the mayo drizzle. Nonetheless, this was a well-executed snack worth sharing among the table!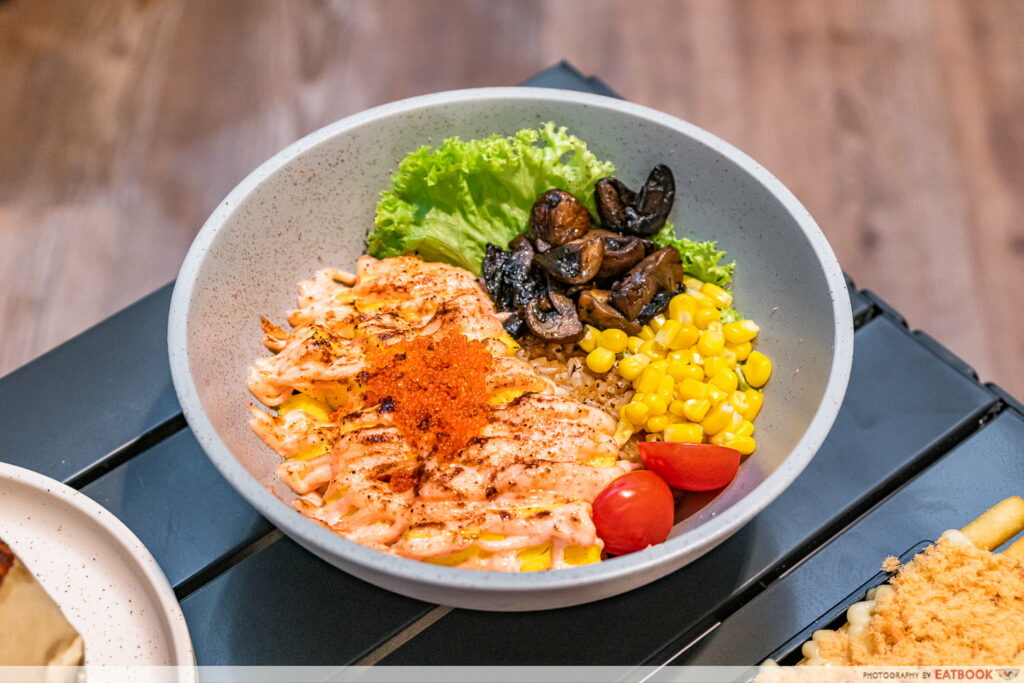 You can also sample Big Big Fries' signature mentaiko sauce in the form of a grain bowl if rice is your preferred carb. The Triple Egg ($12.90+) comprises three types of egg in one bowl: Japanese tamago, tobiko, and mentaiko mayo. It also comes with sweet corn, cherry tomatoes, and fried mushrooms, atop a bed of short-grain rice.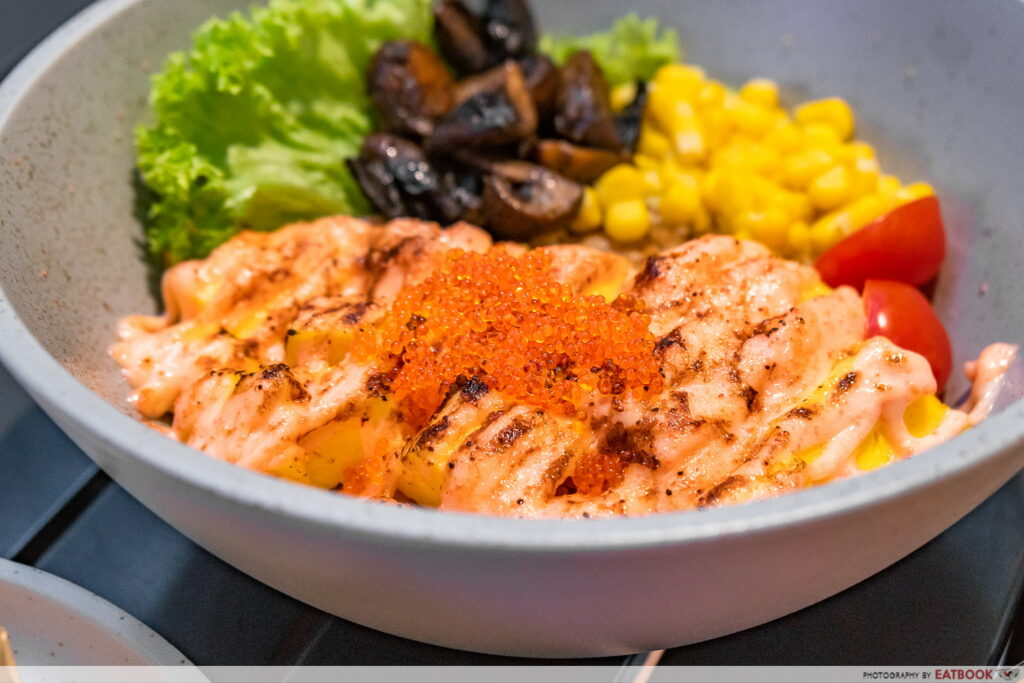 This came in a generous portion for its price, but I found myself wishing it was more salty as the tamago chunks were rather sweet. Still, it's worth a shot if you're a big mentaiko mayo fan, as this bowl came loaded with the creamy pink sauce.
If you aren't a fan of eggs, there are seven other grain bowls to choose from, including meatier options of Yakiniku Beef ($14.90+), Honey Smoked Duck ($14.90+), and Mentaiko Chicken ($13.90+). Swap out the white rice for quinoa with a top-up of $3+ for a healthier meal.
Whiskdom Opens Takeaway Kiosk At One Raffles Place With Bagels And Lava Brownies
When Whiskdom first launched their bagel series at their North Bridge cafe, it was met with much fanfare. They've since opened a takeaway kiosk in Raffles Place where you can score the same bagels, but if you're in town instead, FYP Cafe has them too.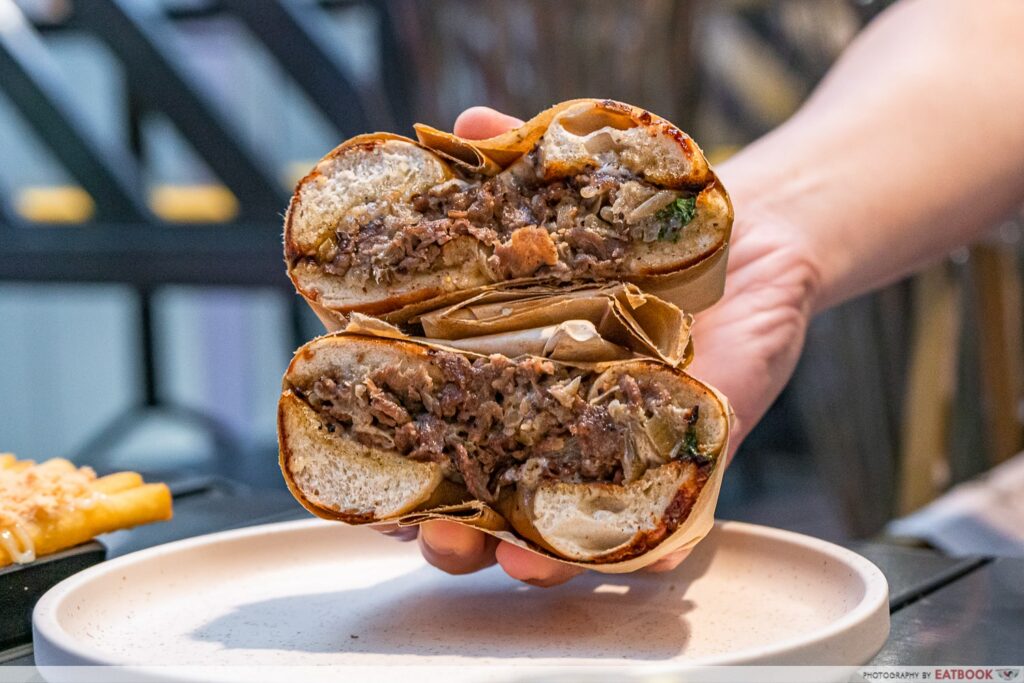 The Truffle Beef Steak ($14.90+) bagel was a highlight of my meal here. This came with a huge heaping of sliced ribeye, piled on with caramelised onions and creamy truffle aioli. Compared to my previous experience at their North Bridge outlet, this house-made bagel boasted a softer and chewier texture with a much better consistency throughout. This was one of the better bagel sandwiches I've had in Singapore at this price point.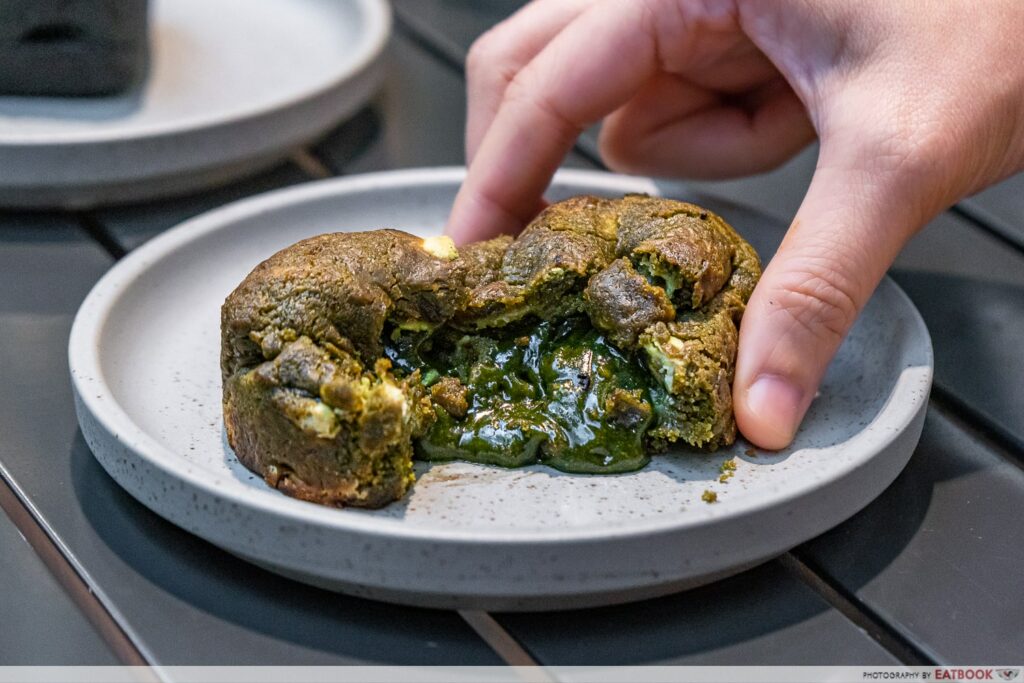 Otherwise, those with a sweet tooth will be spoiled for choice with Whiskdom's array of lava brownies and cookies. The Matcha Lava Cookie ($6.50+) is my usual go-to for its heavenly pairing of earthy matcha and sweet white chocolate, but they have other flavours such as Original Chunky Chocolate Chip and Hojicha Lava too.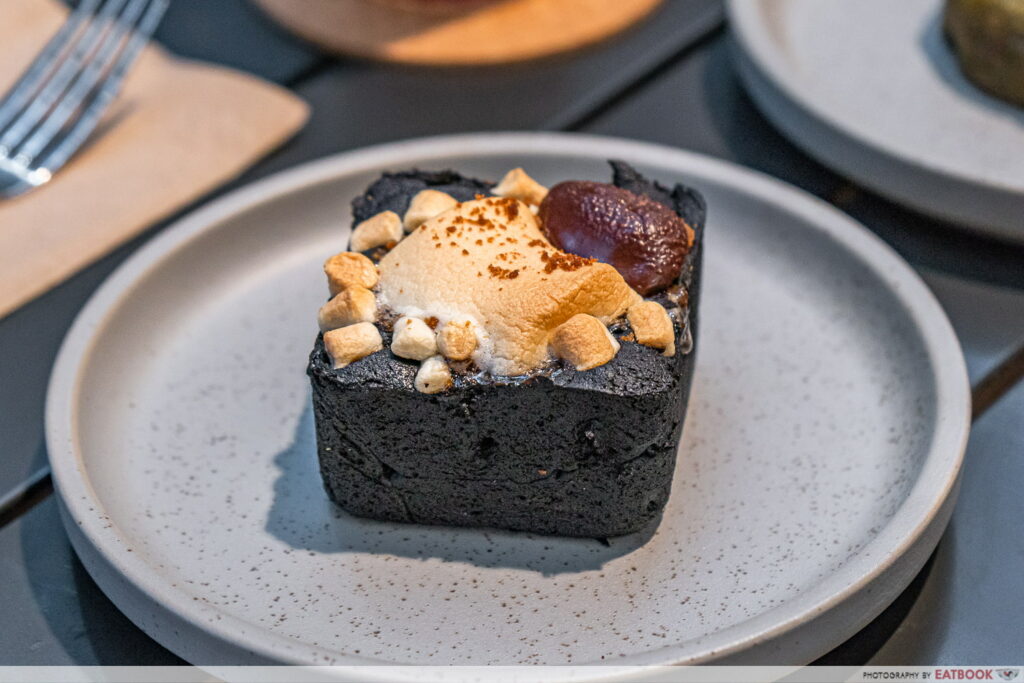 Their Gimme Smore Brownie ($6.50+) was another winner; this came with lightly torched marshmallows on top for a stretchy, gooey pull.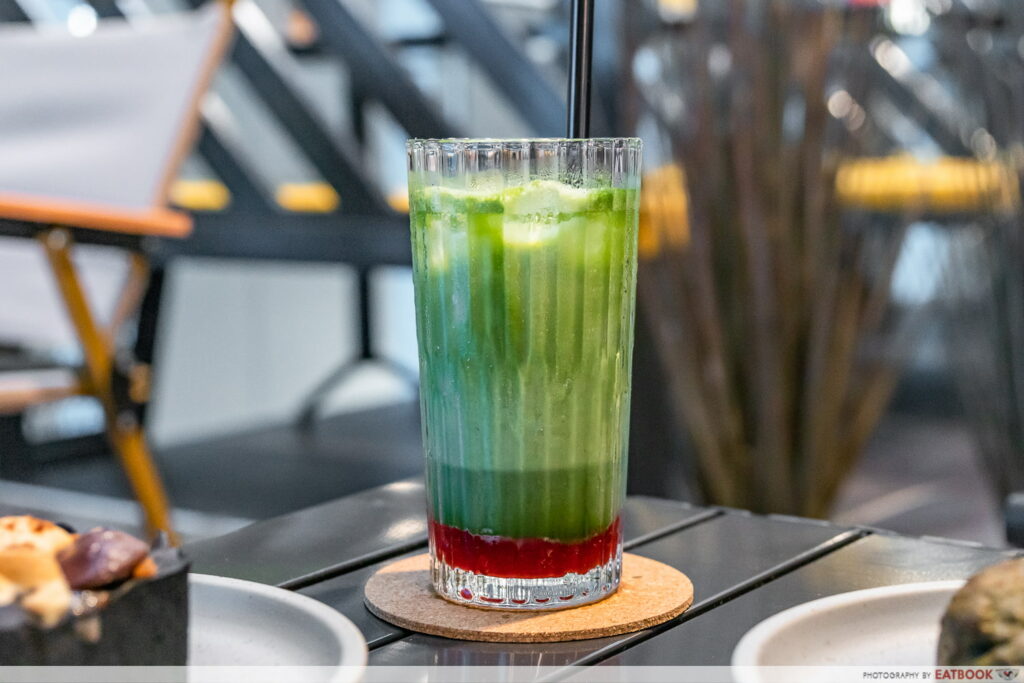 On top of mains and sweets, the cafe also offers a nice selection of caffeinated drinks, including a delicious Strawberry Matcha ($6.90+) that features three stunning layers. I loved how this drink had the perfect balance of sweetness from the strawberry syrup, creaminess from the milk, and bold earthiness from the matcha.
Ambience at FYP Cafe

The cafe is hidden in a quiet corner at Orchard Central, conveniently connected to Somerset MRT Station.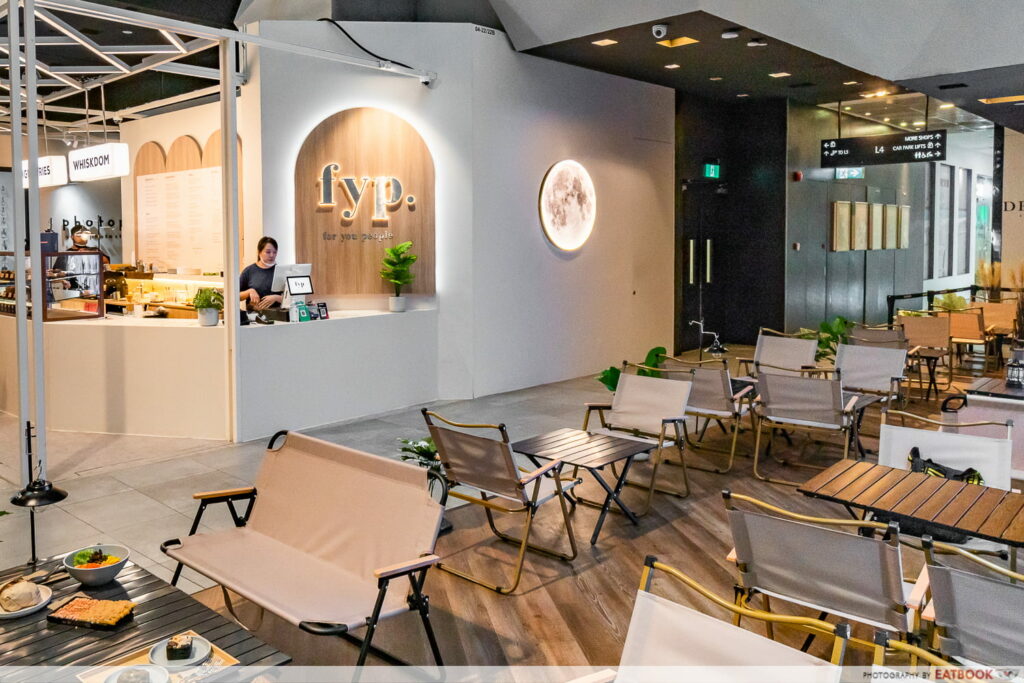 The cafe is spacious with plenty of seats to choose from. It adopts glamping-esque decor with camping-style chairs and foldable tables, amidst neutral brown tones against minimalistic white walls.
The idea is cute but we found the seats a little too high for our table, so if you're dining with older folks, opt for the higher tables instead.
Whiskdom Review: Loaded Bagelwiches, Lava Cookies And More By IG-Famous Bakery In Bugis
The verdict
With its cosy yet open space, coupled with an extensive menu of comfort food, FYP Cafe does live up to its name of being a space that's "for you people". I do wish Whiskdom would come up with more cookie and brownie flavours, though, as it's been a while since I last saw something new on that front.
Nonetheless, the cafe's central location and wide range of bites make this spot a must-visit if you're running errands or meeting friends in town. Come for the grub and stay for the comfy glamping vibes!
For more food in the hood, read our Miss Saigon review. Run by a Vietnamese native, this 24-hour eatery offers legit eats such as banh mi and com tam. Otherwise, read our feature on M5 Coffee, a new Taiwanese cafe that offers mountain-themed drinks.
Address: 181 Orchard Road, #04-22, Orchard Central, Singapore 238896
Opening hours: Sun-Thurs 11am to 10pm, Fri-Sat 11am to 11pm
Website
FYP Cafe is not a halal-certified eatery.
Miss Saigon Review: Legit Vietnamese Banh Mi Eatery In Orchard That's Open 24/7
Photos taken by Aldrich Tan.
This was a media tasting at FYP (For You People) Cafe.
FYP Cafe Review: New Glamping-Themed Cafe By Whiskdom And Big Big Fries At Orchard Central
FYP Cafe Review: New Glamping-Themed Cafe By Whiskdom And Big Big Fries At Orchard Central -

8/10
Summary
Pros
– Central location
– Wide range of food items
– Value-for-money prices for a cafe 
Cons
– Some seats were not very comfortable
– Triple Egg bowl was a little too sweet 
Recommended dishes: Big Big Fries with Mentaiko Mayonnaise and Chicken Floss Special ($12.90+), Truffle Beef Steak Bagel ($14.90+) Strawberry Matcha ($6.90+)
Opening hours: Sun-Thurs 11am to 10pm, Fri-Sat 11am to 11pm
Address: 181 Orchard Road, #04-22, Orchard Central, Singapore 238896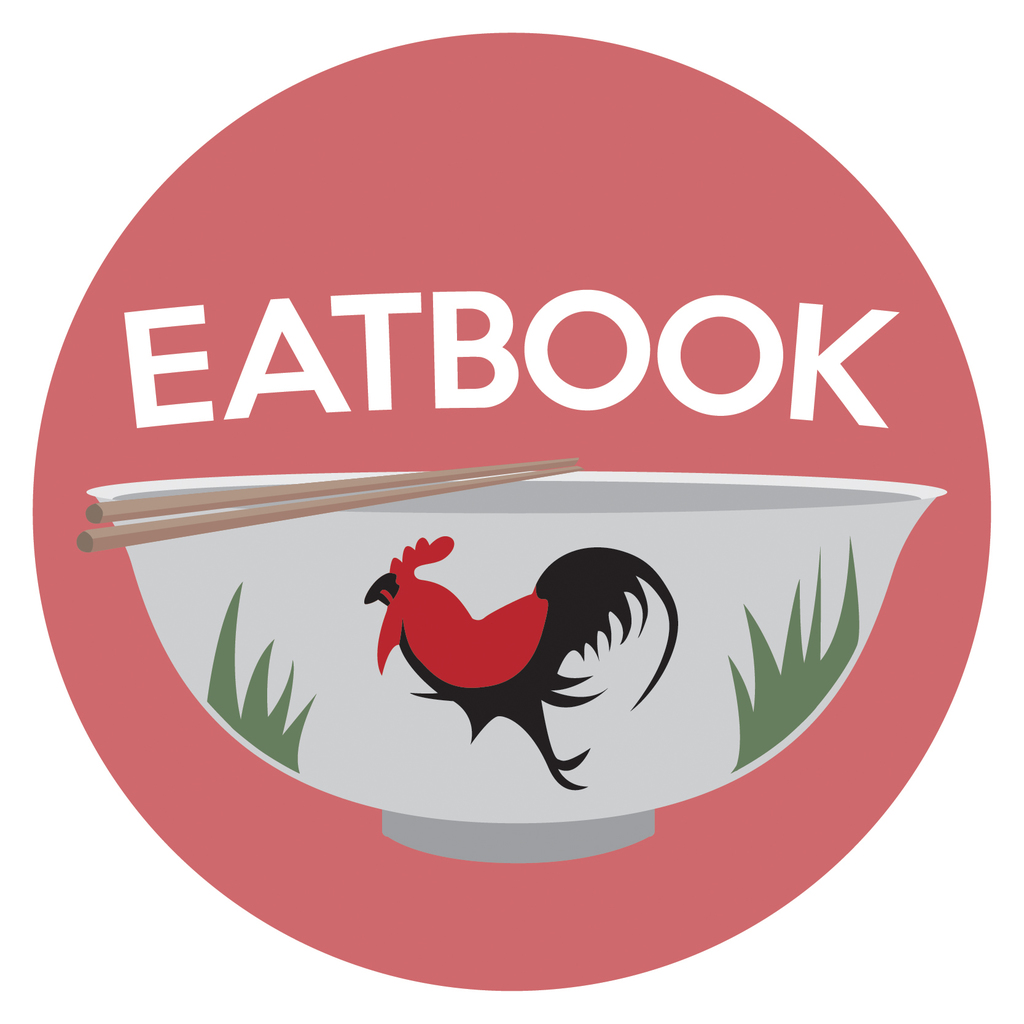 Drop us your email so you won't miss the latest news.