Miss Saigon has Vietnamese food available 24/7 in Orchard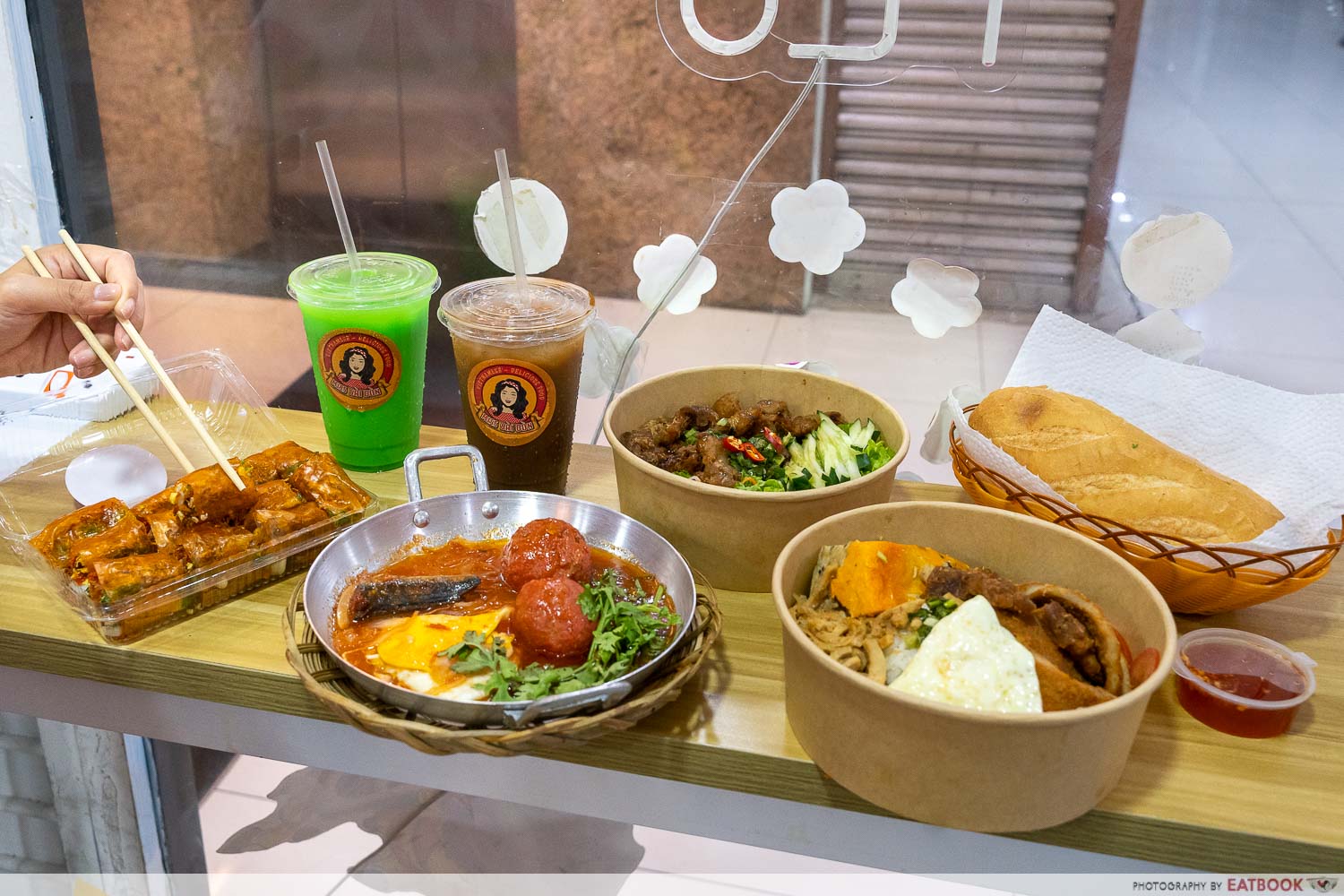 Just two weeks ago, I found myself in Ho Chi Minh, having the most amazing, ASMR-worthy banh mi I'd ever had the privilege of trying. I might have left the city, but Saigon, it seems, is not done with me—for I then found myself not in Vietnam but at Miss Saigon, a little set-up in Orchard Plaza by the Banh Mi Saigon crew.
Banh Mi Sai Gon Review: 123 Year-Old Banh Mi Recipe With Pig's Ear Filling And More
Food at Miss Saigon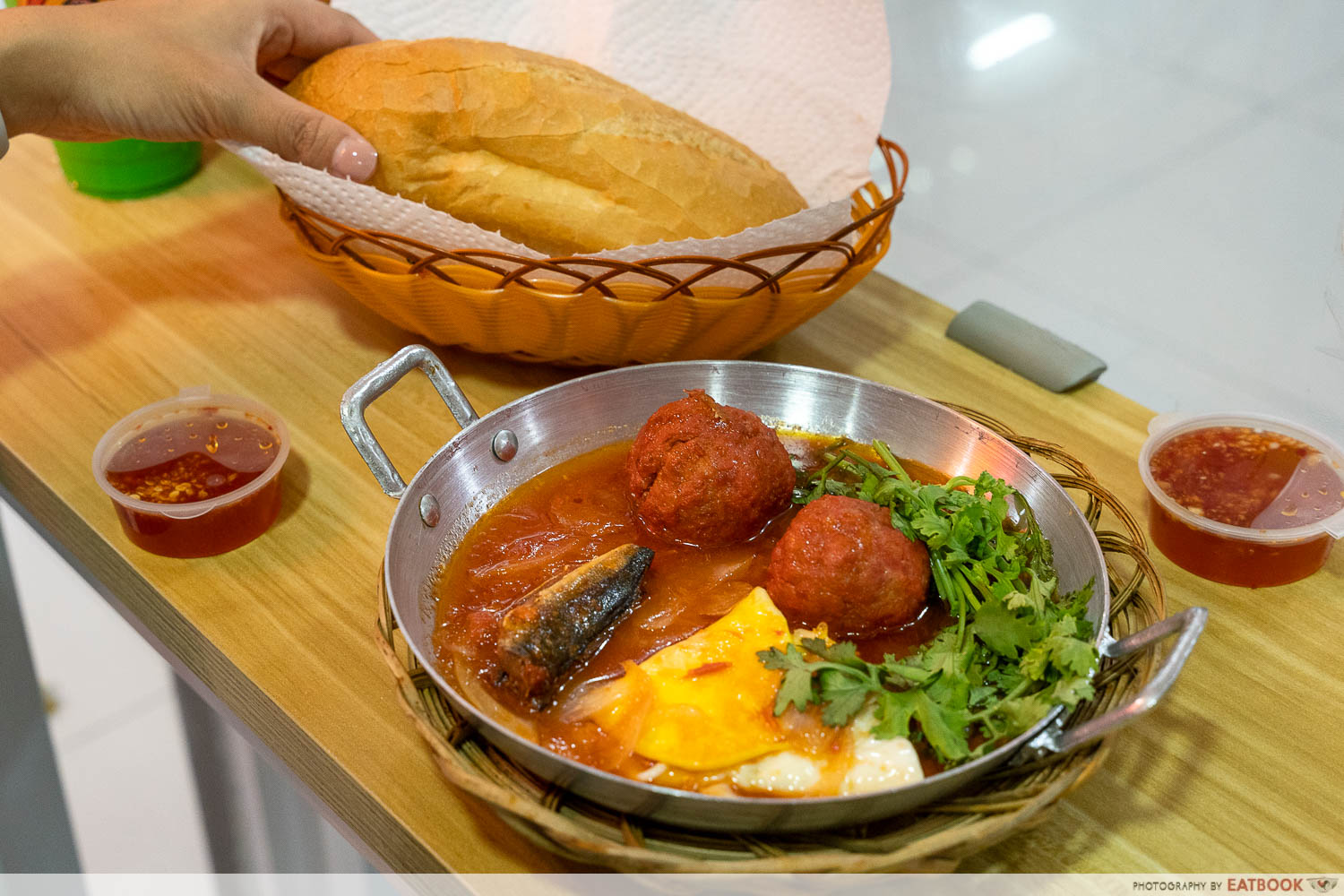 Having only spent a few days in HCM, it was tough to hit up every spot that I'd saved on my Google list. So when I saw a blown-up photo of Banh Mi Chao ($12) on the glass window at Miss Saigon, I had to order it.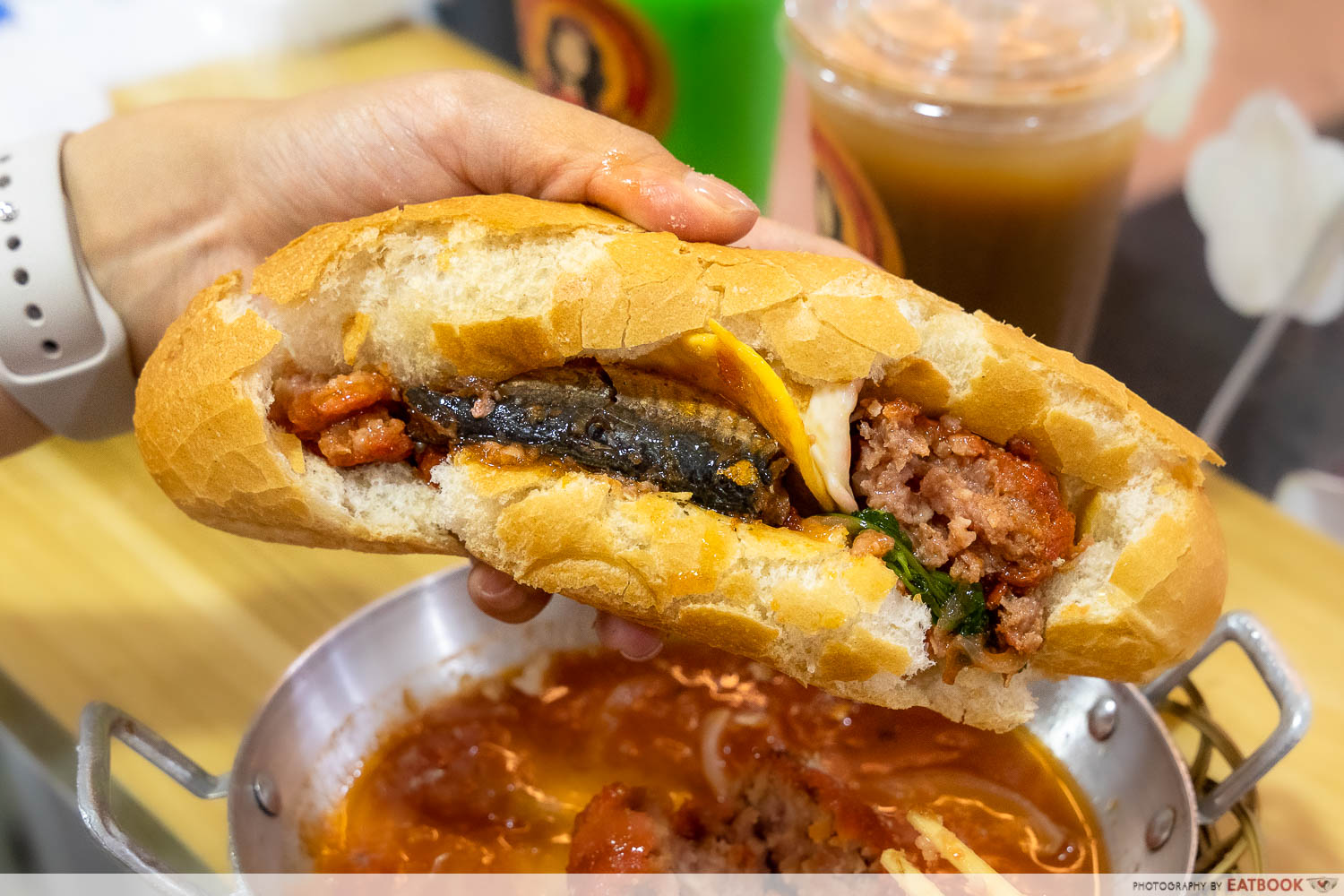 The banh mi menu at Miss Saigon is largely identical to that of Banh Mi Sai Gon, and features the same house-made ingredients, baguettes, and all that jazz. Banh Mi Chao is kind of like a breakfast version of its heavier, meat-laden counterparts.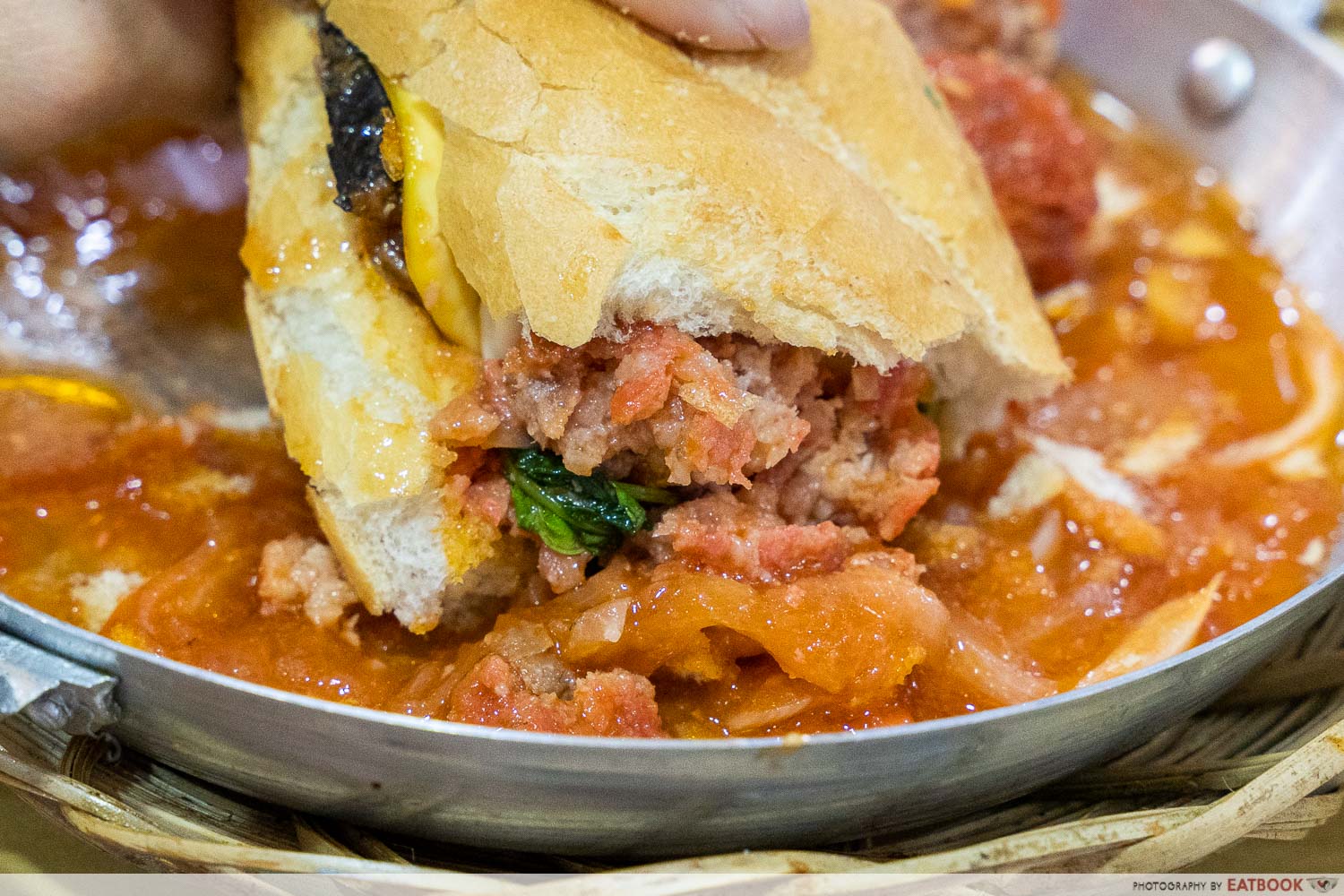 It usually stars sunny side-ups, pate, and sausage in a tomato-based sauce, served in a hot skillet with a fresh baguette on the side. Tear open the baguette, break up the egg yolk into the sauce, and it's up to you if you'd like to stuff it all into the bun or go for a dip-and-eat sich.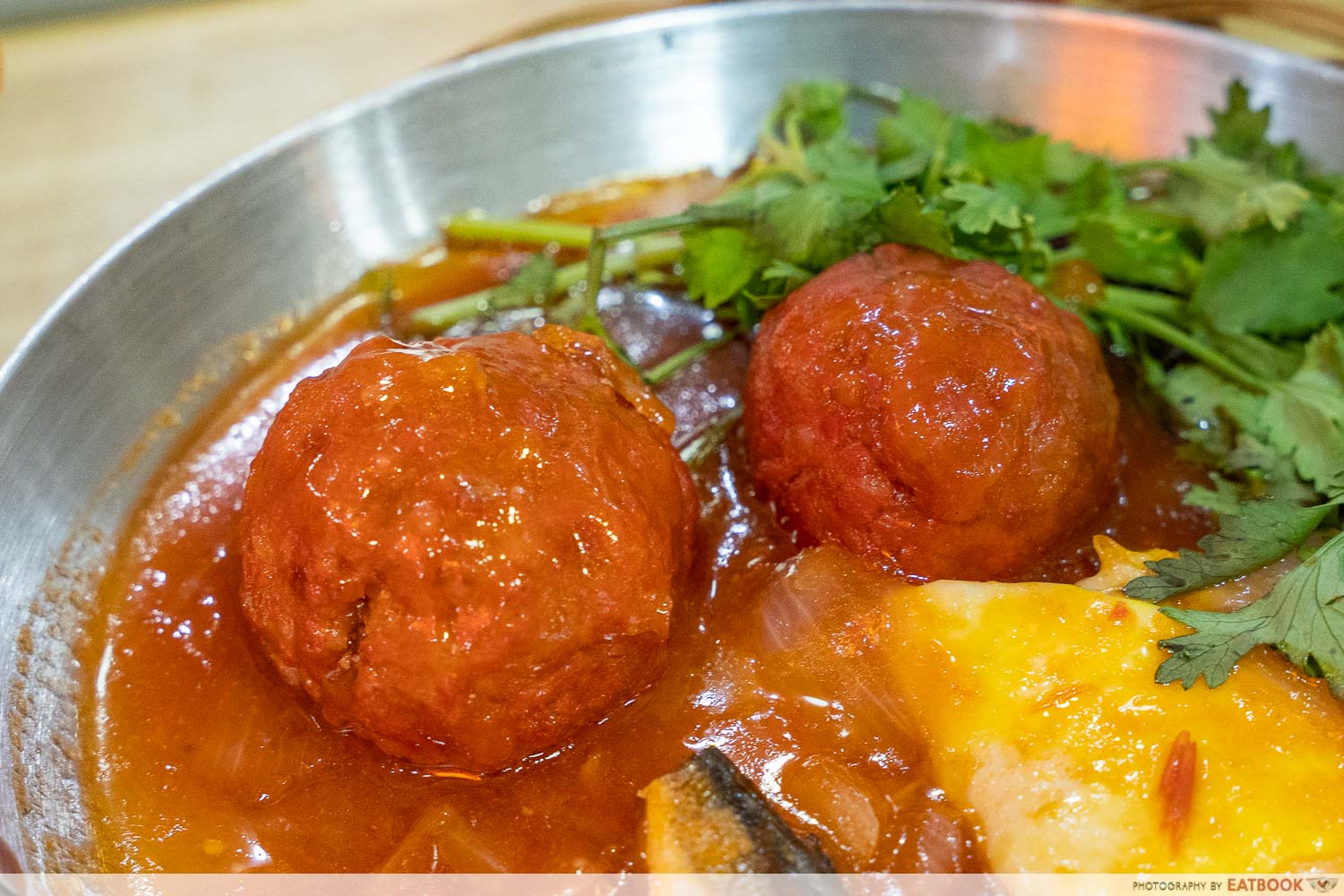 This version comes with the egg, a lonely sardine, two meatballs, and a handful of fresh coriander. Full of softened onions, we found the sauce leaning sweet, but not unappetisingly so. In fact, it was pretty homey and comforting, especially with the crusty, fluffy baguette.
I did wish the egg were runny, but the fall-apart meatballs were super tasty. My colleague, who was initially apprehensive about trying this, found herself enjoying the dish too.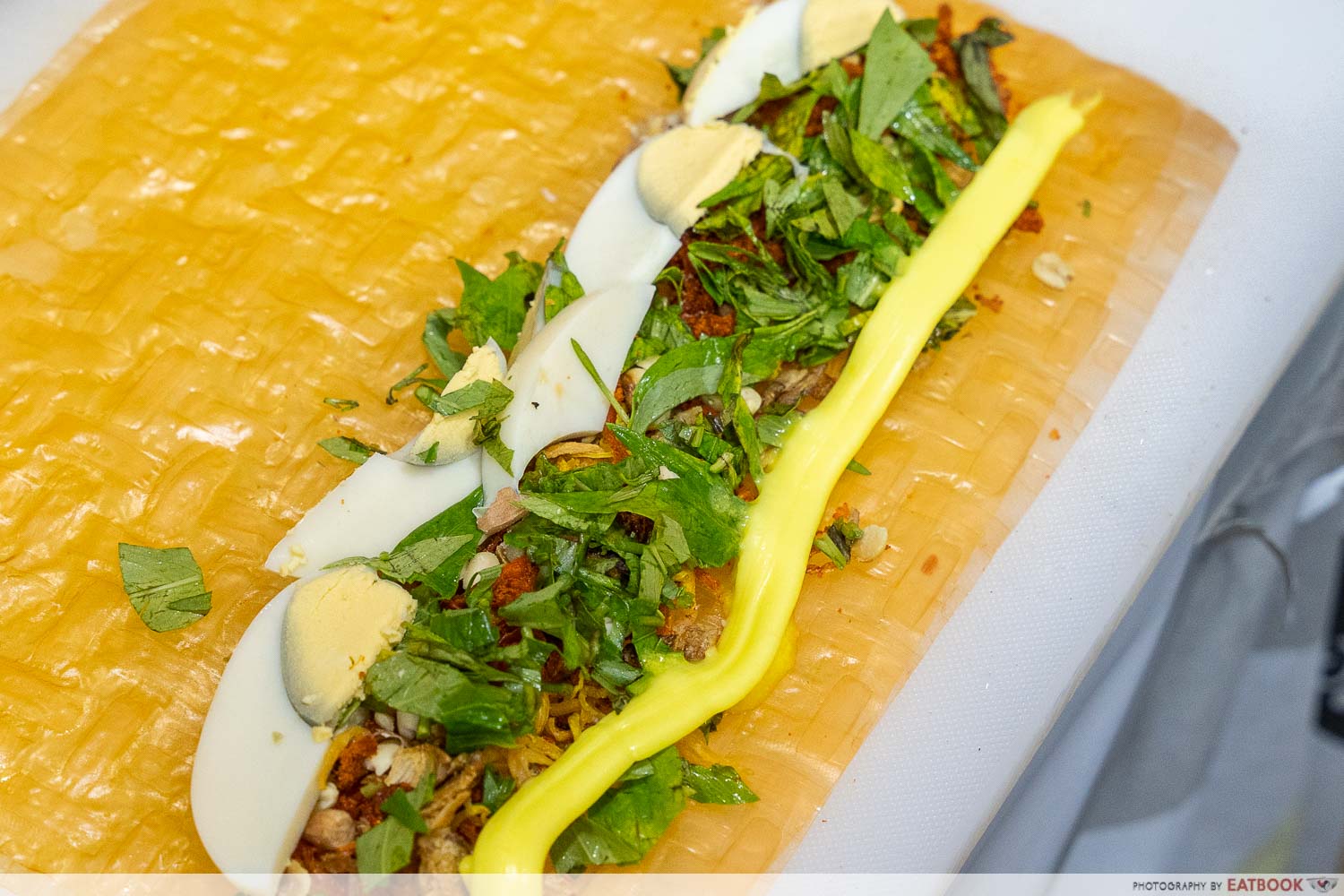 My attention was caught by the picture of Banh Tran Cuon ($10) with its bright orange rice paper wrap and yellow drizzles. It's made to order, with a medley of ingredients within, mostly lost in translation in my conversation with the Hanoi-native lady in charge of the kitchen.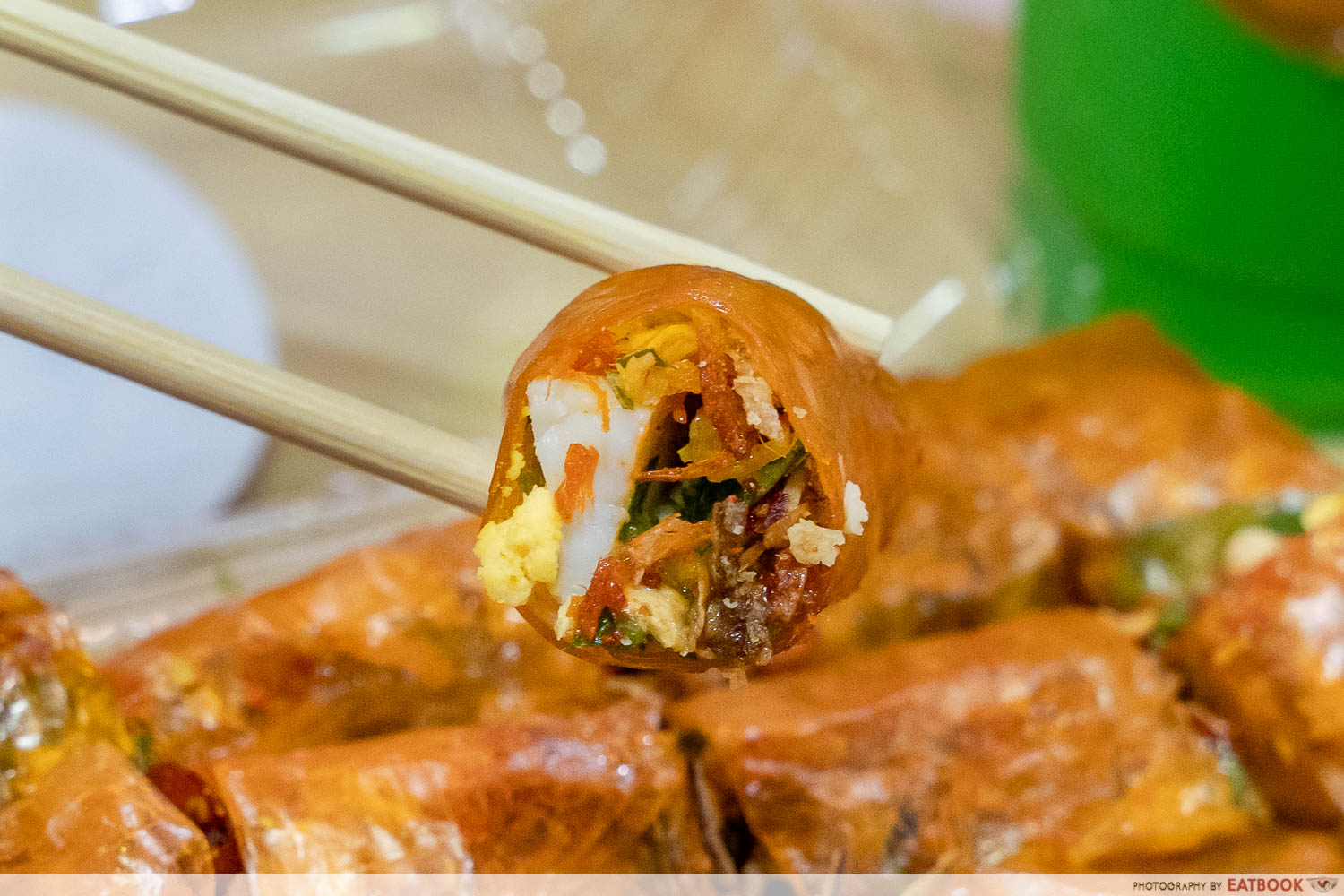 What I did catch was that the yellow cream was similar to margarine, and there were more than five ingredients in this roll, some of which tasted like pork floss, with nuts, shallots, dried shrimp, hard-boiled egg, dried chilli, and fresh greens including aromatic laksa leaf. This was easily my favourite dish of everything we ordered.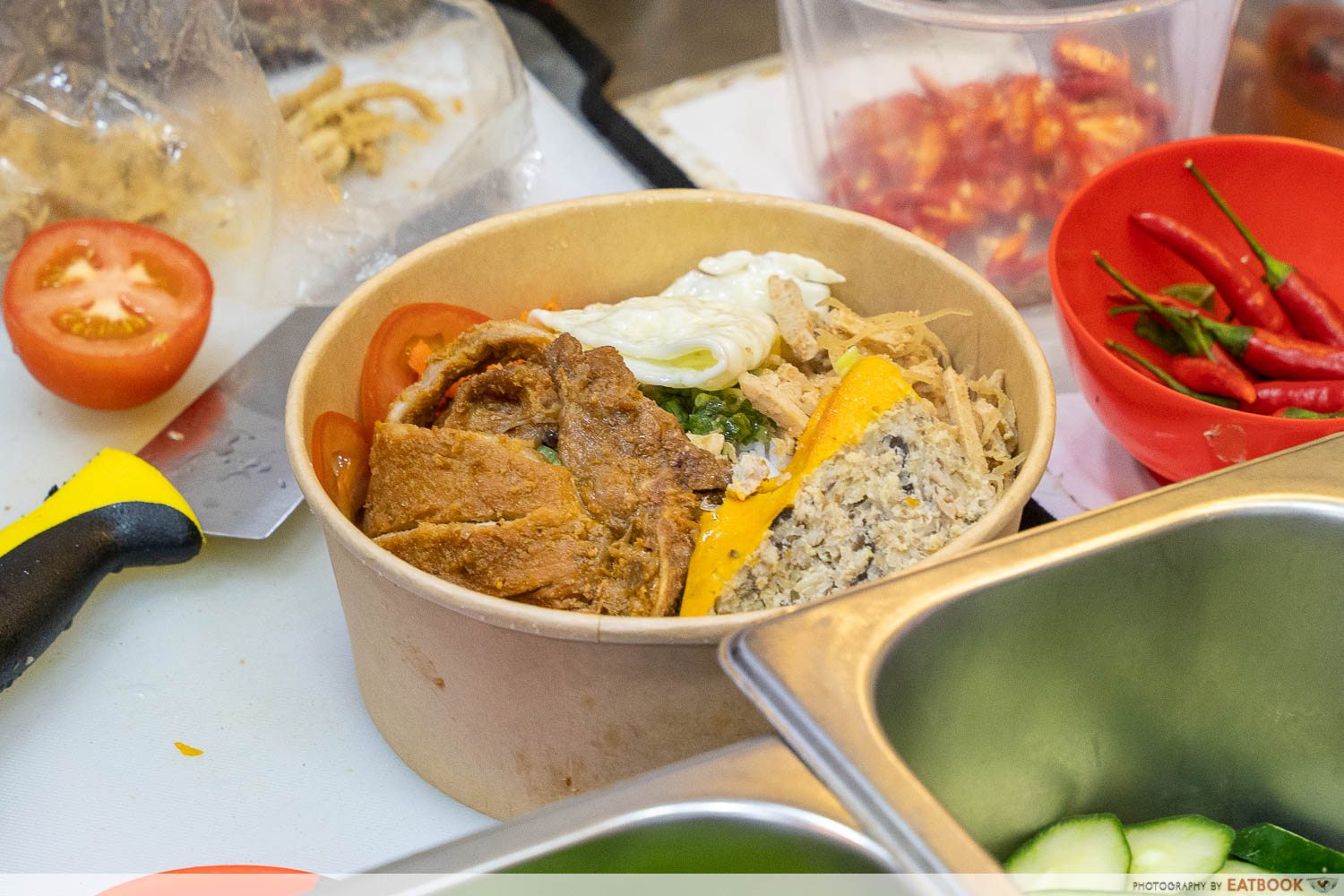 Com Tam Suon Bi Cha ($12) is a little bit of a misnomer because where the dish is meant to be made with broken rice, this was prepared with whole, perfect grains of rice.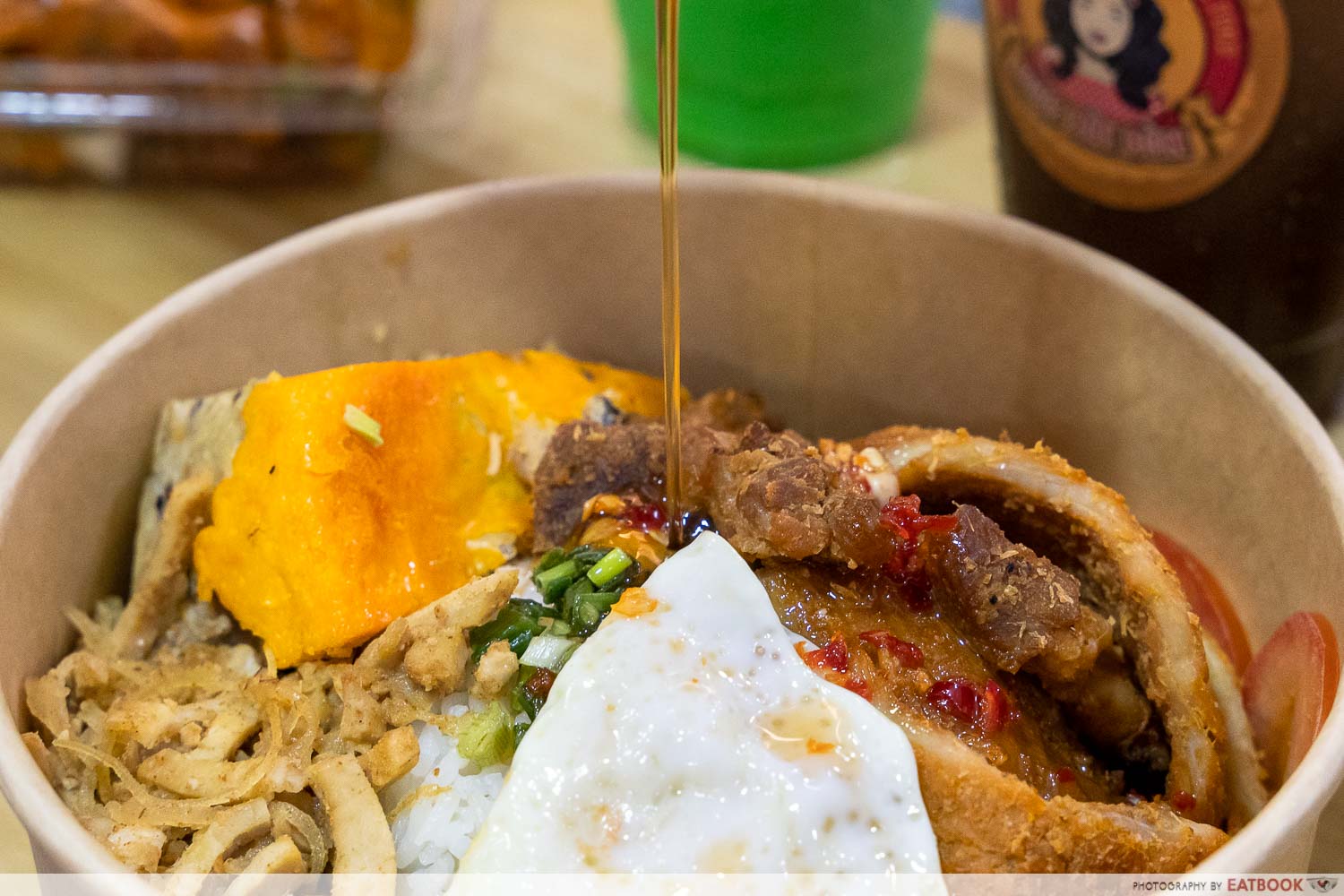 It's served with a small pot of lightly spicy, fish sauce-based sauce, which you're meant to pour over and mix up.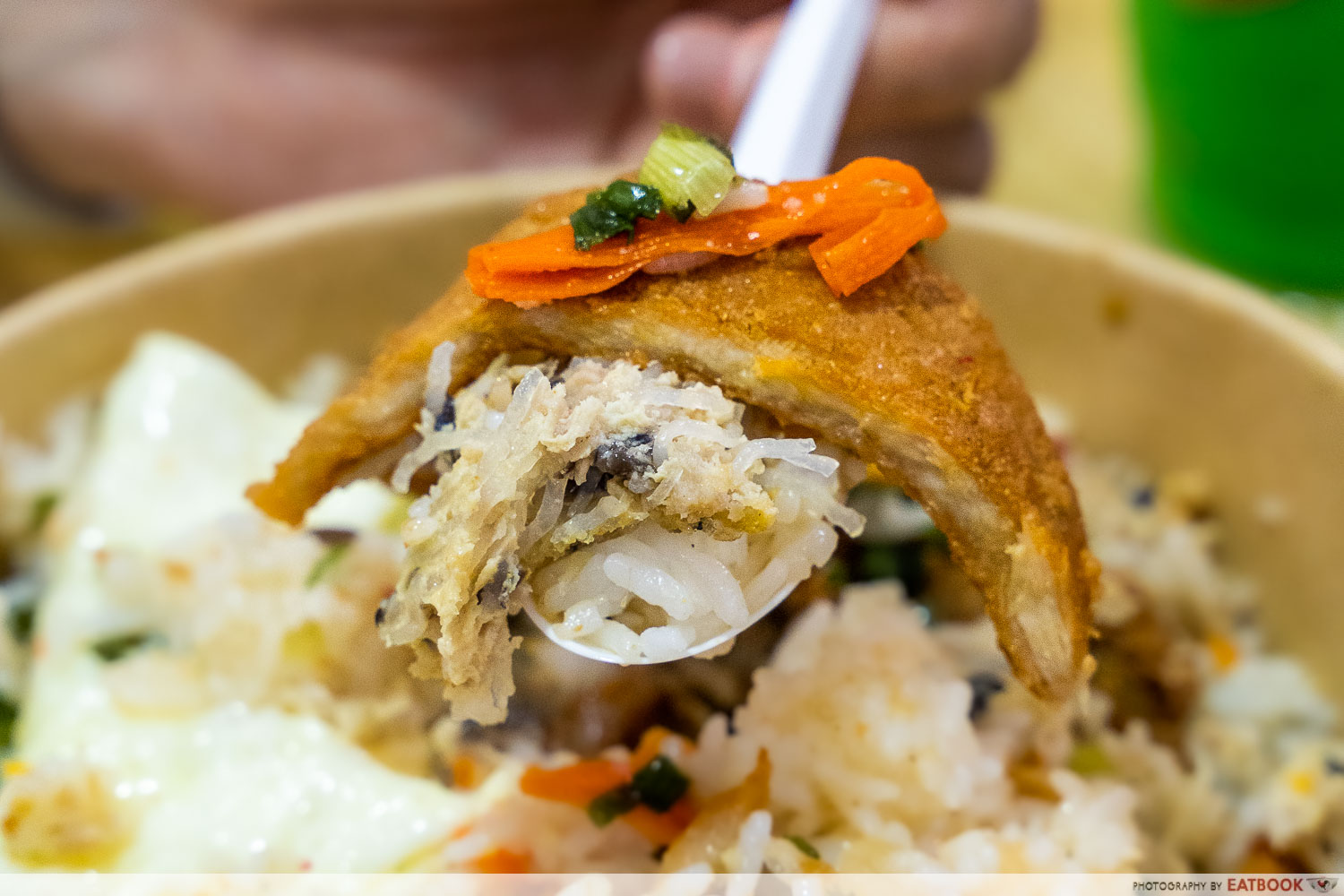 You can't say it's not legit other than the rice, because this com tam ticks all the necessary boxes. You get grilled pork, scallion oil garnish, fresh and pickled vegetables, bì, AKA shredded pork and pork skin, and a large wedge of chả trứng—a Vietnamese-style steamed omelette with meatloaf.
I had no complaints about the rice, to be honest, but the pork was slightly hard, which could be a consequence of it being microwaved, rather than freshly grilled.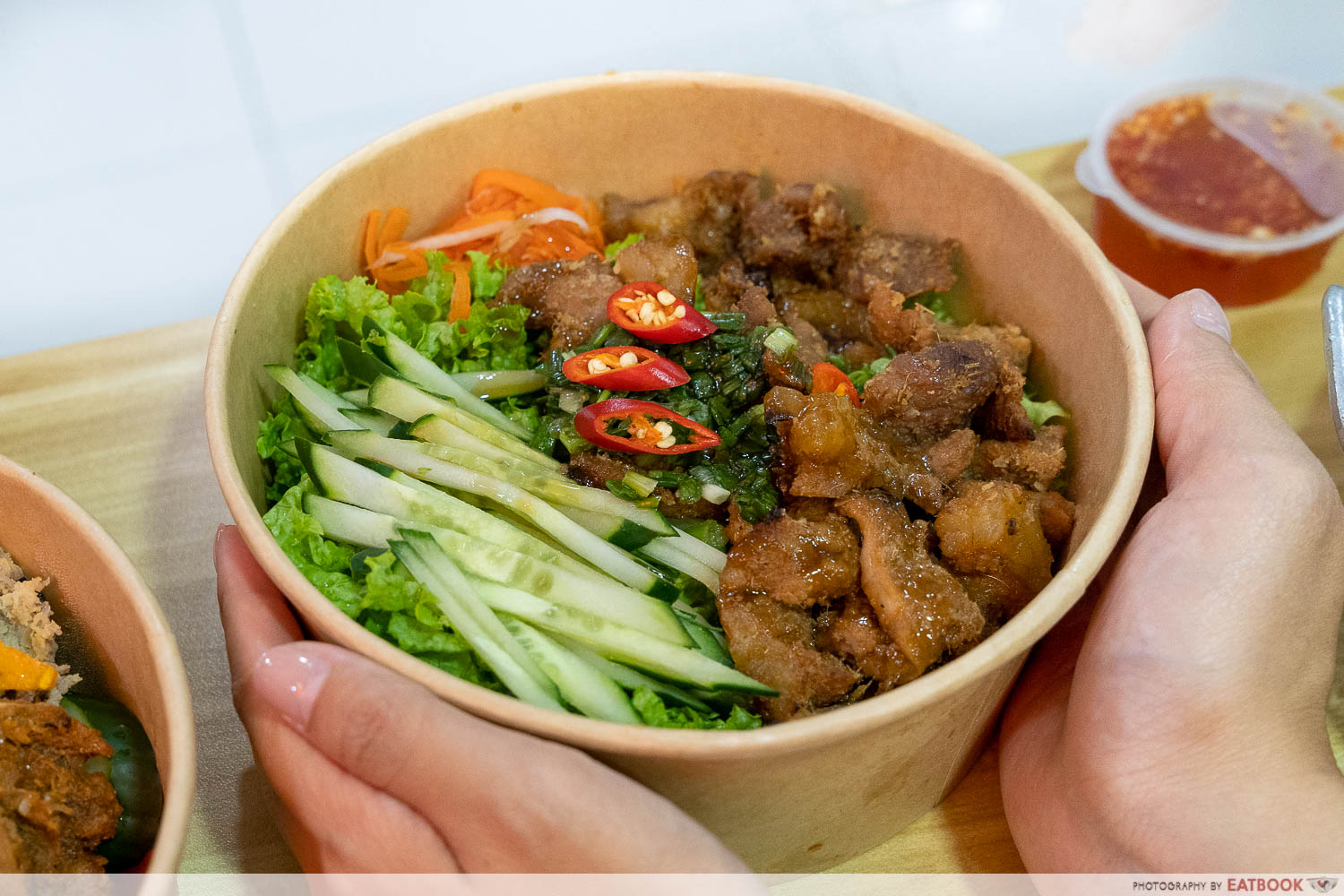 The last item we ordered was Fine Rice Noodle Salt Baked Chicken ($9.90), or Bun Ga Quay in Vietnamese, but we were mistakenly served Bun Thit Nuong ($9.90) instead. As with the broken rice, you drizzle the fish sauce-based chilli over this and toss it before eating; ask for extra if you need!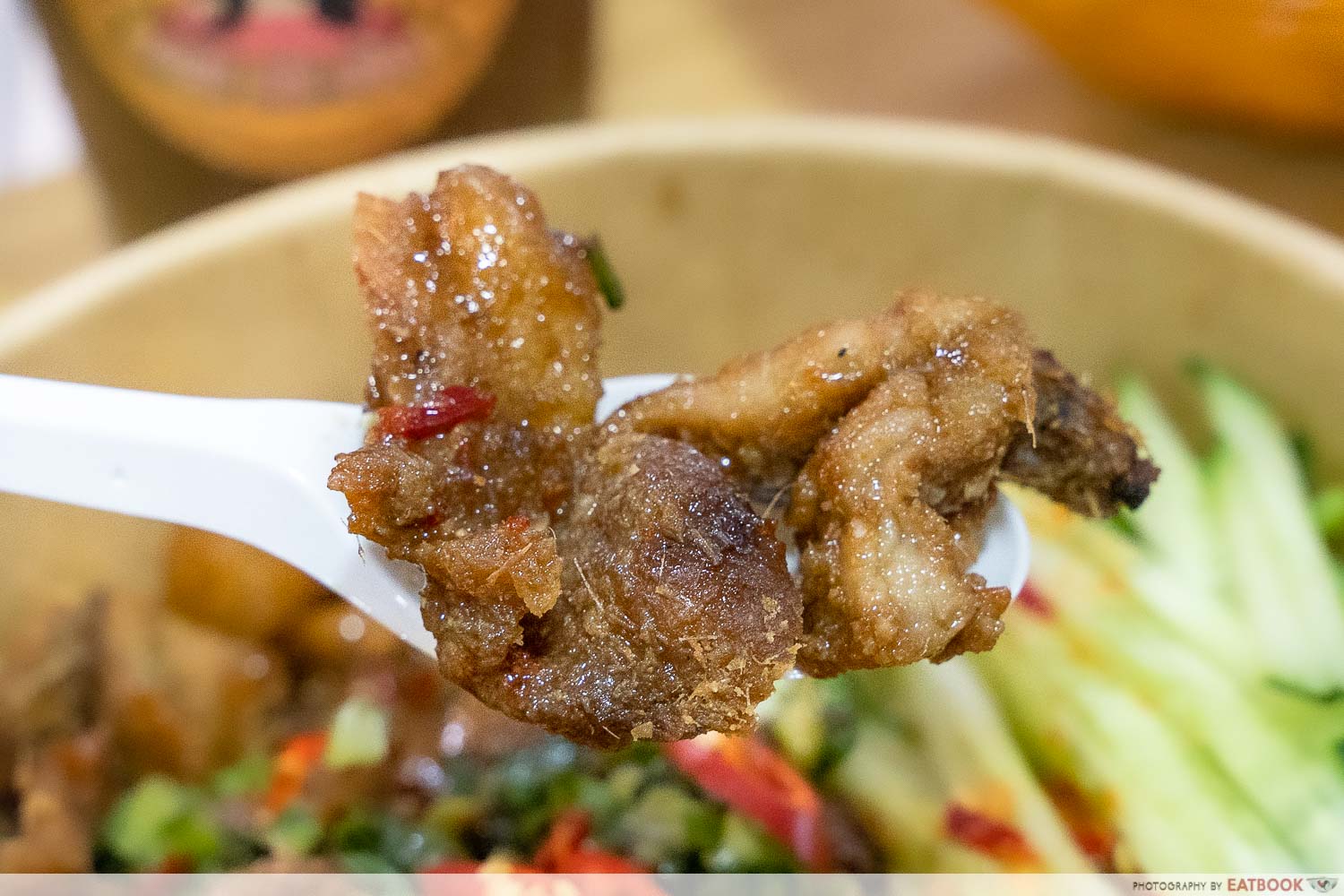 The lemongrass grilled pork, like the pork in the com tam, was slightly too tough for us, but scored flavour-wise.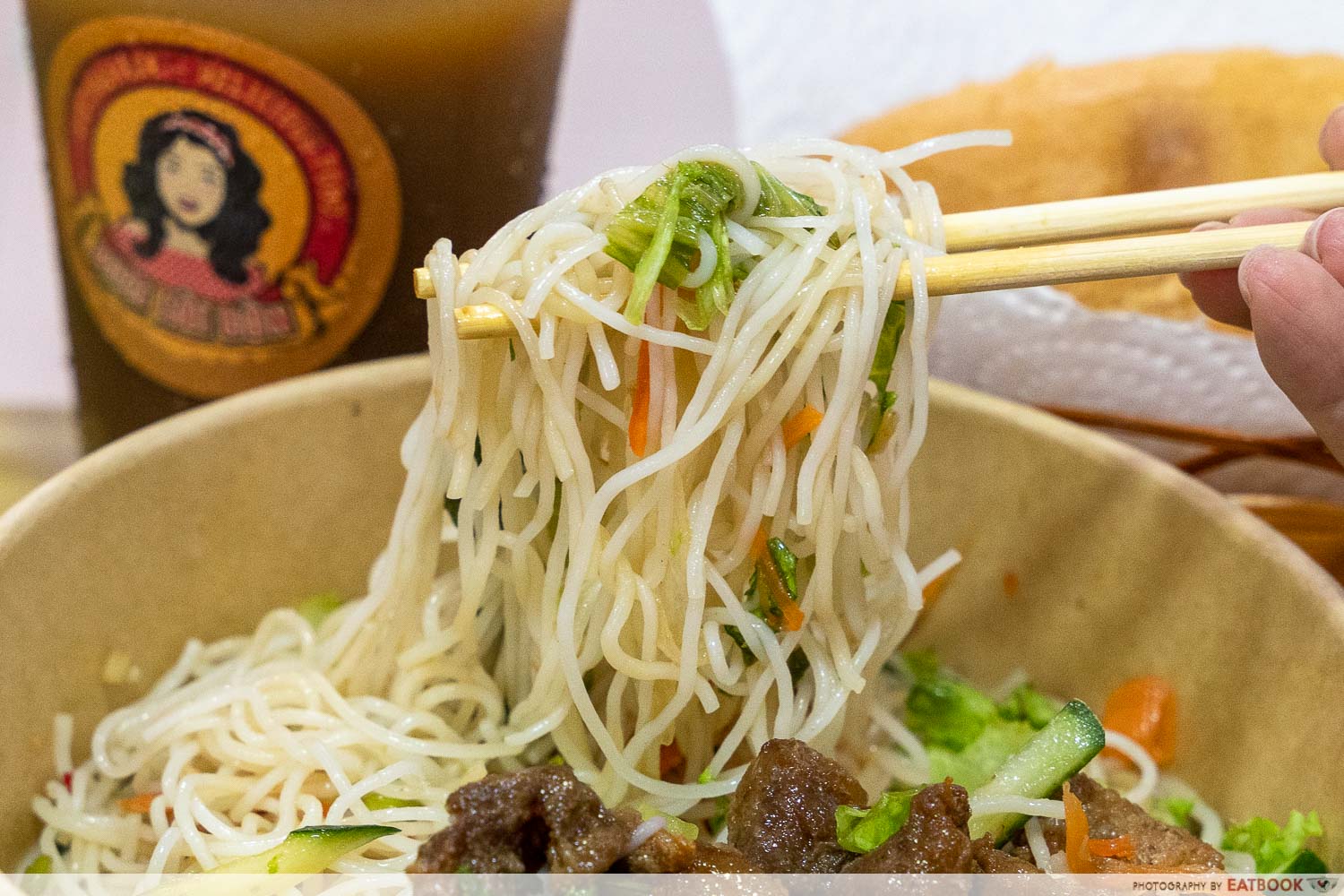 The rice noodles, though microwaved, were springy, and went well with all the greens plus pickled carrots. I have to give them credit for how fresh the vegetables were: I spied whole baskets of them in the kitchen, freshly washed and chopped for each bowl. You really do taste the difference as compared to pre-chopped veggies.
I later got my order of Fine Rice Noodle Salt Baked Chicken to go, and would definitely recommend this over the Bun Thit Nuong—it's got added toppings of nuts and shallots, plus the salt-baked chicken was much more tender than the pork.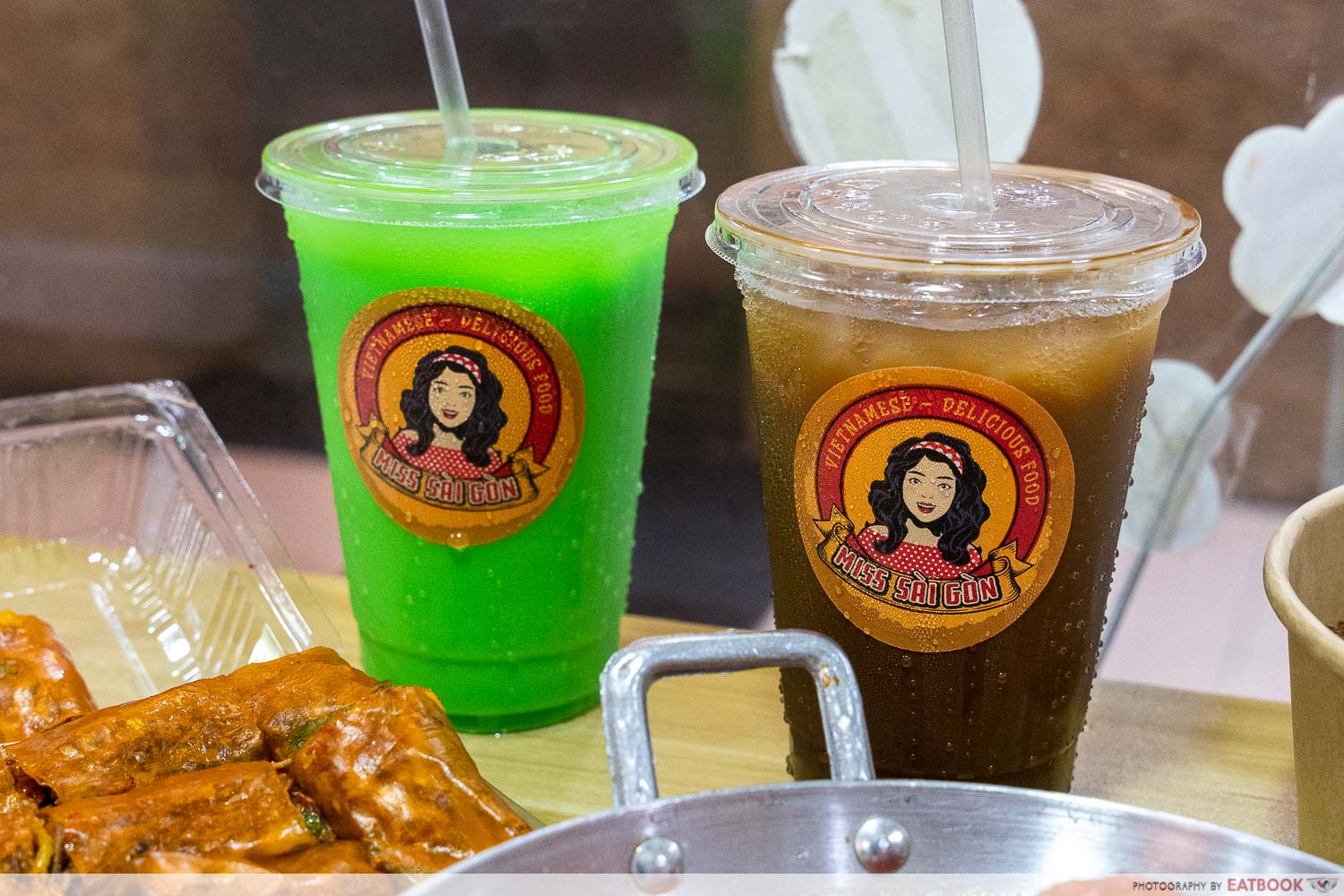 One of the things I miss the most about Vietnam is my daily cups of Ca Phe Sua Da ($4.50) and Ca Phe Trung, AKA egg coffee, which unfortunately is not sold here. I chased that memory here at Miss Saigon, but the Vietnamese iced milk coffee did not live up to it, lacking that thick creaminess which I like.
We also tried their Special Pandan Drink ($4), or Sam Dua Sua—it came in a rather scary-looking neon green and tasted like a watered-down version of pandan cake batter.
This Hidden Izakaya Has Legit Truffle Somen, Mentaiko Tamagoyaki And More In Orchard
Ambience at Miss Saigon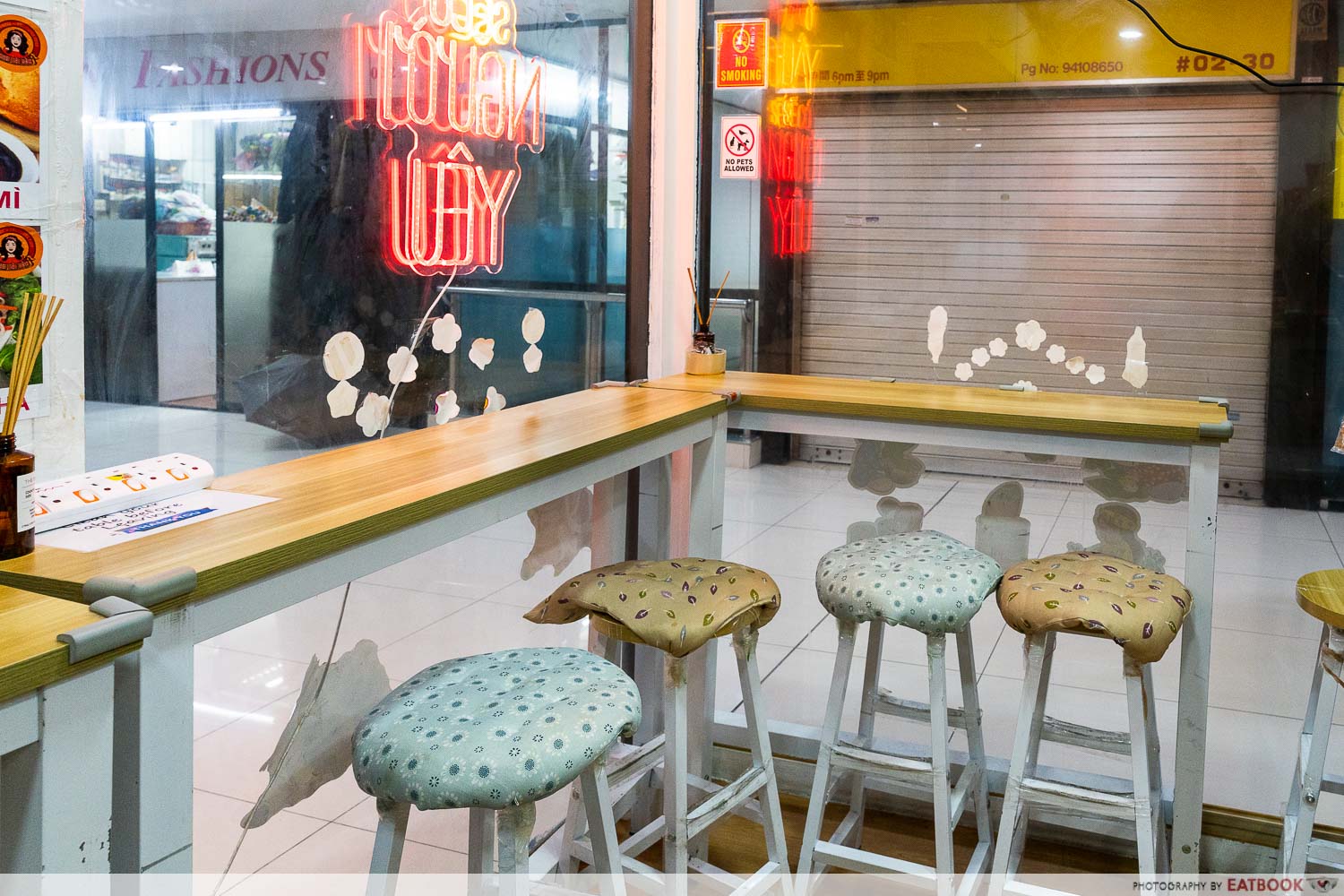 Squatting on little stools, cramped by the roadside, is de rigueur in Vietnam, and I'm happy to share that the same squeeze can be found here at Miss Saigon. With only six rickety stools—some of them are a tad wobbly—made comfortable with what looks like homemade cushions, shoved up against several long, narrow bar tables, you'd be rubbing shoulders with everyone else and almost kissing the glass windows when all the seats are taken.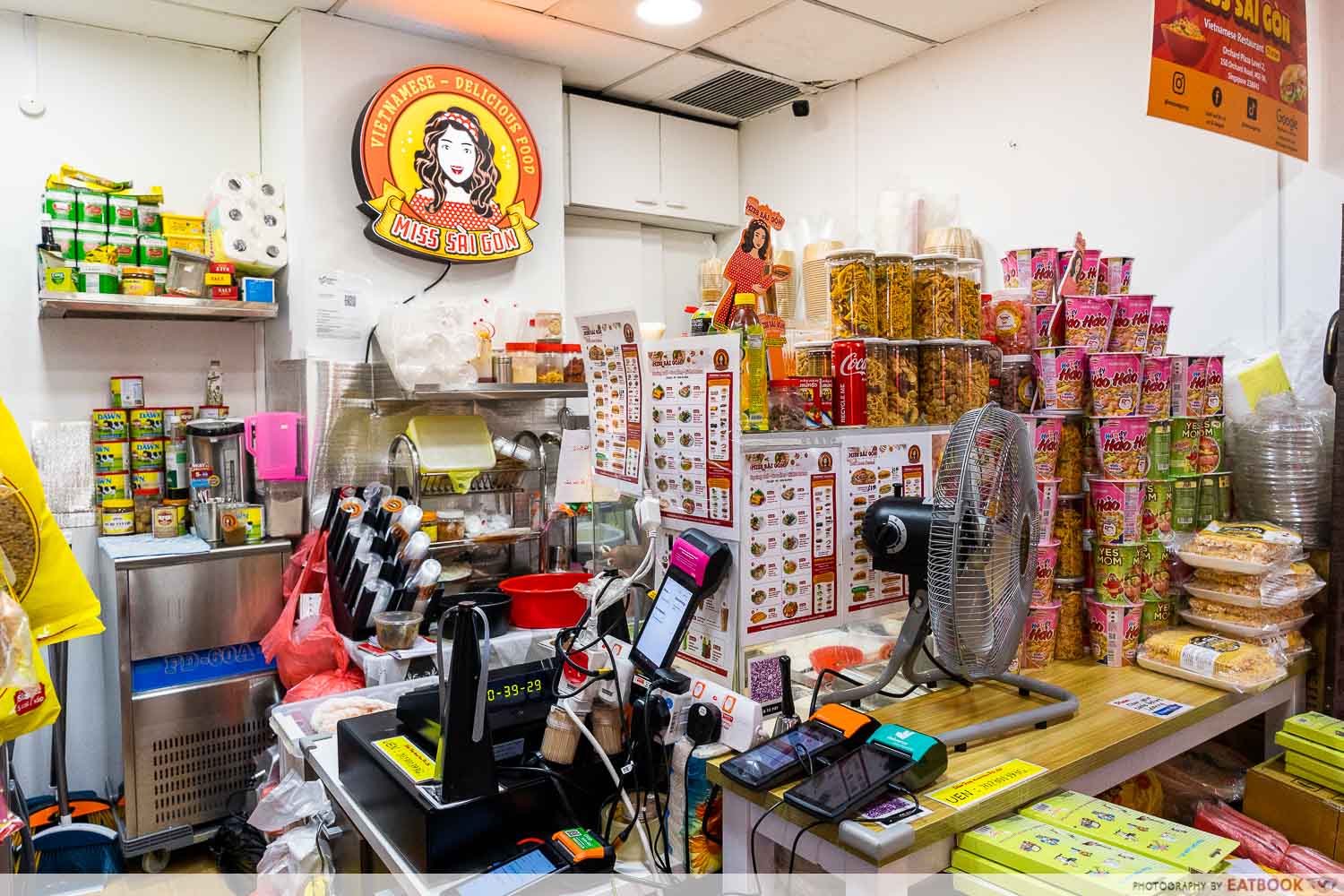 Plus point: you're not by the roadside. Another plus: there are fans and weak air-conditioning. A third major plus: it's five minutes away from Somerset MRT Station. Toss in how they're open around the clock, and I'd say it's a yay for Miss Saigon.
The verdict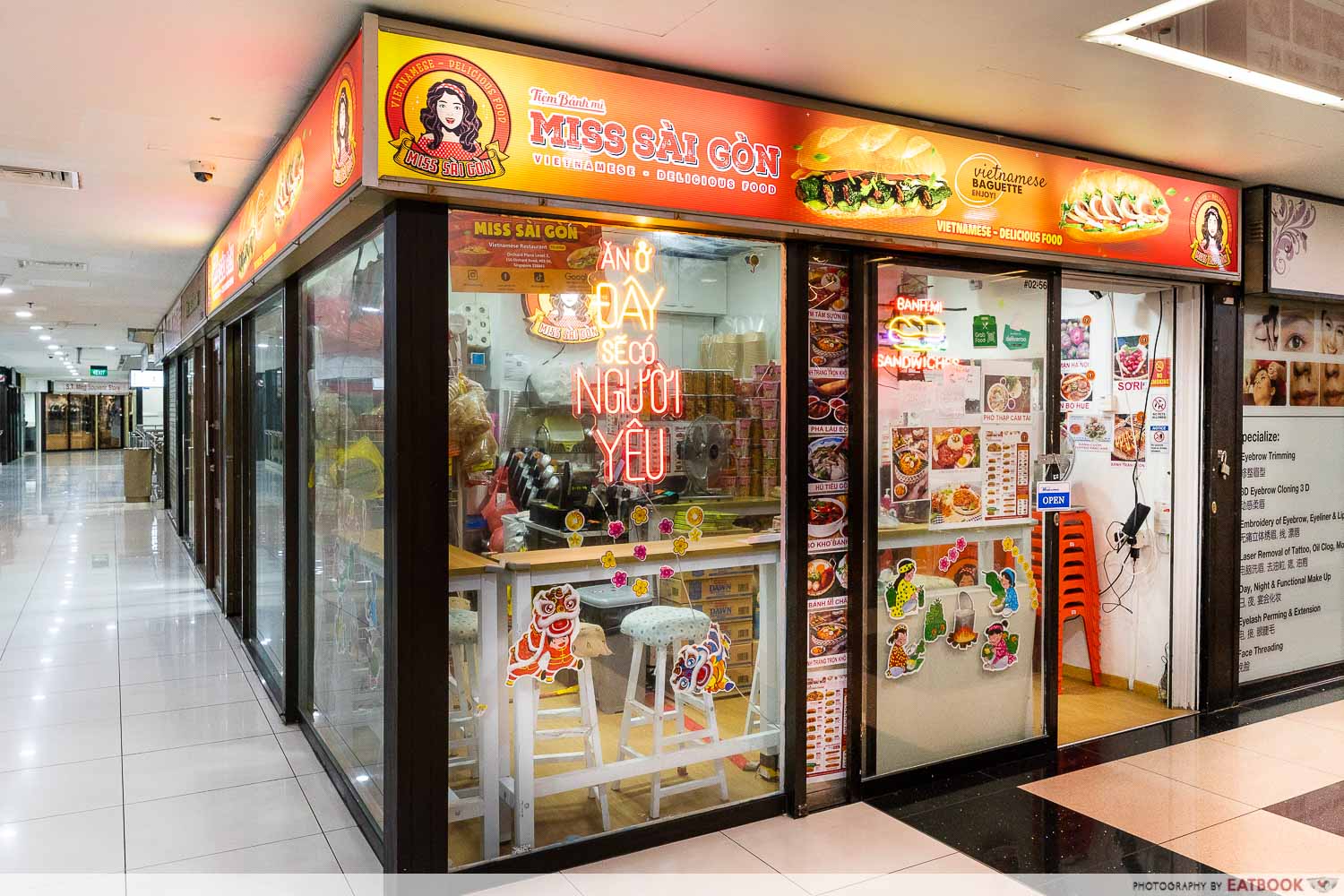 It's unfortunate that Miss Saigon doesn't have the necessary licenses in this space to cook up their dishes. Everything cooked that you'll get comes from the freezer or fridge, shipped over from the kitchen at Banh Mi Sai Gon, and then heated up to order. They were out of pho and hot dishes such as bo kho (beef stew) when we visited, but whatever we did have was no less impressive.
I'm sometimes still peckish after a night out at Morinaga Izakaya, so I'm really glad to know that I can still fill my tum with a hop and skip over to Orchard Plaza. If you're hanging around Somerset MRT Station, check out our guide to dining at Orchard Gateway!
Address: 150 Orchard Road, #02-56, Orchard Plaza, Singapore 238841
Opening hours: Daily 24 hours
Tel: 8925 3959
Website
Miss Saigon is not a halal-certified eatery
10 Orchard Gateway Food Places For Cheap Wagyu Donburi, Hotpot Buffet And More
Photos taken by Tanya Tham
This was an independent review by Eatbook.sg
Miss Saigon Review: Vietnamese Breakfast Banh Mi, Broken Rice With Pork Chop And More In Orchard
Miss Saigon Review: Legit Vietnamese Banh Mi Eatery In Orchard That's Open 24/7 -

7.5/10
Summary
Pros
– Banh mi was crusty yet fluffy
– Banh Tran Cuon was light and flavourful
– Open 24/7 in a convenient location
Cons
– Very limited seats
– Food is all warmed up to serve
Recommended dishes: Banh Mi Chao ($12), Banh Tran Cuon ($10), Fine Rice Noodle Salt Baked Roast Chicken ($9.90)
Opening hours: Daily 24/7
Address: 150 Orchard Road, #02-56, Orchard Plaza, Singapore 238841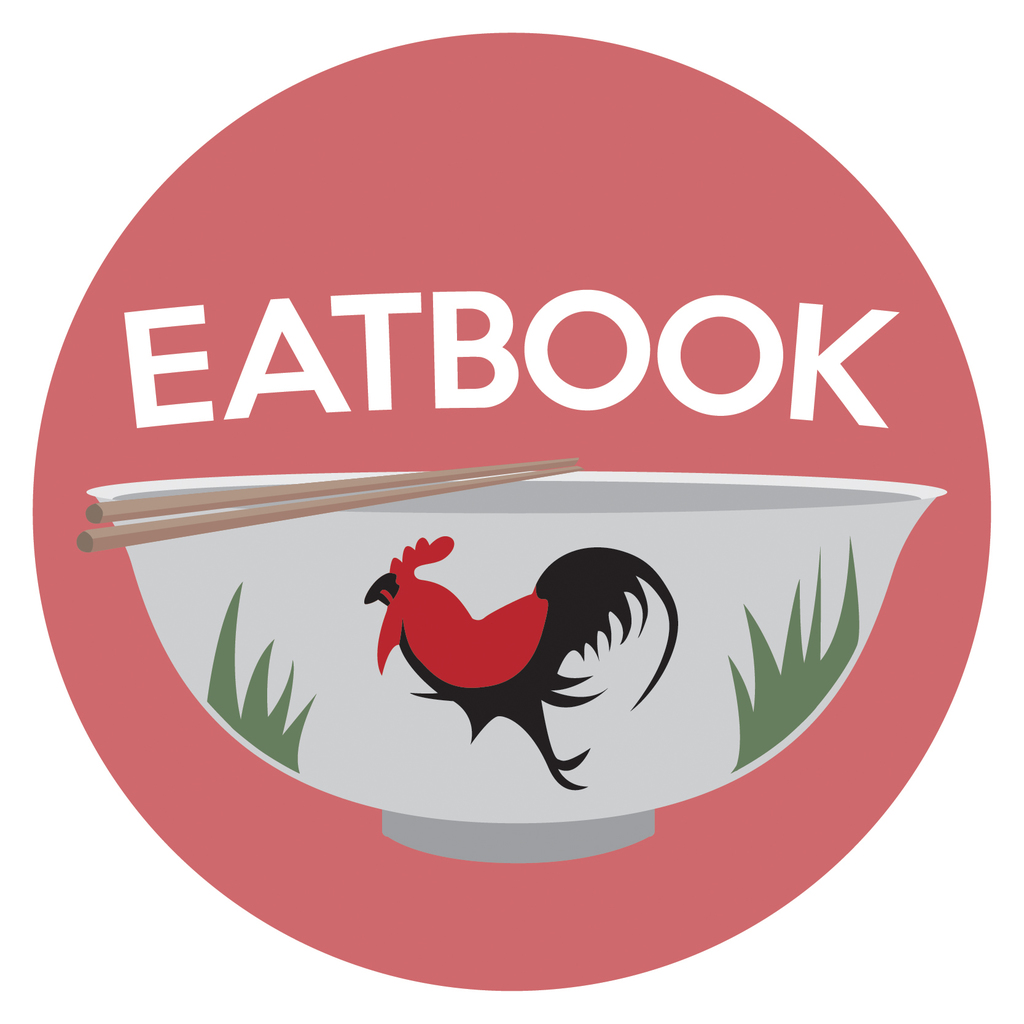 Drop us your email so you won't miss the latest news.