Banh Mi Sai Gon in Ang Mo Kio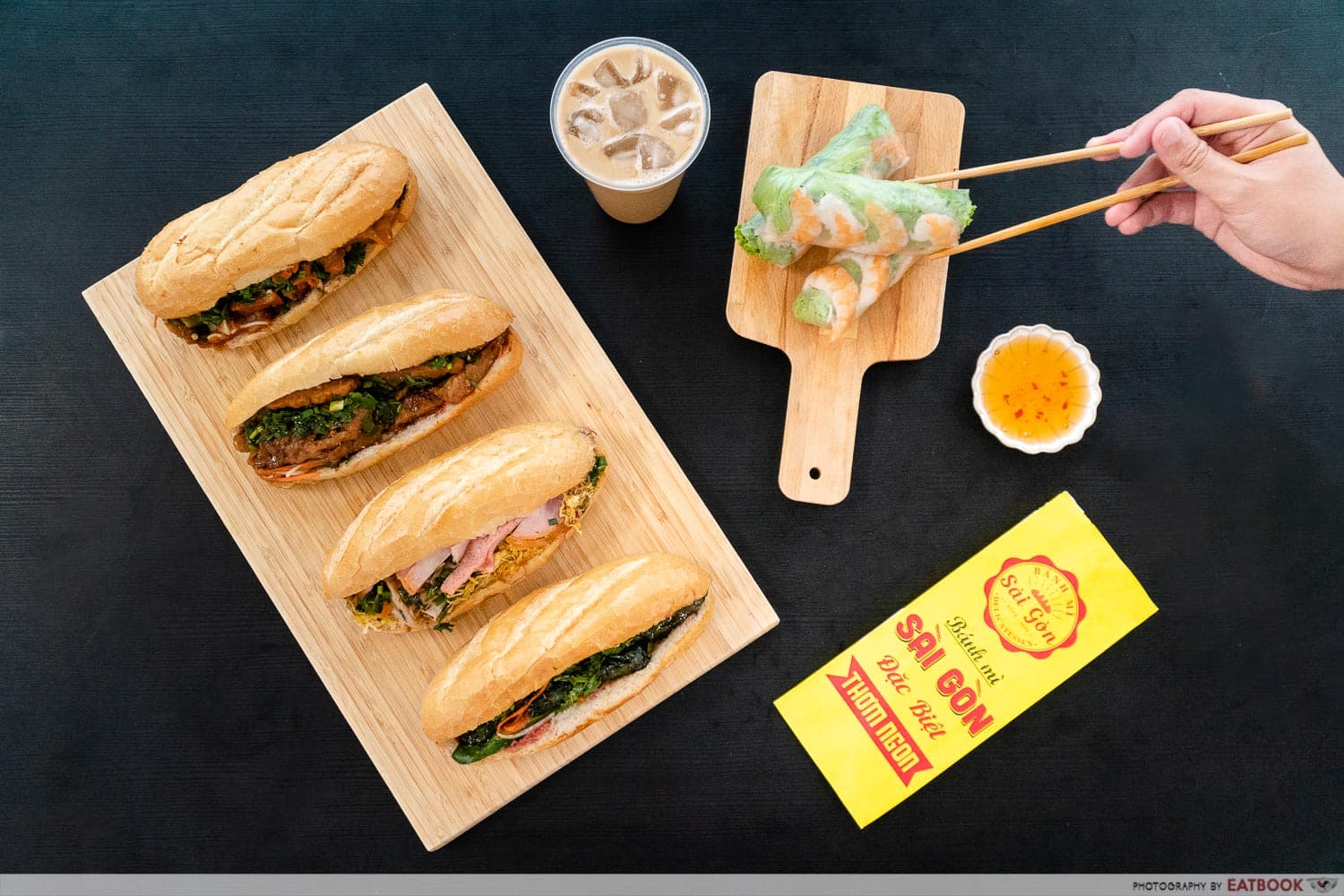 Ever since video after video of Banh Mi Sai Gon started appearing on my TikTok FYP, I knew that I had to try their banh mi, pronounced "bun me", for myself. Located under an HDB block in Ang Mo Kio, Banh Mi Sai Gon draws crowds for its authentic baguettes that are filled with various pork offals. The five-month-old banh mi stall is owned by lady boss Victoria, a 28-year old Vietnamese.
Joo Chiat Caphe Review: Muslim-Friendly Banh Mi With Otah And Fish Fillet Fillings
Food at Banh Mi Sai Gon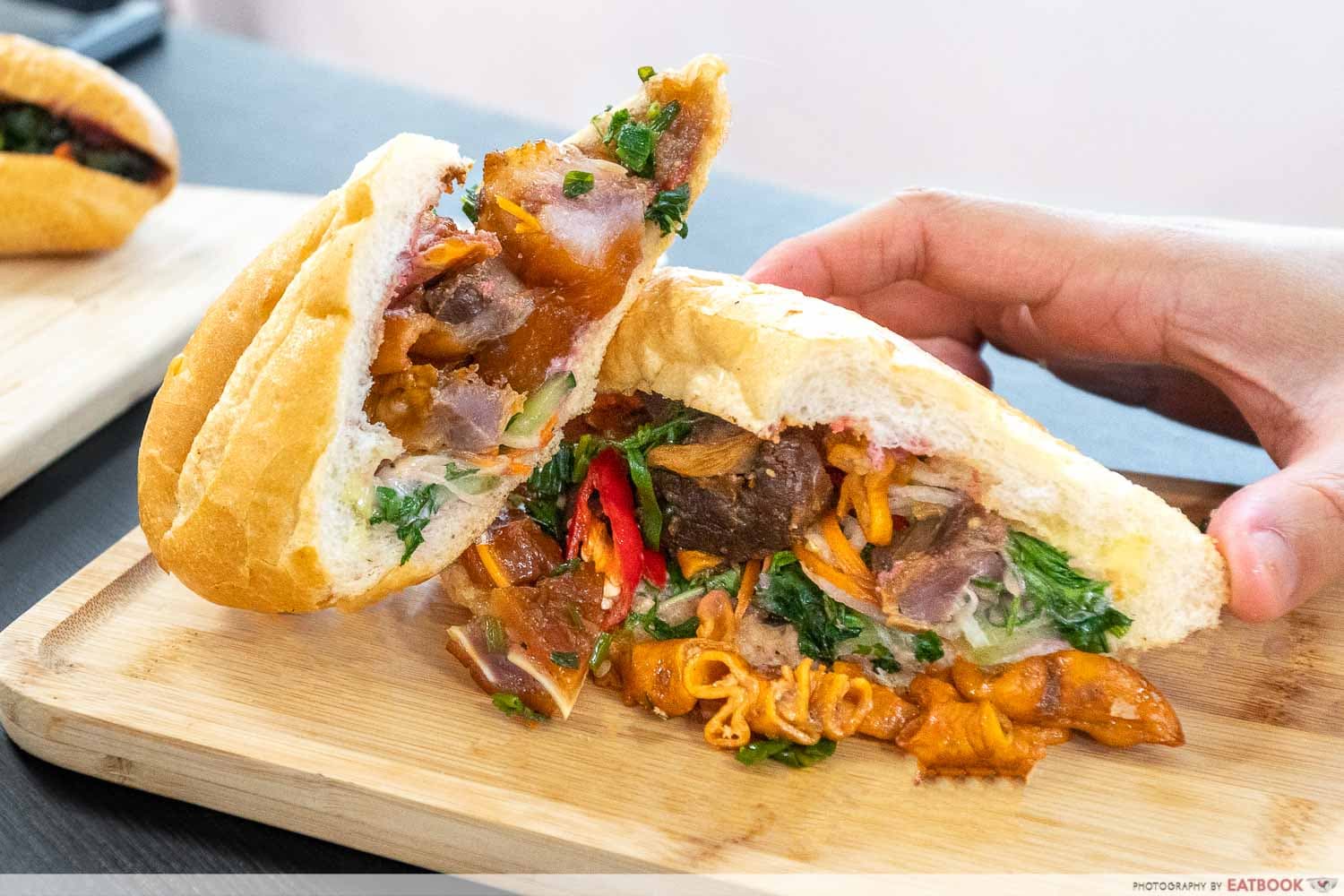 You're sure to be spoilt for choice here at Banh Mi Sai Gon, with more than 10 baguette flavours to choose from. Thinking it best to leave the decision to the experts, I deferred to Victoria. She suggested we try the Banh Mi Thit ($6.90), Banh Mi Pha Lau Heo ($7.90), Banh Mi Thit Nuong ($7.90), and the Banh Mi Bo La Lop ($8.90). 
Everything—from the baguette, to the meat, to the pate—is made in-house at Banh Mi Sai Gon. Thus, I was particularly eager to taste Victoria's recommendations. Every order of banh mi starts with a base of chicken liver pate and Banh Mi Sai Gon's special margarine. 
The pate was creamy with a slight sweetness, while the margarine spread was zhnged-up with eggs. Pickled carrots and cucumbers are also added, which provide a crunchy contrast in texture. The sandwiches are then finished with a dark soya sauce-based sauce for an additional punch of umami.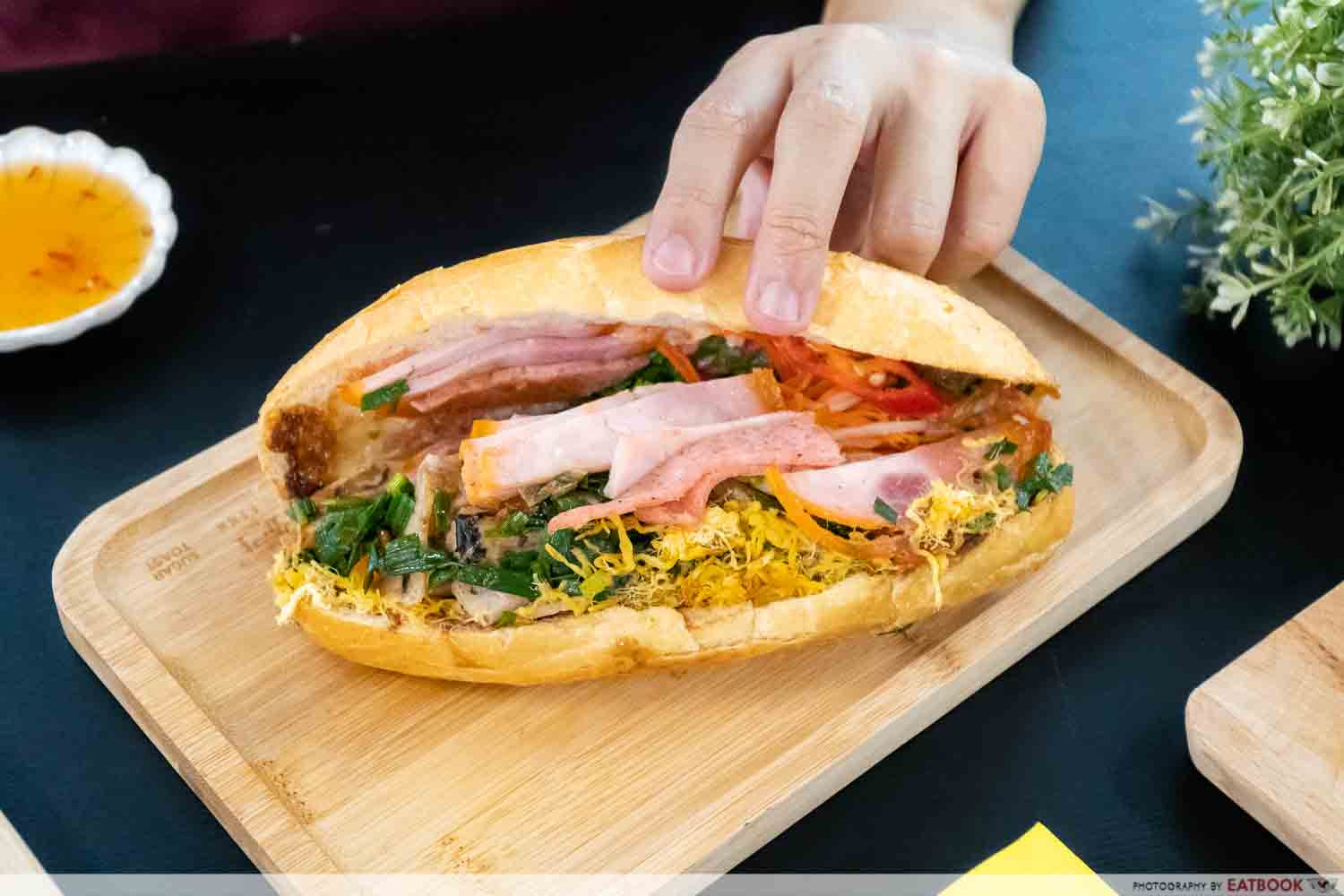 I started my banh mi degustation with Banh Mi Thit, which is also labelled as the Special Great Banh Mi. Stuffed with three different types of ham, pickles, and chilli, the Special Great Banh Mi was a delightful mix of sweetness, savouriness, sourness, and spiciness.
The cold cuts are made according to a family recipe that dates back to 1899, and feature a variety of pork off-cuts that lend a chewiness to them. The banh mi was also topped with some floss as an additional garnish.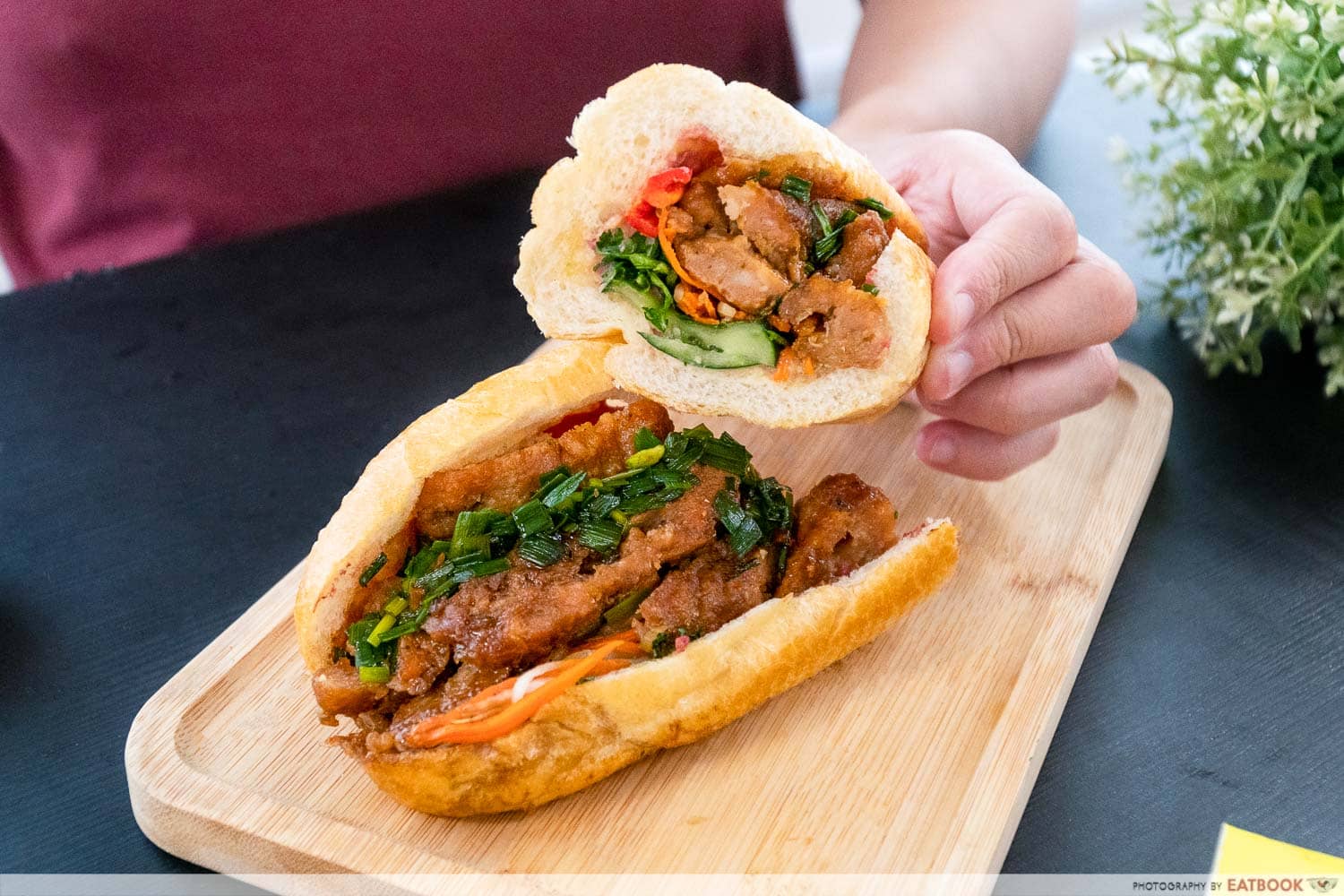 I decided to chase the Banh Mi Thit with the Roasted Pork Banh Mi, also known as the Banh Mi Thit Nuong. Featuring juicy chunks of lean pork, the banh mi leans sweet due to the sweet-savoury glaze on the roasted pork.
The pork carried the scent of five spice powder, and I particularly relished the fact that it was not at all dry. A generous serving of chives, spring onions and cilantro lent a pleasant aroma to the sandwich, though the scent will probably linger on your breath too.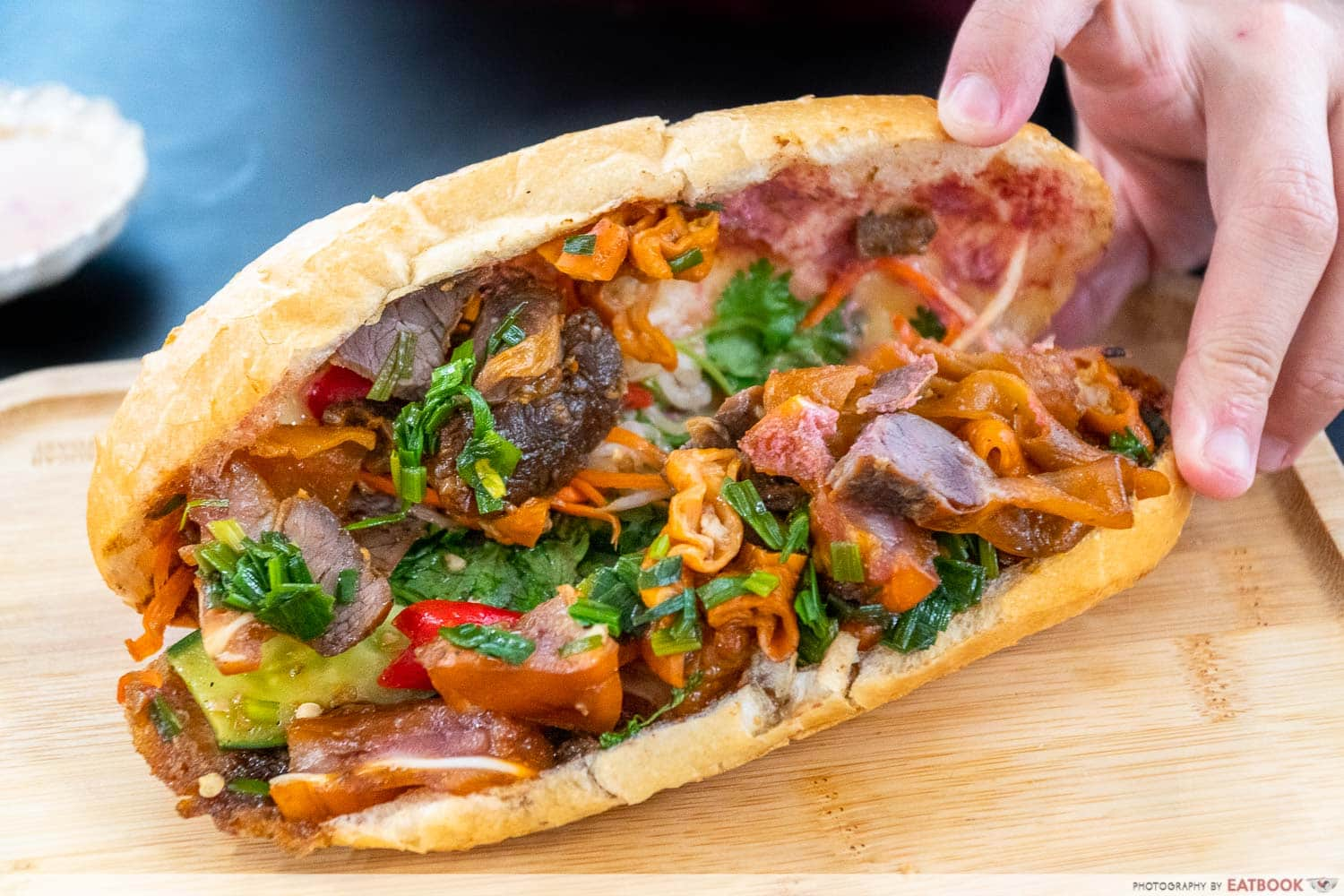 After the Banh Mi Thit, I thought that there was nothing else that I would love more, but the Banh Mi Pha Lau Heo proved me wrong. Although I'm already quite partial to pork innards, this banh mi was truly mind blowing. It's not for the faint-hearted, as it comprises pork ear, tail and other innards. 
Marinated and braised in a special concoction of soya sauce, coconut water and caramel, the Mixed Pork had both chewy and crunchy bits, with none of the funkiness that one would usually associate with offals. There was instead a lovely umami note to the meat. 
Even though the Banh Mi Pha Lau Heo was already jam-packed with meat, I loved the marinated pork bits so much that I wish I could have more of it on the side.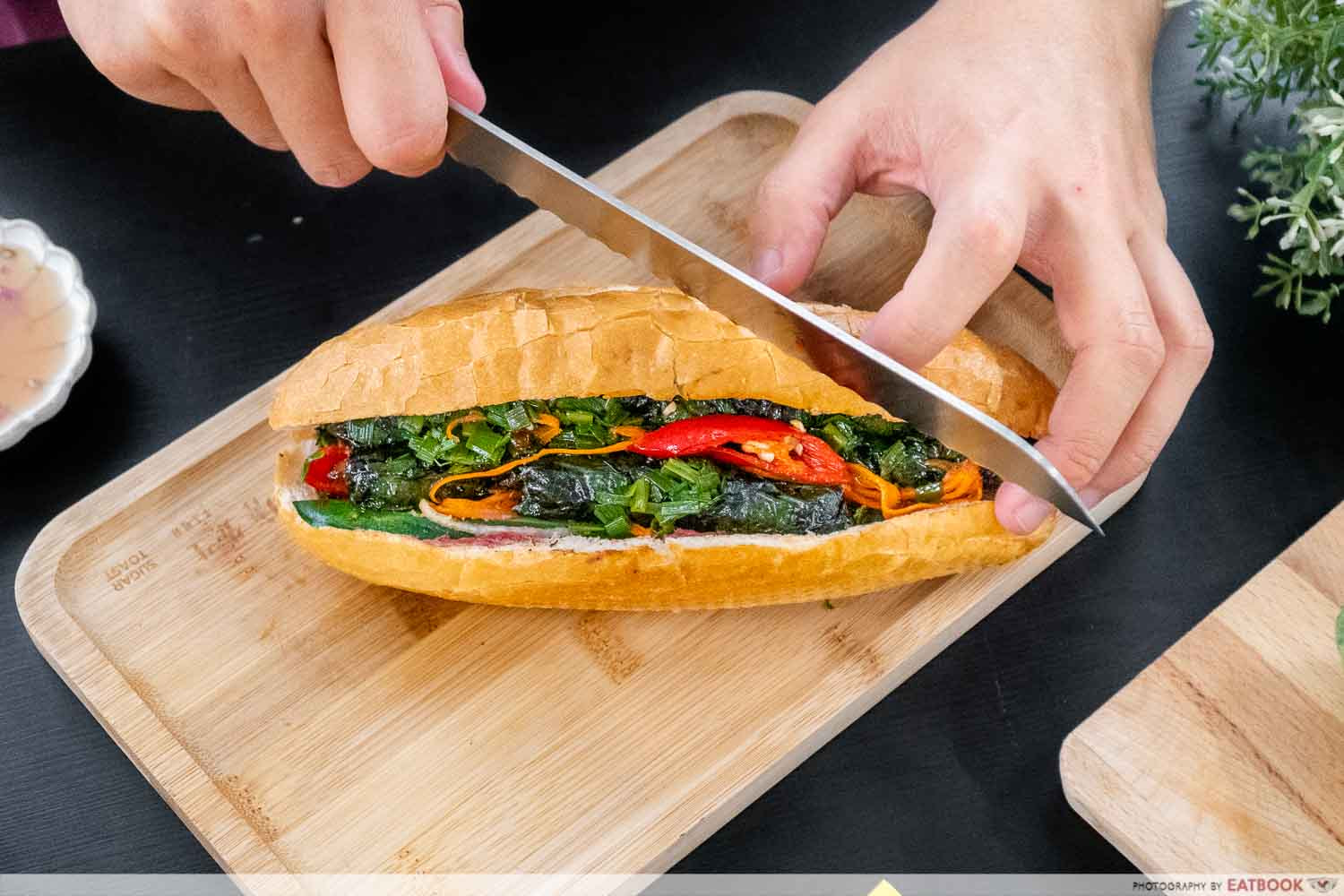 Betel leaves are all but a thing of Singapore's past, but here at Banh Mi Sai Gon, they are an instrumental ingredient in the Banh Mi Bo La Lop. Minced beef is wrapped in betel leaves, and rolled into tight cigar-shaped rolls, before they're grilled. 
The result is a forward sweetness, accompanied by a sharp, astringent aftertaste. The meat was not mealy and was well-seasoned. Definitely an acquired taste—think stinky tofu, durian, the pungent scent of the Bani Mi Bo La Lop might be off-putting to some, but I was not averse to it.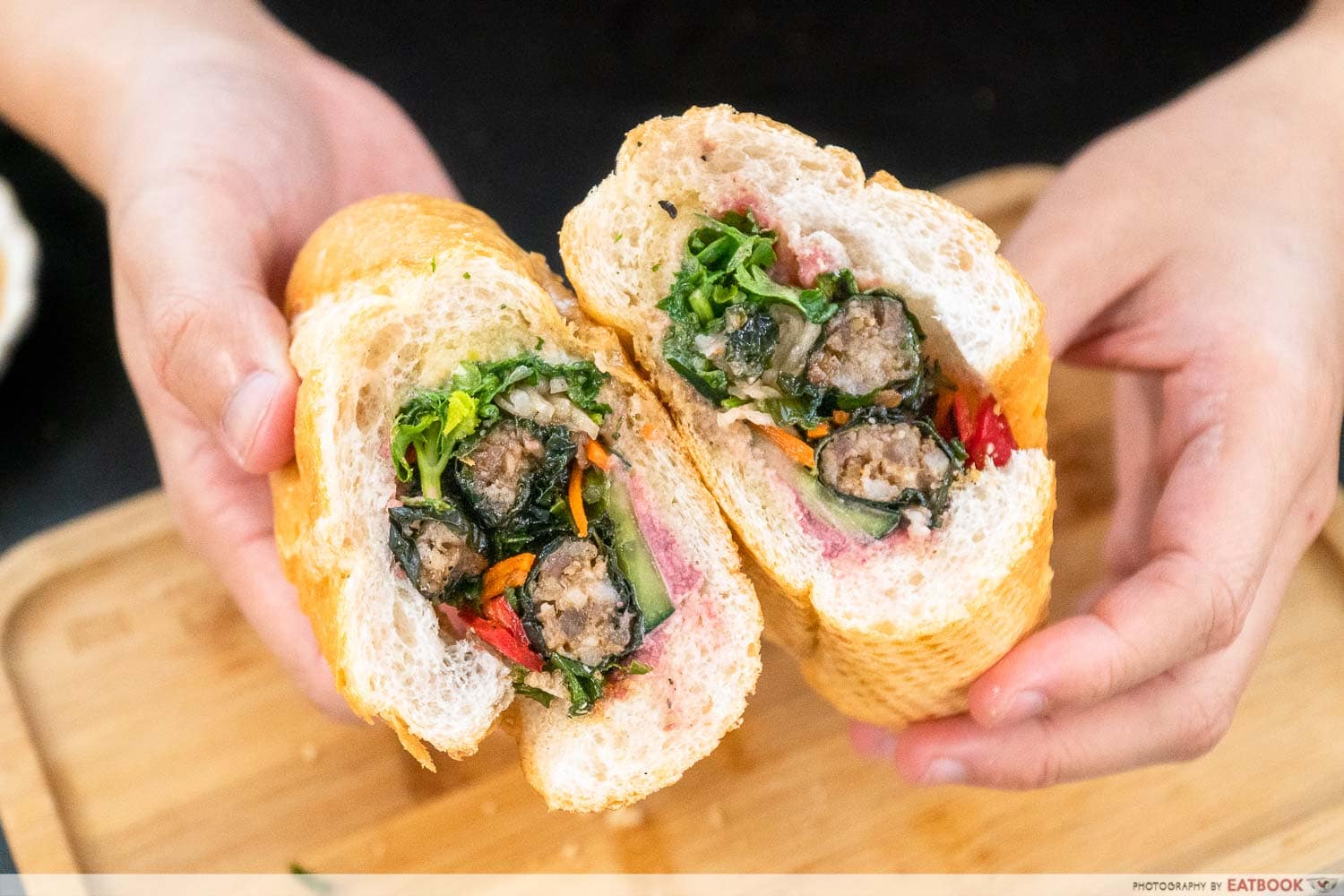 Even though the bottom halves of the baguettes had turned soggy by the time we had packed them back to the office, the top halves were still quite delicious. The exterior was crispy while the interior remained fragrant and chewy.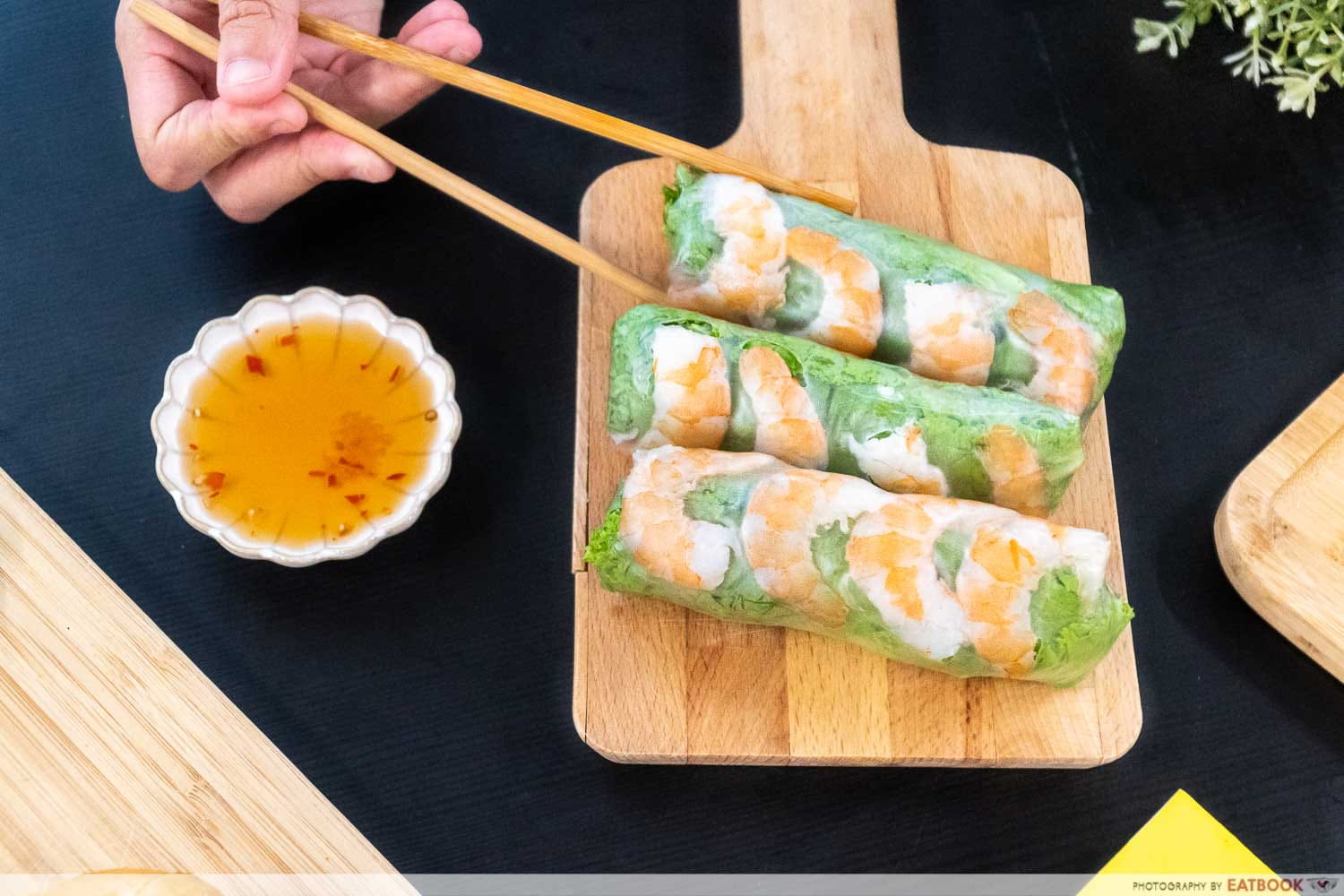 Apart from the baguettes, we also ordered a side of Goi Cuon, or Vietnamese spring rolls. Going at $6.90 for three, some might find the spring rolls to be on the pricier side. However, I felt that the premium was well worth it for the chewy strands of rice vermicelli, along with lettuce and fresh prawns that were encased within thin rice paper.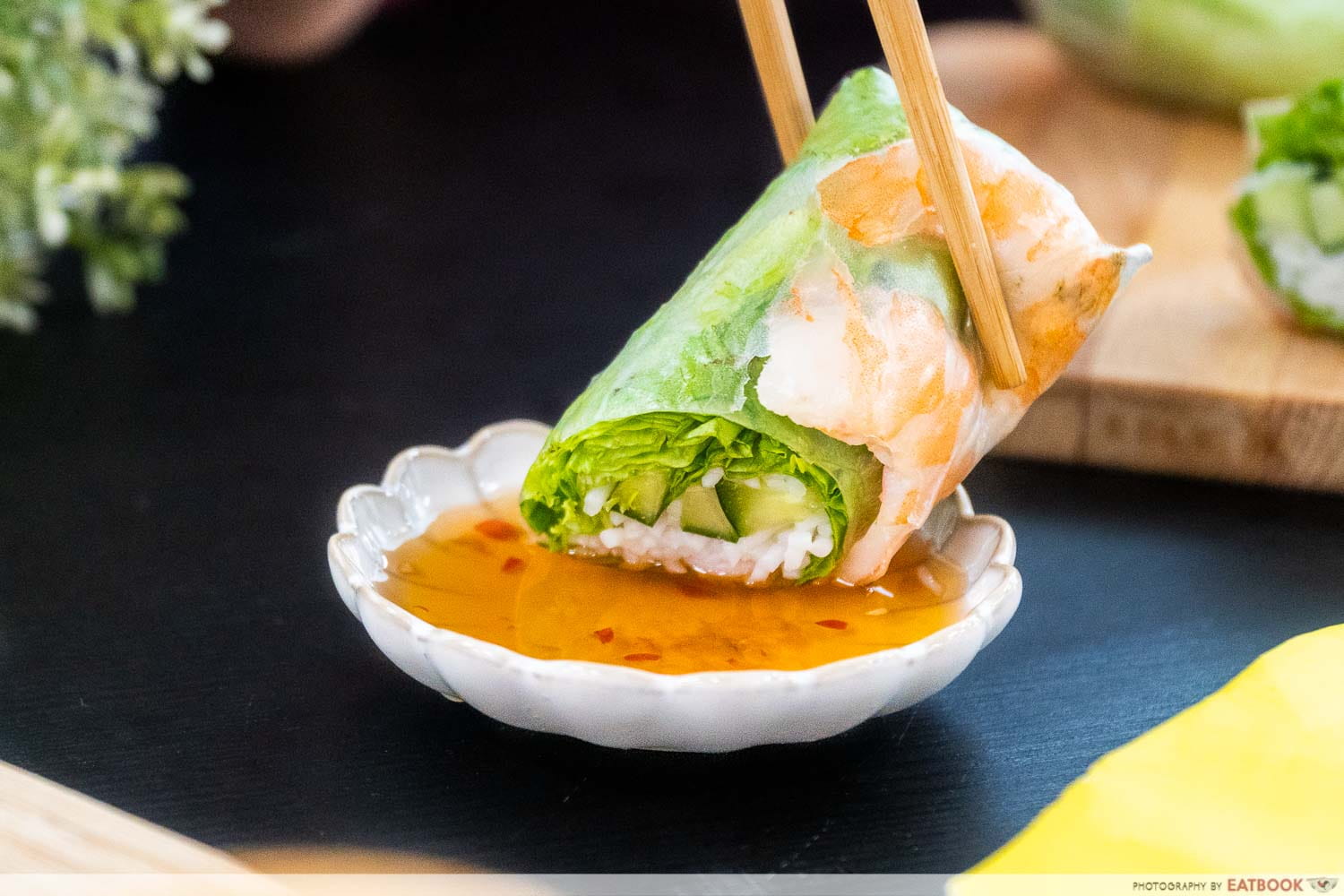 Dip the plump rice noodle rolls in fish sauce for a burst of salty flavour that completes the fresh-tasting rolls.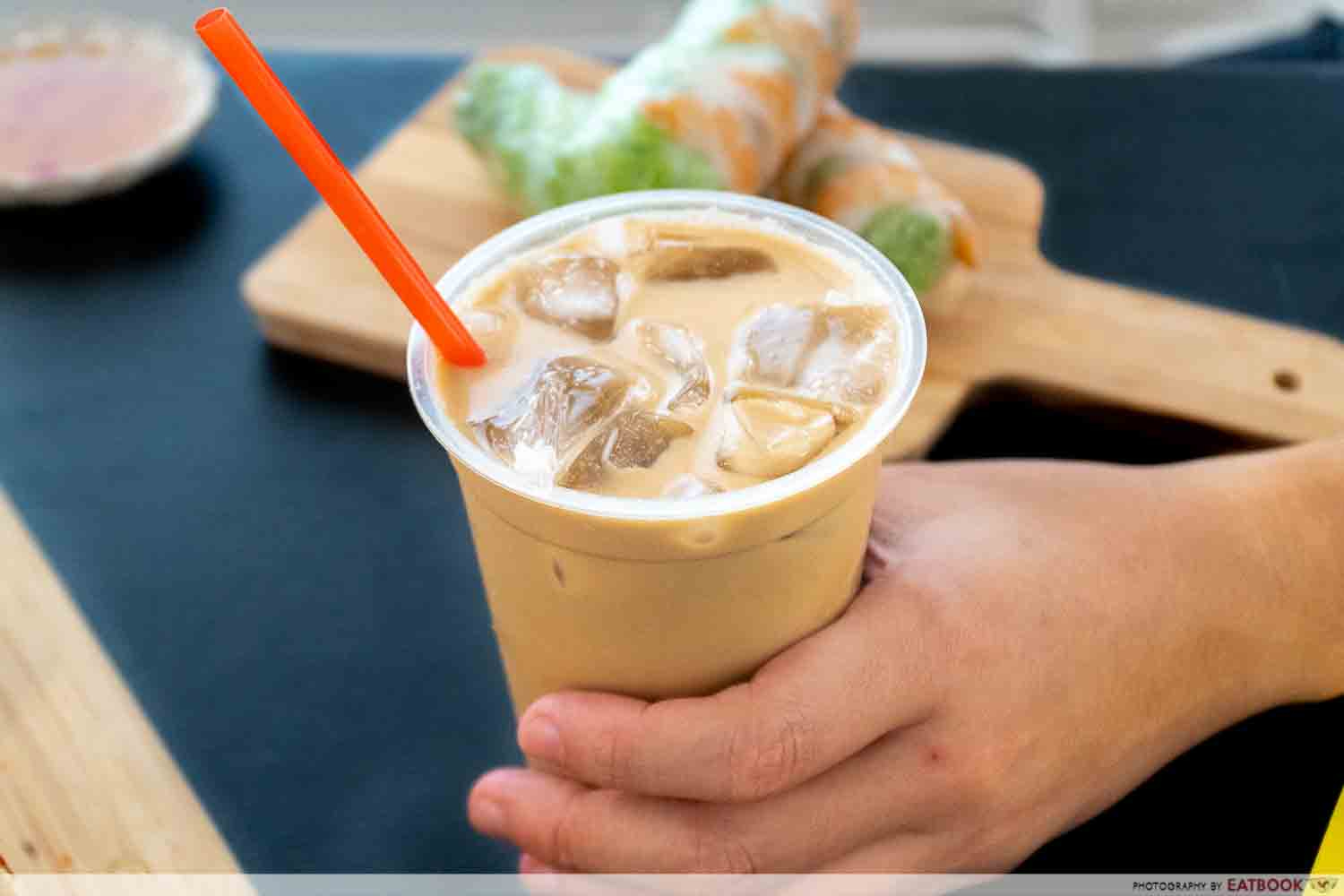 Being a coffee lover, I decided to cap off my Vietnamese feast with a hit of caffeine. Out of the three options for coffee, I went with the Ca Phe Dua ($5), AKA Vietnamese Coconut Coffee. 
Sipping it, what struck me instantly was its sweetness. Although the drink had a strong coconutty fragrance, I feel that the coffee might be too sweet for most Singaporeans' taste buds—unless you have your bubble tea with 100% sugar.
Banh Mi Be Bi Review: $1 Handmade Baguettes, Beef Stew And More At Vietnamese-Run Hawker Stall
Ambience at Banh Mi Sai Gon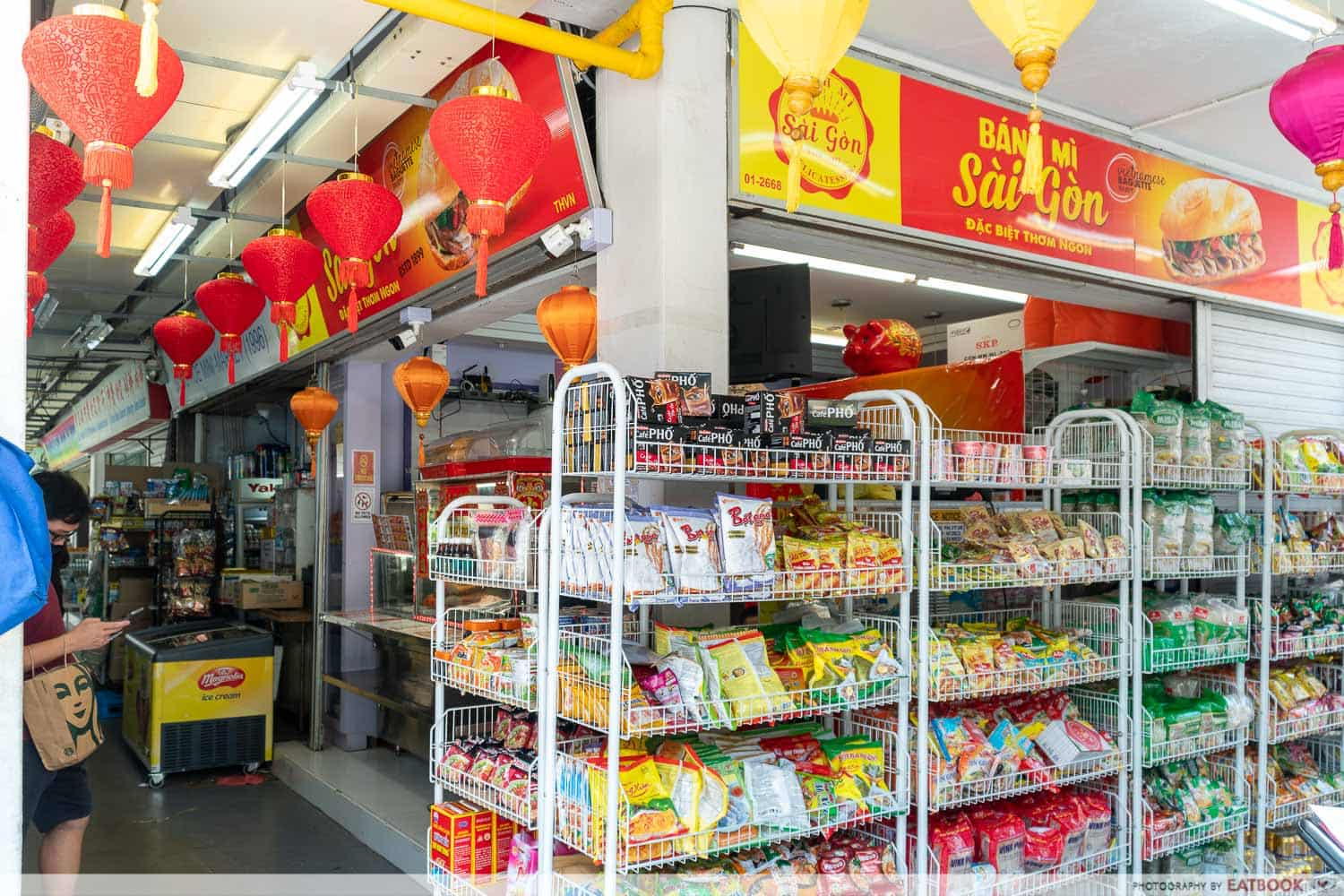 Banh Mi Sai Gon can be found nine minutes away from Ang Mo Kio MRT Station on foot. Although it merely operates as a takeaway kiosk out of a Vietnamese provision shop, that doesn't stop it from being highly sought after by both local and Vietnamese patrons.  
We visited the stall well after lunchtime at 2:15pm, but there were still many customers before and after me—each ordering multiple sandwiches at a go.
They recommend having the sandwiches within 15 minutes, to prevent the baguette from becoming soggy. Hence, don't shy away from sitting down at the void deck, or having it straightaway in your car if you have come from out of the way to enjoy this. 
The verdict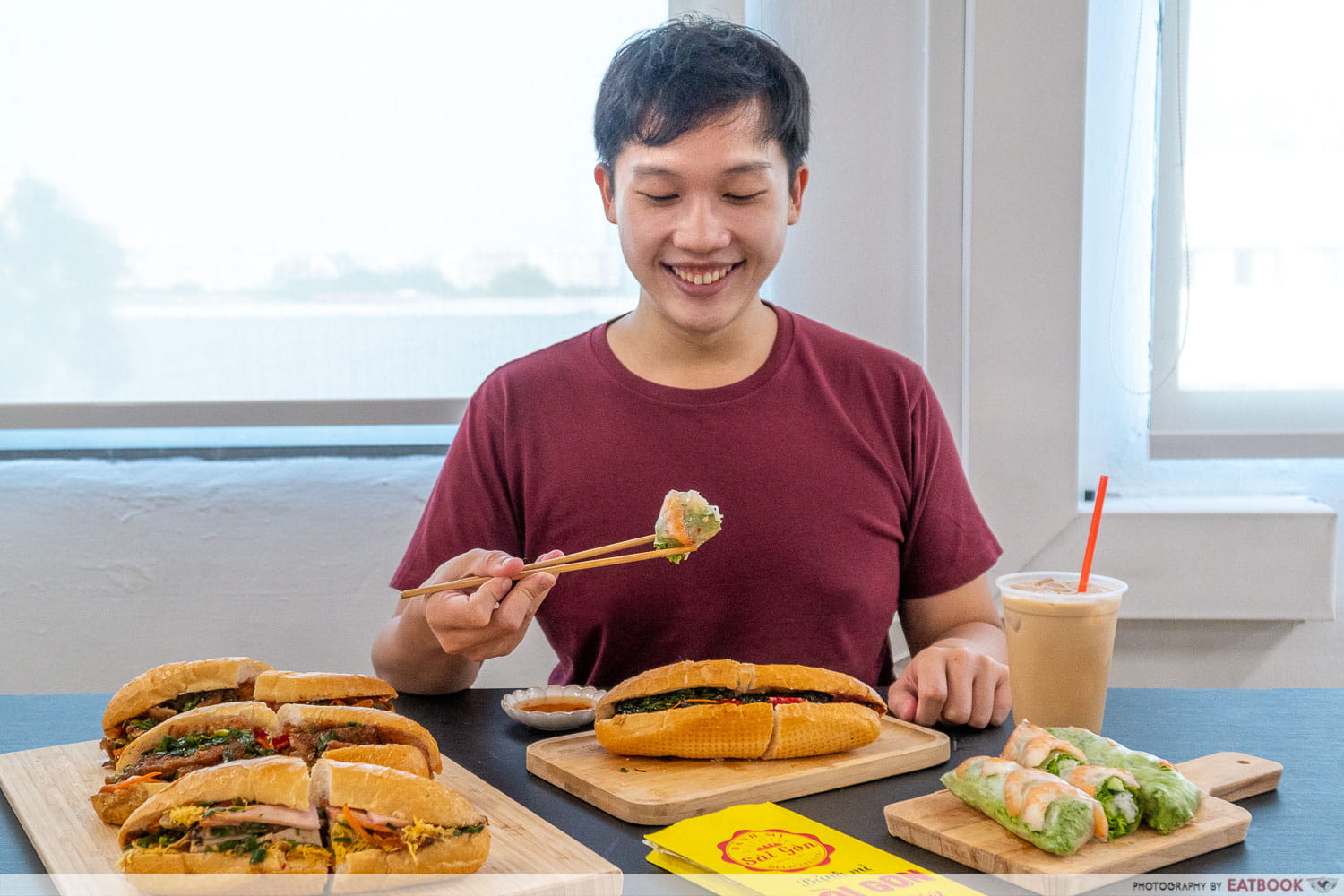 It's not ideal that there isn't a dedicated seating space to enjoy the freshly-made banh mi, but the quality of their sandwiches is in my opinion, possibly only rivalled by those in Vietnam. Ever since my last trip to Vietnam, I've been trying to find a comparable banh mi in Singapore. Now that I've discovered Banh Mi Sai Gon, I'll definitely be visiting it more often for their Banh Mi Pha Lau Heo, and to try their other sandwiches. 
For more delicious food in Ang Mo Kio, check out Magic Kitchen, a cosy eatery that sells laksa chee cheong fun and thick toasts. Otherwise, Rahim Muslim Food sells mee rebus based on a recipe that's over 60 years old!
Address: 505 Ang Mo Kio Avenue 8, Singapore 560505
Opening hours: Daily 9am to 9pm
Website
Banh Mi Sai Gon is not a halal-certified eatery.
Magic Kitchen Review: Cheap Thick Toasts And Laksa Chee Cheong Fun At This Ang Mo Kio Cafe
Photos taken by Tanya Tham.
This was an independent review by Eatbook.sg
Banh Mi Sai Gon Review: 123 Year-Old Banh Mi Recipe With Unusual Cuts Of Meat
Banh Mi Sai Gon Review: 123 Year-Old Banh Mi Recipe With Unusual Cuts Of Meat -

8.5/10
Summary
Pros
– Generously stuffed with meat
– Flavourful marinade
Cons
– Coffee was a bit too sweet and expensive 
– No dine-in seats
Recommended dishes: Banh Mi Thit Nuong ($7.90), Banh Mi Pha Lau Heo ($7.90), Goi Cuon ($6.90)
Opening hours: Daily 9am to 9pm
Address: 505 Ang Mo Kio Avenue 8, Singapore 560505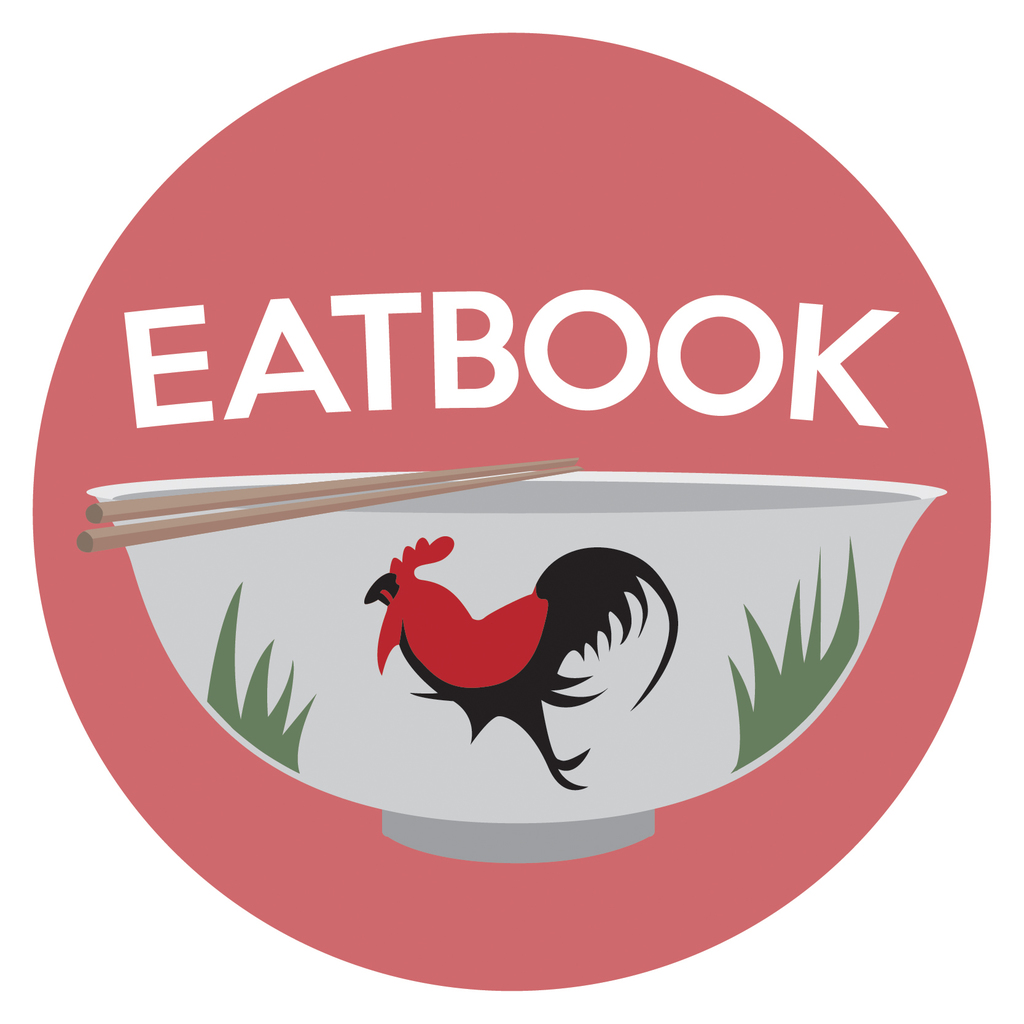 Drop us your email so you won't miss the latest news.