Rahim Muslim Food sells Power mee rebus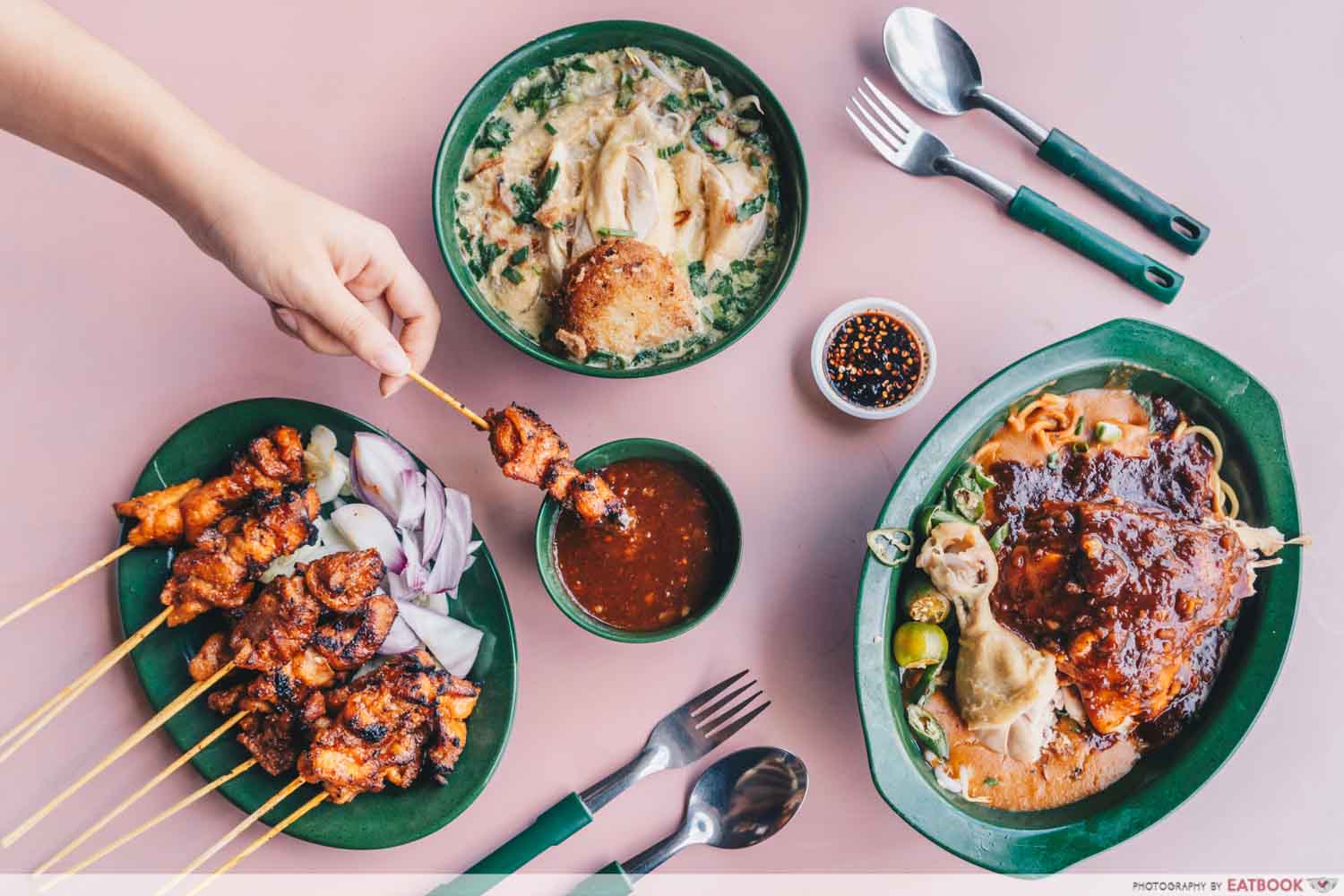 I've never properly ordered a bowl of mee rebus for myself in my life. The bowl of thick yellow noodles, sitting in a viscous pool of gravy, topped with more ingredients, just never appeared appetising enough to me. However, after hearing of the long queues that would gather for the Power Mee Rebus from Rahim Muslim Food, I figured that there was no better place to challenge my opinion of the traditional dish, than at Rahim's.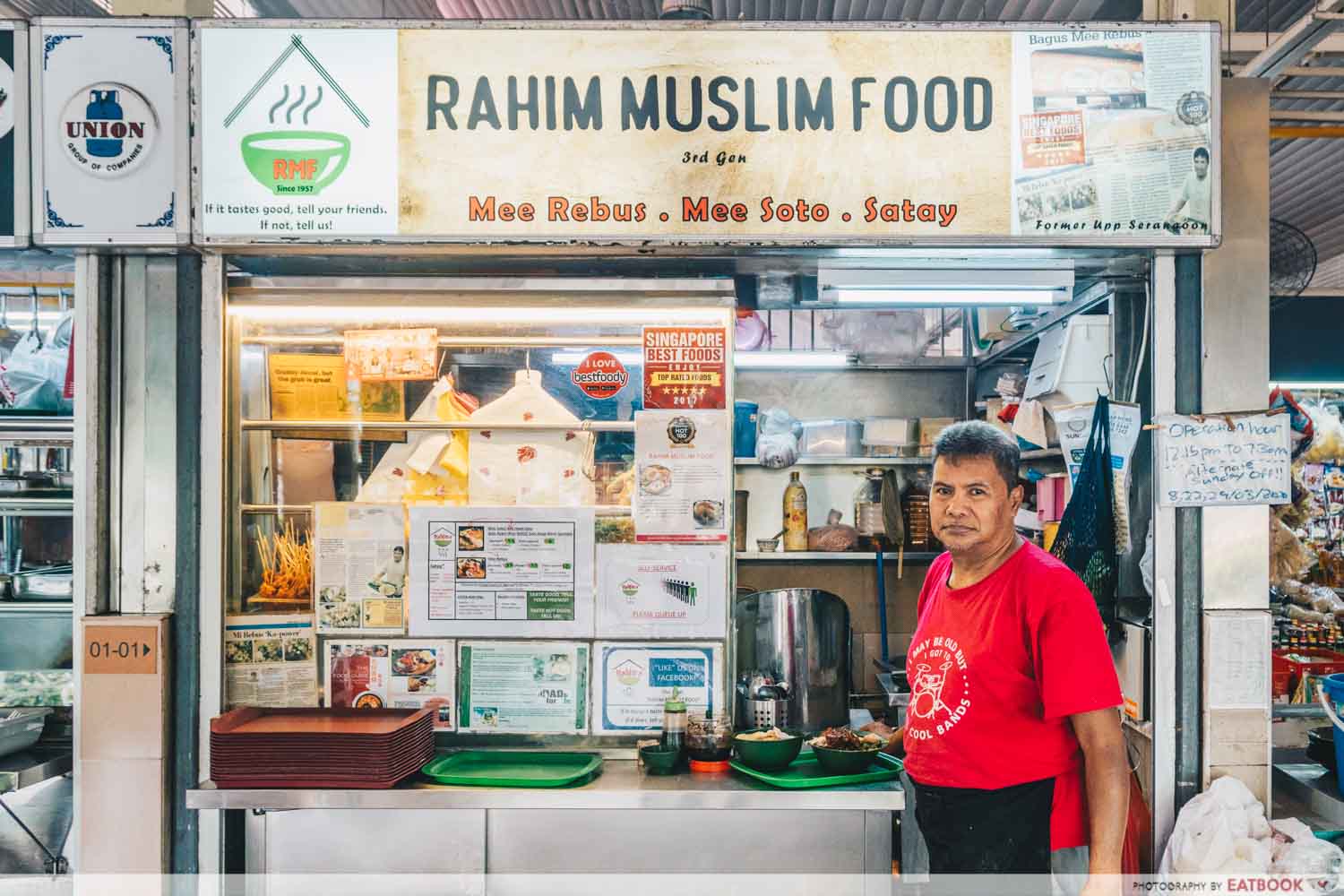 A long history precedes this humble-looking hawker stall. First opened in 1957, this Muslim stall has been operating for over 60 years and is currently being run by its third generation. Despite moving several locations in the time they've been open, the stall still draws long queues till today.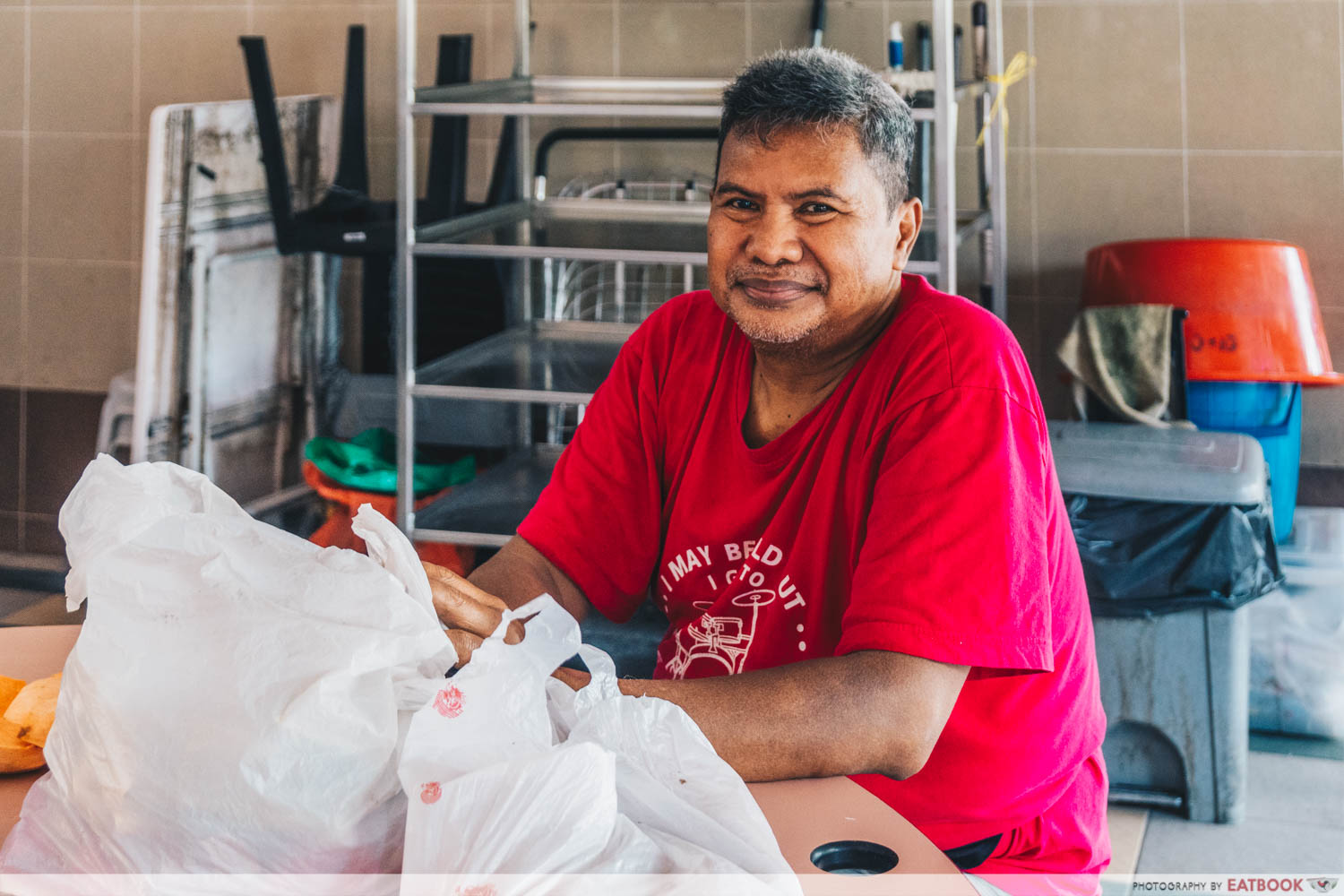 Reading through the newspaper clippings that adorned the storefront, I spotted the owner's smiling face even in articles dating back to the '90s. Apparently, Rahim took over the stall in Upper Serangoon over 35 years ago, when he was only in his mid-twenties. 
Even then, the young business owner clearly had an affinity with the trade. His Power Mee Rebus went on to clinch food accolades, and even the Prime Minister at that time, Mr Goh Chok Tong, attested to the quality of his dishes. 
Food at Rahim Muslim Food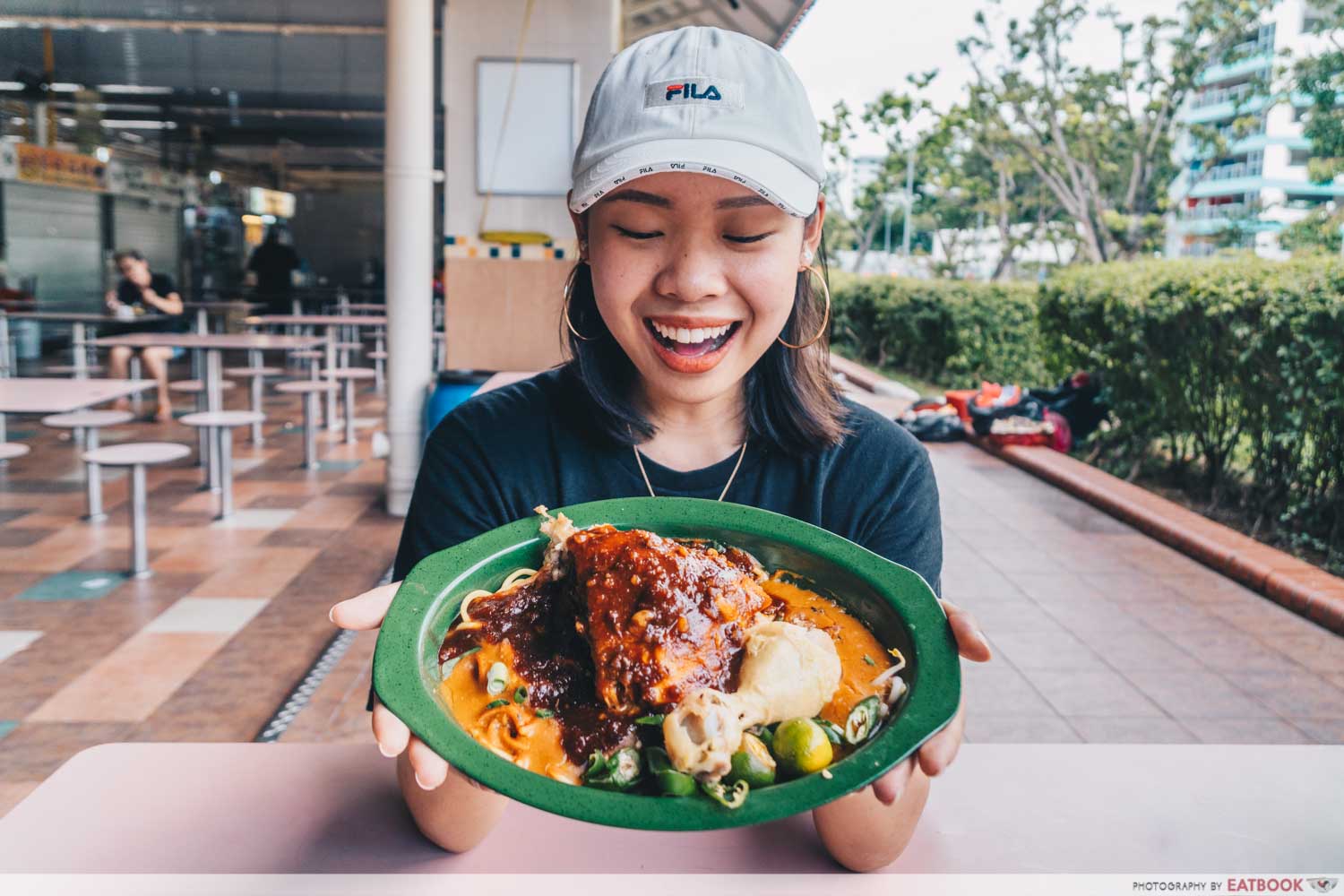 All the rave I've heard about the stall was for their Power Mee Rebus which comes with a topping of chicken and egg. But after seeing their Extra Special Mee Rebus ($6)—a level above even the Power Mee Rebus—on the menu, I knew that it was either 'go big or go home'.  
Lifting the hefty bowl up to scrutinise the ingredients, I spotted a whole chicken thigh drenched in satay sauce, a chicken drumstick, a hard boiled egg, beansprouts, green chilli, and cut limes.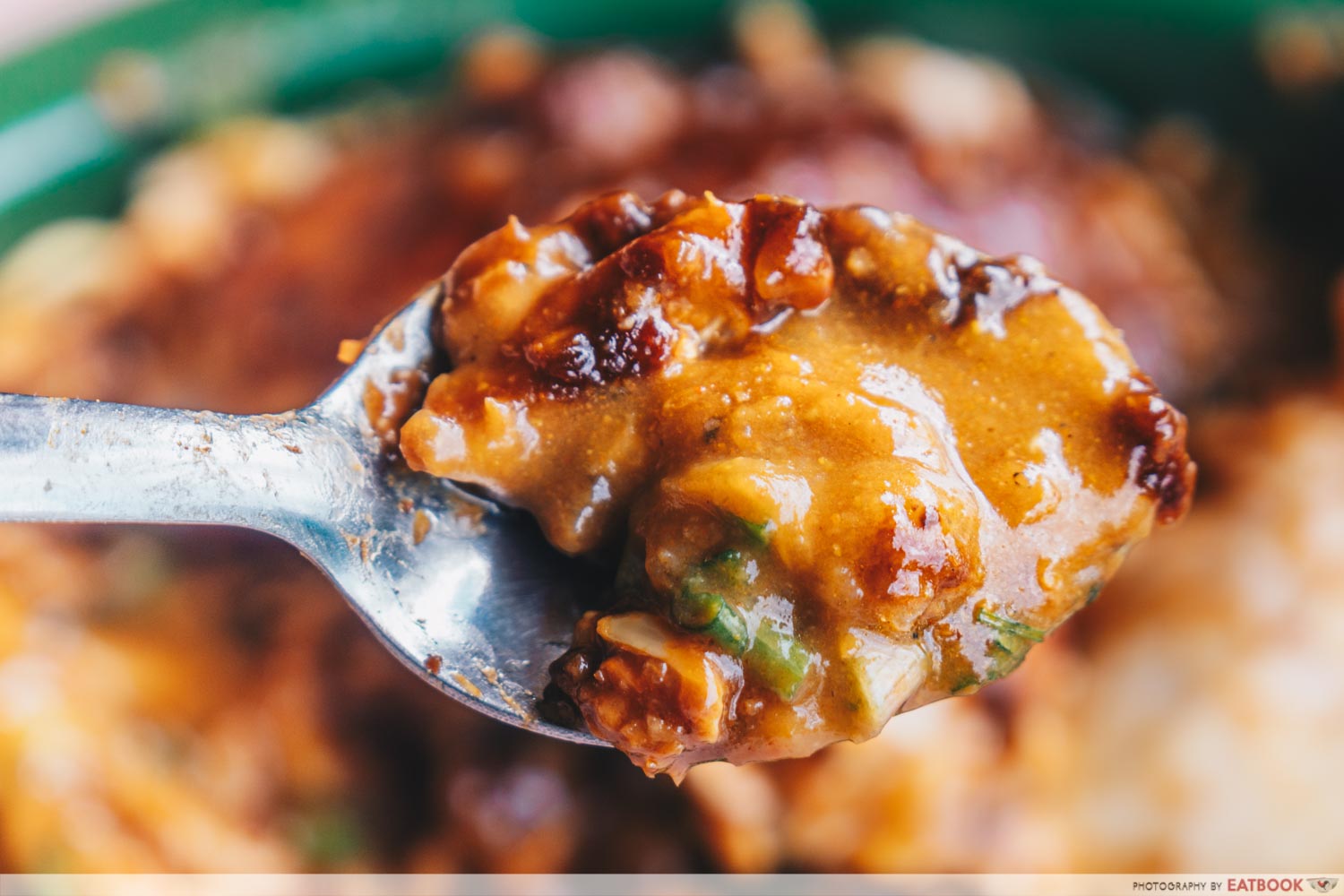 With every scoop, I made sure to get a good mix of the dark red satay sauce and thick mee rebus gravy. The resulting combination was jam-packed with deep flavours. It was sweet, savoury, nutty, spicy, and luxuriously rich at the same time. 
Apparently, the potato-based gravy is a blend of fish curry paste, ikan bilis, dried shrimp, stock, and a litany of other spices—allowing it to achieve complex flavour notes. I especially loved the small chunks of peanuts in the satay sauce that added crunchiness and texture to the creamy gravy.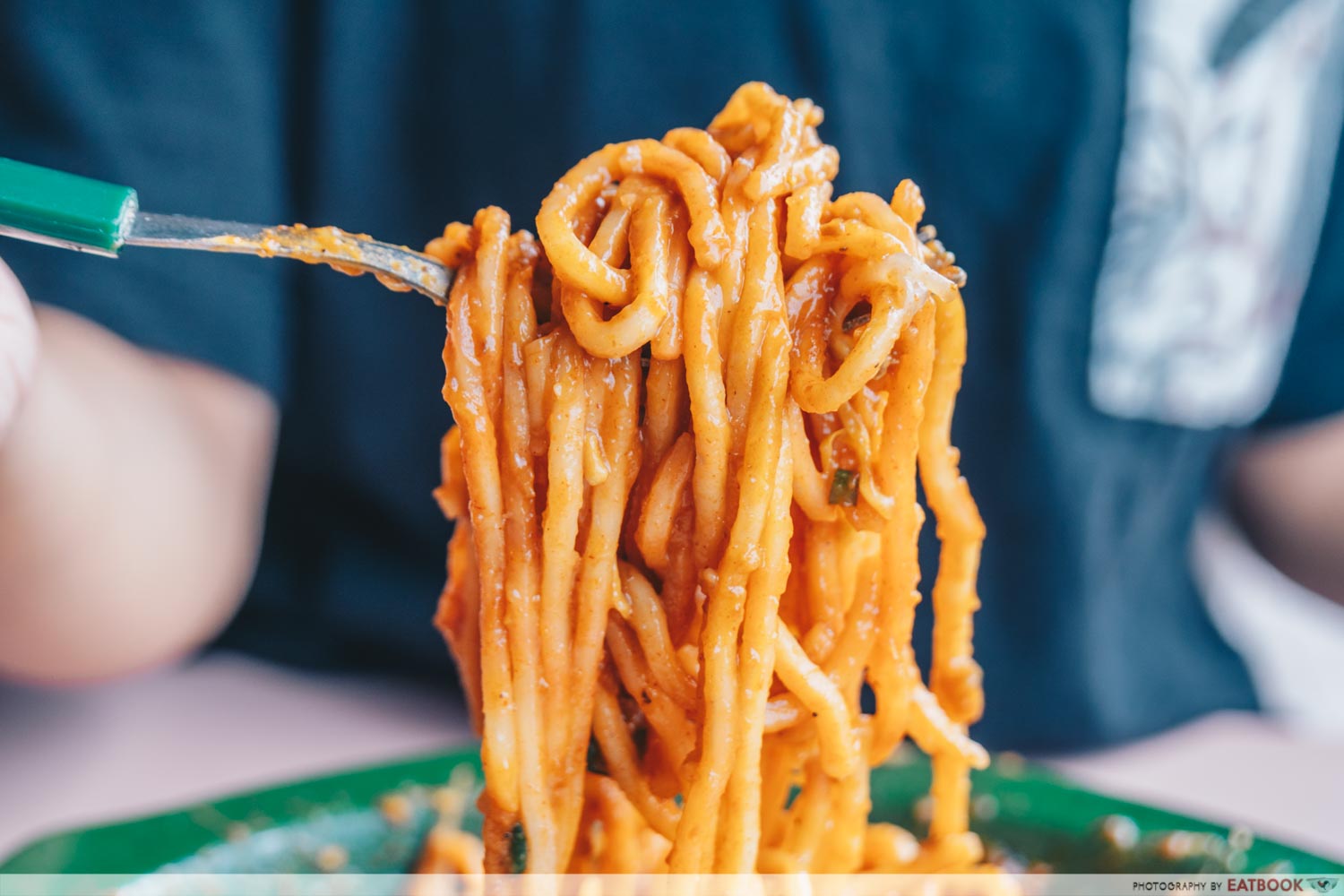 While I couldn't get enough of the gravy's taste, the noodles were another story. As delicious as the sauce was, it made the dish jelak once it coated the yellow noodles. Judging by the starchiness of the gravy, a lot of potatoes must have been used in the mix to achieve that thick consistency, making it extra filling. I highly recommend splitting this dish with a friend if you're not much of a big eater.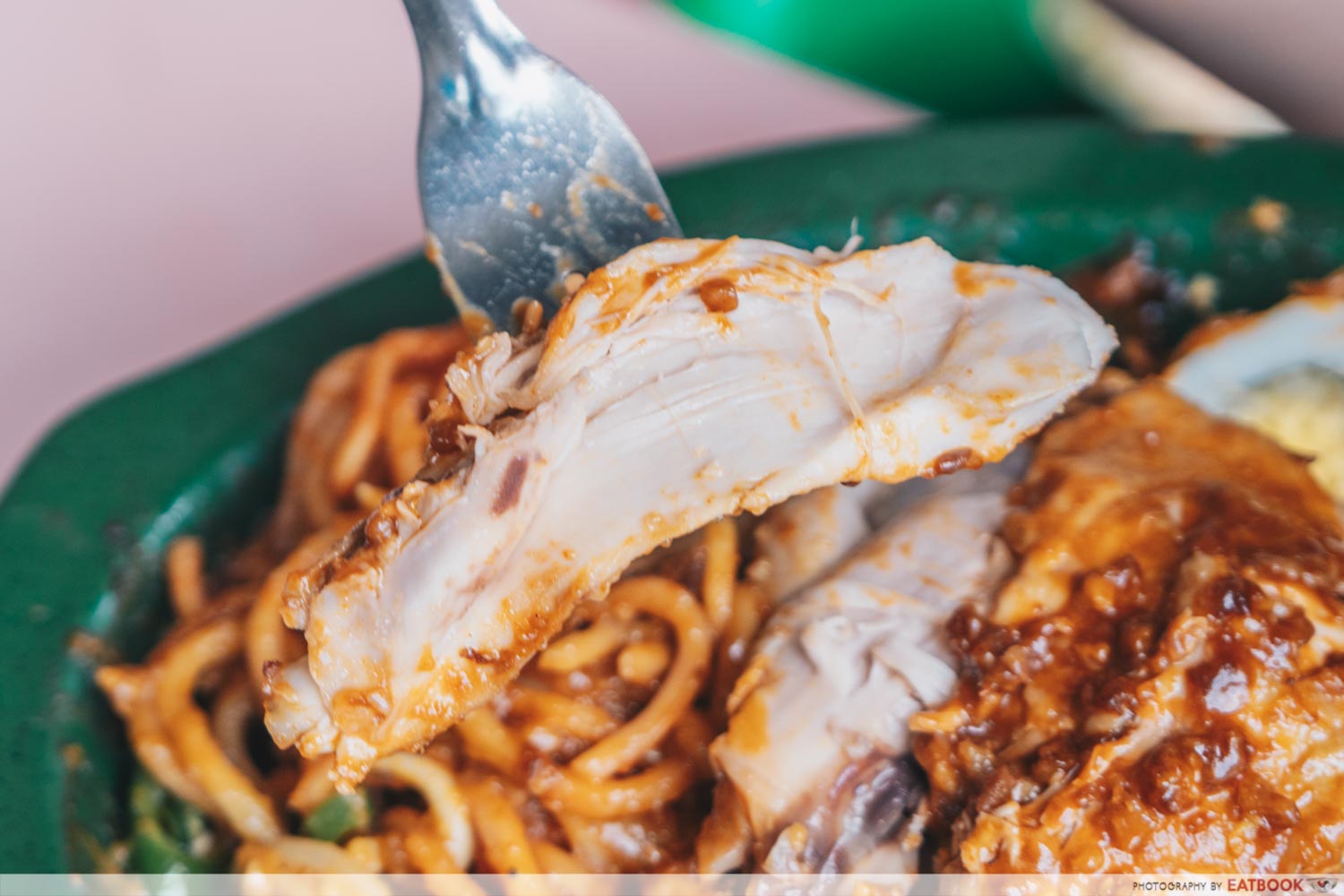 To take a break from the heavy carbs, I dug into the large chicken thigh. As the stall lightly seasons their chicken in turmeric before poaching, its subtle fragrance works just right with the strong flavours of the gravy. Thanks to the gentle simmering, the meat is also kept succulent, retaining all of its juices. 
Next, we went for their Normal Bee Hoon Soto ($4.50) which came with a decent portion of chicken and a potato cutlet, better known as begedil, on the side. Mee soto is usually eaten with yellow noodles. However, we were feeling a little bloated from the carb-overload and settled on bee hoon instead.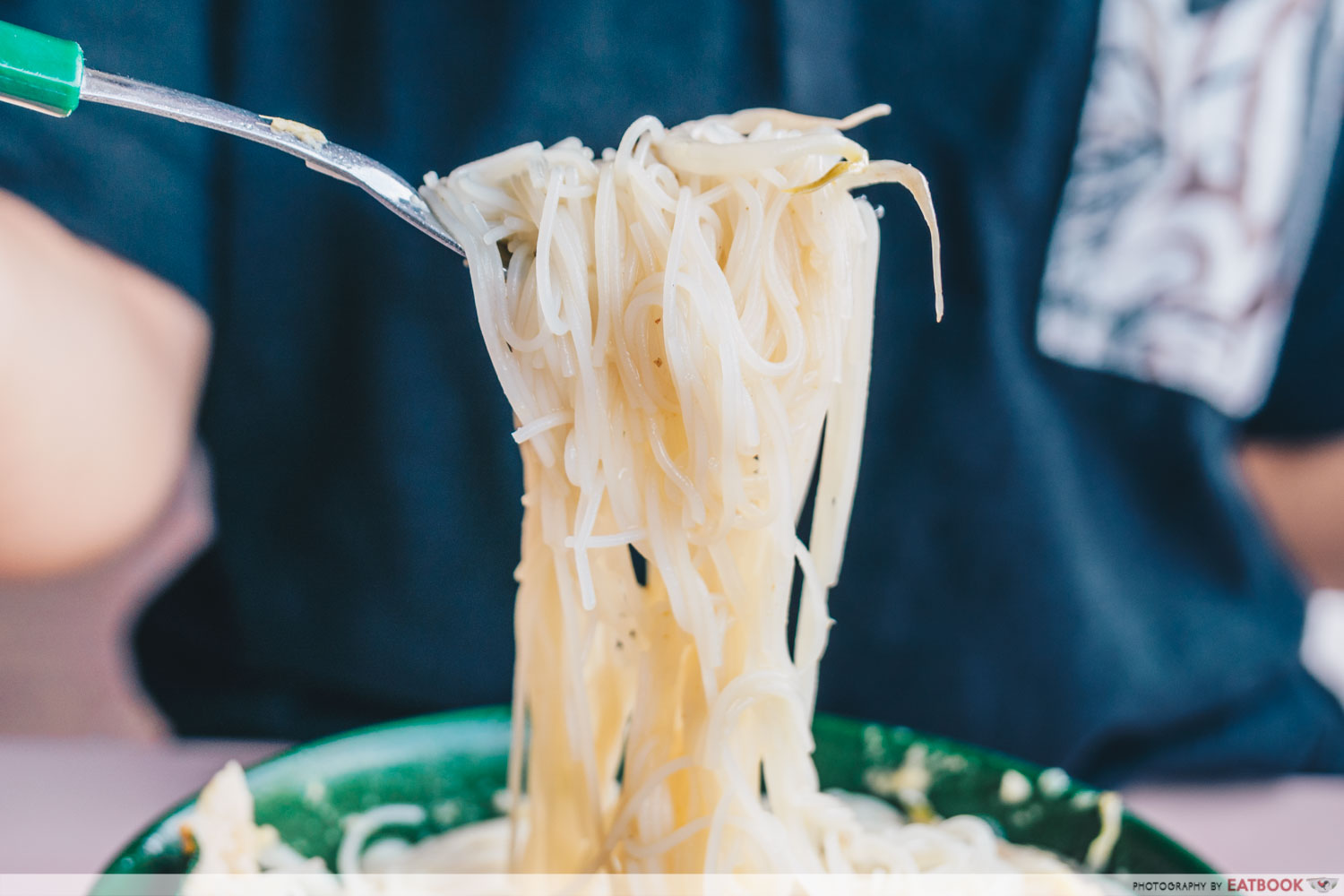 This choice of bee hoon over yellow mee ended up being a blessing in disguise. Since bee hoon has barely any flavour on its own, the aroma of the light-tasting broth really shone through.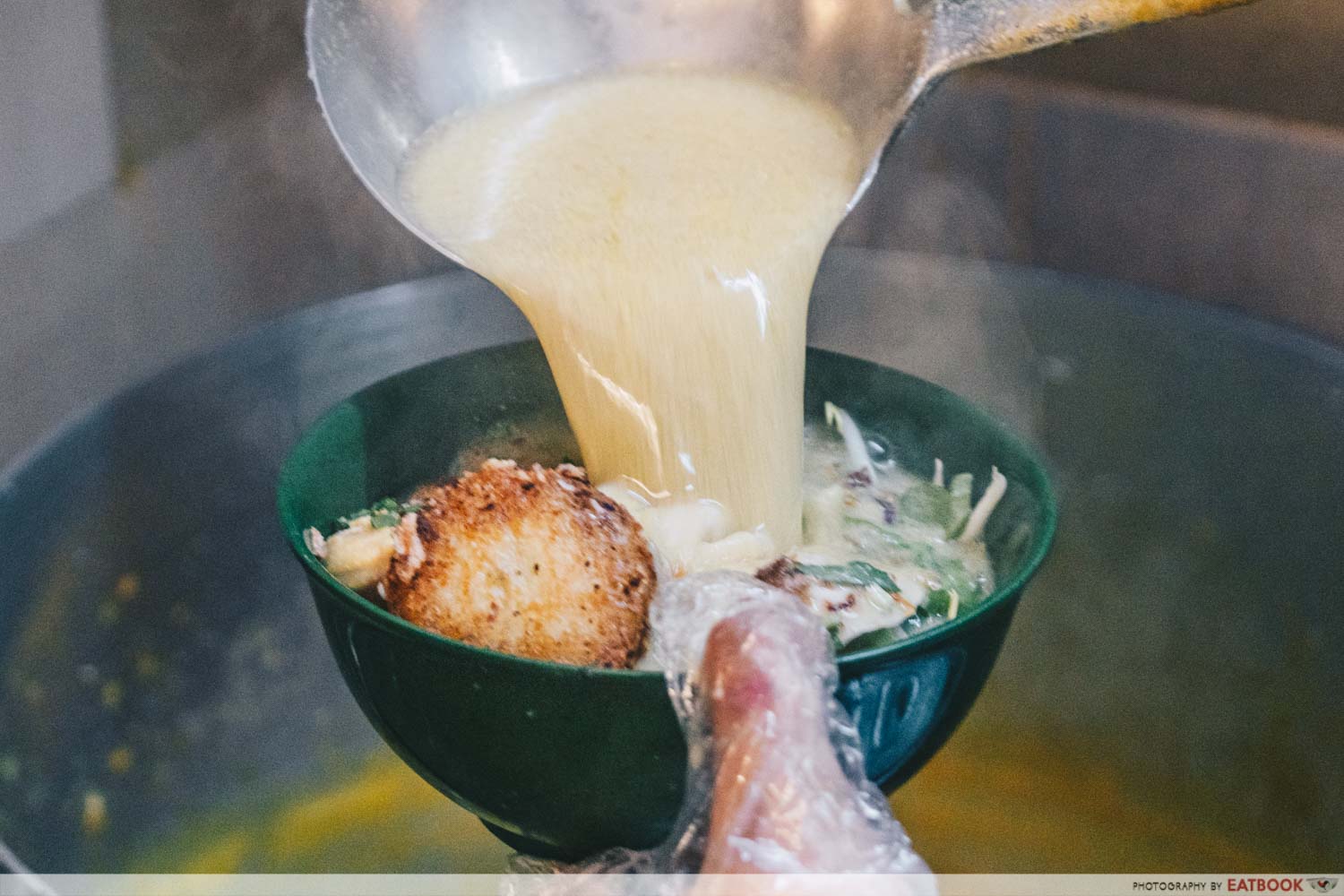 Evidently, the soup had been infused with numerous ingredients including turmeric, ginger, garlic, and chicken parts which resulted in a full-bodied flavour. If you prefer your mee soto to be a little more exciting, you can hit it with a spoonful of chilli padi and garlic to add some heat.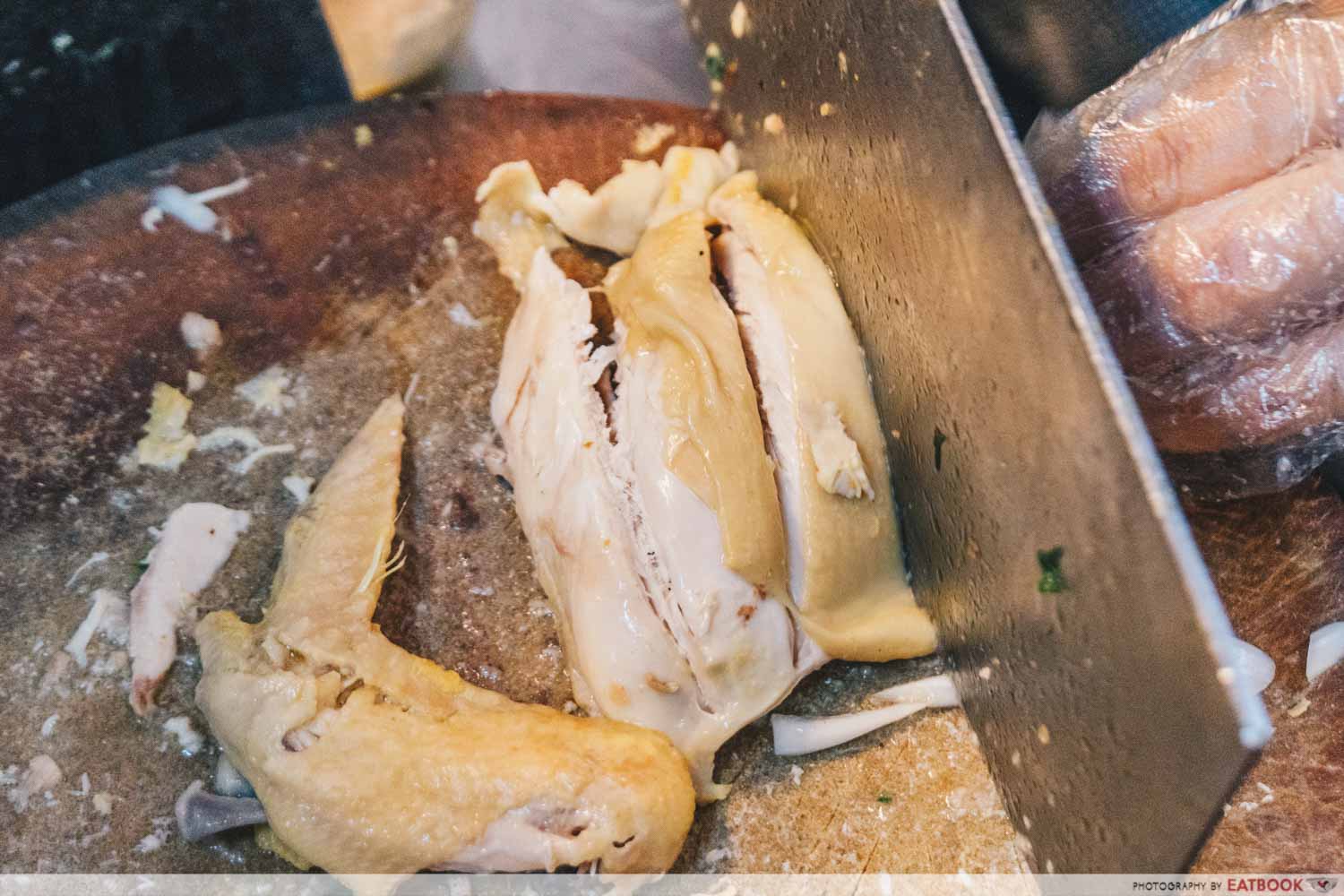 Once again, the stall didn't scrimp on the chicken. We were served thick, juicy slices of poached chicken meat which were free from bones and thus easy to devour with our noodles.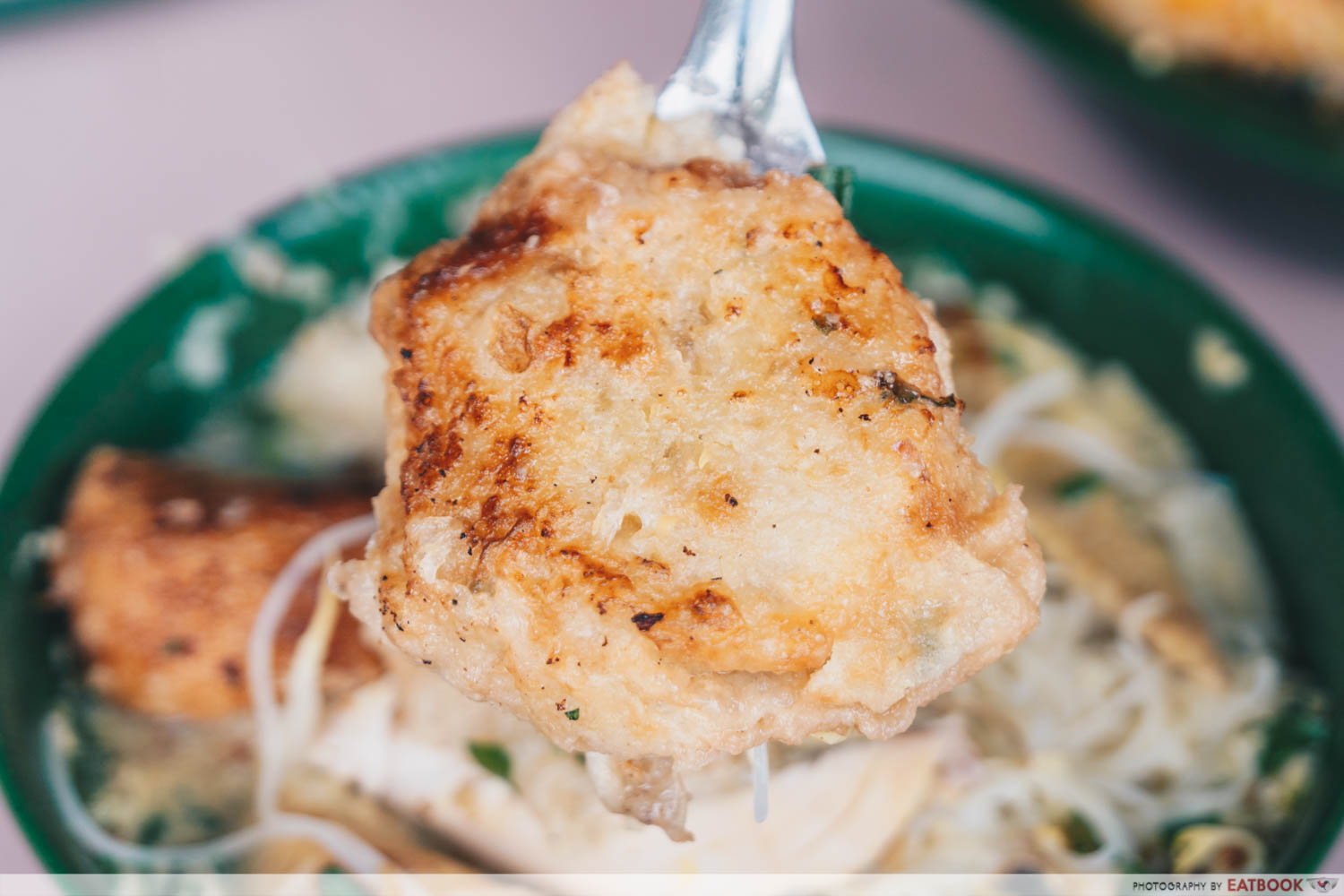 Our begedil was unfortunately quite soggy by the time we scooped it up from the depths of the mee soto soup. Even then, the lightly browned edges offered a slightly crispy texture which contrasted against the fluffy potato centre.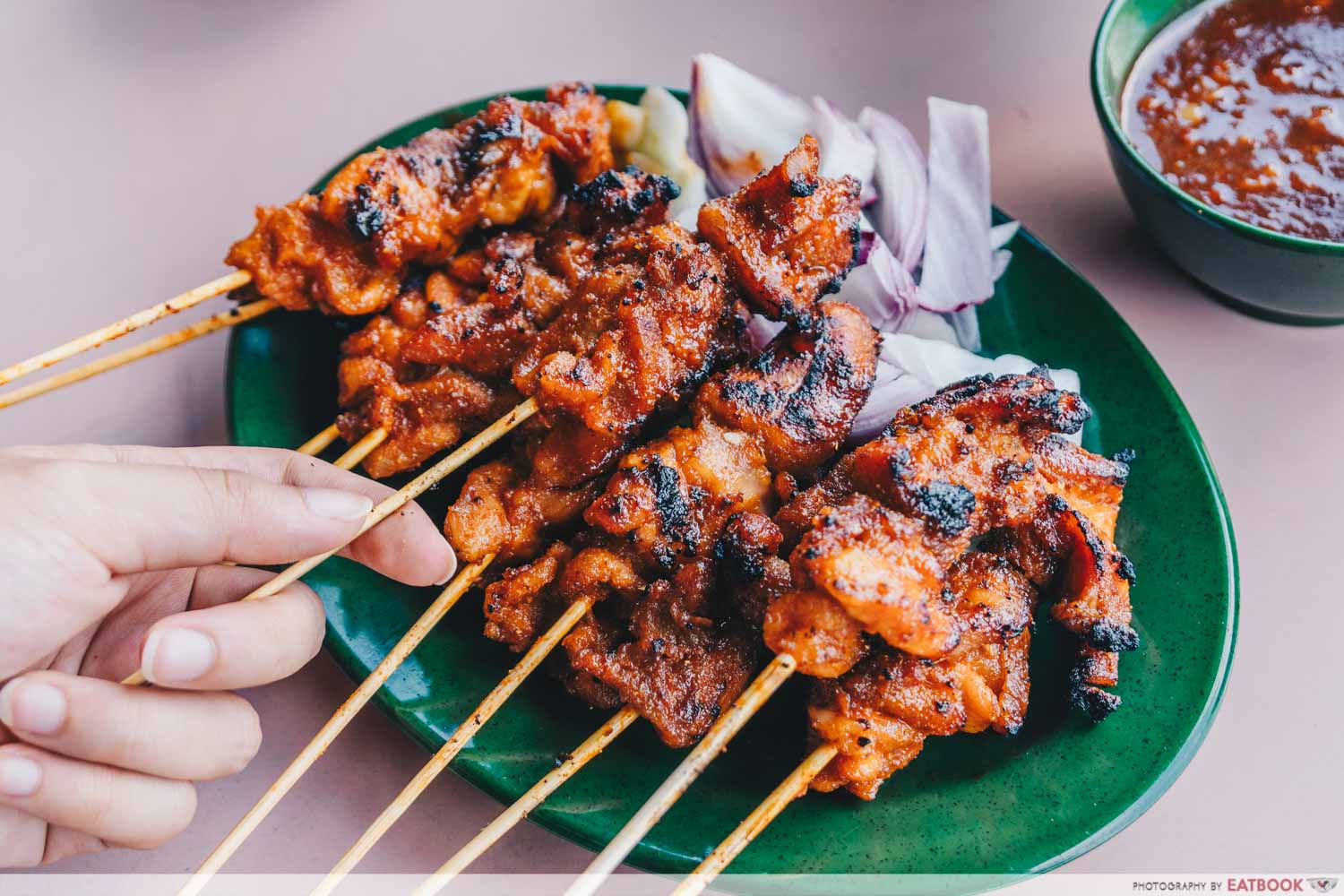 Looking for a side dish to round off our feasting, we ordered the Chicken Satay ($0.70 per stick) at its minimum order of 10 sticks. Compared to the chicken satay I'm used to eating, Rahim's version came with much thicker meat chunks and had a more vibrant, reddish-brown hue.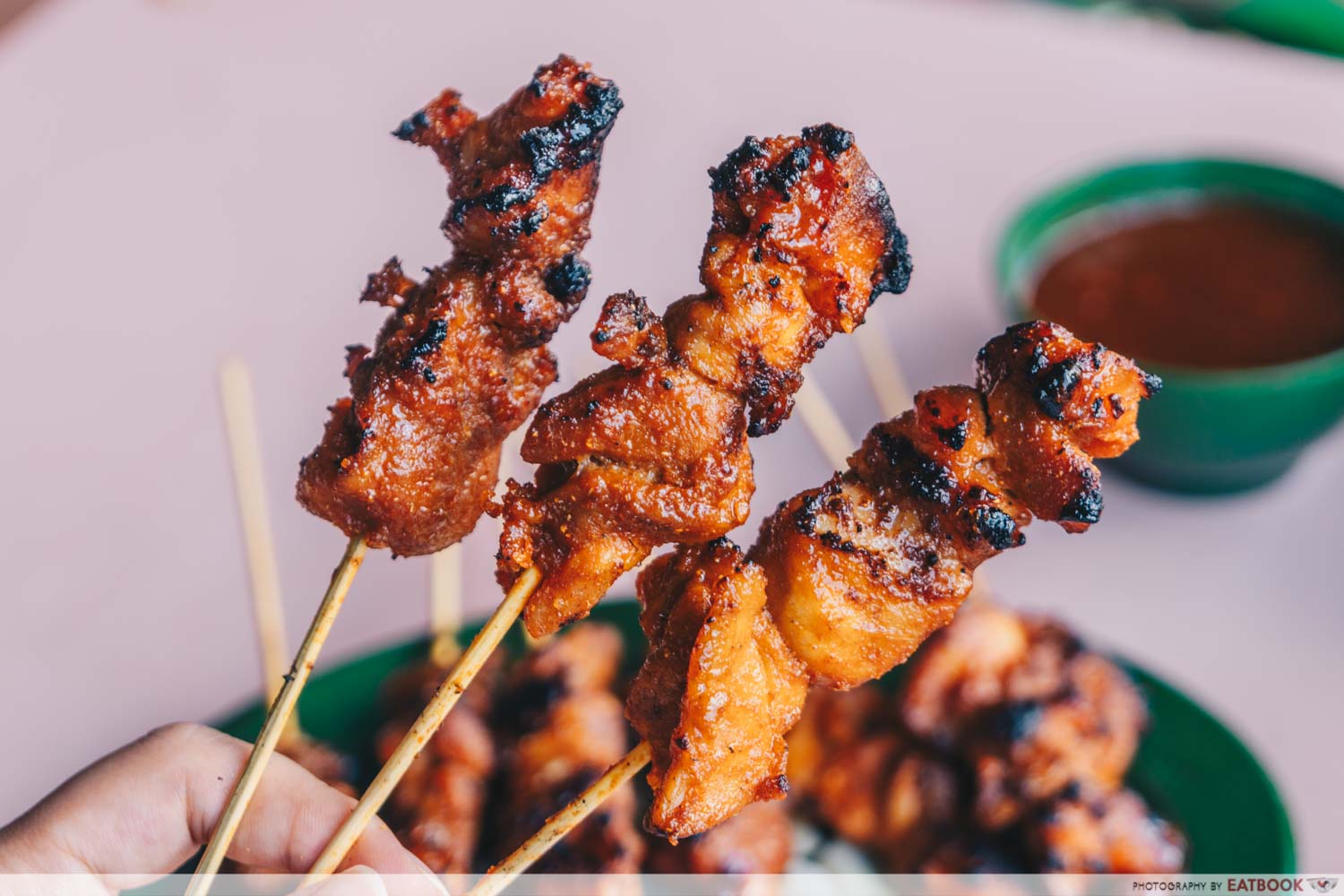 Beautifully charcoal grilled, each satay piece was large enough that the dish resembled more of a kebab than a traditional satay. Biting into one of them, I was surprised at how tender and succulent the chicken chunks were. 
I particularly enjoyed the black, charred bits as it had the bitter flavour of burnt caramel. It balanced out the sweet fragrance of lemongrass and turmeric in the meat, making each bite addictive.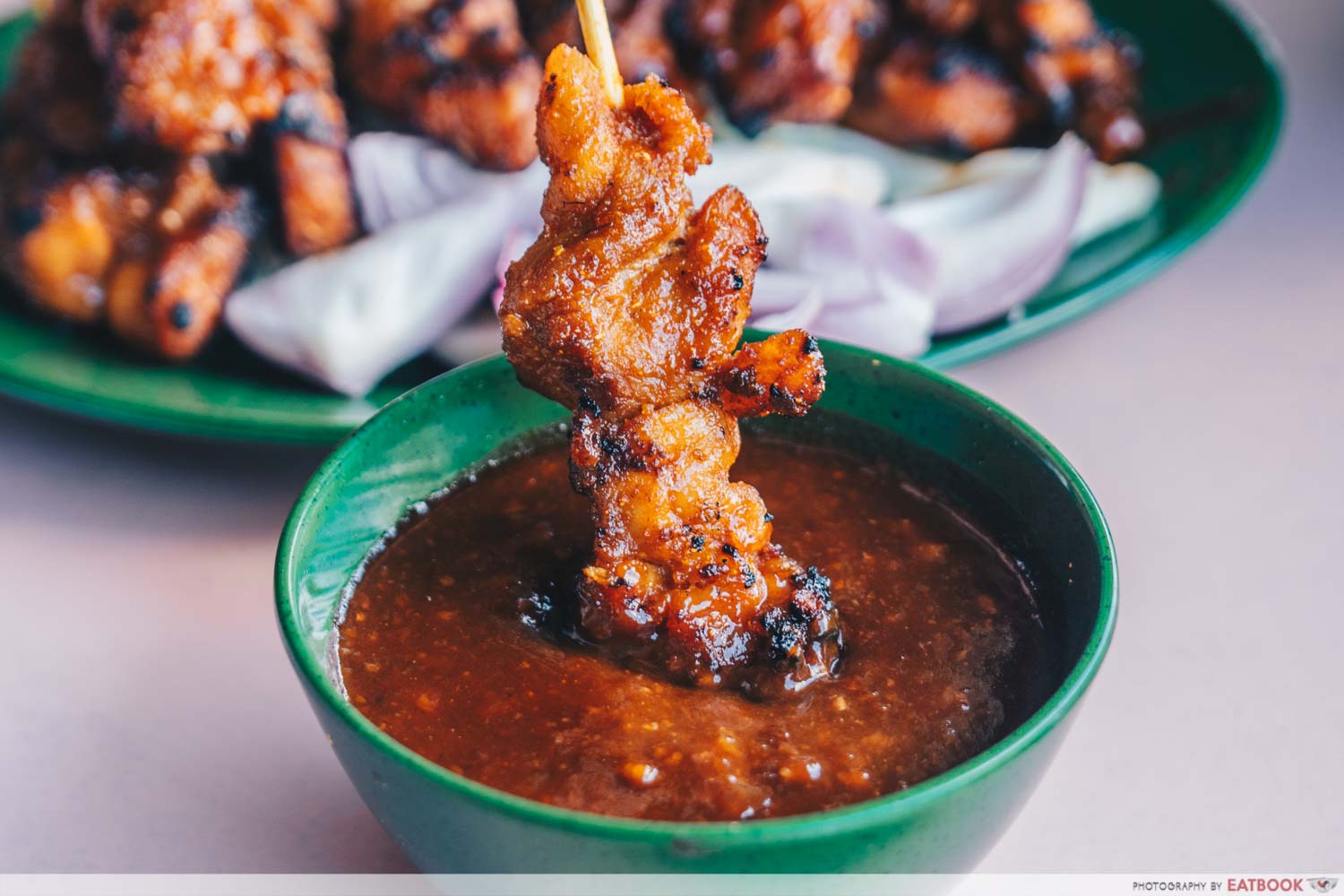 The owner dished out a generous portion of the satay sauce into a small soup bowl. Much like the viscous peanut sauce added to our mee rebus, the dip was fragrant and creamy. However, I would advise being less liberal with your satay-dunking as it made the already sweet satay a little cloying after a few more bites.   
Ambience at Rahim Muslim Food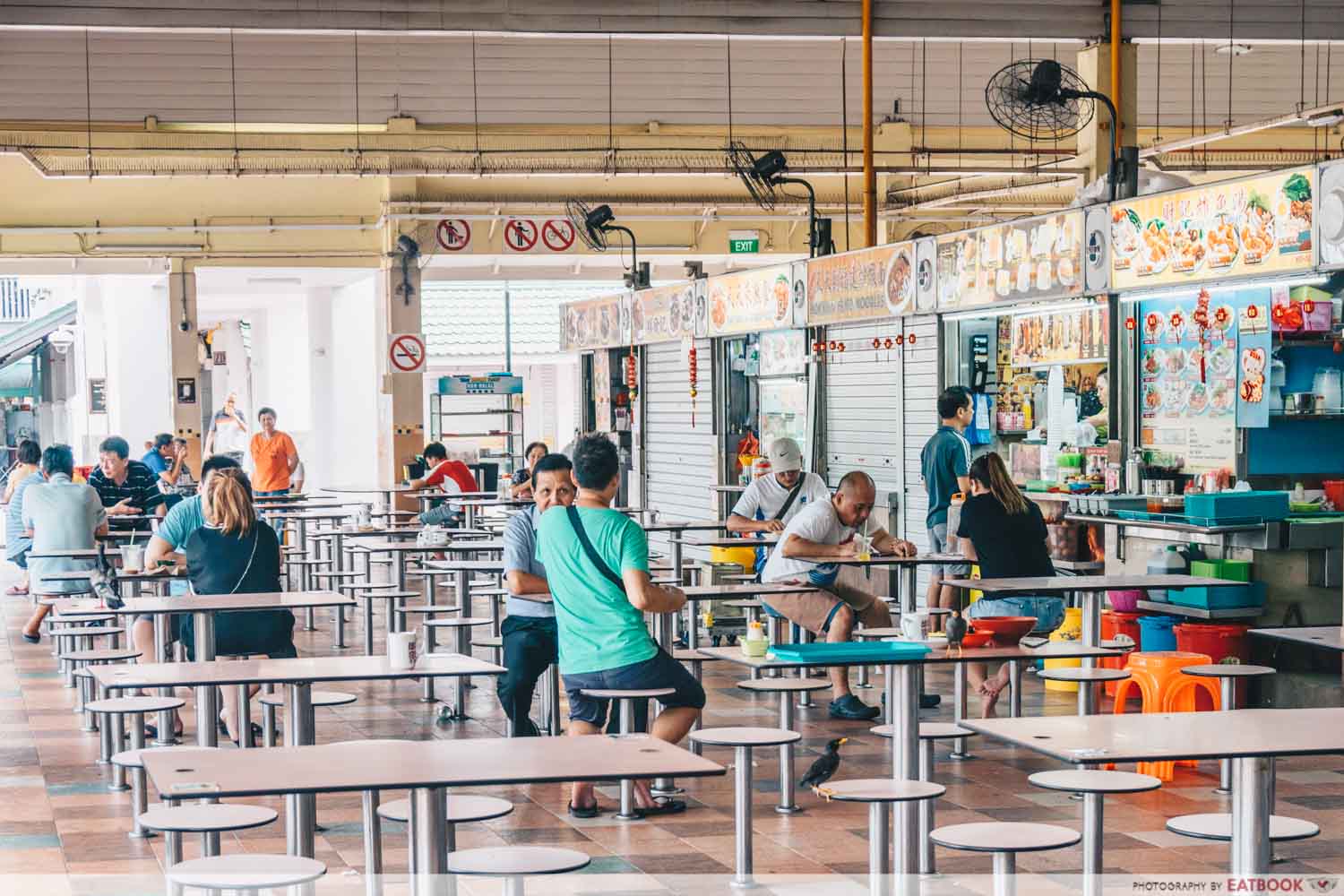 Chong Boon Market & Food Centre is a five-minute journey from Ang Mo Kio MRT Station by bus. The hawker centre is decently spacious and well-ventilated with multiple rows of tables so you won't have to worry about snatching a seat during peak hours. 
A note of warning: this particular hawker centre is teeming with an army of hungry mynahs scavenging for food. We left our table unguarded for less than two minutes and came back to a crime scene of half-eaten bee hoon soto. So if you plan to dine here, be sure to keep your food protected from these pesky creatures! 
The verdict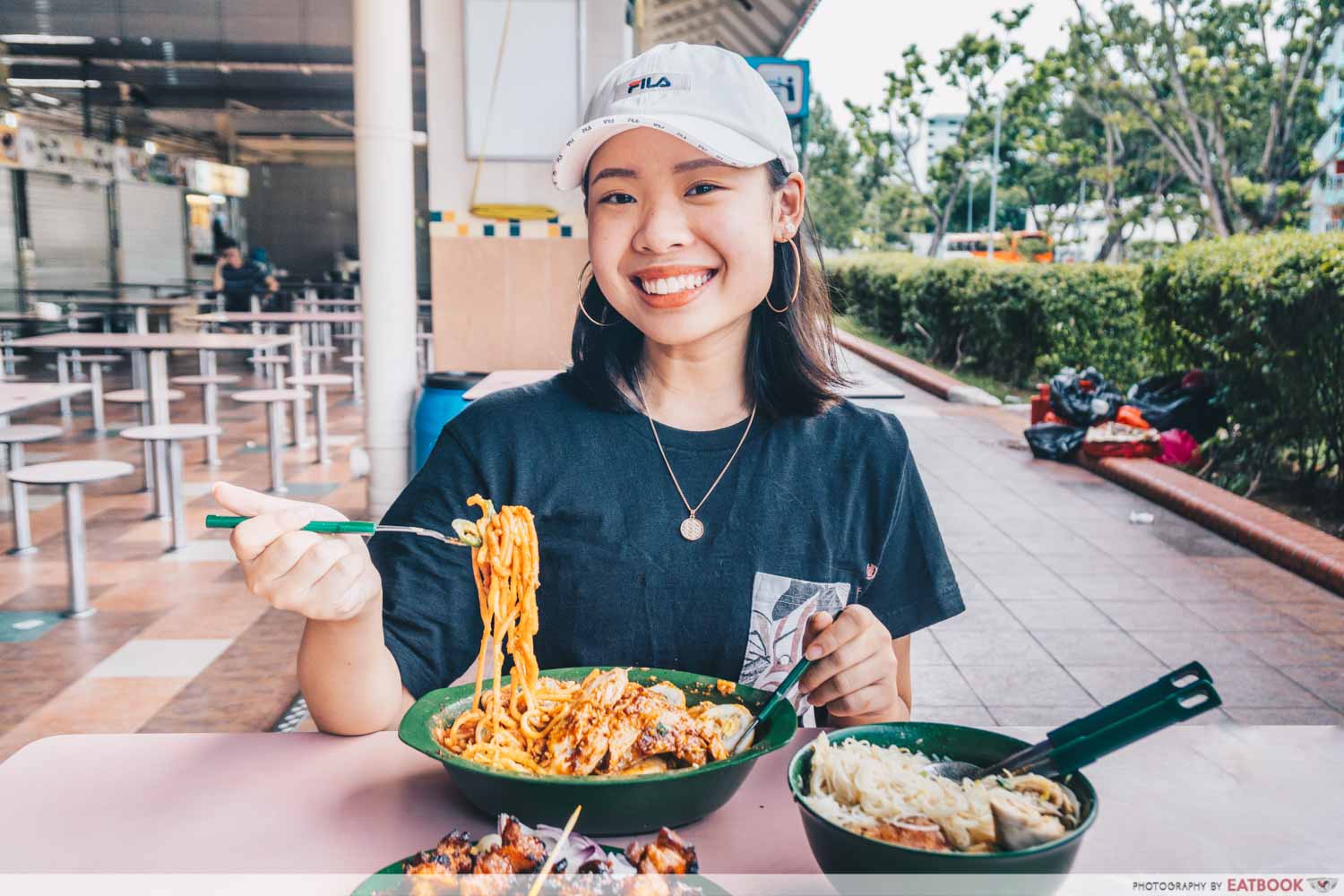 I now see why so many people regard mee rebus as a hearty meal for a day of pigging out. The classic dish, as sedap as it was, was also very filling. Rahim Muslim Food takes it to a whole other level with its Extra Special Mee Rebus that is packed with indulgent ingredients. If I ever return in the future, I'm bringing a few more hungry friends along to conquer this formidable dish together!
15 Ang Mo Kio Food Gems Including Cheesy Korean Corndogs And $1.30 Dim Sum
If you're looking for more good food in the area, check out our list of Ang Mo Kio food gems. Alternatively, if you're looking for more solid, Muslim-friendly fare, check out our list of cheap halal food!
Address: 453A Ang Mo Kio Avenue 10, #01-01, Chong Boon Market & Food Centre, Singapore 560453
Opening hours: Mon-Sat 12:30pm to 7pm
Tel: 9786 7362
Website
Rahim Muslim Food is a Muslim-owned eatery.
Photos taken by Goh Kerrianne
This is an independent review by Eatbook.sg
Rahim Muslim Food
Summary
Pros
– Large portions
– Generous ingredients
– Juicy chicken meat
Cons
– Mee rebus was messy to eat
– Hawker centre has aggressive hawker birds
Recommended dishes: Bee Hoon Soto ($4.50), Chicken Satay ($0.70 per stick)
Opening hours: Mon-Sat 12:30pm to 7pm
Address: 453A Ang Mo Kio Avenue 10, #01-01, Chong Boon Market, Singapore 560453