---
Cheap halal food with huge portions
---
Having a huge appetite usually means that regular servings aren't enough to satiate my hunger. Whenever I order dishes such as nasi lemak, I'll always have to tell the makcik to add rice or an additional chicken wing as the portions are more than often too small for me. Places with generous portions are hard to find, but fret not as I've found 13 cheap halal food places with large mains at $12 or less.
---
1. Nuodle
---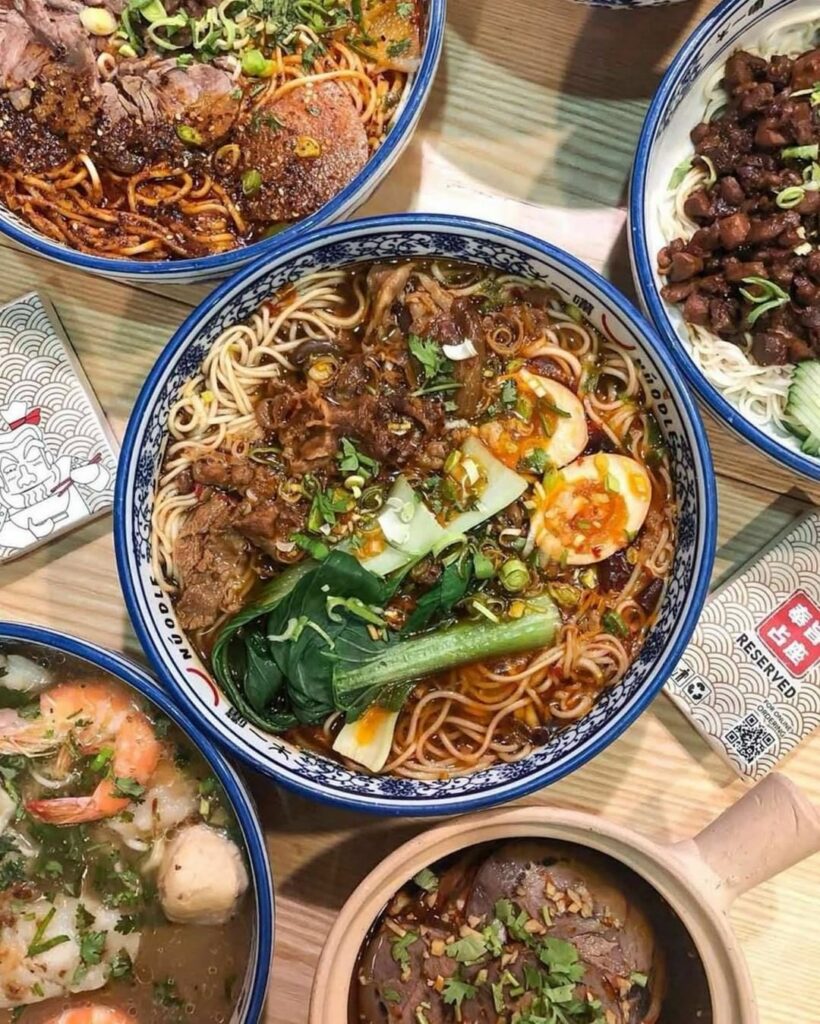 Image credit: Nuodle
For a hearty meal that's filling and satisfying, head to Nuodle, a halal eatery that offers a wide range of la mian and sides across 20 outlets in Singapore. The noodle specialist is most known for their Signature Beef La Mian ($8.85++), which features thin beef slices with a generous portion of noodles. You can also look forward to two new items on the menu: Mala Beef Lamian ($8.85++) and Classic Fried Bee Tai Mak ($8.85++). The former sees the same signature noodles in a mouth-numbingly spicy broth, while the latter is a take on the classic hawker stir-fry. Here's even better news: you can now upgrade your la mian to hand-pulled noodles! Choose from five different types of hand-pulled noodles at three Nuodle flagship outlets: SingPost Centre, Our Tampines Hub, and Compass One. 
Complete the feast by topping up $3.90++ for a set, which gets you a drink and a side. Choose from refreshingly cold appetisers such as Mala Spicy Konjac and Cold Tofu Century Egg, among many others. 
Check out our full Nuodle review! 
Find out more about Nuodle's updated menu here.
Website | Full list of outlets
Nuodle is a halal-certified eatery.
---
2. Nanay's Kitchen
---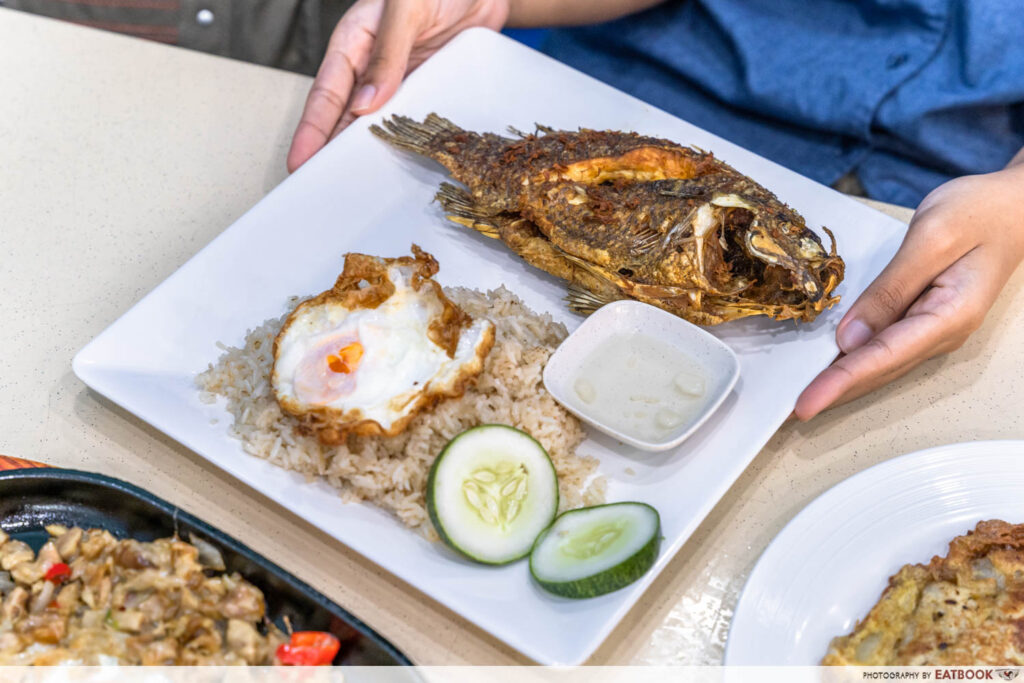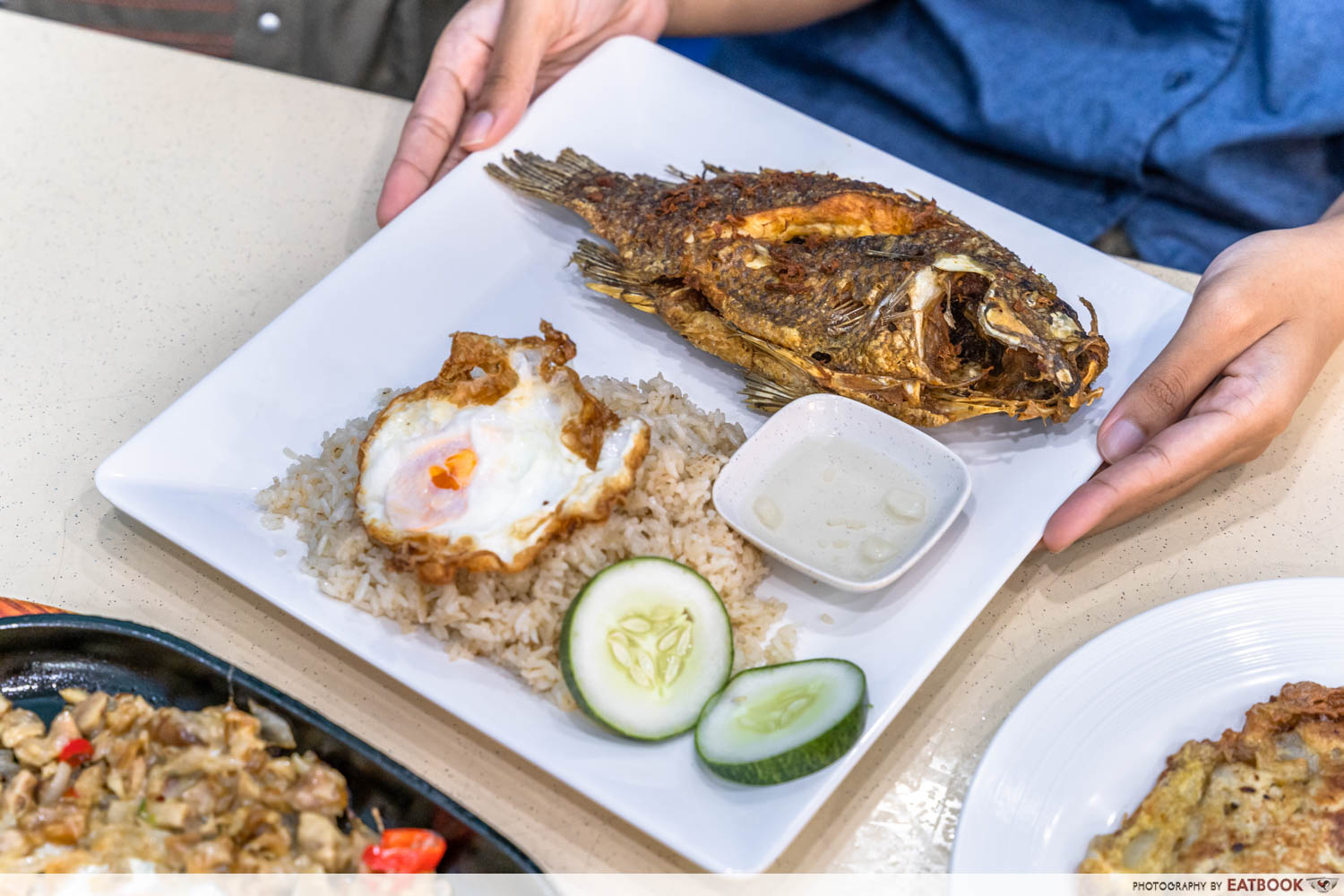 Nanay's Kitchen is a Muslim-owned eatery in Ubi selling halal-friendly Filipino cuisine. Most of the mains are priced affordably, under $12, including the Tilapiasilog ($10): deep-fried tilapia with garlic fried rice, a sunny-side up, and a side of vinegar. The Sizzling Chicken Sisig ($11) is another must-try; this hotplate item comes with chicken, caramelised onions, and a fried egg on top. Don't miss out on their classic Halo-Halo ($4) dessert, too!
Check out our full review of Nanay's Kitchen!
Address: 301 Ubi Avenue 1, Singapore 400301
Opening hours: Mon-Sat 7:30am to 9pm, Sun 7:30am to 5pm
Tel: 9888 8083
Website
Nanay's Kitchen is a Muslim-owned eatery.
---
3. The Bread Gang
---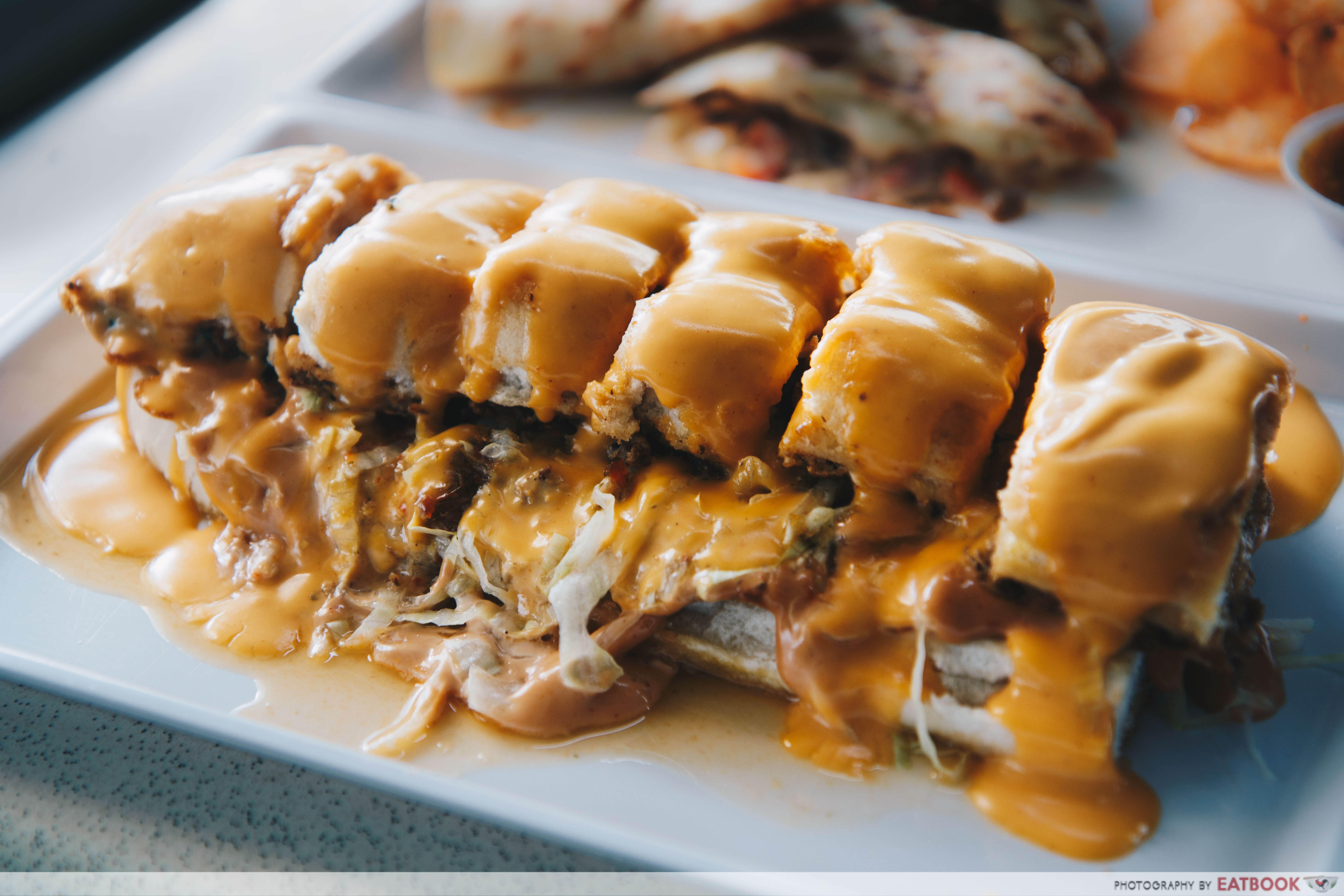 The Bread Gang's cheese-drenched roti john is one huge, messy affair. The best way to enjoy the Roti John Cheeseburger ($8.50) is to do it section by section. Savour the crunch from the cucumber and onions, followed by distinct flavours from the minced meat, egg, and cheese sauce. Sides such as Curly Fries With Beef Rendang ($7.50) also come in huge portions, so order it only if you go with a friend.
Check out our full review of The Bread Gang!
The Bread Gang Review: Cheese-Drenched Roti John Cheeseburger, Curly Fries With Beef Rendang And More
Address: 235 Jurong East Street 21, Aiman Cafe, Singapore 600235
Opening hours: Daily 2pm to 10pm
Tel: 8280 0084
Website
The Bread Gang is a Muslim-owned stall.
---
4. Fatty Bom Bom
---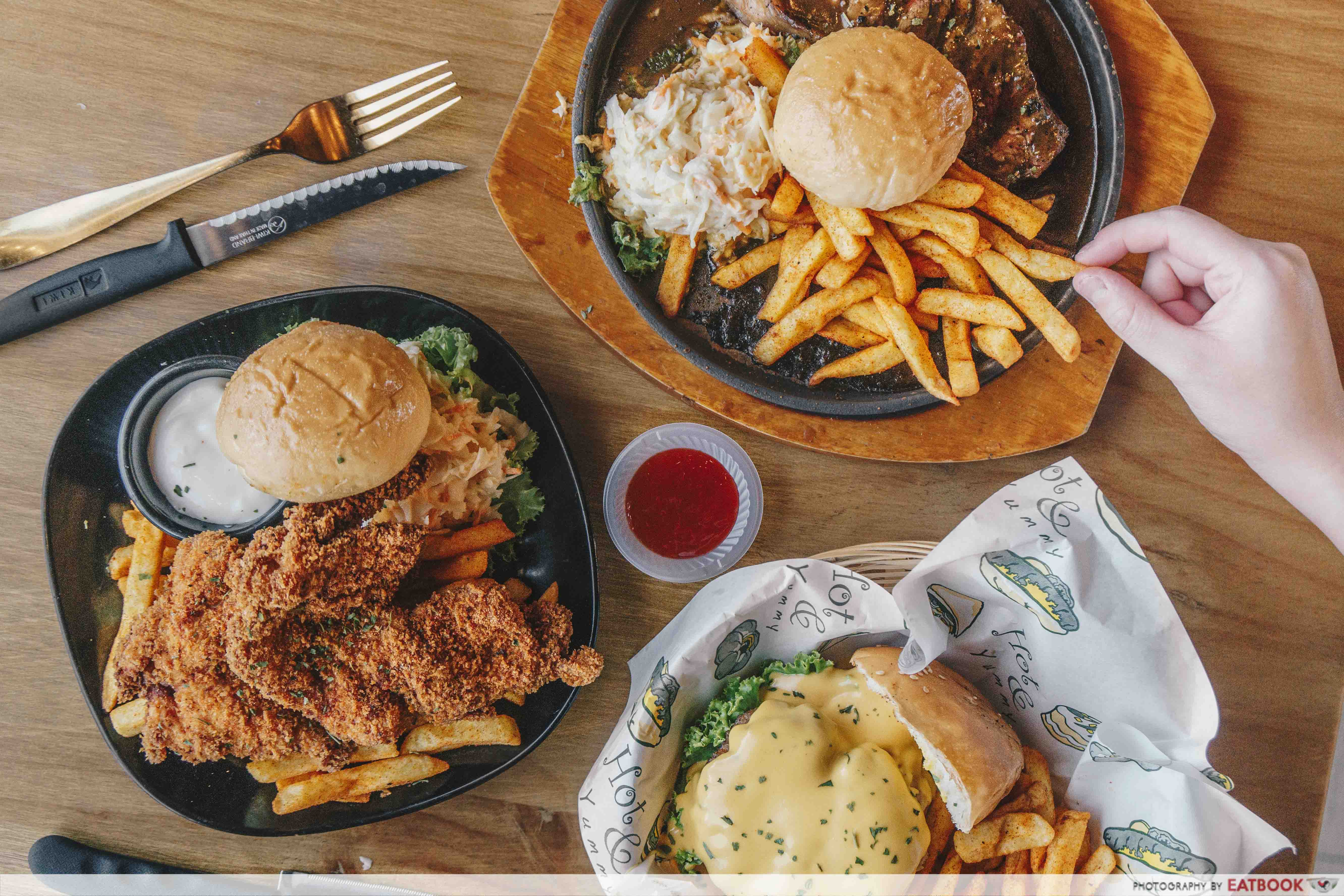 With most of the dishes priced below $12, Fatty Bom Bom at Toa Payoh North ranks high on this list of cheap halal food spots. Dishes such as their FattyBom Crunchy Chicken ($8.90), FattyBom Tender Steak ($14.90), and Jerry's Burger ($8.90) are served in huge portions. You can also tell that there is attention to detail, as even the fries are well-seasoned with salt and paprika powder.
Check out our full review of Fatty Bom Bom!
Fatty Bom Bom Review: Halal-Certified Western Food With Big Portions At Toa Payoh
Address: 978 Toa Payoh North 1, Singapore 319001
Opening hours: Mon-Wed, Fri 11:30am to 9:30pm, Thurs 11:30am to 9pm, Sat 12:30pm to 9:30pm
Tel: 8721 0175
Website
Fatty Bom Bom is a halal-certified eatery.
---
5. Gyunion
---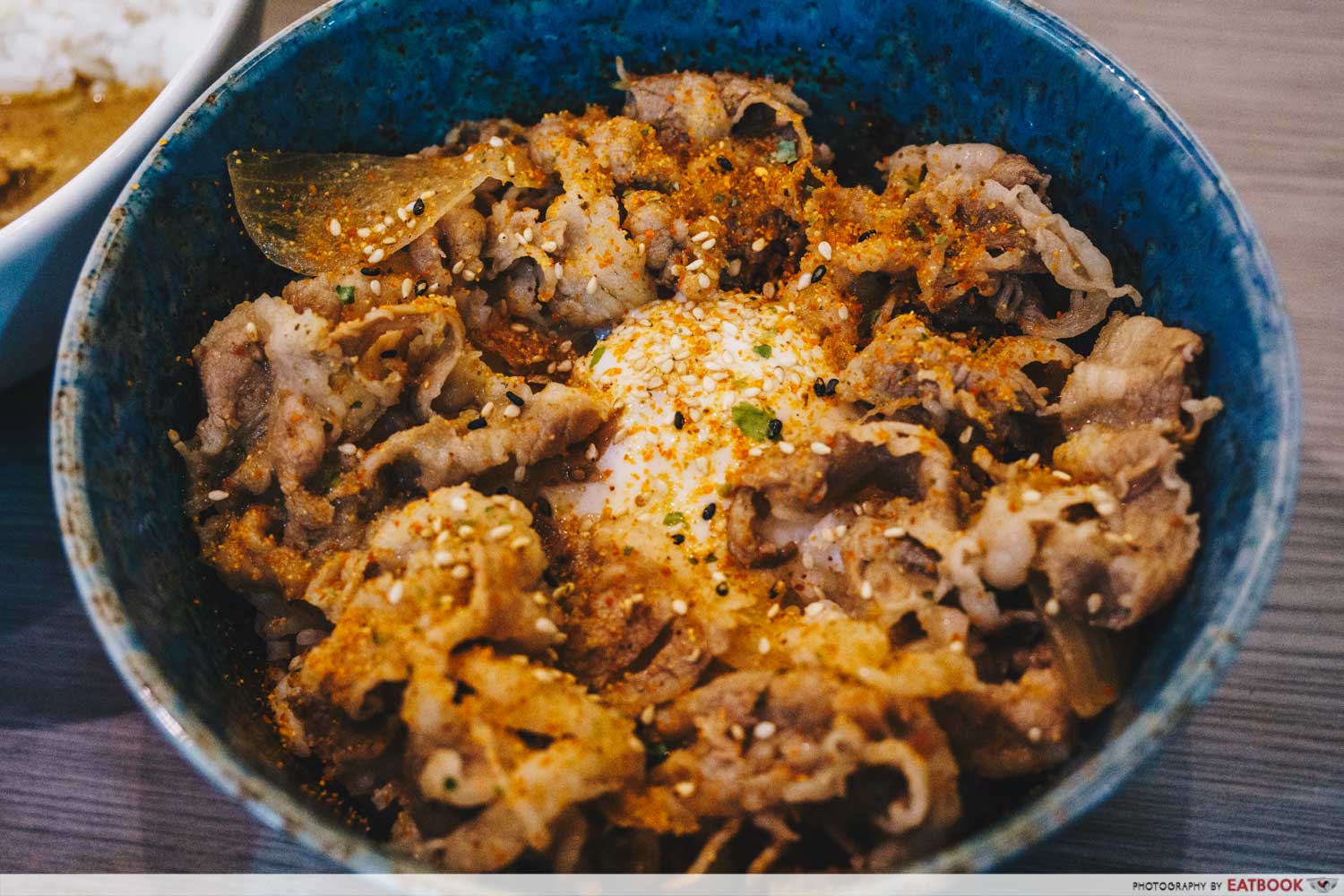 Gyunion has a no-frills menu of Japanese rice bowls, curry, and sides at affordable prices. A must-order here would be their Gyu-don ($9.90). It features savoury slices of beef paired with sweet, caramelised onions. For the most bang for your buck, the Soba ($4.90) makes for a filling and delicious meal, despite its humble appearance.
Check out our full review of Gyunion!
Gyunion Review: Halal Beef Donburi And Soba From $4.90 At Bencoolen
Address: 138 Robinson Road, #02-03, Oxley Tower, Singapore 068906
Opening hours: Mon-Wed 12pm to 6:30pm, Thurs-Fri 12pm to 8pm
Website
Gyunion is a Muslim-owned eatery
---
6. The Halal Corner 
---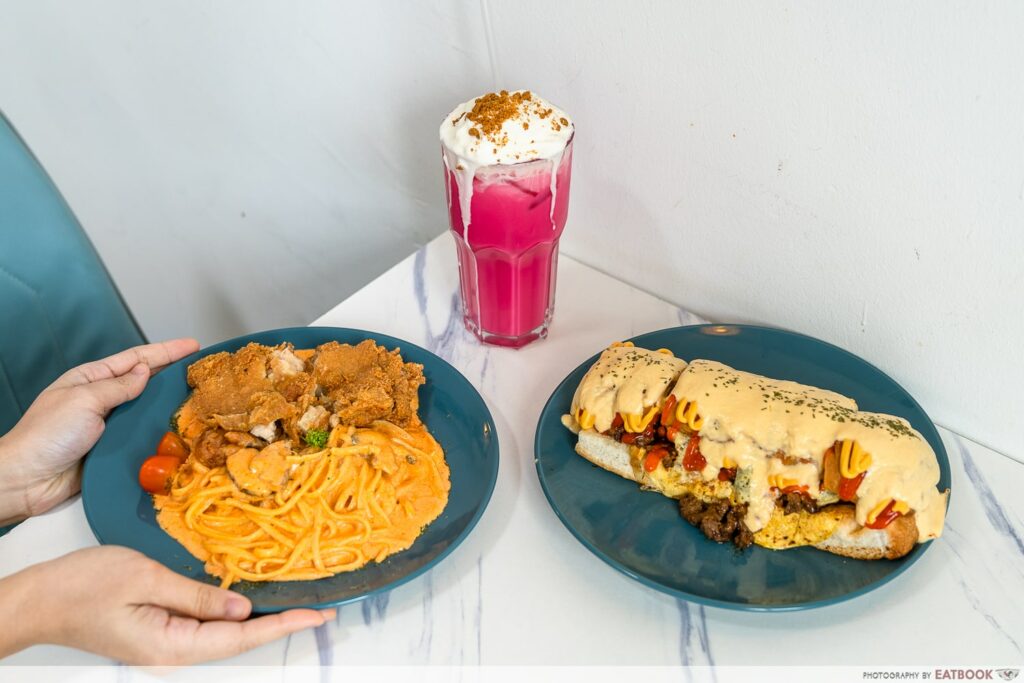 If you're looking for value-for-money halal fare near town, check out The Halal Corner, which offers a wide range of mains in huge portions. The two-storey restaurant at Haji Lane is famous for their Carbonara Mr John ($10+), a zhnged-up version of roti john loaded with their signature carbonara sauce, with beef chunks tucked within. If you don't mind splurging a little, regulars also love their Samyang Carbonara ($16.90+): a generous serving of pasta tossed in a spicy and creamy sauce, accompanied by crispy chicken cutlet.
Address: 63 Haji Lane, Singapore 189256
Opening hours: Daily 11:30am to 10pm
Tel: 8891 4531
Website
The Halal Corner is a halal-certified eatery.
The Halal Corner Has Samyang Carbonara, XXL Roti John And More In Bugis
---
7. Enak Nasi Ambeng
---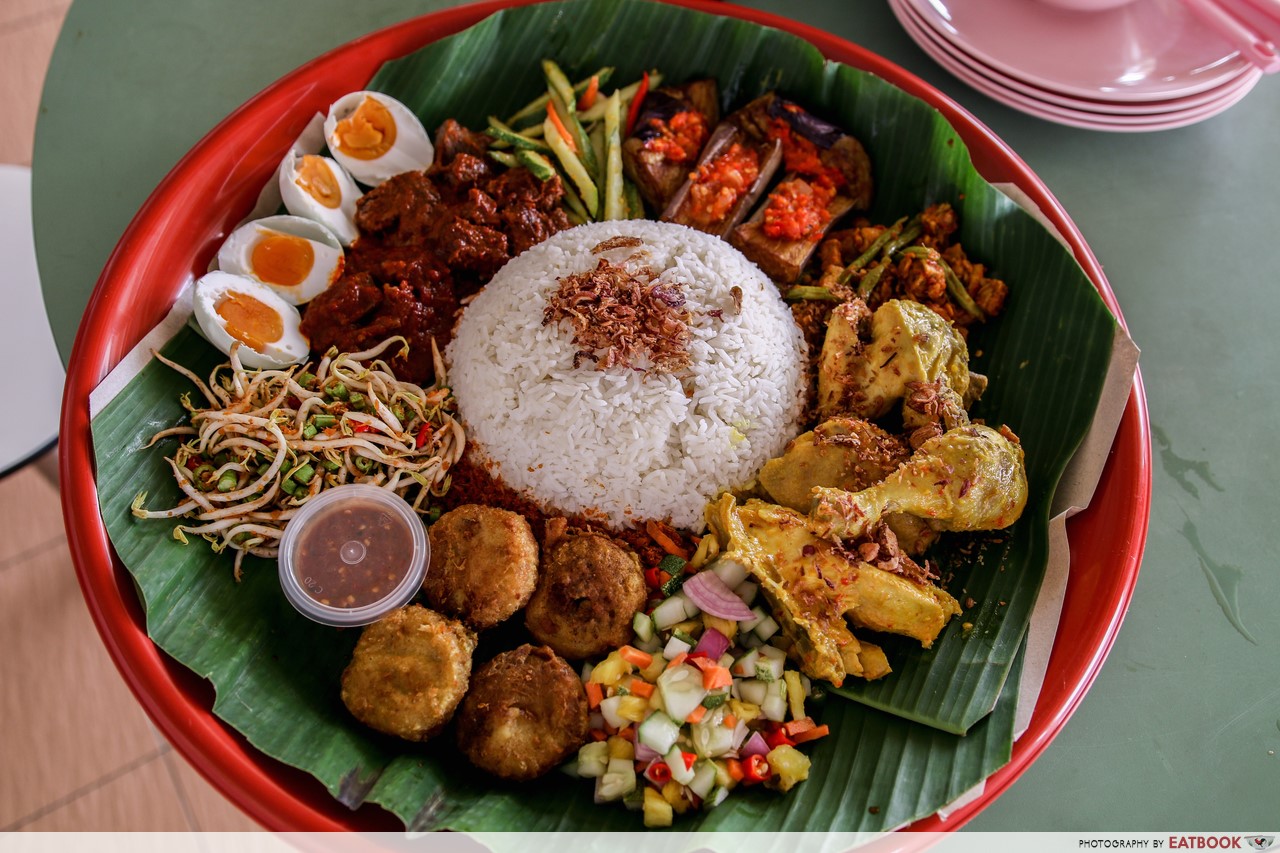 Enak serves Nasi Ambeng ($60) that's big enough to be shared among four to five people. With a heap of rice in the middle, the dish comes with a variety of classic Malay dishes─ayam masak chilli padi, veggies, salted egg, beef rendang, bergedil, and sambal cuttlefish.
Check out our full review of Enak Nasi Ambeng!
Address: 47 Arab Street, Singapore 199744
Opening hours: Wed-Mon 11am to 10pm
Tel: 8788 1887
Website
Enak is a Muslim-owned eatery.
---
8. Omoomodon
---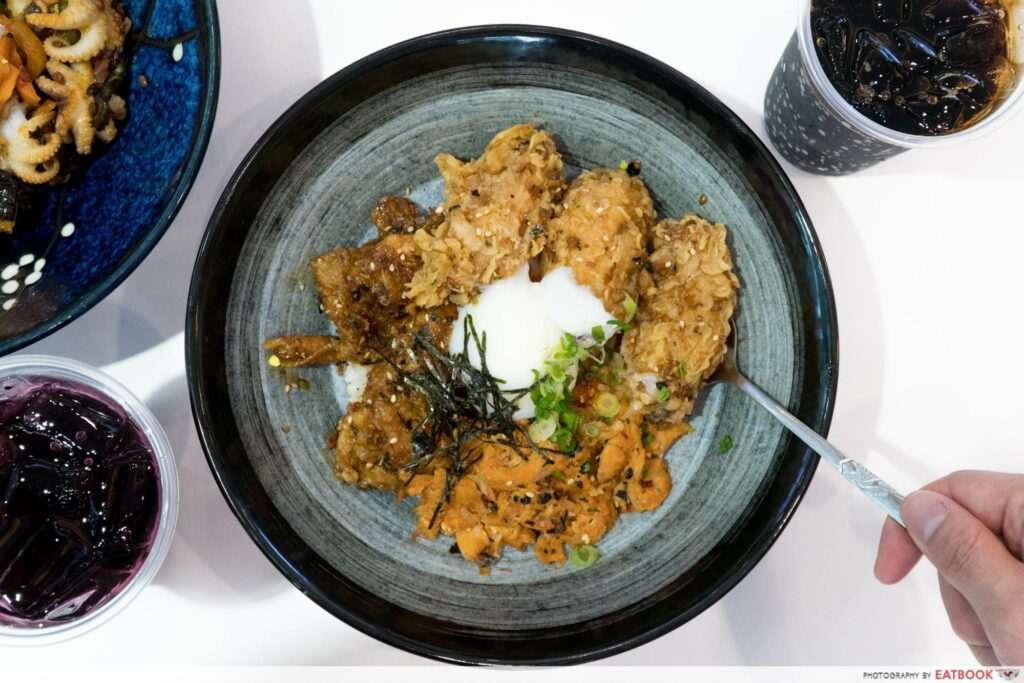 Omoomodon is an eatery that offers Japanese- and Korean-inspired rice and noodle bowls. They allow you to DIY your dish with a base of rice or noodles, and toppings such as kimchi omelette, bulgogi, grilled salmon and fried ebi. They also have signatures such as Ji-Ji Don ($10.50), which comes with spicy chicken, teriyaki chicken, soy garlic wings, and a sweet-spicy bibimbap sauce. 
Website
Full list of locations
Omoomodon is a halal-certified eatery.
---
8. Abang Curry
---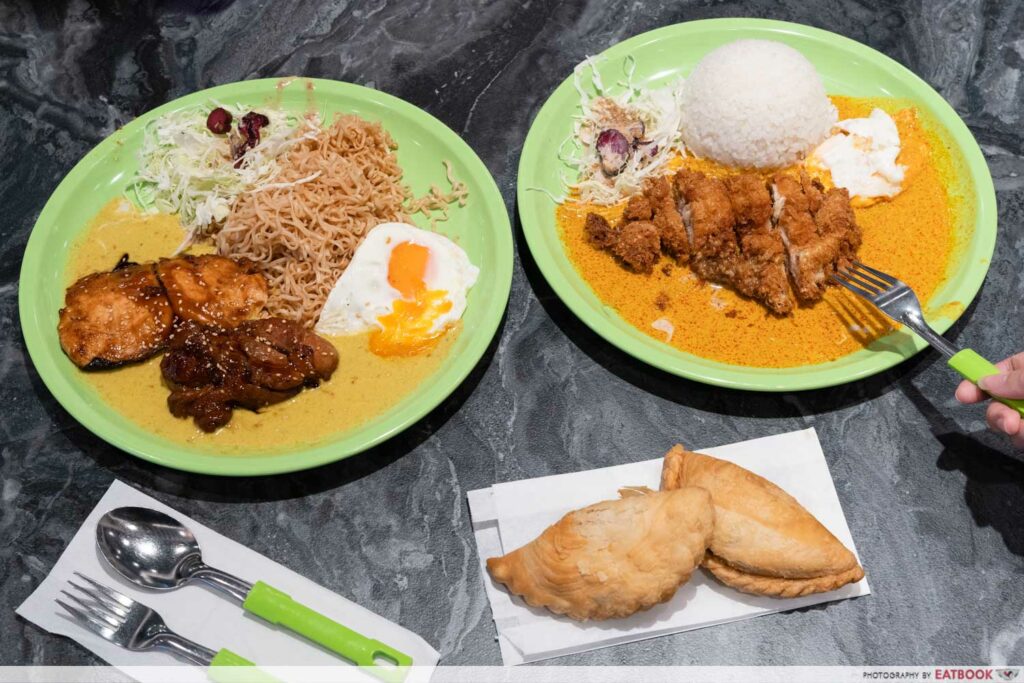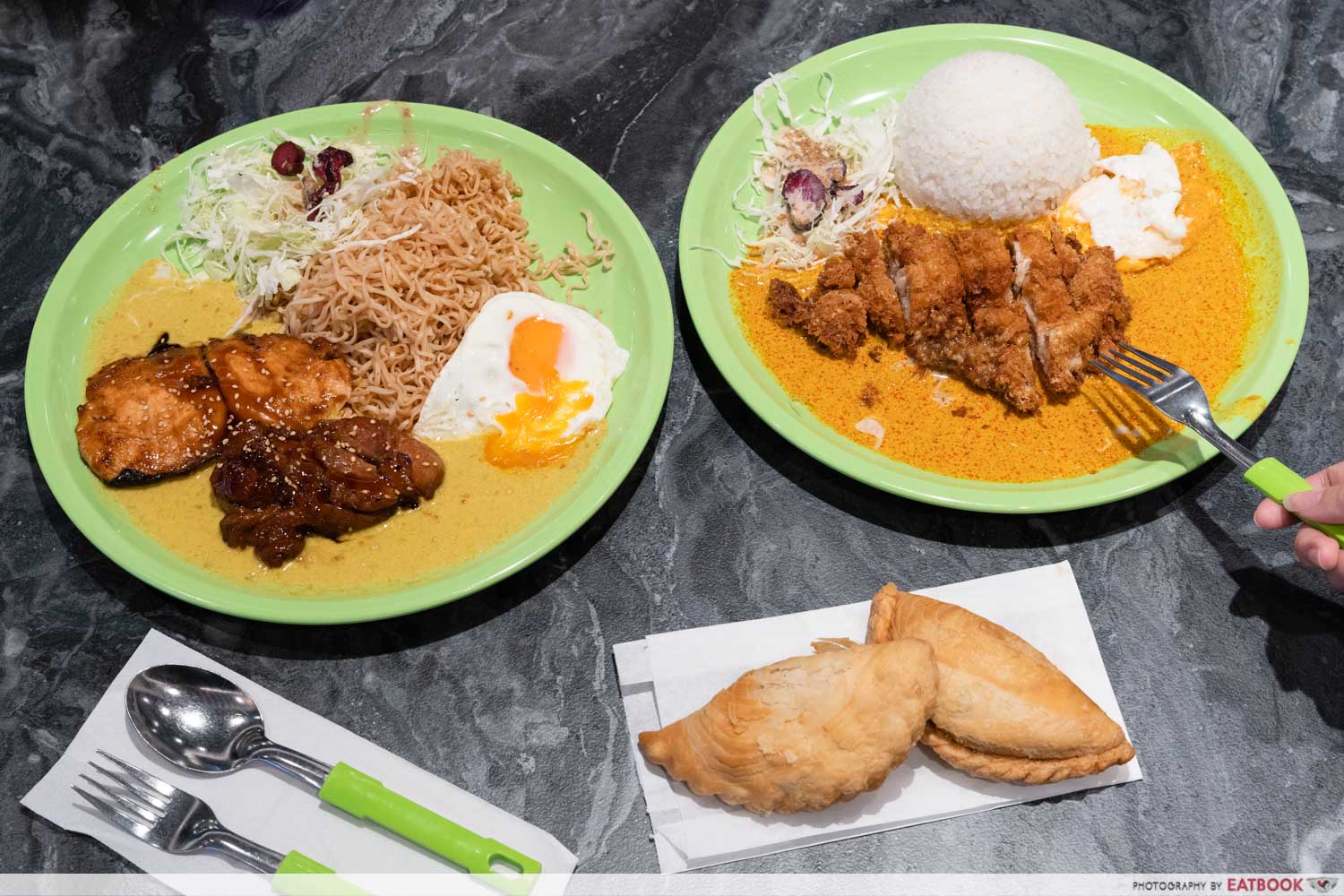 If you live in the West, try Abang Curry, which sells unique Japanese fusion curry that's also halal-friendly. You can choose from three sauces to pair with your rice, including Nanyang Curry, Lemak Sauce, and Pineapple Satay Sauce. Get the popular Panko Chicken Rice ($7.90), which stars a deep-fried, juicy chicken cutlet coated in panko breadcrumbs. Their Curry Puff ($2) is also a hit here, as the recipe originates from the 1970s.
Check out our Abang Curry review!
JEM
Address: 50 Jurong Gateway Road, #05-01, JEM Shopping Mall, Singapore 608549
Opening hours: Daily 10am to 10pm
Bedok South
Address: Blk 152A Bedok South Road, #01-01, Singapore 461152
Opening hours: Daily 10am to 9:30pm
Website
Abang Curry is a halal-certified eatery.
---
9. 800 Woodfired Kitchen
---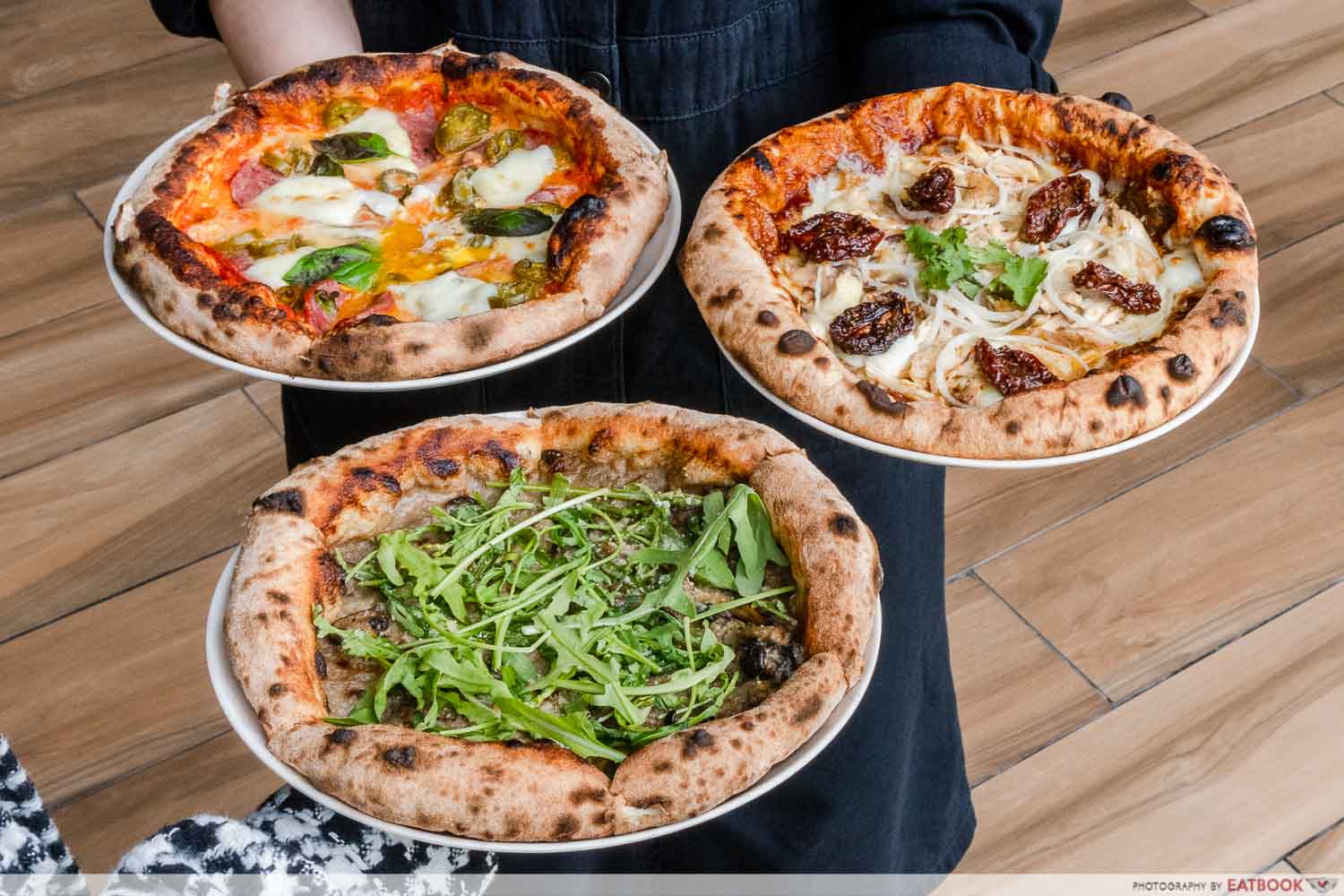 Los Angeles' famous pizza chain 800 Woodfired Pizza has arrived in Singapore and opened its very first pizza cafe in Paya Lebar's KINEX. A pie here starts from $13 for a 10″ portion, but if you get the 12″, which starts from $26, you could split the cost between two to three people and have a satisfying, affordable meal. Flavours include BBQ Chicken (from $16), or the unique vegetarian Tartufo Pizza (from $22), with a truffle base. Otherwise, they have a DIY pizza option too!
Check out our 800 Woodfired Pizza review.
Address: 11 Tanjong Katong Road, #01-52/53, KINEX Mall, Singapore 437157
Opening hours: Sun-Tue, Thurs-Fri 11am to 9pm, Wed 9:30am to 9pm, Sat 11am to 9:30pm
Website
800 Woodfired Pizza is a halal-certified eatery.
800° Woodfired Kitchen Review: New Muslim-Owned Pizza Cafe With Truffle Sauce Base At Nett Prices
---
10. BANNGKOK Street Food
---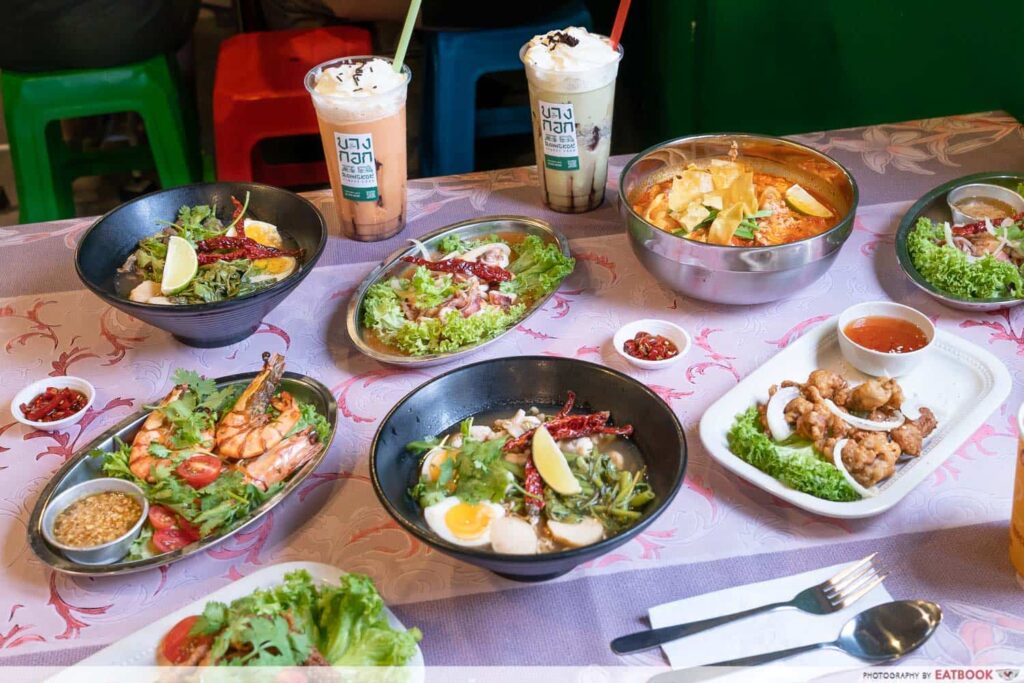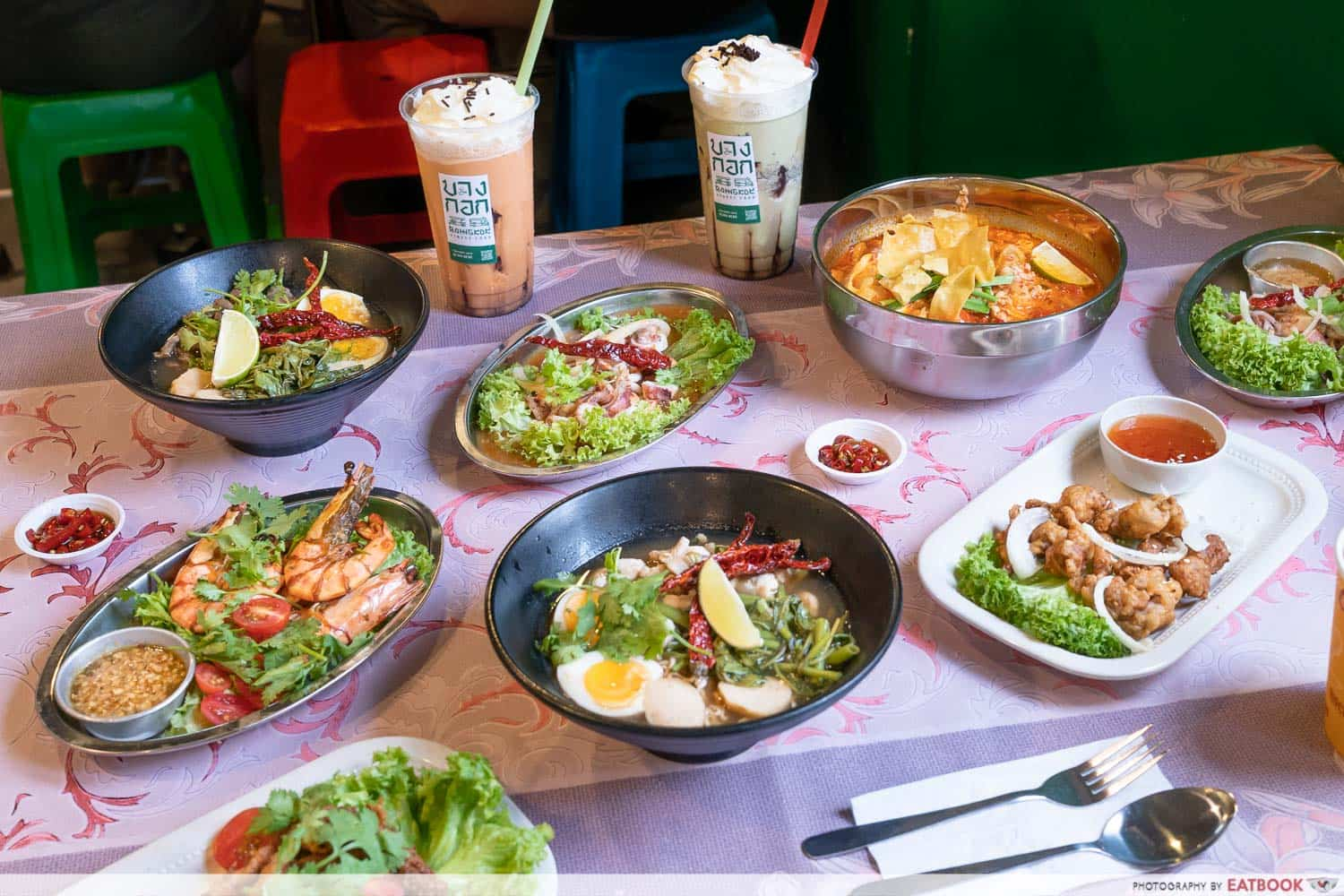 At BANNGKOK Street Food in Bugis, you'll be treated to a spread of halal Thai food at affordable prices. The mains run under $15, and come in filling portions. Get the Mama Kai ($10.90++), a creamy tom yum-based dish with noodles, chicken, tomatoes, mushrooms, and crispy wonton skin. There's also the Kuay Rua ($14.40++) AKA beef or chicken boat noodles. Otherwise, if you're only visiting for a snack, order the Sangkaya Steam Bread ($5.90++), featuring fluffy steamed bread with a Thai-style kaya custard dip.
Read our BANNGKOK Street Food review!
Address: 43 Sultan Gate, Singapore 198491
Opening hours: Mon-Sun 12pm to 3pm, 4.30pm to 10pm
Tel: 8879 6869
Website
BANNGKOK Street Food is a halal-certified eatery.
---
11. Makan Makan
---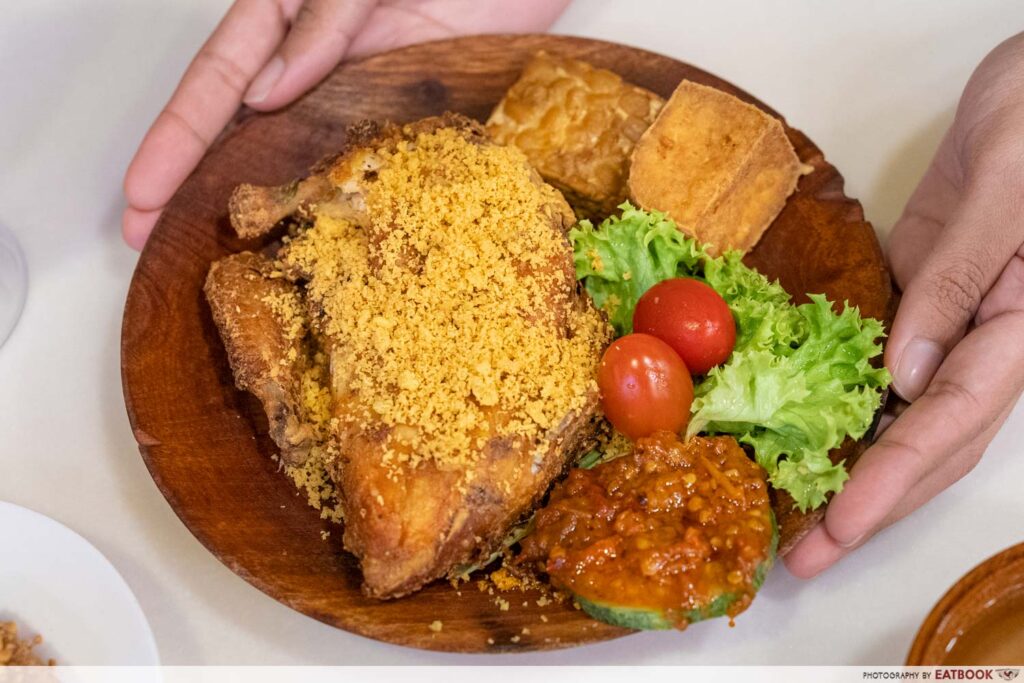 For a taste of Indonesian fare that's also halal-friendly, head to Makan Makan at Marina Square. Their signature Ayam Penyet D'Penyetz ($8.90+) with plain rice ($1+) comes with a piquant sambal, along with fried tofu, tempeh, and a huge slab of crispy chicken. Alternatively, try the Iga Bakar Kecap ($14.90+) with plain rice ($1+), AKA Javanese-style grilled beef ribs, if you're craving something meatier. Don't leave without ordering the Ice Happy Soda ($3.50+), a popular Indonesian drink made of soda water, condensed milk, and sweet pandan-coconut syrup!
Check out our Makan Makan review.
Address: 6 Raffles Boulevard, #02-201, Marina Square, Singapore 039594
Opening hours: Mon-Fri 11am to 3pm, 5pm to 9pm, Sat-Sun 11am to 9pm
Website
Makan Makan is a halal-certified eatery.
Makan Makan Review: Halal Grilled Beef Ribs, Ayam Penyet And More At Marina Square
---
12. LUMI F&B
---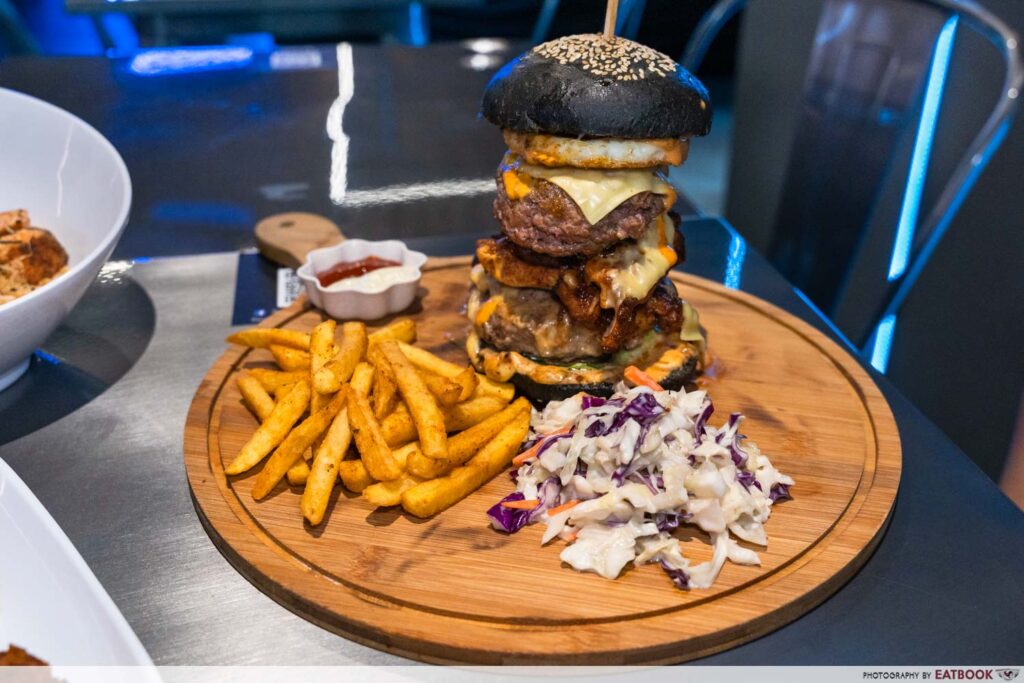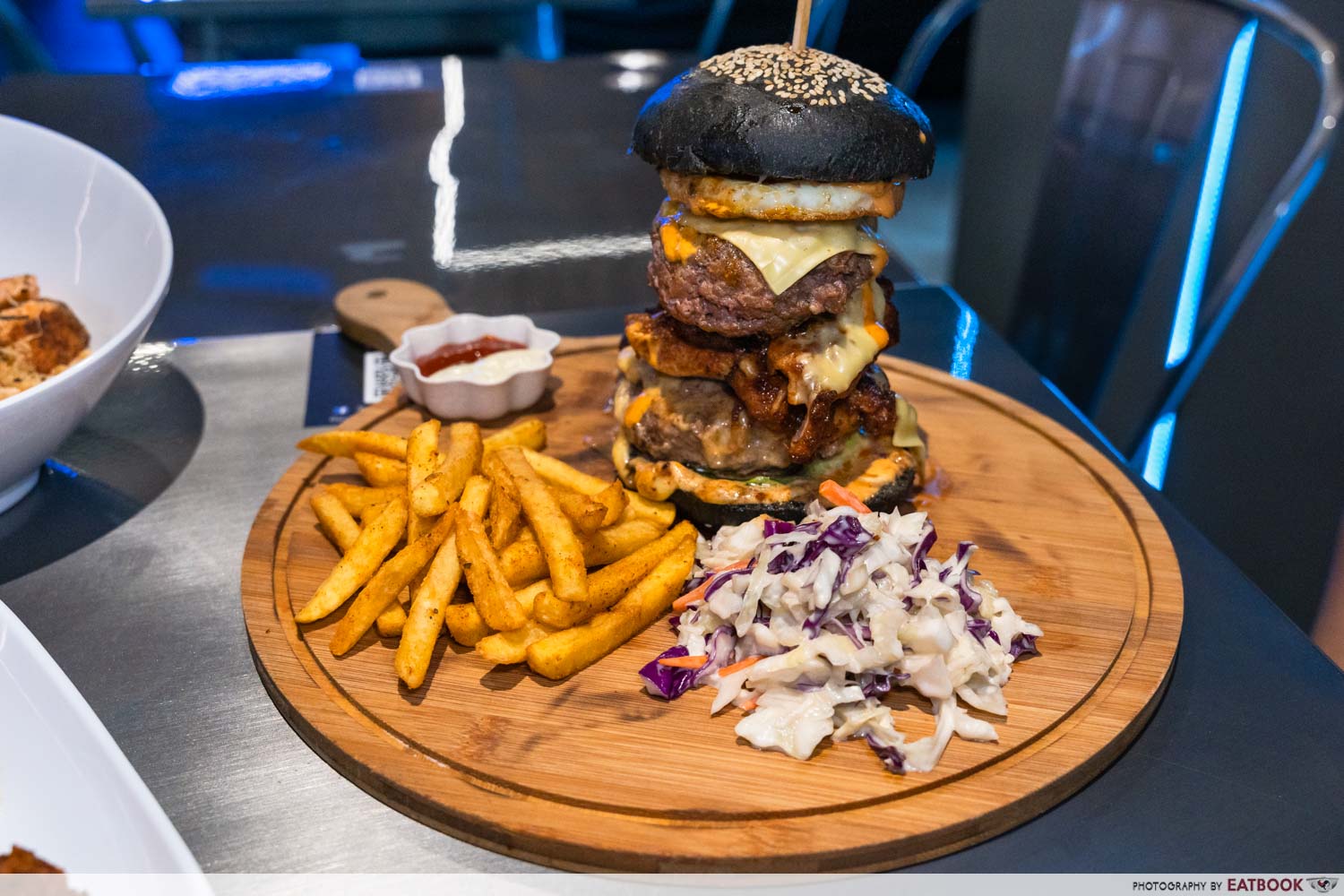 LUMI F&B is an underrated gem in Marymount that serves XXL burgers, cheap lunch sets and more. The best part: the eatery is halal-certified! They've got $6.50 lunch sets with options including Sambal Chicken w White Rice & Sunny Side Up, which you can only get for weekday lunch. If you're out to splurge, try their Gigabite Burger ($30), a monstrous burger with thick Wagyu patties, grilled chicken, fried egg and more, sandwiched by charcoal buns.
Read our LUMI F&B review.
Address: 38 Jalan Pemimpin, #01-03 M38, Singapore 577178
Opening hours: Daily 11:30am to 10:30pm
Tel: 9144 9549
Website
LUMI F&B is a halal-certified eatery.
---
13. Cafe Mariam
---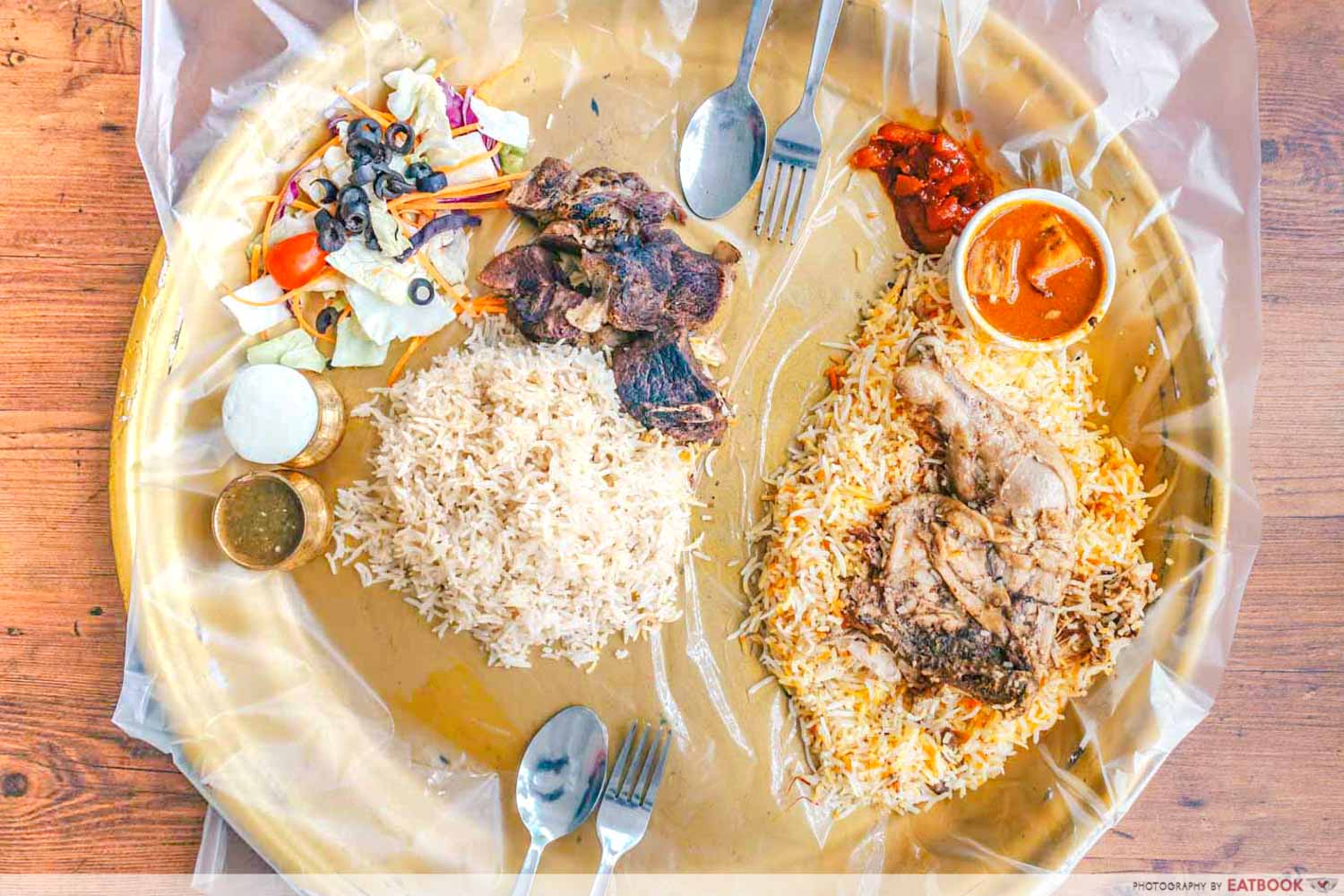 The briyani recipe at Cafe Mariam is three generations strong, and the current chef manning the reins has even once cooked for the likes of Gordon Ramsay. Only two dishes are sold here, both of which draw repeat long queues day by day. The Chicken Briyani ($8) and the Mutton Mandi ($9) are both cooked with a three-step process, ensuring that the flavours stay locked in and juicy from stove to table.
Check out our Cafe Mariam review.
Address: 116 Changi Road, #01-02, Singapore 419718
Opening hours: Tue-Thurs 11am to 3pm, Fri-Sun 11am to 2pm
Tel: 9369 8564
Website
Cafe Mariam is a halal-certified eatery.
---
Cheap halal food in Singapore
---
Don't worry about breaking the bank anymore with these cheap halal food places. If you're looking for fancier spots, check out our guide to the best halal restaurants for special occasions instead! Otherwise, read our guide to the best halal cafes in Singapore to visit! 
This article was brought to you by Nuodle.
This article was originally written on 25 June 2019.
Featured image adapted from Nuodle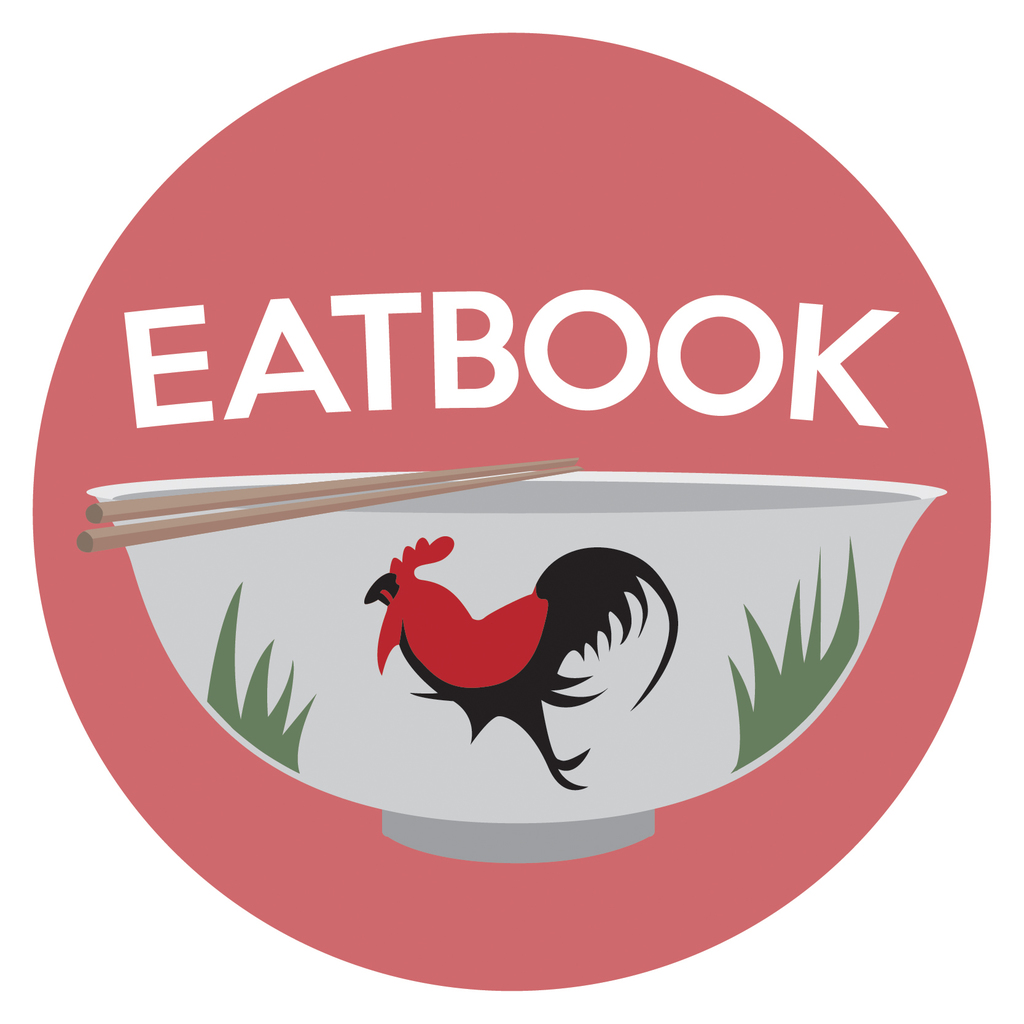 Drop us your email so you won't miss the latest news.