Fatty Bom Bom at Toa Payoh North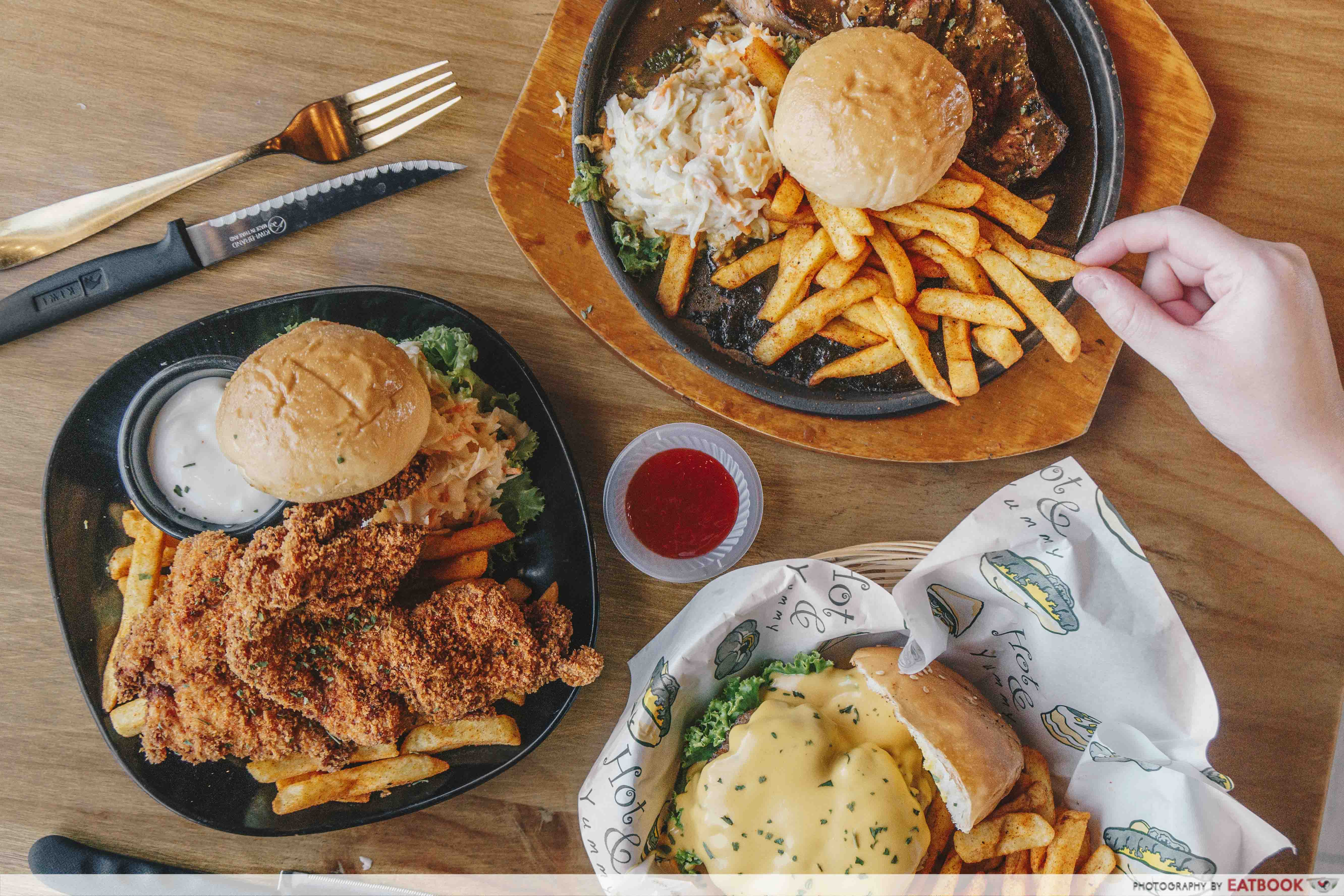 As a Westie, I seldom head to places like Toa Payoh just to eat. That one time I decided to do that was when my friend told me about this halal-certified Western stall called Fatty Bom Bom at Toa Payoh North. What's attractive about this stall is that the majority of its dishes are priced under $10, and the portions are relatively large. As I'm a sucker for Western food, especially affordable ones, I immediately dragged my colleague with me to check out the place.
Food at Fatty Bom Bom
At Fatty Bom Bom, there are many dishes to choose from. After several rounds of indecisiveness, my colleague and I finally settled for chicken cutlet, steak, and a burger. Every dish looked appetising; the patty of the burger was capped by melted cheese, the steak was sizzling on a hot plate, and the rough edges of the chicken made it look extremely crispy.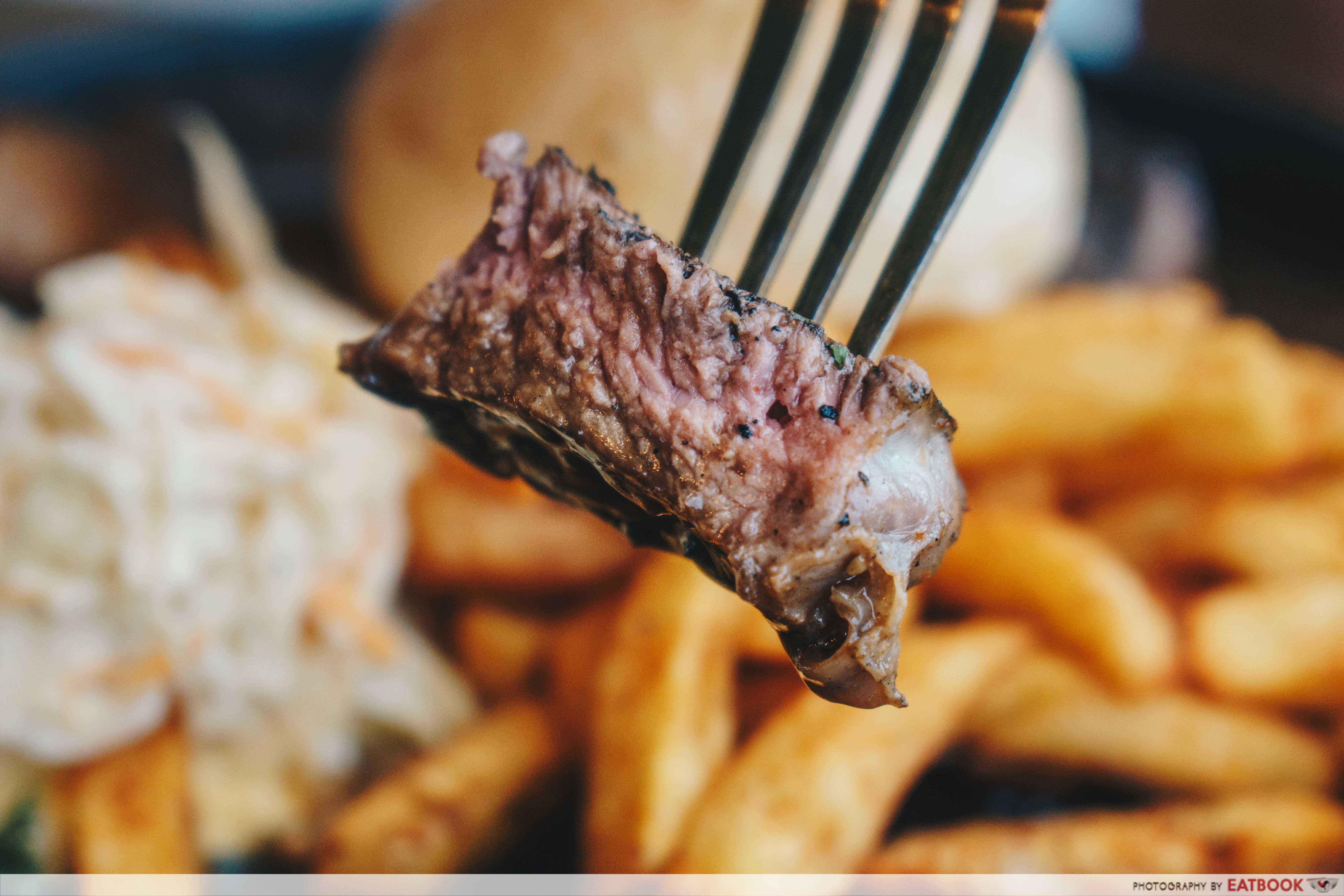 My colleague and I stared at the three dishes, wondering which to eat first. The sizzling sounds and rising smoke from the FattyBom Tender Steak ($10) caught our attention. Thus, that became the first dish we started with.
Black pepper sauce was ladled over the steak, and a pile of Cajun fries, coleslaw, and a bun came as sides. Back over at the counter, I was given the choice to choose the doneness of my steak, and I ordered medium well. The inside of the steak bore a light pink hue.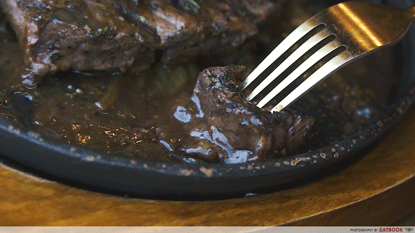 The black pepper sauce was what gave the steak its flavour and spicy kick. It reminded me a lot of black pepper crab sauce. But that aside, the steak was unbelievably tough and taxing to the jaw. It felt as though my jawline was getting more and more prominent from the intensive workout it was going through.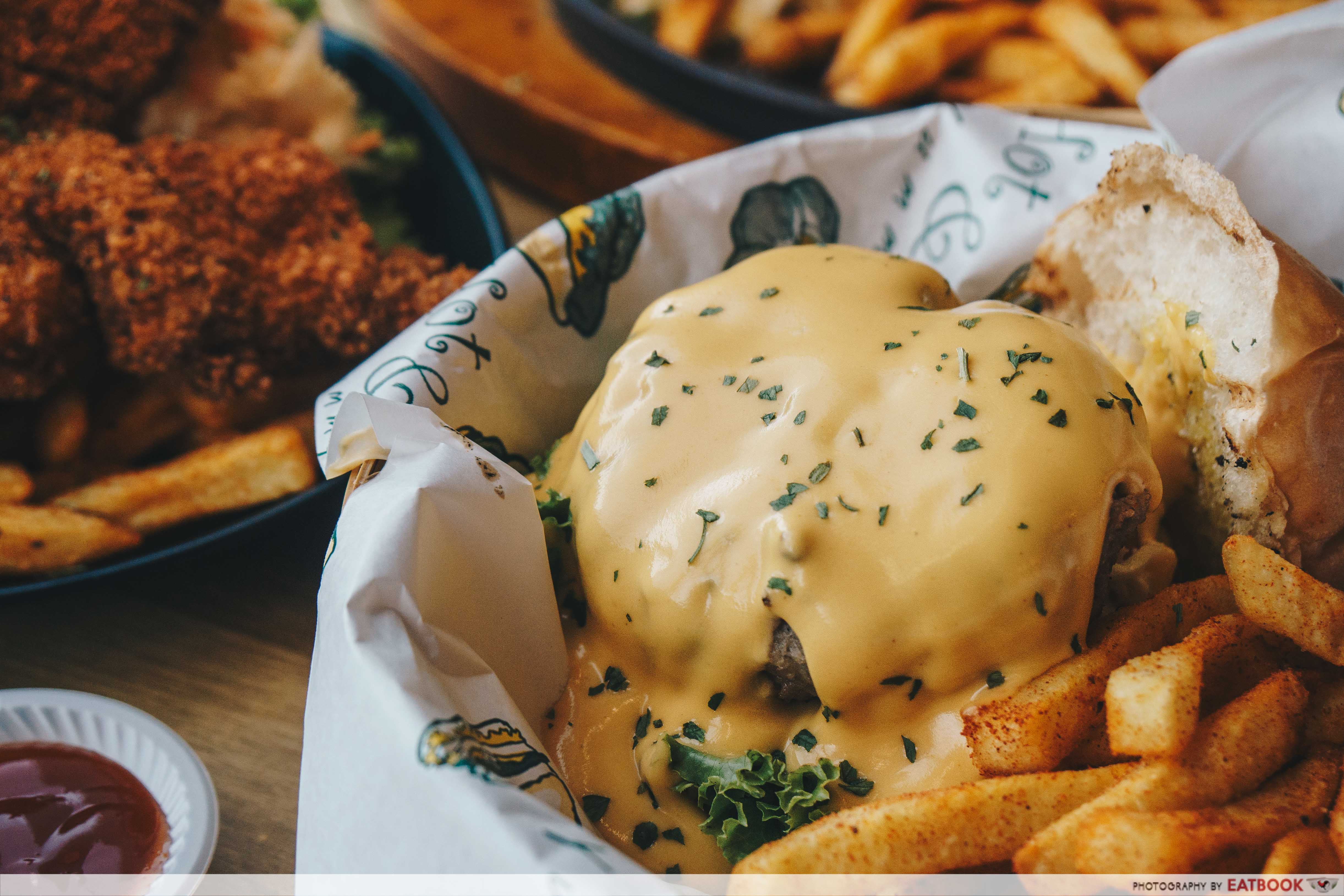 After I finished savouring the steak, I looked over at my colleague only to realise he had started on Jerry's Burger ($7.20) without me. He signalled for me to give it a try with much enthusiasm.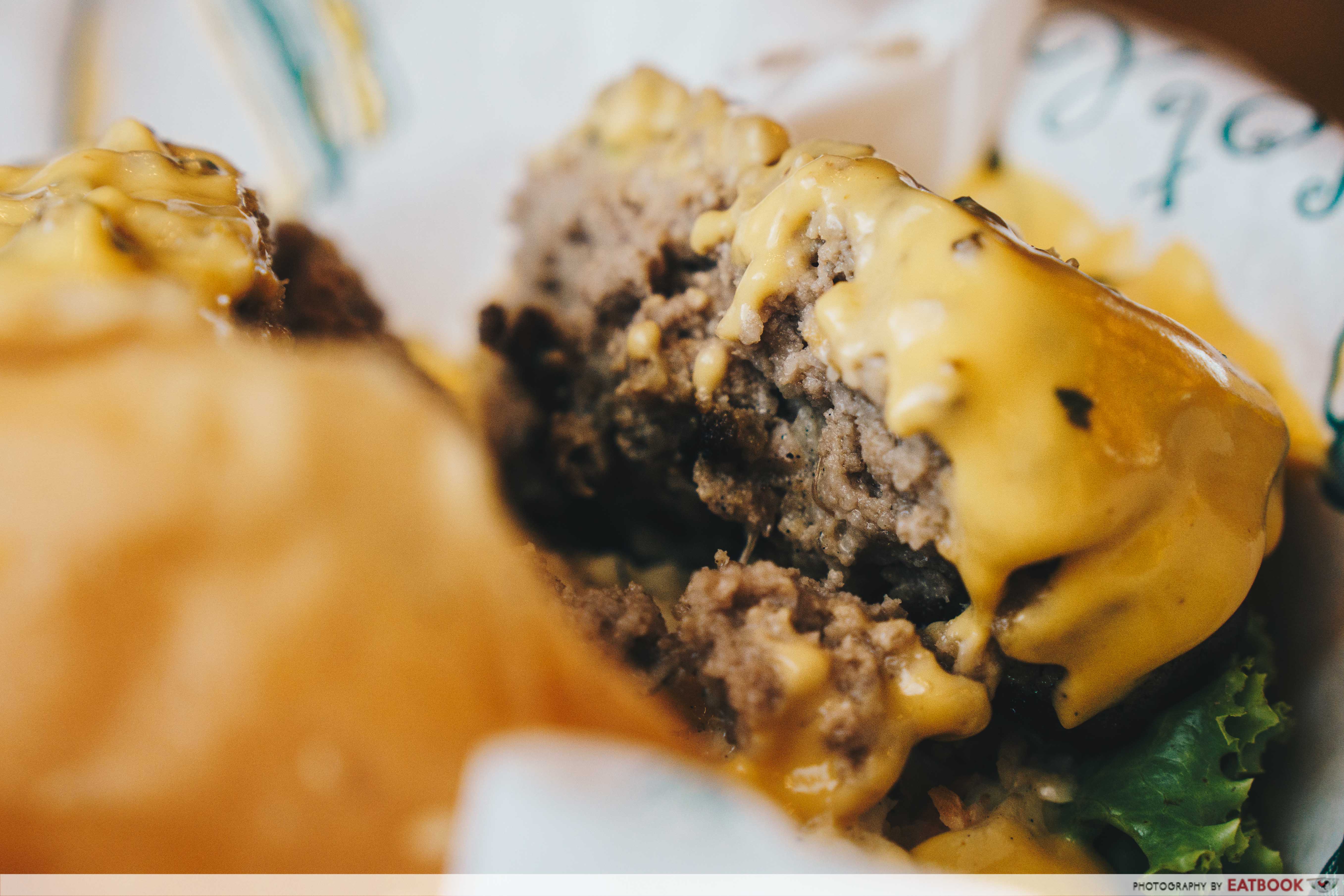 I cut up a piece of the patty only to be amazed by how the beef patty was so tender. Each time I tried to pick it up, it kept falling apart. If you don't mind dirty fingers, it'd be easier to use your hands to eat this burger.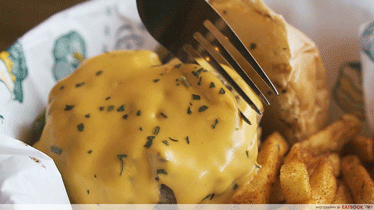 I took a bite of the burger and it felt like heaven to me. Chewing on the patty and bun required little effort, and juices from the patty helped bring everything together. The cheese was both rich and creamy, giving the burger an extra punch in flavour.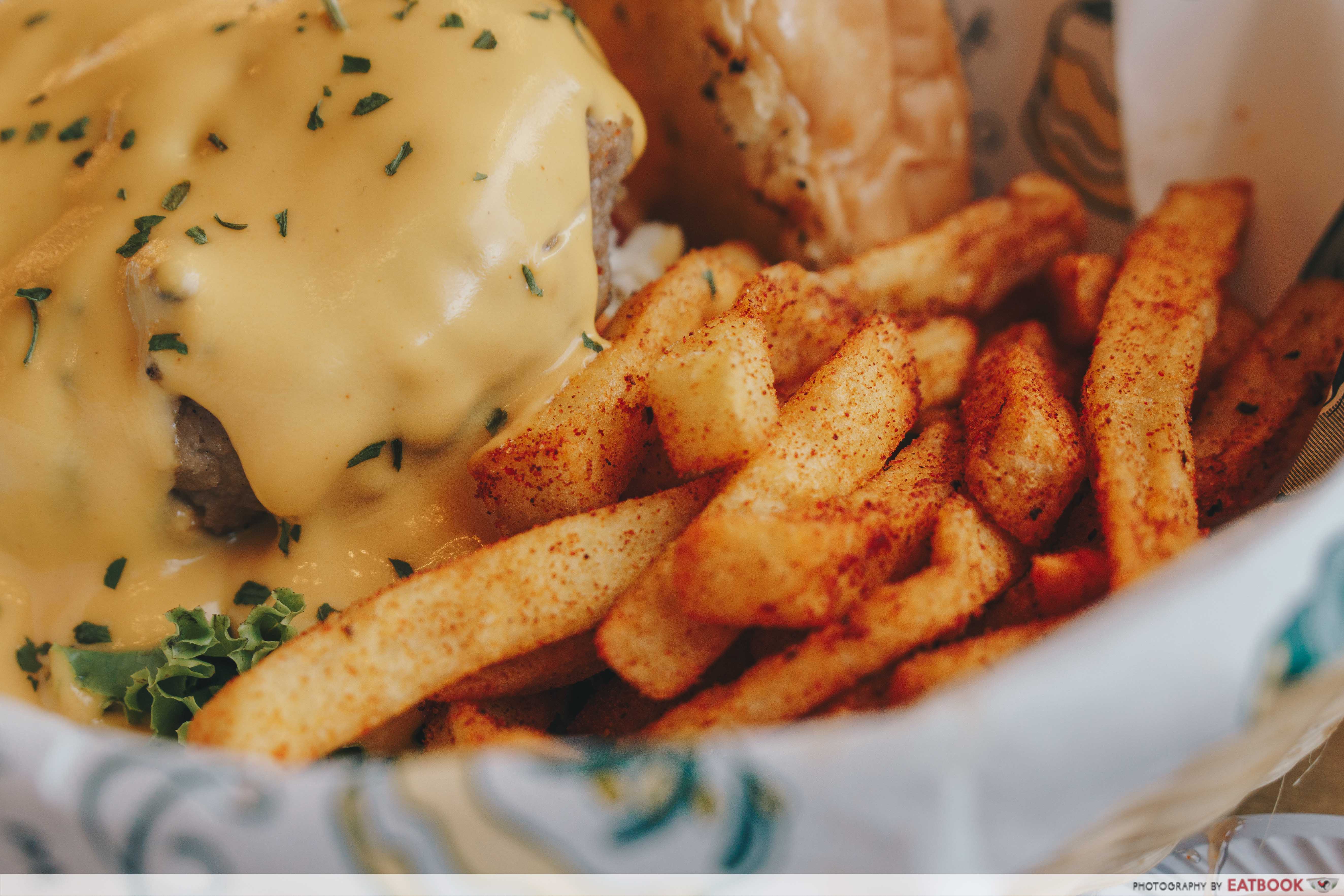 I really liked the pile of Cajun fries that was generously seasoned with paprika powder. The paprika powder bore only a hint of spiciness, making it suitable for those who can't take spice well.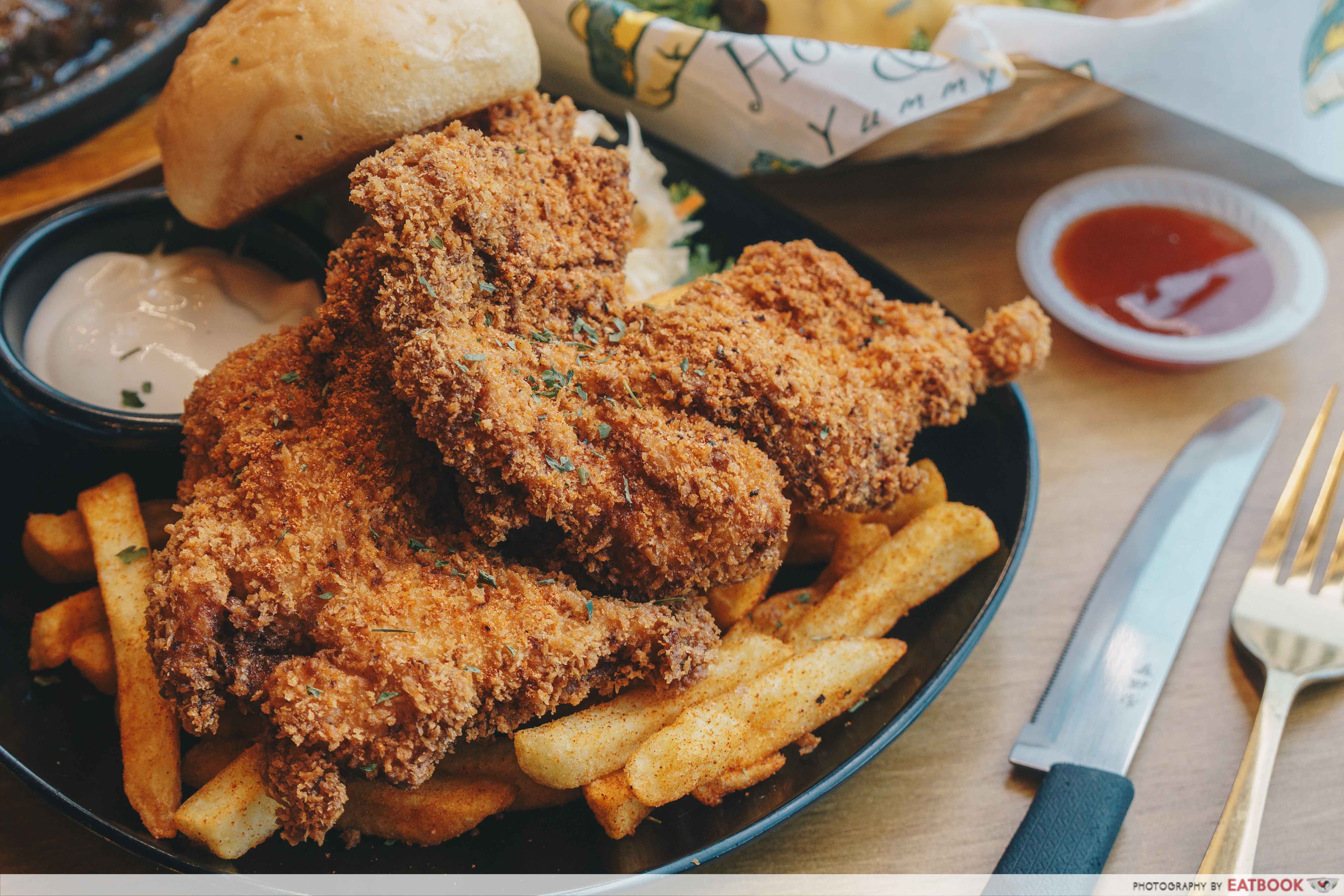 As both our moods were lifted, we proceeded to try the last dish – FattyBom Crunchy Chicken ($7.20). Just like the fries, the chicken was dusted with paprika powder as well. A distinct crackling was produced each time my knife sank into the chicken.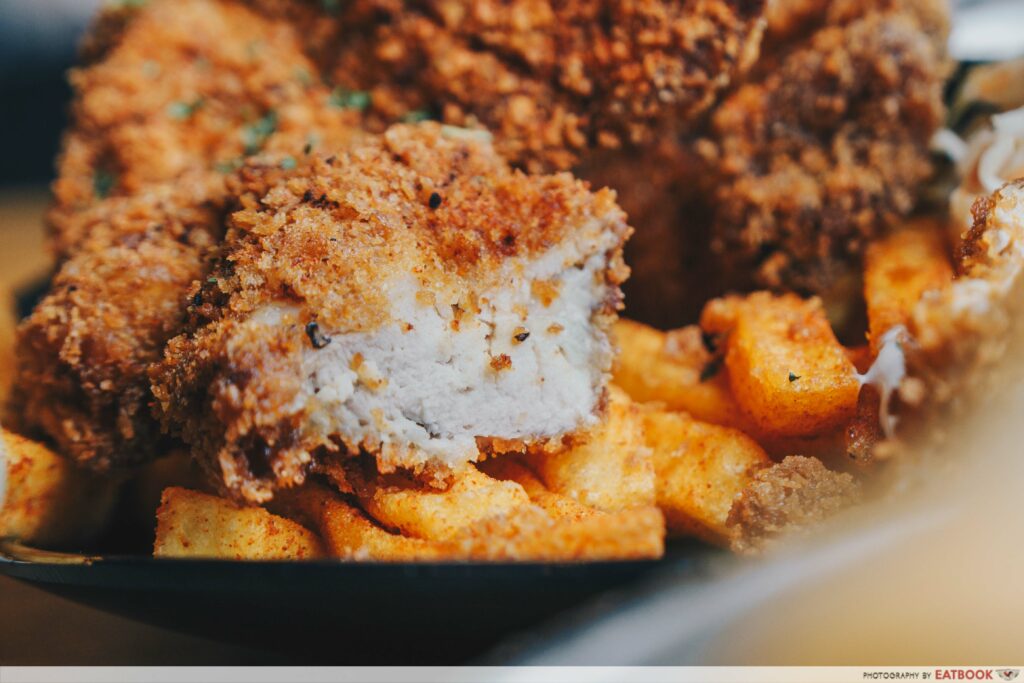 I took a piece and popped it into my mouth. Initially, my tongue was hit by the saltiness and spiciness from the paprika powder. But the chicken meat itself was bland. I got a little confused as I thought my taste buds were playing a trick on me. I gave the chicken another go but was welcomed by the same as before. We relied a lot on the tartar sauce provided for more flavour. I can't deny how succulent the chicken was, but marinating the chicken beforehand would definitely make it better.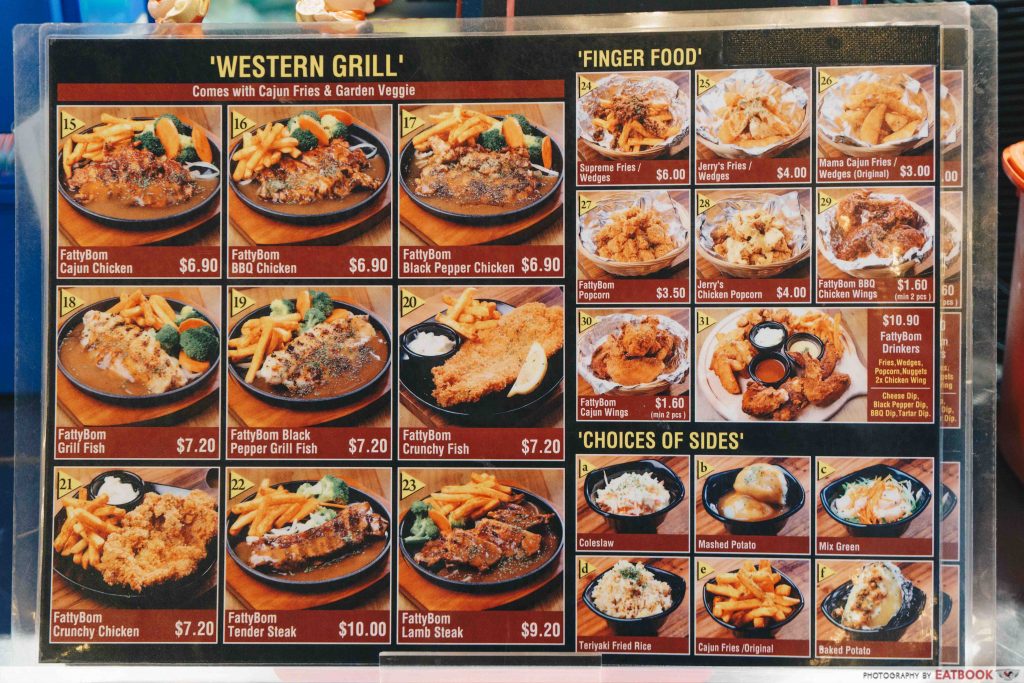 Aside from beef and chicken, Fatty Bom Bom also offers fish and mutton dishes, as well as a variety of sides.
Ambience at Fatty Bom Bom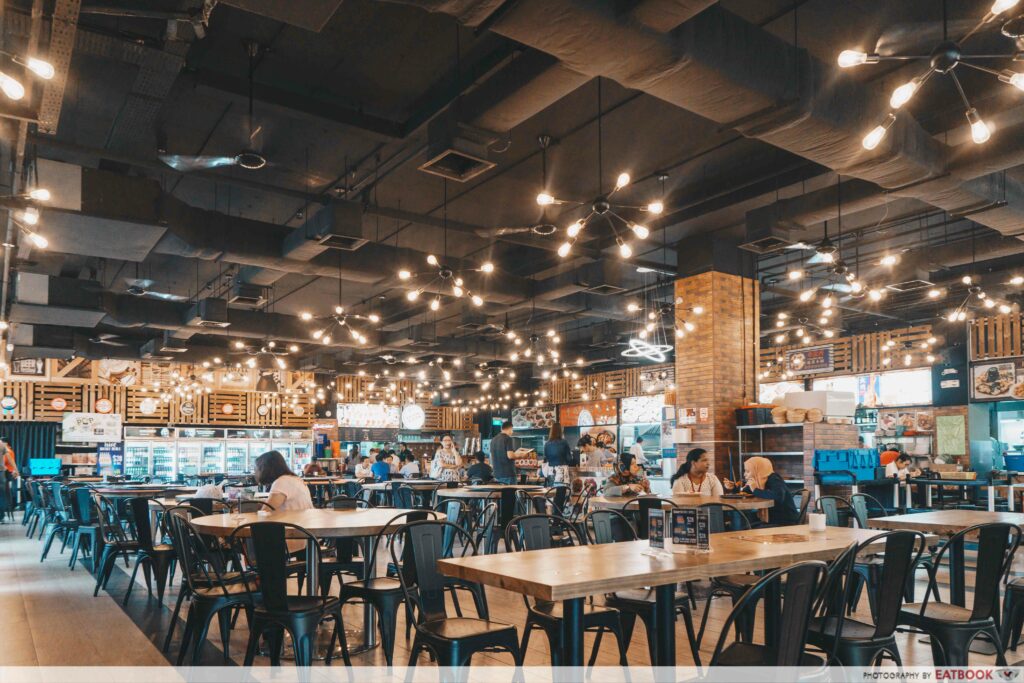 I expected the stall to be in a typical kopitiam. However, I was pleasantly surprised by how cosy the place was. It was clean, air-conditioned, and gave off a very comfortable vibe with its layout and lighting. Even the drinks there looked like they were on another level!
The verdict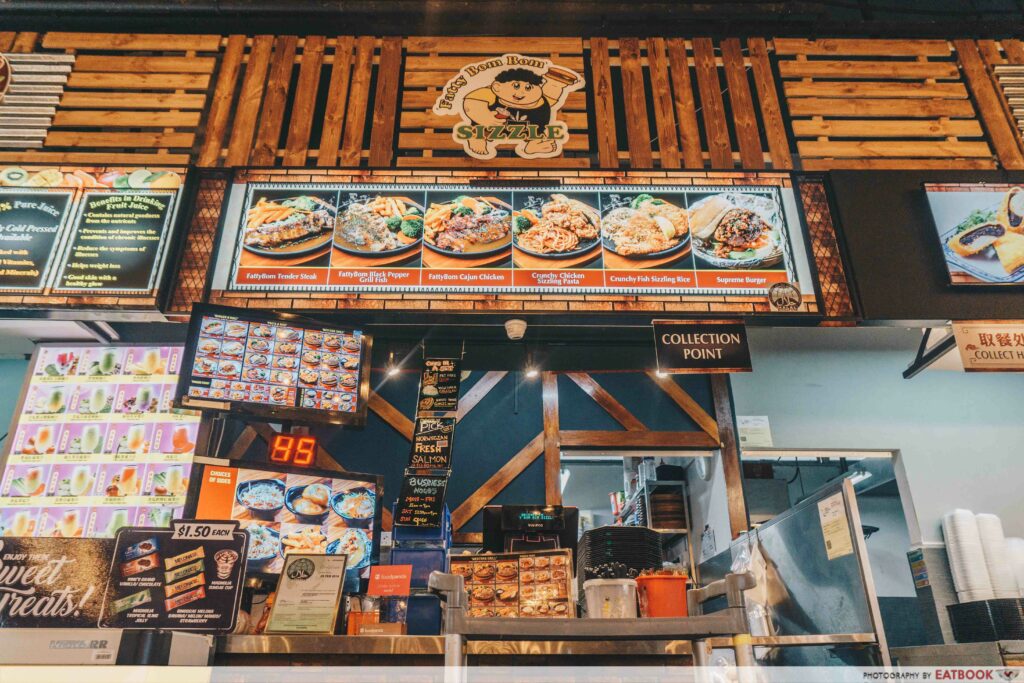 Fatty Bom Bom has got both hits and misses. I truly believe that the stall owners have the potential to improve on their dishes given how well some of their food were done, such as the burger and fries. Also, the prices of their dishes are very value-for-money considering how decent the portions were. Jiayou Fatty Bom Bom!
Address: 978 Toa Payoh North, Grains & Hops Food Court Bistro, Singapore 319001
Opening hours: Mon-Fri 11am to 3:30pm, 5pm to 9pm, Sat 12:30pm to 9pm
Tel: 8721 0175
Website
Fatty Bom Bom is a halal-certified eatery.
This is an independent review by Eatbook.sg
Summary
Pros:
– Fries were well-seasoned
– Value-for-money burger
Cons:
– Steak was very tough
– Chicken was bland
Recommended dishes: Jerry's Burger ($7.20)
Operating hours: Mon-Fri 11am to 3:30pm, 5pm to 9pm, Sat 12:30pm to 9pm
Address: 978 Toa Payoh North, Grains & Hops Food Court Bistro, Singapore 319001