Legit nasi briyani at Cafe Mariam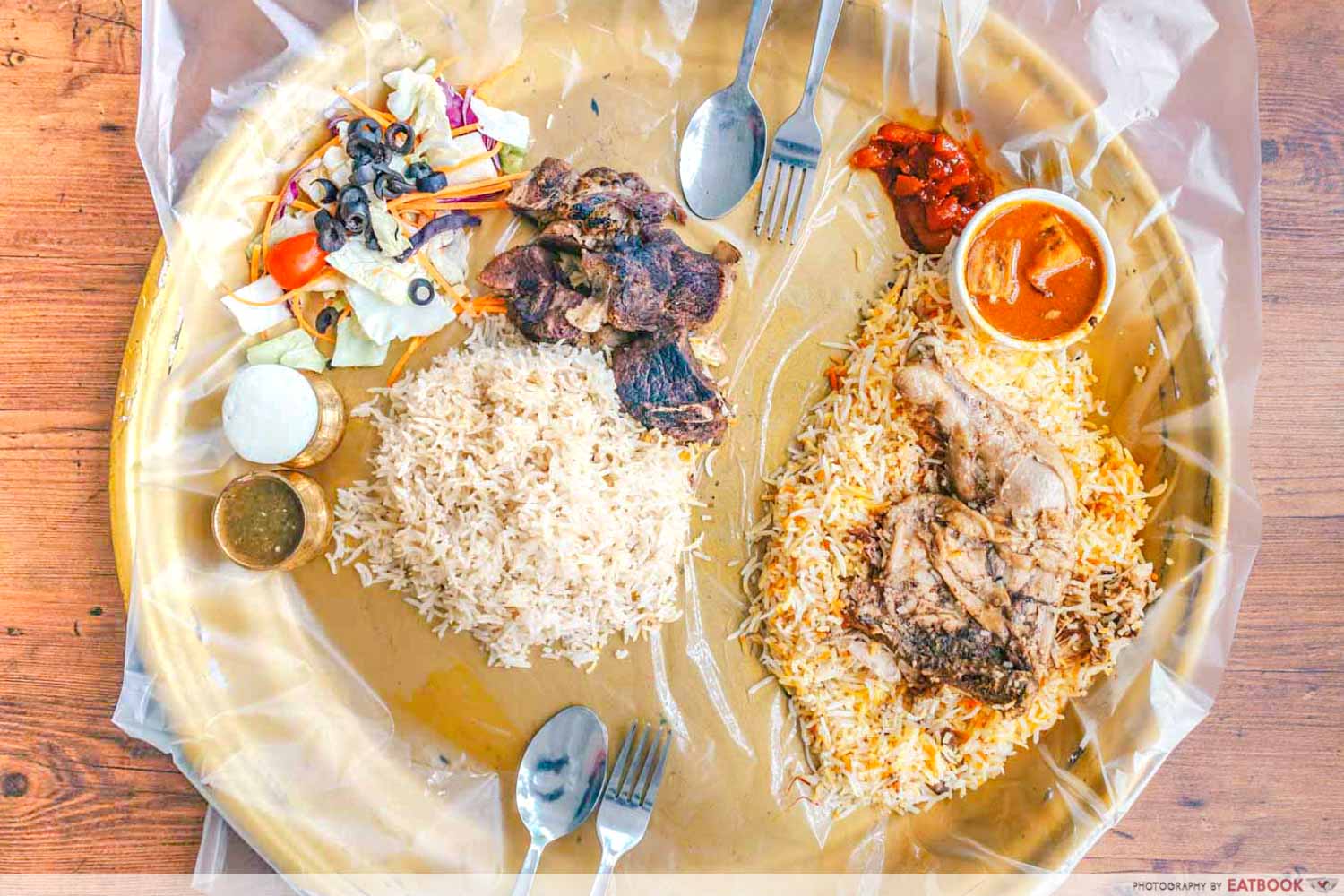 I'm a big fan of nasi briyani, but I hardly get the chance to go out of my way and really savour it. I usually just go to the kopitiam opposite my house, get a packet of mutton briyani, and head back home to eat it. So, when I heard about how good the briyani at Cafe Mariam was, I figured it was time to step out of my neighbourhood and pay them a visit. 
The humble little makan house was started up by Hassan Abdul Majeed. We came down as soon as they opened to beat the lunch crowd. We met him at 11am, while he was about to start dishing out orders for the day. He was eager to answer our questions, and was excited to talk about the restaurant. 
As Hassan spoke about his work experiences and the philosophy behind some of his cooking, it was clear that he is very knowledgeable in this realm. The good-natured chef has been cooking for the last 23 years, and has a great deal to show for it. He told us about his time spent in all sorts of kitchens, cooking up meals in fine-dining restaurants, working on banquets in cruise ships, and even working with culinary superstars such as Gordon Ramsay. When the subject shifted to briyani, I could see the fire in his eyes as he passionately talked about his cooking.
Hassan's father and grandfather were both briyani chefs back in the day, and the latter started up the legendary Islamic Restaurant at North Bridge Road. Cooking runs in their blood, and it's reflected in Hassan's work ethic. He's put a lot of thought into the restaurant, from the food he serves to even little details—making his own yogurt from scratch, for example. One thing he told me was that he doesn't eat during work hours, so that he can keep his palate fresh to taste test each batch of food properly. 
Food at Cafe Mariam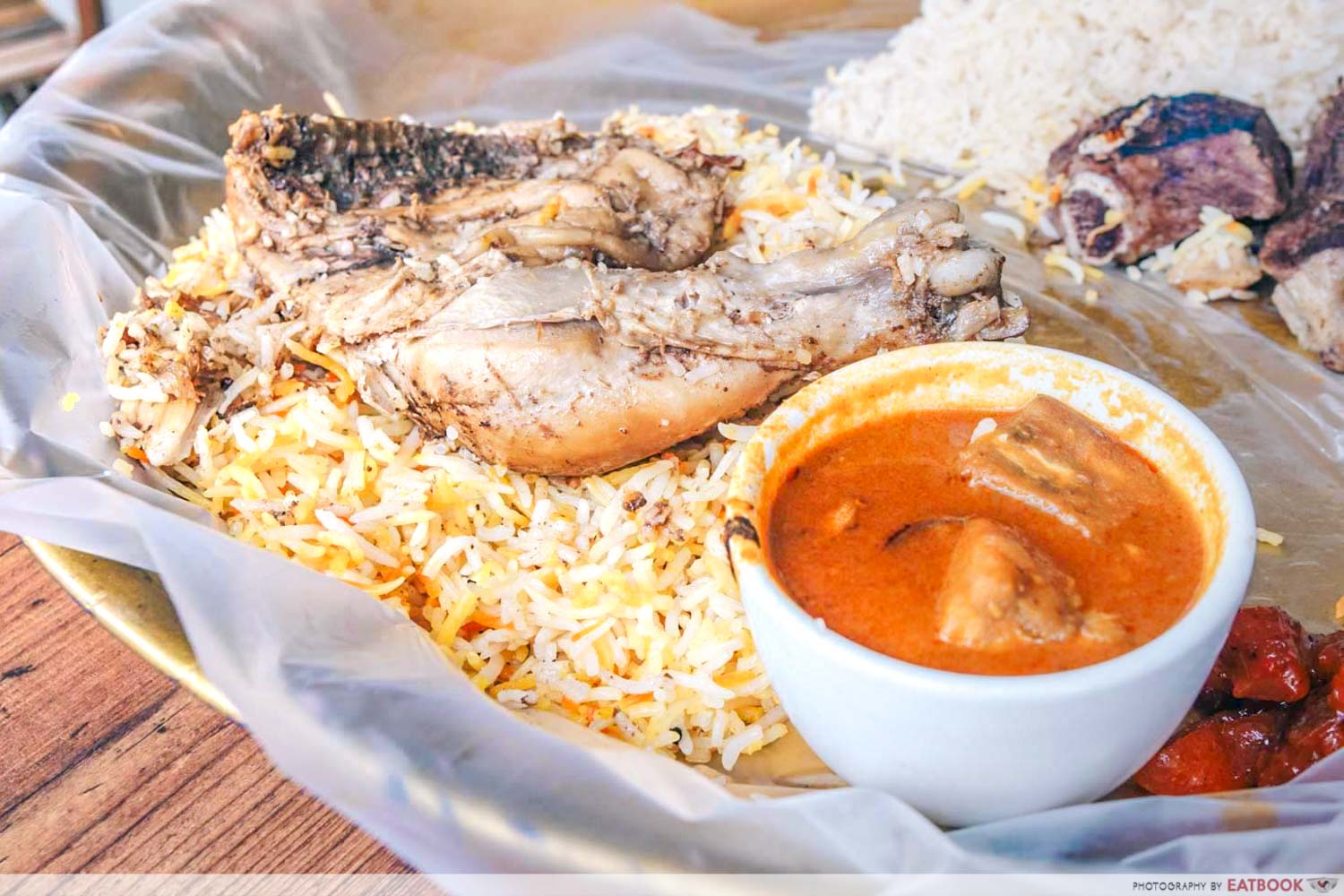 Cafe Mariam only serves two dishes: Briyani and Mandi, with a choice of meat. We picked the Chicken Biryani ($6.50) and Mutton Mandi ($7). Both dishes were served together on a large platter.
The chicken came as a thigh and drumstick. The meat was tender, juicy, and slightly smoky, with a lightly torched area on the outside. Hassan's unique cooking style makes sure that the chicken has no chance of drying out, and flavours the rice at the same time.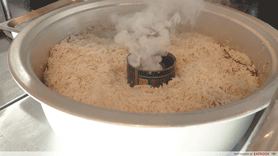 The chicken is placed in the bottom of a heated box, and buried beneath fragrant rice. Hassan uses a three-part cooking method for his briyani and mandi. The rice and meat are cooked and seasoned separately, before being placed together in the box. A water bath beneath it provides heat and steam. When it's ready to cook, he places a tin into the whole box, along with a piece of smoking charcoal. The process imparts a distinct smokiness into the meat and rice, making it stand out from other briyani.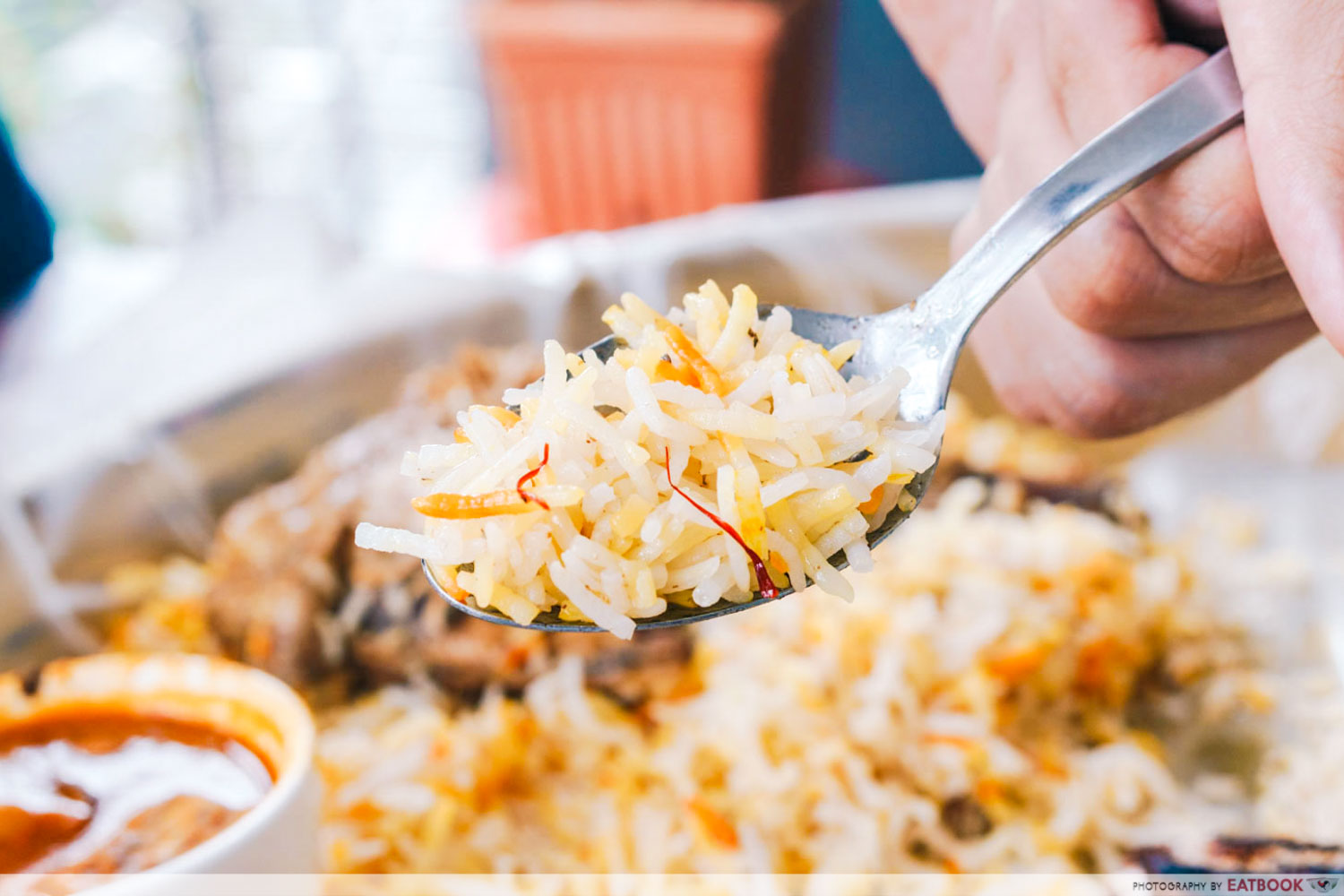 "No saffron, no briyani," seems to be his mantra. When I was scrolling through the eatery's Facebook page, I noticed the same declaration being made. Hassan explained that it was saffron that gave the briyani its brilliant colour. You can see the stems of saffron up close, scattered among spoonfuls of rice. 
Measured by weight, saffron is more expensive than gold. The crimson strands are extracted from crocus flowers, and only three of them are found in each flower. Hassan wholeheartedly feels that saffron is the one part of briyani that can never be skimped on. Despite its cost and rarity, saffron is what gives a distinct flavour, iconic colour, and a deeper layer of taste to briyani. And indeed, the signature taste of saffron was obvious when I took my first spoonful. It was fragrant, earthy, and somewhat sweet. The rice was flavourful and rich on its own.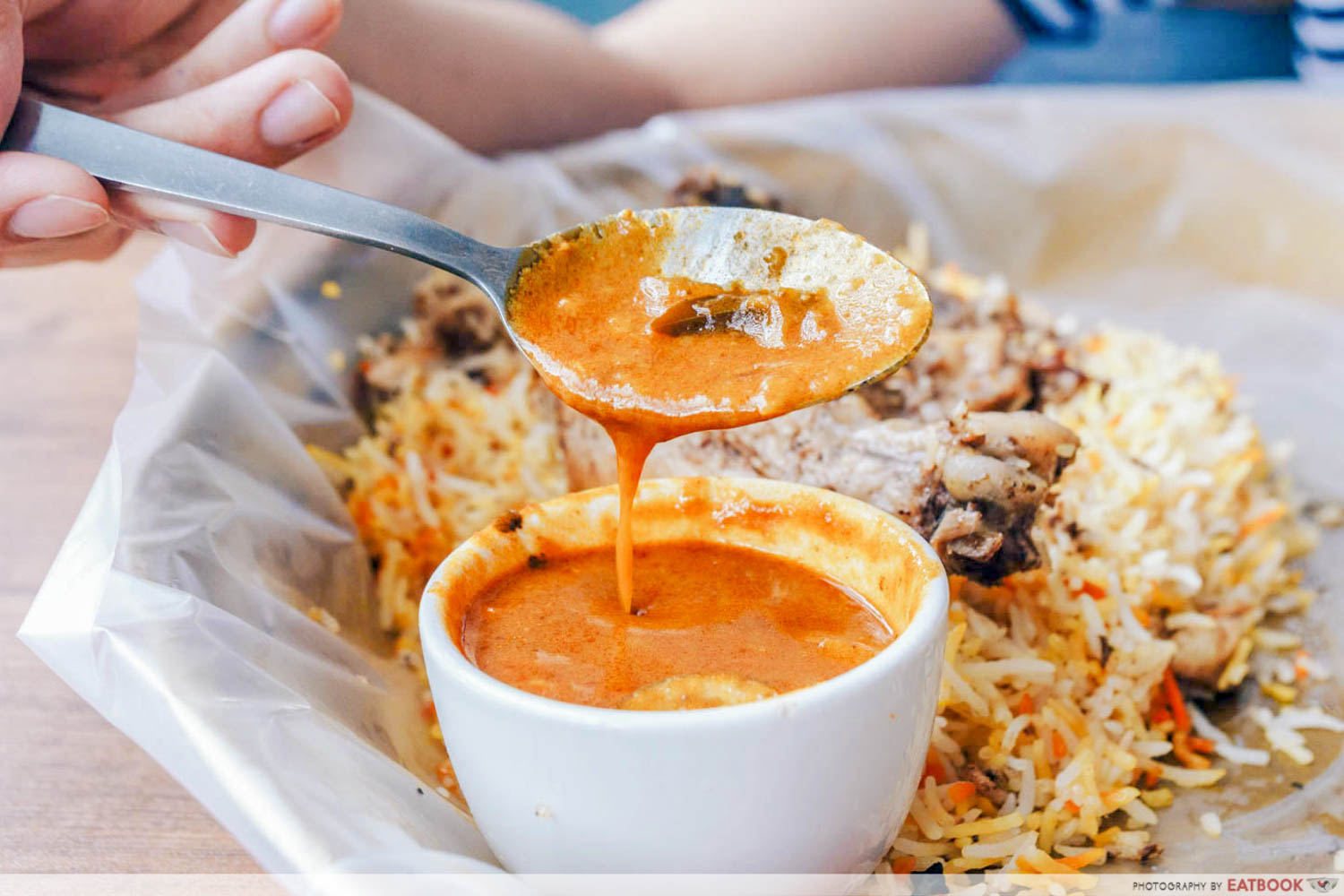 The briyani is accompanied by a bowl of thick and rich curry. It gave the rice and chicken a kick of spice, and fortunately wasn't too hot to handle. It helped to add more moisture to the rice too.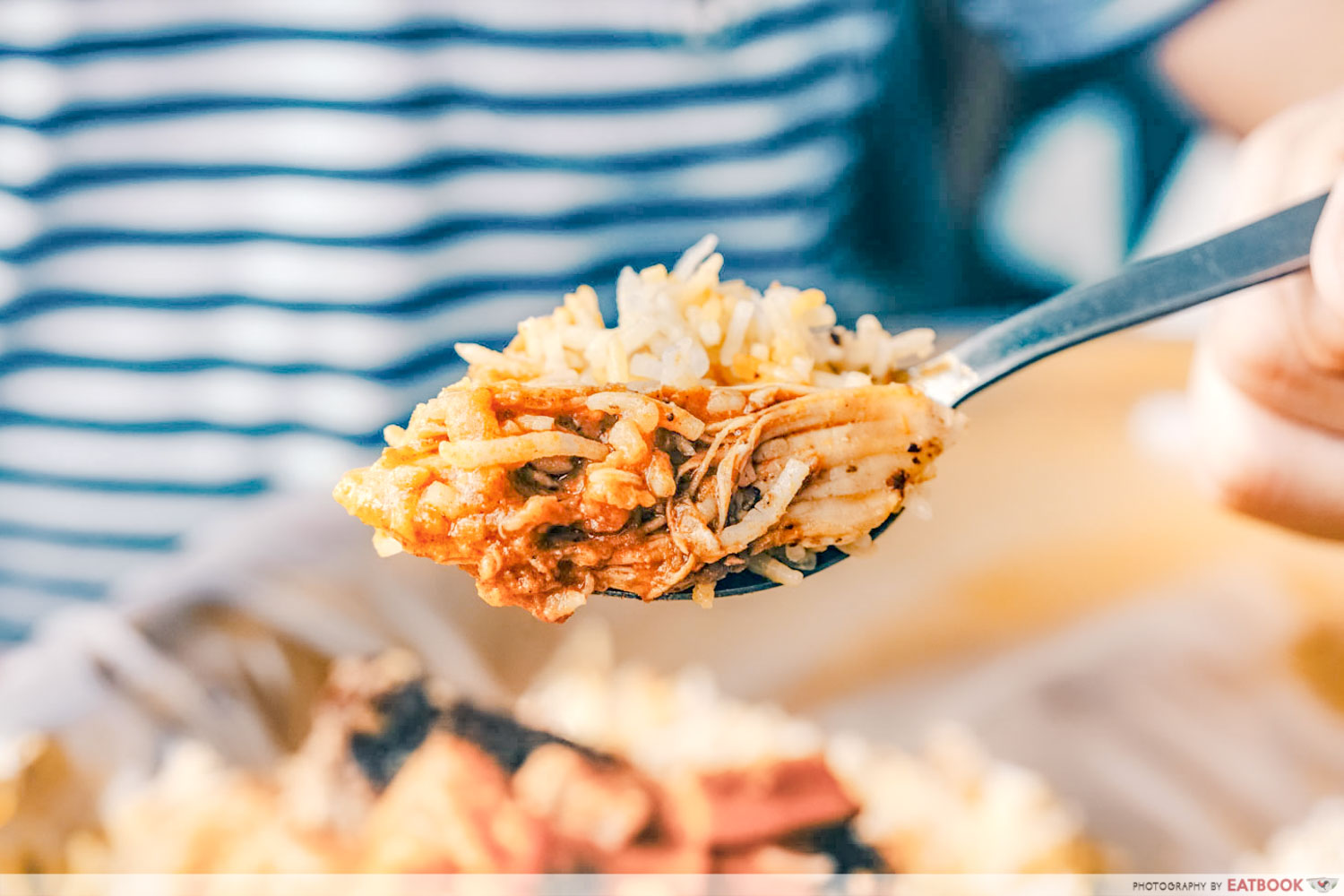 Overall, I absolutely loved the briyani. The rice, curry and chicken went well together, forming smoky, savoury, and fragrant mouthfuls.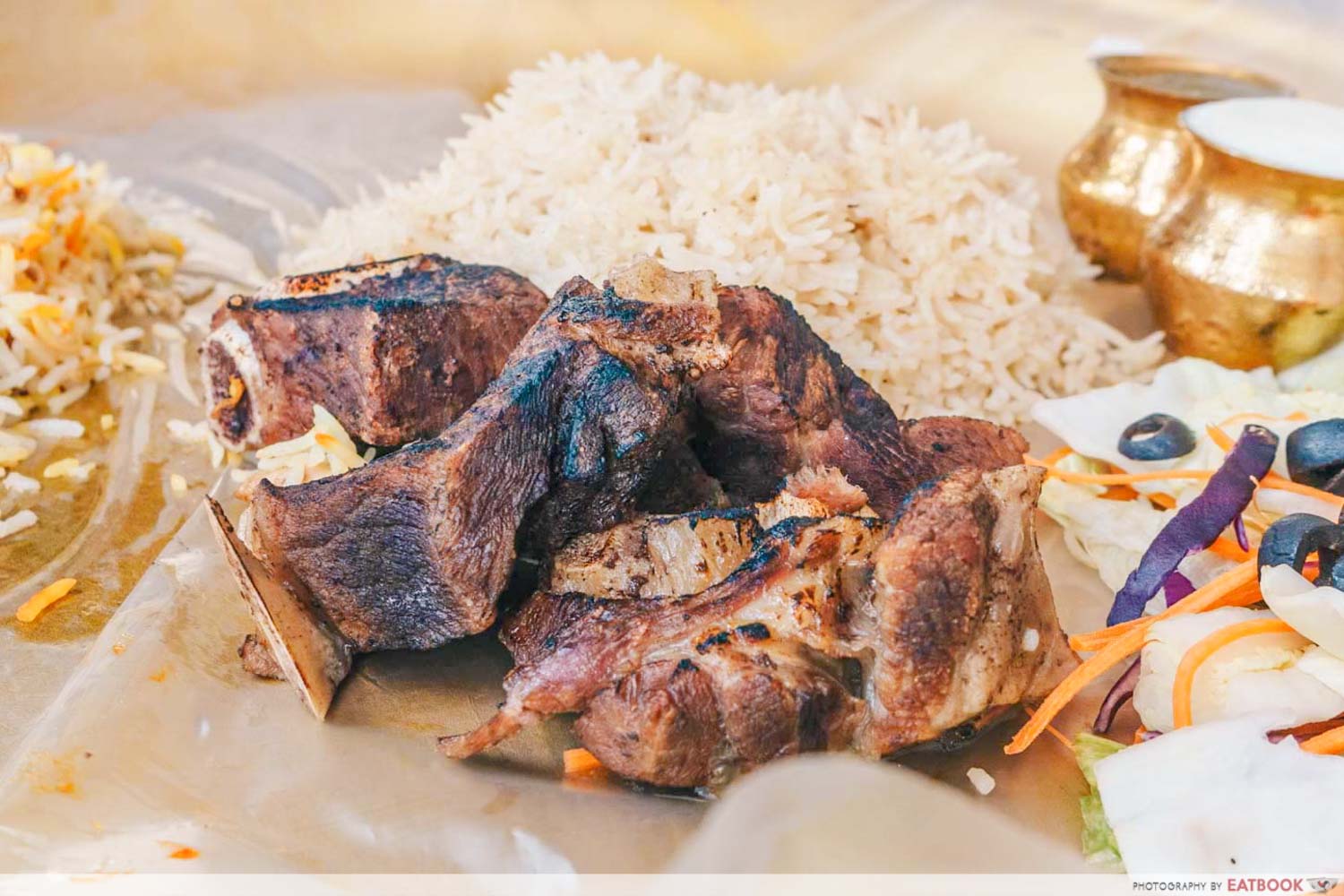 While the briyani is a family recipe, Hassan came up with the Mutton Mandi's secret recipe by himself. He developed it over the years, slowly putting it together and coming up with a recipe. It comes with a generous heap of mutton, mandi rice, salad, and sauces. 
The mandi rice was a little different from the briyani. It wasn't as colourful, but had a stronger and buttery flavour from ghee. Mandi is an Arabian version of briyani, and Hassan is currently chasing that authentic flavour that the dish has in its home state of Yemen.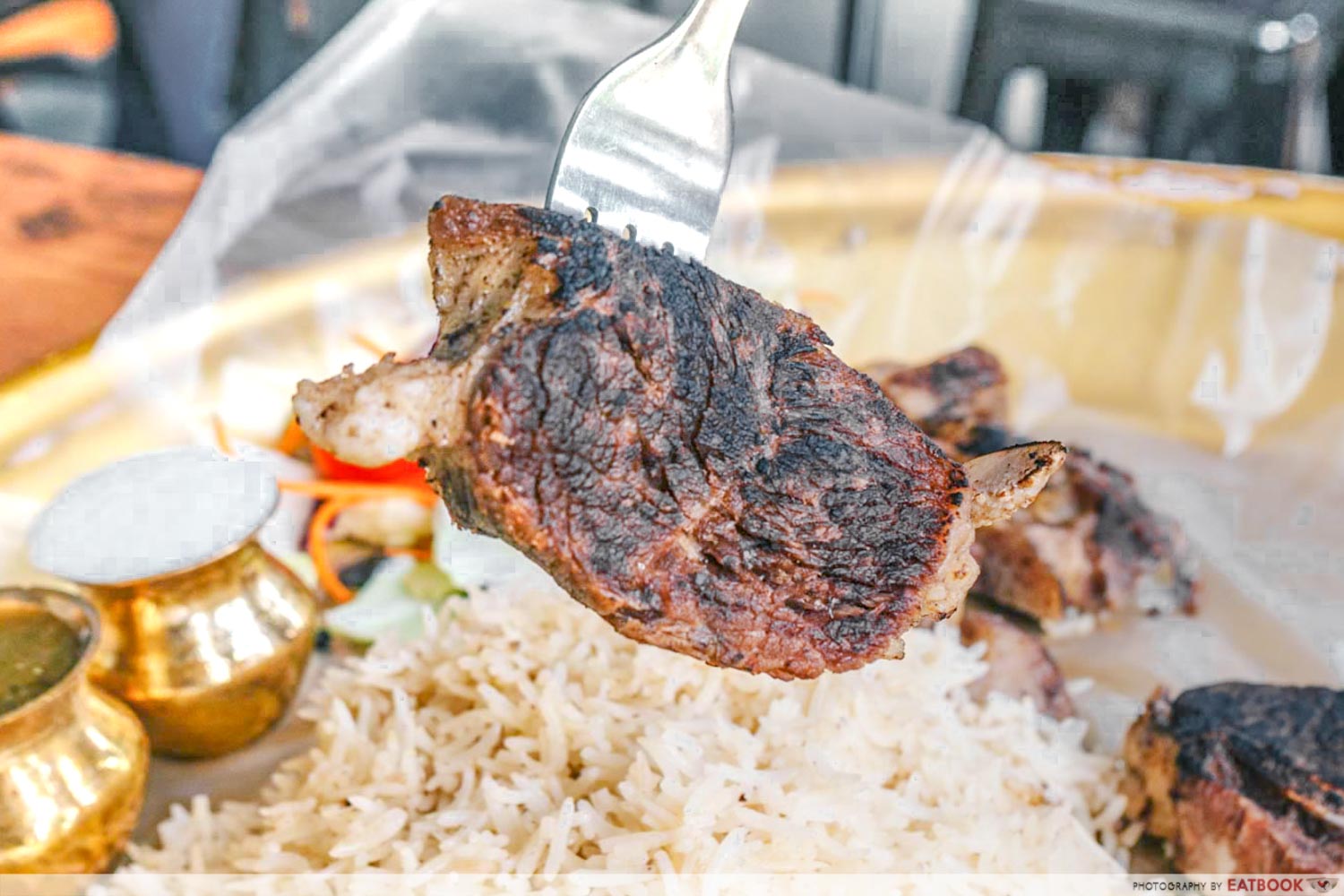 I'm a huge fan of mutton. I'll always pick it over chicken in curry dishes. I just find it incredibly flavourful, and love how it helps to enhance the taste of fragrant rice. Obviously, I was delighted to see how much mutton there was in one order. 
The mutton smelled wonderful, and had a dark, smoky crust from being directly seared with a blow torch. Despite its appearance, it didn't taste burnt in the slightest. However, I found the mutton to be far too gamey. I love the meat precisely because it has that heavy and intensely meaty flavour. But it was still a bit too overwhelming for me to handle in this dish. Even after we were done with the meal, and after I rinsed my mouth, the aftertaste still remained for the rest of the day.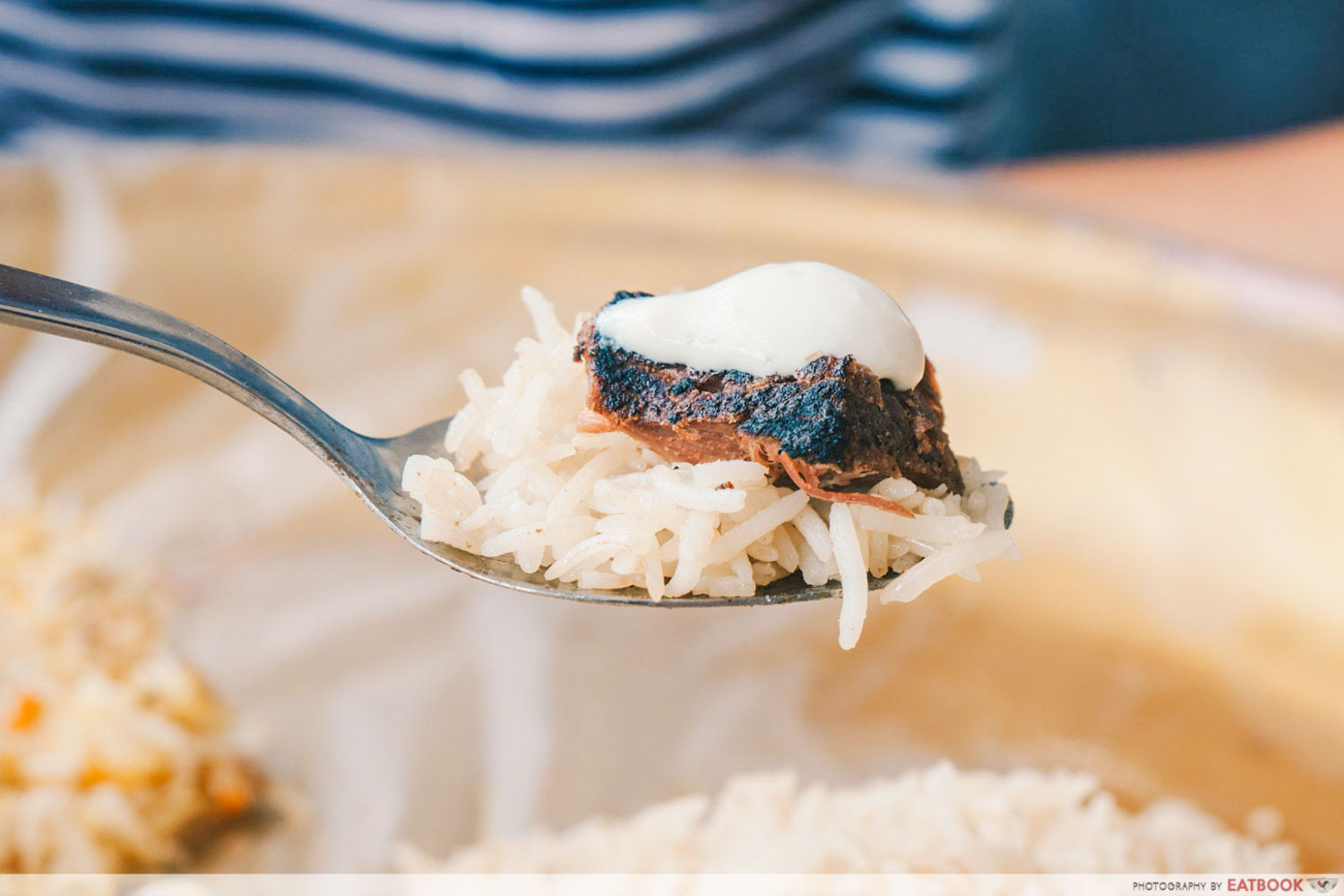 The mandi came with a pot of yogurt. Hassan makes his own in the kitchen, and portions it out to pair with the meat and rice. It's thick, sweet, and slightly sour. The yogurt went well with the mutton, since the brief and strong taste managed to overpower the gamey meat.
Apart from the yogurt, there was also a cup of green salsa. It was sour and spicy, like jalapenos, but it went well with the mutton and buttery mandi. It got a bit too hot to handle at times, but the yogurt was able to wash out the heat.
Ambience at Cafe Mariam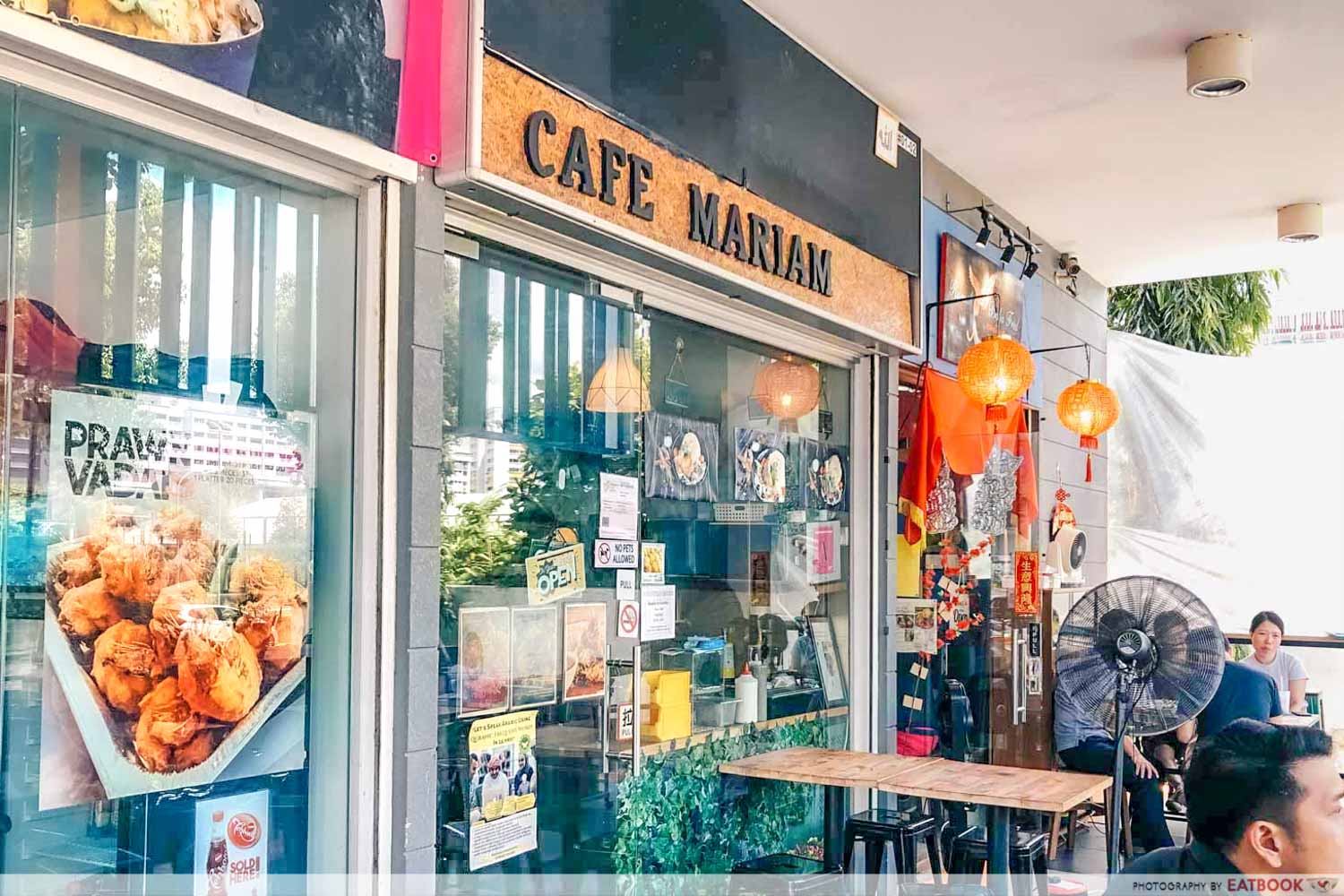 Cafe Mariam is a ten-minute walk away from Eunos MRT Station. It's quite hard to head there by car from the station, and the nearest bus drops you quite a distance away anyway, so your best bet is to make the trip on foot. The interior is quite small, so you'll most likely be eating al fresco and enjoying the scenery while you chow down on a huge platter of flavourful rice.
The verdict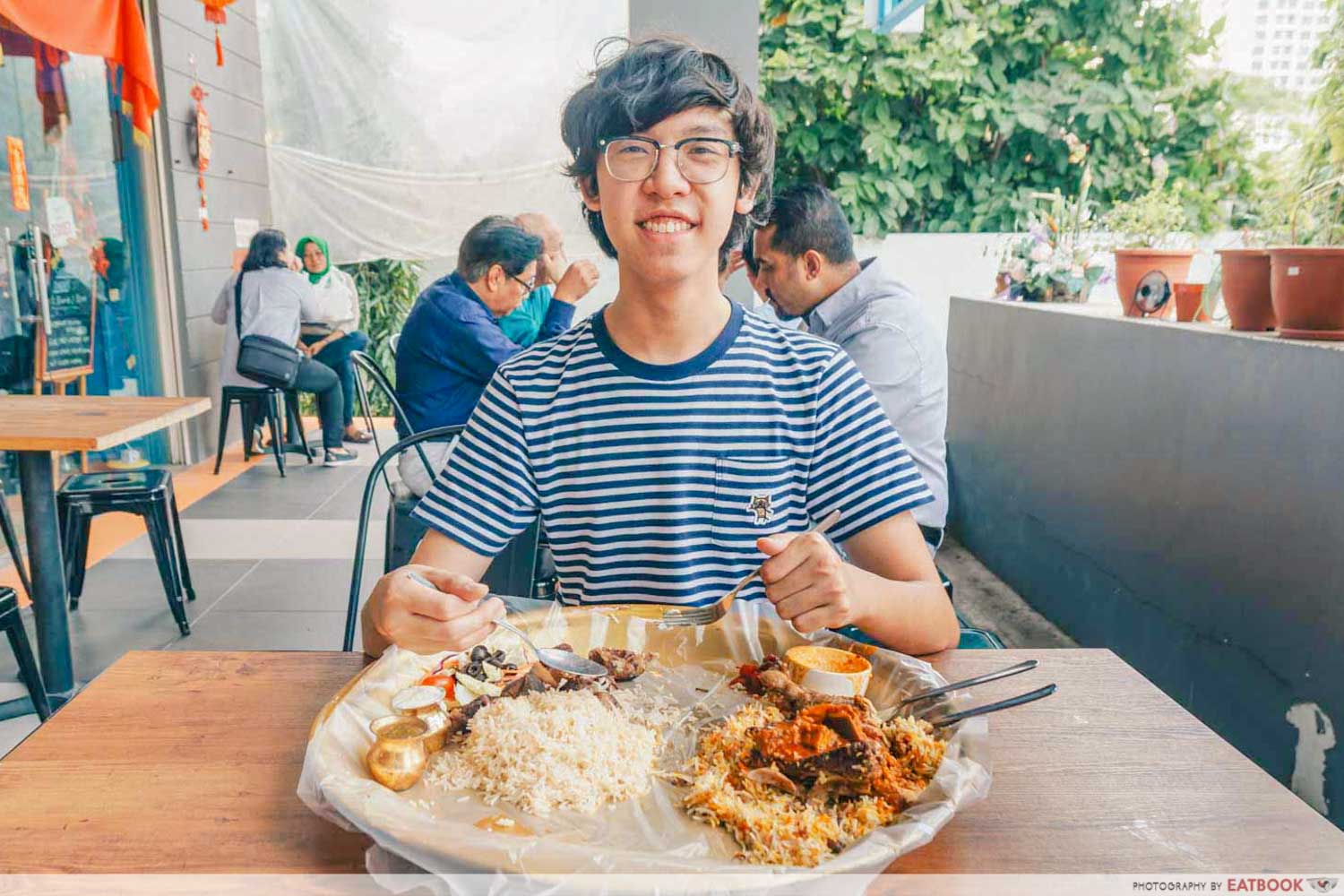 When we asked him about it, Hassan modestly replied that his briyani would be a 7.5/10. He said he is still working on improving, and that maintaining these dishes' quality is a constant learning experience. I'm inclined to disagree just a little bit with his rating, and give it a slightly higher score. It's genuinely good food, comes in big portions, and has an affordable price. My group of three could hardly finish the two mountains of food. 
Cafe Mariam is a great showcase of Indian-Muslim cuisine. Check out Asyraf's Halal Corner for more halal food! Also, check out our guide to Orchard Central, to find out where you can all the good eats in town!
Asyraf's Halal Corner: New Halal Cafe In The CBD With Prices Under $7
Address: 116 Changi Road, #01-02, Singapore 419718
Opening hours: Mon-Thurs 11am to 3pm, Fri-Sun 11am to 2pm
Tel: 9369 8564
Website
Cafe Mariam is a halal-certified eatery.
Photos taken by Chng Jia Yian.
This is an independent review by Eatbook.sg.
Cafe Mariam Review: Cheap And Good Nasi Briyani By A Third-Generation Chef
Summary
Pros
– Affordable prices
– Authentic, flavourful food
– Large portions
Cons
– Mutton is overly gamey
– Inconvenient location
Recommended dishes: Chicken Biryani ($6.50), Mutton Mandi ($7)
Opening hours: Mon-Thurs 11am to 3pm, Fri-Sun 11am to 2pm
Address: 116 Changi Road, #01-02, Singapore 419718