Asyraf's
Halal Corner at Shenton Way
Update: Asyraf's Halal Corner has been rebranded as The Halal Corner, and its address has been relocated to Bedok. Please see below for their new address.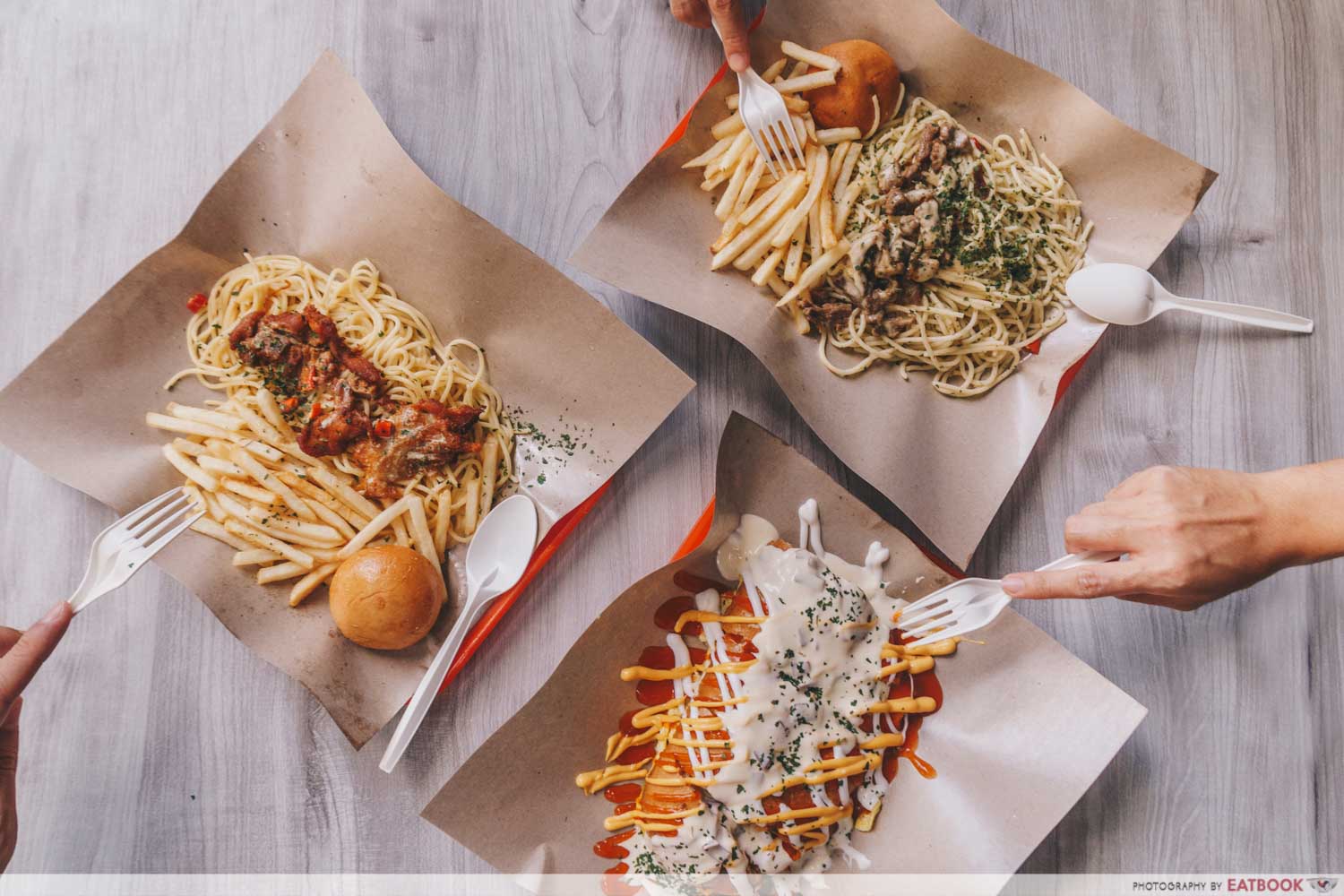 Lunch is my favourite time of the workday. With no dietary restrictions, I can easily choose from a plethora of options. However, my Muslim colleagues have been complaining about the lack of halal choices around our office area. For those working in the CBD, you get a double blow of expensive and limited options. Thankfully, there's Asyraf's Halal Corner to rely on for halal fare that is affordably priced.
10 Cheap Halal Food Places With Huge Portions And Mains Under $10 Per Person
Food at Asyraf's Halal Corner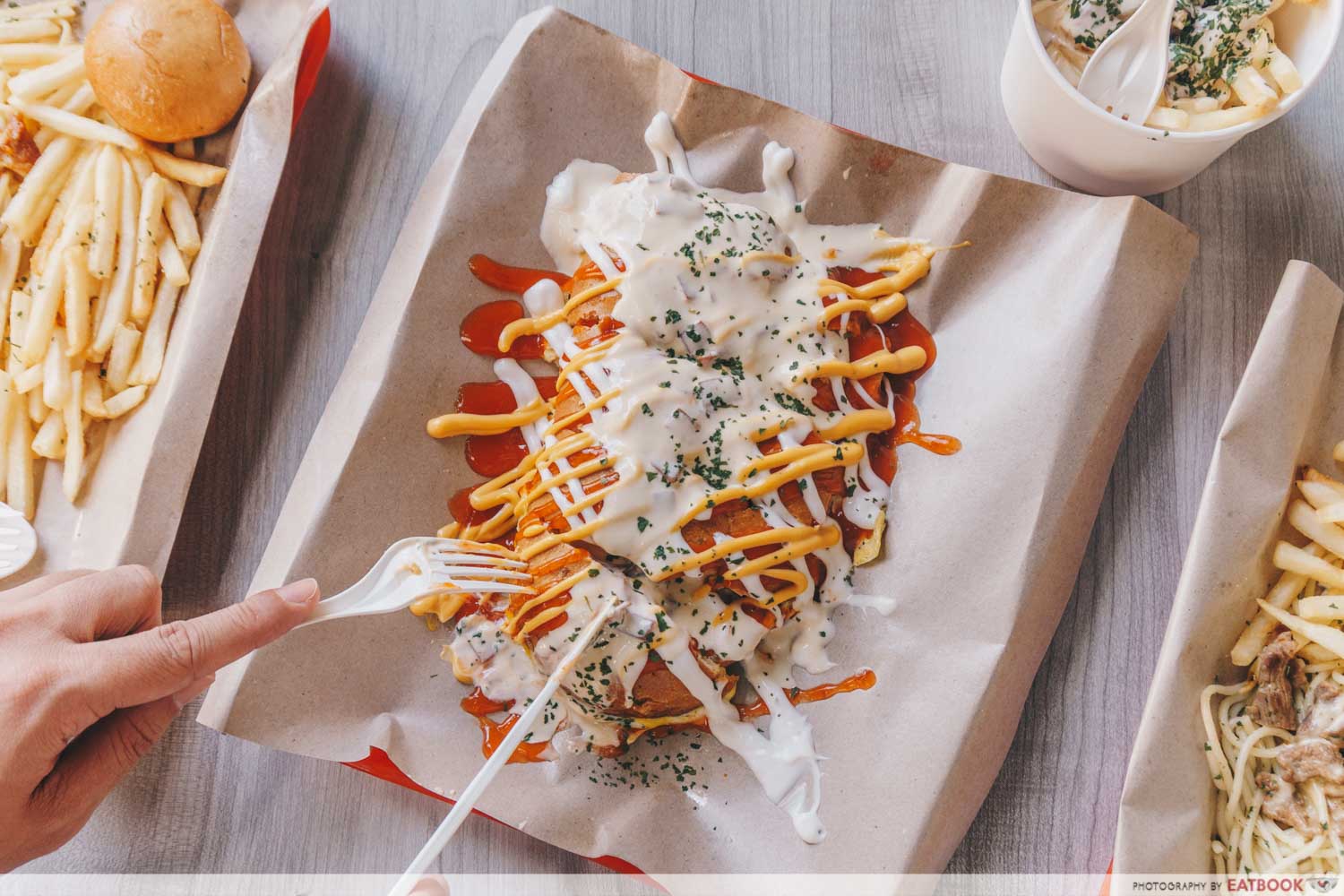 Besides common dishes such as prata and mee goreng, Asyraf's Halal Corner also offers a range of Western-fusion options. The Carbonara Beef Steak Mr John ($6) caught my eye, and I was curious to find out if they actually stuffed a roti john with pasta.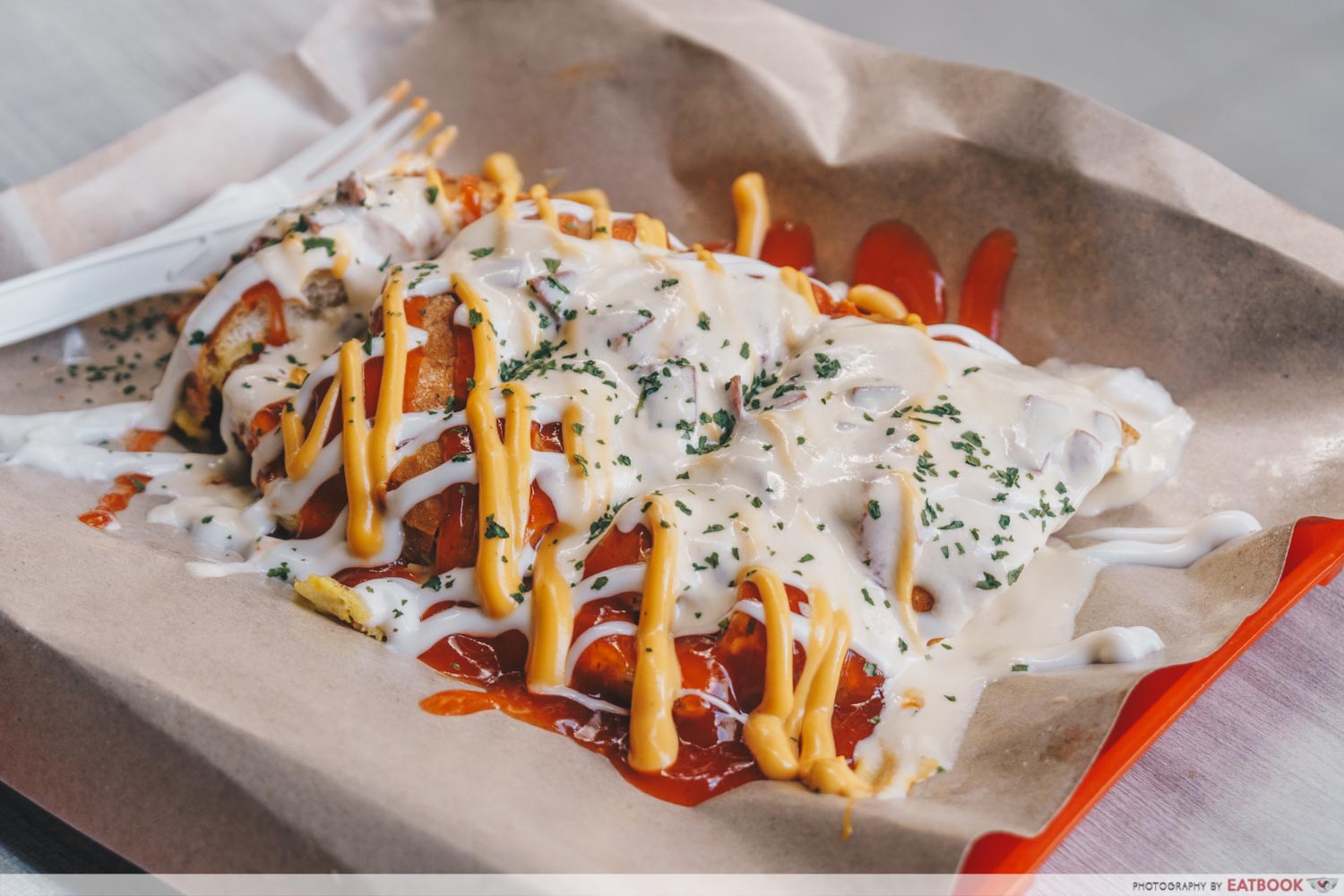 My assumption was wrong, as a seemingly typical roti john arrived at our table. A soft loaf of bread decorated with familiar stripes of tomato and cheese sauce.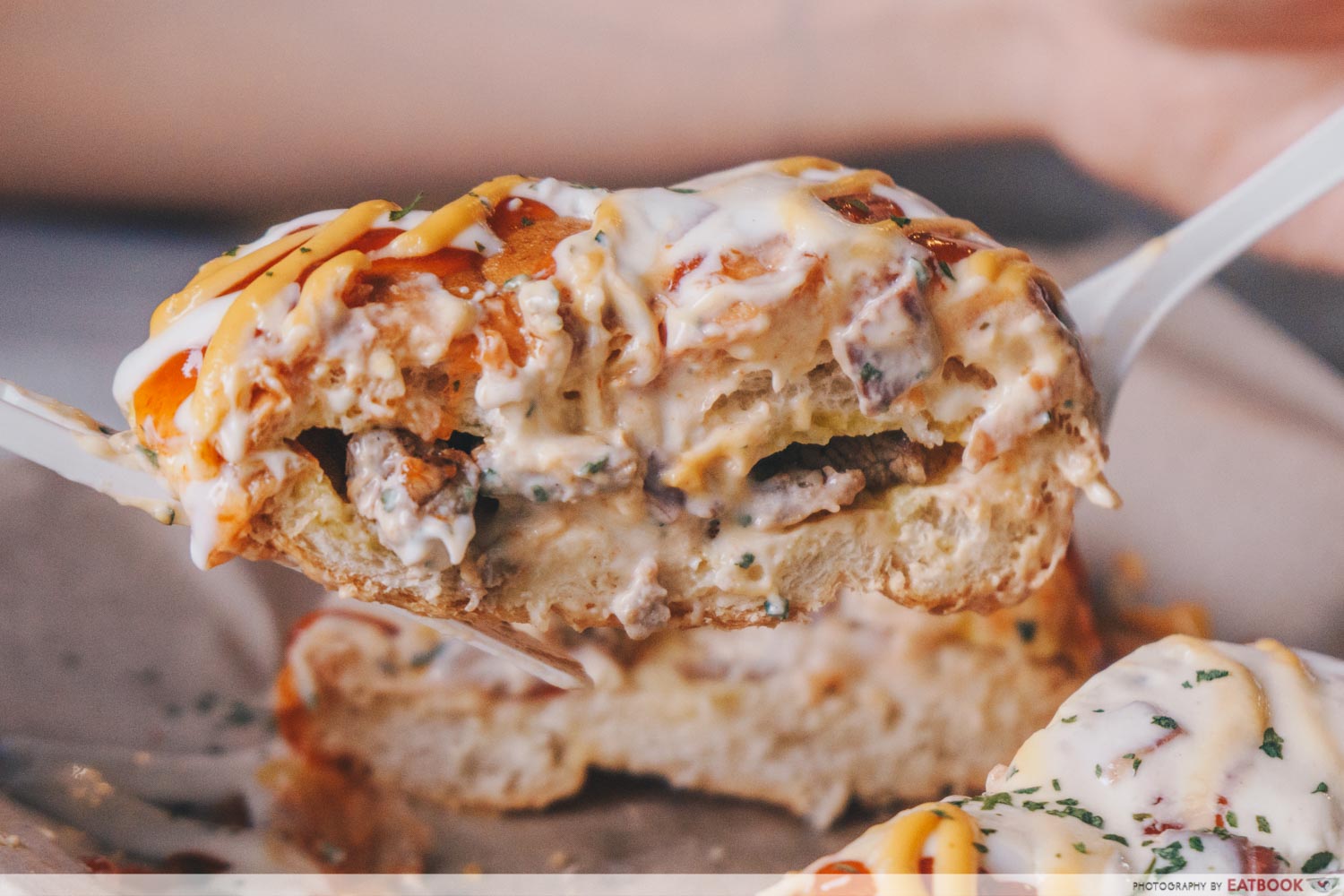 My packet of wet wipes came in handy when tackling this messy sandwich. The rich sauces first hit my taste buds followed by the eggy bread. What stole the show were the robust chunks of beef. Their chewiness provided a textural contrast to the fluffy bread.
As my curiosity got the better of me, I asked the friendly staff which part of the sandwich was carbonara. Turns out it was the cheesy sauce. I did feel a little cheated, but I'll let it slide as the cheesiness was still delightful.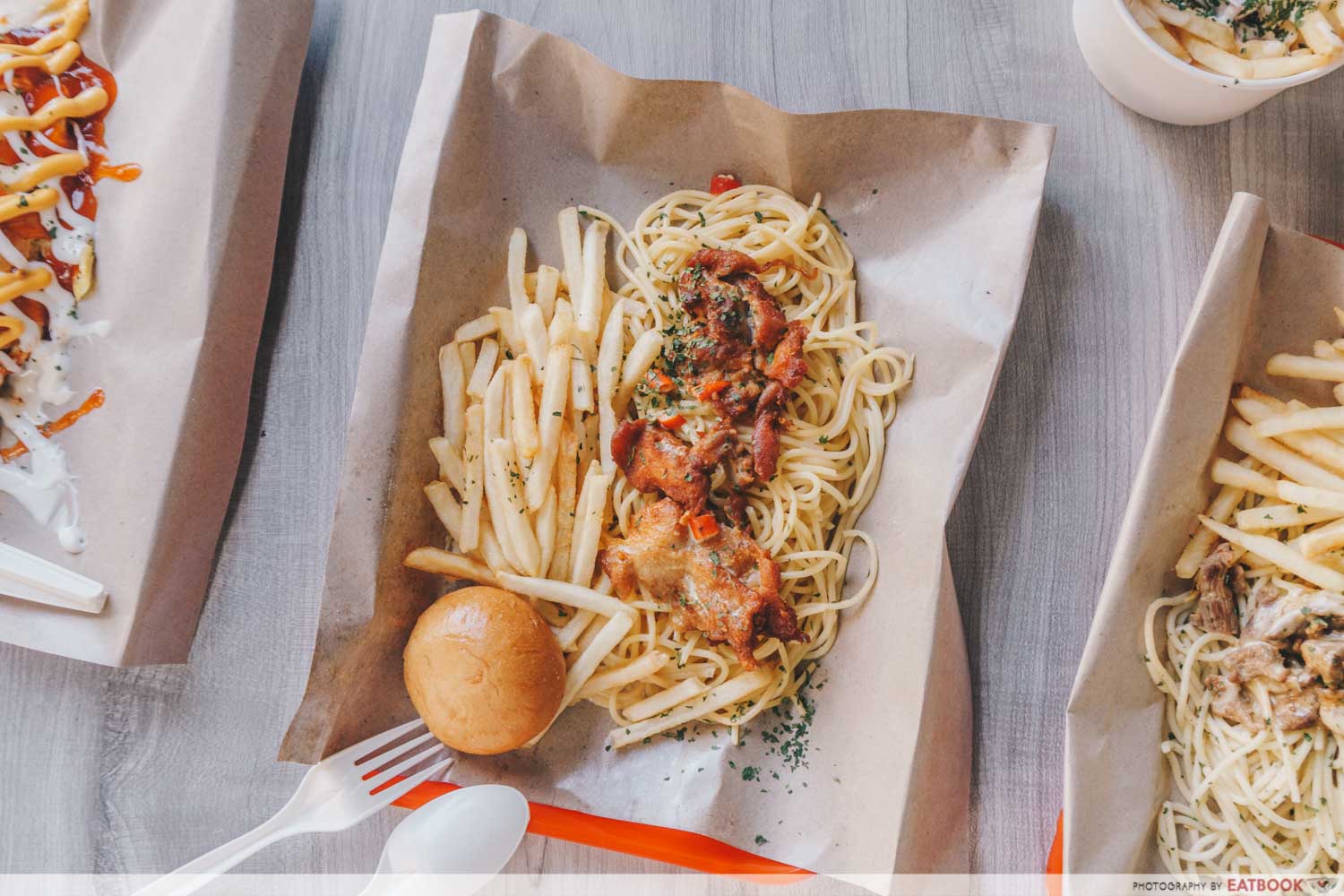 Food trends come and go, but one that doesn't show any signs of dying down is salted egg yolk. Singaporeans are drawn to this piquant flavouring like a magnet. Naturally, I couldn't resist ordering the Salted Egg Yolk Chicken Pasta ($6) after spotting it on the menu.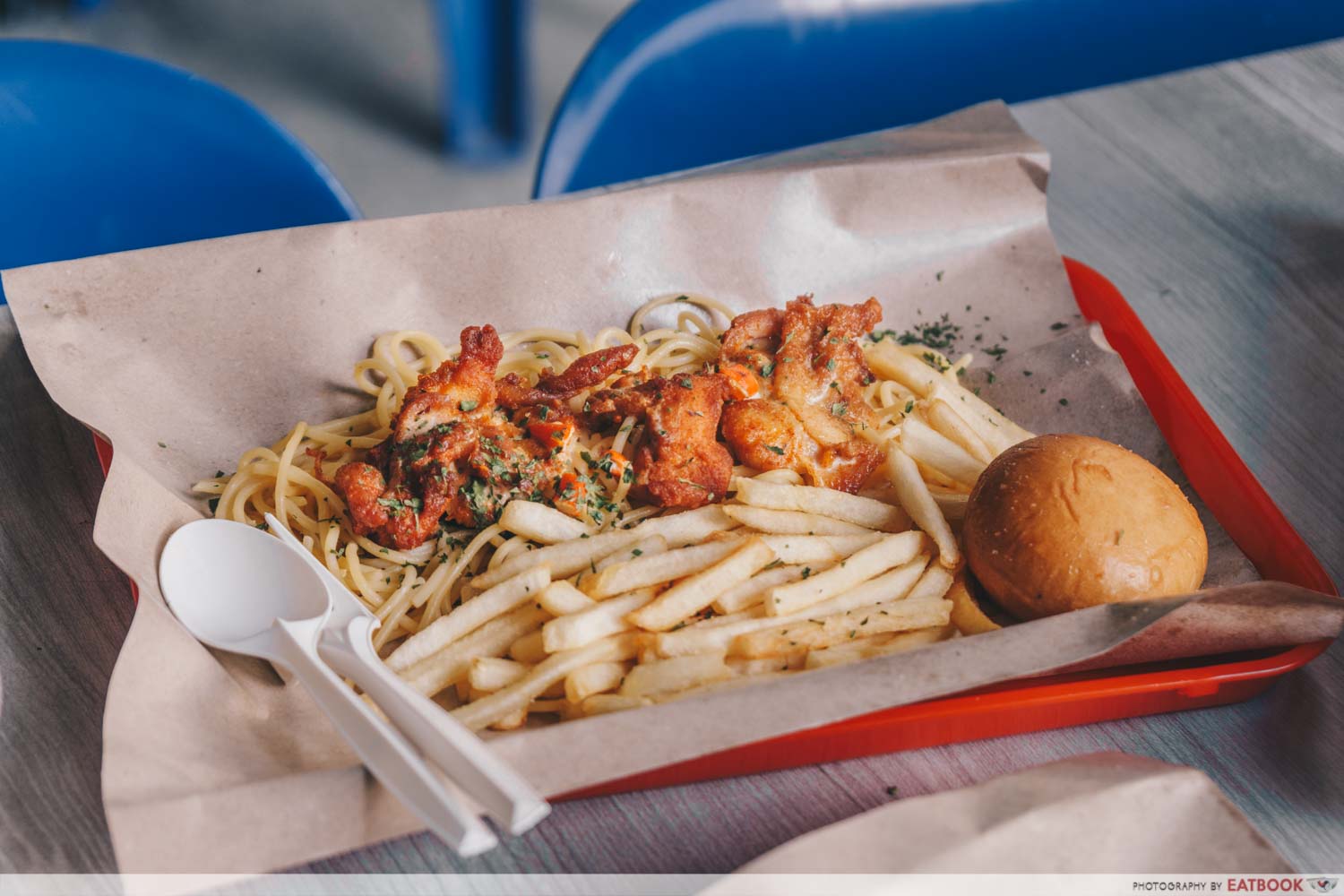 My carb-loving homies are gonna love the pasta here. Not only do you get oodles of spaghetti, but there are also crispy fries and a bun served at the side. While a modest chicken cutlet rests atop the noodles.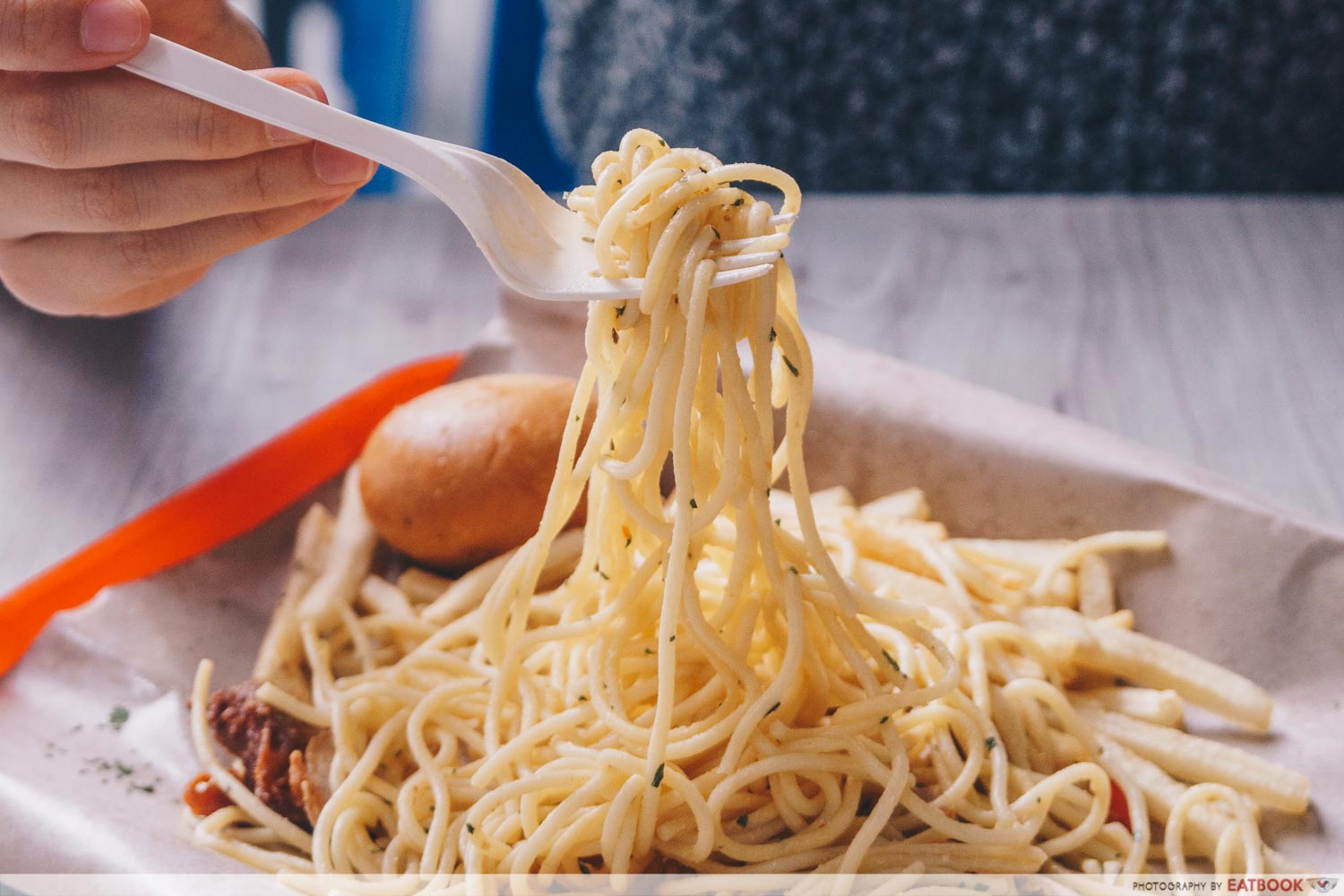 Salted egg yolk is not the most velvety sauce, so some effort was needed to thoroughly mix the pasta. Sadly, the classic savoury taste was subtle. The specks of chilli padi did a better job at flavouring the bland pasta with some spiciness.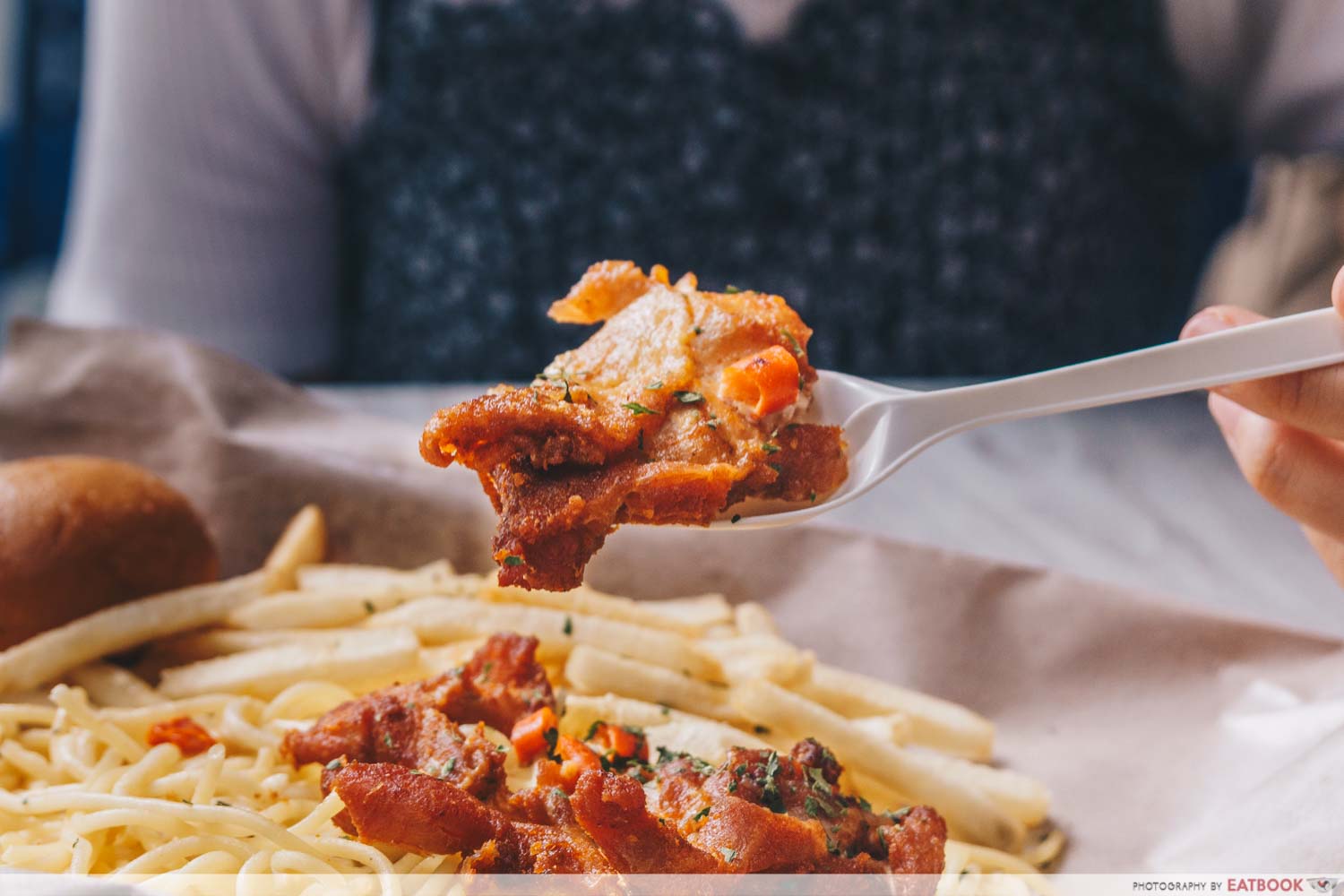 As someone who is a meat lover, I was disappointed with the measly chicken size. Thankfully, these few pieces of meat were packed with flavour, and was the saving grace of this dish. Each chunk was coated in a luscious layer of salted egg yolk sauce, with a subtle hint of curry leaves.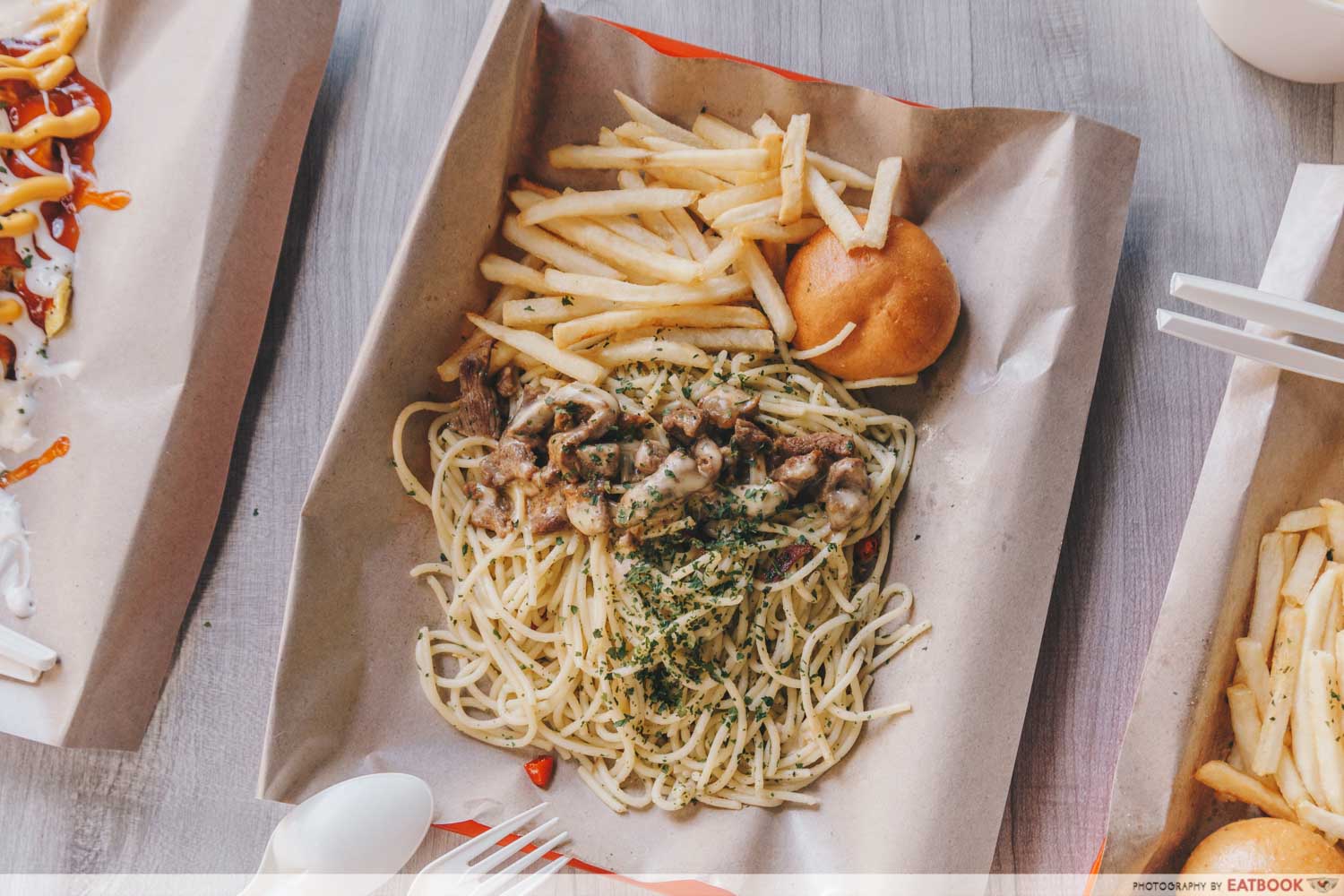 As I was still craving for more meat, I turned to the Cheesy Beef Steak Pasta ($6.50) for some beefy action. Maybe this dish could make up for its lacklustre chicken counterpart.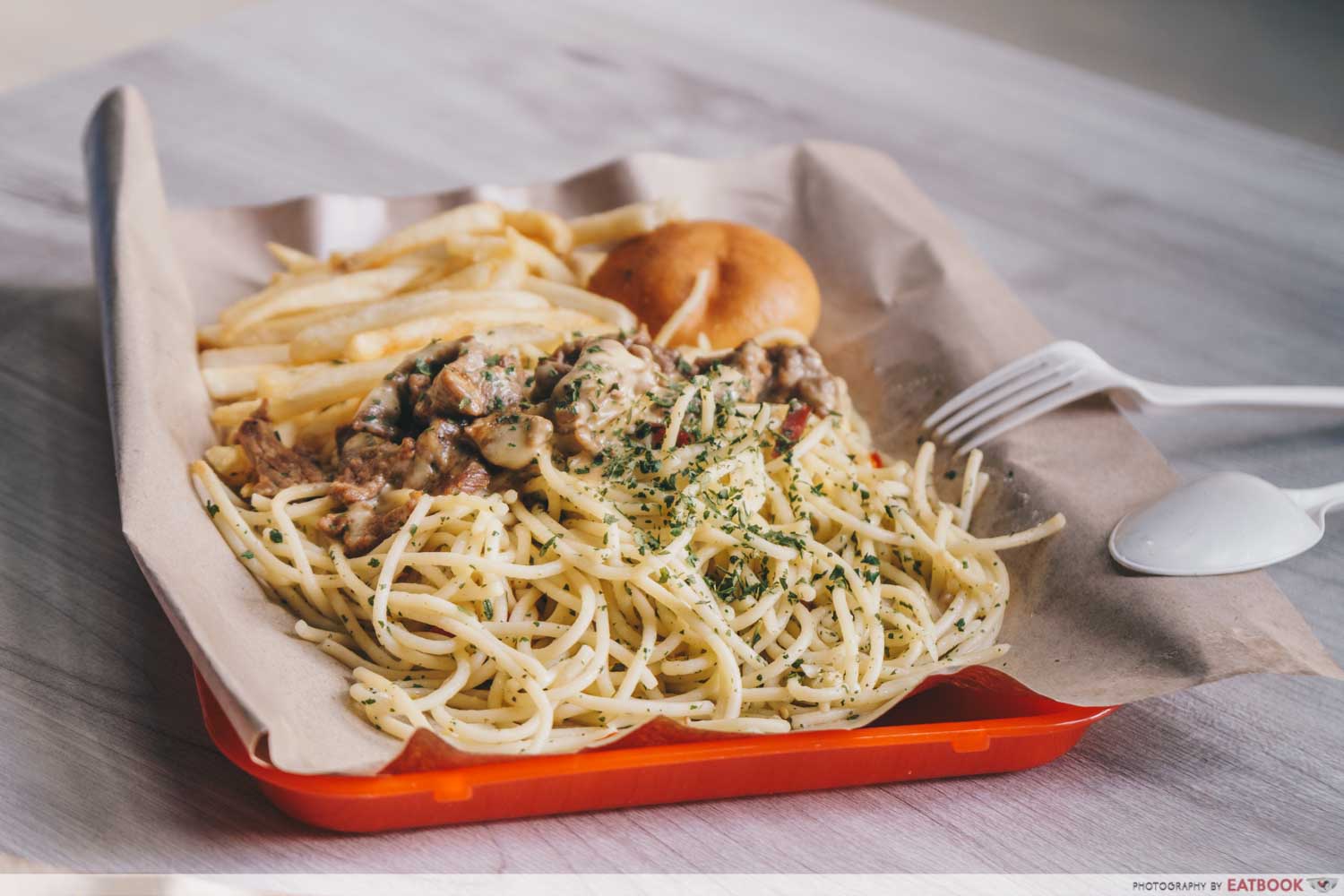 Similar to the previous pasta dish, this is loaded with French fries and a soft roll. The differences here are the cheese-laden beef chunks and oregano.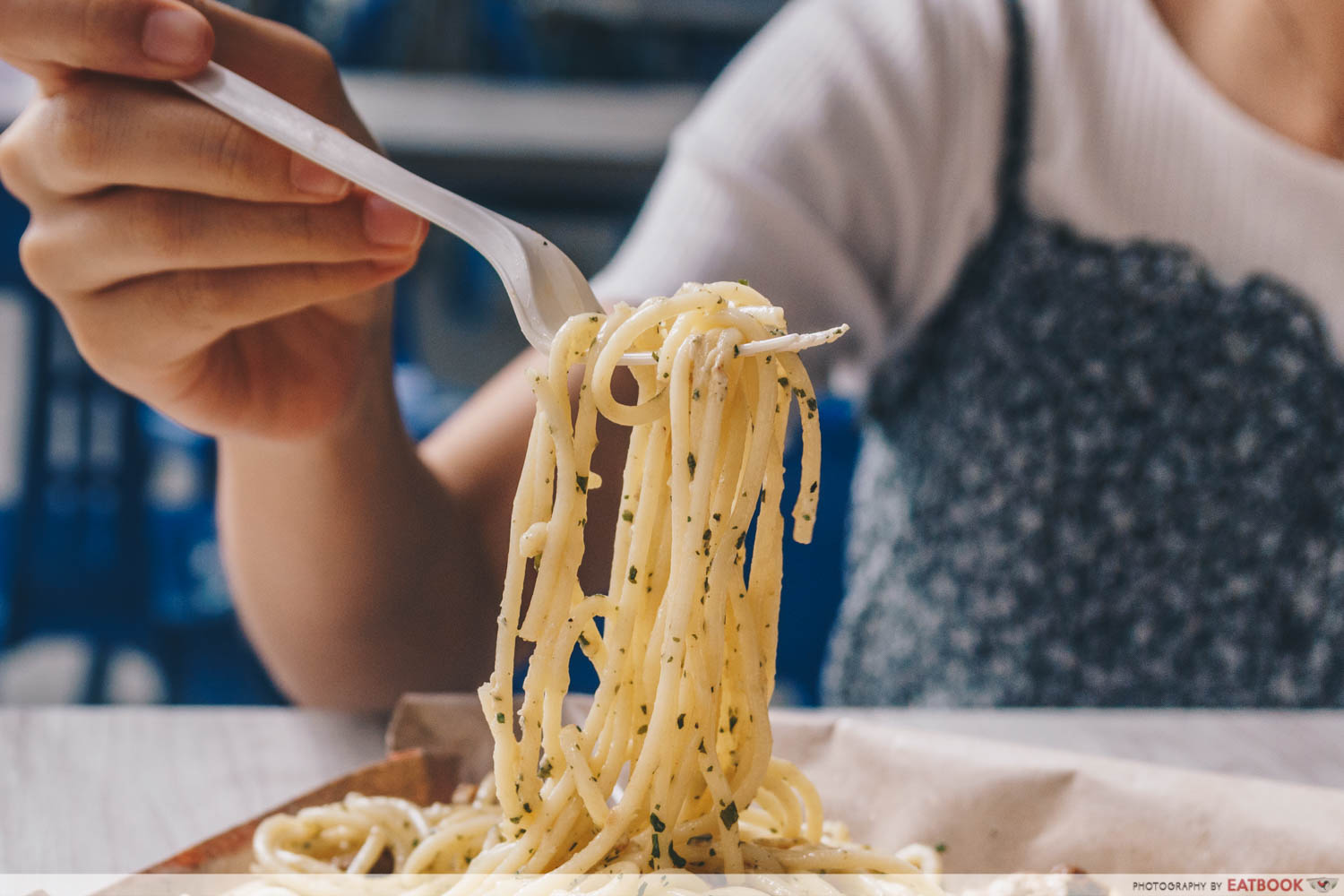 Tossing the pasta helped to evenly distribute the substantial portion of dried herbs, so I won't get a whole clump of oregano in one mouthful. It also helped coat each strand in a flavourful olive-oil-based sauce.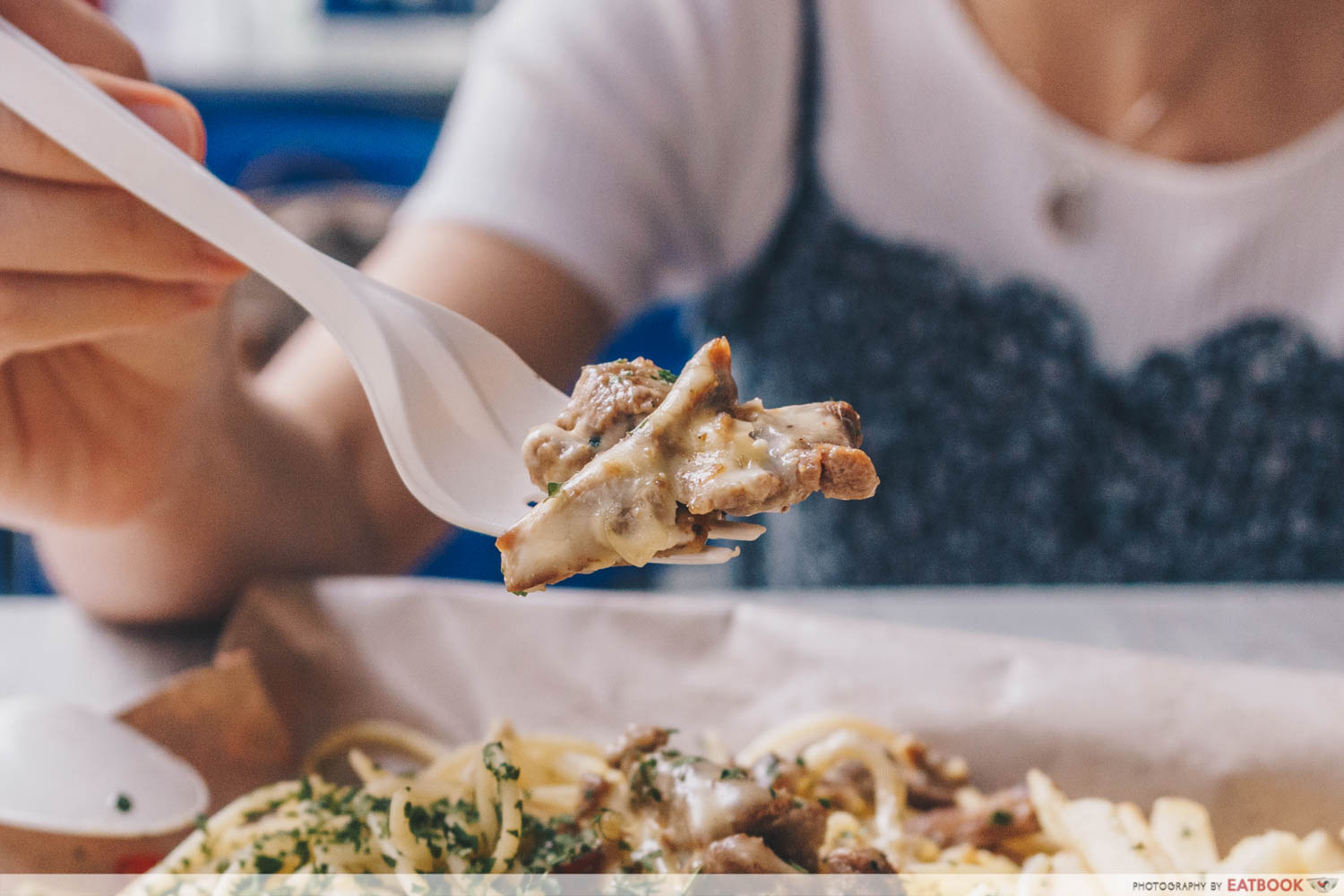 The chunks of beef were succulent and packed with meaty flavour. The coating of mozzarella cheese gave it an extra oomph of savouriness. Those with sensitive taste buds need not worry as the meat was not gamey.
Ambience at Asyraf's Halal Corner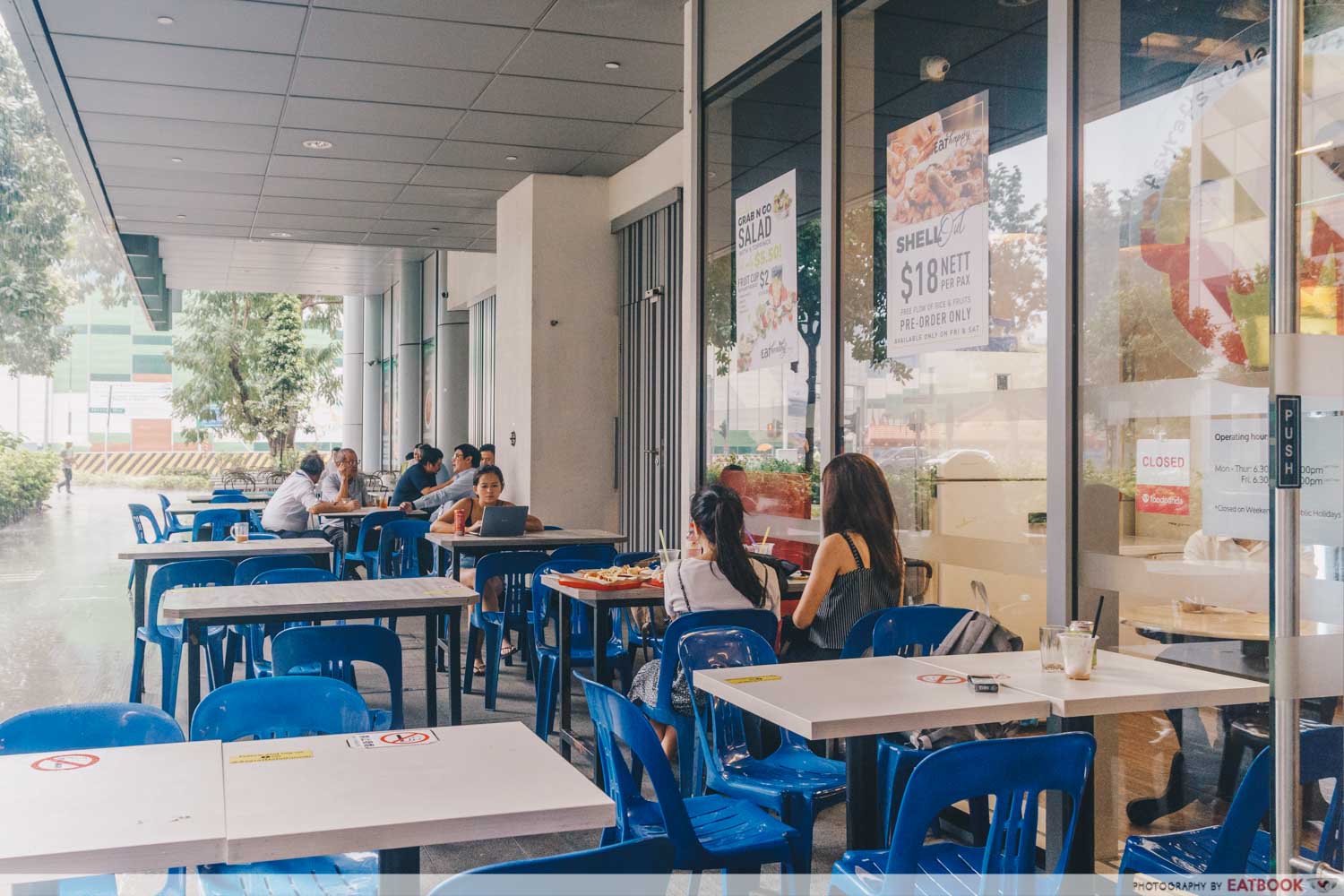 Conveniently located in the heart of Tanjong Pagar, Asyraf's Halal Corner provides a breather from work. The compact eatery has limited indoor seats, and the tables outdoor acts a small-scale alfresco dining area. I preferred this outdoor option as their eatery wasn't well ventilated, leaving a greasy smell on your clothes.
The verdict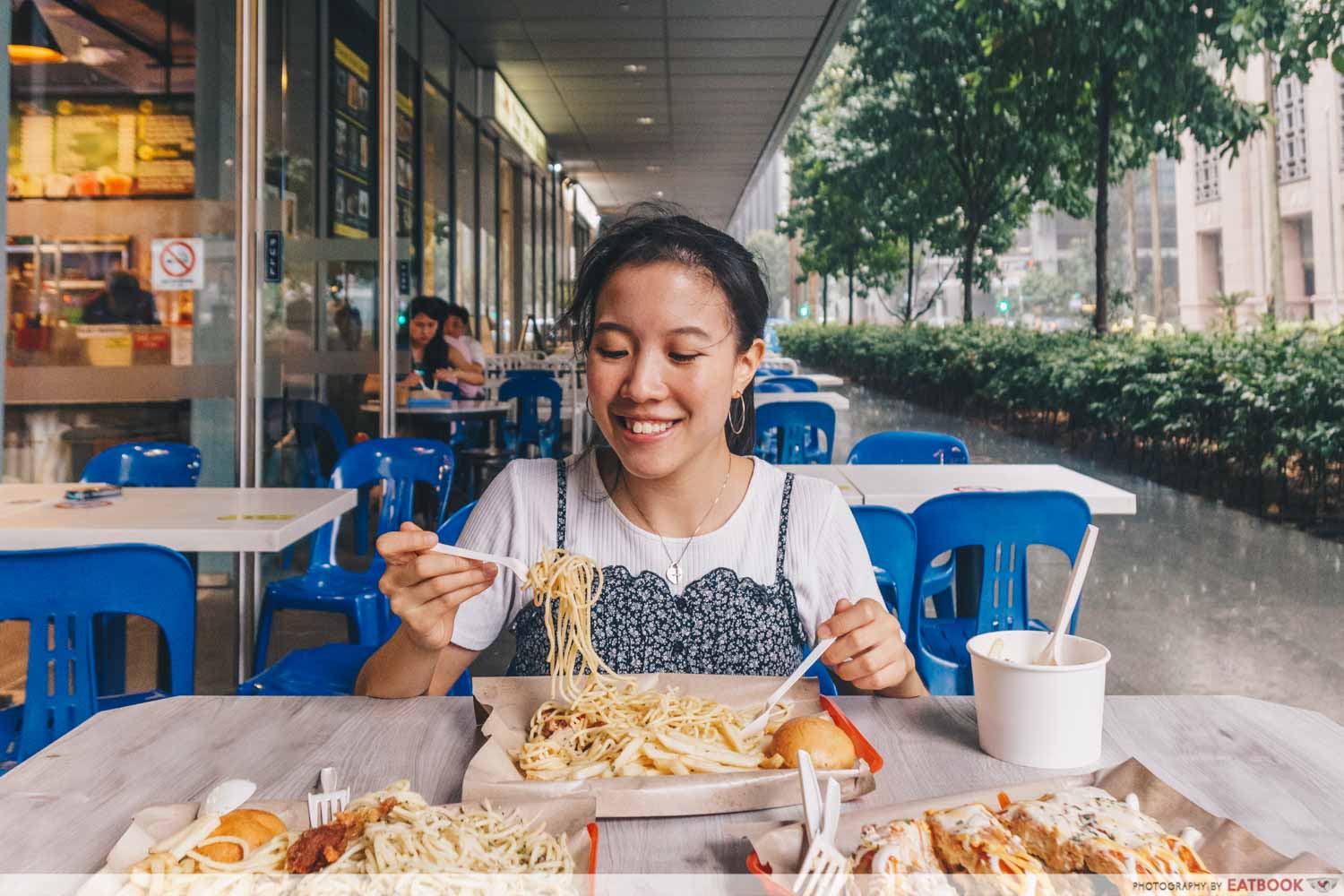 During our time there, I observed office workers dropping by for a quick coffee break with their colleagues. I was not surprised as it's easily accessible via a five-minute walk from Tanjong Pagar MRT Station. Although prices here are reasonable for the CBD, the food is hit-and-miss with the sparse quantity of meat and bland pasta sauce. 
If you like your roti john with lotsa cheese, check out our full review of Bread Gang. 
The Bread Gang Review: Cheese-Drenched Roti John Cheeseburger, Curly Fries With Beef Rendang And More
Address: 527 Bedok North Street 3, Singapore 460527
Opening hours: Sun-Thurs 2pm to 9pm, Fri-Sat 2pm to 11pm
Tel: 8198 2851
Website
Asyraf's Halal Corner is a halal-certified eatery.
Photos taken by Kerrianne Goh.
This is an independent review by Eatbook.sg.
Asyraf's Halal Corner: New Halal Cafe In The CBD With Prices Under $7
Summary
Pros
– Affordable prices
– Generous portions of carbs 
Cons
– Bland salted egg yolk pasta
– Small serving of meat
Recommended dishes: Cheesy Beef Steak Pasta ($6.50), Carbonara Beef Steak Mr John ($6)
Opening hours: Sun-Thurs 2pm to 9pm, Fri-Sat 2pm to 11pm
Address: 527 Bedok North Street 3, Singapore 460527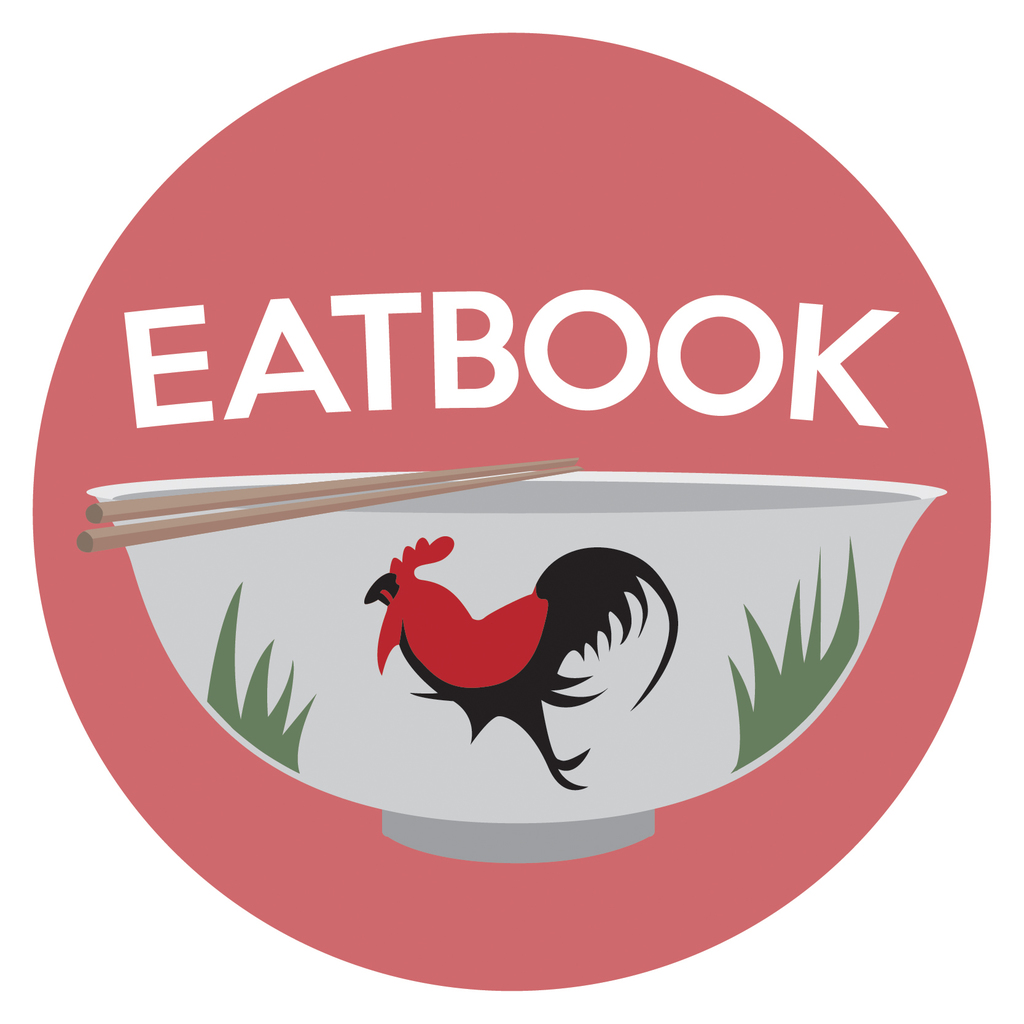 Drop us your email so you won't miss the latest news.