The Bread Gang found in the West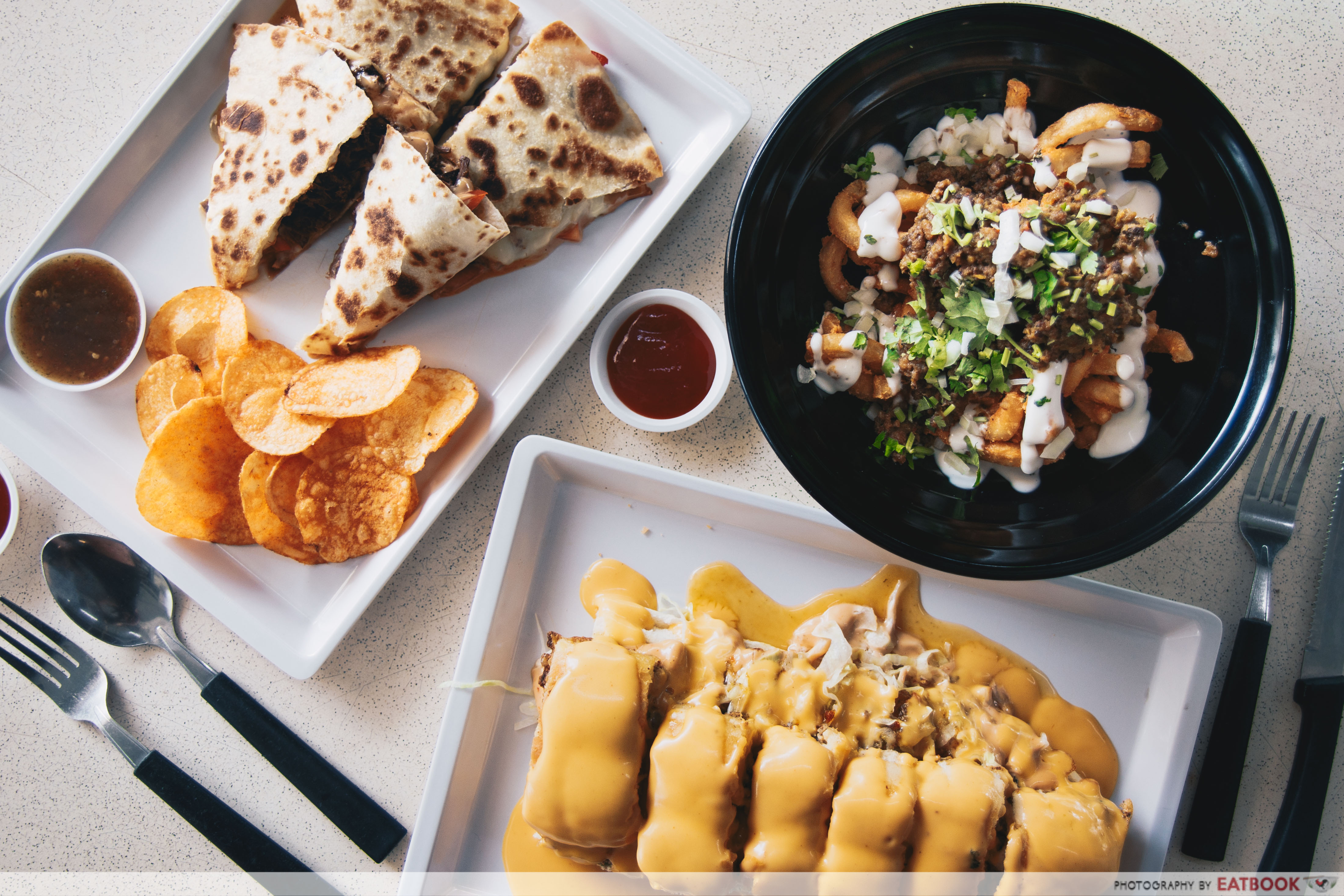 Another point for the Westies! There was first a cheese-soaked burger from Nadim's Delights at Jurong West that wowed cheese-lovers, and now at Jurong East, we also found The Bread Gang, which offers cheese-drenched roti john alongside a menu of good food at affordable prices. From their interesting name to the large menu, it got me excited to head down to check out what they had to offer.
Food at The Bread Gang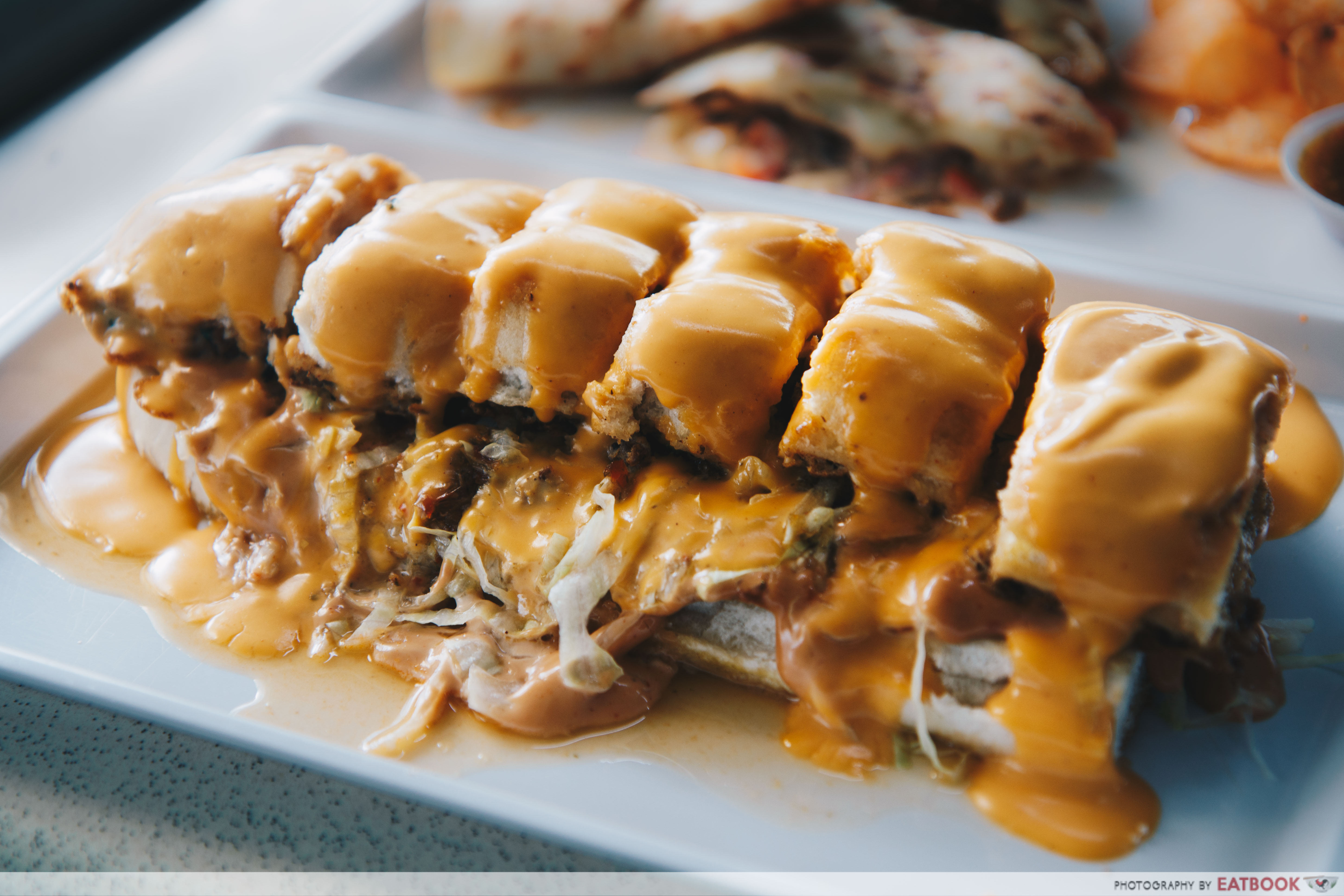 When I first set eyes on the Roti John Cheeseburger ($6.90), my jaw dropped. Immediately I knew what I was looking at was the star of The Bread Gang. Drenched yellow in nacho cheese, this roll of bread and omelette was begging to be tasted.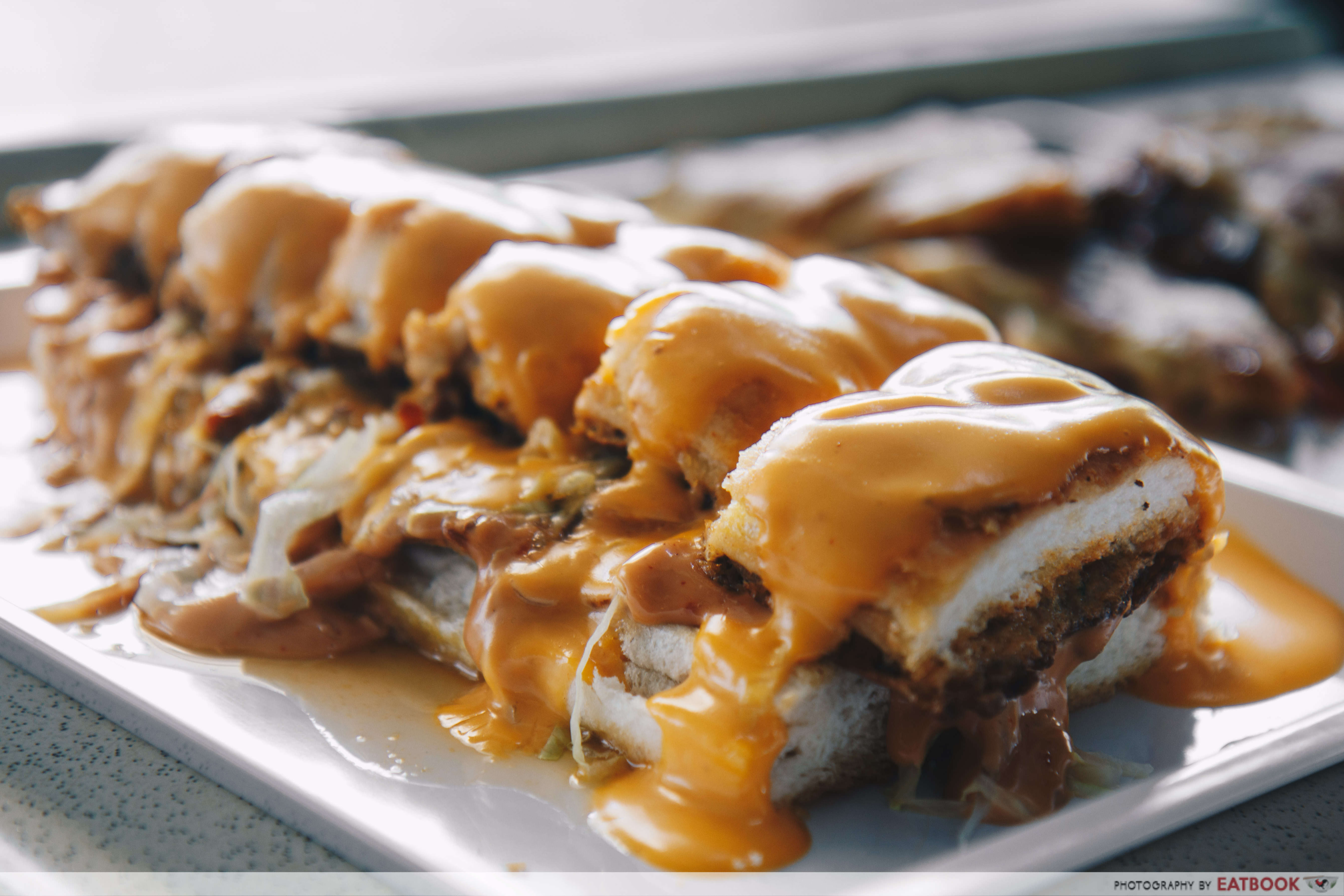 I love cheese, I love bread, I love egg – and this roti john has them all. Gingerly picking up a section of the roti john, I stuffed it all in one big mouthful. The first thing I tasted was the cheese, then I was into the delicious eggy mess encased by fluffy bread.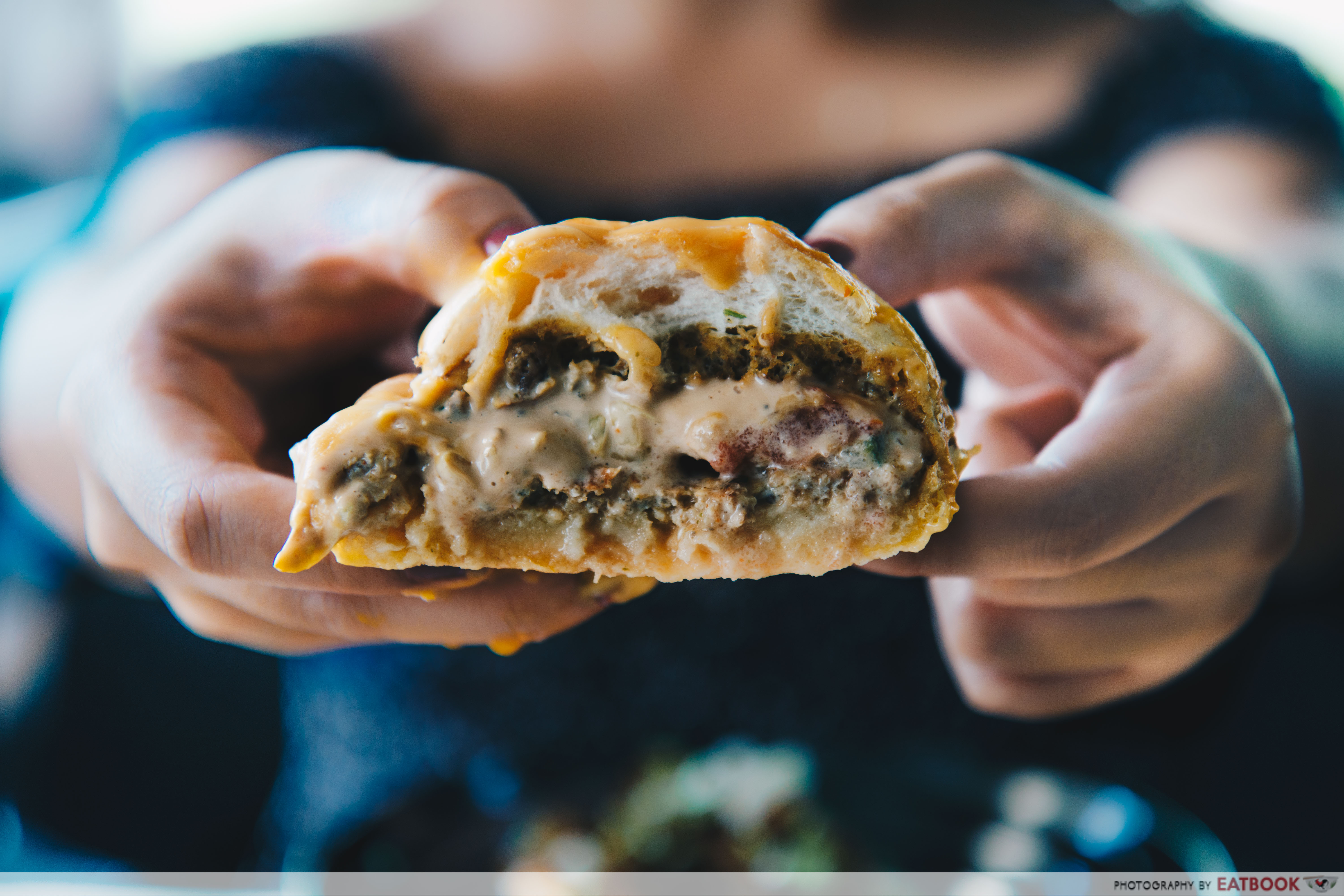 Eating it as a whole was a party in my mouth. There was a kick of heat from an unidentifiable sauce and a crunch from the sliced cucumber and diced onions. Upon tasting the dish one ingredient at a time, I could better appreciate the flavours of the omelette. It was savoury with minced meat and fragrant from aromatic herbs such as parsley.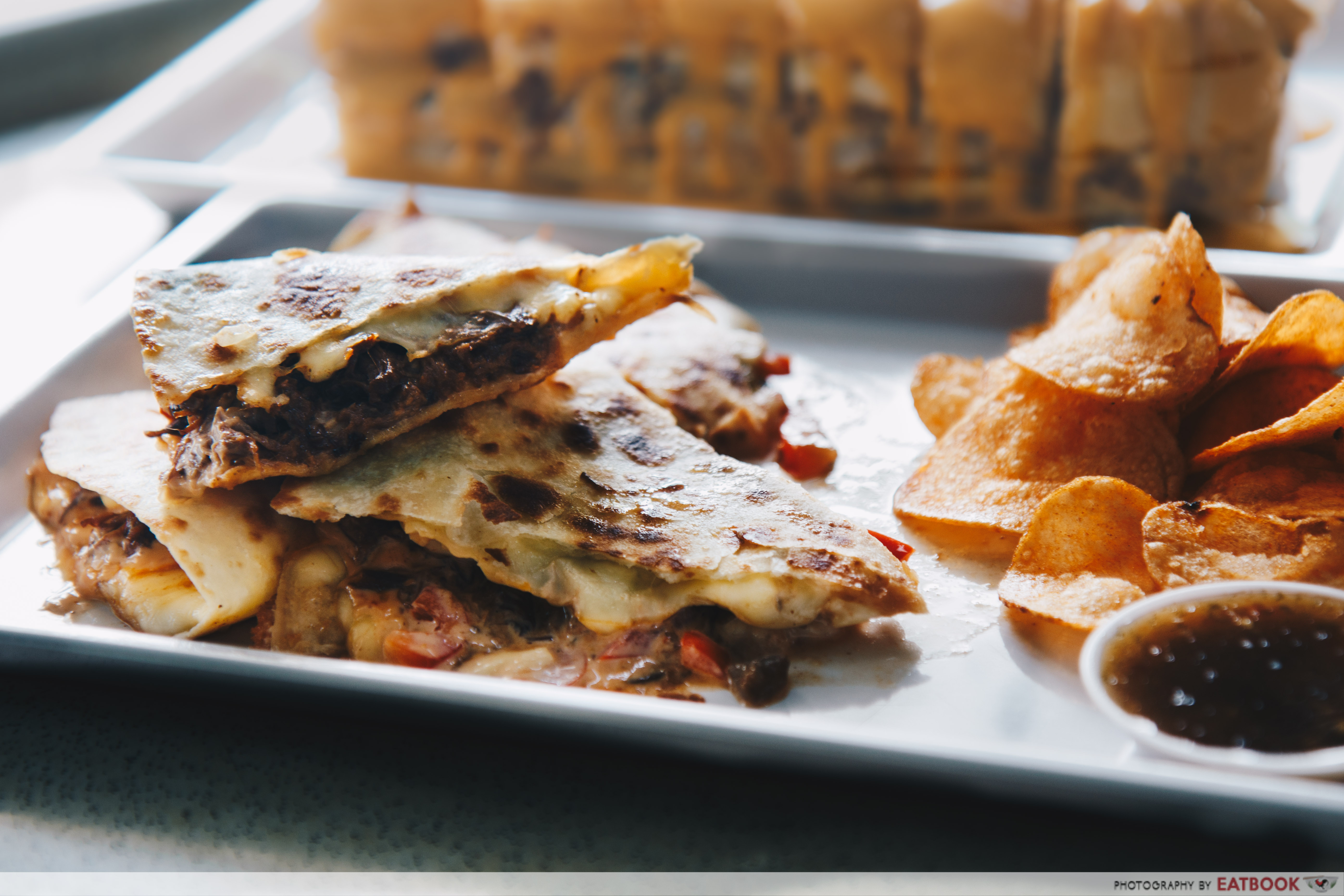 I was initially torn between two choices and asked the friendly staff at the counter which I should get. Before I could tell him my options, he recommended Beef Quesadilla ($7.90). He touted it as their best-seller and a must-try because, cheese.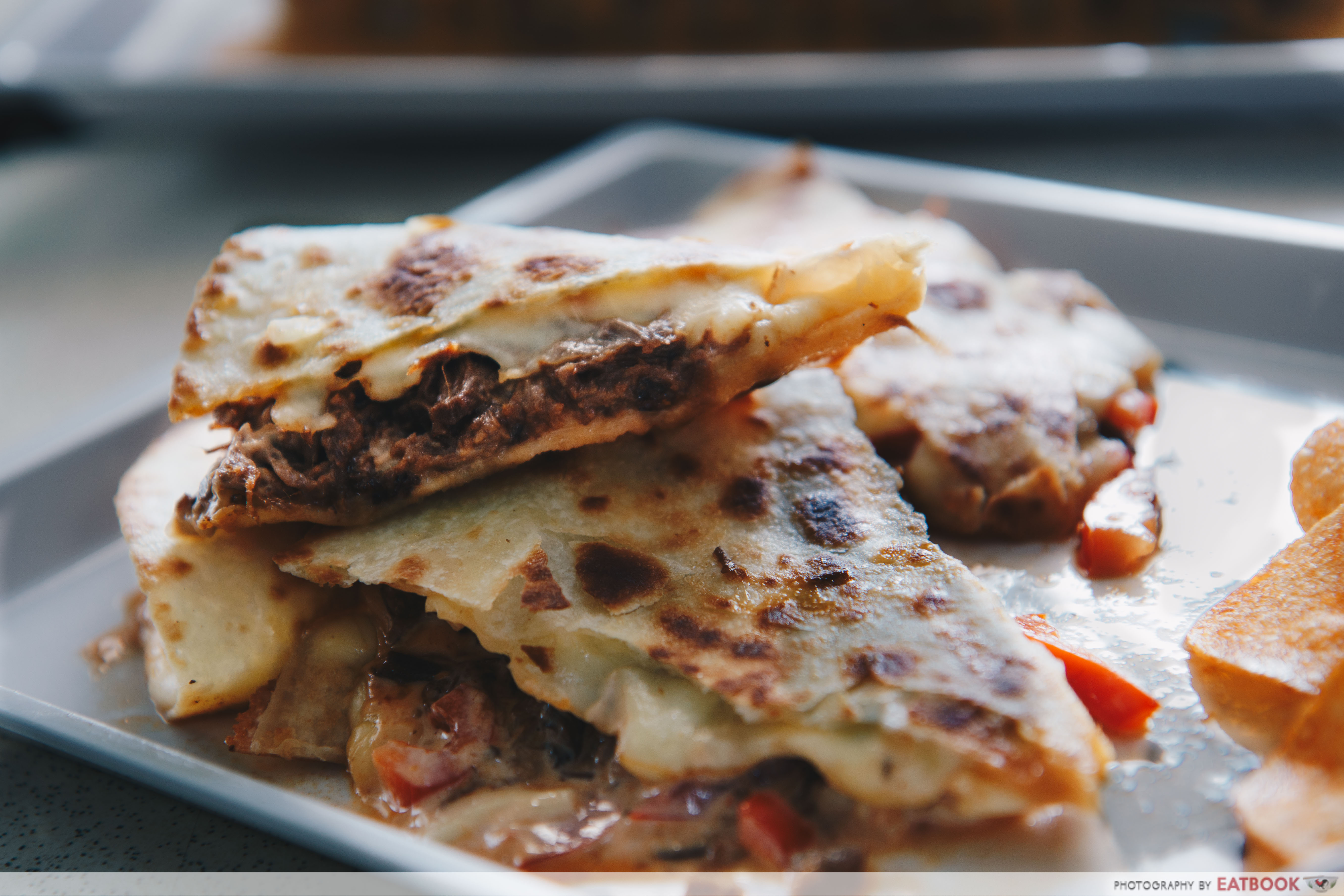 The quesadilla came with a serving of hot and spicy potato chips and a dish of sauce. It was also overflowing with juices, soaking the tortilla within minutes. Other than shredded beef, there were also red capsicums and melted cheese.
Taking one by the end like a pizza, I dipped the tip into the sauce and took a bite. It tasted fabulous and the combination of flavours worked. The sweet and spicy sauce complemented the richness of the pulled beef, while the salty melted cheese went nicely with the sweet red capsicum bits.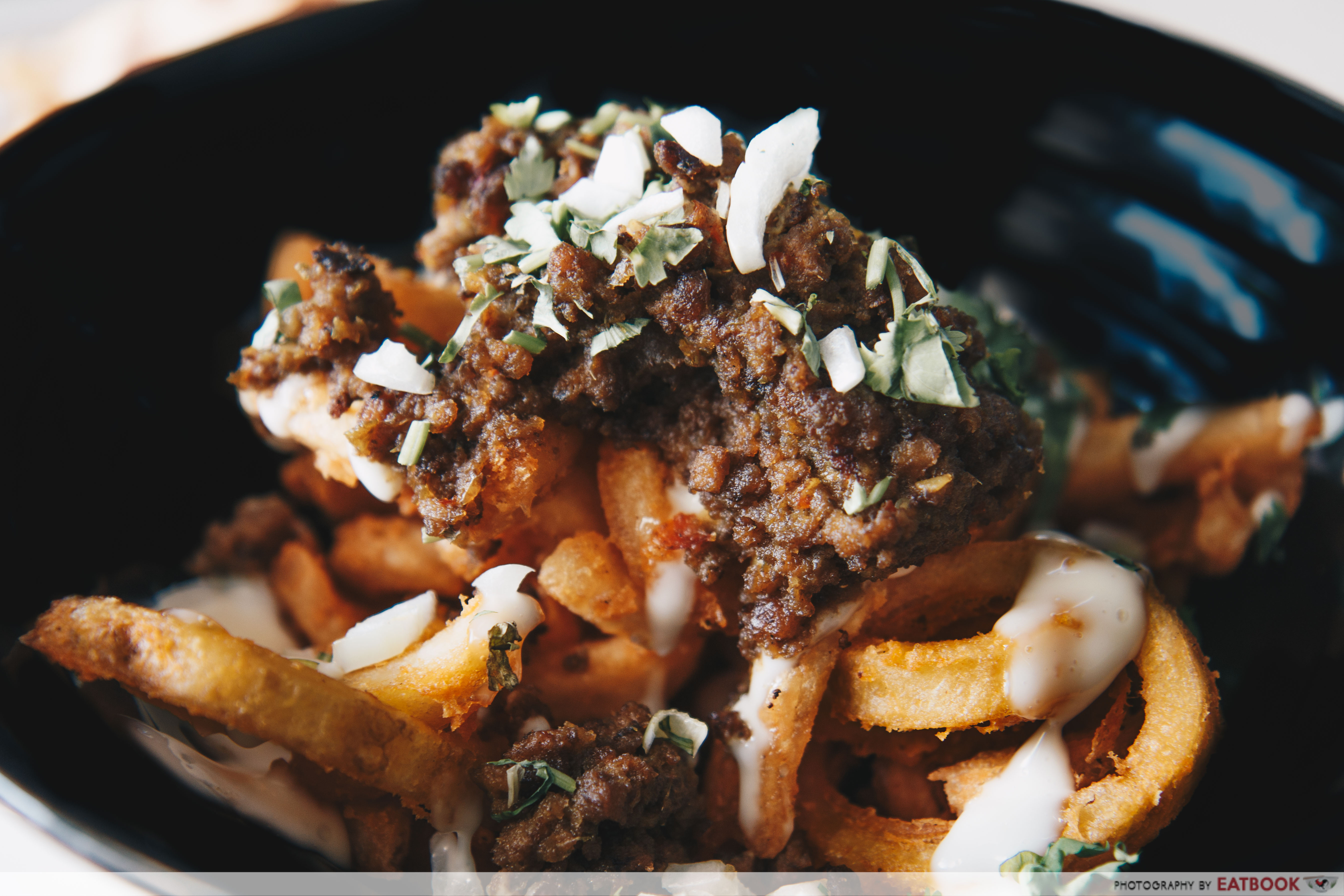 My favourite out of the three dishes we tried at The Bread Gang was the Curly Fries W Beef Rendang ($6.50). I was expecting sad, soggy fries from the addition of rendang and mayonnaise atop. I was wrong. After almost an hour of taking photos and Instagramming, the fries still held a good crunch.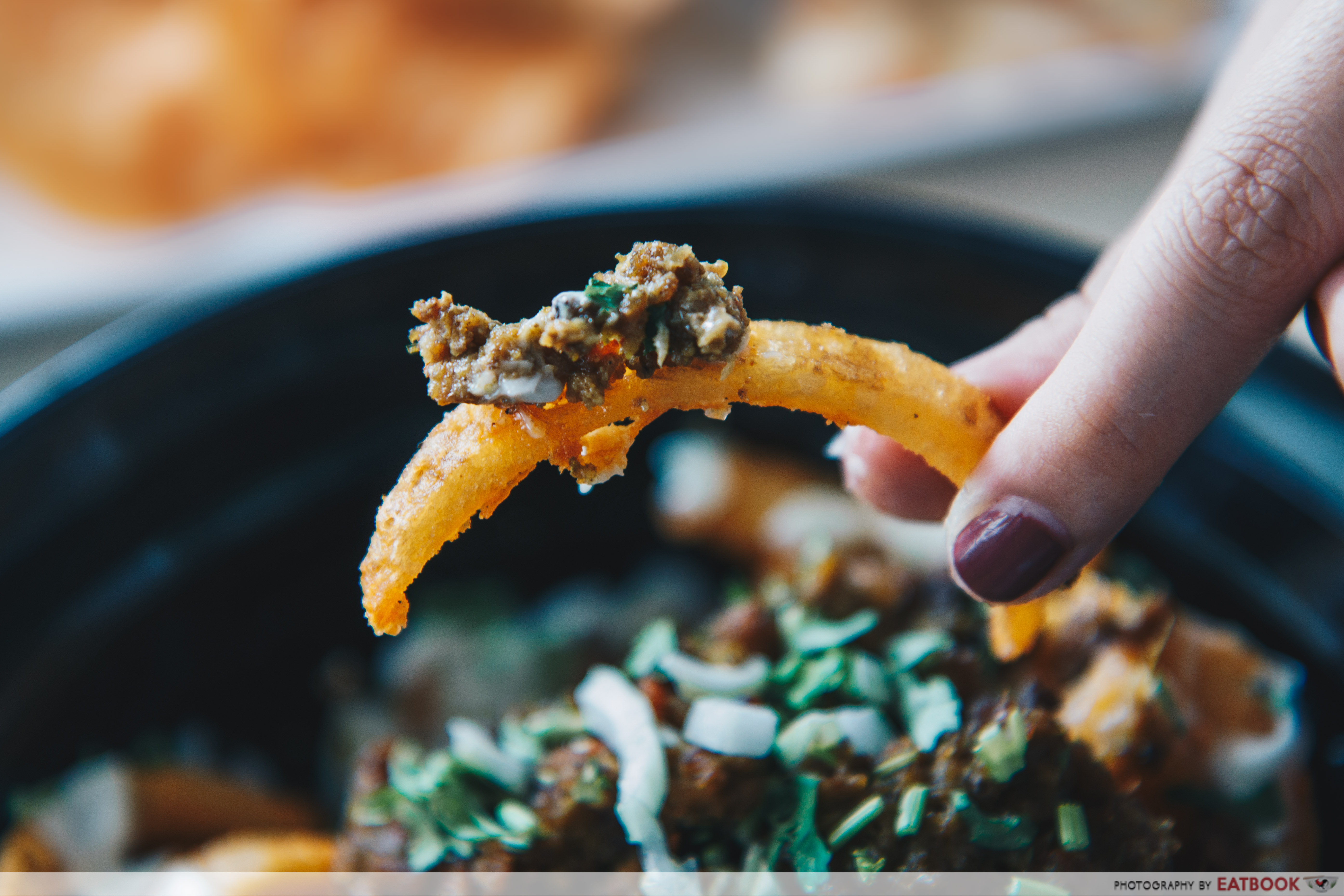 I've had my share of chilli beef fries that came with too many fries and too little toppings. With crossed fingers, I gave the bowl of fries a good mix hoping there were enough rendang toppings to go around each fry. And there were. Eating some with a spoon, my eyes lit up. It was like the curry-flavoured Twisties came to life! The already tasty fries were zhnged-up with the added depth and warmth from the beef rendang, and I just couldn't get enough of it.
Ambience at The Bread Gang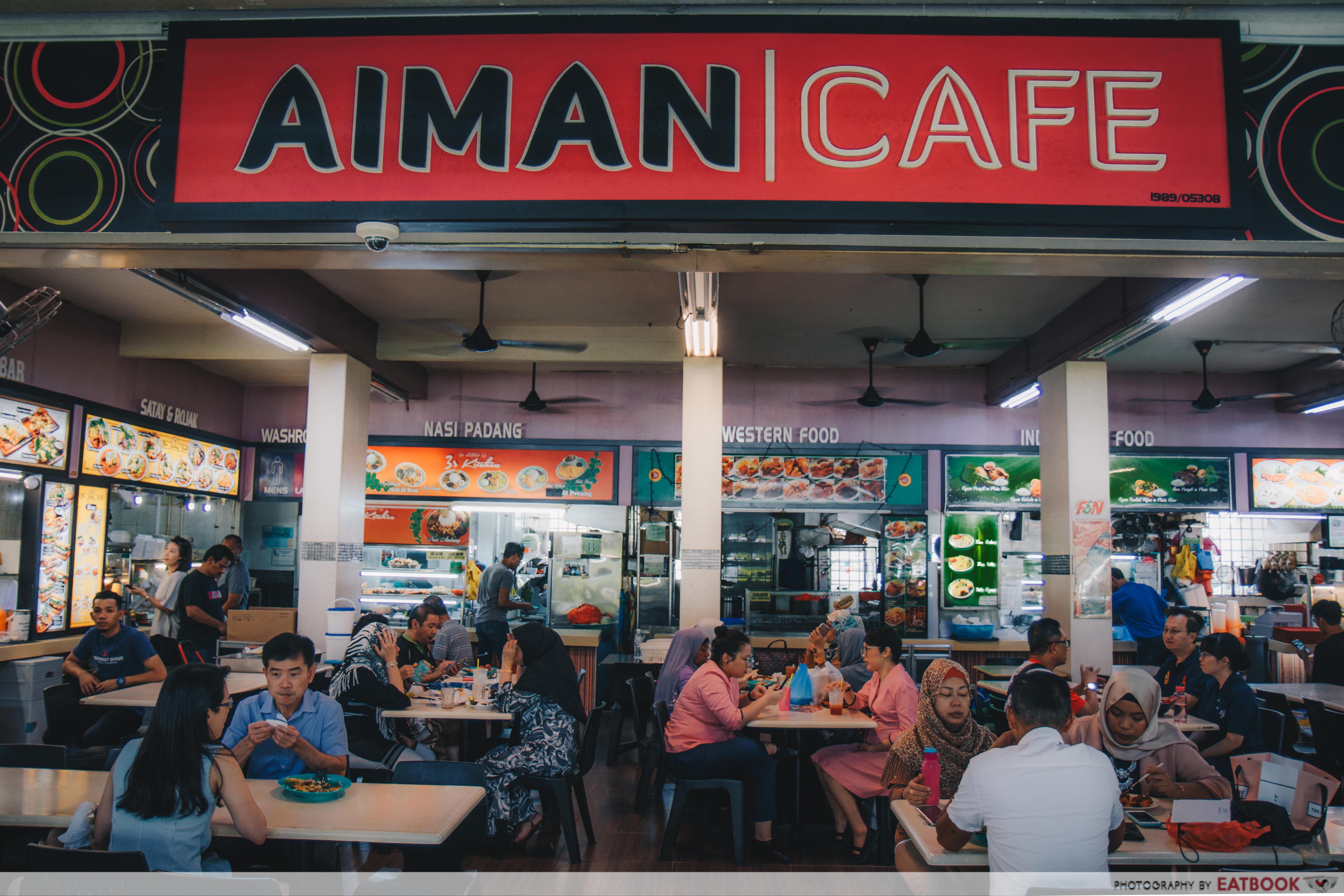 When we arrived at The Bread Gang at 11am, there were plenty of seats available in the coffee shop. However as the clock ticked to lunchtime, people started to string in. Though staffed with only a two-man crew at that time, they were quick enough to dish out orders at a timely rate. By around 1:30pm, people went off as quickly as they came and the coffee shop was quiet again.
The verdict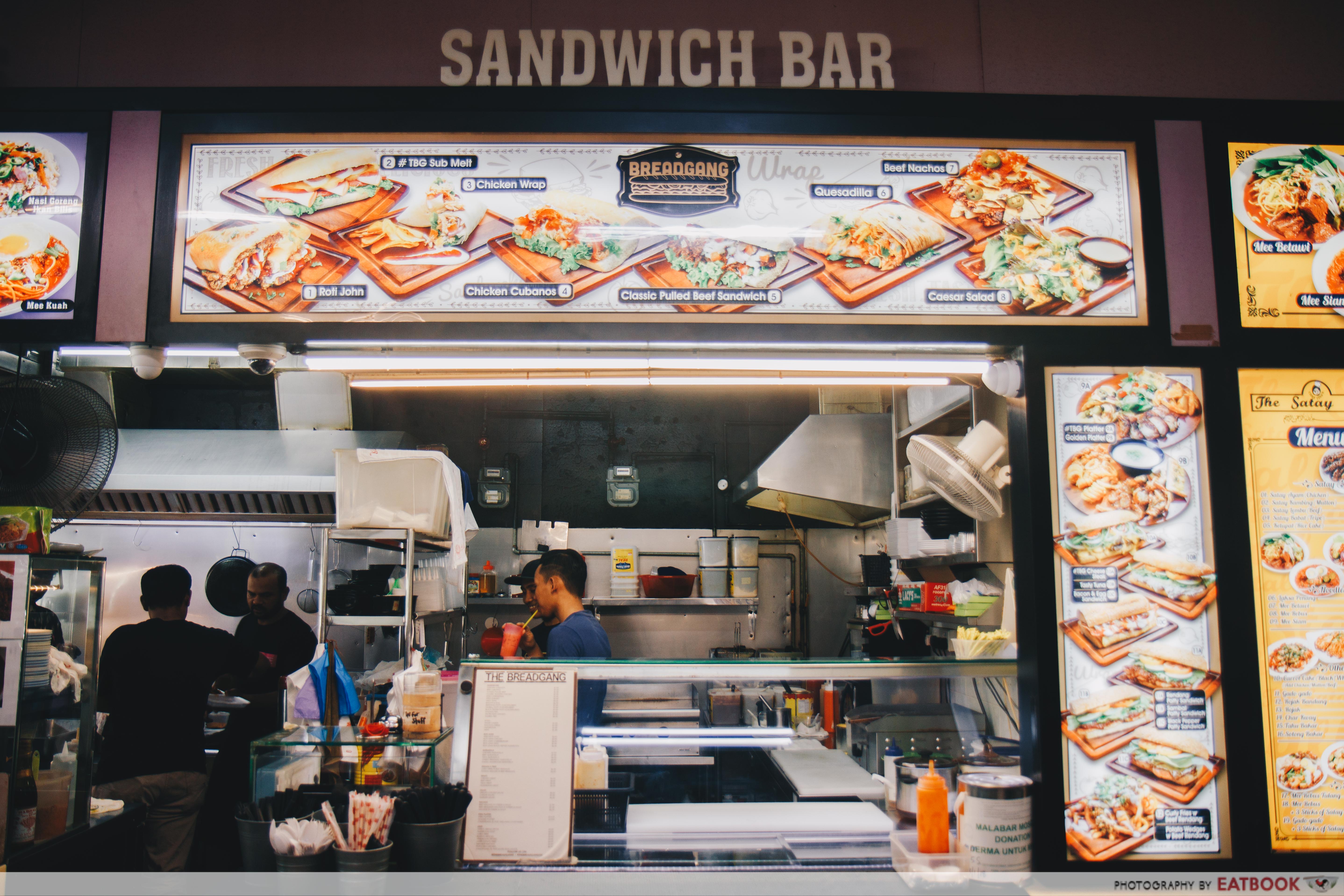 My colleague and I thoroughly enjoyed our food at The Bread Gang. I even shouted a "hurray!" on the inside and vouched to bring my friends or family here the next time we are looking for a place to eat near home. There were also items such as Salted Egg Chicken Sandwich ($7) and Magic Mushroom Quesadilla ($6.90) that got me intrigued. With no mains above $7.90, The Bread Gang is a place I would recommend.
For more food in the West, you can also check out these Chinese Garden food or Lakeside food.
Address: 235 Jurong East Street 21, Aiman Cafe, Singapore 600235
Opening hours: Daily 11am to 11pm
Tel: 8280 0084
Website
The Bread Gang is a Muslim-owned stall.
This is an independent review by Eatbook.sg.
Summary
Pros
– Large variety
– Value-for-money
– Instagram-worthy
Cons
– Inconvenient location
Recommended Dishes: Roti John Cheeseburger ($6.90), Beef Quesadilla ($7.90), Curly Fries W Beef Rendang ($6.50)
Opening Hours:
Daily 11am to 11pm
Address: 235 Jurong East Street 21, Aiman Cafe, Singapore 600235