800° Woodfired Kitchen at KINEX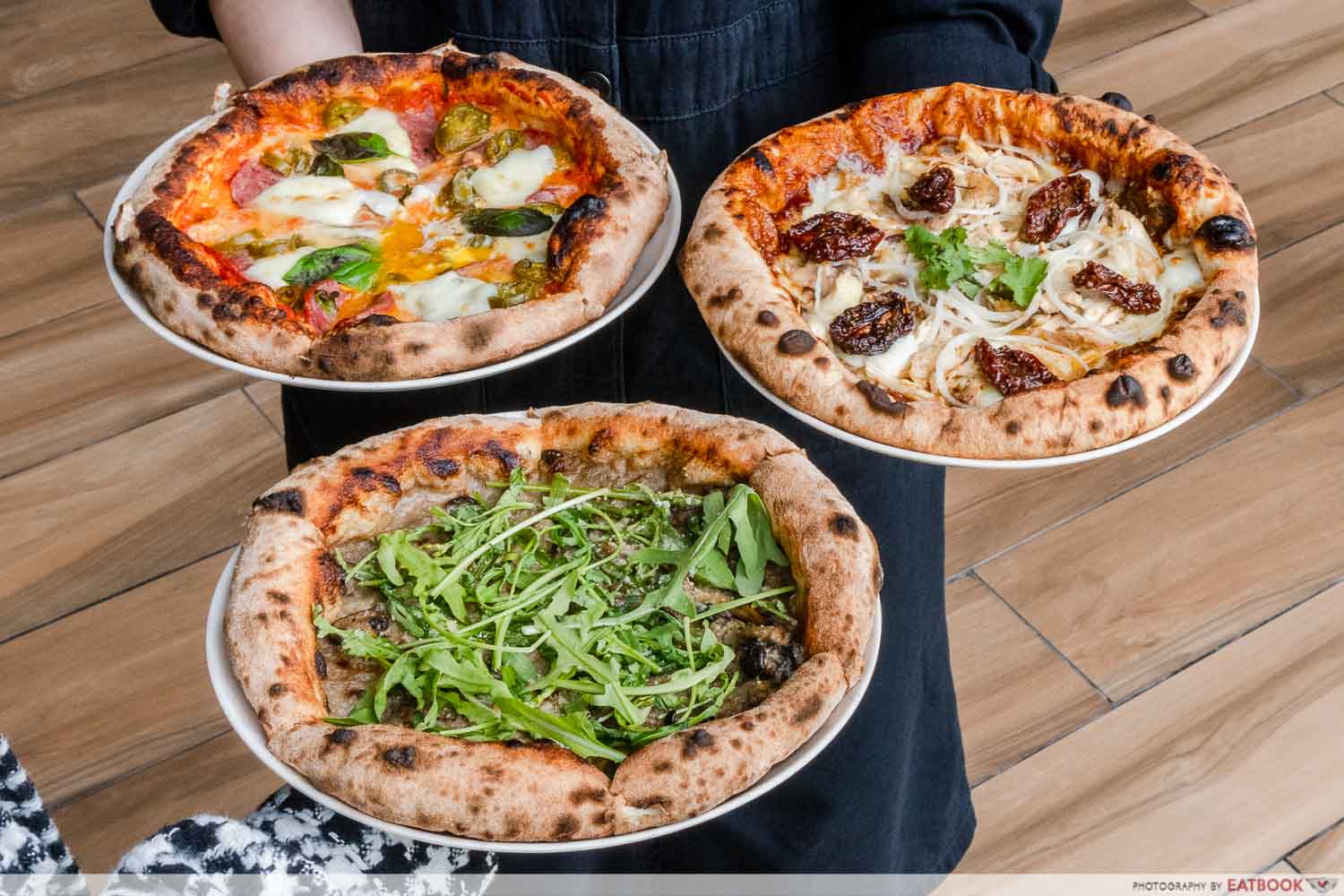 At the open concept kitchen of 800° Woodfired Kitchen within KINEX, you can witness the whole preparation process of a classic Neapolitan pizza. This starts from the kneading of the dough to the baking, which happens in an 800 degree Fahrenheit wood-fired oven.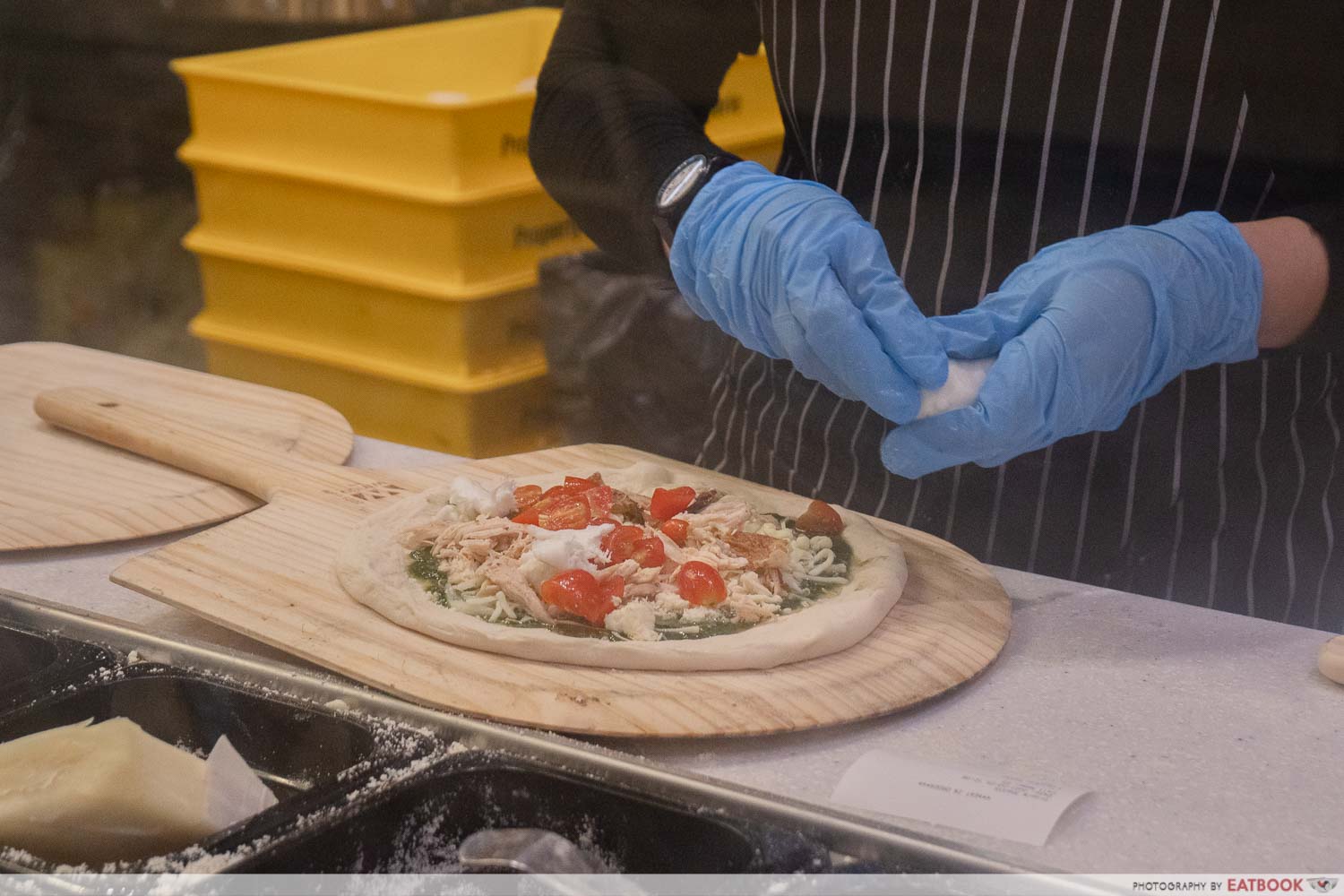 Fun fact: The skills and knowledge surrounding the making of a Neapolitan Pizza is part of UNESCO's list of intangible cultural heritage. The characteristics of such pizzas include black leopard spots on a thin crust that is chewy and airy on the sides.
Also worth noting is that the brand is also brought into Singapore by owners of Fatburger. 800° Woodfired Kitchen is actually a notable pizzeria from the United States, owned by Miami Heat basketball stars Dwyane Wade and Udonis Haslem.
Italian Osteria X Review: Hidden Italian Restaurant At Bugis By An Ex Chef Of A Michelin-Starred Restaurant
Food at 800° Woodfired Kitchen
The pizzas here are served in either 10" or 14" sizes. After less than two minutes in the wood-fired oven, our BBQ Chicken Pizza ($15/$25) was sent to our table piping hot. Being baked at high temperatures within a really short duration delivers a crispy crust outside and soft texture inside.
The smoky pie also comes with cuts of their juicy rotisserie chicken. The pizza was heavy on the palate with a tangy and sweet combination of Provolone cheese, red onions, and barbecue sauce.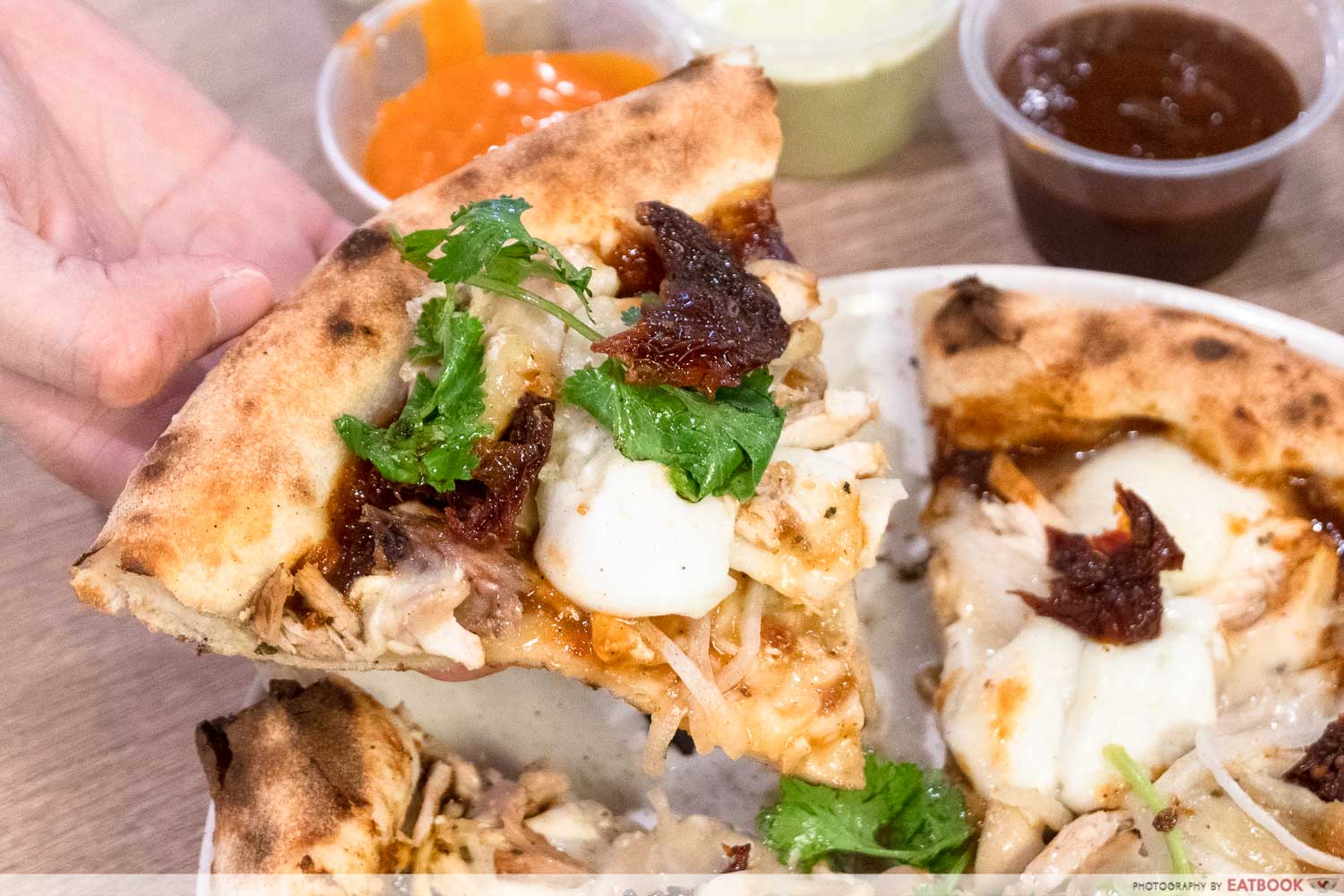 The slight sourness from sundried tomatoes and light garnishings of cilantro managed to lighten up the heavier tasting components of the pizza.
For those new to this type of pizzas, extra care is needed when picking them up as the much thinner pizza base means that the slices are more flimsy. 
We had an incident of "slip layers" with our pizza slices as the pizza toppings slipped right off the base despite us being super careful. This could be attributed to the sauce, that was piled on too heavy, or too much oil applied to the dough.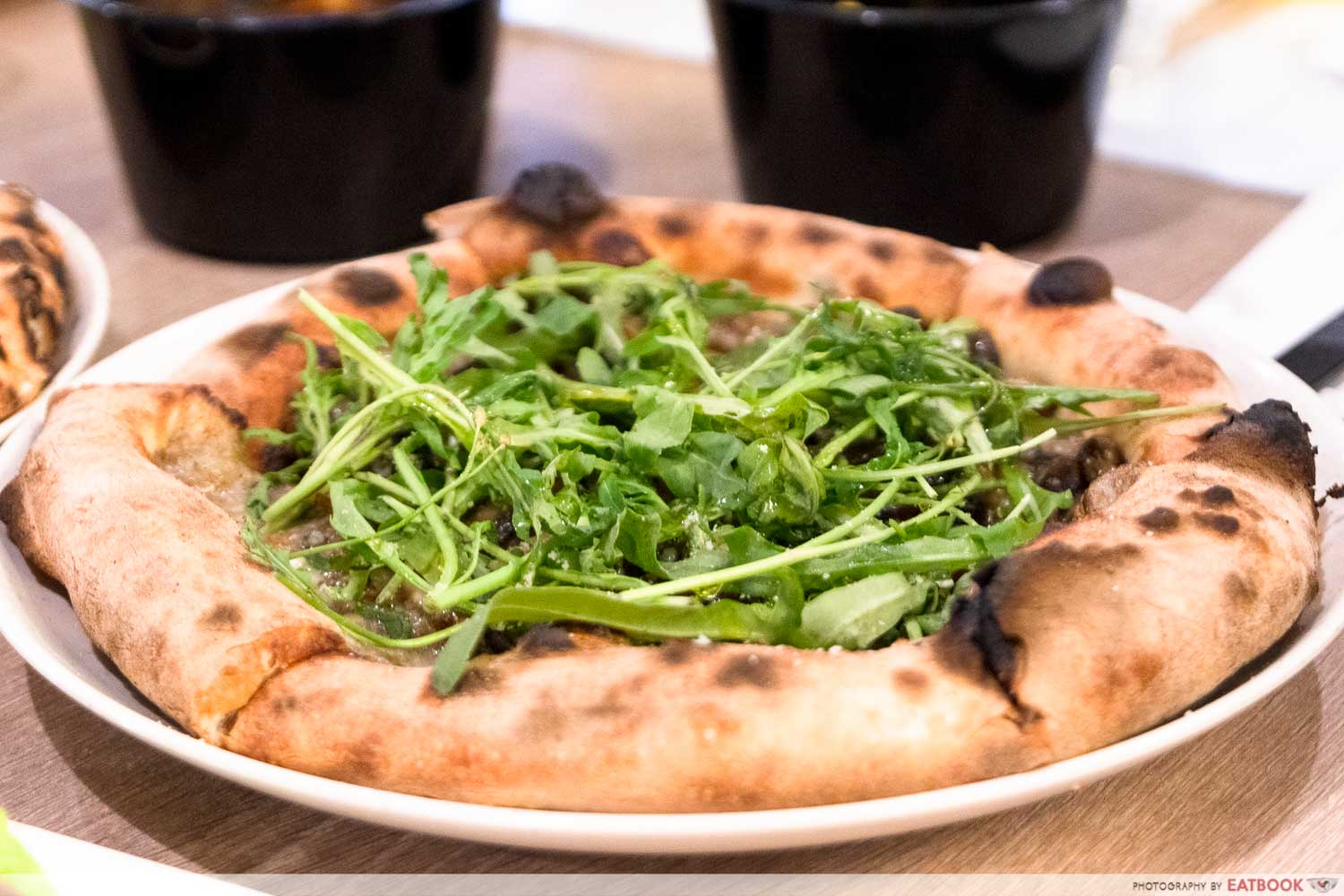 The focus of their vegetarian Tartufo Pizza ($17/$25) was definitely the mushrooms that came on a truffle-flavoured, white Bianca base. It's natural that this duo was chosen for a vegetarian pizza, because any meat here would have been overshadowed by the pungent aroma of the mushrooms.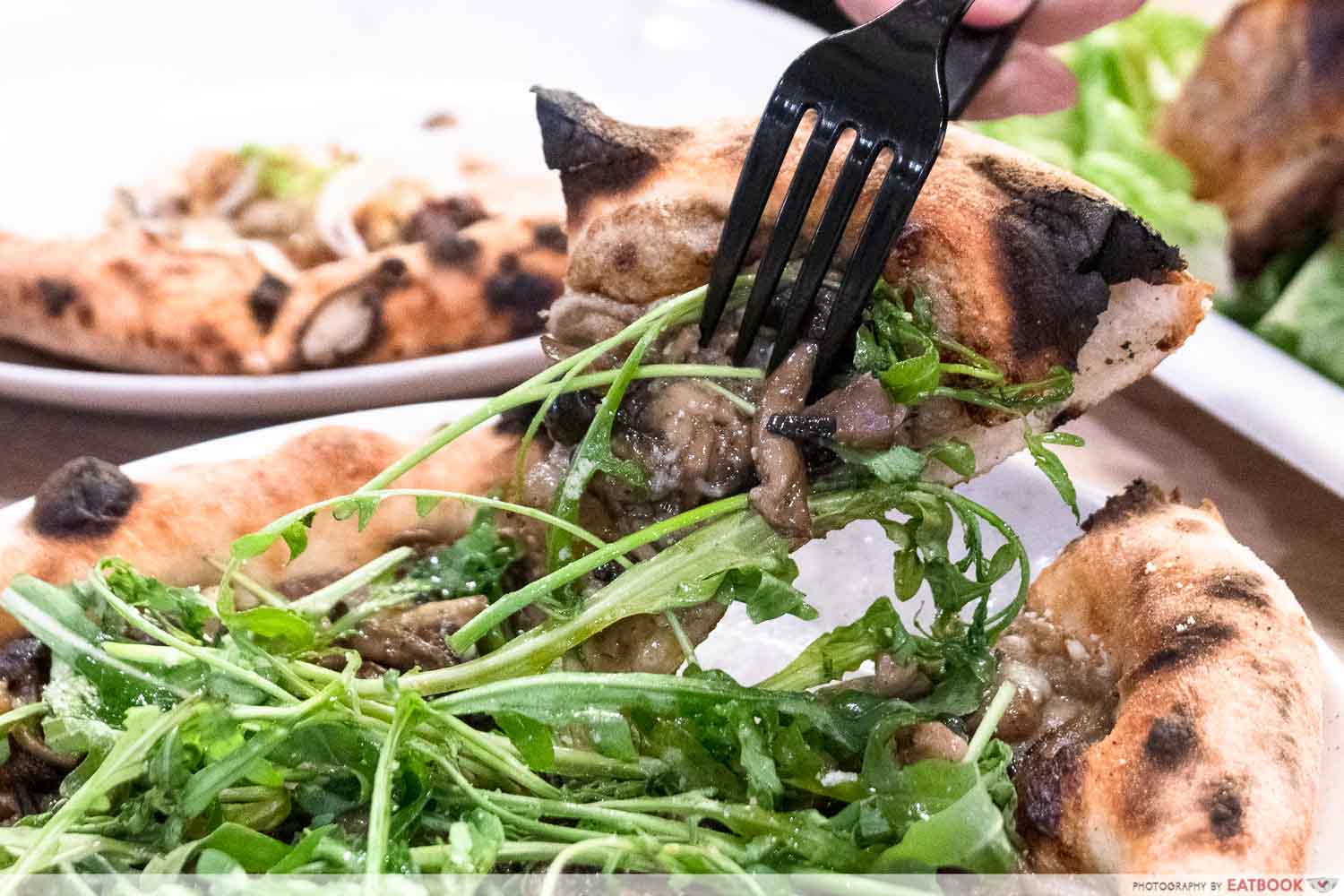 I did not particularly enjoy the rubbery chew of mushrooms on top of the equally chewy pizza as it was rather tiring to eat. That being said, I appreciated the fresh crunch and earthy flavours of arugula that did much to prevent things from becoming too jelak.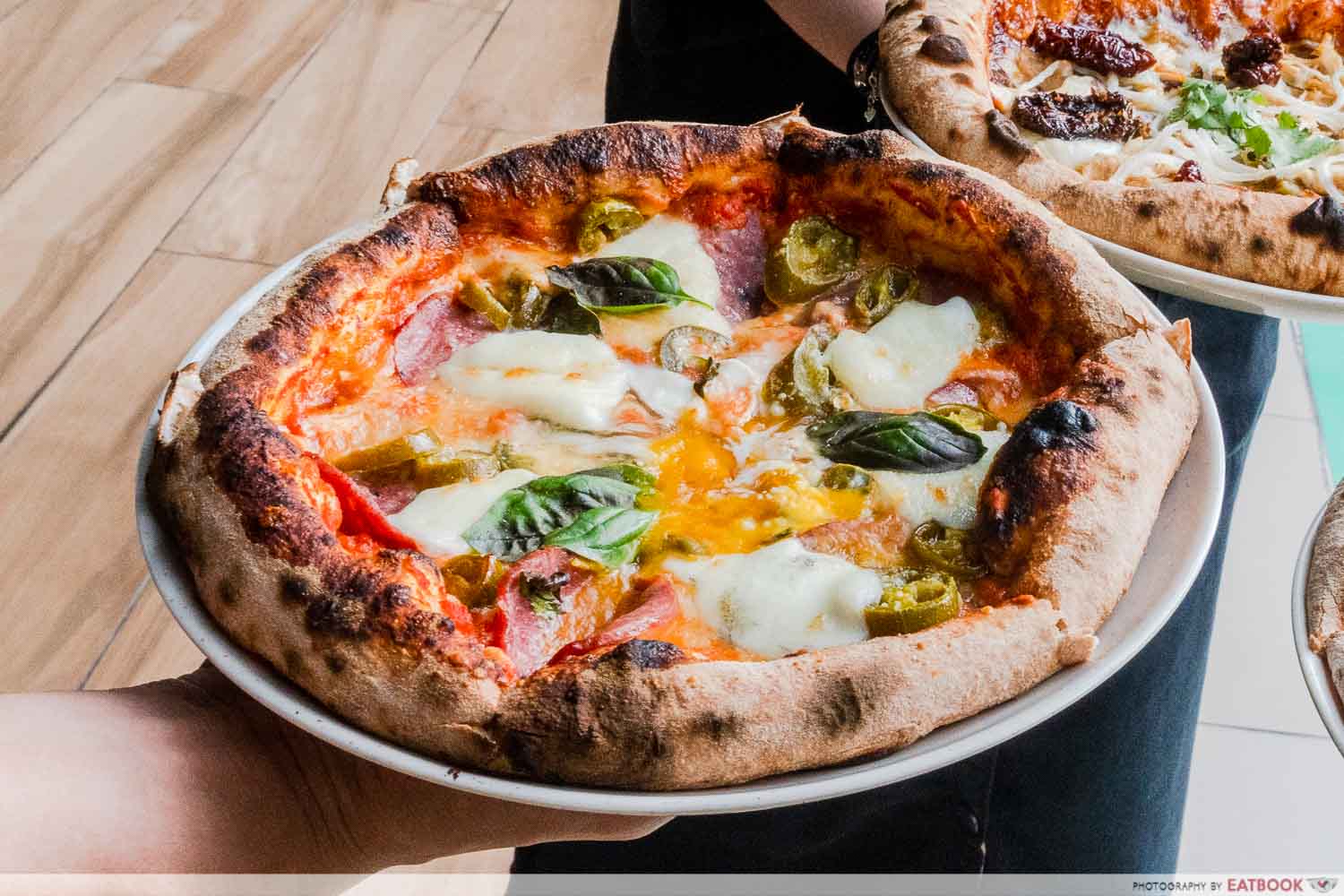 If you prefer to exercise your creativity, they have DIY Pizza (from $10). Three base options were Margherita, Verde, or Bianca. It also comes with 20 different add-ons (from $1) that are categorised into proteins, cheeses, vegetables, and toppings.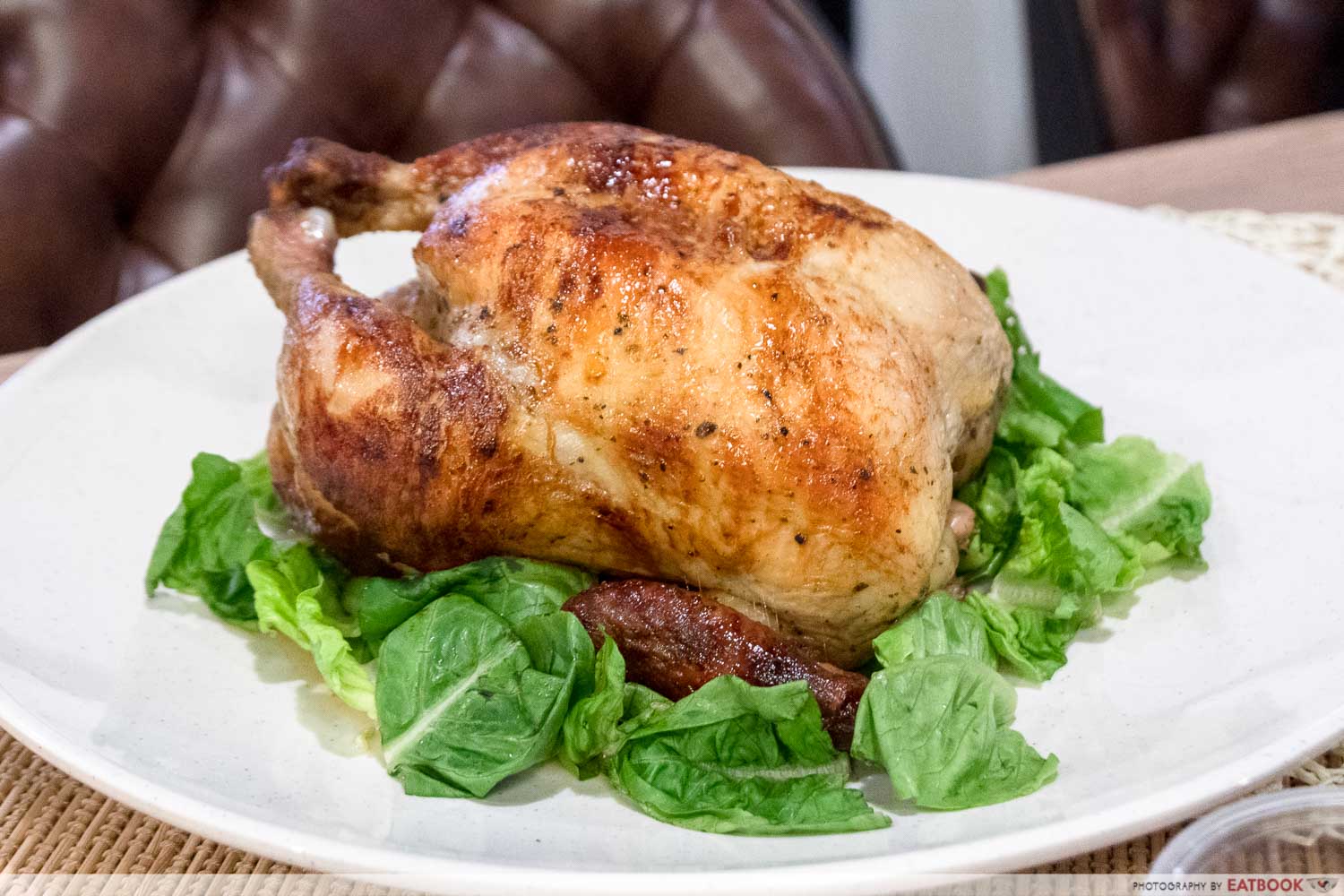 The spit-roasting process of a Rotisserie Chicken ($12/$20/$36) ensures its evenly cooked throughout. What we got was a juicy chicken with nice crispy skin.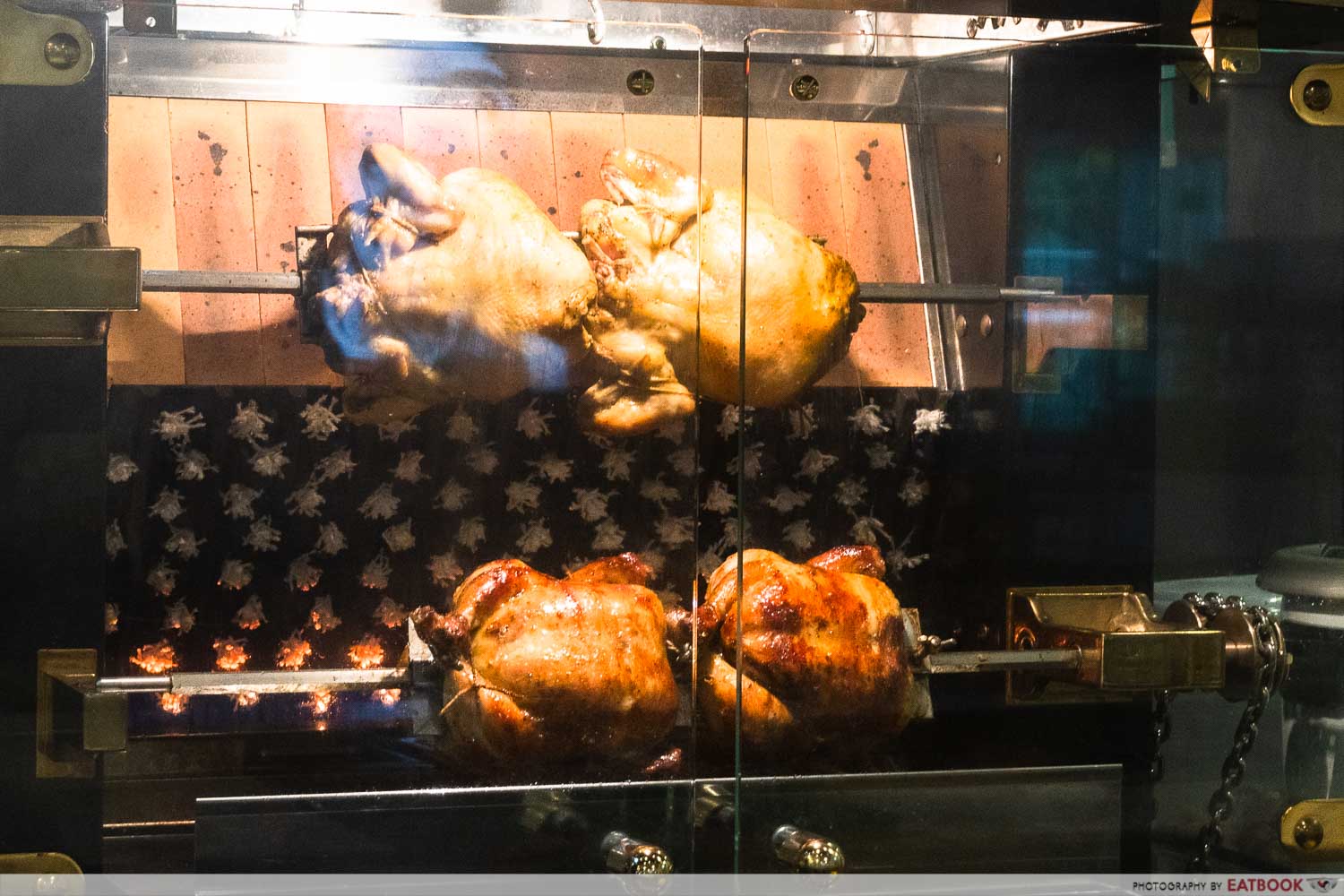 You can witness part of the 48-hour process of preparing this bird. The spinning chicken reflected light with its glistening exterior, as if beckoning us with its flavourful and well-roasted skin.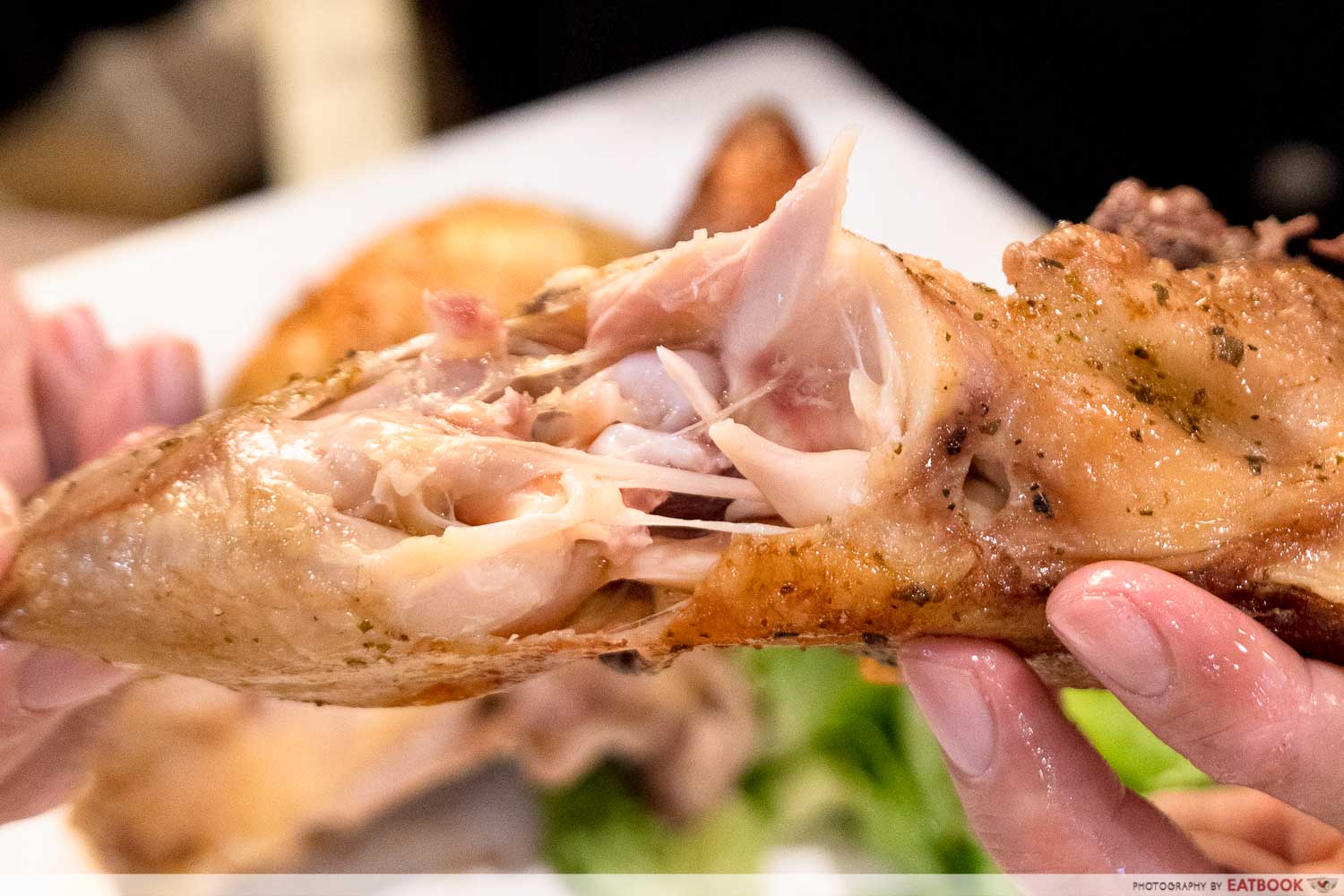 The chicken was marinated with a savoury sauce mix that was still light on the taste buds. This created a solid protein for the six sauces that can be ordered with your chicken.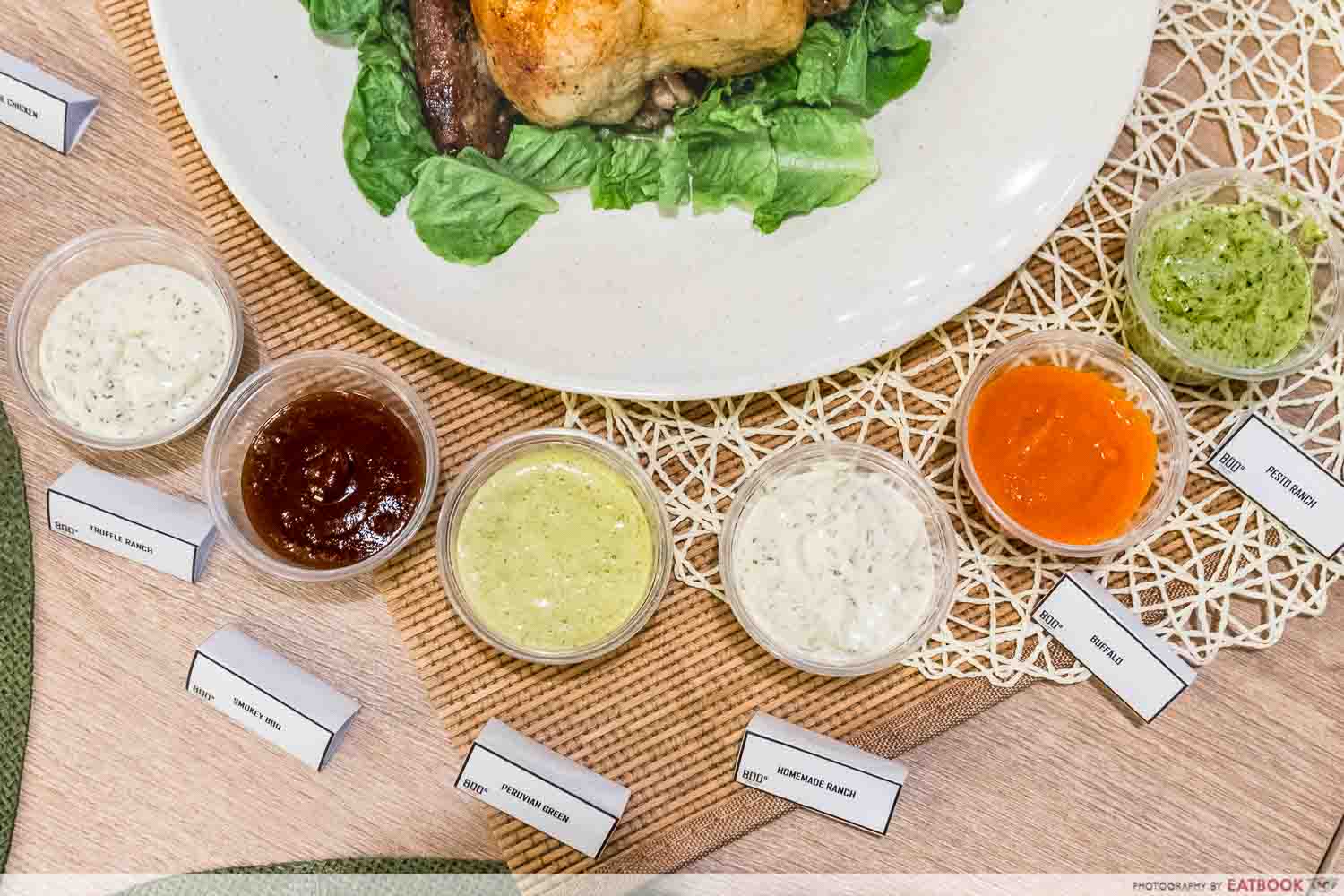 Ordering a whole chicken gets you two complimentary sauces. I would recommend the aromatic Truffle Ranch and the spicy Buffalo Sauce. Extra sauces can be ordered at $2 each, and they include: Peruvian Green, Smokey BBQ, Pesto Ranch, and Homemade Ranch.
KINEX Food Guide: 8 Places To Dine Including Woodfired Pizza And Taiwanese Shaved Ice
Ambience at 800
°
Woodfired Pizza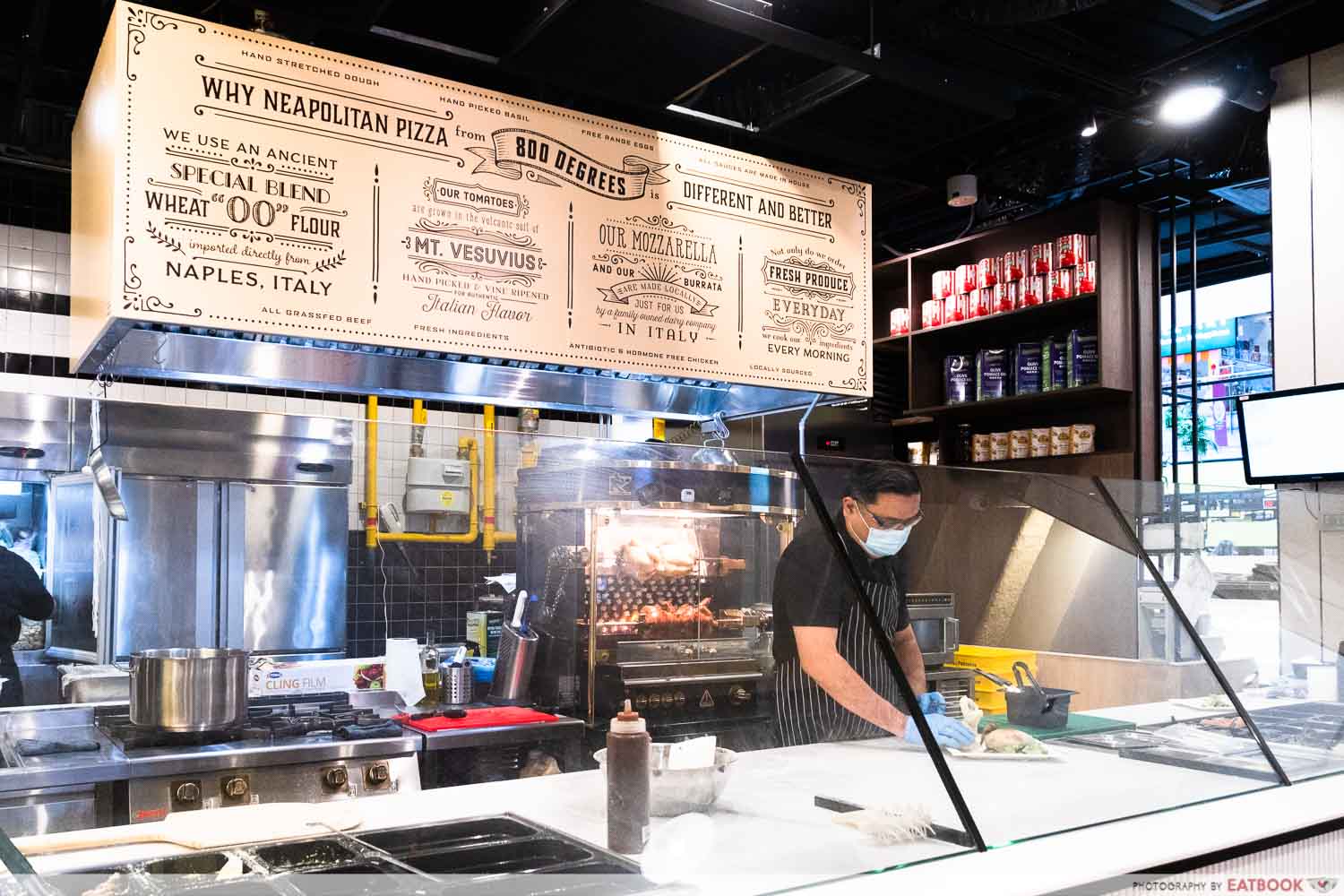 With a five-minute bus ride from Paya Lebar MRT Station, this 30-seater establishment is relatively accessible and offers a cosy ambience for you to watch your food get prepared.
Fatburger Opens New Flagship At Cineleisure With Fish Burger And Gula Melaka Churros
The verdict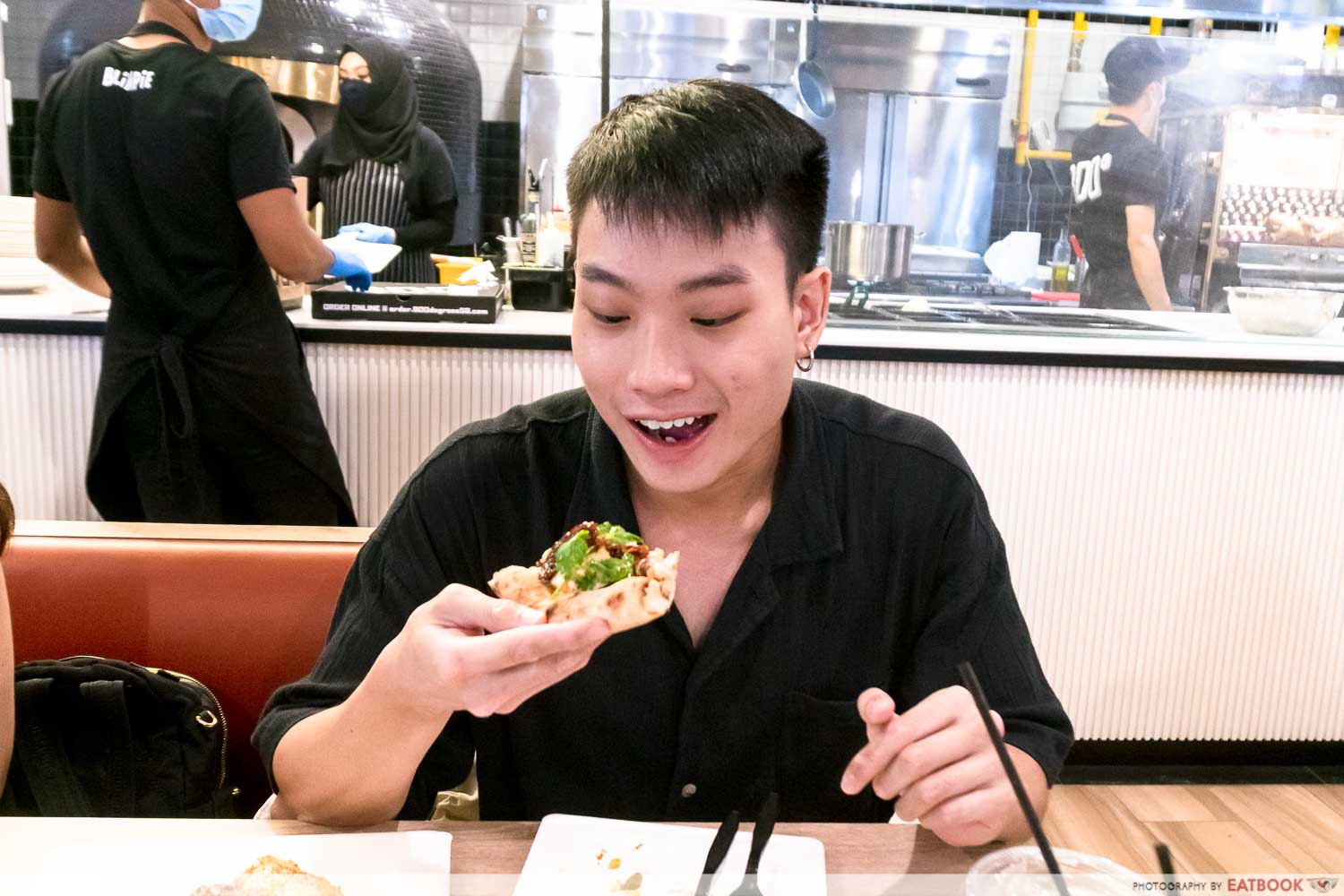 Their seriousness towards the whole process of preparing a neapolitan pizza, from importing Neapolitan flour from Italy to utilising an actual wood-fired oven is admirable. Plus, with a relatively affordable price, the food at 800° Woodfired Kitchen is a good introduction for those who have yet to try a Naples-style pizza.
If you are addicted to wood-fired pizzas, check out our woodfired pizza guide for pizza across different budgets. Otherwise, check out our KINEX food guide for Taiwan shaved ice, gelato and more! 
Address:11 Tanjong Katong Road, #01-52/53, KINEX Mall, Singapore 437157
Opening hours: Mon-Fri 11am to 9pm, Sat-Sun 11:30am to 9:30pm
Website
800° Woodfired Pizza is in the process of applying for halal certification.
10 Wood-Fired Pizza Restaurants For Delicious Thin Crust Pizza With Gooey Melted Cheese
Photos taken by Syamira Rohaizad.
This was a media tasting at 800° Woodfired Kitchen 
800° Woodfired Kitchen Review: New Muslim-Owned Pizza Cafe With Truffle Sauce Base At Nett Prices
800° Woodfired Kitchen Review: New Muslim-Owned Pizza Cafe With Truffle Sauce Base At Nett Prices -

7.5/10
Summary
Pros
– Light and fluffy crust
– Made-to-order pizza
Cons
– Flavours were hit or miss
Recommended dishes: BBQ Chicken Pizza ($15)
Opening hours: Mon-Fri 11am to 9pm, Sat-Sun 11:30am to 9:30pm
Address: 11 Tanjong Katong Road, #01-52/53, KINEX Mall, Singapore 437157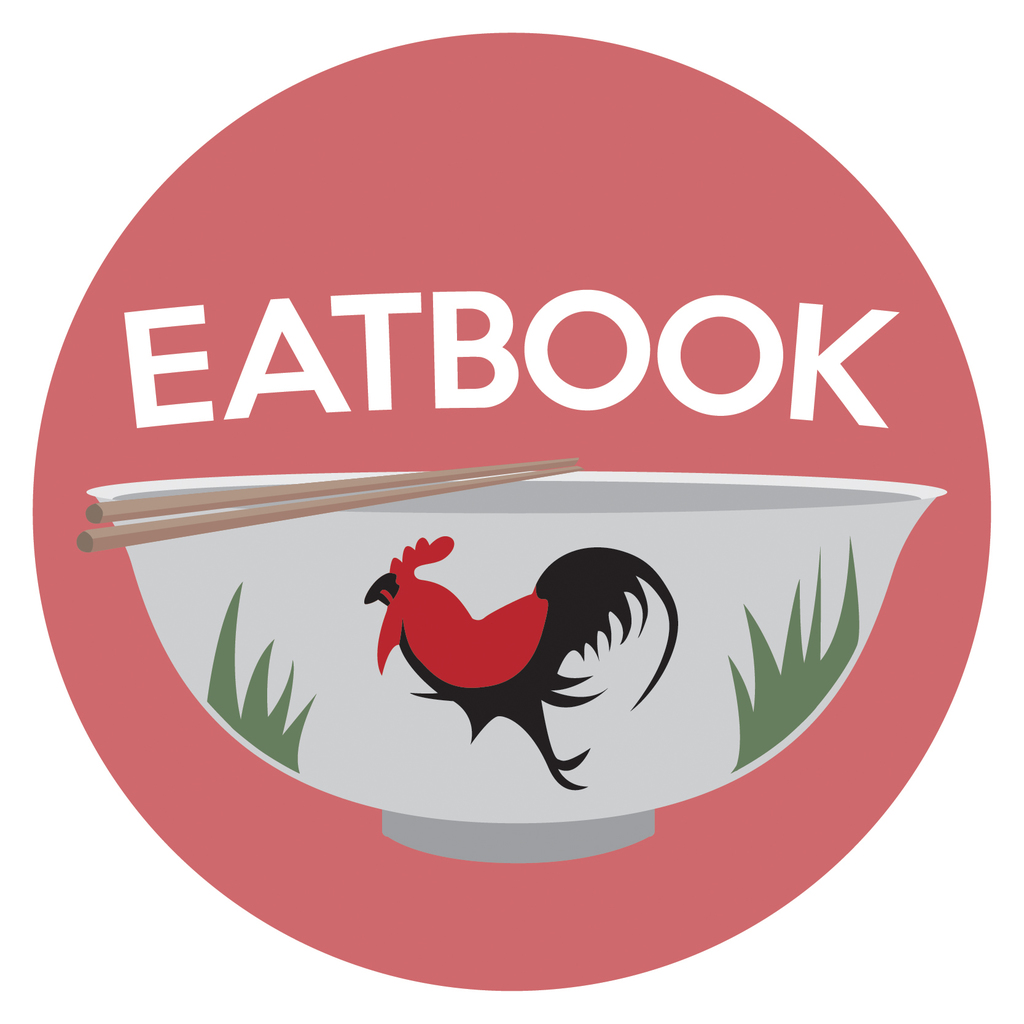 Drop us your email so you won't miss the latest news.