New Fatburger outlet at Cineleisure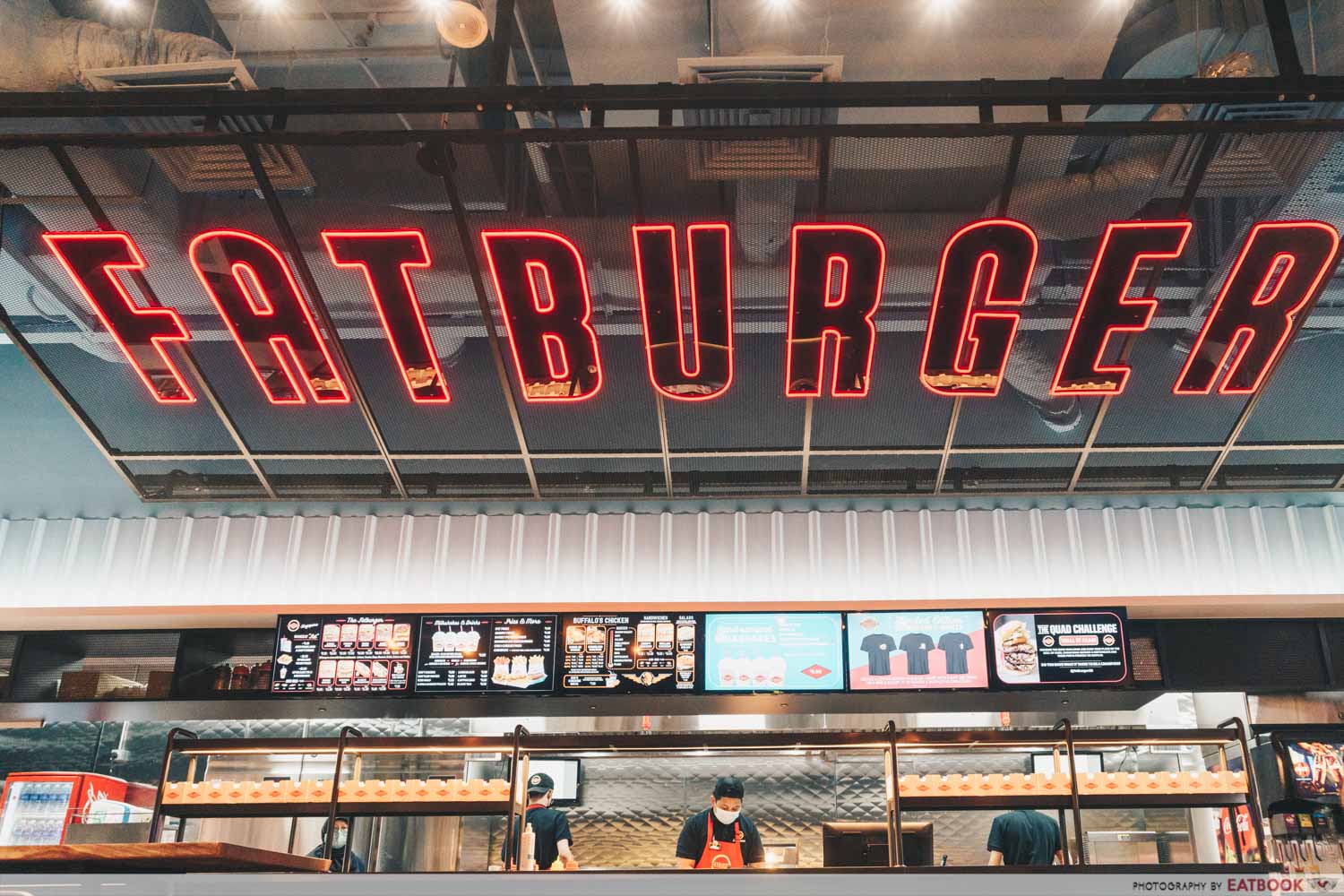 Heads up to all fast food junkies. Our favourite all-American fast food joint, Fatburger, has put down its roots at Cineleisure with their new flagship store that's opening on 3 November. What makes this store different from the other outlets at KINEX, NEWest, and Velocity is that they have elevated the space to mimic the aesthetic of a LA burger joint.
Fatburger Review: Giant Four-Patty Burger At This New Burger Chain From LA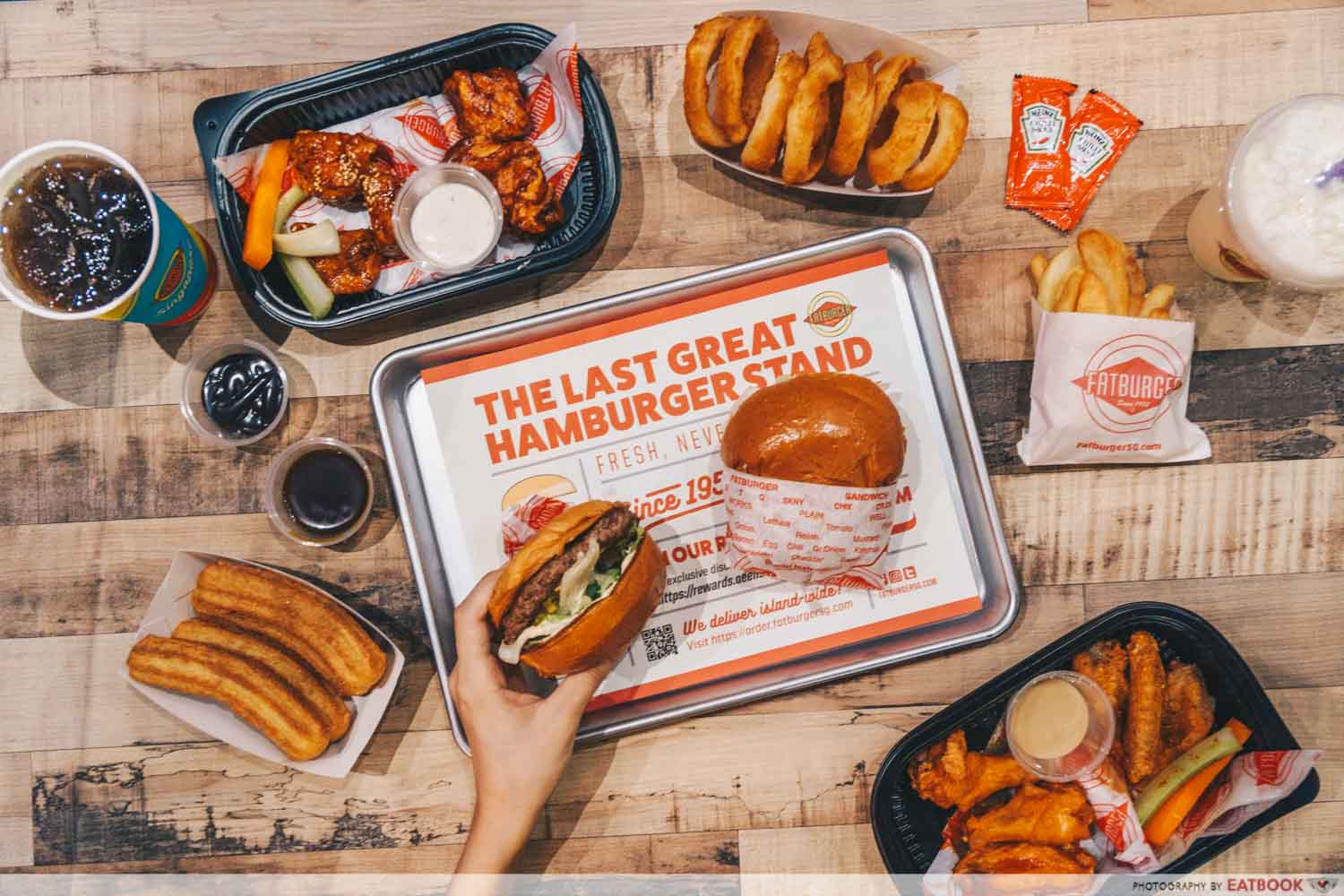 You can expect an array of customised burgers and a wide selection of sides at their new outlet. Also, not forgetting their milkshake offerings that would certainly appease the child in you. Seems like Shake Shack and Five Guys aren't the only places to get your burger and milkshake fix.
Shake Shack Review: First Look At Their Signature Burgers, Pandan Milkshake And Gula Melaka Ice-Cream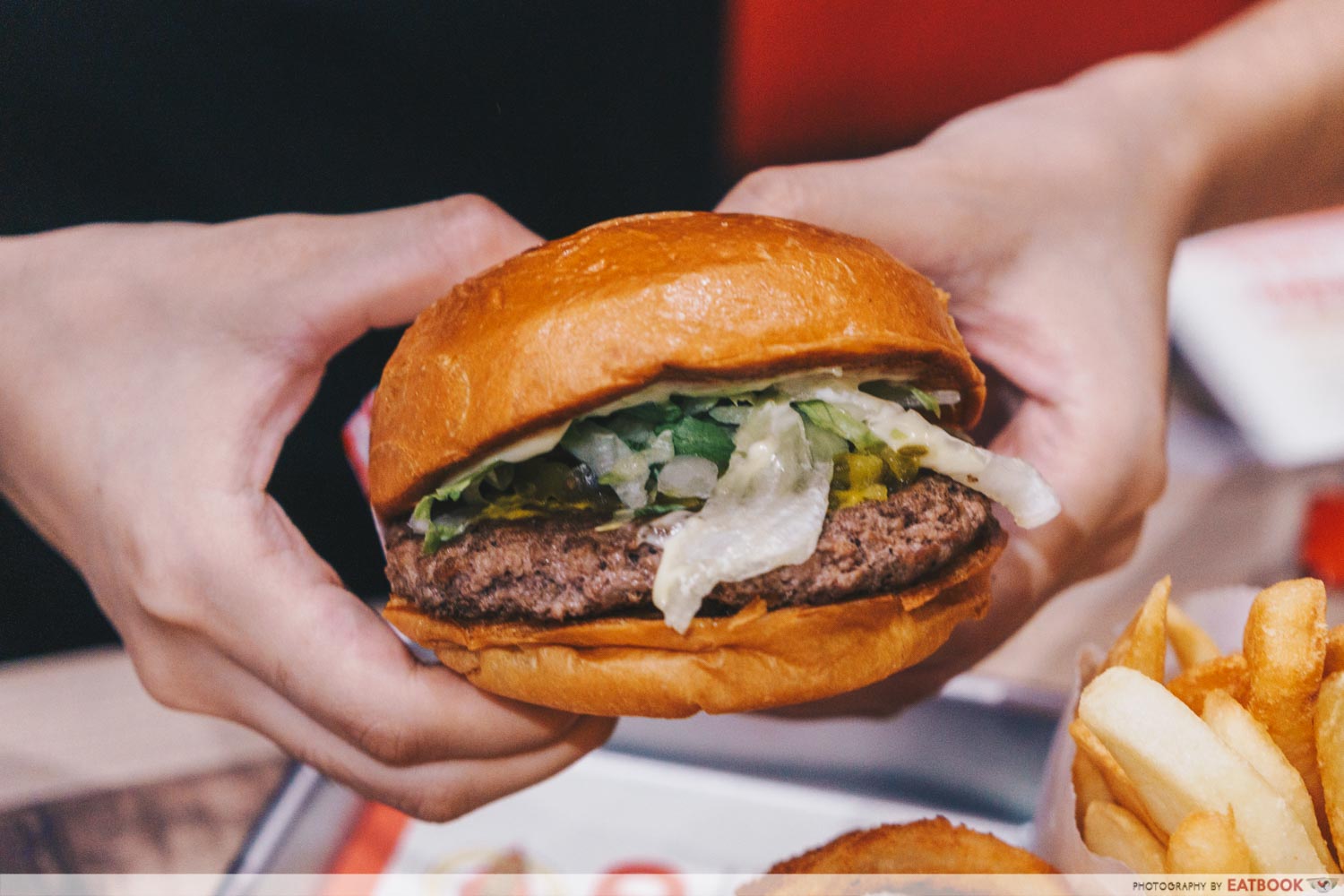 Burgers here are completely customisable. Whether you want a single, double, triple or even quadruple patties, Fatburgers has got your back. All burgers come in a brioche bun, along with lettuce, tomato, mayo, mustard, relish, onion, and pickles. You may also add on cheese, fried egg, beef bacon, chilli con carne, and even onion rings for just a dollar each.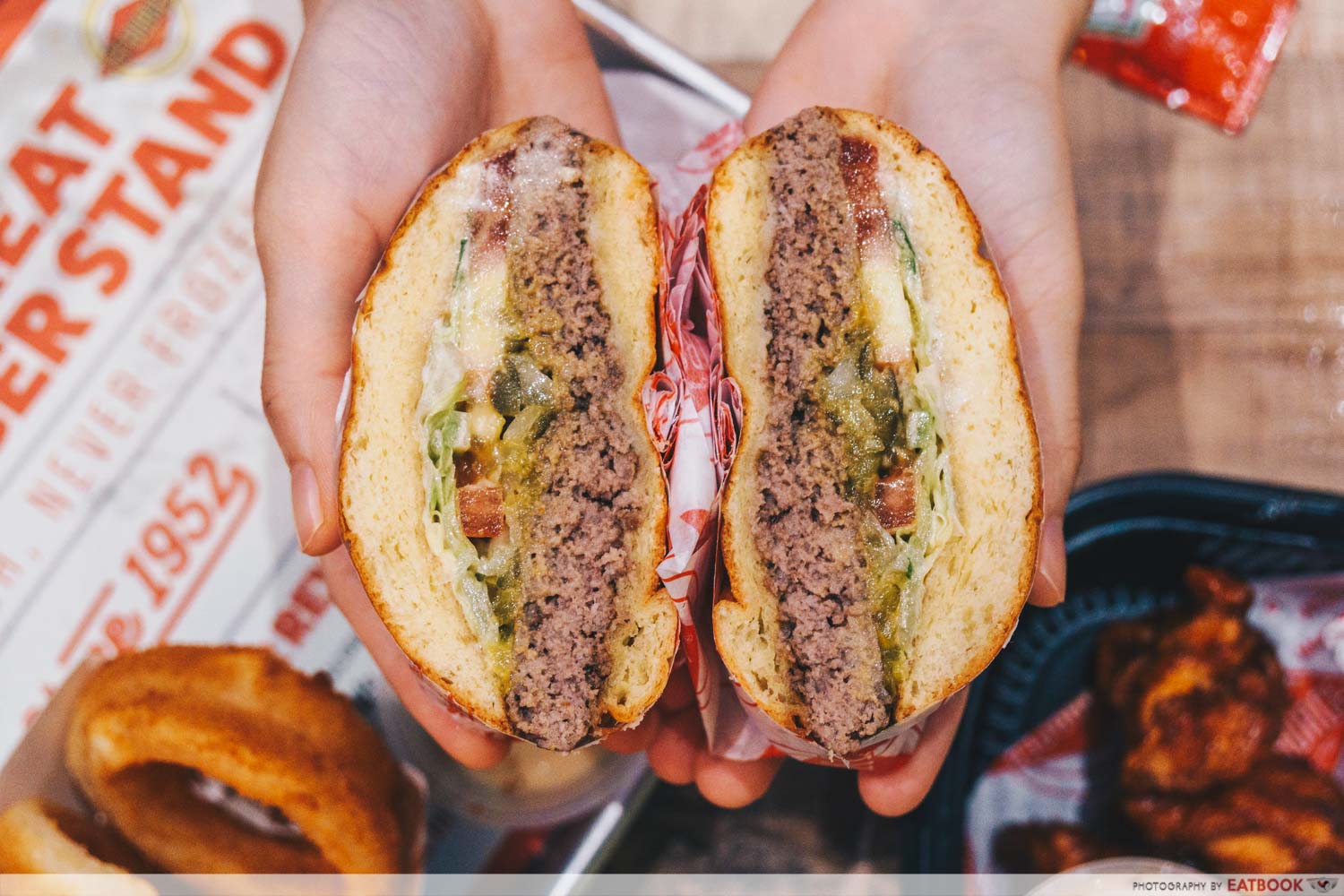 If this doesn't put a smile on your face, I don't know what will. The Original Burger ($8.50 for single) features a thick and flavourful beef patty, cradled in a soft and buttery brioche bun along with the other condiments. Tangy pickles, crunchy lettuce, as well as juicy tomatoes—each mouthful simply doesn't disappoint. Complete this burger with their fat fries and a drink for just $13.50.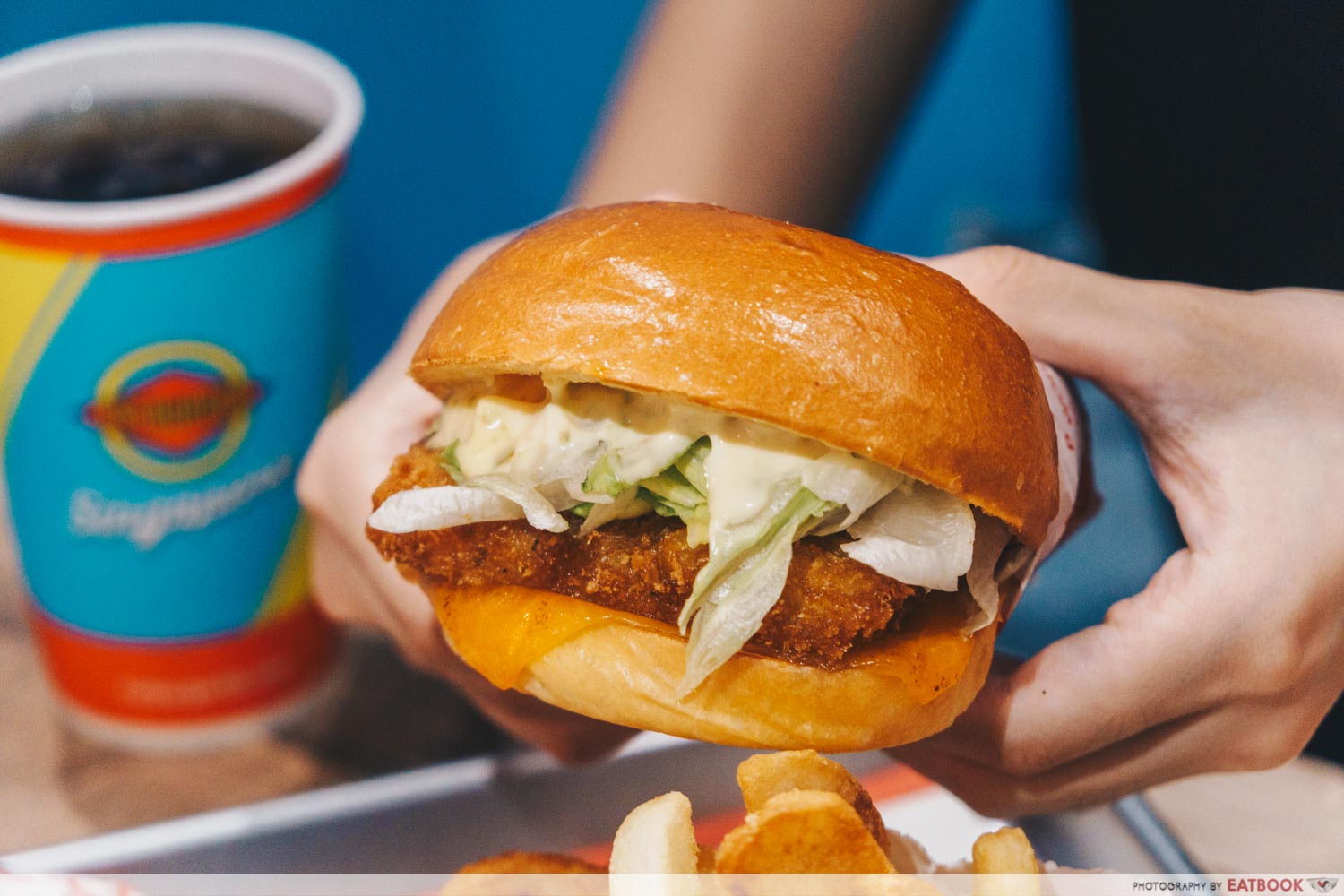 Fatburgers also offers a new Fish Burger ($8.50) which consists of a deep-fried breaded codfish, cheese, lettuce, tomato and house-made tartar sauce. Expect a crunchy fish patty that's moist and flaky inside, along with a tangy zing from the tartar sauce.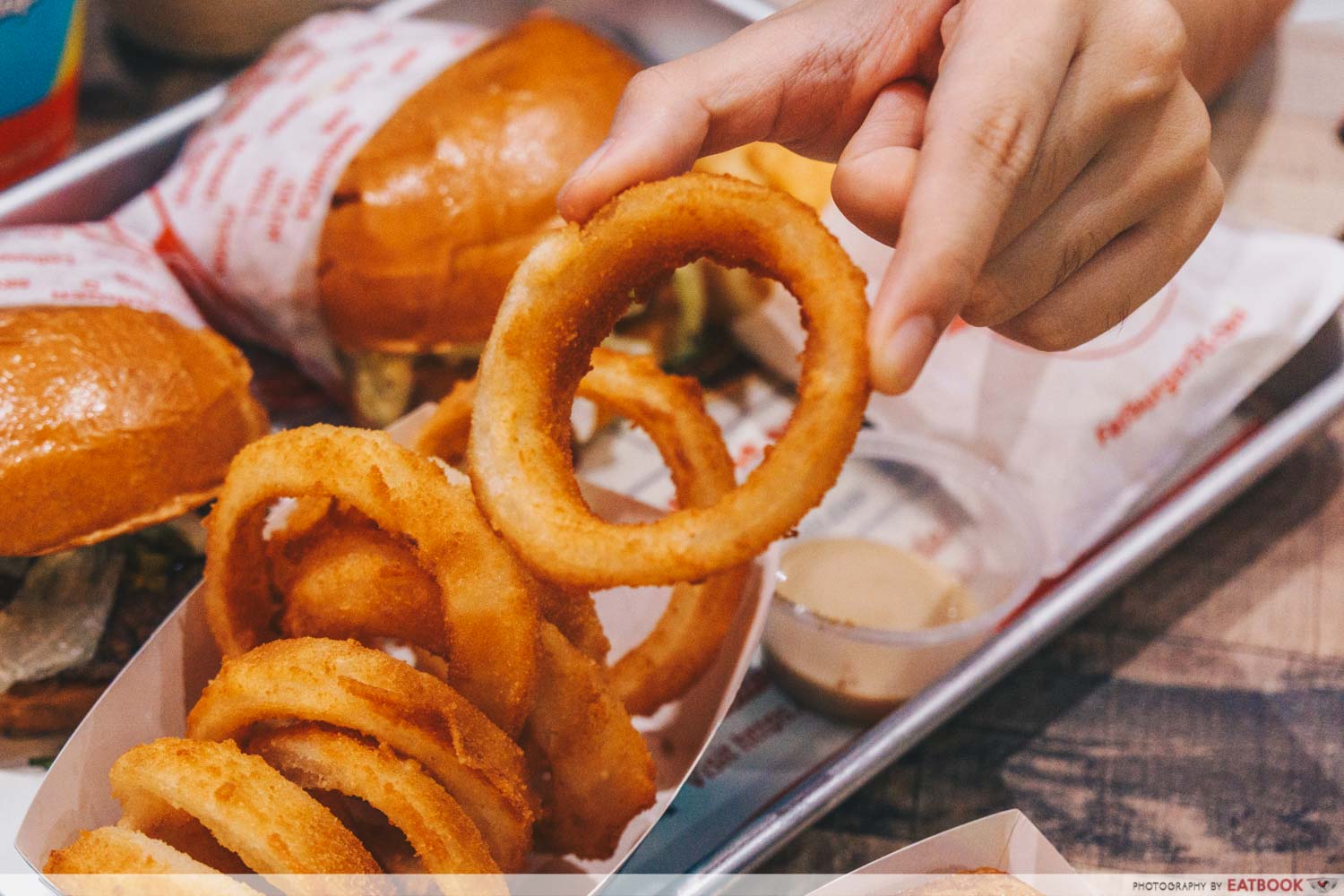 You could just do with fat fries in your meal, but you're given a choice to upgrade that to onion rings with just an extra $2. In case you haven't heard, Fatburgers serve up some of the best onion rings in town ─ crunchy, golden and fried to perfection. These house-made Onion Rings ($5.90) are well-seasoned and they have a sweet, almost caramelised, undertone once you bite into it.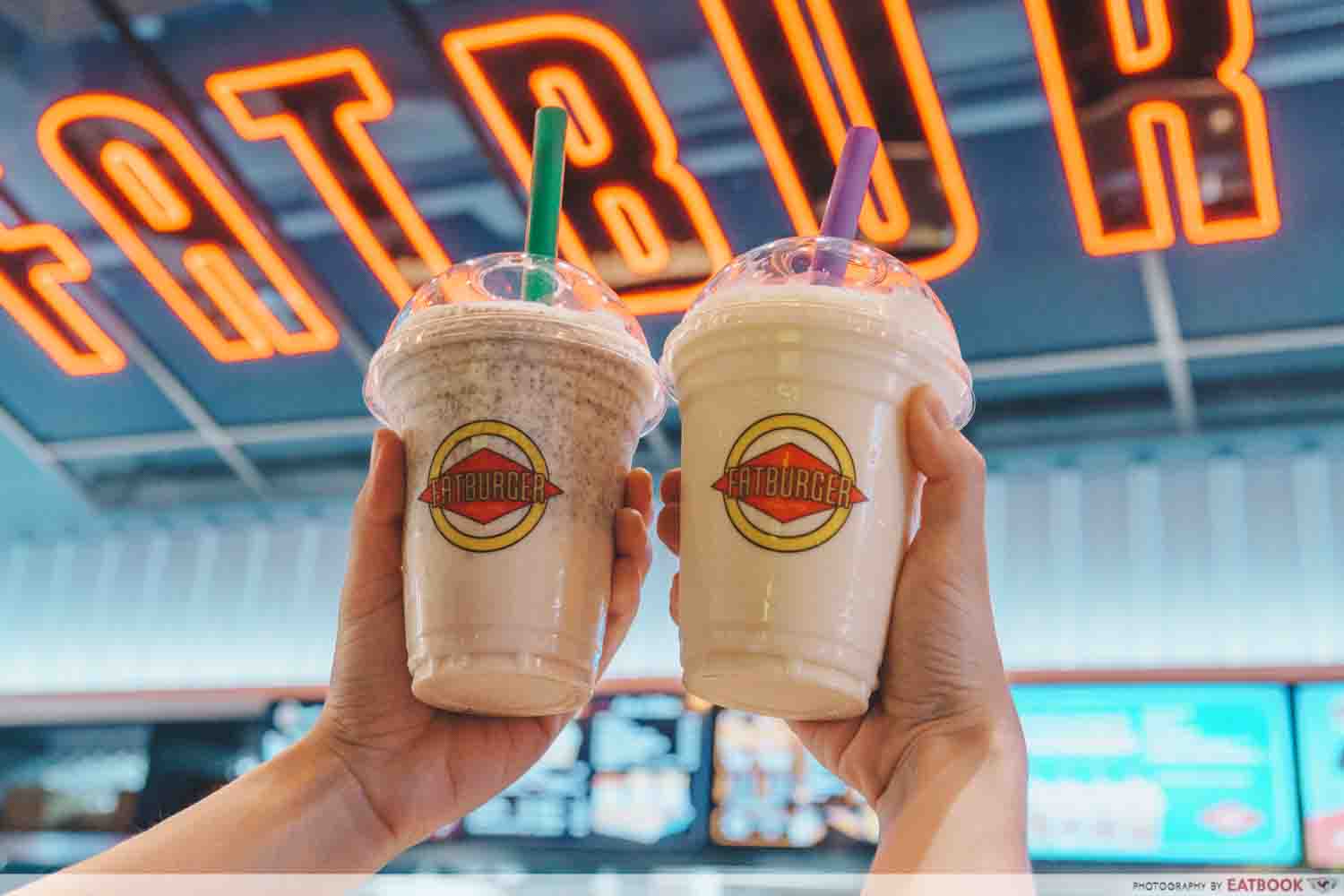 Instead of regular soft drinks, go the extra mile and pair your burgers with their decadent milkshakes, which is just a $3 top up if you're already getting a set. Their sweet and creamy Hand-Scooped Real Ice Cream Milkshake ($6.90) comes in five flavours─Chocolate, Vanilla, Strawberry, Oreo Cookies & Ice Cream and Caramel Cookie Crumble. 
I'd recommend going for the Oreo Cookies & Ice Cream one, especially if you're a big Oreo fan. This beverage has a subtle vanilla flavour along with bits of crunchy oreo, without being overly sweet. It's the perfect thirst-quencher especially after a burger and onion rings!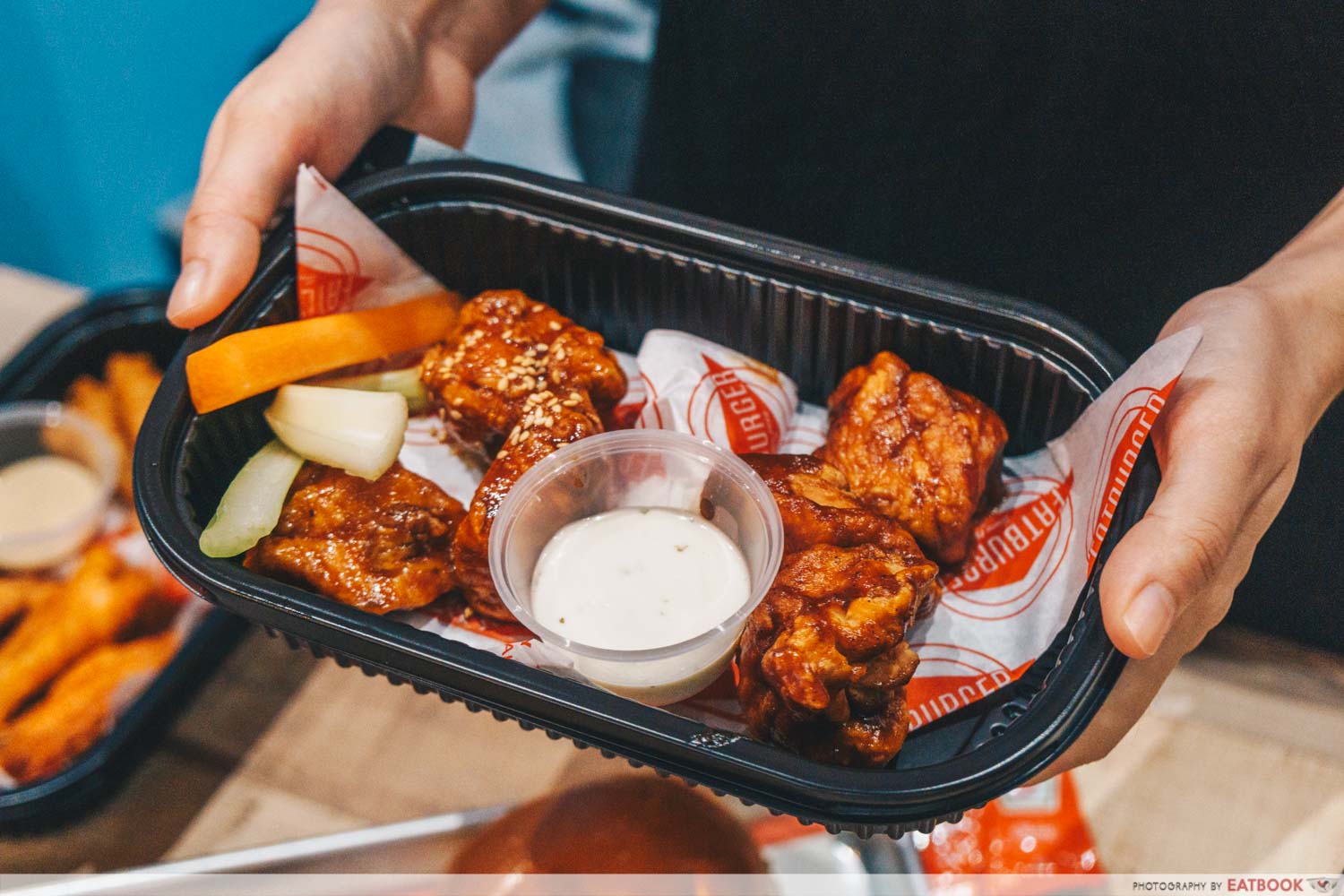 If you're still feeling peckish after all the burgers, fries and onion rings, go for their buffalo chicken wings, where they offer a choice of boneless (from $7.50) or bone-in (from $7). You can even select between eight of their sauces, ranging from Lemon Pepper to the extremely spicy Death Valley sauce.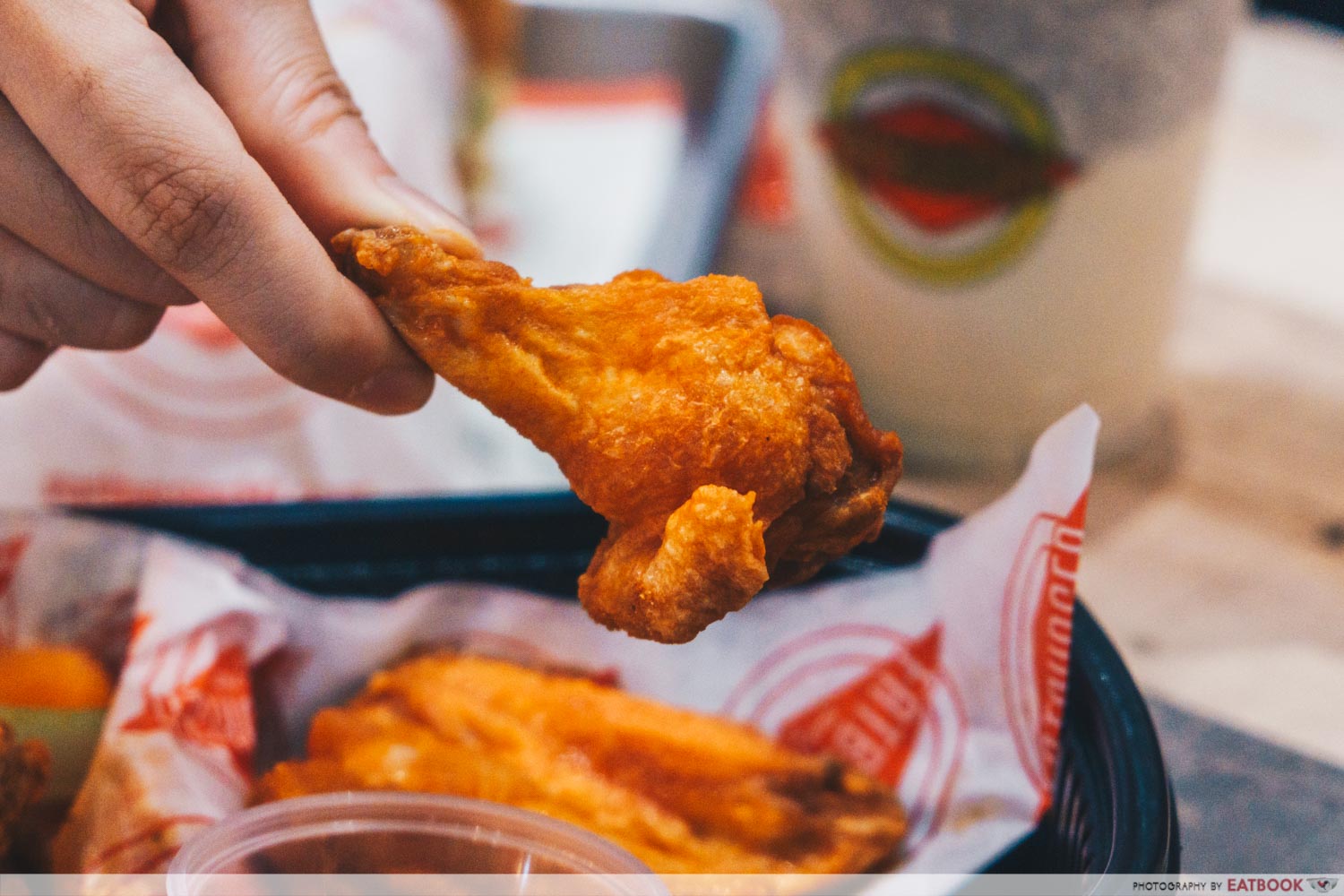 Go for their classic bone-in wings in hot sauce, that's accompanied with celery and carrot sticks, as well as mustard and ranch. These wings have a predominant Tabasco flavour, and they are truly addictive.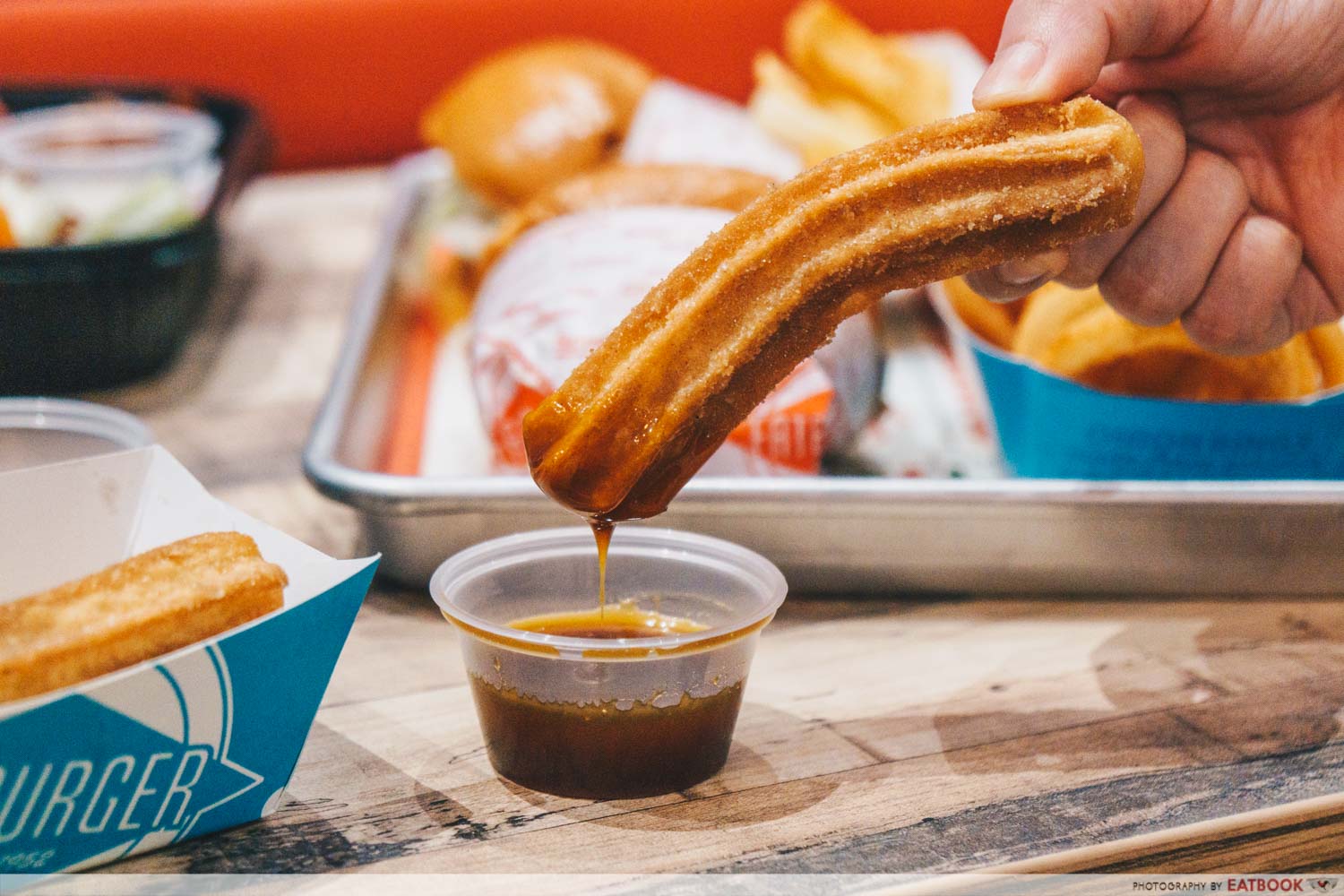 Opt for the Churros ($6.50), that's paired with either a chocolate or gula melaka sauce, for a sweet finish. Coated with cinnamon sugar, this fried snack is crispy on the outside, with a soft and fluffy centre.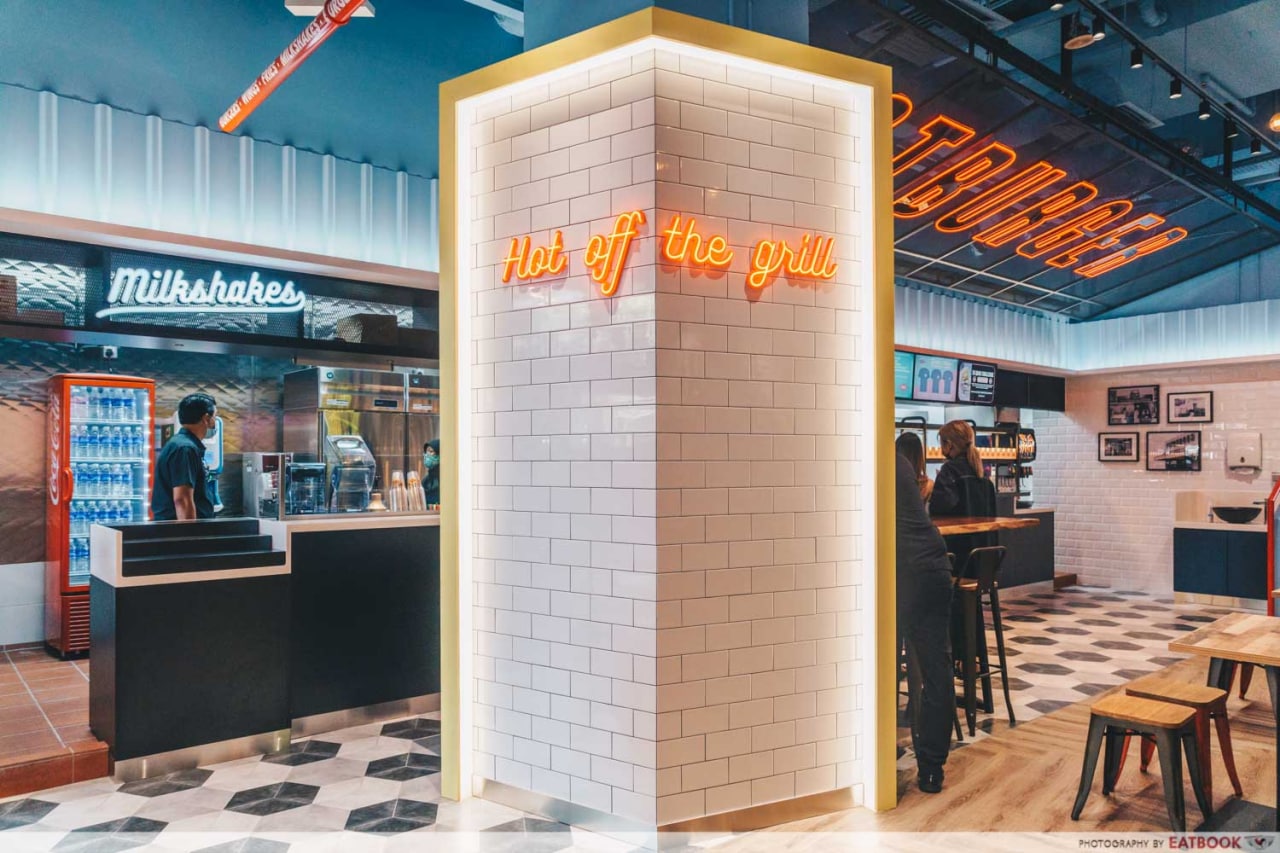 The interior has a stadium-like layout, with a tinge of retro from the mosaic flooring, neon lights and piped music ─ catchy hits from the 2000s will incite a wave of nostalgia. To achieve the style of a typical burger joint, the outlet also has a semi-open concept kitchen where you can hear and see all the sizzling and burger-flipping action. 
To celebrate their launch, Fatburgers will also be giving away limited edition street-styled Fatburger shirts to the first 150 customers with every $80 spent on a single receipt. Grab your friends and head to their new outlet to indulge in their delicious burgers, wings and shakes!
Check out our list of some of the best burgers in Singapore. Alternatively, read about our review on Wagyu Bites, a restaurant along Boat Quay that serves affordable wagyu burgers.
Wagyu Bites Review: Wagyu Burgers In Boat Quay That Won't Burn A Hole In Your Wallet
Address: 8 Grange Road, #01-07, Cineleisure, Singapore 239695
Opening hours: Daily 11am to 10pm
Website