Move aside Shake Shack, Fatburger is in town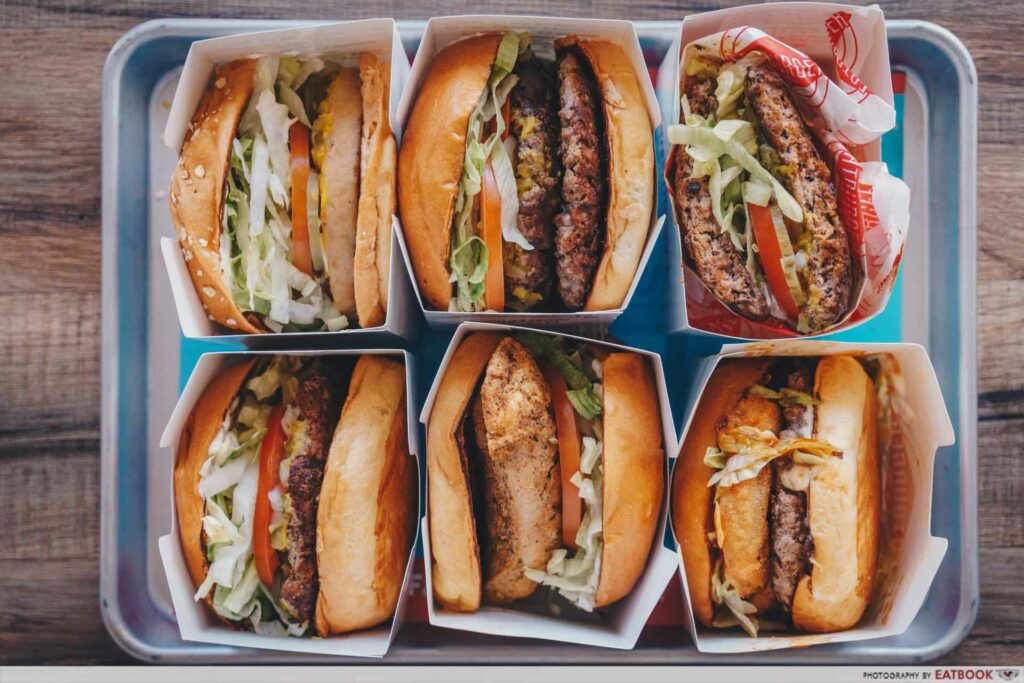 While we were distracted by the rumours of Shake Shack opening at Jewel Changi Airport, Fatburger from Hollywood was quietly making its way down to Singapore.
Pushing out juicy burgers for close to 70 years, Fatburger has a strong following, many of which are A-list celebrities including Zendaya, Heidi Klum, and Quentin Tarantino. For those who love rap, you would have heard of Fatburger in songs like Ice Cube's It Was A Good Day, as well as Tupac's Late Night.
Opened yesterday at Kinex – formerly known as OneKM Shopping Mall – in Paya Lebar, my colleague and I had the opportunity to try out some of their juicy burgers and buffalo wings!
Food at Fatburger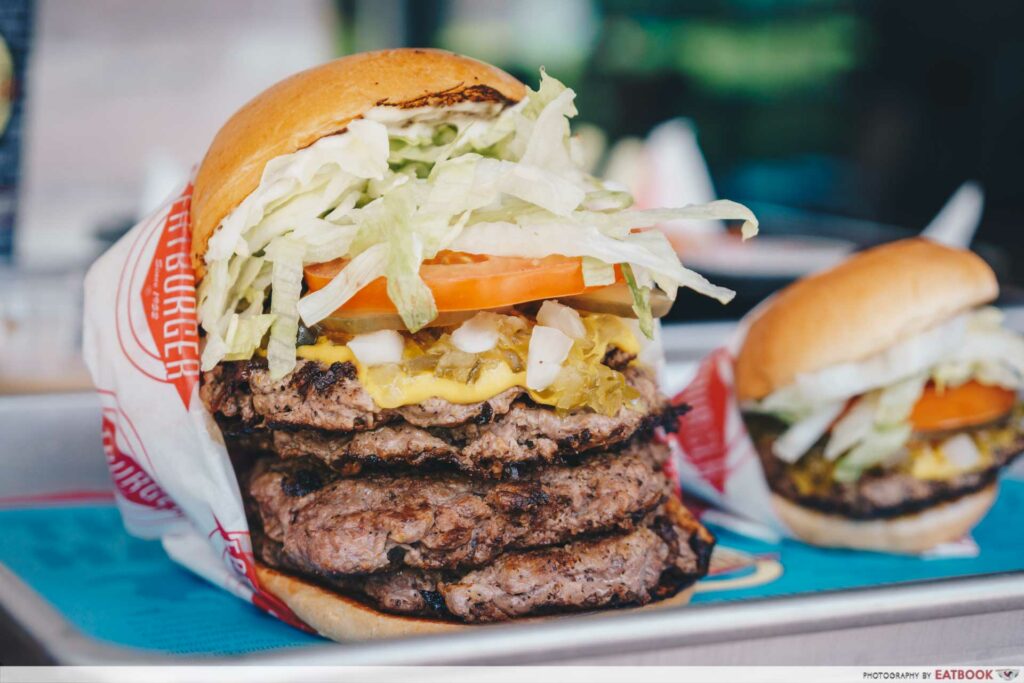 I used to always question whether fresh meat is really better than frozen. But after my trip to Fatburger, this inner debate was put to rest as their grub proved that fresh is indeed better. Committed to using only chilled beef patties, their hamburgers were far more superior in taste and texture in comparison to burgers served at regular fast food joints.
The reason is simple: freezing damages the cells of meat, leading to quality loss when the meat is thawed and cooked. As such, by only chilling their hamburgers, Fatburger is able to retain the flavourful juices of their Alberta Angus beef chuck patties. Plus, their burgers boast a proportion of 80% lean meat and 20% fatty bits – the golden ratio for the perfect burger patty.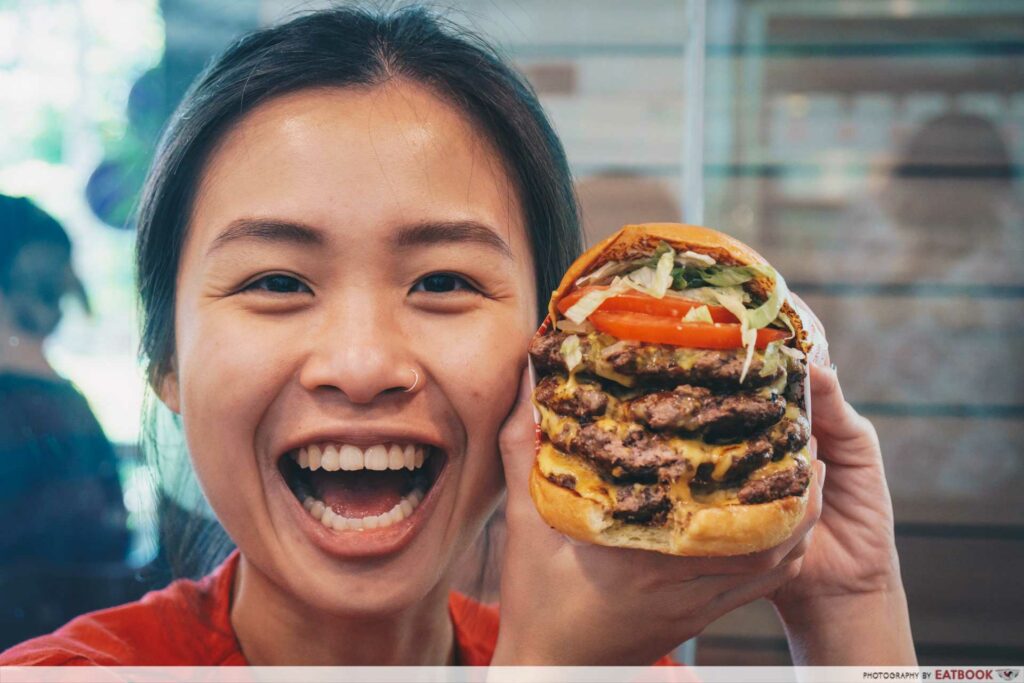 Donning my stretchy pants, I was ready to conquer their Quad Burger ($15.90). Here, four succulent beef patties came stacked between brioche buns, accompanied by complementary toppings of mustard, relish, onion, pickles, tomato, lettuce, and mayo. We also decided to add cheese for an additional $1. If you really want to go all out, I dare you to add all their toppings – egg, beef bacon, onion rings, and chilli – at $1 each.
Texture is an important aspect when it comes to creating the ideal burger. And the brioche buns were pillowy soft, which made chomping down the buttery beef patties a breeze. The patties were also coarsely minced and not too thick, resulting in an even crumble and a juicy center.
I'm weak and wasn't able to devour this meaty tower whole. But if you do finish the entire burger, you will earn a certificate and have your picture up on their wall of fame! There's no time limit for this, and you don't have to beat the previous record too.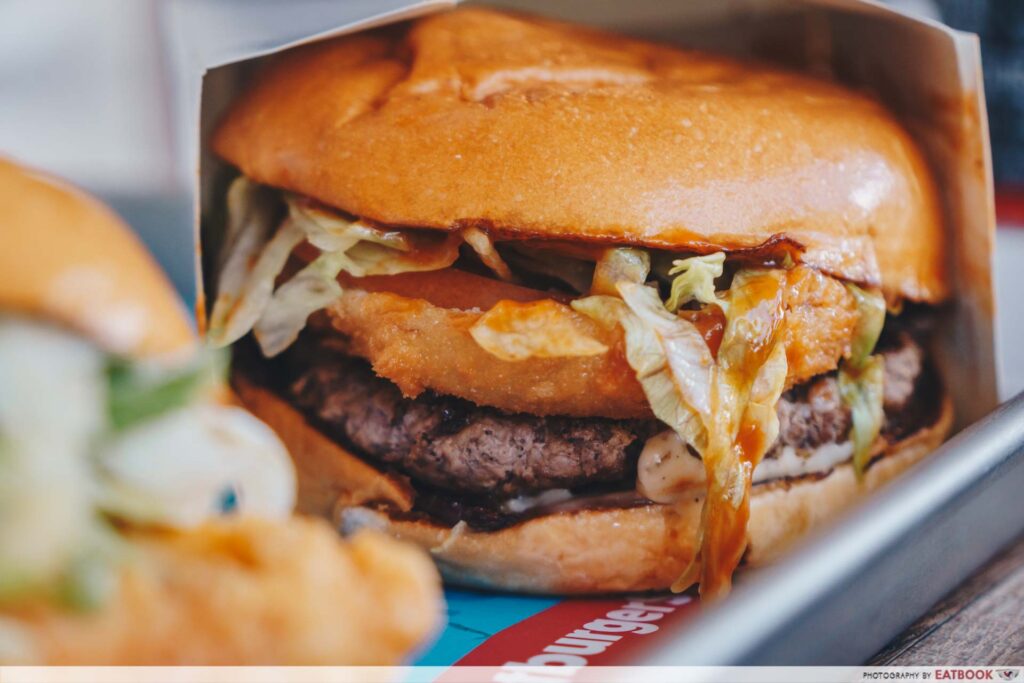 After falling in love with Black Tap's The Texan Burger, I decided to give the Western BBQ ($9.90) a go. Similar to Black Tap, Fatburger's Western BBQ came with onion rings, beef bacon, and barbecue sauce. For a fraction of the price, I daresay this makes a good alternative to The Texan Burger if you're controlling the purse strings.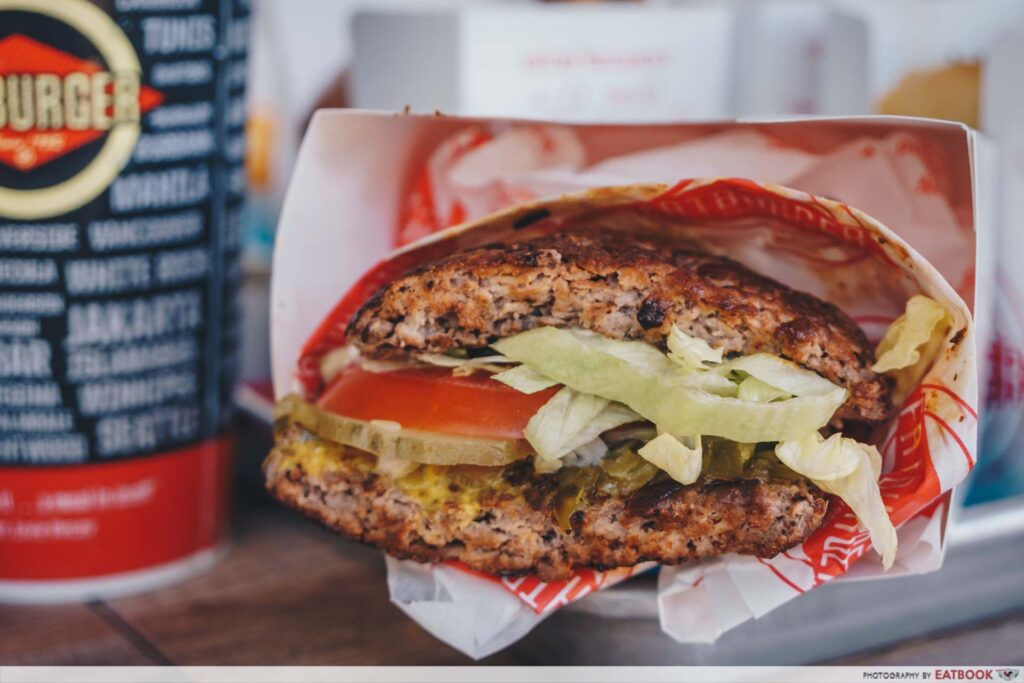 Ladies – and gentlemen – watching their waistline can opt for the Skinnyburger ($7.50) where beef patties replace the buns. However, I much rather you come here on #cheatday, as the keto-friendly burger was rather disappointing, since only one patty was halved to become buns. Aside from the small portion, the lack of buns also made the robust taste of the beef too pronounced.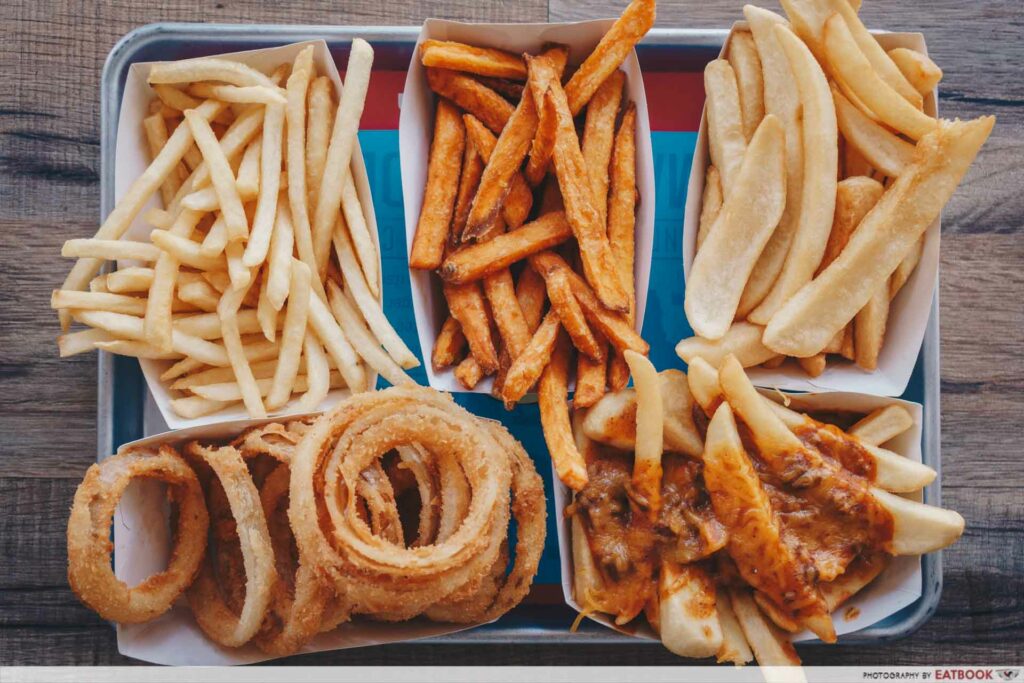 Top up $4 and make your meal a FAT one, where you get free-flow soft drinks and a choice of Fat Fries or Skinny Fries.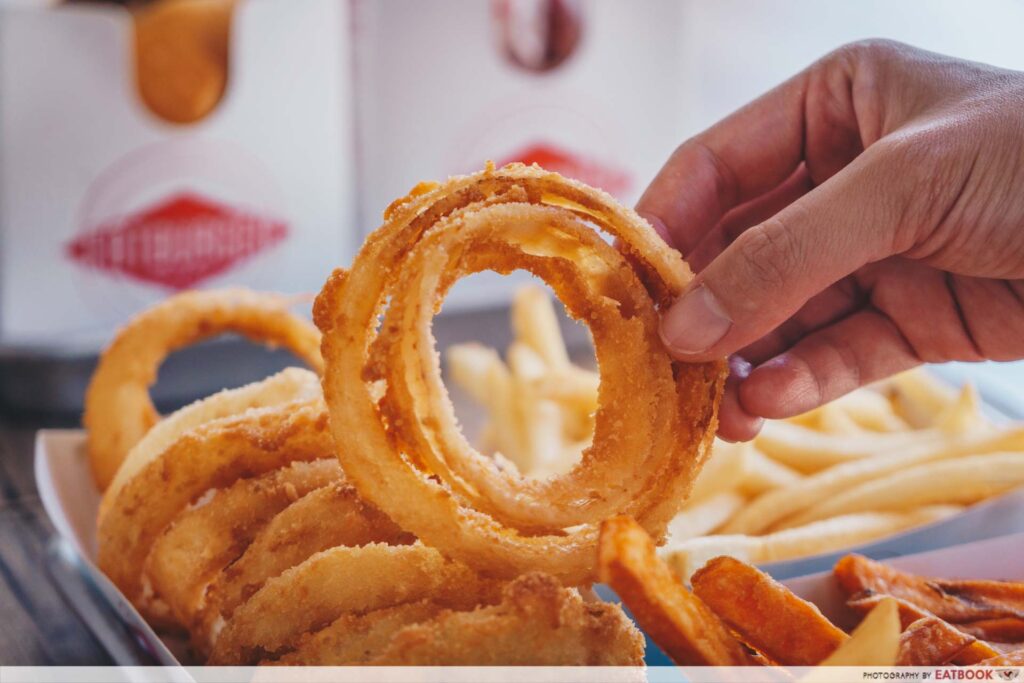 Alternatively, order their Homemade Onion Rings ($5.90) on the side. Made freshly daily, sliced sweet onions are dipped into a special batter and fried to crisp perfection.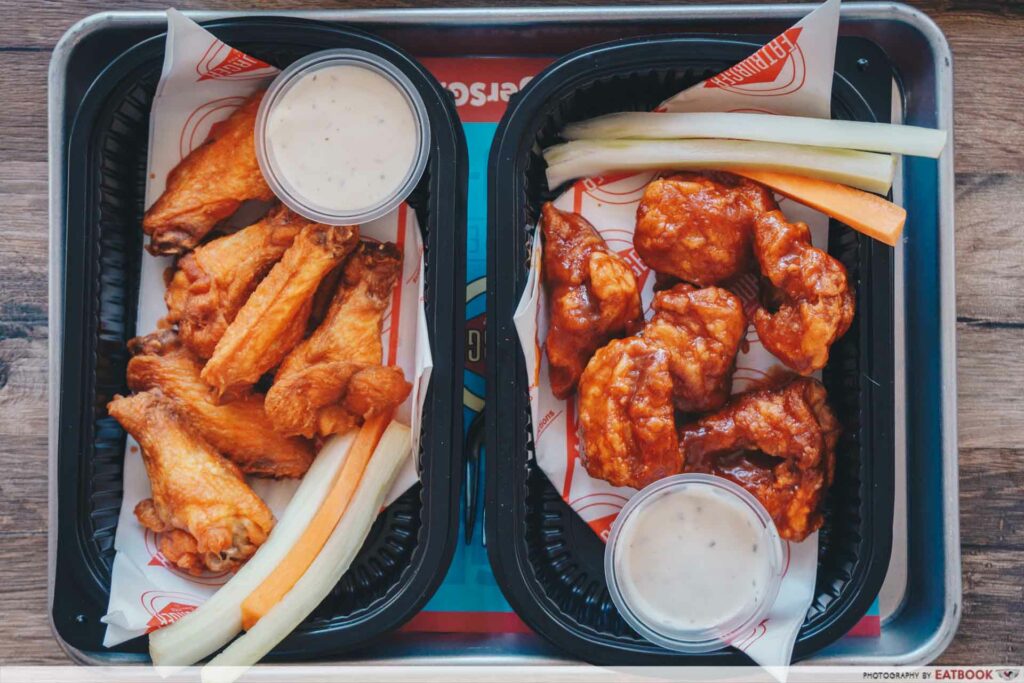 Co-branded with Buffalo's Express, you will also find a selection of scrummy chicken wings and chicken burgers here.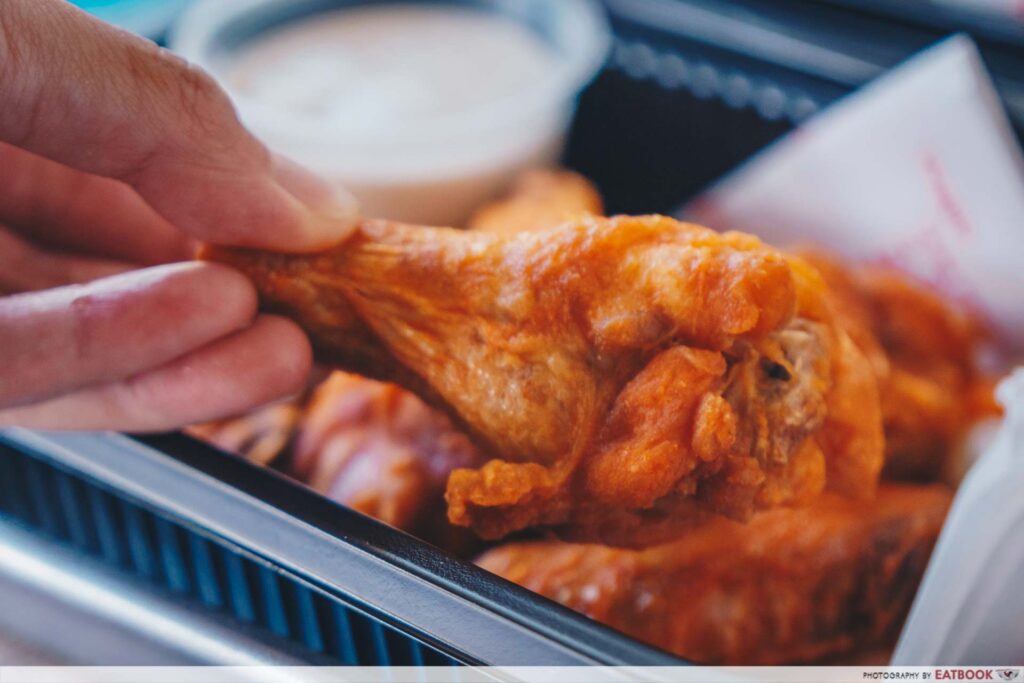 Accommodating to all sorts of chicken lovers, they have a wide variety of chicken including Bone-in wings (from $5.90 for six pieces), Boneless Chicken (from $8.50 for six pieces) and Chicken Tenders (from $6 .50 for three pieces). You are also given the choice of sauces including Lemon Pepper, Teriyaki, Thai Sweet Chilli, Cajun, and Death Valley.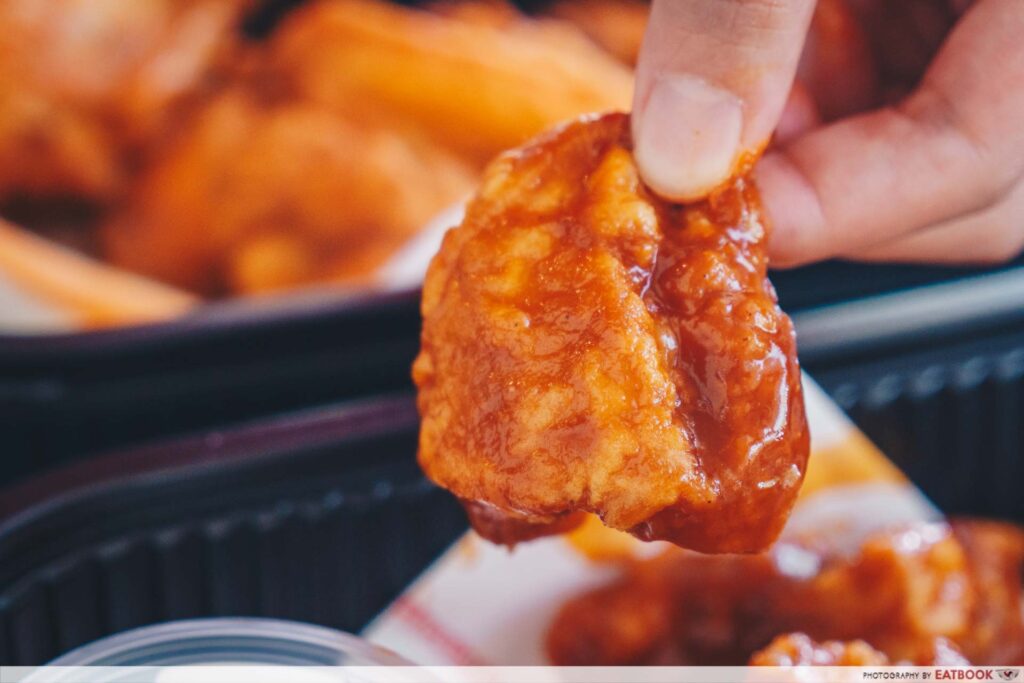 If you can handle the heat, go straight and request for the Death Valley. The sauce legit left my mouth burning after one bite, and my colleague commented that the burn was worse than the highest level of ma la!
Ambience at Fatburger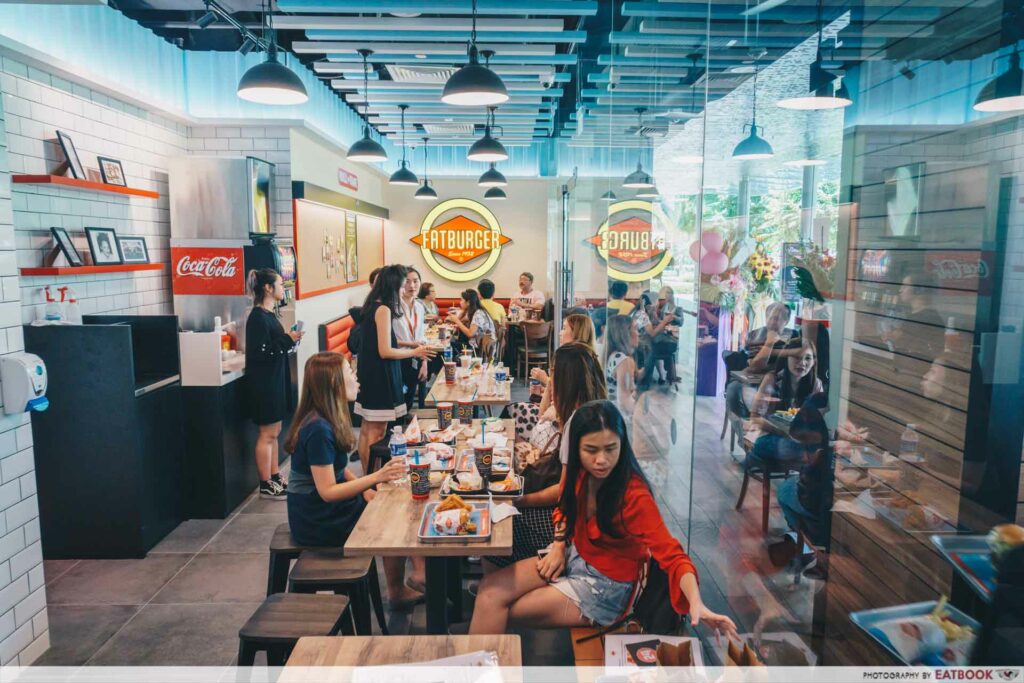 Fatburger is located at the left side of Kinex mall, and is only accessible via the walkway outside. The space is quite tight and can get pretty squeezy during peak hours. There are only two counters taking orders, so you can expect a queue as well. That being said, once you make your order, you don't have to wait at the counter for your food, as the servers will send your grub to the table.
For non-Eastsiders, you will be glad to know that Fatburger will be opening their second outlet at Velocity @ Novena Square soon!
The verdict
Whether you're a fast food junkie or not, you need to visit Fatburger at least once in your lifetime. After all, there's a reason why celebrities love their burgers, right? For fussy eaters, you will be glad to know that you can customise everything on the menu to however you like it. Whether it's pickle juice drizzled on your burger, or double-fried fries for extra crispiness, the team at Fatburger promises to go out of their way to give you what you want, when you want it.
Address: 11 Tanjong Katong Road, #01-70/71/72, Kinex, Singapore 437157
Opening hours: Daily 10am to 10pm
Website | Full list of outlets
Photos taken by Maverick Chua.
This was a media tasting at Fatburger.
Summary
Pros
– Juicy burgers
– Everything here is customisable
Cons
– Pricey
Recommended dishes: Quad Burger ($15.90), Western BBQ ($9.90), and Death Valley Boneless Chicken (from $8.50 for six pieces)
Opening hours: Daily 10am to 10pm
Address: 11 Tanjong Katong Road, #01-70/71/72, Kinex, Singapore 437157