Burgers and milkshakes from Black Tap Singapore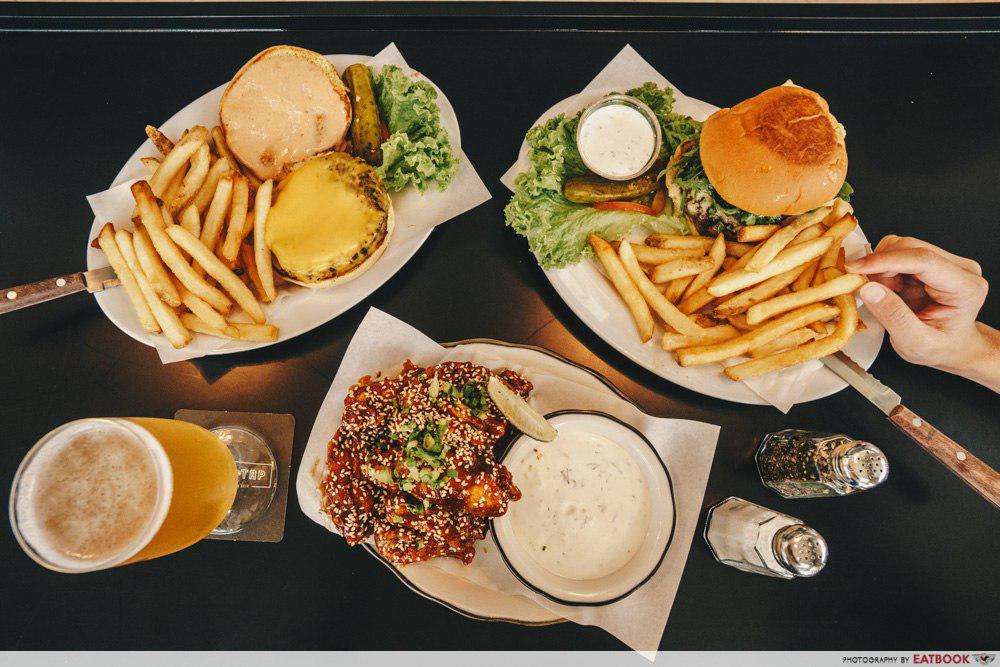 It has been more than five months since we last heard news about the opening of Black Tap in Singapore. A die-hard fan of decadent cheesy burgers, I first read the news with excitement and then felt the disappointment set in when they did not confirm an opening date. After months of eager anticipation and stalking their IG page, the famous New York cheeseburger finally arrived at Marina Bay Sands (MBS) and I wasn't going to lose out on being one of the first few to check them out!
Food at Black Tap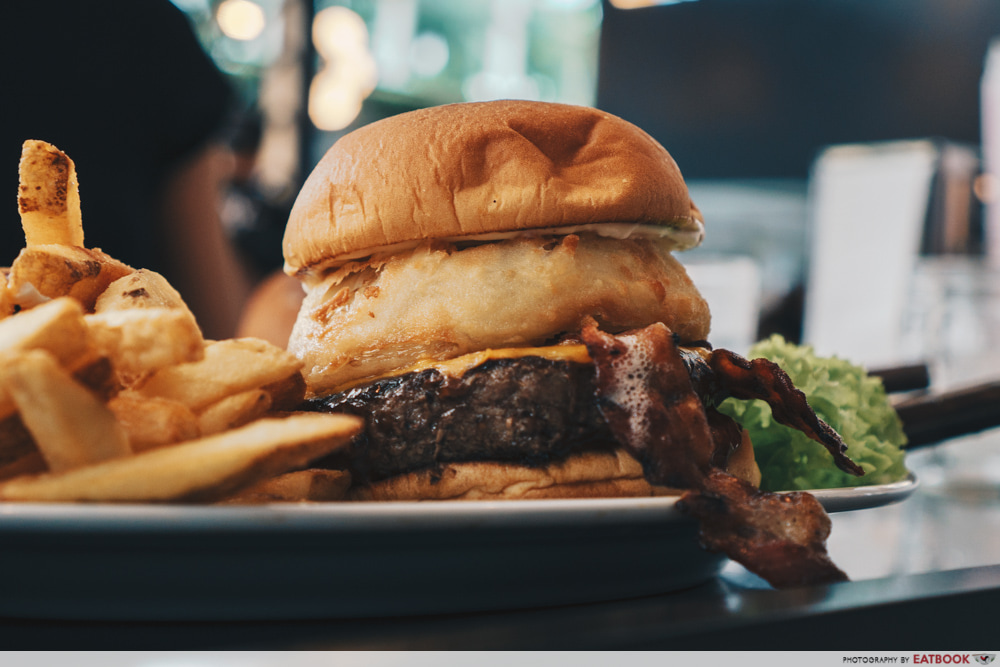 Nearly everyone at the restaurant was enjoying The Texan Burger ($25++), so we decided to jump on the bandwagon and ordered one too. And a good decision that was, as it was one of the best burgers I've ever had. Not for the faint-hearted or small eaters, the burger features a massive patty made from prime ground beef that's stacked with strips of crispy bacon, a huge onion ring, and aged cheddar. The buns are slathered with mayo, and Sweet Baby Ray's BBQ sauce is served on the side.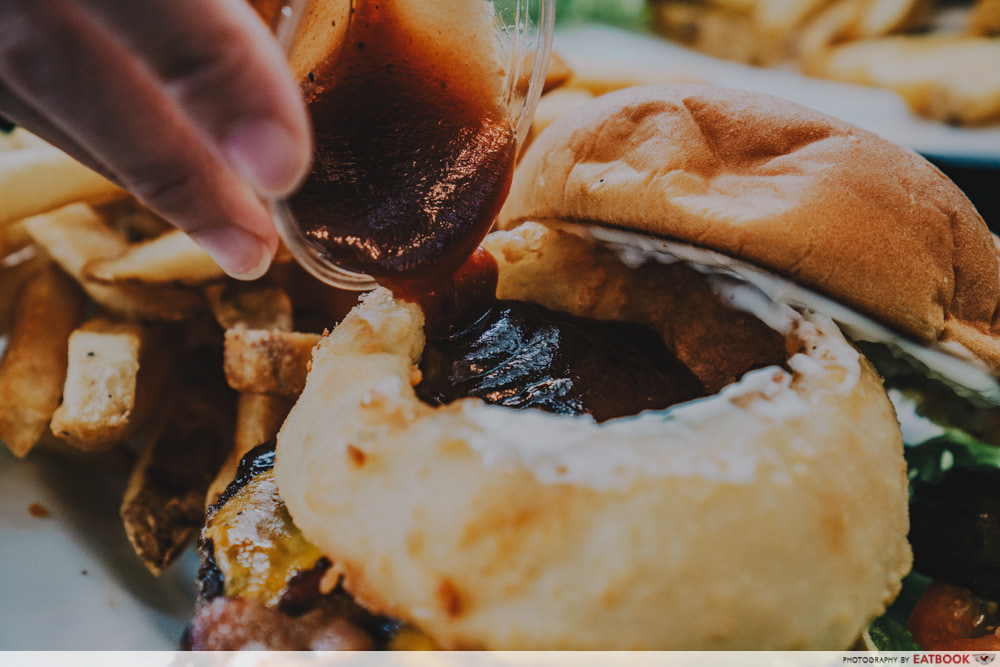 Juice from the burger drizzled down our hands as we conquered the burger. The smoky bacon complemented the patty well, and the sharp flavours from the BBQ sauce helped cut through the meatiness of the dish. Not the best indication on how delicious it was, but if you are a fan of Burger King's Bacon Cheeseburger, Black Tap's version is meant for the gods.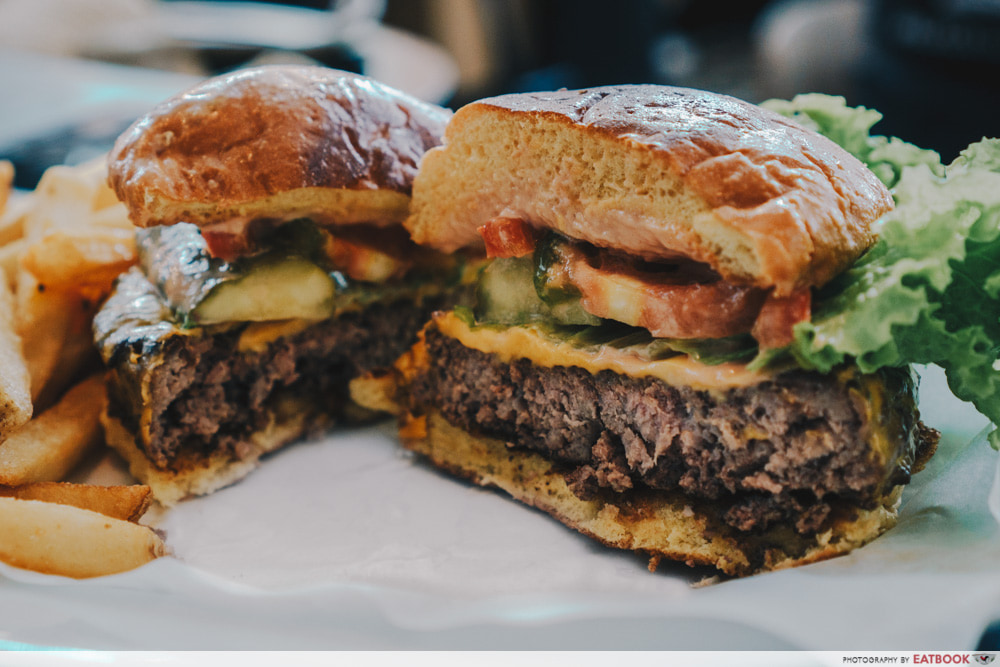 At first glance,  The All-American Burger ($22++) did not stand out from any other beef burger. But cut into it and you'll be surprised to find the thick patty slightly pink. The beef patty was cooked to just that right doneness where it didn't have a hint of blood oozing out but still retained plenty of juice. While the vegetables, cheese, and buns complemented the patty, the tastes of all the accompanying ingredients paled when eaten with the heavy-tasting patty. If you are a fan of beef, this burger basically tastes like a juicier and softer version of good ol' steak.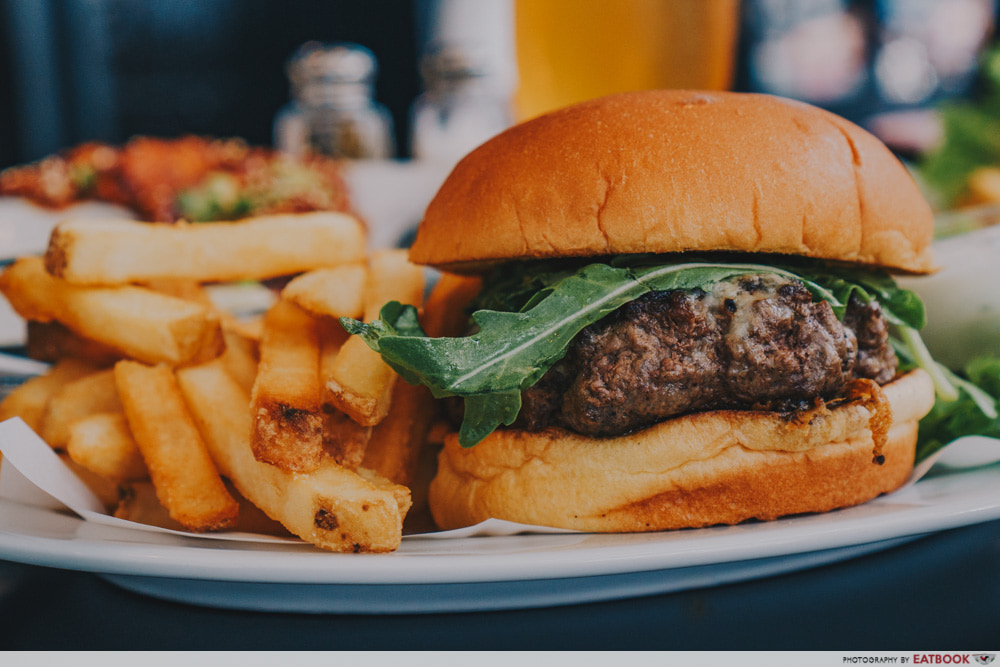 The next burger we tried is, according to a staff member, the most popular burger among New Yorkers. Before the burger was placed in front of us, I smelt pungent blue cheese wafting from The Greg Norman ($26++). Besides blue cheese being the highlight, the other star here would be the wagyu patty. Sandwiched with housemade buttermilk-dill sauce and arugula, just half of this burger would probably be enough to fill you up.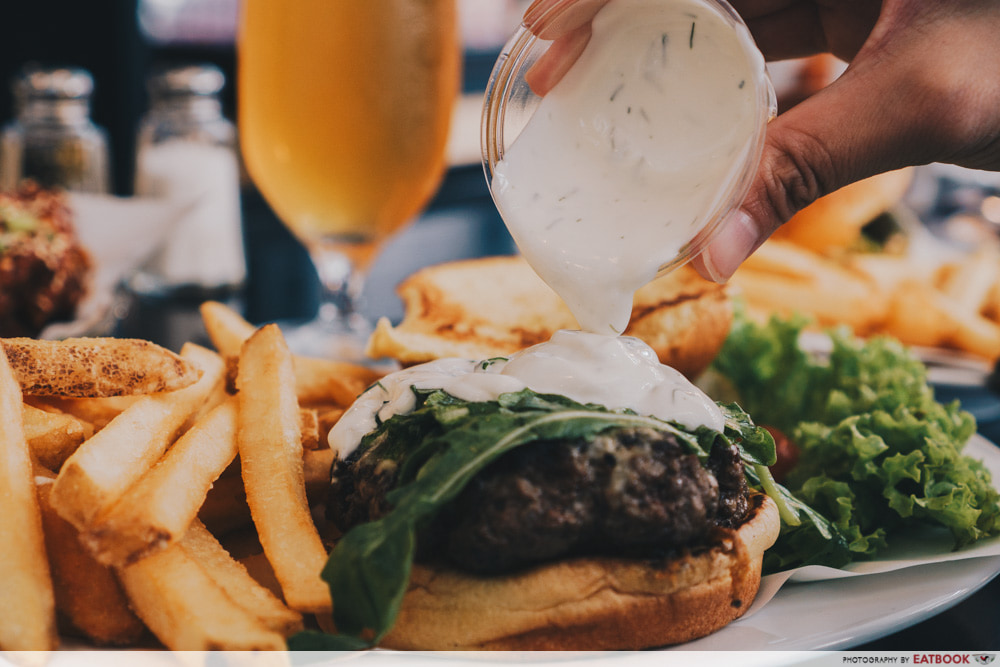 As with all things related to blue cheese, this is something you'd either absolutely love or hate. Those who enjoy the cheese will not be disappointed by the generous amount of it found in the burger. While the pungent smell and strong taste of blue cheese was initially overwhelming, the taste of the beef patty still managed to surface after a few bites.
Good as it was, I'd recommend sharing this with another blue cheese lover as the unique combination of heavy flavours became cloying after a few bites.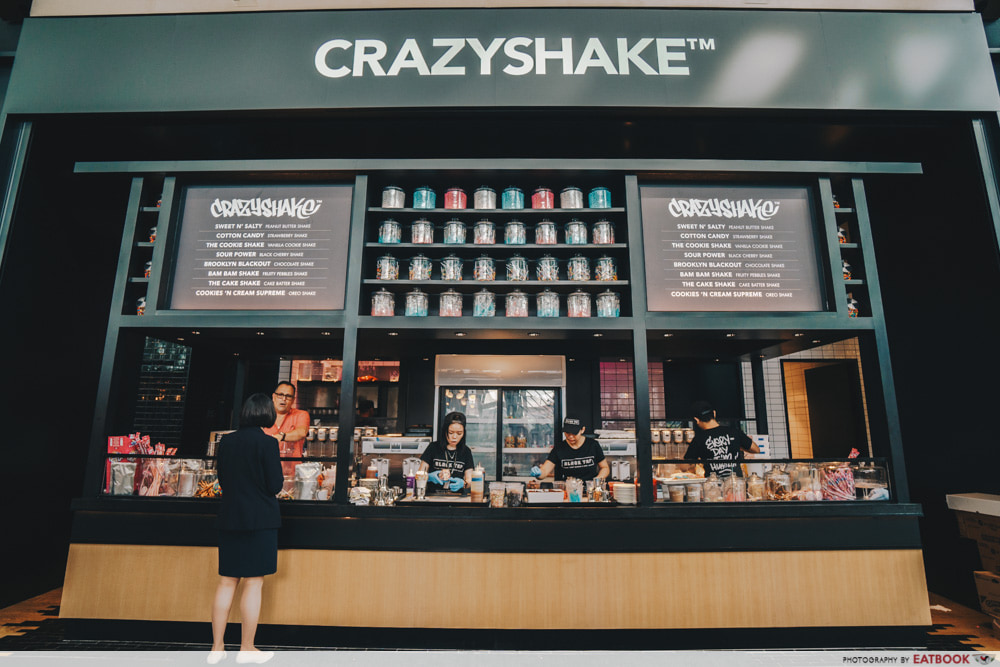 Though the signboard of the restaurant says "Black Tap Craft Burgers & Beers", their Crazyshakes are the real players. With an entire milkshake bar sitting at the entrance of the restaurant, we watched as the bartenders prepared our drinks and were wowed by the seemingly endless ingredients thrown into the glass.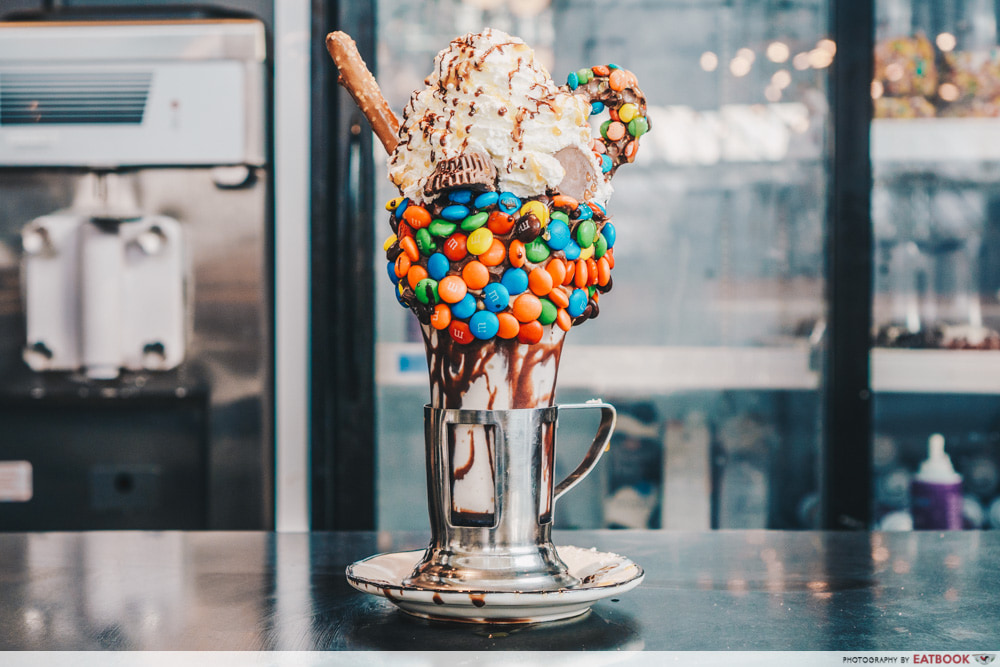 A favourite of mine was their Sweet N' Salty ($22++), a peanut butter shake comprising pretzels, peanut butter cups, whipped cream, and a chocolate-frosted rim topped with M&M's. If you haven't had the chance to try it, just imagine a milkier, smoother, and less sweet version of Reese's – in liquid form. Unlike many Freakshakes that overwhelm you with sweetness at the first sip, this was balanced with hints of saltiness from the peanut butter, making it addictive.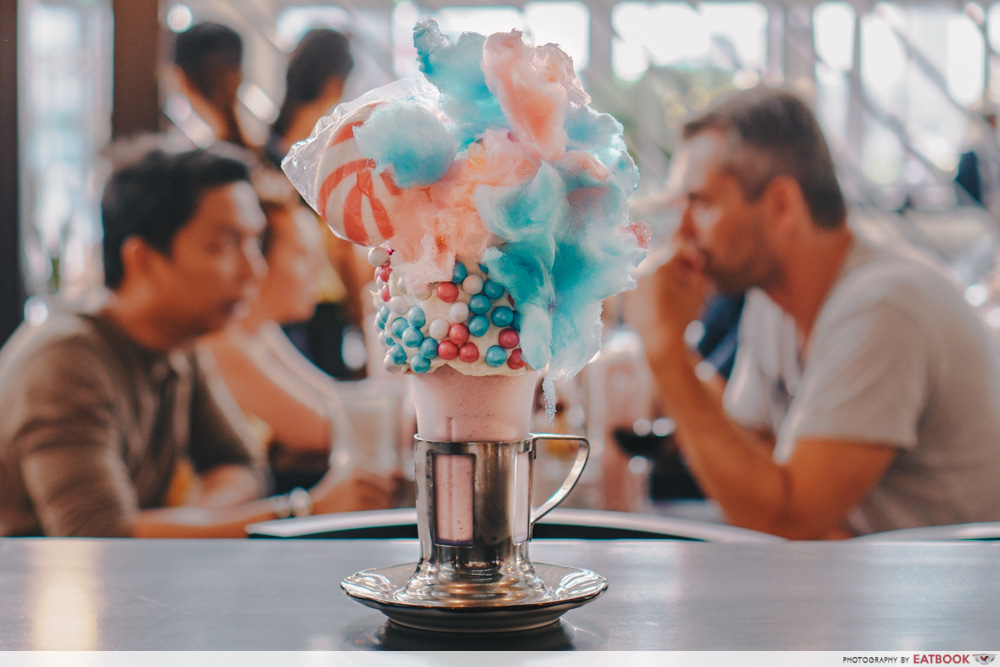 The shake that left us pleasantly surprised was the Cotton Candy ($22++). While a Cotton Candy shake sounds synonymous to diabetes, the strawberry milkshake was not as sweet as we had expected. However, the toppings of whipped cream, cotton candy, and sugary treats decorating it are bound to give you a sugar rush, so we recommend sharing this.
Ambience at Black Tap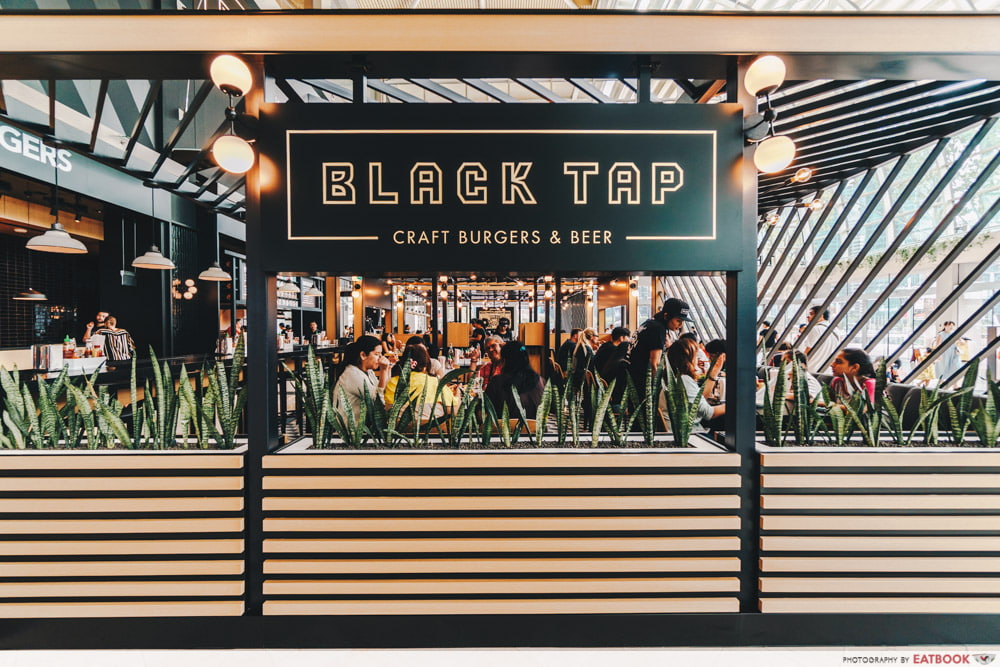 Unlike many restaurants at Marina Bay Sands that exude an exclusive Crazy Rich Asian vibe, Black Tap sports a much more casual ambience. With neon lighting, an alfresco-like dining area, and lively music playing in the background, this restaurant is probably one of the more relaxing and fun eateries in MBS.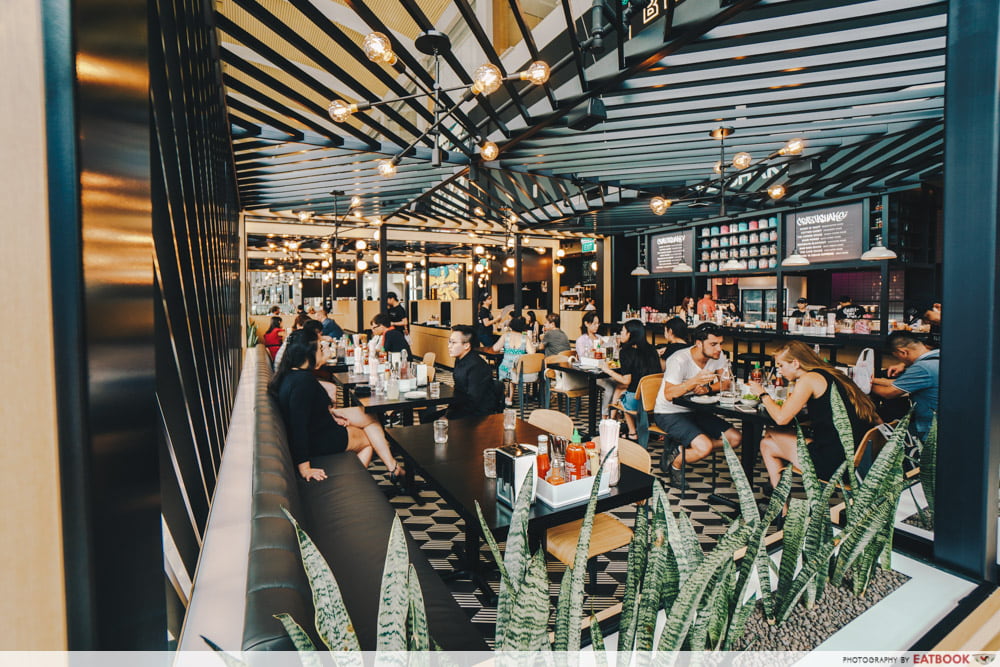 From high bar chairs to booth seats and comfortable sofas, this is a good place to head to whether you're planning for a date, family outing, or gathering with friends!
The verdict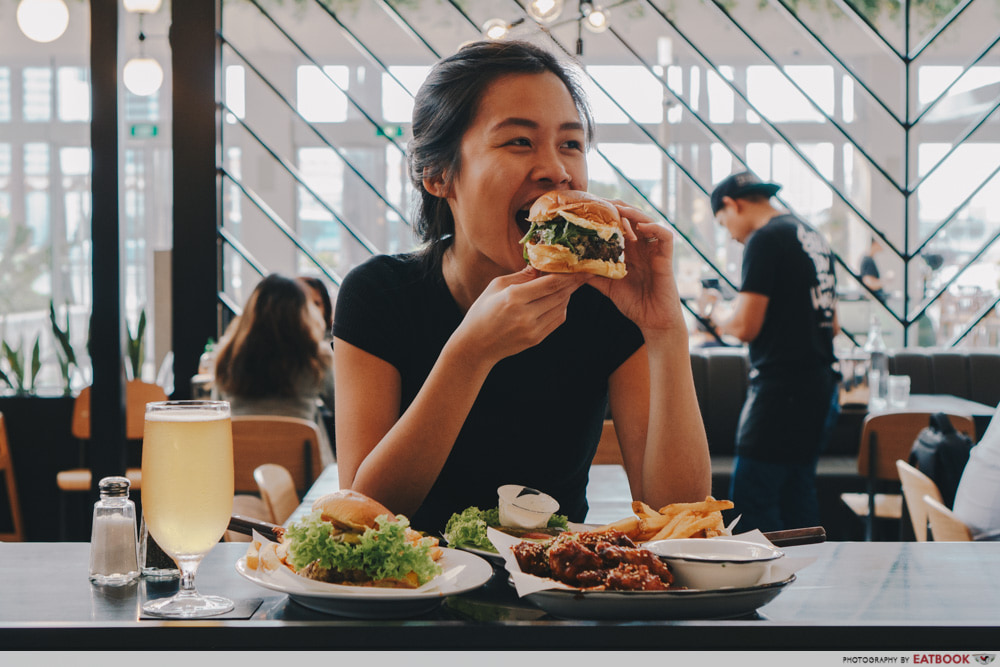 Having been teased by all the glorious photos from their IG page for months, I undoubtedly had high expectations for the burgers from Black Tap. Thankfully, I was not disappointed. Black Tap's burger takes the lead for me with their juicy patties and huge portions. I liked how even the simplest of burger made for a decadent treat. For first-timers visiting Black Tap, I'd say the milkshakes are worth a try, but they are not what I would return for.
Address: 10 Bayfront Avenue, #L1-80, The Shoppes at Marina Bay Sands, Singapore 018956
Opening hours: Daily 11am to 11:30pm
Tel: 6688 9957
Website
Black Tap is not a halal restaurant.
This was a media tasting at Black Tap.
Black Tap Singapore Review: Prime Beef Burgers And Crazy Shakes At Marina Bay Sands
Summary
Pros
– Delicious burgers
– Friendly staff members
– Vibrant ambience
Cons
– Doesn't accept reservations
Recommended Dishes: The Texan Burger ($25++), Sweet N' Salty ($22++)
Opening Hours:
Daily 11am to 11:30pm
Address:10 Bayfront Avenue, #L1-80, The Shoppes at Marina Bay Sands, Singapore 018956