Gosh! Inspiring Creations serves up cheap seafood
Update: Gosh! Inspiring Creations has permanently closed.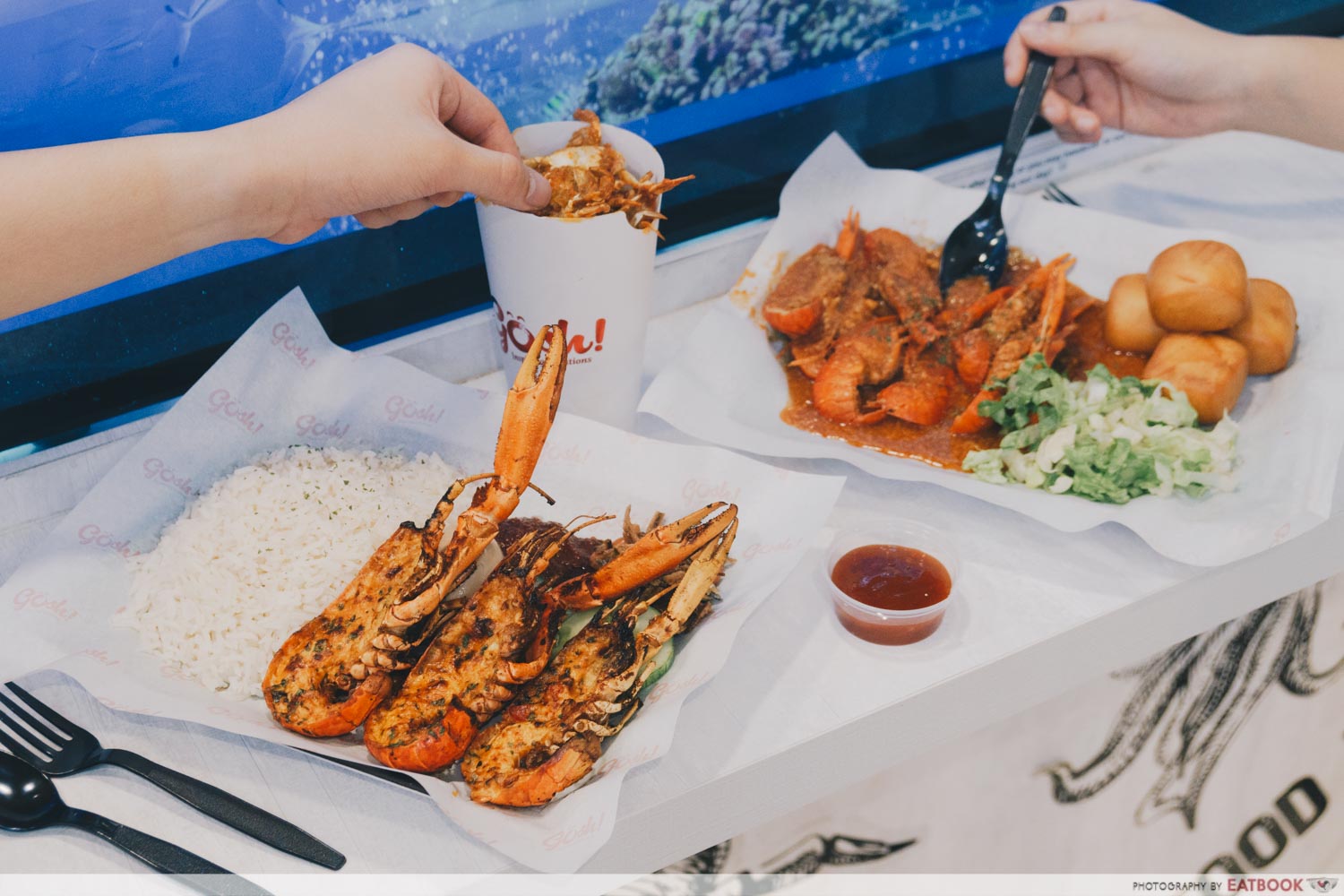 I love seafood. But dining at legit seafood restaurants or even zi char stalls can be pricey. Gosh! Inspiring Creations seeks to sidestep those issues, with a bevy of fresh seafood dishes under $10. Most eye-catching are their mini lobster offerings, which usually retails for more than $25 in a nice restaurant.
Prices are kept low here because the owners are seafood importers. This means they don't need to pay a middleman to source their produce. The lobster dishes actually feature Indonesian freshwater yabbies, a crayfish cousin originating from Australia.
Following their successful pop-up at Geylang Bazaar, they decided to open at AMK Hub's basement three months ago, with hopes to expand in the near future.
Food at Gosh! Inspiring Creations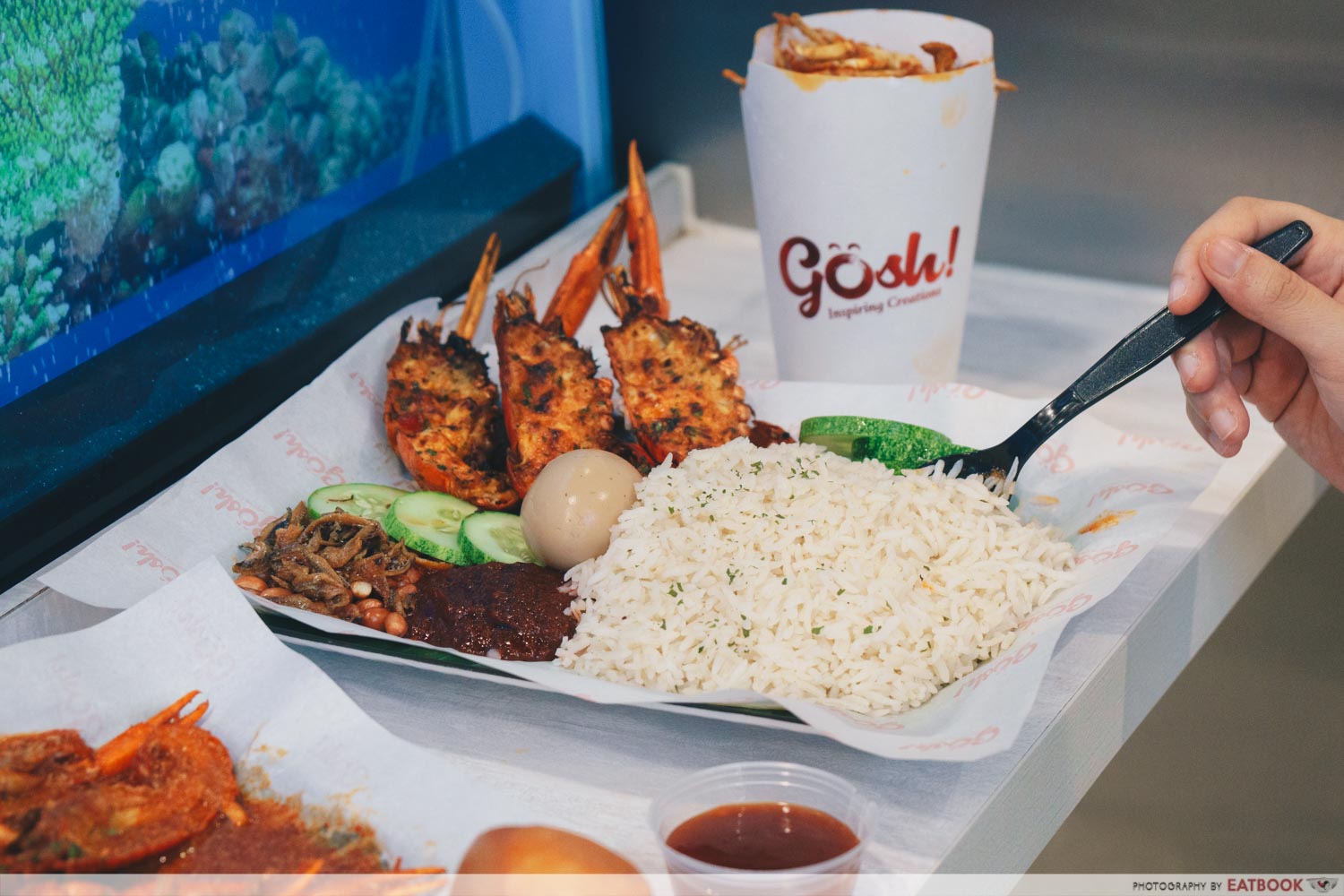 Mini Lobster Nasi Lemak ($9.80) is the marquee dish here. This plate contains all the usual nasi lemak accessories, but stars grilled butterflied yabby in place of the ubiquitous fried chicken thigh. Considering the avalanche of rice and sizable yabby we were given, it's unbelievable that this dish dips under $10.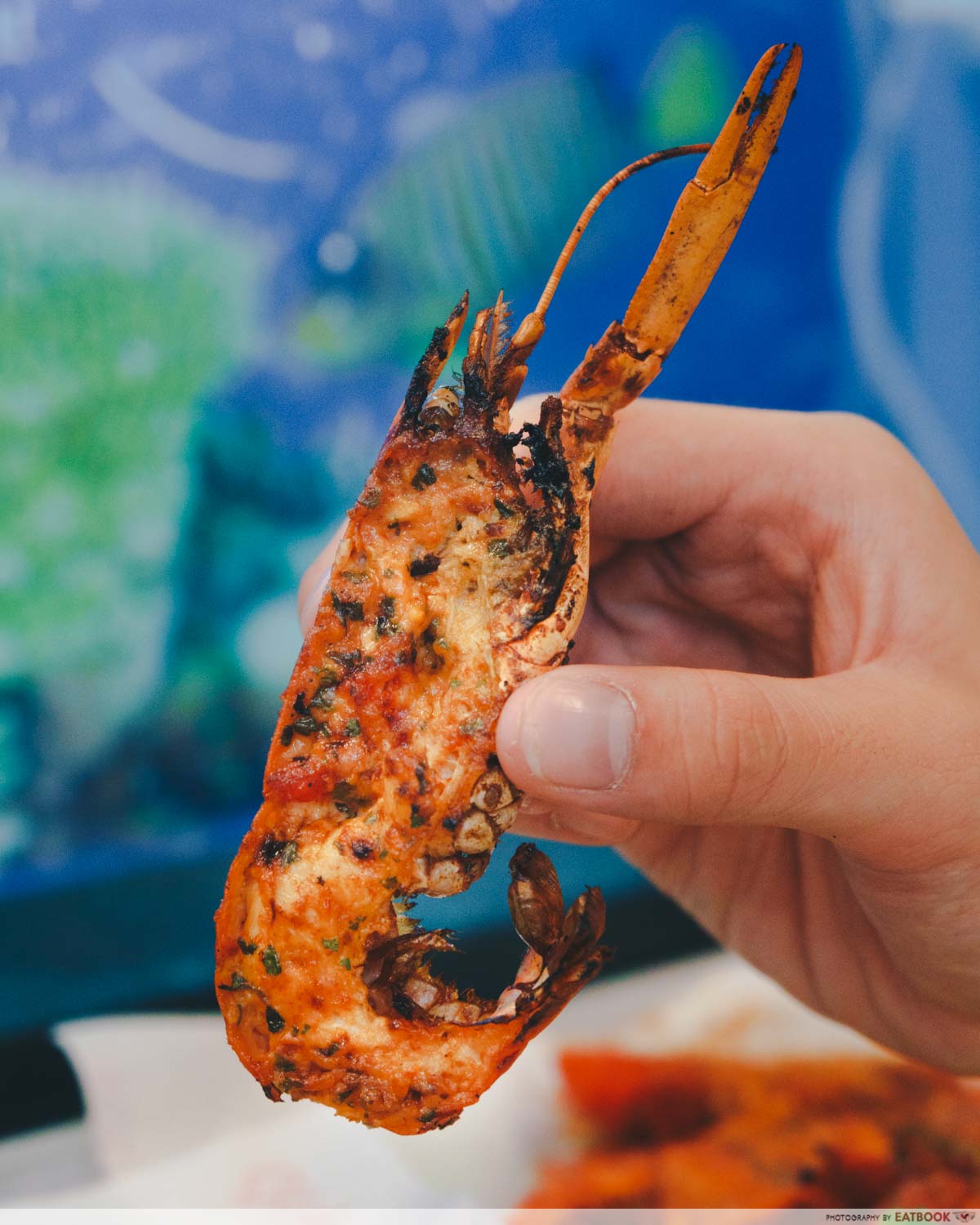 Make no mistake, this dish is all about the yabby. It doesn't disappoint. We were given two vividly orange-shelled halves, topped with a layer of lightly charred, spicy mayo sauce.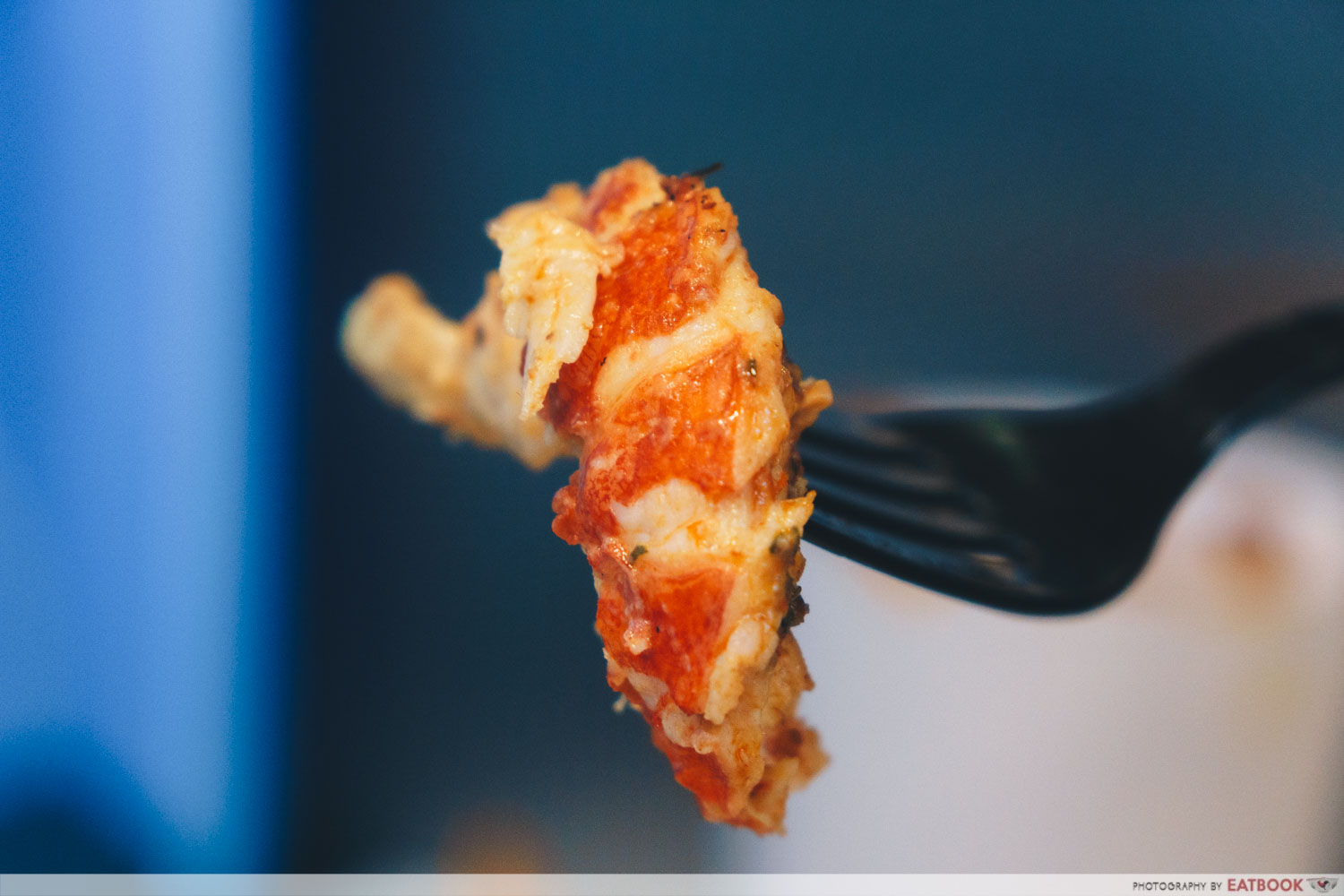 There's a fine line between juicy, tender lobster goodness and unpleasantly rubbery flesh. The first good omen came when we extracted the meat without much struggle – indicating tenderness – rather than crumbling as we pulled. It was equally impressive on the tongue, due to the soft, springy meat.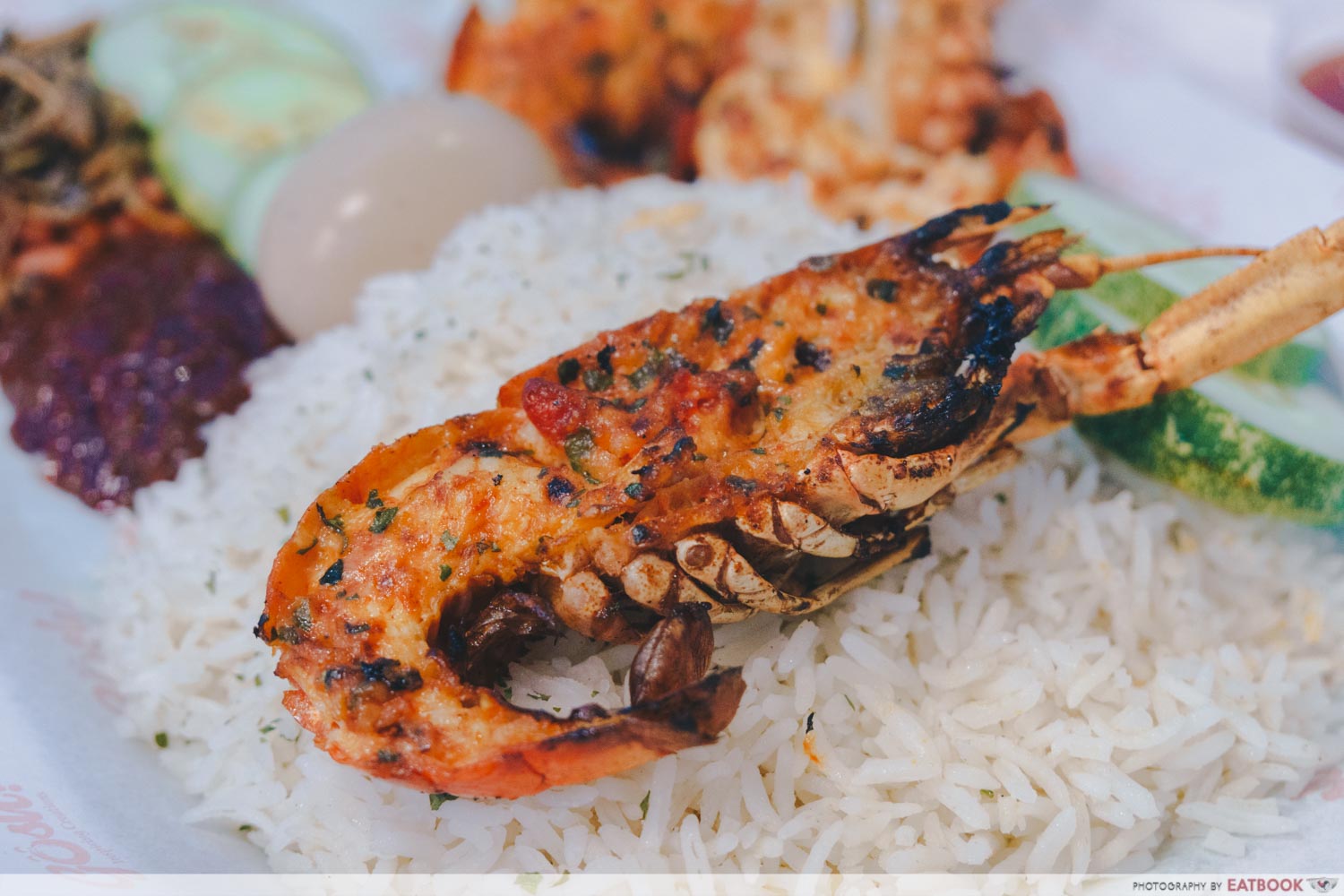 Spicy mayo sauce sounds pretty run-of-the-mill, but it complemented the yabby effectively here. It was creamy and garlicky, but also had sweet chilli tickling the back of our palates. The yabby was also grilled with a secret 13-spice mix, which granted a complex, umami edge.
For me though, it's not so much that the sauce tasted good in isolation, but that it accentuated the delicately sweet lobster flesh. It highlighted the star ingredient without being overpowering. It was vaguely reminiscent of mentaiko mayo, which is a beloved condiment on our shores.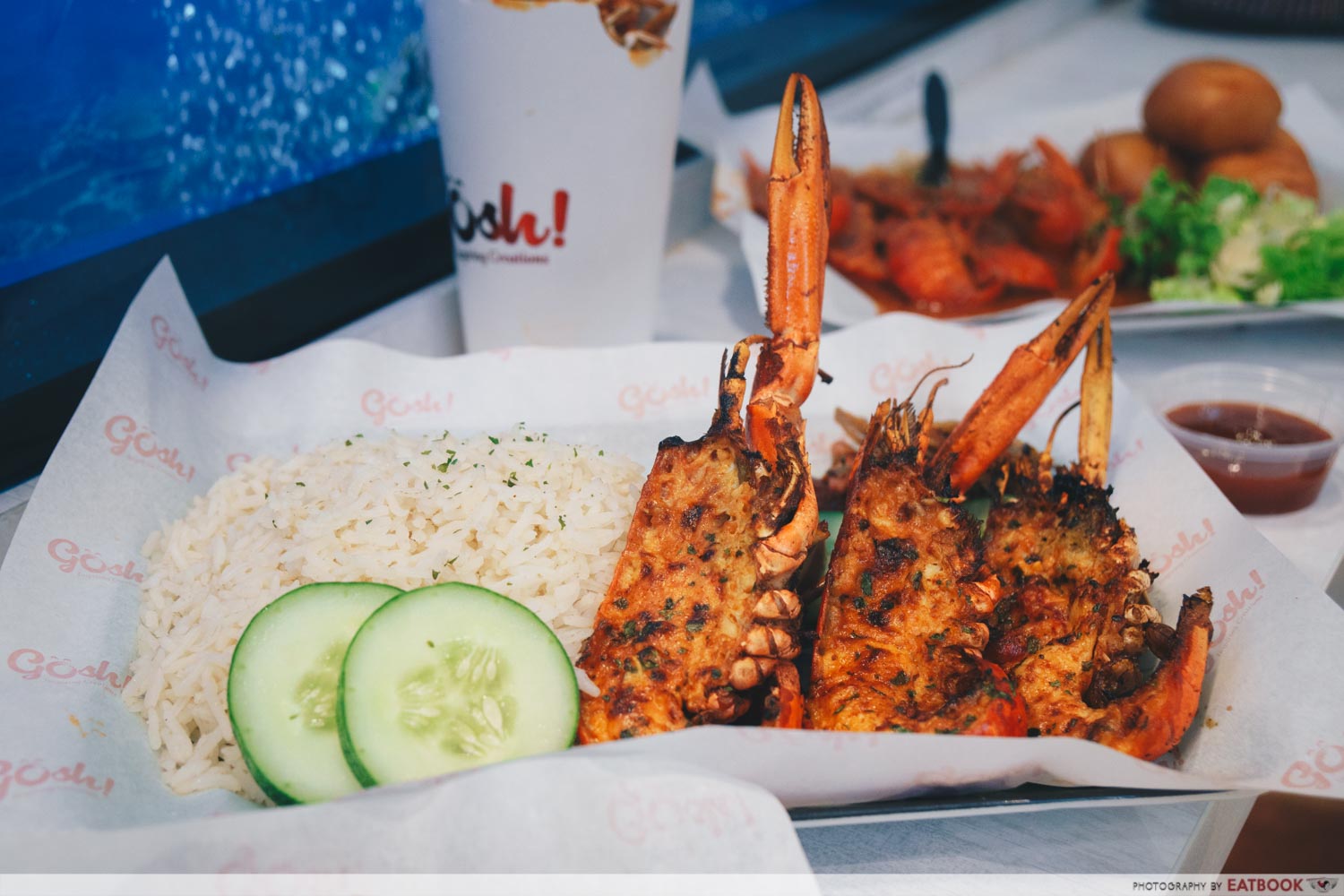 A reinvented hawker favourite is always met with scepticism. Innovation is all well and good, but the success of such a dish hinges on executing the fundamental pillars of the original. For nasi lemak, that's the rice. Frankly, it was a disappointment compared to the remarkable yabby.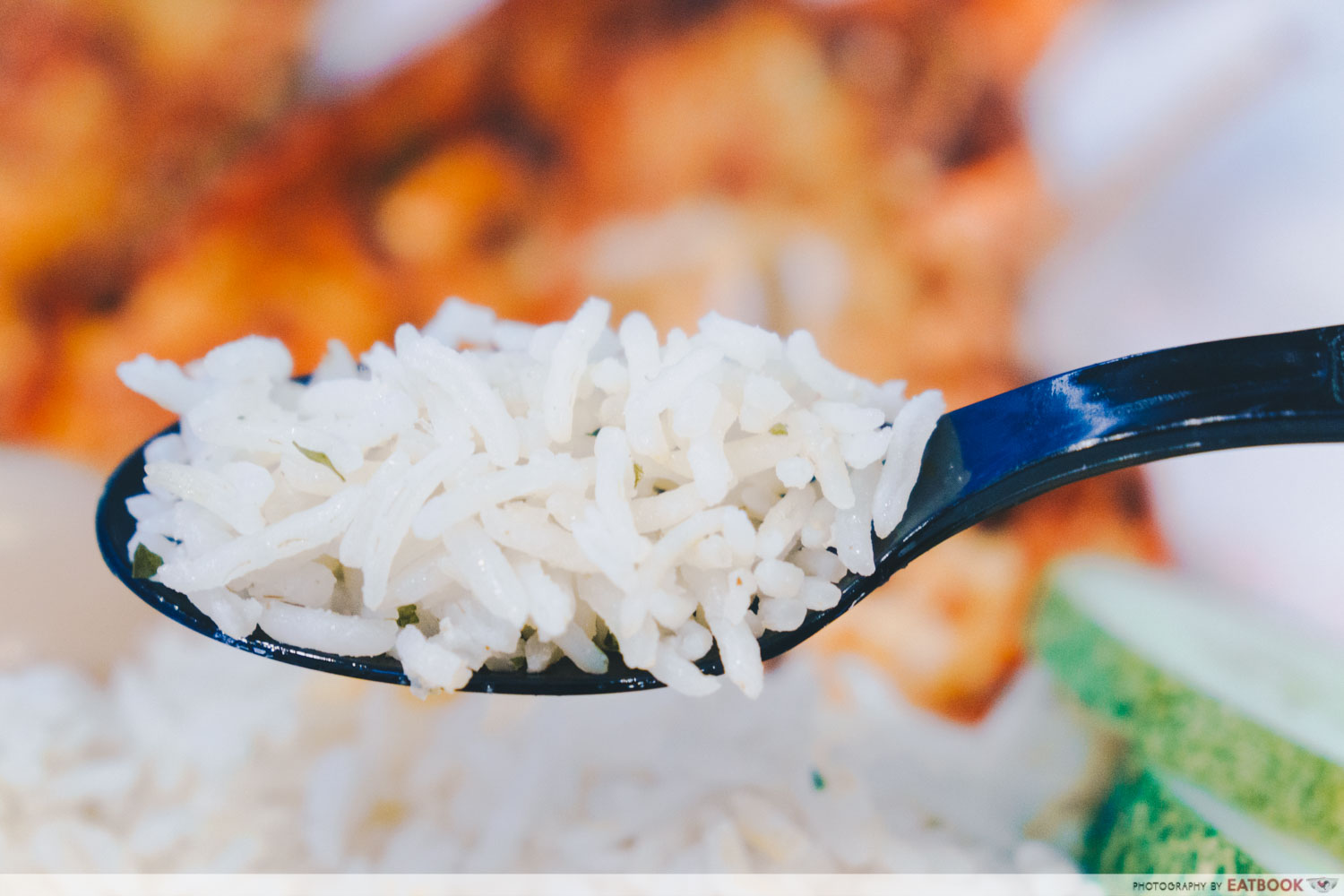 Its lemak fragrance was extremely faint, and we were instead met with a strong herbaceous aroma. It was more like buttered rice or pilaf rather than nasi lemak. While we appreciated the use of long, loose grains in nasi lemak, this was a little too dry.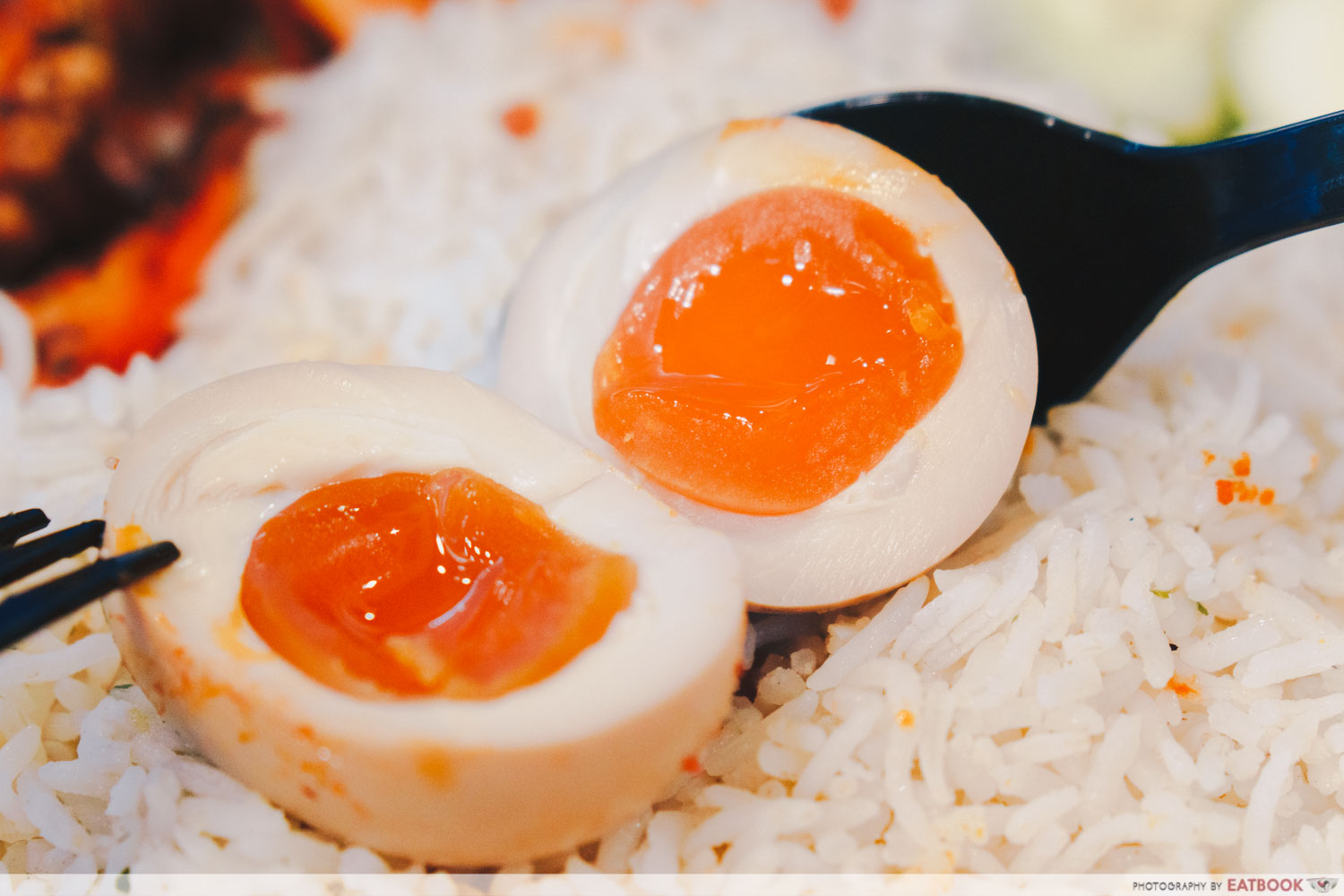 One nouveau feature we did enjoy was the nitamago, or ramen egg. It had a pleasant, light soy flavour that permeated throughout, and a deep orange, semi-molten core. Its creaminess helped alleviate the rice's dry texture, while its flavour, in partnership with the mentaiko-esque spicy mayo, gave an intriguing Japanese slant to this dish.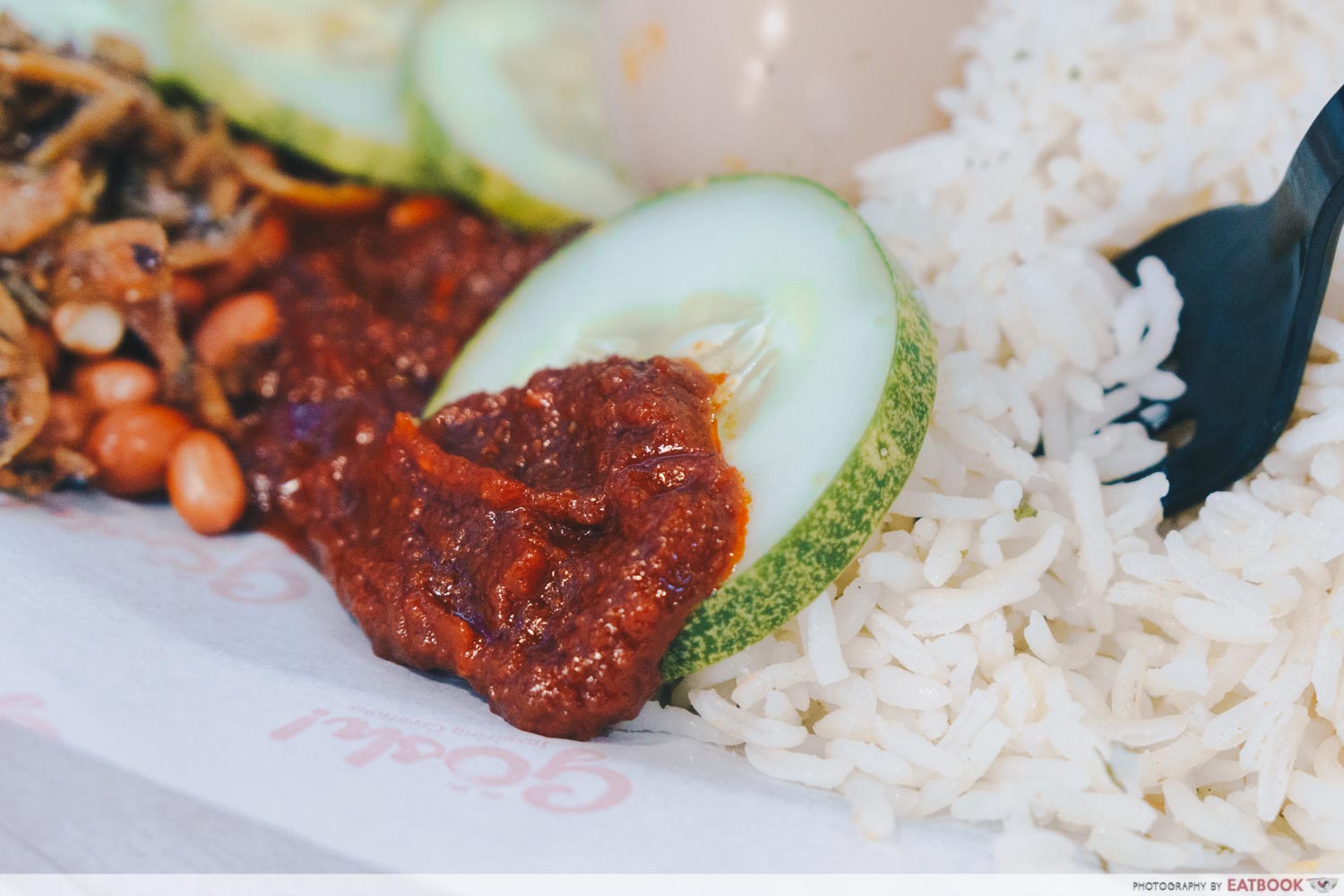 The sambal and ikan bilis were pretty typical, with the latter granting an occasional pop of salty flavour. Enjoy your yabby without the sambal though, as its sweet and spicy punch masks the yabby's subtleties.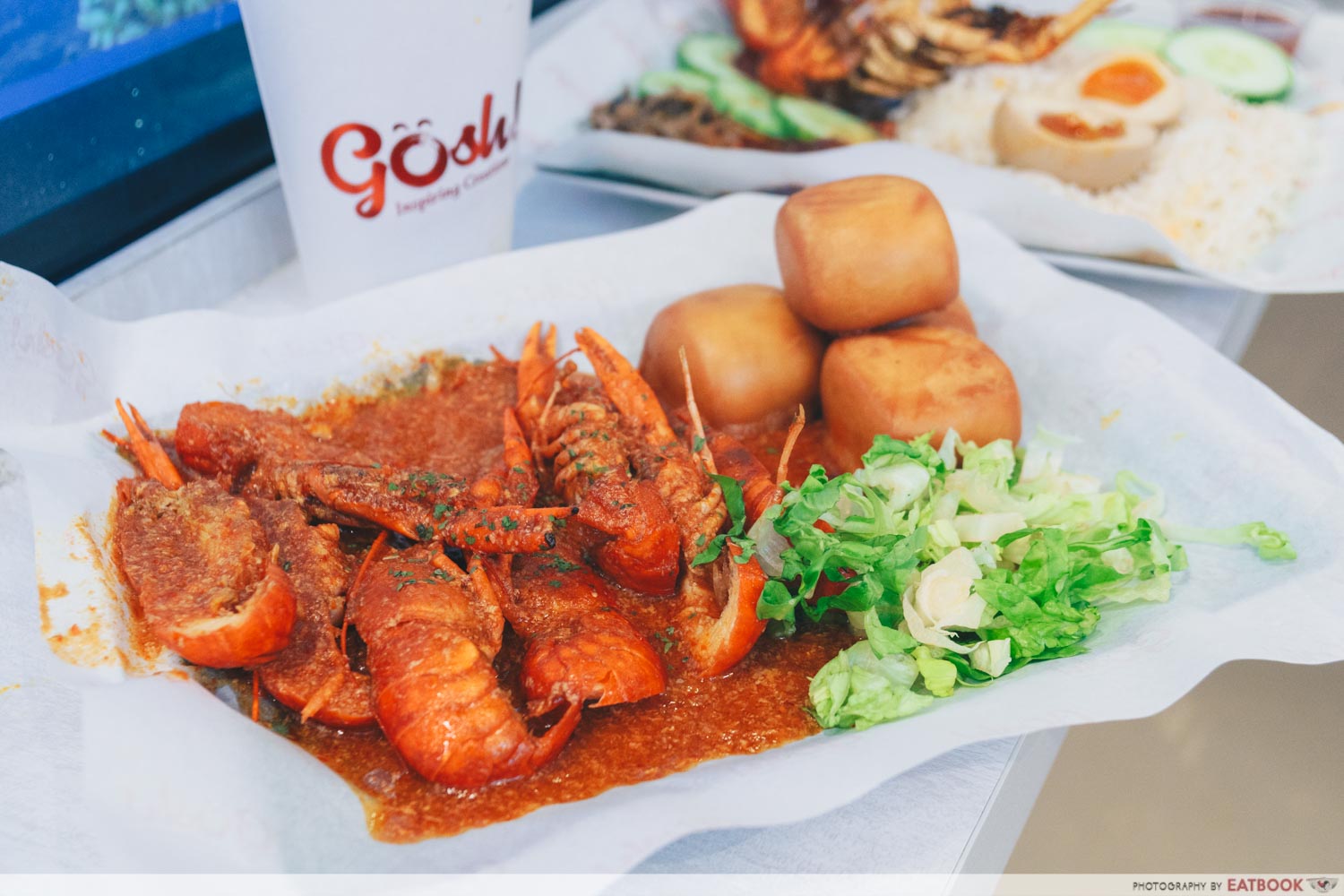 Chilli crab is the most popular crustacean dish in Singapore, so transposing that flavour to these yabbies seems like a no-brainer. Considering its price, the Chilli Crab Sauce Mini Lobster with Mantou ($6.80) came with a surprisingly large pile of yabbies, as well as four mantou to mop up the sauce.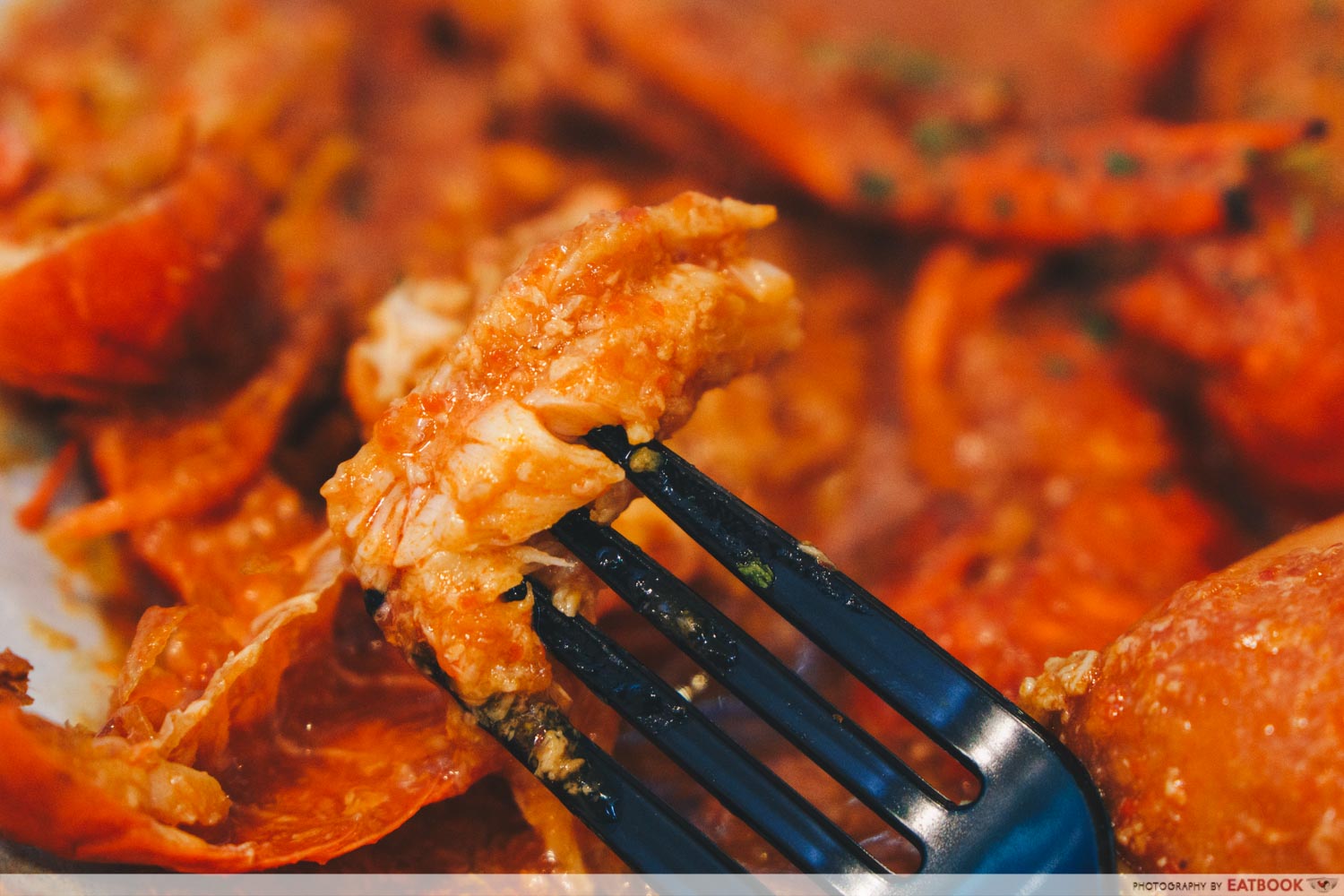 We were expecting the same plump yabbies from our nasi lemak, but were instead greeted by smaller variants. While that's not a bad thing in itself, it disappointed as it wasn't juicy, possessing a slightly powdery rather than springy texture. This indicated that it was overcooked.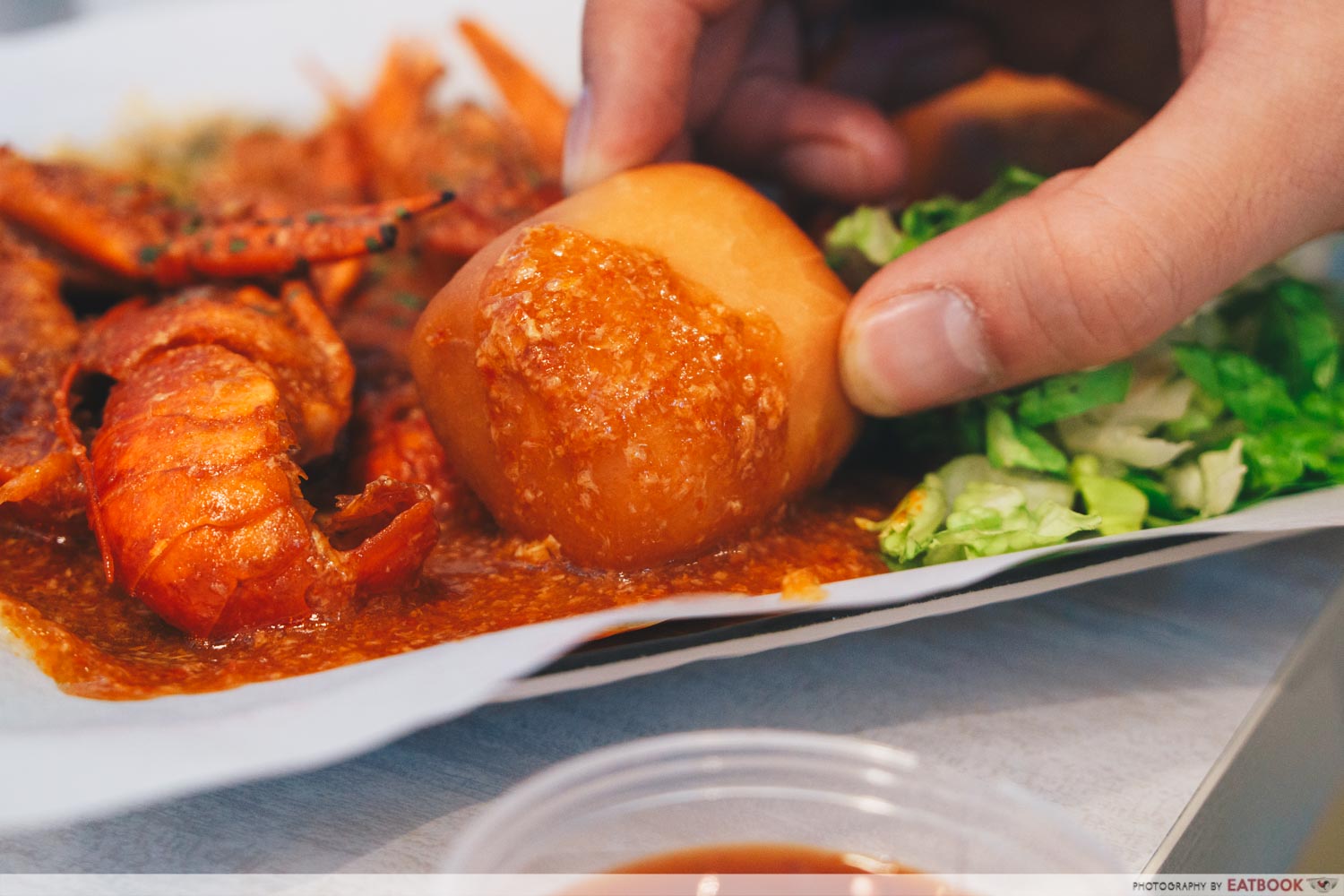 The sweet chilli crab sauce was quite robust, with tomato-y, gingery notes leading the way. But it still left me wanting for more. Good chilli crab sauce needs to have that infusion of seafood umami to balance its sweetness, but we were unable to discern any seafood flavour here.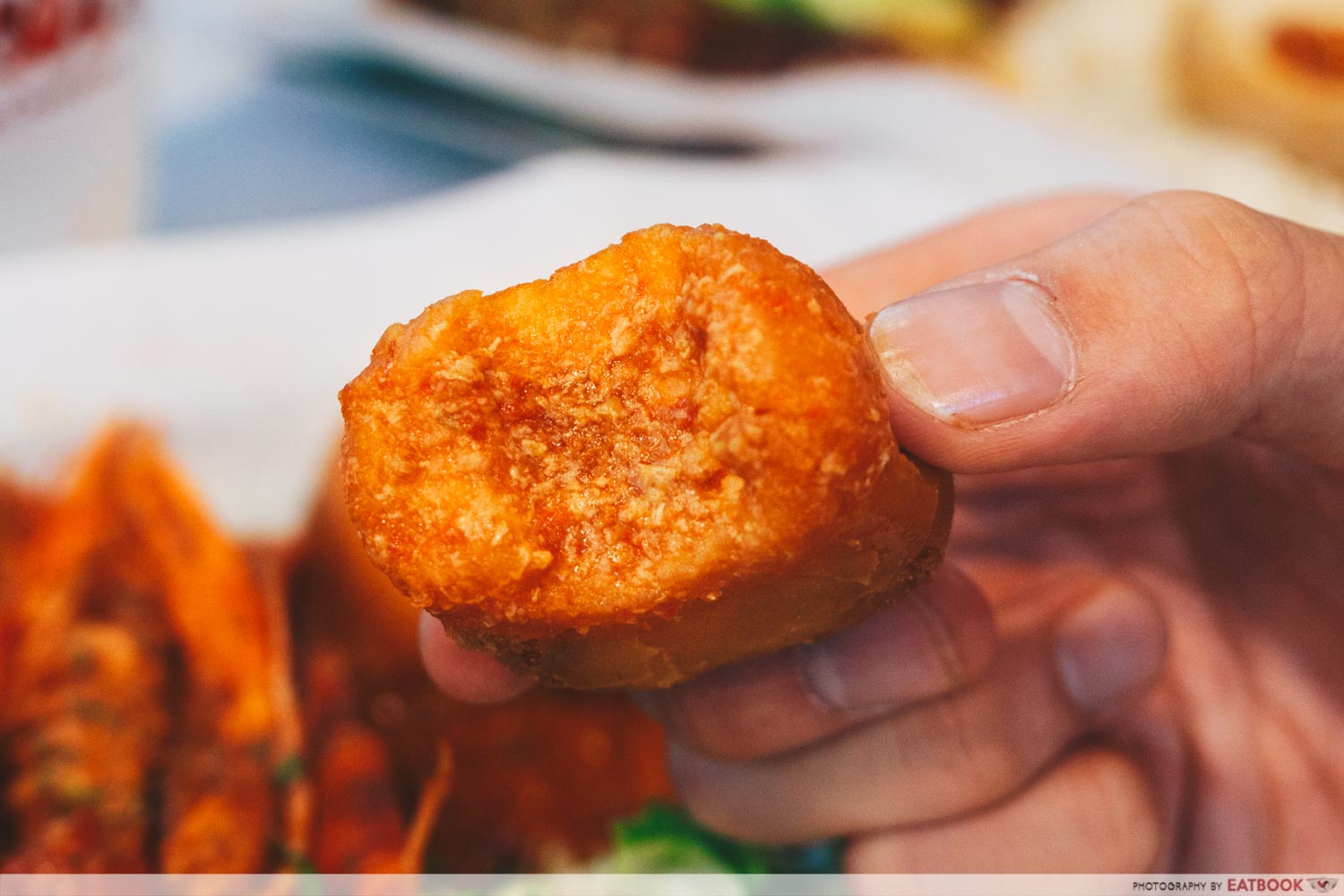 It's pretty hard to go wrong with crisp, fluffy mantou though, so even though we were less than impressed by the sauce, we still found ourselves mopping it all up with the mantou.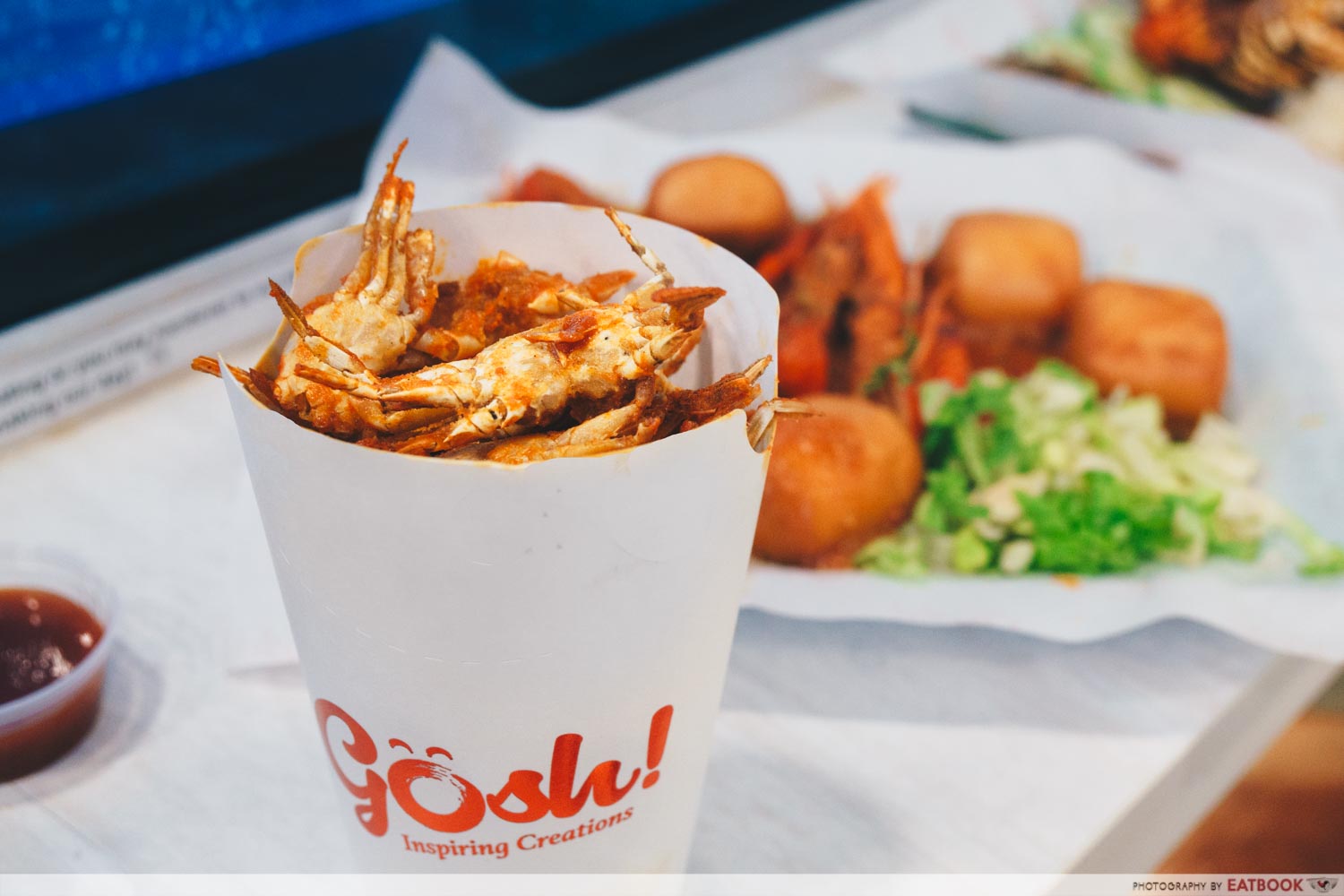 I'm not a big fan of mini crabs in general. The first few pieces are nice, but after a while, my mouth just gets dry and coated with the flavour of oil. It's an inherent issue for any fried dish without juicy meat or a sauce. For me, soft-shell is the way to go in terms of fried crabs. Gosh's Mini Crabs ($5) were one of the better ones I've tried though, and it was my dining companion's favourite dish.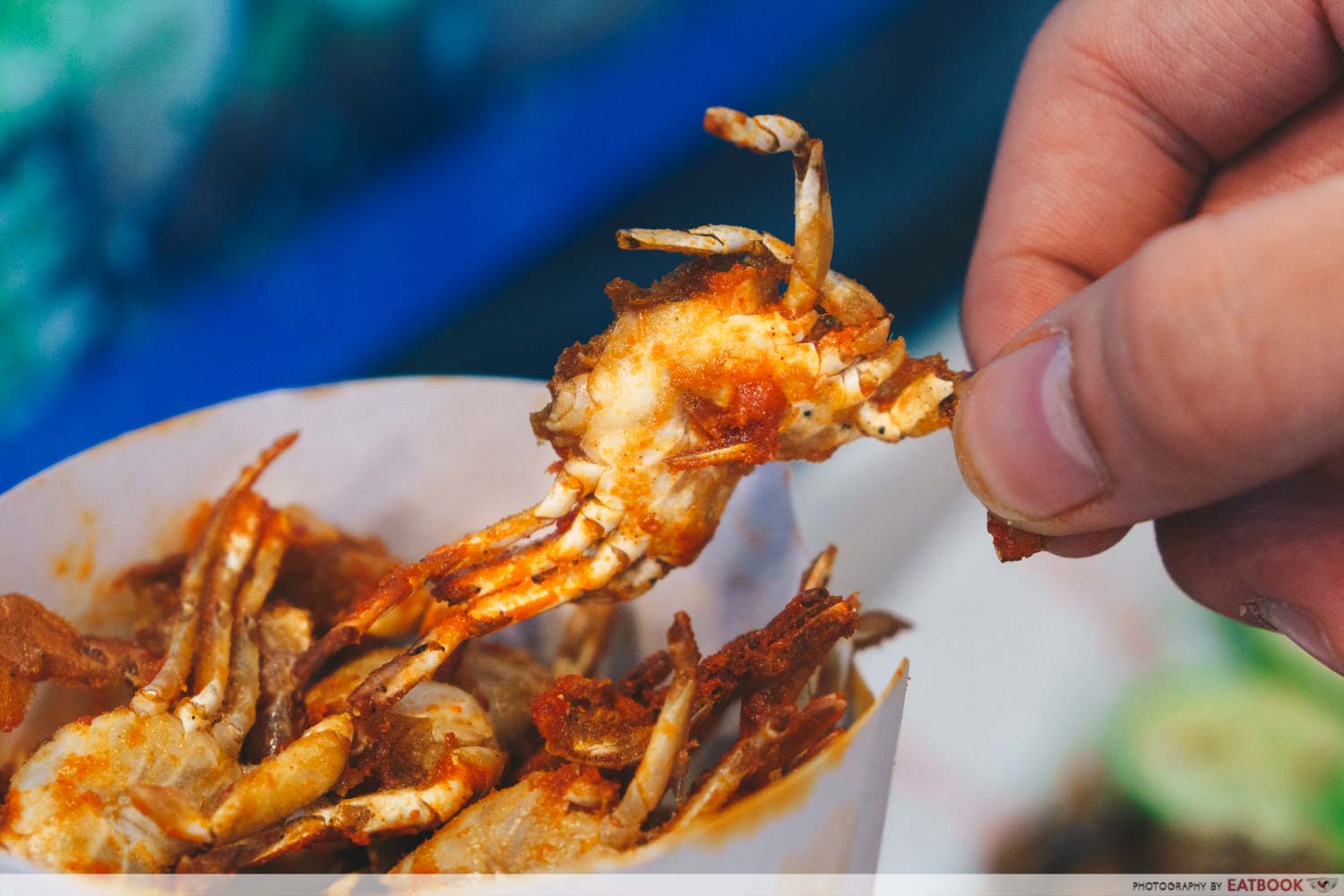 It had a strangely nostalgic flavour, reminding me of a slightly briny version of Calbee's Hot and Spicy potato chips, one of my favourite secondary school snacks. Spicy, salty and ever-so-slightly sweet, these are pretty addictive.
However, they did get predictably jelak after awhile, and most people would struggle to finish the whole cup by themselves. Share it with a friend for maximum enjoyment.
Ambience at Gosh! Inspiring Creations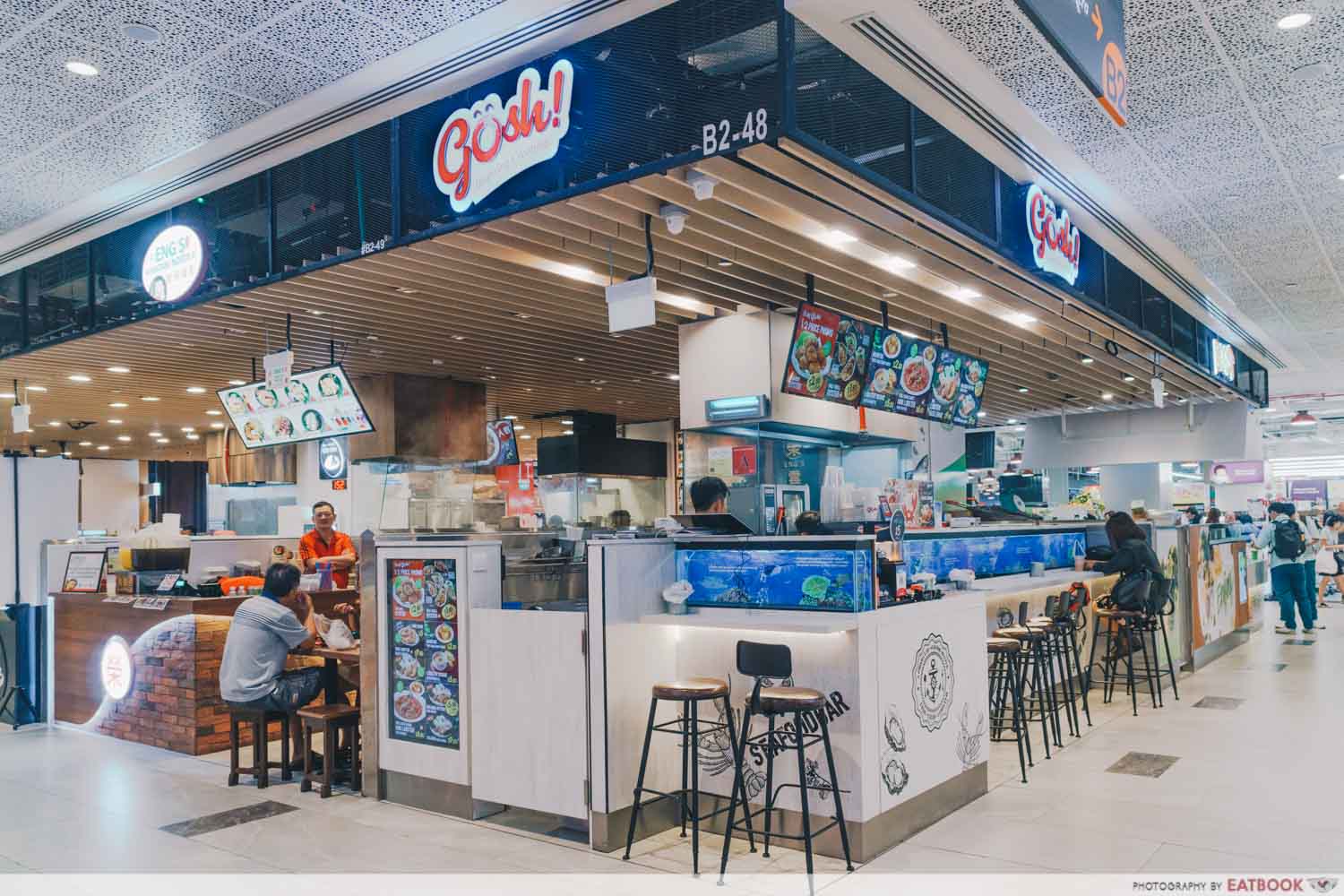 Located at AMK Hub's busy basement food hall, this stall is in the perfect location for students looking for an after-school snack. Lobster is usually out of a student's price range, but with all menu items under $10, Gosh! gives students a new option for some seafood indulgence without burning through their weekly allowance.
There's only limited counter seating along the stall's frontage though, so be prepared to da bao your yabbies during peak periods.
The verdict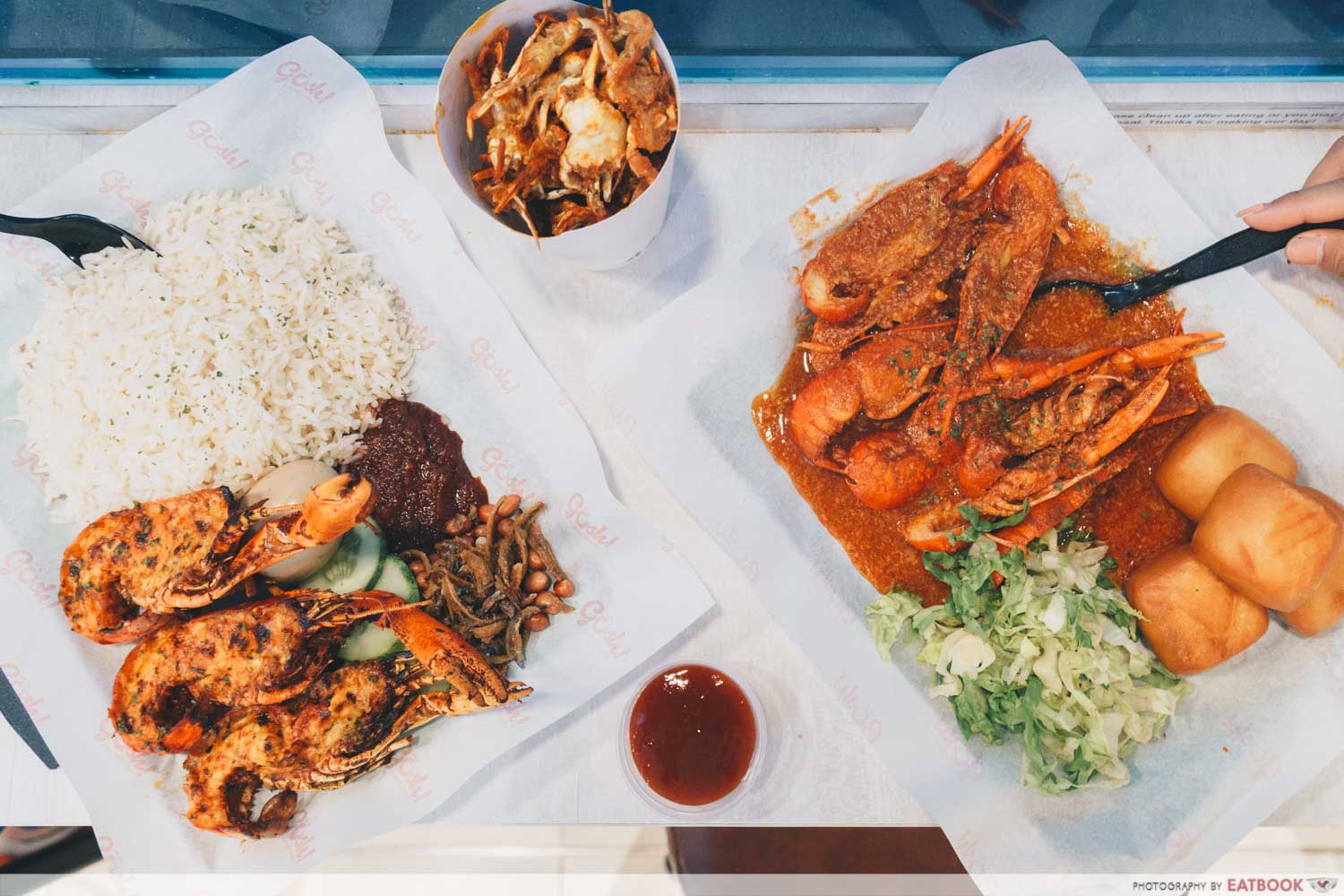 With its low prices and fresh seafood, Gosh! Inspiring Creations is a fantastic option for people who want to experience atas seafood without blowing a wad of cash. For the most part, their seafood is cooked and seasoned well, but they perhaps need to adjust the renditions of local flavours.
It's also a great place to head down with your Muslim buddies, as all the ingredients are halal and they are in the process of receiving halal certification too.
We noticed cheap oyster offerings such as Half Shell Oysters and Breaded Oysters on special promotion too, and I would personally consider coming down again to check those out.
For more unexpected lobster dishes, check out our review of Jom Makan BBQ Seafood's Boston Lobster with Maggi Goreng. Alternatively, head down to these 10 JB seafood restaurants serving cheap crab and lobster for seafood dishes that don't break the bank.
10 Johor Bahru Seafood Restaurants Serving Cheap Crab And Lobster From $2.30 Per 100g
Let us know your favourite seafood specialists in Singapore in the comments below!
Address: 53 Ang Mo Kio Avenue 3, #B2-48, AMK Hub, Singapore 569933
Opening hours: Daily 10am to 10pm
Tel: 8686 9918
Website
Gosh! Inspiring Creations is in the process of obtaining halal certification.
Photos taken by Leong Kit Shan and Pepita Hope Wauran.
This is an independent review by Eatbook.
Gosh! Inspiring Creations Review: Mini Lobster Nasi Lemak Under $10 At AMK Hub
Summary
Pros
– Great value-for-money
– Fresh seafood
– Accessible location
Cons
– Local recipes need tweaking
– Limited seating
Recommended dishes: Mini Lobster Nasi Lemak ($9.80), Mini Crabs ($5)
Opening hours: Daily 10am to 10pm
Address: 53 Ang Mo Kio Avenue 3, #B2-48, AMK Hub, Singapore 569933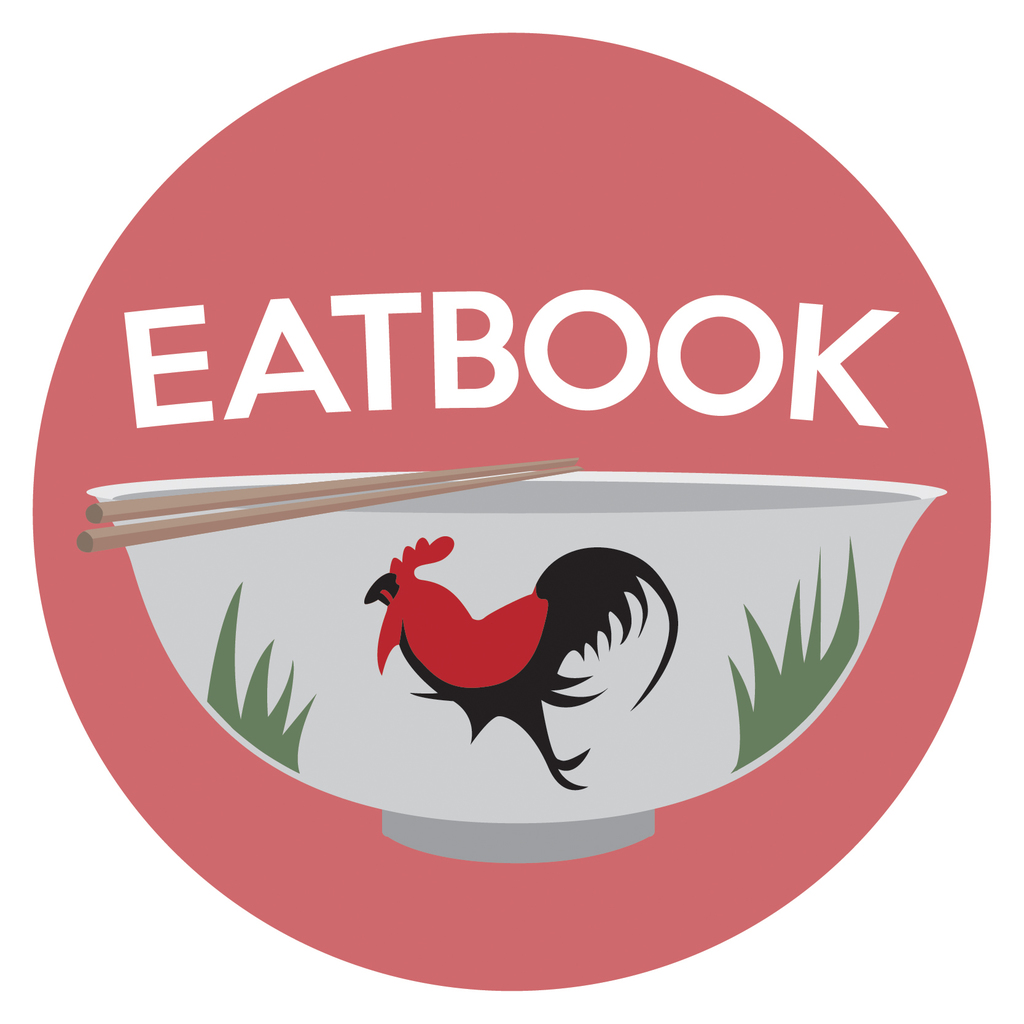 Drop us your email so you won't miss the latest news.