Five Guys at Plaza Singapura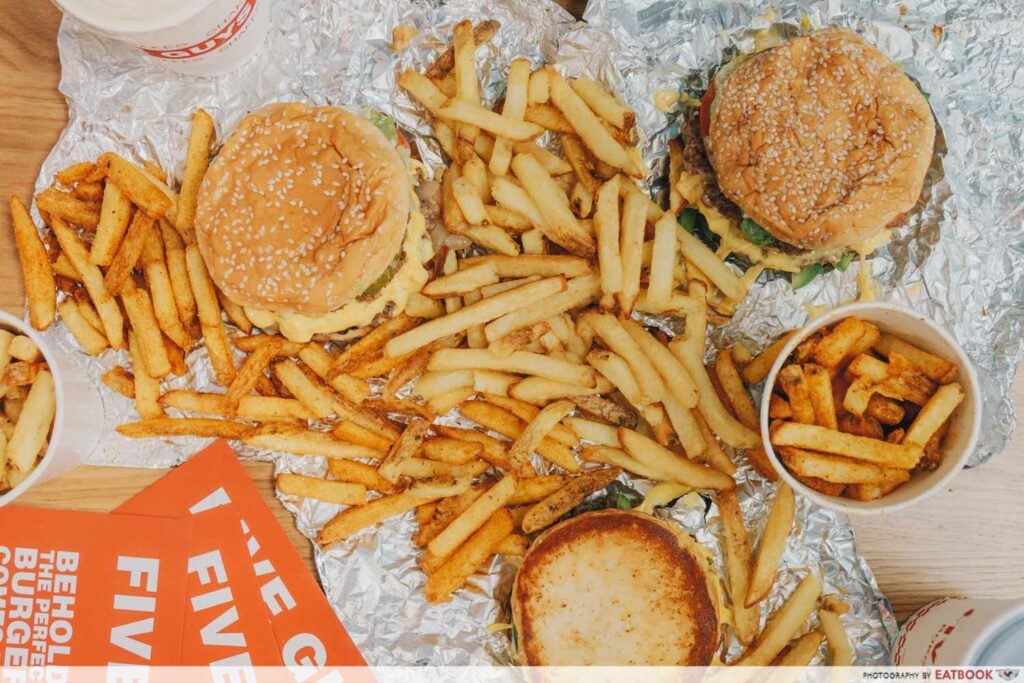 For the longest while, fast food in Singapore meant Burger King, McDonald's, and KFC, with Carl's Jr. and Long John Silver's coming into mind occasionally. Then, 2019 came and we've been blessed with A&W, Shake Shack, and now Five Guys. Hailing from America, this famous burger joint has been the talk of the town since news broke out in July 2019. You can expect your feed to be flooded with their massive burgers from 16 December 2019 onwards, as the fast-food chain opens its doors to public. 
We were fortunate enough to get a sneak preview, and here's what we thought about the burgers. 
Food at Five Guys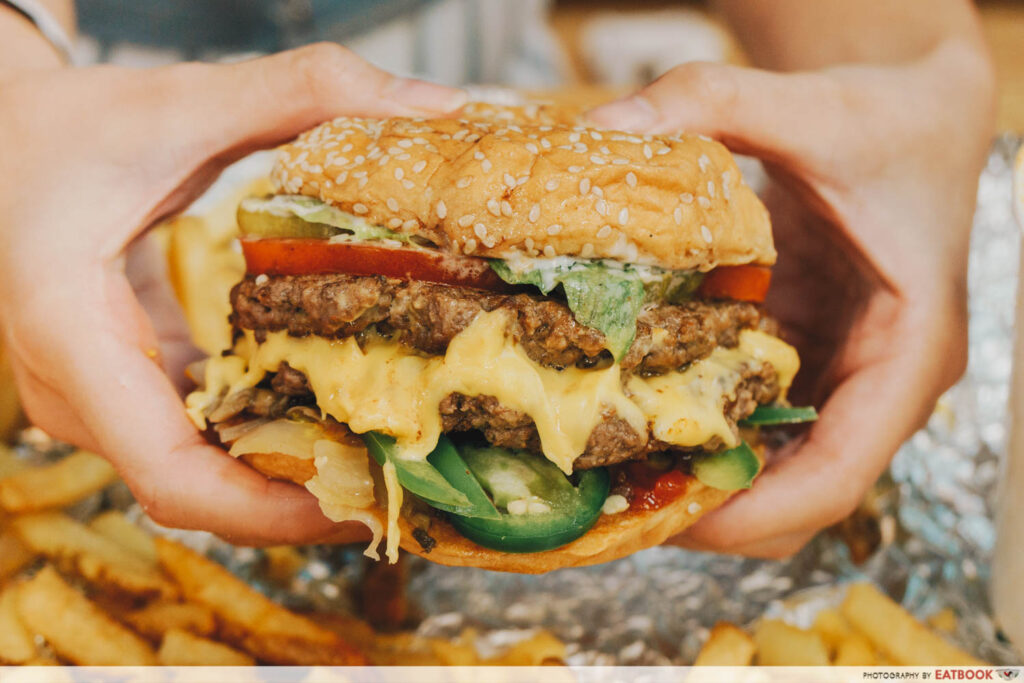 $15 for a Cheeseburger at a fast-food joint is crazy, let alone a burger with no accompanying fries or drinks. While my initial reaction was to bash the restaurant for its crazy prices, my opinion changed the moment I lifted the extremely greasy burger and chomped down on it.
It was the softest burger I ever had—in a good way. The lightly toasted sesame buns and hand-formed patties broke gently in my mouth with ultimate decadence, and I was floored by the delicate beefiness from the burger. It was easy to take one bite after another, only pausing to revel in the deliciousness of it all. The patty uses 100% grain-fed beef, with the golden 80 to 20, lean meat to fat, ratio. They are cooked until well done, yet manage to lock in all the beef juices so you won't be left with tough and bland meat. 
Each burger comes with up to 15 toppings, featuring Five Guys' standard "All The Way" being mayo, lettuce, pickles, tomatoes, ketchup, mustard, grilled onions, and grilled mushrooms. I decided to add Jalapeno peppers and A.1. steak sauce to pump up the flavours of the burger. This combo gave the burger a nice burst of spice, followed by a peppery tartness, making it less heavy on the palate.
Expect American-sized portions when you're here. For instance, instead of just one or two measly pickles, Five Guys actually laid out five pickles on the burger to ensure you get a zing with every bite.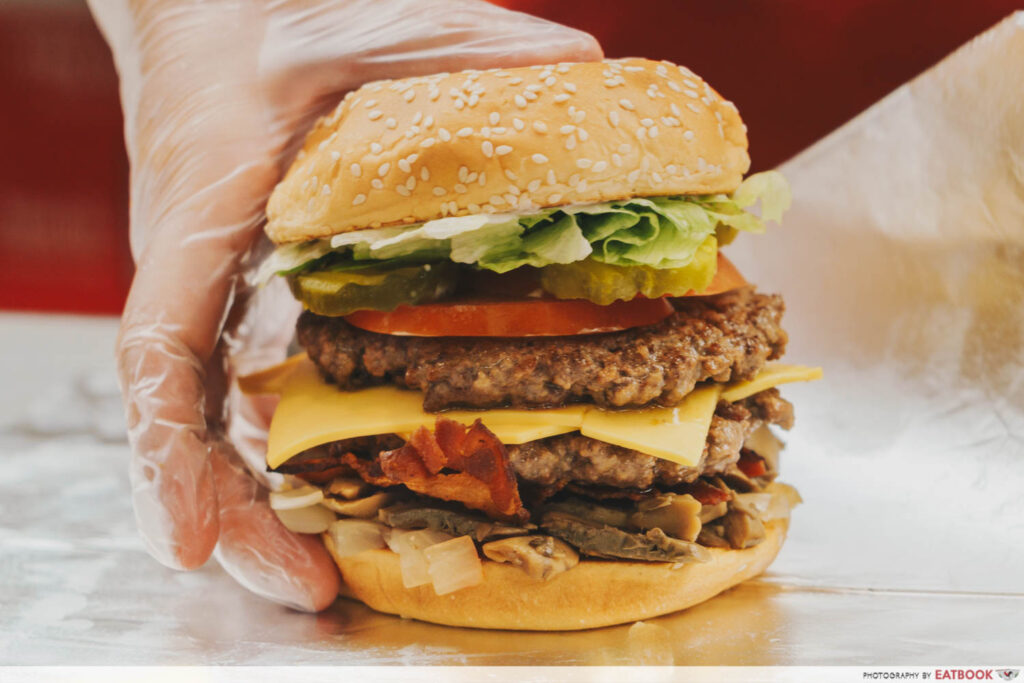 Bacon in burgers is always a good idea, so I went for the Bacon Cheeseburger ($17). The build is the same as the Cheeseburger, except there are slices of crisp applewood-smoked bacon added in. 
I decided to just go "All The Way" for this burger to savour the "real deal". Similar to the Cheeseburger, I was floored by the taste and softness of the burger.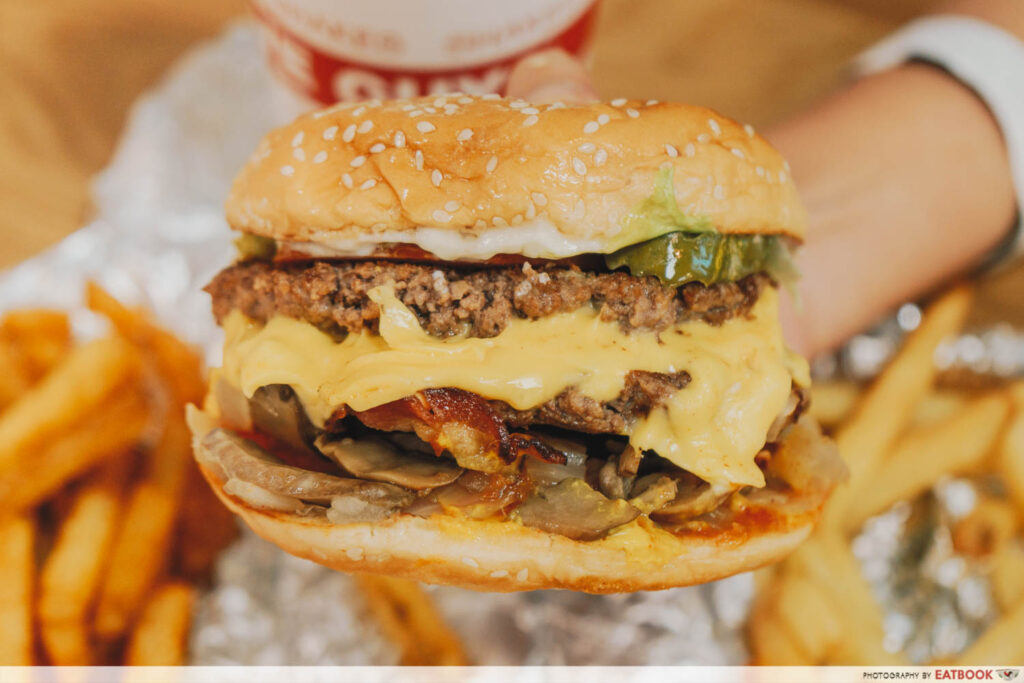 To get footage for our Facebook video, I had to slice this burger with a plastic knife. Now, I have done this burger-slicing act many times at places such as Black Tap and Shake Shack, and each time I was met with slight resistance. At Five Guys, it felt like I was slicing butter, as the knife gracefully slid through the burger with minimal effort. 
My only wish was for more bacon in the Bacon Cheeseburger; while some parts had a nice salty crunch, others tasted just like the normal cheeseburger.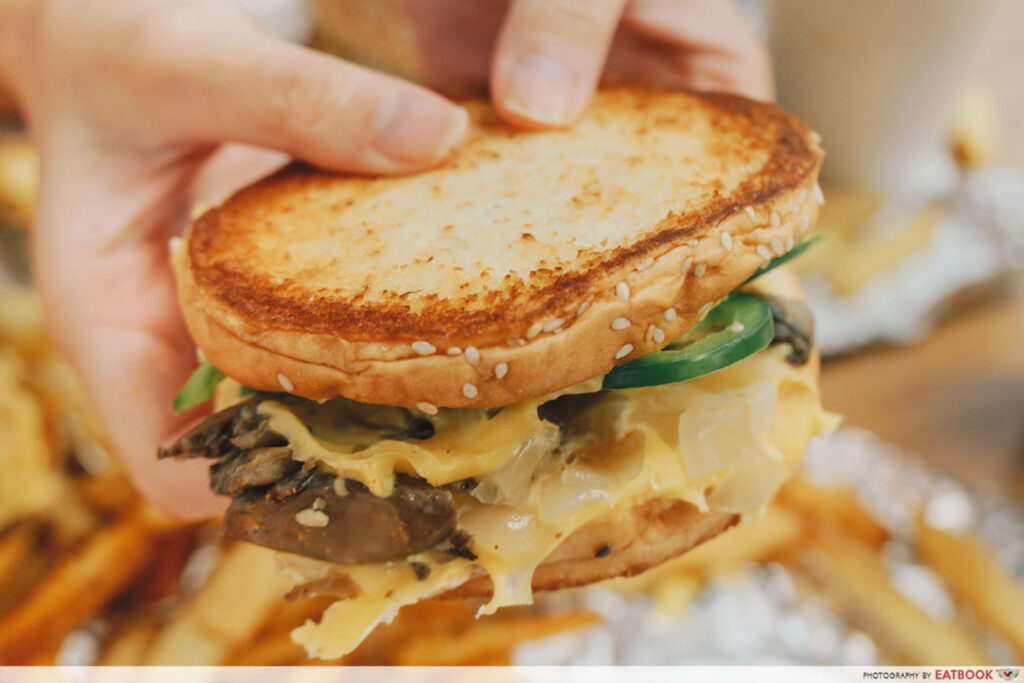 If you're on a tighter budget or just don't fancy a burger, Five Guys also has hotdogs and sandwiches. We tried the Grilled Cheese ($8) sandwich, and topped it up with grilled onions and mushrooms, green peppers, and jalapeno.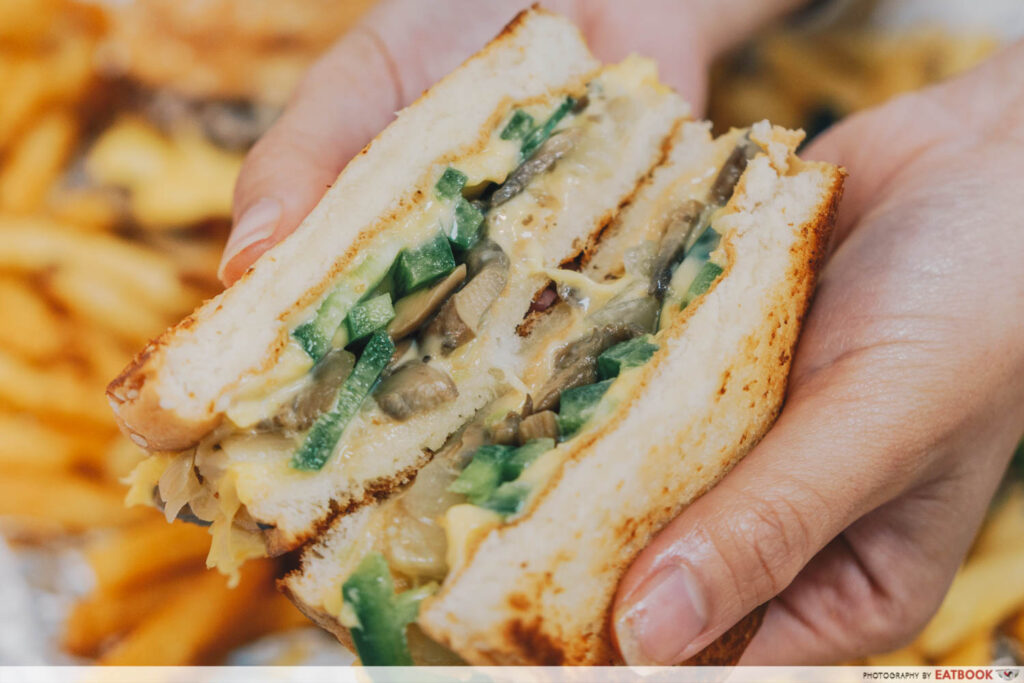 Despite not having any meat, this simple grilled cheese sandwich, which uses fresh American cheese, was full of flavour. The green peppers complemented the cheesiness with its sharp bite, while the mushrooms provided a hint of meatiness to it.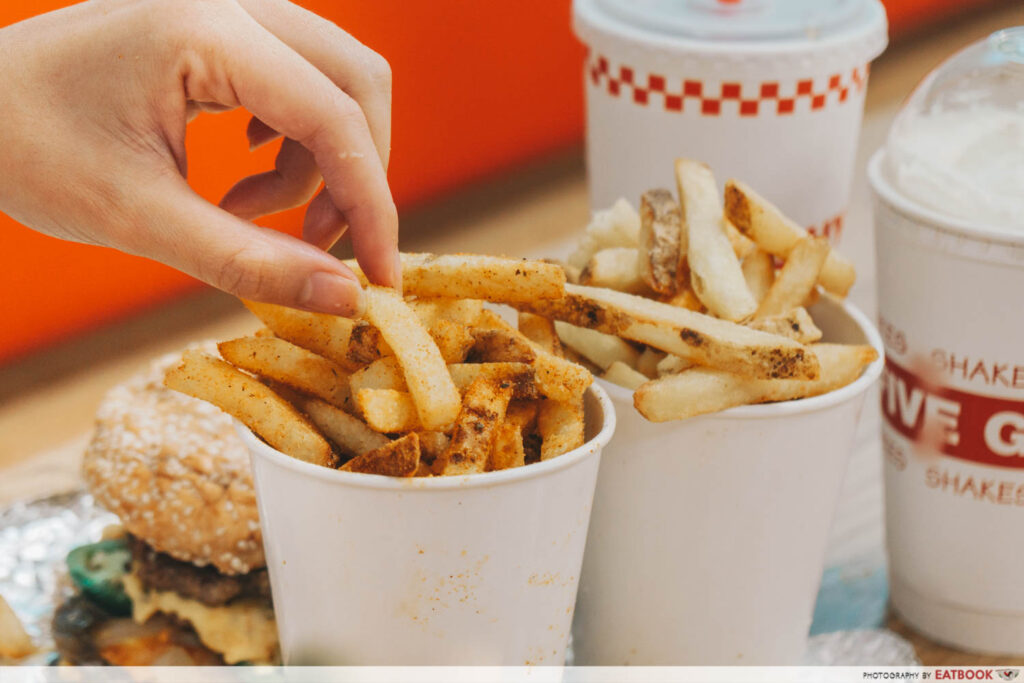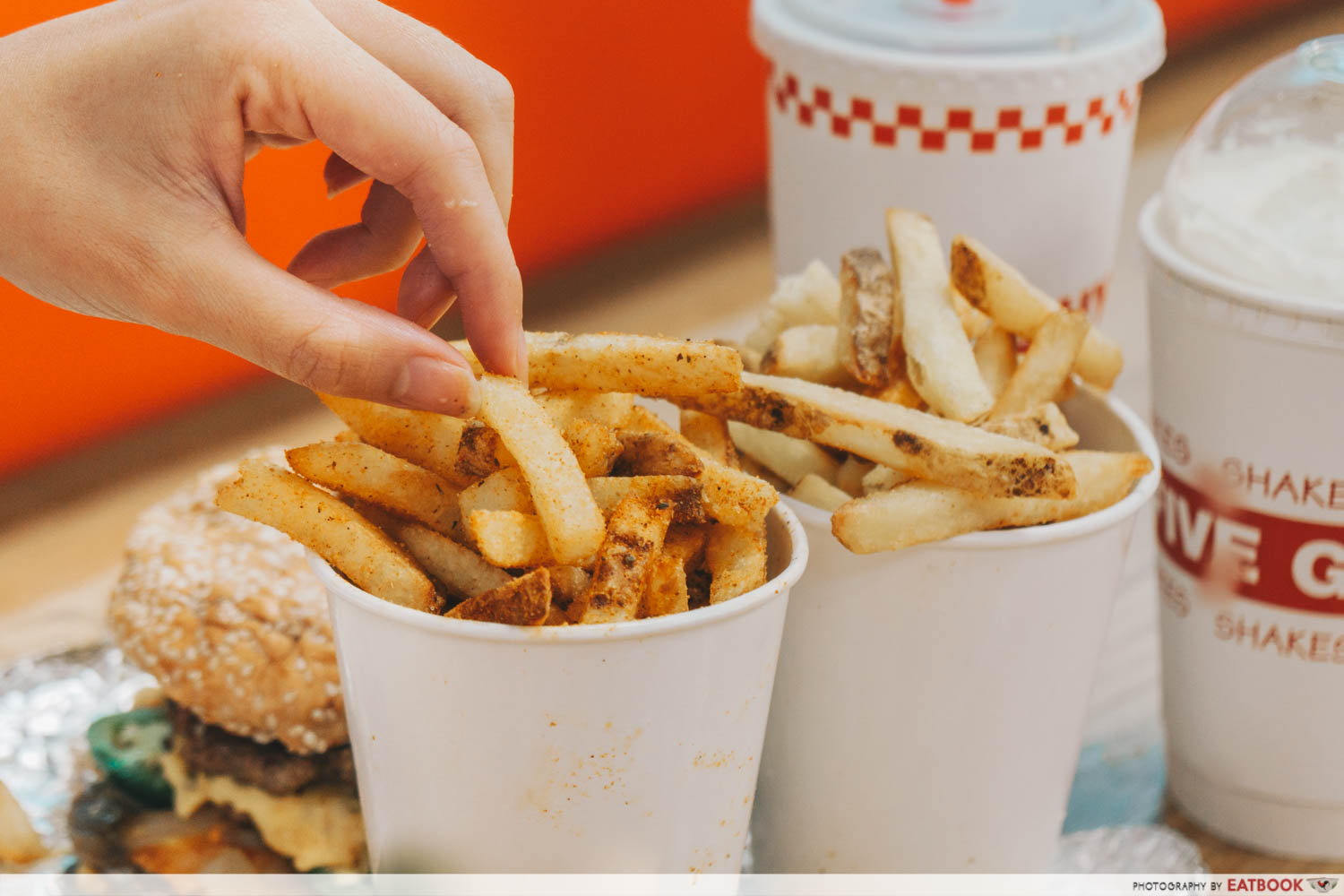 There is no such thing as a set meal here and you will have to shell out at least another $7 for a small Five Guys Style or Cajun fries. I suggest you share the fries with a friend and get either the regular ($9) or large ($11) portion. Reason being, after Five Guys has filled up your cup of fries, they will pour in an additional batch of fries into the paper bag that carries your food so you will actually have more than enough.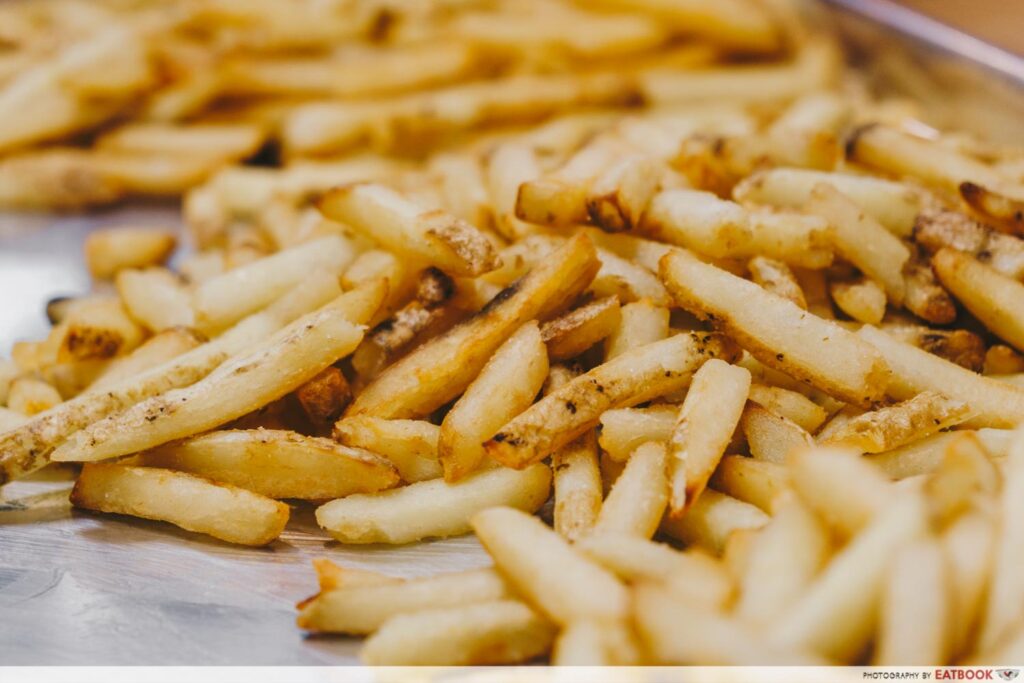 The high price tag is warranted, I suppose, as the fast-food joint holds a fries calibration test twice a day, where sub-standard fries are all tossed out because perfection is key here. All the fries are also washed, peeled, then painstakingly hand-cut each day, so you're paying for the effort. You won't get any soggy frozen fries here.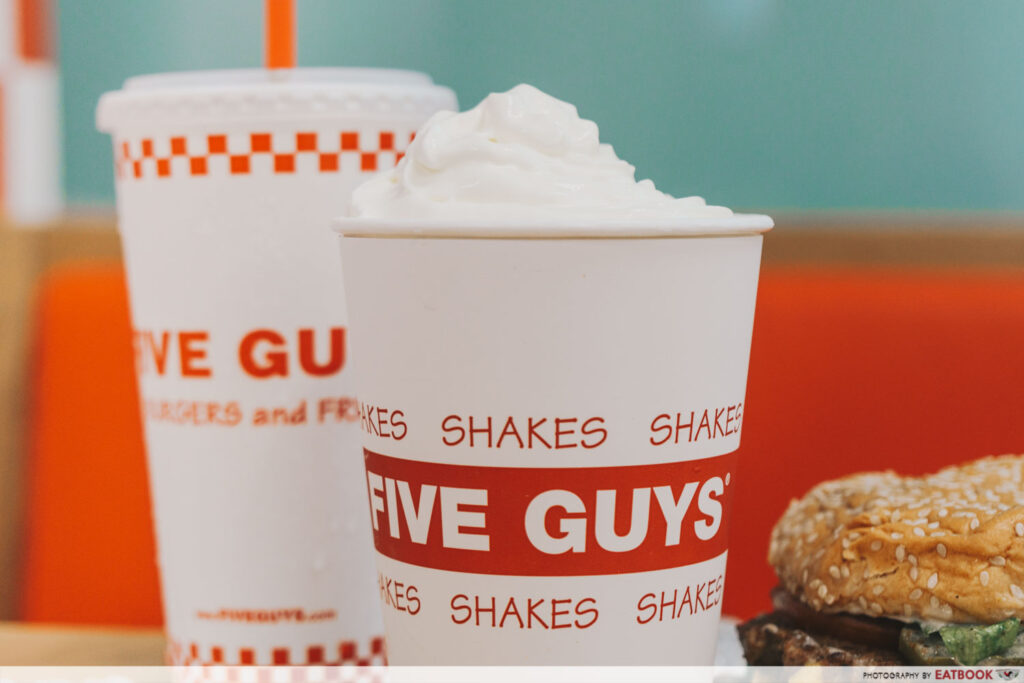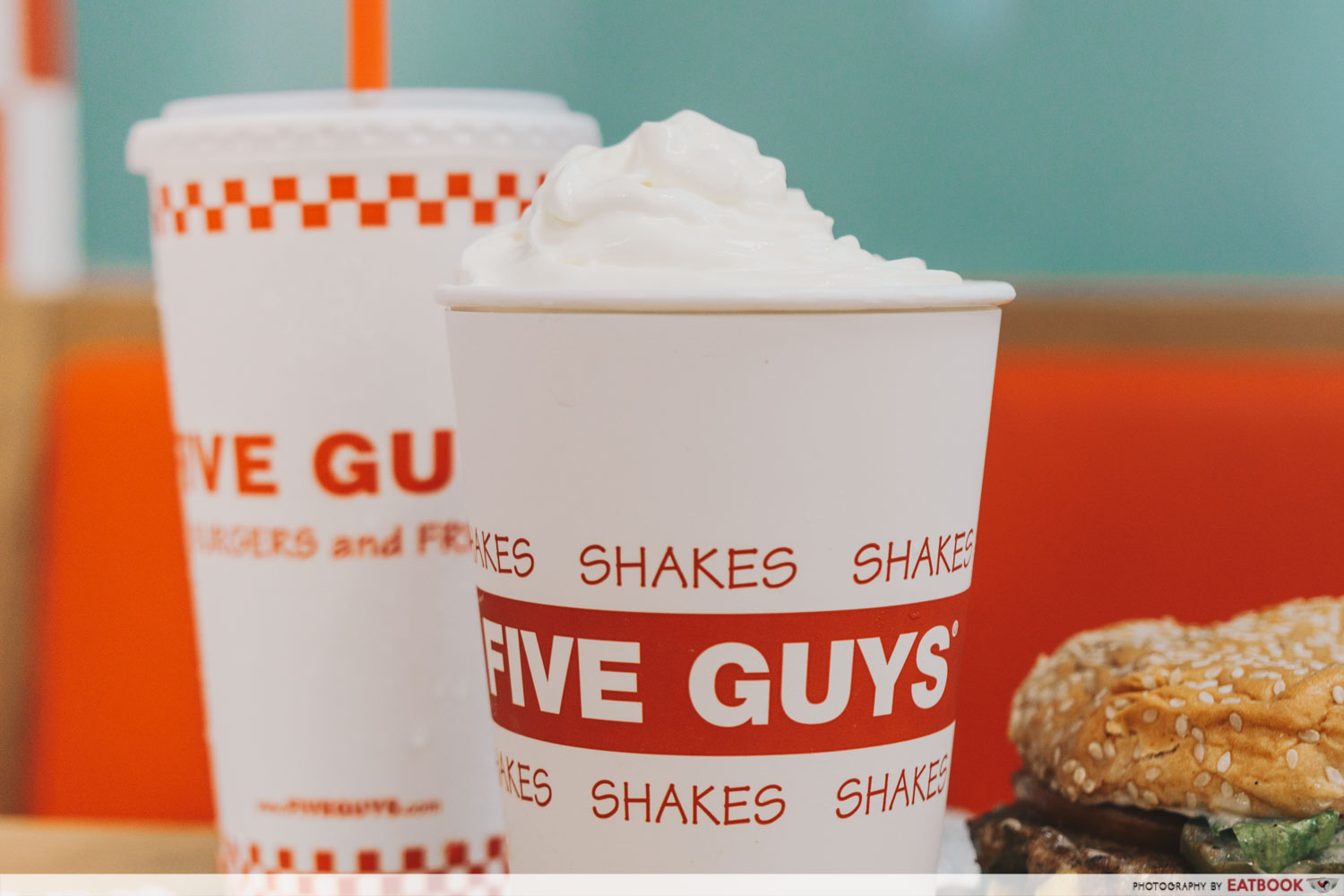 I'm not a fan of milkshakes while my dining partner is not a fan of peanut butter. Yet strangely enough, we were in love with the Five Guys Shake ($10) concoction of peanut butter, salted caramel, and crushed bacon. Decorating it was a swirl of whipped cream. 
It was not cloying, and the saltiness from the bacon bits helped alleviate any jelakness that could have formed. It was also lusciously smooth and you won't feel guilty as you slurp it all up. 
Don't take my word for it though and DIY your own combination of milkshakes, based on the 11 flavours on the menu, namely vanilla, chocolate, peanut butter, coffee, salted caramel, strawberry, banana, cherry, malted milk, bacon, and Oreo cookie pieces. Alternatively, ask the staff for a recommendation if you're overwhelmed by the choices presented. 
Ambience at Five Guys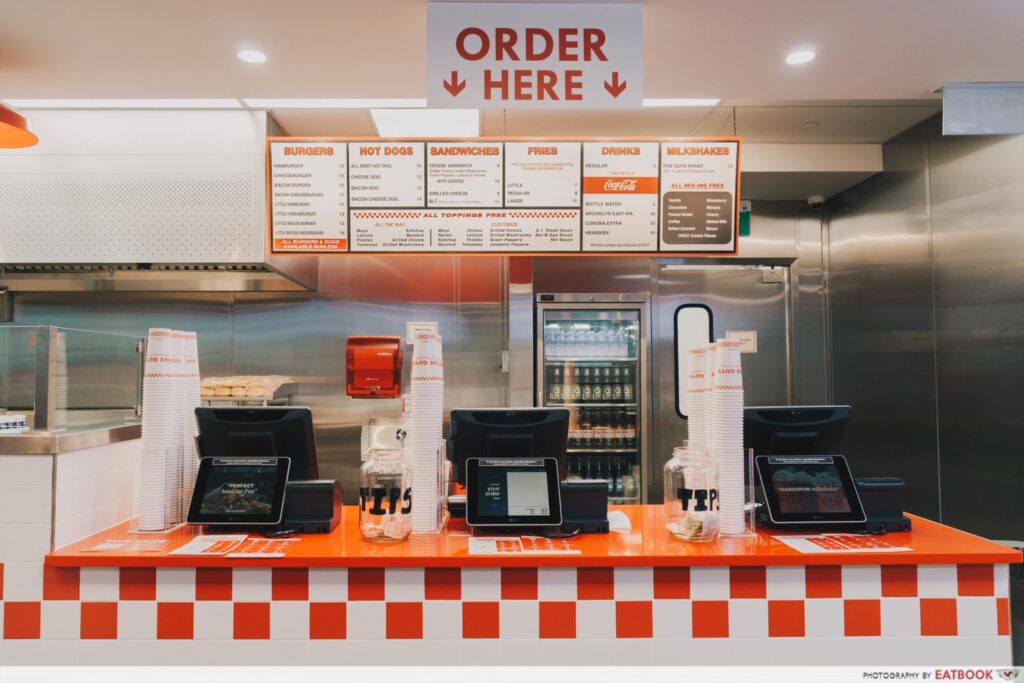 Old-school rock and roll music greets you the moment you step in, along with the happy calls of order numbers roaring through the air. Unlike most fast-food joints where you only see an ordering counter, Five Guys' grill and fry stations are featured openly. You can see the kitchen crew grooving to the music and moving around each other like clockwork as they build you a solid burger.
There are no trays involved, and everything is served in a paper bag whether you like it or not. You are then invited to rip open your bag to act as a placemat and indulge in your burger.
The verdict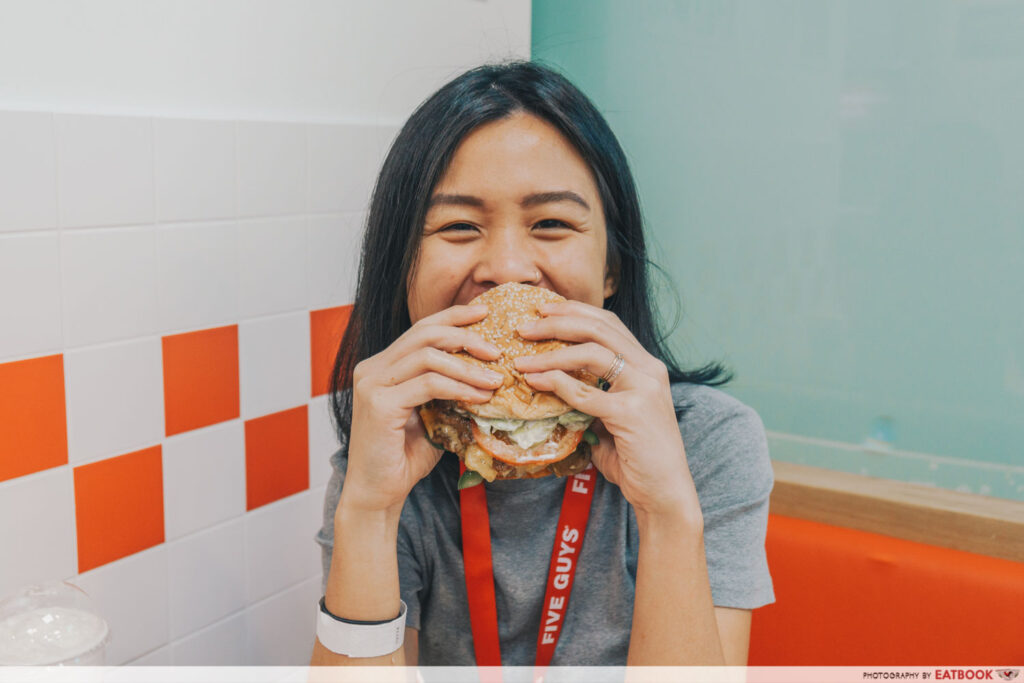 Quality is indeed apparent in Five Guys' grub, and I appreciate the thought and effort that goes through each item. However, $15 for a fast-food burger is a bit much, and even a single-patty hamburger here will set you back $11. Sure, the add-ons such as mushrooms and onions make it more worthwhile, but these are still not enough for me to come back for frequent visits. 
Check out more burgers here.
Address: 68 Orchard Road, #01-32, Plaza Singapura, Singapore 238839
Opening hours: Daily 11am to 10pm
Tel: 6976 4385
Website
Five Guys is not a halal-certified eatery.
Photos taken by John Lery Villanueva.
This was a media tasting at Five Guys.
Summary
Pros
– Good service
– Quality food
Cons
– Expensive
Recommended dishes: Cajun Fries (from $7 for small), Cheeseburger ($15) and Five Guys  Shake ($10)
Opening hours: Daily 11am to 10pm
Address: 68 Orchard Road, #01-32, Plaza Singapura, Singapore 238839